If you are looking for an easy vegan burrito recipe you have come to the right place!
This vegan burrito only really takes 10 minutes to make, as long as you have your rice cooked in advance! If not, add in an additional 10 minutes just to make sure your rice is cooked and ready for your meal!
What I love about this Mexican-inspired vegan burrito is that you can customize the flavors and fillings. This recipe is created so that you have a base to play off of.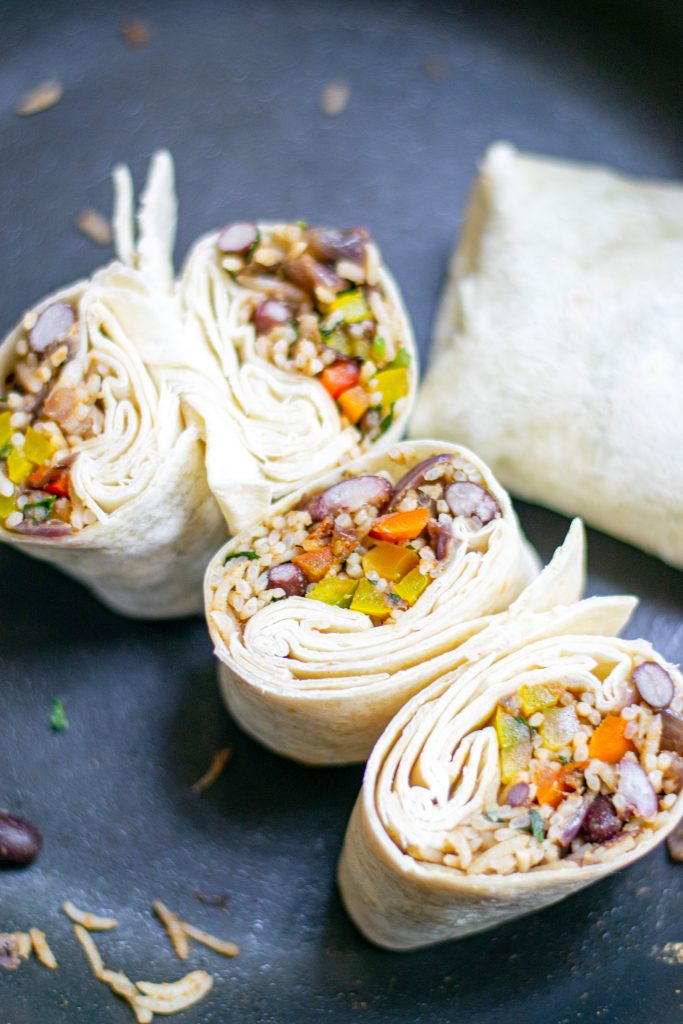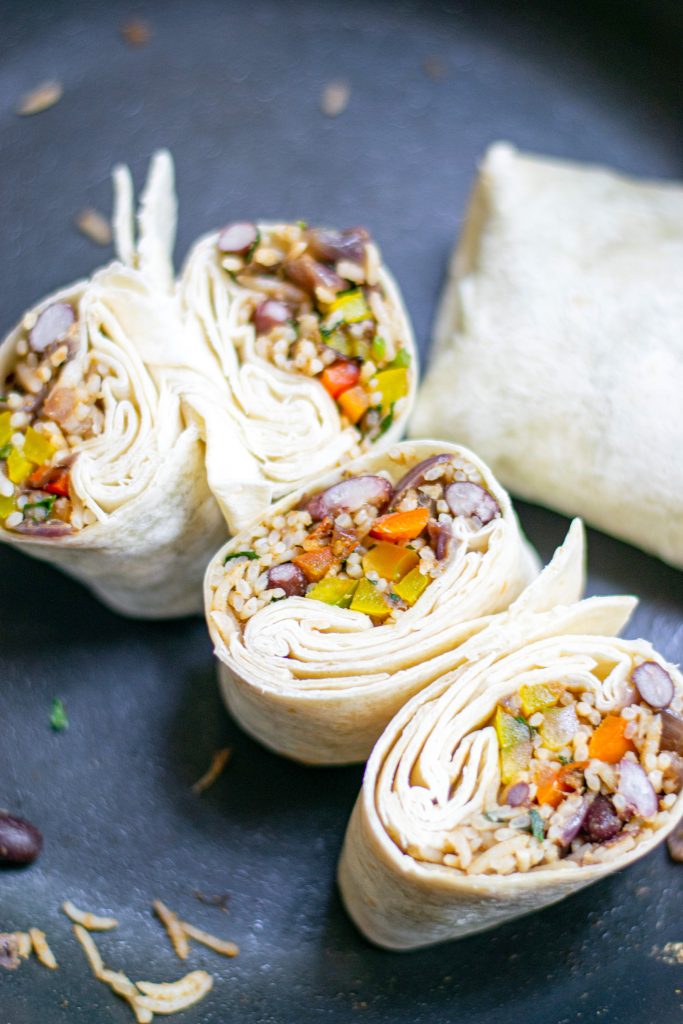 I did not add vegan sour cream or vegan cheese, because it depends on individual tastes if you like to use processed vegan foods or not.
That is why this is the base for your vegan burrito with all the necessary spices and veggies.
It is perfect for meal prepping as this recipe serves 6-8 people. If you don't wan to eat it in a tortilla, this recipe also makes a yummy vegan burrito bowl.
I use kidney beans for this recipe, but if you have another type of beans on hand such as black beans feel free to substitute it out depending on your taste preference!
I hope you enjoy this easy vegan burrito recipe as much as I do! Top it with some Vegan Sour Cream and you are in for a real treat!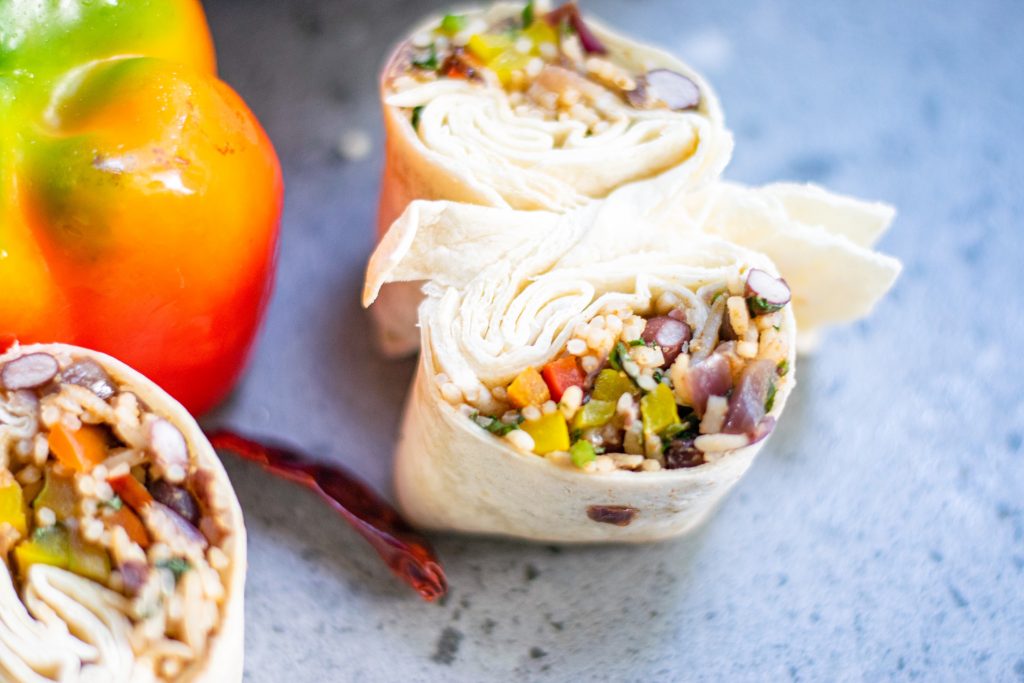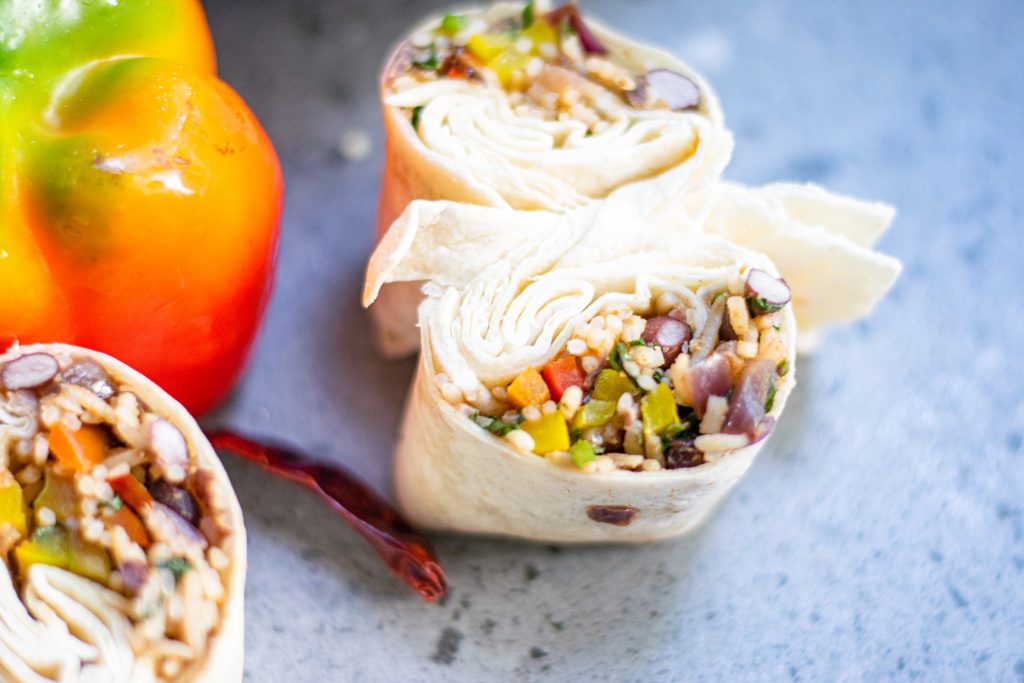 Sauces To Eat With Your Vegan Burrito
As I mentioned above, this is the base for a healthy vegan burrito. If you choose, you can add your own guacamole or sliced avocado.
You can also choose to add shredded vegan cheese or vegan sour cream. Some vegans do not like to eat processed vegan food which is why I left it out of this recipe.
You can even grab some vegan chipotle mayo from your local health food store to add a delicious taste.
I want this vegan burrito recipe to be healthy yet delicious. I also want you to be able to customize it to your heart's content!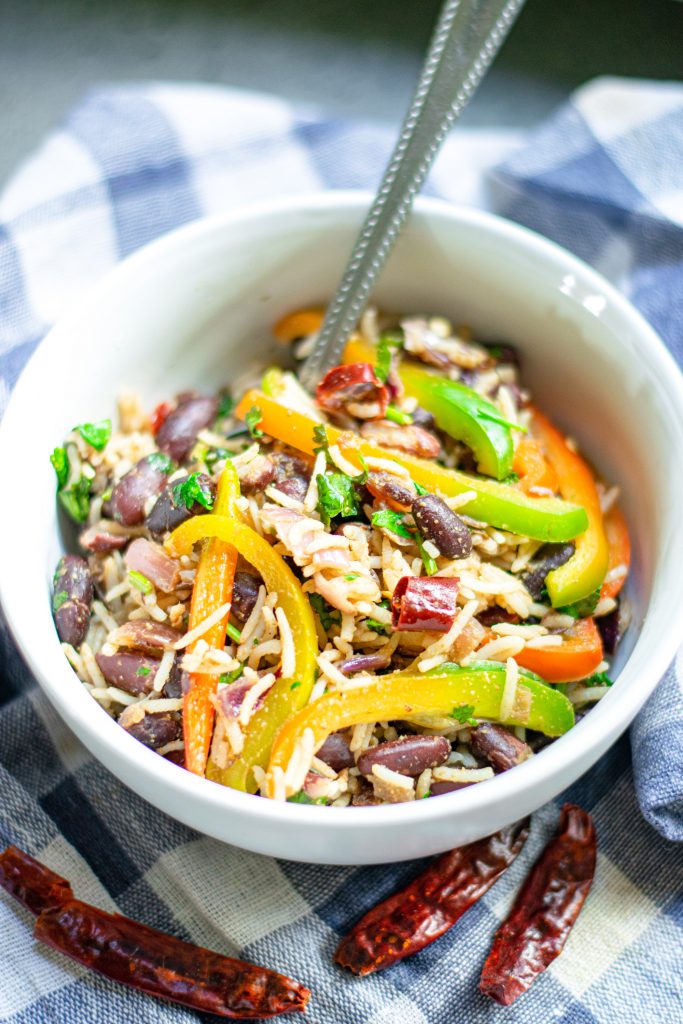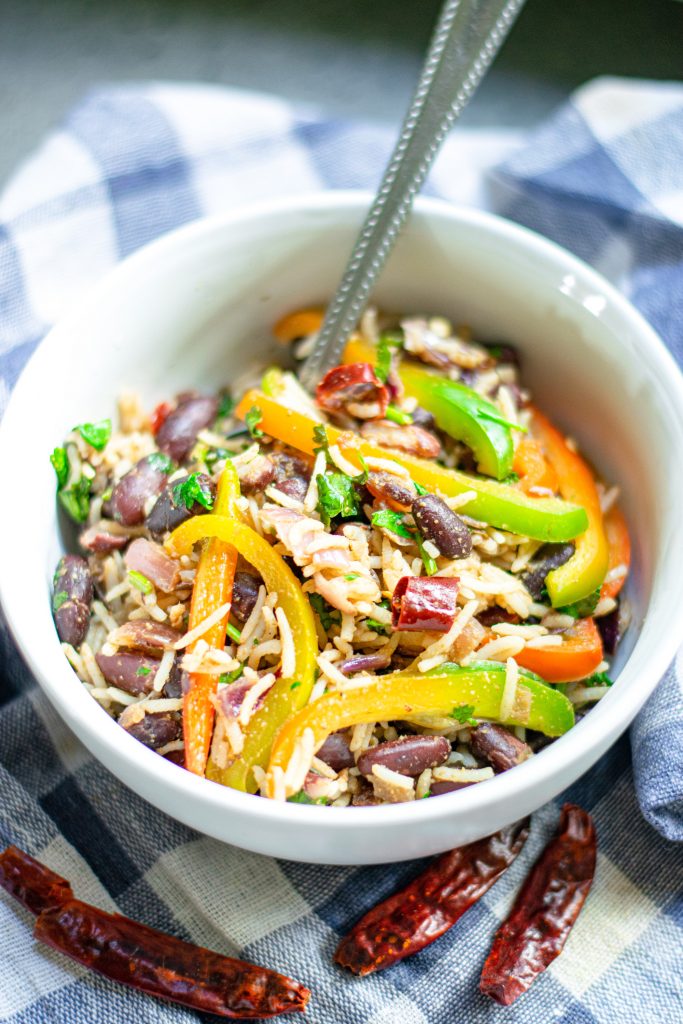 How To Make This Vegan Burrito Recipe
Making the vegan burrito recipe is so quick and easy. It is better if you cook your rice in advance or earlier in the day.
If you need to cook your rice the night you are making the burritos, simply add 10 minutes so the recipe will take about 20 minutes as the rice needs 10 minutes to cook.
Add 1/2 cup of rice to 1 cup of water. If you need to add more rice, always double your water. So 1 cup of rice is 2 cups of water and so forth.
Cook your rice for 10 minutes and until most of the water is cooked into the rice.
Next, cut your bell peppers into strips and cut your onion. Heat a non-stick frying pan with oil or water.
Saute onion, garlic, and bell peppers. Then add spices, beans, bell peppers, and chili. Saute for 30-60 seconds.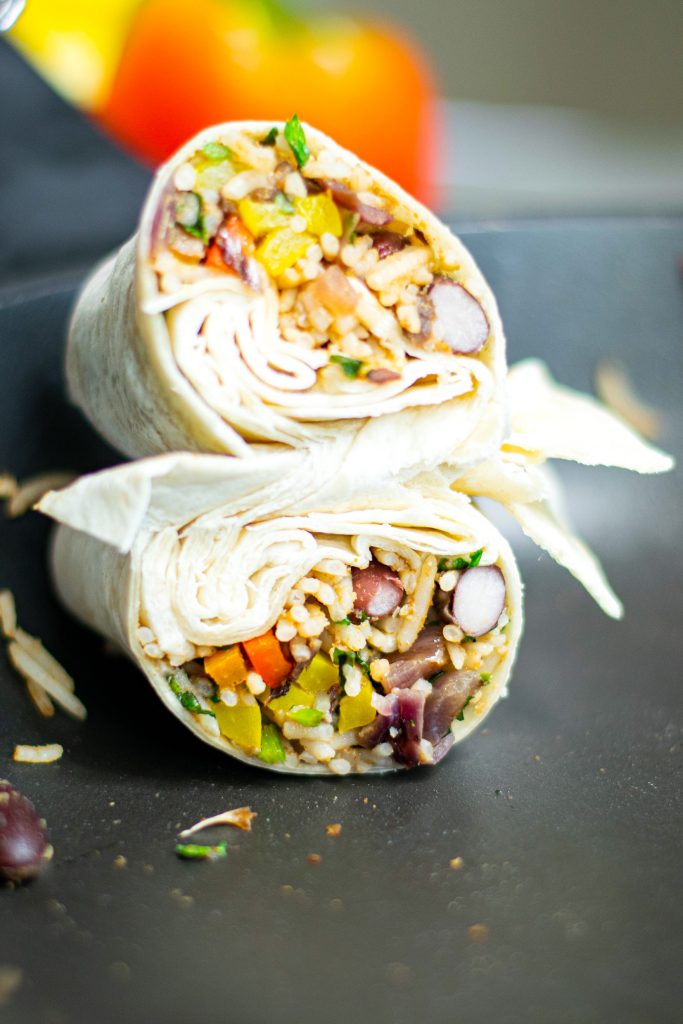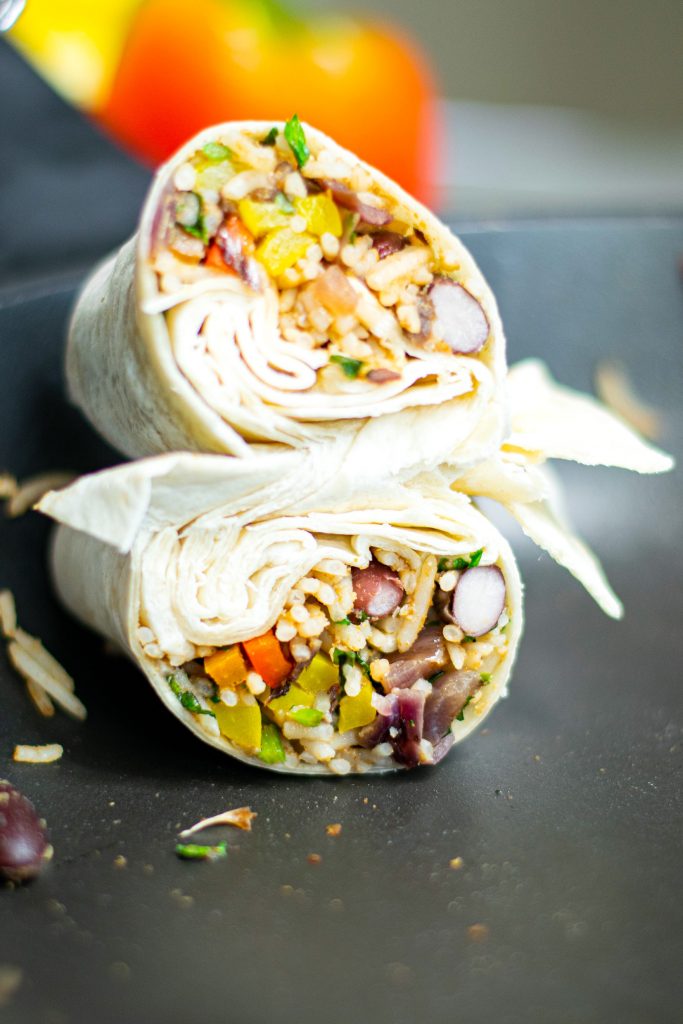 Then add in your rice and cilantro until nicely blended and aromatic.
Now it is time to build your vegan burrito.
Lay your flour or corn tortilla on a plate and put down a scoop of the veggie mixture into the middle.
Add shredded lettuce, olives, and any toppings such as salsa, sour cream, or avocado that you are interested in.
Tightly wrap the burrito and serve immediately! You can also eat the burrito mixture in a bowl if you prefer! Serve it with one of our Best Sides For Tacos!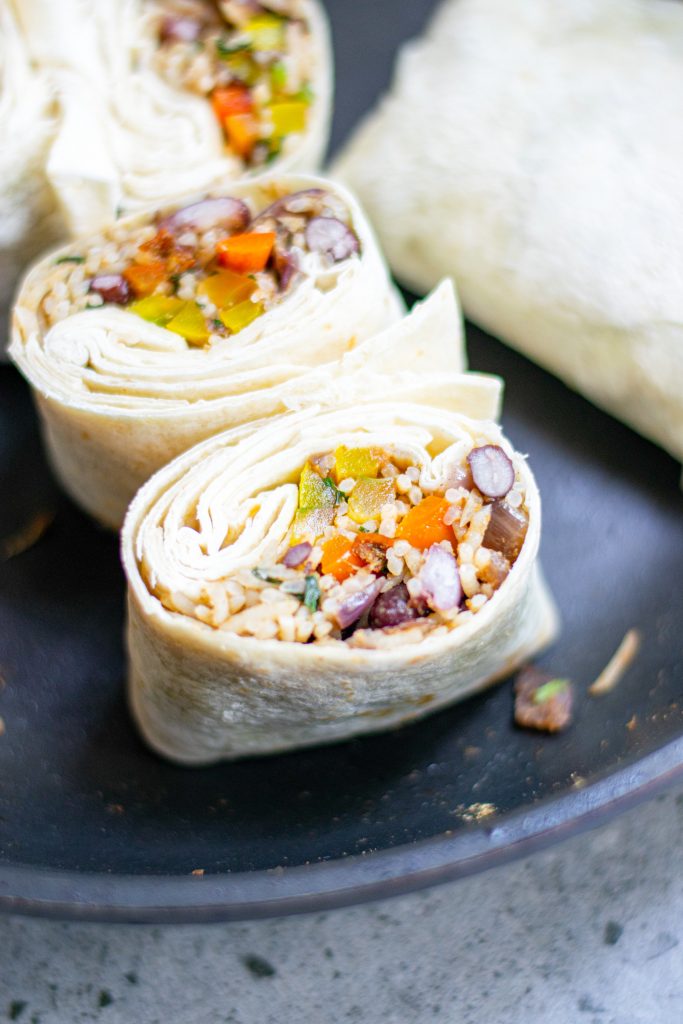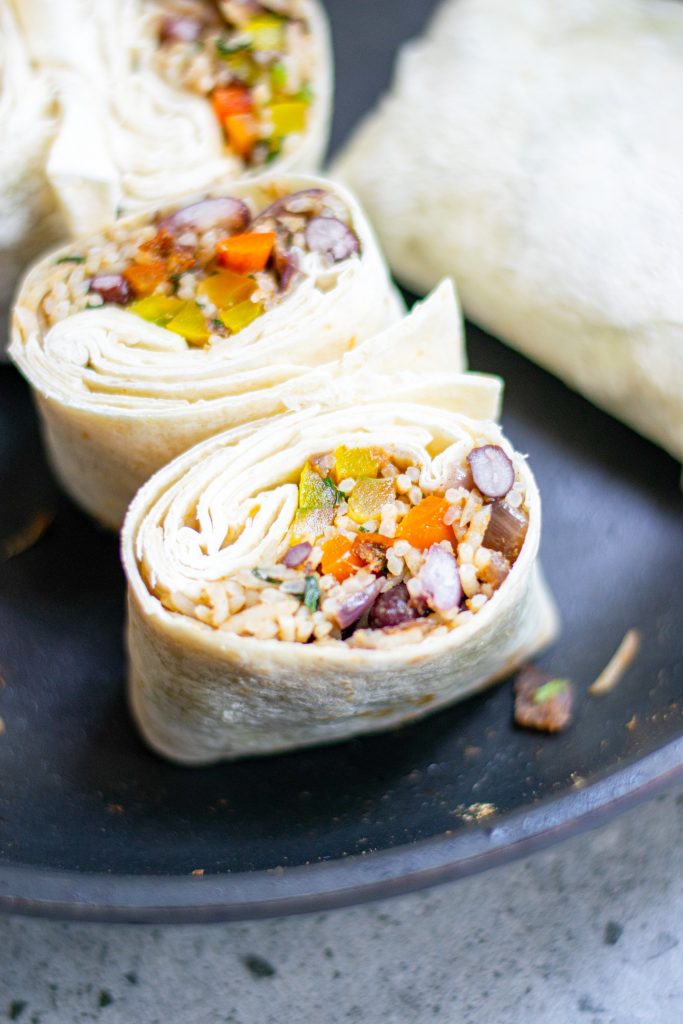 How To Store The Vegan Burrito
If you are looking to meal prep for the week, you can store the vegan burrito ingredients in an airtight container in the fridge for 4-5 days.
If you are taking the vegan burrito to work, simply store the tortilla in a different container than the veggies and assemble as you are ready to eat.
You can eat this burrito recipe hot or cold so if you want to put the mixture in the microwave to reheat you can. You can also reheat on low heat in a frying pan or small sauce pan.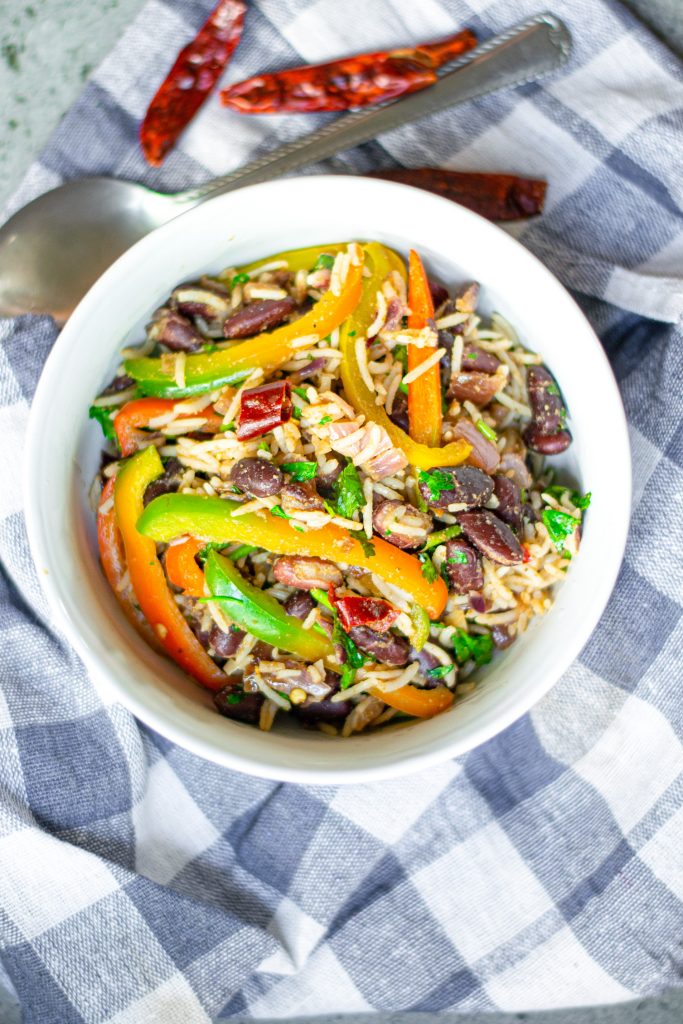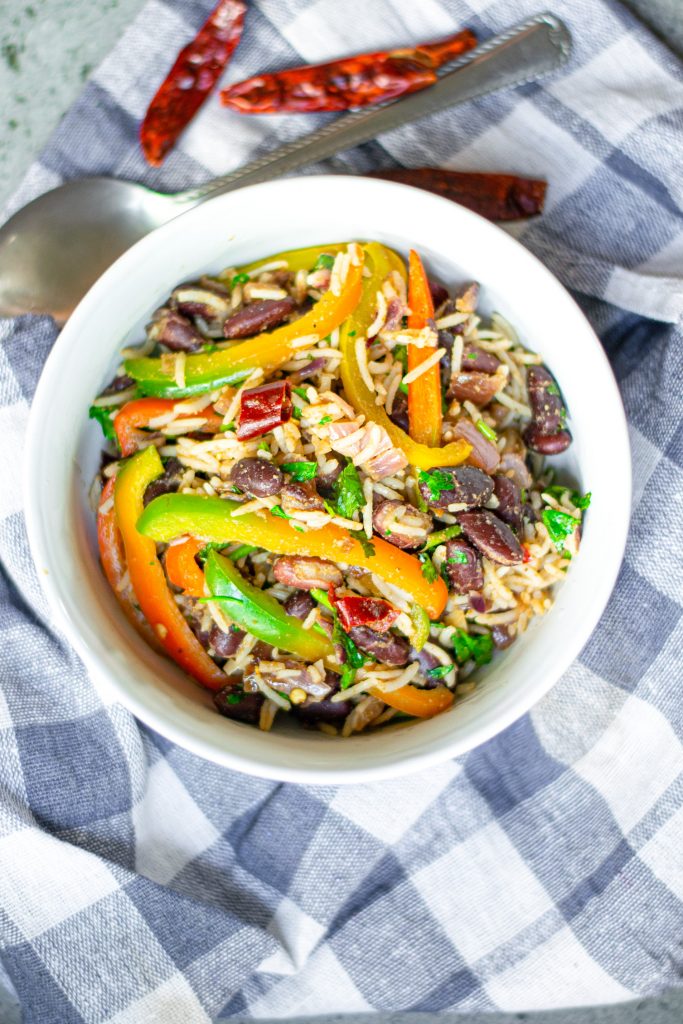 You can also freeze this vegan burrito recipe! Simply wrap your burrito mixture that you learned how to make in this recipe.
Do not add any fresh ingredients such as the lettuce or sour cream before freezing.
Wrap in plastic wrap and freeze the burritos in a freezer-tight container.
To reheat, use a microwave or reheat in the oven!
Serve with our Frozen Watermelon Margarita and a side of chips and Vegan Queso!
Did You Try This Recipe?
If so, I would love to keep in touch! I enjoy seeing photos and comments about the recipes that you make! You can follow me on Instagram and I will repost your goodies in my stories and comment on it too! Just tag me at @wowitsveggie and hashtag #wowitsveggie. I can't wait to see what you make!
Yield: 6-8
10-Minute Vegan Burrito Recipe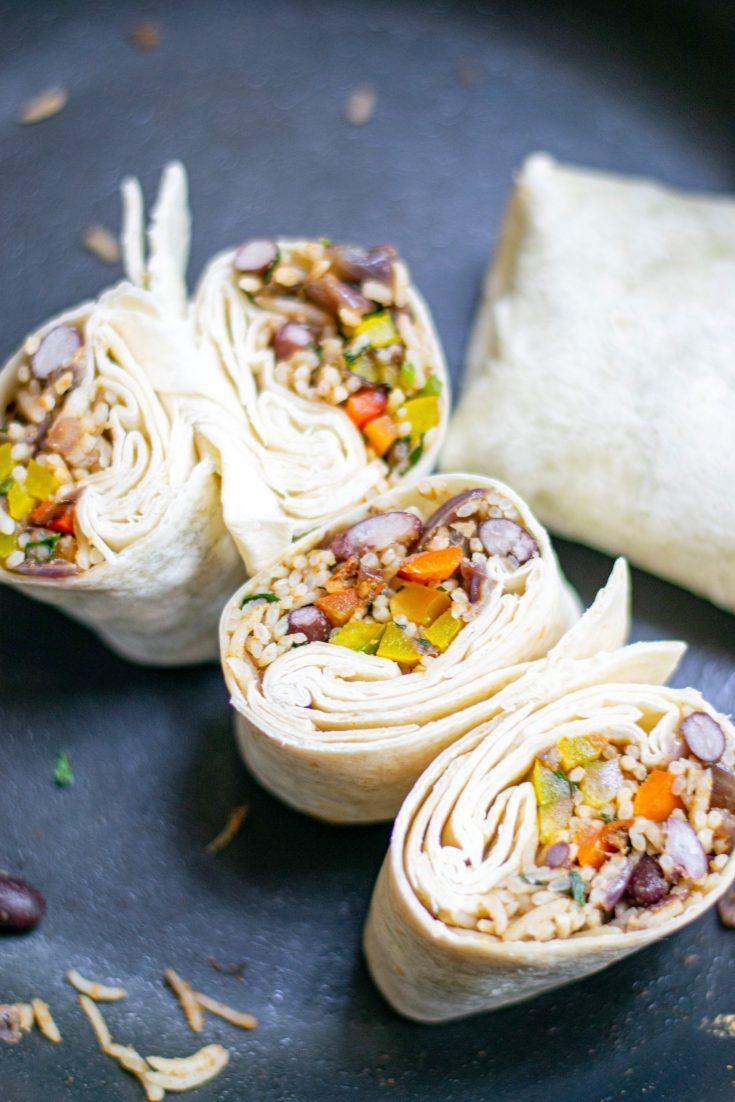 This vegan burrito recipe whips up in only 10 minutes and is satisfying and delicious! You can customize it with whatever toppings and sauces you want. It is also oil-free and gluten-free. Make your vegan burritos on one day and you can meal prep for the week!
Ingredients
1 cup Kidney Beans, drained and rinsed
3 cloves garlic
1/2 cup rice, uncooked
1/2 red bell pepper
1/2 yellow bell pepper
1 small onion
1 bunch of cilantro
1 tablespoon dried red chili
1 tablespoon coriander powder
1 tablespoon cumin powder
2 tablespoons olive oil or 3 tablespoons water
1 teaspoon salt, more if needed
Flour corn tortillas
Optional toppings: lettuce, guacamole, vegan sour cream, vegan cheese, olives, fresh tomato.
Instructions
1. If you do not have cooked rice, add 10 minutes to the recipe time! In a small to medium pot with a cover, add 1/2 cup of rice with 1 cup of water. Don't cover it yet. Let the water boil, reduce to low medium heat then cover halfway. It will take about 10 minutes to cook.
2. Prepare your veggies. Cut bell peppers in strips, chop your onion, dried chili, cilantro and garlic.
3. Heat a non stick frying pan with oil or water on medium heat, sauté onion and garlic until tender then add spices, red beans, bell peppers and chili. Sauté for 30 seconds.
4. Add rice and stir then add cilantro. Cook another 1 minute on medium heat.
5. Adjust to taste. Divide into 6 - 8 portions. Lay out your tortillas on a plate and put the rice and bean mixture in the center. Add in any fresh toppings and sauces you want!
6. Serve warm or cold. The vegan burrito recipe is perfect for meal-prep!
Nutrition Information
Yield
6
Serving Size
1
Amount Per Serving
Calories

237
Total Fat

8g
Saturated Fat

2g
Trans Fat

0g
Unsaturated Fat

5g
Cholesterol

1mg
Sodium

503mg
Carbohydrates

35g
Fiber

4g
Sugar

4g
Protein

7g