If you are looking for an easy and delicious vegan pie crust recipe, you have come to the right place!
My Grandma Yollie wasn't vegan by any means, but this pie crust was "accidentally" vegan.
This is a traditional family recipe and each family member has variations of it written in my Grandma's handwriting!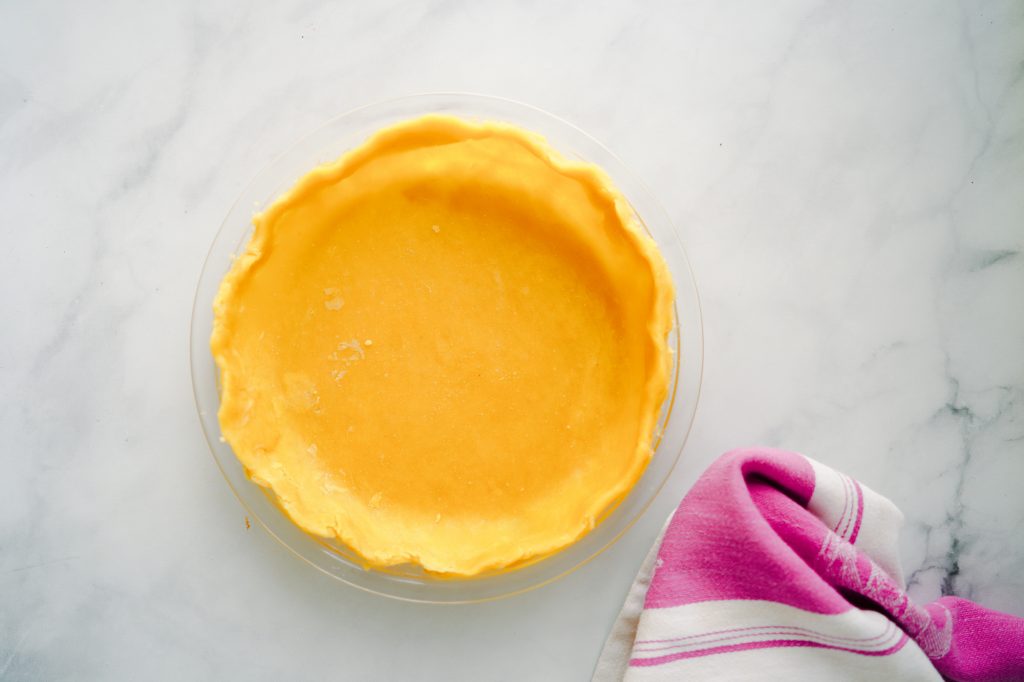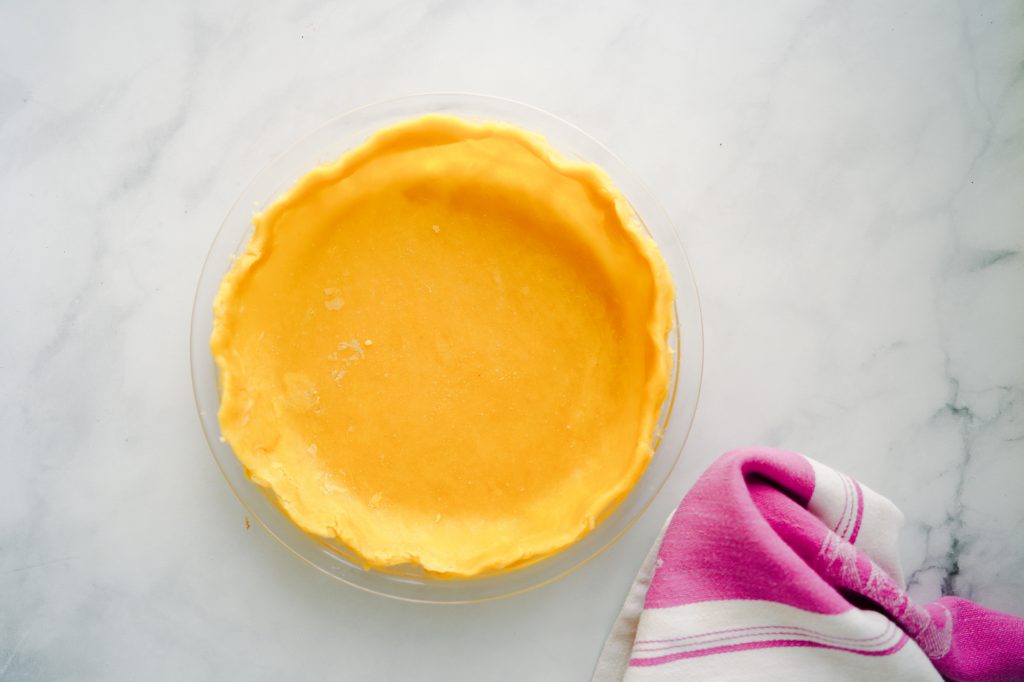 Pies are big in my family and my grandma would make varying types of pies, from her Accidentally Vegan Apple Pie to cherry and pecan pie for every holiday and sometimes just because!
In case you didn't believe me, here is my handwritten oil pie crust recipe as a child, straight from Grandma teaching me how to make it, on a random piece of paper that I have kept for years!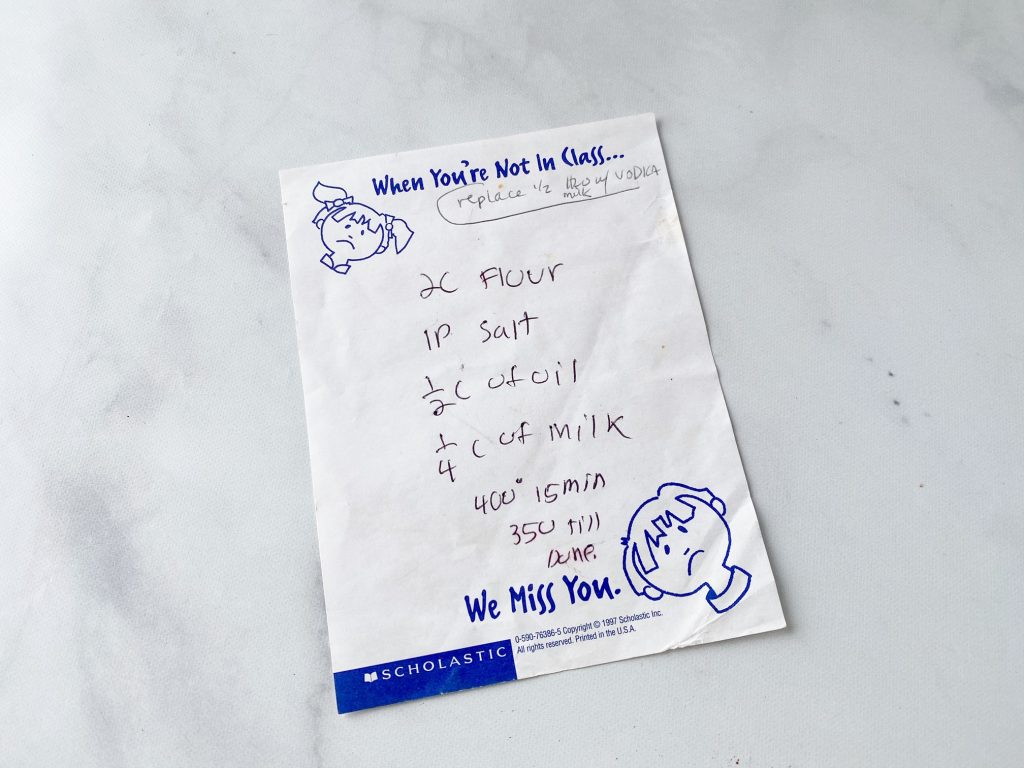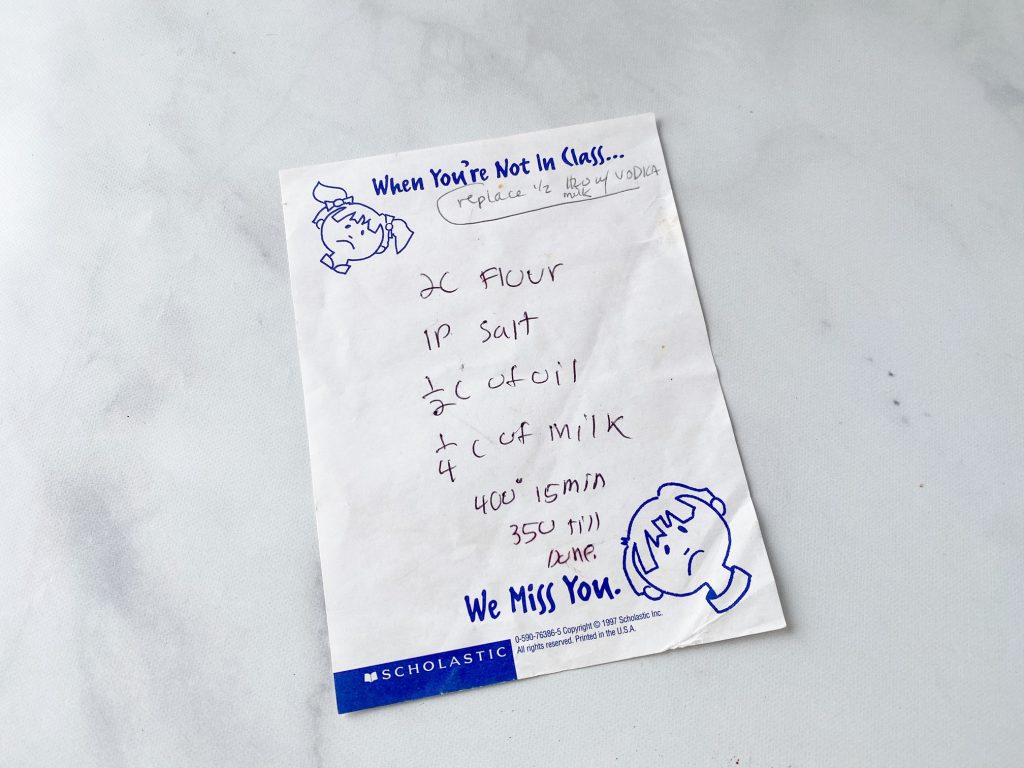 This is a simple Oil Pie Crust recipe that is vegan and delicious! It is so easy to make and uses just 4 ingredients.
The pie crust uses oi instead of butter making it easier and healthier to make. It is also more forgiving than your traditional butter pie crust.
The vegan pie crust recipe does not use any sugar because whatever pie filling you use is going to be sweet all on it's own! Grandma really wanted the filling to shine.
Since this pie crust recipe doesn't use any sugar, you can also use it for delicious goodies such as vegan pot pie or any casserole dishes that require a crust!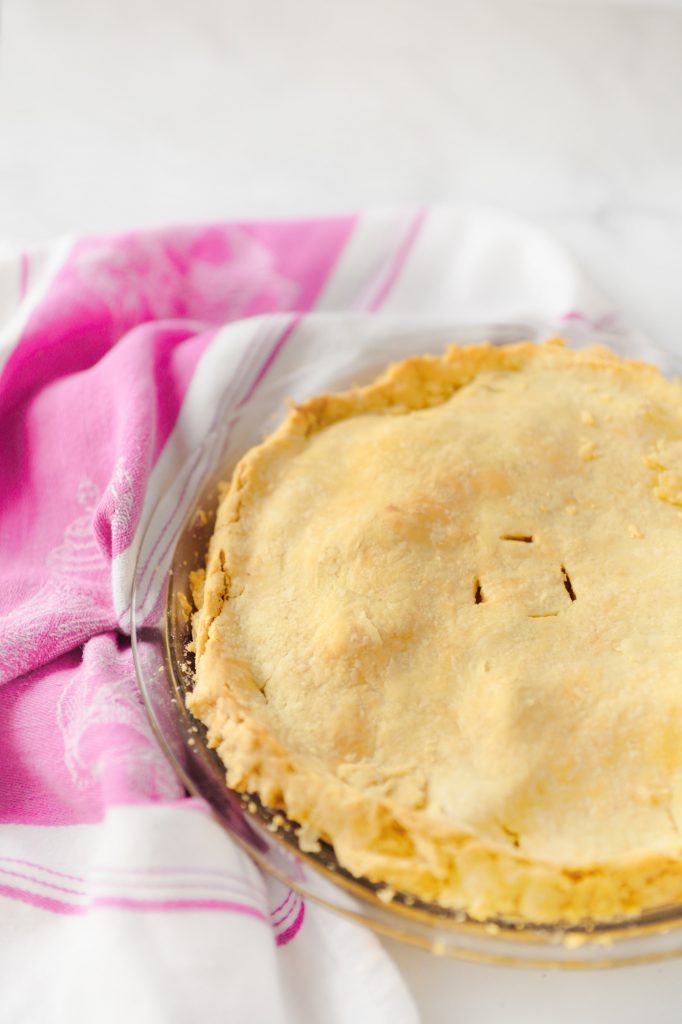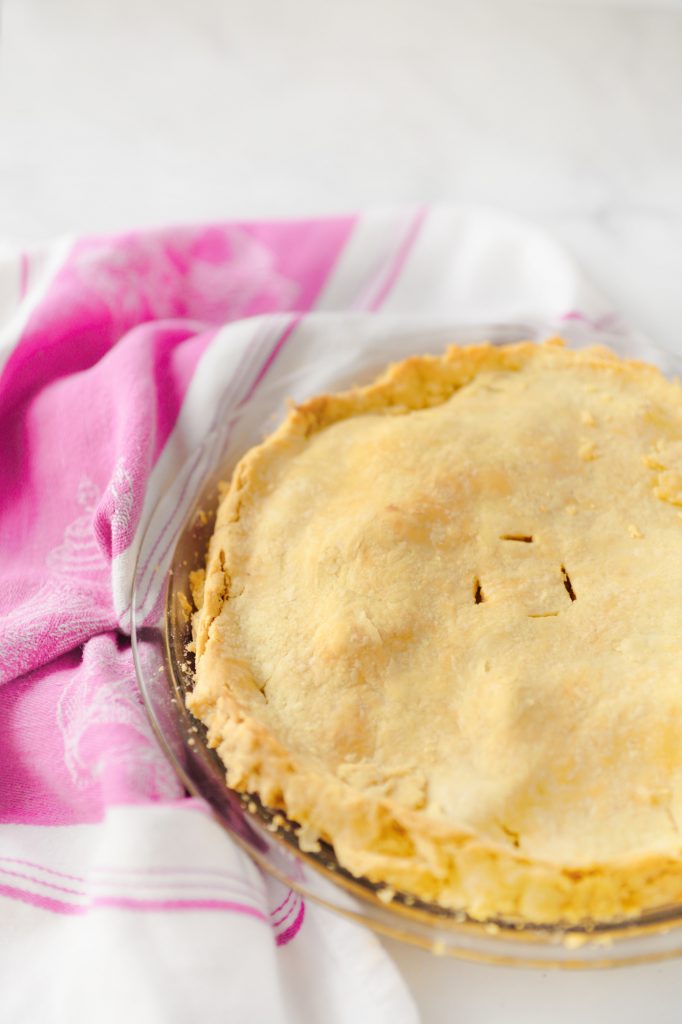 What Kind Of Oil To Use For Vegan Pie Crust
Throughout the years, Grandma has used many types of oil as the base in her accidentally vegan pie crust recipe.
I recommend using a hearty oil such as olive oil of avocado oil. We usually use olive oil and it doesn't leave a taste yet holds the pie crust together very well.
I do not recommend thinner cooking oils like vegetable oil or canola oil as they are usually pretty unhealthy and the thinner oil doesn't work for the vegan pie crust.
I know a lot of vegan pie crust recipes suggest using coconut oil. I have not used it before and just recommend a simple Extra Virgin Olive Oil when making this recipe.
If you want to try coconut oil, make sure your oil is melted and keep an open mind as you experiment!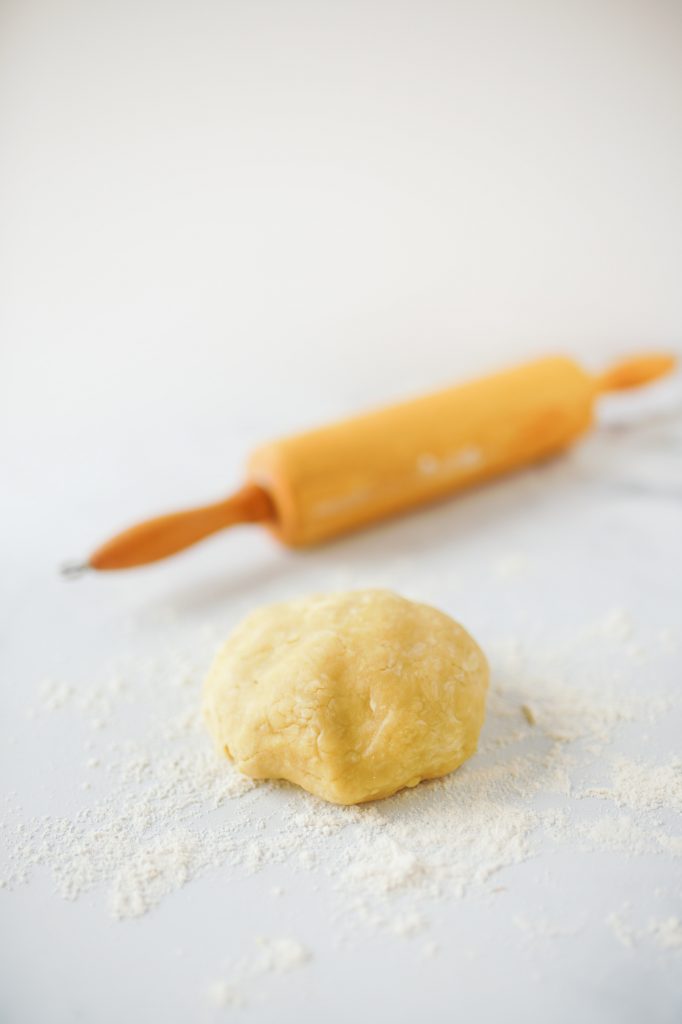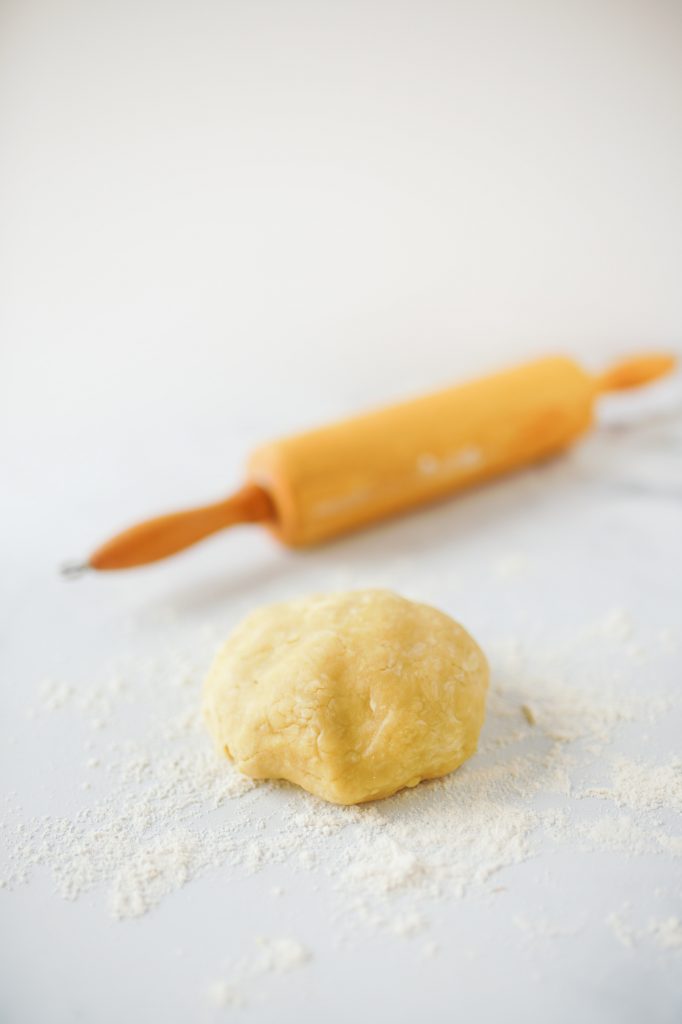 Best Type Of Milk To use For The Vegan Pie Crust Recipe
Over the years, I have used everything from regular cow's milk [my Grandma in the past] to soy milk, almond milk, cashew milk, flax milk, oat milk, rice milk and more.
This is an easy vegan pie crust recipe so unlike the oil, the milk is much easier and less finicky. All you have to do is pick your favorite non-dairy milk and you are good to go.
As you can see, we have used all different types of milk for this recipe and it hasn't impacted the outcome of the crust. Just make sure the milk is cold not at room temperature.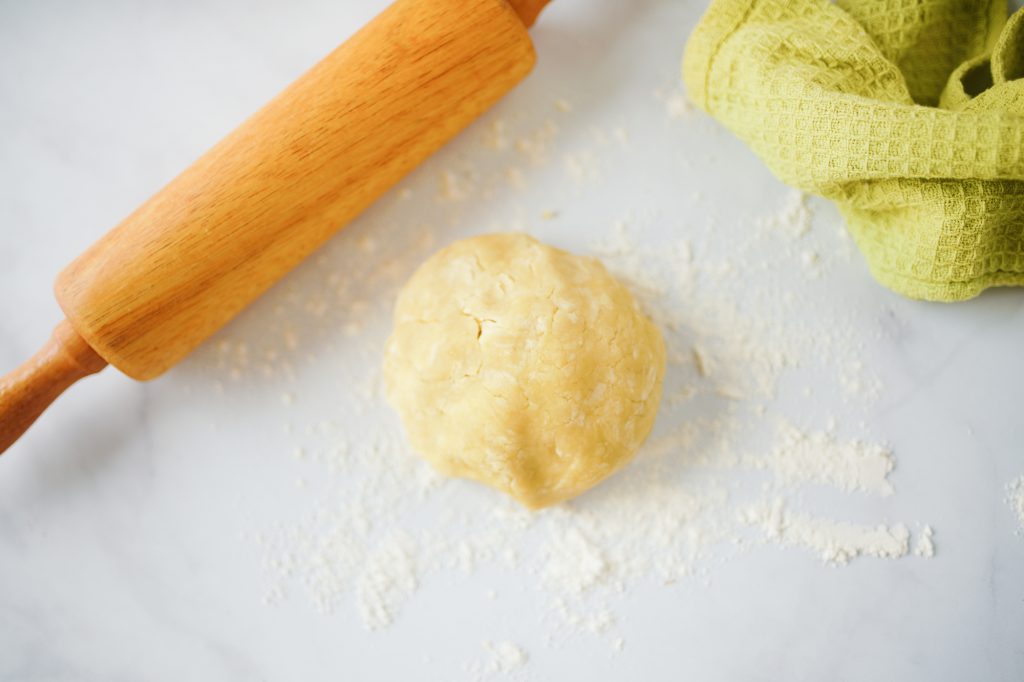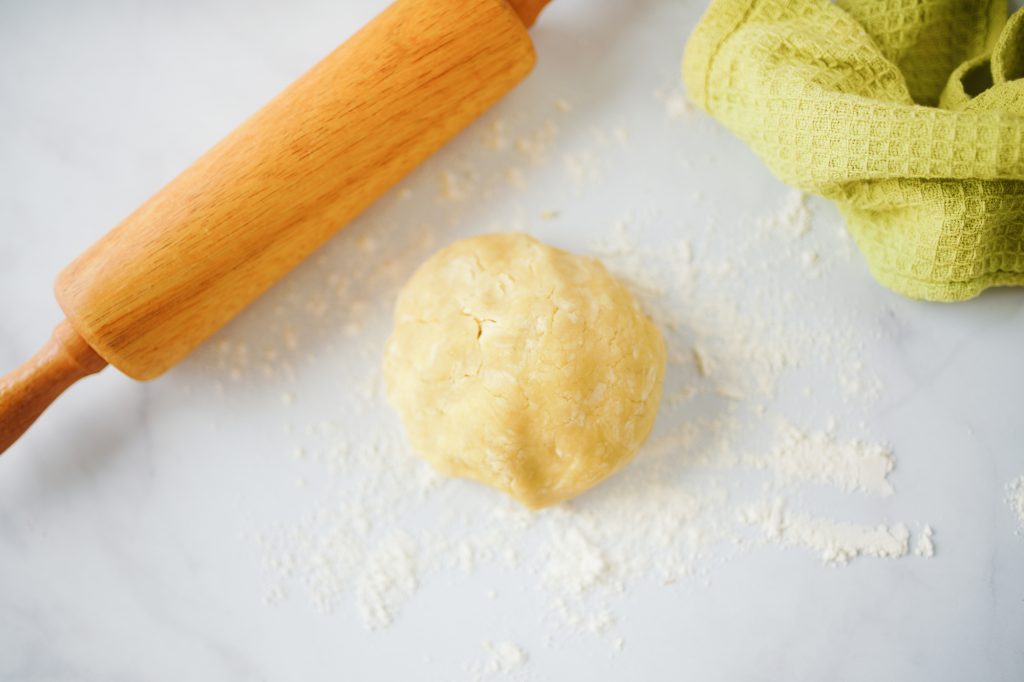 Do NOT Let The Pie Crust Rest
Under any circumstances, DO NOT let the vegan pie crust "rest" or sit!
If you do, it will become flaky, tough, and unusable. It also won't hold its shape.
The moment you are ready to use the pie crust is the moment you should combine the wet and dry ingredients.
Then you should begin the rolling out process! You can roll it out with a rolling pin or press it out using your hands or a round bottle or jar if you don't have a rolling pin.
Whatever you use, don't let the vegan pie crust rest or else it will not come out correctly!
When I was photographing this recipe, I had to make 3 versions of this pie crust as I had let it "rest' while I was taking photos of it and then when I went to make my pie it had become too tough for me to manage it!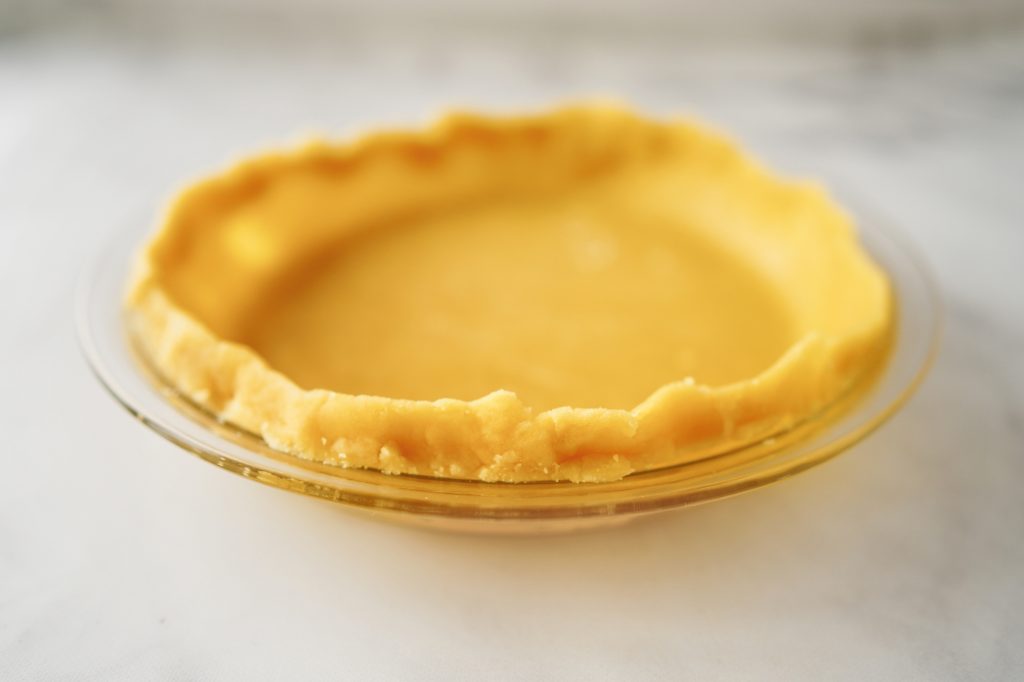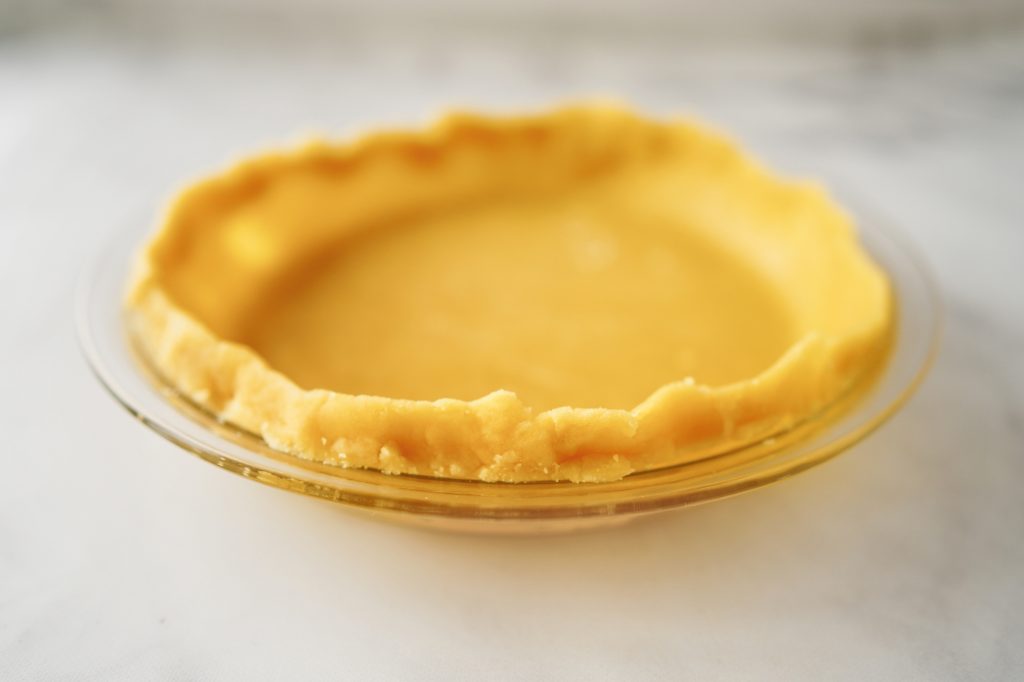 How To Easily Make Vegan Pie Crust
Making vegan pie crust is so easy, a child could do it.
How do I know? I was that child! Tasked with making the pie crust as my Grandma prepared the filling! That is how I know!
All you have to do is put your salt and flour in a bowl and then using a measuring cup, pour your oil and milk into that same bowl. You do not need to use two bowls.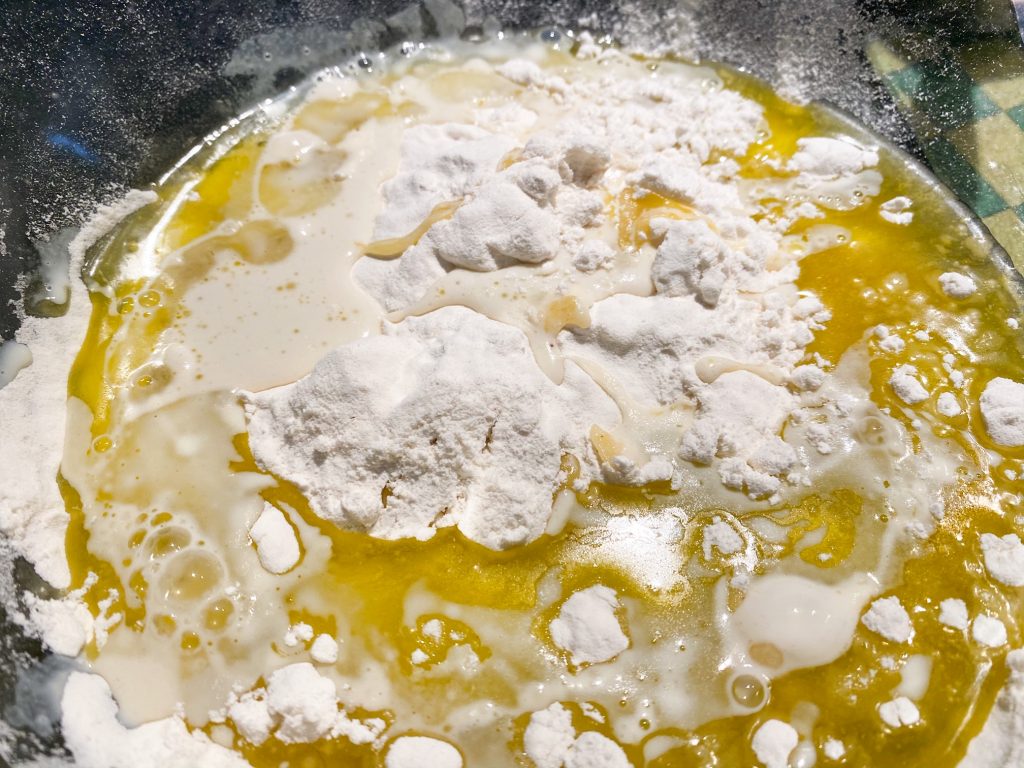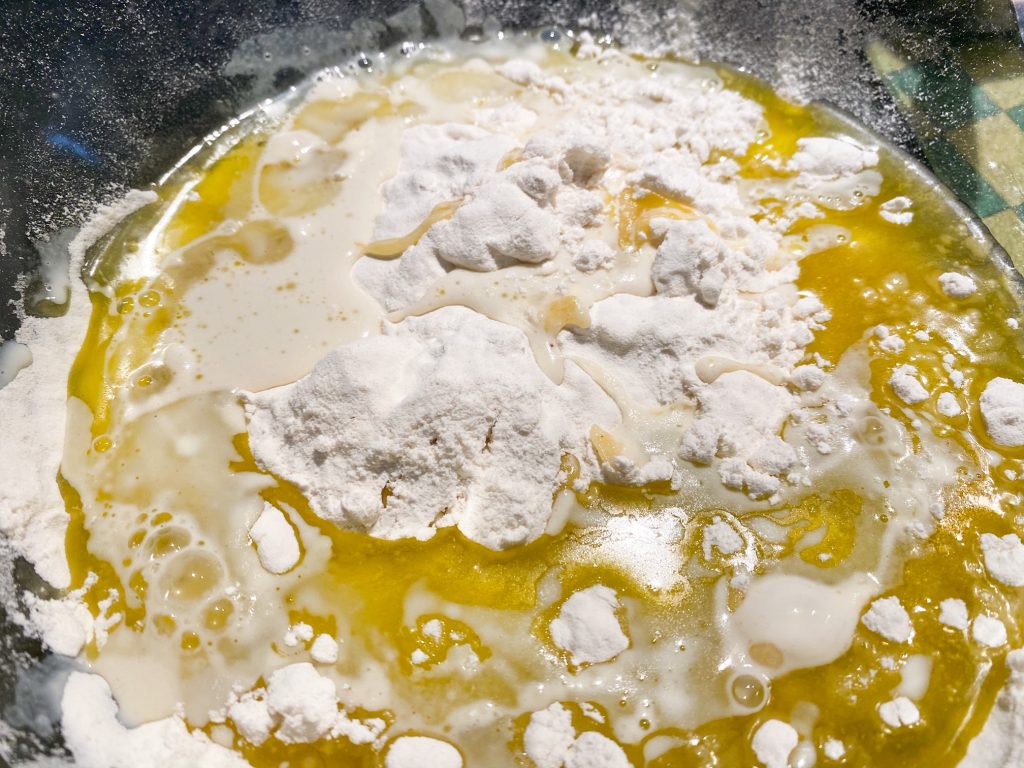 I find it easier to measure using the same measuring cup and to put all ingredients into the same bowl.
I will use a 1/4 cup measuring up and will add the oil first by filling the 1/4 measuring cup up twice with oil and then once with milk.
I find that the milk pushes out the remaining oil so you get everything out of the measuring cup!
Next, you will knead your wet and dry ingredients together until a dough is formed. Do not use a spoon or whisk for this step.
Clean your hands and use them! I always use my hands to combine the pie crust dough and Grandma did as well.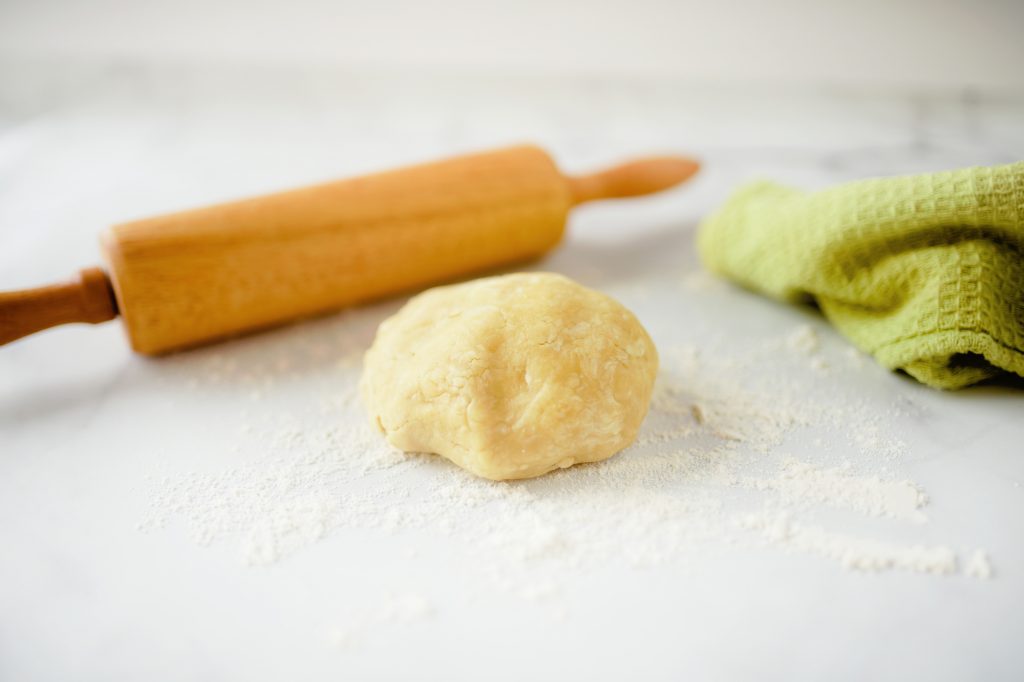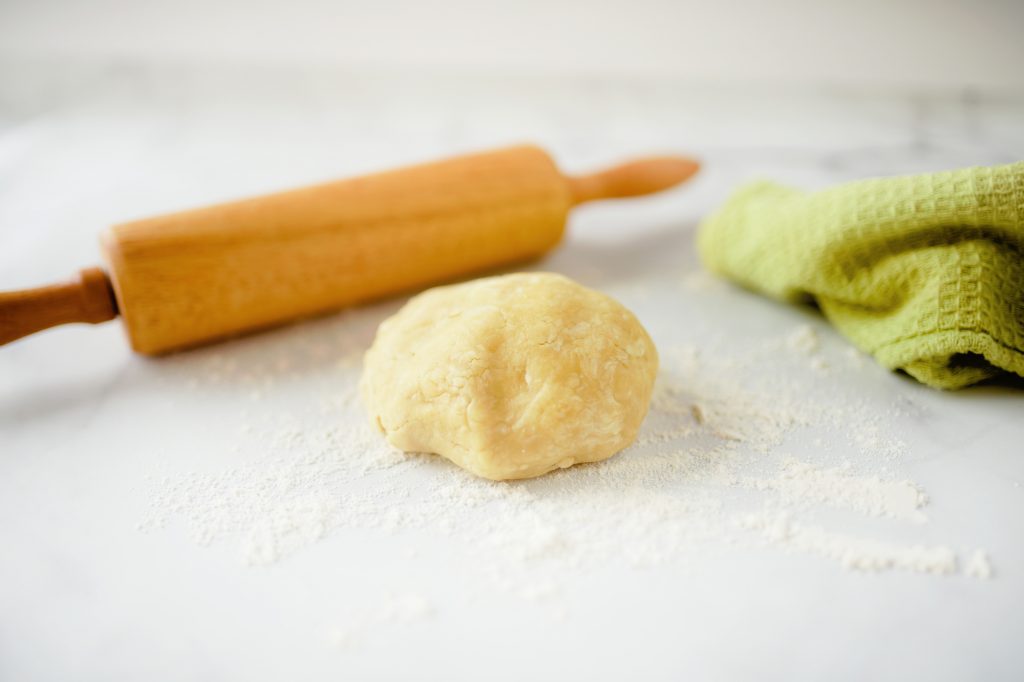 You will want to use your fingers to combine all of the ingredients and squish them together until a dough ball forms.
Be careful not to over mix this vegan pie crust recipe. If you do, you will be left with a tough and unworkable ball of dough.
As soon as the ball of dough forms, transfer it to a floured surface or onto parchment paper.
I roll my pie crust between two pieces of parchment paper.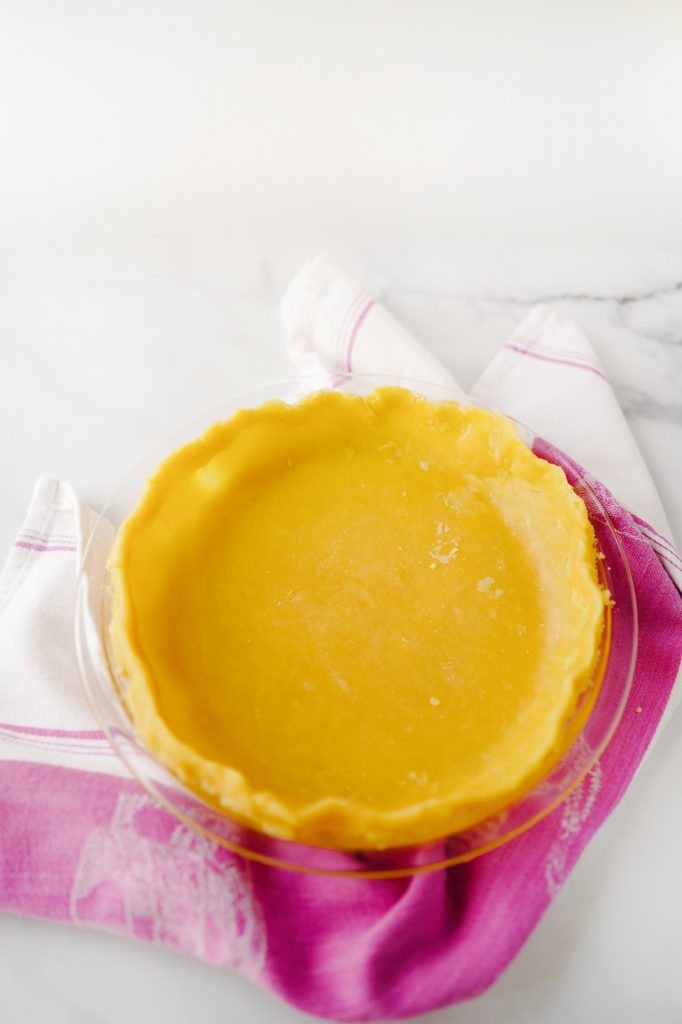 Once it is rolled flat, I then place the pie plate over the rolled dough and "flip" so that now the pie crust is within the pie plate.
I will then cut off the remaining edges and roll a second time for the top part of the pie.
If you want, you can press this entire pie crust recipe into the pie plate using your hands and then make my Vegan Crumble Topping Recipe for a crispy crumbly topping filled with sugar!
If you follow this easy method, you should have a pretty fail-safe vegan pie crust recipe!
If your dough is flaky for whatever reason, go ahead and add a tiny bit more oil 1/2 teaspoon at a time until the wet and dry ingredients stick together!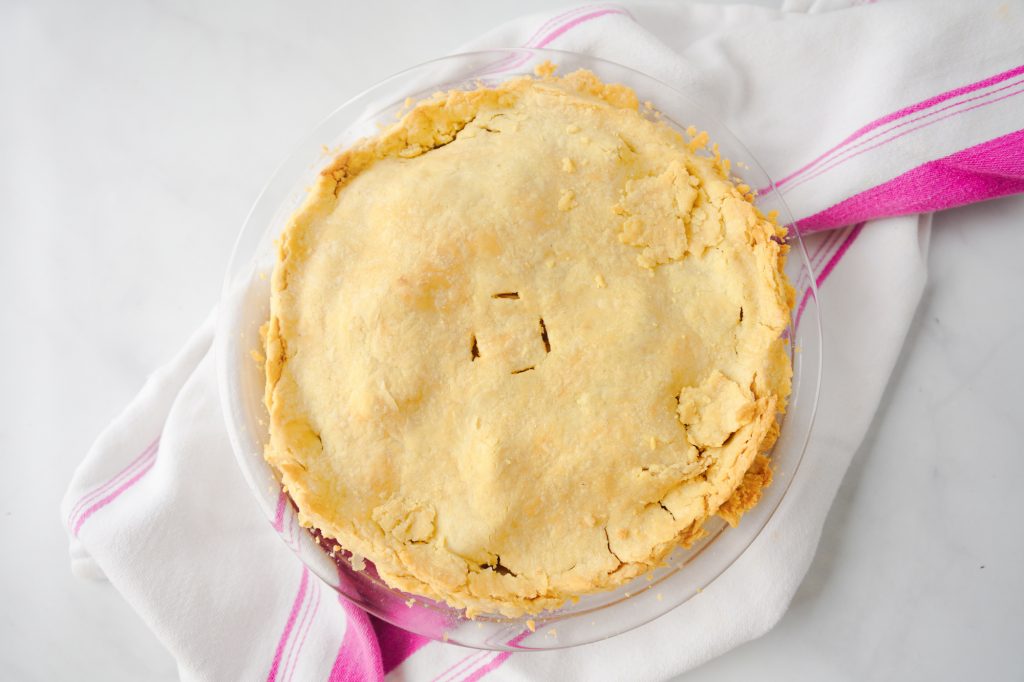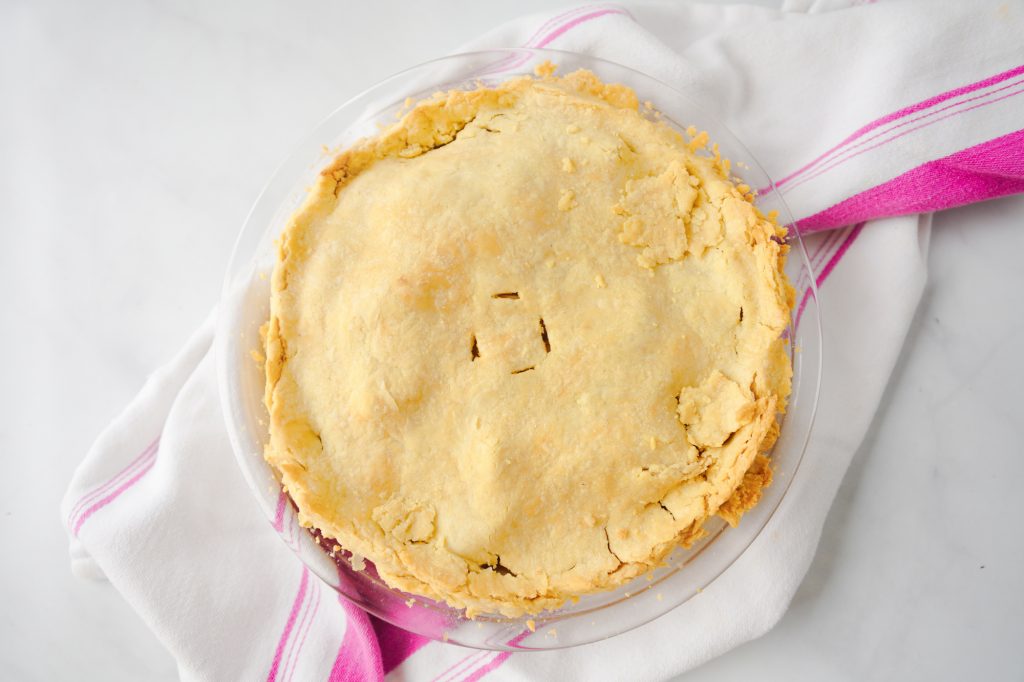 Yield: 1 Pie Crust (Top And Bottom)
Grandma's 4-Ingredient Vegan Pie Crust Recipe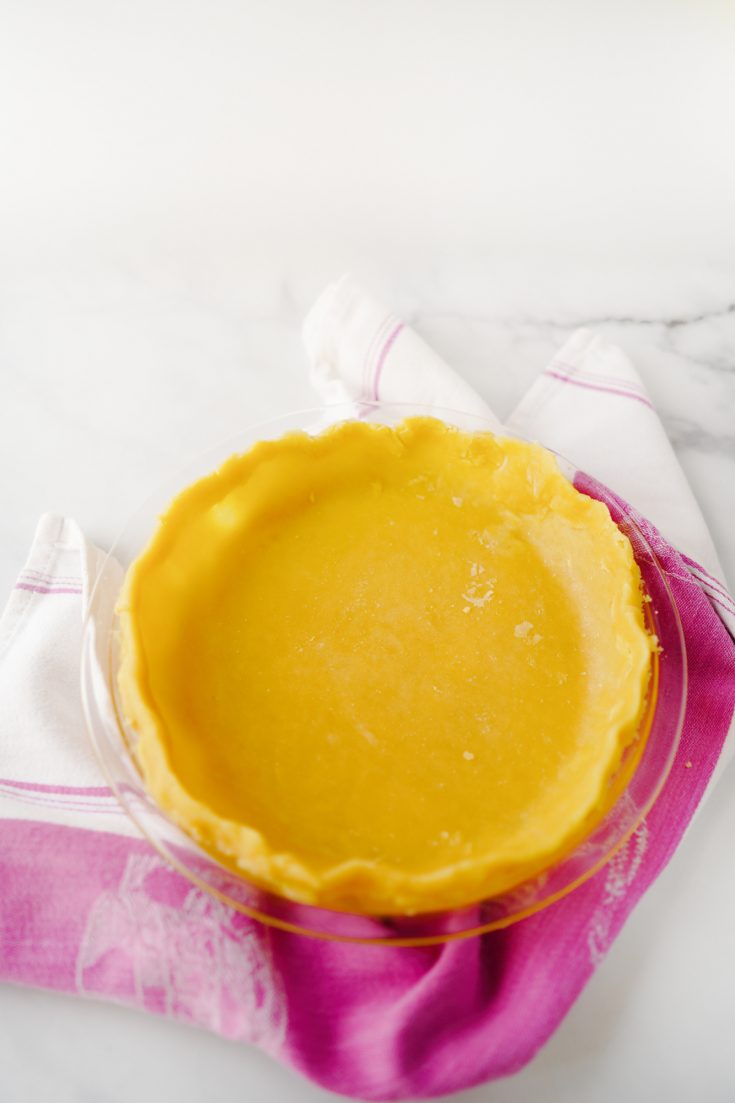 This vegan pie crust recipe is so easy and uses just 4 ingredients! It has been in my family for generations and is flaky and delicious!
This recipe for vegan pie crust is very forgiving so if it is your first time trying to make your own pie, don't worry!
This recipe works for both savory and sweet recipes!
You can make this recipe gluten-free by using the flour of your choice!
Ingredients
2 Cups Flour [Any Flour Works]
1 Pinch Of Salt
1/2 Cup Oil
1/4 Cup Milk [Dairy Or Nondairy, Both Work]
Instructions
Preheat oven to 400 F
In a large mixing bowl, add flour and salt. Using a measuring cup, add in oil and milk to the bowl of flour.
Using your clean hands, mix pie crust until a dough forms. Be careful not to overmix. When it is just formed, you are done.
Immediately transfer to your counter and roll dough using a rolling pin with dough between two pieces of parchment or wax paper or press into a pie plate using your hands if you do not have a rolling pin.
Carefully peel the top layer of parchment paper off and place your pie plate over the dough. Then invert and take off excess dough. Roll excess dough again for the top of the pie.
Add in whatever fillings you want.
Bake vegan pie crust for 15 minutes at 400 degrees and then lower the heat to 350 degrees until done, about 20-30 minutes more, depending on your oven.
Pie is done when top and bottom of the crust are golden brown.