If you are looking for an easy vegan watermelon salad, you have come to the right place!
This recipe is simple, flavorful, and tastes like summer and fun.
The moment watermelon comes into season, I always buy some! My Dad always grows tons of watermelon too so that doesn't help feed my addiction!
Watermelon is my favorite and it is healthy. I love making watermelon smoothies with it and a variety of other dishes!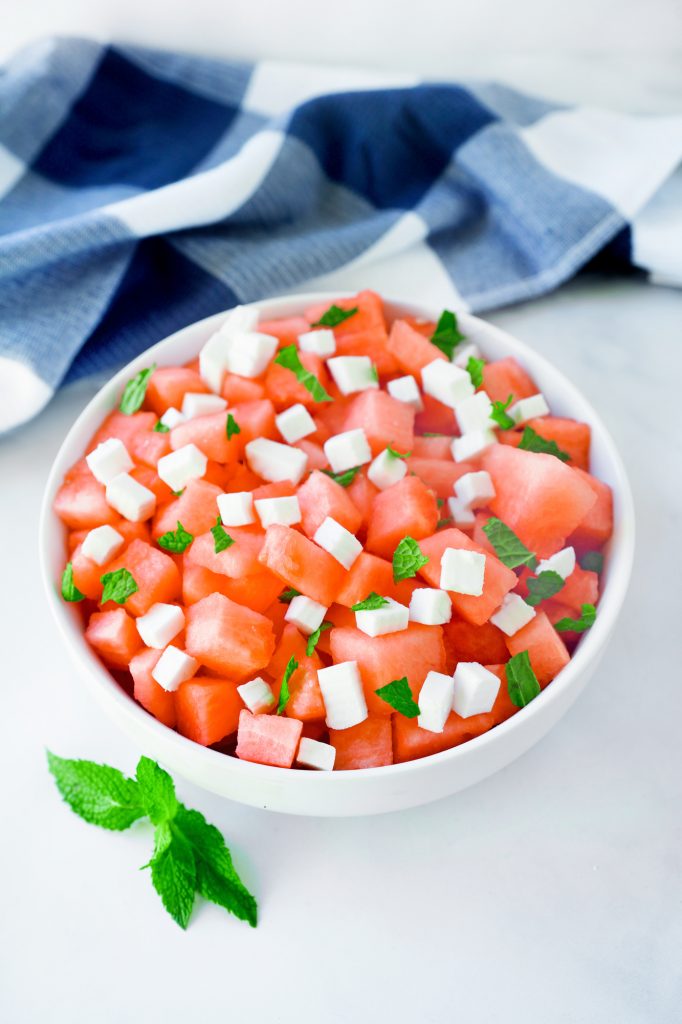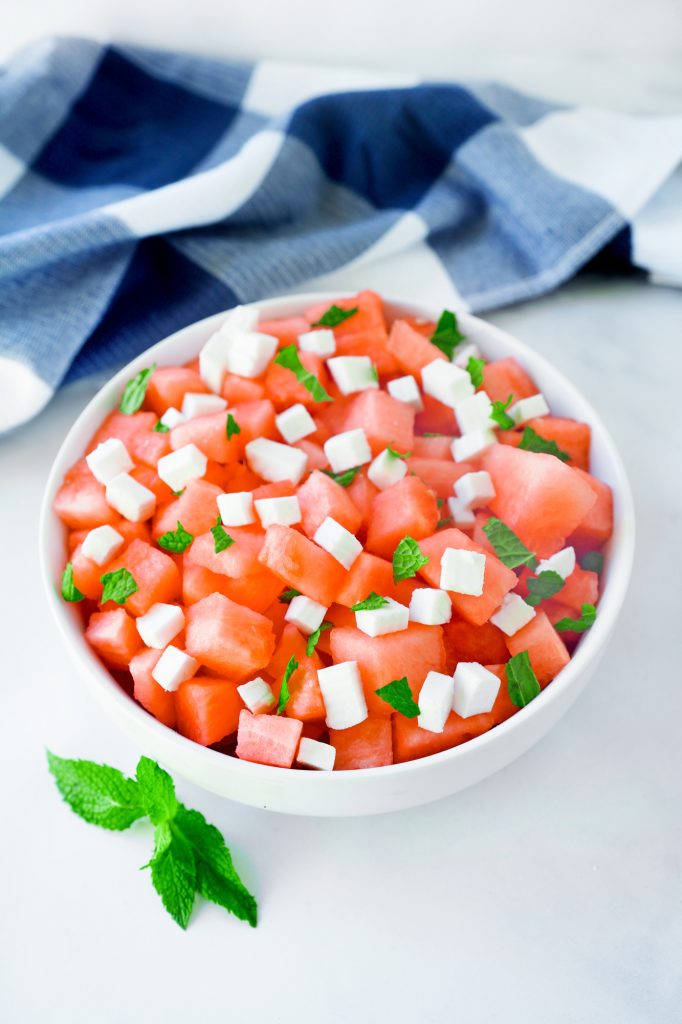 It is both refreshing and filling and the blend of flavors in this salad makes for a tasty side or lunch.
This vegan watermelon salad is super easy to make. It whips up pretty much as fast as you can cut the watermelon into cubes and dressing it.
A lot of watermelon salads include cucumber, but my family and I are not big fans of cucumber so I left it out of this recipe.
I figure it is always better to add something if you want than for the recipe to have something you don't like in it.
The vegan watermelon salad recipe is tasty as-is, without any added cucumber.
If you want to get fancy, go ahead and throw in some kalamata olives for a Mediterranean flavor.
I know that you are going to enjoy this simple and delightful watermelon salad recipe as much as my family does!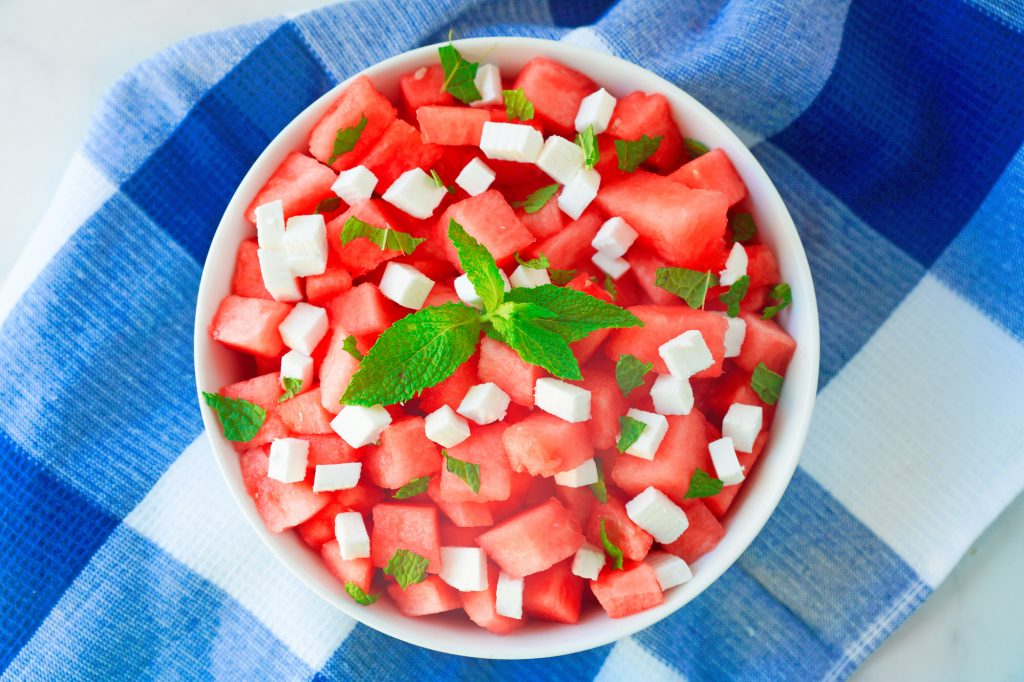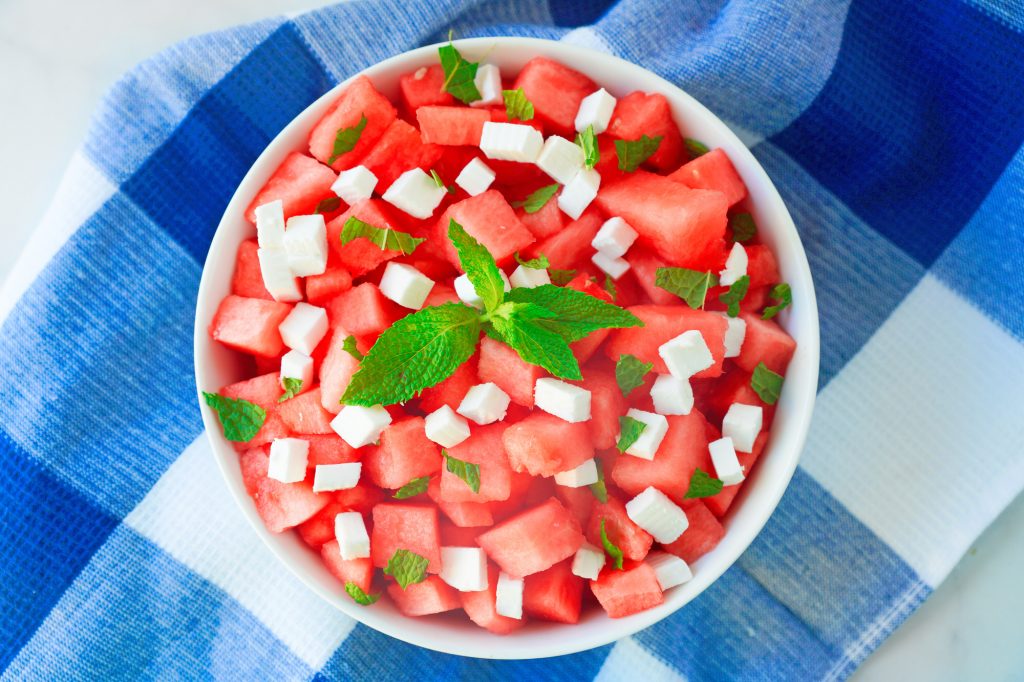 Where To Find Vegan Feta
YES! The feta that you see in these photos is 100% vegan feta! I bought it from Whole Foods and it was easy to find in the normal "vegan cheese" section of the store.
The brand of vegan feta I use is Violife Brand Feta Cheese. I pick it up from my local Whole Foods but you can find it at other grocery chains as well.
I love Violife Brand of cheeses because they are more realistic to animal-based cheeses and don't taste quite as "fake" as other vegan cheese.
The Violife feta crumbles really well which makes it a great topping for the vegan watermelon salad.
You can also make your own vegan feta which I have also done in the past! Here is my Vegan Feta Cheese Recipe! It is super easy and just takes a few ingredients to make.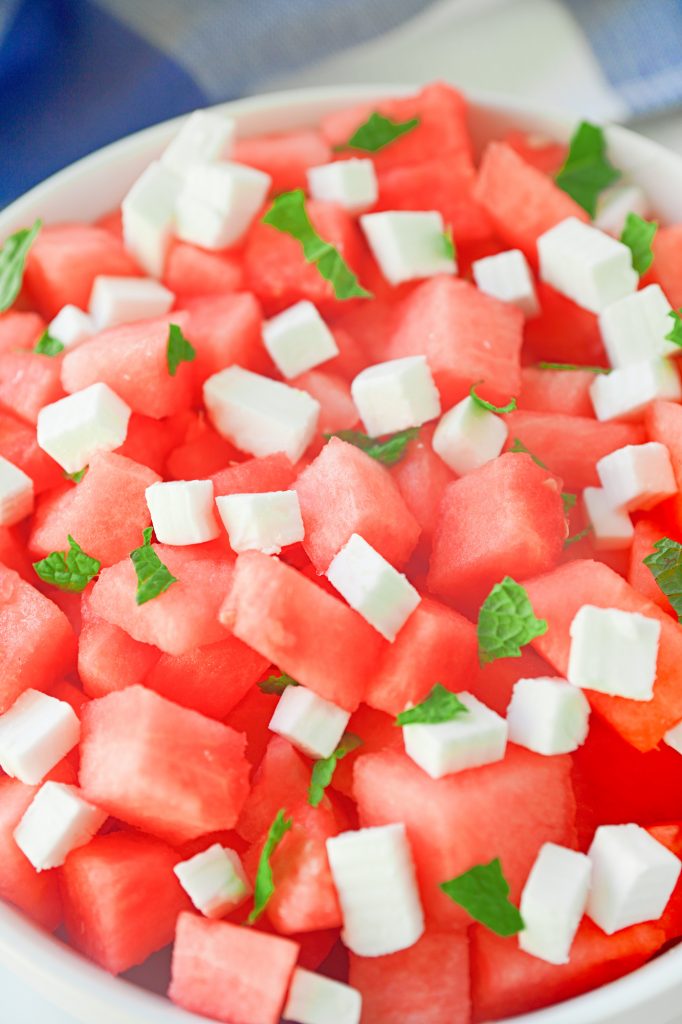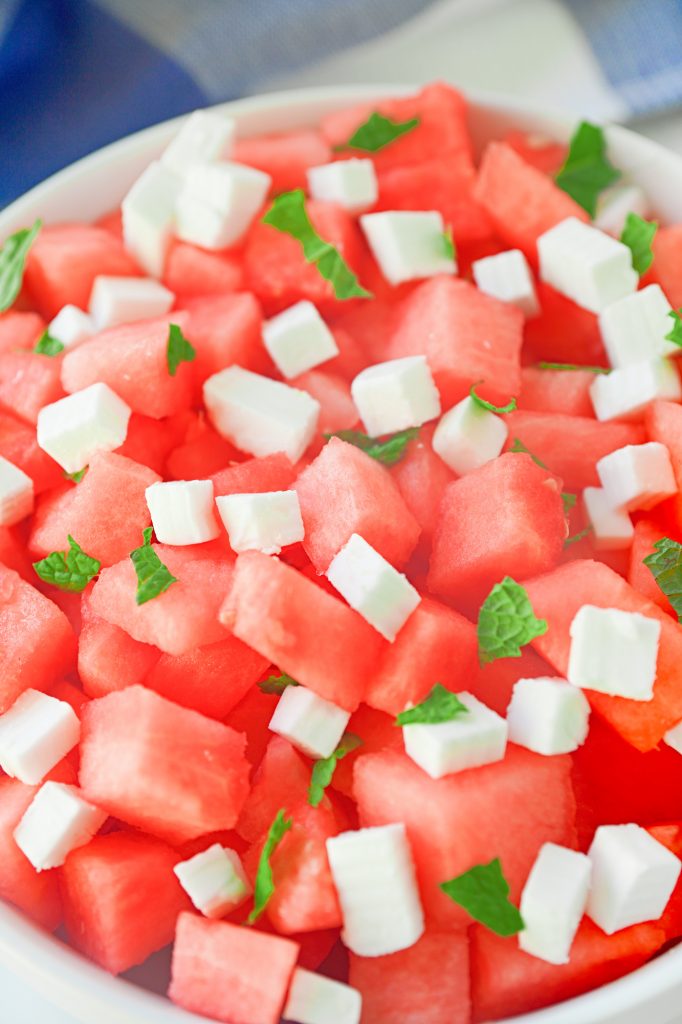 How To Store Mint
If you do not store mint the correct way, it will wilt and get all crappy looking.
I learned this the hard way when my mint was all wilted and sad.
If you are buying fresh mint in advance to make this vegan watermelon salad recipe, you are going to want to store it correctly.
You want to avoid the mint leaves coming into contact with air. Store them in a sealed container like a glass jar or tupperware int he back of your fridge.
This way, when you open the door, they won't get hit by all that air from outside your fridge.
You can also submerge them in a little bit of water as the water will seal out the air and will keep your mint fresh and tasty for this salad!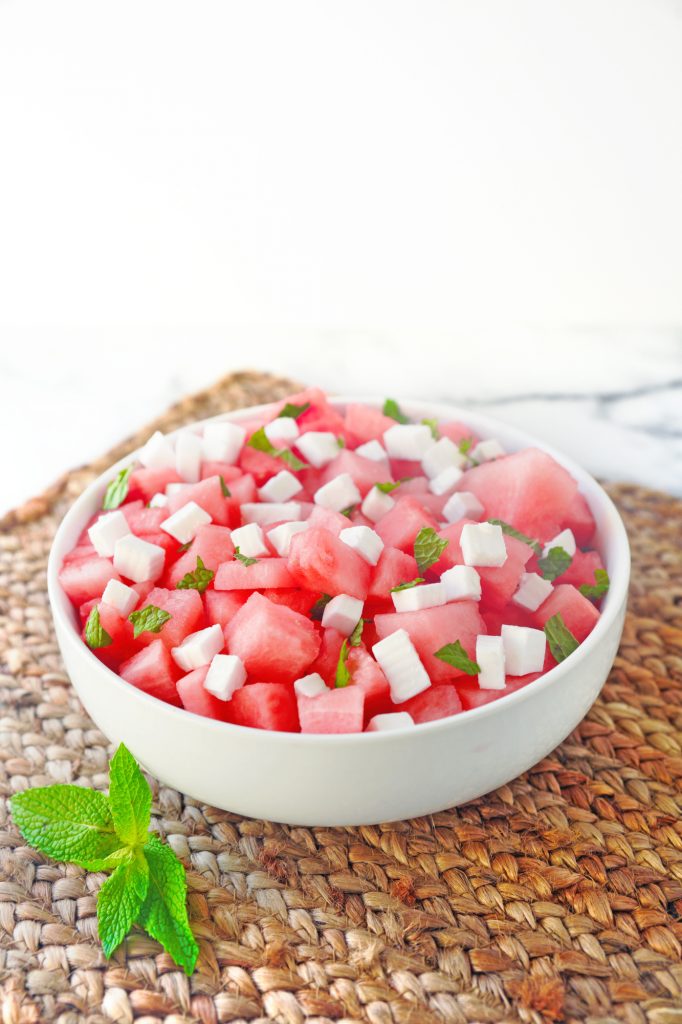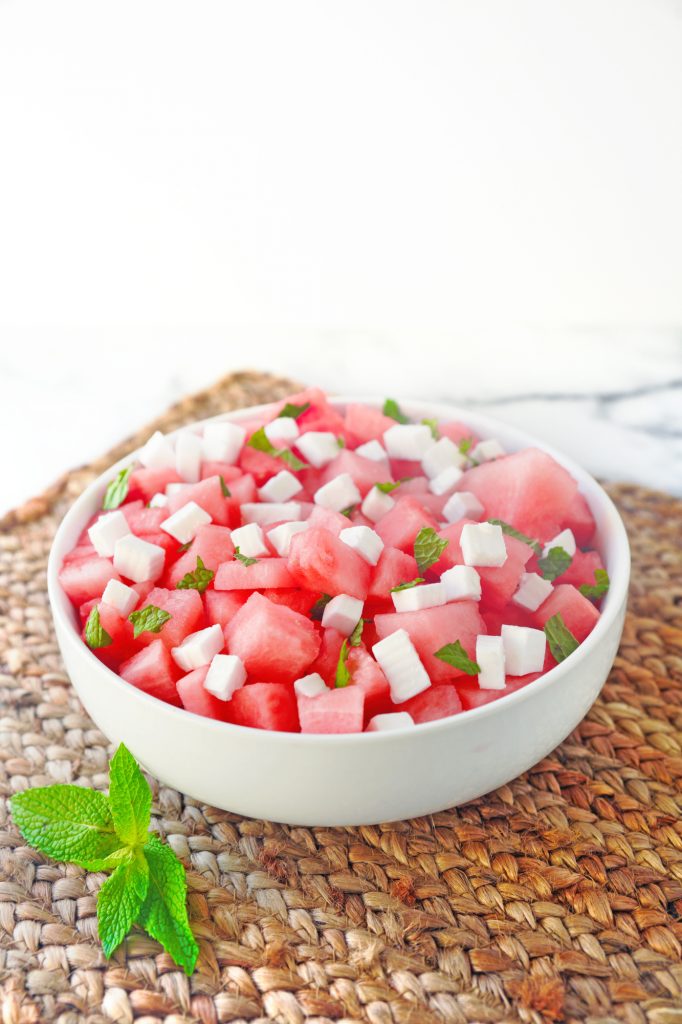 How To Make The Vegan Watermelon Salad
This vegan watermelon salad is so simple and easy.
The key to making it is only using a few high-quality ingredients. You want to let each ingredient shine so that the flavors really stand out.
As a result, there are only a few ingredients you need to prepare this recipe!
As I mentioned above, I do not like cucumber so I did not add any to this recipe. You can use my recipe as a base and then go ahead and add whatever fun ingredients you want.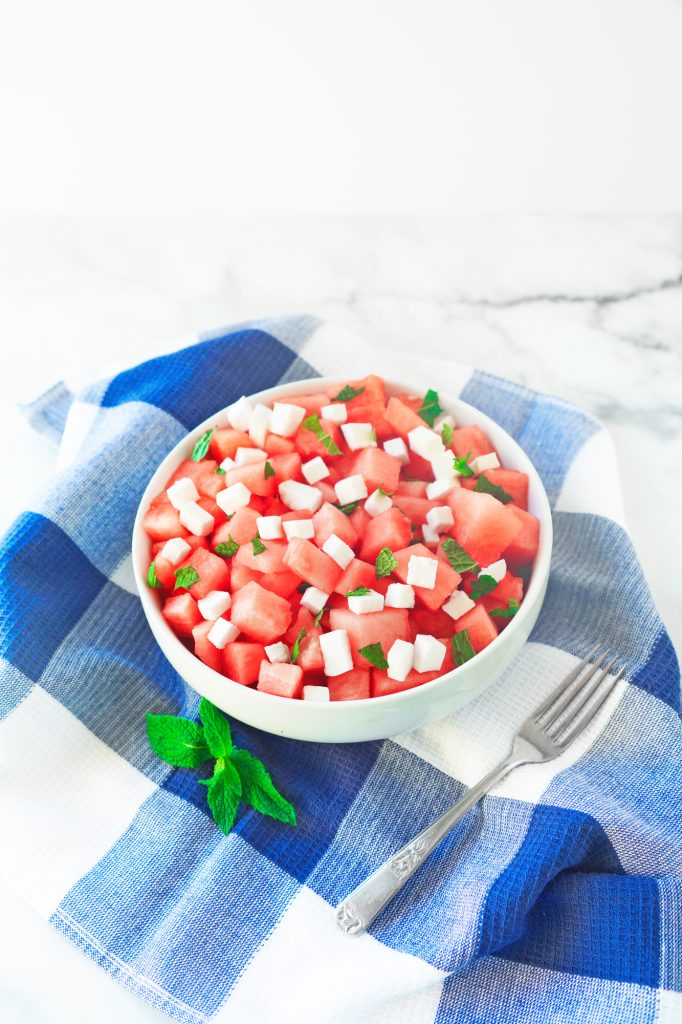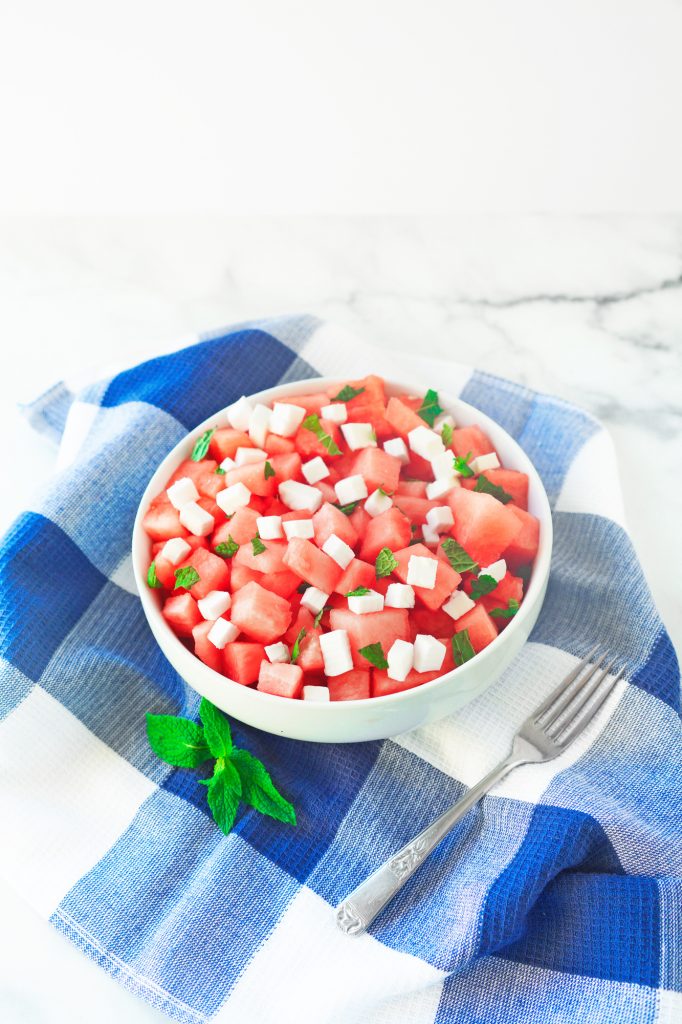 I recommend playing around with my watermelon salad recipe and adding your own mix-ins such as kalamata olives, cucumbers, and red onions, if those are things you love!
To make my vegan watermelon salad, first you are going to want to cut your watermelon into bite-size cubes.
Cutting the watermelon is what takes the longest, so if you are buying pre-cut this recipe will be even faster!
Simply cut your watermelon, then cut your vegan feta on a cutting board and sprinkle it into a mixing bowl.
Using your fingers, tear the mint into small pieces. No need to use a knife if you don't want to. Your clean hands work perfectly to tear the mint into pieces for this recipe.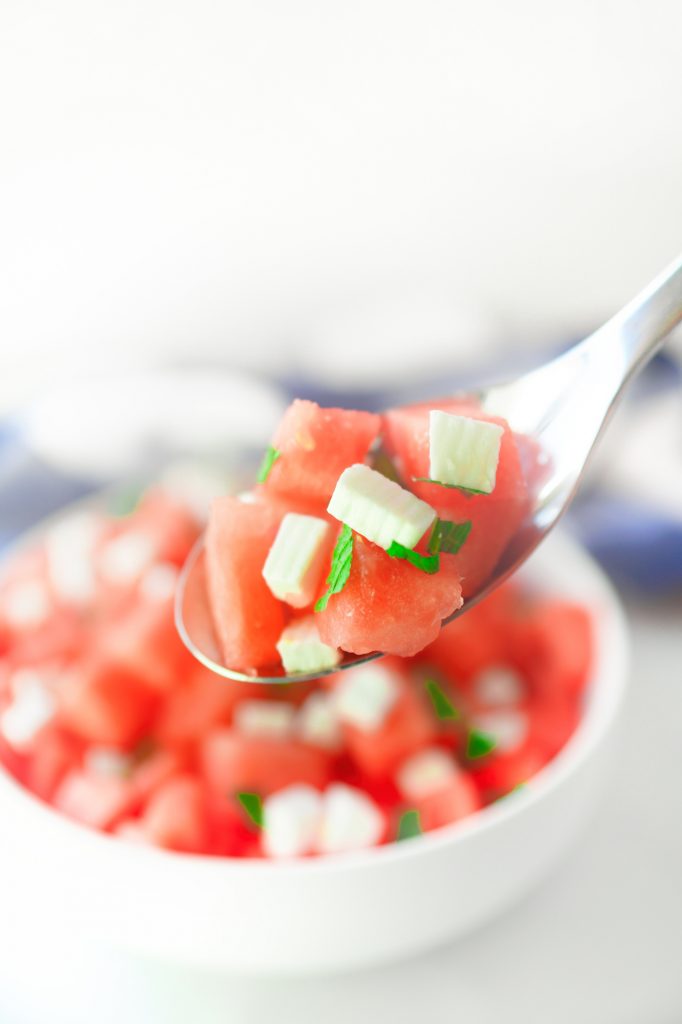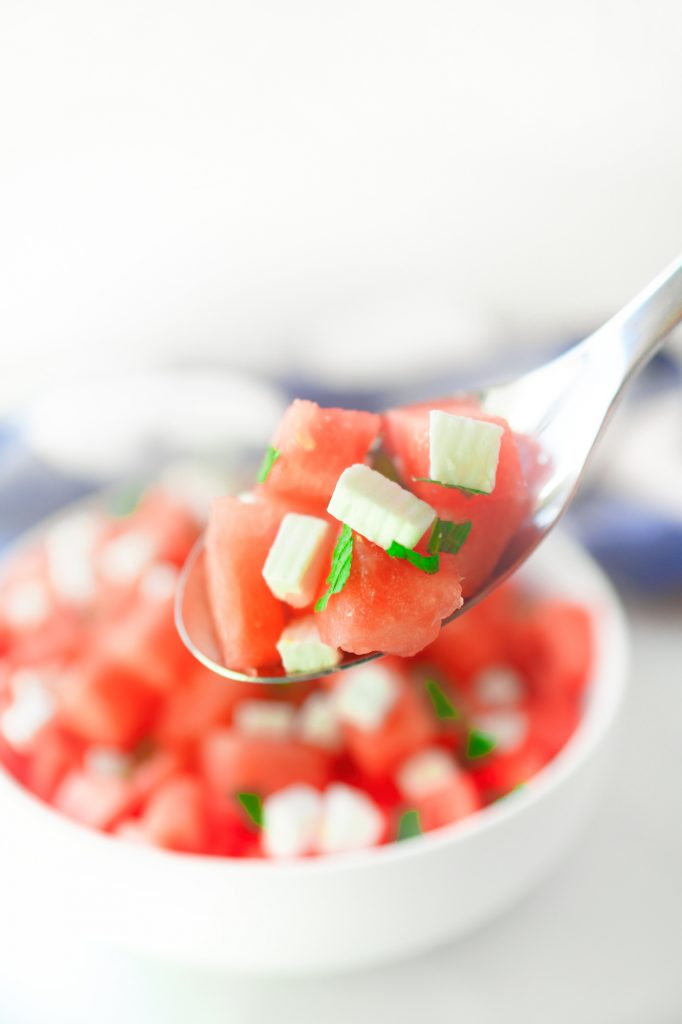 Use a large spoon and toss the ingredients until they are mixed.
Top the salad with high-quality olive oil and fresh lime juice as well as a little salt and pepper if you prefer.
Salt is FABULOUS on this salad, do not skip it!
Many people eat watermelon straight with salt so adding a tasty dressing really elevates the flavor.
Then, place into a serving dish and enjoy!
That is all you have to do to make an easy and tasty vegan watermelon salad with vegan feta and mint!
Serve it as a side with your favorite vegan BBQ favorite such as Chickpea Burgers or Mushroom Burgers!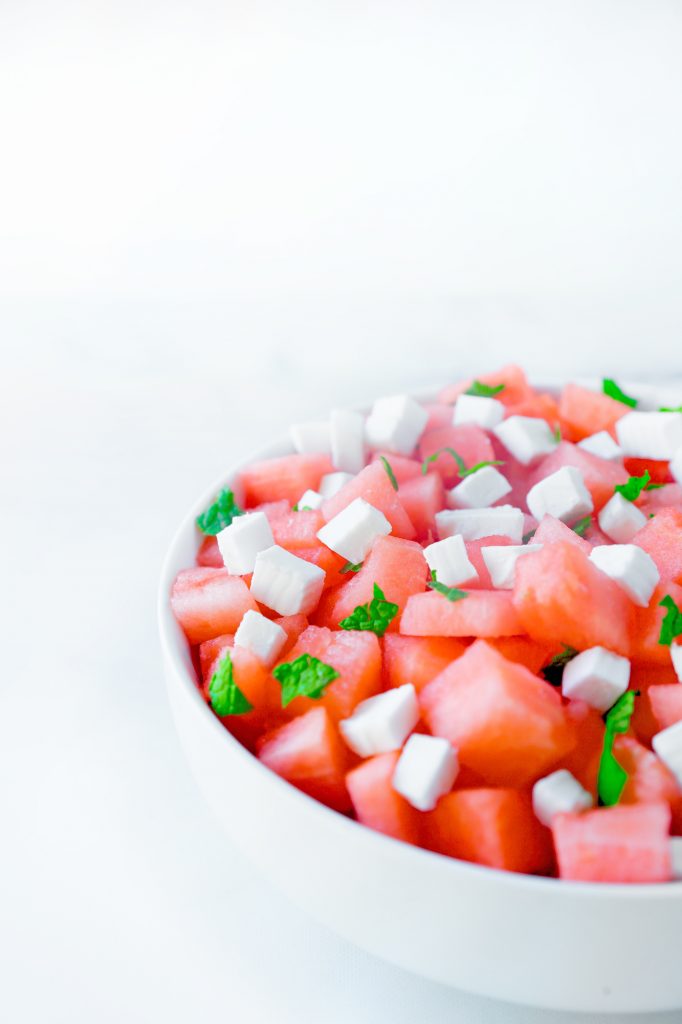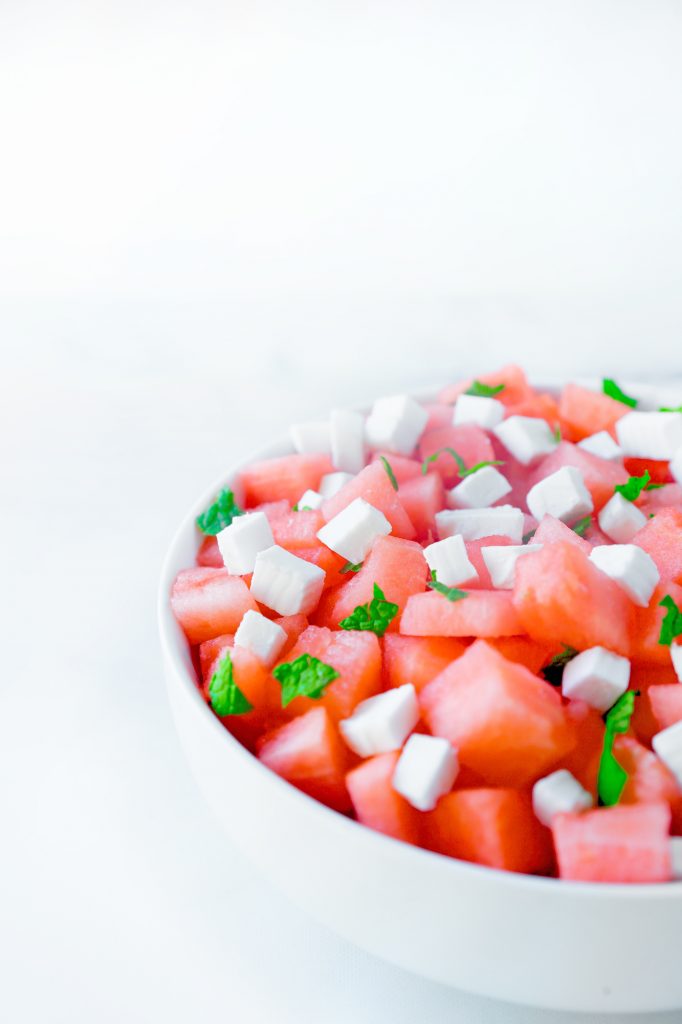 Did You Try This Recipe?
If so, I would love to keep in touch! I enjoy seeing photos and comments about the recipes that you make! You can follow me on Instagram and I will repost your goodies in my stories and comment on it too! Just tag me at @wowitsveggie and hashtag #wowitsveggie. I can't wait to see what you make!
Yield: 4 servings
Vegan Watermelon Salad With Feta And Mint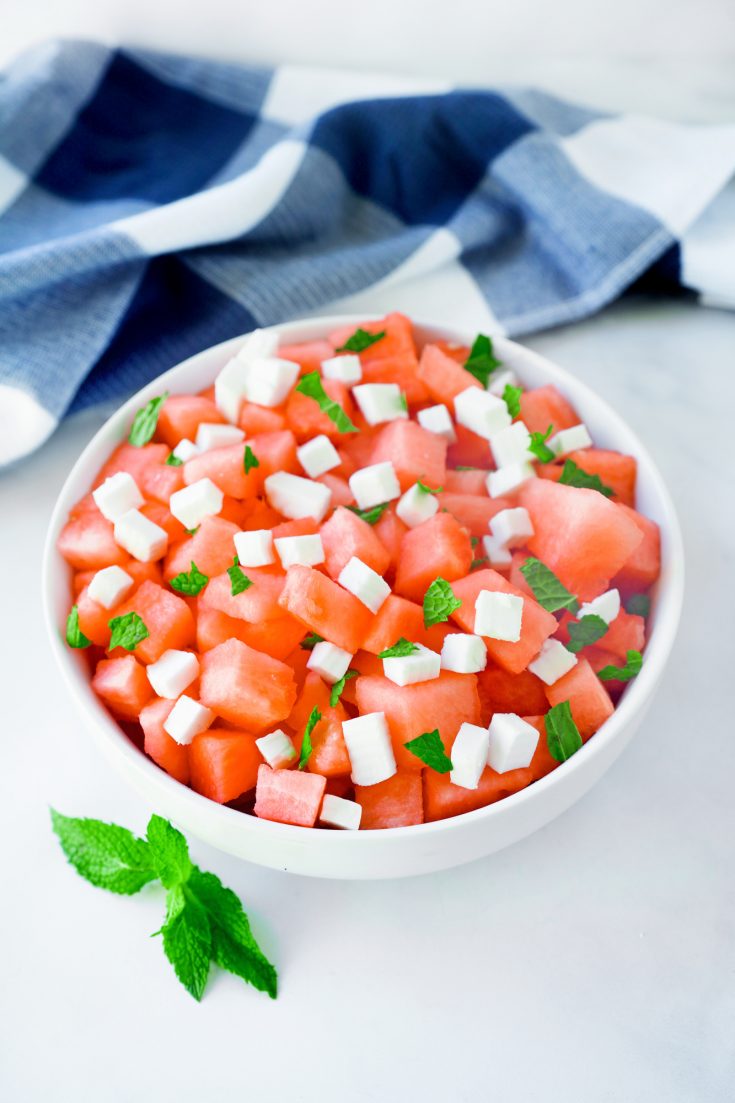 This vegan watermelon salad with mint and feta is sure to become your summer favorite! This recipe uses vegan feta from the Violife brand and it is super tasty and refreshing. This recipe is also gluten-free so everyone can enjoy it as a delicious vegan side.
Ingredients
4 Cups Of Watermelon, Cubed
1/3 Cup Vegan Feta Cheese [homeade or Violife Brand]
1/4 Cup Mint, shredded and loosely packed
3 Tablespoons Oil [Olive or Avocado]
1 Tablespoon Lime Juice
1 Teaspoon Salt
Pepper to Taste
Instructions
In a large bowl, place watermelon cubes, vegan feta, and mint leaves and toss to combine.
In a small bowl, whisk oil, lime juice, salt and pepper, and drizzle dressing over the vegan watermelon salad.
Serve immediately, this recipe doesn't keep well!