If you are looking for your new go-to summer drink, this tasty frozen watermelon margarita is just it!
Margaritas with watermelon really elevate the taste of the drink and make it so much more enjoyable!
You can make a watermelon margarita without anything being too cold, but I am a big fan of blended and icy drinks, so I went the frozen route for this recipe!
You can make this a virgin cocktail by simply skipping the tequila when blending up this tasty drink. Or you can simply make my Watermelon Smoothie Recipe!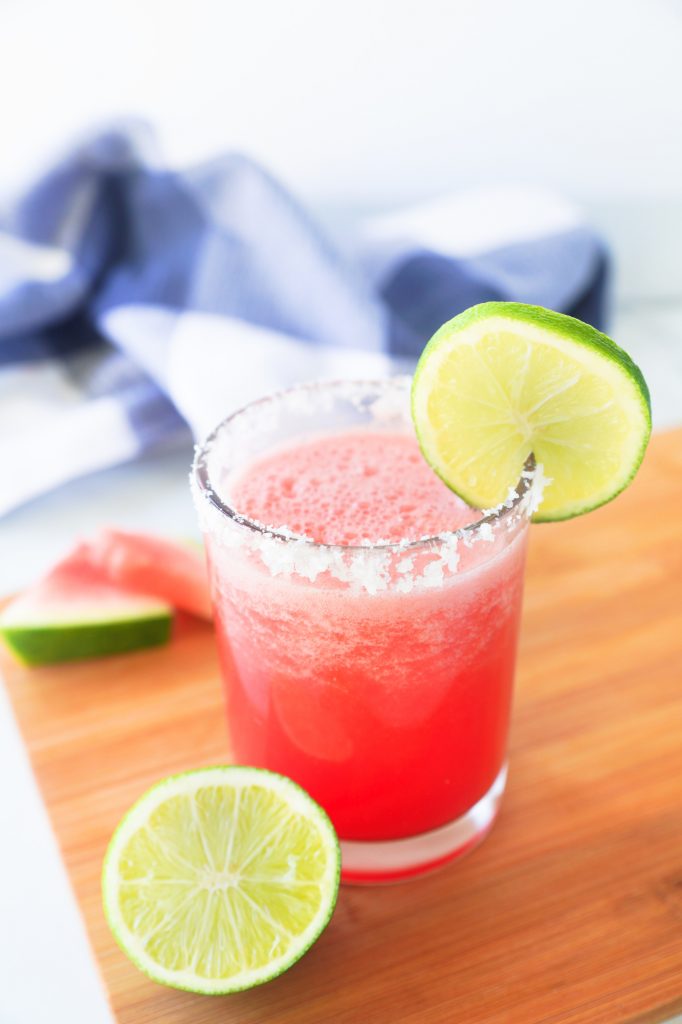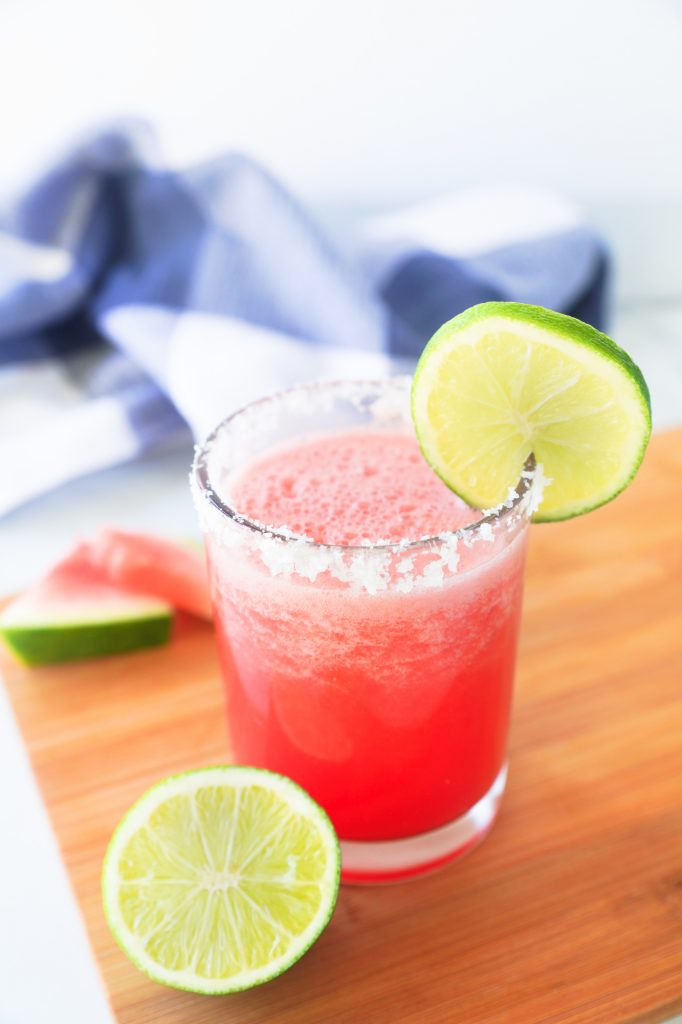 I am also not a fan of adding too much extra sugar when a drink is already sweet enough. Now, watermelon is basically sugar and water, so you don't have to add much!
The tequila does add a bitter taste to this frozen watermelon margarita, which is why I do have a few sugar options in case you want something on the sweeter side.
Many watermelon margarita recipes that you find on the web require you to take out the seeds, strain out the pulp and more.
But I am going to let you in on a little secret. Pulp is HEALTHY FOR YOU!! So you can basically drink your favorite adult beverage AND get health benefits.
Sounds like a win-win to me!
Making this frozen watermelon margarita recipe is so easy your drunk aunt can do it, but she won't have to because you will make sure everyone drinks responsibly!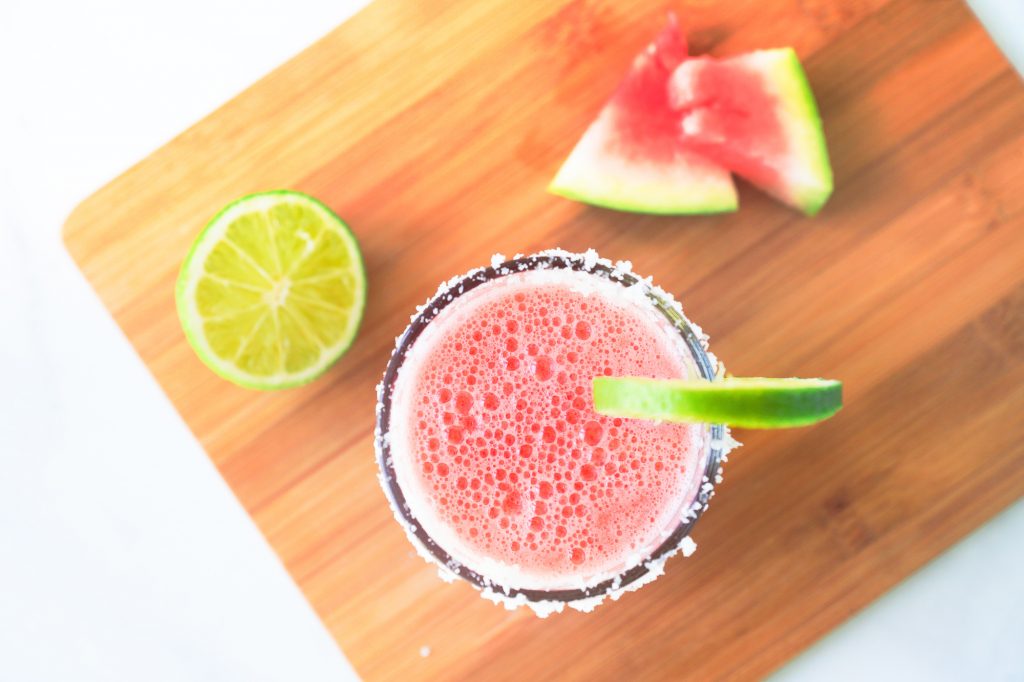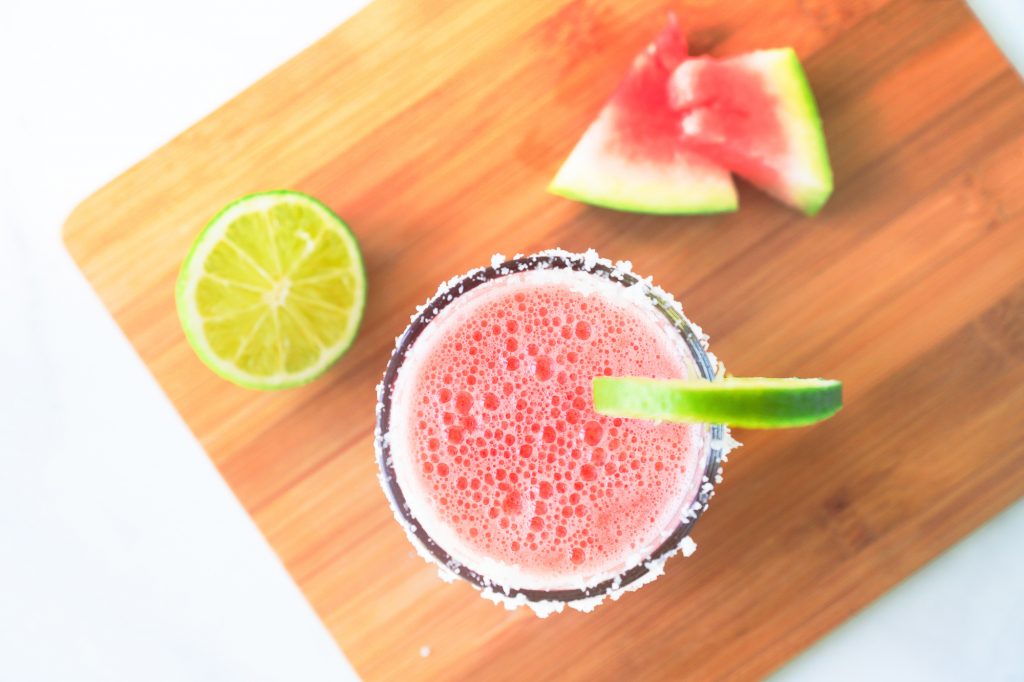 How To Add Sugar To Your Watermelon Margarita
For this recipe, I do NOT require a simple syrup which is basically sugar and water boiled down to a thick syrup.
Watermelon is tasty as it is and I don't think we need 1 cup of sugar to 1 cup of water. It jut isn't necessary.
If you want to make your frozen watermelon margarita a little bit sweeter, I recommend adding 1-2 tablespoons of either agave syrup or maple syrup.
Of course, you can go the "pure sugar" route and just add sugar straight to your blender if you prefer!
When adding sugar to your watermelon margarita, I suggest starting with a little bit. You can always add more sugar but you can't take it away!
Add the sugar or maple syrup 1 tablespoon at a time and do a quick taste test until your desired sweetness has been acheived!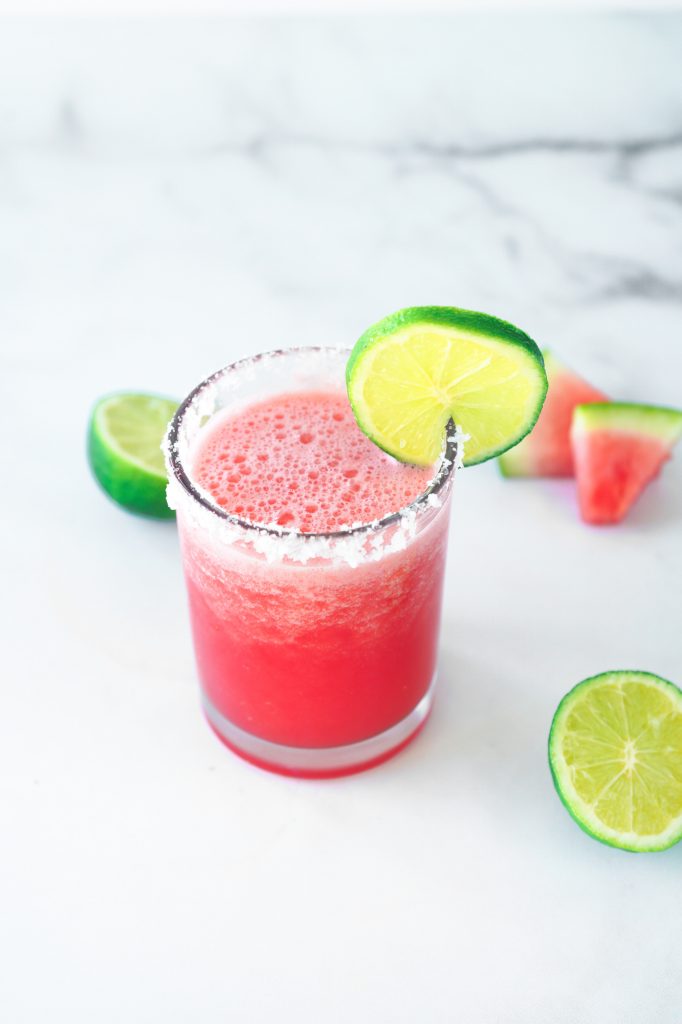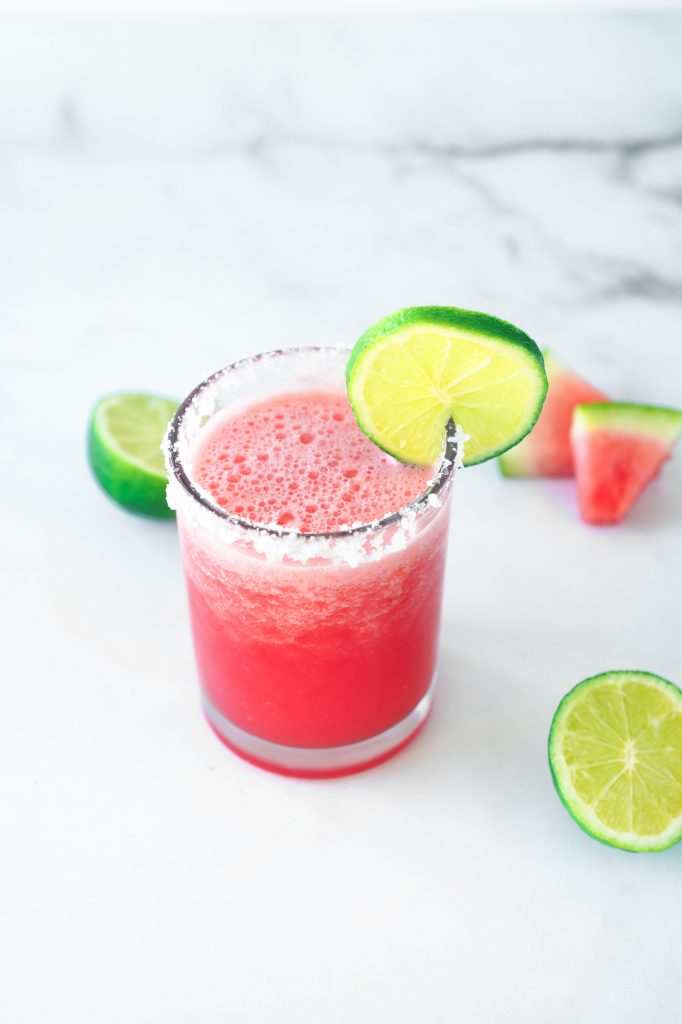 How To Make The Frozen Watermelon Margarita
Making this frozen watermelon margarita is so easy and fun!
This margarita recipe does not require any additional work other than cutting the watermelon into chunks.
I use a Vitamix which is a very powerful blender. If your blender isn't as powerful, make sure to cut the watermelon into smaller chunks.
My Vitamix can even handle seeds so if I don't happen to have a seedless watermelon, I can still make this frozen watermelon margarita as the black seeds are pulverized.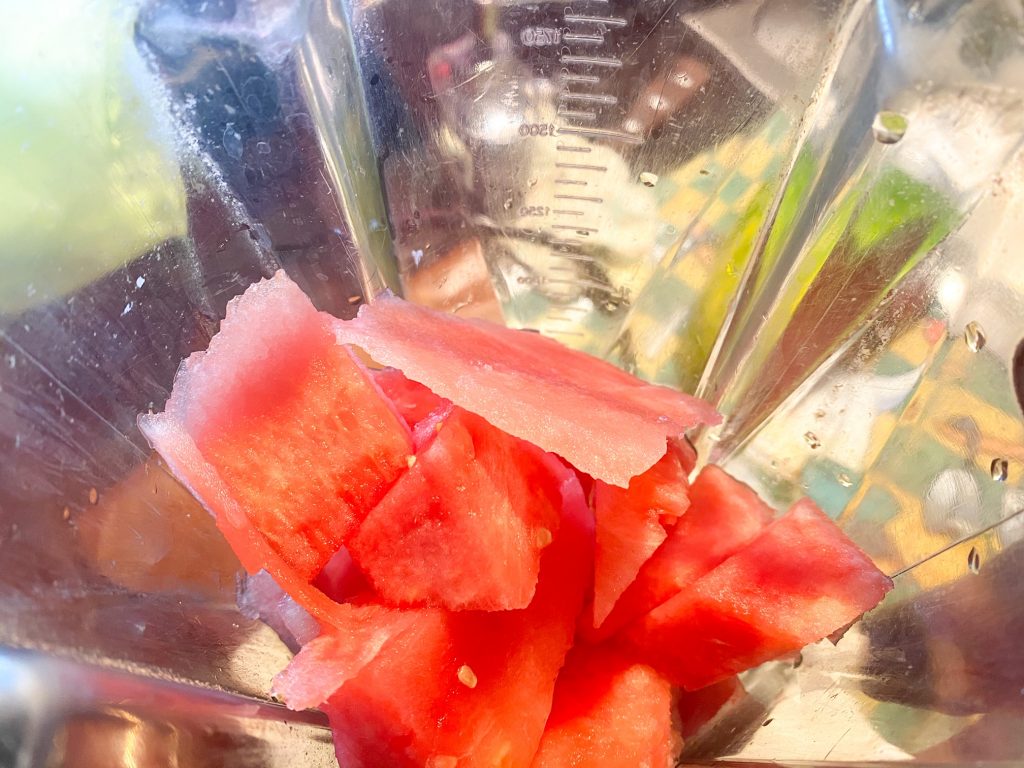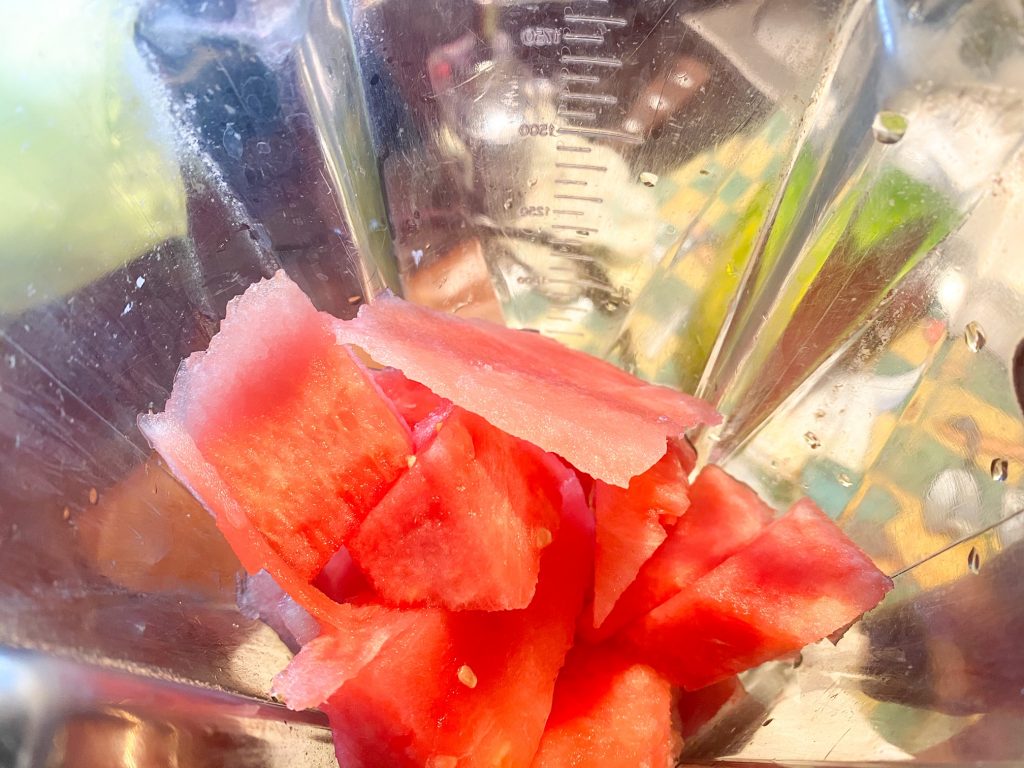 If you want, you can choose to freeze your watermelon so that it is hard like an ice cube.
This usually takes too long for me to cut up the watermelon and then come back hours later when it is frozen so I skip this step but if you want to be extra fancy, go ahead and try it.
I just use ice cubes to give this watermelon margarita a frozen and delicious texture.
Add all of your ingredients to a blender and give it a whir until it blends to that perfect "frozen" consistency that you are looking for.
While the frozen watermelon margarita mixture is still in your blender, take this time to rim your glasses with salt or sugar if you prefer.
For a traditional flavor, rim the glass using lime juice and then flip it over and rub it in a shallow plate filled with salt.
If you are looking to go an even easier route, fill one plate with water and the other plate with salt.
Dip the rim of your cup first into then into the salt to achieve the same look with less work.
Drink immediately and enjoy!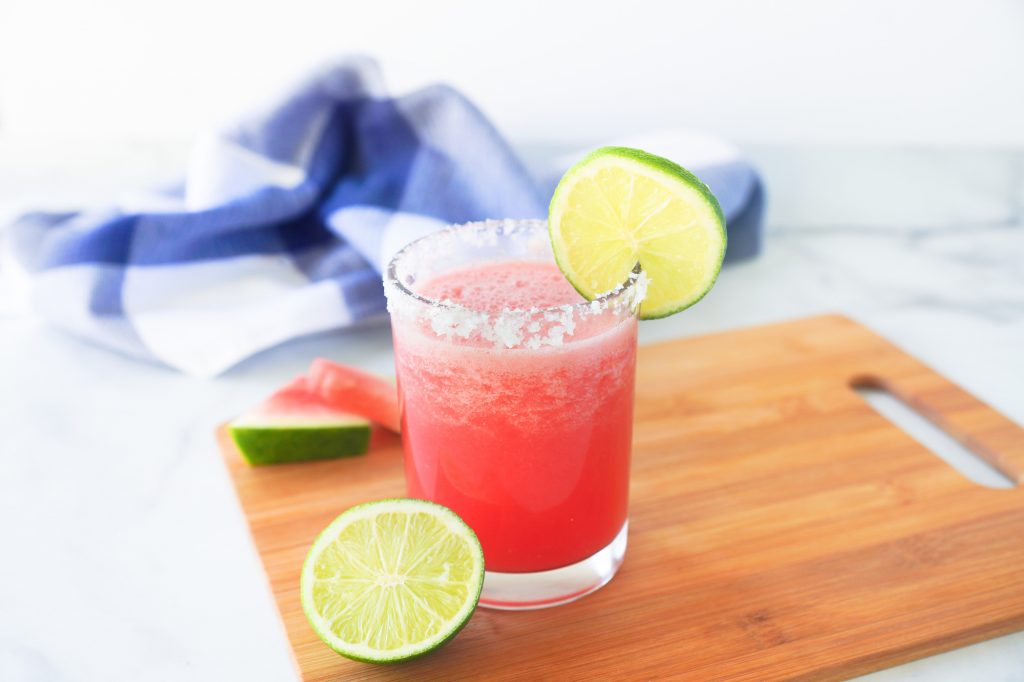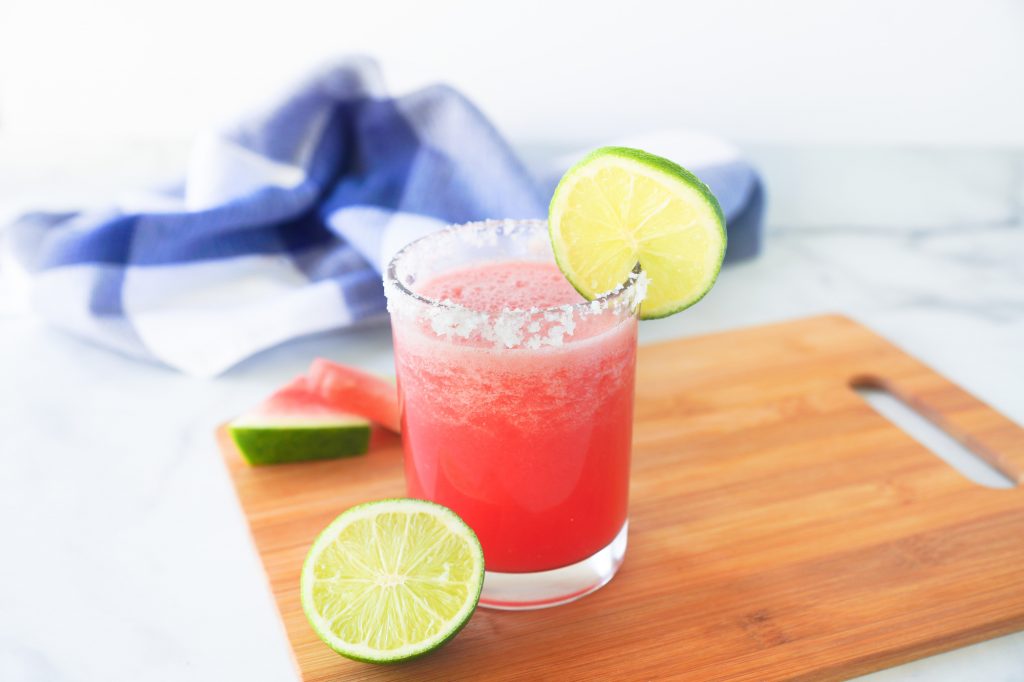 Making The Watermelon Margarita In Advance
If you want to make this watermelon margarita recipe in advance, you simply follow all of the steps above and pop it into the freezer in an air-tight container.
I hate to tell you this great news, but this is actually a super fast way to "meal prep" so they say, the frozen watermelon margaritas for your entire week after work or a weekend with friends.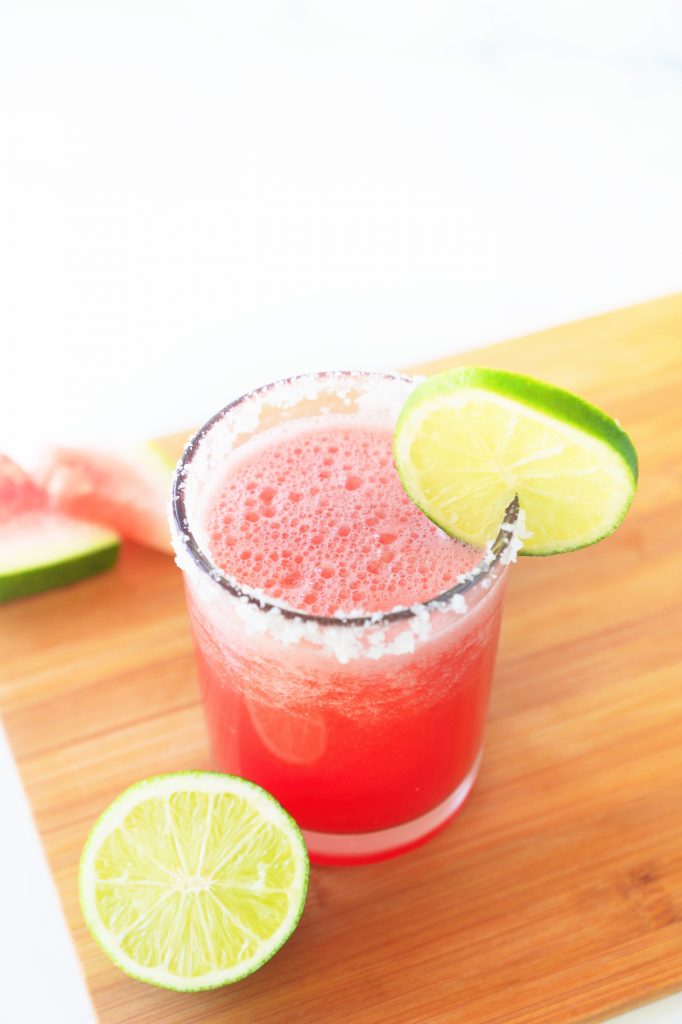 Since liquor doesn't freeze, the mixture won't freeze completely during storage and all you have to do to drink is it let it sit out for a few minutes until you can drink it.
I think this may be one of the best gifts I can give you from this site 😉
Serve the margarita with a delicious Vegan Burrito! Maybe even throw in a side of chips and Vegan Queso if you want!
Did You Try This Recipe?
If so, I would love to keep in touch! I enjoy seeing photos and comments about the recipes that you make! You can follow me on Instagram and I will repost your goodies in my stories and comment on it too! Just tag me at @wowitsveggie and hashtag #wowitsveggie. I can't wait to see what you make!
Yield: 2 Margaritas
Easy Frozen Watermelon Margarita Recipe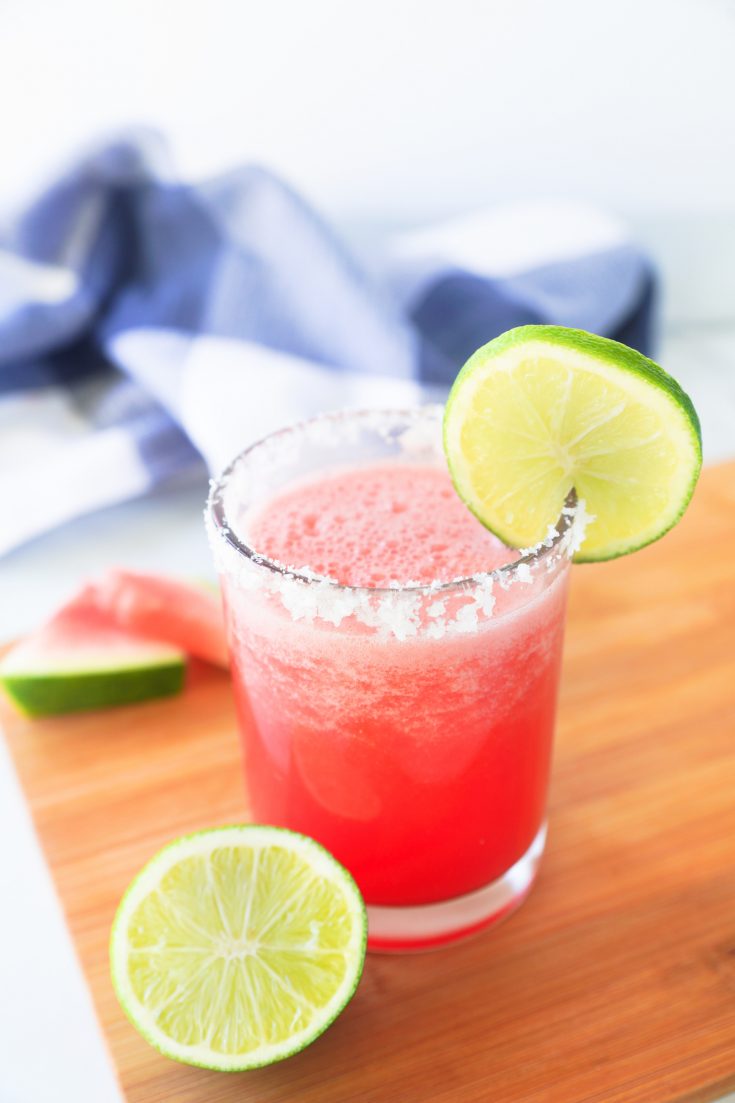 This frozen watermelon margarita recipe is so easy that it will become your new summer favorite!
This recipe doesn't have any added sugar, but you are free to add some if you like a sweeter drink!
Simply leave out the tequila if you want to make this a fun virgin mocktail!
Ingredients
3 Cups Fresh Watermelon, Cubed
2 Cup Ice Cubes
1/4-1/2 Cup Tequila (Depending on how strong you like)
1/4 Cup Fresh Squeezed Lime Juice
1 Tablespoon Sea Salt
Optional: 3 Tablespoons Sweetener (sugar/agave/maple syrup)
Fresh Limes For Garnish
Instructions
Cube fresh watermelon. No need to strain the pulp, it gives the margarita a creamy texture.
In a blender, add watermelon cubes, tequila, lime juice, ice, salt and sugar if using.
Blend until a frozen texture forms.
Dip the rim of your glasses first in either lime juice or water and then in a plate of salt.
Garnish with a lime wedge and drink immediately!
Notes
You can make your frozen watermelon margarita recipe in advance and keep it in the freezer.
Liquor doesn't freeze so the mixture stays nice and fresh.
To drink, let mixture thaw a little bit on the counter until a slushie texture forms!