First of all, if you haven't tried making pink Starburst jello shots, you are really missing out.
They are the cutest little jello shots you could ever make and they are so easy and tasty!
The pink Starburst jello shots are perfect for a girls party or whenever you are looking for the prettiest pink color.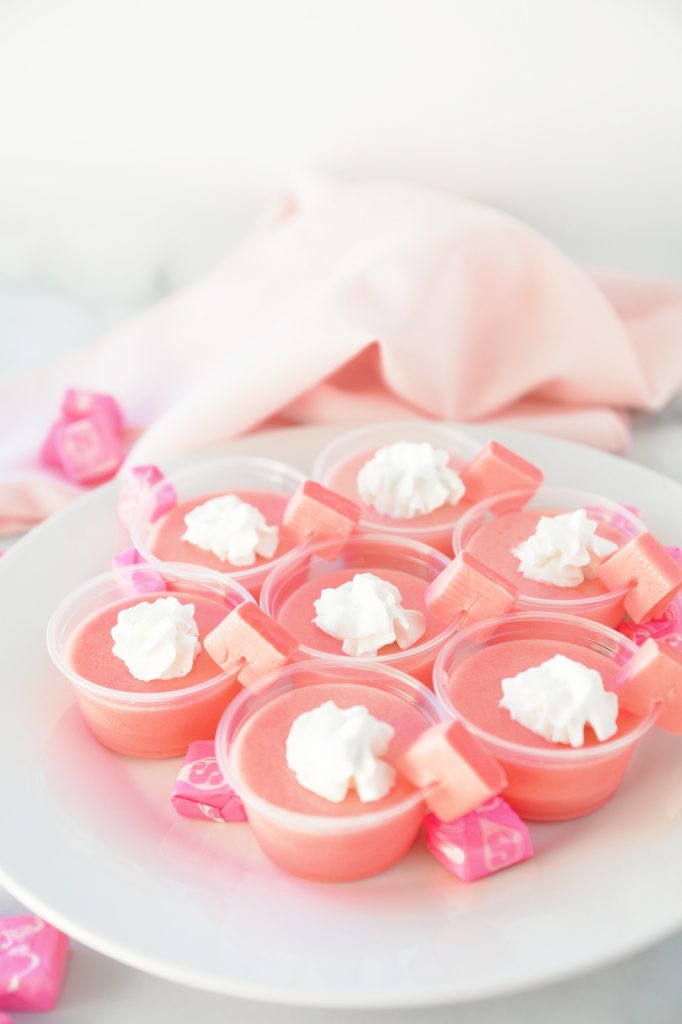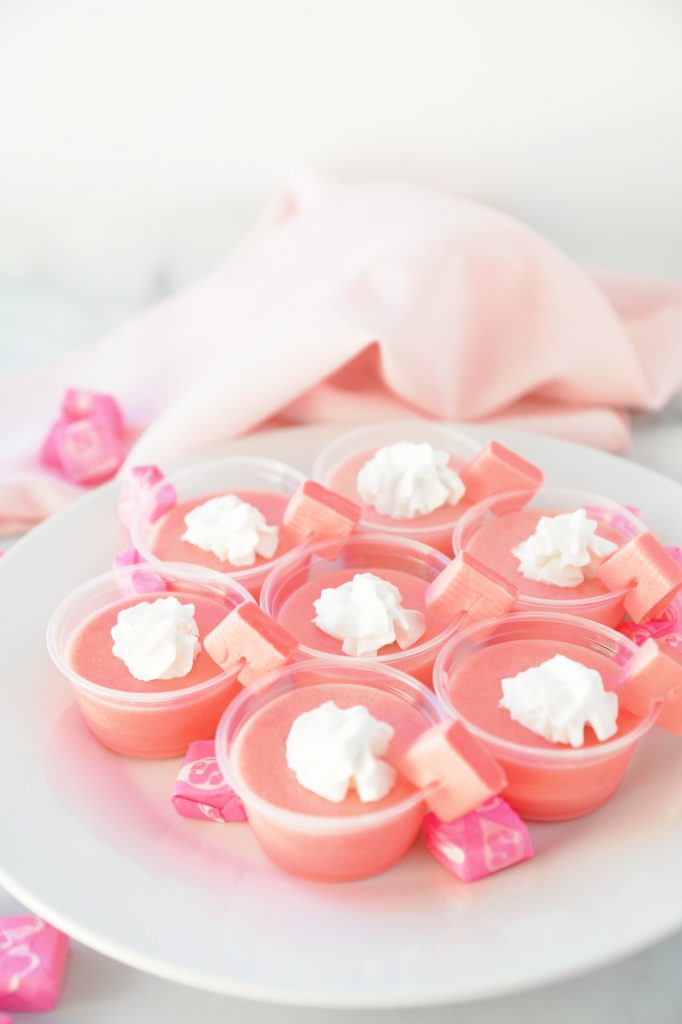 These are also Vegan Jello Shots if you don't add the Starburst garnish.
Starbursts sadly aren't vegan, so you can't eat the pretty garnish which makes these so cute but you CAN enjoy the jello shot guilt-free when using vegan jello [which is what I did!]
If you don't eat gelatin, you can even use the Starburst candies for garnish and just toss them aside and not eat them if you want the pretty look without the non-vegan taste.
I also know it sounds weird to be on a jello shot recipe to reference kids, but once I made these I thought they were SO DARN CUTE I just had to put modifications for kids too!
This fun recipe and I wanted to provide modifications that the whole family and vegans and non-vegans alike can enjoy!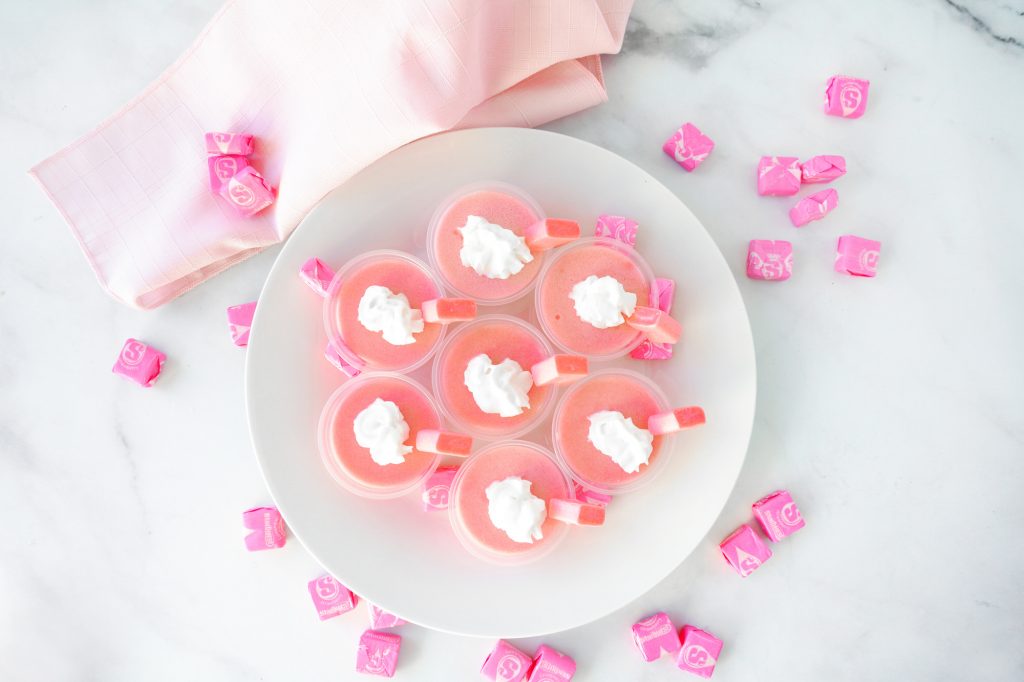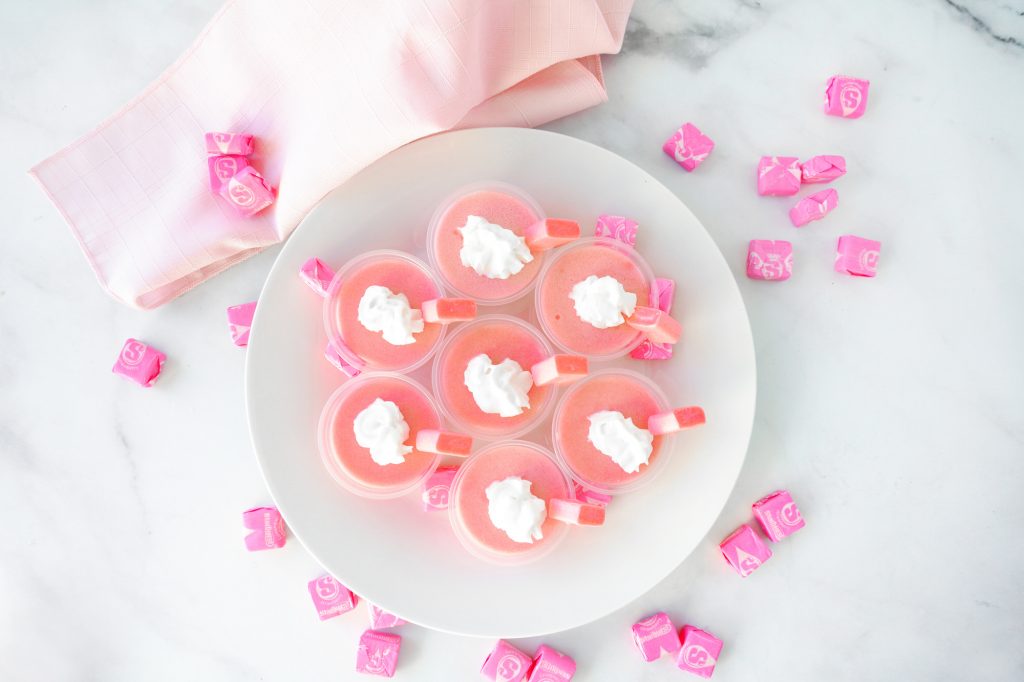 Where To Find Pink Starbursts
I don't know if you know, but they now sell bags of entirely pink Starburst candies.
Yes, you do NOT have to buy a regular bag and then sort through them to make these cute pink Starburst Jello Shots!
I bought my bag at Walmart for literally like $3 and it is a huge bag.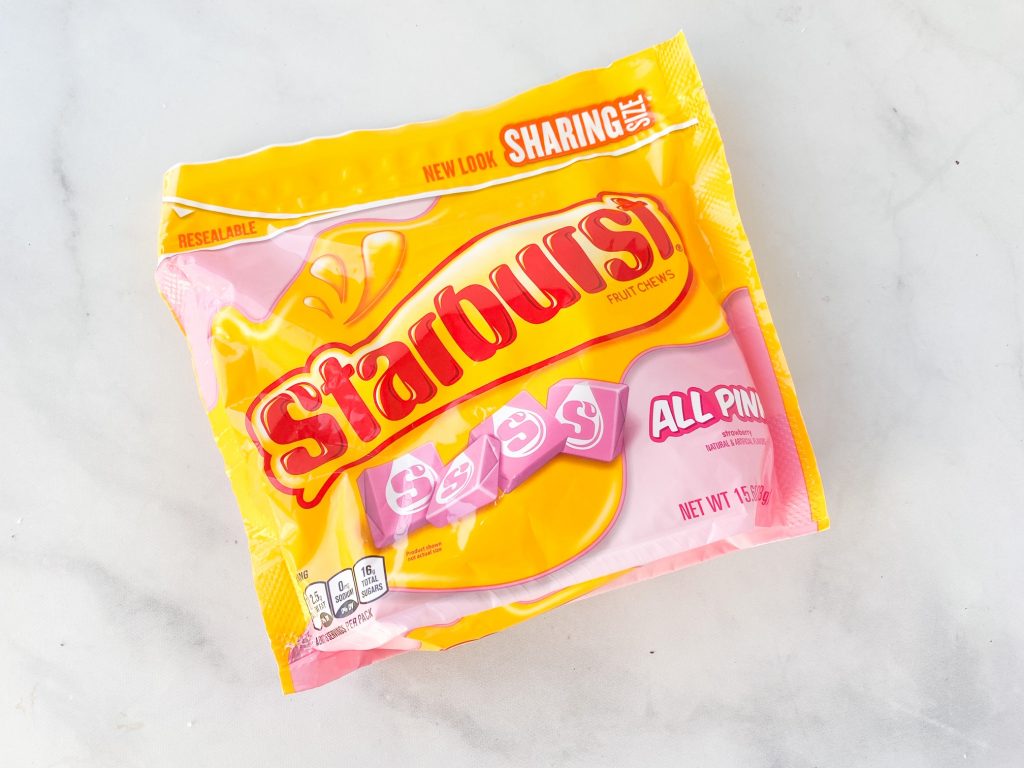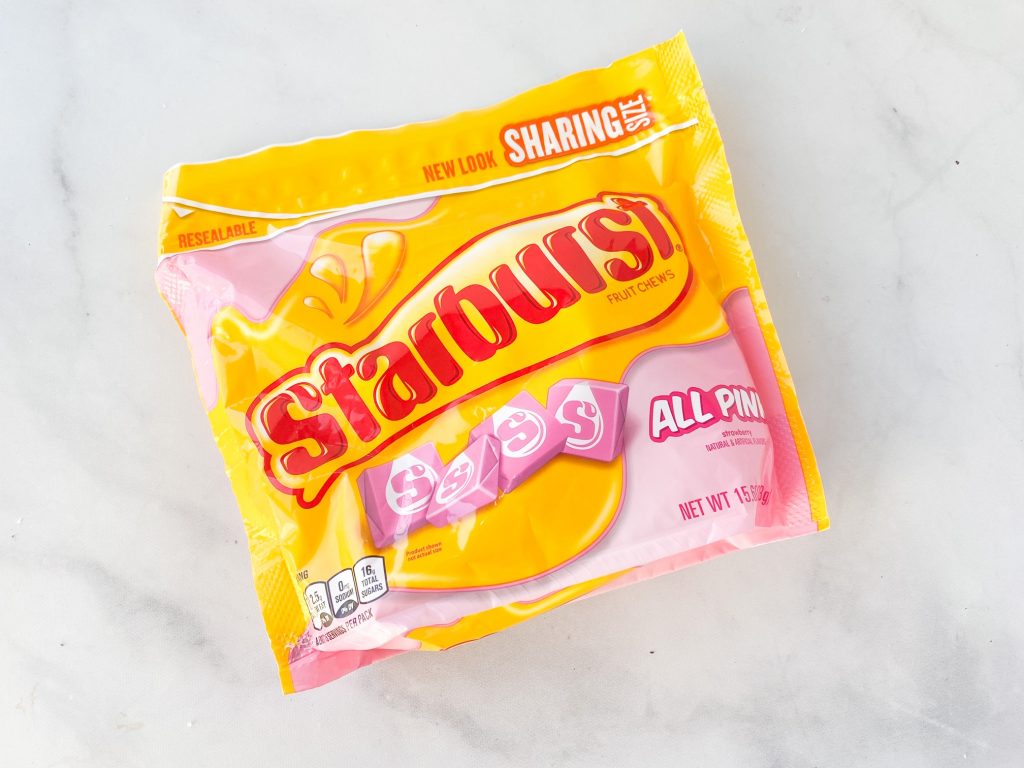 If you don't eat Starbursts because of the gelatin, you can still buy the bag as a garnish for your friends who maybe don't care and it won't cost you an arm and a leg.
So that is the "secret." They sell entire bags of JUST the pink Starbursts which saves you a time when making these jello shots.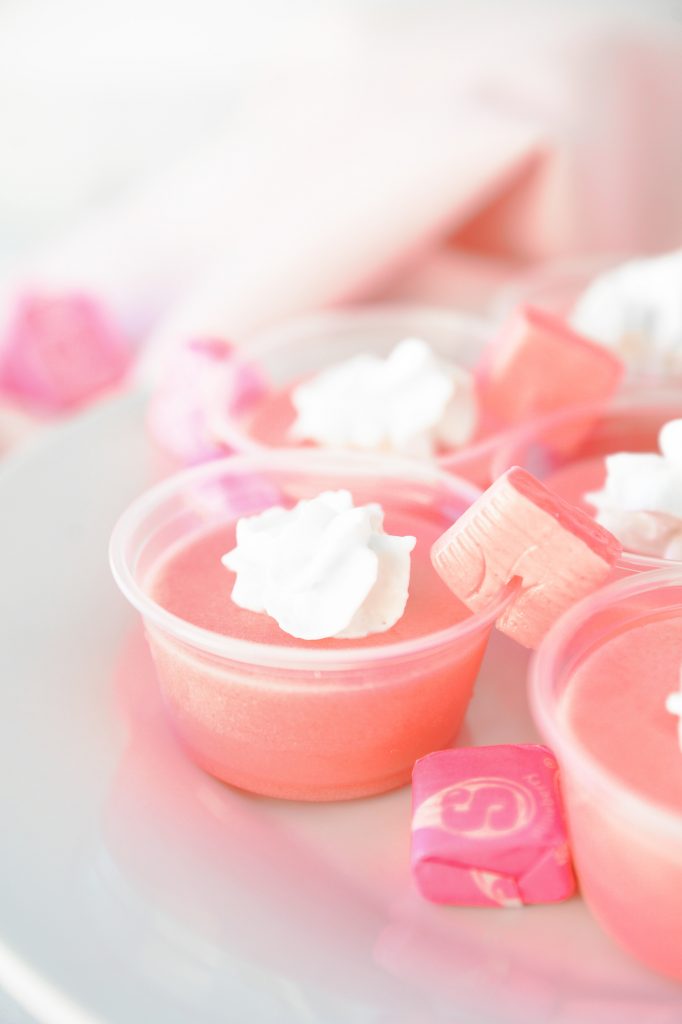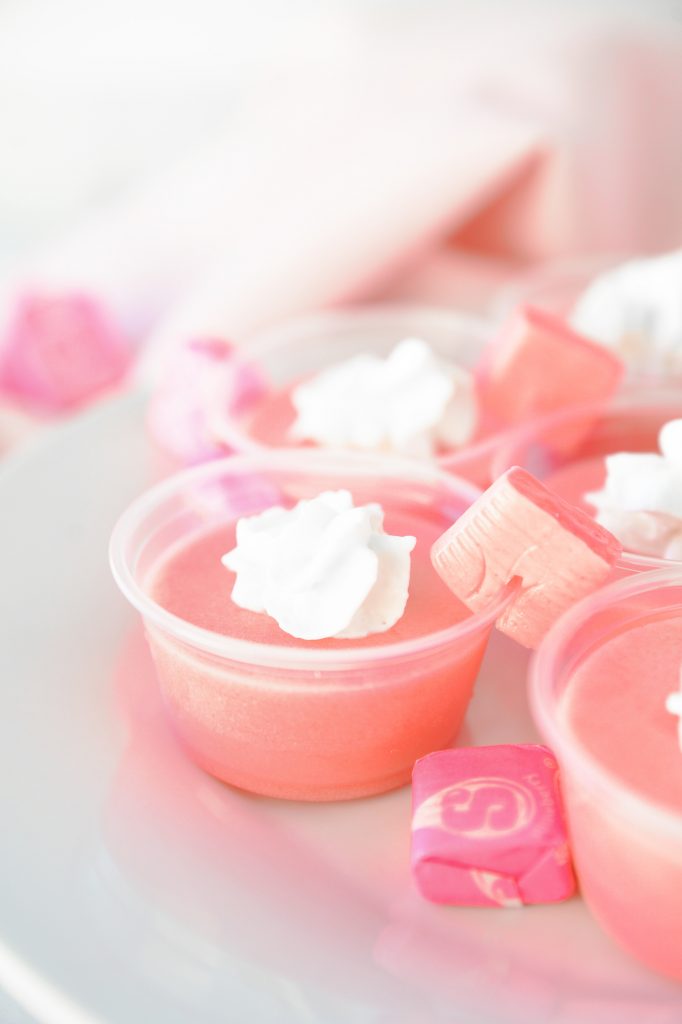 What Type Of Jello To Use (Vegan Option)
To make this recipe, I used vegan strawberry jello from Whole Foods.
You can also make your own vegan jello using agar agar powder and fruit juice flavor, I would recommend cranberry for this case to get the closest flavor, or strawberry banana.
You can also use regular strawberry jello too if you don't mind gelatin.
This is the same jello I use in my Strawberry Margarita Vegan Jello Shots!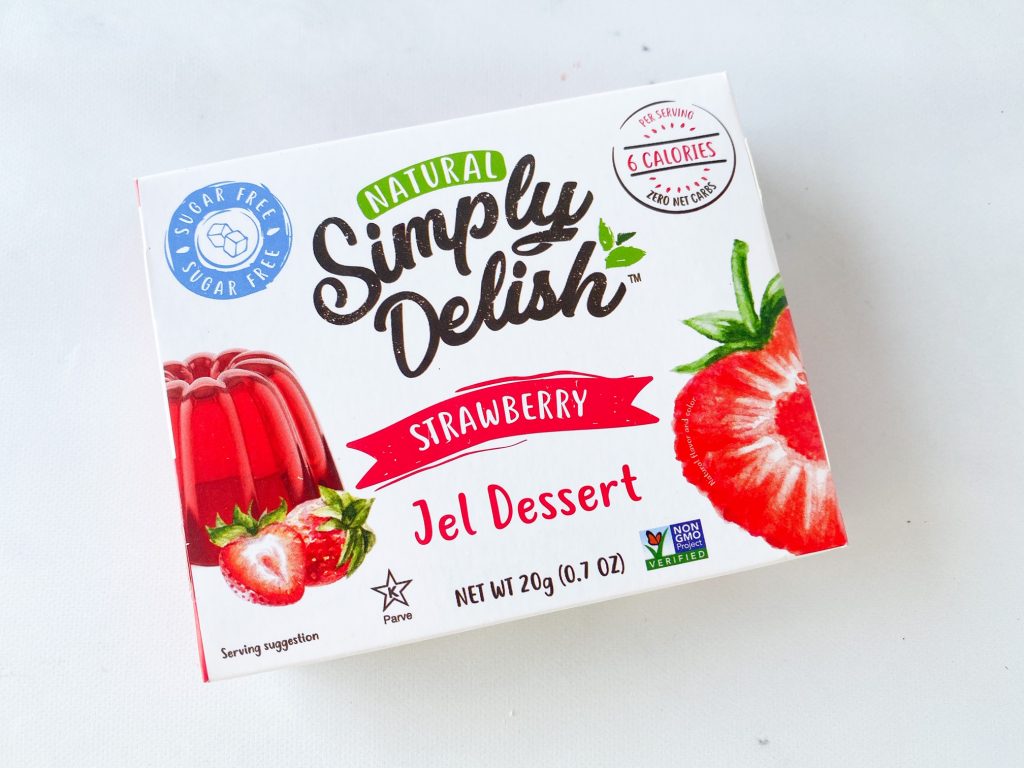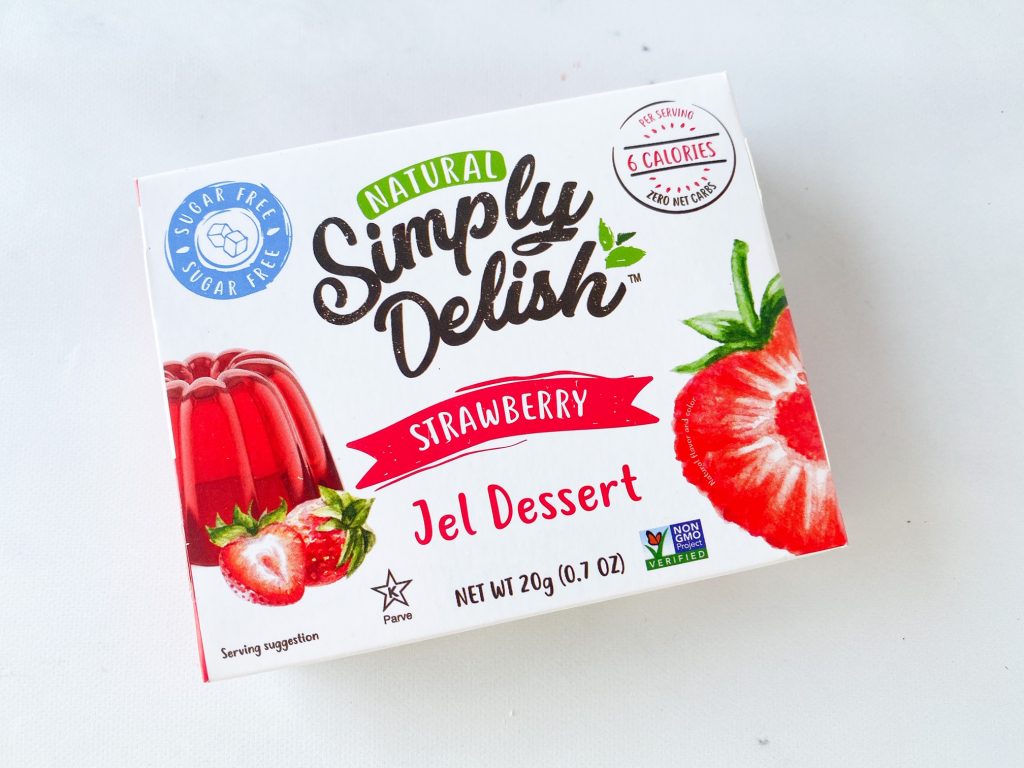 I just want to let you know that these pink Starburst Jello Shots still keep their shape and firm up nicely when using vegan jello!
Also, Cool Whip is basically all sugar and chemicals so it is naturally vegan as-is. If you can't find Cool Whip where you live that doesn't have animal products, look for a vegan version at a health food store.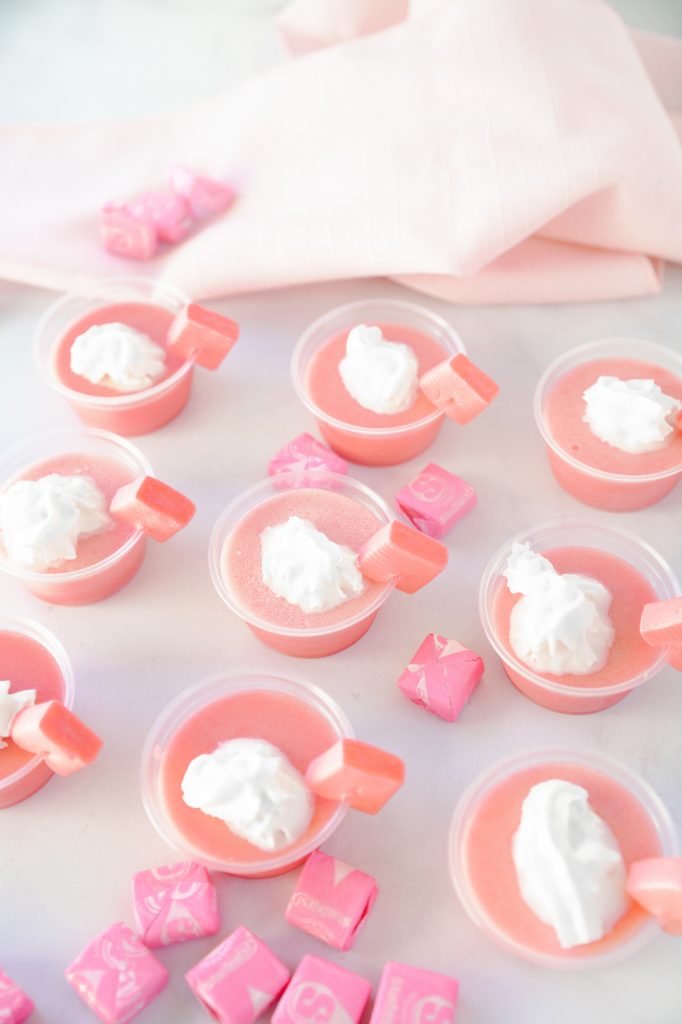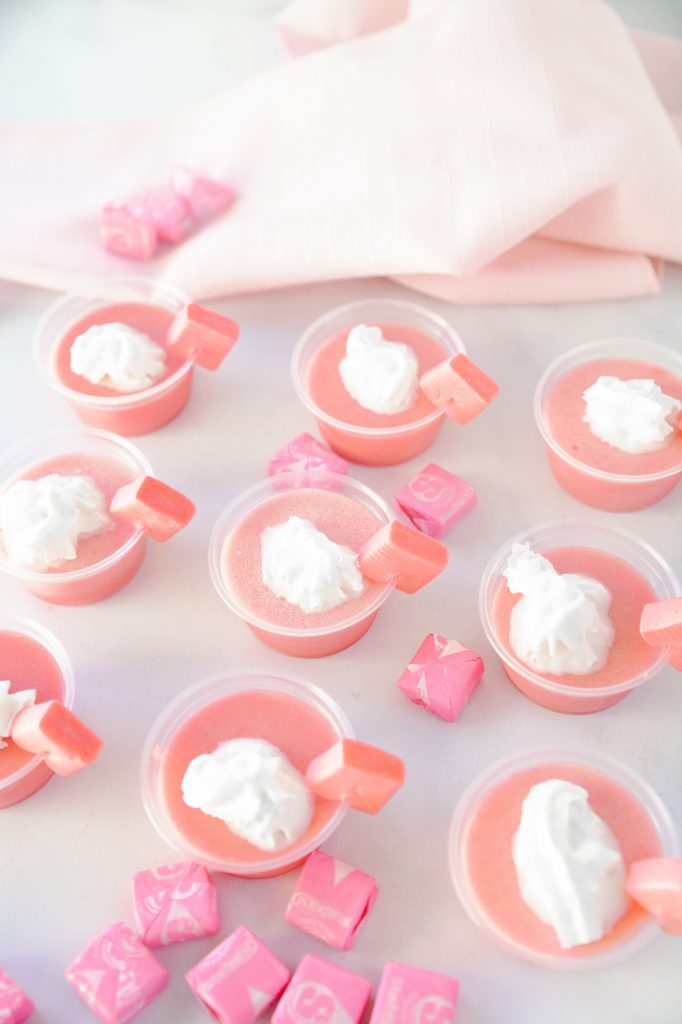 Making The Pink Starburst Jello Shots "Virgin" Or Without Liquor
If you want to make these pink starburst jello shots for the under-21 crowd, it is super easy and fun!
You can even make them for a child's birthday but I would call them "Princess Jello Cups" or something that isn't related to jello shots 😉
To make these pink Starburst jello shots without the liquor, simply take it out!
If I were making the virgin version of these, I would simply use the strawberry jello mixed with the cool whip and let it sit until gelled.
I wouldn't worry about putting any extra ingredients into this recipe other than the jello and Cool Whip and of course the Starburst garnish as that is what it is really all about!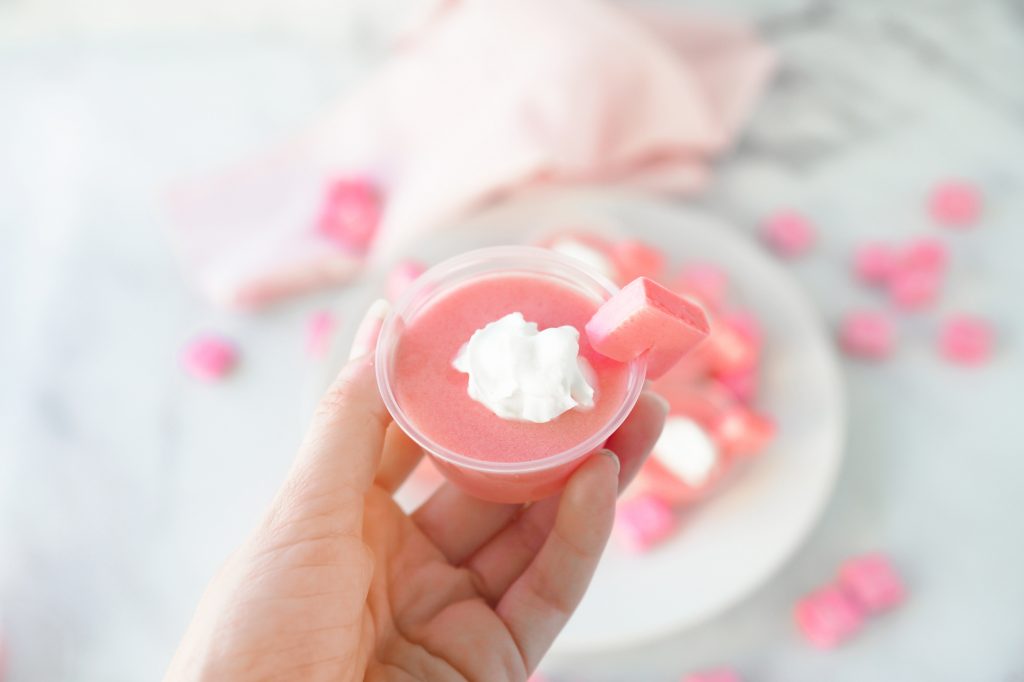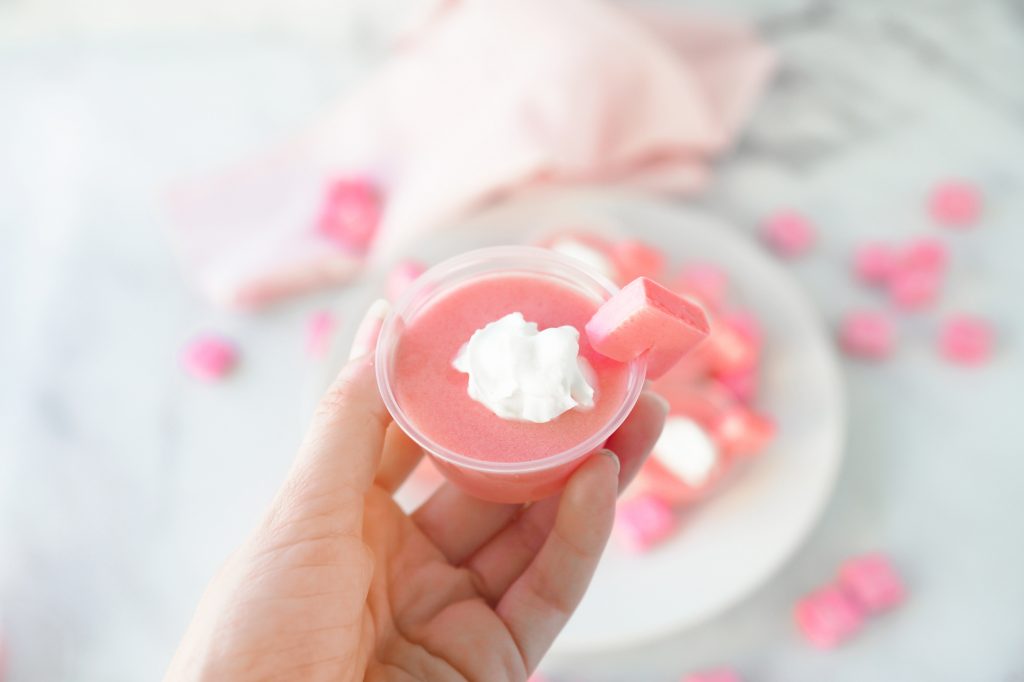 How To Make The Pink Starburst Jello Shots
Making the pink Starburst jello shots is pretty easy, but you have to work fast.
First, you are going to want to prepare your jello according to the package.
As I said, I have used vegan strawberry jello for this recipe and the box was quite large.
I was using regular jello for another recipe and the box was quite small and I had to modify so please keep that in mind when making this recipe!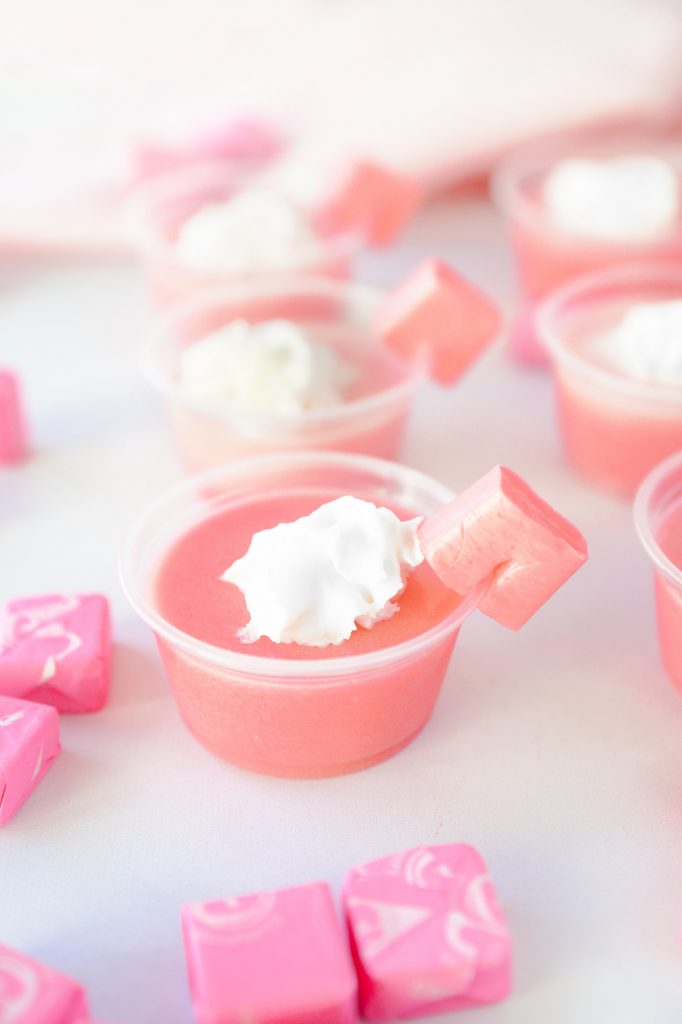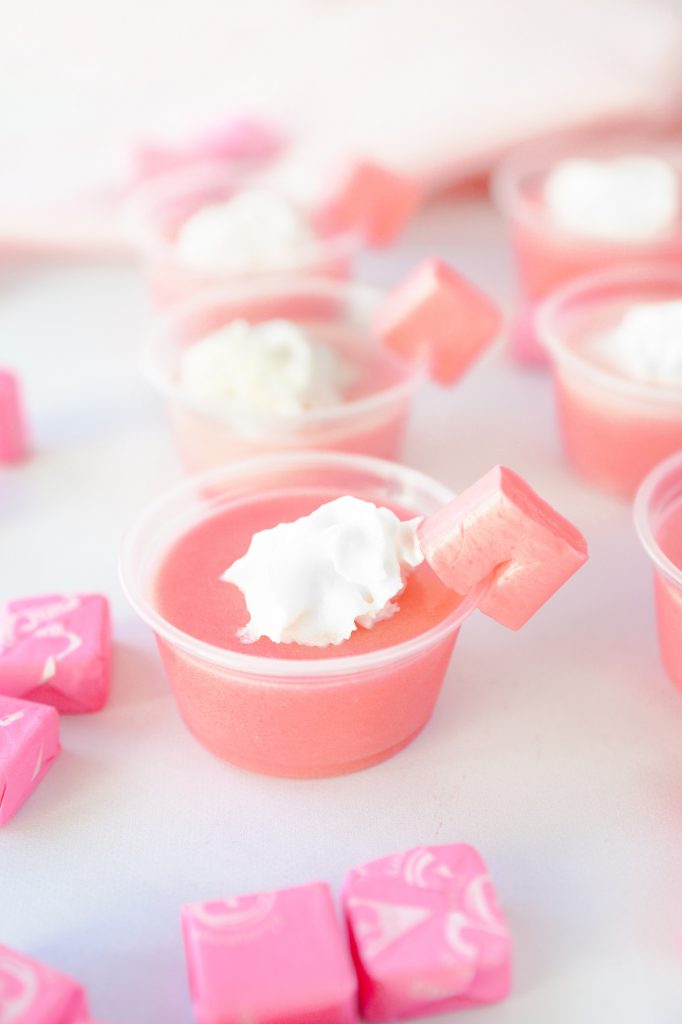 First, prepare your jello according to the package.
I would do this in a large bowl.
Combine the jello powder, boiling water, and cold water, which is what most jello recipes want you to do.
Add in your liquor if you are making these jello shots [and not for kids] and whisk to combine.
Then, you are going to add in your Cool Whip. I used a measuring cup to scoop out my Cool Whip.
It doesn't have to be an exact measurement so no worries there.
After you add the Cool Whip to the jello and alcohol mixture, use a whisk to combine until smooth.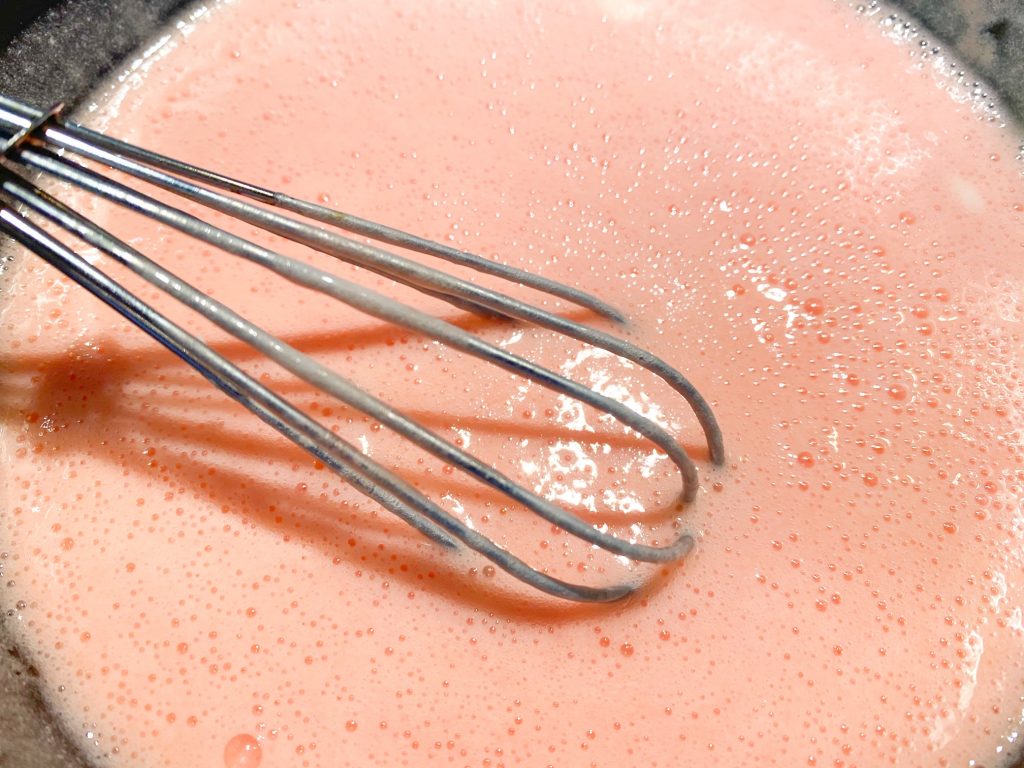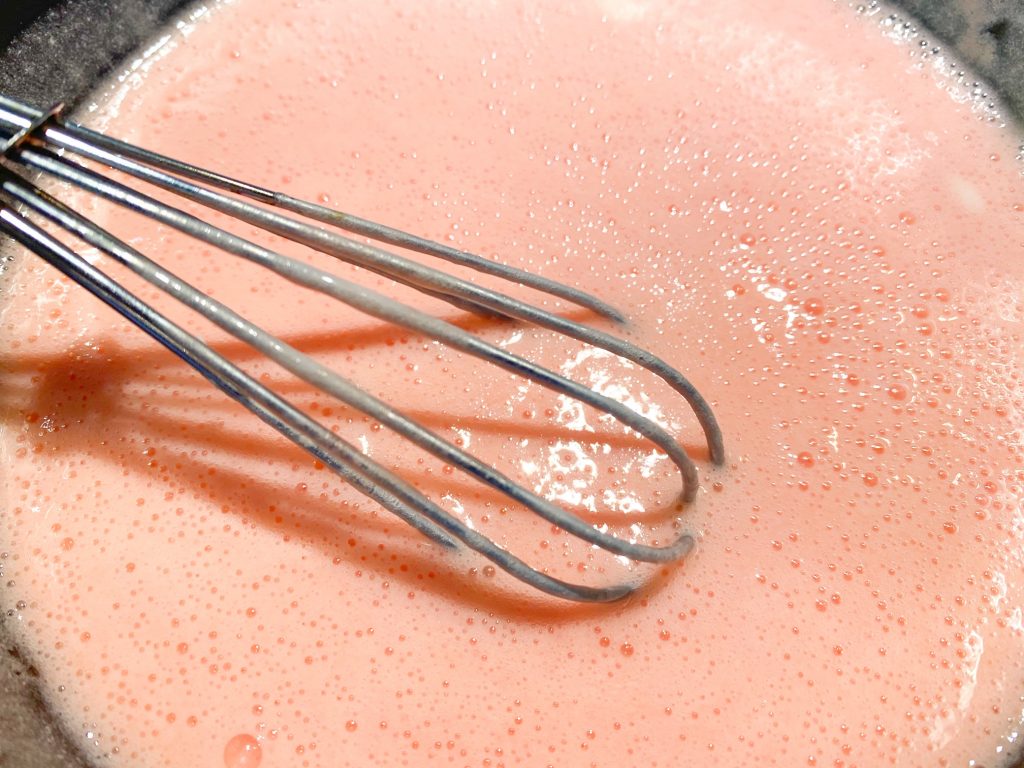 The Cool Whip will be very chunky and bumpy when you put it in and you may think that it will never come out smooth but I promise it will.
Continue to give it a few good whisks until a pretty pink color forms and you see small bubbles on the top.
Carefully pour the jello into small plastic cups.
You can Buy Them On Amazon or from your local grocery store. I got mine from Walmart as I didn't need a ton!
Set them in the fridge for about 1 hour to let the pink Starburst jello shots set.
Once they are set, take them out and use a sharp knife to cut halfway down a pink starburst to garnish the side of the cup.
You can top them with more Cool Whip if you like! I think it adds to the pretty flavor!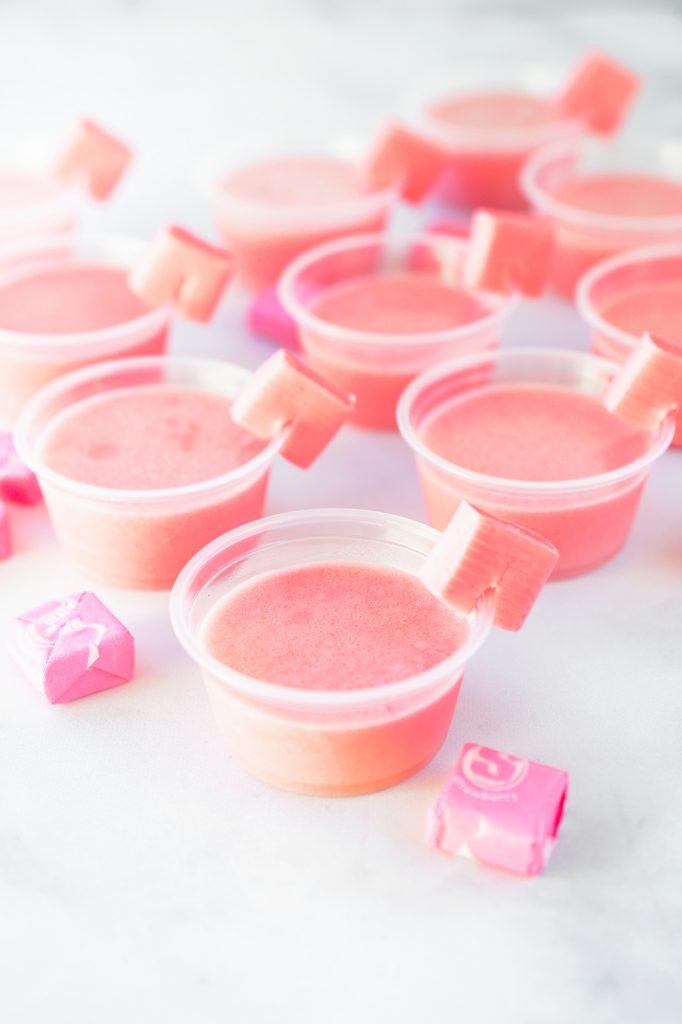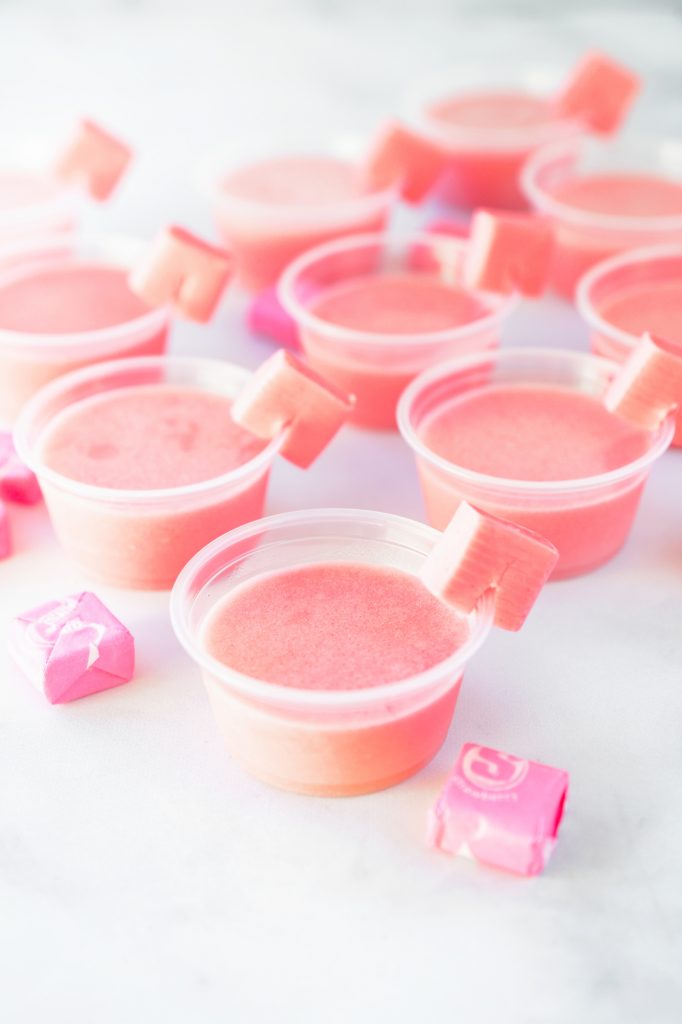 Did You Try This Recipe?
If so, I would love to keep in touch! I enjoy seeing photos and comments about the recipes that you make! You can follow me on Instagram and I will repost your goodies in my stories and comment on it too! Just tag me at @wowitsveggie and hashtag #wowitsveggie. I can't wait to see what you make!
Yield: 12 Jello Shots
Pink Starburst Jello Shots Recipe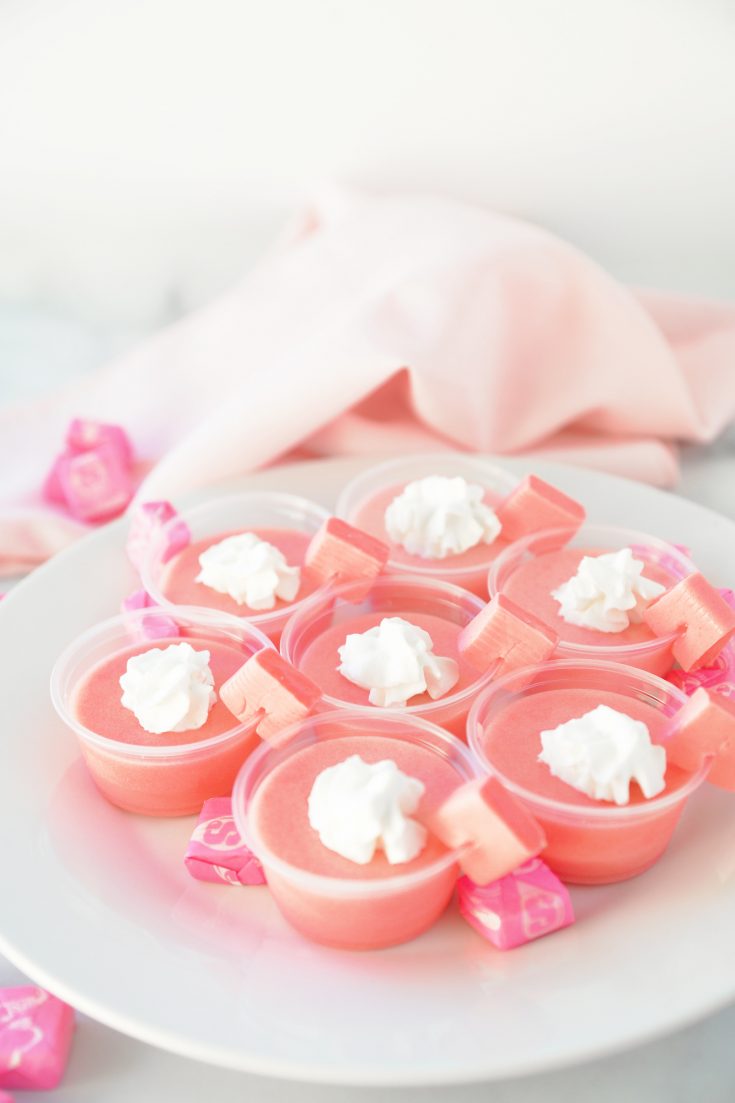 These pink Starburst jello shots are so pretty and tasty! If you leave off the Starburst garnish, you can make them vegan and if you leave off the liquor you can make them kid-friendly!
The pink starburst jello shots taste just as amazing as they look and they are sure to make your next party so much fun!
Total Time
1 hour
5 minutes
Ingredients
1 Package Strawberry Jello [I used Simply Delish Vegan Jello but any jello package works]
1 1/2 Cup Boiling Water
1 Cup Cool Whip
1/2 Cup Whipped Vodka
Optional: 1 Shot Sour Mix (or 1 shot lime juice)
Optional: Pink Starburst Candies for garnish
Instructions
Make your strawberry jello according to the package. You may or may not need to use more/less hot water than in this recipe.
Pour the hot water over your jello powder and whisk to combine. Add in whipped vodka and sour mix and whisk.
Add 1 cup of Cool Whip and whisk until the lumps in the Cool Whip are smooth and the color turns pink. There should be small bubbles on top.
Carefully pour the pink Starburst Jello shots into small cups and chill in the fridge for 1 hour or until the jello firms up.
If you want, garnish the jello shots with more Cool Whip and a pink Starburst candy.
Notes
If you are making these pink Starburst jello shots in advance, simply wait for them to firm up and then put the lids of the plastic cups on them to store in the fridge until you are ready.
You can make this recipe vegan by leaving off the Starburst garnish and ensuring your Cool Whip is vegan [Cool Whip brand is usually vegan as-is]
You can make this recipe virgin by simply leaving out the vodka and sour mixture. Just whisk the jello and Cool Whip and garnish with Starbursts!
Nutrition Information
Yield
12
Serving Size
1
Amount Per Serving
Calories

102
Total Fat

2g
Saturated Fat

2g
Trans Fat

0g
Unsaturated Fat

0g
Cholesterol

0mg
Sodium

54mg
Carbohydrates

15g
Fiber

0g
Sugar

14g
Protein

1g