These strawberry margarita vegan jello shots are taste even better than they look!
Sadly, jello isn't vegan due to gelatin, but that doesn't mean you have to lead a sad, jello free life!
I wanted to create an adorable and fun vegan jello shot recipe that is easy and will wow a crowd.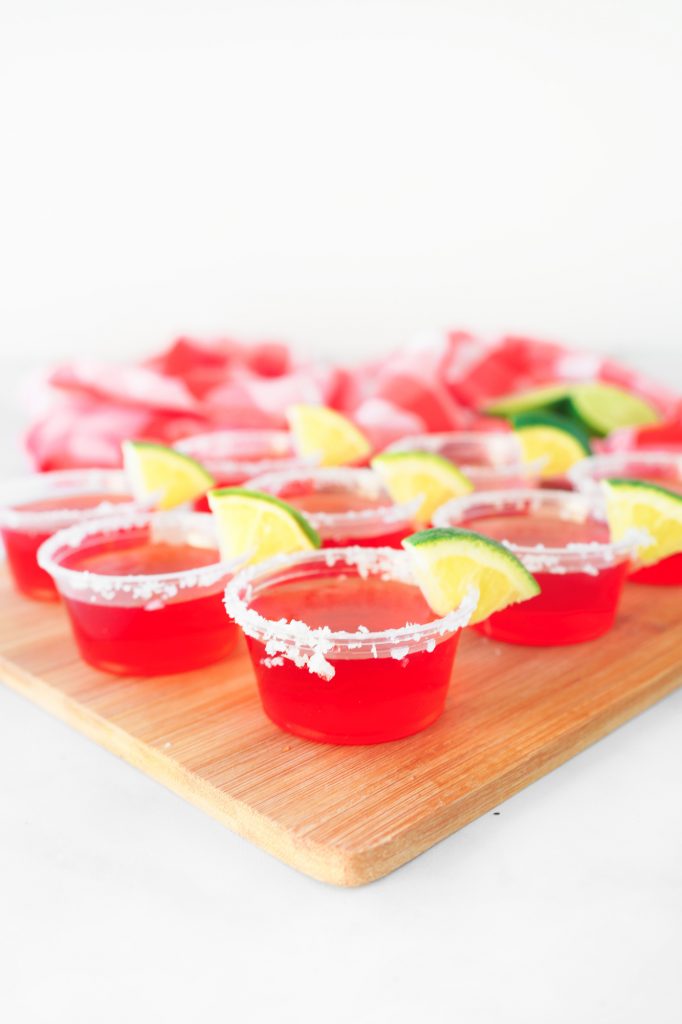 There is literally no way to tell the difference between these vegan jello shots and any regular jello with gelatin that you would get at the grocery store.
This recipe is super quick and easy to make, stores well in your fridge, and are super tasty to "drink" like a shot!
Essentially, you will create each strawberry margarita jello shot and then you will rim them with salt [or sugar] and add the cutest tiny lime slice!
Just you watch, these vegan jello shots are going to impress everyone, from your friends to a whole entire party!
Make them for your next event and you will instantly be the crowd favorite.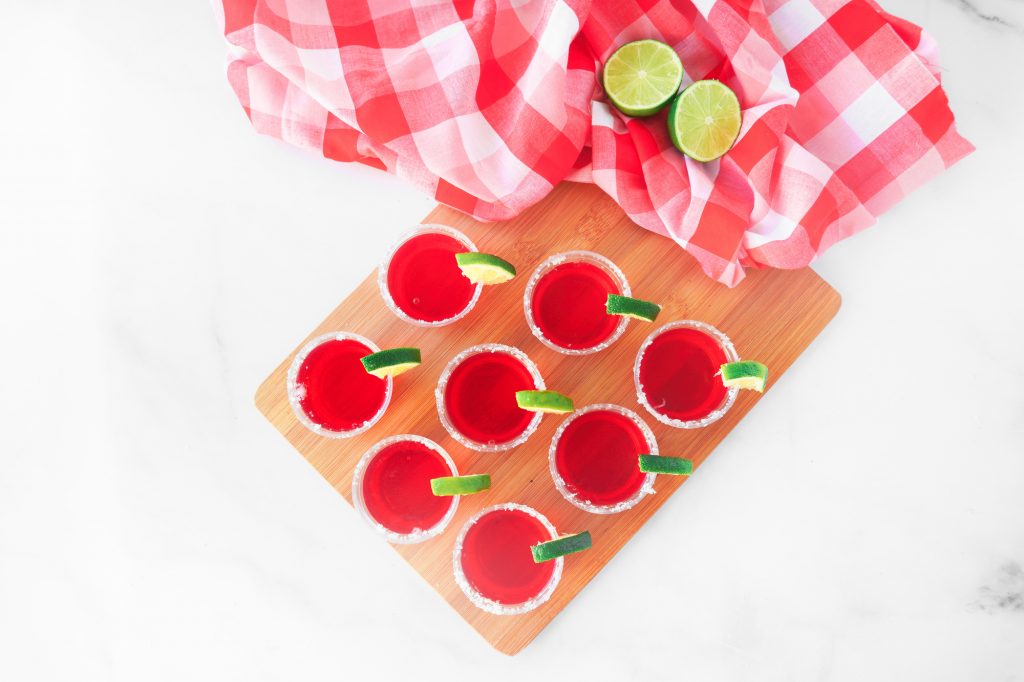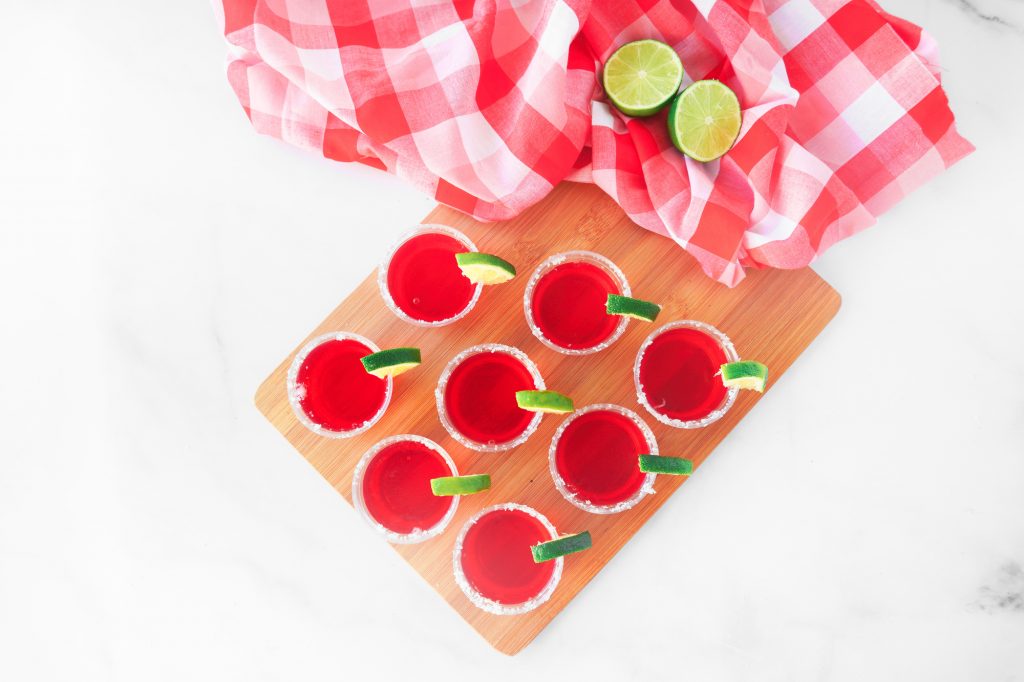 Where To Find Vegan Jello
There are two ways to make vegan jello.
The first and easiest way is to use vegan jello mix. It comes in a box and looks, smells, and tastes the same as regular non-vegan jello.
I use Simply Delish Vegan Strawberry Jello and I got mine at Whole Foods.
You can usually find vegan jello at any health food store, but most regular grocery stores don't usually have it.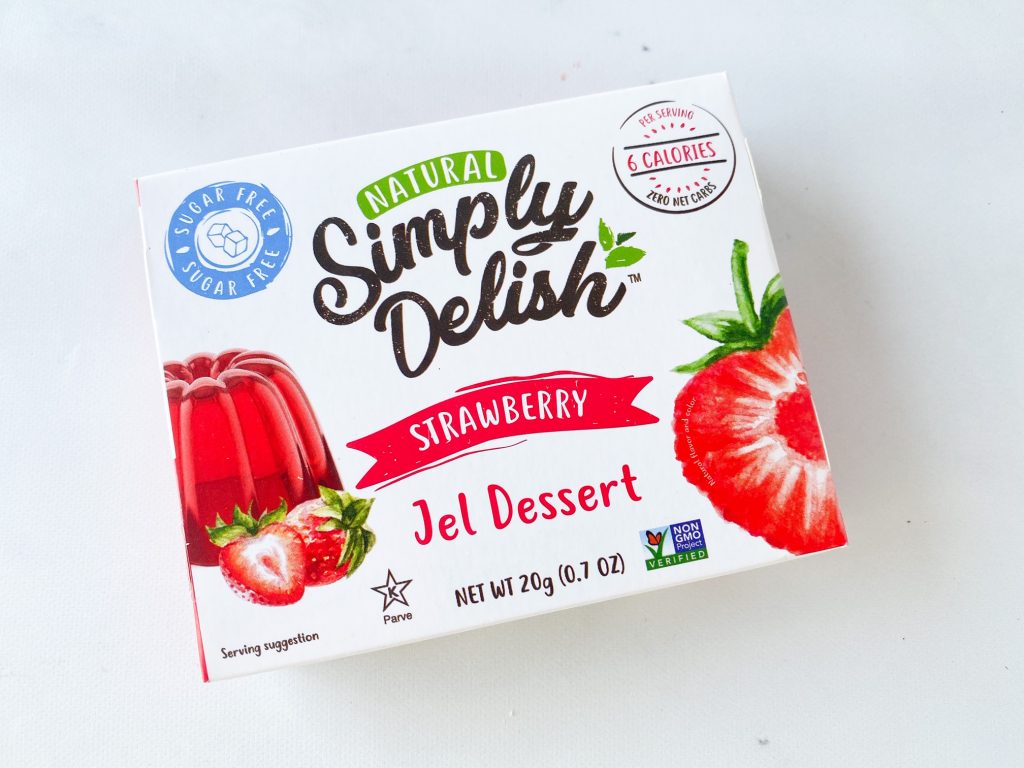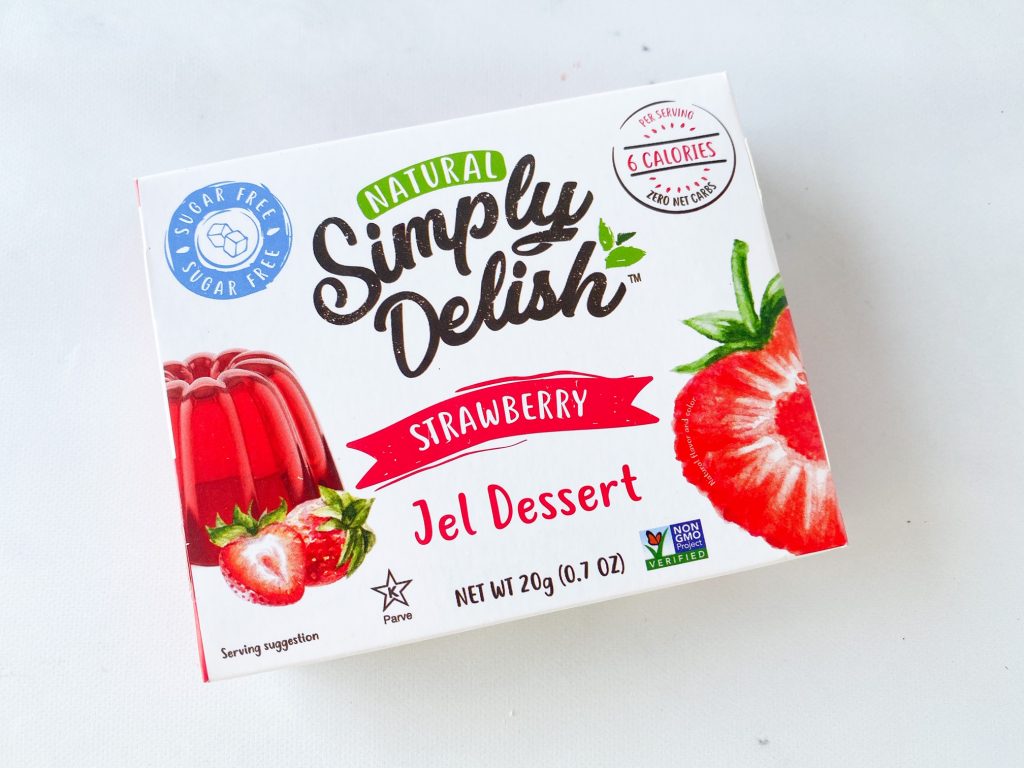 If you can't find it in a store, you can Buy Simply Delish Vegan Jello From Amazon! You have to buy packs of 6, but if you are making this recipe for a crowd, that will come in handy!
This is the same vegan jello mix that I use for my Pink Starburst Jello Shots which are vegan as-is if you leave off the Starburst garnish!
The second way to make vegan jello is to use Agar Agar Powder. This is an easy and popular way to make the same "jelly" feeling that gelatin gives you.
Most Agar Agar Powder is not flavored, so you can easily add whichever flavor you want.
To add flavor to your Agar Agar, you simply use fruit juice!
It is hard to find Strawberry juice if you want to make this exact strawberry margarita jello shots recipe, but don't fear, there are plenty of other options!
To make a margarita recipe, you can use lime juice mixed with sugar, cranberry juice, red grape juice, orange juice, pineapple juice, and more!
Fruit juices mixed with Agar Agar powder 100% work the best as you will generally want a sweeter flavor.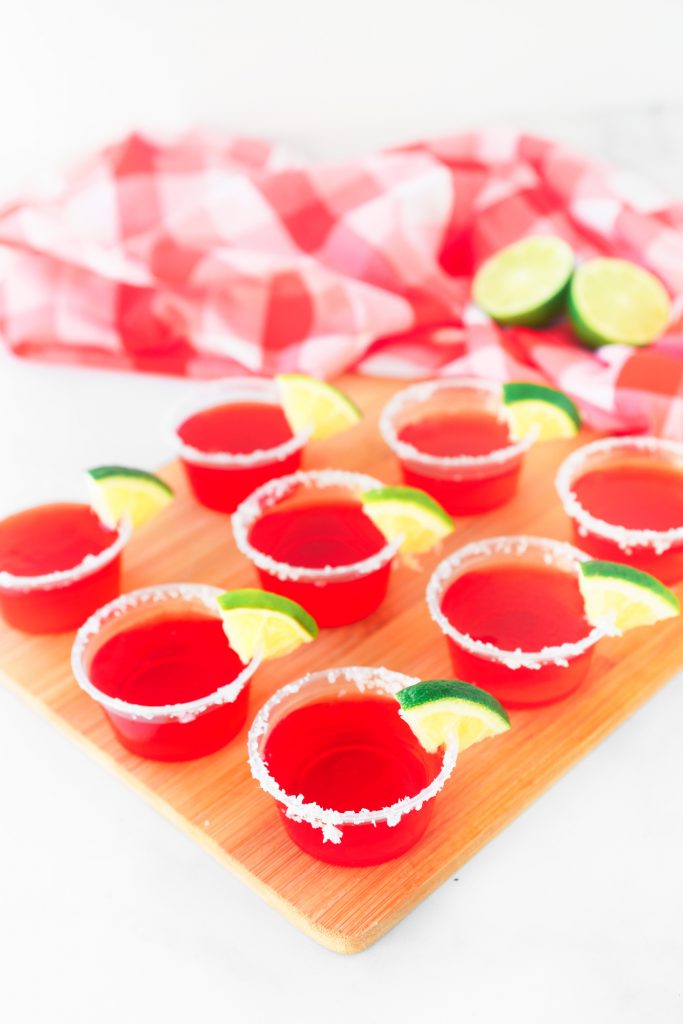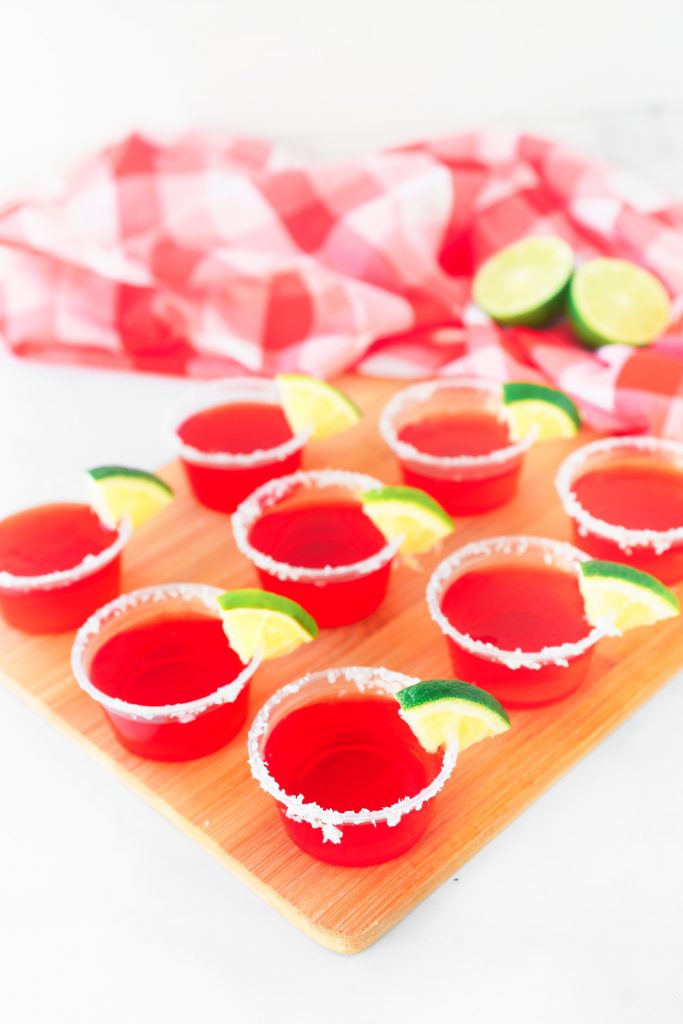 How To Make The Strawberry Margarita Vegan Jello Shots
Making the strawberry margarita vegan jello shots is super simple and easy!
First, understand that your vegan jello package may be a different size than my instructions. Modify the amount of water you use based on that.
If you are making vegan jello shots using a vegan jello mixture, go ahead and follow the instructions of the recipe.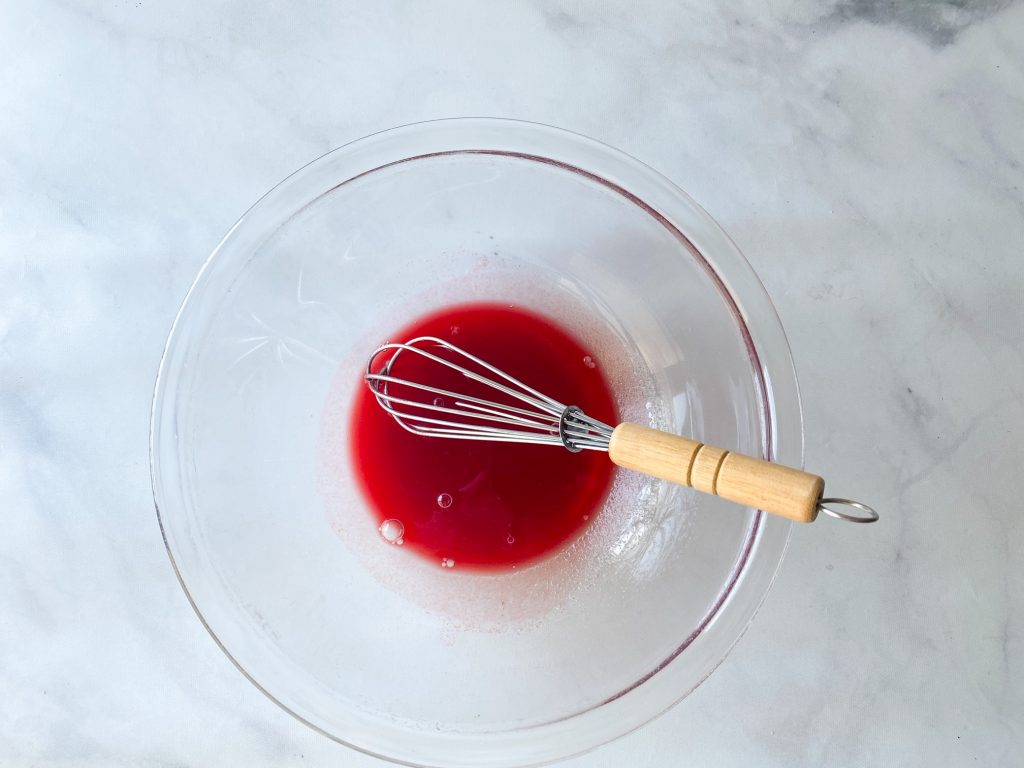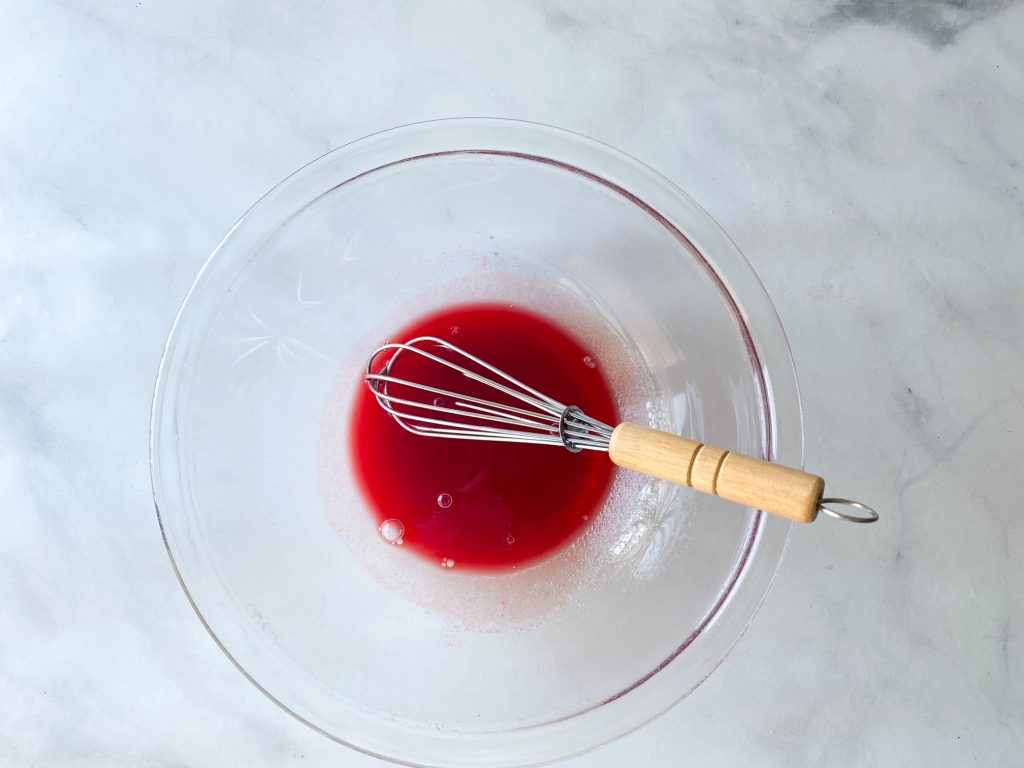 I usually like to do 1 1/2 cup of water to 1 package of Simply Delish Vegan Jello and then 1 Cup Liquor, either tequila for a traditional margarita jello shot or vodka if tequila isn't your friend.
If you aren't a fan of tequila, don't feel pressured just because this is a "margarita" inspired jello shot. It works just as well with vodka, although the flavor is slightly different.
Once you mix the vegan jello, liquor, and hot water, whisk to combine. Then, go ahead and pour your drink into the jello shot mold.
I use These Jello Shot Cups From Amazon. You can get them anywhere you can find condiment cups and Walmart has them too.
I actually bought just 25 from Walmart for about $3 if you don't need 150 from Amazon!
Carefully pour your strawberry margarita vegan jello shots into the mold and put it in the fridge until hard, about 1 hour.
If you are using Agar Agar Powder, you are going to want to combine 1 cup fruit juice of your choice, 1 teaspoon Agar Agar powder, 1/2 cup of vodka, and 1/4 cup of sugar with boiling water.
Stir until combine and then pour the mixture into the jello shot molds!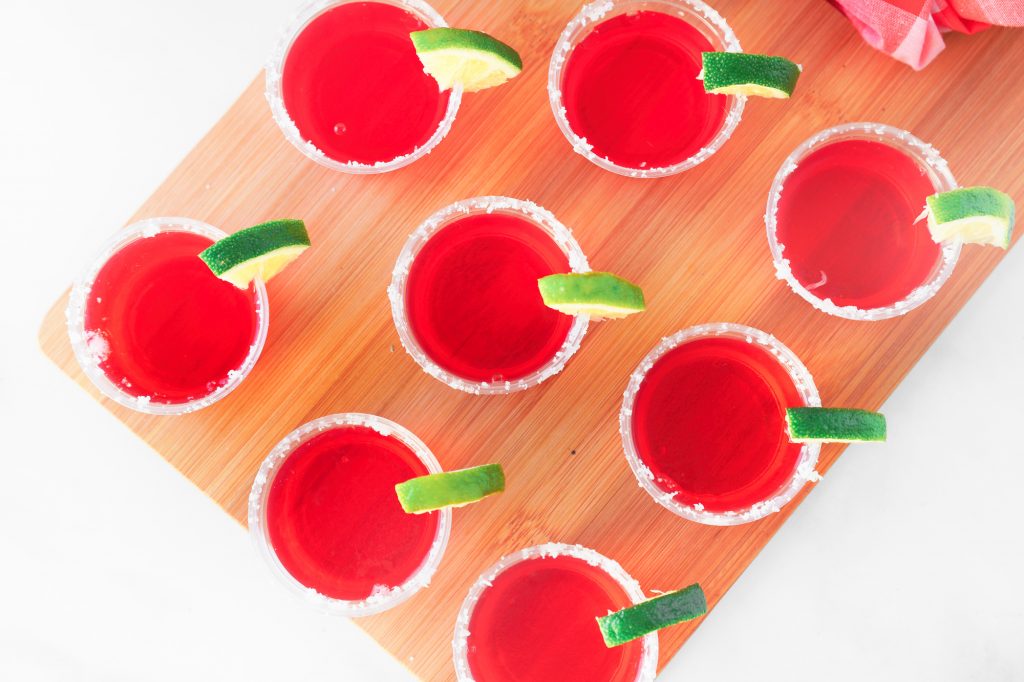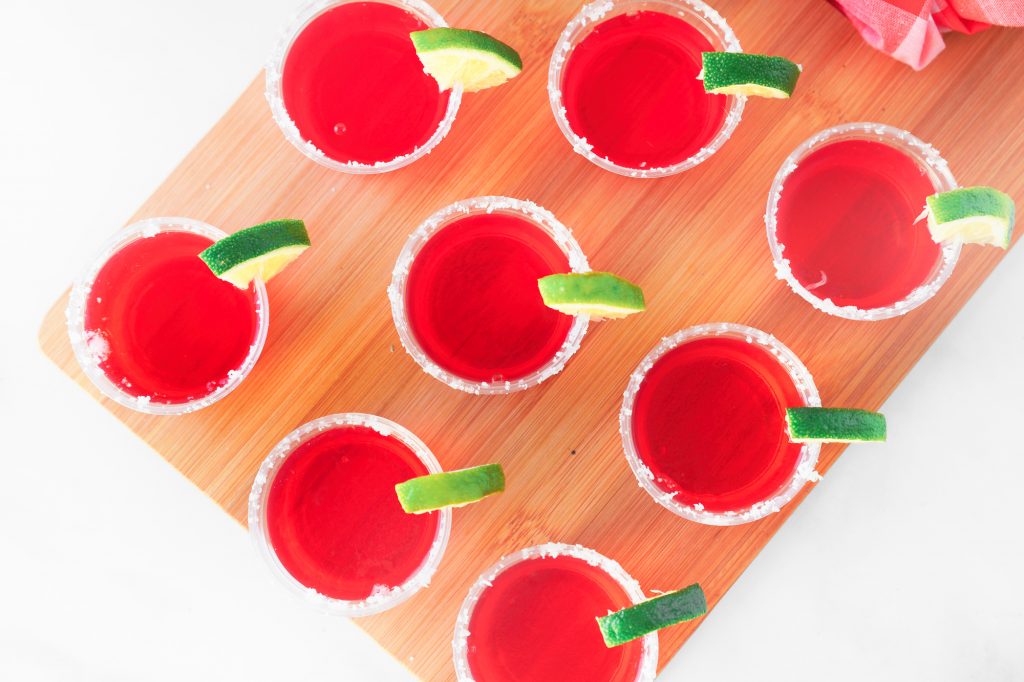 How to Garnish The Vegan Jello Shots
Once your vegan jello shots gel in the fridge, it is time to garnish!
You are going to want to use coarse margarita salt.
You can Buy Margarita Salt On Amazon or in a local liquor store.
You can also just buy coarse salt from the grocery store as that works too!
Traditionally, margarita glasses are first rimmed with lime juice before being dipped in the salt.
I have done it both ways! For my Frozen Watermelon Margarita, I recommend using a plate filled with water to rim the glass.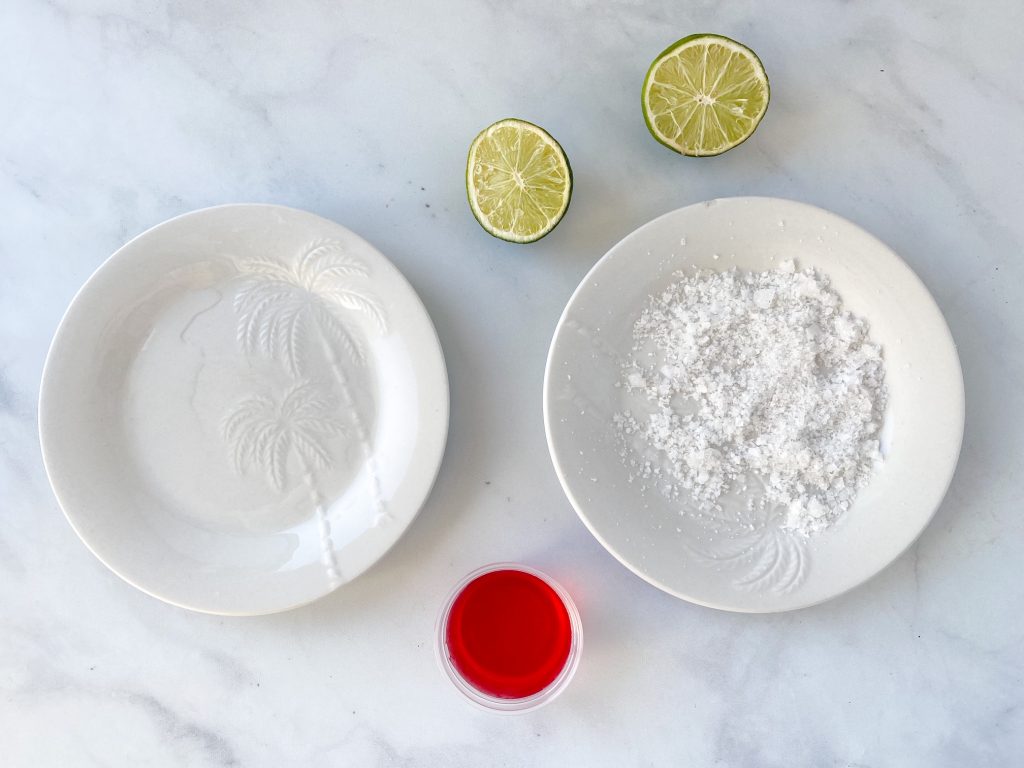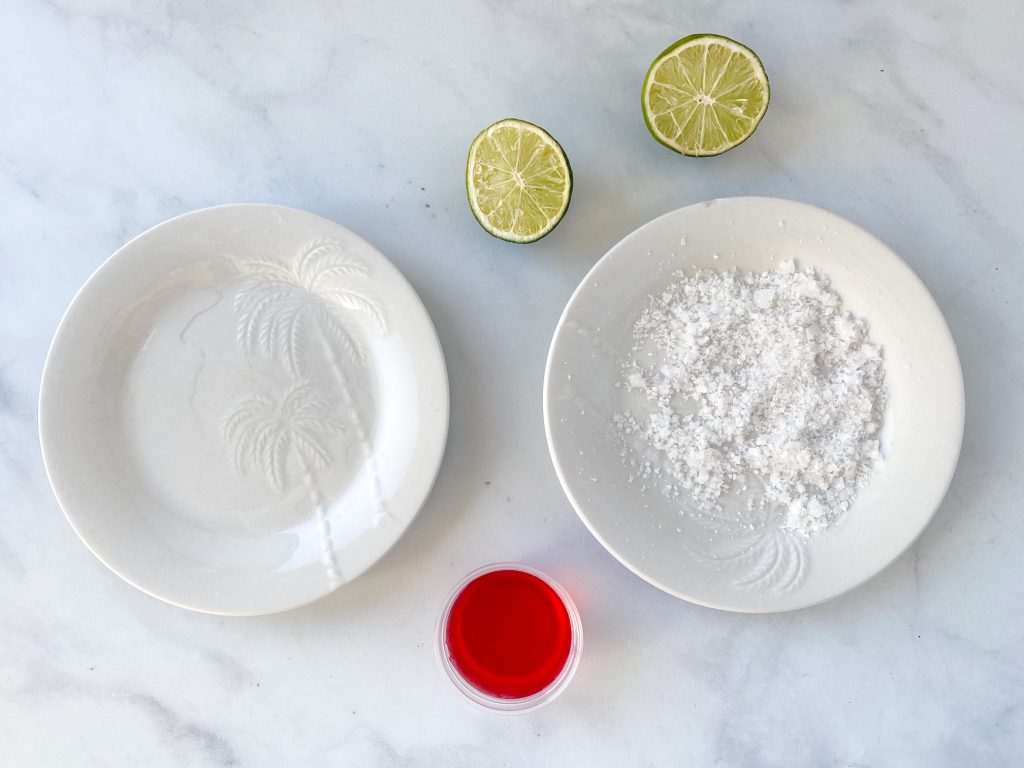 I found it harder to rim the jello shot cups with water as they were plastic, so rubbing a bit of fresh lime juice around the top actually worked better.
If you are using a glass shot glass, go ahead and use water.
I'm not saying that water doesn't work to garnish the plastic shot glass cups, it just doesn't work as well. I used both when taking photos for this recipe.
First, wet the rim of the cup with water or lime juice then place it in the margarita salt.
You want to make sure that the vegan jello shots are fully formed and hard in the fridge before you dump them upside down. You wouldn't want them to come out of the container!
Finally, slice a thin piece of lime. Then slice that piece of lime in half. Then slice THAT piece of lime in half.
You will want 1/4 of a circular lime slice for each tiny vegan jello shot.
Use your knife to make a small cut in the tiny piece of lime so that it makes it easier to garnish the side of the shot container.
That is it! You are done! It is so easy to garnish the cute strawberry margarita vegan jello shots!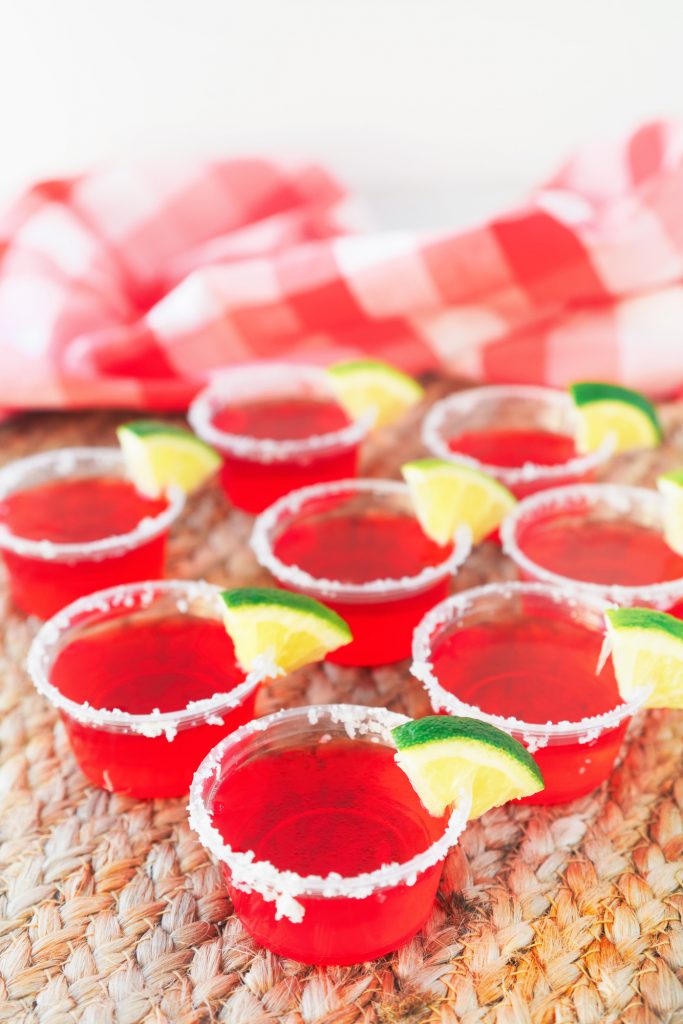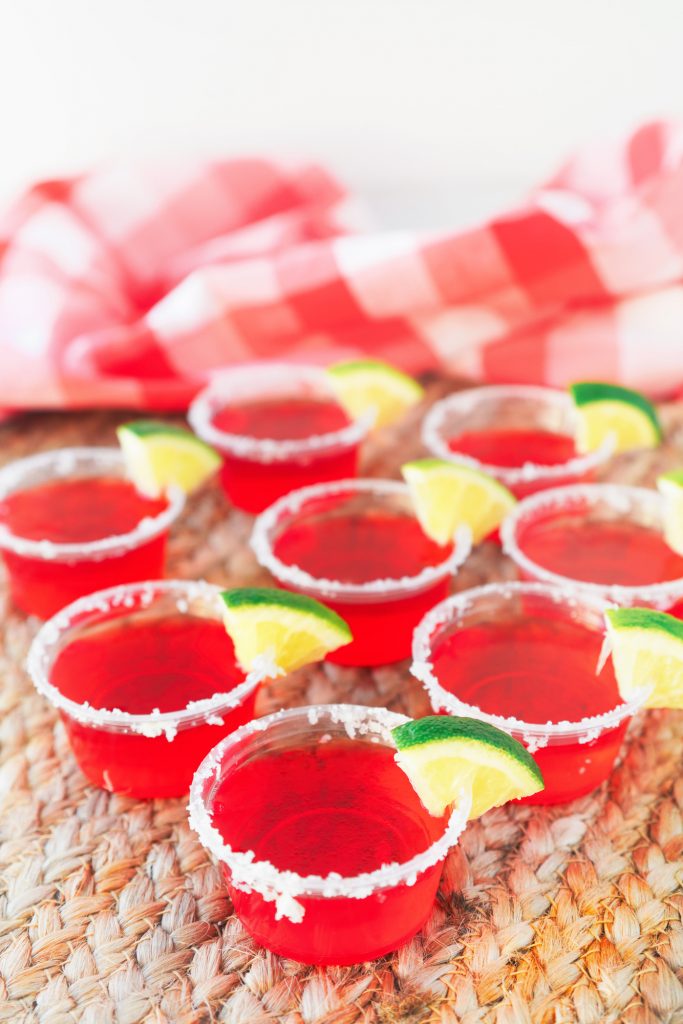 How To Store The Jello Shots
If you use the Plastic Amazon Jello Shot Cups you are in for easy storage!
The "condiment cups" as I call them come with lids!
Simply skip the garnishing part and just make the vegan jello bit if you want to make this recipe in advance.
Then, simply pop the lids on and store the jello shots in the fridge.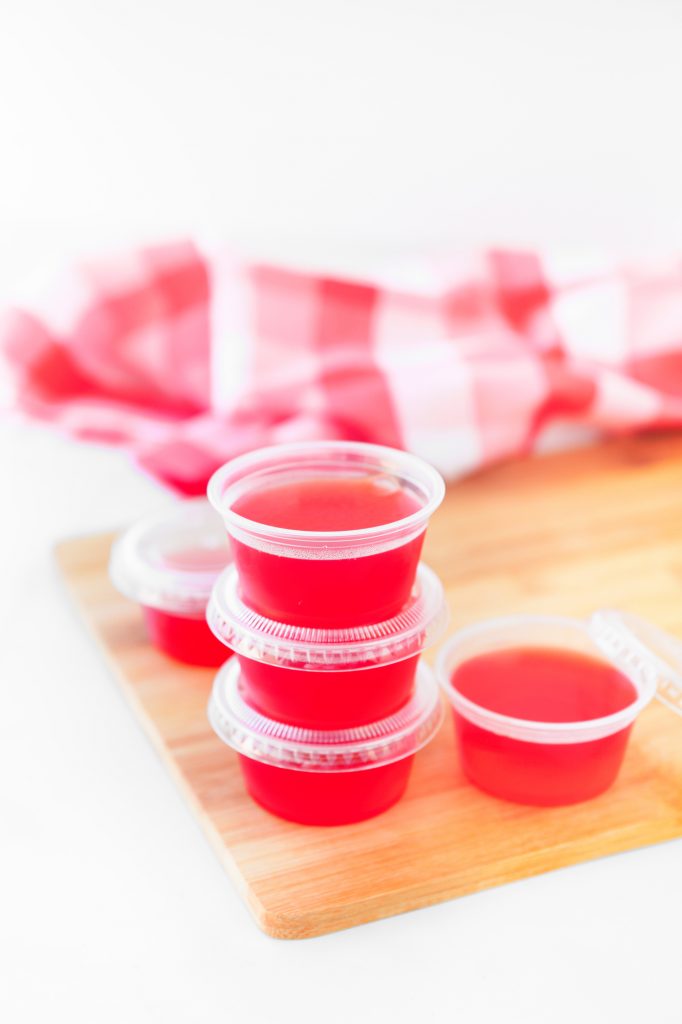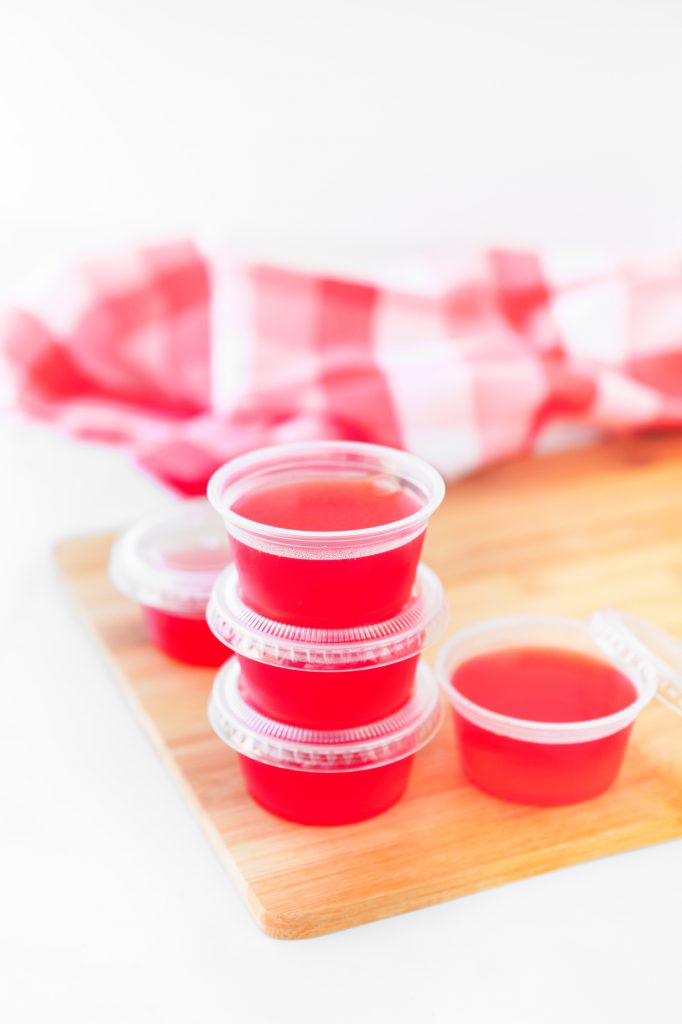 You can add the garnish the day of your party, right before guests arrive.
If you don't want to garnish them, that is okay too!
Feel free to get creative with this easy and fun vegan jello shots recipe.
Did You Try This Recipe?
If so, I would love to keep in touch! I enjoy seeing photos and comments about the recipes that you make! You can follow me on Instagram and I will repost your goodies in my stories and comment on it too! Just tag me at @wowitsveggie and hashtag #wowitsveggie. I can't wait to see what you make!
Yield: 12 Jello Shots
Strawberry Margarita Vegan Jello Shots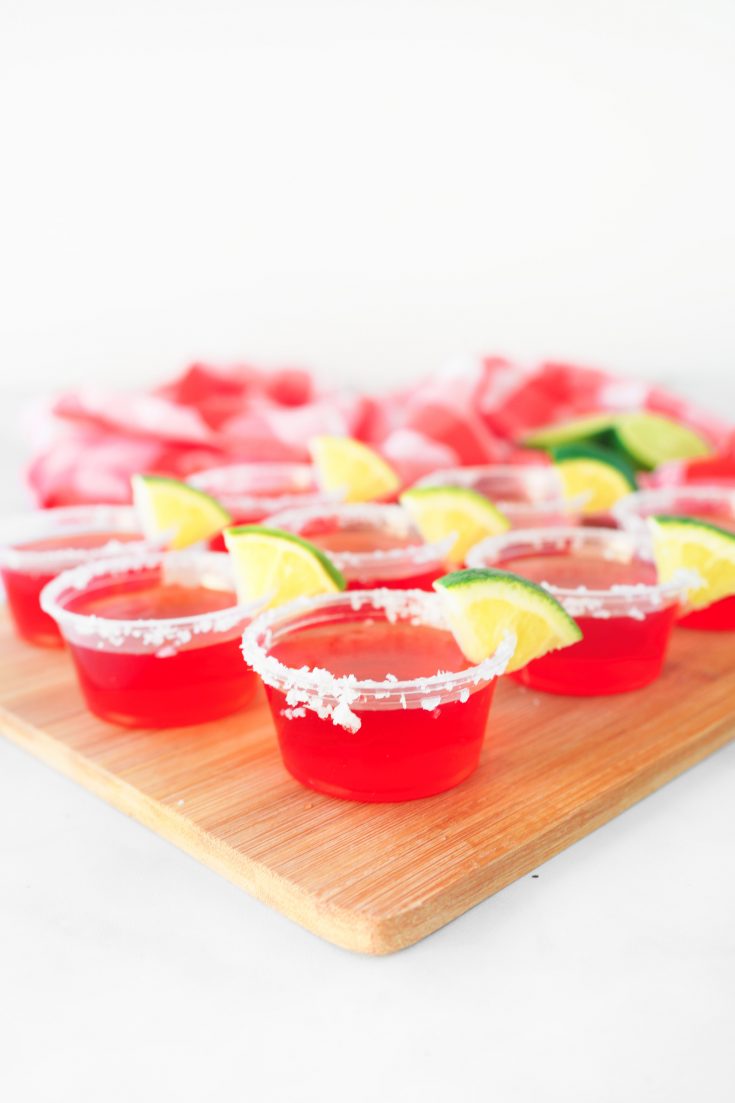 These strawberry margarita vegan jello shots will be all the rage at your next party or gathering! You can make them with either vegan jello or Agar Agar powder [see in the post for explanation] and they taste as good as they look! Garnish with margarita salt and a tiny lime wedge!
Total Time
1 hour
10 minutes
Ingredients
1 Package Vegan Strawberry Jello OR 1 Tsp Agar Agar Powder (I use Simply Delish vegan jello)
1/2 Cup Liquor (Tequila Or Vodka)
1 Cup Fruit Juice [ONLY if using Agar Agar Powder NOT if using strawberry jello mix]
1 1/2 cup boiling water
Limes And Coarse Salt For Garnish
Instructions
Prepare vegan jello powder according to instructions on the box. Usually, whisk 1/3 cup of cold water in jello powder and then combine with 1 1/2 cup boiling water.
If using Agar Agar Powder instead of vegan jello mix, mix Agar Agar powder, fruit juice, and boiling water and boil for 2 minutes.
No matter which route you go, jello mix or Agar Agar, once you add the hot water, go ahead and add the liquor and any additional sugar you want to add. Whisk to combine and until the mixture starts to thicken slightly.
Carefully pour the vegan jello shots into small jello shot containers. I use These Condiment Cups From Amazon.
Let the vegan jello shots "set" in the fridge which takes about one hour.
To garnish, wet the rim with lime juice or water and then dip in coarse salt. Cut a lime slice into 1/4 quarters and garnish each jello shot with a tiny lime.
Notes
If you are using Agar Agar powder and fruit juice, choose a fruit juice that you think will work well with the "margarita" theme. Go ahead and add a little sugar too as sometimes it may have a more bitter flavor.
To store, simply leave off the garnish and put on the tops to the condiment cups. Garnish right before your party!