Do you absolutely love fall and you're already searching for new vegan Thanksgiving recipes? Well, I share your excitement and I have gathered some really fabulous recipes.
Not only have I covered your main dishes, but I have also found several incredible side dishes and how could I ever forget dessert?!
Thanksgiving is such a beautiful holiday filled with gratitude and togetherness. What makes Thanksgiving so great?! Well, if you ask me it's sharing a tasty meal with many different comfort foods.
I think of pumpkin, cinnamon, roasts, and mashed potatoes with a generous amount of gravy!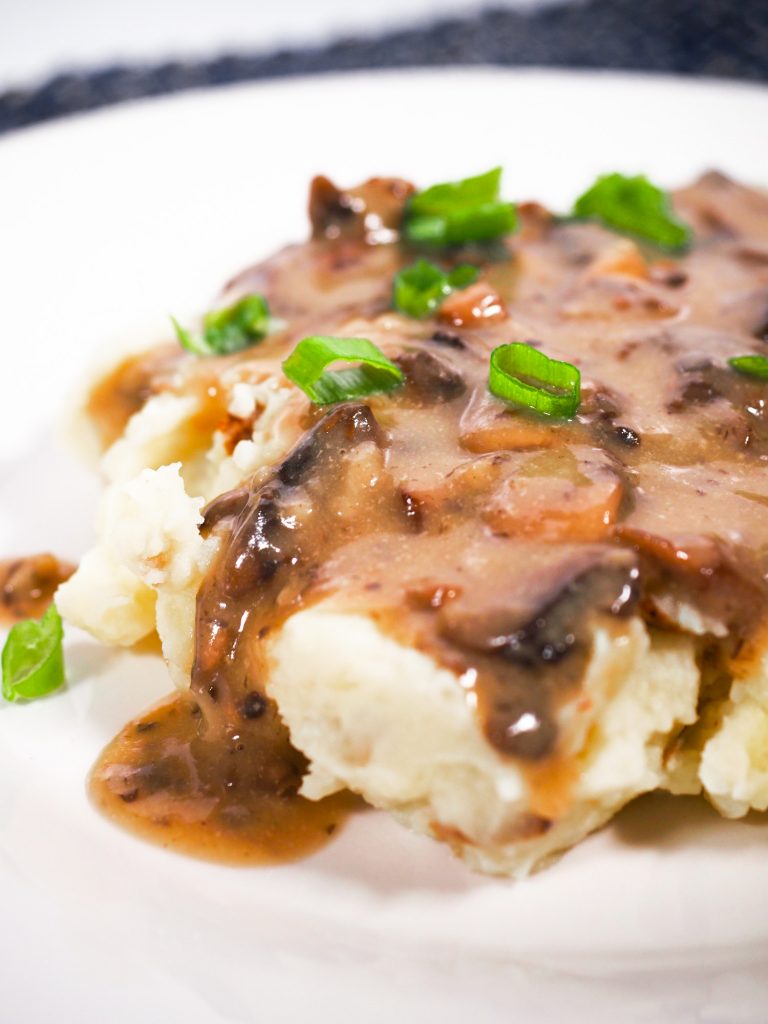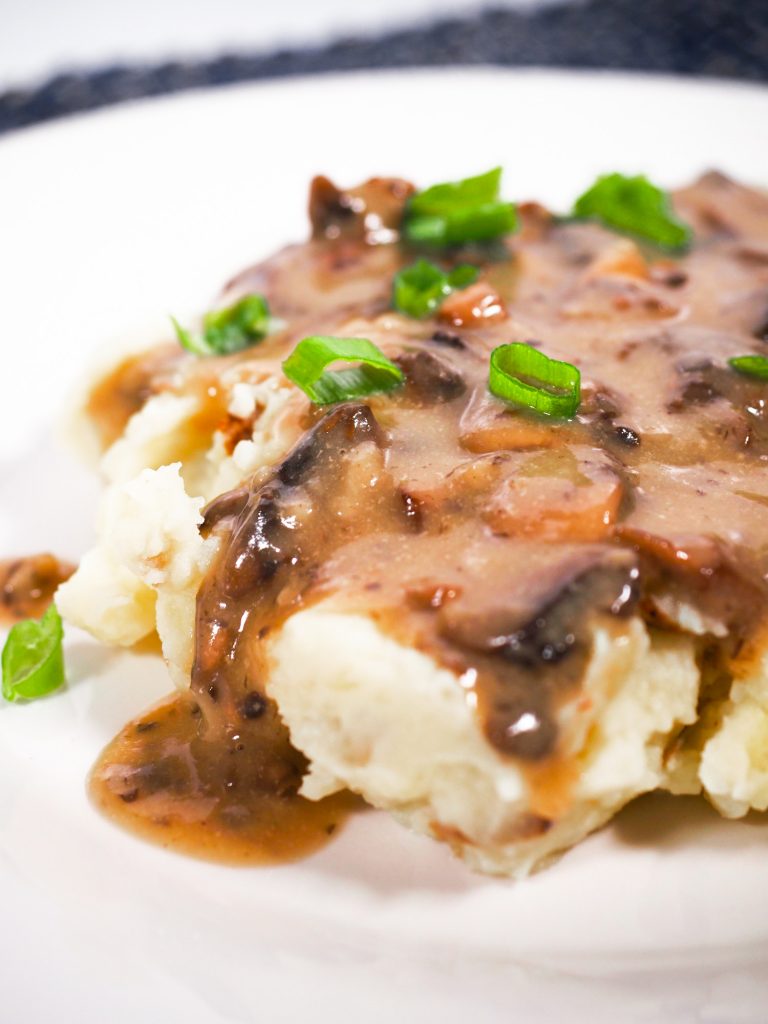 Can You Really Have A Vegan Thanksgiving?
You might find yourself questioning if you can have a classic Thanksgiving feast while serving all vegan food. Well, I am here to assure you that the answer is YES! These vegan Thanksgiving recipes have all of the quintessential flavors covered and more.
All of these recipes are so delicious that they can easily be enjoyed by both vegans and meat-eaters alike! I promise you that you won't even be thinking about turkey when you can have all of these comfort foods that are packed with fall flavors! I have included several main dishes that are hearty, easy to make, and ready to take the spotlight away from turkey.
Pumpkin, potatoes, squash, green beans, and corn…all of these veggies come to mind when you think of Thanksgiving, so you're already more than halfway to having a vegan Thanksgiving! So, yes you really can have a vegan Thanksgiving and it really only takes some minor adjustments.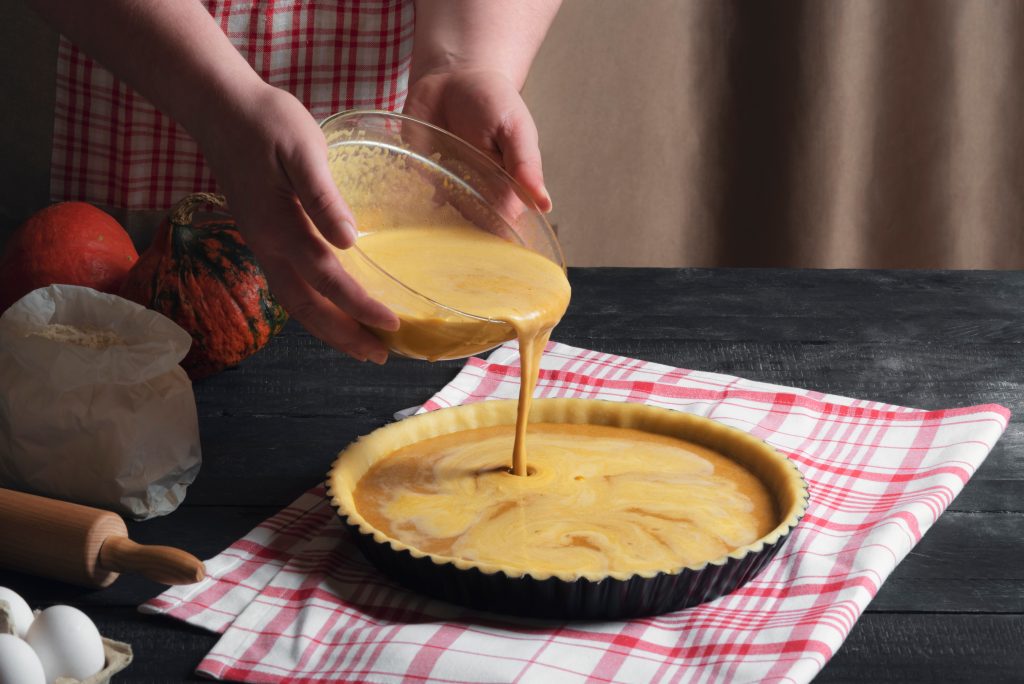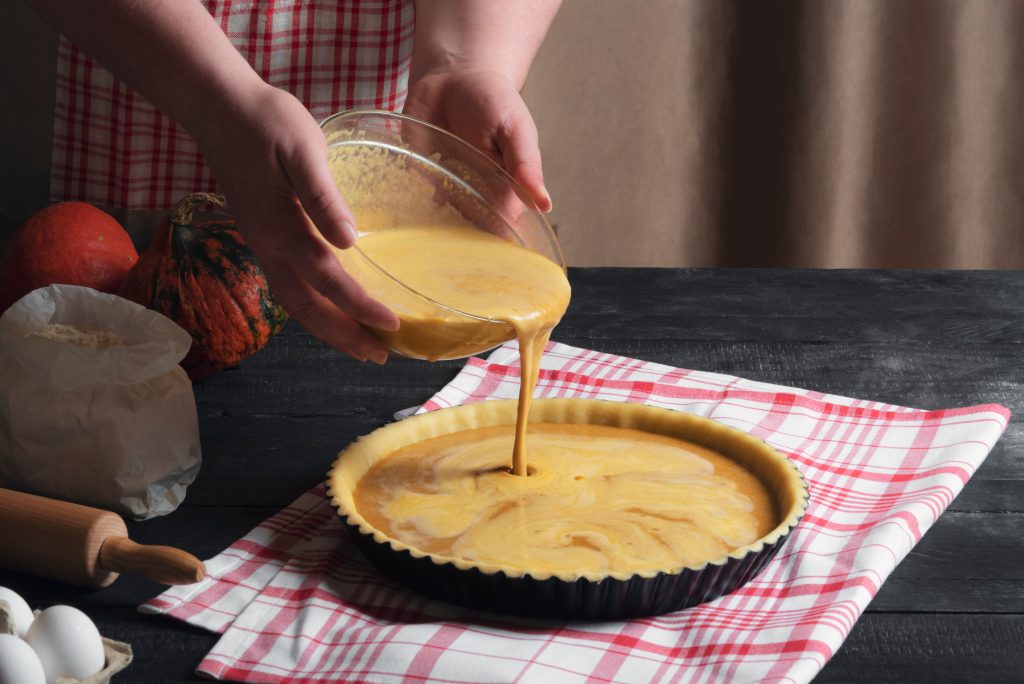 33 Easy And Delicious Vegan Thanksgiving Recipes
Main Dishes
Glazed Tofu Roast
This glazed tofu roast is the baked tofu centerpiece of your dreams. Prepared in a smoky-sweet marinade, slow-roasted and then covered in a spicy orange glaze, this is a succulent vegan roast that makes a beautiful Thanksgiving entree.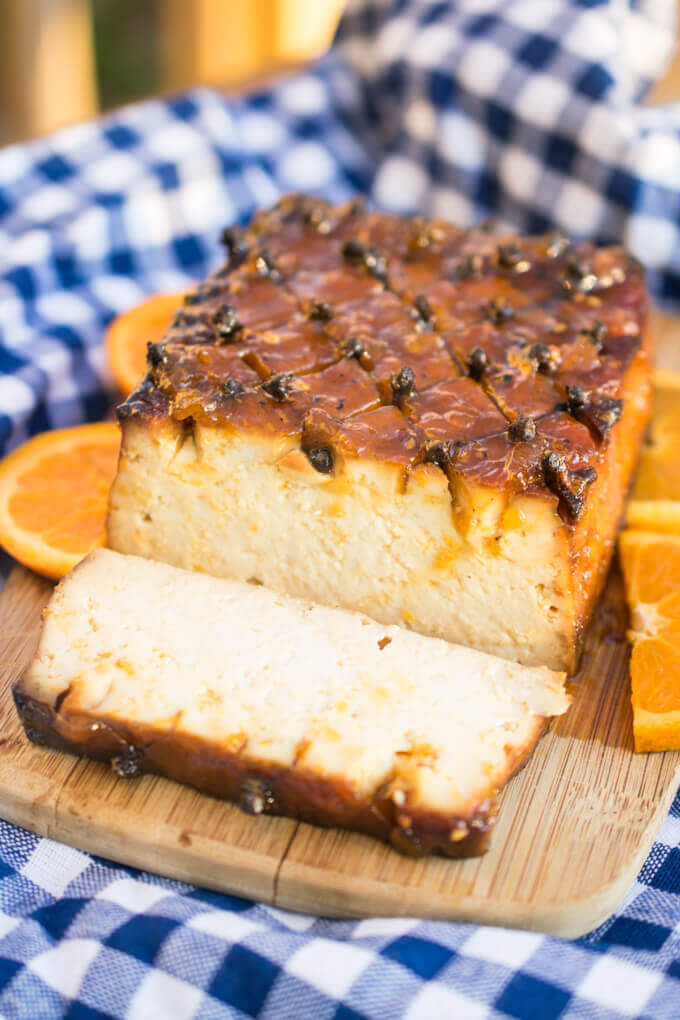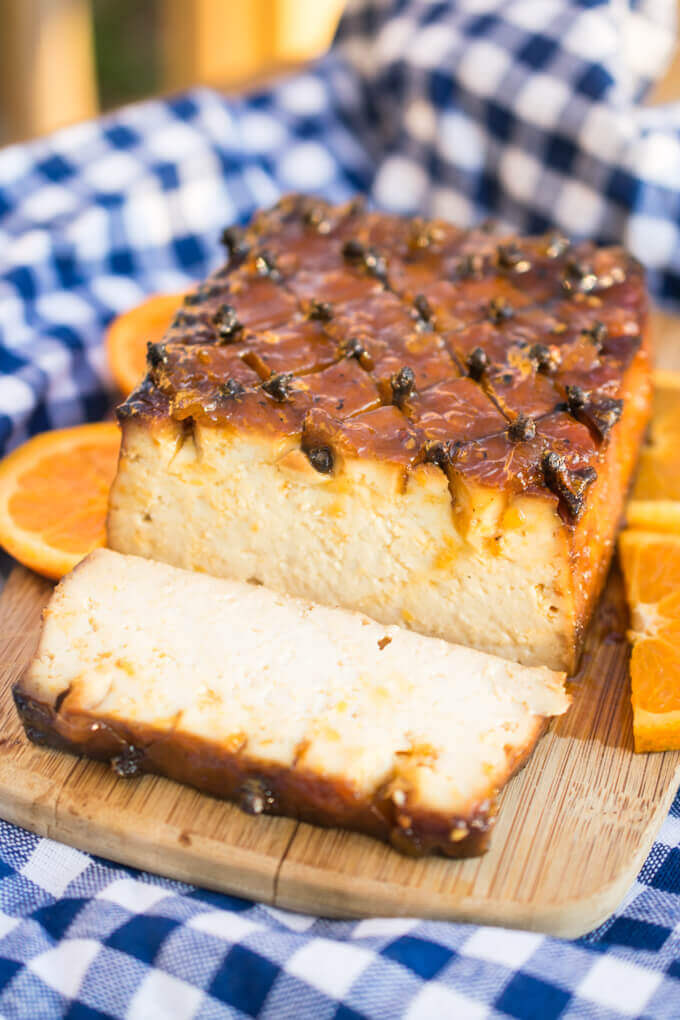 Creamy Baked Vegan Mac And Cheese (Nut And Gluten-Free)
This vegan baked mac and cheese recipe doesn't rely on any nutritional yeast or cashews. Cauliflower florets blend up smoothly and don't bring an overpowering flavor to the table. This will not only be one of your favorite vegan Thanksgiving recipes, but also a year round classic in your dinner rotation.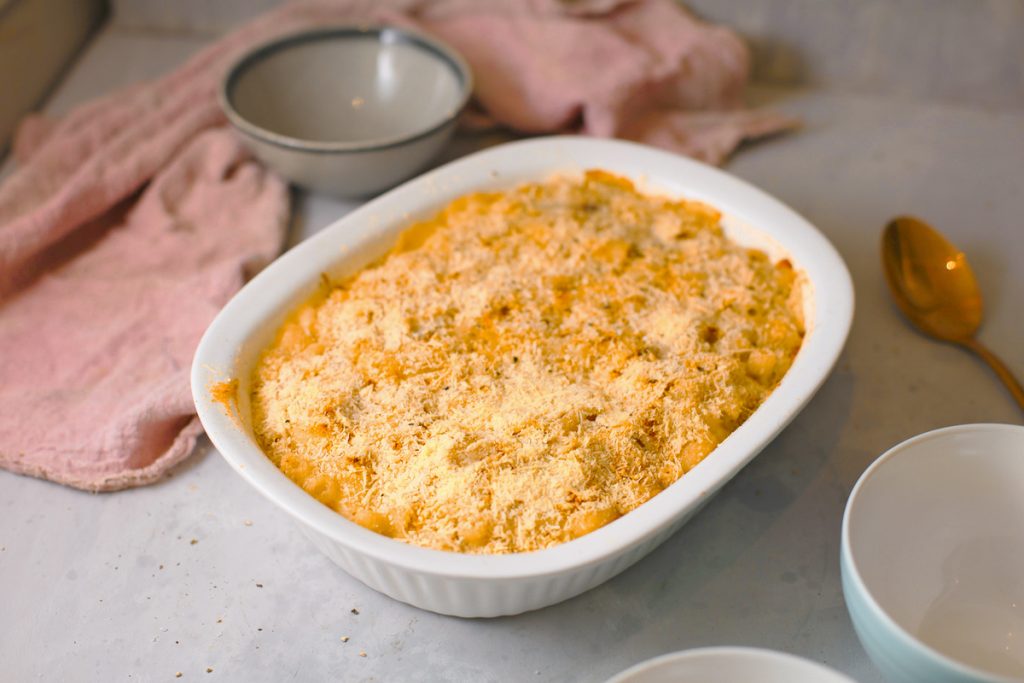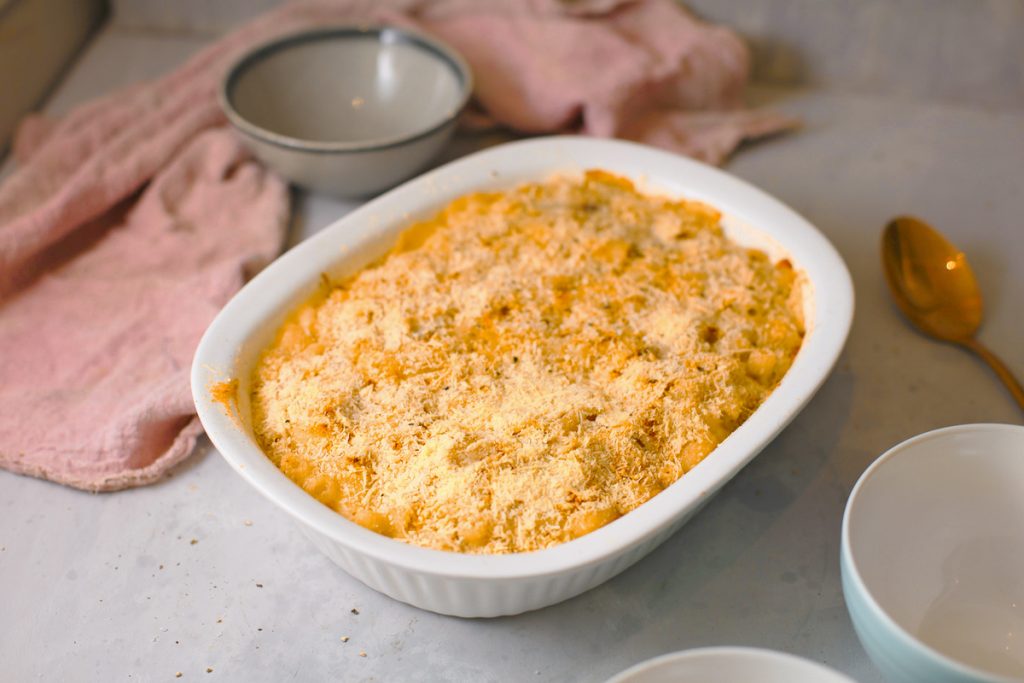 Best-Ever Vegan Stuffed Peppers
Looking for an entree that is less traditional, but incredibly tasty? These stuffed peppers will be one of the most unexpected vegan Thanksgiving recipes that your guests won't stop complimenting! The best part about these vegan stuffed bell peppers is that they are EASY to make. The preparation time is quick and you can clean up and relax while they cook.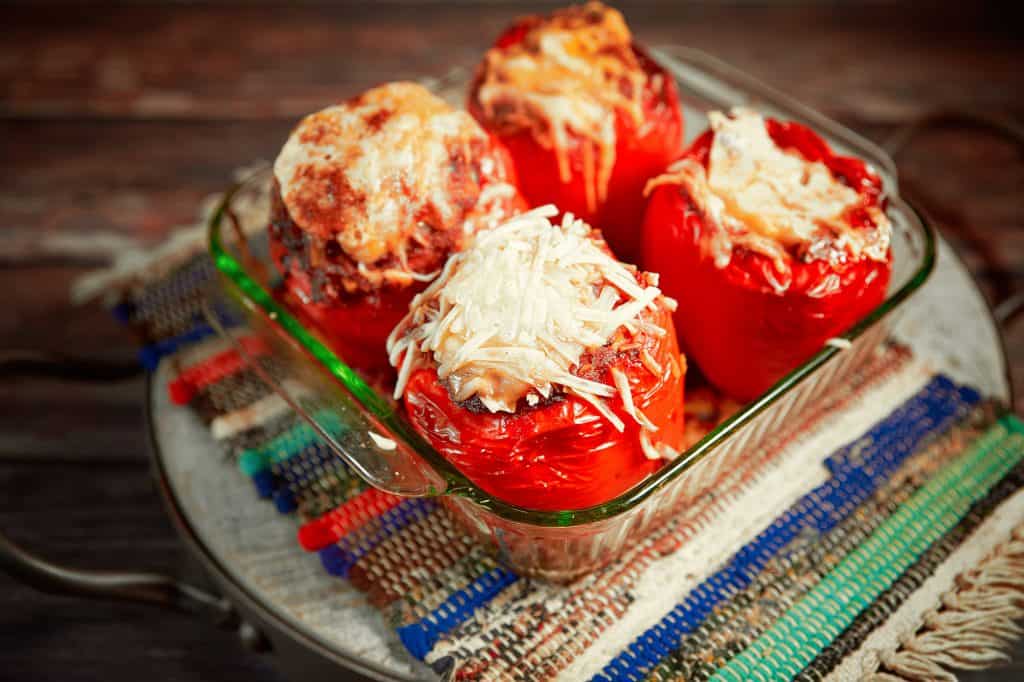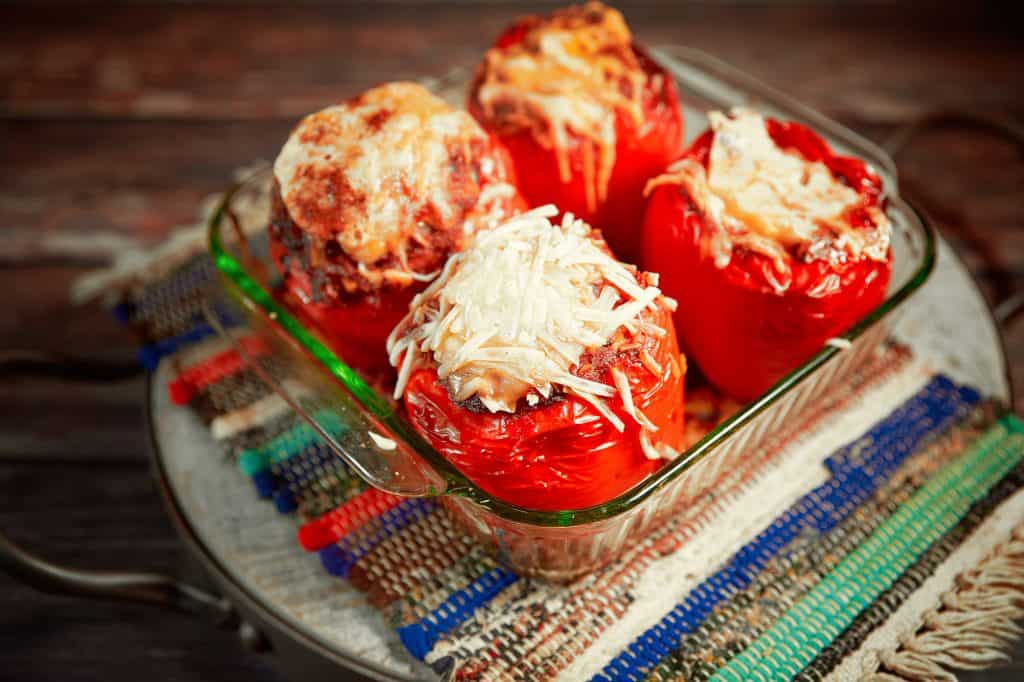 Vegan Roast
A simple, easy, rustic and hearty Vegan Roast that's slice-able, ultra tender and full of flavor. Just perfect for serving with copious amounts of gravy, roast potatoes and all the trimmings. Leftovers are great in sandwiches too!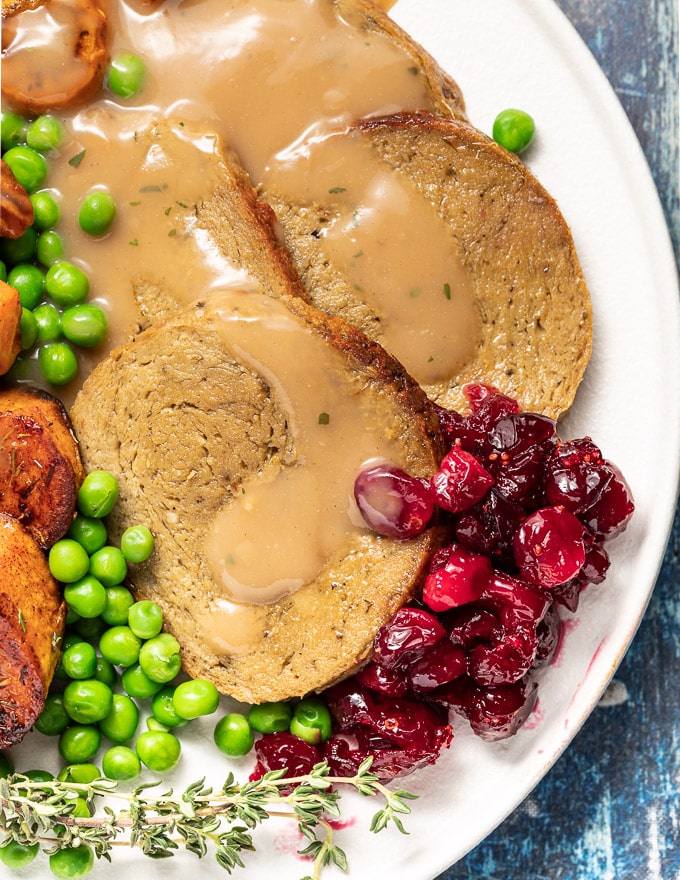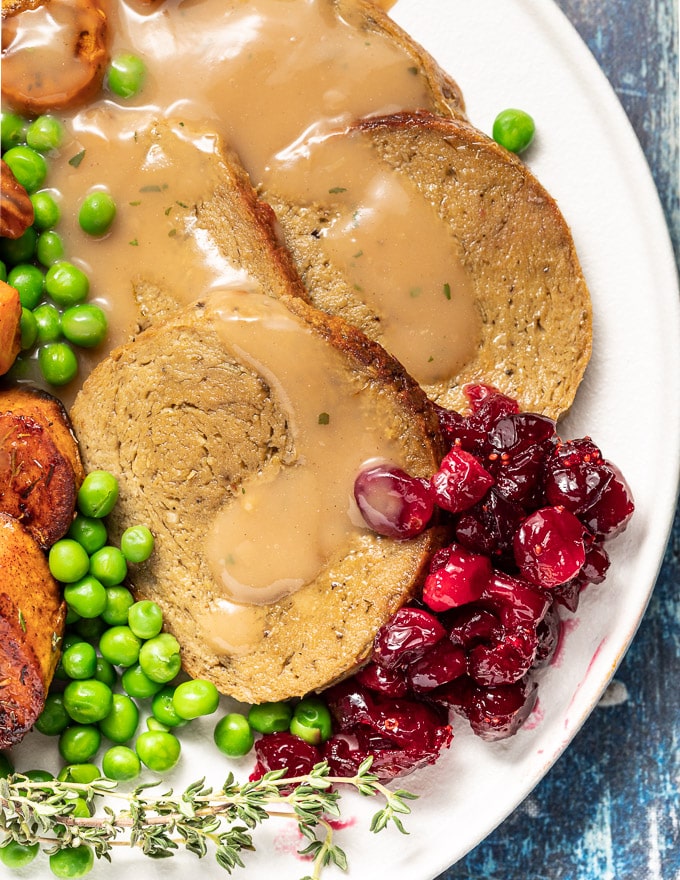 Mushroom Wellington
Mushroom Wellington is a flavor-packed, easy and stunning vegan or vegetarian main dish. You can make it ahead, and it's perfect for the holidays. One of the most elegant vegan Thanksgiving recipes.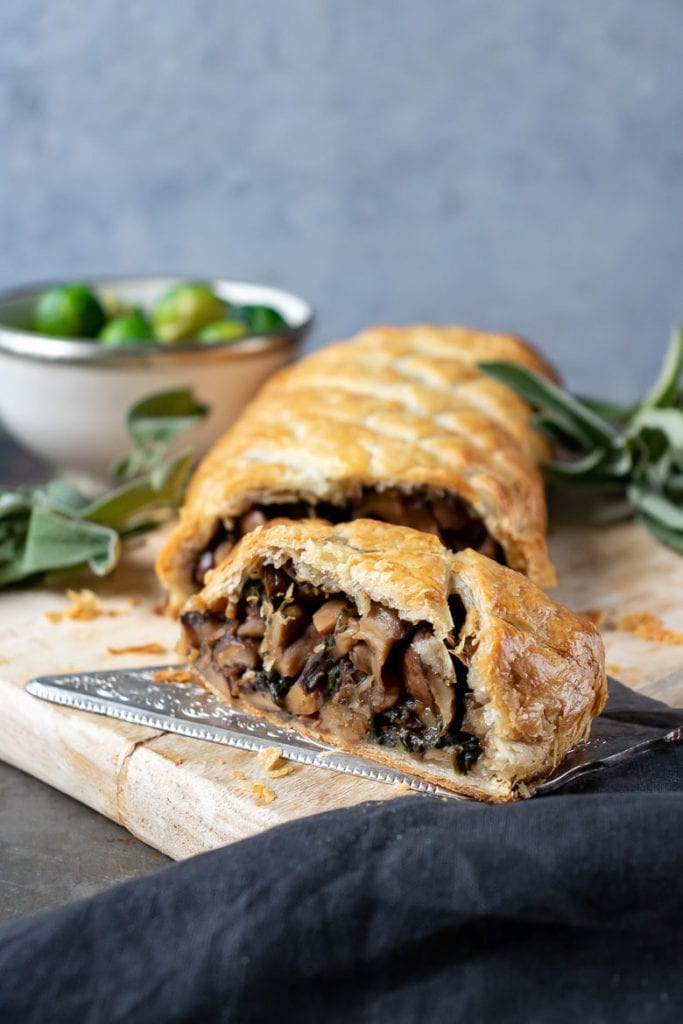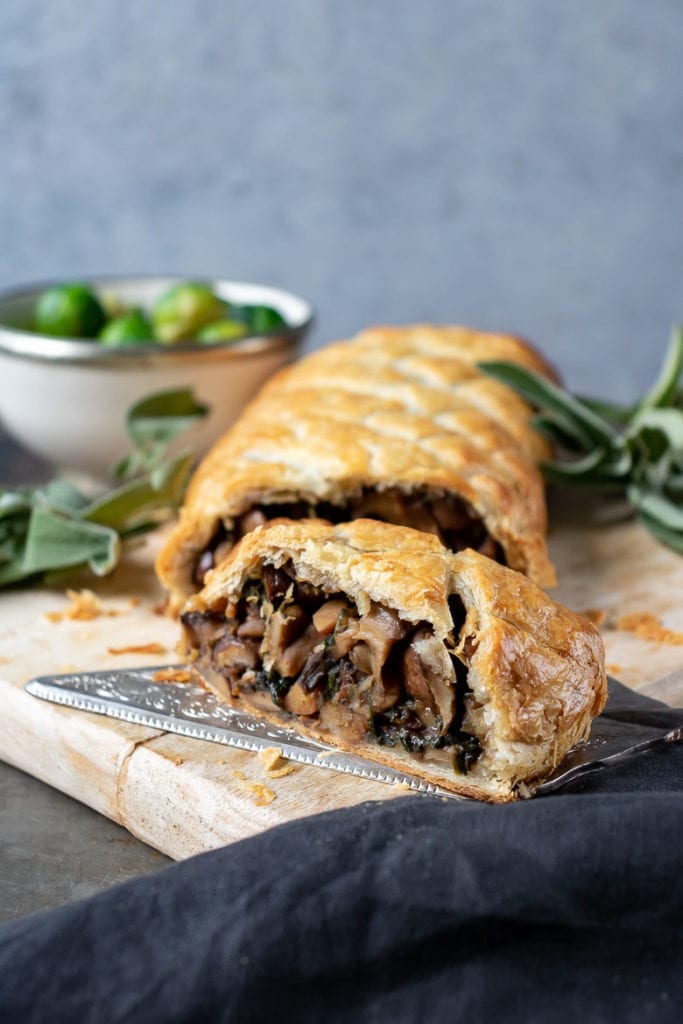 Lentil Shepherd's Pie (Vegan + GF + Oil Free)
Attention mushroom lovers, get ready to fall in love! This lentil shepherd's pie is lightened up from your traditional varieties, includes more wholesome ingredients, and is still absolutely mouthwatering. It's vegan, it's gluten free, it's oil free, and it's GUILT FREE!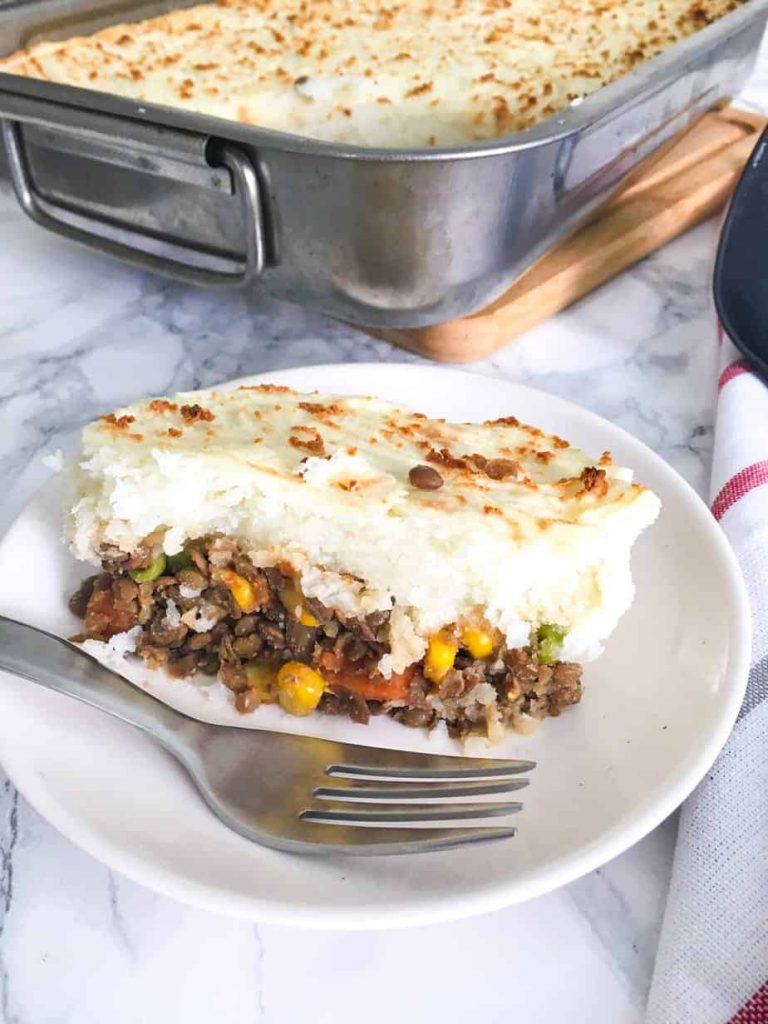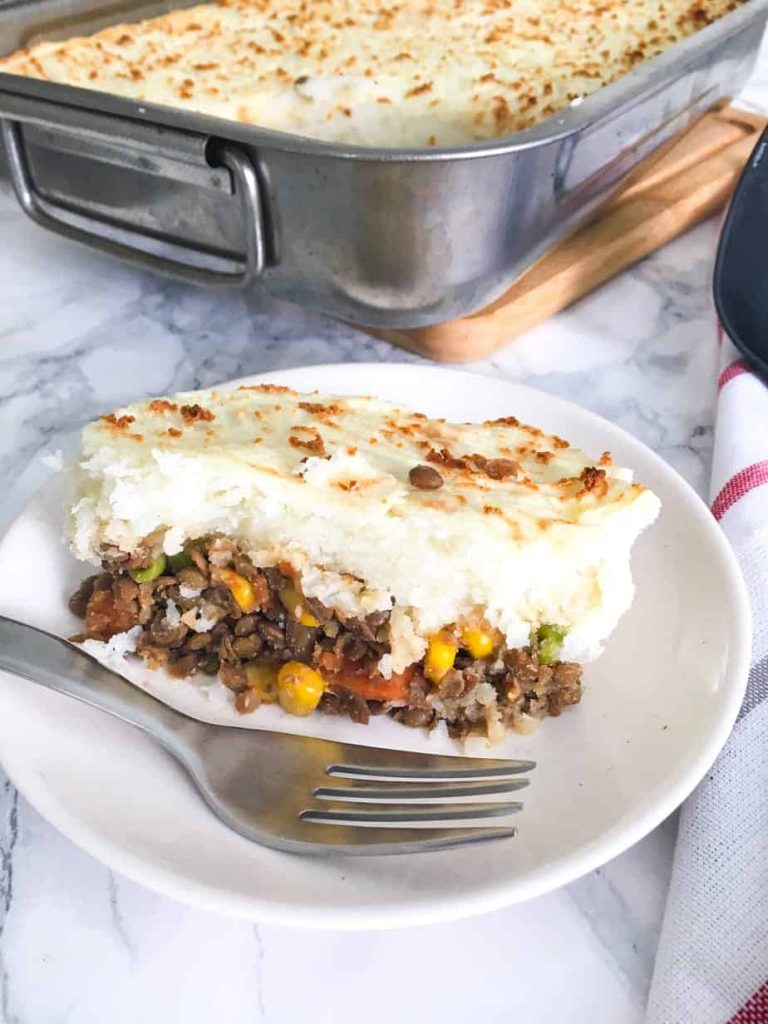 Vegan Lentil Loaf
Does meatloaf bring up fond childhood memories for you? It's a perfect warm comfort food. Well, this version is a healthy vegetarian meatloaf that's packed with veggies and plant-based protein. Easy to make and freezer friendly, so you can create those happy memories for your family again and again. This is definitely one of the most kid-friendly vegan Thanksgiving recipes out there!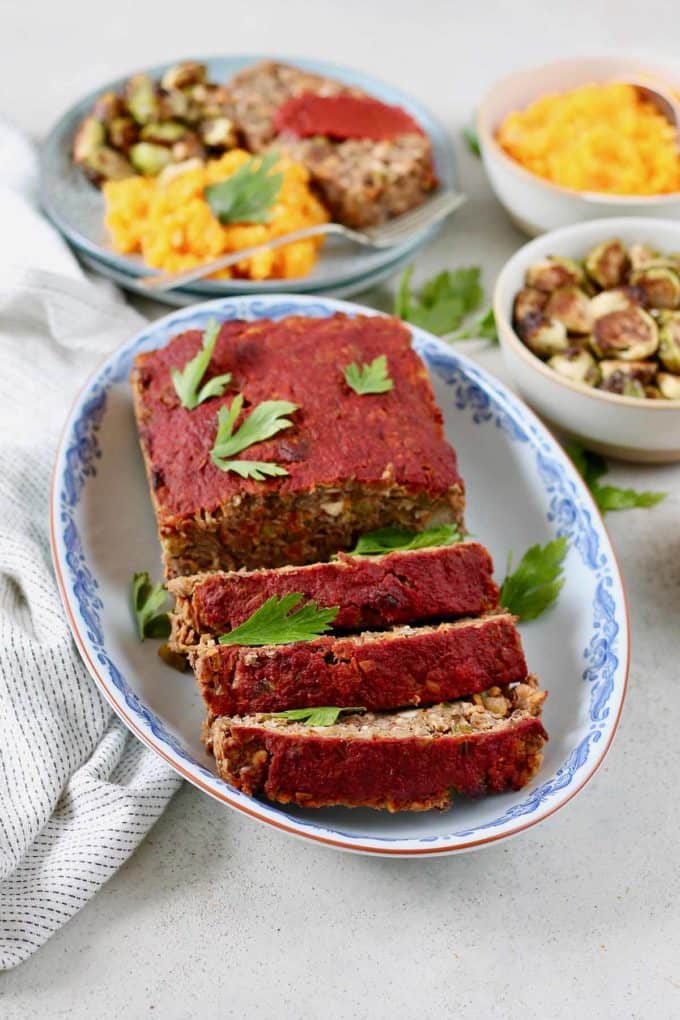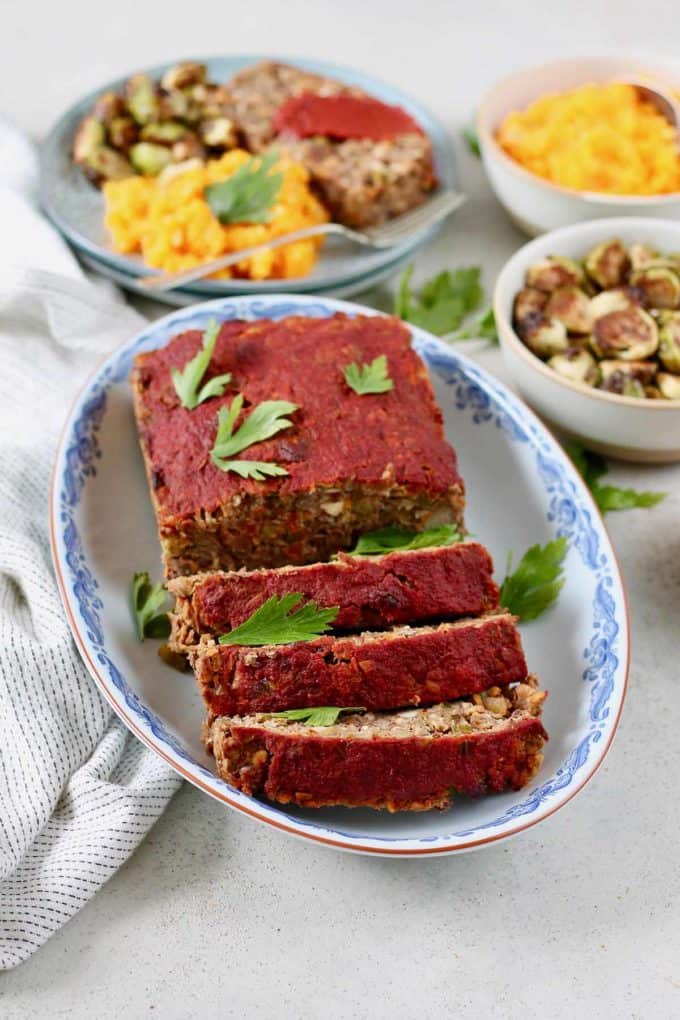 The Ultimate Vegan Wellington
Yes, this is a second Wellington recipe on the list, but I know you want options! This recipe has a more varied filling and completely different texture. So, if you prefer to have a more finely chopped filling with added carrots, celery, and onion, then this one is for you!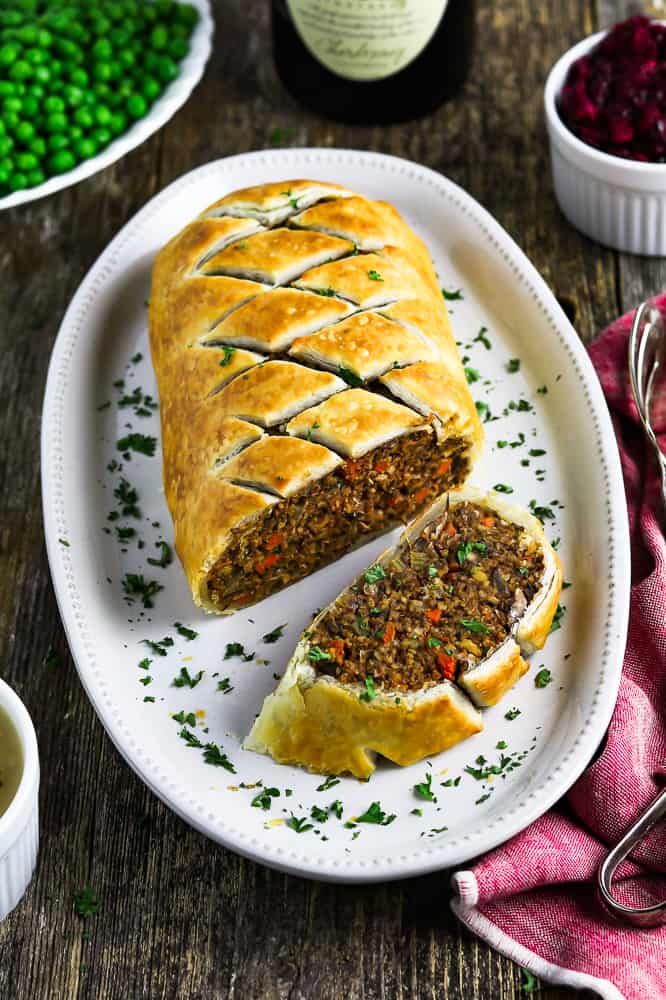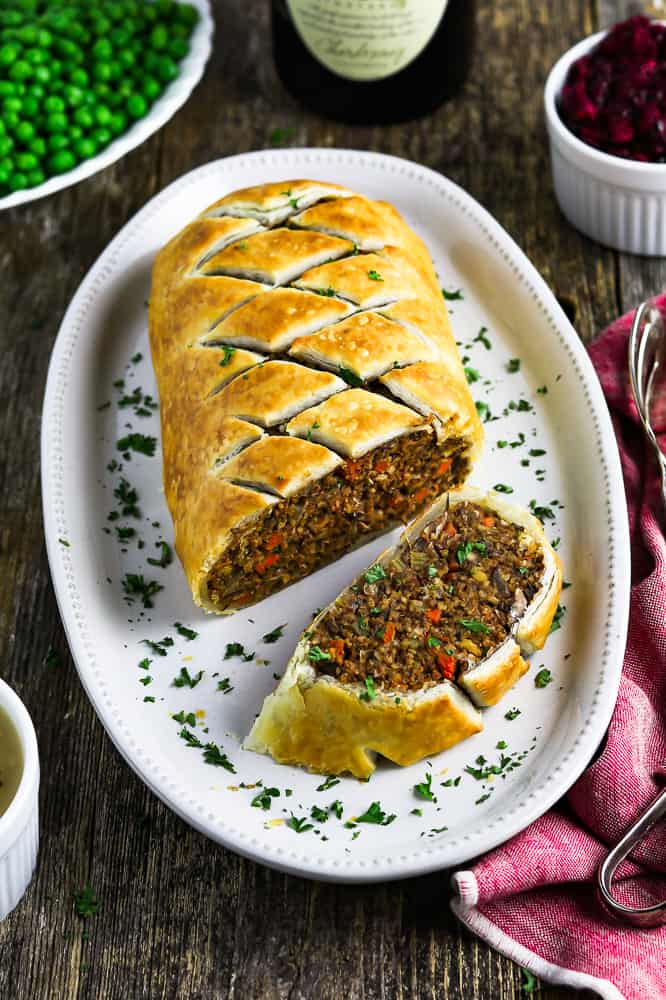 Vegan Lentil Shepherd's Pie Stuffed Eggplant
Don't you just love entrees that are cute and easy to serve?! These stuffed eggplants are perfect little boats packed with a combination of lentils, peas, carrot, celery and leek. Then, topped with creamy sweet potato mash and an optional sprinkle of vegan cheese. The bright orange color makes them one of the more festive among the vegan Thanksgiving recipes.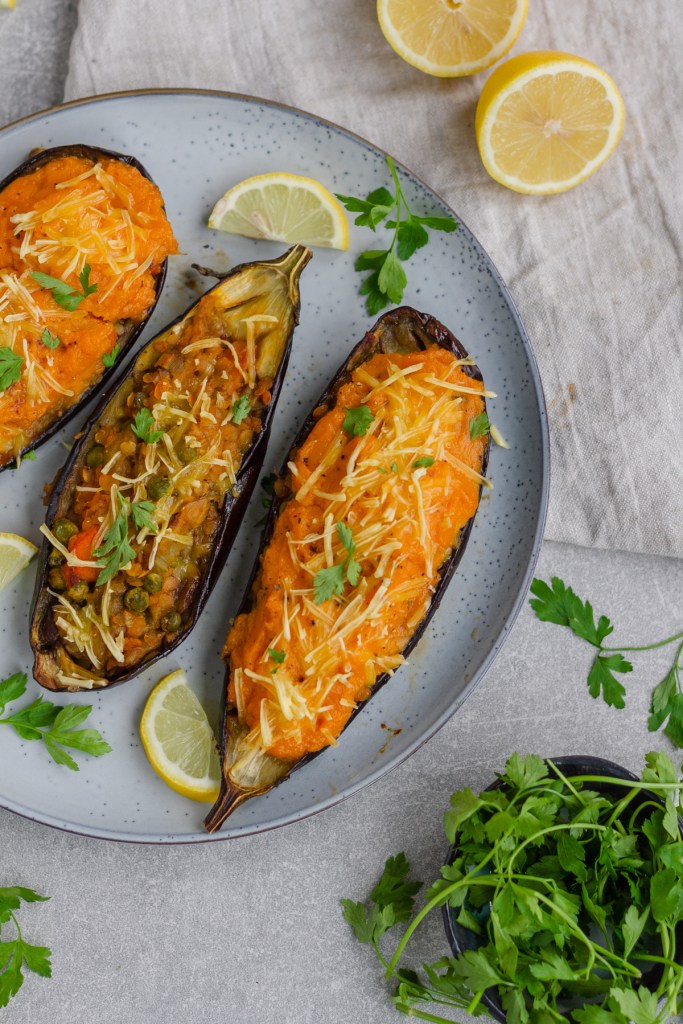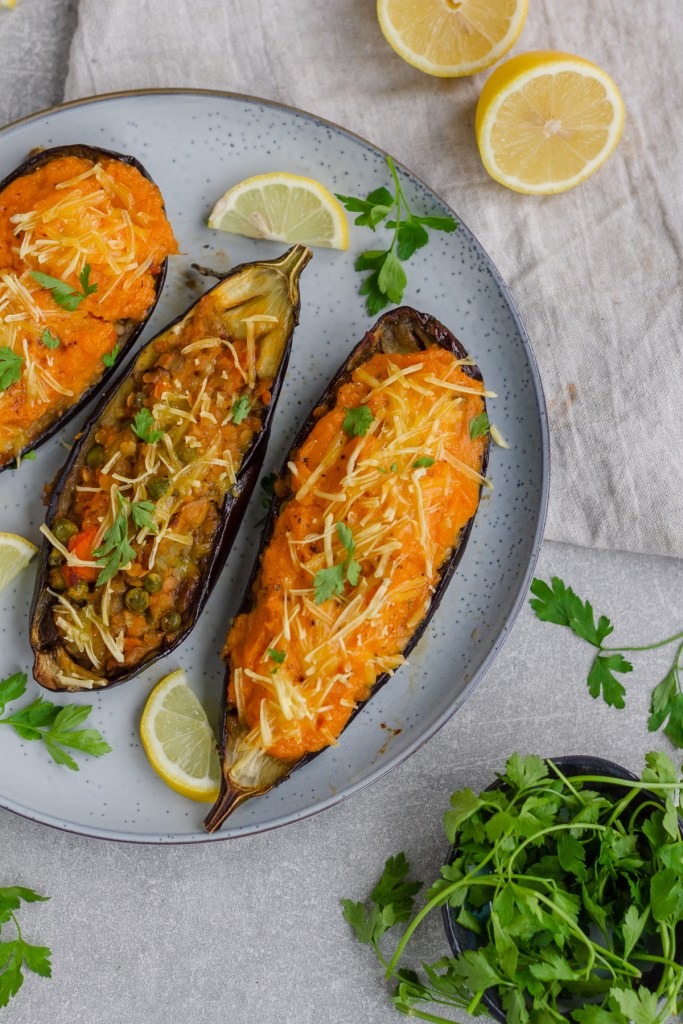 Southern-Style Vegan Biscuits And Gravy
When I think of vegan Thanksgiving recipes, I think of all of the ultimate comfort food. Well, you really can't get more comforting and home-style than warm flaky biscuits covered in gravy! This recipe can be whipped up in just 30 minutes and can easily keep and be reheated for another meal.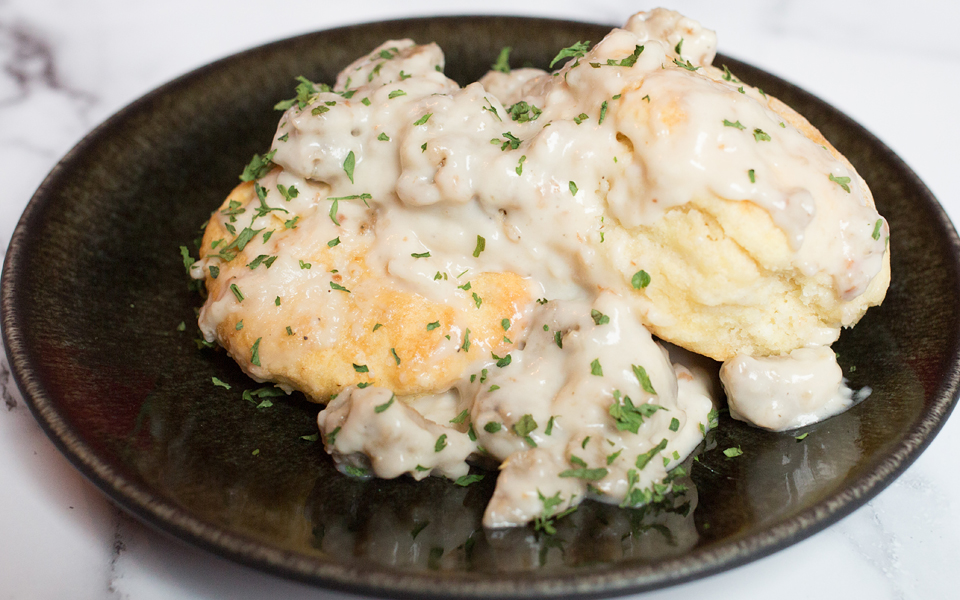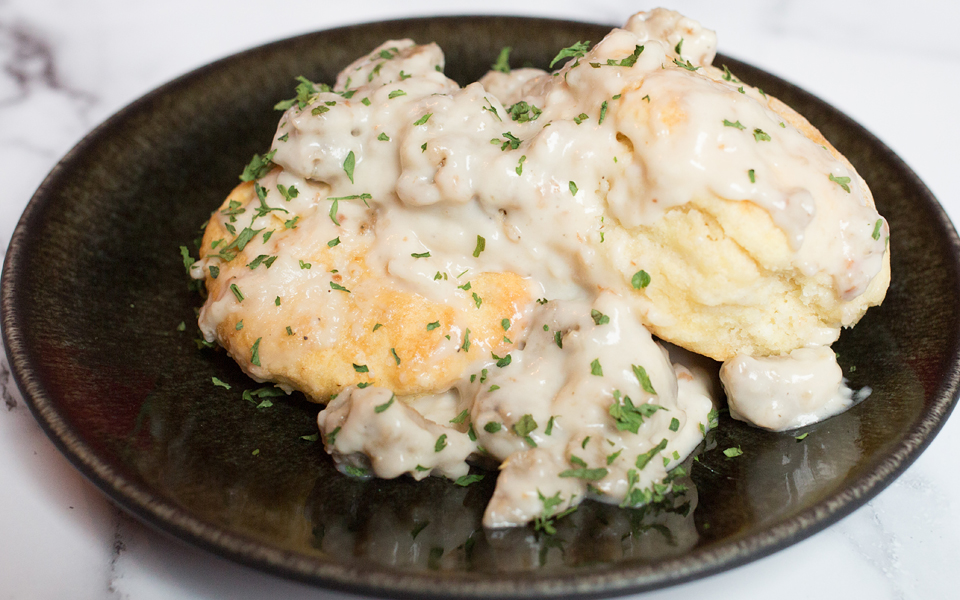 Savory Apple Tart With Flaky Phyllo Crust
This Savory Apple Tart is an easy, flavorful dish with potatoes, beets, and apples on top of creamy whipped feta in a flaky phyllo crust. It's sweet, it's savory, and it's ready to be one of your favorite vegan Thanksgiving recipes!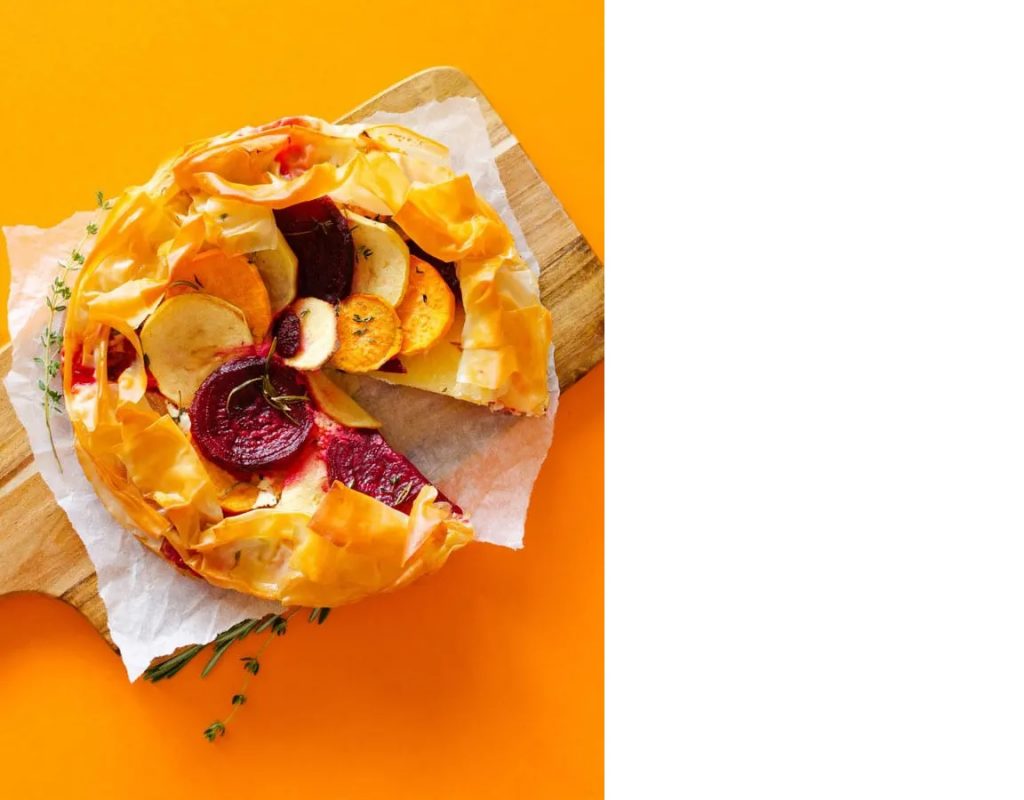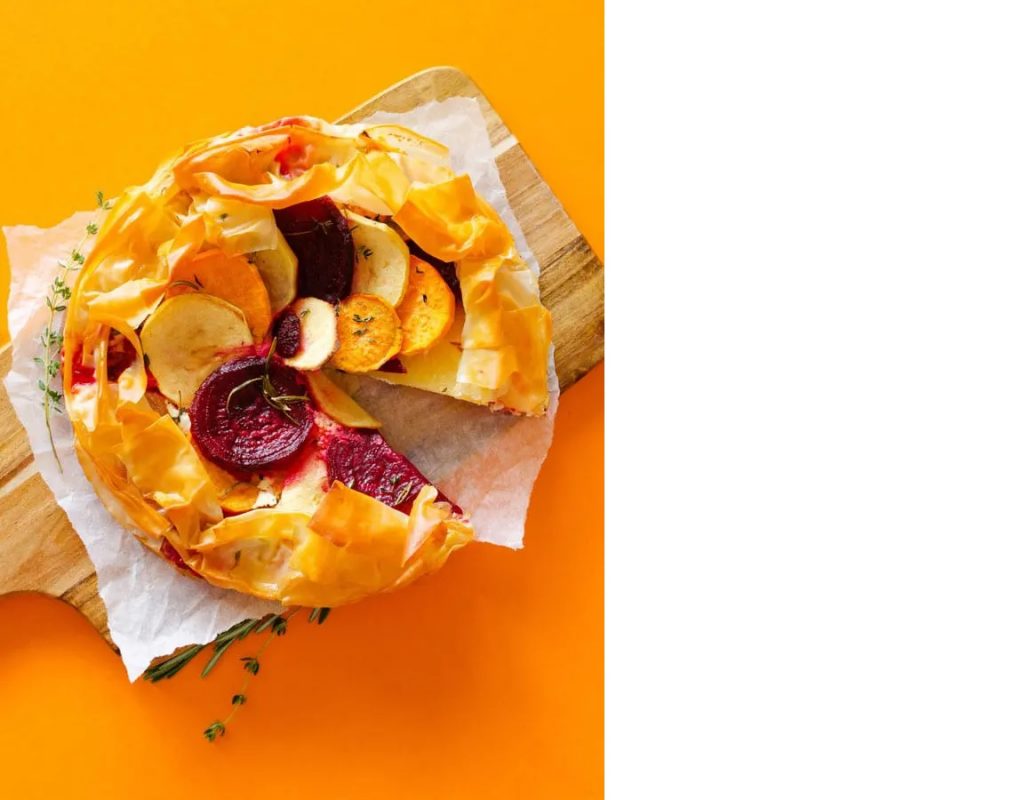 Side Dishes
Rustic Vegan Mashed Potatoes
You can't list vegan Thanksgiving recipes and not immediately include mashed potatoes! They always hit the spot and put a smile on your face. Please do yourself a favor and make this vegan mashed potatoes recipe and smother it with the best vegan gravy you have ever eaten! Most mashed potato recipes call for butter, but that is a simple fix and you can veganize mashed potatoes super easily.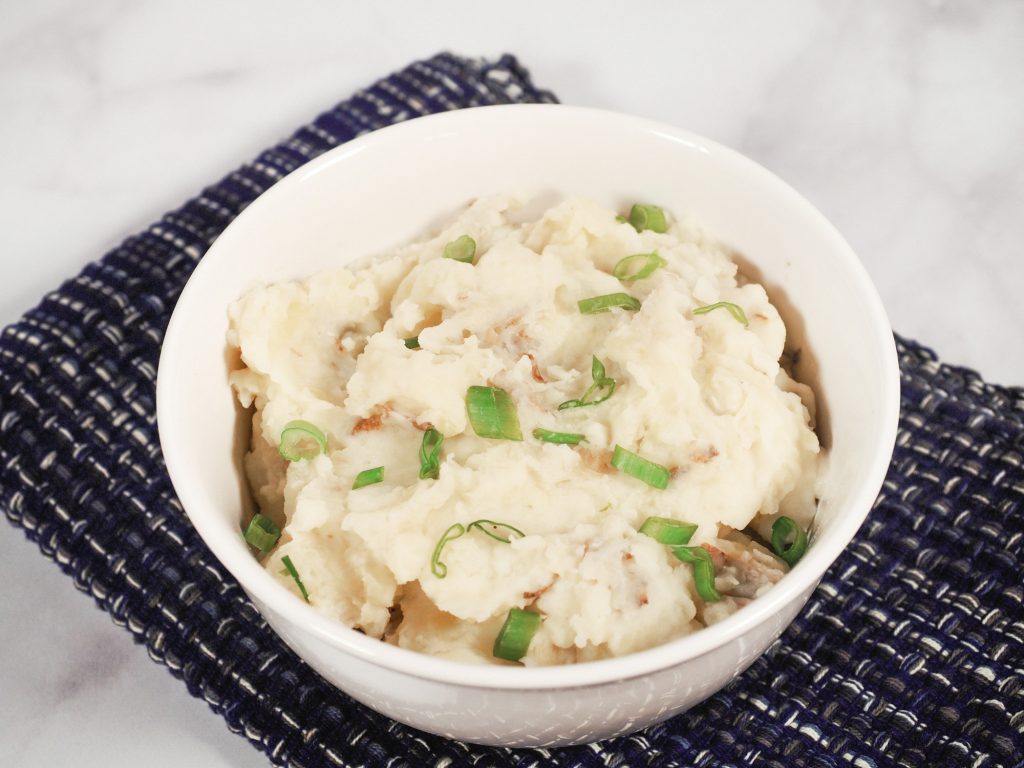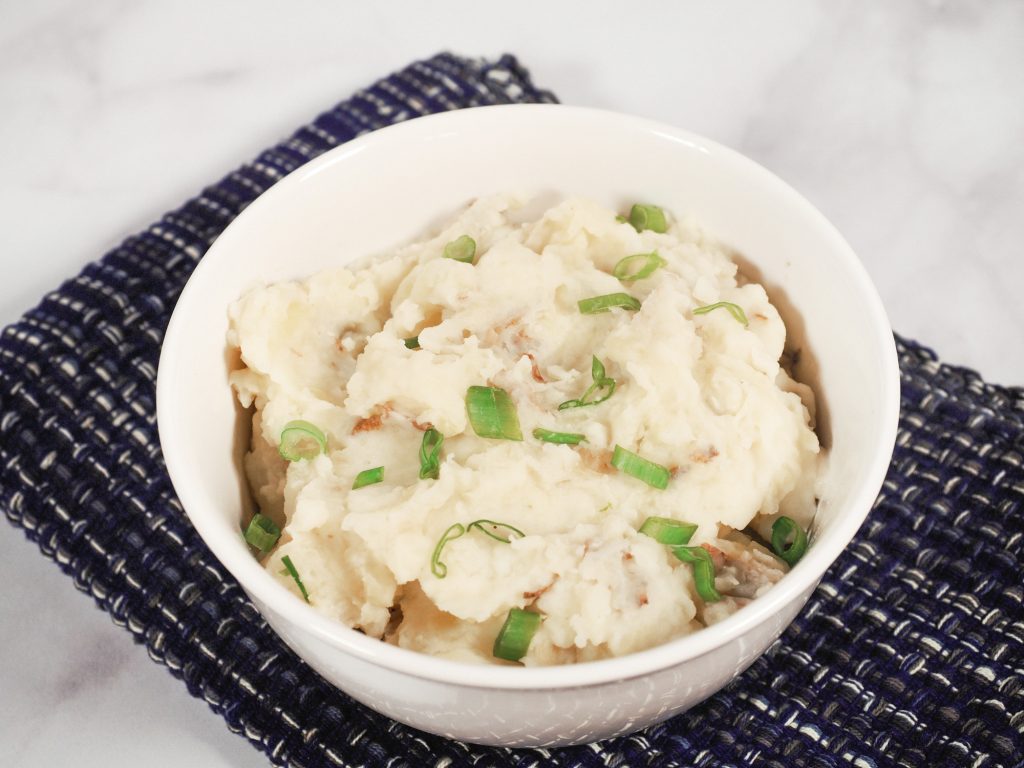 Best-Ever Vegan Roast Potatoes With Paprika
These vegan roast potatoes really are the best ever! Why? Because they are super simple to whip up and they are easy to customize! As far as roasted potatoes recipes go, this one is easy, doesn't use animal products, and keeps the oil to a minimum. This is one of the vegan Thanksgiving recipes that will make its way into your regular side dish rotation.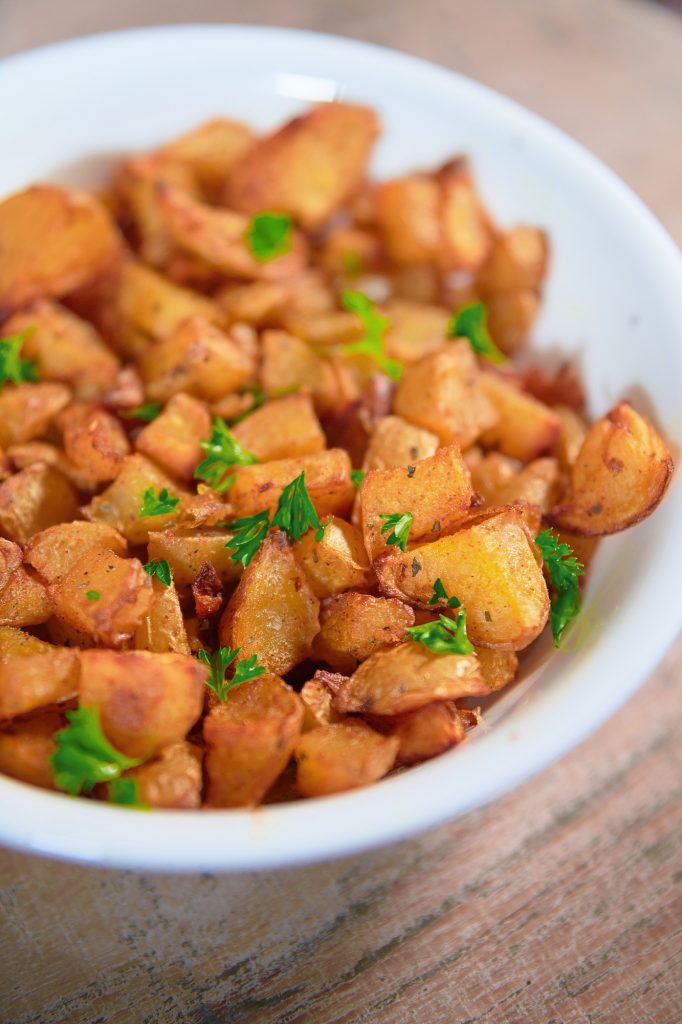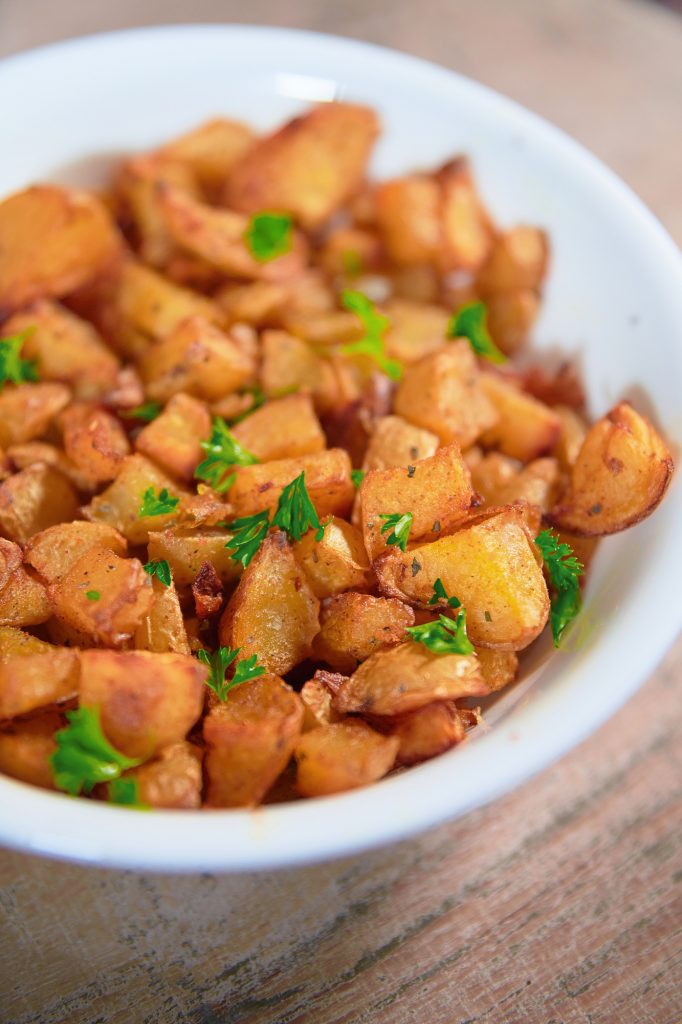 Roasted Brussel Sprouts With Garlic
Maple dijon roasted brussel sprouts with garlic recipe are going to be your new favorite! These brussel sprouts are super tender, they're coated in the most flavorful tangy sauce, and they have perfectly crispy edges! Vegan and gluten-free.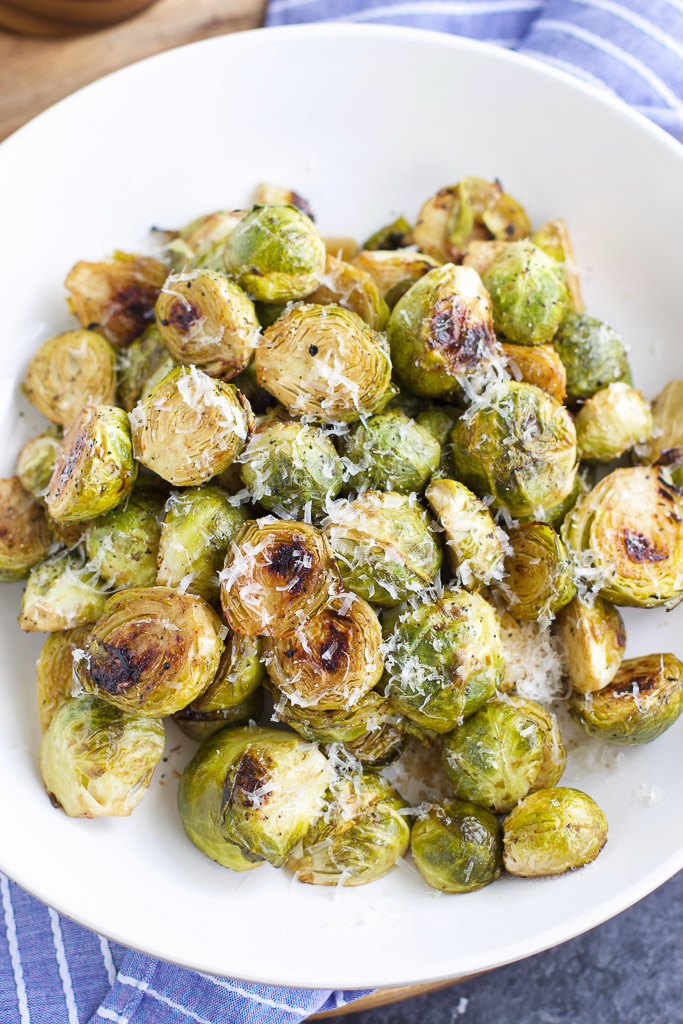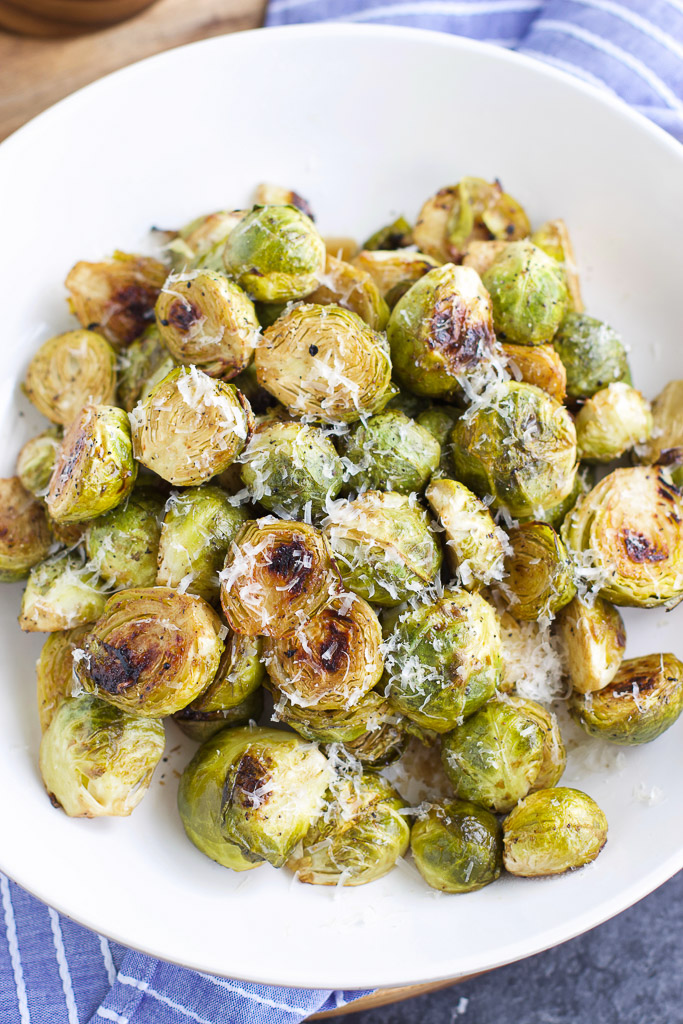 Quinoa Stuffed Squash With Almonds & Apricots
Quinoa stuffed squash with almonds and apricots makes a stunning side, or an easy vegan main dish, that even kids will love. The great thing about this quinoa stuffed squash is that it has a variety of textures thanks to the quinoa, chopped almonds, and dried apricots.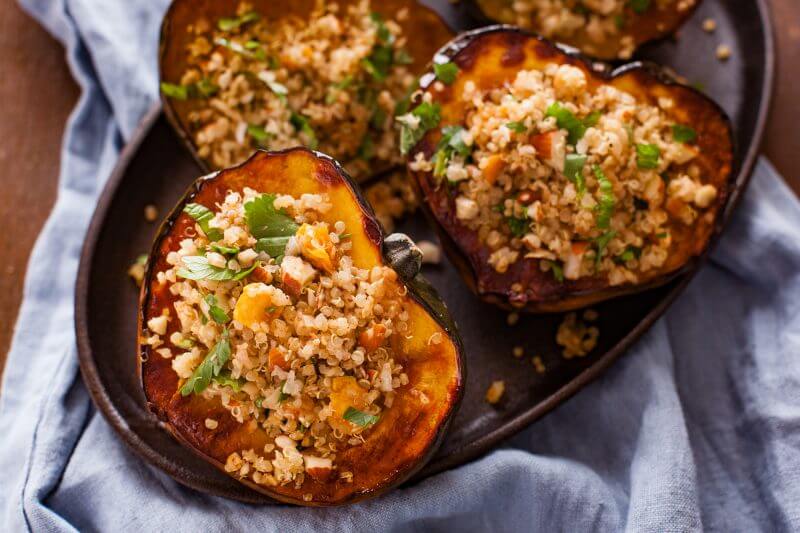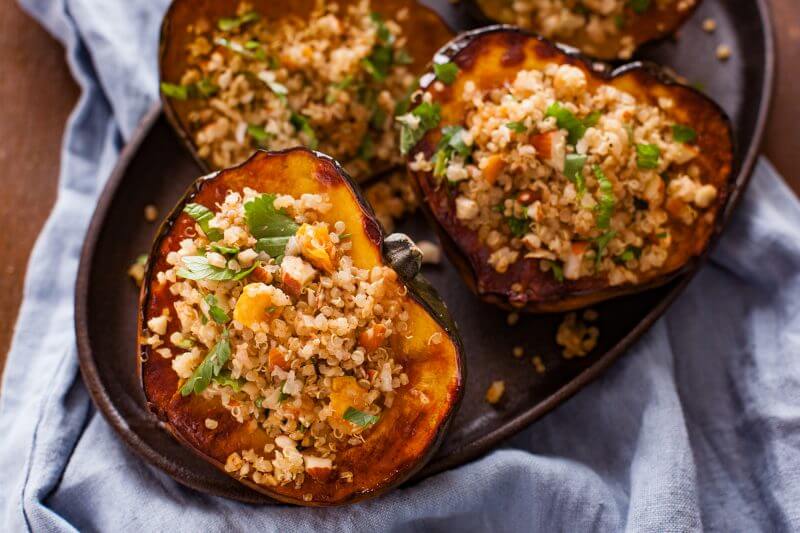 Cauliflower Creamed Corn
This easy creamed corn uses a quick cauliflower sauce for a healthy, vegan twist! You can even create your own special variation by mixing up the herbs, adding garlic, dialing the cauliflower cream up or down for different textures, and adding fresh veggies like bell peppers or green chiles.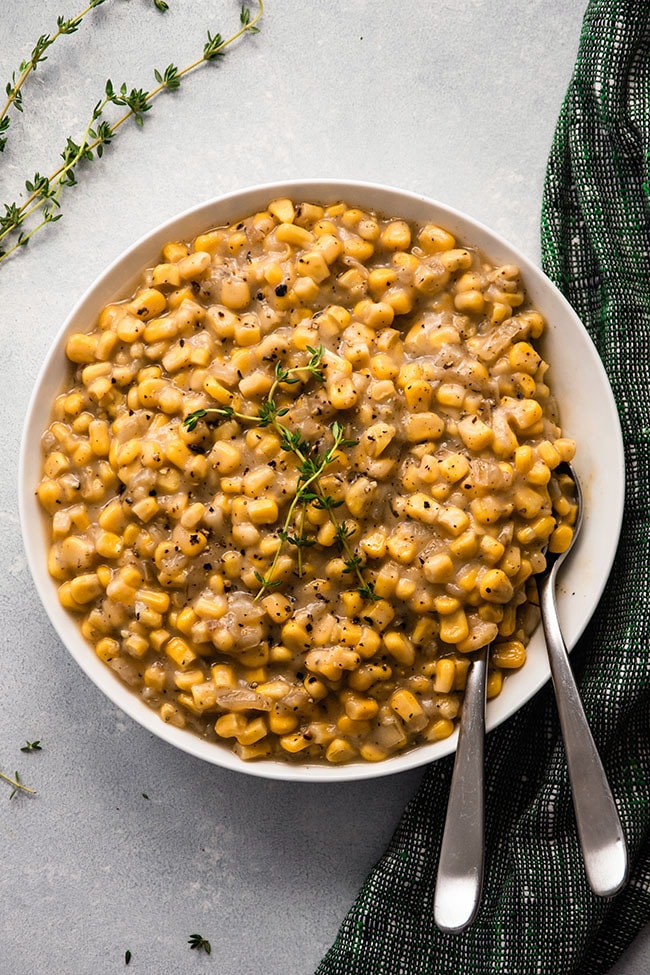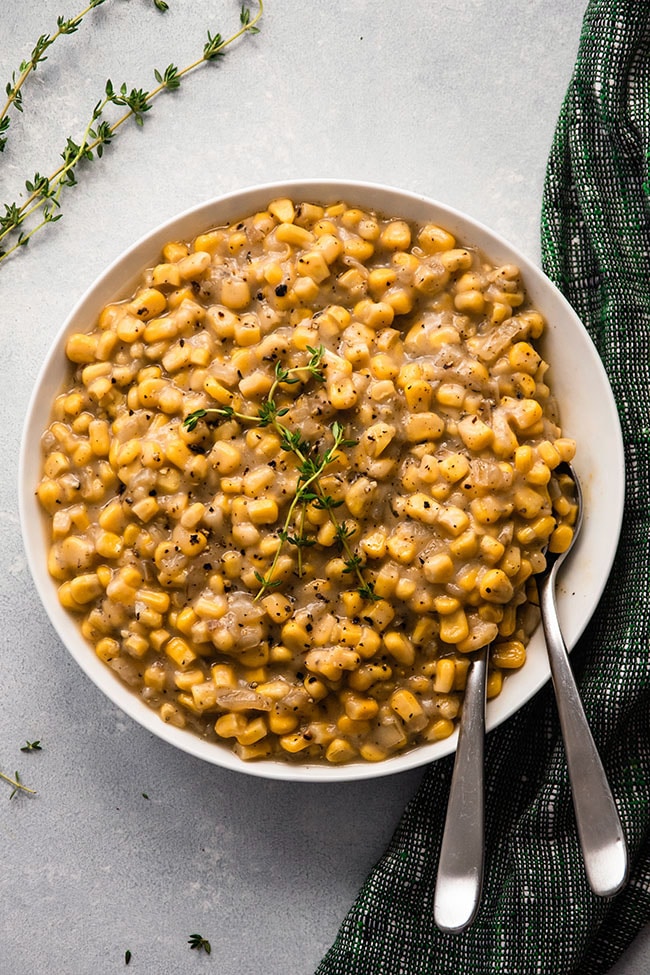 Vegan Fall Harvest Salad With Kale and Pumpkin
Light and healthy vegan fall harvest salad is as satisfying as it is nutritious: crunchy kale paired with sweet pumpkin, tart Brussels sprouts, crisp apples and pomegranate seeds all merged together with delicious homemade maple-mustard dressing. Perfect Thanksgiving harvest salad that everyone will love!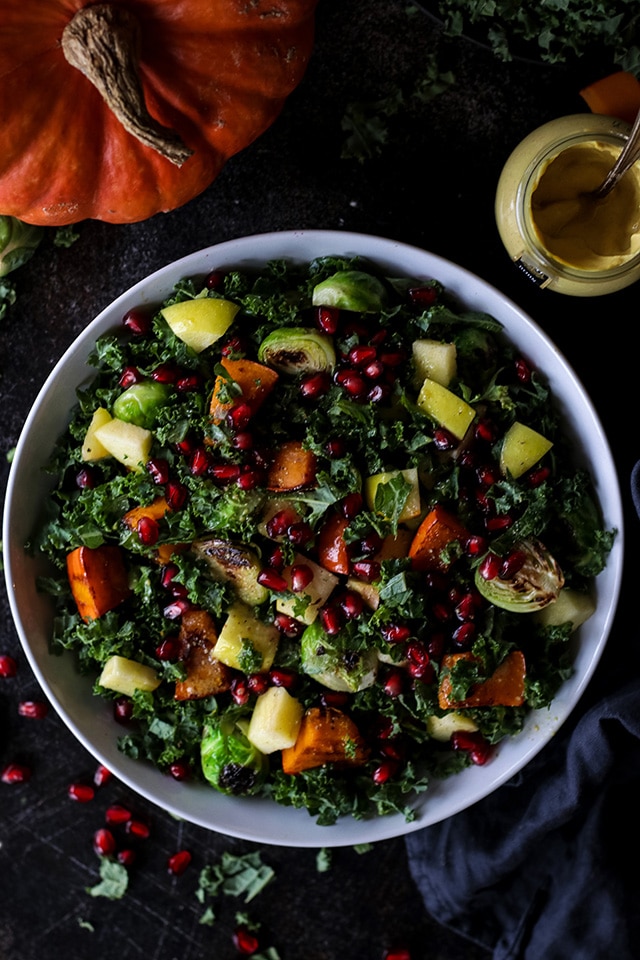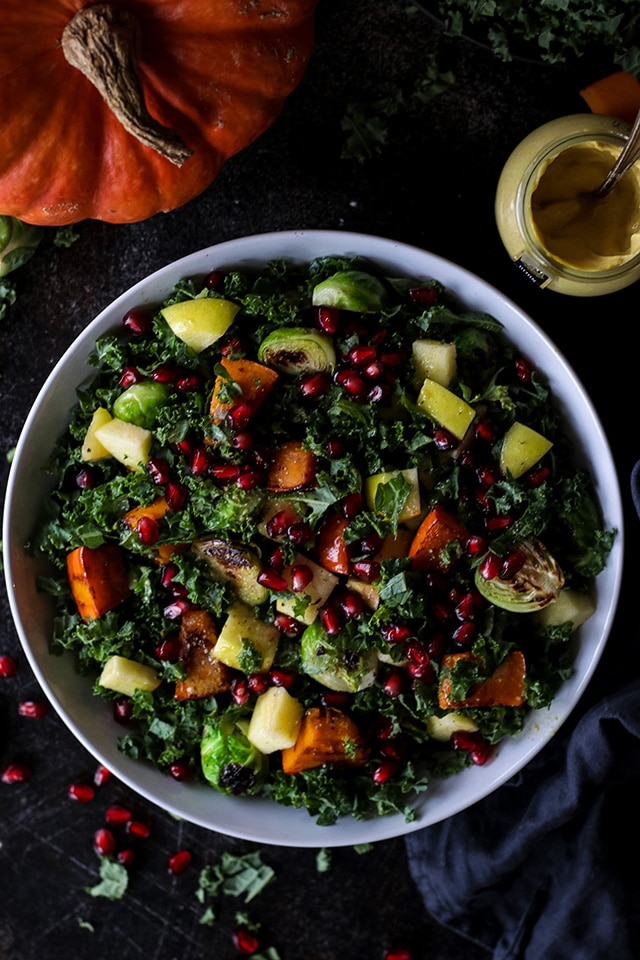 Homemade Cranberry Sauce
Just 3 ingredients make this healthy, sweetener-free Homemade Cranberry Sauce recipe. The perfect compliment to your holiday feast. Paleo, Whole30 approved, and vegan. You won't want to miss adding this recipe to your vegan Thanksgiving recipes list!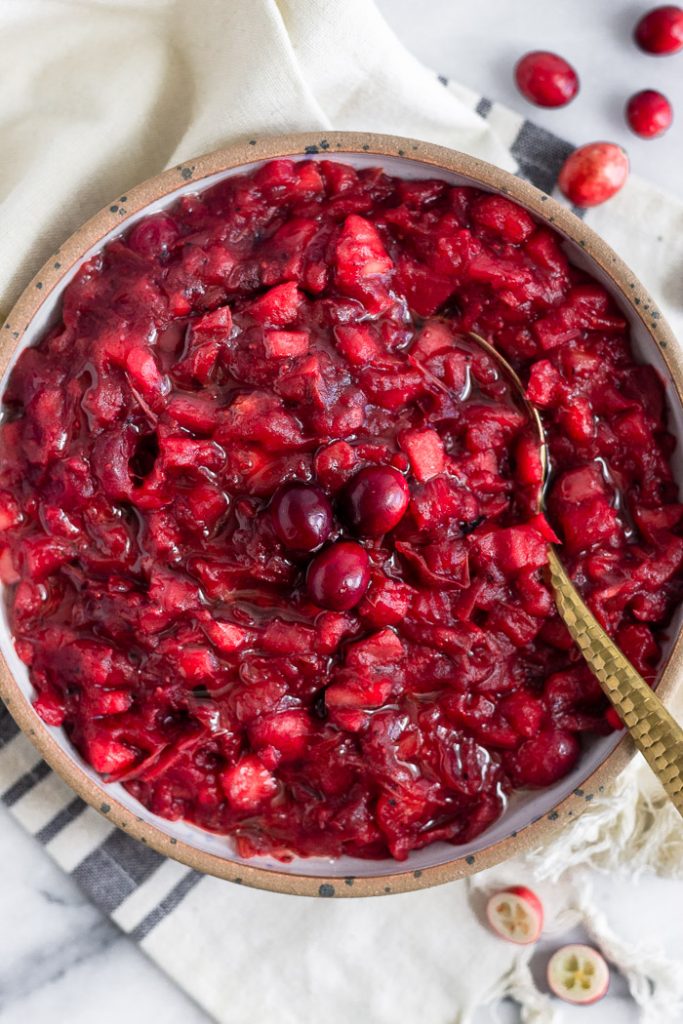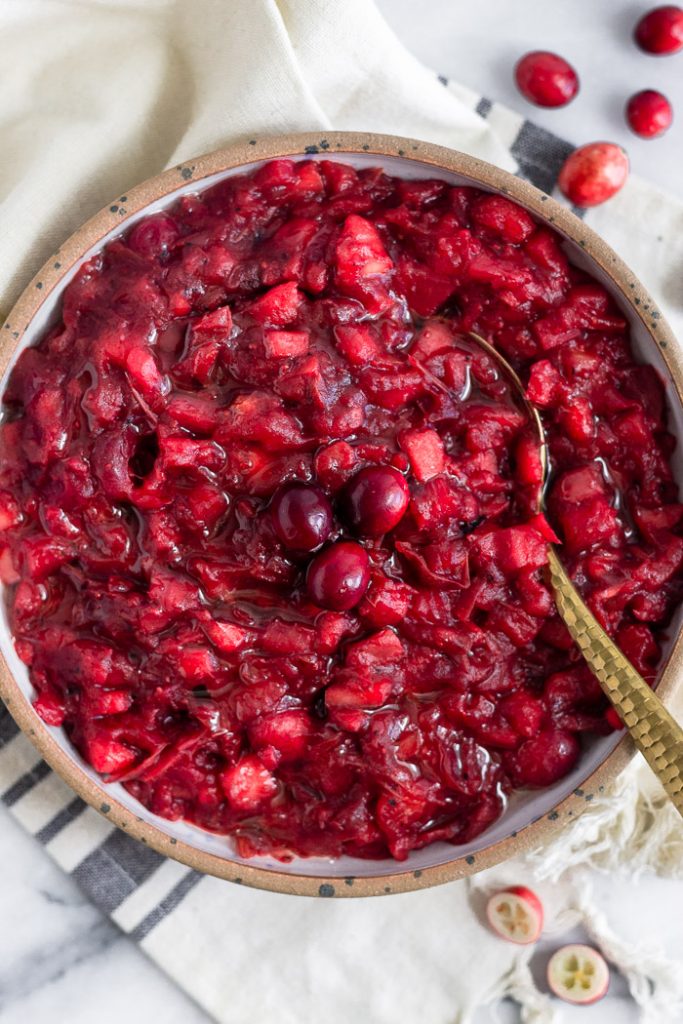 Vegan Sourdough Bread Stuffing
This Vegan Sourdough Bread Stuffing tastes just like a classic stuffing recipe, but with a subtle zing in every bite. The sauteed onions, garlic, mushrooms, and celery give it that classic texture and flavor. While the aroma and flavor of rosemary, thyme, sage, and parsley will make them feel at home.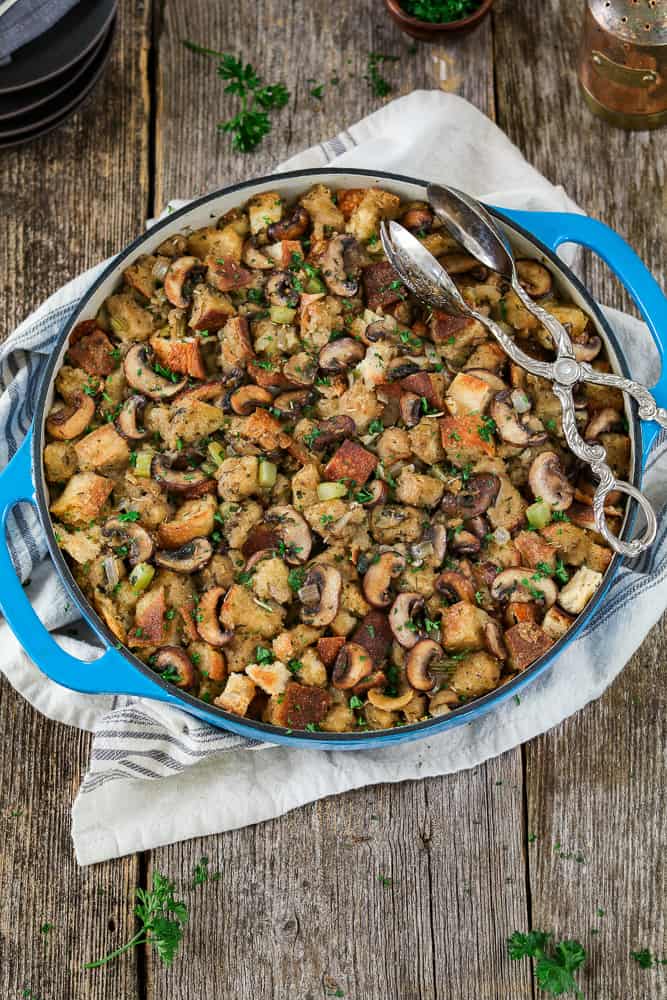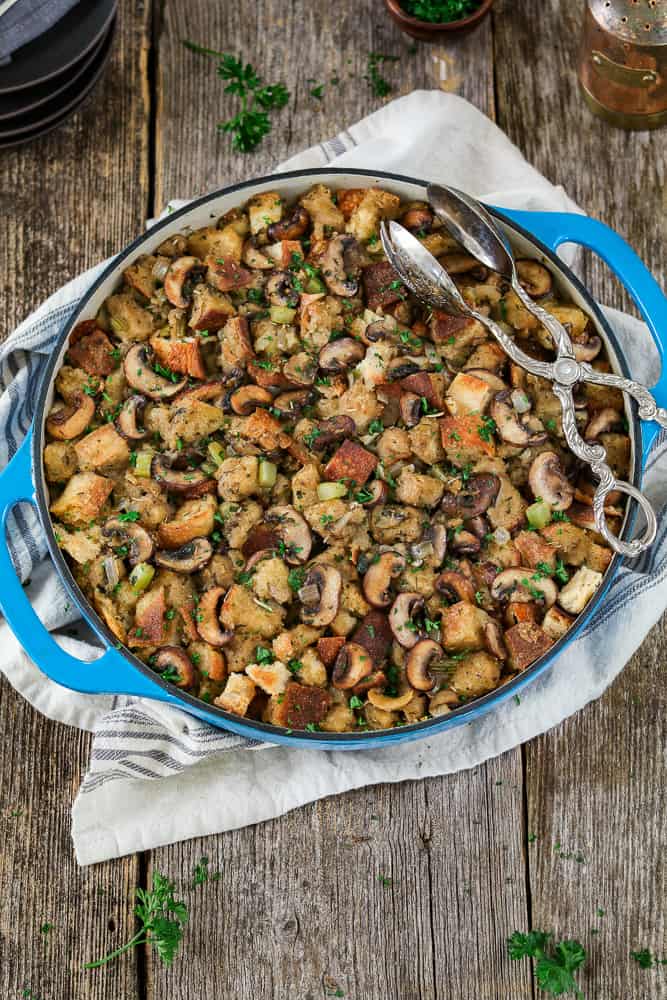 Creamed Spinach
Prepare restaurant style Creamed Spinach right at home using this quick and easy recipe. Added bonus, this recipe makes creamy spinach that is low in calorie, velvety smooth and delicious!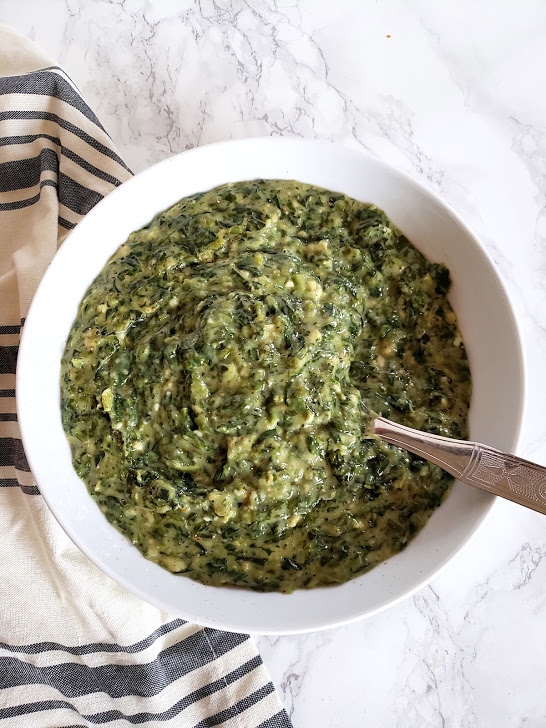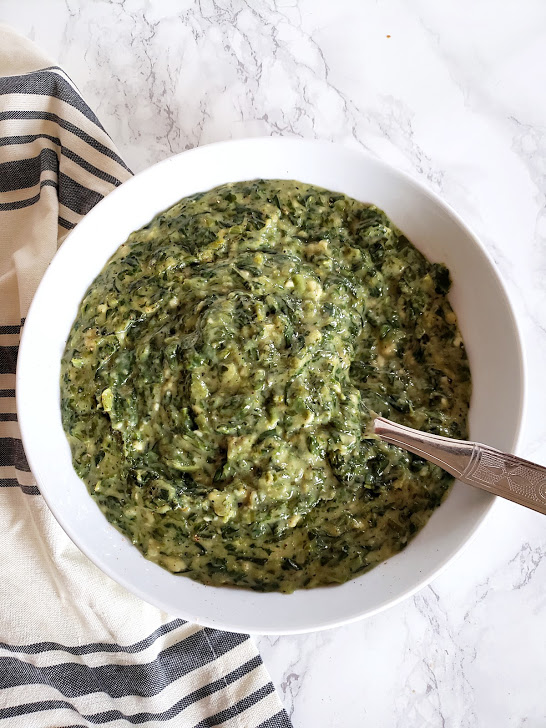 Healthy Sweet Potato Casserole
This healthy sweet potato casserole has all the tasty Thanksgiving flavors in one baked dish. It's a lightened-up, sugar-free version of the classic recipe with a layer of creamy, spiced sweet potato topped with a nutty pecan crumble. It's loaded with flavor and certainly not missing anything – you'll love it!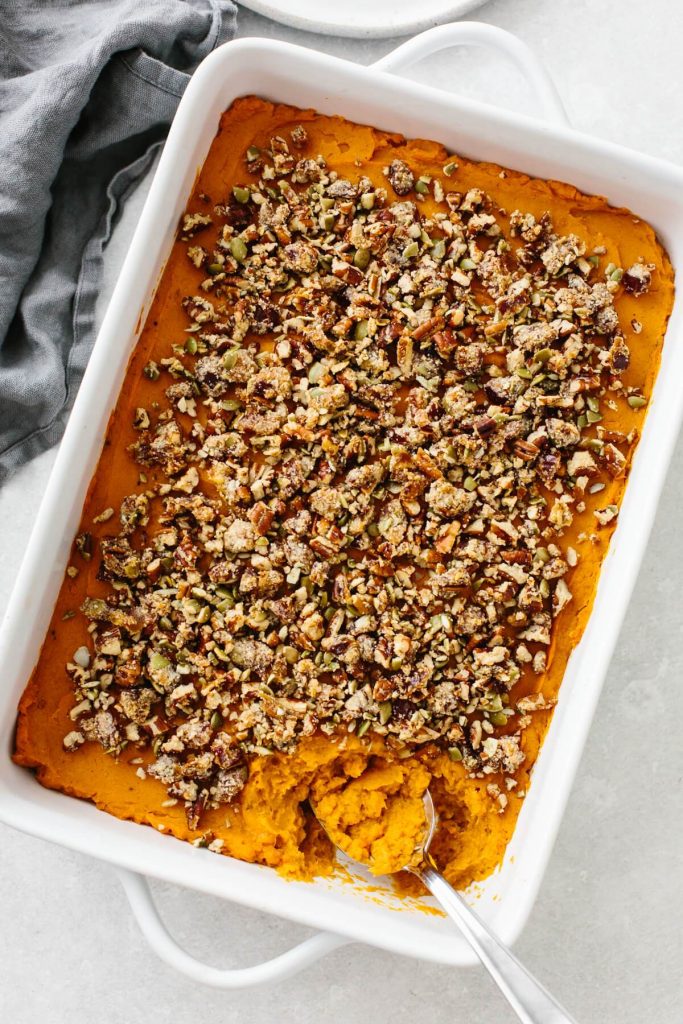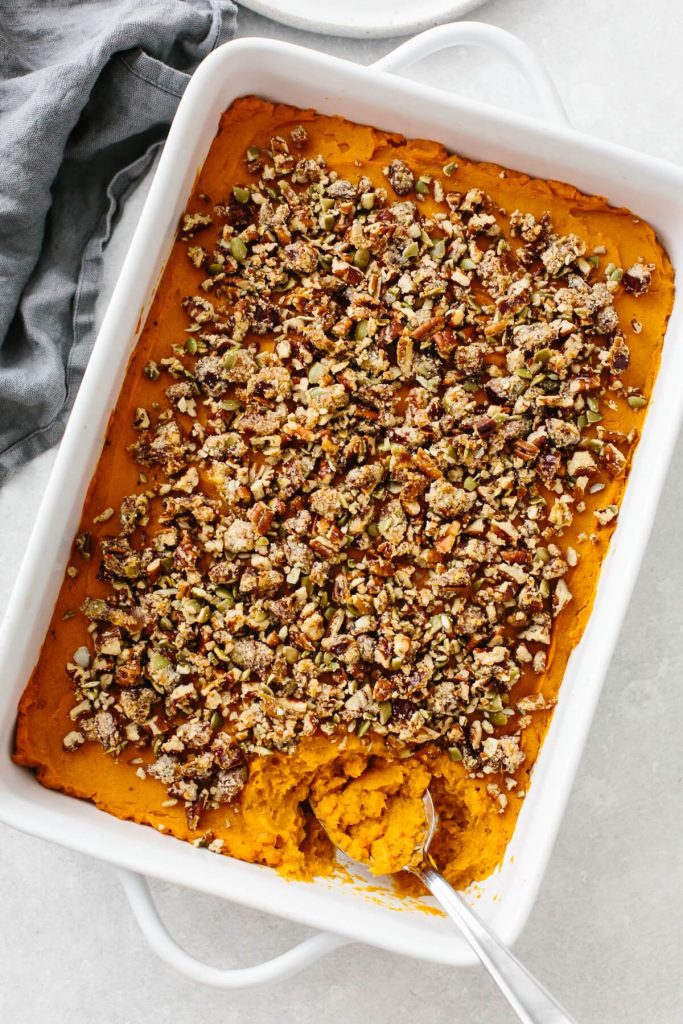 Vegan Green Bean Casserole
This Vegan Green Bean Casserole is a secretly healthy holiday green bean casserole made with my easy Vegan Cream Of Mushroom Soup, fresh green beans, caramelized onions, panko bread crumbs, and almonds. It's so creamy and delicious, you really won't believe it's vegan!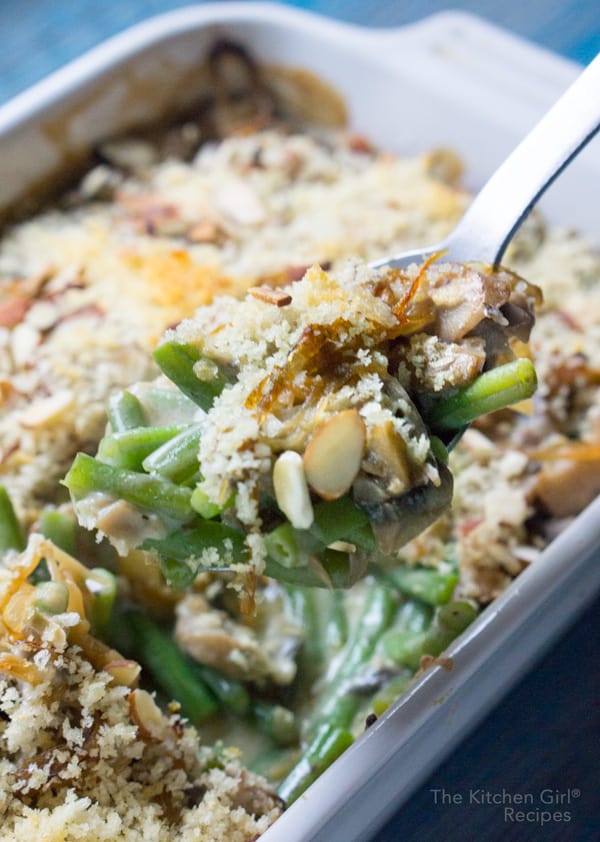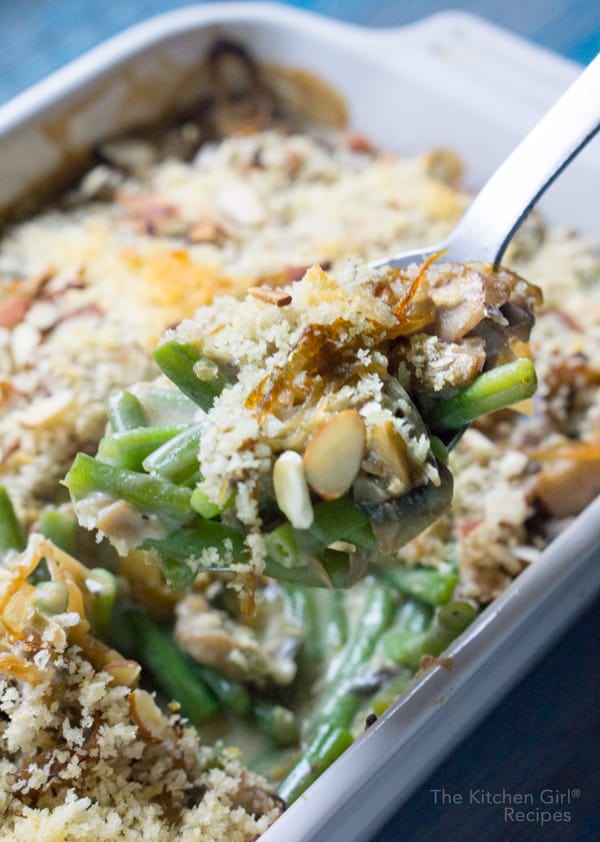 Desserts
Grandma's Rustic Vegan Apple Pie
If you ask me, you can't have Thanksgiving without apple pie! This vegan apple pie recipe is so easy to make, with a delicious flaky crust and sweet and savory filling. I learned how to make this recipe from my Italian grandmother who learned to make it from her mother before her! This can be one of the vegan Thanksgiving recipes that you passed down throughout your family too!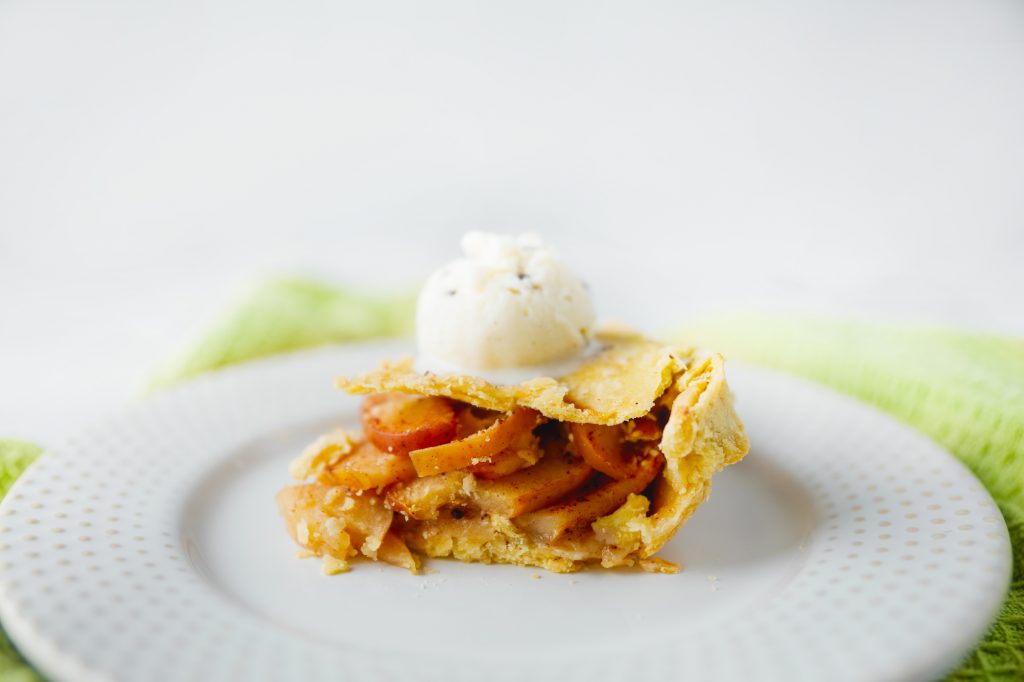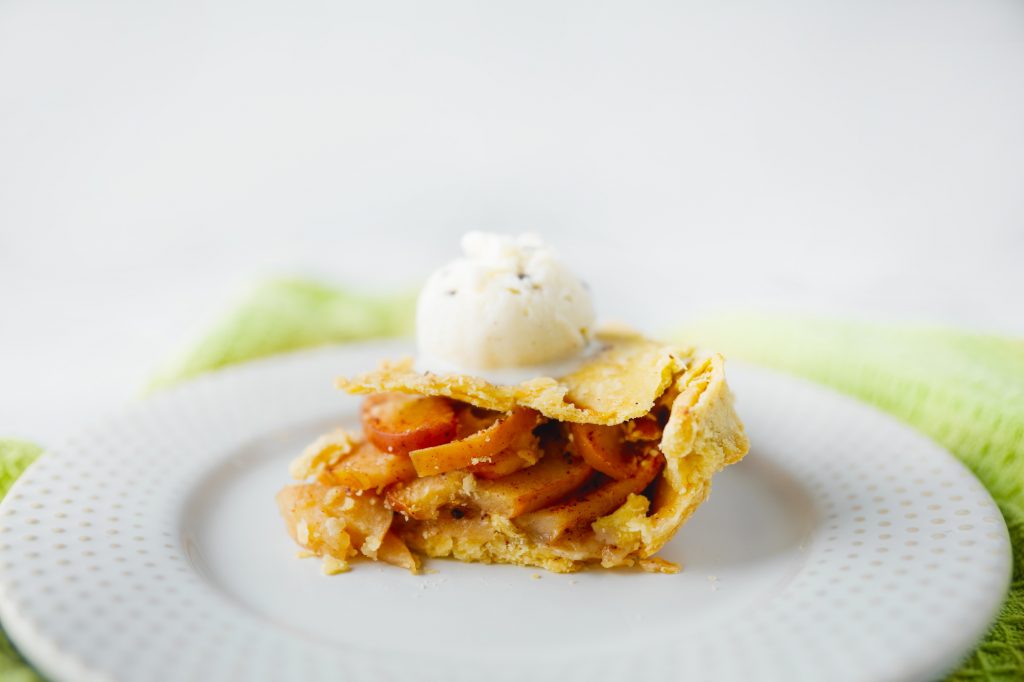 6-Ingredient Vegan Bread Pudding
This vegan bread pudding recipe is so easy to make! Even better? It uses croissants as a base instead of bread! Of course, you can substitute your own bread that you have on hand to make this recipe, but croissants elevate the flavor and make it so tasty and unique! One of the more versatile vegan Thanksgiving recipes as it can easily become a scrumptious breakfast dish!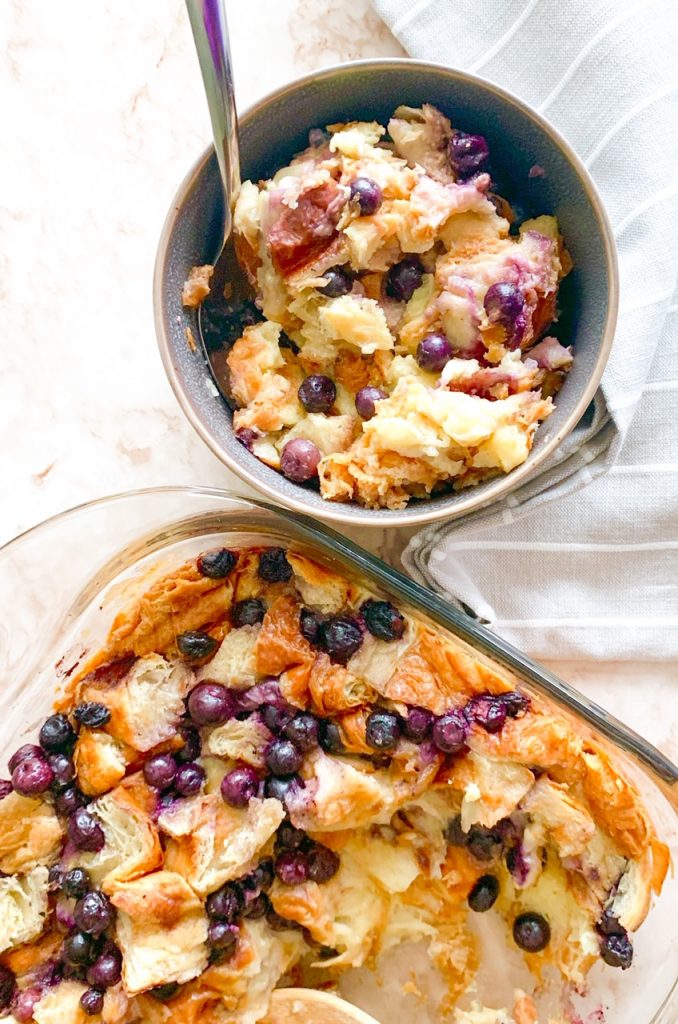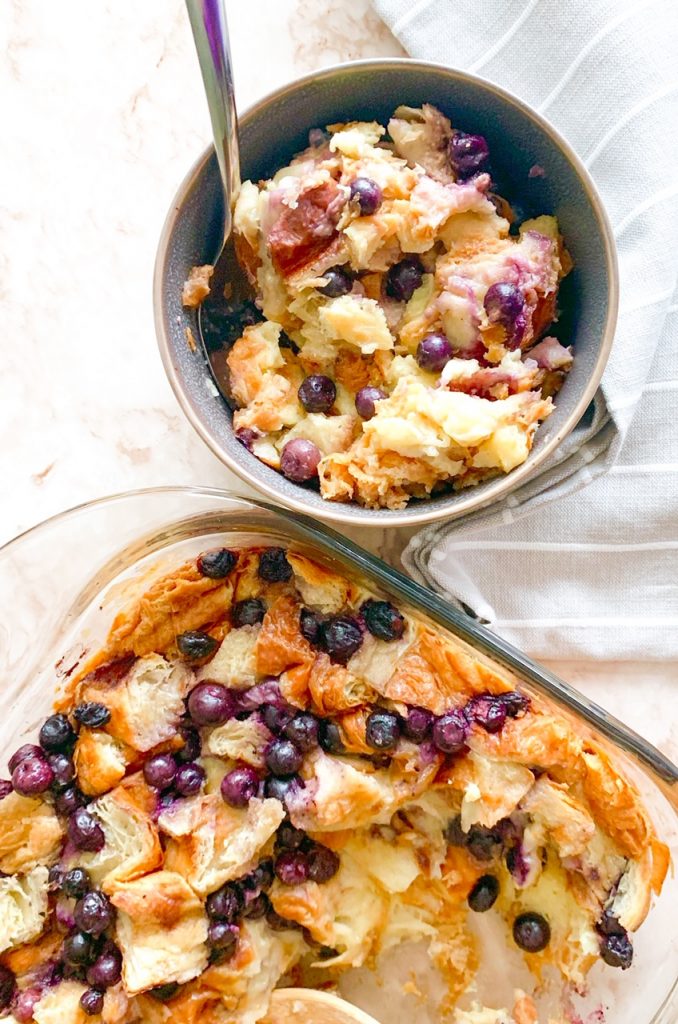 5-Ingredient Vegan Apple Crisp
This is the best vegan apple crisp recipe you will ever eat! I know that is a bold proclamation but it is true! Since you can't even tell this recipe is vegan by taste alone, this may just be the best apple crisp recipe ever!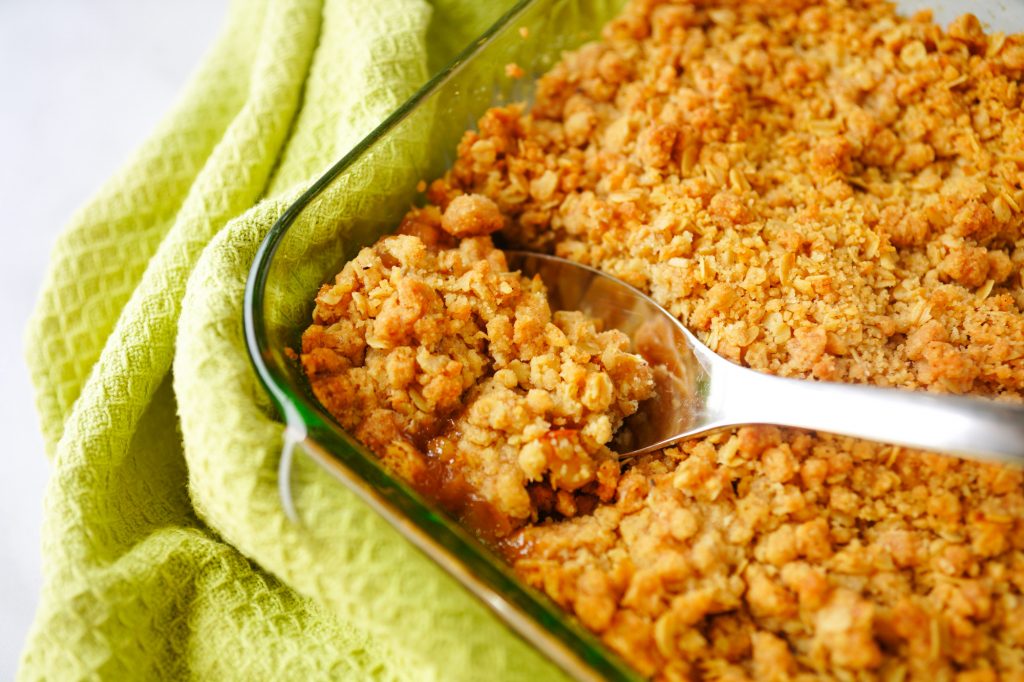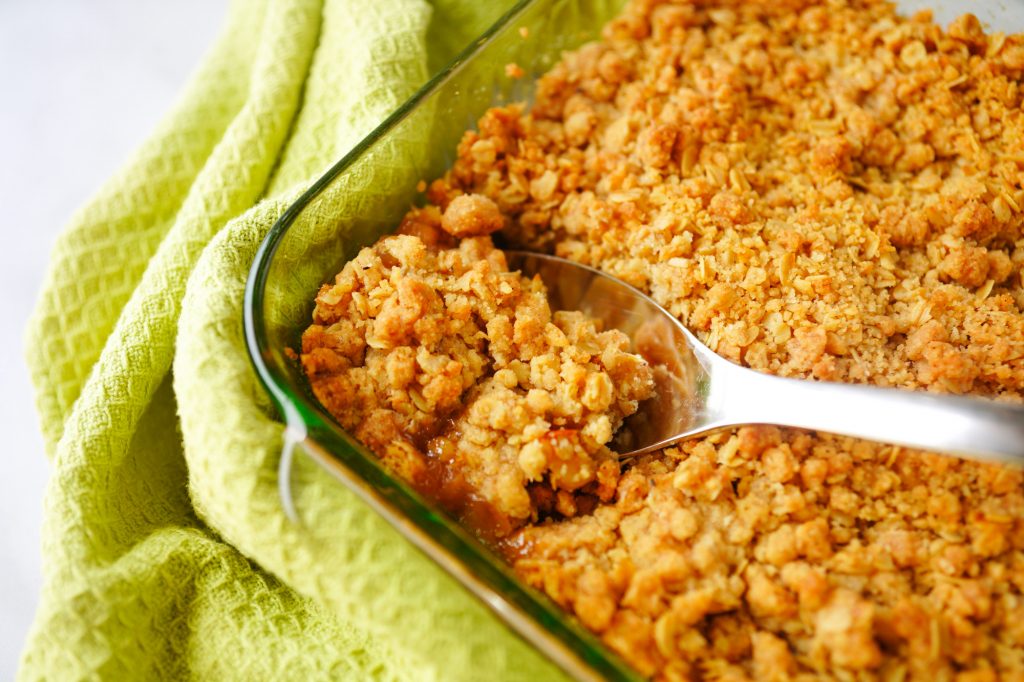 Pecan Pie Bars
These Pecan Pie Bars made the perfect gooey dessert after Thanksgiving dinner! Not only are these bars are gluten and dairy free, but this recipe has also has far less sugar than most pecan pie recipes. A healthy twist without compromising the flavor.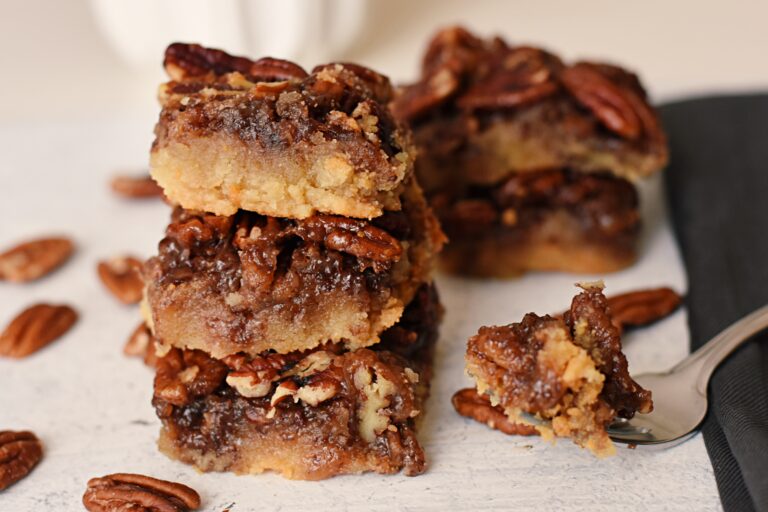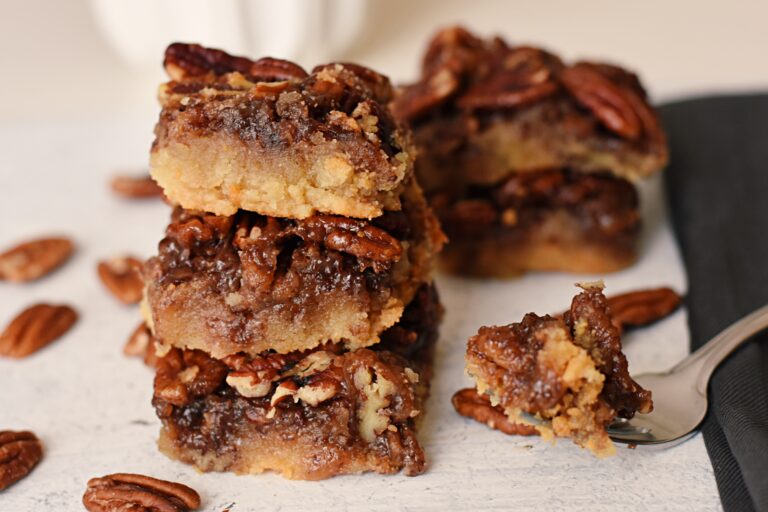 Vegan Chocolate Ginger Cookies
Make everyone happy with vegan chocolate ginger cookies topped off with a simple and decadent vegan cocoa frosting. These are nut free & soy free too! One of the cross-over vegan Thanksgiving recipes that can easily be made for the winter holidays too!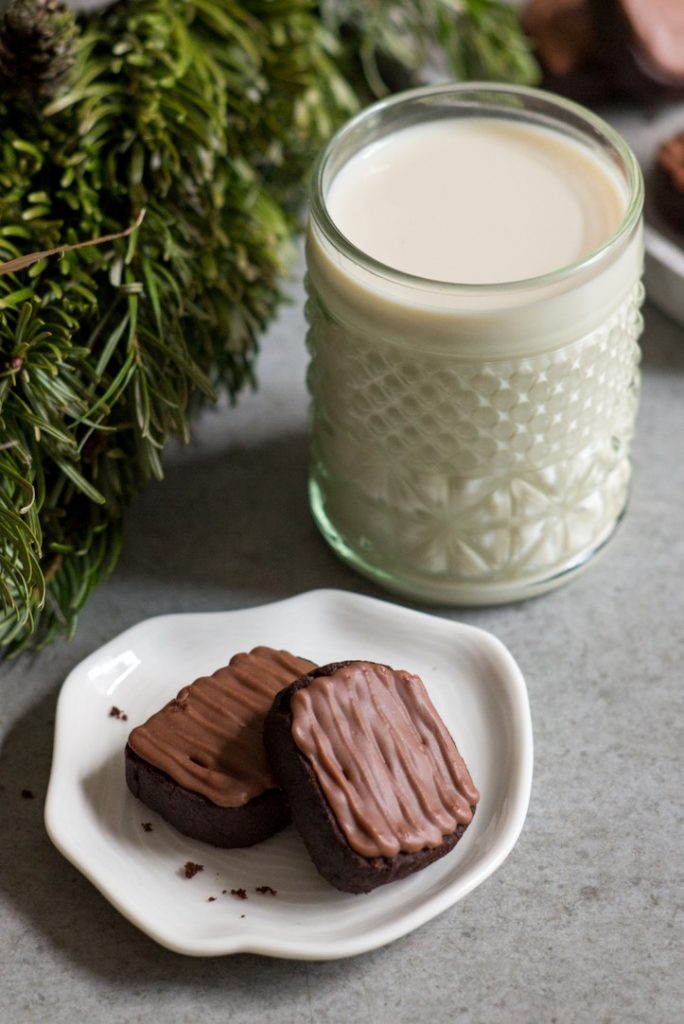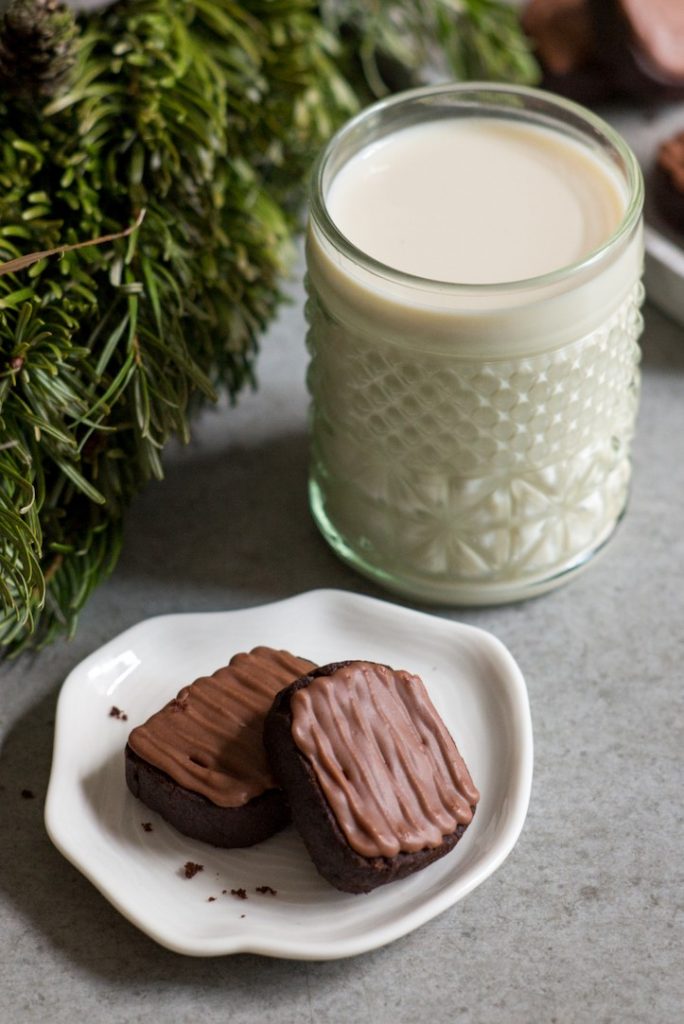 Vegan Thanksgiving Pumpkin Pie
Pumpkin pie – the iconic, quintessential pie of Thanksgiving. Rich, creamy, and loaded with cinnamon, nutmeg, ginger, and cloves; the classic spices of the season, this easy and comforting pie will become one of your most favorite vegan Thanksgiving recipes year after year.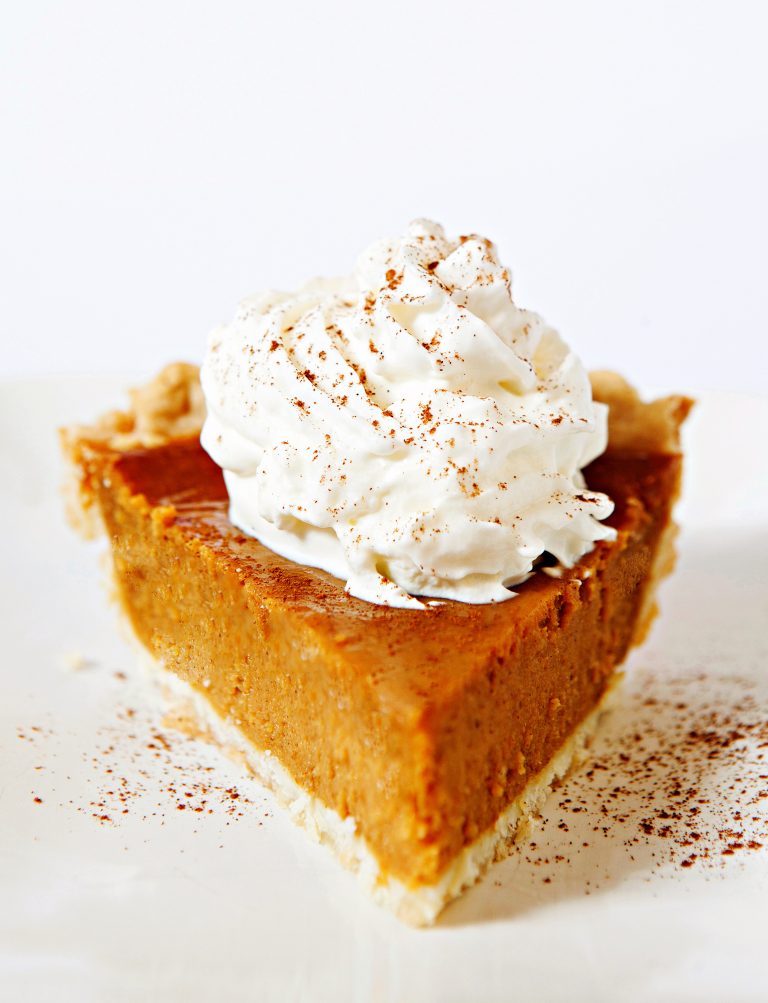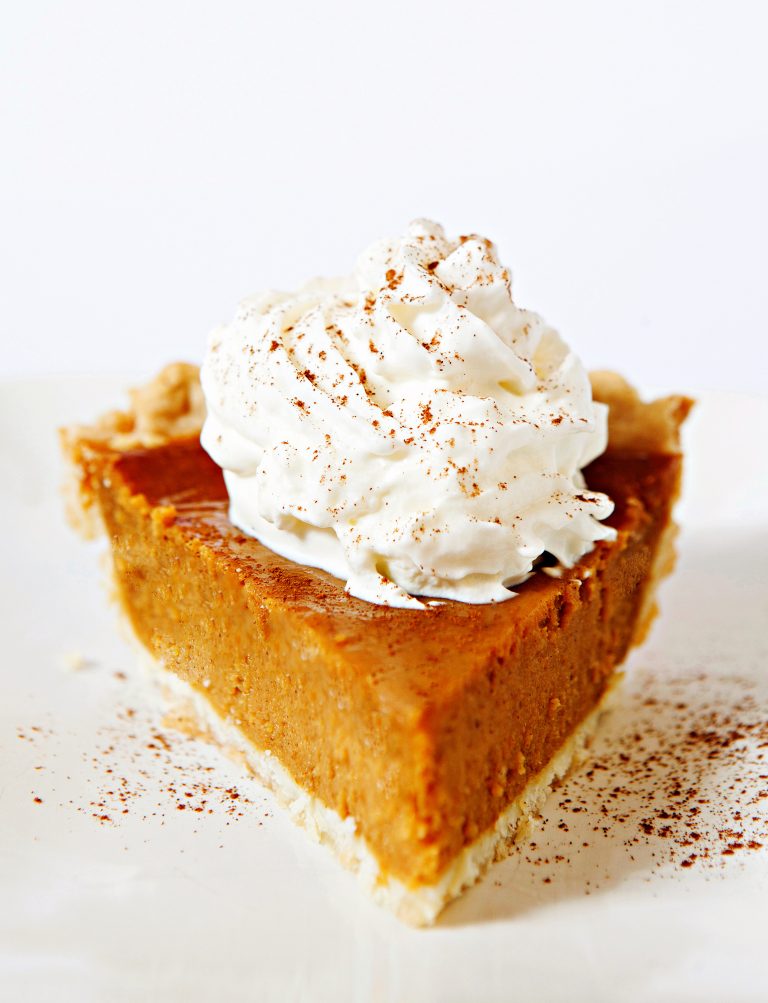 Cranberry Oatmeal Crumb Bars
These bars feature sweet, tart, cranberry sauce nestled between a soft oatmeal base and a crumbly oat topping. Use leftover cranberry sauce to make these crumb bars even easier. They are so addictive – you're gonna love them!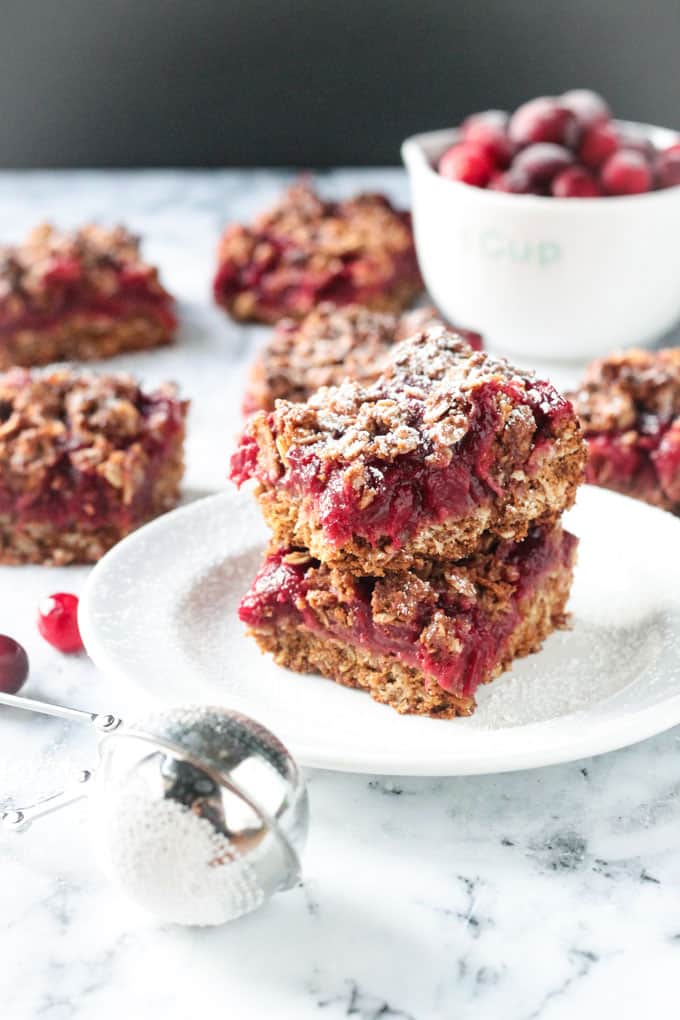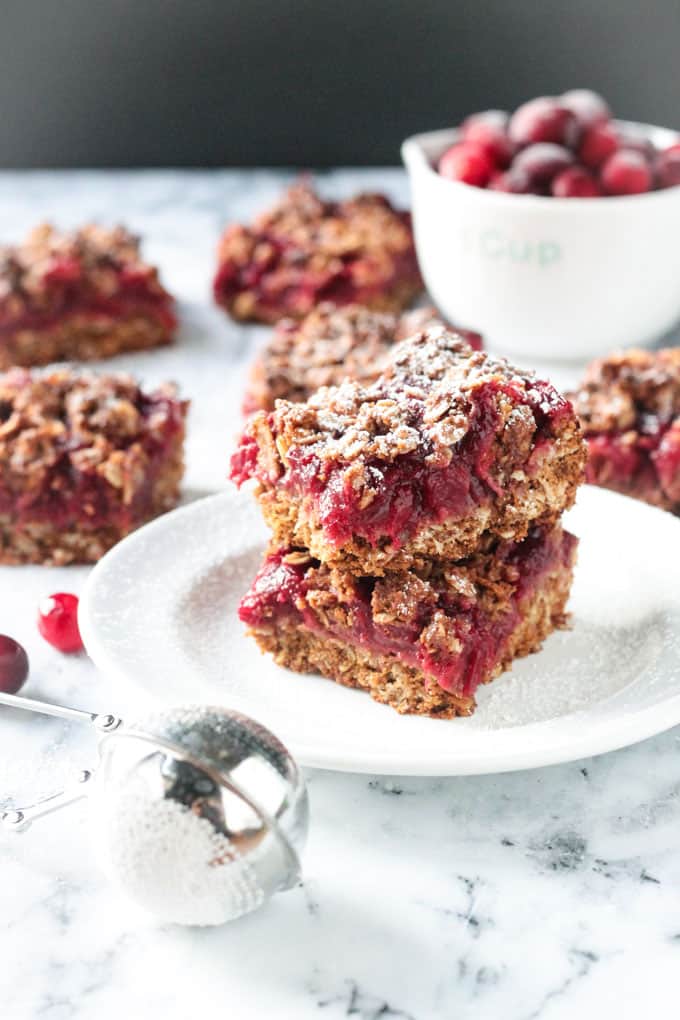 Vegan Cashew Frosting Carrot Cake Cupcakes
Vegan carrot cake cupcakes are the perfect dessert to any holiday meal. They're refined sugar free and made with a maple cashew frosting that's delicious and healthy. Finish off the feast with a decadent and guilt-free, easy to make dessert.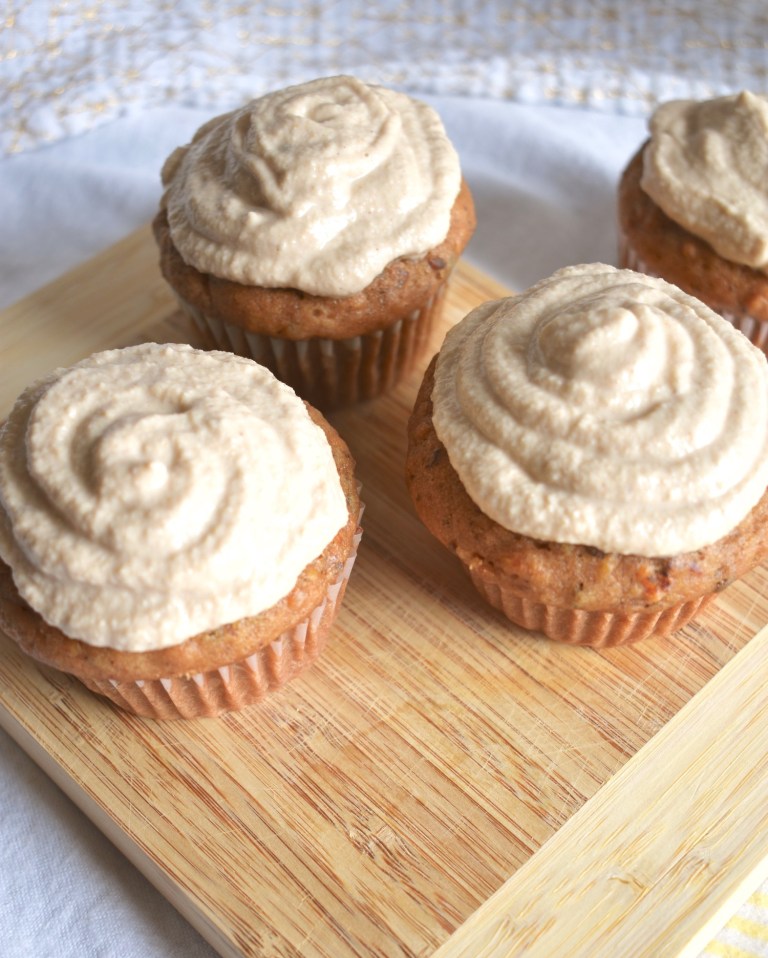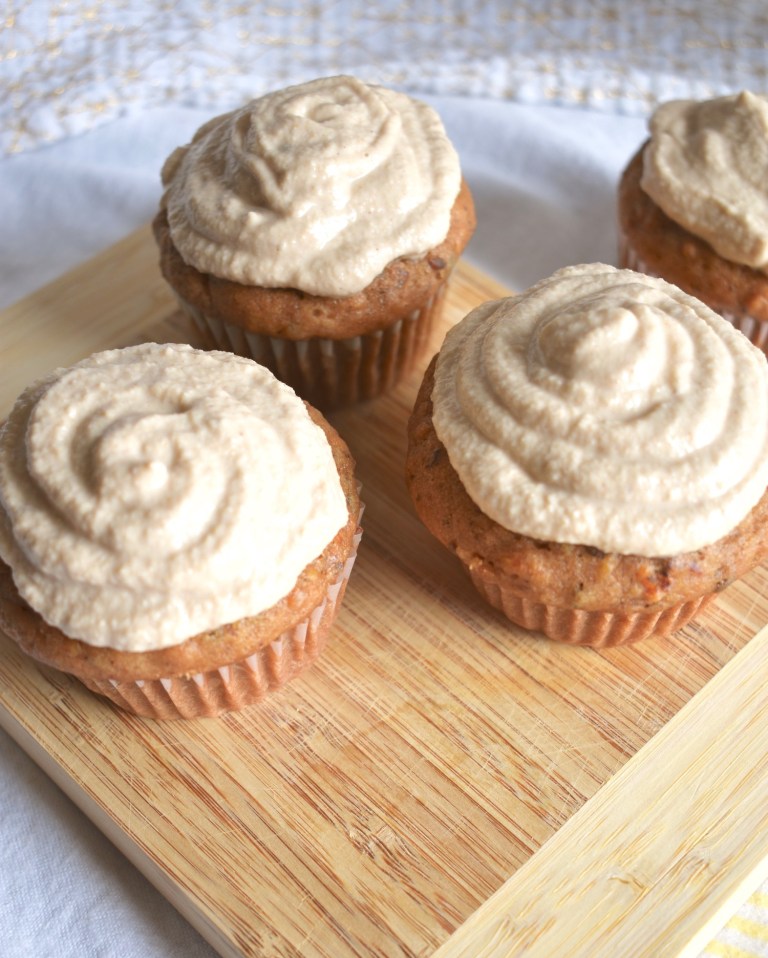 Pumpkin Bread
Easy one-bowl pumpkin bread recipe made from whole wheat flour. The recipe yields a moist pumpkin bread which is a vegan and a healthy bread. I can picture having a slice of this pumpkin bread the day after Thanksgiving with a nice cup of tea! Leftovers are the best, am I right?!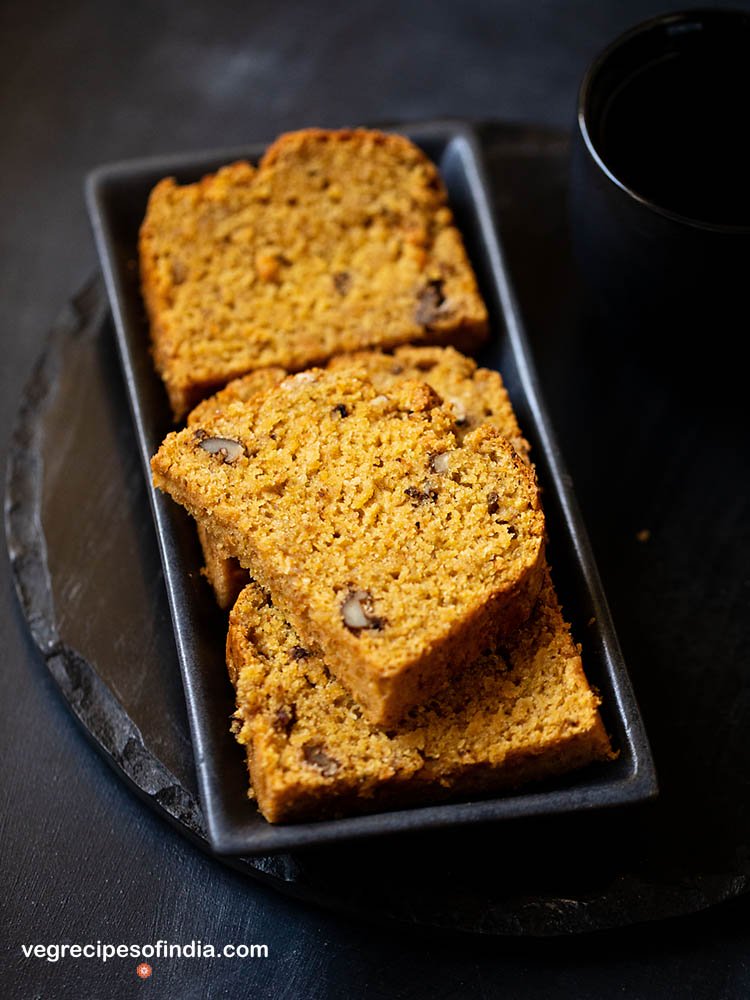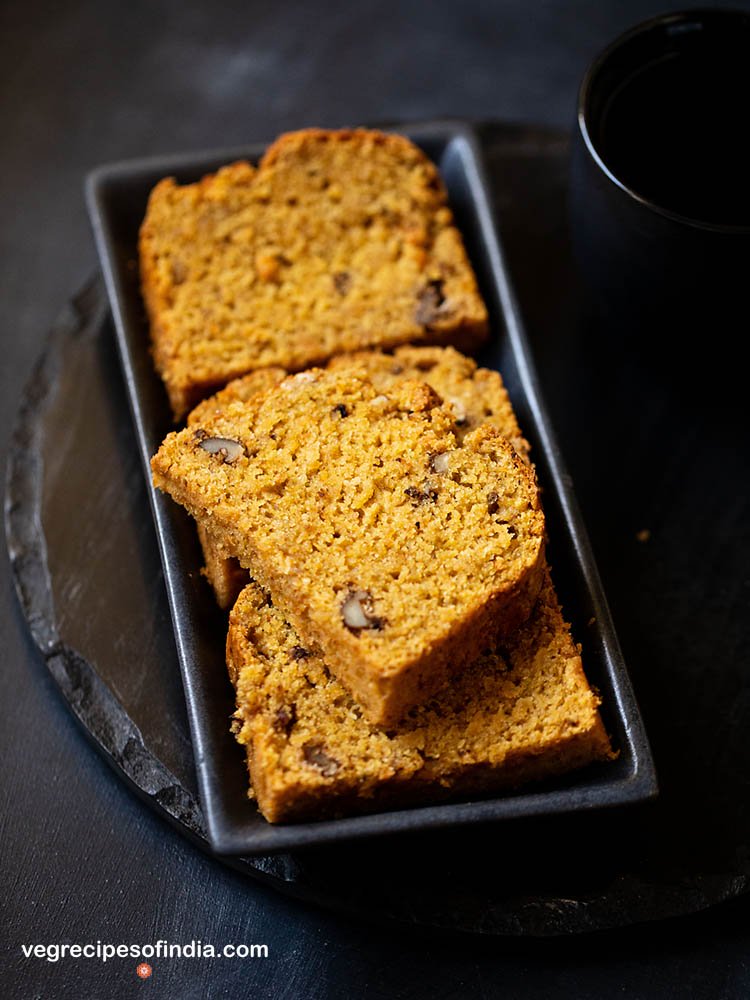 Brownie Trifle
Looking for a real show stopper? Want a decadent and unexpected Thanksgiving dessert? Look no further! This gorgeous brownie trifle is made from layers of rich chocolate brownies, blended chocolate chia mousse, and homemade whipped cream. A real super-star in taste and appearance among the vegan Thanksgiving recipes.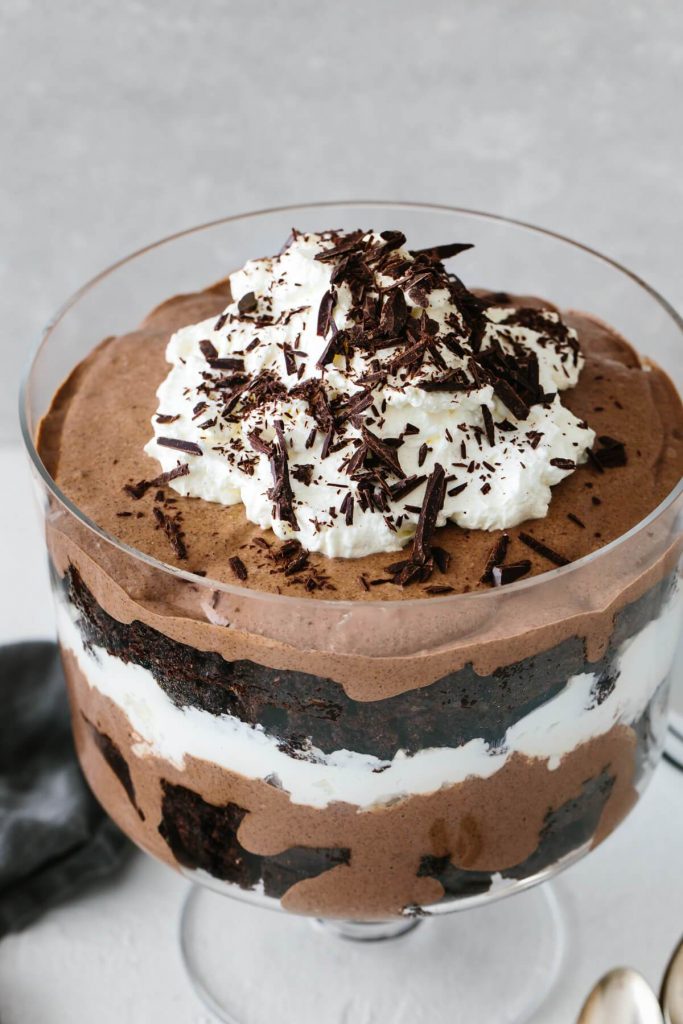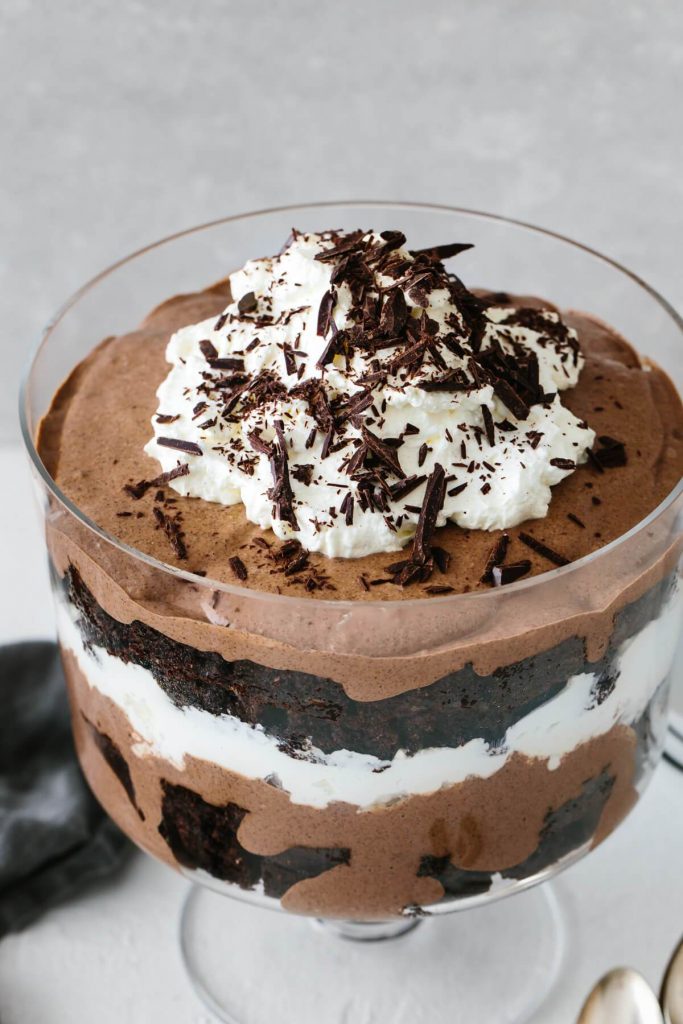 Upside Down Blood Orange Cake
Do you love to be adventurous with your baking? Well, get ready for one of the most intriguing and unique vegan Thanksgiving recipes! This upside down blood orange cake is delicious & crunchy with distinct citrus notes. No flour and no refined sugar make it light, fluffy! Enjoy it as it comes on its own or serve it with a dollop of ice a cream, warm custard or cream.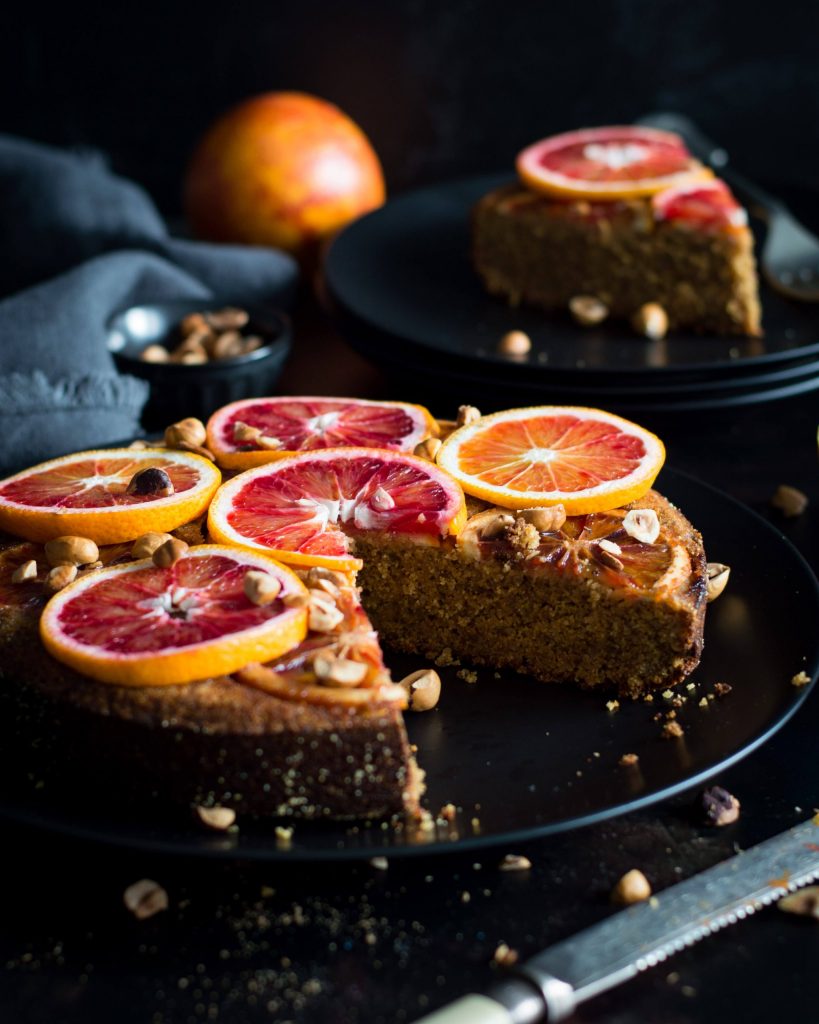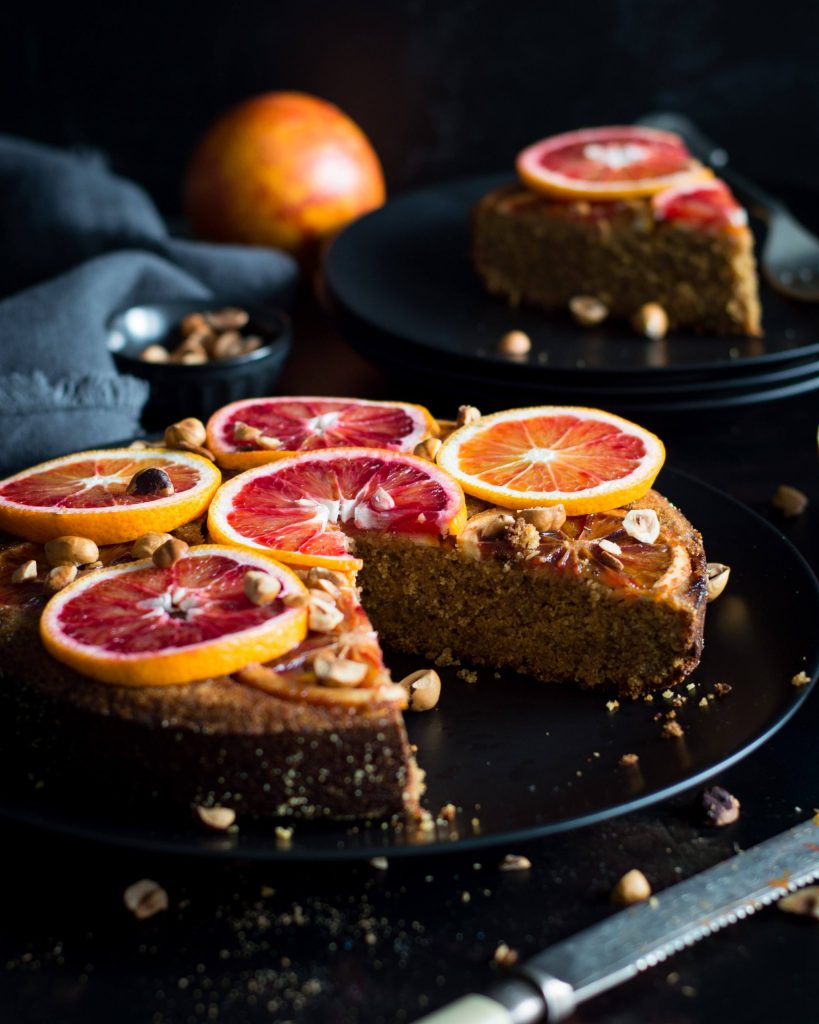 Well, I hope you have bookmarked several of these easy and delicious vegan Thanksgiving recipes! You can relax now knowing that you have a wonderful menu lined up for your Thanksgiving feast. You simply can't go wrong with any of these recipes.
Remember, don't stress about all of the little details. Just throw some of these recipes together and enjoy sharing a meal with your loved ones. I hope you have a heartwarming Thanksgiving filled with all of this delicious food, quality time with friends and family, and possibly starting a few new recipe traditions.