If you are looking for the best crispy vegan tofu nuggets, you have come to the right place! I am obsessed with vegan nuggets so of course, these had to be perfect.
Another hallmark of my recipes on this site is to make them EASY. These tofu nuggets are simple and come together quickly.
The nuggets are double-dredged in two different mixtures so the coating is extra crispy and delicious!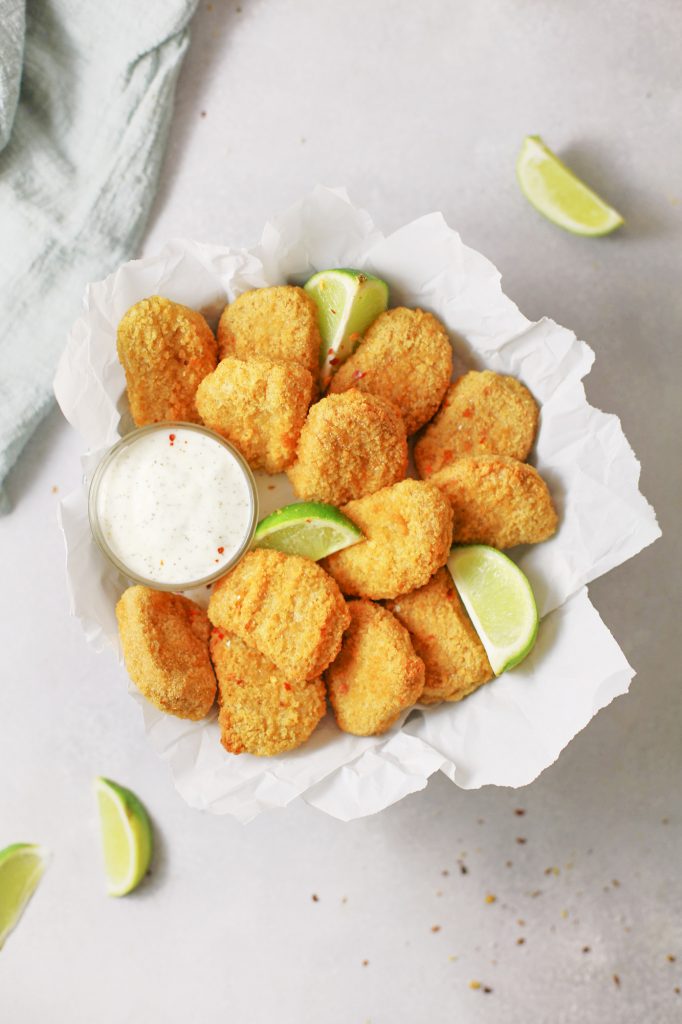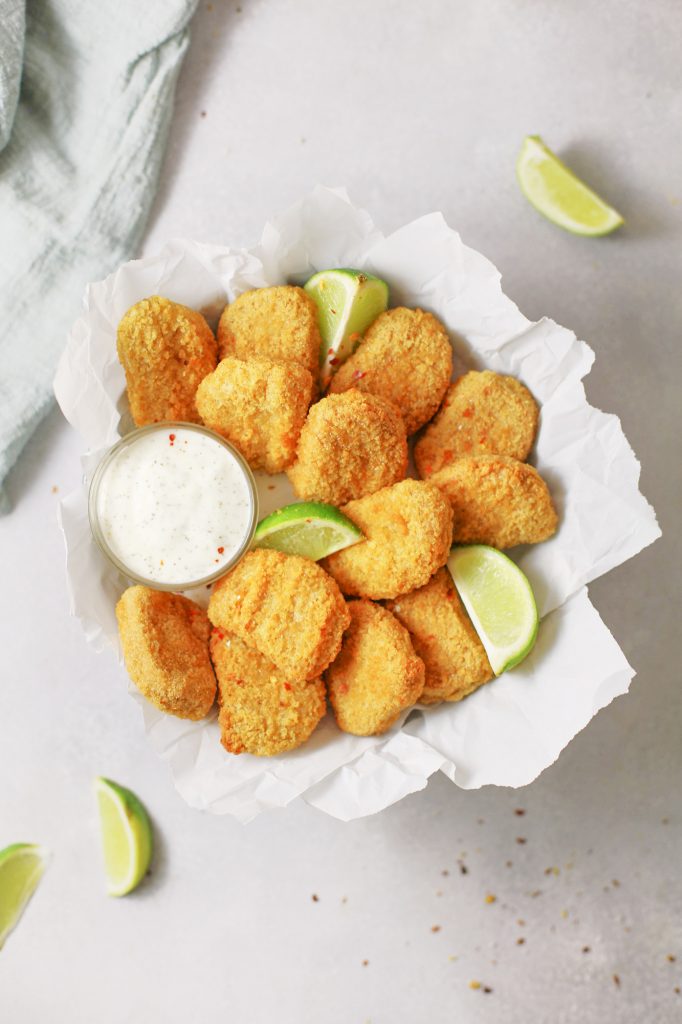 Of course, I buy vegan nuggets from the store, but then you are stuck with frozen kinds in random sub-par flavors.
Making your own tofu chicken nuggets is so much healthier, easier, and you can customize the taste!
All you really need is some tofu, flour and breadcrumbs, vegan milk, and spices to season the nuggets with!
These are baked tofu nuggets which means that there is very little oil in this recipe. In fact, there is only 2 tablespoons of oil in the whole thing!
Crispy baked tofu is the perfect way to make vegan nuggets that are on the healthier side while still being crunch!
I hope you enjoy this fantastically easy and tasty recipe!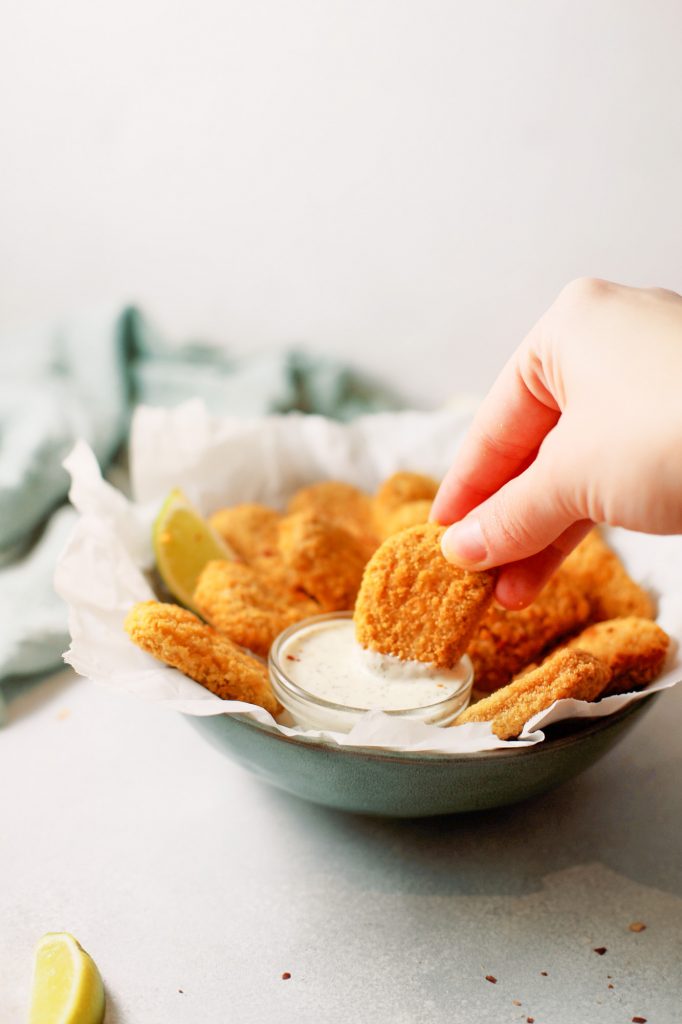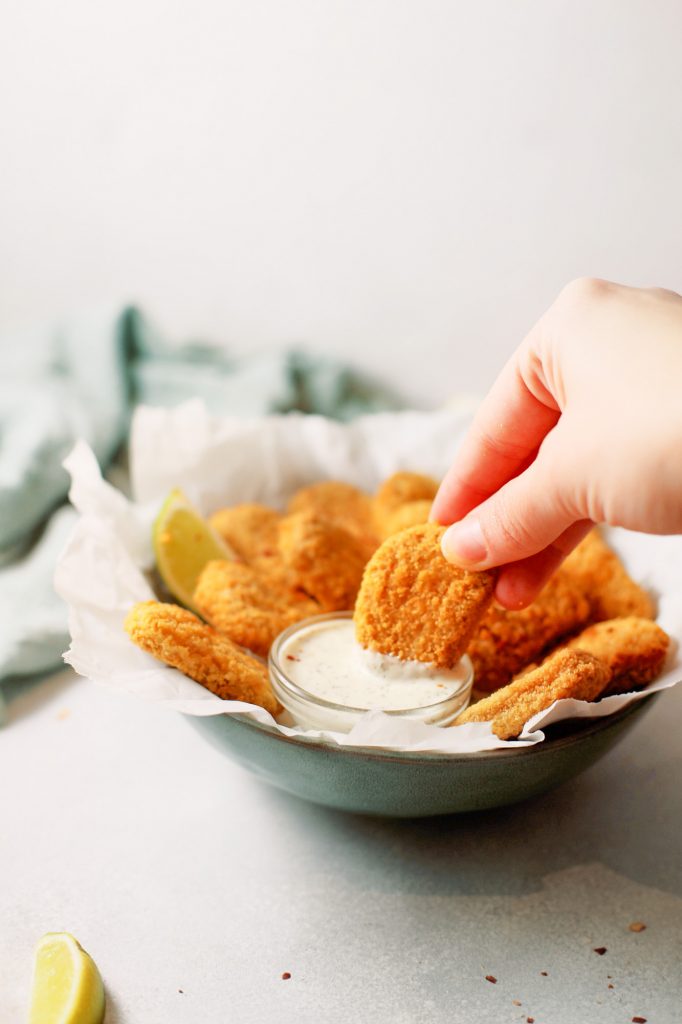 Creating The Crispy Tofu Nugget Shape
I am going to let you in on a little secret. A few years ago, I got a nugget shaped cookie cutter on Amazon.
It has been the weirdest purchase but also the most useful purchase. For this recipe, it helped me get the baked tofu nuggets to look more like a chicken nugget shape.
I wish I could link the Amazon link but I can no longer find the nugget cutter.
As a result, I would use a Small Cookie Cutter Like This! There are multiple shapes and you can cut out small circles, ovals, squares, or egg shapes.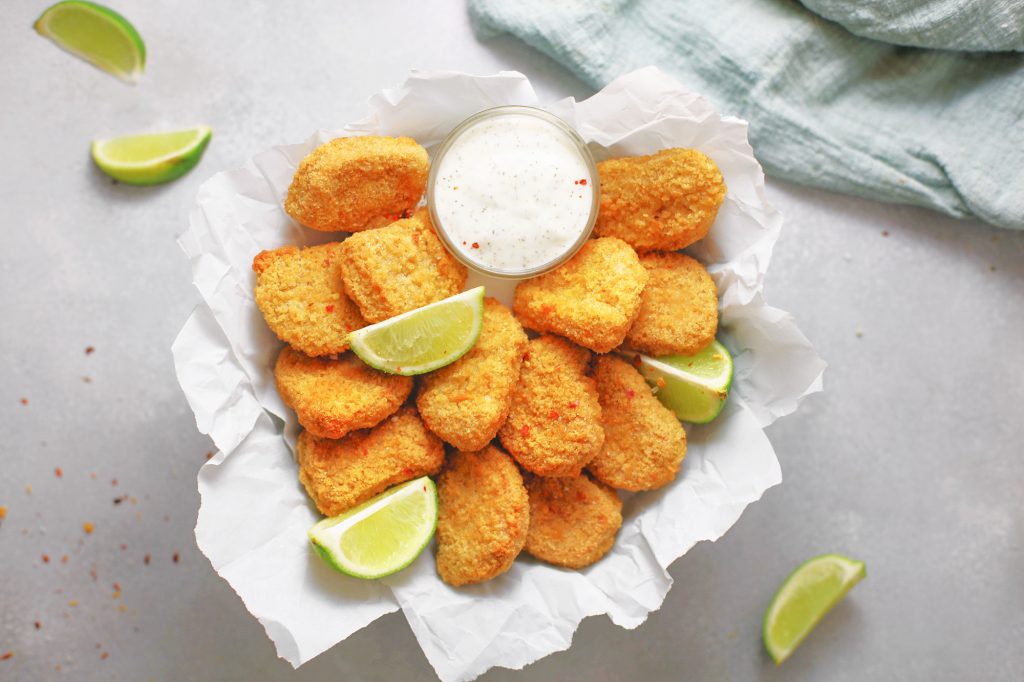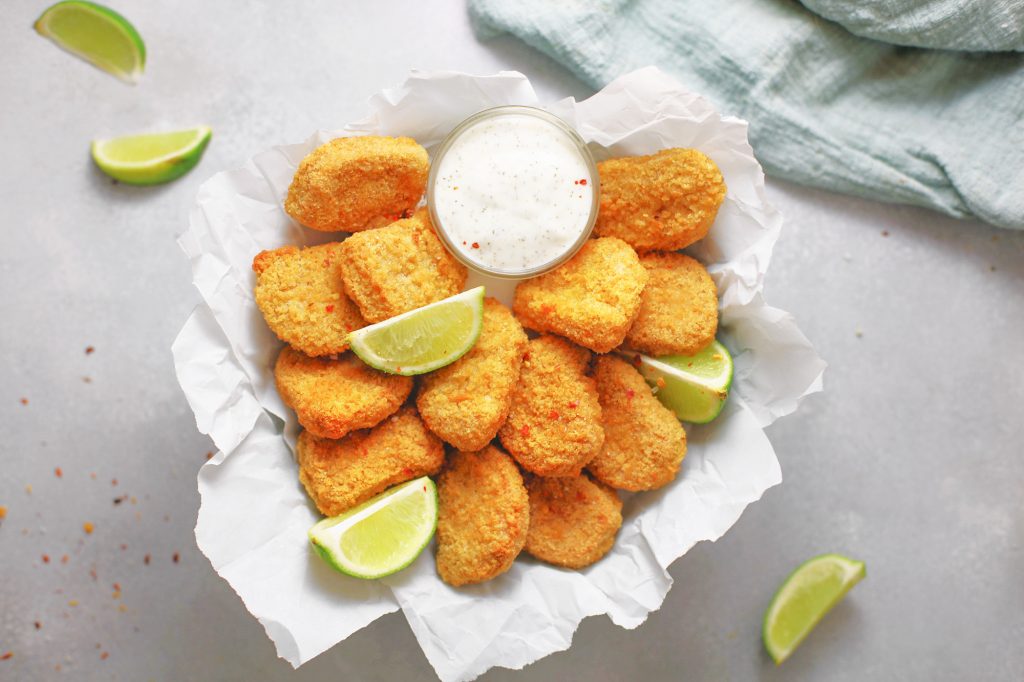 I like circles, ovals, or egg shapes the best because they make dipping easier!
If you don't want to buy cookie cutters on Amazon, then I recommend just cutting your tofu nuggets any way you want!
The easiest way is to cut them into even-sized squares. These won't look like vegan nuggets from the store, but they are easy to make at home when you are in a time crunch.
You can also choose to make vegan chicken strips by simply cutting your tofu in thin strips and baking it that way!
Finally, you can even throw away the idea of tofu nuggets and make this exact recipe into crispy baked tofu by simply slicing the tofu into large flat pieces like filets!
My personal favorite way to make the tofu chicken nuggets [without using my nugget slicer] is by cutting them into squares or using another cookie cutter shape that makes dipping and cutting easy!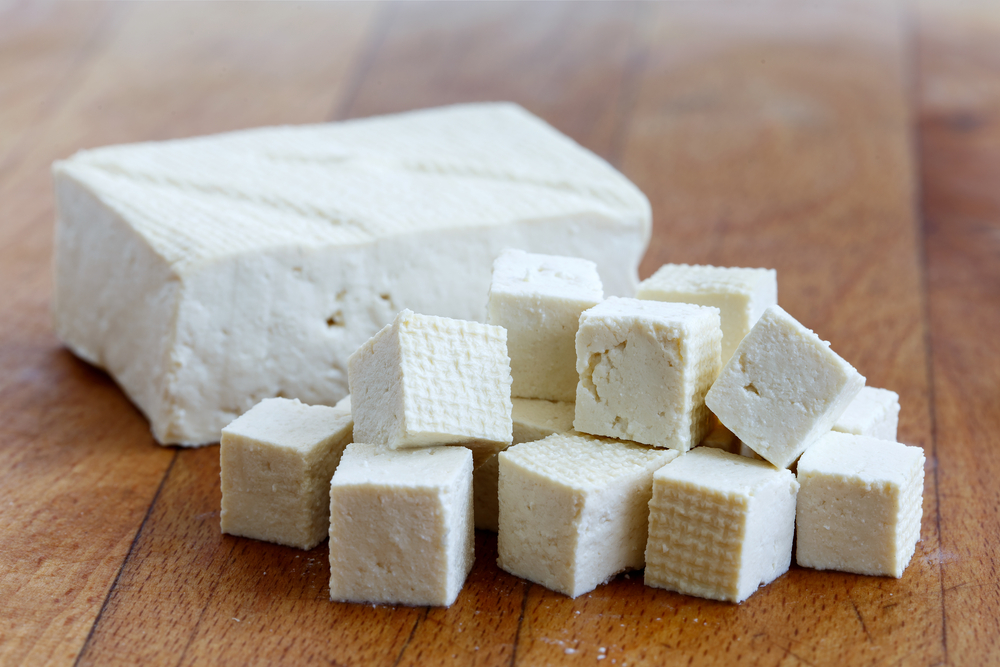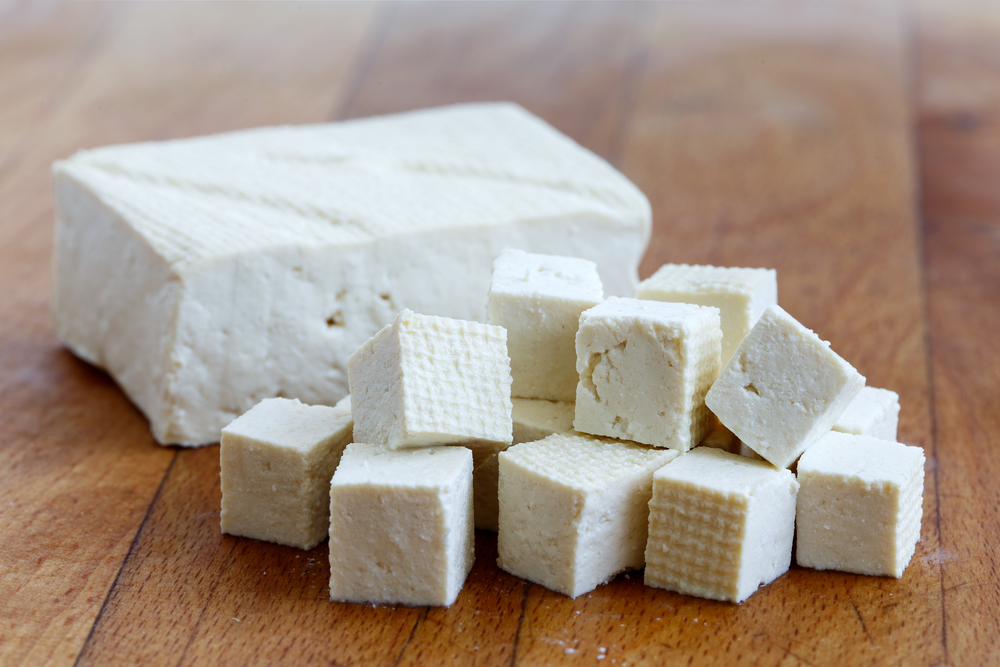 How To Make Baked Tofu Chicken Nuggets
Making these baked tofu chicken nuggets is so easy! You don't have to fry them on the stove which saves you a ton of time! After you dredge them, you simply bake them and go about your business!
Perhaps while they are baking, you can whip up a Vegan Chopped Salad for a side dish!
The first thing you are going to want to do is prepare your marinade for the tofu nuggets.
The marinade consists of soy sauce, garlic powder, onion powder, paprika, and oregano. You can customize by trying to add more ingredients if you like!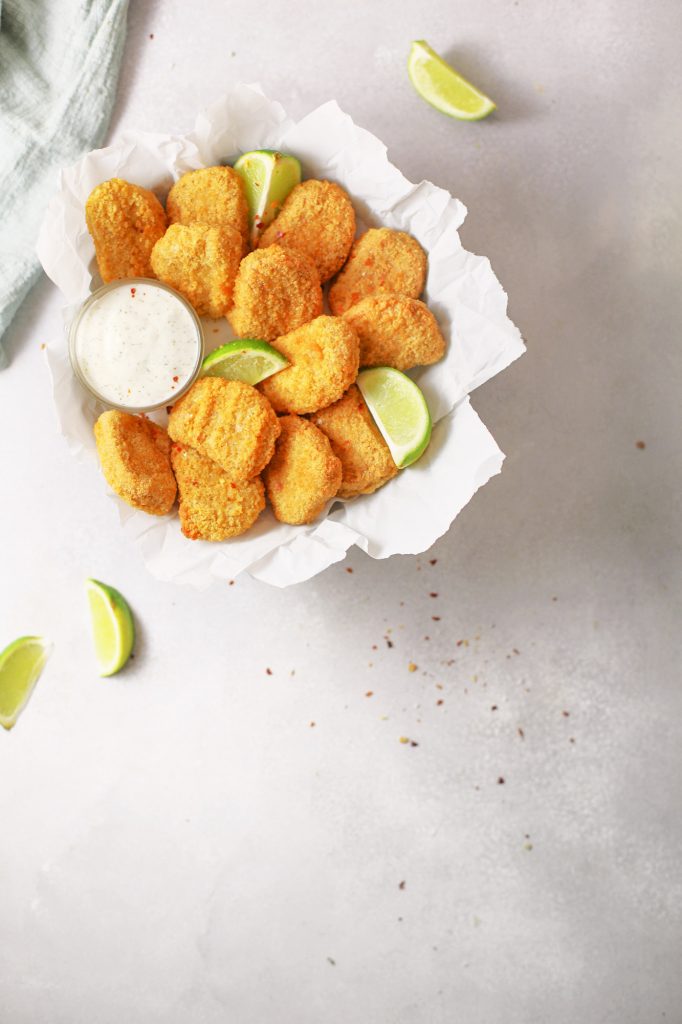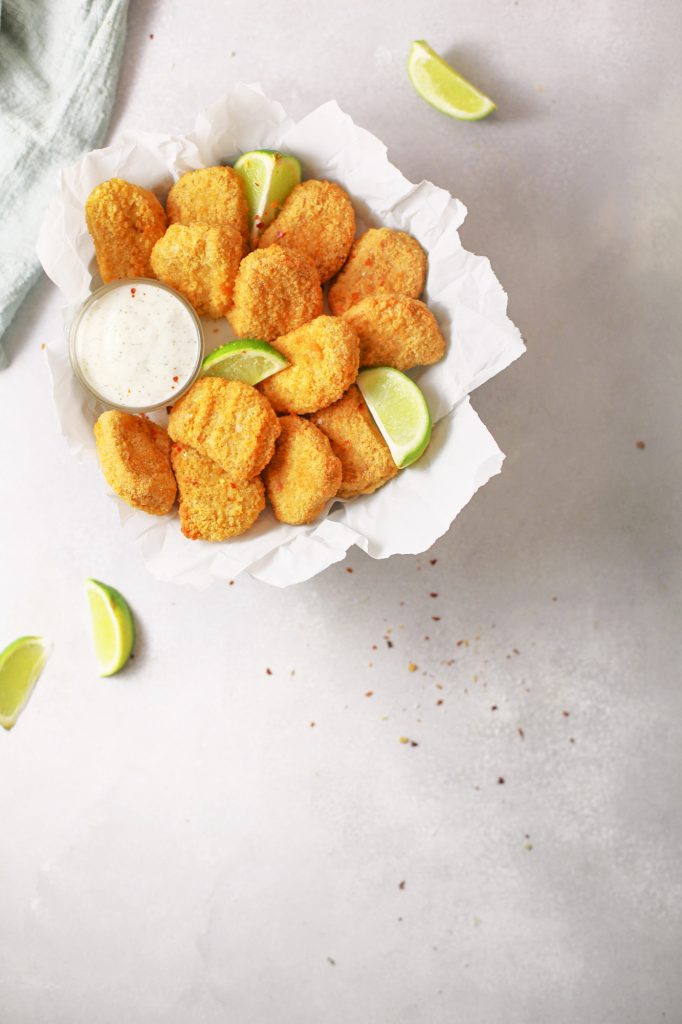 Next, cut your tofu into the shape you want your nuggets to be. Again, I recommend using a small cookie cutter, cutting squares, or cutting strips.
Place your tofu nuggets in the marinade and let marinade for 30 minutes. You can even marinade for up to 12 hours if you really want your tofu to absorb all the flavor.
If you are short on time, marinade for 5 minutes. You want to soak up at least some flavor to give the tofu chicken nuggets their flavor!
In a medium-size bowl, you are going to combine milk and apple cider vinegar.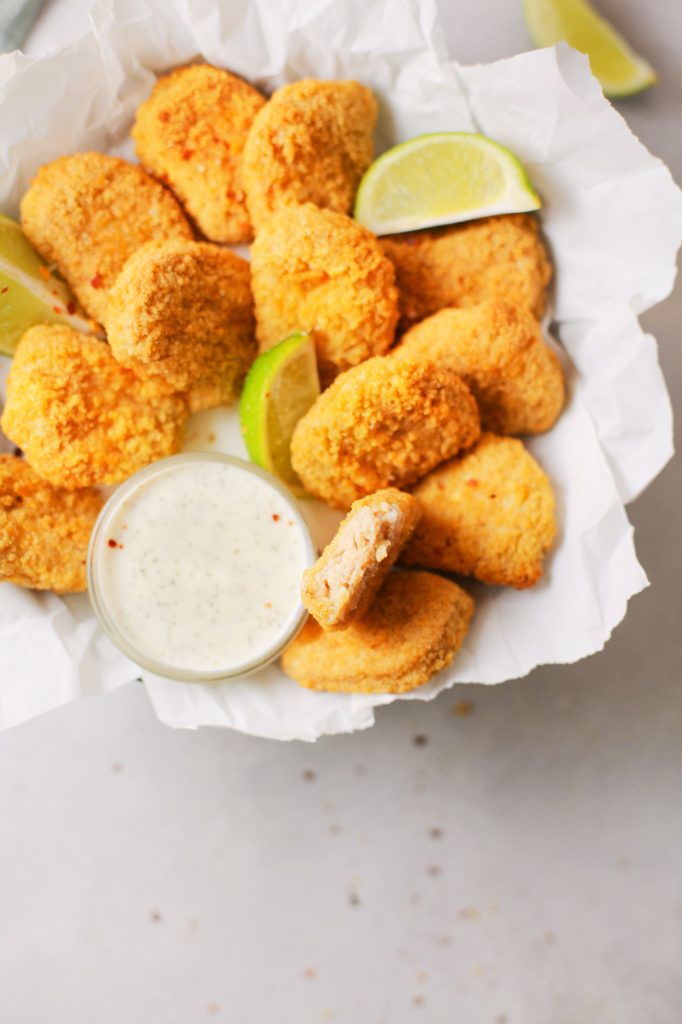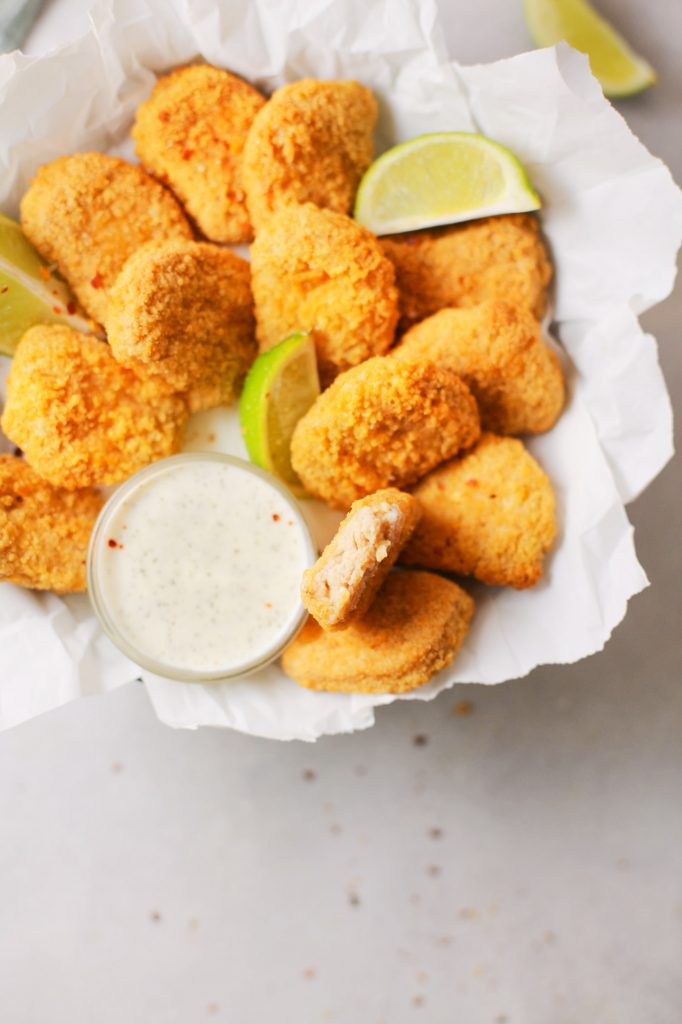 In another bowl, you are going to combine the bread crumbs (can be Gluten-free) with all of the spices listed in the recipe.
You will then take a tofu nugget from the marinade, coat it with flour, and dip it in the bowl of milk.
Then, you will double dip it and dredge it through the breadcrumbs bowl. Make sure to dredge well so that each tofu nugget gets covered completely!
For the best crispy baked tofu nuggets, place the nuggets on a baking sheet and bake at 400F for 20 minutes. Then turn and cook for 10 more minutes!
That is it! The longest part of this recipe is marinading the tofu chicken nuggets. I would not skip this step as it allows the tofu to absorb the flavor.
If you are short on time, just marinade for a shorter amount of time!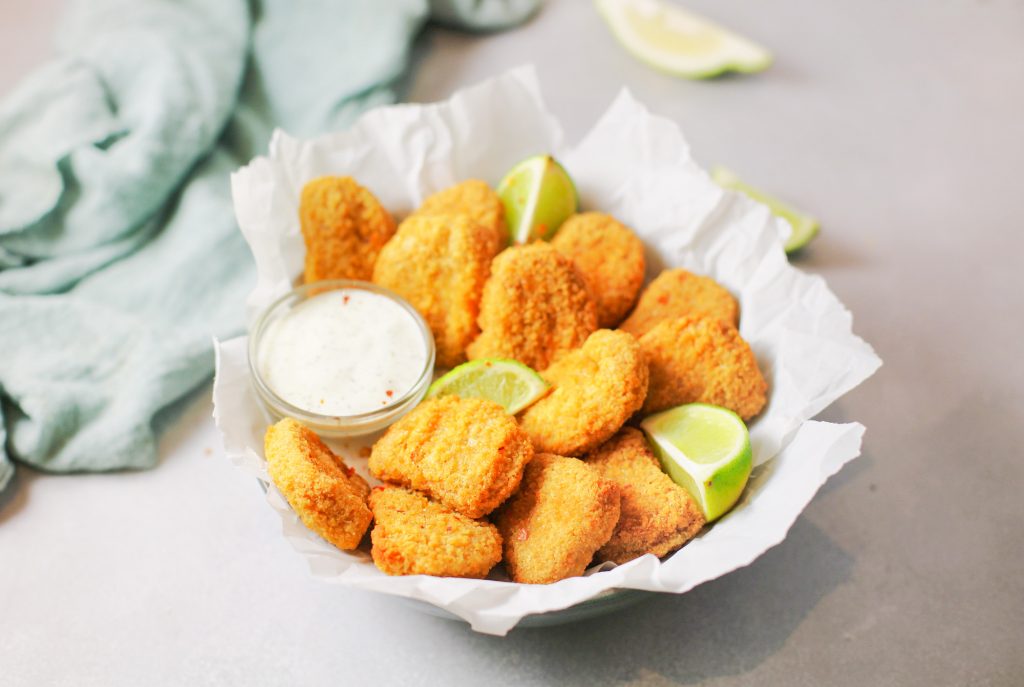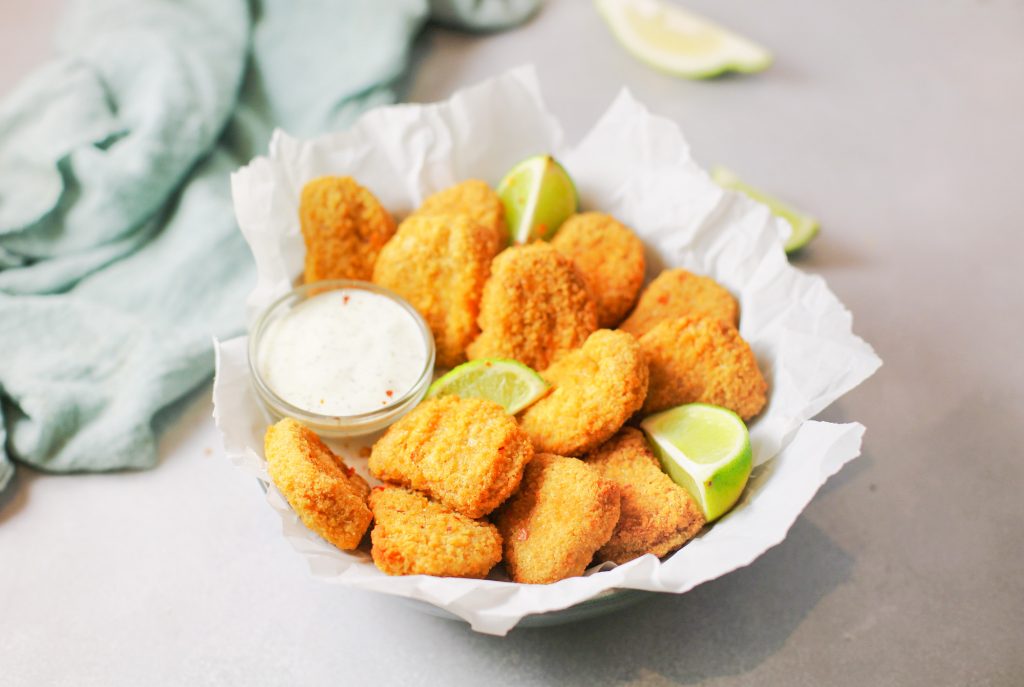 How To Store The Crispy Baked Tofu Nuggets
The crispy nature is the hallmark of this recipe! Of course, when you store them, you are going to want to ensure that they are crispy when you eat them again!
You can store the leftover vegan nuggets in an air-tight container in the fridge for 2-4 days.
To reheat, simply put your oven on 350 and bake the tofu nuggets for a few minutes until warm. You can also use a toaster oven as it is smaller and cooks faster!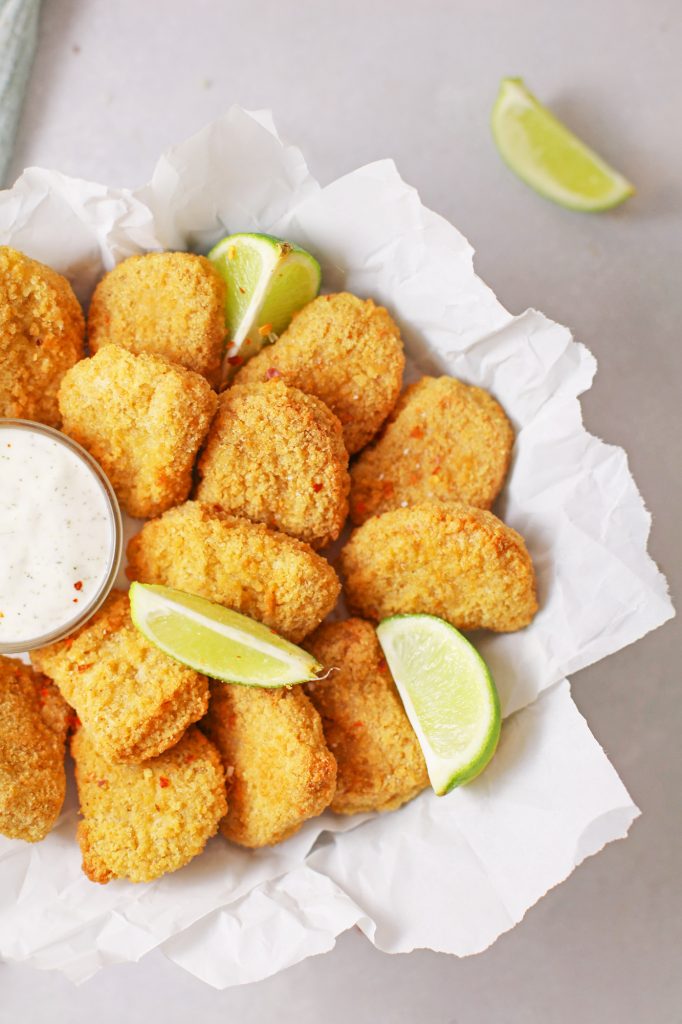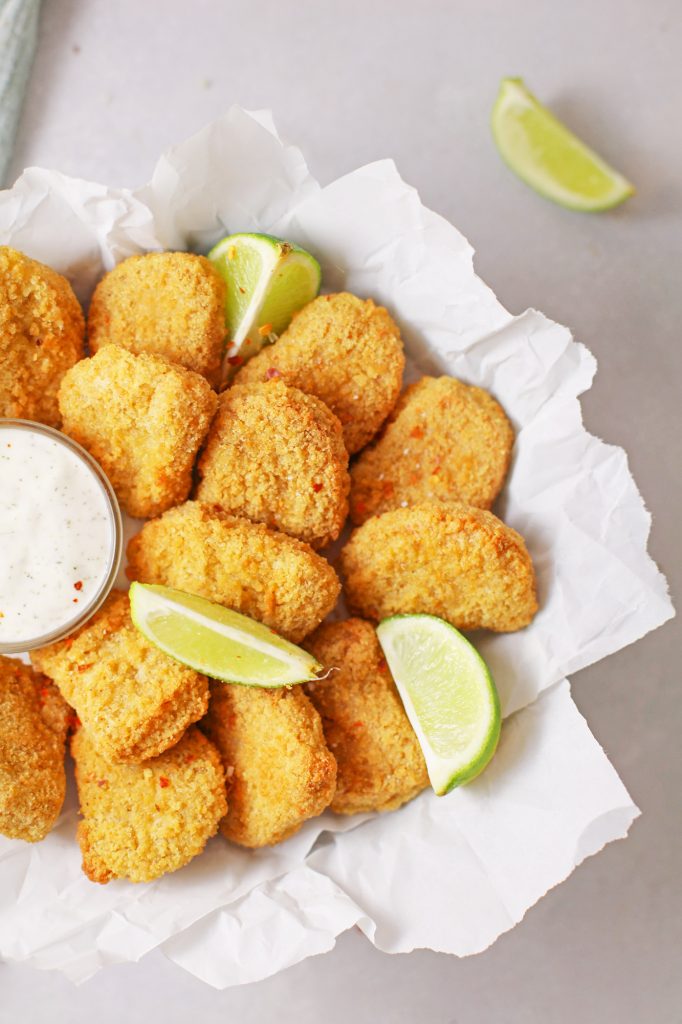 Here are some Toaster Ovens I Recommend if you don't already have one!
You can also eat the crispy baked tofu cold in a Vegan Burrito if you don't want to reheat it! This is great for meal-prepping!
If you want the nuggets to keep for longer, you can also freeze them! Freeze them in a freezer-tight container and then reheat until warm on a 350 degree oven!
Did You Try This Recipe?
If so, I would love to keep in touch! I enjoy seeing photos and comments about the recipes that you make! You can follow me on Instagram and I will repost your goodies in my stories and comment on it too! Just tag me at @wowitsveggie and hashtag #wowitsveggie. I can't wait to see what you make!
Yield: 2 Servings
Best-Ever Crispy Vegan Tofu Nuggets (Baked And Gluten-Free)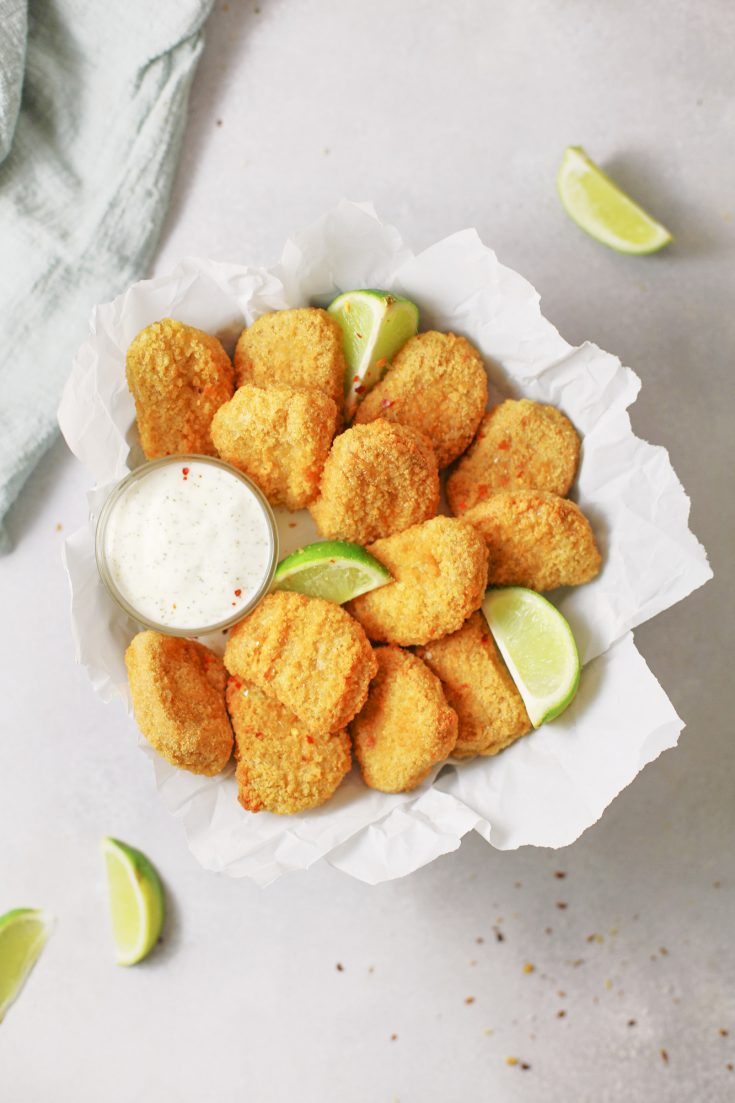 These crispy tofu nuggets are so delicious and easy to make! They are double-dredged in the marinade, then flour, then a milk mixture, then breadcrumbs so that they are baked to crispy perfection!
To make the baked tofu nuggets gluten-free, simply use your own gluten-free flour and breadcrumbs of your choice!
You can marinate the tofu chicken nuggets for up to 12 hours. The minimum recommended time is 5 minutes but for optimal taste, I recommend 20-30 minutes.
I used a cookie cutter to make the shape of the tofu nuggets. You can use whichever shape cookie cutter you have on hand or cut the tofu into squares or strips!
Serve with ketchup, vegan mayo, or the dip of your choice!
Ingredients
1 Pound tofu
1/4 Cup soy sauce or tamari
1/2 Tsp garlic powder
1/2 Tsp onion powder
1 Tsp paprika
1/2 Tsp oregano
1 Cup non-dairy milk
2 Tbsp apple cider vinegar
1 1/2 Cup flour (or gluten-free flour)
1 Cup breadcrumbs (or gluten-free breadcrumbs okay)
2 Tsp Italian seasoning
1 Tsp paprika
1/2 Tsp chili flakes
Salt and pepper to taste
2 Tbsp oil
Instructions
Preheat the oven to 400 degrees.
In a big large bowl, combine the soy sauce, garlic powder, onion powder, paprika and oregano.
Cut the tofu in the shapes and sizes you want your nuggets and transfer to the bowl with the marinade. I used a cookie cutter for mine but you can cut them into strips, squares, or even tear them with your hands,
Toss to combine and marinate for 10-30 minutes for best flavor, depending on time. You can marinate the tofu nuggets for up to 12 hours if you really want them to absorb the taste. If you are short on time, at least marinate them for 5 minutes.
In a medium bowl, combine the milk with the apple cider vinegar. Set aside.
In another bowl combine the breadcrumbs with the Italian seasoning, paprika, chili flakes and salt and pepper.
Take a piece of tofu out from the marinade. Dredge tofu in flour and then dip into the bowl of milk. Then dredge tofu in breadcrumbs mixture. Make sure to press firmly so the tofu nugget is evenly coated.
Repeat the process with the rest of the nuggets.
Grease a baking pan with oil. Place the nuggets, leaving a bit of space in between then and brush with some extra oil.
Bake nuggets for 20 minutes, flip and bake for 10 more minutes.
Enjoy hot with vegan dipping sauces or cold in a wrap or salad!
Nutrition Information
Yield
4
Serving Size
1
Amount Per Serving
Calories

485
Total Fat

16g
Saturated Fat

3g
Trans Fat

0g
Unsaturated Fat

12g
Cholesterol

5mg
Sodium

1434mg
Carbohydrates

62g
Fiber

5g
Sugar

6g
Protein

24g