This vegan clam chowder recipe is so easy to make! It uses just 5 ingredients and can be cooked in a flash.
Everyone who has ever eaten "real" clam chowder with seafood has said that it tastes just like the real thing, including my boyfriend who loves seafood!
It is my favorite Vegan Soup Recipe to make when I have worked too late and want something hearty yet quick to make. Even though I live in Florida and it is hot 90% of the year, I still enjoy making this vegan chowder recipe!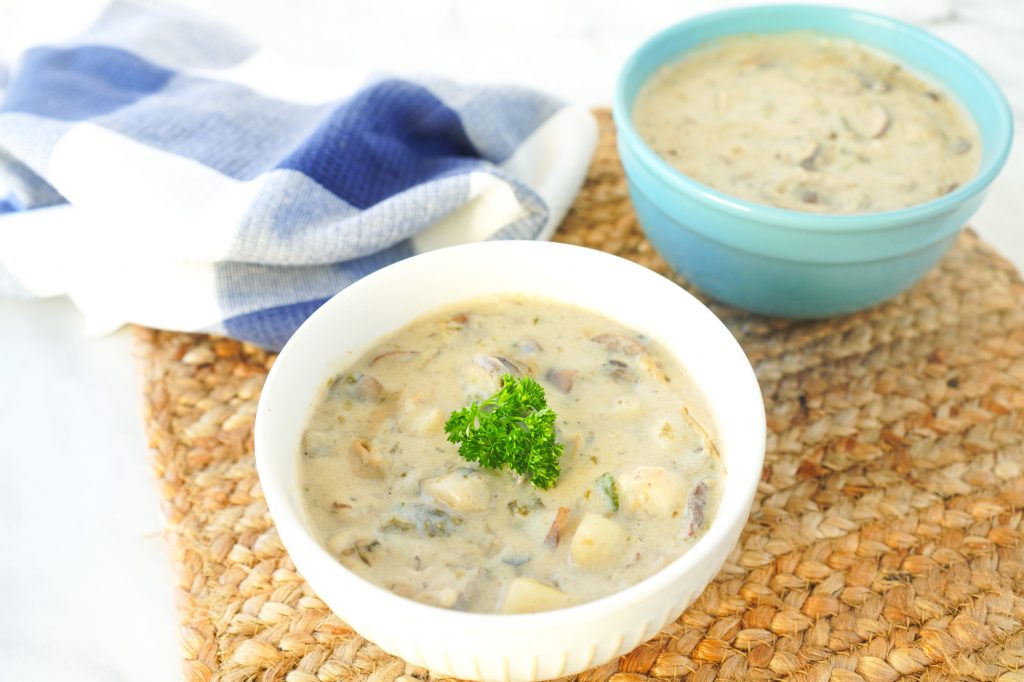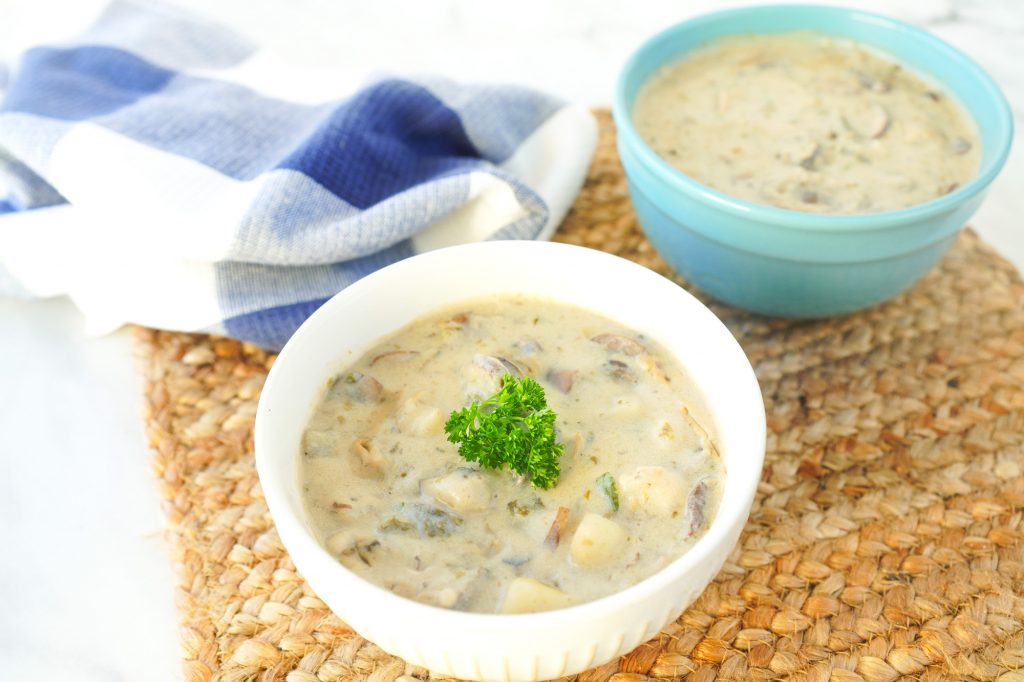 This healthy clam chowder does not use any onions or garlic, but you can easily modify the recipe if you want to saute some at the beginning.
You can also utilize green onions or leeks if you are feeling fancy. Otherwise, it tastes perfect just the way it is.
The combination between the creamy texture of the potatoes mixed with the fishy flavors make this vegan clam chowder a tasty staple that your family is sure to love!
Eat it with a delicious Vegan Chopped Salad for a tasty "soup and salad" dinner or lunch.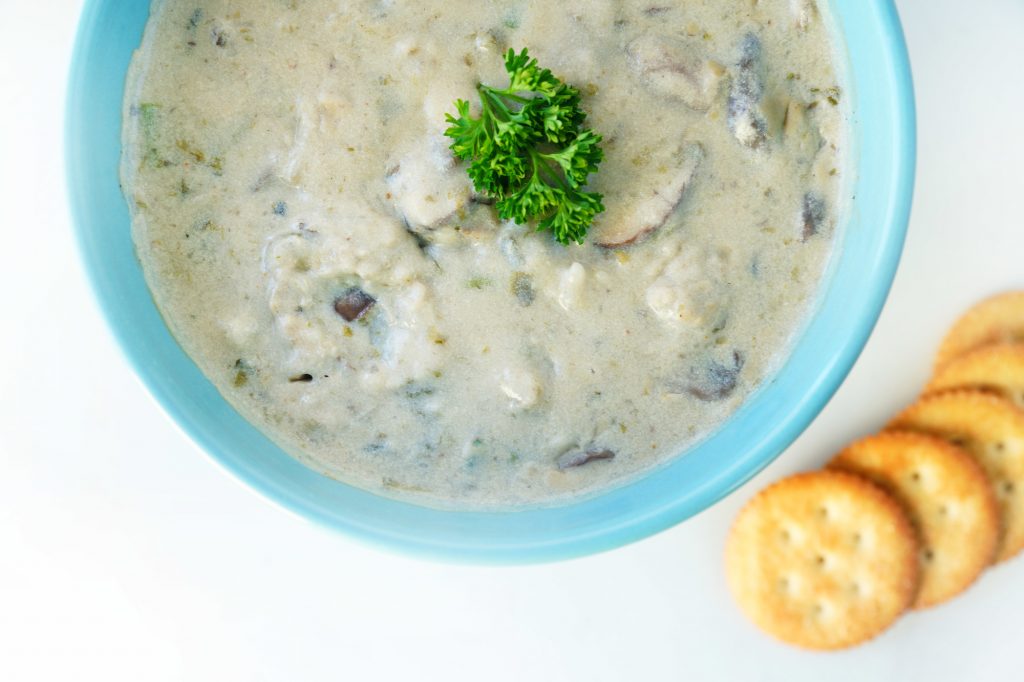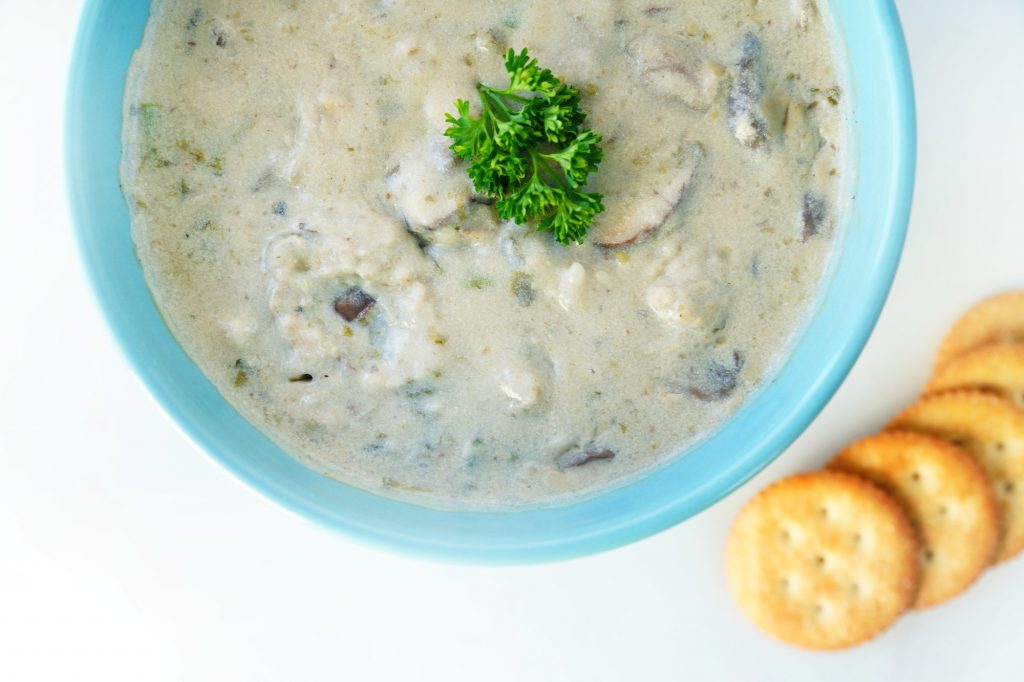 How To Add The "Fishy" Flavor To Your Vegan Clam Chowder
Since this is a meat and dairy-free clam chowder, you may be wondering where the seafood taste comes from.
Let me introduce sushi nori. Sushi nori is the green stuff that is wrapped around sushi to keep the sushi together.
It is paper-thin and made out of seaweed. Since seaweed comes from the ocean, it has an unmistakable "fishy" flavor.
For this vegan clam chowder recipe, you crumble a sheet of sushi nori into the soup and you won't believe how much it tastes like actual seafood.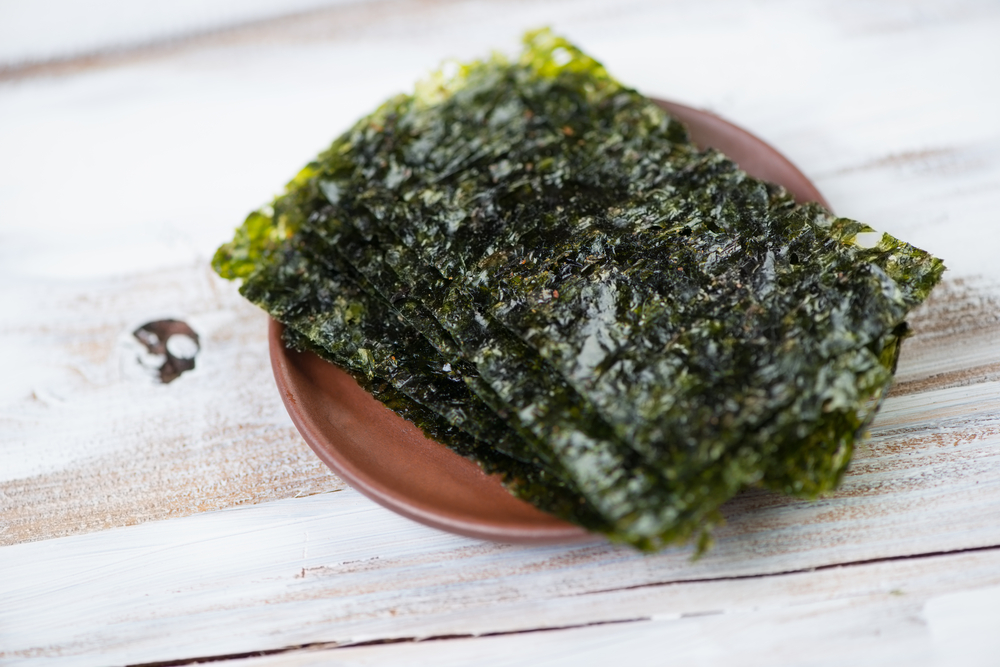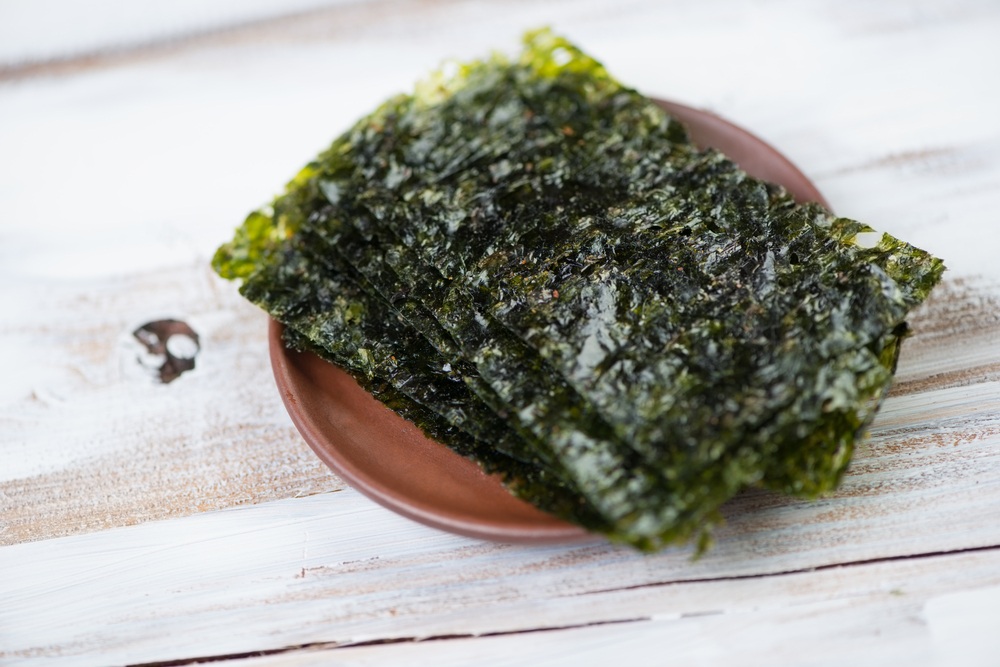 You can buy sushi nori at pretty much any grocery store or Asian market.
I buy my nori from Whole Foods which is what I use for this vegan clam chowder recipe.
You can also add a teaspoon of Old Bay Seasoning into the vegetarian chowder for a little extra spice!
I know that not everyone has Old Bay on hand so I add it as "optional" for this recipe, but if you do, it really adds something special to your recipe!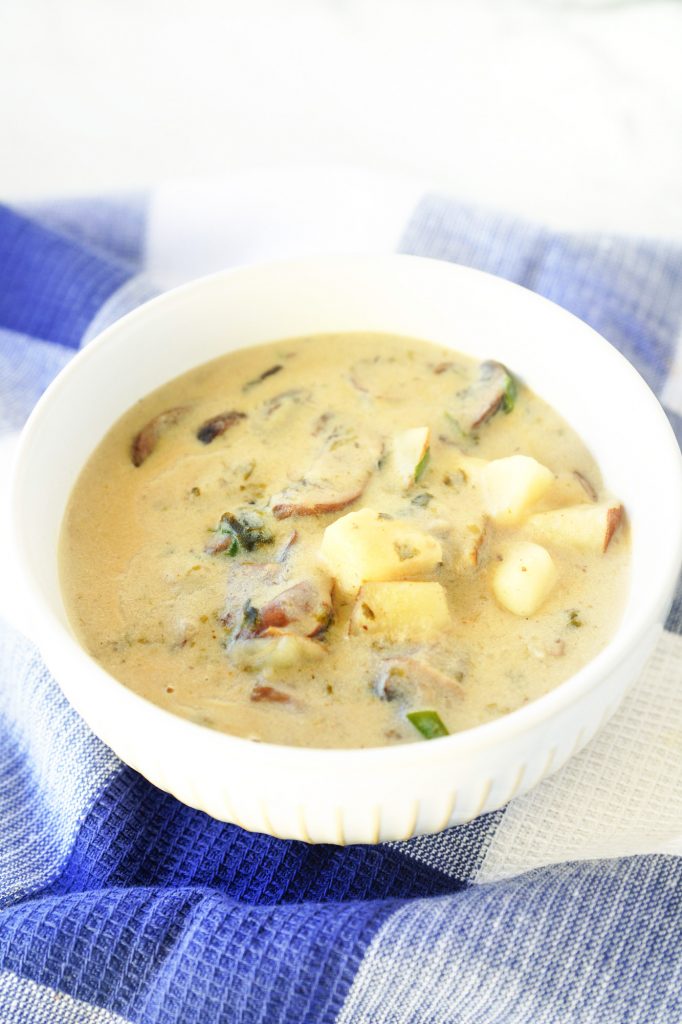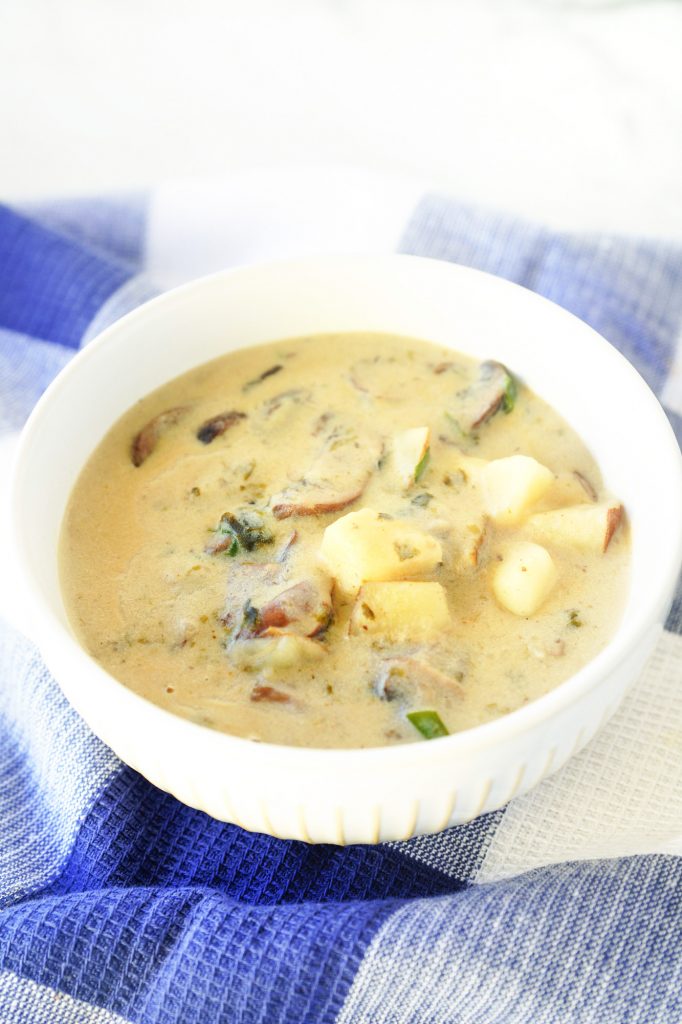 What Kind Of Milk To Use For The Vegan Chowder
You can use any non-dairy milk that you have on hand, but I recommend a thicker and creamier milk that will give the soup a good texture and taste.
This vegan clam chowder recipe calls for 4 cups of non-dairy milk but you can also do 3 cups of milk and 1 cup of water or broth if you don't want to use that much vegan milk.
I have used almond milk, oat milk, and flax milk. Make sure that whatever milk you choose is unsweetened!
I have tried rice milk with this recipe and it hasn't worked out well because rice milk is very thin!
Stick with milks like almond, oat, cashew, and flax that are thicker and creamier and stay away from "thinner" milks when making this vegan chowder recipe!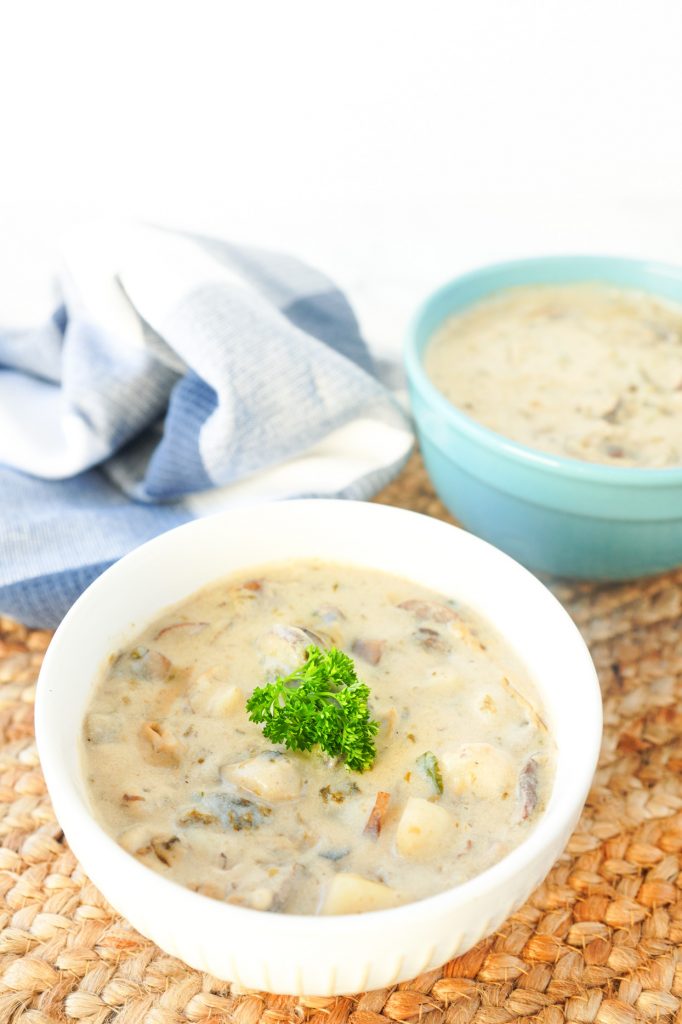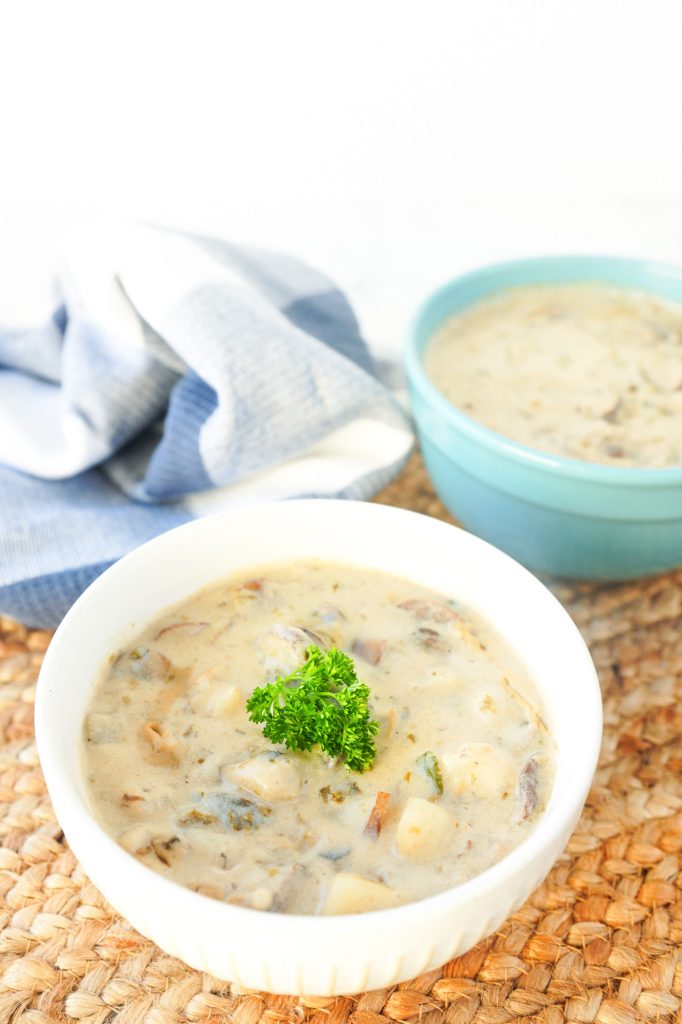 How To Make The Vegan Clam Chowder
Making the vegan clam chowder is so easy and takes just 20 minutes of your time!
First, you are going to want to parboil the potatoes. This means that you pre-boil them in another pan until they are halfway cooked.
I usually do this while I am preparing and sauteing the mushrooms and green onions in another pot.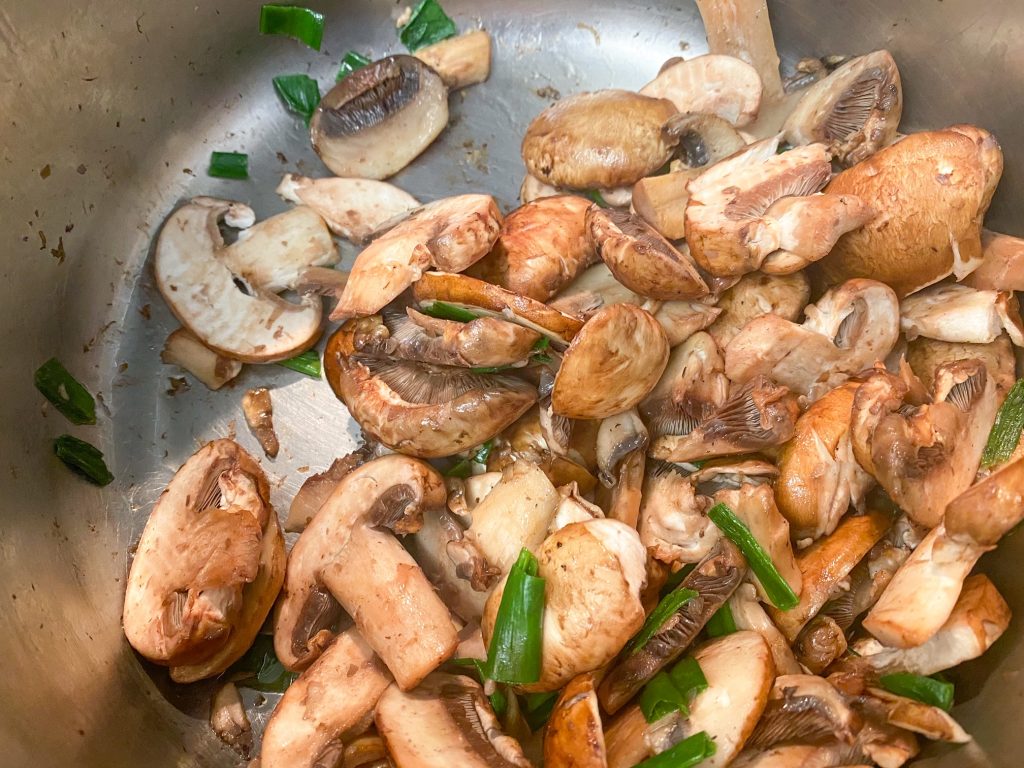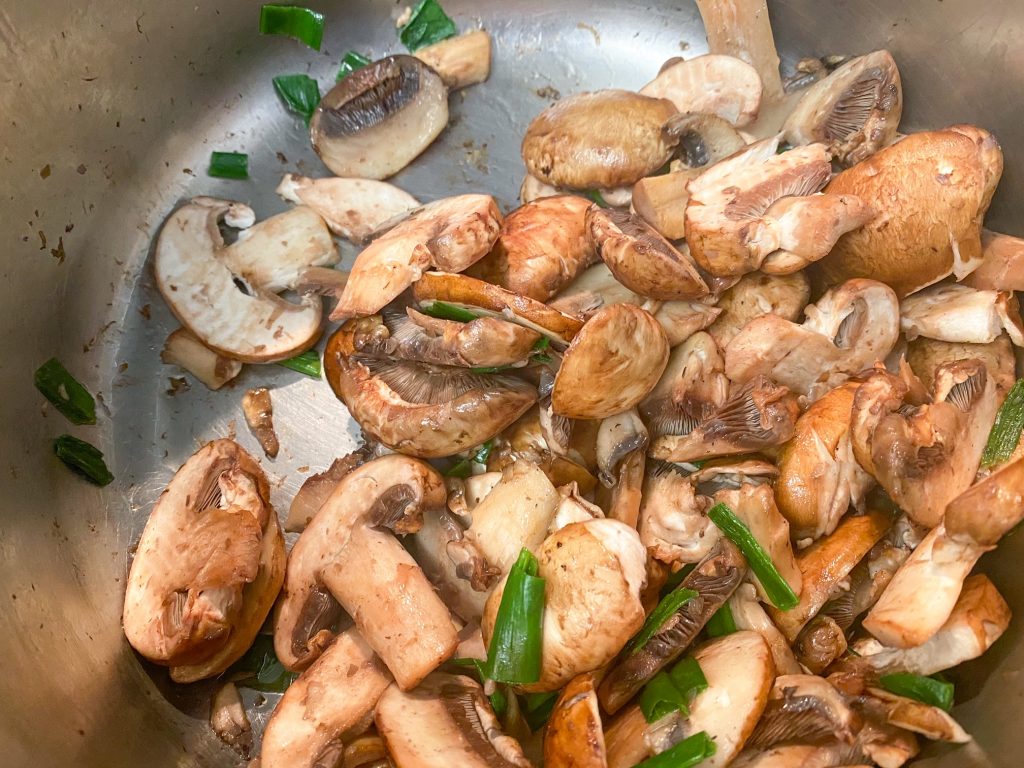 Parboiling the potatoes speeds along the cooking process or else it will take double the time! Trust me on this!
After you cook your mushrooms and any green onions/real onions you may want to add in, add the parboiled potatoes to the pot and stir.
Next, you are going to take one sheet of sushi nori and shred it with your hands.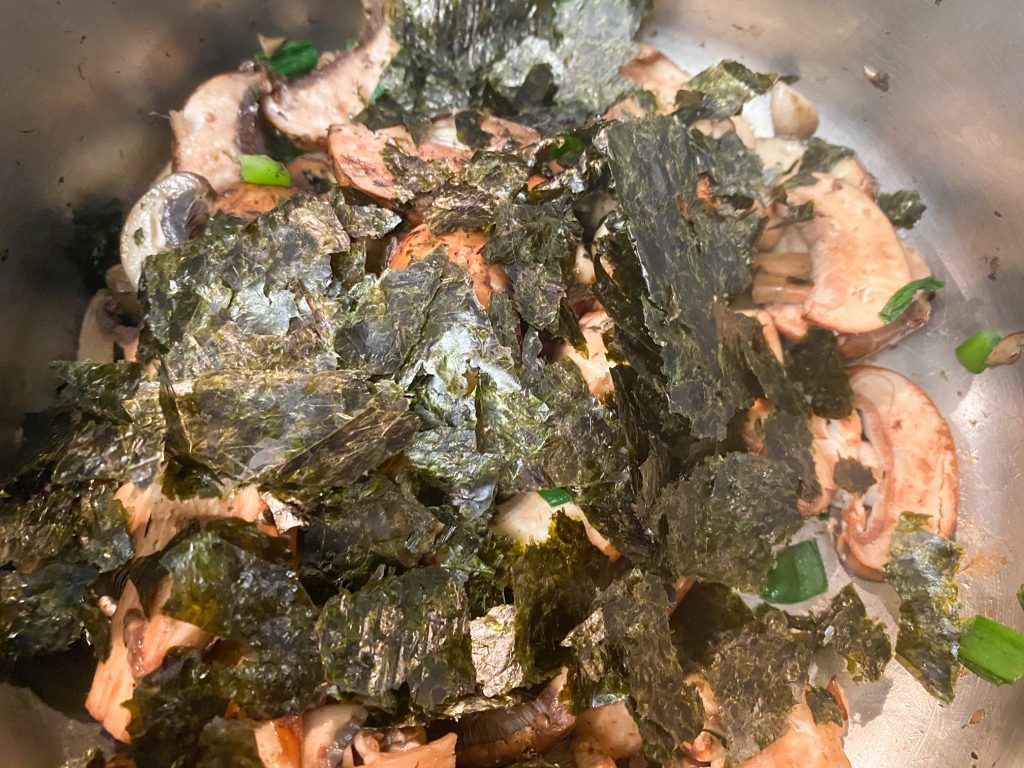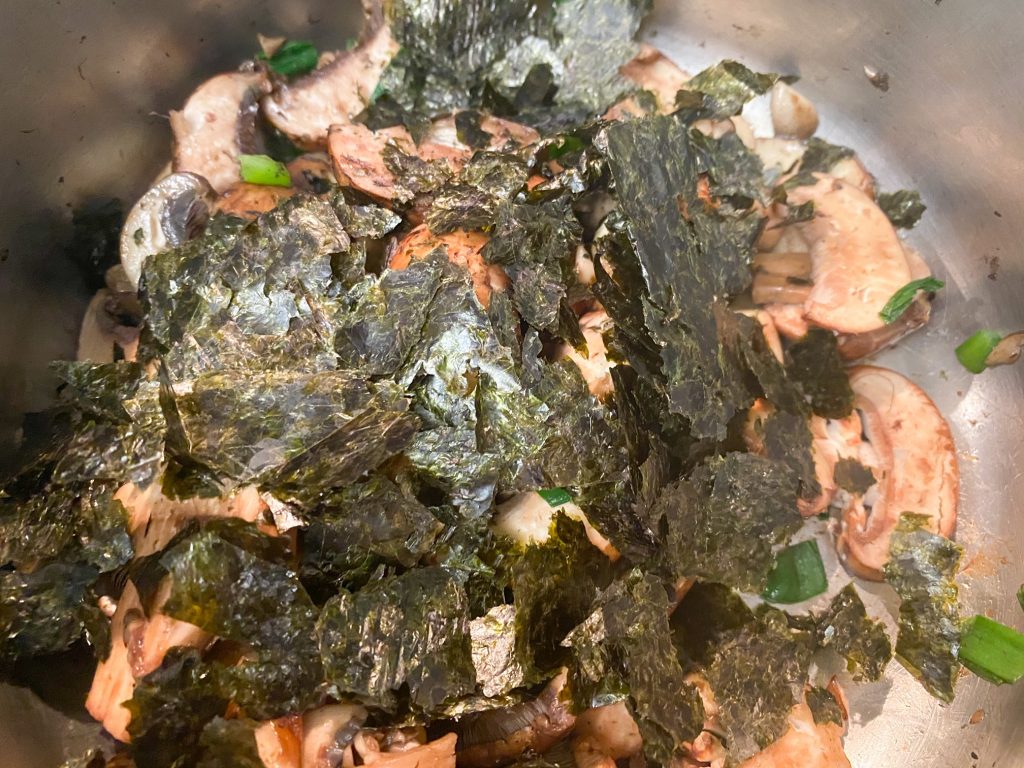 This is how the vegan clam chowder gets the "fishy" New England flavor!
Stir until nori is incorporated. Add flour to the pot and then mix until the flour coats all of the ingredients. This entire process will occur over medium-heat on the stove.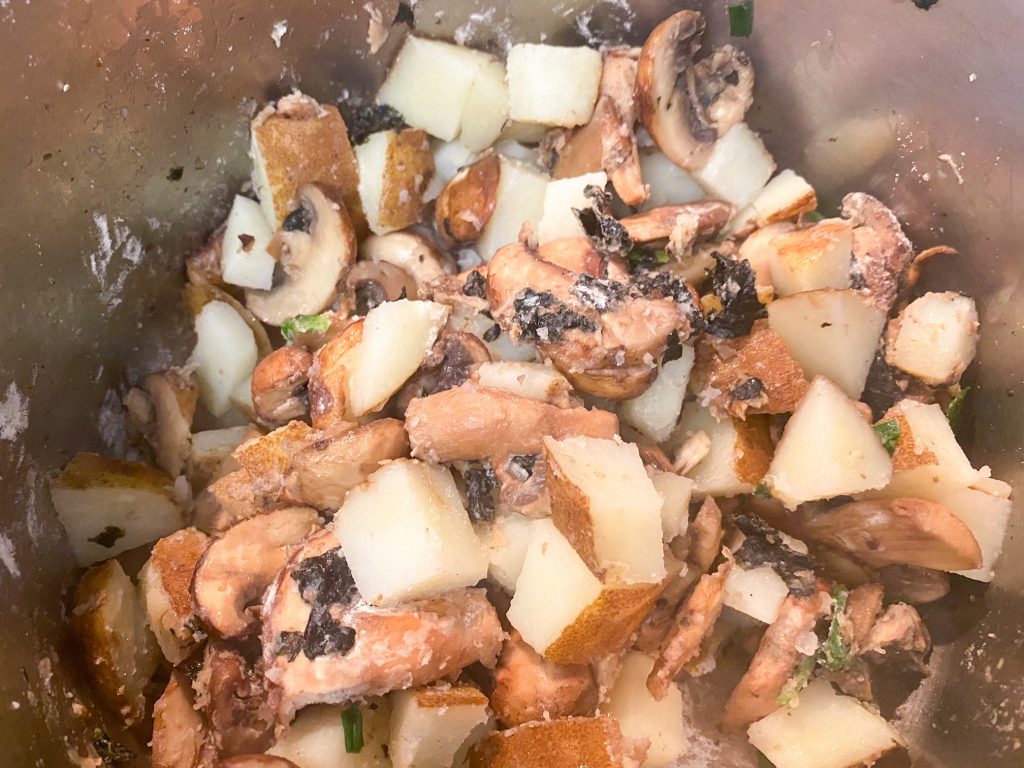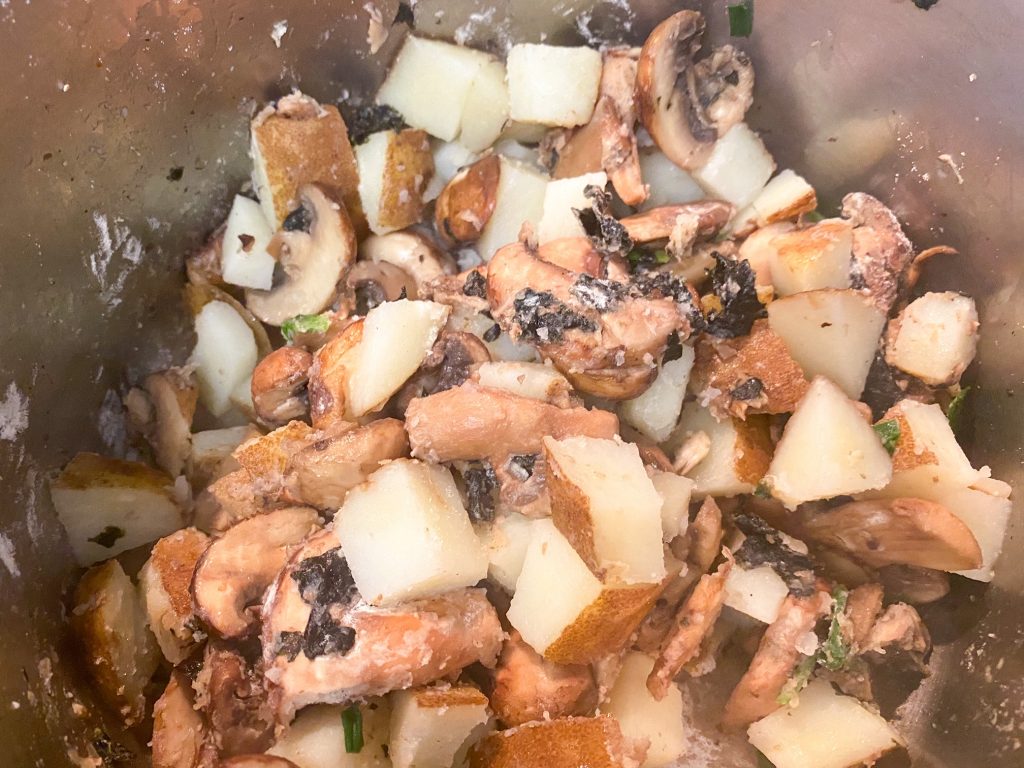 Finally, you will add 4 cups of non-dairy milk and boil on high and then reduce to a simmer for a little until flavors blend together, usually 10 minutes.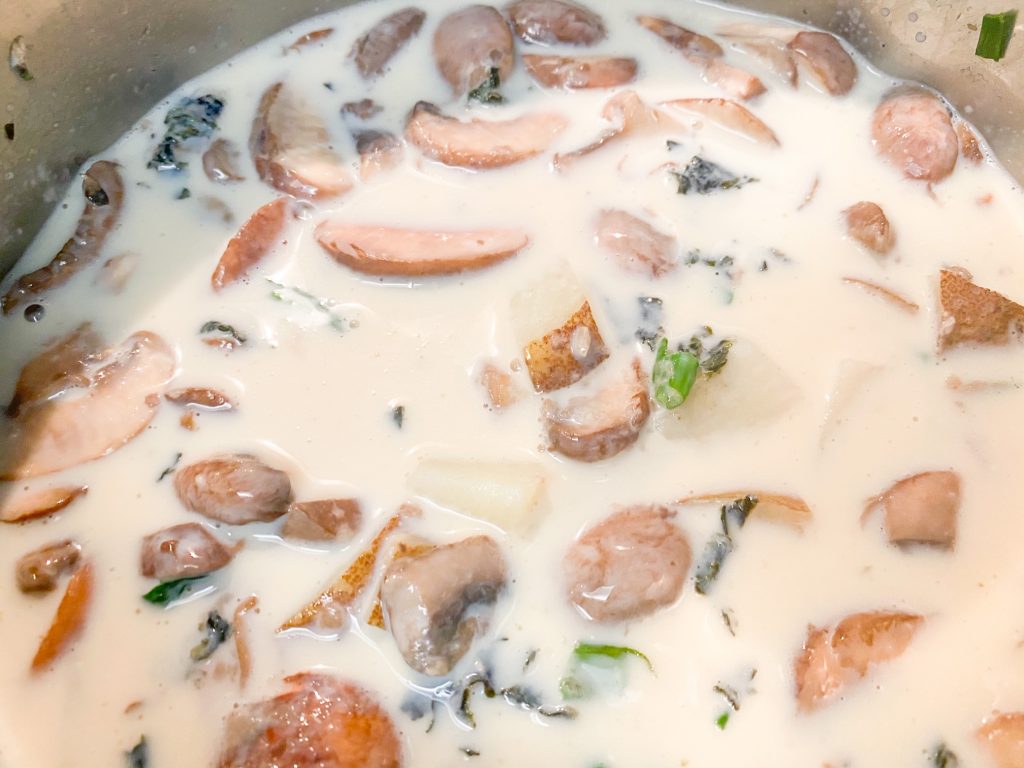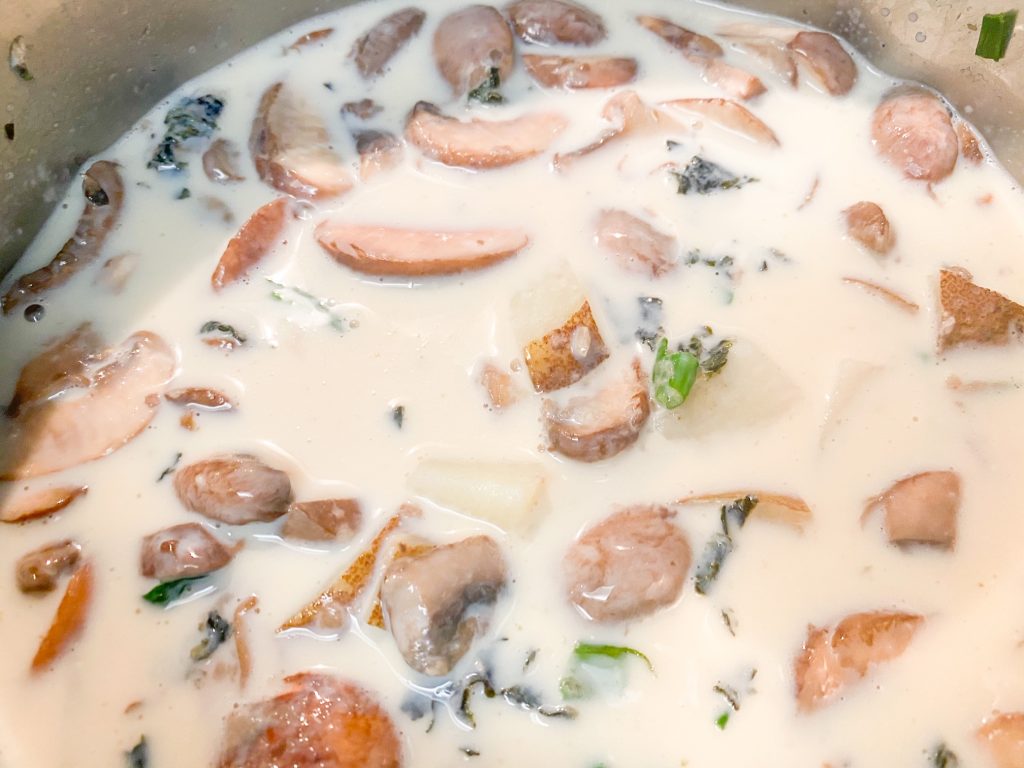 In order to get that creamy flavor in a vegan soup, you are going to want to add enough flour.
This can easily be made into a gluten-free vegan clam chowder recipe if you simply use gluten-free flour! That is the only difference.
I recommend 4 heaping tablespoons of flour in order to make the soup thick and creamy!
Season with a lot of salt and even more Old Bay if you like the taste!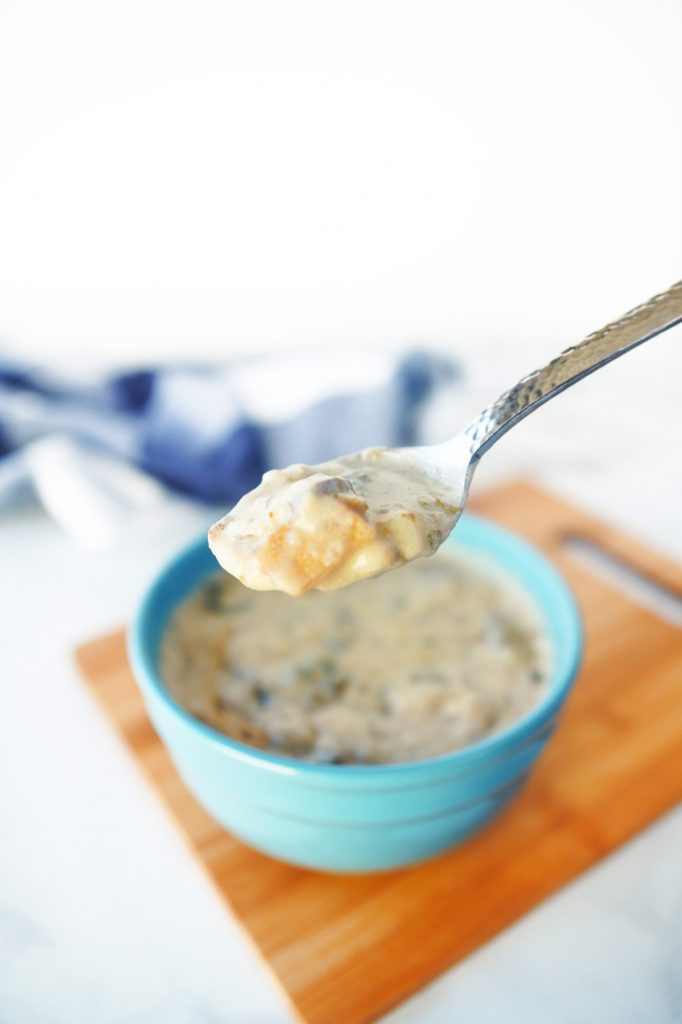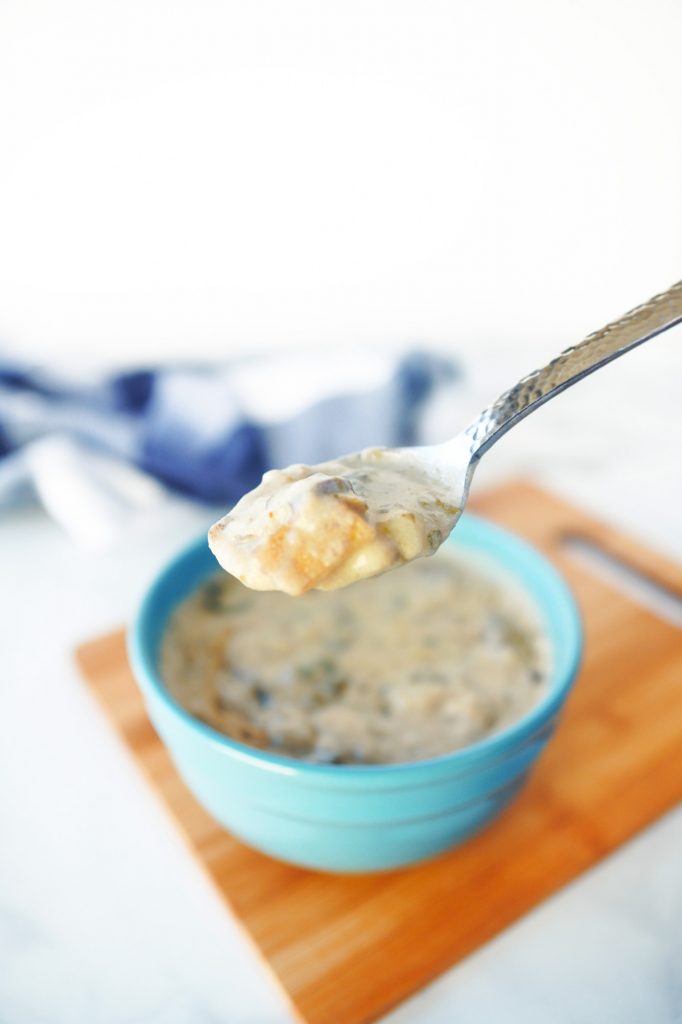 How To Store The Vegan Clam Chowder
The vegan clam chowder keeps in an air-tight container in the fridge for about 2-3 days.
To reheat, add the soup to a saucepan and add about 1/4 a cup of water to reconstitute it as the flour and potatoes may have soaked up all of the water.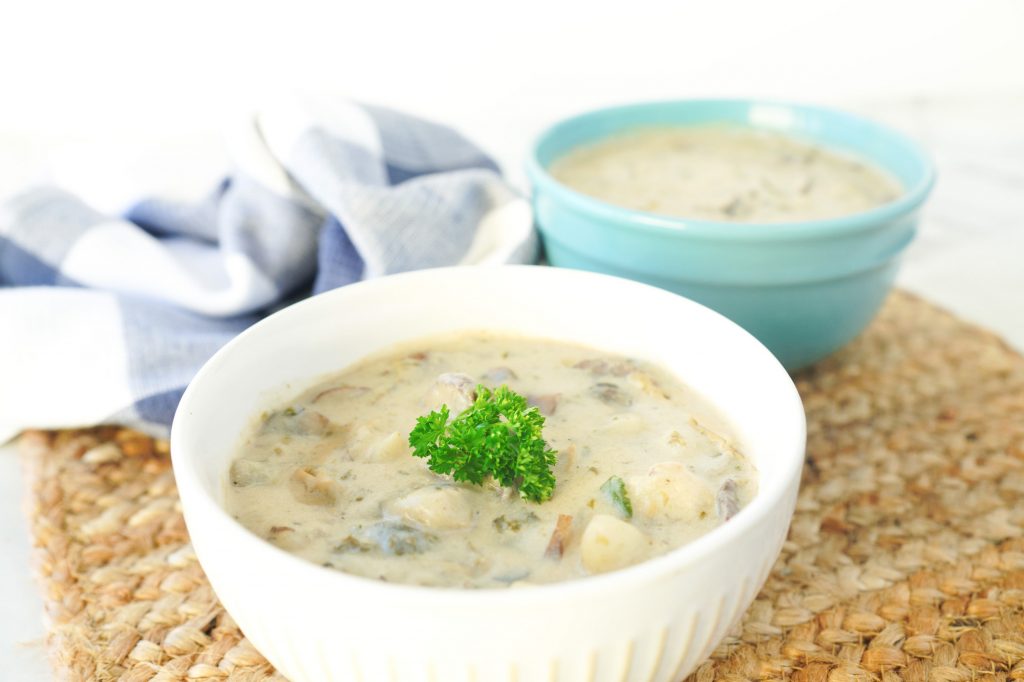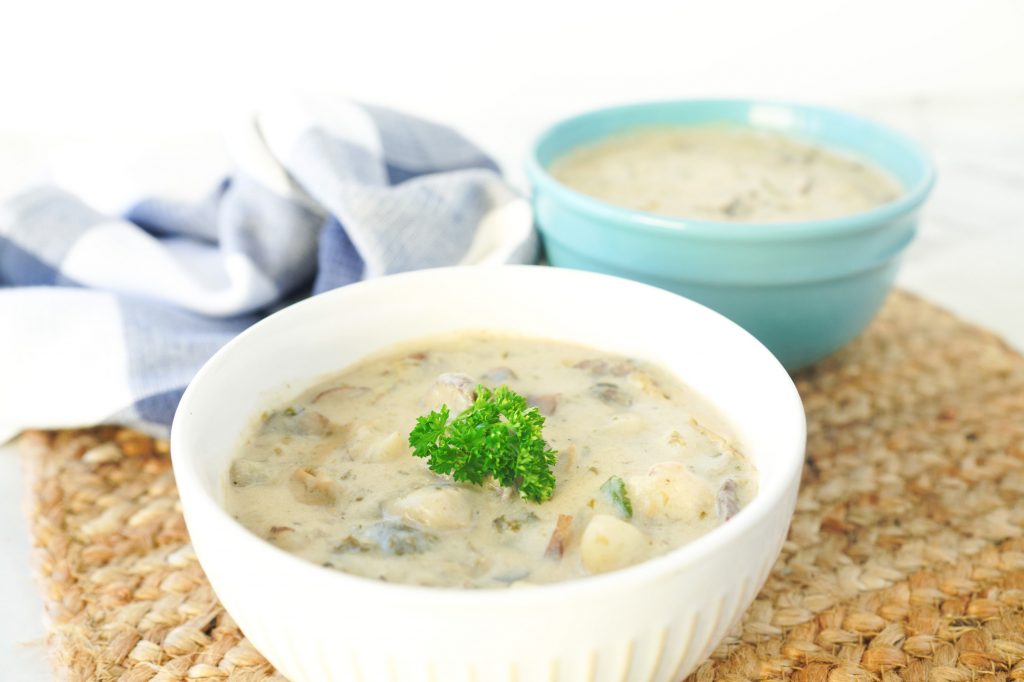 I do recommend reheating it over the stove as this is usually faster and better than the microwave.
The vegetarian chowder stores well in the freezer for 1 month. To reheat, allow the soup to thaw and then heat on the stove following the same instructions above!
Yield: 2-4 Servings
5-Ingredient Vegan Clam Chowder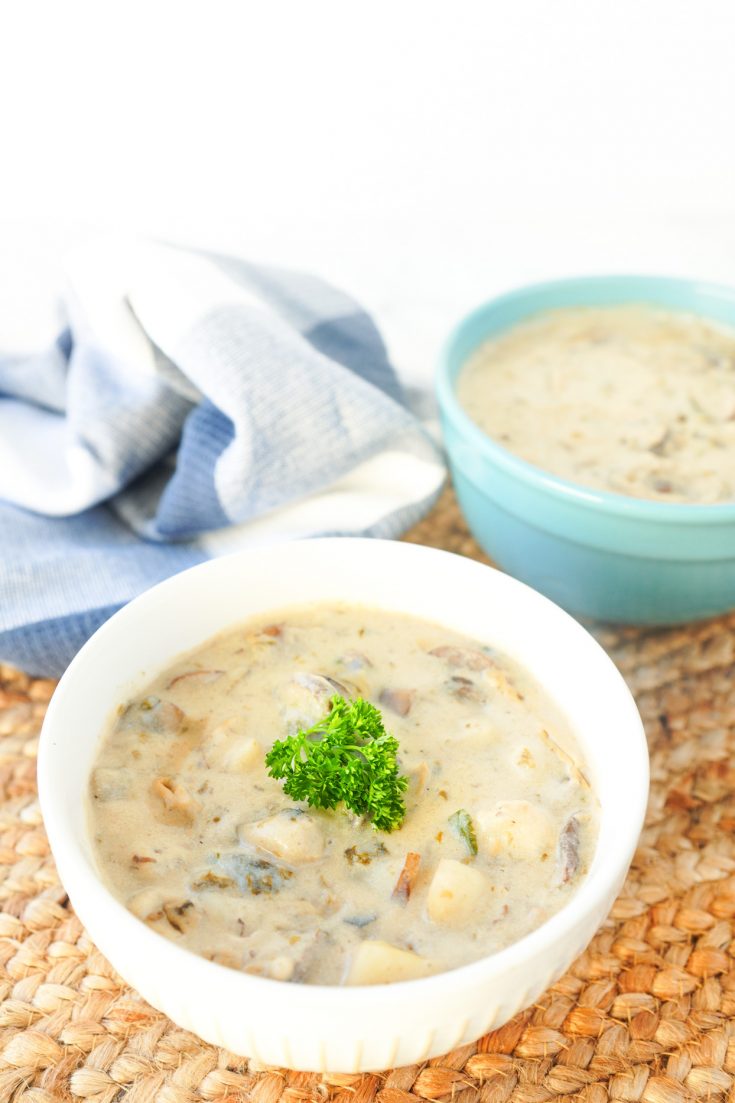 This easy Vegan Clam Chowder is hearty and delicious. It cooks up using just 5 ingredients and it only takes 20 minutes to make!
The sushi nori, which is dried seaweed traditionally wrapped around sushi, lends the unmistakable "fishy" flavor that all clam chowders have!
You can easily modify this recipe to be gluten-free by utilizing the gluten-free flour of your choice!
Ingredients
12 oz of mushrooms (half a 24 oz pack or 3/4 of a 16 oz pack)
4 medium potatoes
1 sheet sushi nori (shredded into pieces)
4 heaping tablespoons of flour (modify for desired texture and thickness. Gluten-free flour okay)
4 cups of non-dairy milk (I've used almond milk/oat milk/flax milk etc)
1 Green Onion Top (Optional)
1 Teaspoon Old Bay Seasoning (Optional)
Instructions
Chop potatoes into cubes and parboil on high in a medium pot for 5-10 minutes until cooked halfway through.
Meanwhile, saute mushrooms and green onion tops (in a little oil) in a large pot. Add parboiled potatoes to the pot and stir.
Shred sushi nori with your hands and add it to the mushrooms and potatoes. Add flour to the pot and stir until everything is incorporated and flour coats all ingredients.
Add 4 cups of non-dairy milk and boil on high for 5 minutes. Add in a Old Bay if you choose.
Simmer on low for 5-10 minutes until flavors combine.
Season with salt and garnish with parsley (optional)
Notes
If you don't like chunky soups, blend this vegan clam chowder in a blender until smooth.
Substitute flour for gluten-free flour to make this recipe gluten-free.
This recipe makes 4 servings, but you can eat it in 2 1/2 if you are very hungry and fill large bowls.
This recipe keeps well in the fridge for 2-3 days and in the freezer for up to 1 month in an air-tight container!
Nutrition Information
Yield
4
Serving Size
1
Amount Per Serving
Calories

415
Total Fat

10g
Saturated Fat

4g
Trans Fat

0g
Unsaturated Fat

6g
Cholesterol

24mg
Sodium

268mg
Carbohydrates

67g
Fiber

7g
Sugar

18g
Protein

17g