If you are looking for a delicious take on vegan popcorn, you have come to the right place! Popcorn is one of my favorite snacks and it is so easy to add some delicious vegan flavor.
I eat popcorn wherever I go. At Disney World, at the movies, anywhere. I know all of the toppings and what works and what doesn't.
I am going to be honest with you, I am not a huge fan of nutritional yeast on popcorn. It is usually done in all the wrong ways.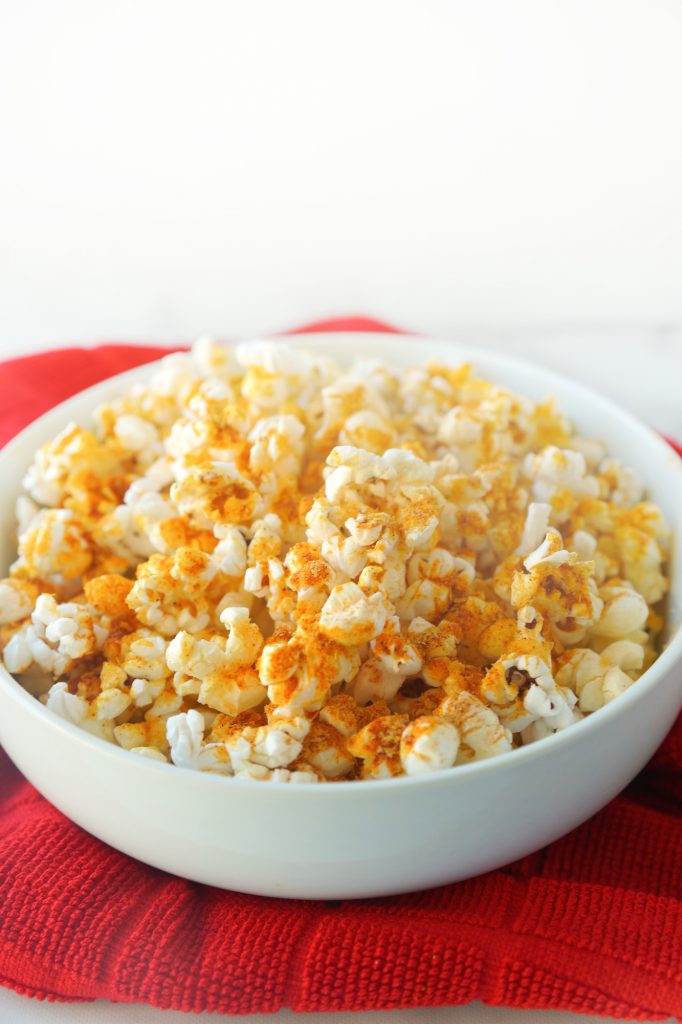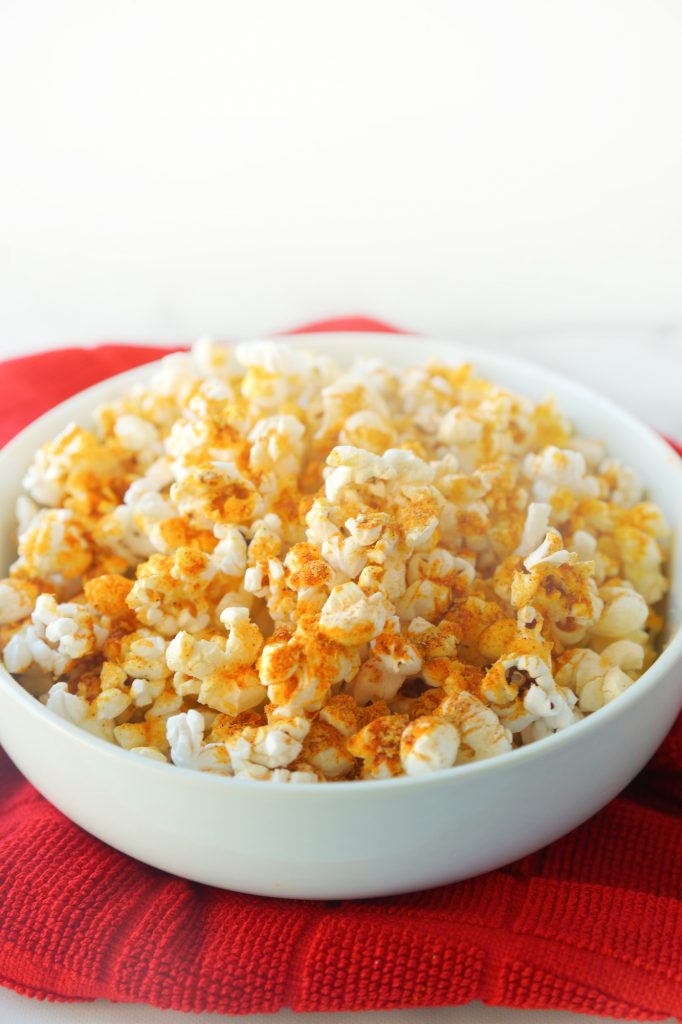 I created this vegan popcorn recipe because popcorn with nutritional yeast doesn't have to taste too "healthy" or strange. There ARE ways to make it work and I am going to show you how!
Popcorn that you get at the movie theaters is flavored with something called Flavacol. You can actually Buy Flavacol Online and it is vegan.
While Flavacol is vegan, it has some weird ingredients like yellow dye and artificial coloring.
What makes the movie theater popcorn flavored with Flavacol so good is the fact that it uses a TON of salt. As a result, when making vegan popcorn, you CANNOT skimp on the salt!
Another key to making good and realistic tasting nutritional yeast popcorn is not overdoing the nutritional yeast and mixing it with other ingredients.
In this recipe, I am going to show you exactly how to make two vegan popcorn versions. One that is more buttery, and one that is more cheesy! Blend them together for a buttery cheesy popcorn version!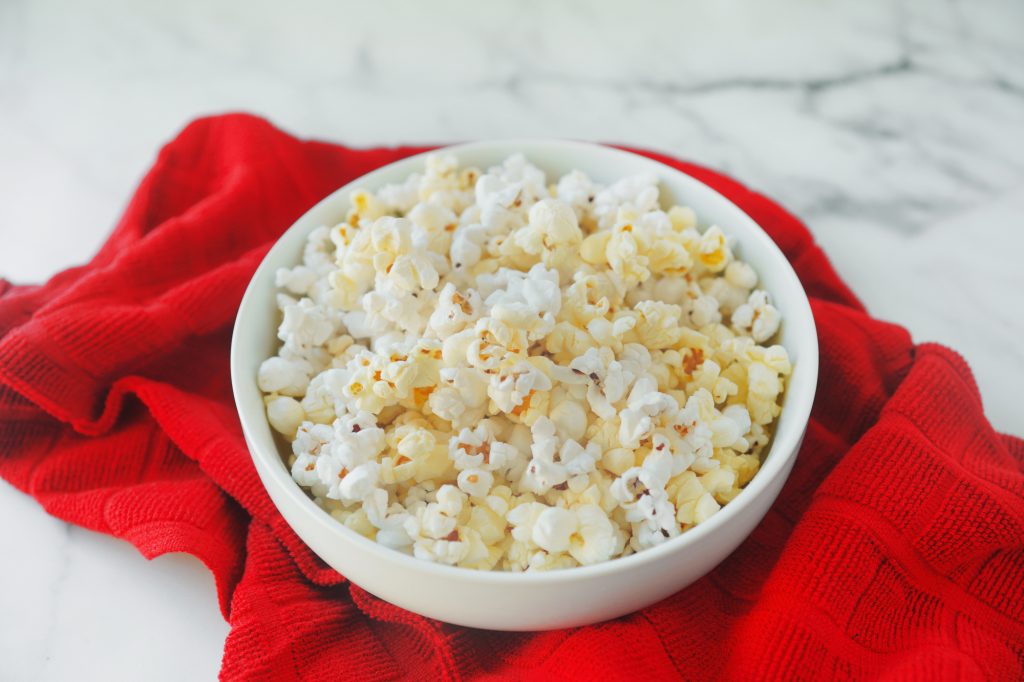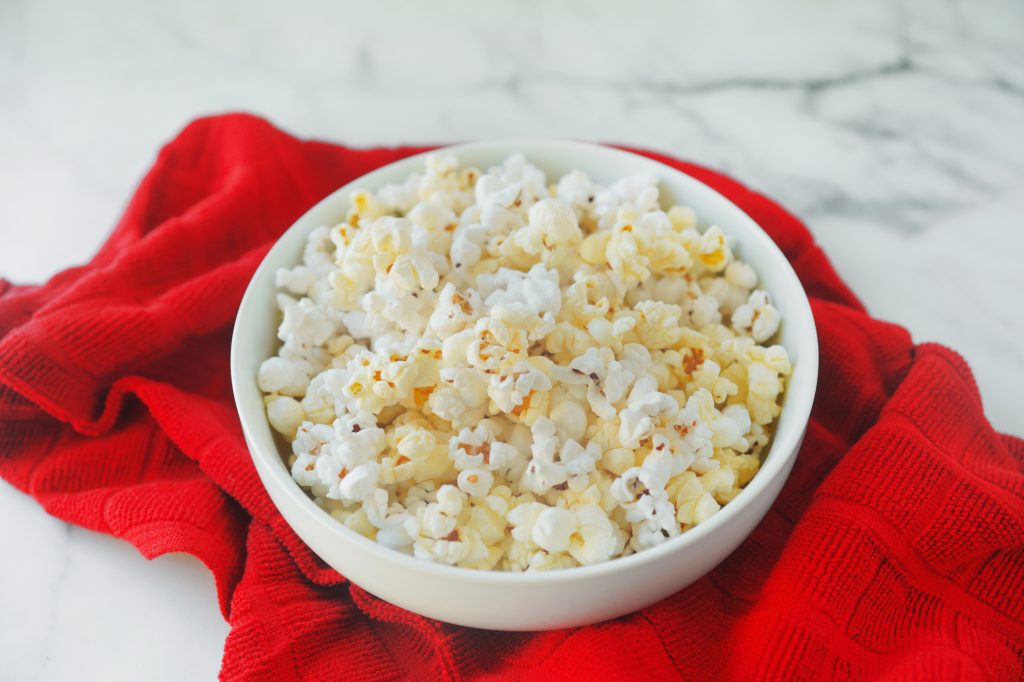 How To Pop The Vegan Popcorn
I use This Exact Presto Air Popper when popping my vegan popcorn.
I know you may not be looking for yet another kitchen gadget, but This Air Popper has paid for itself many times over and it wasn't even that expensive to begin with!
My family has made vegan stovetop popcorn for as long as I can remember. While making popcorn on the stove is good and entirely possible, we don't like it for a few reasons.
First, you use a lot of oil. Then, to season the popcorn, you are going to want to use more oil. That is one small point but not the main reason we don't love it.
The main reason we don't like making stove top popcorn is because it burns easily.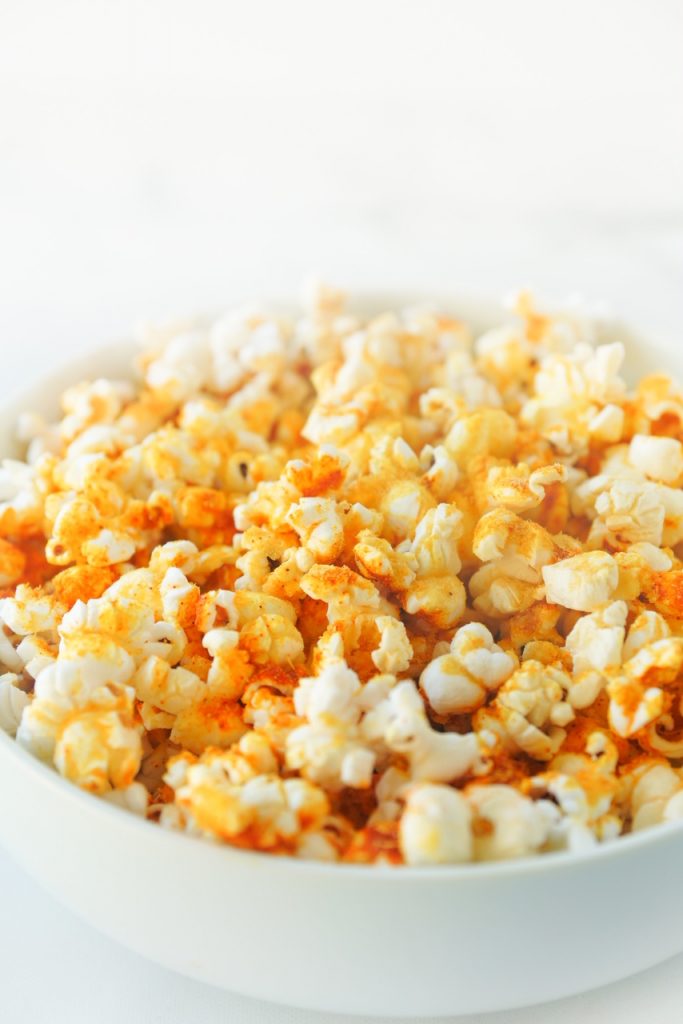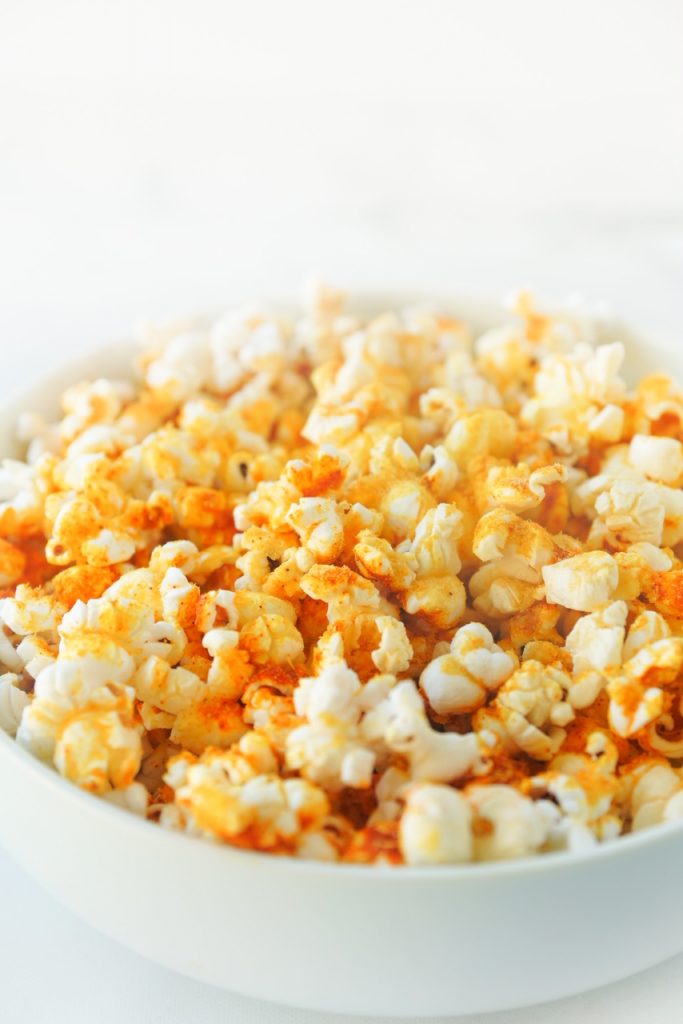 If you look away for one second, it burns. Turn around and forget it is there, it burns. Let it sit for literally 3 seconds too long, it burns.
Then you have wasted an entirely great batch of popcorn kernels, your smoke alarms may go off, and you have to redo the whole thing or eat burnt popcorn which I am not a fan of at all!
You can also choose to pop popcorn in the microwave, but we try to stay away from the microwave as much as possible.
We made microwave popcorn a lot when I was little and used a Microwave Popcorn Maker similar to the one linked here. If you want to use the microwave, go ahead and give it a try.
If you use an Air Popcorn Maker, your popcorn is popped perfectly every time. There isn't a single burnt piece in my 10+ years of making vegan popcorn with an air popper.
It also uses heat instead of oil to pop the kernels so if you don't want to overdo it on the oil, this is a small investment to make.
All you have to do is put in your desired amount of popcorn kernels in the machine, turn it on, and walk away.
Make sure to place a large bowl underneath the spout so that the popcorn is dropped right into your bowl! It is so easy and hands-off you don't have to do anything.
I promise that an Air Popper will change the way you make popcorn forever!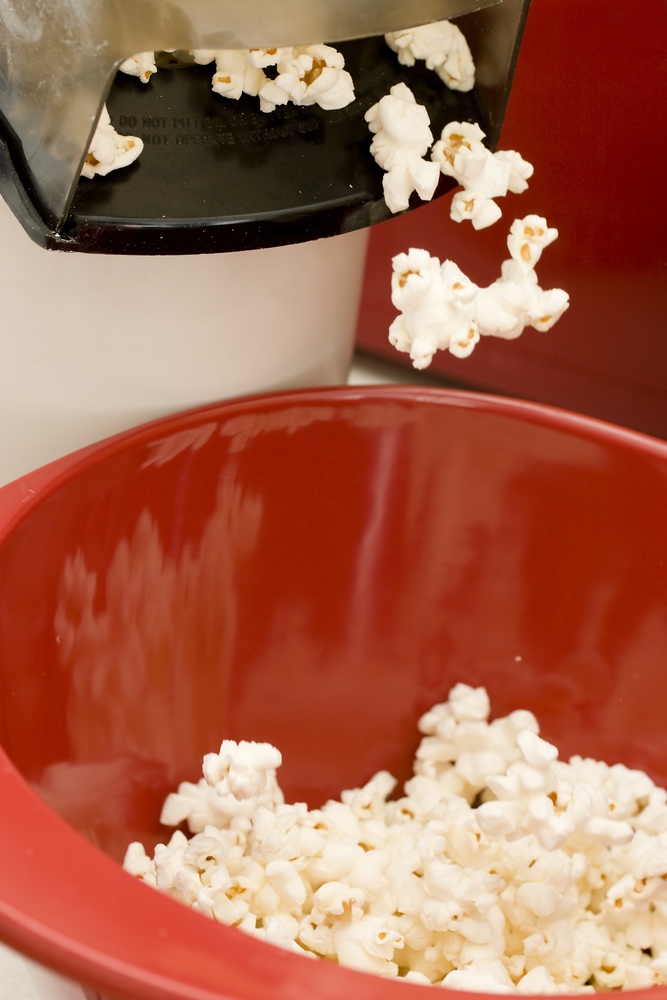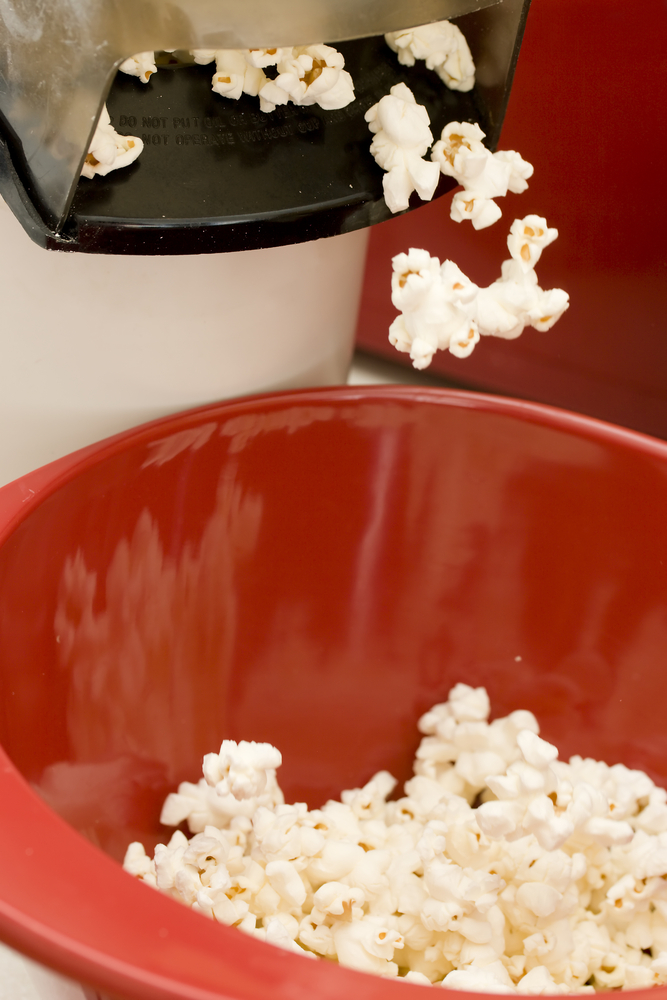 How To Vegan Butter Popcorn Seasoning
NEWSFLASH: Those popcorns you eat at the movies are NOT made with butter! They are made with a TON of salt and some oil.
Now, yes you can add liquid butter on after [consider this me vomiting on the internet I HATE that liquid butter!] but the normal yellow theater popcorn doesn't use any butter.
So how do they do this? Oil and a LOT of salt.
You can use whatever oil you want, but I highly recommend Avocado Oil.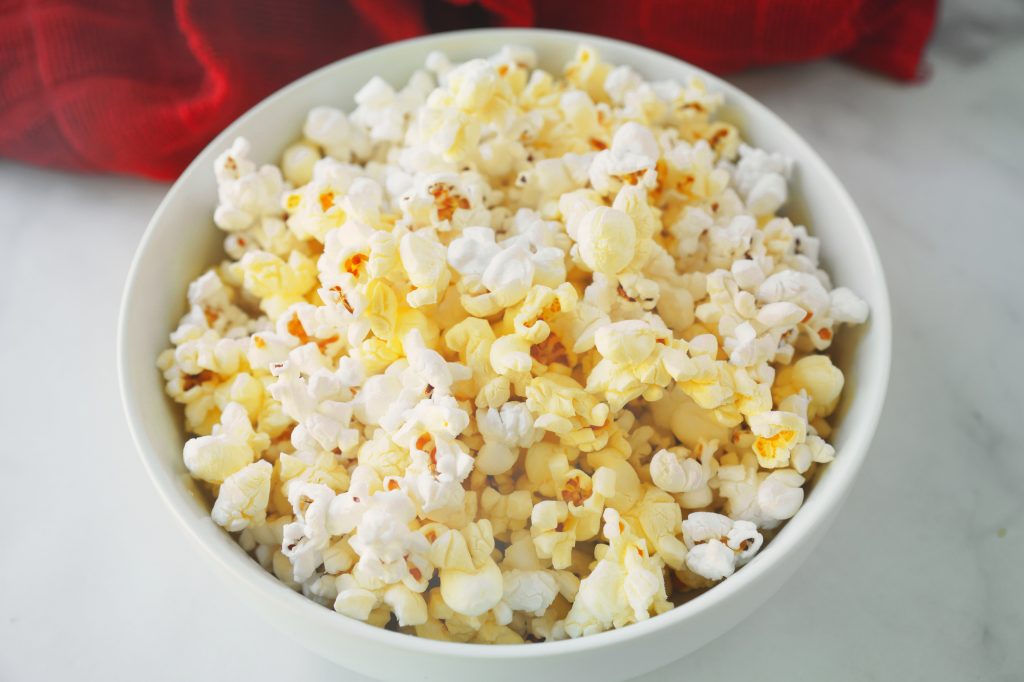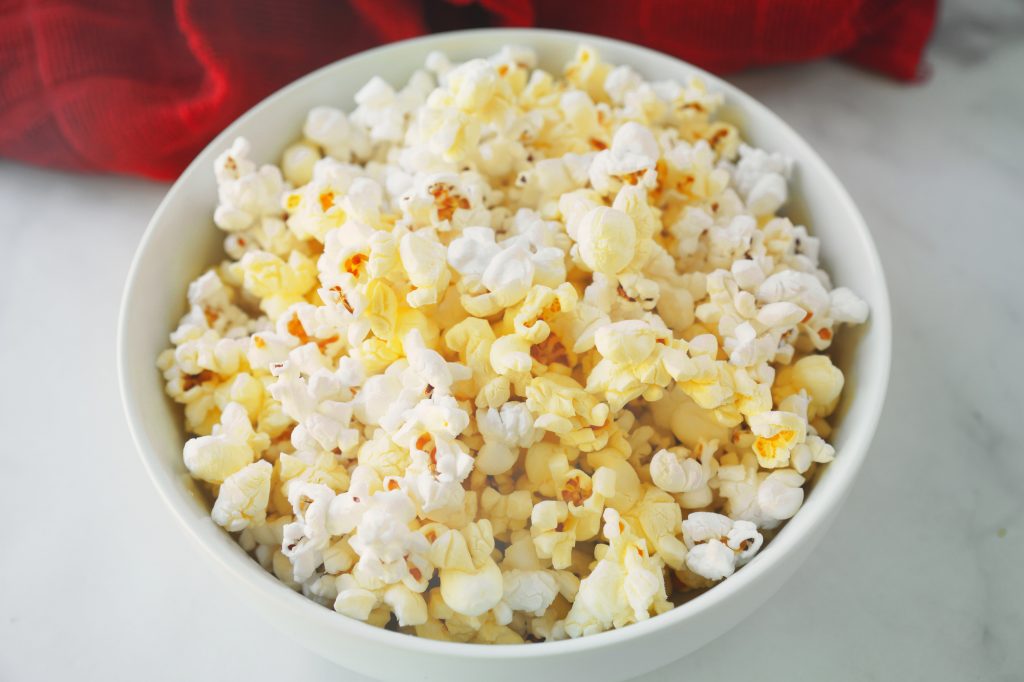 You can buy Avocado Oil Online for super cheap or you can get it at your local grocery store. I always get mine from Costco and it is so good!
I recommend avocado oil because it has a light flavor that adds, not detracts, from the popcorn.
That being said, you can make vegan butter popcorn using whatever oil you have on hand. I do recommend using a mild oil if you want the popcorn to be the top flavor, not the oil.
Next, you are going to take 2-3 tablespoons of oil and drizzle it over your large bowl of popcorn. If you are making more popcorn, double the amount of oil.
You do NOT want to skimp on the oil added to hot vegan popcorn if you want to imitate butter popcorn.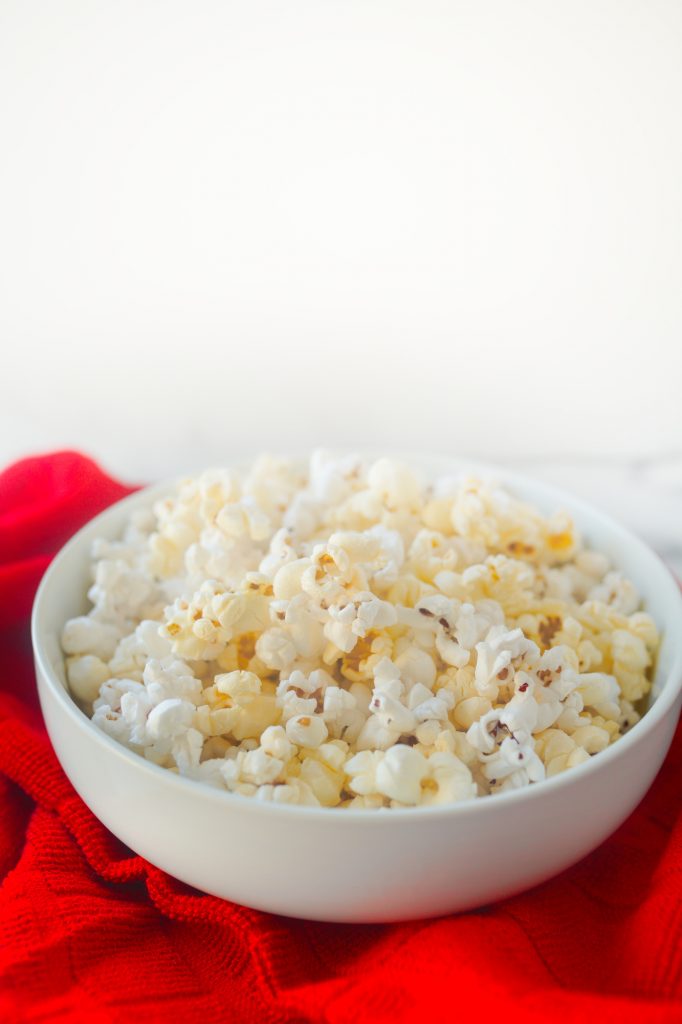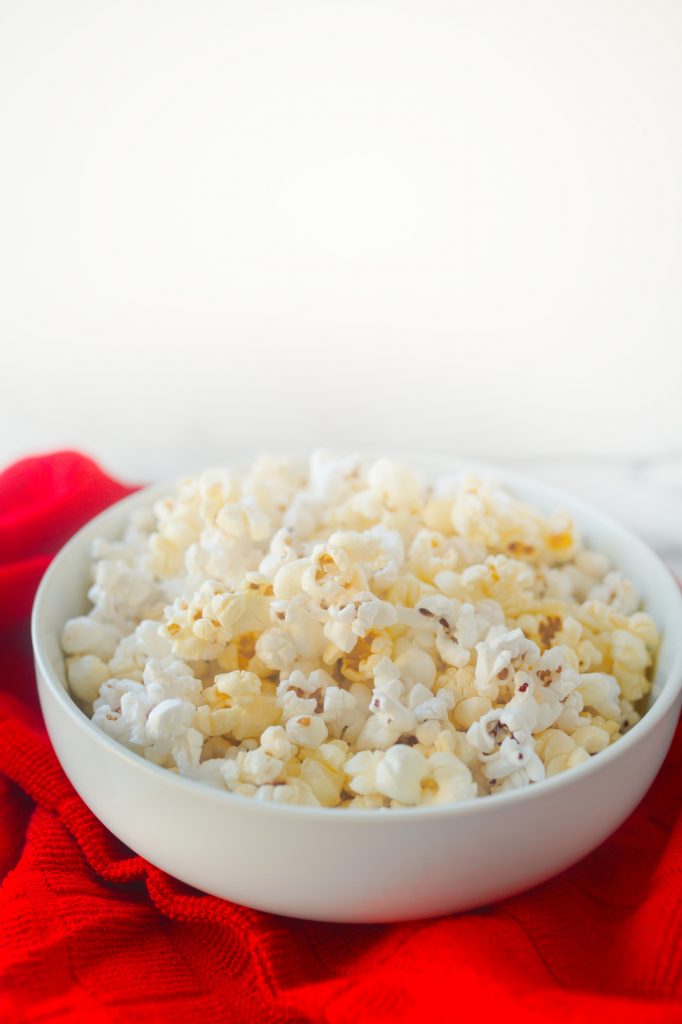 I do not recommend an oil mister simply because you want the oil to be spread heavier in some parts and lighter in others, just like real butter! An oil mister adds too "light" a spray of oil, in my opinion.
Next, you are going to want to add a TON of salt. Again, this is the main ingredient in movie theater popcorn to give it that addictive flavor.
I recommend 2-3 teaspoons of salt.
As soon as you add the oil, liberally sprinkle the salt throughout the popcorn and toss. DO NOT SKIMP ON THE SALT!
This is the only way to make good vegan popcorn that tastes like the movies! You are going to use quite a bit of salt and oil!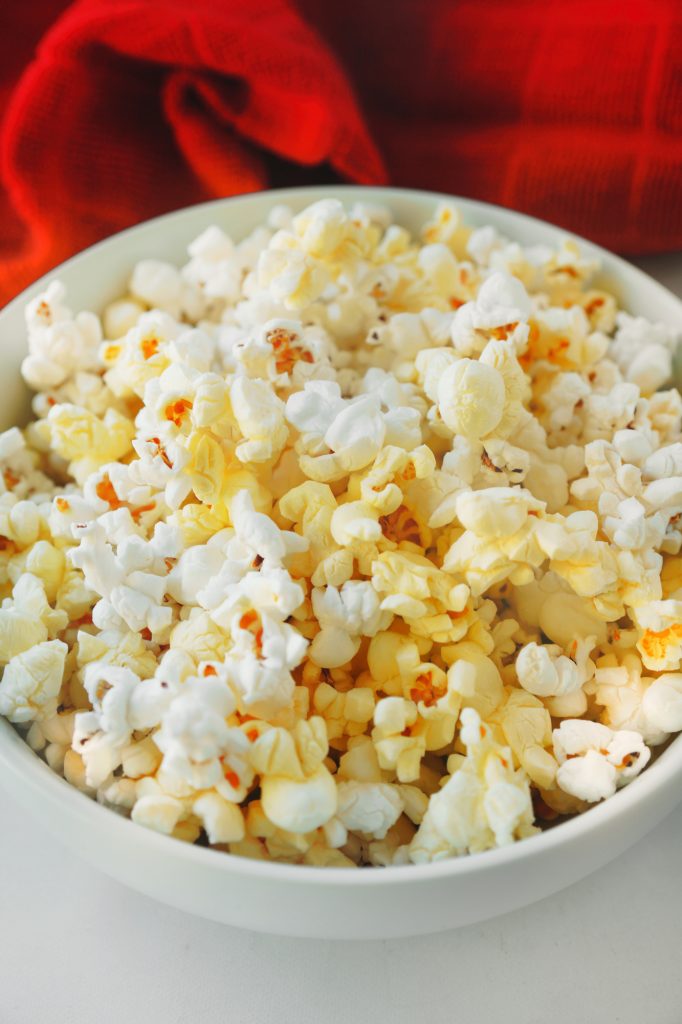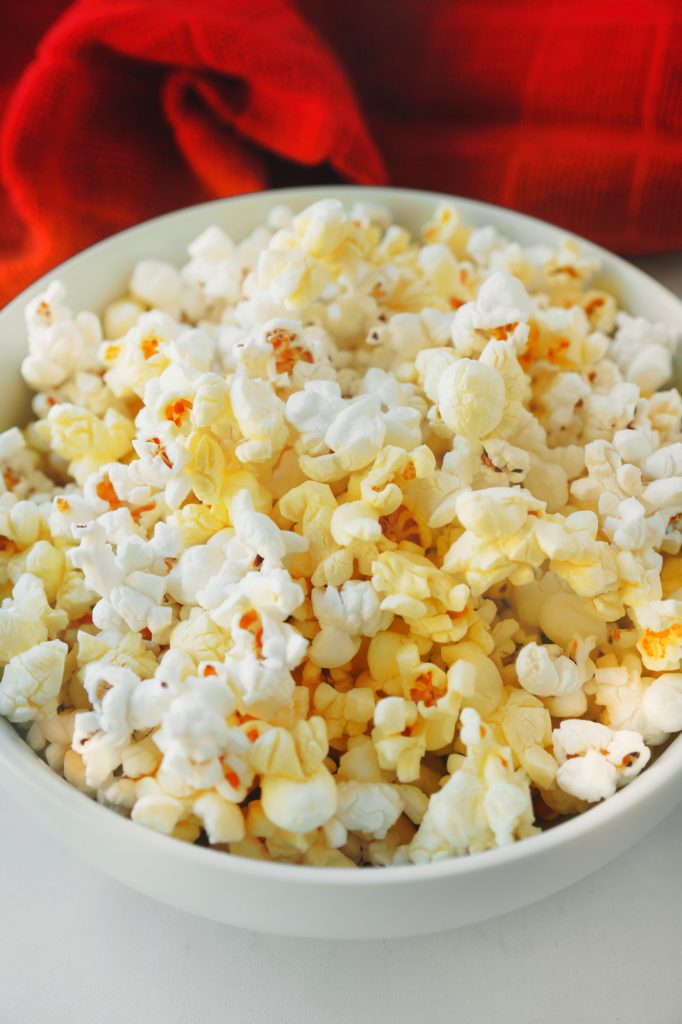 How To Make Cheesy Vegan Popcorn Seasoning
My mom used to toss nutritional yeast on popcorn and call it a day. I hated it and thought I had sworn off nutritional yeast popcorn forever.
WRONG! The key to make good cheesy vegan popcorn with nutritional yeast is to not overdo it! You want a light sprinkling, not a dumping.
Like the buttery popcorn topping recipe above, you are going to want to use a decent amount of oil and plenty of salt.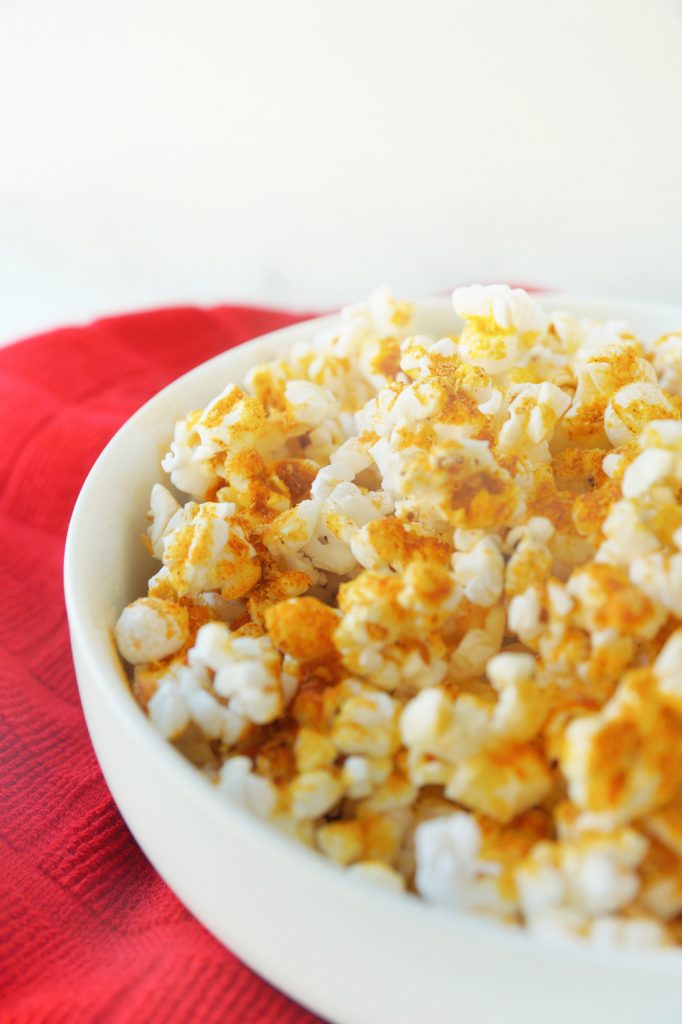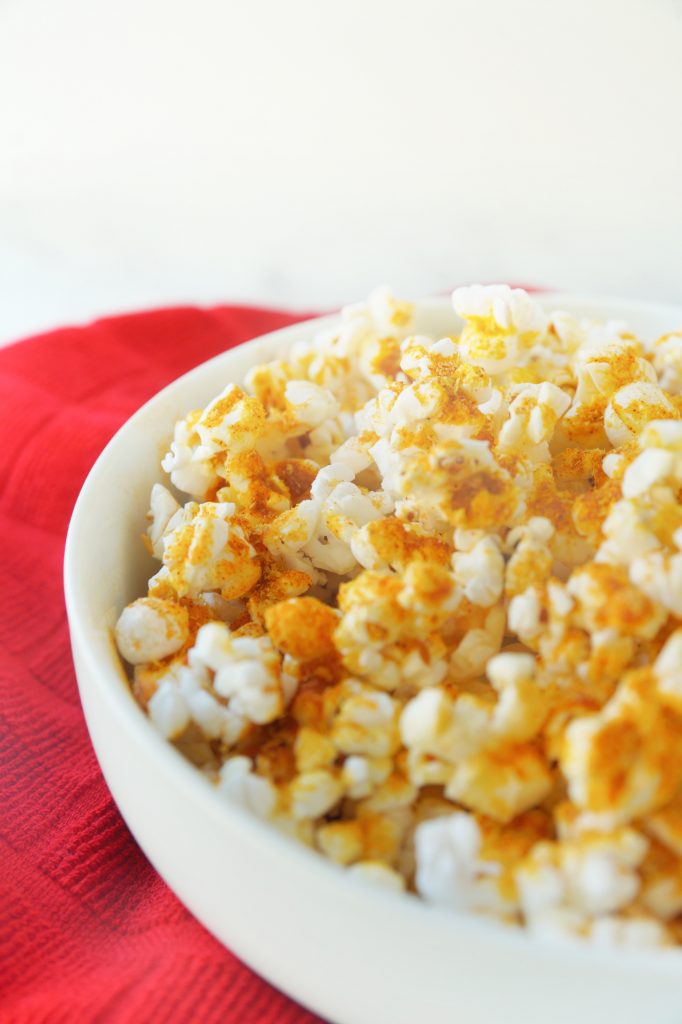 You are also going to want to add two key spices to give you popcorn a good nutty flavor.
In addition to nutritional yeast, you are going to want to use a little bit of paprika and a little bit of turmeric.
First you are going to want to use about 3 tablespoon of oil to one large bowl of popcorn. You will sprinkle the oil across using a spoon.
Then, in a small bowl, you are going to combine 2 tablespoons nutritional yeast, 2 tablespoons of paprika, 3 teaspoons of salt, and 2 teaspoons of turmeric.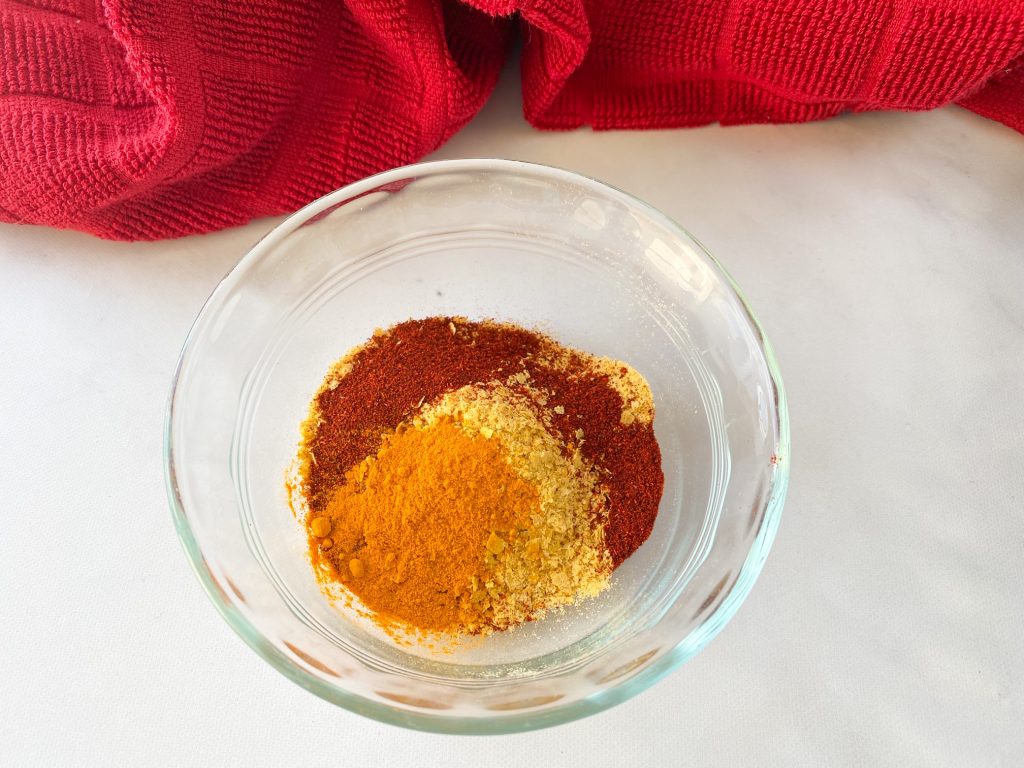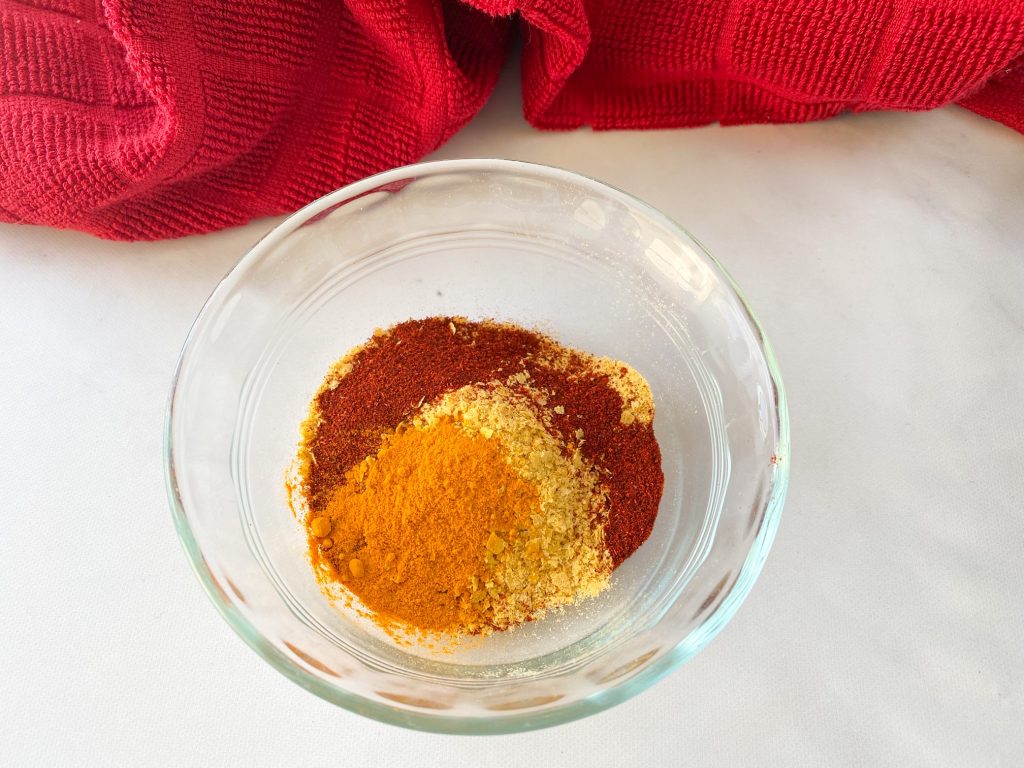 You and going to use a fork to "combine" the seasonings and then as soon as you pour the oil over the vegan popcorn, you are going to sprinkle the seasoning.
I like to pour half of the oil then sprinkle half of the nutritional yeast popcorn seasoning.
Then mix the popcorn and add the other half of the oil and the other half of the seasoning! This allows every piece of popcorn to get that delicious flavor on it!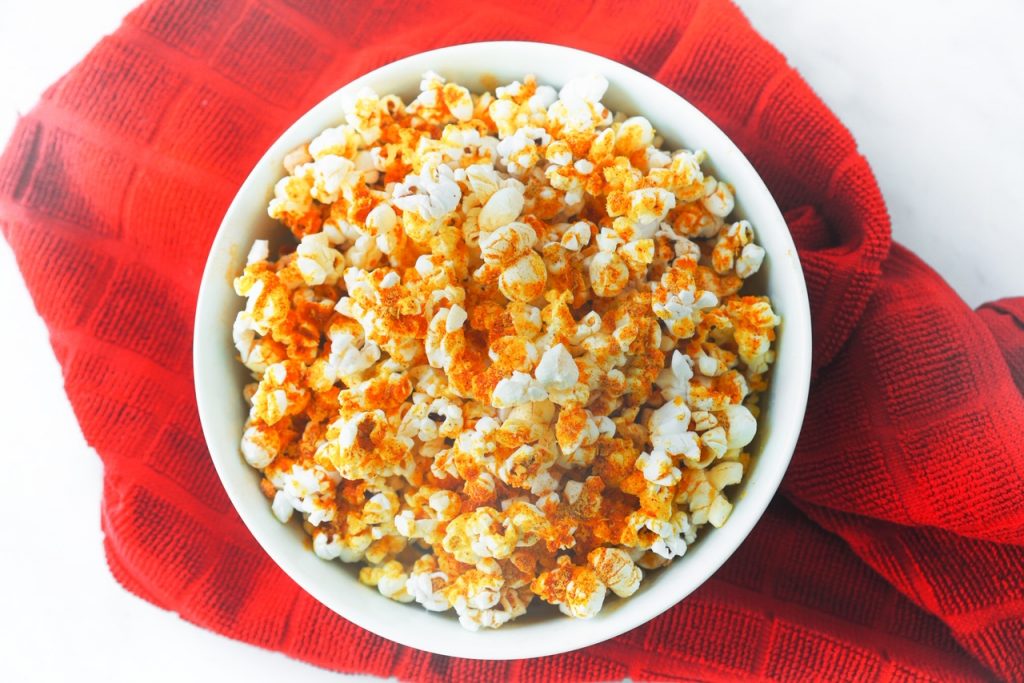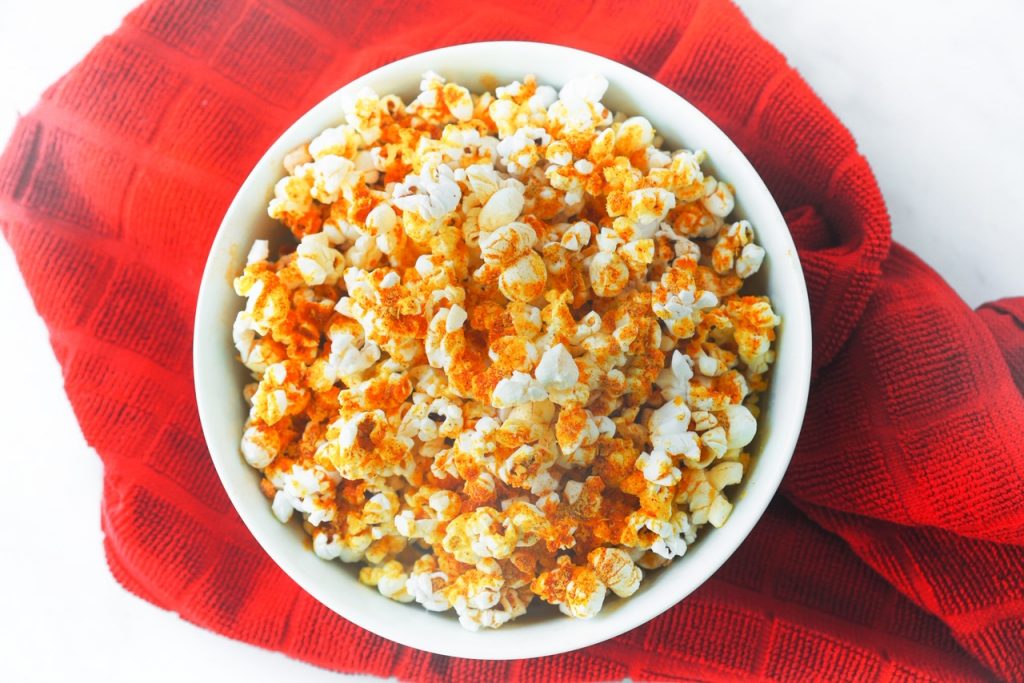 If there is one thing that you take away from this post let it be this! A lot of oil, a lot of salt, and only a little bit of nutritional yeast. Just enough for taste but not too much!
These are the keys to making the best vegan popcorn that is either cheesy, buttery, or both!
Yield: 5 Cups
Easy Cheesy And Buttery Vegan Popcorn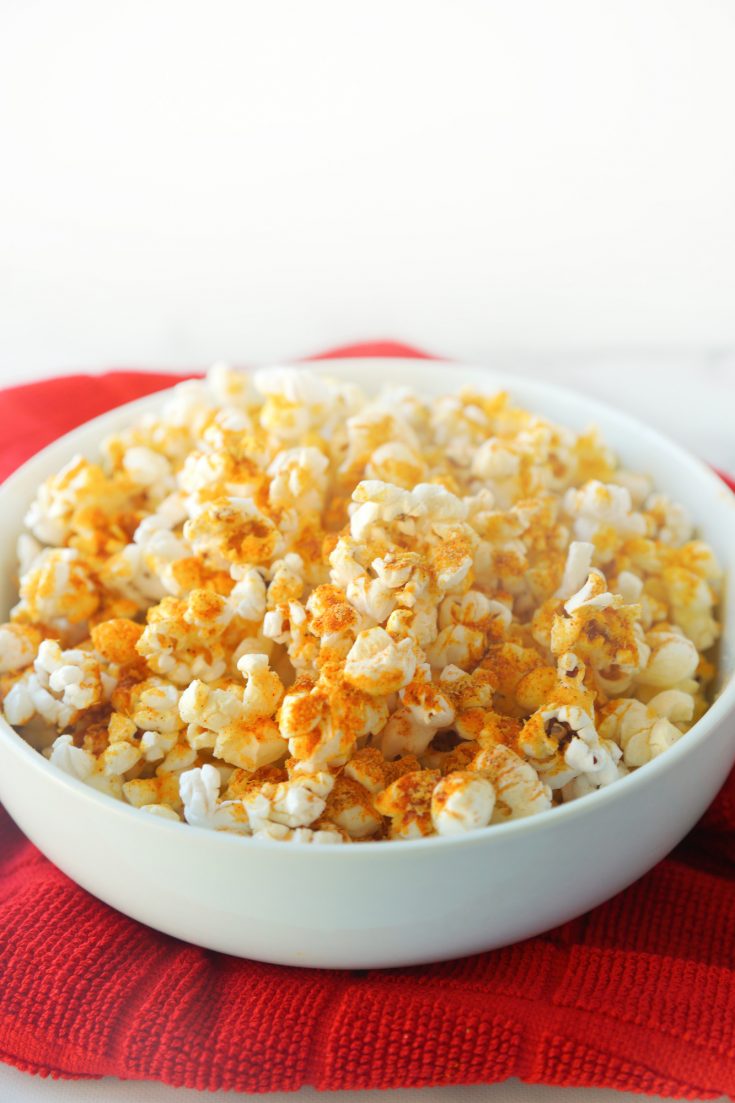 Learn how to make the best vegan popcorn that is cheesy and buttery! The key to making popcorn with nutritional yeast is to NOT overdo the nutritional yeast.
You are also going to want to use a lot of oil and salt if you want that movie theater flavor!
I recommend this air popper for making vegan popcorn!
Ingredients
1/4 Cup Of Popcorn Kernels
2-3 Teaspoons Of Salt
2 Tablespoons Nutritional Yeast
2 Tablespoons Paprika
2 Teaspoons Turmeric
3 Tablespoons Oil (I use Avocado Oil myself!)
(Double the seasoning recipe if making for 2)
Instructions
Place your desired amount of popcorn in an Air Popper and pop until done. I do not recommend stovetop popcorn because the results are not always even. If you want to pop on the stove, heat additional oil and add kernels while shaking the pot every 20 seconds. The moment the last kernel pops, take the pan off of the stove to avoid burning.
While popcorn is popping, mix nutritional yeast, paprika, salt, and turmeric in a small bowl and combine with a fork.
Once the popcorn is hot and popped, use a spoon to sprinkle the oil over the popcorn.
Sprinkle half of the oil then sprinkle half of the cheesy mixture. Mix the popcorn with your hands and then repeat with the other half of the oil and cheese mixture.
Notes
To make buttery popcorn, use 3 tablespoons of oil and 3 teaspoons of salt. Toss to combine.
If you want to make more than 5 cups, double this entire recipe including the seasoning!