Are you looking for vegan salad recipes that are unique, flavorful, and delicious? Well, you have come to the right place. Here is an awesome list of 30 vegan salad recipes for you to enjoy! Some consider salads to be boring and uninteresting, but these recipes will prove them wrong with their bright colors and tons of flavor!
There are so many different ways to make salads more interesting, and on this list of vegan salad recipes, you will find pasta salads, salads with fruit, and so many other combinations that you might not have thought of before! You are definitely going to find some new vegan salad recipes to try.
Read Next: 30 Delicious Vegan Soup Recipes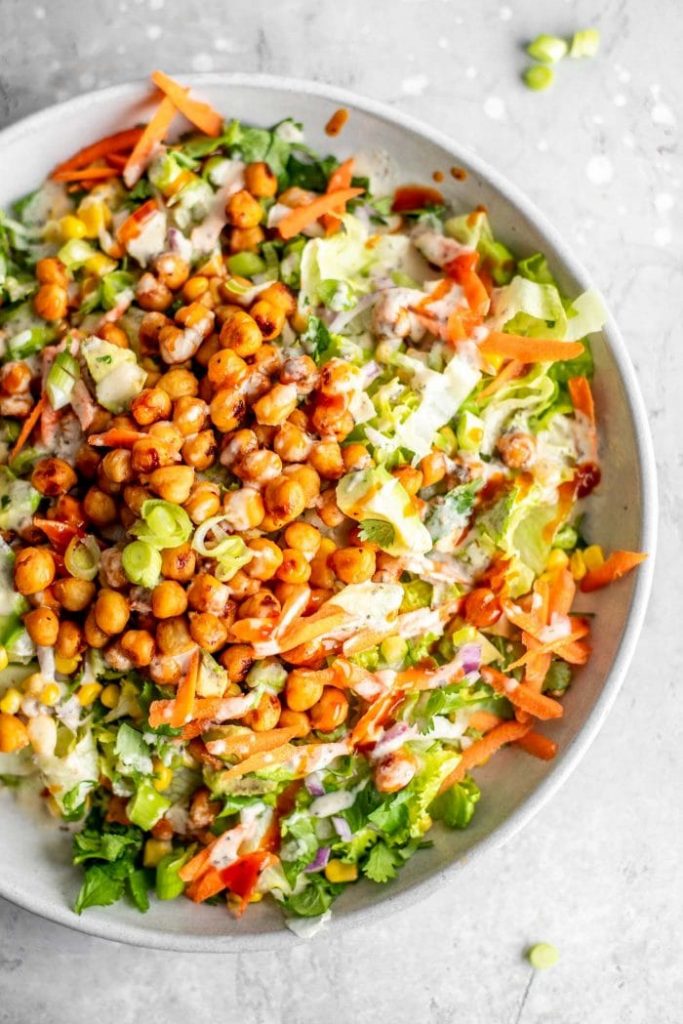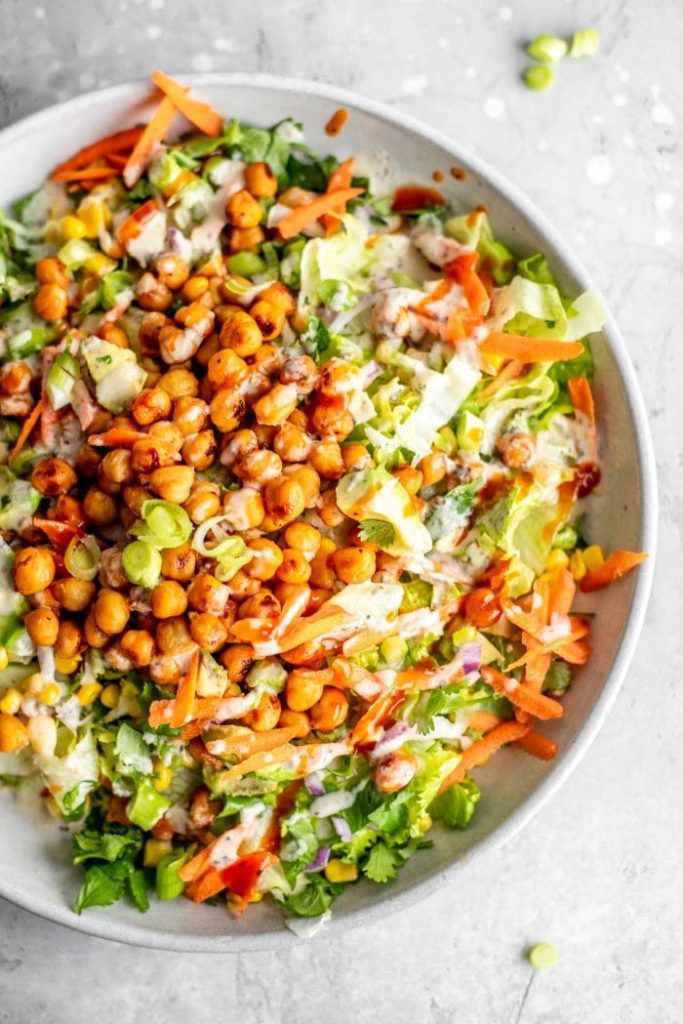 30 Delicious Vegan Salad Recipes
Asian Veggie Salad With Orange-Ginger Tahini Dressing
This beautiful Whole30 Crunchy Asian Salad with Ginger-Tahini Orange Salad Dressing is (omg!) so good! Completely vegetarian, vegan, Whole30, and gluten-free, you will LOVE the bright flavors! This crunchy Asian salad recipe is filled with fresh, healthy, delicious vegetables and sweet mandarins, then drizzled in the creamiest, most flavorful Ginger-Tahini Orange Salad Dressing. This is awesome if you are looking for really flavorful vegan salad recipes.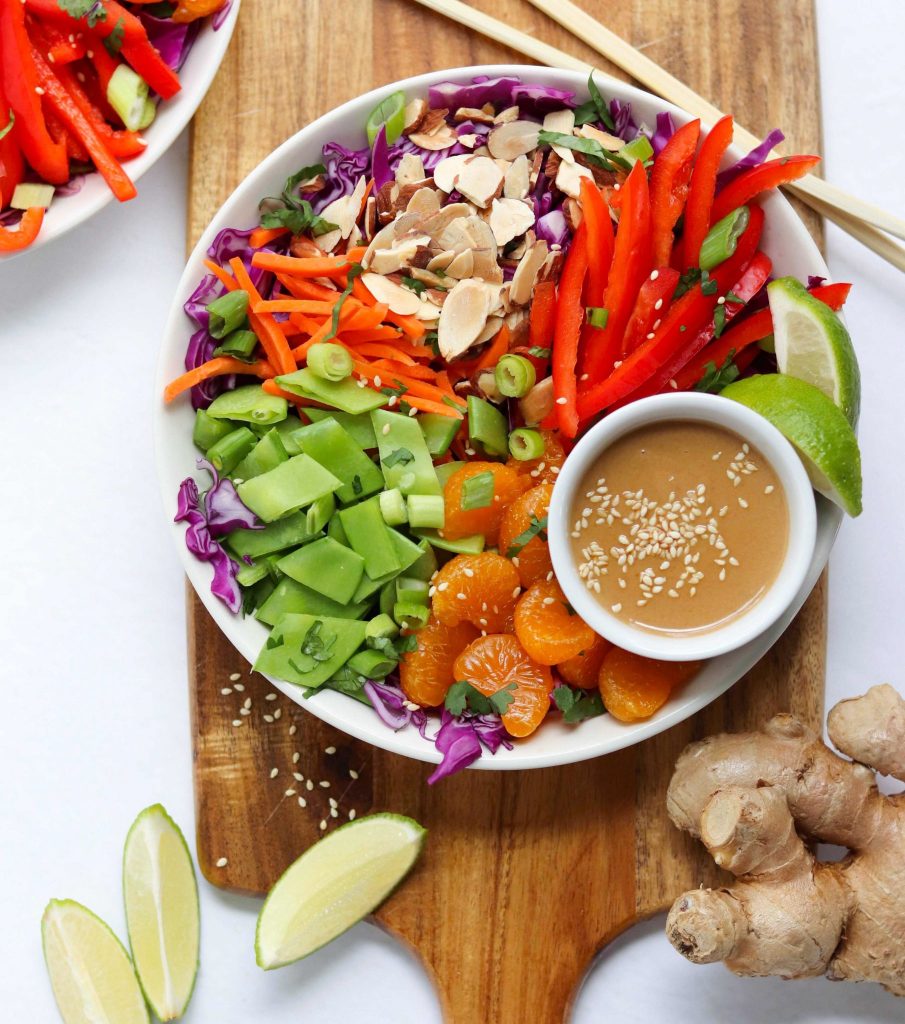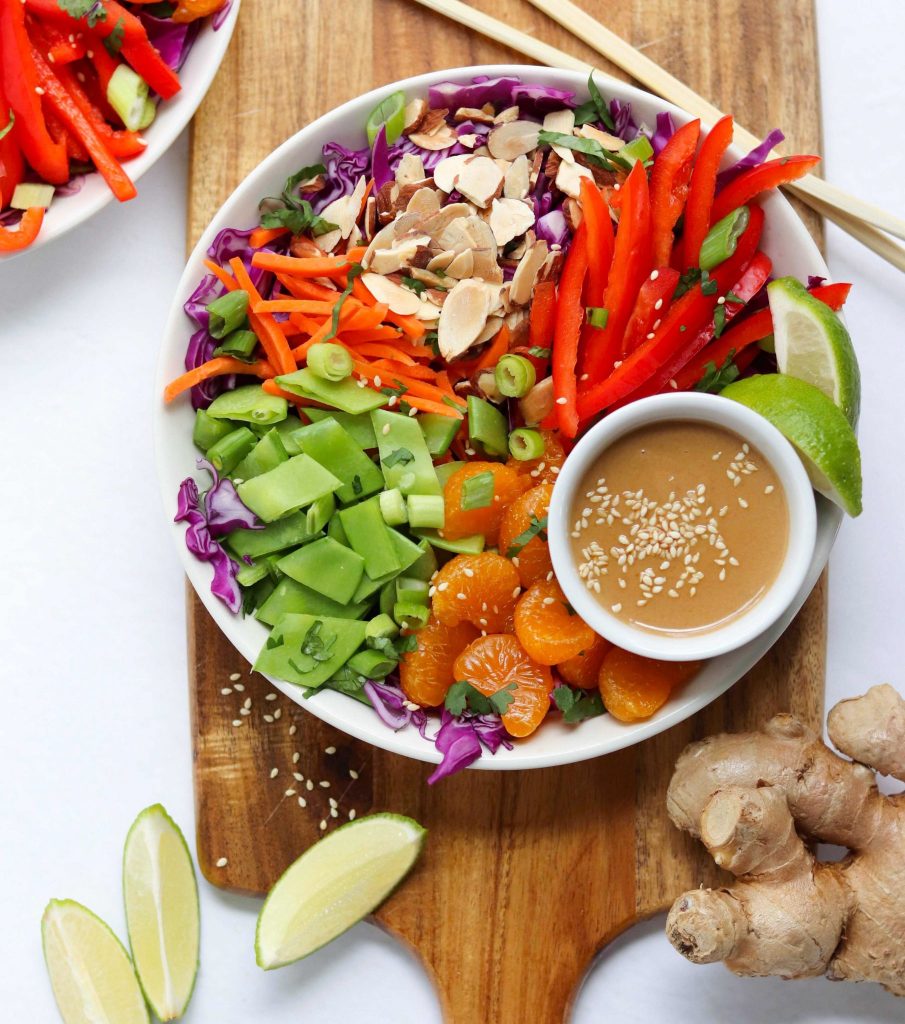 Vegan Green Pea and Cheddar Salad
A classic side dish made with only a handful of simple plant-based ingredients! This traditional side salad has been around forever, and for good reason. It's perfect for all sorts of gatherings and celebrations – think spring and summertime potlucks, barbecues, baby showers, Easter, Mother's Day, and the 4th of July. Turning it into a vegan recipe makes it one of the best vegan salad recipes!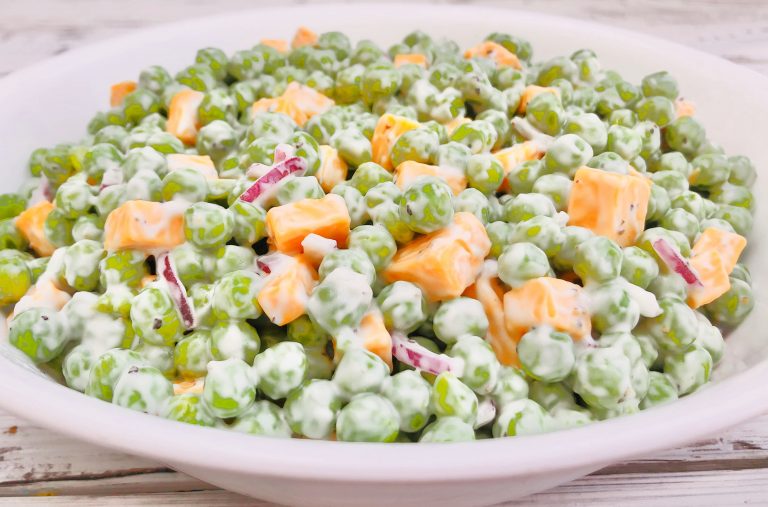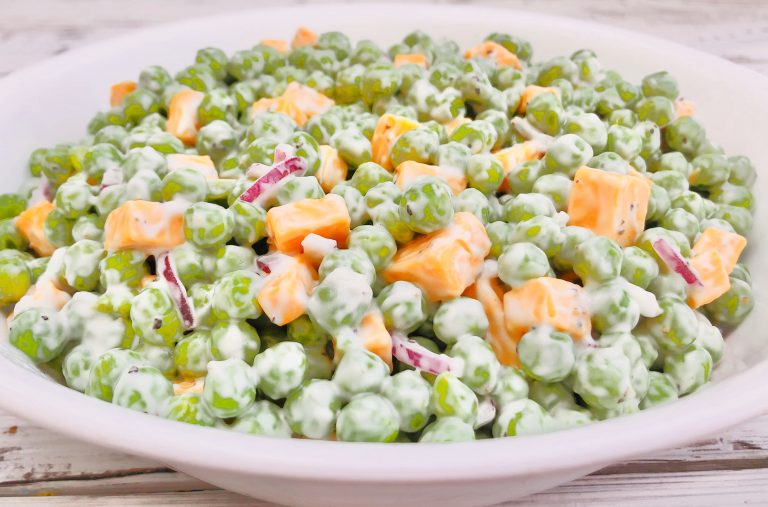 Avocado Black Bean Corn Salad
Avocado Black Bean Corn Salad – fast, easy, fresh and colorful! No cooking required – just chop the veggies and toss with a zesty Cilantro Lime Dressing. It's one of the best quick and yummy vegan salads!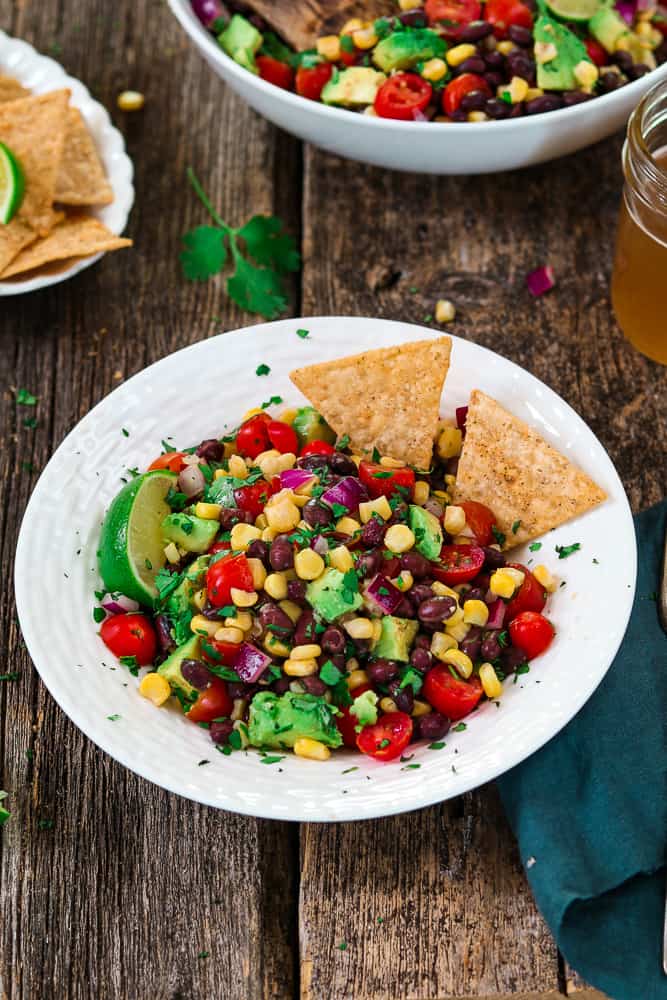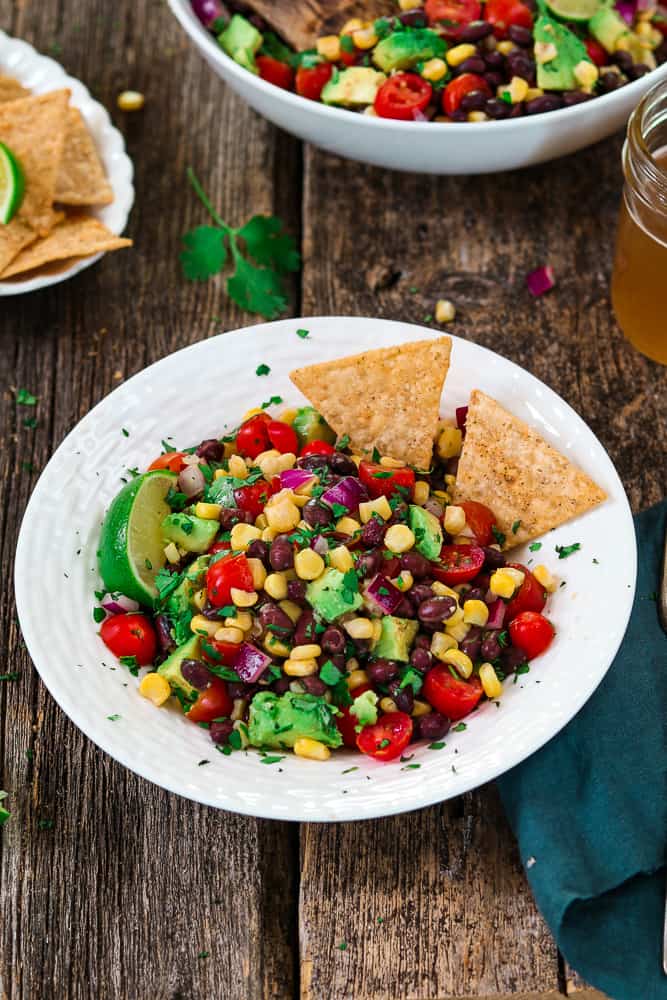 Massaged Kale And Quinoa Salad
Massaged Kale and Quinoa Salad – one of the perfect go-to vegan salad recipes! It's super simple, loaded with plant protein, vitamins, and healthy fats (yet, oil-free!) Massaging the kale with avocado and lemon juice makes it tender and flavorful! Even the kids gobble this one up!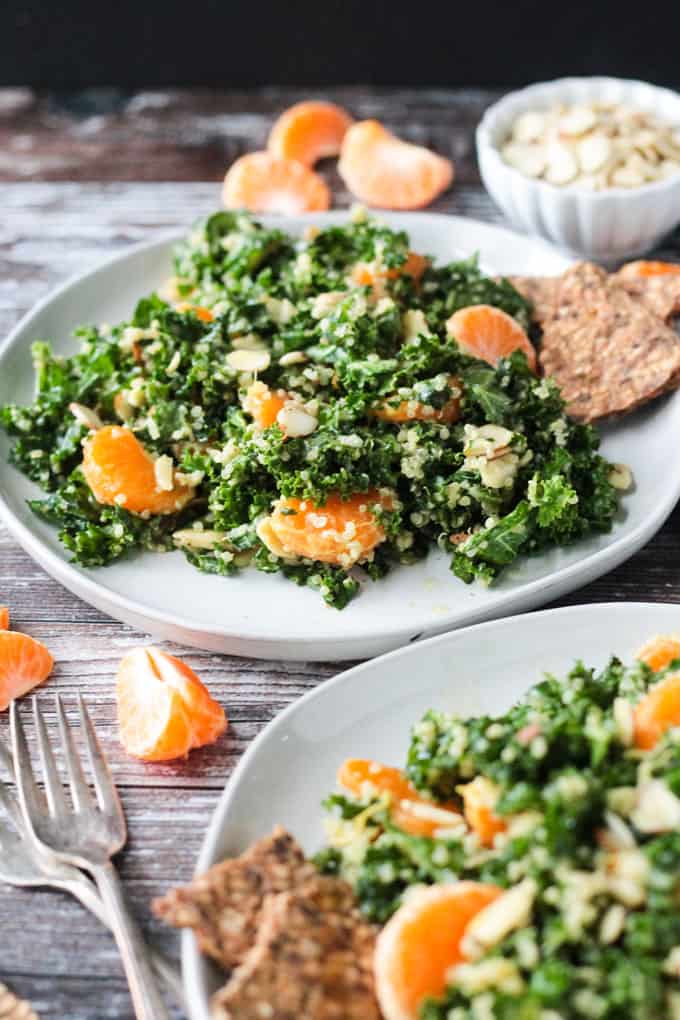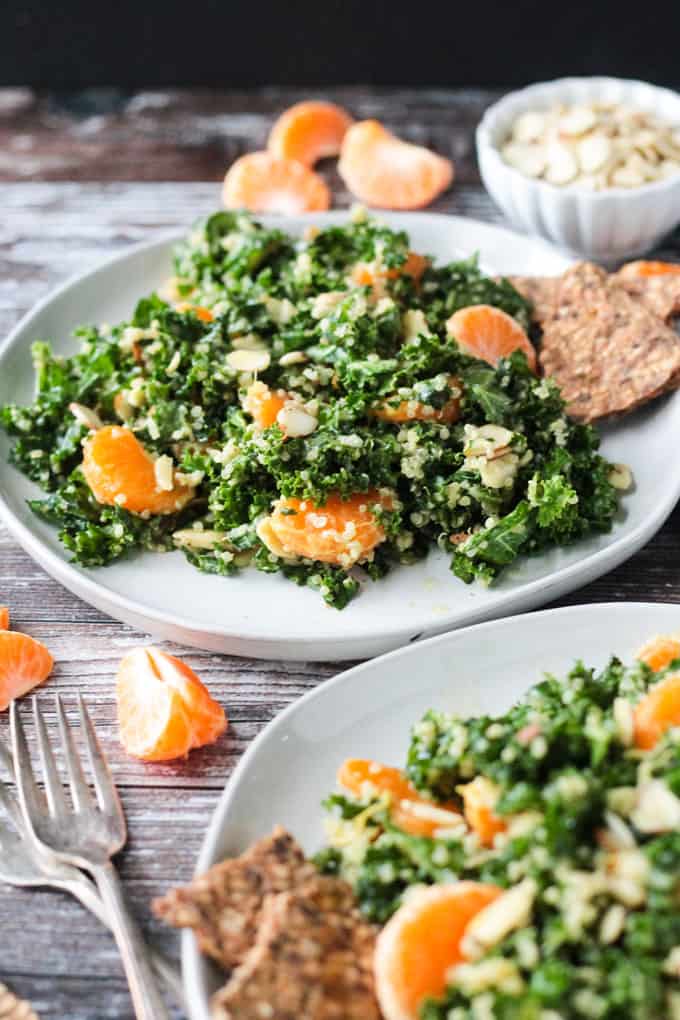 Summer Strawberry Spinach Salad
When looking for vegan salad recipes perfect for summer, this is one of the best! The super sweet seasonal strawberries make a great addition to this spinach salad. This stunning Strawberry Spinach Salad is then dressed with a bright strawberry balsamic vinaigrette. It's summer in a bowl!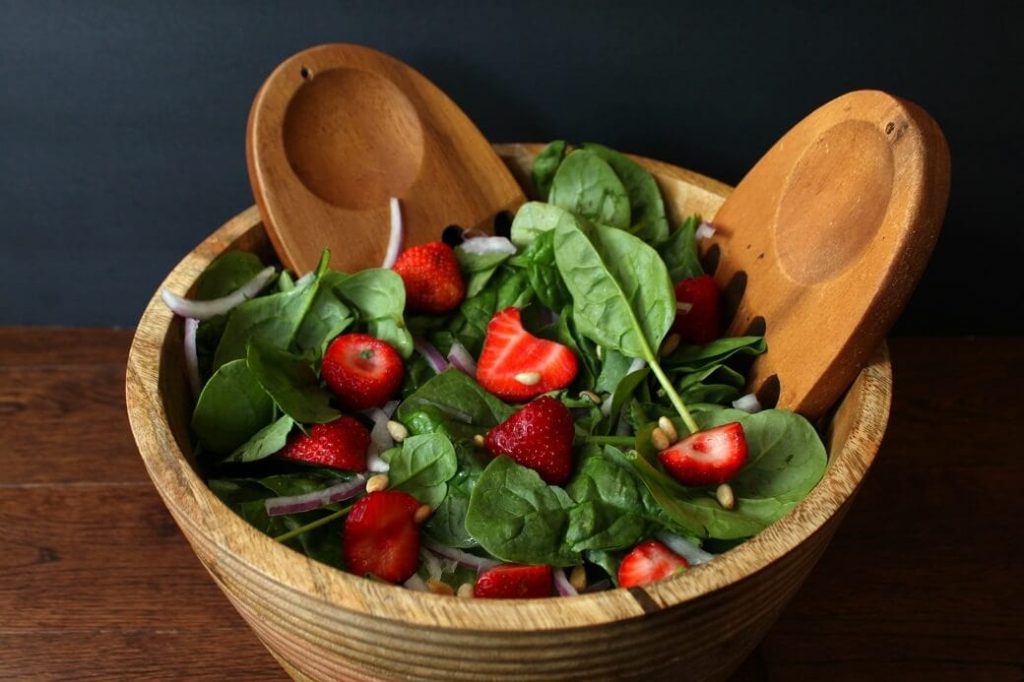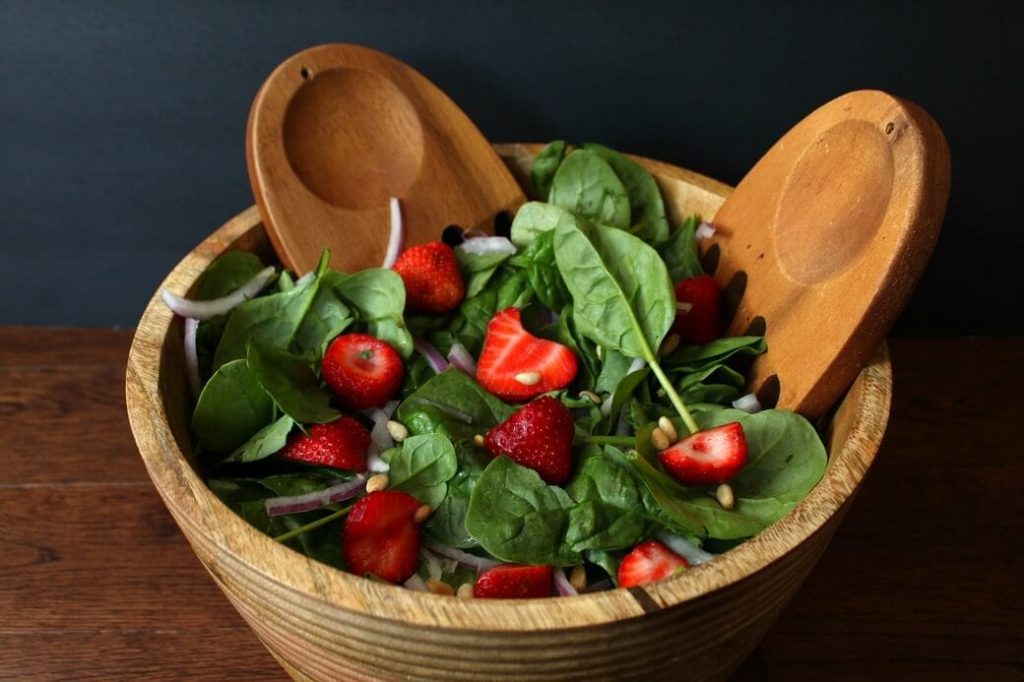 Black Bean Taco Salad
This Black Bean Taco Salad is fast and easy, light and fresh, and bold and flavorful. The greens almost take a back seat to all the other delicious ingredients, making it a kid favorite! It is a super delicious salad, and one of the most flavorful vegan salad recipes.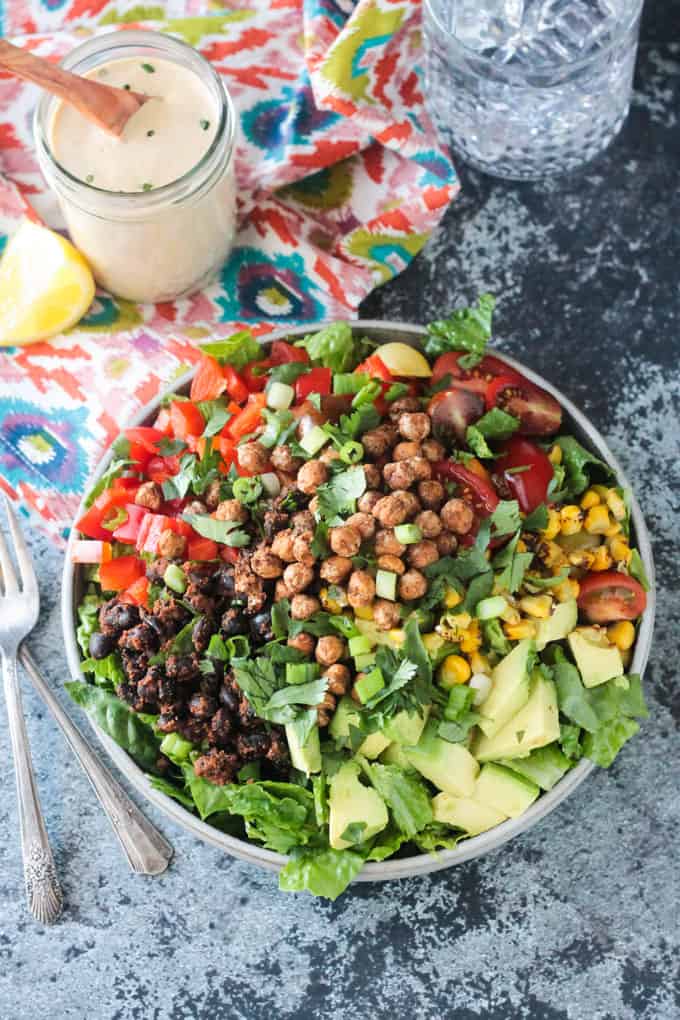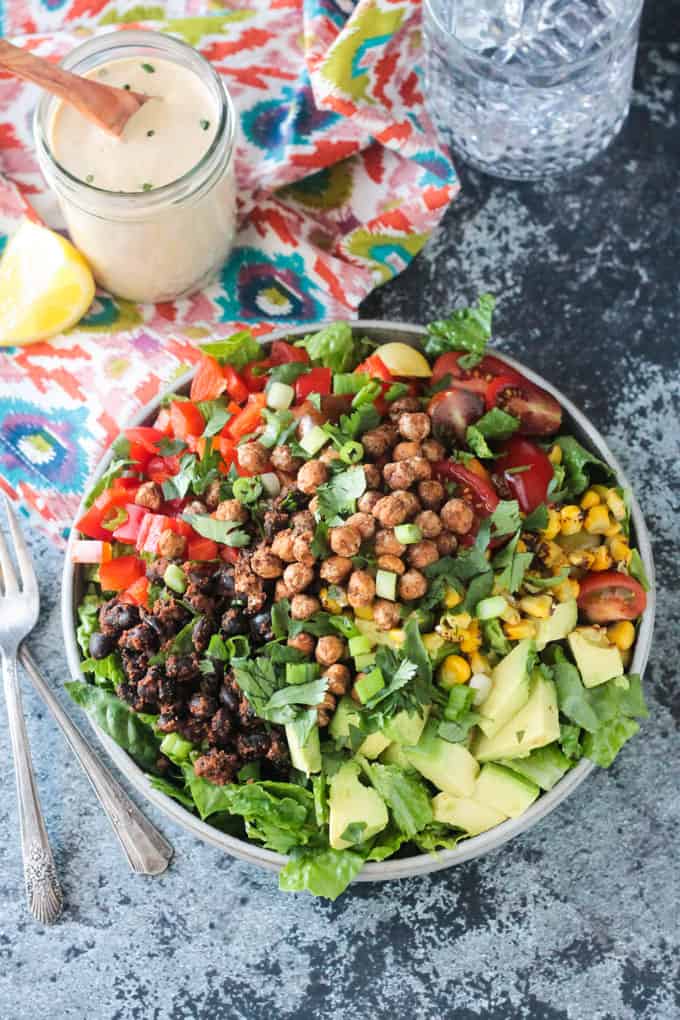 Mint Lentil Salad
This vegan mint lentil salad recipe is very refreshing, super tasty, and very unique. It's very simple to make and packed with plant-based protein. The combination makes this salad a perfect combination of refreshing with the and filling with the protein from the lentils for those looking for the best vegan salads!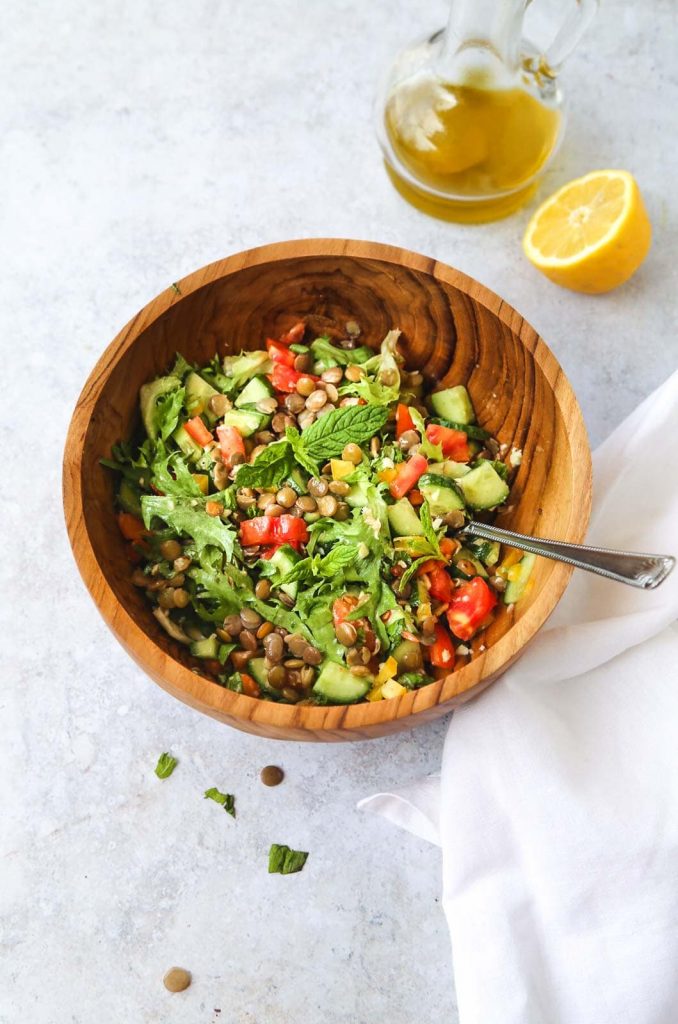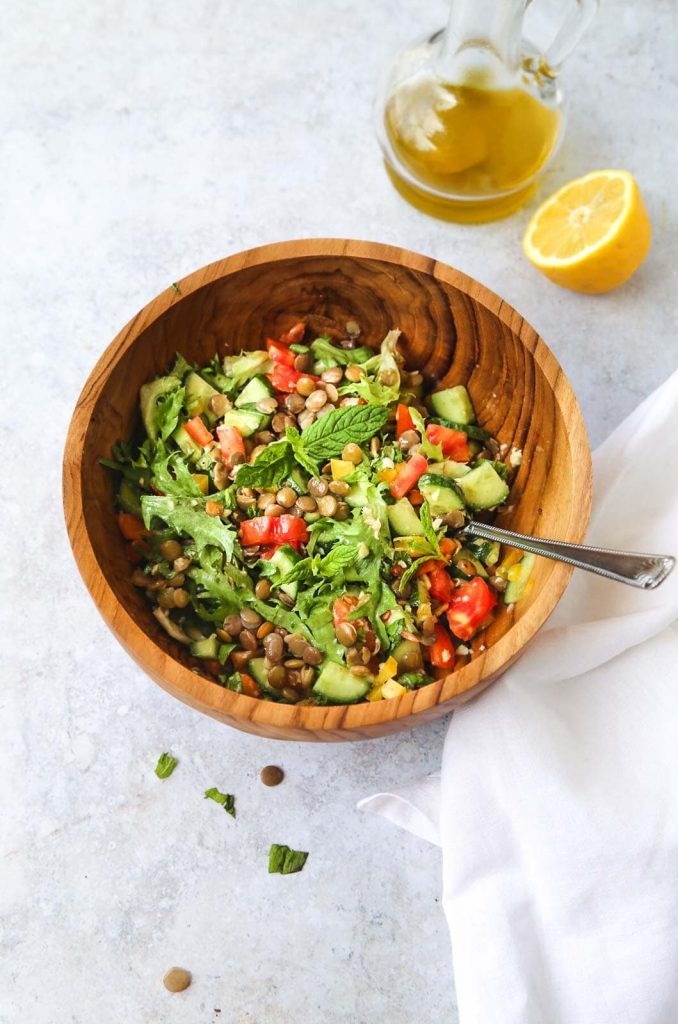 Chickpea Shawarma Salad
This vegan chickpea shawarma salad is jam-packed with flavor and nutrition. Enjoy this as a hearty plant-based meal the whole family will love. This recipe is gluten-free, sugar-free and easily customizable, making it great for anyone looking for delicious vegan salad recipes.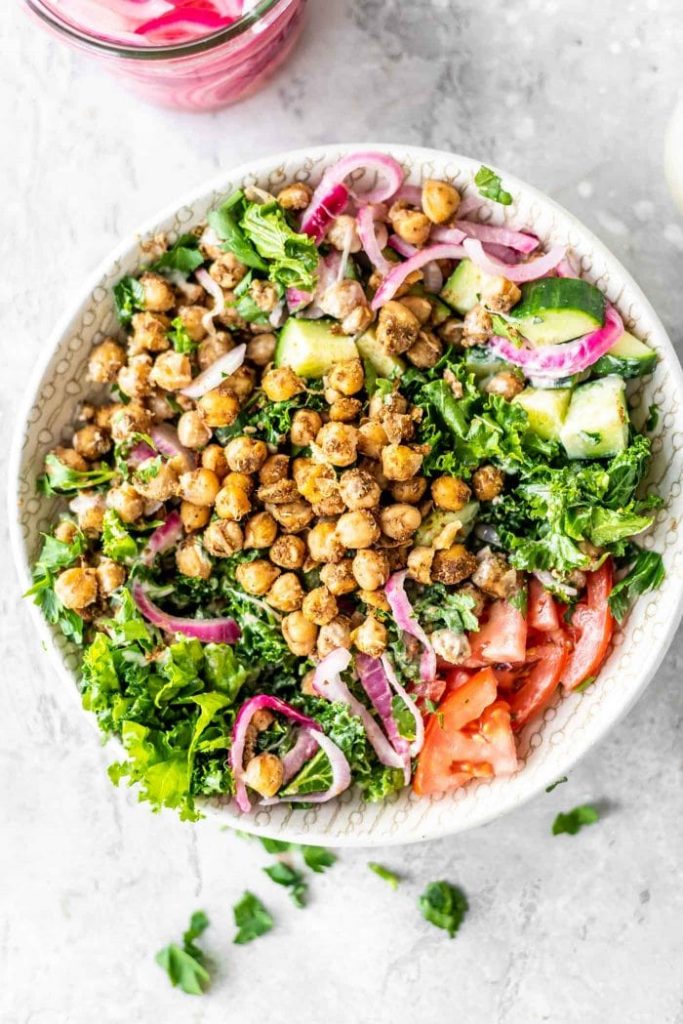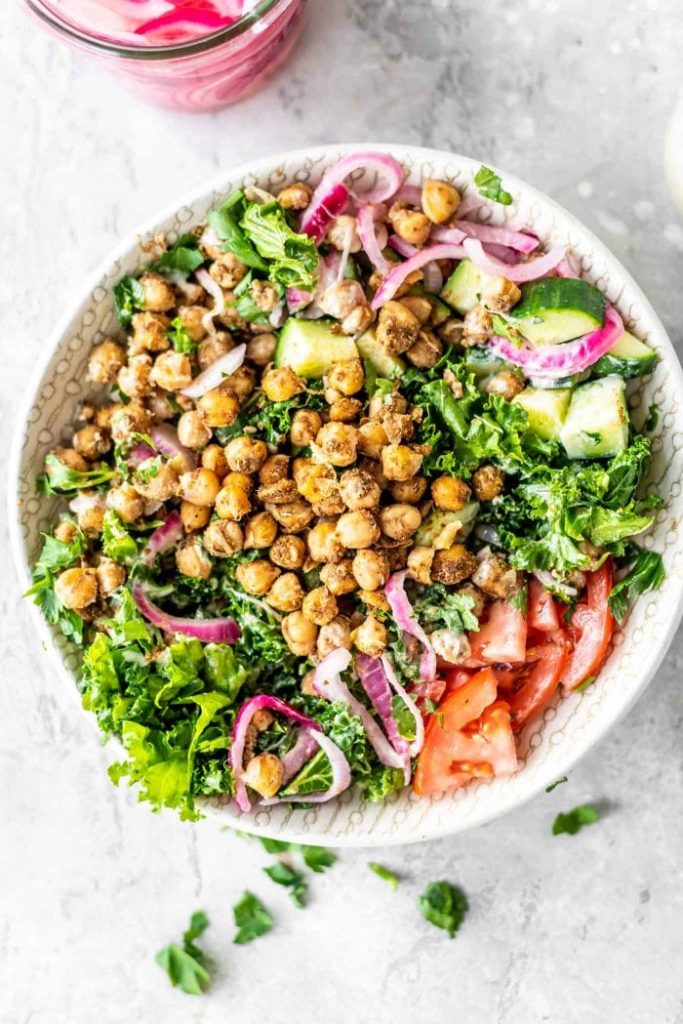 Strawberry Cucumber and Arugula Salad
This Strawberry, Cucumber and Arugula Salad has juicy fruit, crunchy cucumbers and pecans, fresh herbs and a creamy (dairy-free) yogurt dressing. It's endlessly customizable so kids and adults will love it and the vegan yogurt dressing gives this salad a unique twist when looking at vegan salad recipes.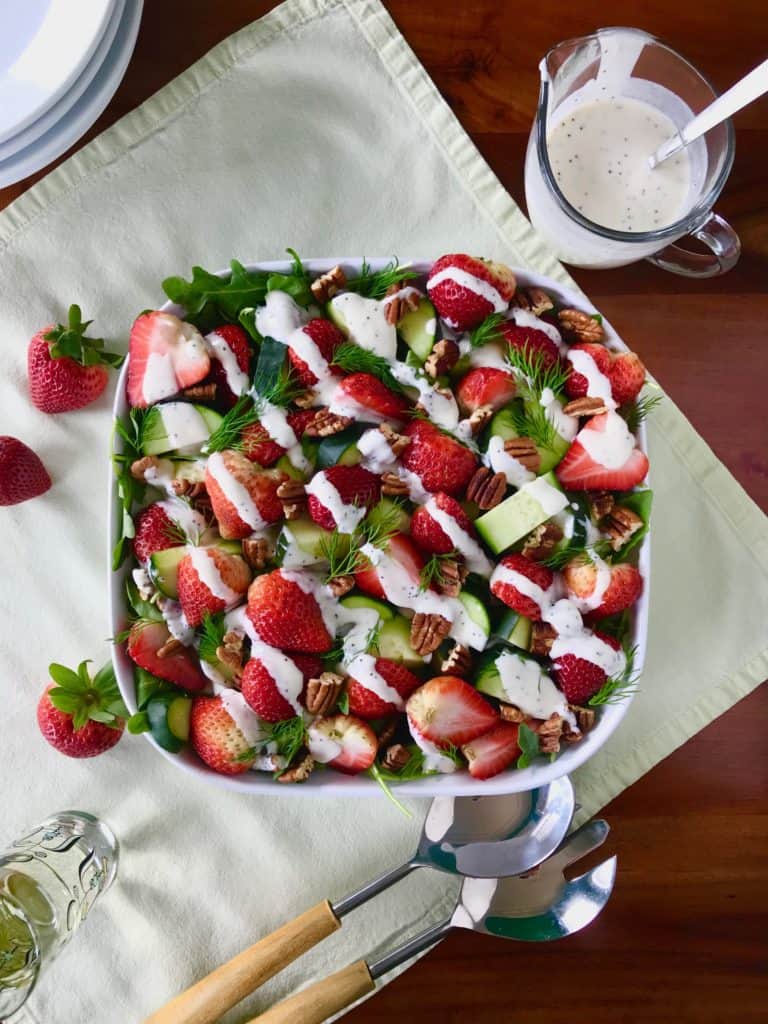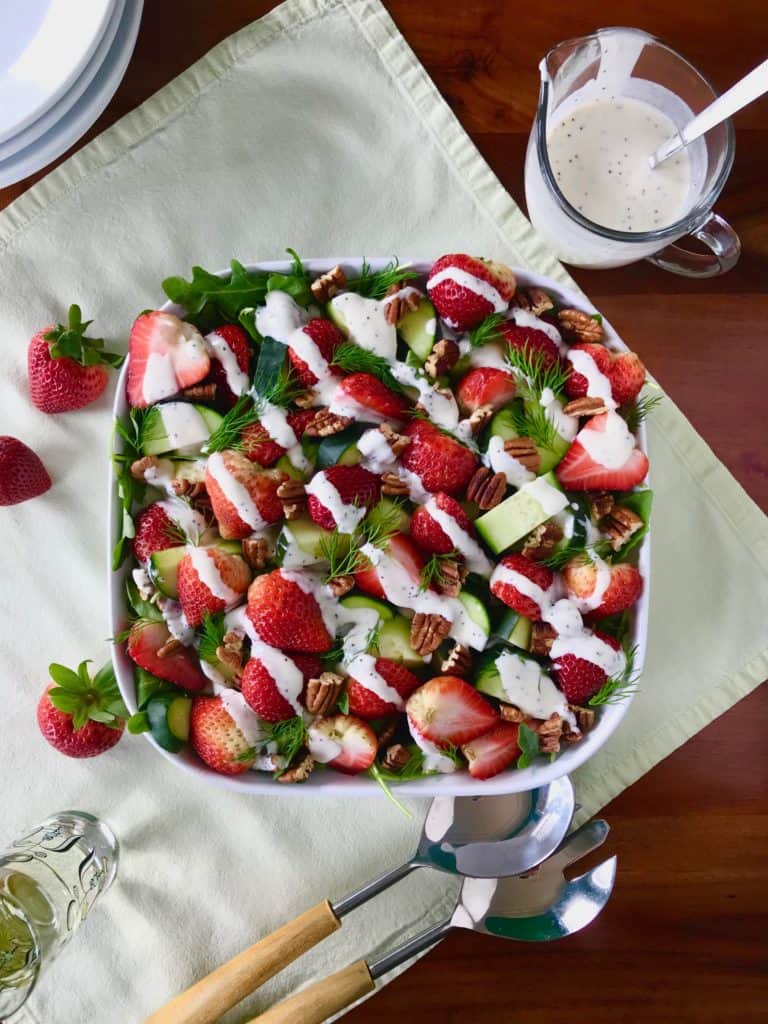 Lebanese Tabbouleh Salad
This super-healthy Tabbouleh Salad is easy to make and packed with flavor – a powerhouse of plant-based goodness! The pomegranate seeds give this salad just enough sweetness, and if you are looking for vegan salad recipes that are unique and delicious, then you should definitely try this salad!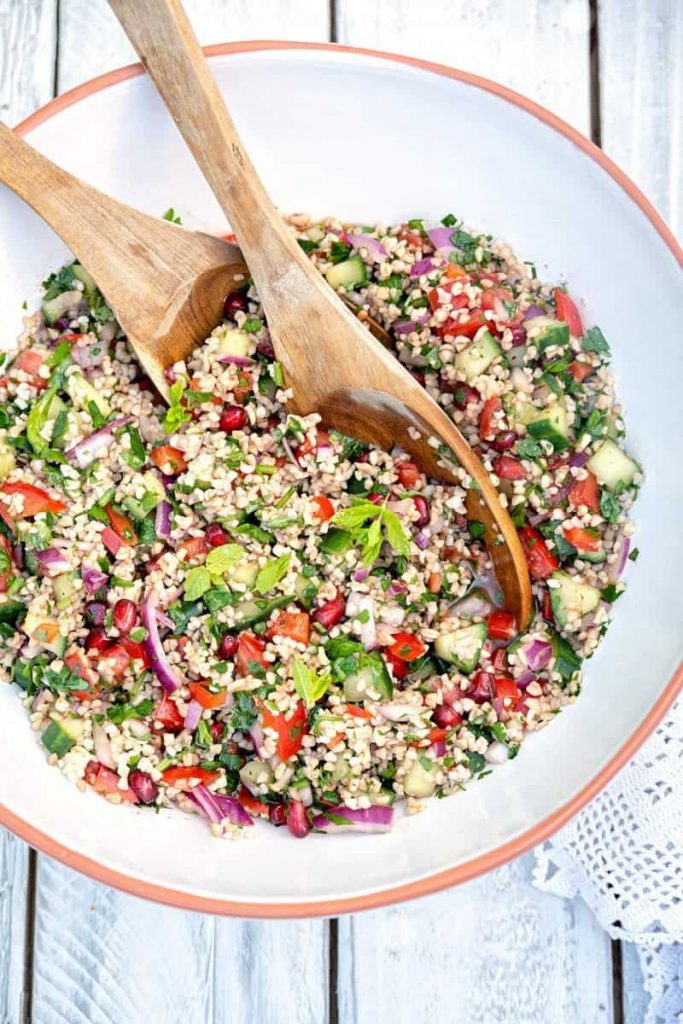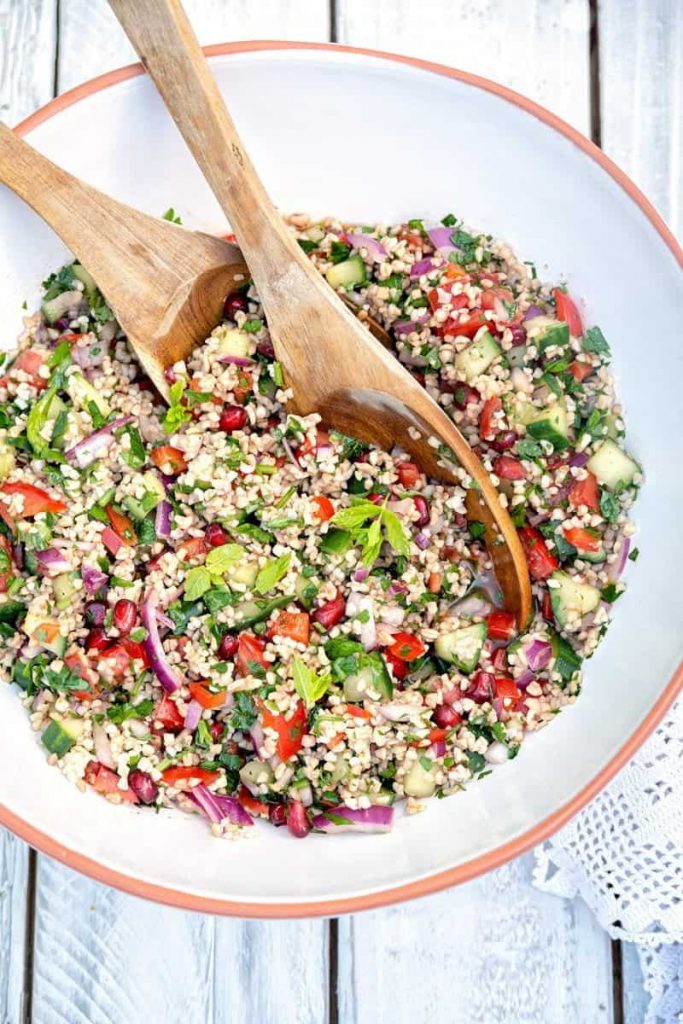 Grilled Corn, Nectarine and Mixed Beans Salad
This Grilled Corn, Nectarine and Mixed Beans Salad is a forkful of summer in every bite, it is a combination of some of the season's best fruit and veg. It can be a healthy and tasty light lunch or an elegant starter for summer dining of alfresco. This recipe is stress-free and is one of the vegan salads that can be put together in just a few minutes.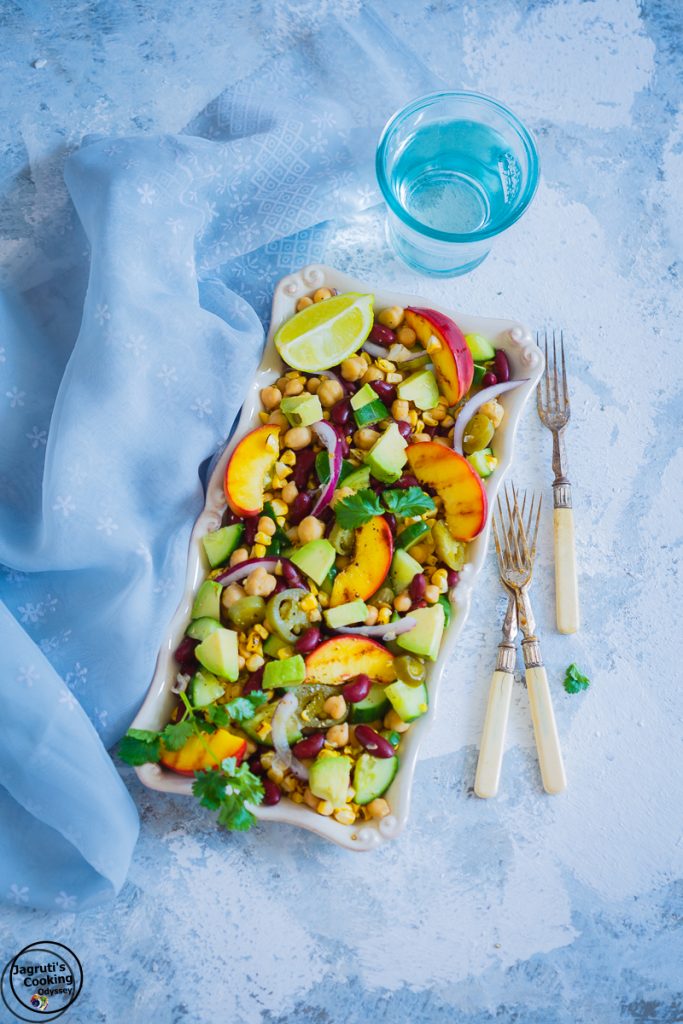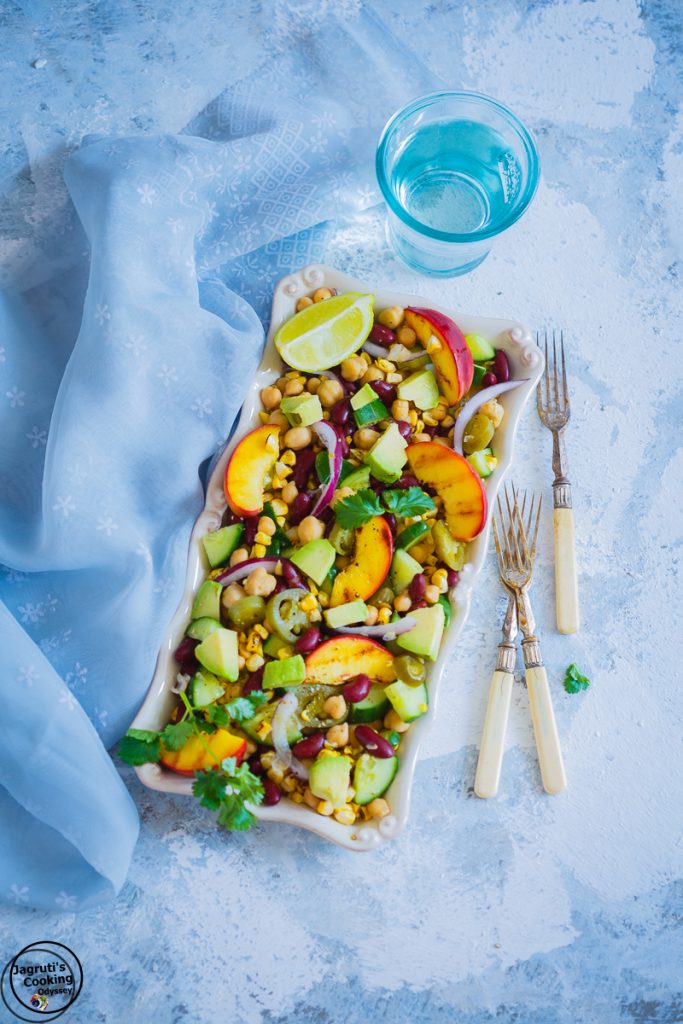 Vegan Caesar Salad with Crispy Marinated Tempeh & Crunchy Chickpeas
Serve this Vegan Caesar Salad with Crispy Marinated Tempeh & Crunchy Chickpeas for lunch or dinner – it's delicious anytime! Kids love the creamy dressing and crunchy chickpeas and if you are looking for some awesome vegan caesar salad recipes, this is one of the best!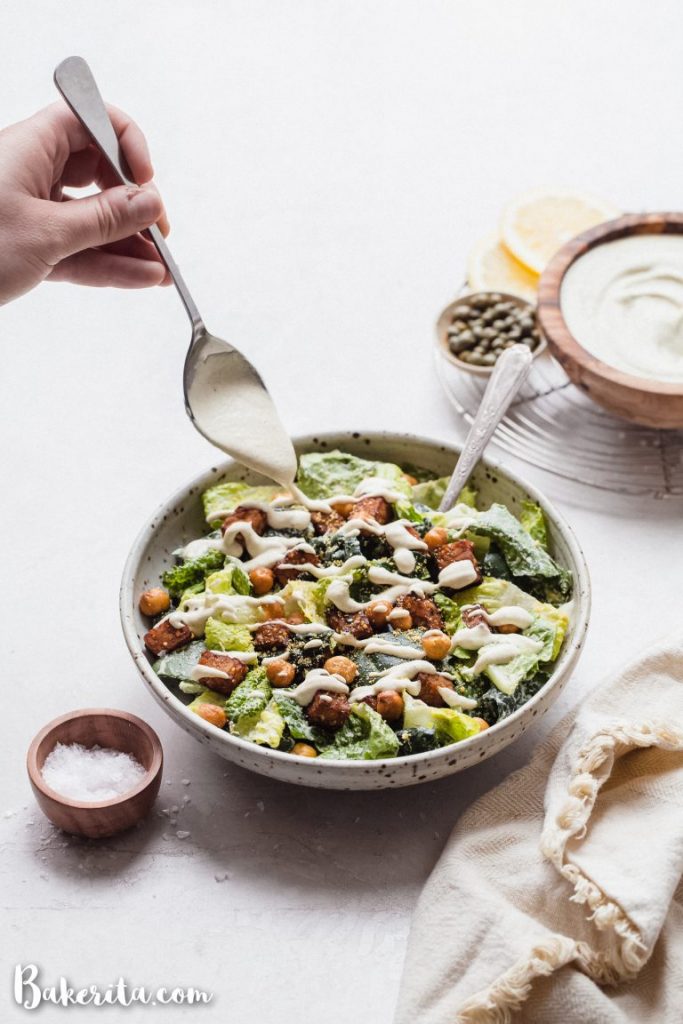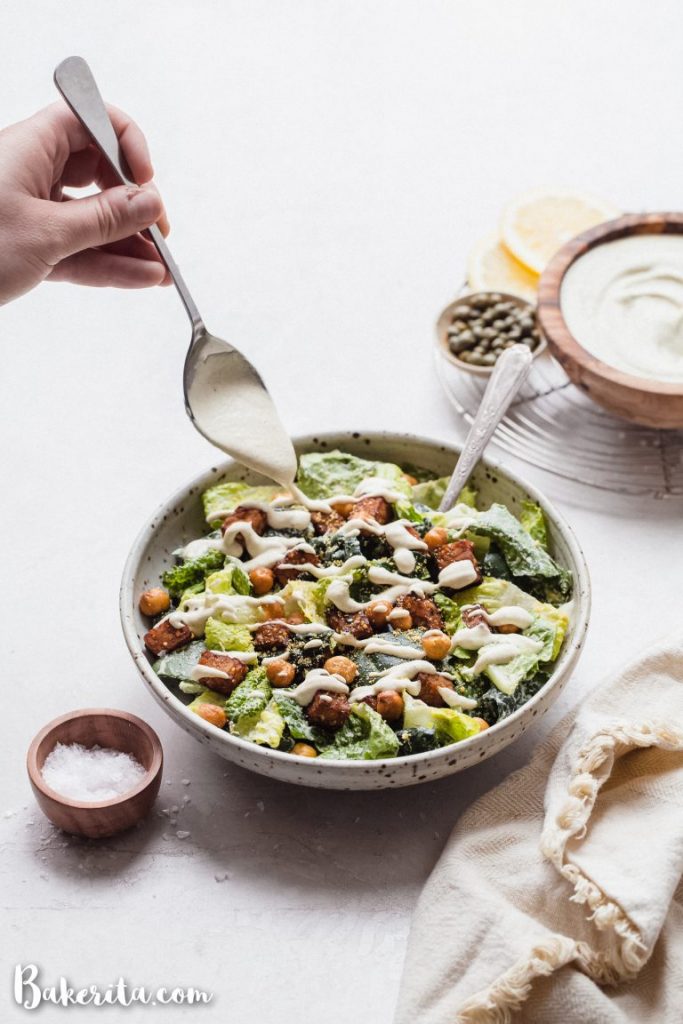 Peach And Plum Summer Salad
This Vegan Peach and Plum Summer Salad is light, refreshing, and a delicious way to celebrate fruits and veggies! This combination is then drizzled in olive oil and sprinkled with salt and pepper, so it is super simple. It is one of the easiest vegan salad recipes that you can make in just a few minutes!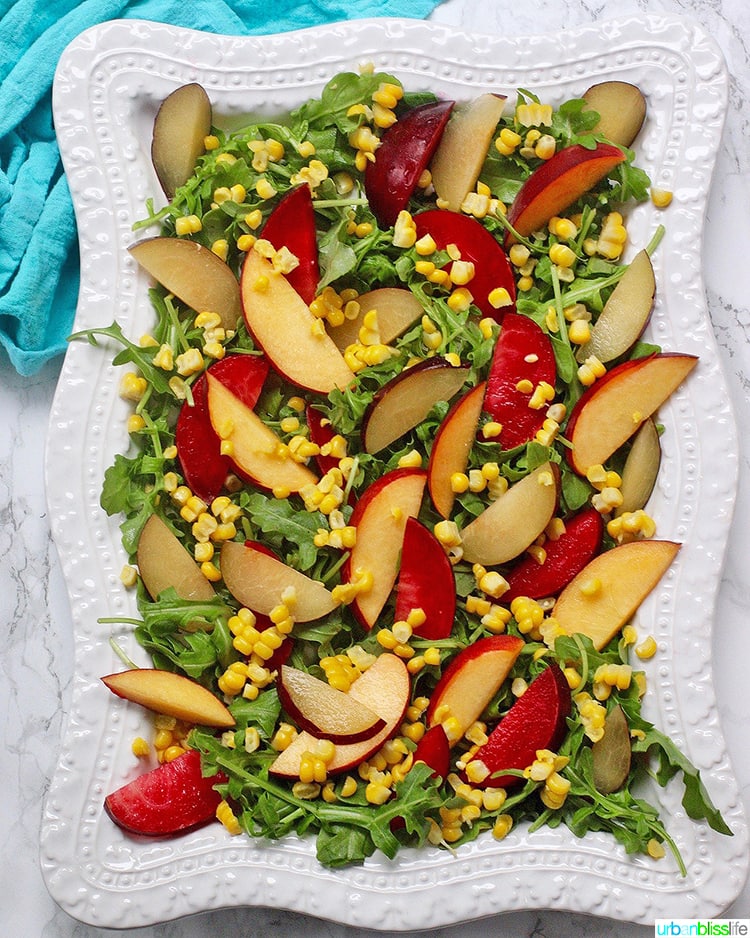 Watermelon Salad
Watermelon salad is a super light, fresh, sweet & spicy summer salad that is made with few ingredients, minimal efforts and in just 10 minutes! It is almost an addictive dish. Oil-free, gluten-free & vegan salads are a great party recipe to enjoy all summer long.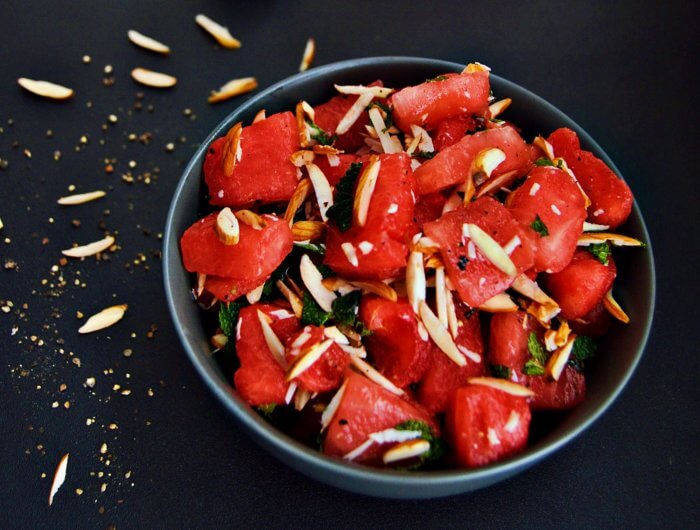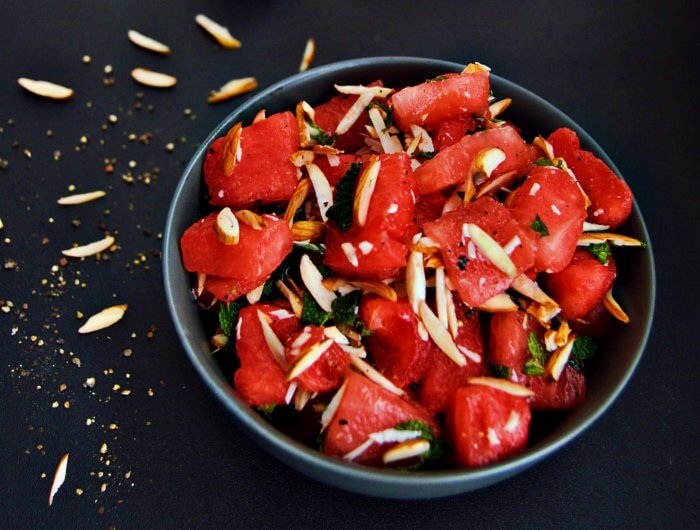 Vegan BBQ Chickpea Salad
This vegan BBQ chickpea salad is easy to make in under 20 minutes and packed with flavor and nutrition. Chickpeas are an awesome addition to vegan salad recipes because they add so much flavor and protein!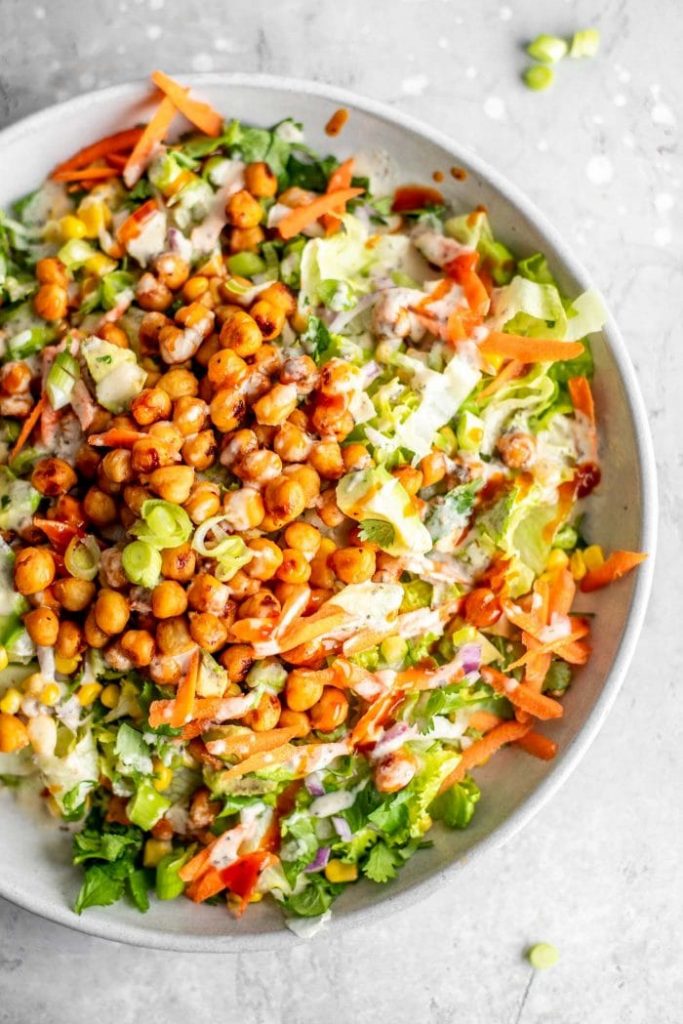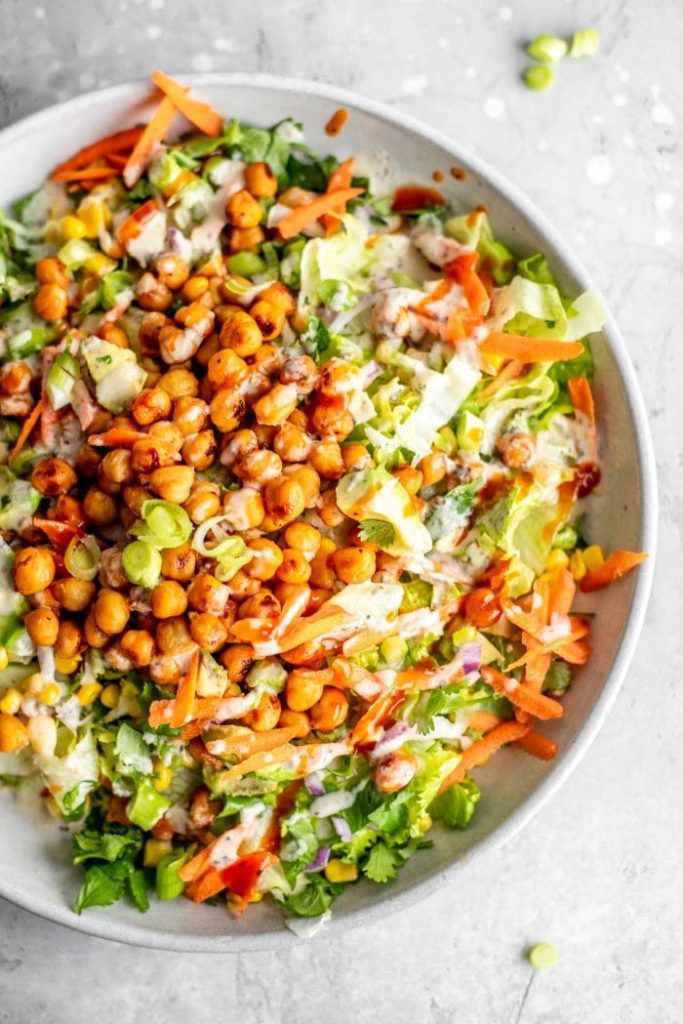 Vegan Spicy Peanut Pasta Salad
A little spicy, quick and full of veggies, this Spicy Vegan Peanut Pasta Salad is a delicious way to use up leftover spaghetti noodles. It's fast and easy to make and is perfect if you are looking for vegan salad recipes for dinner, lunch boxes, and potlucks!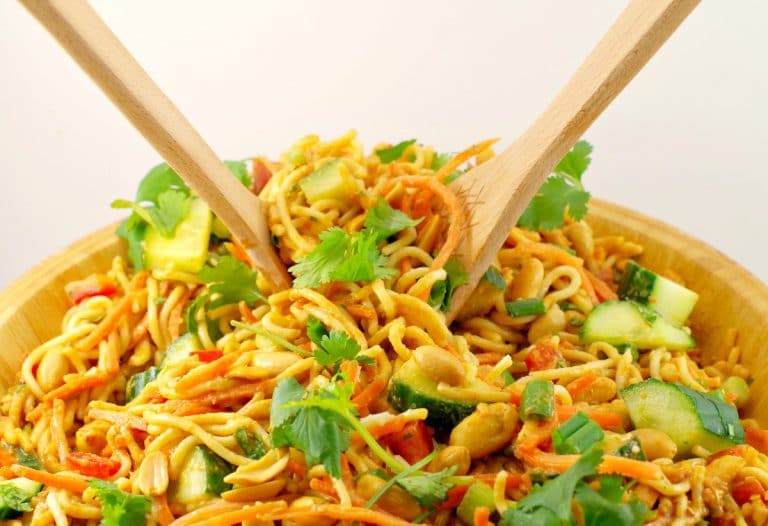 Vegan Waldorf Salad
This healthy Waldorf salad is a vegan take on the classic Waldorf salad. Deliciously creamy apple cider vinegar dressing is used instead of mayonnaise for a lighter and fresher version.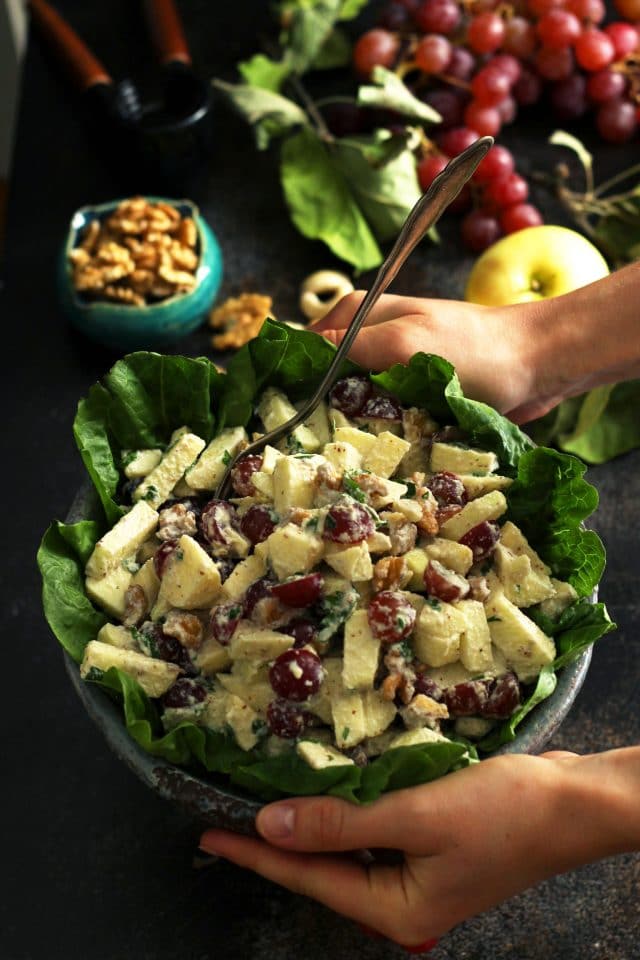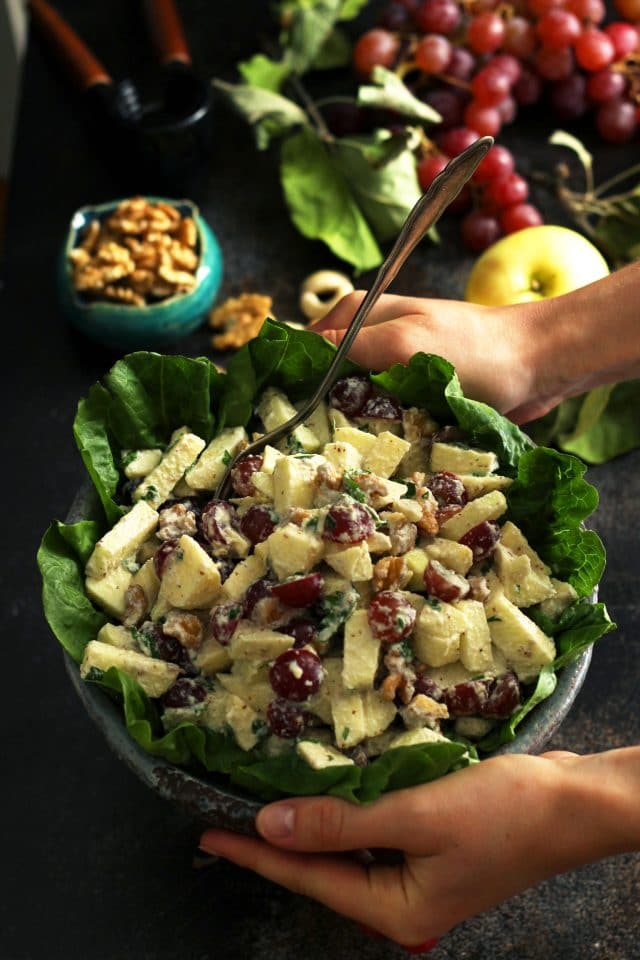 Crunchy Kale And Edamame
You'll love this crunchy edamame salad for any occasion! It's filled with chopped kale, roasted almonds, and sweet dried cranberries – all mixed with a carrot ginger dressing. Perfect for those looking for simple and tasty vegan salad recipes.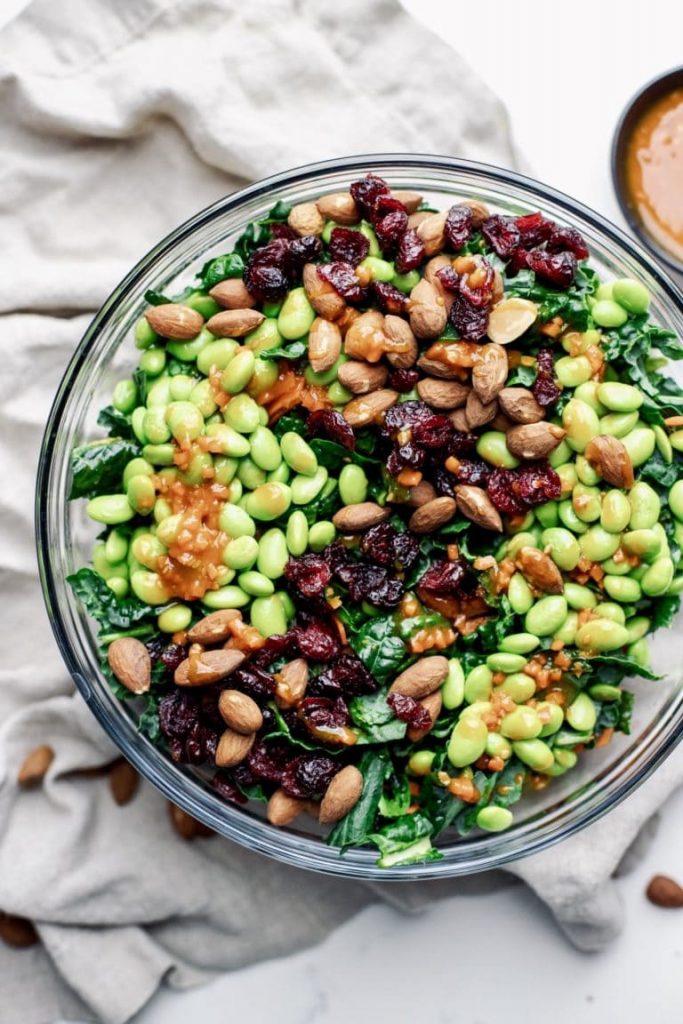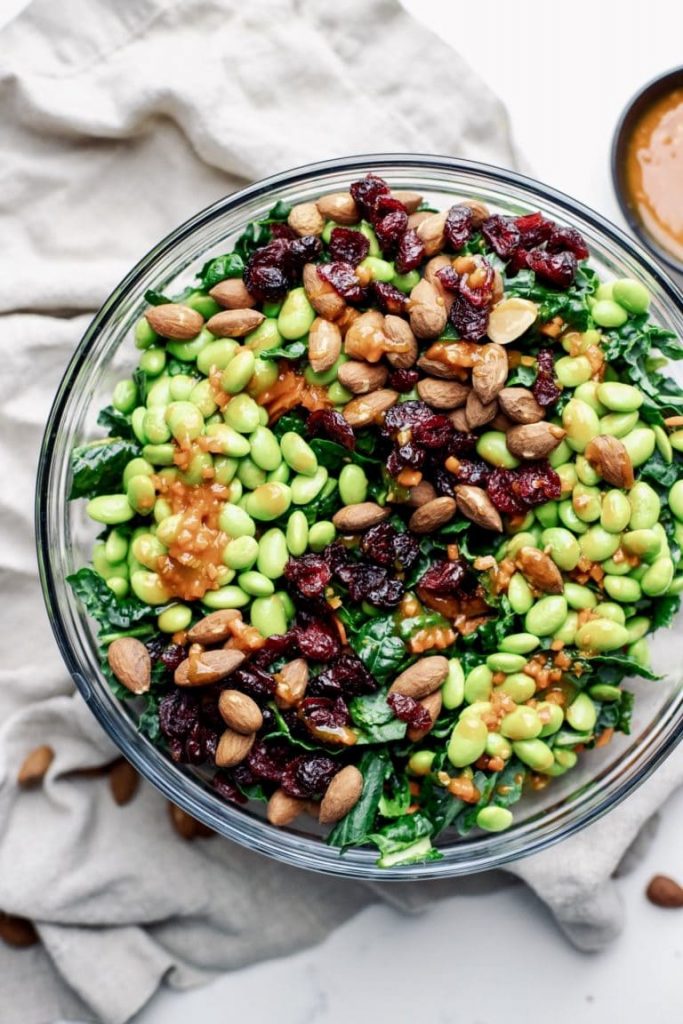 Persian Rocca Salad
Rocca salad is a tasty mix of arugula (rocket) with walnuts, pomegranate, and a Persian dressing. It's a delicious salad with a mild Middle Eastern flavor that kids will love. They'll also love the crunch of the pomegranate seeds, which are a fun way to add color and flavor to vegan salad recipes!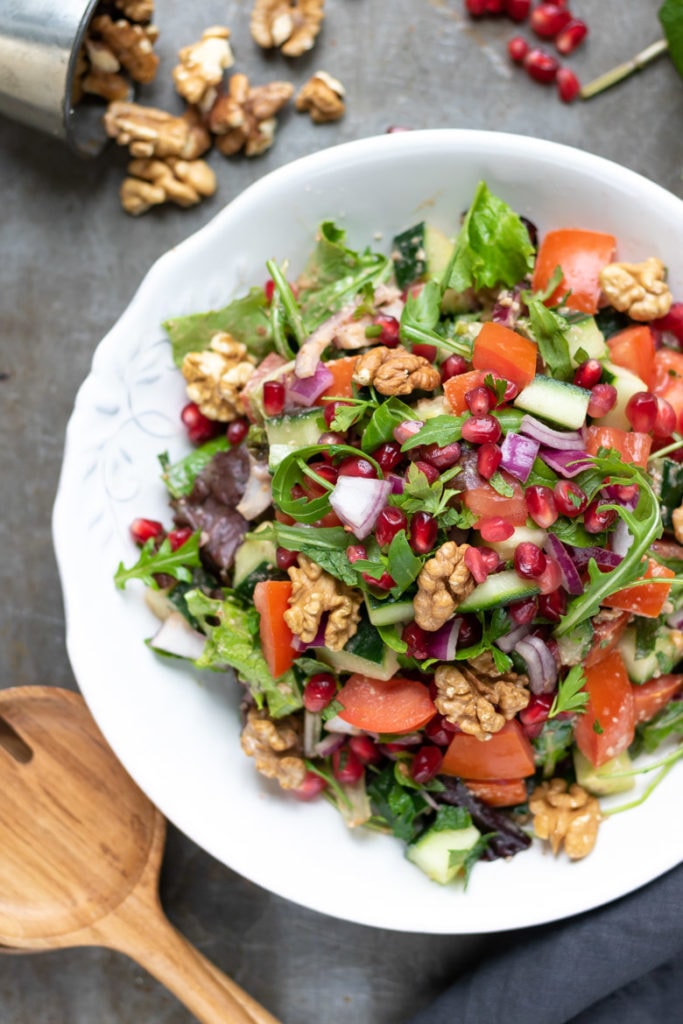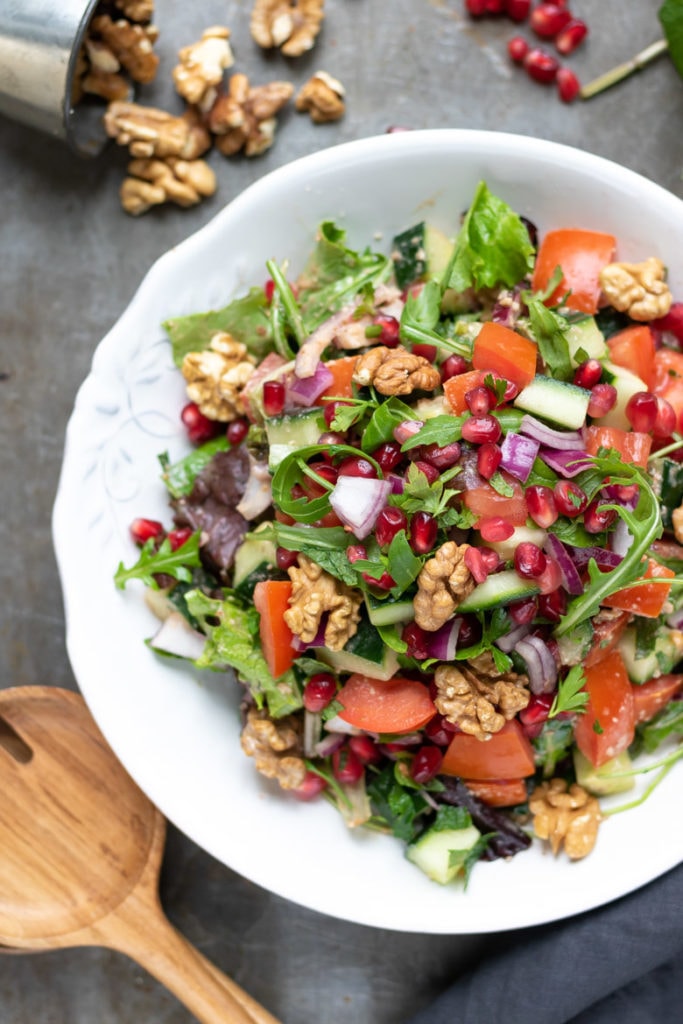 Green Salad with Pumpkin Seed (Pepita) Dressing
Green salad doesn't have to be boring. Nope. This recipe is extra special with slices of pear and apple, plus a super-easy, tasty pumpkin seed (pepita) dressing. This is a great go-to summer salad for a family. Kids love the sweetness of the apples and pears in it!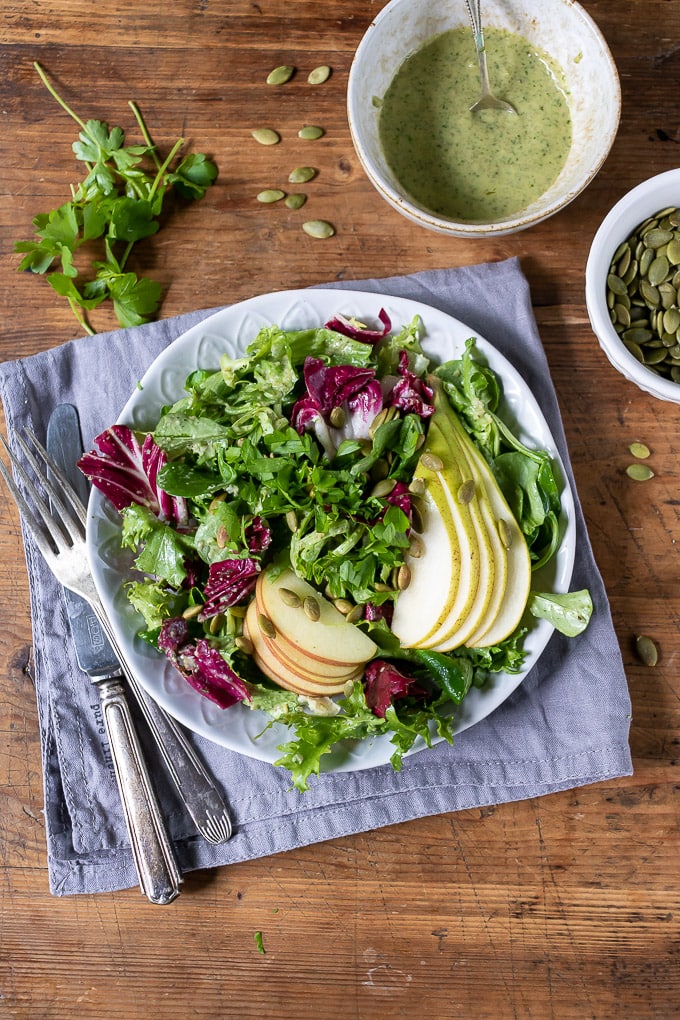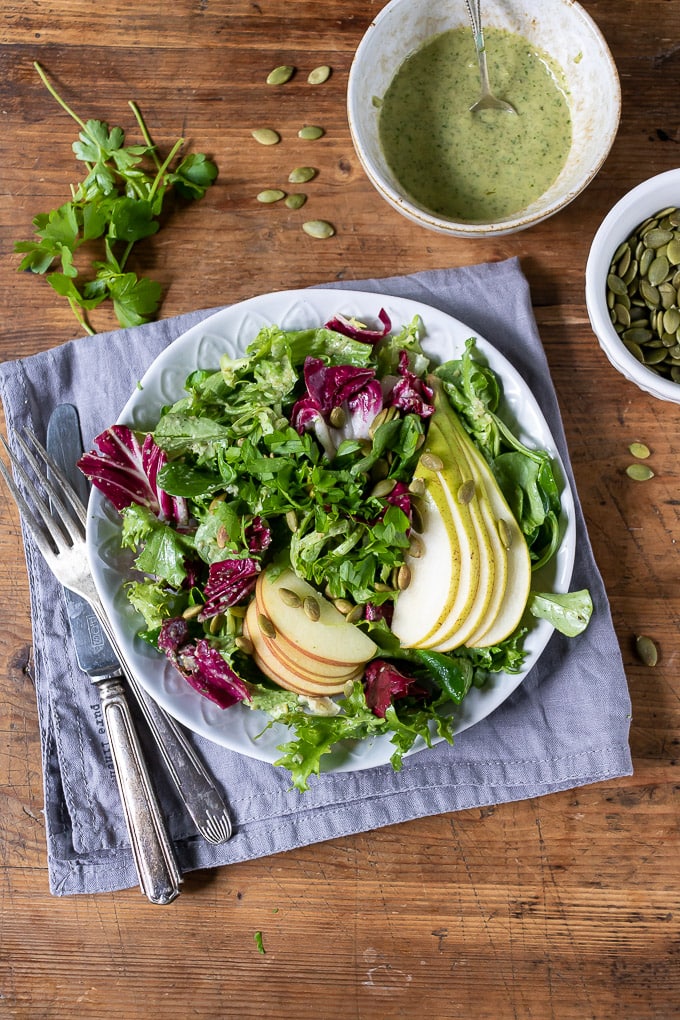 Lentil Salad With Wild Rice
If you are looking for great vegan salad recipes for meal prepping, then this is an awesome recipe for you! This Vegan & Gluten-Free Lentil Salad with Wild Rice is an easy, healthy, and delicious meal that is full of plant-based protein. This recipe is grain-free too!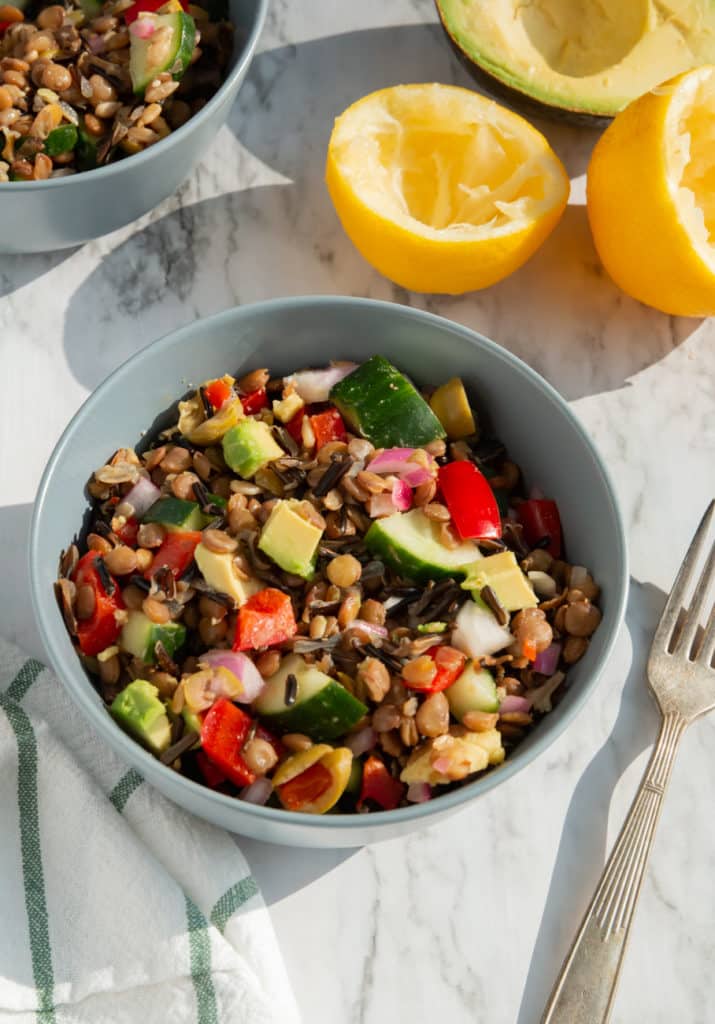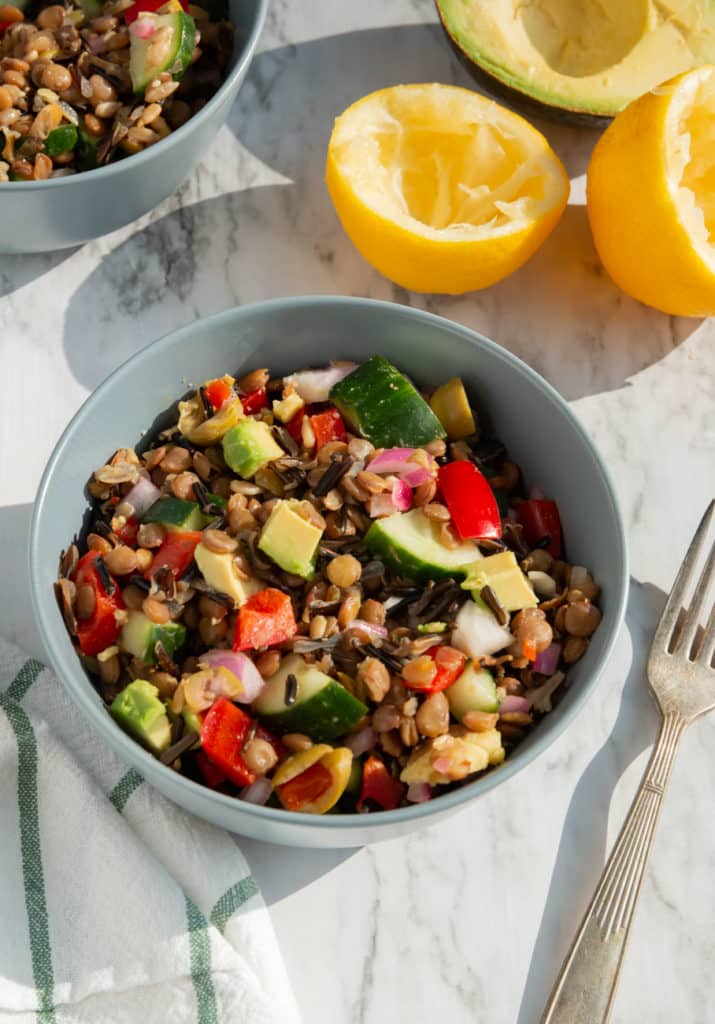 Roasted Beet Salad
This Roasted Beet Salad makes a delicious and nutritious salad! Perfectly roasted beets with homemade croutons and fresh dill this salad is one to enjoy! Beets are a super colorful addition to vegan salad recipes!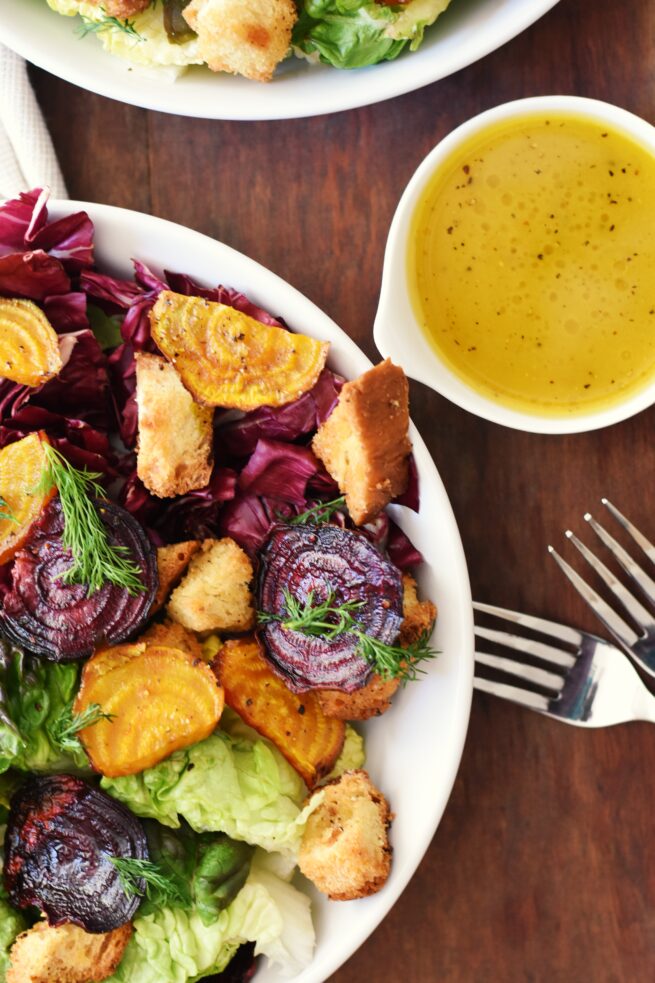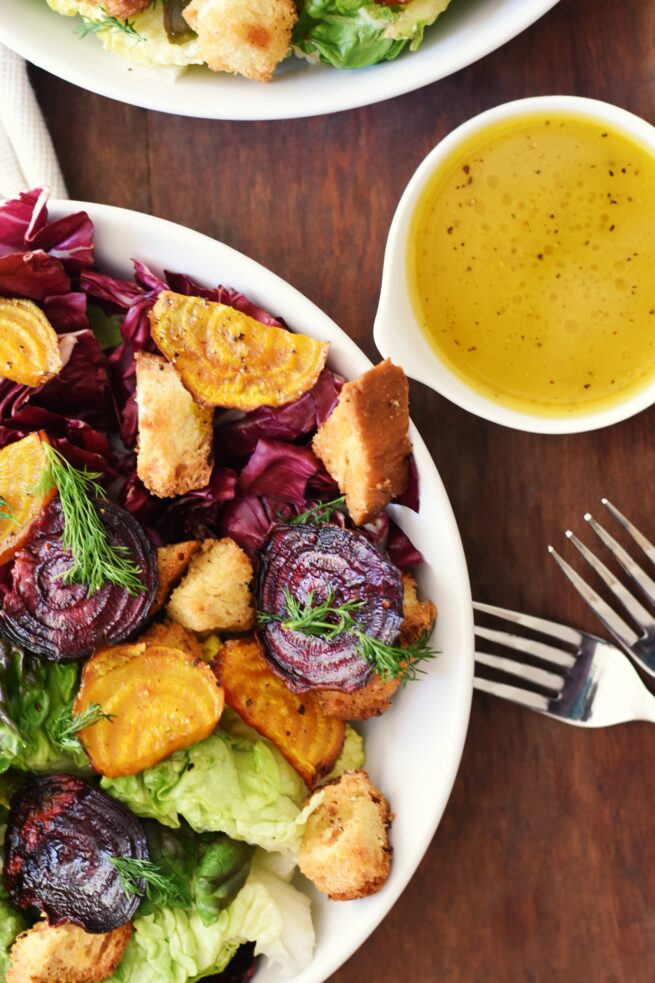 Vegan Taco Salad
If you are looking for ways to get kids to enjoy vegan salads, sprinkle some chips on top! This taco salad is packed with nutrition but also brings a delicious crunch from the tortilla chips and is topped with a super creamy dressing.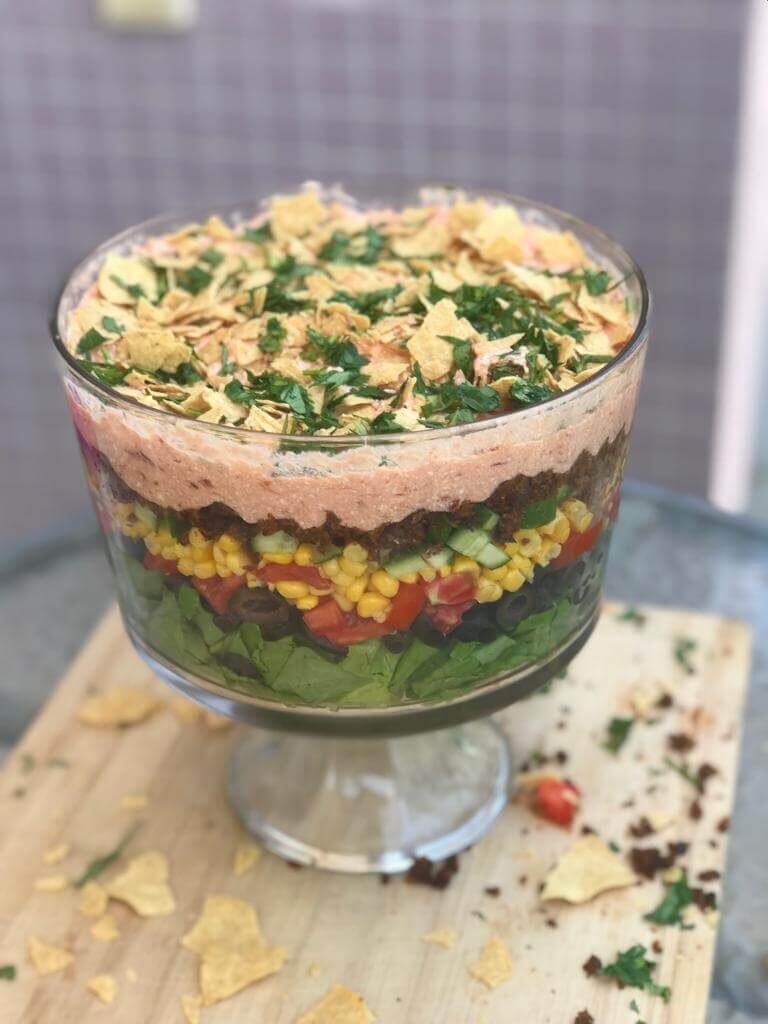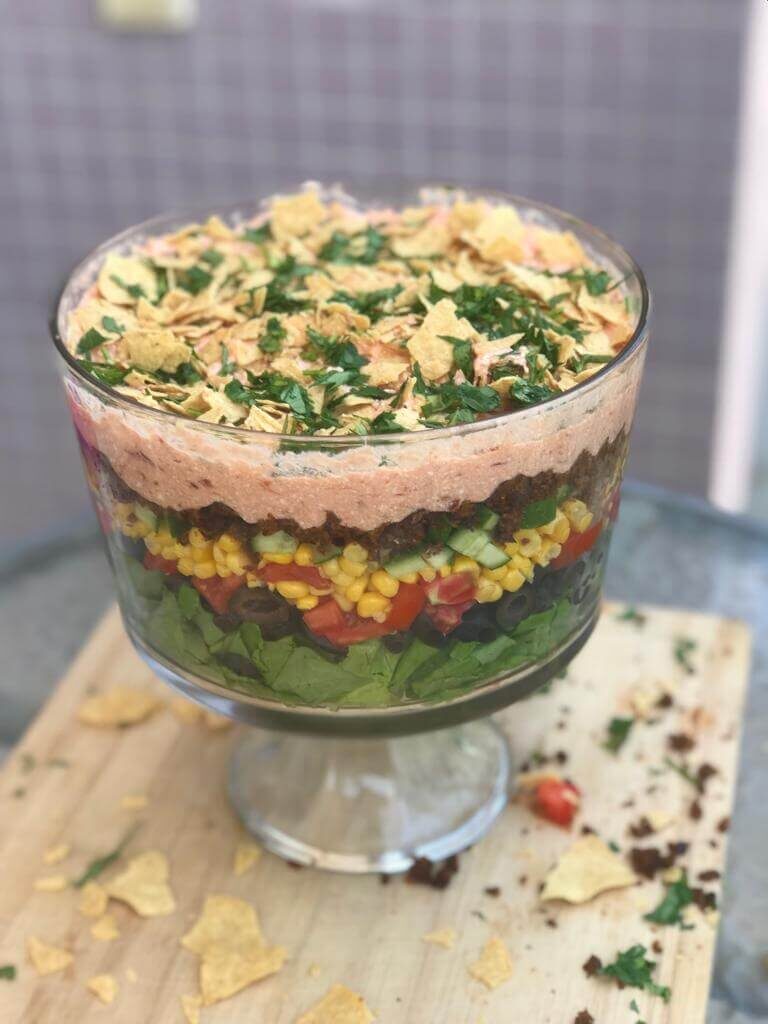 Quinoa Bowl Salad
Whether you're having a Meatless Monday, always follow a vegan/vegetarian lifestyle, or just want a fresh and healthier, vegetable-packed dinner, this Vegan/Vegetarian Quinoa Bowl with roasted sweet potatoes, kale, quinoa (a gluten-free seed) and a Lemon Tahini Dressing makes the perfect meal for any day of the week.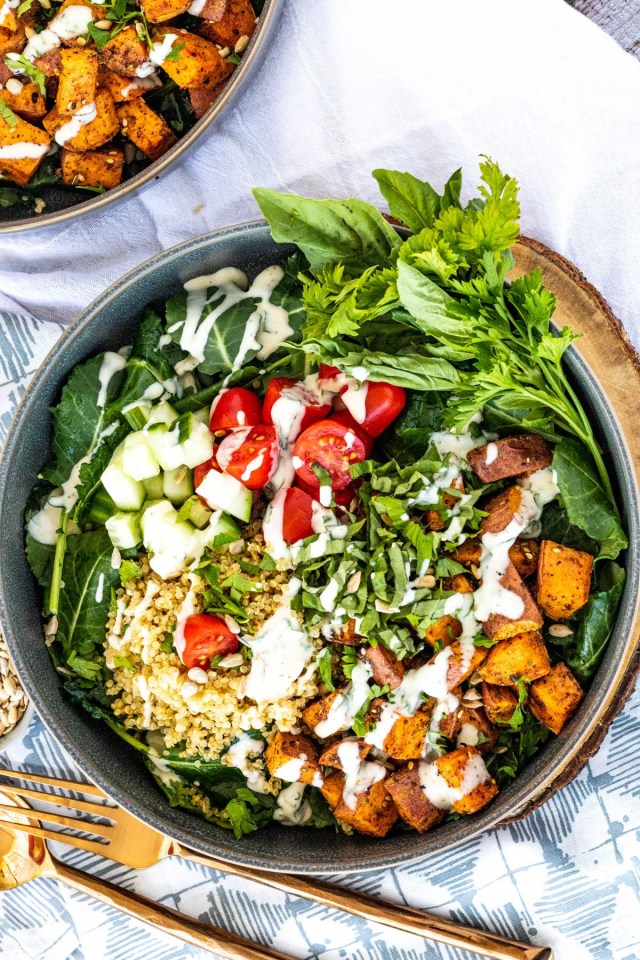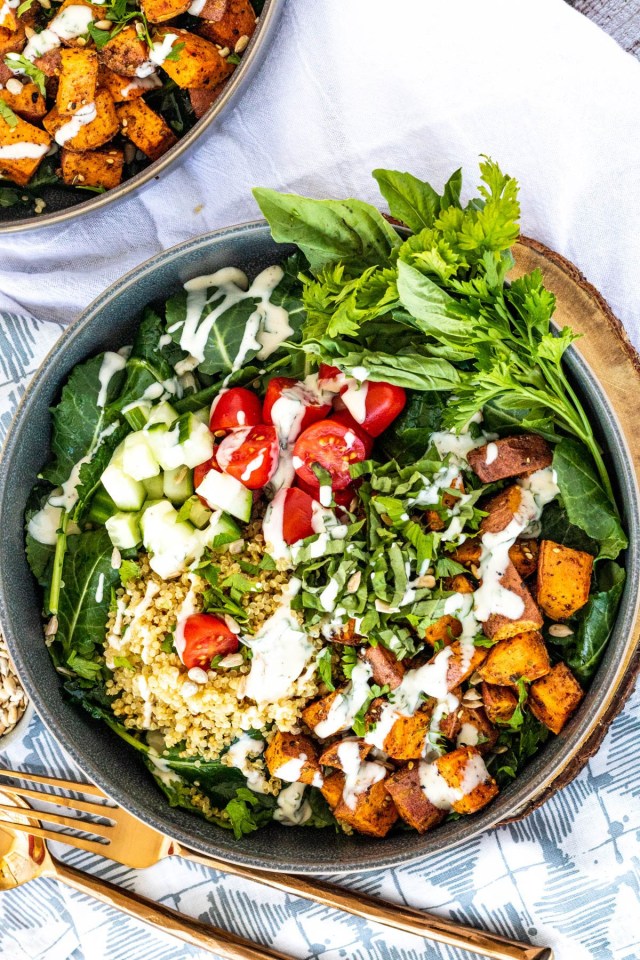 Brussel Sprouts Caesar Salad
This is a delicious brussels sprouts caesar salad with a creamy, garlicky vegan Caesar dressing made with avocados, tahini, soy sauce, lemon juice, and garlic. Tossed with pistachios instead of croutons (so it's also gluten-free). This is the second caesar salad on this list of vegan salad recipes, but they are each so different and delicious that you should try both!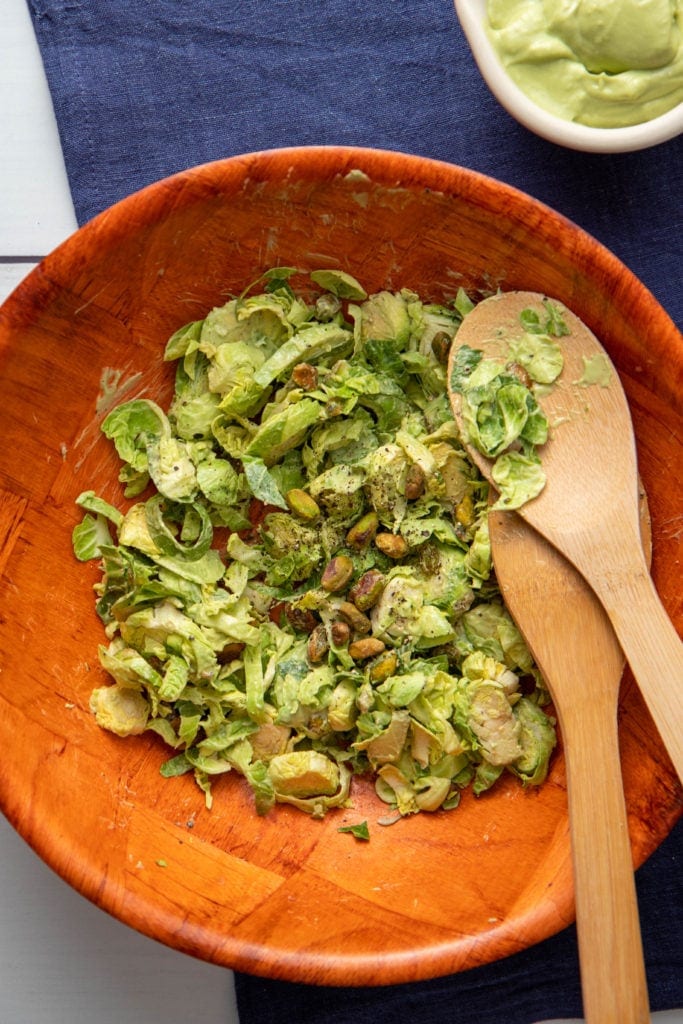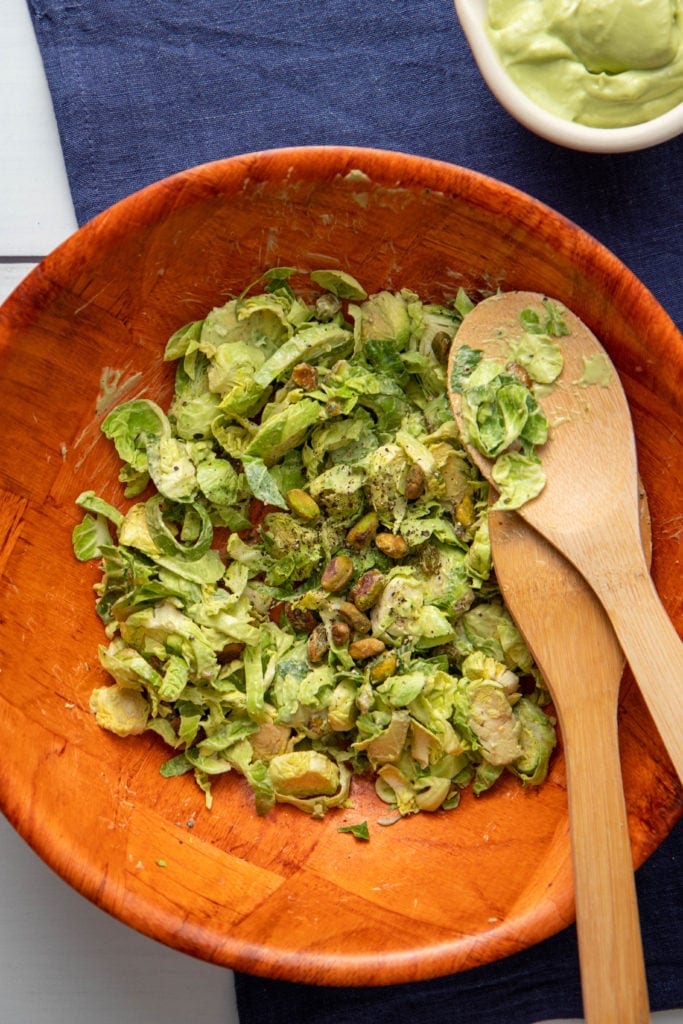 Autumn Kale Salad
This Autumn Kale Salad is a perfect lunch or light dinner for warm fall days! It combines fresh kale with roasted shiitake mushrooms, chickpeas, and sweet potatoes, all topped with a homemade maple mustard dressing. This awesome combination makes this perfect if you are looking for really delicious vegan salad recipes.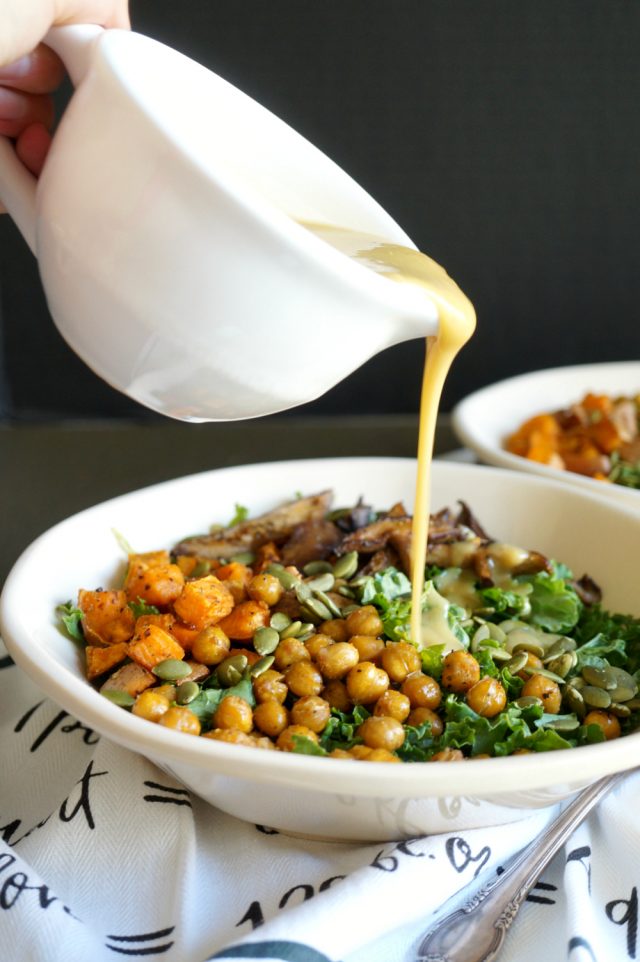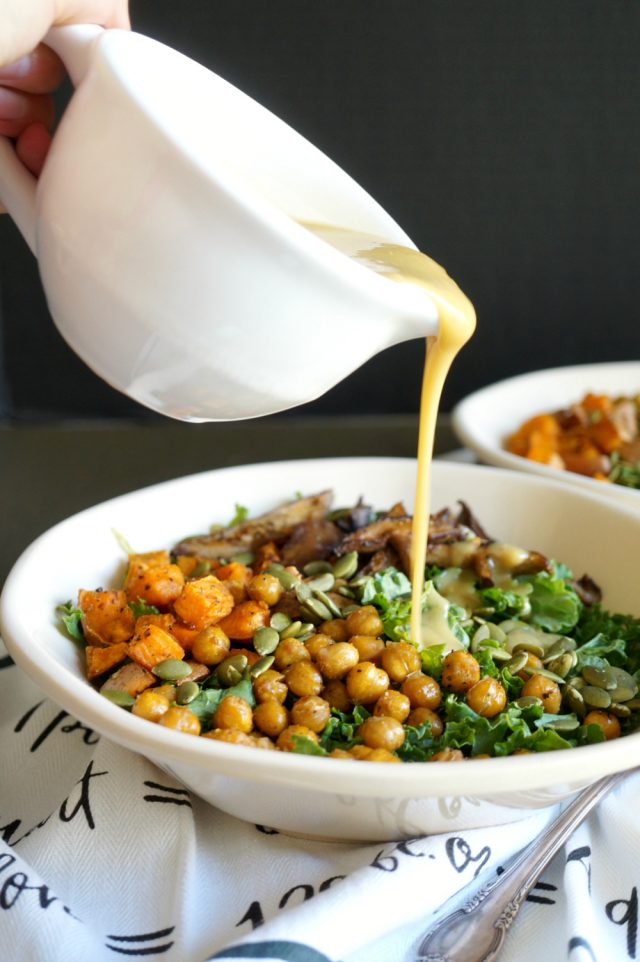 Roasted Veggie Pasta Salad
This Easy Roasted Veggie Pasta Salad combines all your favorite summer produce into one addicting dish! You won't be able to stop eating this delicious and fresh pasta salad!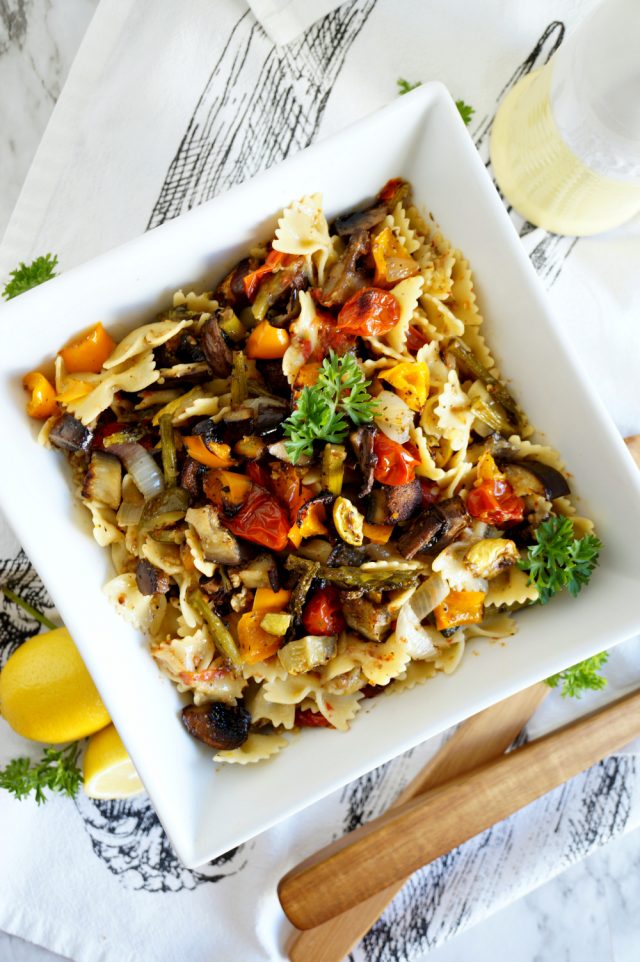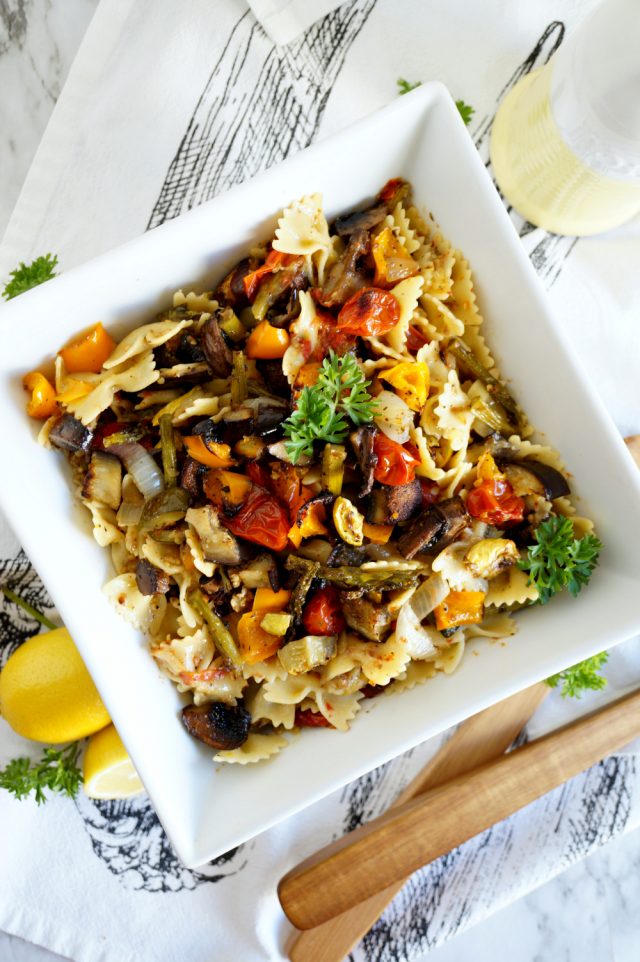 Roasted Zucchini Salad
This Roasted Zucchini Salad is so flavorful and healthy, you'll want to make it over and over again! Seasoned with lemon-parsley dressing, it requires only 5 ingredients!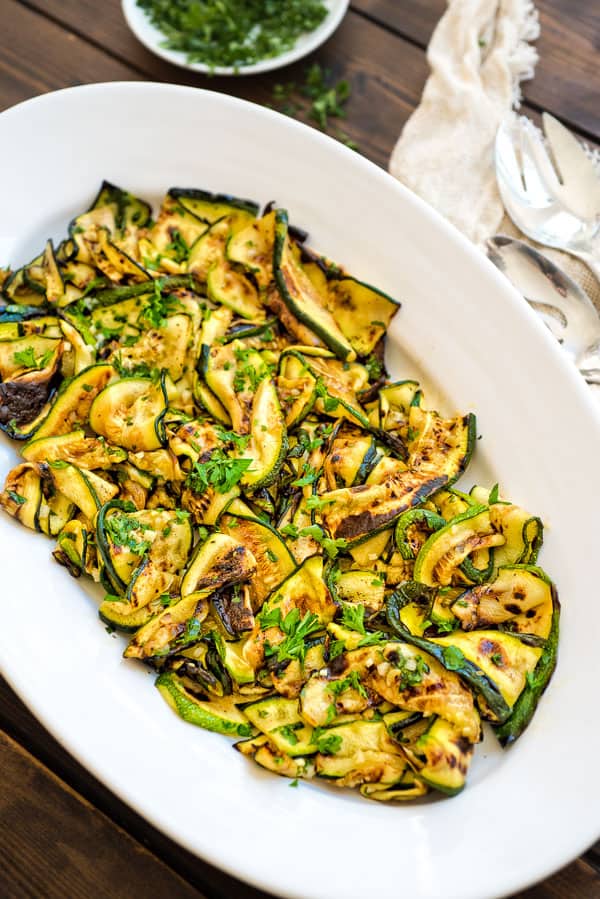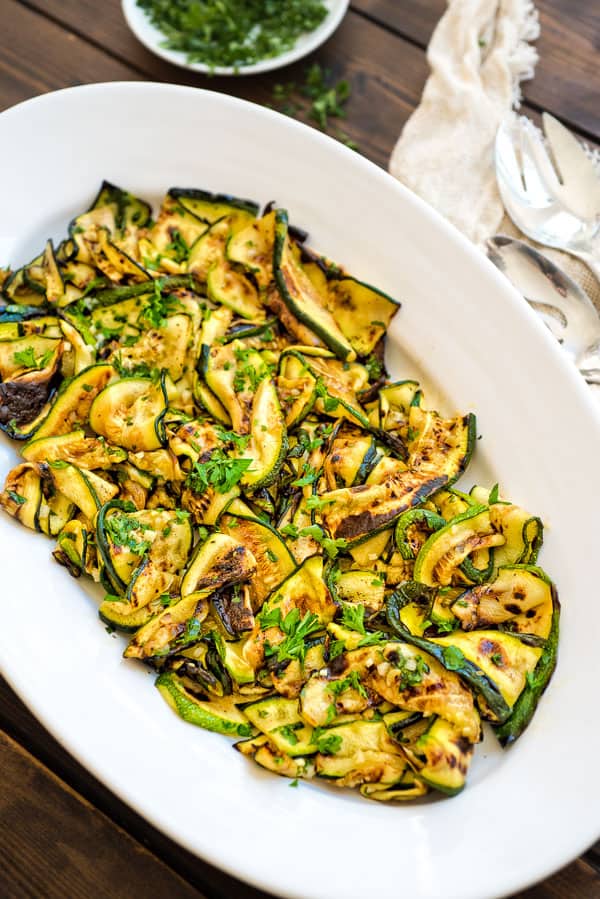 Roasted Carrot And Brown Rice Salad
This salad is downright swoon-worthy for so many reasons, not the least of which is how beautiful it is! Feast your eyes on the Roasted Carrot and Brown Rice Salad with White Balsamic Vinaigrette and Spicy Pepitas from The Organic Kitchen! The carrots are great for adding color to vegan salad recipes.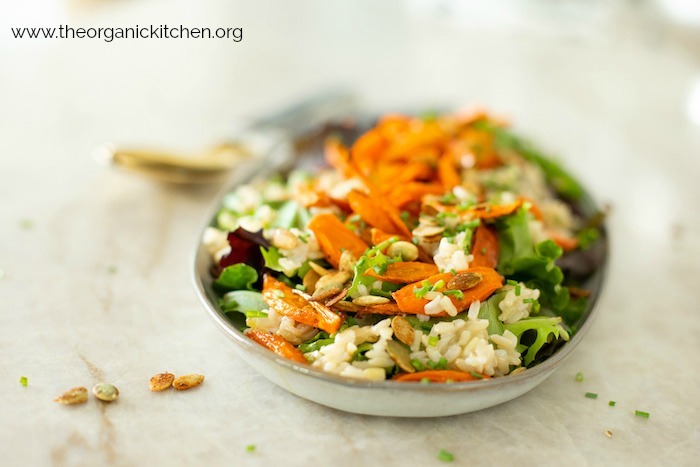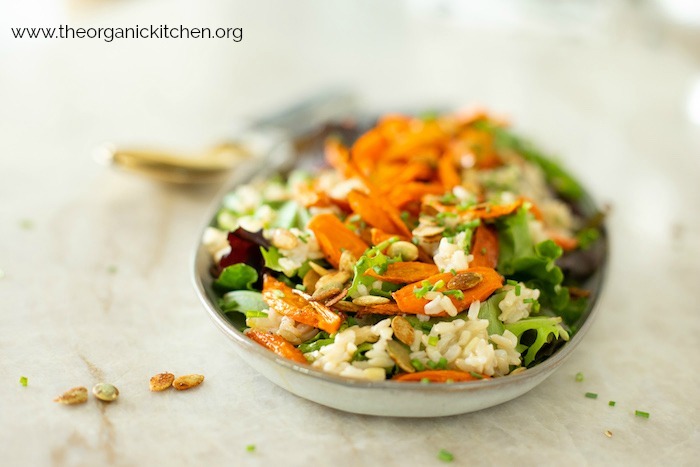 Citrus And Avocado Salad
So fragrant, fresh, light, and of course that beautiful burst of color is always welcome! This is the organic kitchen's citrus and avocado salad with lemon poppy seed dressing, and it is lovely. If you are looking for sweeter vegan salad recipes, then this is an awesome option!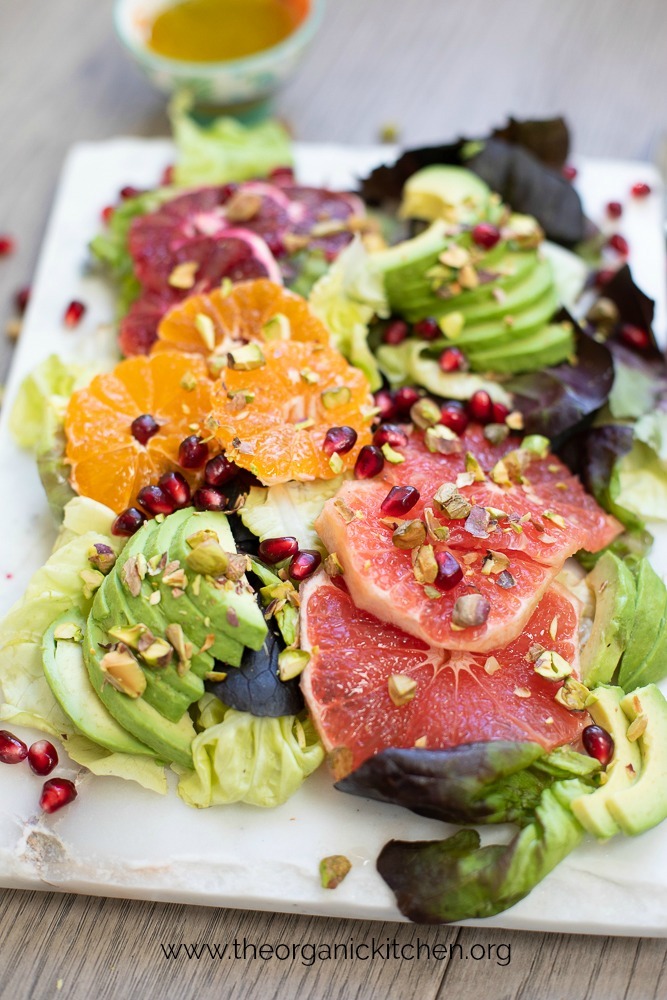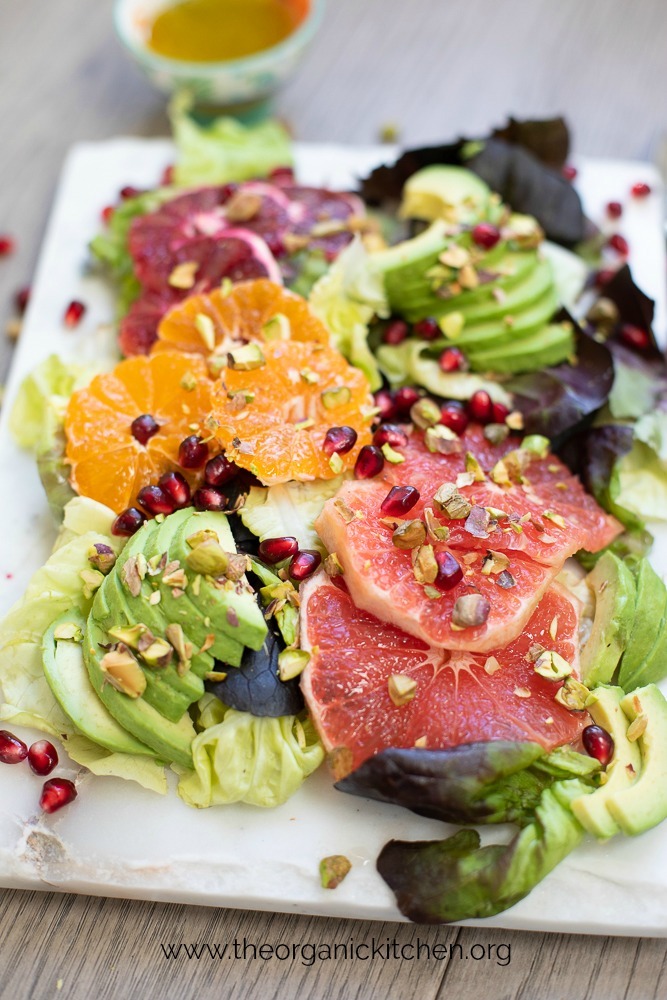 These are some awesome vegan salad recipes that are full of flavor! If you find yourself bored with salads or just looking to add more variety, then you should try some of these vegan salad recipes. No more plain salads when you have these colorful and delicious options.