Did you know that it is SO EASY to make dalgona coffee vegan? It literally takes just 3 ingredients and the non-dairy milk of your choice! This dalgona whipped coffee recipe is so easy and all the rage right now!
If you aren't a vegan, don't worry, the majority of dalgona whipped coffee recipes actually are naturally vegan so don't fear, this isn't some weird and strange "vegan stuff."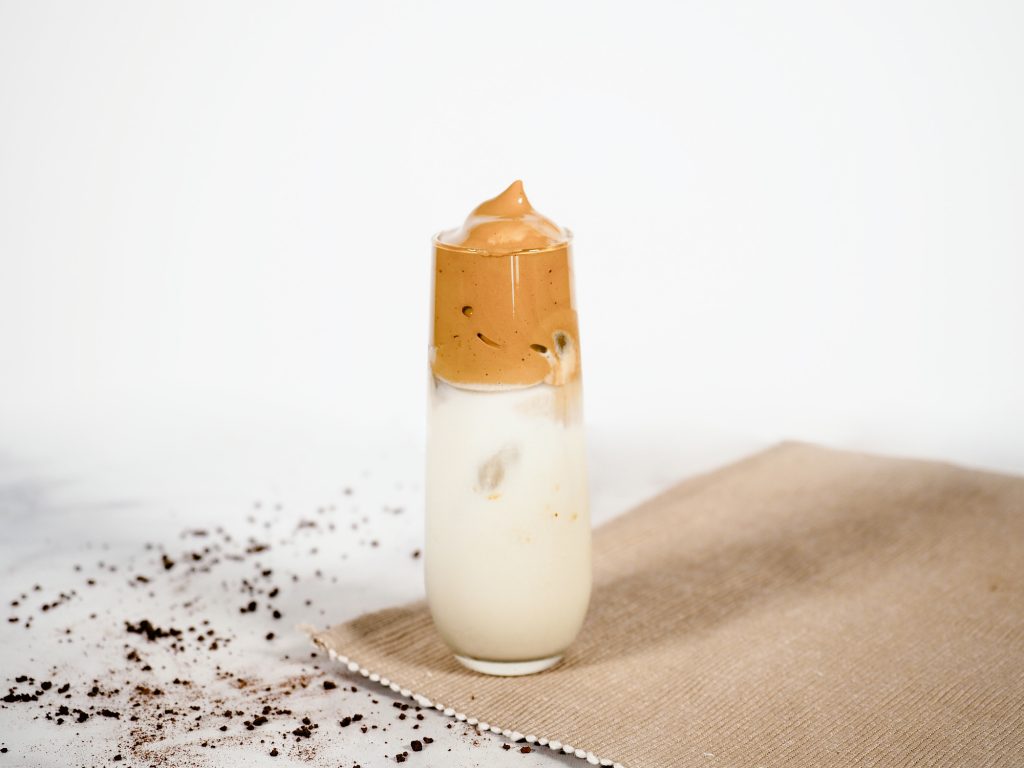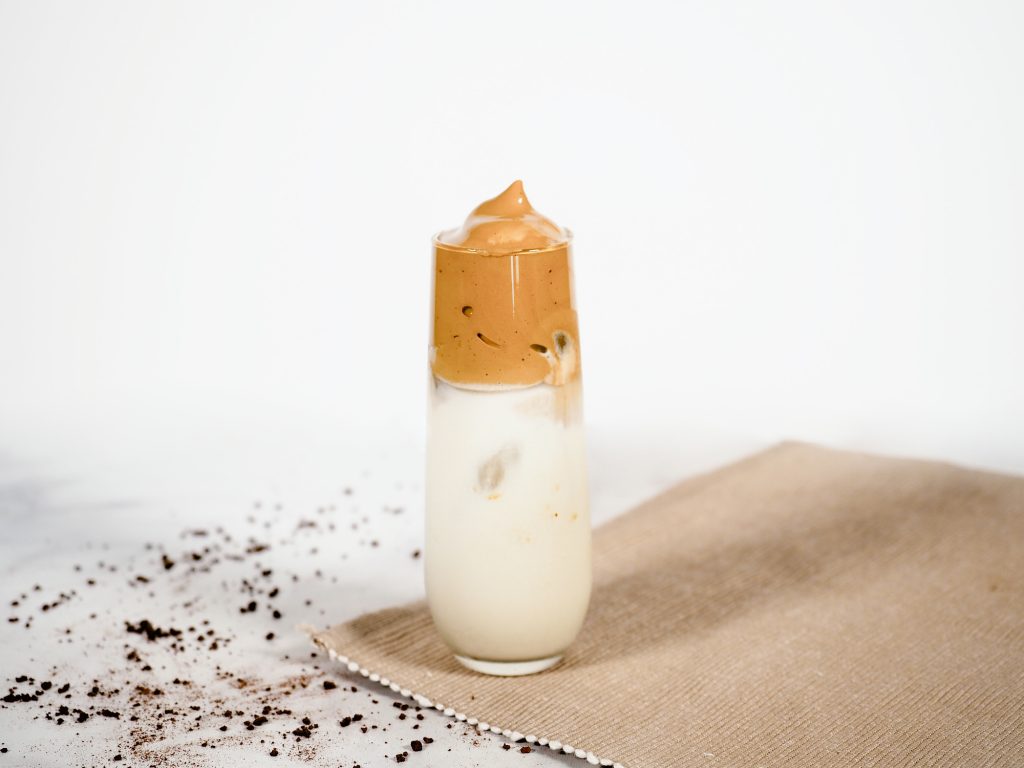 I have to be honest, the first time I tried dalgona coffee I was NOT a fan. The flavors in the photos look way better than the taste actually is in real life. I was actually pretty let down. I didn't care for the taste combination so I threw caution to the wind and created my own spin on this popular whipped coffee recipe!
If you try this recipe and it still isn't for you, you will like my Greek Whipped Frappe SO MUCH BETTER! It is a huge improvement and some of the best stuff you will ever taste. It is also easier to make. Anyway, you see where my loyalties lie 😉 You may also like Dalgona Matcha too!
I wanted to make for a drink that has a heavier coffee taste and that was also on the sweeter side. I don't want a little bit of coffee, I want a stronger flavor that is aromatic! This whipped coffee is 100% vegan as-is but you can substitute the milk of your choice.
Below, I teach you how to make both sweeter AND/OR stronger coffee and will show you modifications below!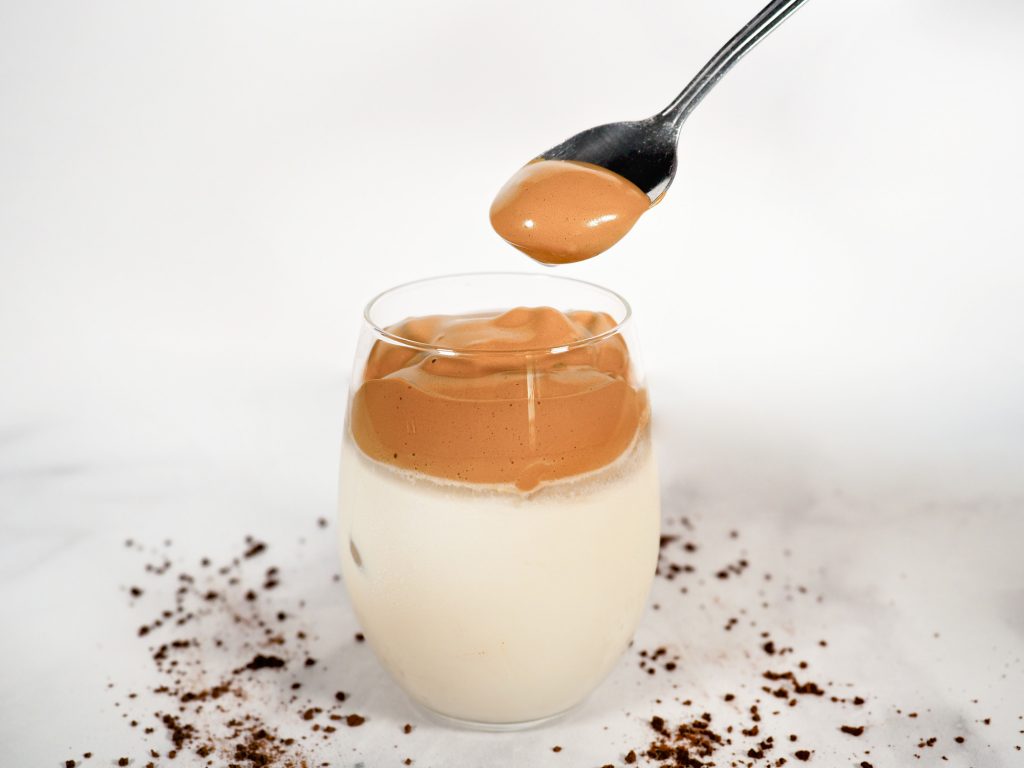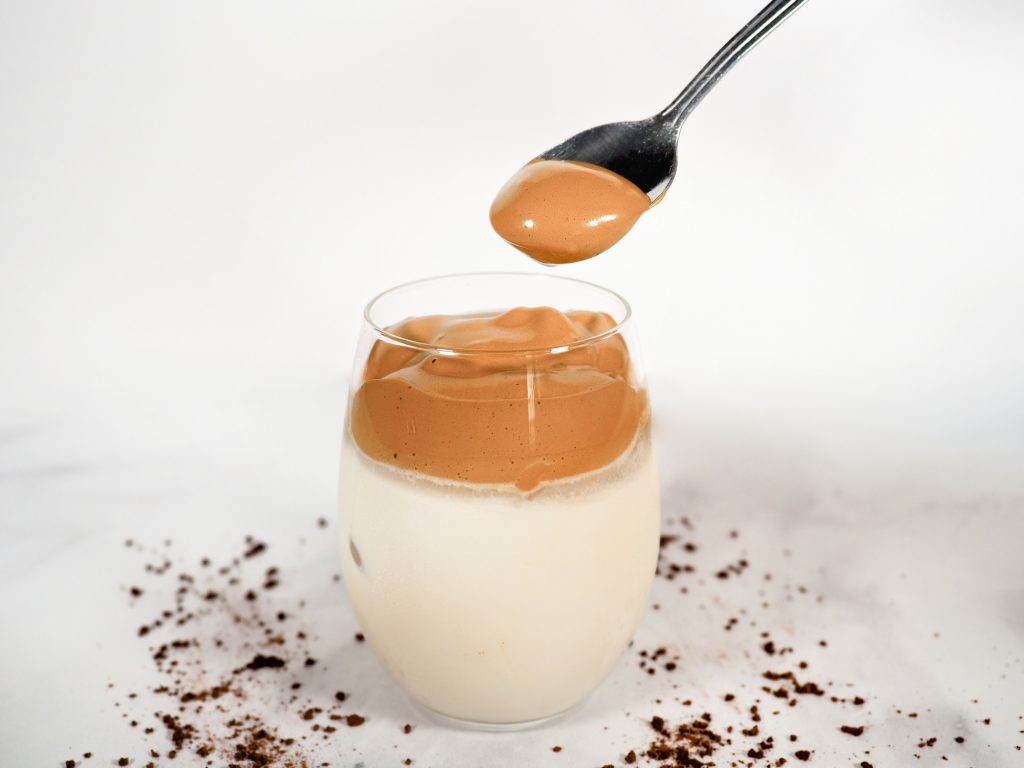 What To Use To Make Whipped Coffee
When making this vegan dalgona coffee recipe, I 100% recommend having a hand mixer. It makes your life so much easier and is so much faster! You can buy a hand mixer for about $30 on Amazon so please save your arms and go this route!
If you do not have a hand mixer and you don't want to buy one, you CAN use a good old-fashioned whisk. My friend in London did this and said it took her about 20 minutes of hard mixing. She went out the next day and bought a hand mixer from the local store.
I also heard that it takes anywhere from 450-500 whisks in order to make the dalgona whipped coffee recipe successful! If you are looking to up your arm strength, then maybe you want to go this route. As for me, I used my moms hand mixer that is older than I am and it was well worth it!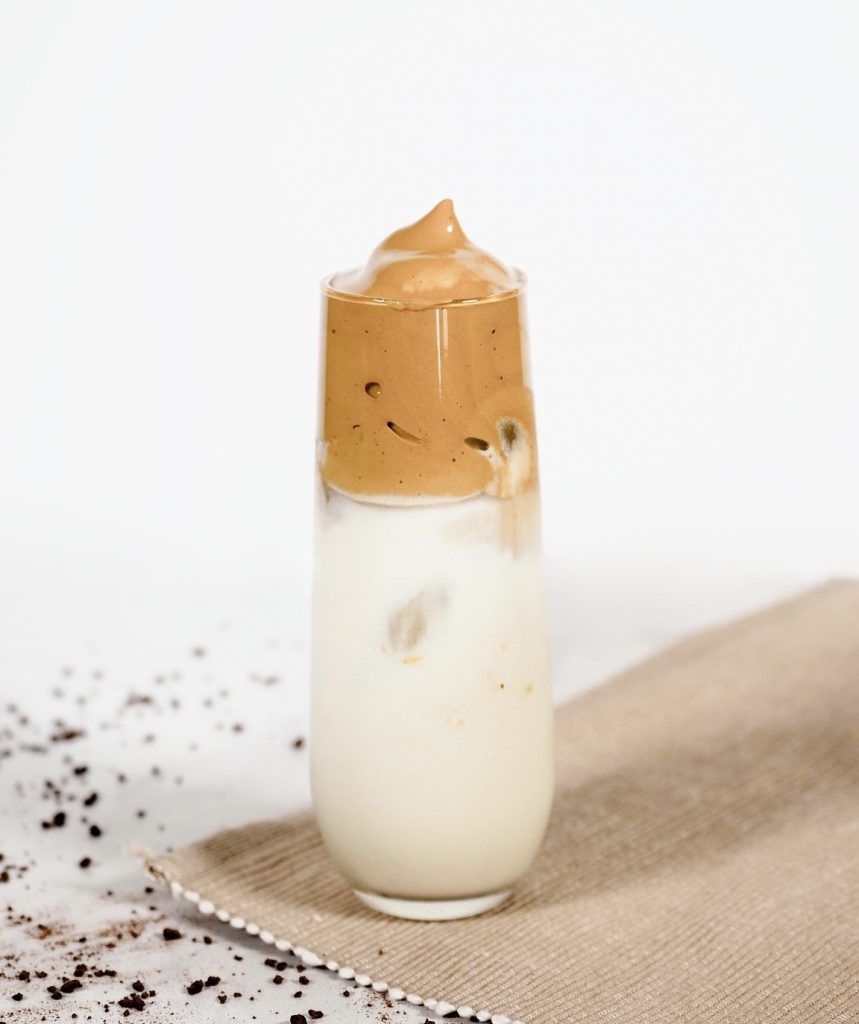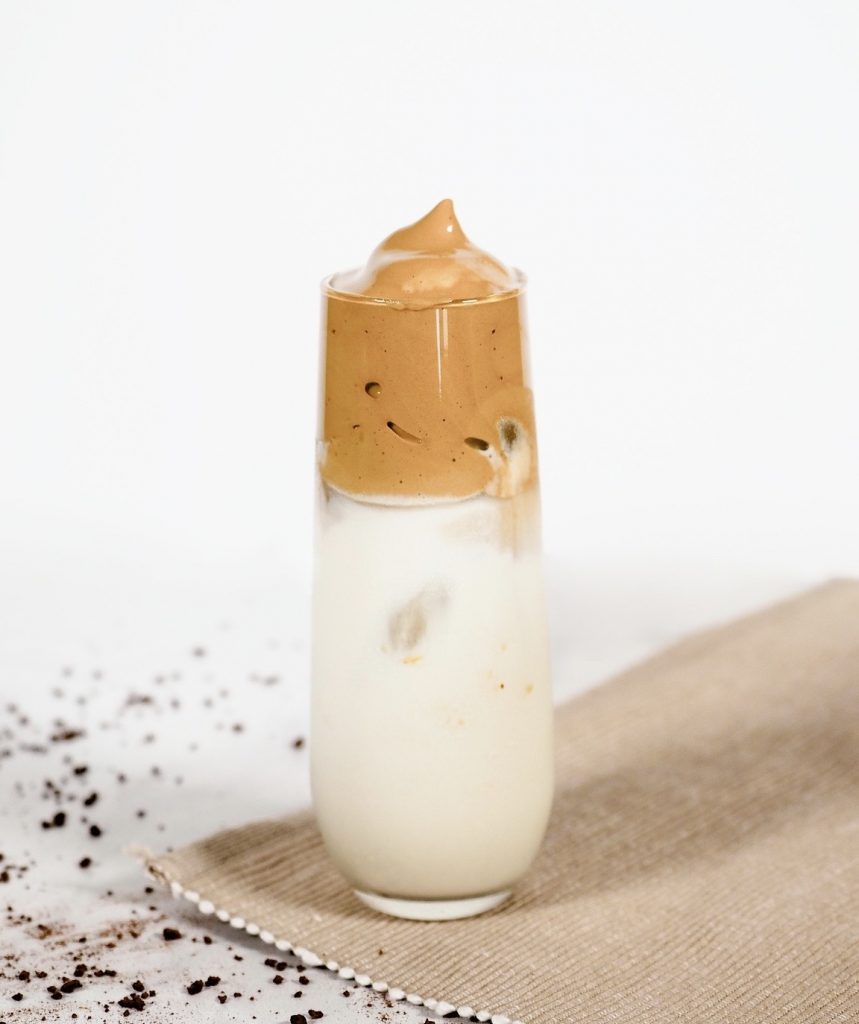 Can You Make Dalgona Coffee Without Sugar?
The answer is yes, but it won't be the same. My mom has cut back on sugar and doesn't eat any added sugar. That being said, she is also vegan so the thought of a vegan whipped coffee drink was interesting to her.
You can make dalgona coffee without sugar, but the whipped and fluffy nature of the coffee doesn't stay the same for as long of a time. If you just want a quick whipped look for about 5 minutes, then go ahead.
If you are looking to use dalgona coffee as a topping for something like our Vegan Brownies Recipes, you are going to want to use sugar, at least some, in order for it to maintain its proper texture!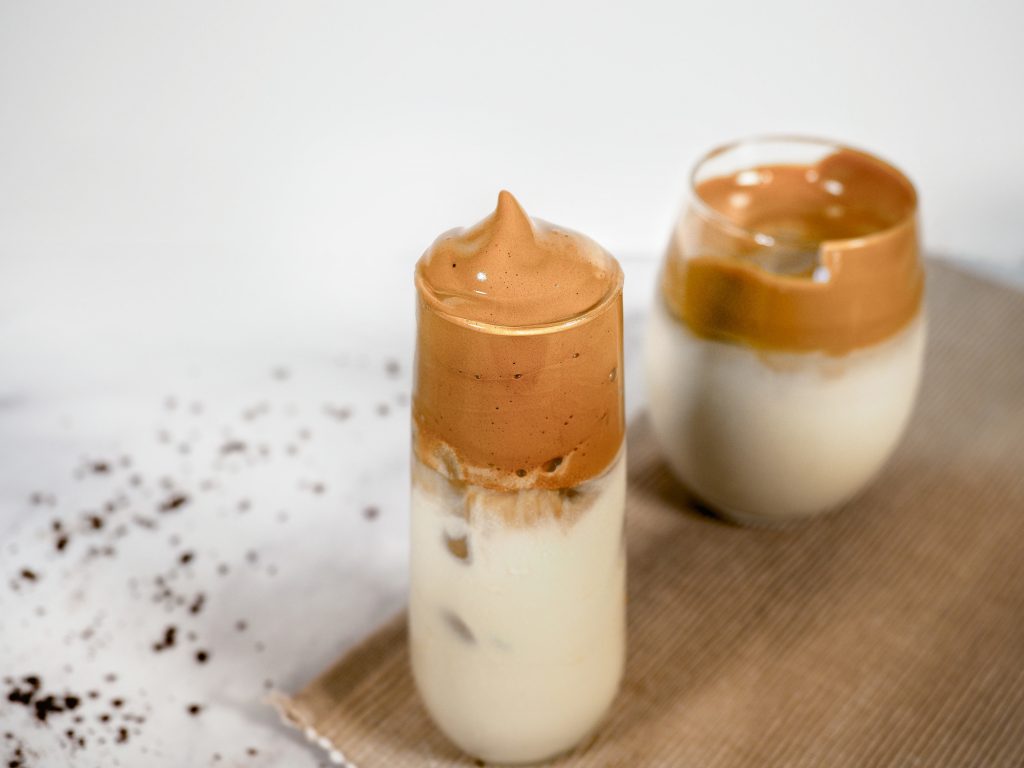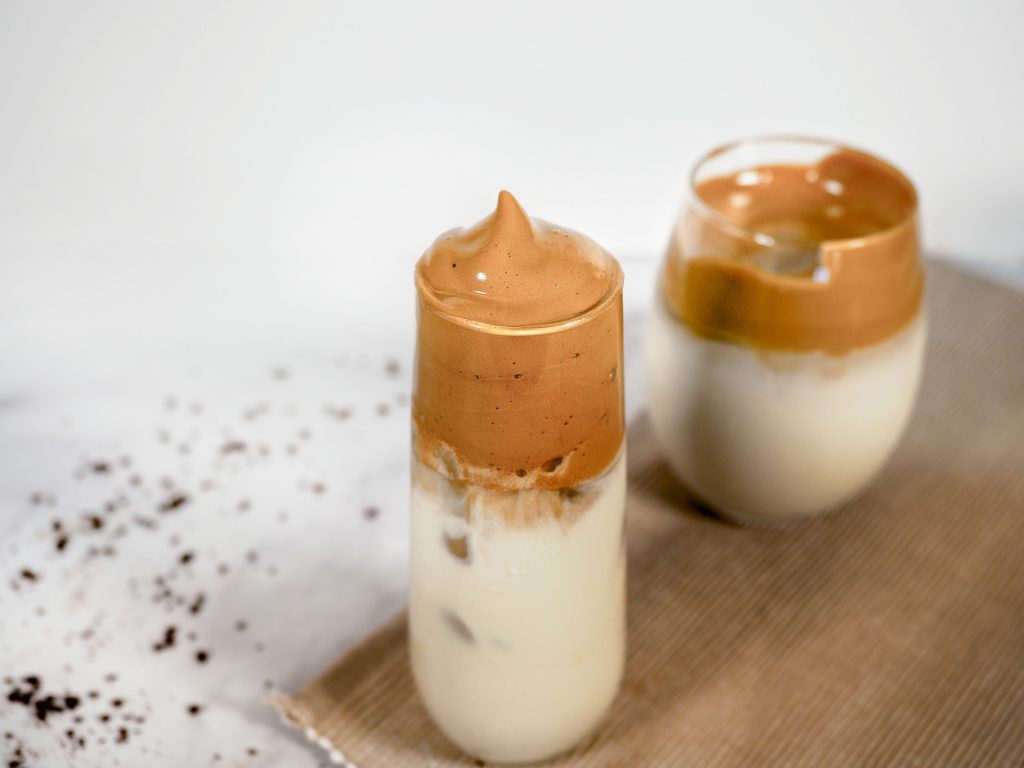 How To Choose The Milk For Your Vegan Whipped Coffee
Your choice of milk 100% does not matter for the base of your dalgona whipped coffee recipe. This is why I call this a vegan dalgona coffee recipe because the majority of people are choosing plant milks because they just taste better!
I used a combination of almond milk and cashew milk, and I also used flax milk. If you want an added kick of flavor to your dalgona coffee recipe, I recommend trying vanilla almond milk or the vanilla non-dairy milk of your choice.
Once again, vegan milks are the popular choice for dalgona coffee due to the fact that they are a bit thicker than regular cow's milk so they hold up better and mix with the whipped coffee better!
You can also choose to make your milk hot or cold! If you prefer a warm drink, simply warm your milk up on the stove beforehand! It is the perfect cozy drink, but I prefer the iced version because I will drink iced coffee no matter how cold it is!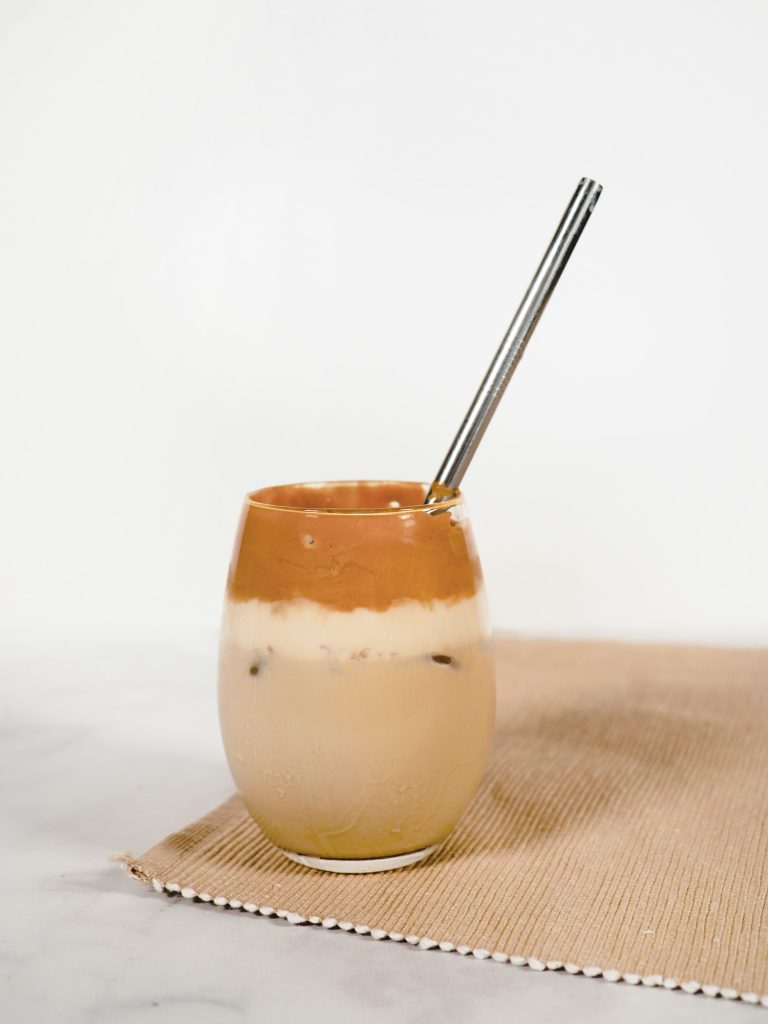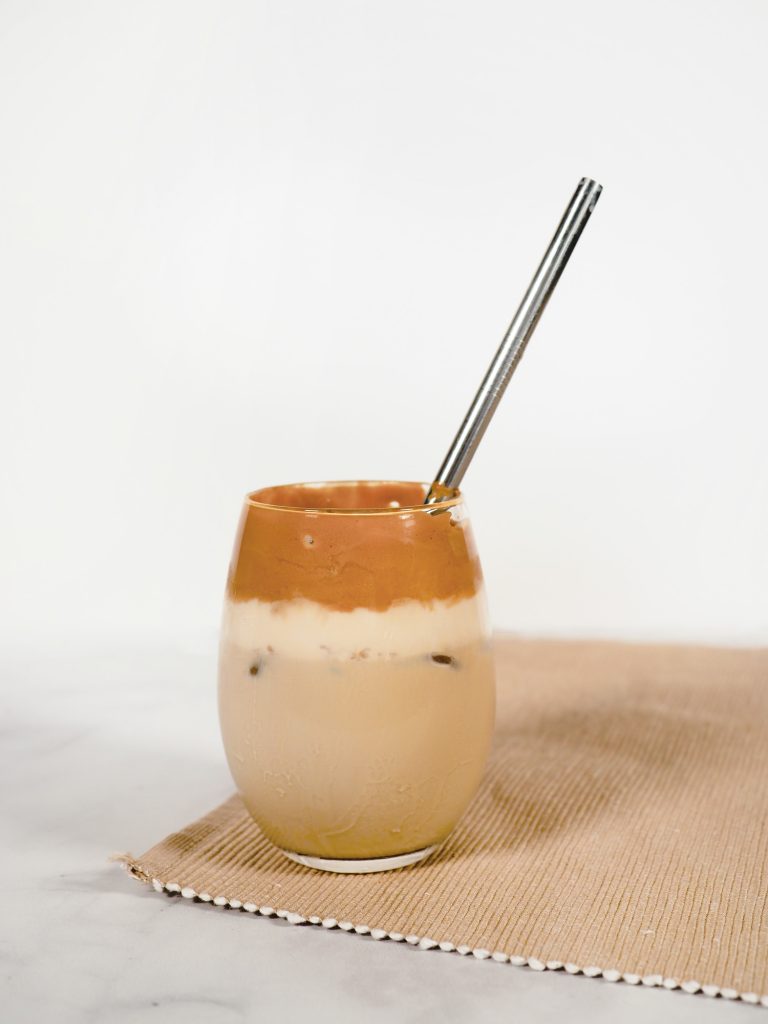 How To Make Dalgona Whipped Coffee
Making the dalgona coffee is SUPER easy! It is almost like magic! You will probably doubt yourself at first, but keep going, I promise that you will achieve the proper look and texture eventually.
If you are whipping by hand, please do not give up! You will want the mixture to look like whipped cream with peaks in the whipped portion!
First, you are going to combine sugar, instant coffee [any brand even decaf works], and hot water. I quickly boiled water on the stove until it was warm and then used that.
When you first start beating the vegan dalgona coffee mixture, it will look brown and have a very "coffee" look. It won't look like much and you will wonder how this is ever going to turn into a whipped beverage.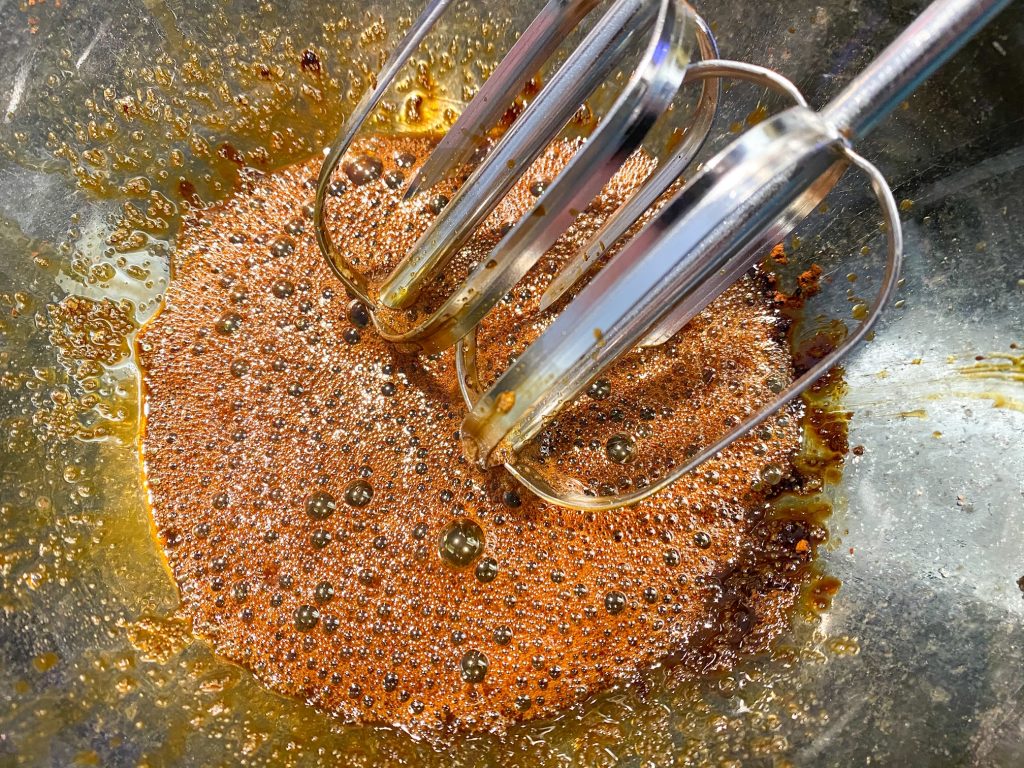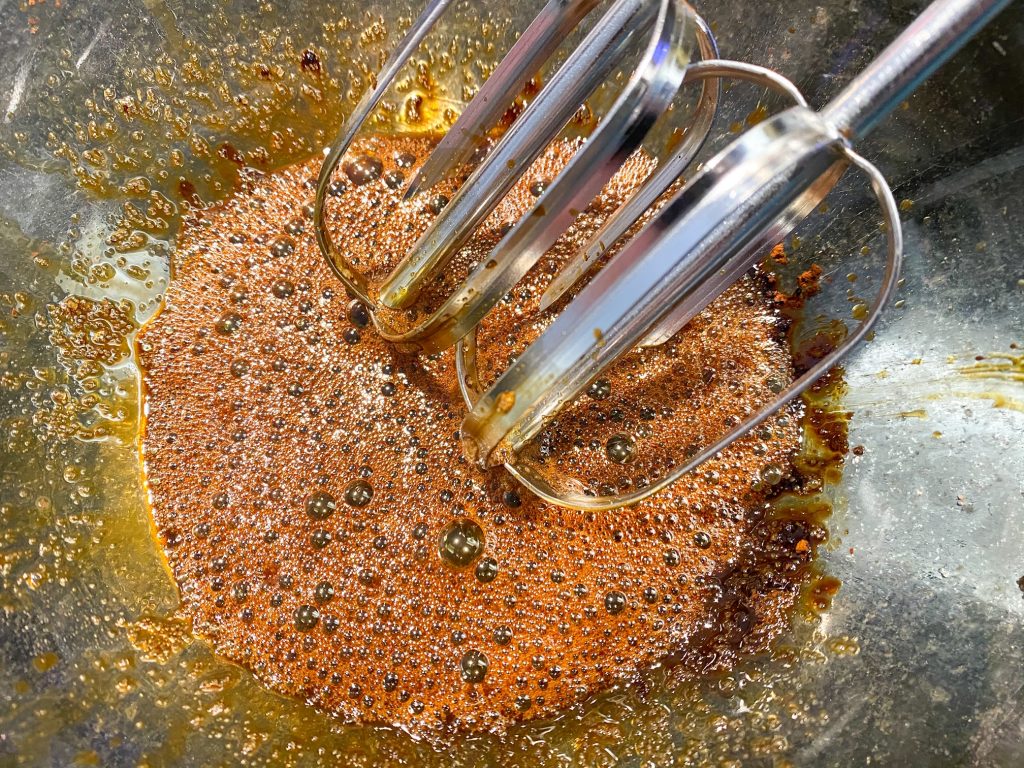 Next, the mixture will turn a golden orange-brown color. If you are using a hand mixer, you are going to be whipping for about 3-5 minutes. If you are using a whisk, you will be whisking for up to 20 minutes. Keep this in mind and follow the photographic steps below!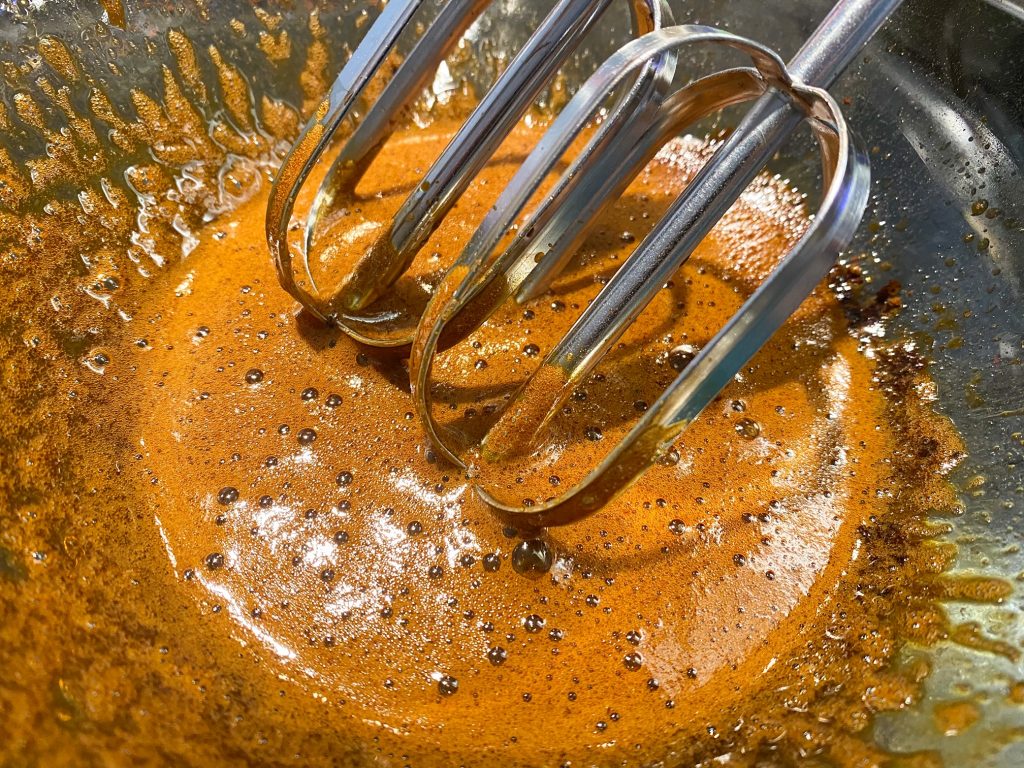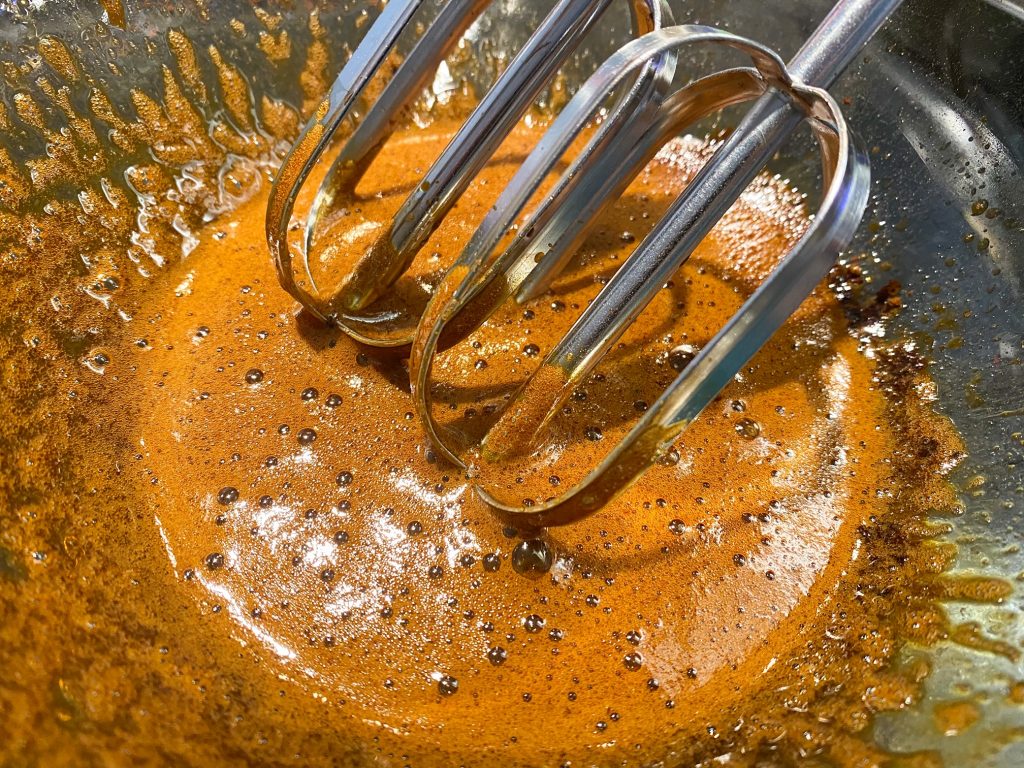 Keep going and your mixture will start to look like the photo below! You may think that the whipped coffee will be done, but nope, keep going. It is starting to get fluffy, but we aren't there yet!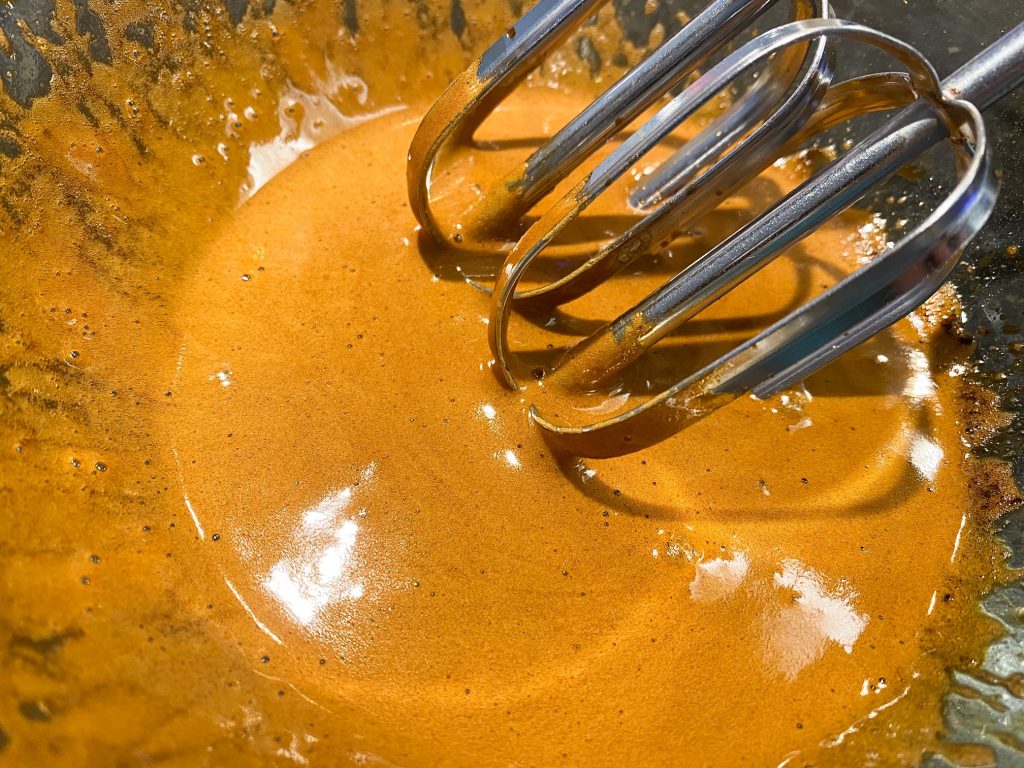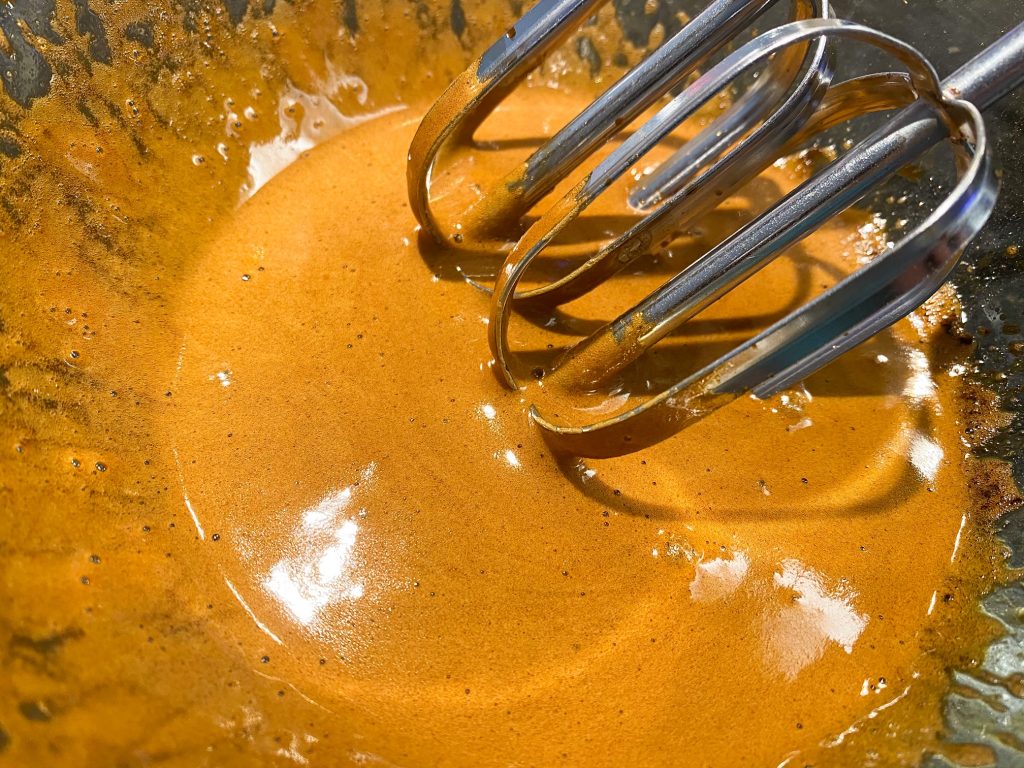 Finally, the mixture will start to look like icing or whipped cream, aka where the vegan dalgona coffee gets its name! It should look like the photo below! This is the consistency that it should have before you stop whisking or mixing.
If your coffee mixture does not have this consistency, you are going to want to keep mixing until it achieves the correct look!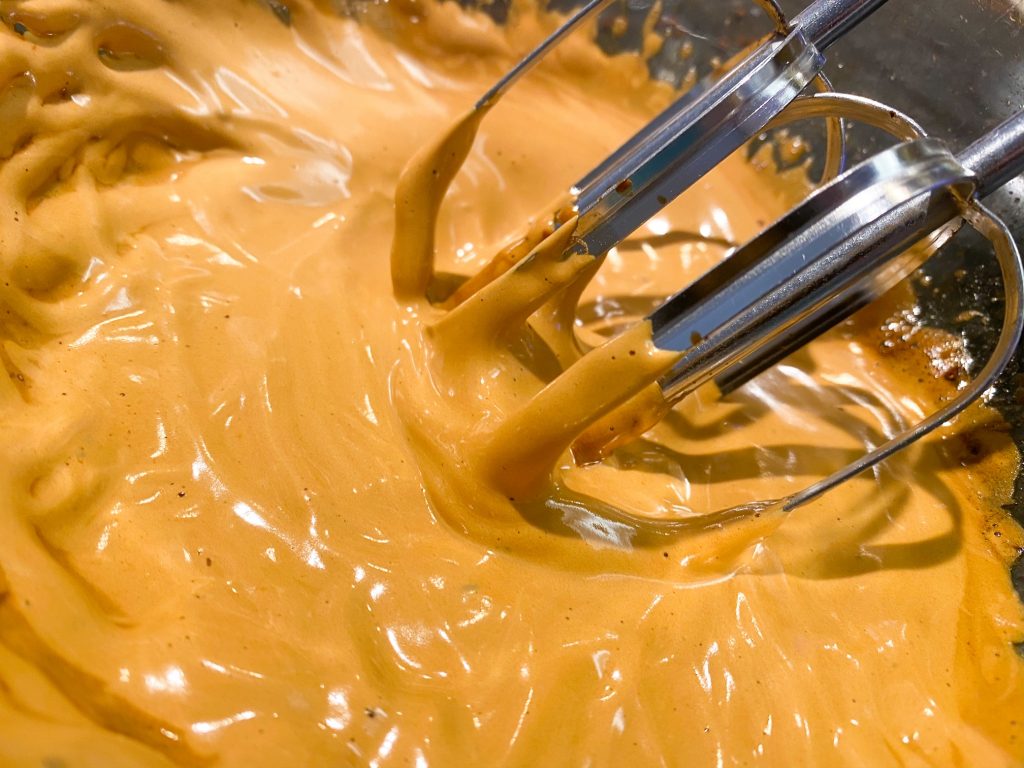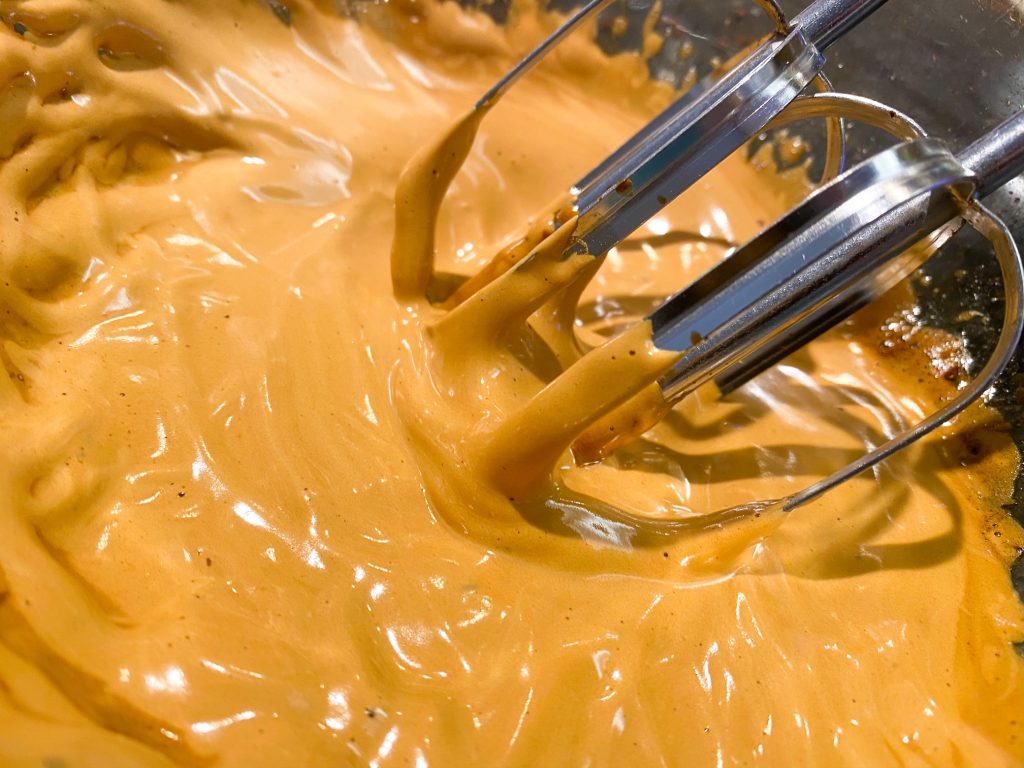 Finally, you will pour your milk in a glass over ice if it is a cold drink or warm from the stove if it is a hot beverage. This is where you determine how strong you want your drink to be.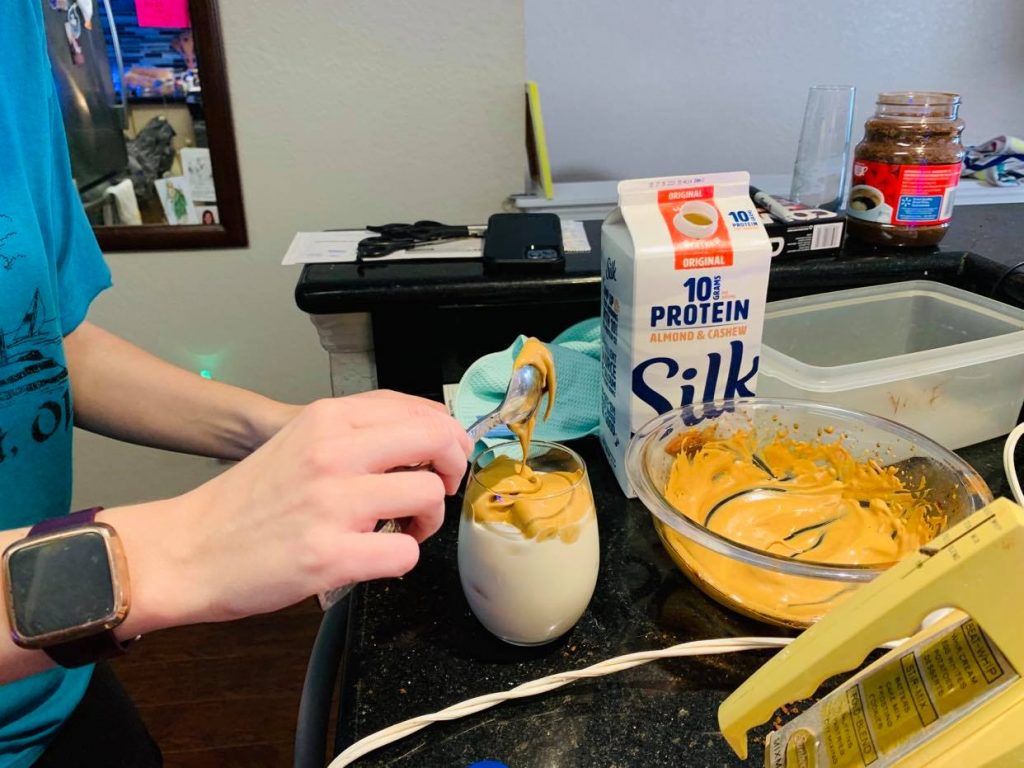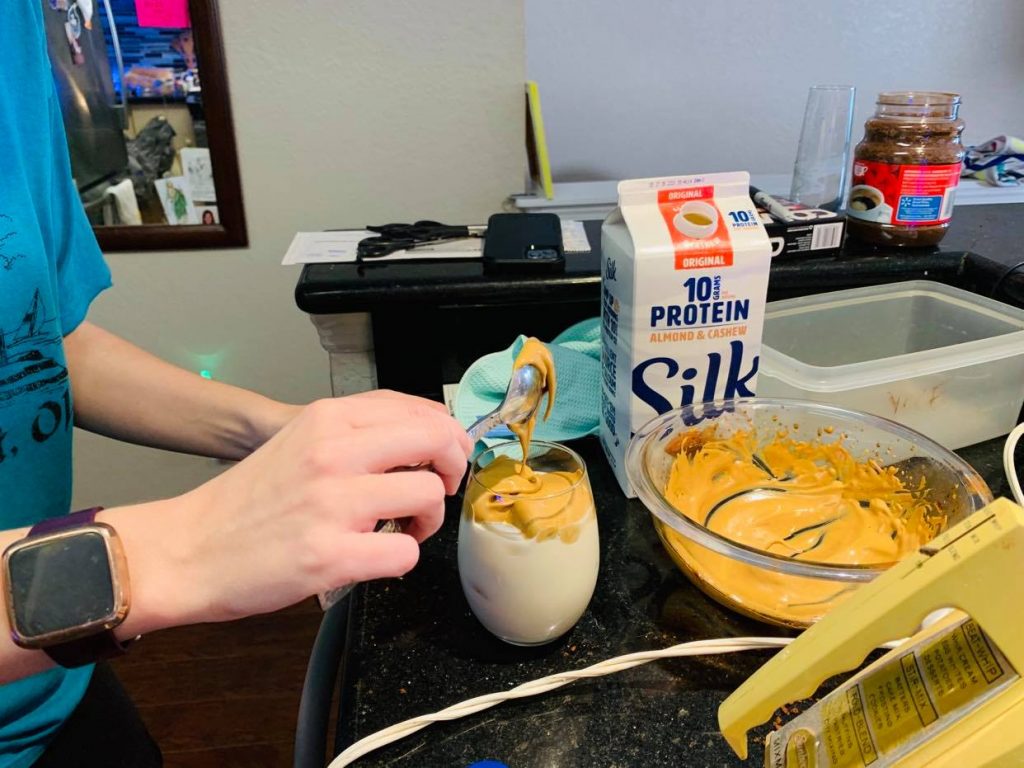 If you want your dalgona coffee to have a stronger whipped coffee flavor, add more whipped topping on top of your milk. If you want a stronger milk flavor, simply add less whipped coffee on top.
If you find out that you didn't add enough sugar to your vegan dalgona coffee mixture, simply add in a little sugar to the milk and give it a whirl around the help combine. You can add sugar to taste.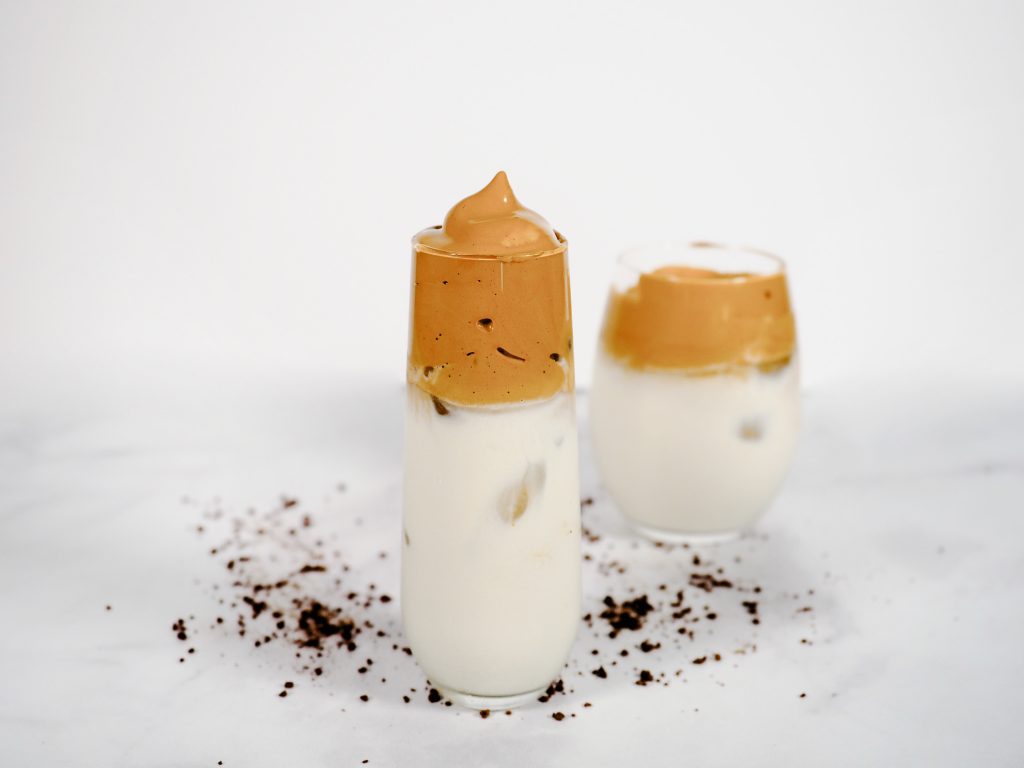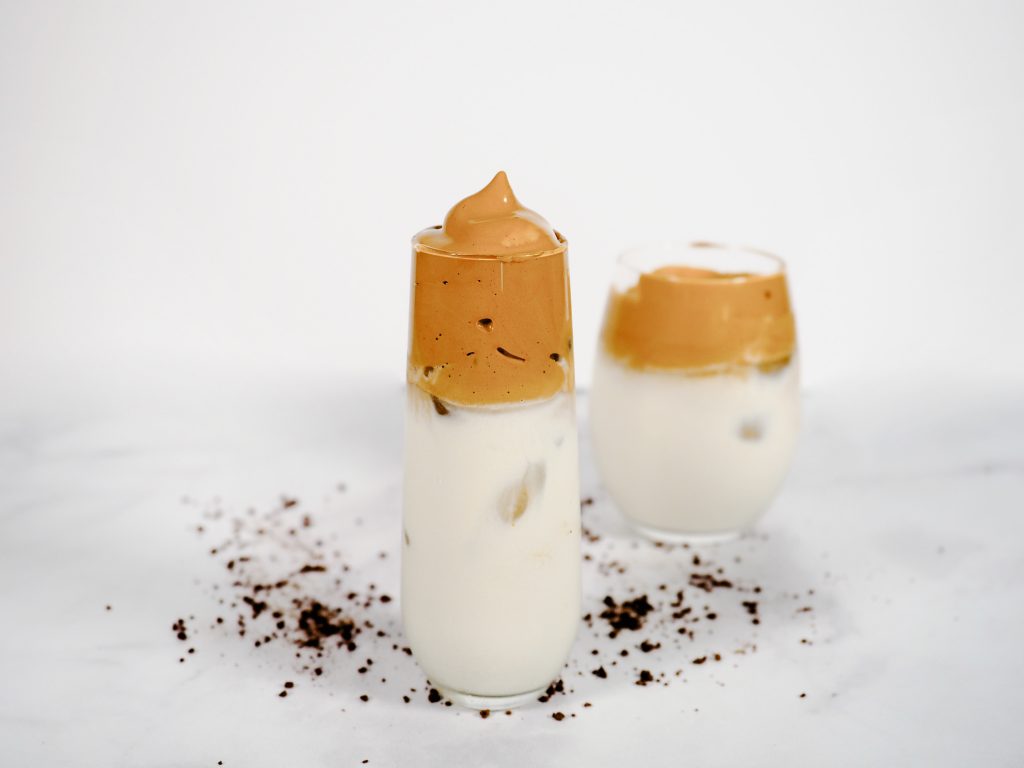 And that is it! That is how to easily create your own dalgona whipped coffee recipe! You can double or triple this recipe to feed your whole family!
Did You Try This Recipe?
If so, I would love to keep in touch! I enjoy seeing photos and comments about the recipes that you make! You can follow me on Instagram and I will repost your goodies in my stories and comment on it too! Just tag me at @wowitsveggie and hashtag #wowitsveggie. I can't wait to see what you make!
Yield: 2 Servings
4-Ingredient Dalgona Whipped Coffee Recipe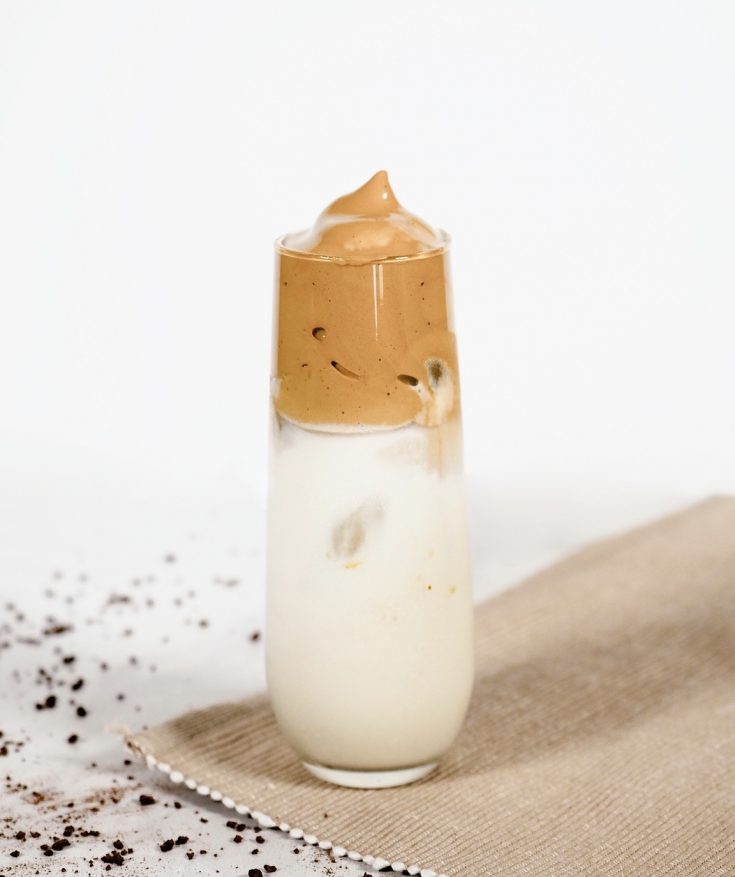 This dalgona whipped coffee recipe is easy to make and is also vegan! You can modify it based on your taste and it is the perfect refreshing drink for any time of day! You can also use the whipped coffee as a topping for desserts or breakfast items.
Ingredients
2 Tablespoons Instant Coffee [decaf is okay!]
3 Tablespoons Granulated Sugar [white or brown]
2 Tablespoons hot water
Non-dairy milk [enough to fill the glass you are using]
Ice
Instructions
Bring small pot of water until warm and then combine hot water, sugar, and instant coffee in a large bowl. You want a large bowl because the mixture may spatter.
Whisk using a hand mixer for 3-5 minutes or using a whisk for up to 20 minutes until the mixture becomes frothy like icing. If it doesn't achieve the desired consistency, keep mixing!
Taste the mixture. It will taste strong, but now is the time to add more coffee flavor or more sugar, depending on your taste.
Add whipped coffee to a glass of non-dairy milk with ice. Stir in using a straw or spoon. I found using a spoon to be much easier to swirl the mixture together!
Notes
MODIFICATION FOR SWEETER COFFEE: Use 1 tablespoon of instant coffee to 3 tablespoons of sugar. Serve over non-dairy creamer or milk with 1 teaspoon of sugar.
MODIFICATION FOR STRONGER COFFEE: Use 3 tablespoons of instant coffee and 2 tablespoons of sugar. Then, only fill your cup halfway with milk and the rest of the way with the whipped coffee.
MODIFICATION FOR VANILLA COFFEE: follow the recipe above and add half a teaspoon of vanilla extract and a dash of salt.
You can use any non-dairy milk of your choice to make this vegan dalgona coffee recipe!
If you want a lighter taste, modify using only 1 tablespoon of instant coffee. If you want a stronger taste, use 3 tablespoons. You can always add more sugar to your glass.
If you are using a whisk, don't give up! It may take up to 20 minutes and 400-500 whisking motions before you achieve the desired texture!
Nutrition Information
Yield
2
Serving Size
1
Amount Per Serving
Calories

134
Total Fat

2g
Saturated Fat

2g
Trans Fat

0g
Unsaturated Fat

1g
Cholesterol

10mg
Sodium

59mg
Carbohydrates

25g
Fiber

0g
Sugar

25g
Protein

4g