If you are looking for the best vegan ravioli recipe, you have come to the right place!
I am obsessed with ravioli, but it is impossible to find vegan ravioli when you are out at restaurants! As a result, you must make your own.
Believe it or not, it is actually quite simple to make your own vegan ravioli filling and then add that to your pasta dough and BAM you have the best dinner of all time!
In this recipe, I start you out with an easy vegan ravioli dough, my suggested filling, and my suggested sauce.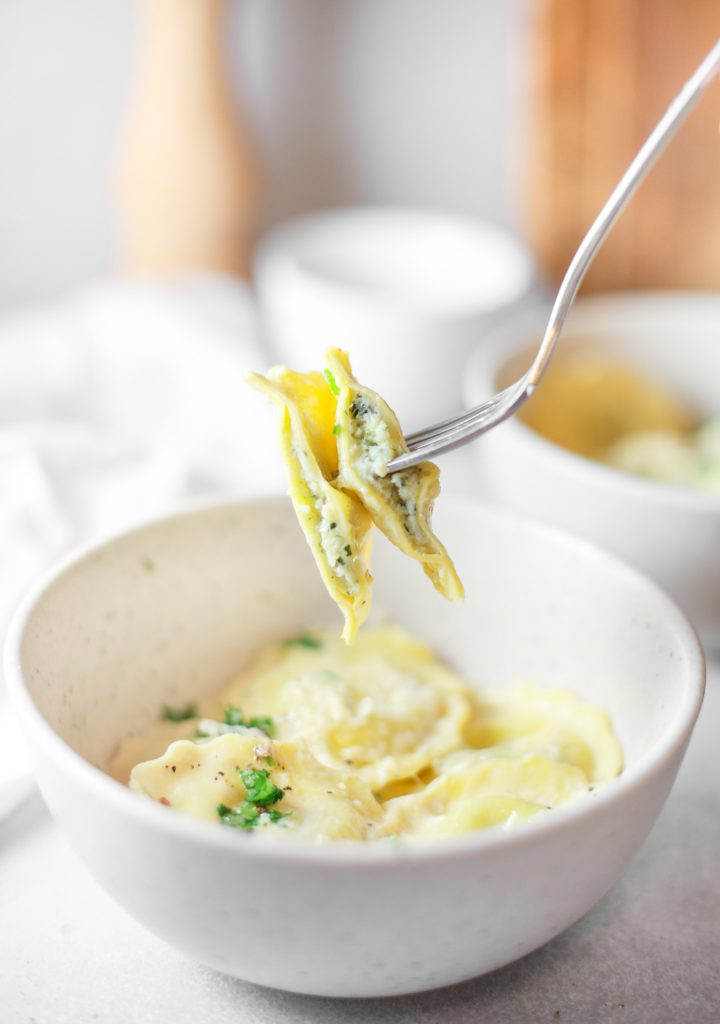 After you try it this way one time [or not] you can go absolutely wild with all the ways you can customize this recipe for yourself!
You can change up the filling and add anything you want, from tons of spinach to mushrooms or vegan cheese, pumpkin, anything!
You can change up the sauce and perhaps use a Vegan Alfredo Sauce or Vegan Marinara Sauce instead of the suggested cream sauce here!
The ways you can customize this vegan ravioli recipe are endless and it is one thing I totally love about it.
Once you get the hang of the steps, it is pretty easy to do.
This is also one of the Best Vegan Recipes For Kids as you can involve the kids in helping dollop the filling onto the pasta rounds or even enlist them to use a cookie cutter to cut the shapes!
Either way, it is hard to go wrong when making your own ravioli.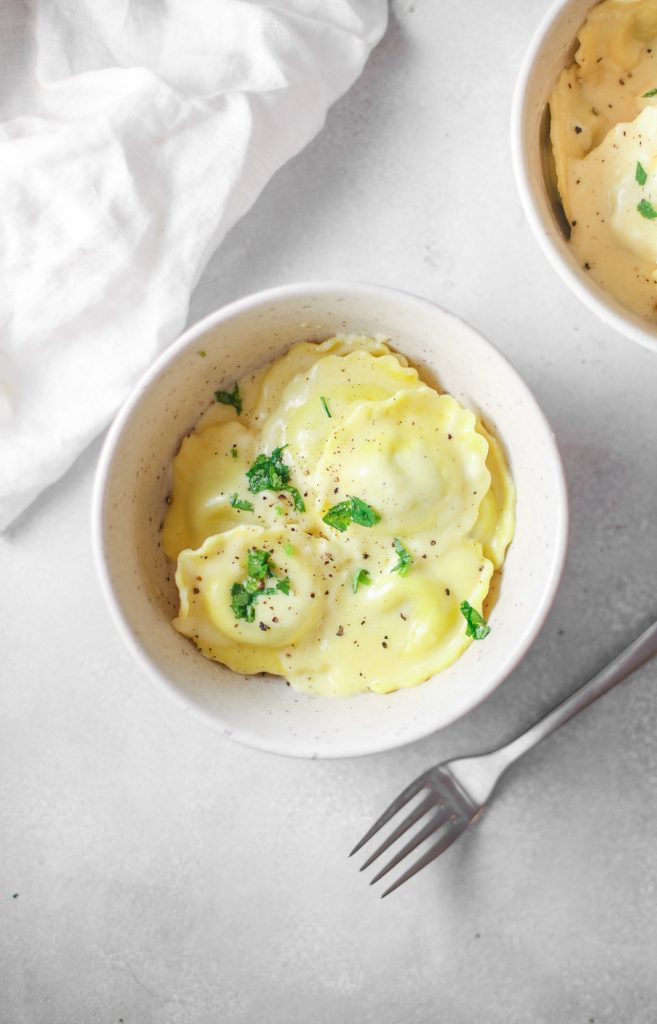 Making Your Own Vegan Ravioli Dough Without Eggs
If you think that the only way to make your own pasta is with eggs, I am here to tell you that you are delightfully wrong!
You can easily make your own vegan ravioli dough using just 4 ingredients which are flour, salt, oil, and warm water!
It is truly a fast and easy process and is basically newbie proof!
You do not need any special tools in order to make the ravioli dough! you just have to let the dough rest for 30 minutes so you will have to sacrifice a little bit of your time, but otherwise, it is easy peasy!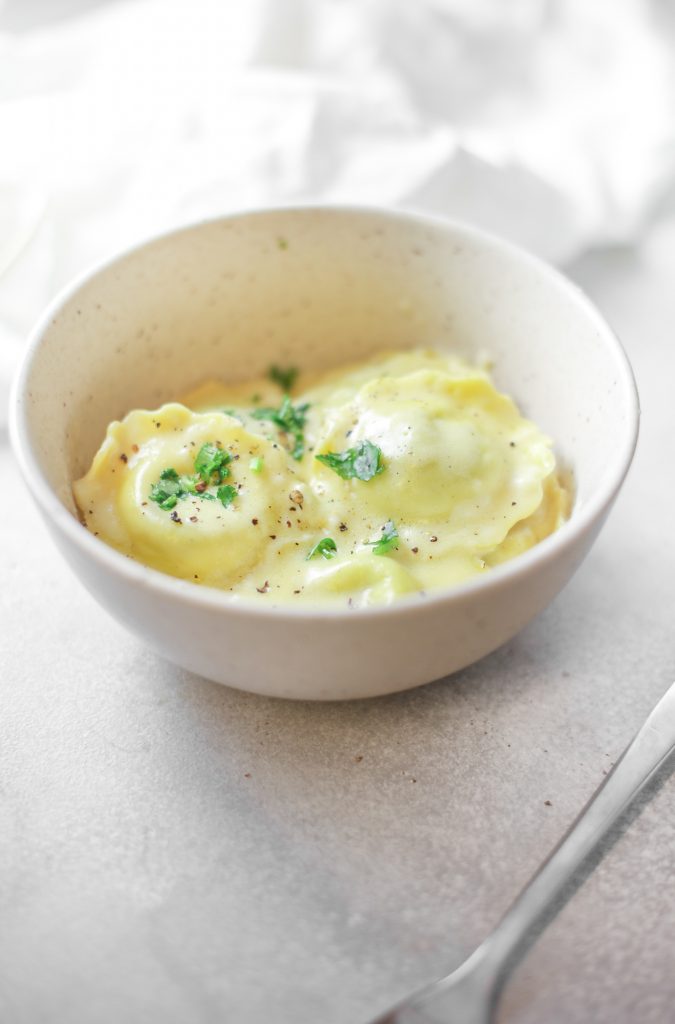 How To Make The Vegan Ravioli Filling
Making the vegan ravioli filling is so super simple!
I am all about saving you time, so you can use store-bought vegan ricotta. Whole Foods generally has it, but you can also make your own vegan ricotta easily to go inside the ravioli!
This is my easy recipe for vegan ricotta:
1 1/2 cups raw cashews
1 cup water
2 tablespoons lemon juice
1.5 teaspoons sea salt
1 garlic clove
1 teaspoon onion powder
2 tablespoons cornstarch or arrowroot
I also use it in my Vegan Eggplant Parmesan Recipe!
Anyway! Whether you choose to use store bought vegan ricotta or to make your own, that is up to you! To prepare the filling, simply saute your spinach, garlic powder, onion powder and whatever other veggies you want such as mushrooms.
Then, transfer to a food processor and add your vegan ricotta, either homemade or store bought, and give it a good puree until combined!
Making the vegan ravioli filling is so easy! If you don't want to use ricotta at all or want a nut-free alternative, you can just fill the inside with mushrooms and spinach or whatever your heart desires!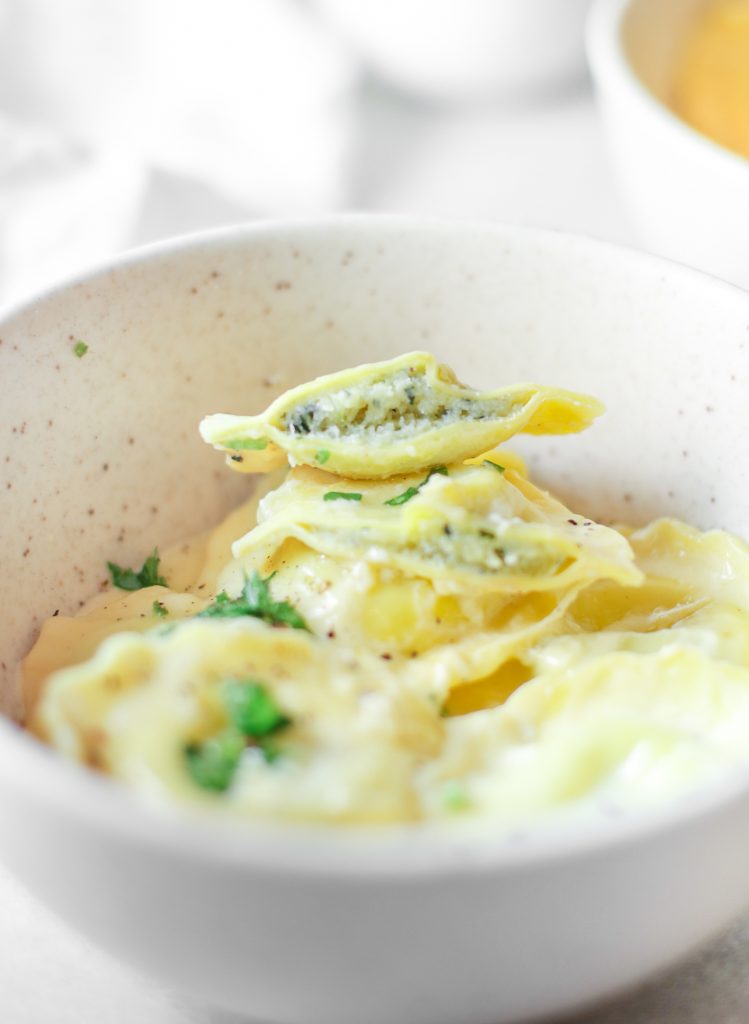 How To Put Together The Vegan Ravioli
Putting together the vegan ravioli is quite easy!
Roll out your flour until very thin and then use a cookie cutter or the round top of a glass to cut out small circles.
I do find that a cookie cutter works better, and you can use fun shapes if you want such as scalloped edges, but the top of a cup works just fine in a pinch and I have used it before!
Then, place about 1 tablespoon of your ravioli filling in the center of your circle and brush the edge of the pasta circle with water.
Cover with a second pasta round and press firmly around the edges to make sure they are sealed!
Then, repeat the process.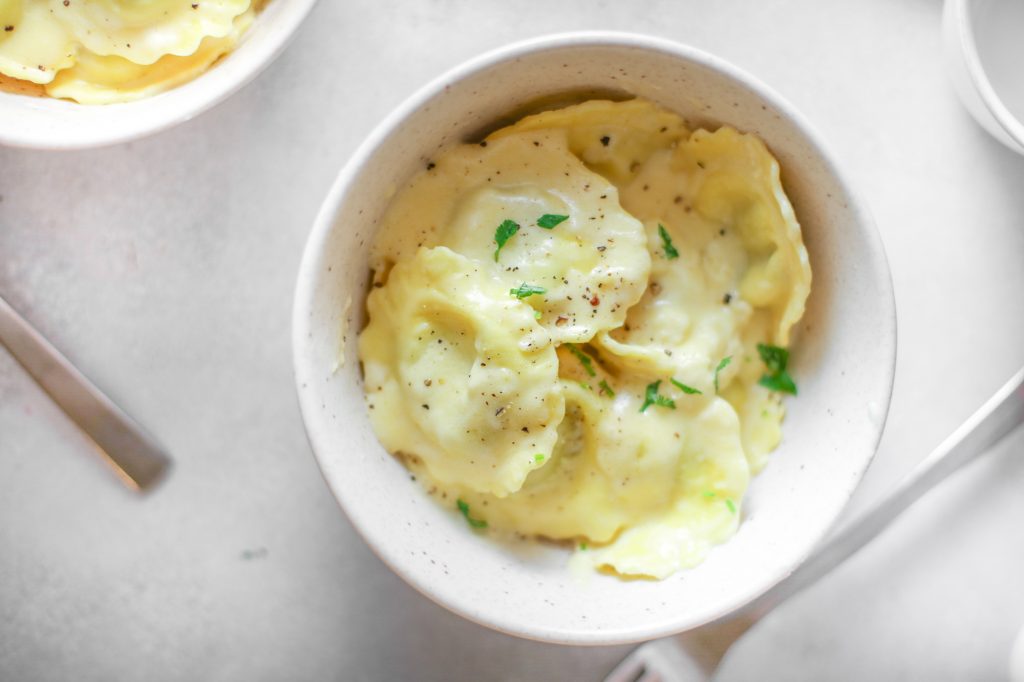 This is why I recommend enlisting the help of someone or even your kids for this part. It is kind of like making cookies and takes a little time to form them all.
To cook the vegan ravioli, simply boil them for 3 minutes in salted water or until they float.
Be careful not to overcook them or else they won't come out the way they are supposed to!
Finally, while the ravioli is cooking or just before you cook them, prepare your sauce by sauting everything in a pan and tossing with the ravioli to combine.
Of course, you can use the sauce of your choice and a nice Vegan Red Sauce goes wonderfully with this recipe as well.
It just depends on your tastes!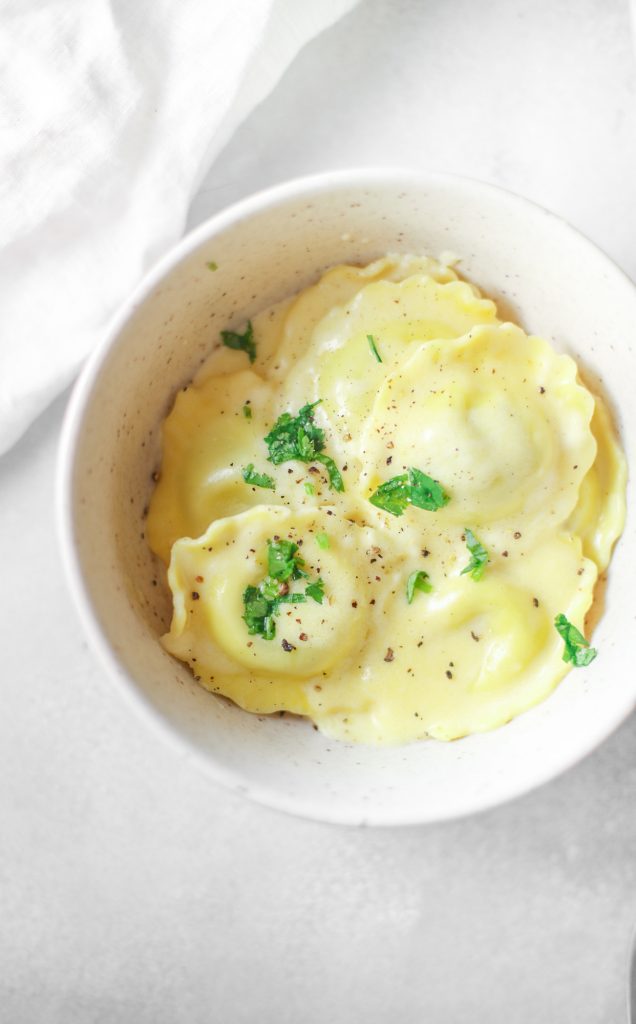 Tips For Storing This Vegan Ravioli Recipe
Believe it or not, this vegan ravioli recipe keeps well for up to 5 days in the fridge.
Just make sure to store it in a covered and air-tight container.
Of course, you can use the microwave if you want to reheat, but I have a better idea!
You are going to fry them! Yes, fry on the stove and it makes the ravioli slightly crispy and so delicious!
If you don't want to use oil, you can use Vegan Butter to coat your pan.
Just lightly pan fry until the raviolis are warm throughout and then toss with more sauce!
Did You Try This Recipe?
If so, I would love to keep in touch! I enjoy seeing photos and comments about the recipes that you make! You can follow me on Instagram and I will repost your goodies in my stories and comment on it too! Just tag me at @wowitsveggie and hashtag #wowitsveggie. I can't wait to see what you make!
Yield: 4 Servings
Classic Vegan Ravioli (Step-By-Step Recipe)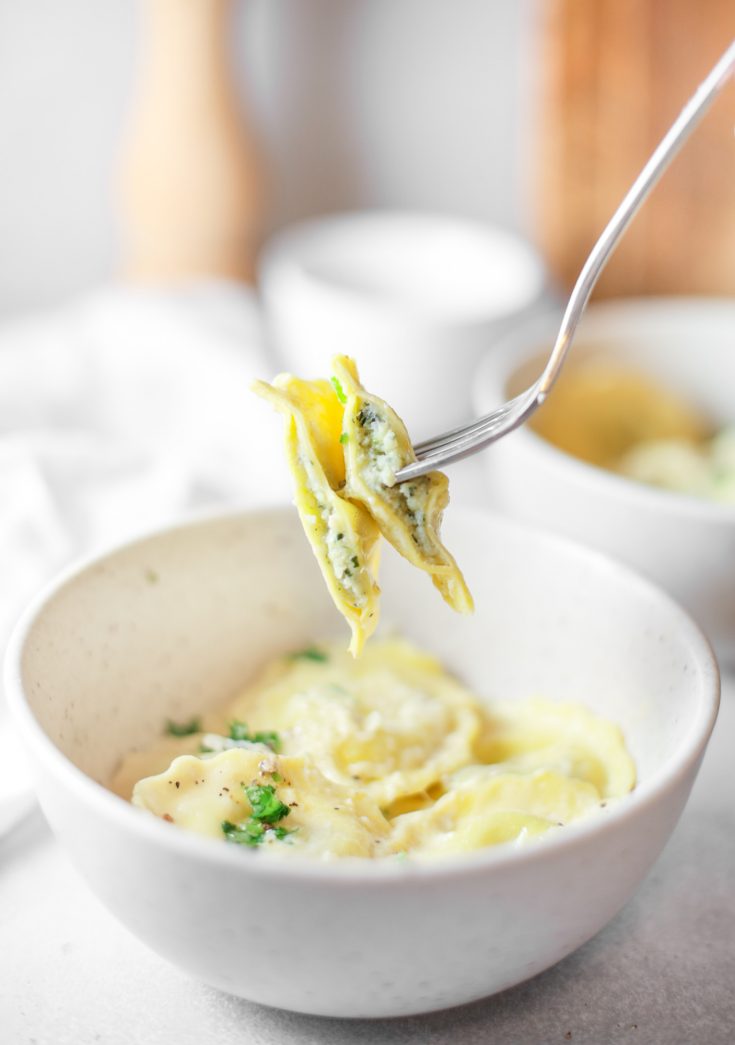 This vegan ravioli recipe is stuffed with delicious vegan ricotta and topped with creamy sauce. The best part is that you can customize the vegan ravioli filling with whatever you want if you don't like what I have here! The same goes for the sauce! Switch it out and play it up however you want!
Ingredients
Ravioli Dough
2 2/1 cups flour
1/2 tsp salt
1 TBS oil
3/4 cup warm water
Ravioli Filling
2/3 cup vegan ricotta (store bought or homemade using my recipe linked below)
1 cup spinach
1 TBSP oil
1 TSP garlic powder
1 TSP onion powder
salt and pepper to taste
Ravioli Sauce
3 tbsp vegan butter
1 tbsp flour
1 cup non-dairy milk
1 tbsp nutritional yeast
1 tsp garlic powder
pinch of nutmeg
Salt and pepper to taste
Instructions
Prepare The Vegan Ravioli Filling:

Heat oil in a pan over medium heat. Add the spinach, garlic powder and onion powder and sauté until wilted.
Transfer to a food processor, add the vegan ricotta and salt and pepper to taste. Pulse until combined. If you are making your own my recipe for Vegan Cashew Cheese is at the bottom of this recipe entitled Vegan Mozzarella Sauce!
Prepare The Vegan Ravioli Dough:
In a bowl, combine the flour with the salt. Add the oil and the warm water and knead until you have a thick and elastic dough. Cover and let it rest for 30 minutes.
Roll out the pasta until 1 mm thick. With the help of a cookie cutter cut out small circles. You can also use the top of a glass!
Place around 1 Tbsp filling in the center of a circle and brush the borders with water. Cover with a second round of pasta dough and press firmly to close.
Repeat the process with the rest of the pasta dough and filling.
Cooking The Ravioli:
Fill a large pot with salted water and bring to a boil. Add the ravioli and cook for 3 minutes or until they float. Drain and discard the water. Make sure not to overcook!
Preparing The Cream Sauce:

Melt the Vegan butter in a pan over medium heat. Add the flour and cook for 1 minute.
Pour the almond milk, garlic powder, nutmeg, nutritional Yeats and salt and pepper and stir to combine.
Bring to a simmer and cook until thickened, around 30 seconds.
Add vegan ravioli and stir until combined and fully coated!




Notes
You can use whatever sauce you want for this recipe!
I also recommend my:
You can also choose to skip the vegan ricotta filling and use whatever mix of cooked veggies you have on hand for the filling instead!