If you are looking for an easy vegan peppermint bark recipe, this is the one for you!
The flavor of dark and white chocolate blended together with peppermint and topped with candy canes will taste like an explosion of Christmas in your mouth! Of course, you can customize this recipe however you like as well!
If you want something quicker, you can always check out my 3-Ingredient Peppermint Fudge, but you can't go wrong with either recipe!
One thing that I love about making this vegan peppermint bark recipe is that it makes the perfect gift for the holidays.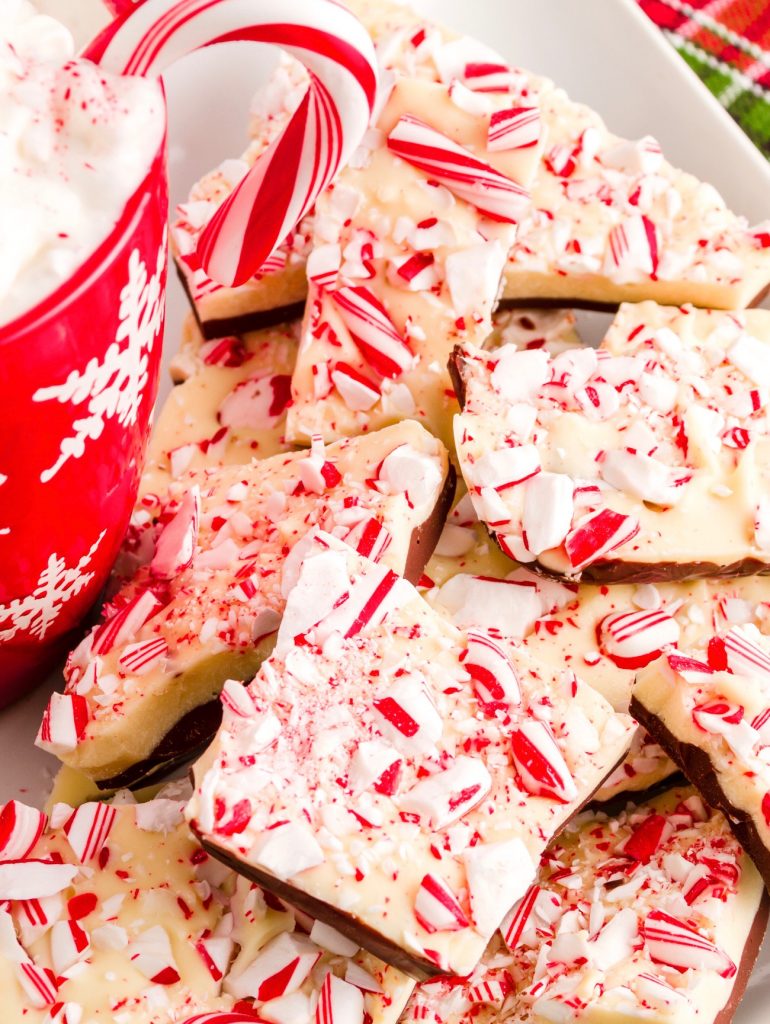 Make a huge batch, or two or three, and then wrap the peppermint bark in cellophane and tie it with a bow and add a candy cane and give it as gifts to those you want to appreciate during the Christmas season!
If you are new to making peppermint bark, just know that it is basically fail-safe! You just spread out the dark chocolate, let it harden, spread on the white chocolate and sprinkle on the peppermint and let it harden and you are done.
It is the perfect recipe for Christmas and kids love helping make it, especially when it comes time to crack the peppermint bark!
I hope you enjoy making this vegan peppermint bark as part of your holiday celebration as much as I do!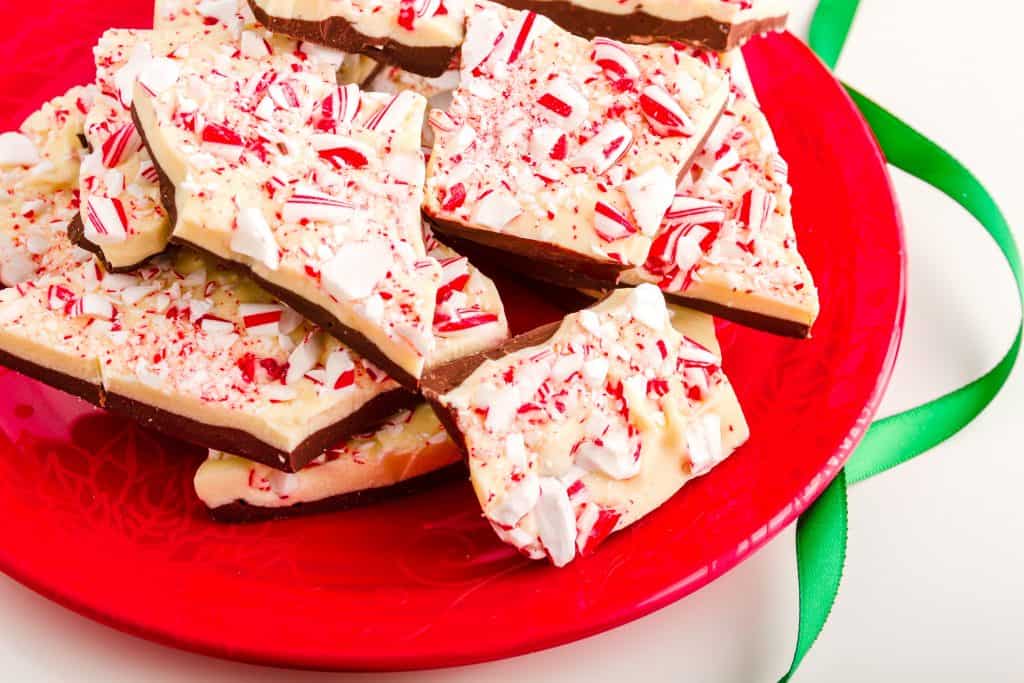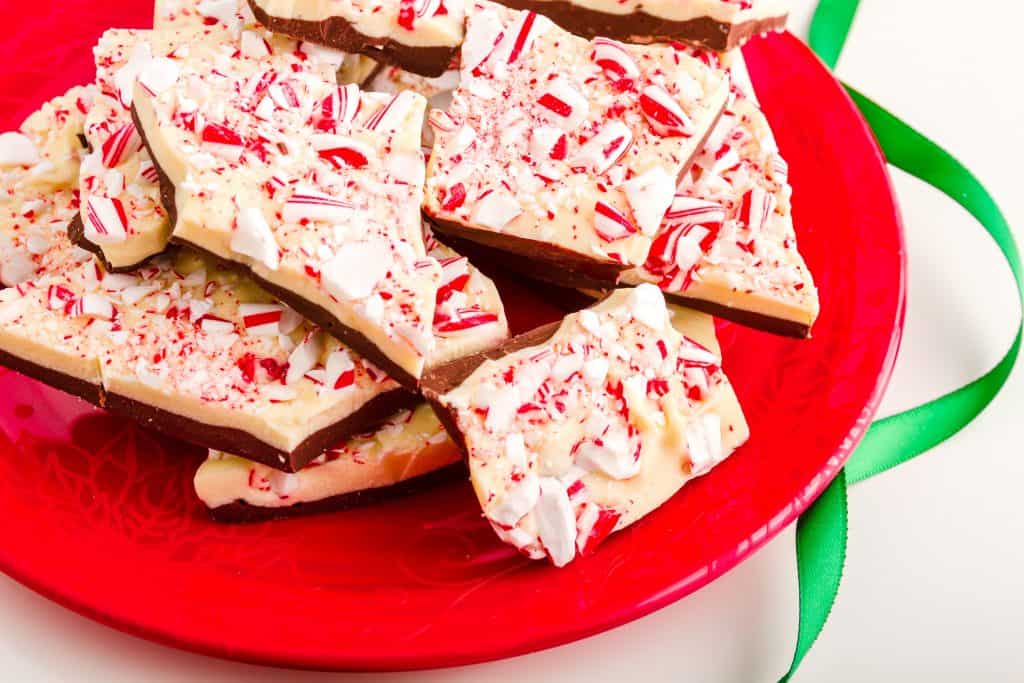 Why You Will Love This Vegan Peppermint Bark
It whips up super easily. Compared to other recipes, this homemade peppermint bark is quite simple and quick to make. You can put it in your fridge or freezer and forget about it while it cures!
Perfect for new cooks. The holidays can be stressful when you are not a confident chef, simply because you are new. This vegan white chocolate peppermint bark is so easy and simple that you will have a hard time doing it wrong. Plus, you will break it into pieces so it doesn't have to be "perfect" anyway!
Healthier than store-bought. Obviously, making homemade peppermint bark is a lot healthier than buying it online or from the store. Plus, this peppermint bark is vegan so you can rest assured even your friends with dietary restrictions can indulge!
Where To Buy Vegan White Chocolate Chips
When you read the title of this, you may be confused how these can be vegan peppermint bark with white chocolate as white chocolate chips that are vegan seem impossible to find.
This isn't true anymore and they are actually quite easy to source!
Did you know that you can easily find plenty of Vegan White Chocolate Chips On Amazon!
But did you know that WALMART and your regular grocery store has vegan white chocolate chips too?!
Nestle makes a brand called "Simply Delicious" and they are a vegan line of White Chocolate Chips!
These are your two best bets! To try and order some vegan white chocolate chips from Amazon or Walmart!
Sometimes Whole Foods or your local grocery store will also carry vegan white chocolate chips as well so you just have to ask or look at the ingredients!
If you are doing a lot of baking this holiday season, you may want to order quite a few bags of the vegan white chocolate chips so that you have them on hand! We always buy in bulk to make sure we don't run out.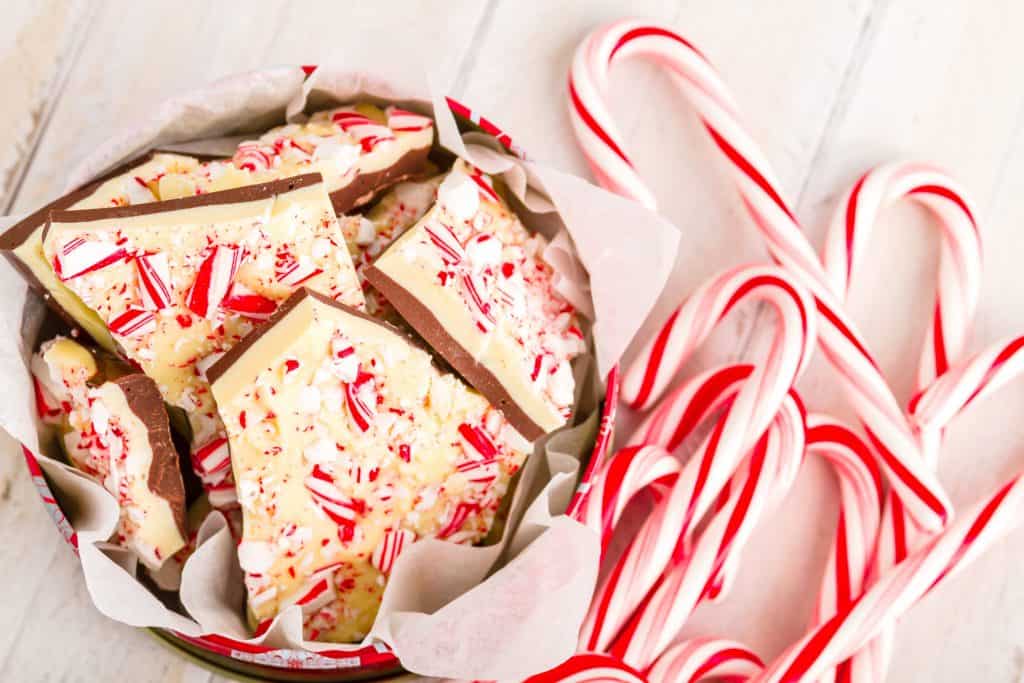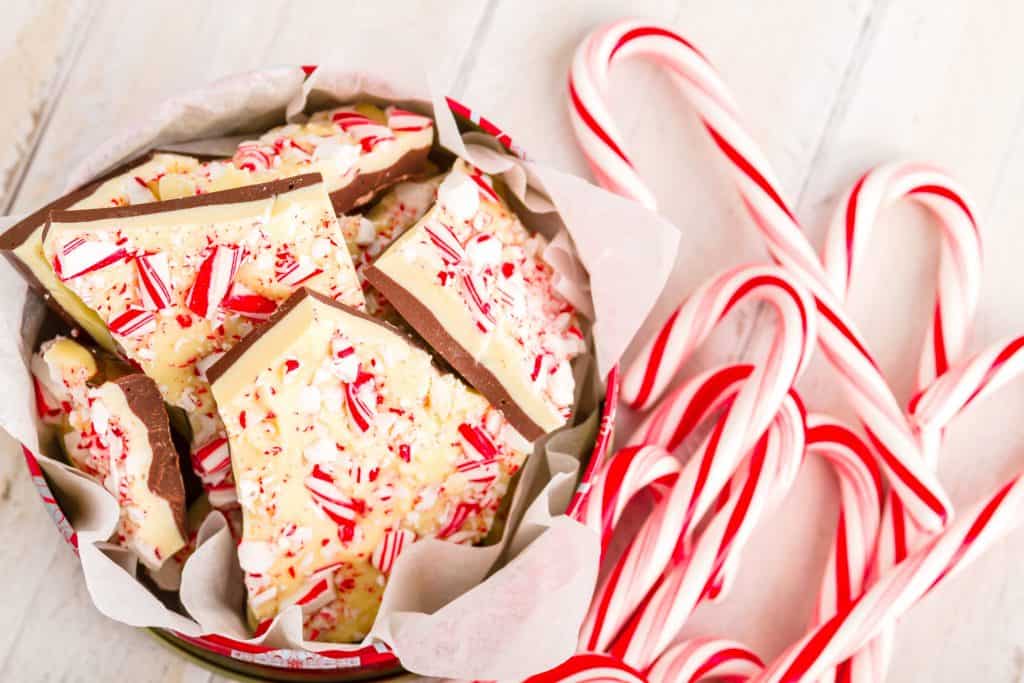 How To Make Vegan Peppermint Bark
As I said above, making vegan peppermint bark is sinfully easy! It is perfect if you are looking for a fast and affordable homemade gift for the holidays. Once again, homemade peppermint bark is a whole lot easier than you think and way healthier than the store-bought kind.
First, you are going to want to melt your dark chocolate in a small saucepan on the stove. Once melted, you will stir in the peppermint extract.
Make sure to use actual peppermint extract that is meant for baking, not essential oils or something just meant to be used for aromatherapy, yes there is a difference and you want to make sure your DIY peppermint bark is healthy to consume.
Then, you are going to line a baking sheet with parchment paper and spread your chocolate layer all over the sheet in a thin layer.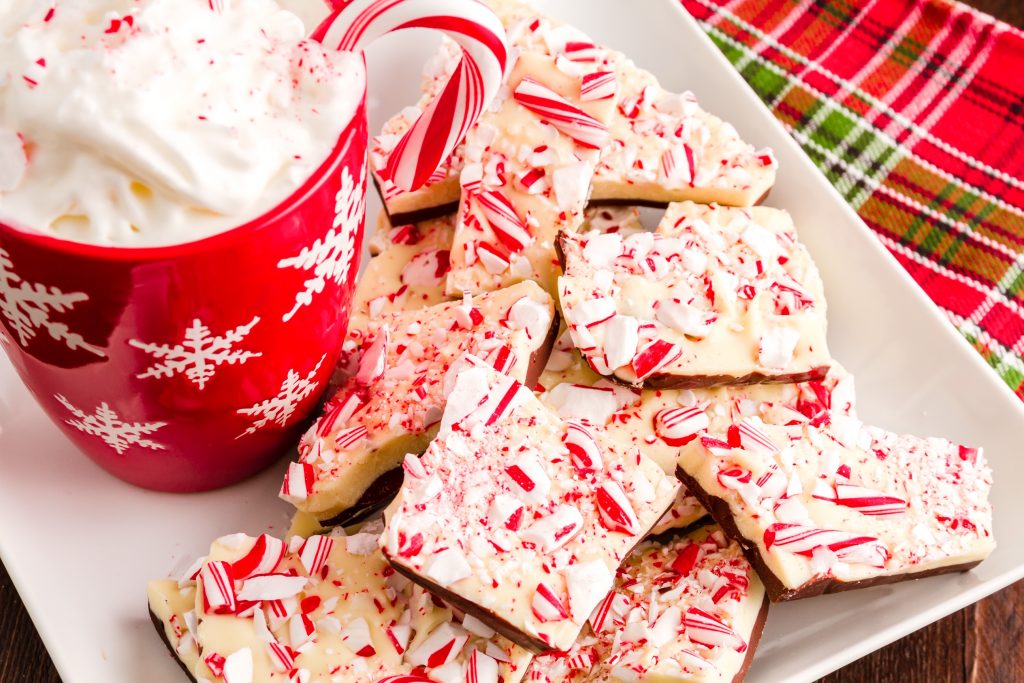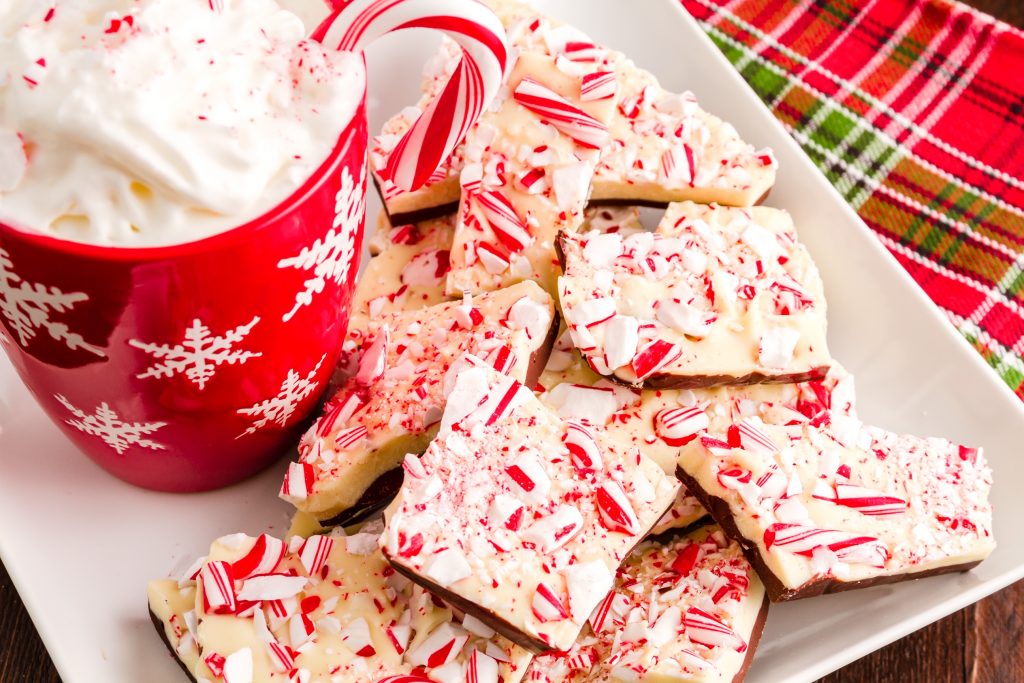 Then, pop it in the fridge to harden.
Once the chocolate layer is hard, melt the white chocolate chips over the stove or on the microwave until melted.
You can add more peppermint extract into the white chocolate layer if you want, but I prefer it on just the chocolate one so the flavors aren't too overwhelming!
As I mentioned above, this easy recipe for peppermint bark is perfect when you are in a time crunch and are baking other goodies or when you are a new chef who wants to gain confidence!
Spread the melted white chocolate chips over the hard dark chocolate.
Now, you are going to put your candy canes in a plastic bag and use a rolling pin to crush them.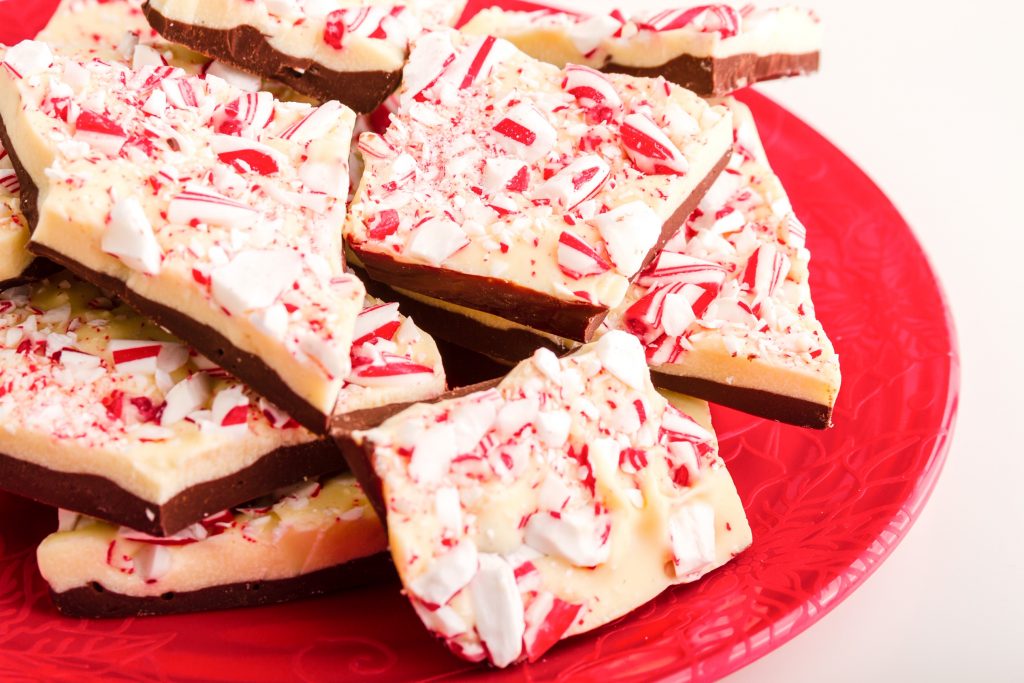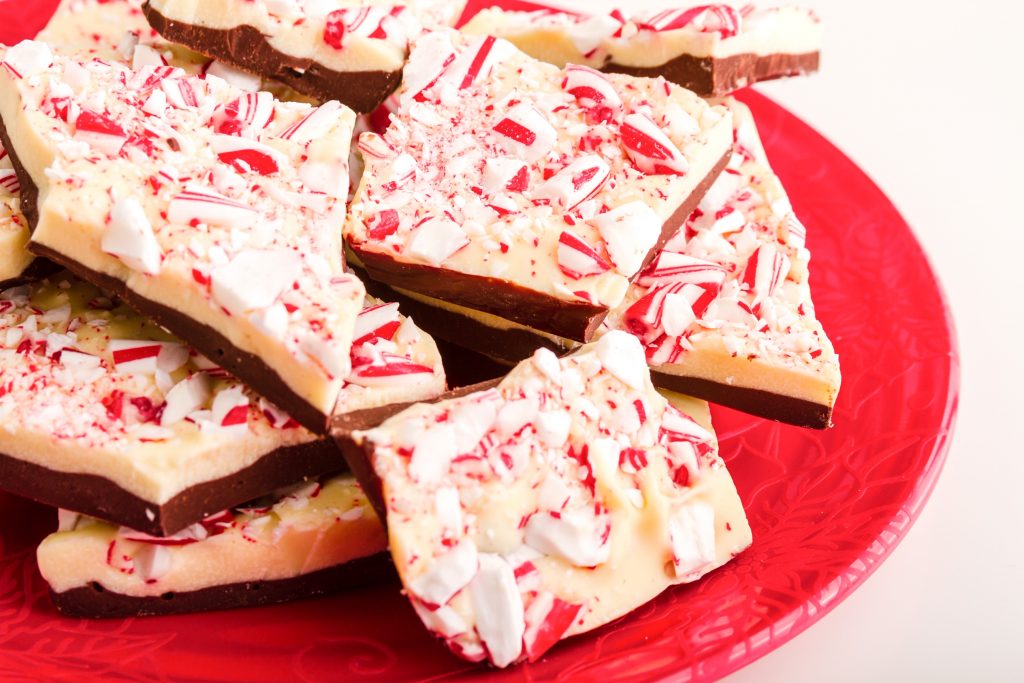 Of course, you can crush your candy however you want and in whatever way is easiest for you! As long as it is crushed, that is all that matters.
While the white chocolate is still liquid, sprinkle the crushed candy canes over the top of the entire baking sheet.
Pop the vegan peppermint bark back in the fridge to harden and then you are done!
Once hard, you can use your hands to break the DIY peppermint bark into pieces or hit the tray against the counter to get it to break into large pieces!
You don't want uniform squares, the more jagged the better, as that is what peppermint bark is all about!
Personally, I prefer the jagged pieces as that is the joy of making homemade peppermint bark.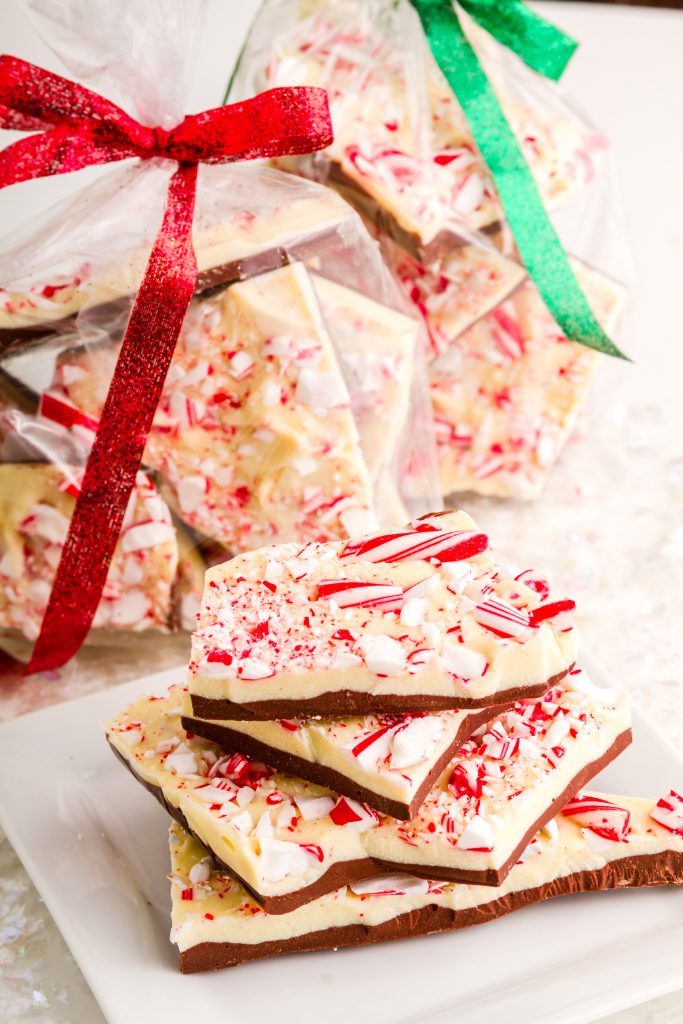 How To Store Peppermint Bark
You can store vegan peppermint bark at room temperature for 5-7 days, but I prefer to store it in the fridge.
It can be stored in the fridge for 2-3 weeks so you can make the recipe ahead of the holidays and then you can give it out to friends!
I do not recommend freezing this vegan peppermint bark recipe as the candy canes will become sticky and will melt when they unfreeze making the texture really weird and not all the best!
Did You Try This Recipe?
If so, I would love to keep in touch! I enjoy seeing photos and comments about the recipes that you make! You can follow me on Instagram and I will repost your goodies in my stories and comment on it too! Just tag me at @wowitsveggie and hashtag #wowitsveggie. I can't wait to see what you make!
Yield: 16 Servings
Easy Vegan Peppermint Bark Recipe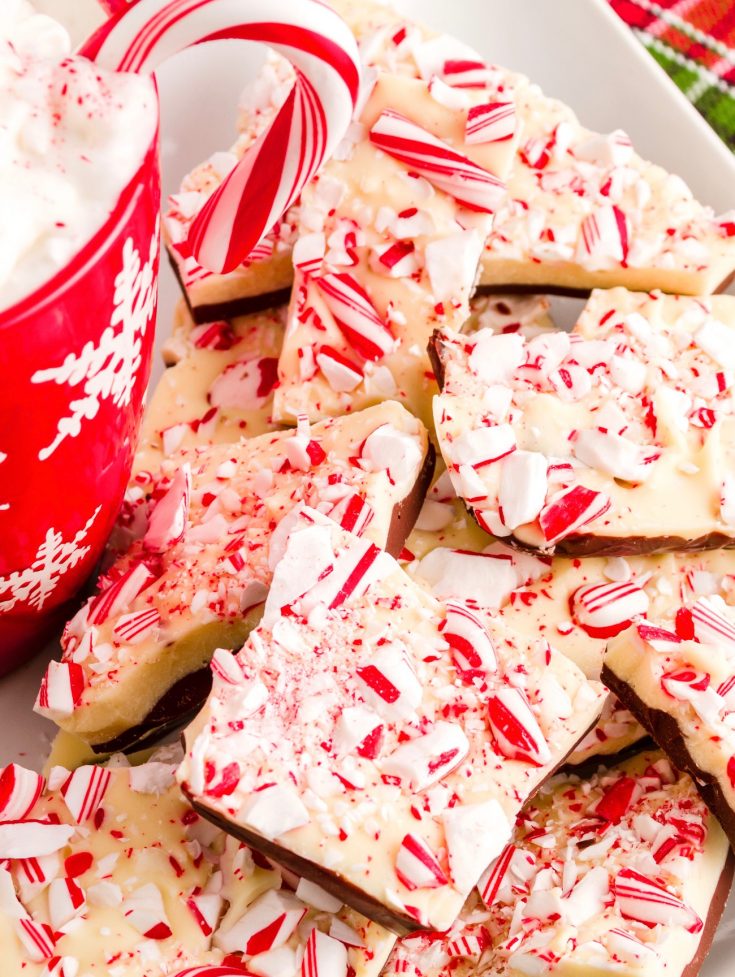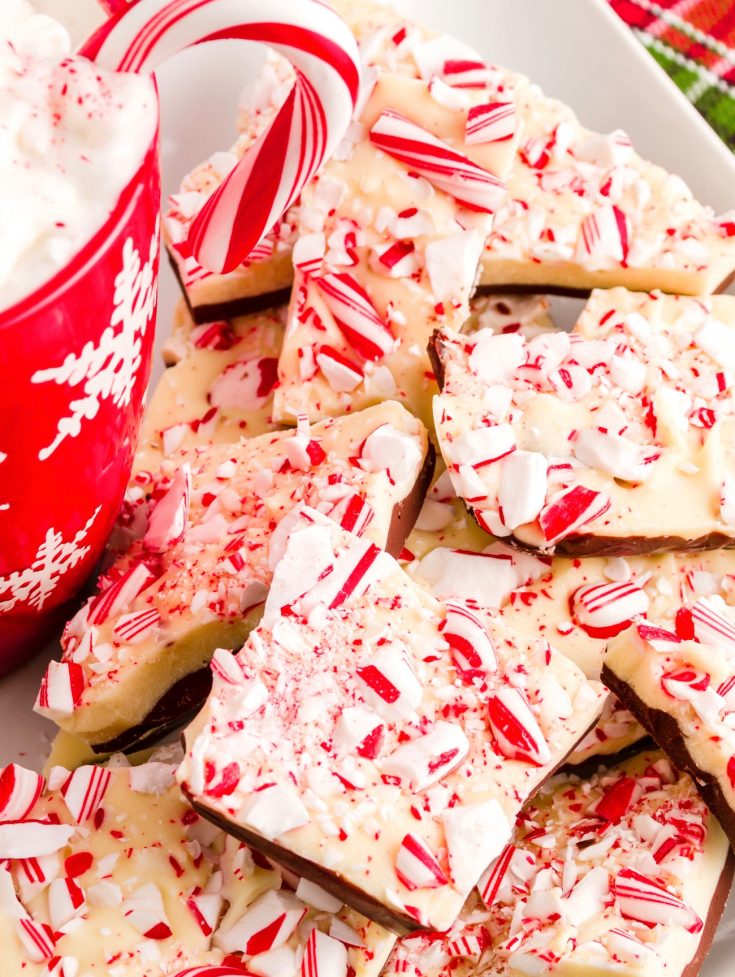 This vegan peppermint bark tastes just like the holidays and is so easy and delicious to make! It also makes the perfect Christmas gift when wrapped in cellophane and everyone loves it.
Additional Time
30 minutes
Ingredients
1.5 cups vegan dark chocolate chips
2 cups vegan white chocolate chips
1/4-1/2 teaspoon peppermint extract for baking
1/2-1 cup crushed candy canes [more to taste]
Instructions
In a small saucepan over medium heat, melt vegan dark chocolate chips until melted. Remove from heat and stir in the peppermint extract. Stir until smooth.
Line a baking sheet with parchment paper and spread the chocolate into a rectangle in the center of the baking sheet. Place the chocolate in the fridge for 15-20 minutes or until it is hard. The chocolate layer should be a thin layer.
Using a small saucepan, melt the vegan white chocolate chips until melted and smooth. Pour the melted white chocolate over the hard dark chocolate on the baking sheet.
Place candy canes in a plastic bag and use a rolling pin to crush them. Sprinkle crushed candy canes on the white chocolate and place vegan peppermint bark in the fridge for 20 minutes until hard.
To serve, break peppermint bark into large pieces and enjoy!
Nutrition Information
Yield
16
Serving Size
1
Amount Per Serving
Calories

228
Total Fat

12g
Saturated Fat

7g
Trans Fat

0g
Unsaturated Fat

4g
Cholesterol

6mg
Sodium

25mg
Carbohydrates

29g
Fiber

1g
Sugar

24g
Protein

2g