These stuffed Santa strawberries are easily the cutest little treat you will ever eat! While you may have seen Santa hat strawberries before, this recipe gives you the entire jolly good fellow, including his little face!
This strawberry Santa recipe is so delicious and combines cut strawberries and icing or whipped cream for the stuffing! It is truly the perfect recipe for a new cook or someone in a hurry.
If you want to make this recipe vegan, you can easily veganize it using non-dairy whipped topping that you can usually find at Whole Foods or any health food store! If you aren't vegan, don't worry, I just wanted to mention it is easy to customize for dietary restrictions.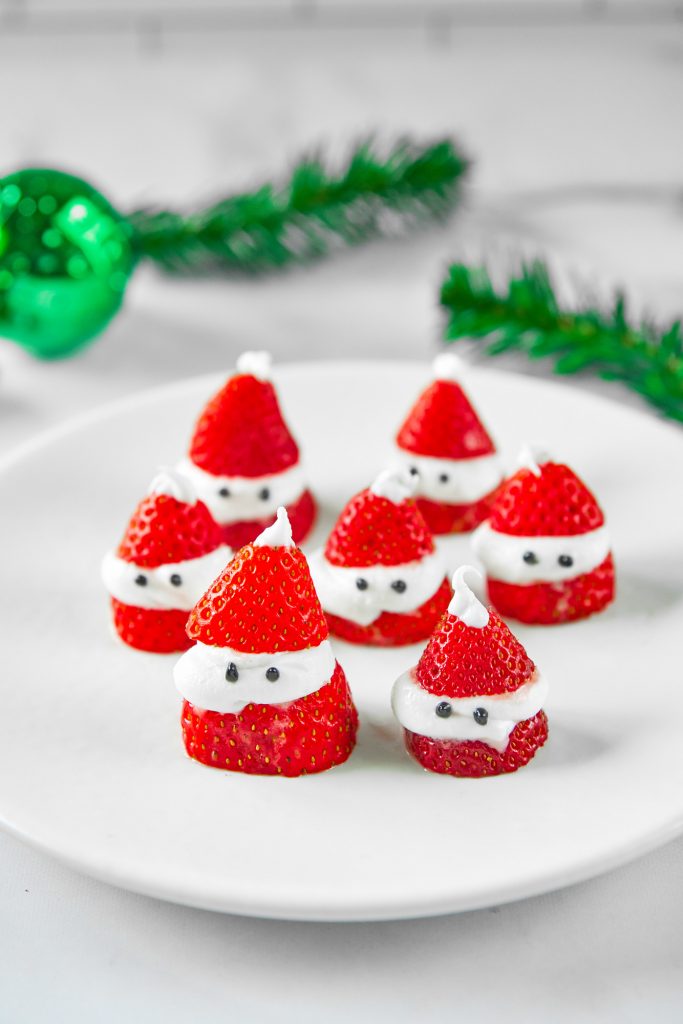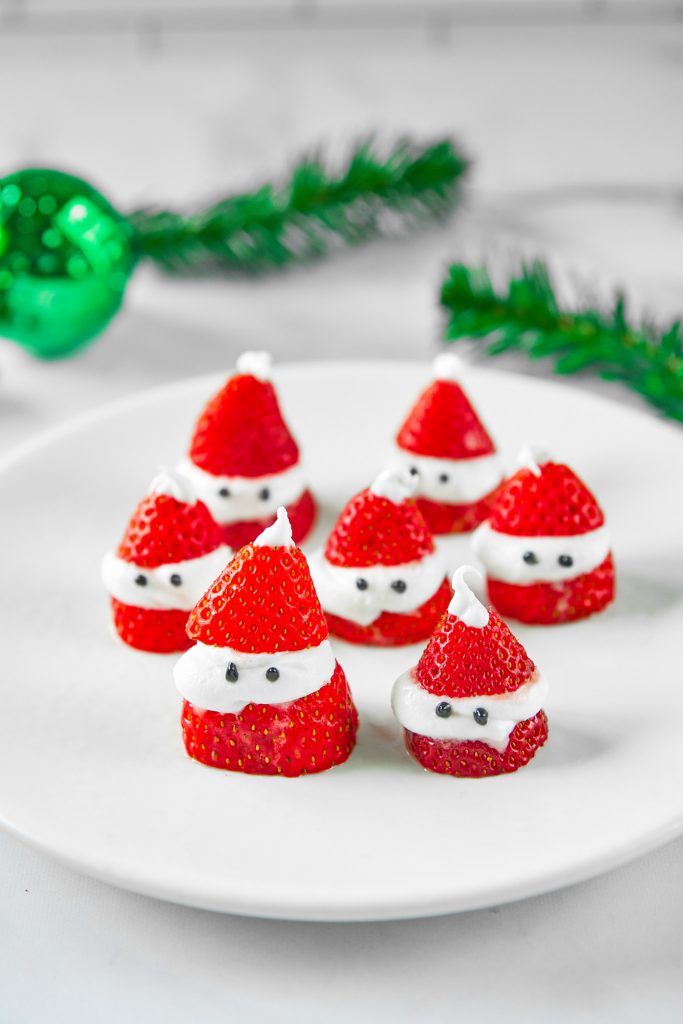 My favorite part about making Santa strawberries is how easy they are to make yet how cute the final result is!
They are ready to eat pretty much as soon as you make them and they are always a crowd-pleaser.
The blend between the icing or whipped cream and the tart strawberry is a flavor combination that pretty much everyone likes and they are a super easy thing to make for a party or get together.
I also love making Santas made out of strawberries with kids! You can get them involved and kids love helping to stuff the Santas with the icing or to help dot on the little black eyes!
Just be careful when cutting the strawberries around kids!
You can play it up and decorate your strawberry Santa however you want! You can do my version or create your own following my template and flying free!
I hope you enjoy this cute and pretty healthy sweet Christmas dessert or snack. Trust me when I say that stuffed Santa strawberries are always a favorite. If you are wondering how to make Santa strawberries, that is exactly what I am going to show you in this recipe so read on for my exact tips.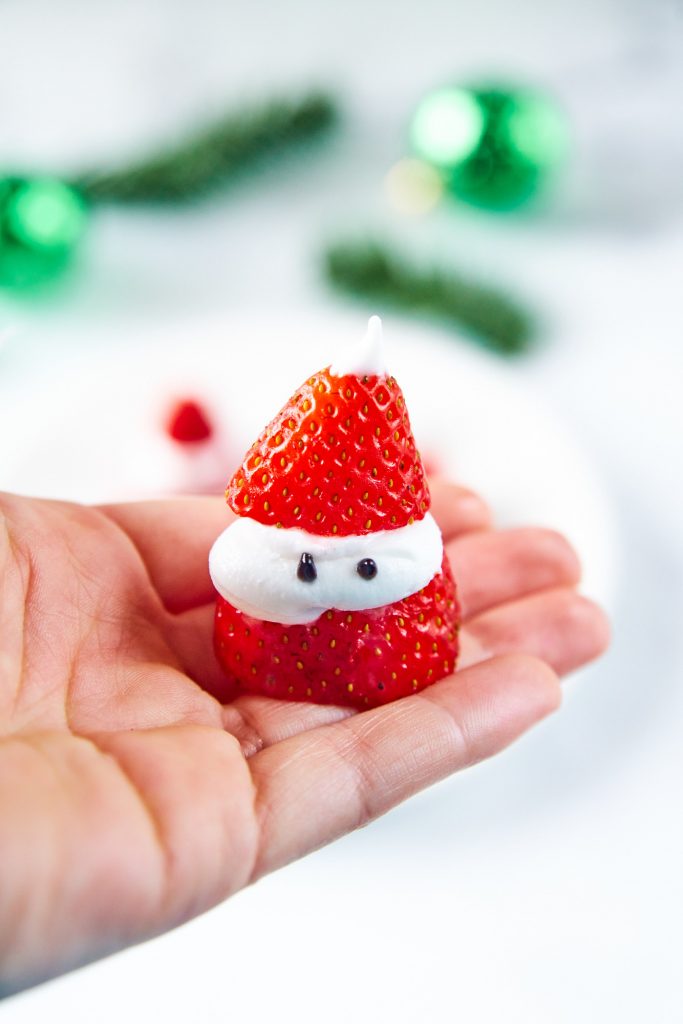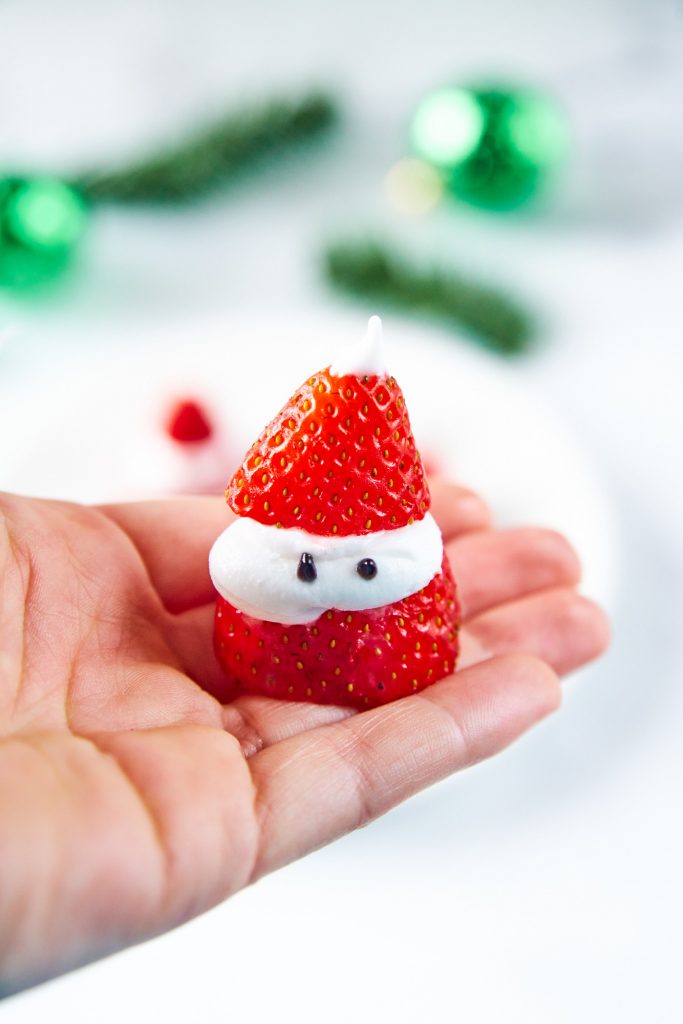 Why You Will Love These Santa Strawberries
It whips up super quickly. These Santas made from strawberries whip up super quickly. There is no curing. There is no waiting time. If you want to make Santa strawberries, it only takes a little bit of time. The holidays are busy, why not give yourself a break and make this cute recipe?
Perfect for those who are new in the kitchen. If you are wondering how to make Santa strawberries easy, this is the recipe for you. These Santa strawberries are perfect for those who are new cooks in the kitchen. There is no baking required and you can buy all of the ingredients are your local grocery store. There is really no wrong way to do this.
Looks impressive with very little work. I get it, I am not the most creative person either! This Christmas strawberries recipe will be the star of the show, with very little effort on your part. I promise, these are super easy that even the kids can help and the whole party will gobble down these tasty Santa strawberries in no time.
What To Stuff The Strawberry Santas With
The good thing is that you can stuff the strawberry Santas with pretty much anything you want!
I chose decorating icing which is vegan as-is from my local grocery store because I wanted to make my Santa strawberries into a sweet treat.
It worked well and tasted really good!
That being said, you can stuff your Santa strawberries with any white and creamy substance! Feel free to be creative.
You can use cream cheese [vegan or otherwise], whipped cream, Cool Whip, or any version or combination you can think of. I know that cream cheese Santa strawberries are very popular, so if you want to go this route, be my guest!
If you are vegan and wanting to make this Santa strawberries recipe, you can find versions of all of these things at your health food store or make your own using some of the recipes on this site!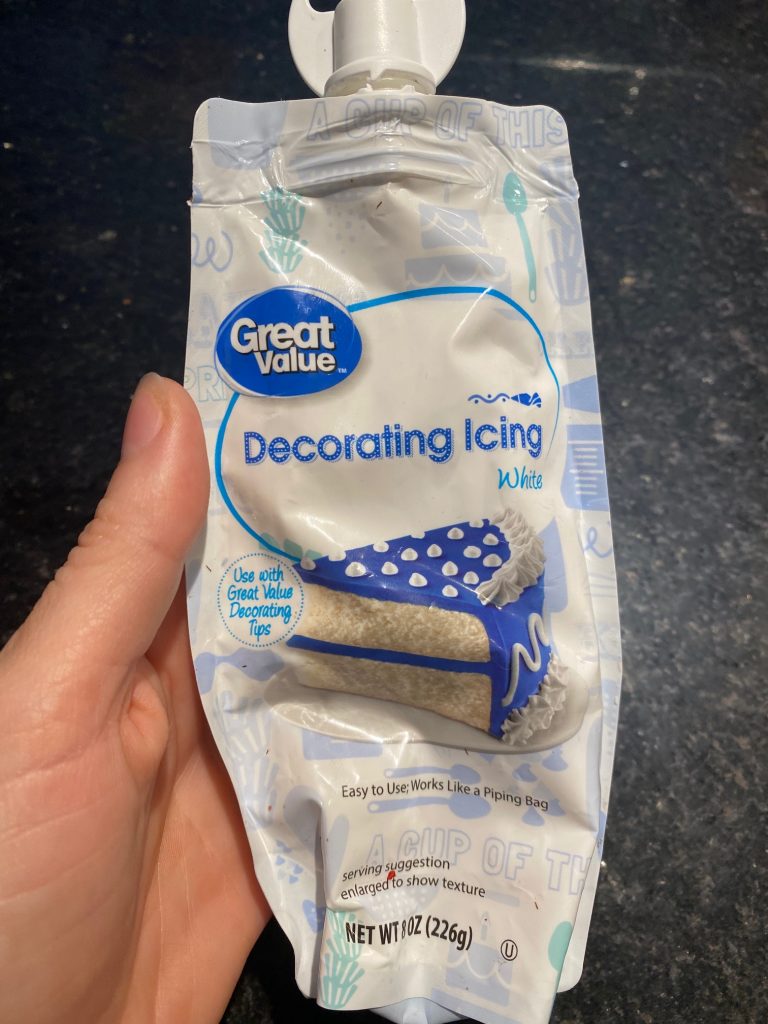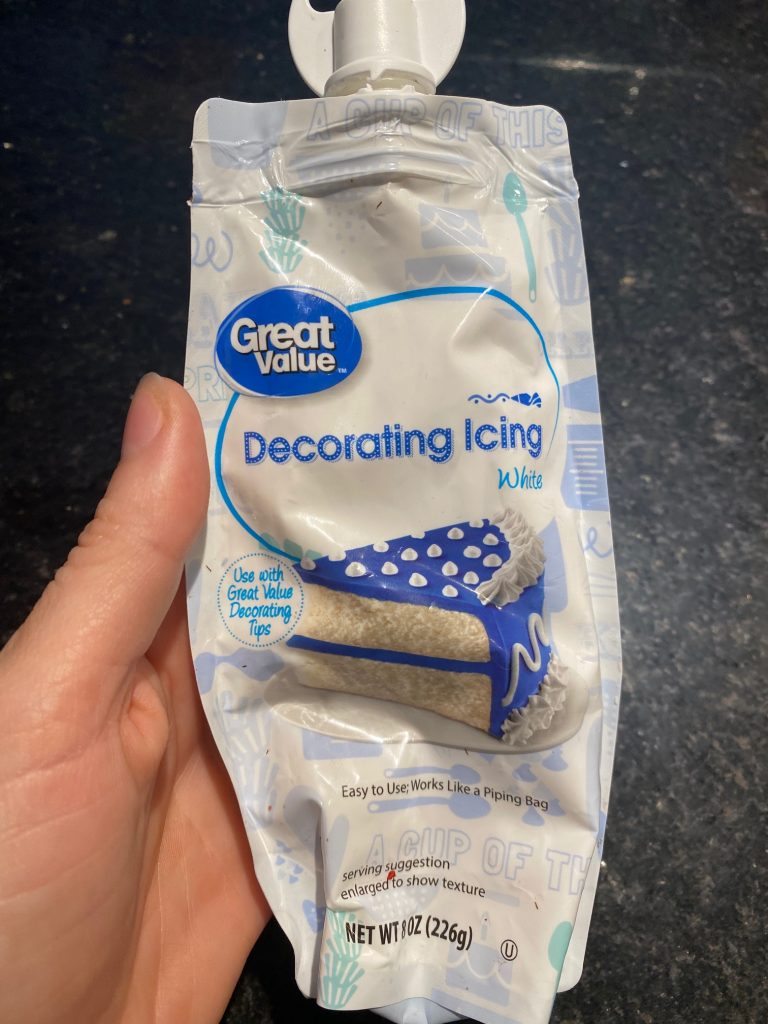 How To Make The Santa Strawberries
This recipe isn't called EASY Santa strawberries for nothing! As I mentioned above, if you have always thought of this as an impressive snack or side and have always wondered how to make Santa strawberries, look no further.
It is truly easy to make and stuff these cute little guys!
First you are going to want to wash your strawberries and let them drain.
From practice, I believe that room temperature strawberries work a little better and hold up better than ones that are chilled from the fridge, but either can work. You will not want to use frozen strawberries when making this Christmas strawberry recipe as the frozen strawberries will not look nice and will droop immediately.
Once you have your strawberries set to go, you are going to use a knife to cut the tops off.
Normally, when you cut the top off of a strawberry, you cut very close to the green part so you can eat as much as possible.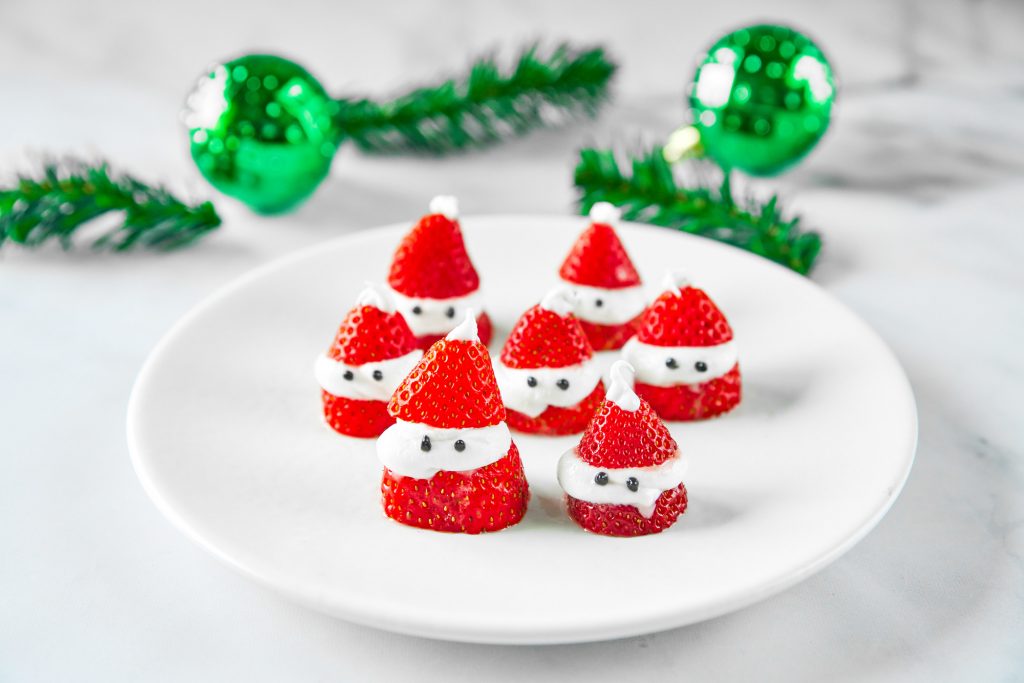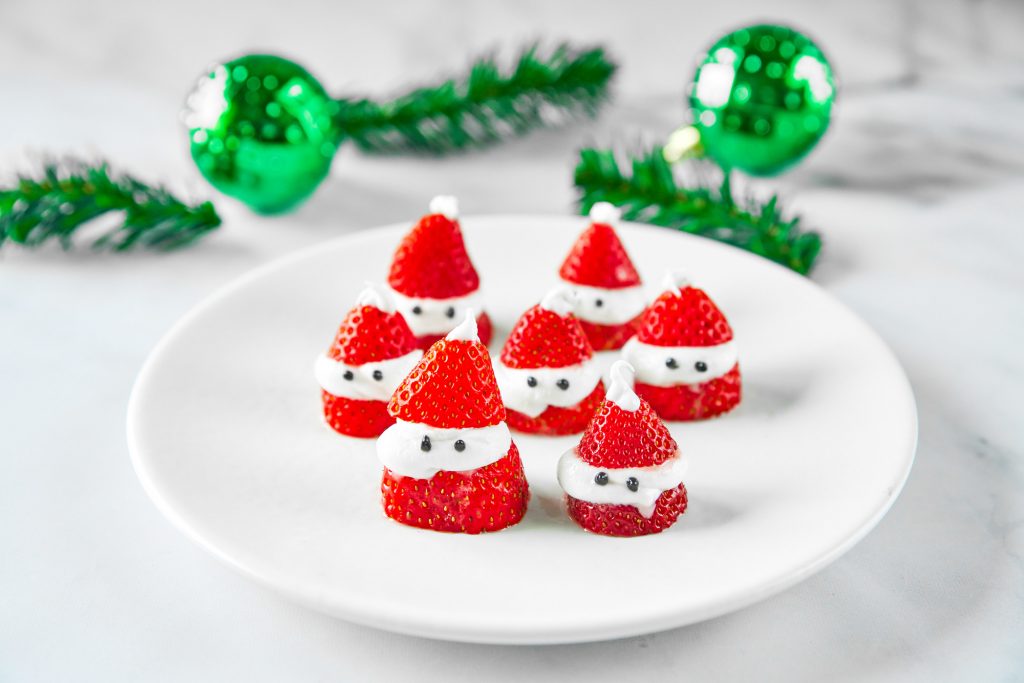 This is NOT how you cut the Santa strawberries! You want the strawberry to be as even and flat/uniform as possible!
So make sure to cut off enough of the top so that you have a flat surface so the bottom of the strawberry doesn't tilt or tip over.
I had to redo a few strawberries in order to get the knack and it took a few tries, but after that it is very easy!
Once you cut the top off of the strawberries, you are going to make a cut about 1/3 of the way from the tip or top of the strawberry. This is going to be Santa's hat.
Once you do this, you will take icing or whatever you will be stuffing your Santa strawberries with and you will dollop it on to the bottom half. Once you put it on, you will add the pointed part on top of it.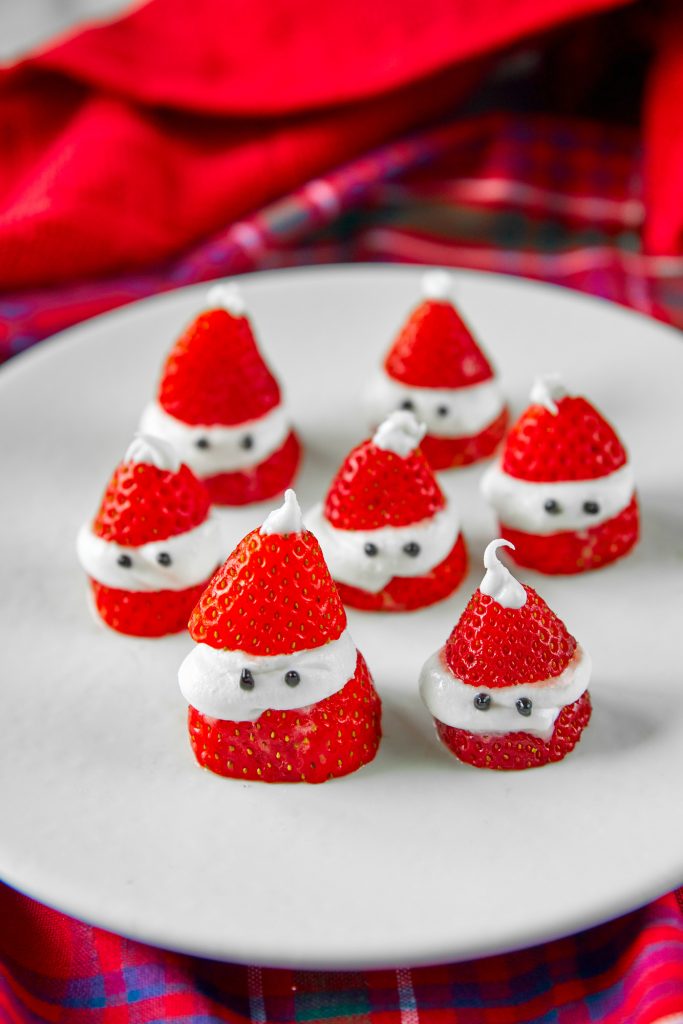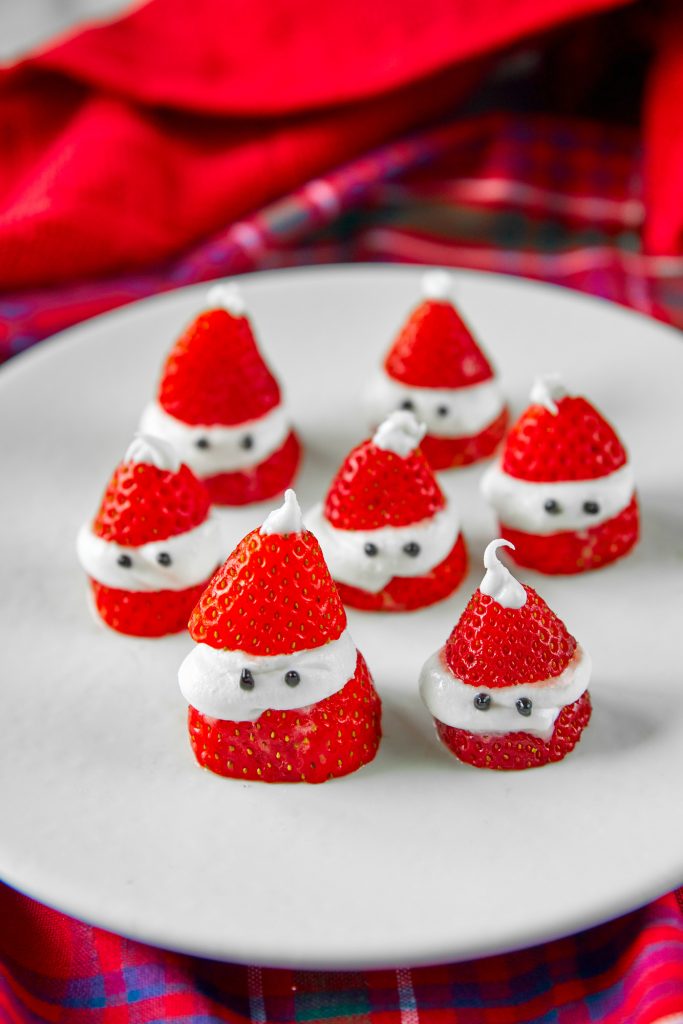 I used store-bought decorating icing that came in a little piping bag premade. This was easy to manage in order to dollop it on.
If you do not have this, you can make your own icing or add whipped cream or whatever you prefer to use straight to a piping bag or a plastic bag with a small hole cut out in the end.
If you want to make these into cream cheese Santa strawberries, you can always add sweetener to taste and whip the cream cheese before you put the Santas together.
Basically, you want whatever you are using to have a fine tip that you can dollop the filling onto the Santa strawberries with ease.
Once you have stuffed the base, you will put the hat on top and then you will put a tiny dollop of icing on top of the hat.
Finally, it is time to make the eyes.
I considered doing it with vegan chocolate chips or mini chocolate chips, but that made the eyes way too big and made Santa look strange!
Instead, I decided to go with black decorating gel and it was PERFECT in order to create noticeable eyes with ease! I thought the decorating gel was insanely easy, but if you don't have any on hand, make sure to buy huge strawberries and then use mini chocolate chips for the eyes.
Once you stuff the strawberries and dot on the eyes, you are ready to serve and enjoy the Santas!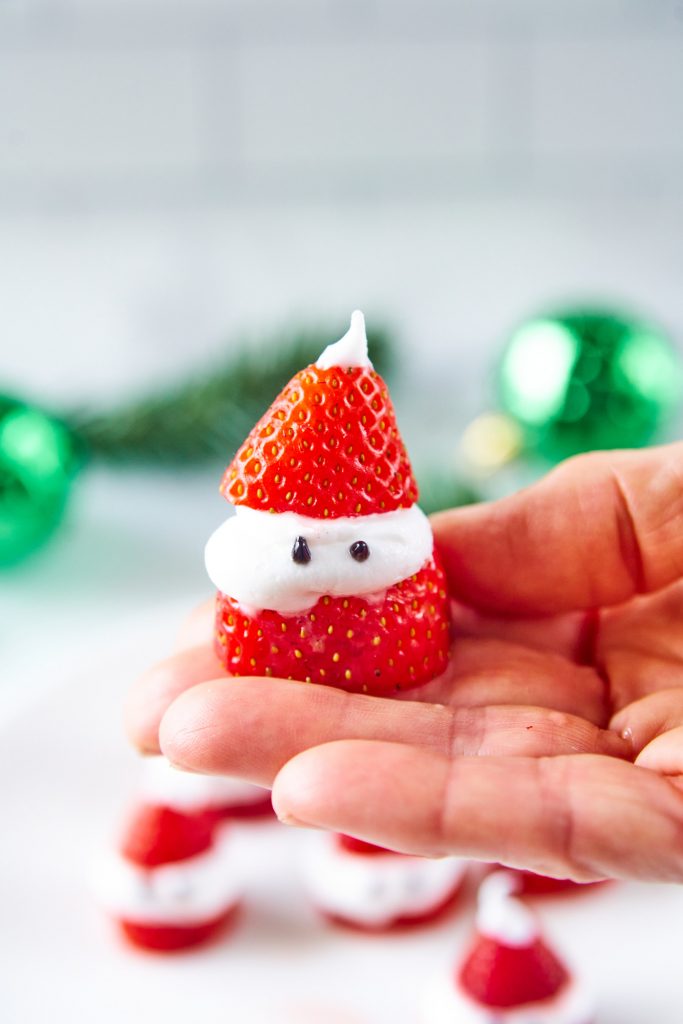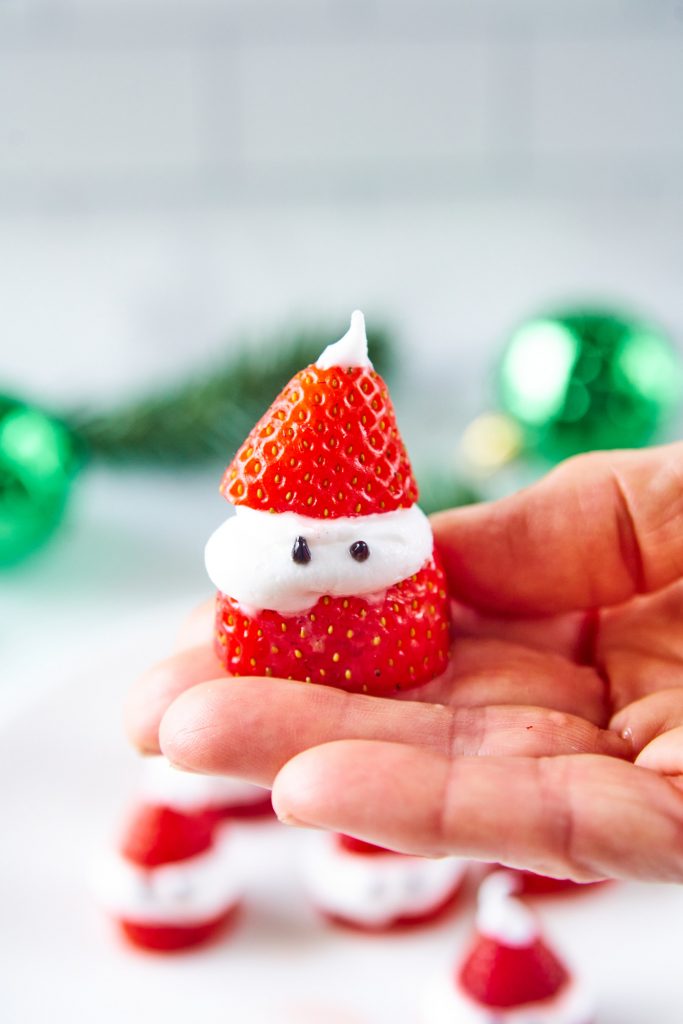 How To Store The Santa Strawberries
I am going to be completely honest with you and tell you that I do not think the Santa strawberries store well.
They will begin to weep and it is a big mess.
If you have ever made strawberry shortcake, you will know that once you slice strawberries, they will begin to release their juices/liquid and that is entirely the point of how you make strawberry shortcake topping!
The same thing applies here!
I would not suggest making the strawberry Santas in advance. I would make them the day of your party.
Storing them overnight leads to them weeping and looking odd and tasting squishy instead of firm.
They are very easy to make so you can do them the day-of with no issues or worries! This is what I always end up doing and they are one of the last things I assemble when people are coming over.
Don't worry though, if you want to make the Santa strawberries for a party at someone else's house, they will hold up just fine for the day and for the car ride. You won't have to assemble them at another person's house, they will survive the car ride just fine. Just don't keep them overnight.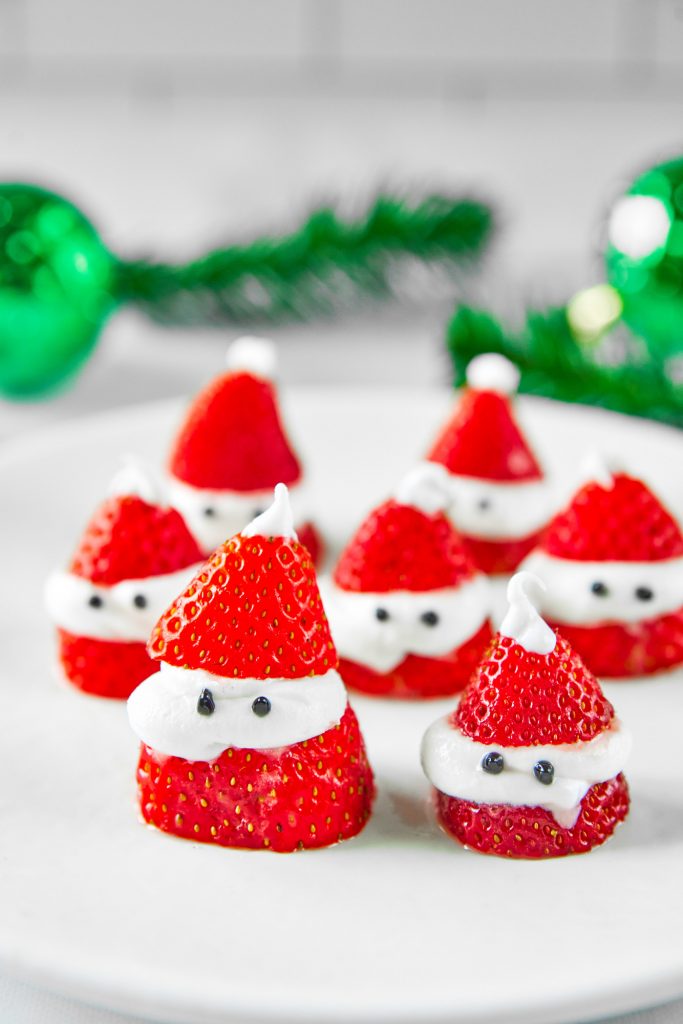 Did You Try This Recipe?
If so, I would love to keep in touch! I enjoy seeing photos and comments about the recipes that you make! You can follow me on Instagram and I will repost your goodies in my stories and comment on it too! Just tag me at @wowitsveggie and hashtag #wowitsveggie. I can't wait to see what you make!
Yield: 20 stuffed strawberries
Easy Stuffed Santa Strawberries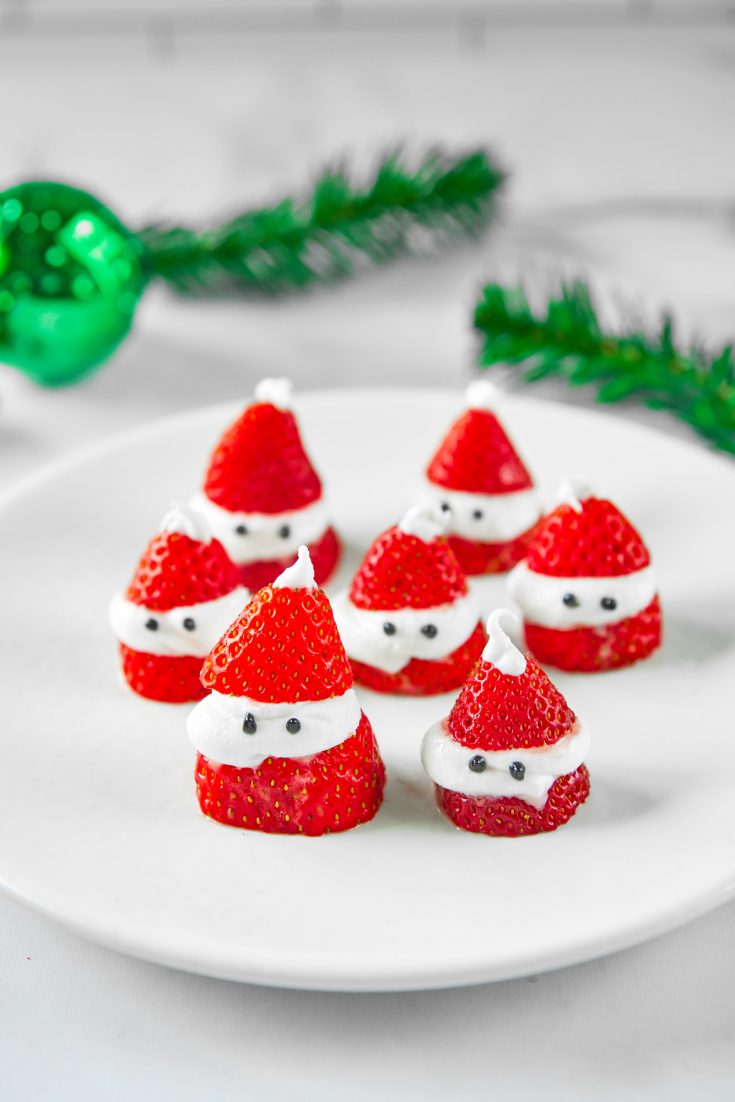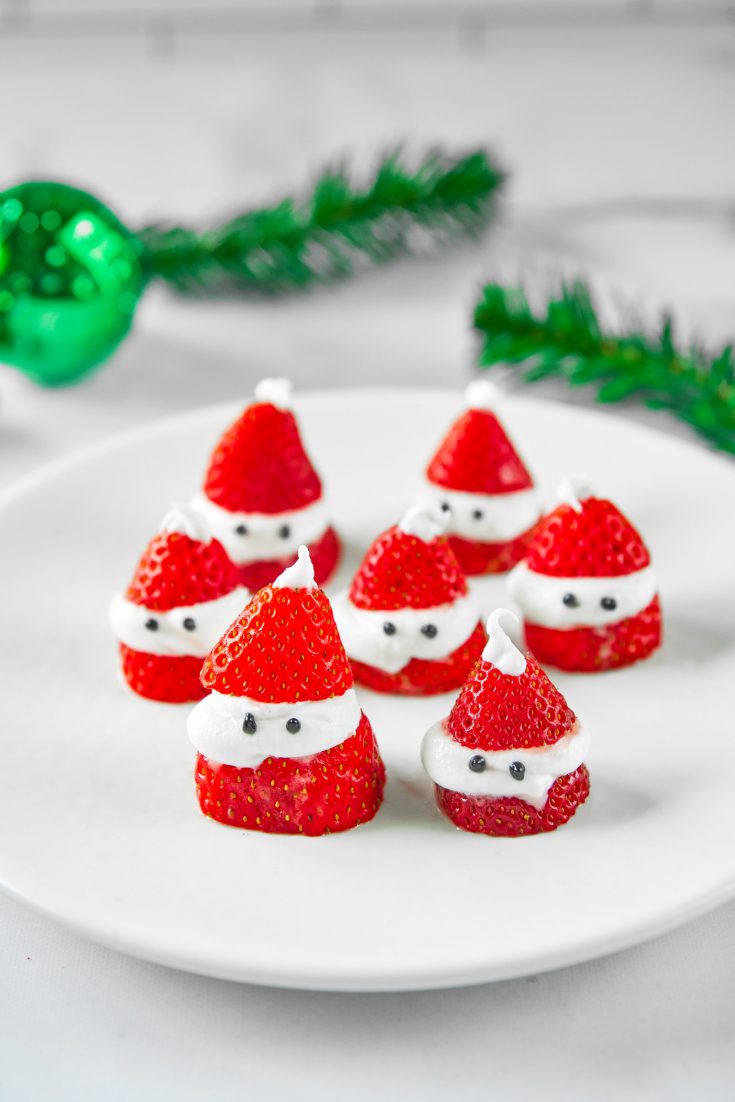 These stuffed Santa strawberries are so cute and easy to make! They are vegan if you choose icing or a vegan whipped cream for the stuffing so all can enjoy. The sweet filling mixed with the tart berry makes for the perfect festive snack or dessert during the Christmas season!
Ingredients
20 strawberries
1 cup vegan whipped cream OR 1 tube vanilla icing from the store [vegan as-is in most cases]
1 tube black decorating gel
Instructions
Wash your strawberries and pat them dry. Room temperature strawberries work best for this recipe!
Using a sharp knife, slice off the top/green part of the strawberry. You want to make sure that the cut you make leaves the bottom of the strawberry with a large flat surface. It may take a few tries to cut the top off in a flat and even manner.
Then, about 1/3 of the way to the tip of the strawberry, make another cut. This is for the Santa strawberry's hat!
Next, place a dollop of icing/whipped cream/vegan cream cheese/your chosen filling on top of the bottom part of the strawberry. I used an icing pouch from the store which was naturally vegan and acted like a piping bag. If you are not using a store-bought pouch, you can put your filling in a plastic bag and snip off the bottom corner so it can act like a piping bag. Alternatively, you can use a small spoon to dollop on the stuffing.
Once you have added the stuffing, place the pointed top on the filling as this is Santa's hat. Then, carefully place a small dollop or drop of icing on the point to act as the pom-pom.
Finally, use the black icing gel to dot on two eyes for Santa's face. Enjoy immediately!
Notes
From experience, the Santa strawberries do not store well in the fridge as the strawberries will start to weep and release their liquid. I do not recommend storing them in the fridge for longer than a few hours. I do recommend making the strawberry Santas the day of your event and not in advance!
Nutrition Information
Yield
20
Serving Size
1
Amount Per Serving
Calories

18
Total Fat

1g
Saturated Fat

0g
Trans Fat

0g
Unsaturated Fat

0g
Cholesterol

2mg
Sodium

2mg
Carbohydrates

2g
Fiber

0g
Sugar

2g
Protein

0g