If you have never tried vegan mince pies before, you are in for a real treat!
They are the perfect blend of Christmas flavors and embody the holiday season like no other. Pour up a glass of our Mulled Wine or make yourself a cup of Vegan Hot Chocolate and you are ready to go!
Vegan mince pies combine a tasty blend of fruit and spirits all wrapped up in pie crust and baked to perfection. They are bite sized and delicious.
I will say that if you are from the USA, you may not be familiar with this amazing holiday treat, so read on if you want to learn more about making this tasty dish.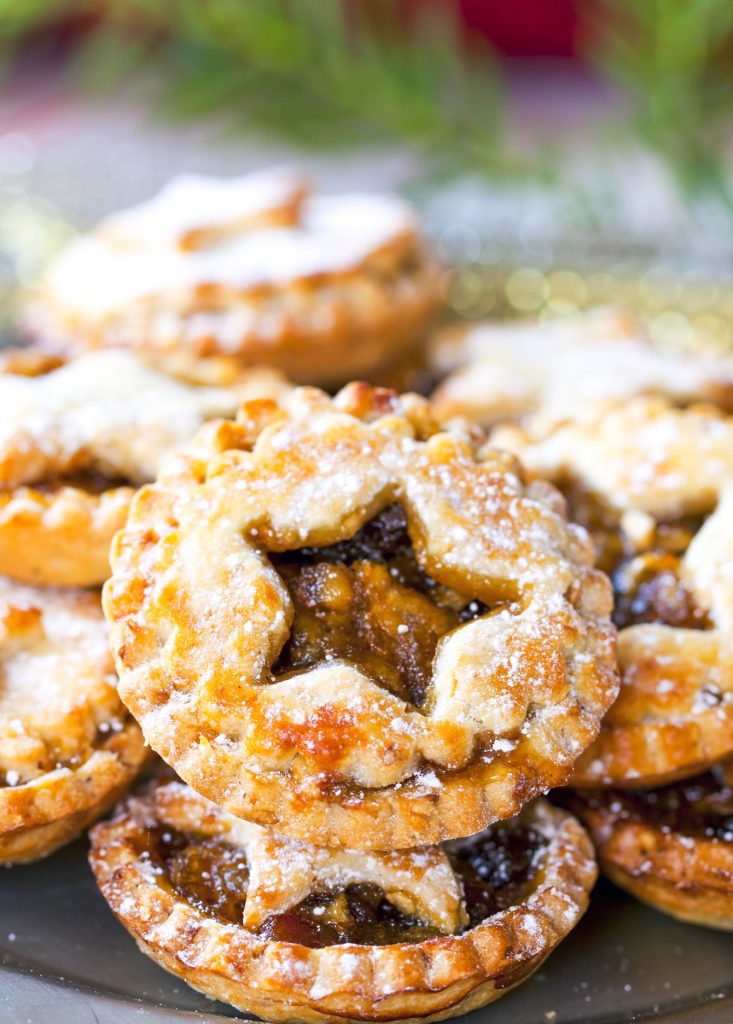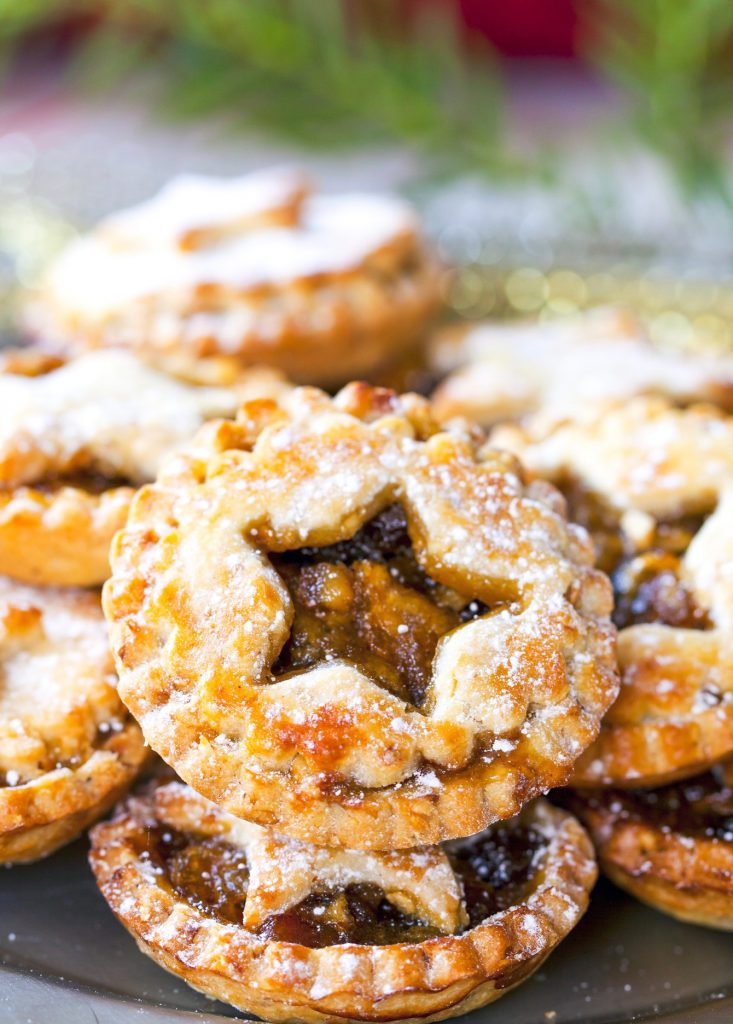 You can always make them look like normal pies such as my Vegan Apple Pie and do a regular pie crust topping, but it is fun and festive to cut shapes for the topping such as stars and more.
If you are new to making mock mincemeat pies, I recommend starting simple with a regular covered crust. Don't stress if you can't make a masterpiece on the first time out!
They are the perfect appetizer or snack and one of my favorite Vegan Christmas Menu items that people seem to love.
Mincemeat originated in the Middle East and the crusaders brought the filling back to Europe where the mince pies were popularized in the United Kingdom!
Now they are eaten and beloved all over the world and are pretty easy to make and enjoy.
I hope you love making your vegan mincemeat and putting together these mince pies as much as I do. They are a true holiday staple.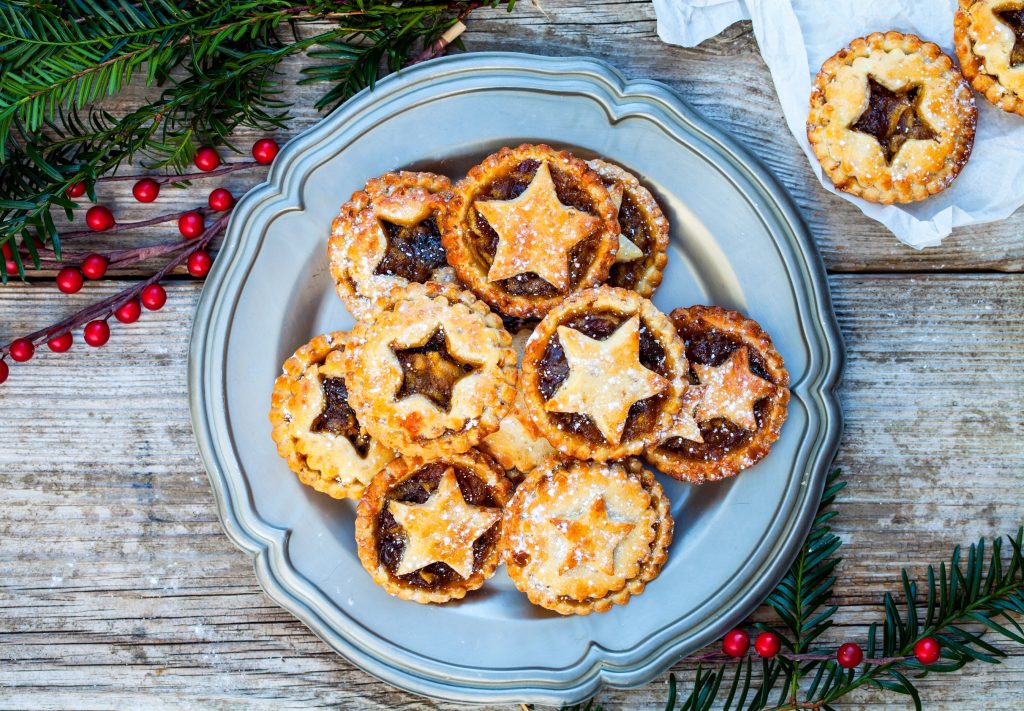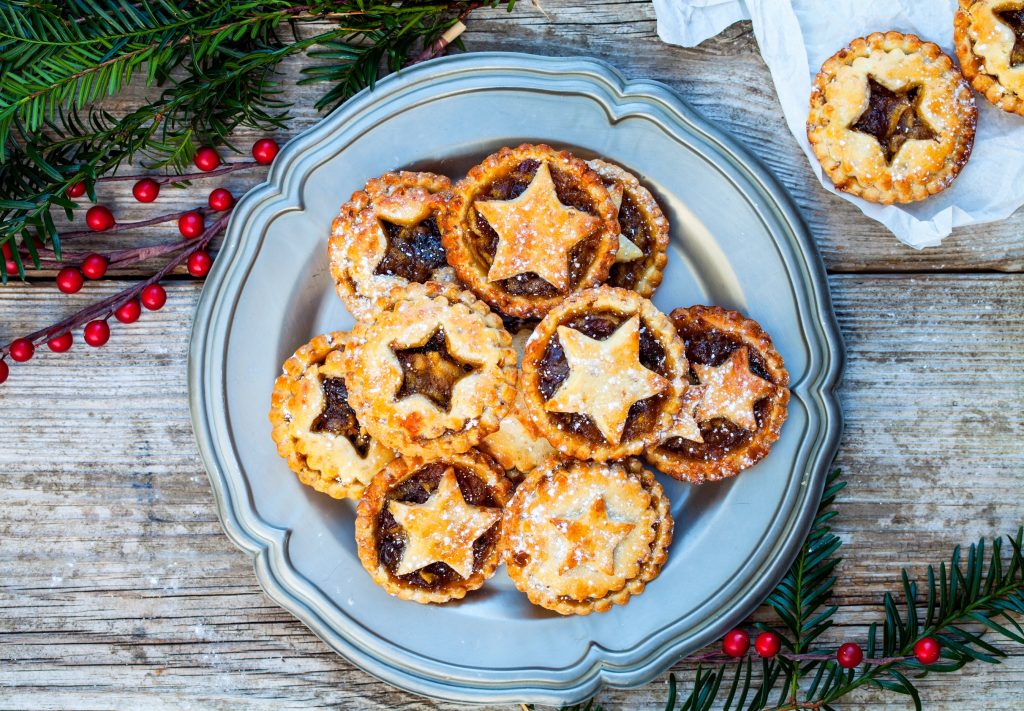 Is Mincemeat Vegan?
Originally, mincemeat always used to include meat, as is clearly stated in the title.
Most mince pies or mincemeat that you find at the store probably uses beef suet, beef, or venison [ughhhh!!!] which makes it 100000% NOT vegan.
Some mincemeat you buy from the store is vegan, but it is rare to find and really depends on where you are shopping.
Without the meat added, mincemeat is essentially a mixture of chopped dried fruits, distilled spirits [liquor], and spices baked into a pie crust.
Of course, as I am about to show you, it is easy to make your own healthy mincemeat recipe that doesn't include any animal products at all!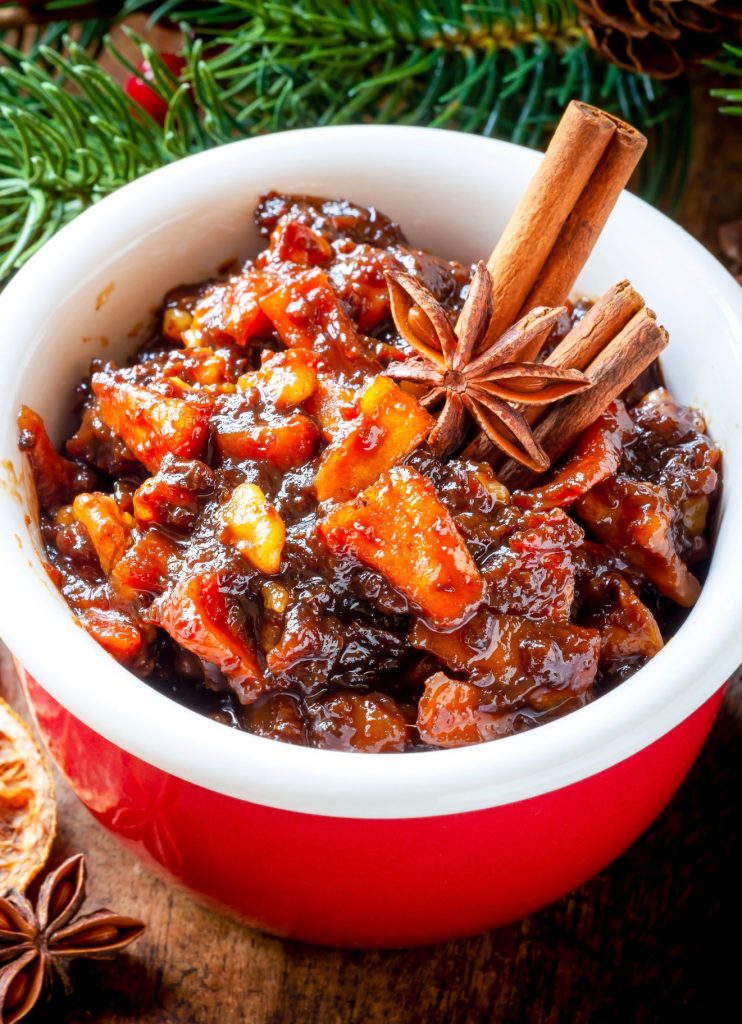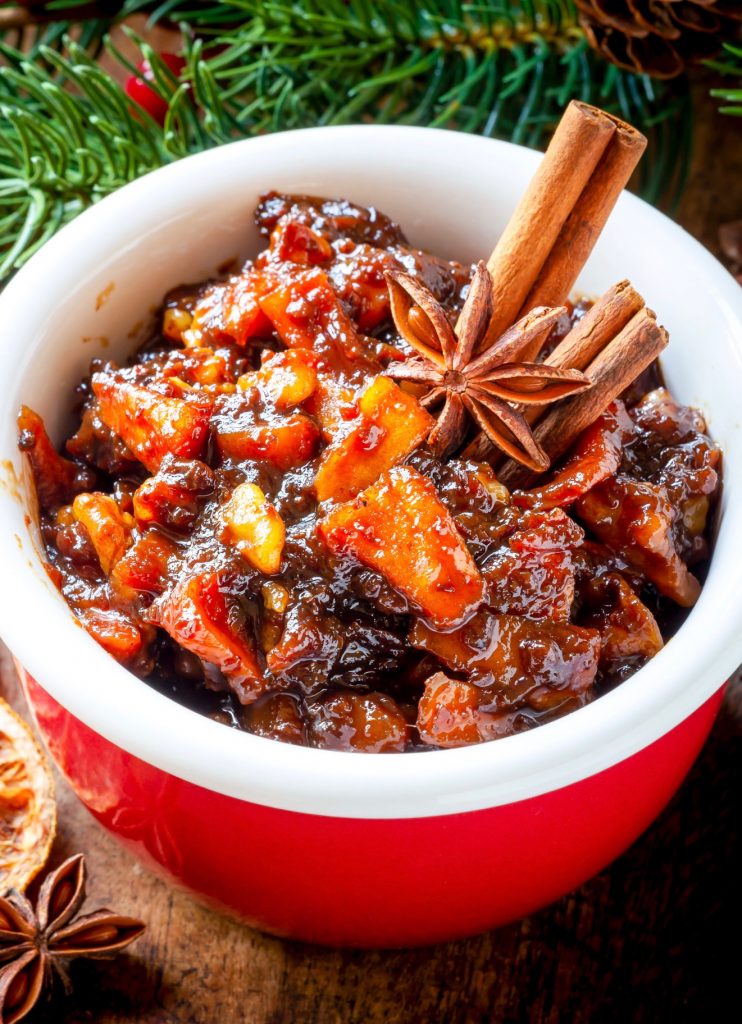 How To Make Vegan Mince Pies
Making vegan mince pies is super easy! First, you make the vegan mincemeat and you can make it in advance. This will make your holiday cooking so much easier!
Then, you simply make the dough/pie crust and then combine it all together and bake.
Making the mincemeat is very simple! Essentially, you put all of the ingredients including the spices, dried fruit, liquor and more on a saucepan on the stove and bubble for about 40-50 minutes until thick and sticky!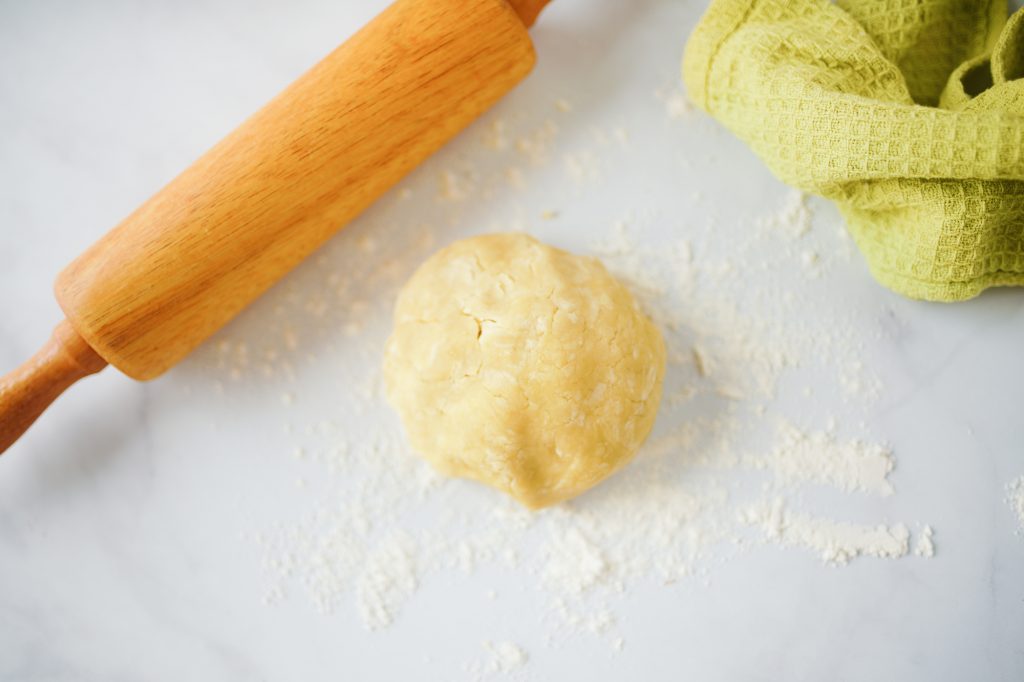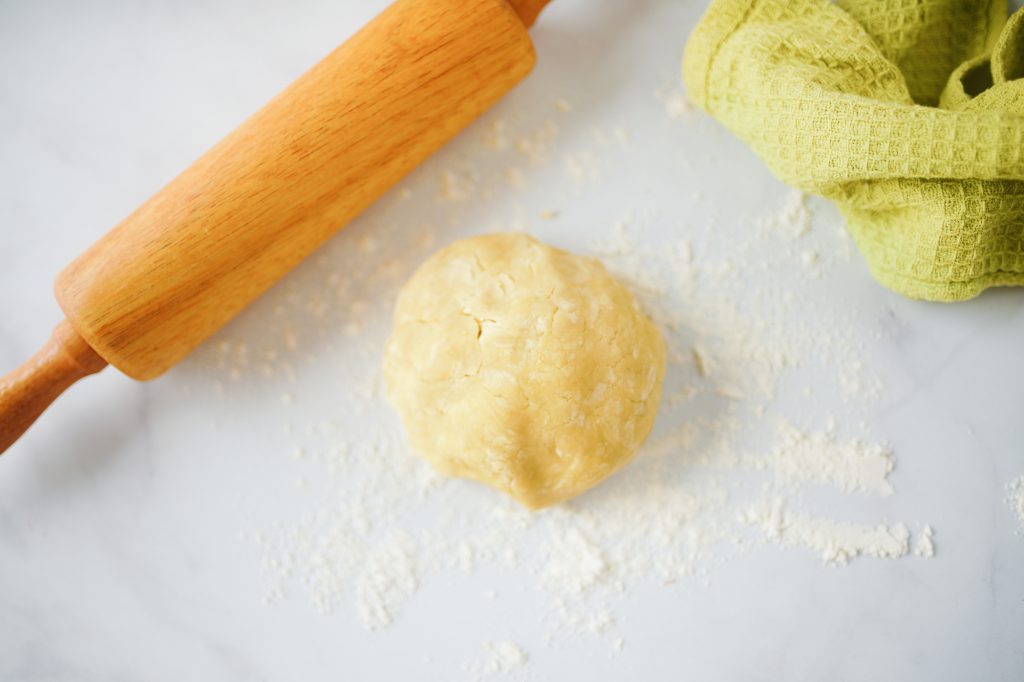 That is all you have to do to make the vegan mincemeat. It is incredibly easy and makes your house smell totally AMAZING!
You can let the vegan mincemeat recipe cool while you make the mince pies!
You are going to want to make one batch of my Vegan Pie Crust as it is really simple and works well for this recipe!
If your pie crust is too dry and flaky, add a bit more non-dairy milk 1-2 tablespoons at a time and it works out wonderfully!
My pie crust recipe is perfect for making Christmas mince pies as it is neutral in flavor and it can be used for both sweet or savory recipes!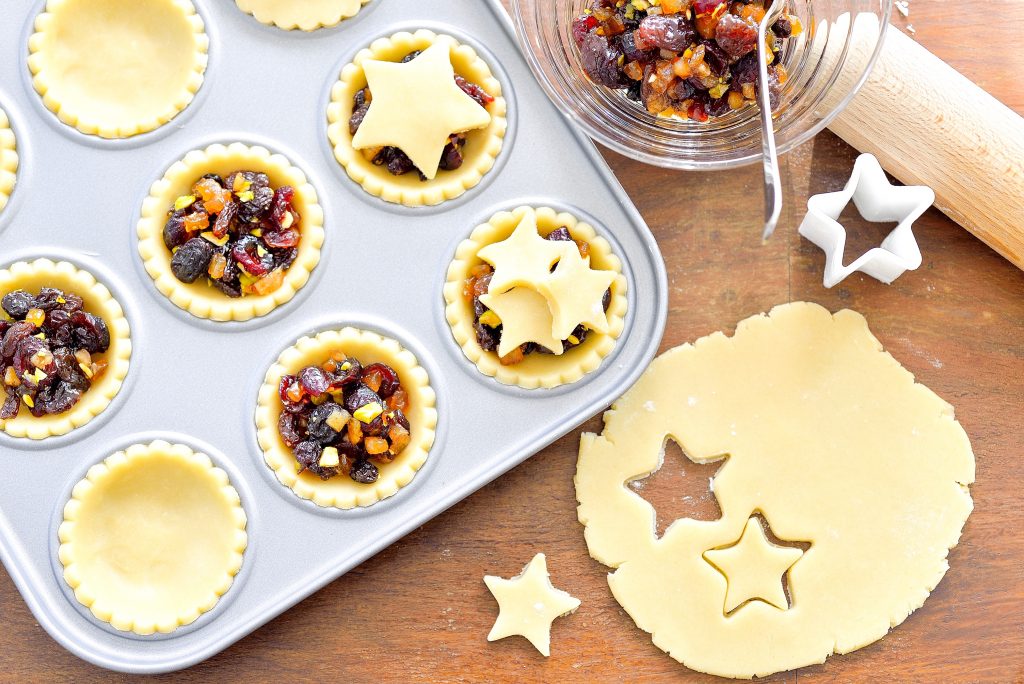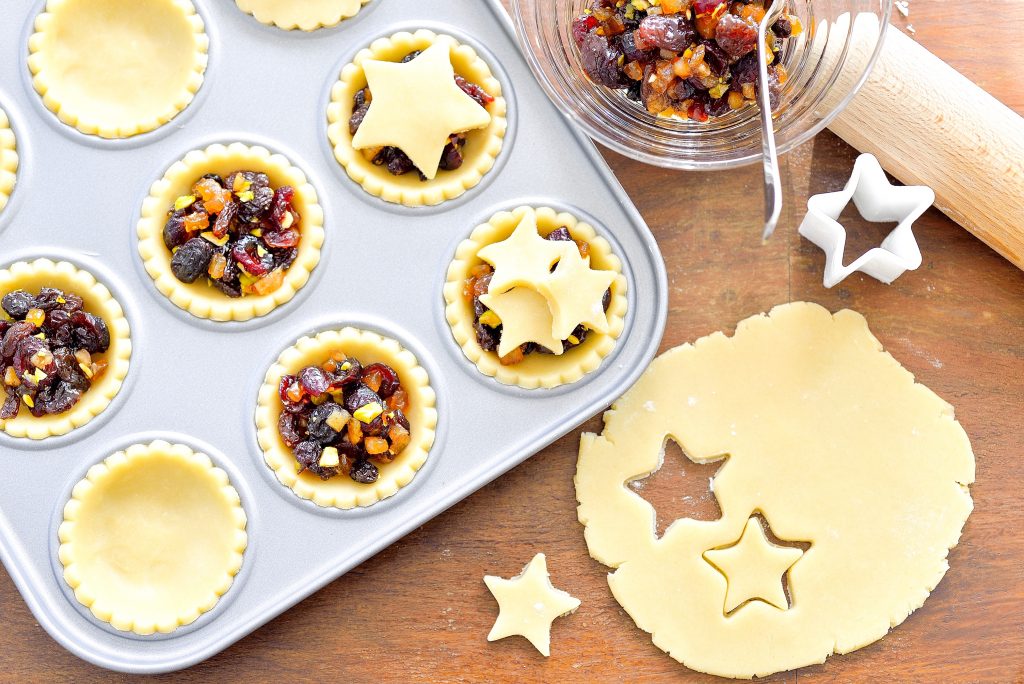 To make and stuff, roll out the pie crust into about a 2-3mm thick layer.
Using a cookie cutter or the top of a glass, cut rounds big enough to go into each hole of your mince pie tin or your muffin tin if you are using that!
If you are using a muffin tin, you will probably need a bigger circle as the mince pies will be deeper using a muffin tin than they would be otherwise!
Of course, you can always use a mini muffin tin for a similar look to a mince tin. Using a full-size muffin tin will result in huge vegan mince pies! Just a warning, not a bad thing!
Gently place the circle of pie crust in the tin and ensure that it goes all the way around!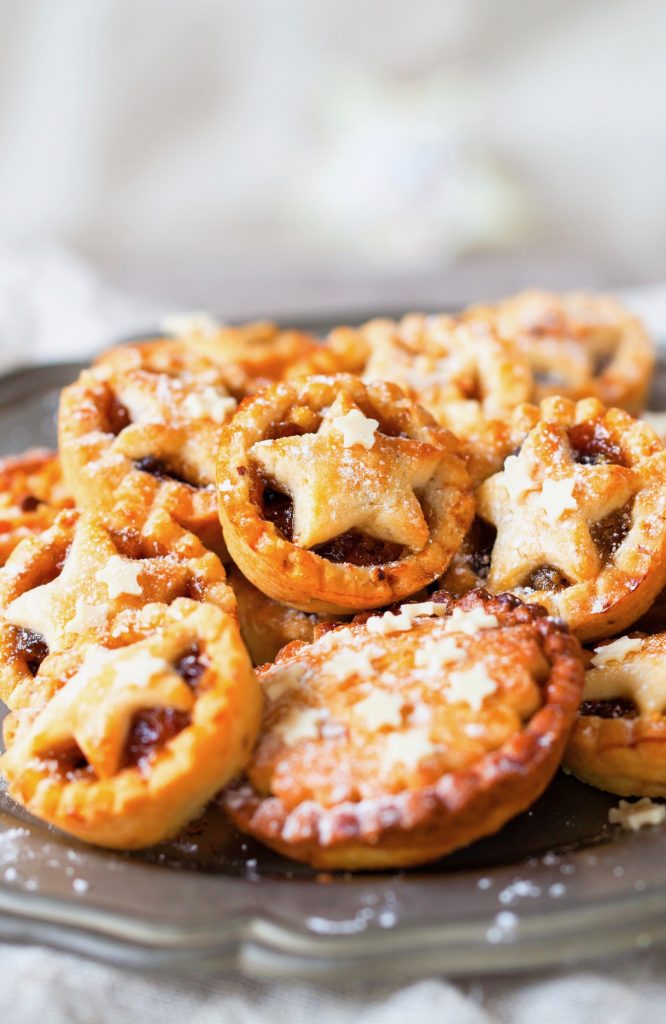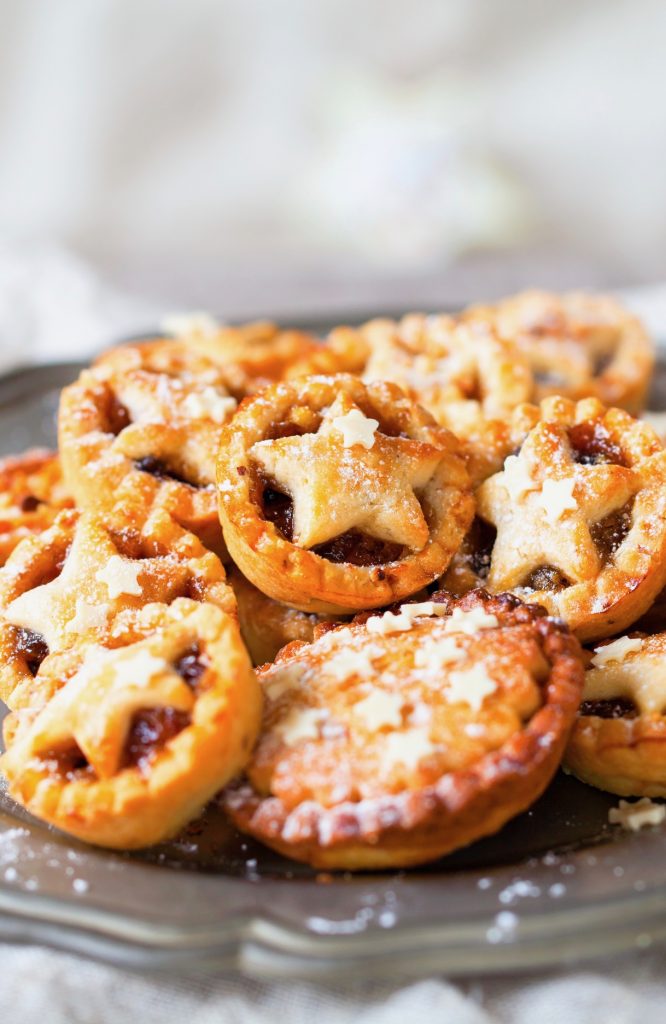 Now, add your mincemeat mixture to each one. I am usually pretty generous with this!
Now it is time to make the top of the pie! You can cut out circles or you can use a cookie cutter to cut out shapes such as stars and more.
As I mentioned above, don't worry if you can't or don't want to make fancy shapes. You can cover the mock mincemeat pies with a plain sheet of dough and no fancy cutouts.
That being said, if you do want to go the fancier route, place the star top on the bottom and connect by pressing your fingers together around the edges and crimping. You want to ensure that the stars are connected to the edges and lying flat.
Now, brush the top with a little aquafaba and a little non-dairy milk so it browns beautifully in the oven!
Now, you bake and as soon as they are done and cool for about 5 minutes, you want to gently remove them from the baking tin! If you let them cool in the tin it messes up the flavor and the bottoms get wet from the mincemeat.
Once cooled, you can sprinkle some powdered sugar over the vegan mince pies and enjoy!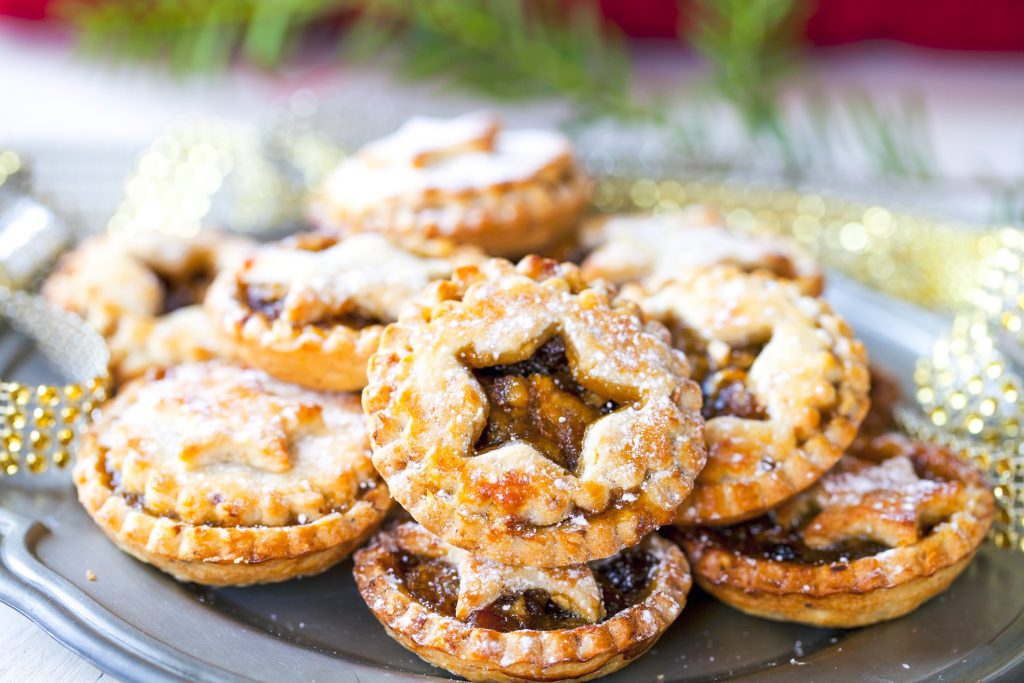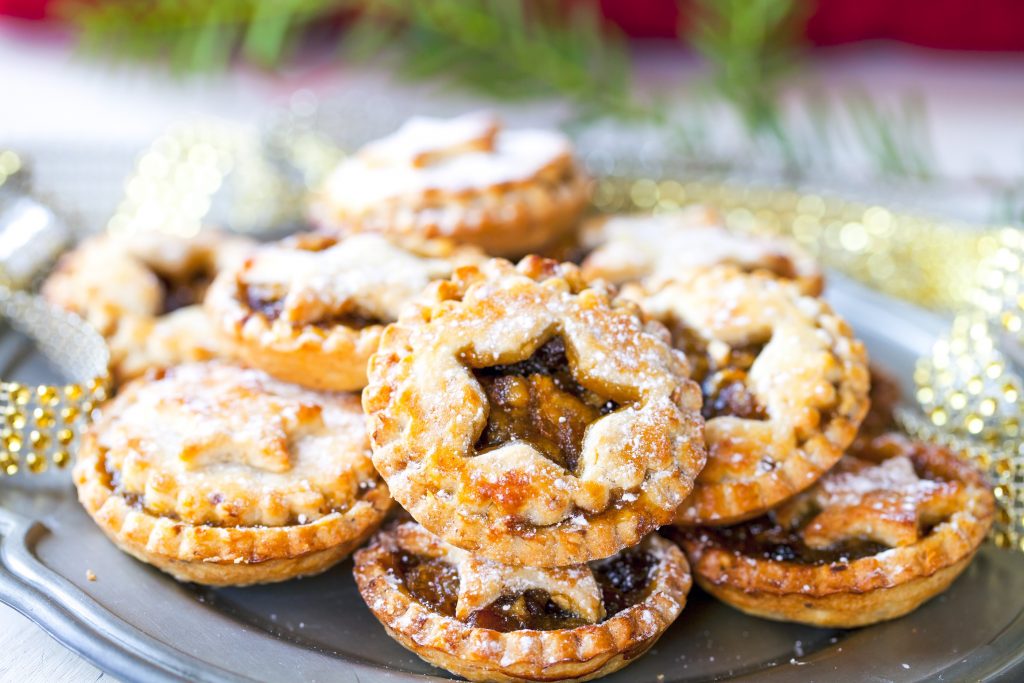 How To Serve Vegan Mince Pies
You serve vegan mince pies in the same way you would serve any other similar appetizer.
You should serve them slightly warm and you can even top them with brandy butter. Of course, you can easily make your own version of brandy butter by combining vegan butter, brandy, and sugar.
Melt it on the stove and then let it cool down until solid in the fridge.
Of course, serve your vegan mince pies with our Easy Mulled Wine!
The mince pies store the best on the counter for a few days in an airtight container.
This is a really wonderful holiday recipe to bring to a potluck or large holiday gathering as they go quite quickly.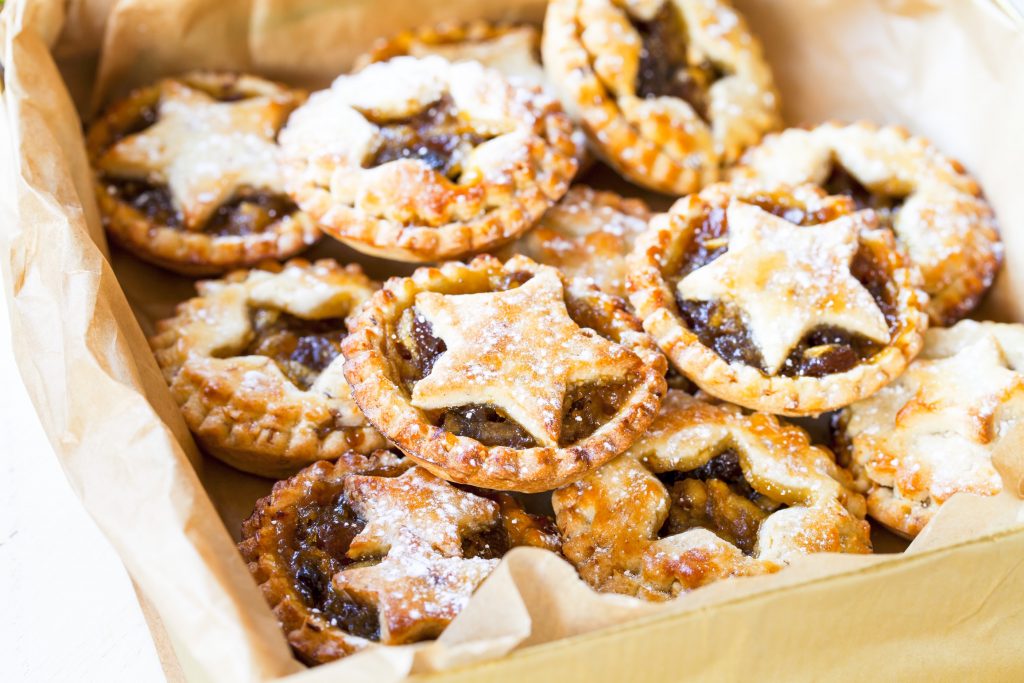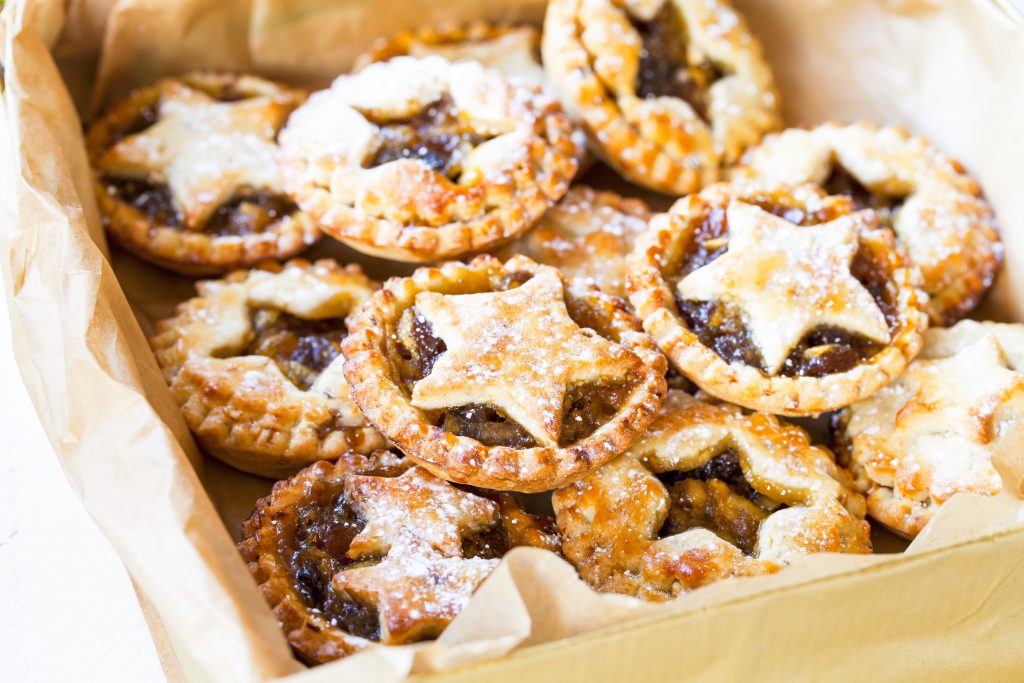 Did You Try This Recipe?
If so, I would love to keep in touch! I enjoy seeing photos and comments about the recipes that you make! You can follow me on Instagram and I will repost your goodies in my stories and comment on it too! Just tag me at @wowitsveggie and hashtag #wowitsveggie. I can't wait to see what you make!
Yield: 16 vegan mince pies
Easy Vegan Mince Pies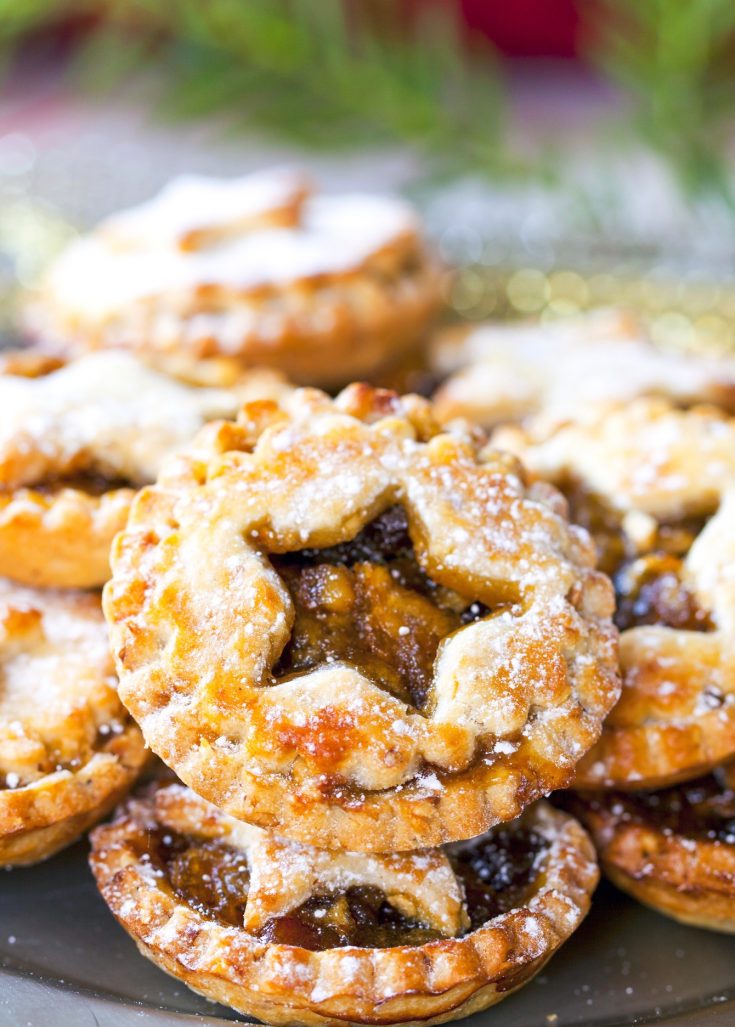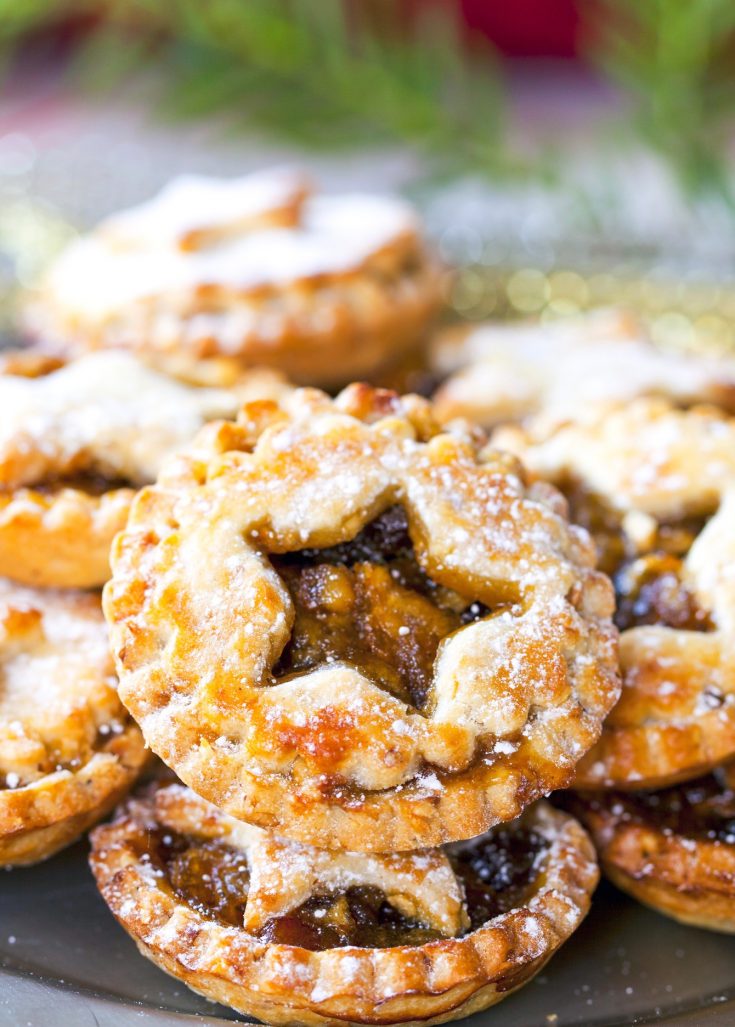 Vegan mince pies are practically a Christmas explosion in a bite! Vegan Mincemeat blends spices, liquor, and dried fruit and it is then cooked in a pie crust and eaten warm. It makes the perfect holiday appetizer!
Cook Time
1 hour
20 minutes
Total Time
1 hour
40 minutes
Ingredients
For the vegan mincemeat:
2 cups raisins
1 cup dried cranberries
1/2 cup dried blueberries
1/2 cup dried figs
1/2 cup dried apricots, chopped small
1/4 cup goji berries
1/2 cup dried figs, chopped small
1 apple, chopped small or grated
1/2 cup dried cherries
1 orange, zest and juice
1-2 lemons, zest and juice
1 cup sugar
2 teaspoons allspice
1 teaspoon cinnamon
1 teaspoon ginger
1 tsp nutmeg
1.5 cup brandy, rum, sherry, or port. For a virgin recipe, use apple juice
For the pie crust:
2 Cups Flour [Any Flour Works]
1 Pinch Of Salt
1/2 Cup Oil
1/4 Cup Milk (more if the pie crust is too flaky! Add in 1 tablespoon at a time)
Instructions
To make the vegan mincemeat, simply combine all mincemeat ingredients in a saucepan on the stove over medium-low heat. Simmer for around 30-40 minutes until the mincemeat mixture is thick and very sticky. Make sure to stir it once in a while.
Leave the mincemeat mixture to cool while you make 1 recipe of my Vegan Pie Crust. You will probably have extra pie crust left over, but that is okay!
Preheat oven to 425F
Roll out your pie crust until it is about 2-3mm thick. Use a cookie cutter or a circular glass to cut out rounds big enough to completely fill the Mince Pie Tin or a mini muffin tin. You want to make sure that each hole is filled with the thin layer of dough. If you want to crimp the edges, you can do so!
Fill each hole with enough vegan mincemeat to fill it up completely.
Roll your dough again into a 2-3mm thick sheet and cut out your designs for the top of the mince pies. You can use a cookie cutter to cut shapes such as stars or you can just make a full circle to cover the top of the mince pie. Crimp the edges. Make sure to poke holes for a "vent" if you are making the full tops for the pie and not using a design such as a star. If you are making stars, make sure to press them firmly into the mince pie.
Brush the tops of the mince pies first with aquafaba [liquid from the chickpea can] and then with non-dairy milk for the perfect vegan eggwash!
Cook for 20-25 minutes until the tops of the pies are golden.
Let them cool in the tin for 5 minutes before moving them to a cooling rack. Do not let them cool in the tin or they will get soggy!
Eat them warm and topped with brandy butter, which is a mixture of vegan butter, brandy and sugar!