This vegan pumpkin mug cake is so easy and delicious to make!
If you are new to the world of mug cakes, it is basically putting ingredients in a mug, putting that mug in the microwave for 1-2 minutes, and then waiting while it cools down before you dig in!
This vegan pumpkin mug cake has all of the flavors of fall and is so warm and inviting to eat!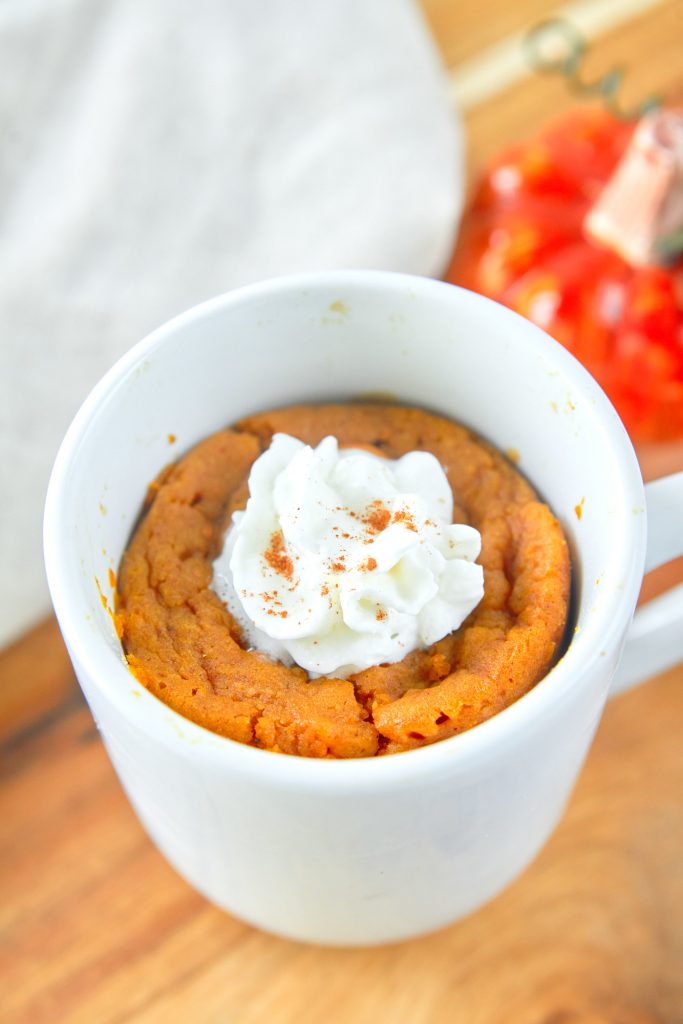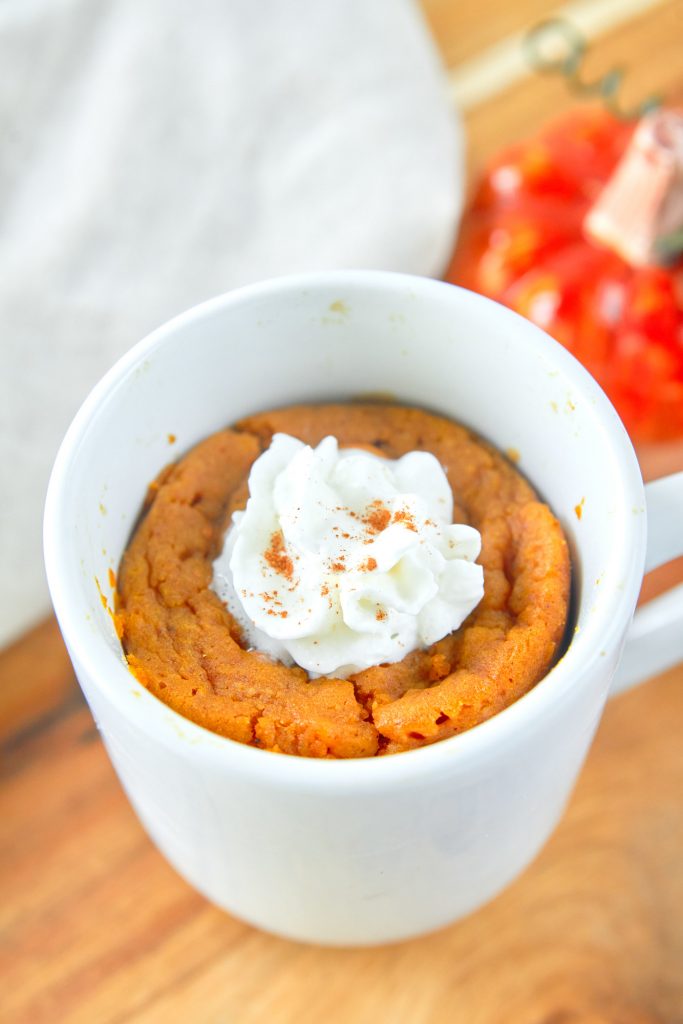 It is also quite healthy too and you can make it healthier by using whole wheat flour and any substitutions that you would like!
The pumpkin spice mug cake uses no dairy or animal products of any kind so it is 100% vegan.
I personally think making cakes vegan is the way to do them as you can just use everything that you have on hand and it is terribly easy to create. Don't forget to check out my Vegan Pumpkin Cheesecake recipe too!
My vegan pumpkin mug cake has two types of pumpkin flavoring.
First we use pumpkin pie spice blend and second we use pumpkin puree.
If you cannot find pumpkin pie spice, you can simply use the ingredients that are in pumpkin pie spice blend such as cinnamon, nutmug, ginger, and cloves to still be able to make this recipe.
This vegan pumpkin mug cake does not use a box cake mix and uses ingredients that you can easily find around you house.
I like to keep things super simple yet on the healthier side and this is the way to do it! This is truly one of the best Vegan Fall Recipes and you have to try it!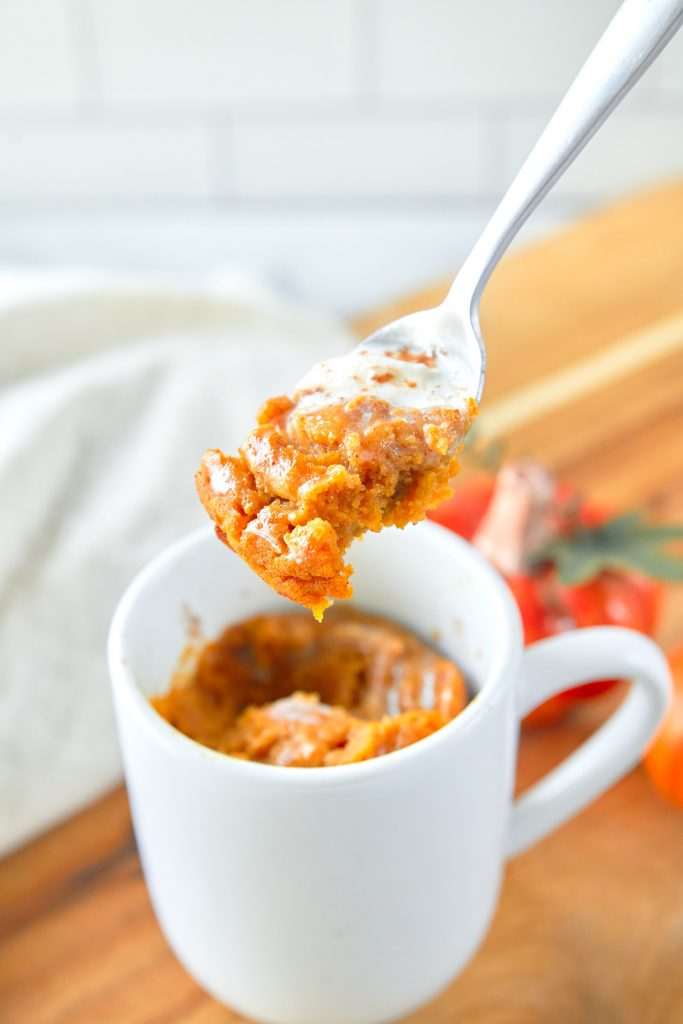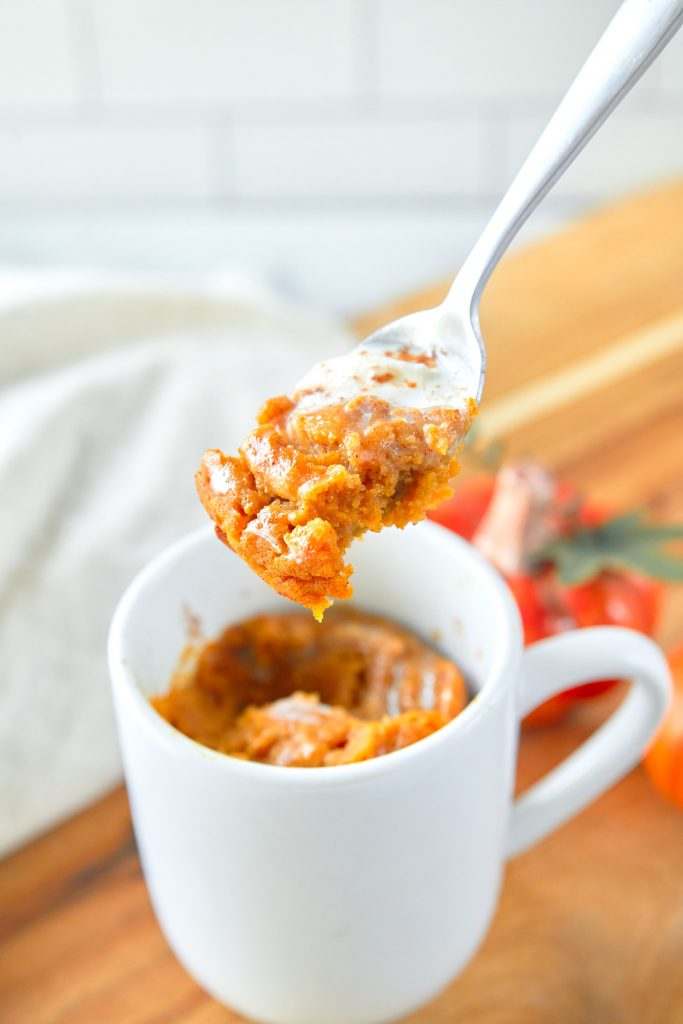 How To Make the Vegan Pumpkin Mug Cake
As the title says, it should only take about 3 minutes to make this vegan pumpkin mug cake!
1 minute to get all the ingredients together and 1-2 minutes to microwave it!
First you are going to choose your mug. I think that any small to medium mug works great!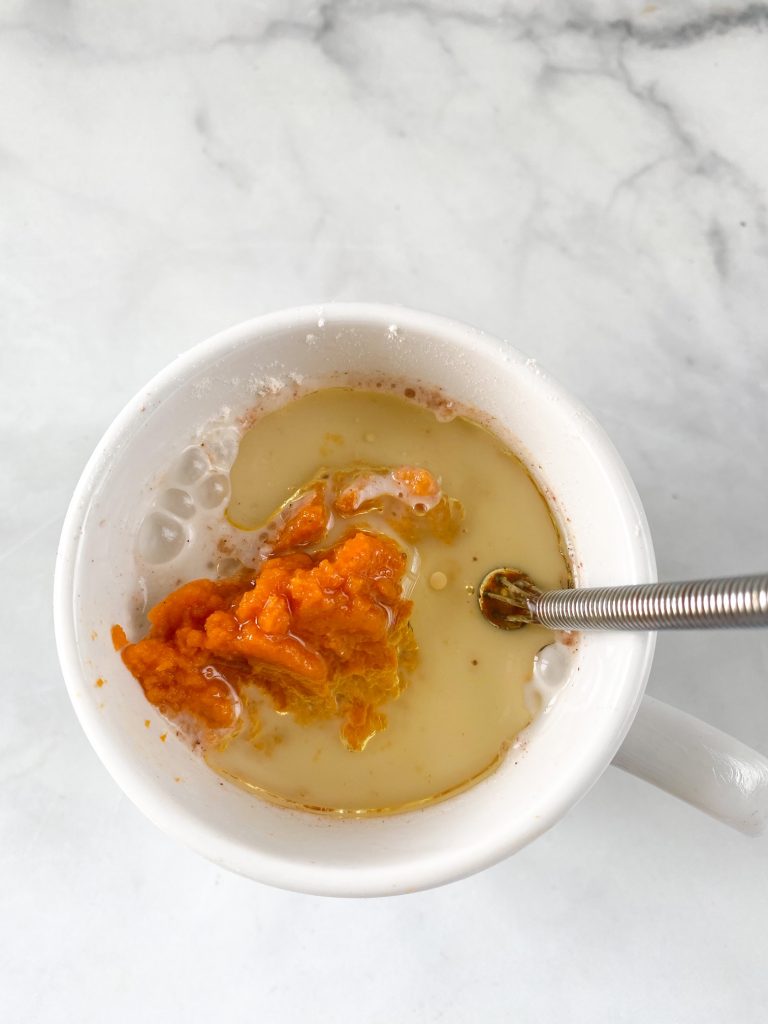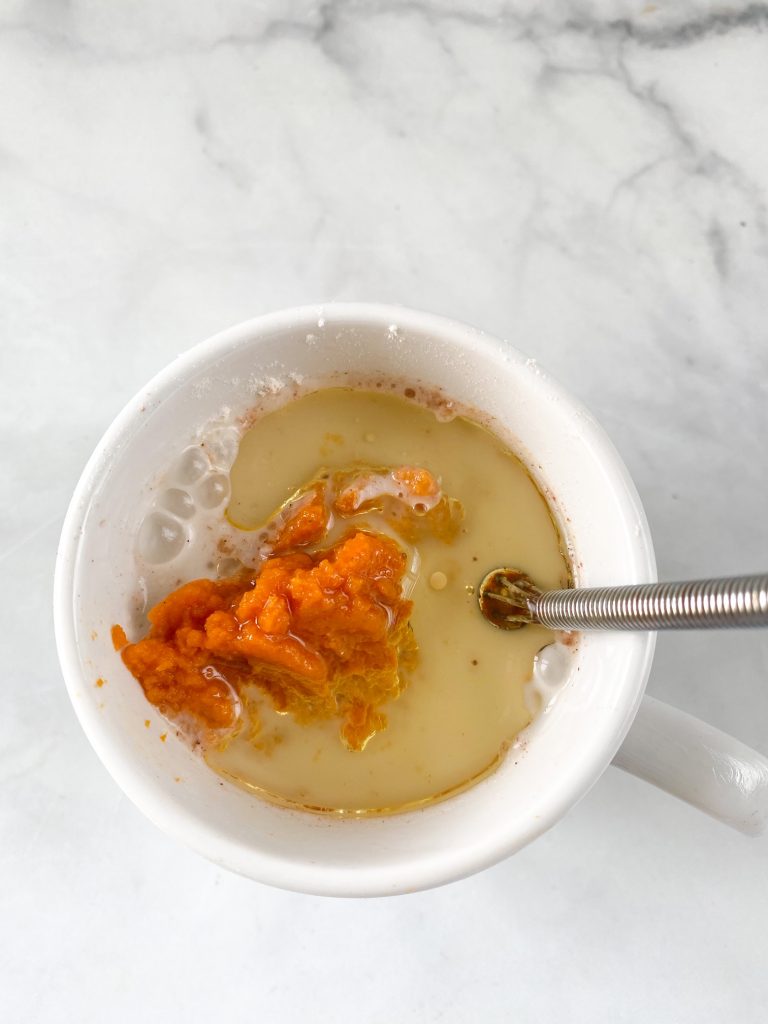 If you are using a large mug then you are going to want to double this recipe.
First you are going to add your dry ingredients to the bottom of the mug and whisk together until combined.
Your dry ingredients will be sugar, flour, pumpkin pie spice, and baking powder. You can use whichever kind of sugar and flour that you want! I love brown sugar as it adds to that "fall" flavor.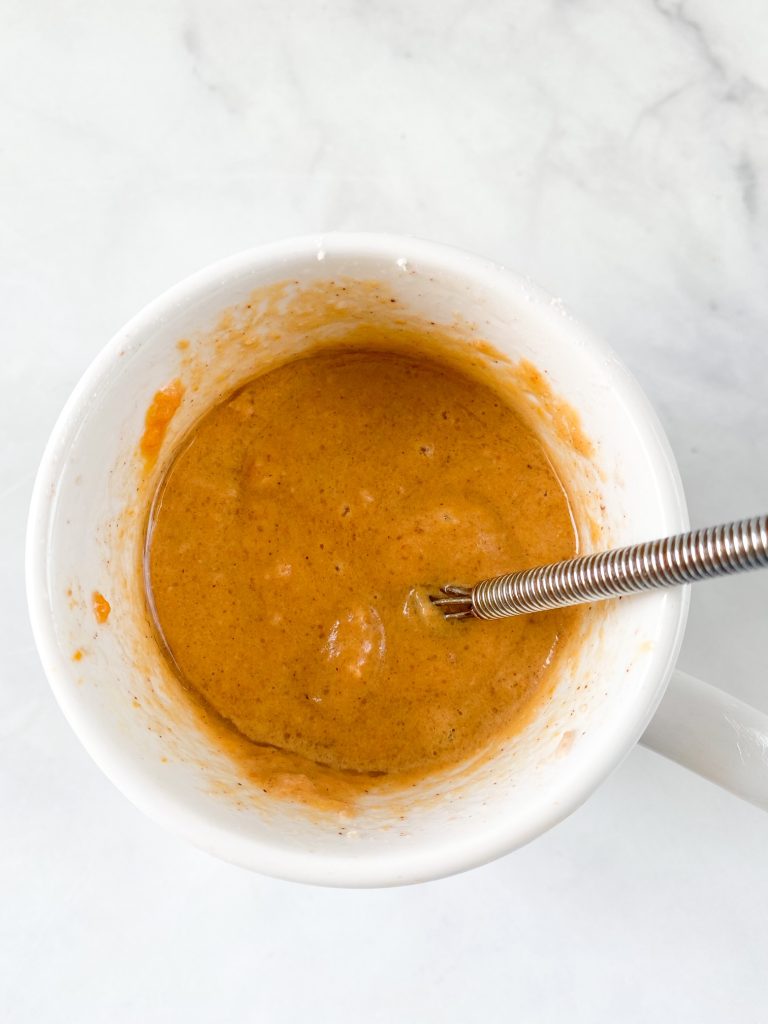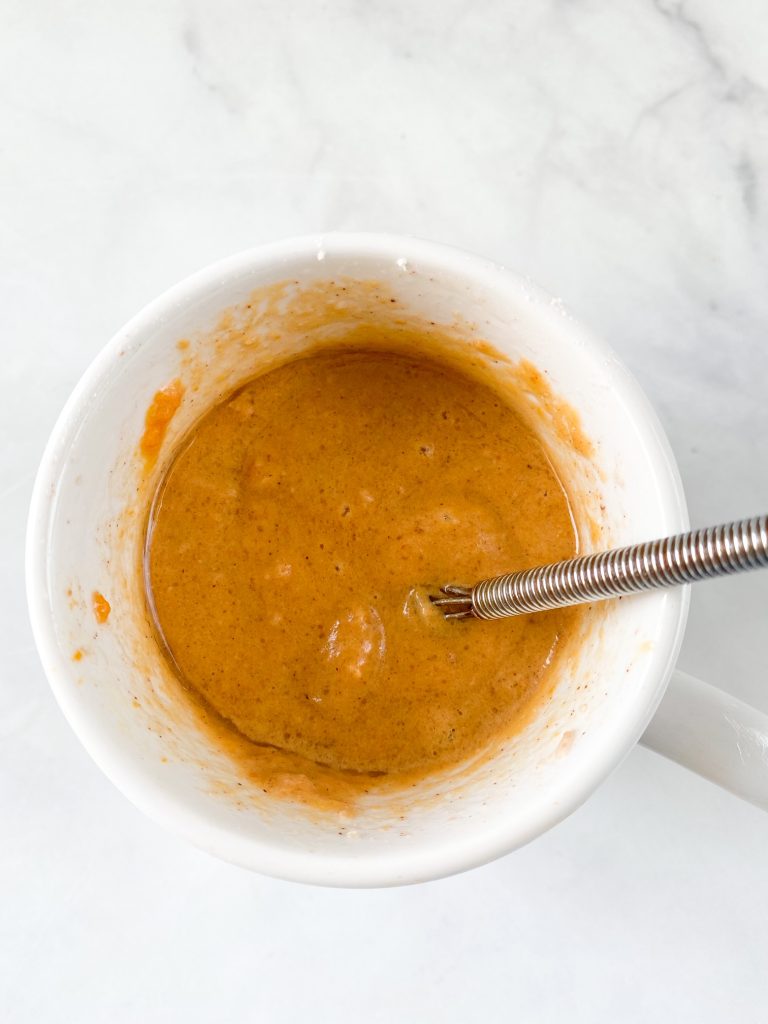 Next you are going to add your non-dairy milk, oil, and pumpkin puree to the mug.
Use a whisk to combine until a batter is formed.
Make sure to scoop up from the bottom of the mug where the flour originally was or else your pumpkin mug cake may have a little bit of uncooked flour at the bottom.
Stir until very well combined.
Now this is the best part! Microwave for 60-90 seconds and you are done!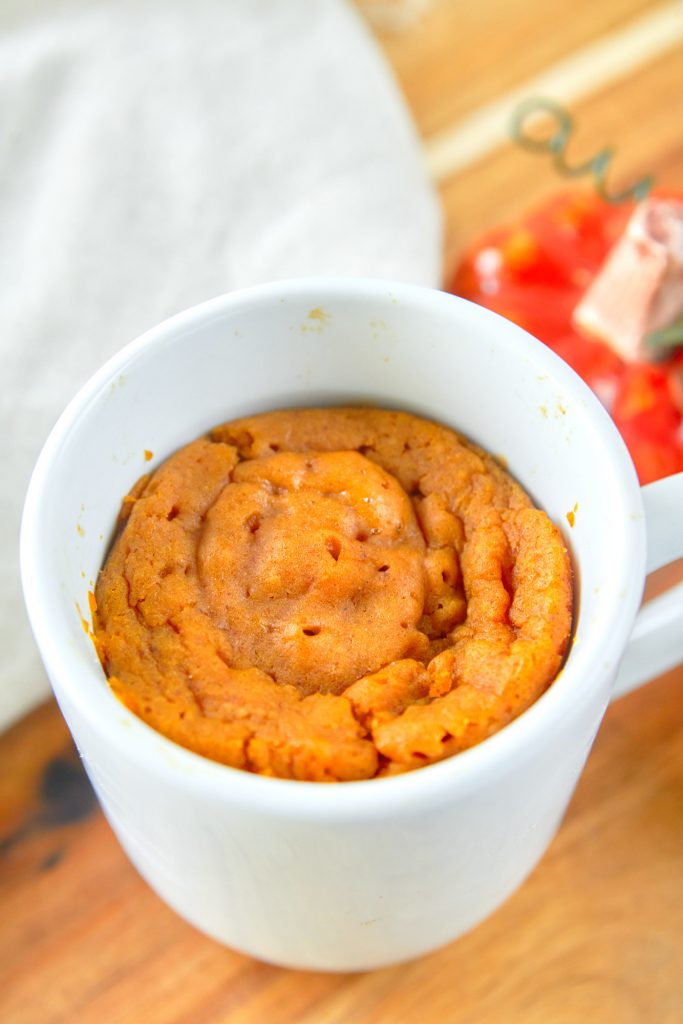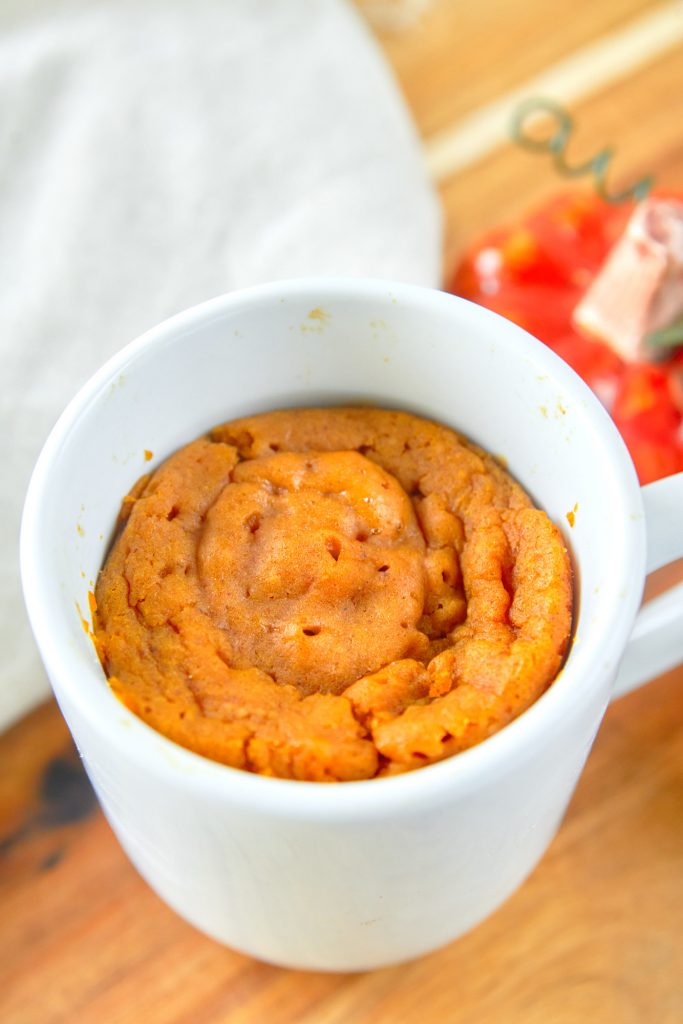 Every microwave is different so start your vegan pumpkin mug cake off at 60 seconds. Take it out and take a peek and if the top isn't cooked like a cake, pop it back in for 30-60 more seconds.
If you take it out and take a scoop and it isn't fully cooked, you can pop it back in the microwave until cooked throughout.
My microwave is quite weak so I almost always have to do the 2 full minutes, but I always check each vegan pumpkin mug cake after 1 minute and then adjust accordingly.
Serve warm topped with vegan whipped cream or vegan vanilla ice cream!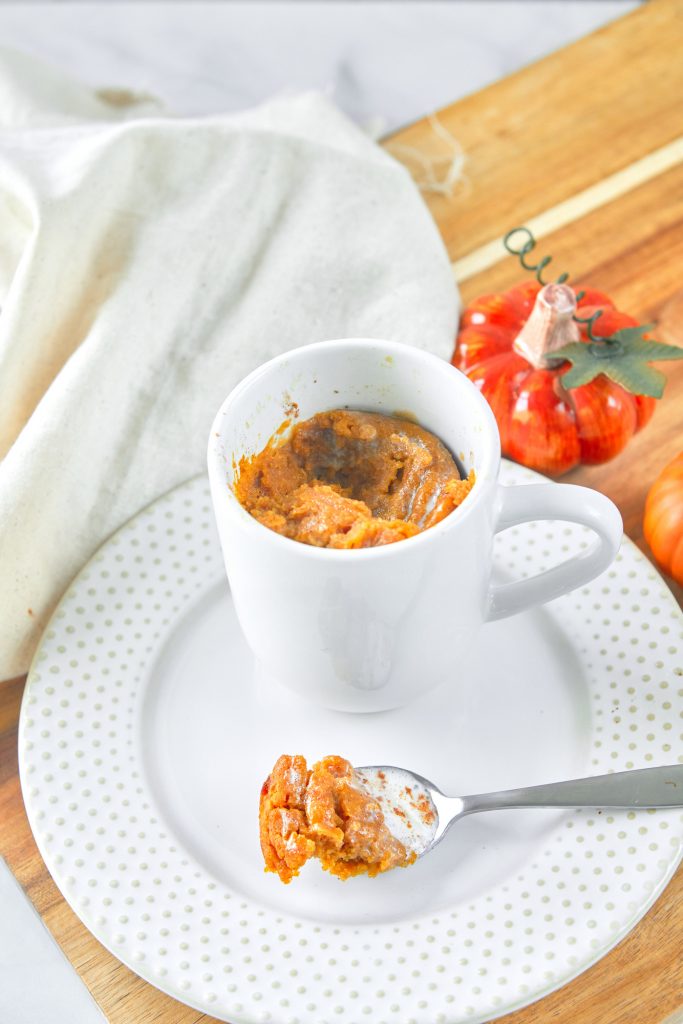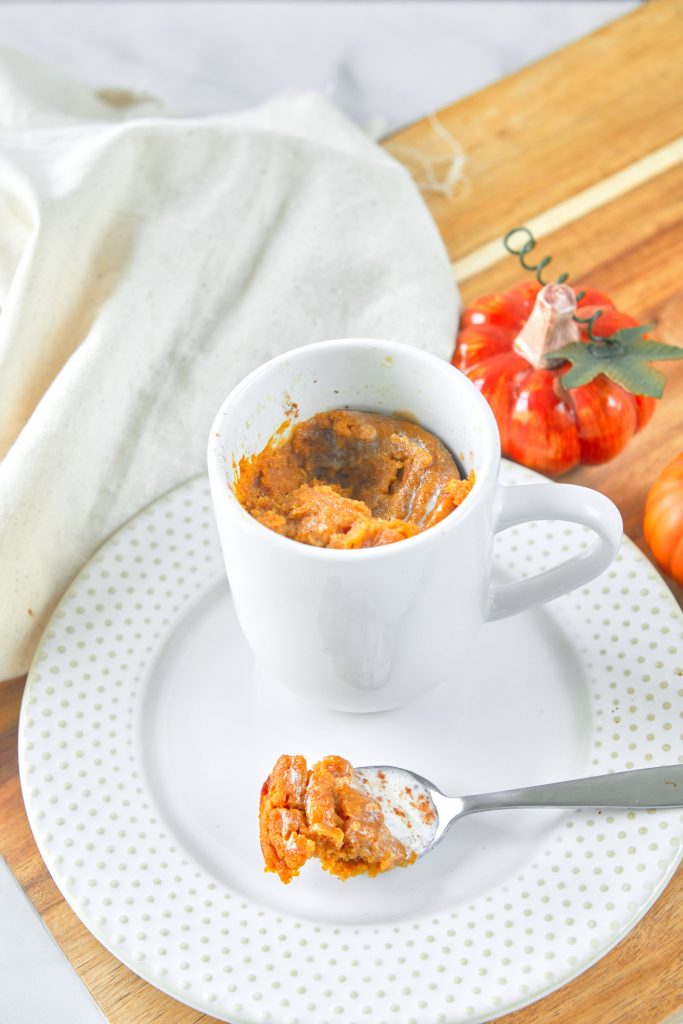 Variations For The Pumpkin Mug Cake
Once you make this vegan pumpkin mug cake one time, you are going to want to make it again because it is just that tasty!
If you have company coming over or you just want to make it for the whole family, you can customize each pumpkin mug cake with one of these many variations below!
Stir in chocolate chips for a pumpkin chocolate mug cake
Top with a shake of powdered sugar
Top with a drizzle of Vegan Caramel Sauce
Add chopped nuts to the batter before cooking
Add in dried fruit to the batter
There are so many ways that you can adjust this vegan pumpkin mug cake to your tastes! I know you are going to love it as much as I do!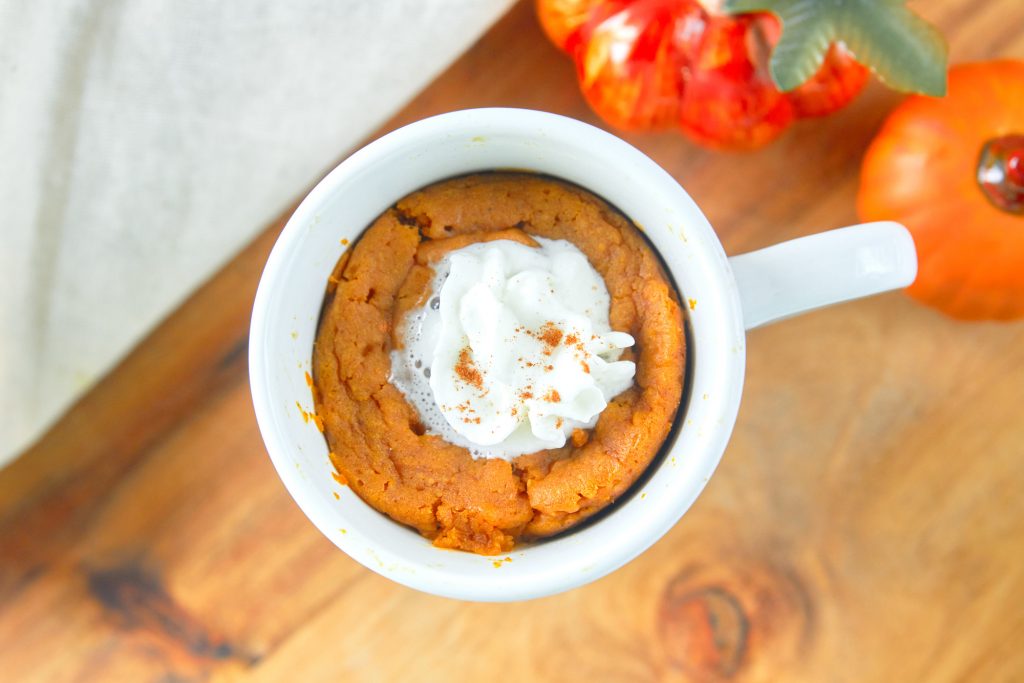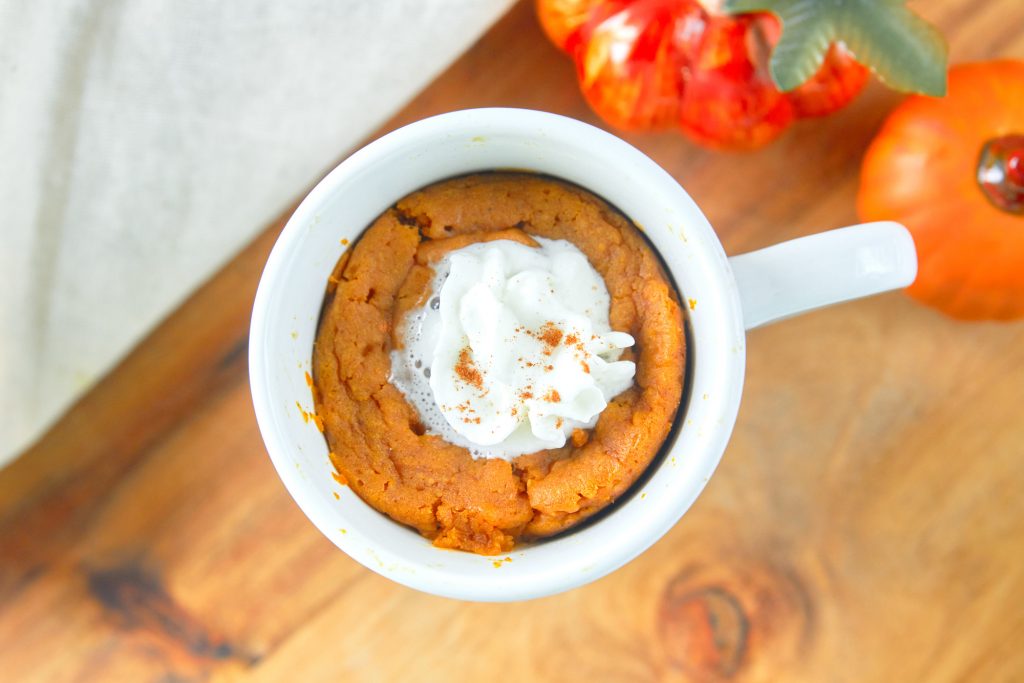 Storing The Vegan Pumpkin Mug Cake
I know, this recipe only makes one serving, but the piece of cake you get in a mug can actually be quite large, or maybe you decided to double this recipe!
It is so easy to store this vegan pumpkin mug cake to eat another day!
Simply scoop the cake out of the mug and store it in an airtight container for the future.
Then, you guessed it, reheat it in the microwave!
You probably won't have any of this delicious cake leftover but I just wanted to let you know that it does store quite well for the future. Psssst! If you love this recipe, you may like my Fudgy Vegan Pumpkin Brownies!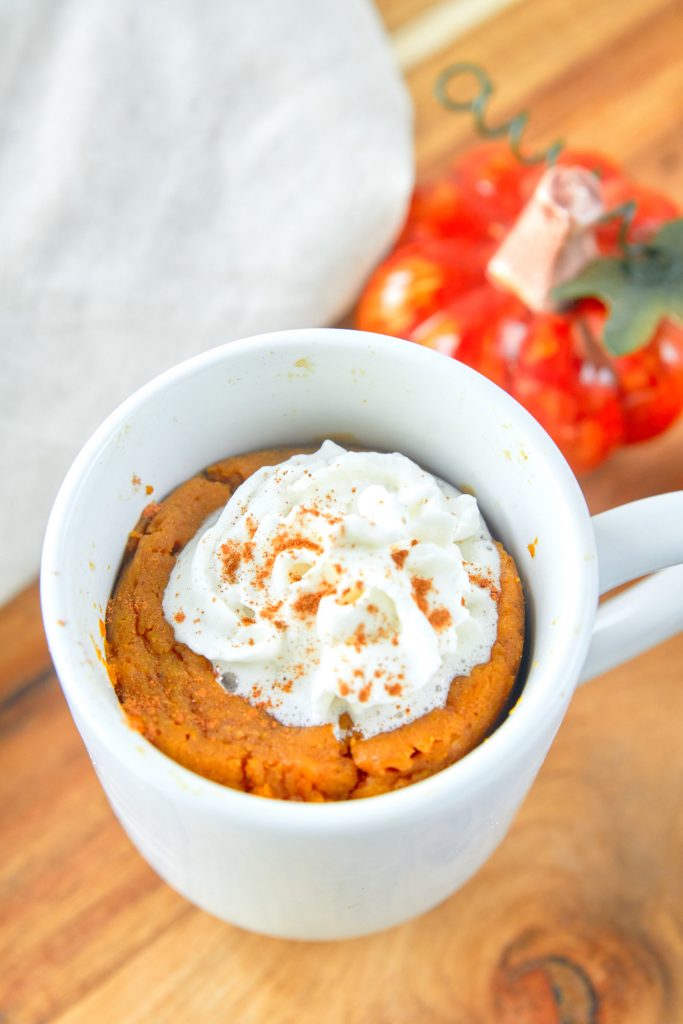 Did You Try This Recipe?
If so, I would love to keep in touch! I enjoy seeing photos and comments about the recipes that you make! You can follow me on Instagram and I will repost your goodies in my stories and comment on it too! Just tag me at @wowitsveggie and hashtag #wowitsveggie. I can't wait to see what you make!
Yield: 1
3-Minute Vegan Pumpkin Mug Cake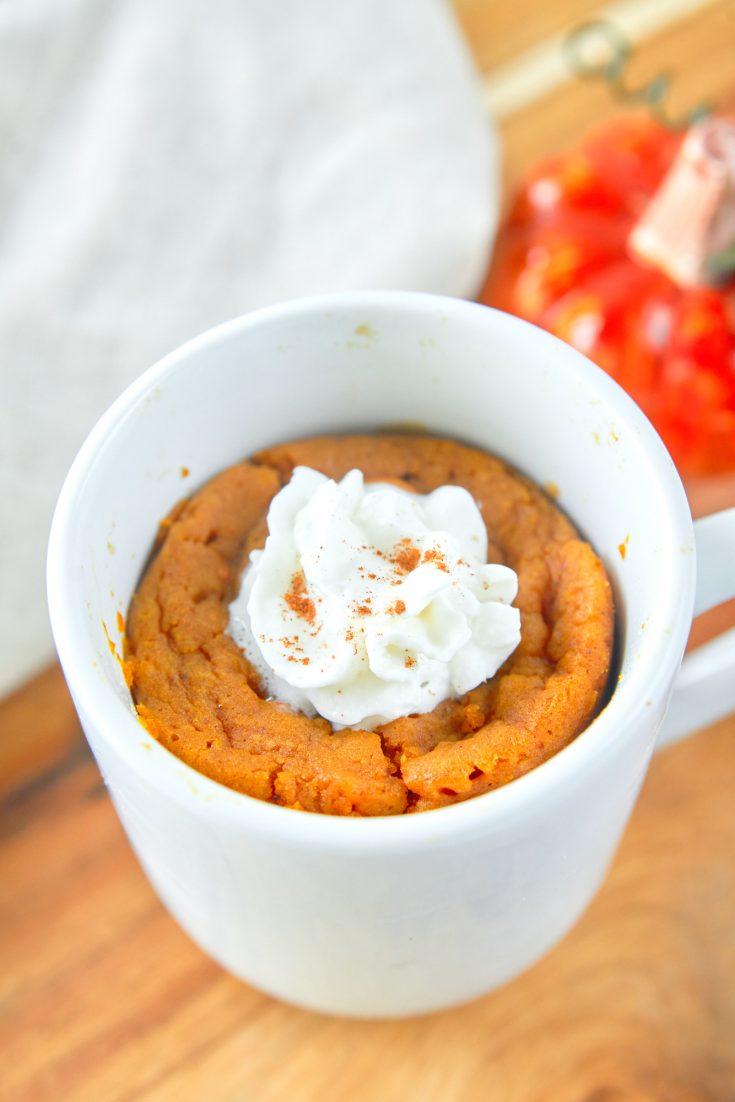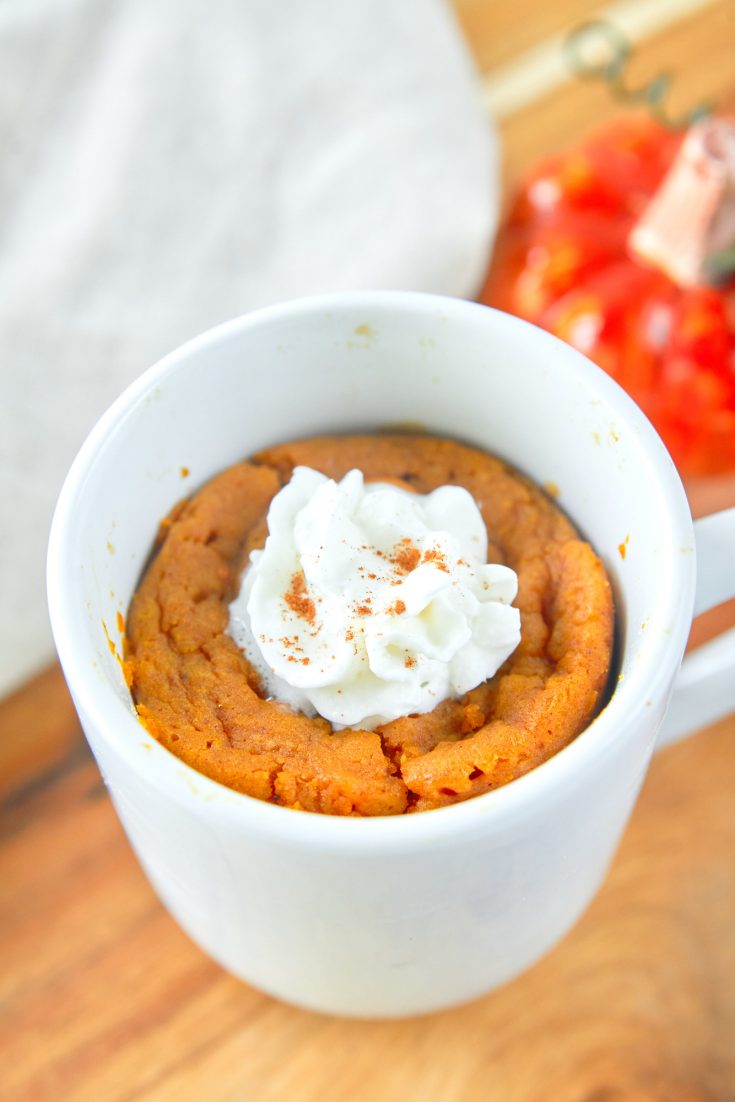 This vegan pumpkin mug cake is perfect for fall and pretty healthy too! It combines both pumpkin spice blend and pumpkin puree and is baked to perfection. There are so many variations you can customize it to your own tastes, but I love a dollop of vegan whipped cream or vanilla ice cream!
Ingredients
1/4 cup + 1/8 cup flour
1/4 cup + 1/8 cup non-dairy milk
2 TBS oil
1 tsp baking powder
1/4 tsp salt
2 TBS sugar
1 tsp pumpkin pie spice
2 TBS pumpkin puree
Instructions
In the bottom of your mug, combine the dry ingredients which are the flour, sugar, baking powder, salt, and pumpkin pie spice. Whisk to combine.
Then add your wet ingredients on top. Your wet ingredients are your pumpkin puree, oil, and non-dairy milk.
Mix very well to combine into a batter. You want to make sure to scoop up all of the flour that is on the bottom of the cup or else you will be left with uncooked flour after you microwave this cake.
Microwave for 1 minute and then check to see if the top is cooked. Then microwave for 30-60 seconds more or until cooked and the top is spongey like a real cake. PLEASE NOTE: all microwaves are different. You will have to cook this vegan pumpkin mug cake for at least a minute, but you may have to cook it longer if your microwave is on the weaker side. Don't be afraid to keep cooking, but just do it in 30 second increments.
Let cool a little bit and then enjoy with your favorite toppings!
Nutrition Information
Yield
1
Serving Size
1
Amount Per Serving
Calories

306
Total Fat

29g
Saturated Fat

2g
Trans Fat

0g
Unsaturated Fat

25g
Cholesterol

2mg
Sodium

1086mg
Carbohydrates

43g
Fiber

2g
Sugar

28g
Protein

3g