This vegan Philly cheesesteak recipe is so easy and delicious!
After years of watching my boyfriend eat Philly cheesesteaks and being jealous of this delicious sandwich with yummy grilled veggies and ooey-gooey cheese, I decided to create my own version!
This vegan Philly cheesesteak is a winner all around. My very healthy vegan Mom loves it, my boyfriend who eats meat loves it, I am obsessed with it, you really can't go wrong!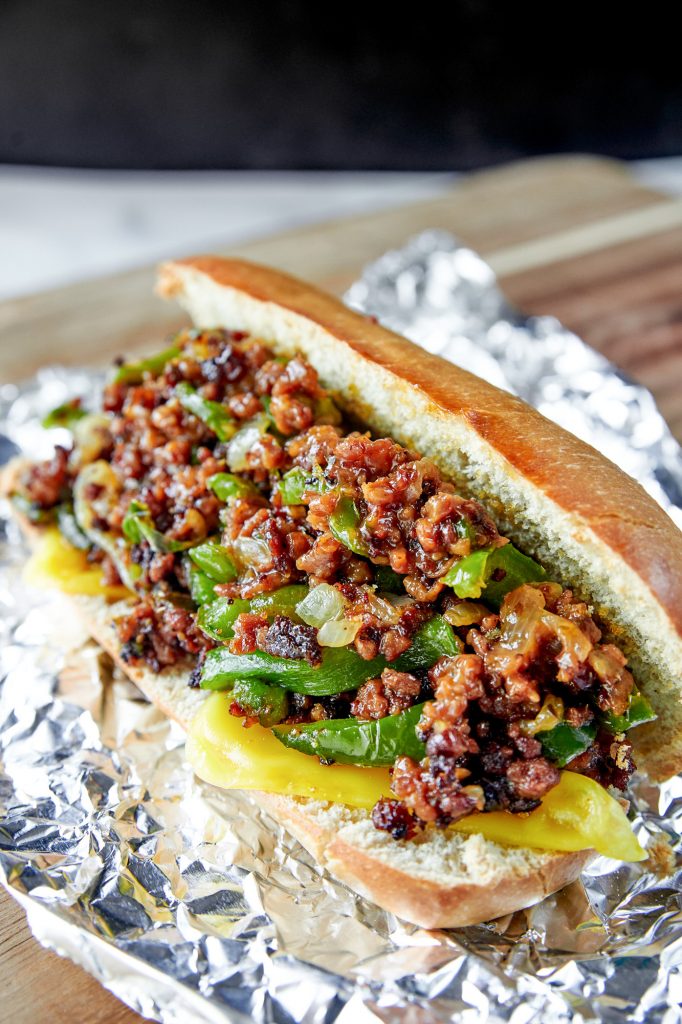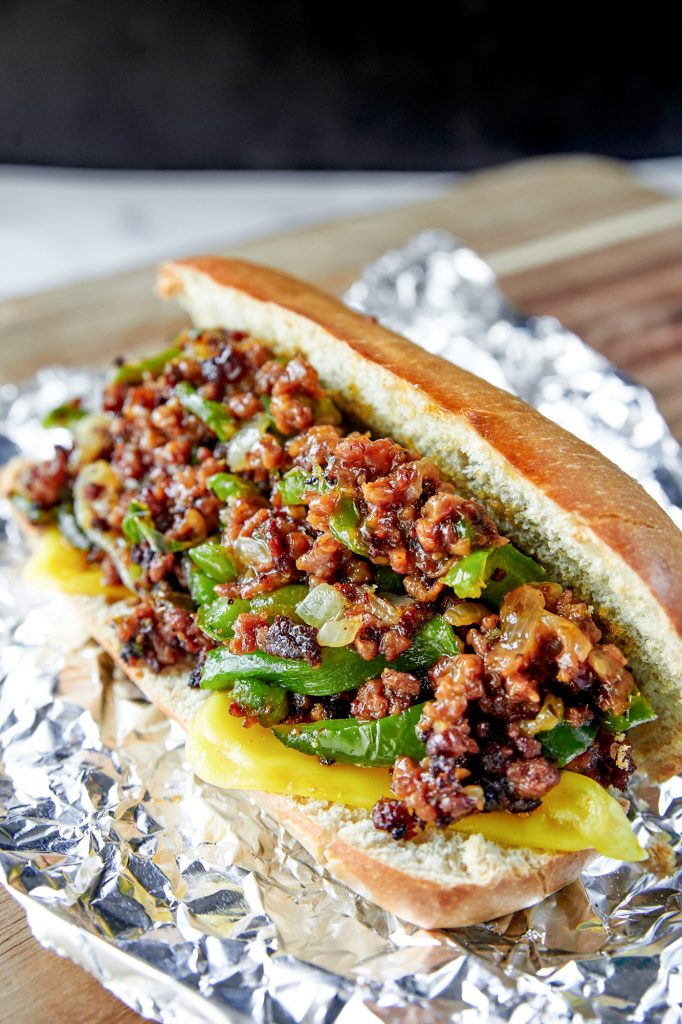 My trick to making really delicious vegan food is to cook it and season it exactly like you would real meat.
This means using the same methods and the same spices and seasoning.
A lot of times, people love the flavors in meat-based cooking for the spices and seasonings and process rather than the taste of the meat itself.
That is my trick for making a great tasting vegan Philly cheesesteak, down to the way that we melt the vegan cheese!
You can sub mushrooms for the faux meat in this recipe, but I wanted a more authentic vegan cheesesteak recipe so I did make it with the faux meat.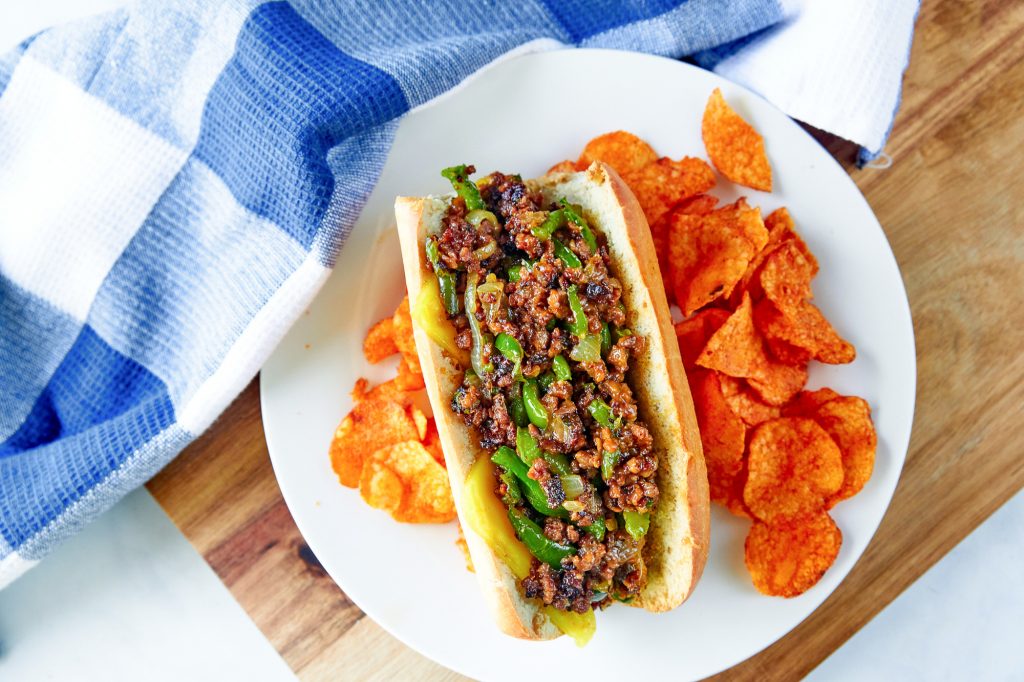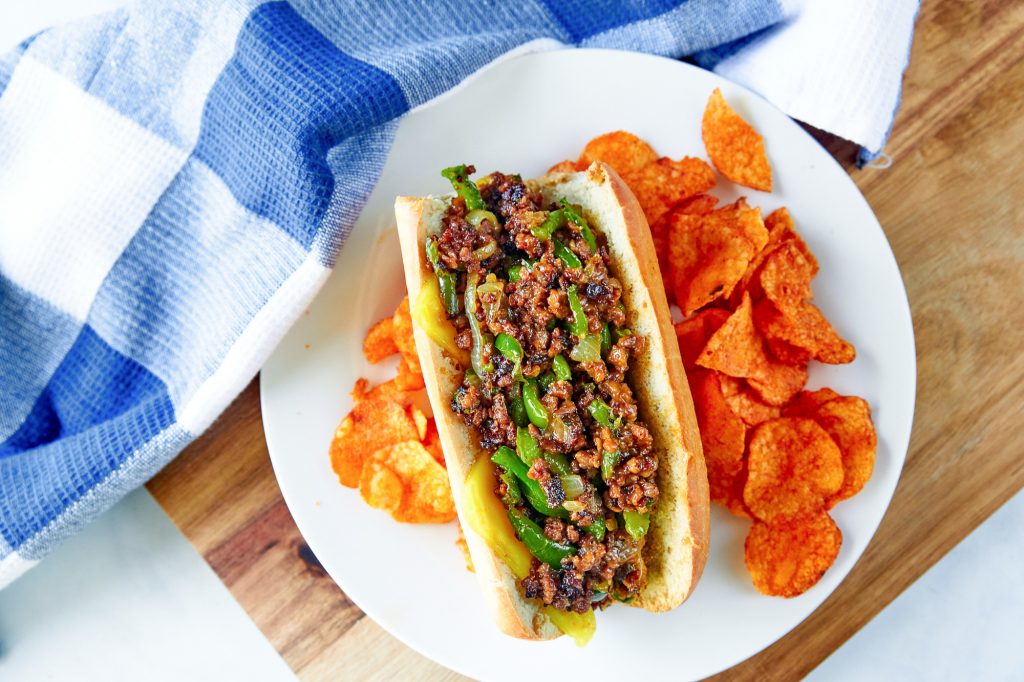 Lots of other recipes call for making your own seitan so you can have shredded meat. We aren't quite that authenitc, so I use regular vegan ground beef so that more people can try it and have access to it!
The one part that you should not skip when making this vegan Philly cheesesteak is toasting the bread in the oven!
Toasting the bread in the oven and then adding a slice of vegan cheese for extra kick helps take the flavors up a notch.
If for whatever reason you aren't a fan of vegan cheese, you can always leave it off as the veggies and seasoning and toasted bread still taste good all together.
Serve up this meaty vegan Philly cheesesteak with some Oven Roasted Potatoes or with a side of potato chips and Vegan Coleslaw.
When I tell you this vegan cheesesteak is a huge winner, I mean it!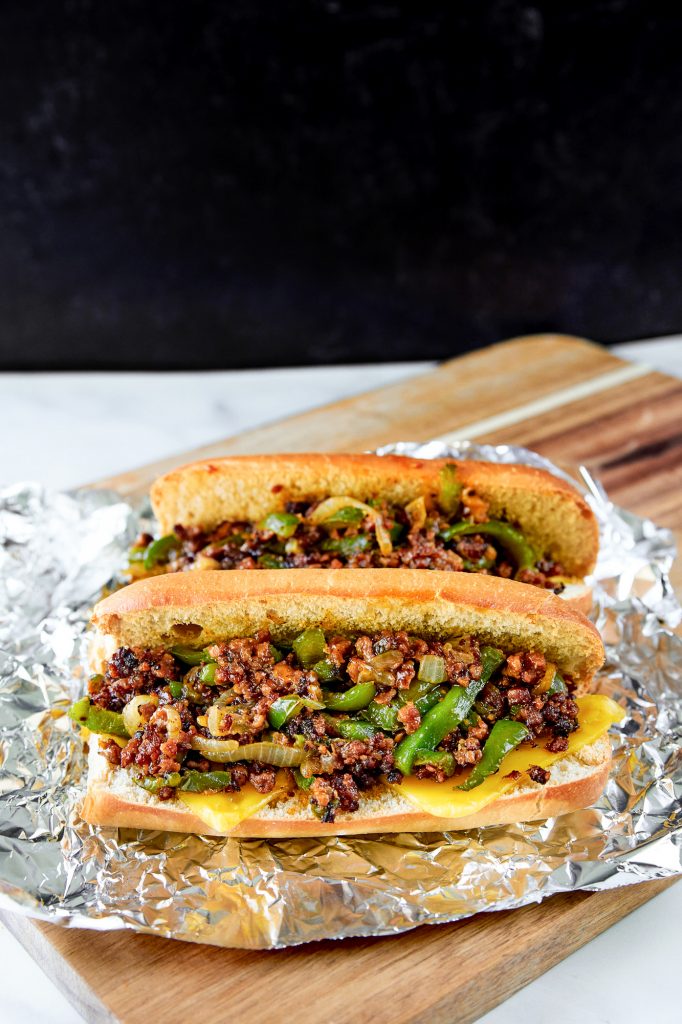 What Type Of Vegan Cheese To Use
There are some great vegan cheese options out there and there are some really terrible ones!
I love using Field Roast Chao brand vegan cheese and you can get it at Walmart.
It is actually the cheese used in these photos so you can see that it melts so wonderfully and it is pretty tasty too!
If you want to make this vegan Philly cheesesteak but you don't have this brand, there are many other brands such as Violife or Follow Your Heart that you can use.
You can even make your own vegan cheese if you really want to take your vegan cheesesteak to the next level!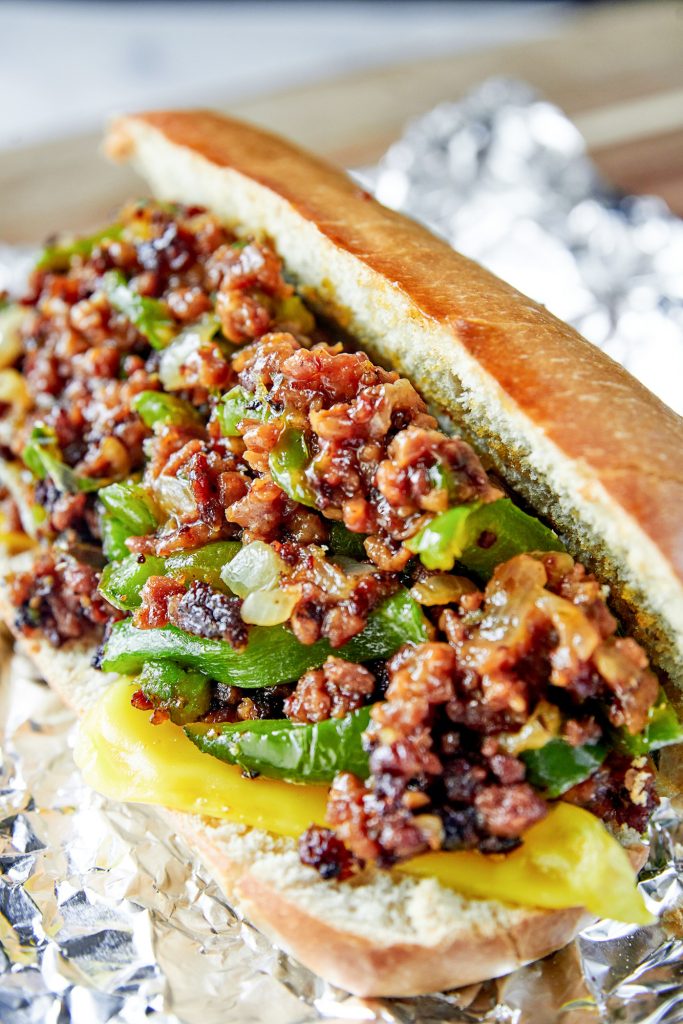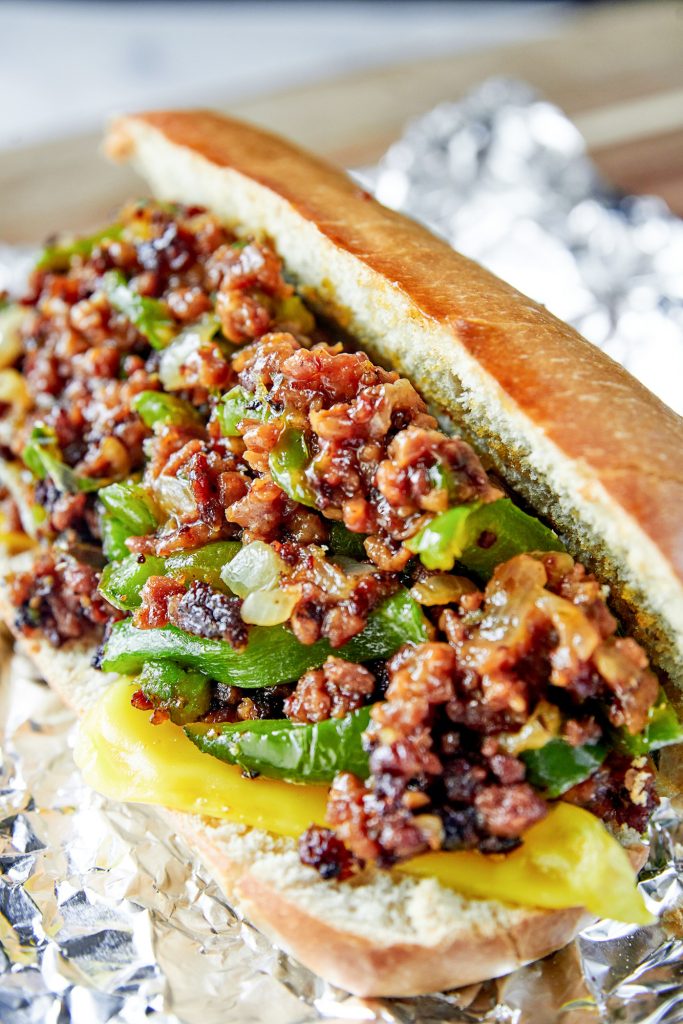 How To Make Vegan Philly Cheesesteak Sandwiches
This vegan Philly cheesesteak recipe is basically foolproof! It is so simple and easy!
Making a vegan cheesesteak really only involves a few things, cooked veggies, cooked meat, cheese, and bread. Of course, spiced to perfection with yummy seasonings!
First you are going to thinly slice your onions and then cut each slice into a few strips so that you will have long strings of onions.
This is pretty easy to do but make sure your initial onion slices are very thin!
Next, you are going to cut your green pepper in half and remove the seeds and core.
Then cut it into thin strips. Green peppers are a staple but if you want you can make your vegan Philly cheesesteak with red bell peppers instead as I know not everyone loves green peppers.
First you are going to want to caramelize the onions on a pan with some oil.
Heat oil over medium-high heat and fry the onion strips until the turn a little brown. This process takes 8-10 minutes.
Alternatively, you can use green onions which I often use for LOW FODMAP cooking for myself. They are done in a flash!
Once the onions are translucent and a little brown, throw in your green peppers and stir for about 3-5 minutes.
Now you want to add in your faux beef crumbles. The brand I use is Gardein and I love it, but any brand of faux vegan beef crumbles works perfectly fine!
You can also leave out the beef and add in mushrooms instead. Or you can add both which I have also done!
Add in all the seasonings and continue to cook until the vegan beef is nice and brown and the veggies are well cooked.
Meanwhile, slice your hoagie rolls but be careful not to slice all the way through! You can also use a bun if that is all you have, but hoagie rolls are vegan Philly cheesesteak staples and can be easily found at your local grocery store!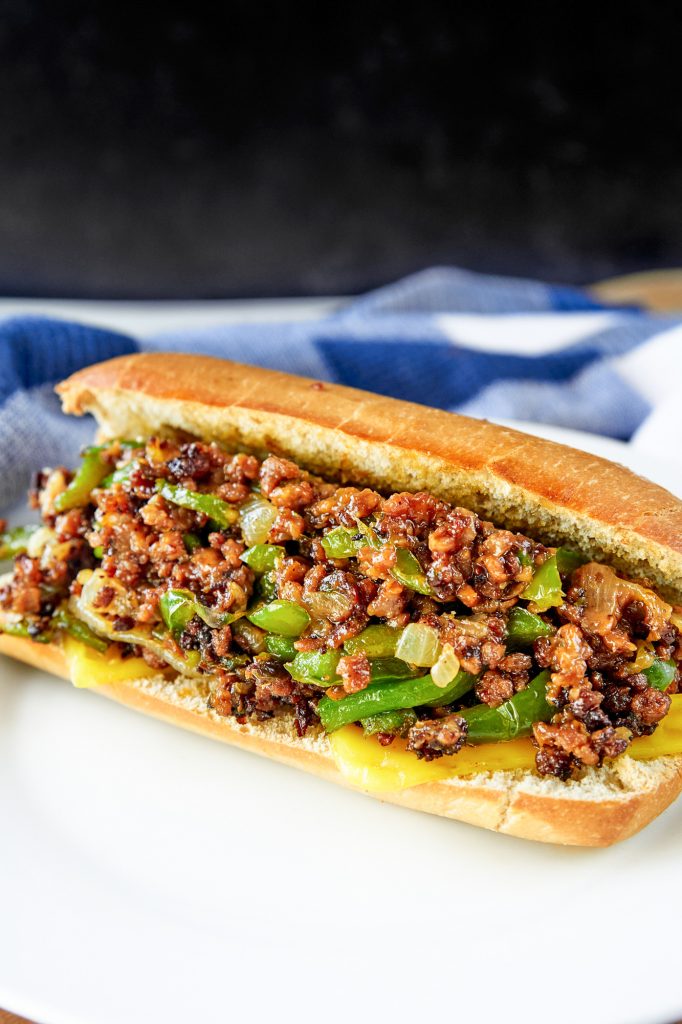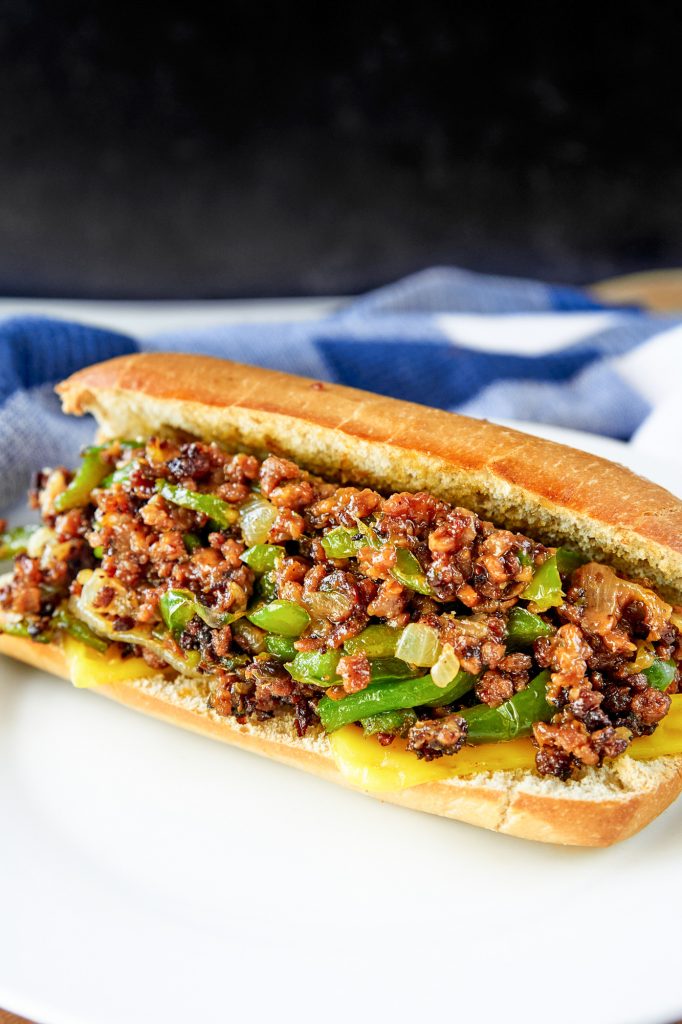 Place your sliced hoagie rolls in the oven at 375F and toast until the bread is toasted to the touch. If you want, you can add a slice of vegan cheese to the bread.
If you choose to do this, let it melt in the oven until it is visibly done.
While your bread is toasting, you will add the cheese to your vegetable mixture.
This is one of the easiest ways to melt vegan cheese and is also one of the traditional ways used when making regular cheesesteaks!
On your cooked vegetable mixture over low heat, simply place 3-4 slices of vegan cheese and cover with a lid until the cheese is melted.
Once melted, stir to combine the cheese with the veggies and vegan beef! This is the easiest way to make the vegan Philly cheesesteak using faux cheese.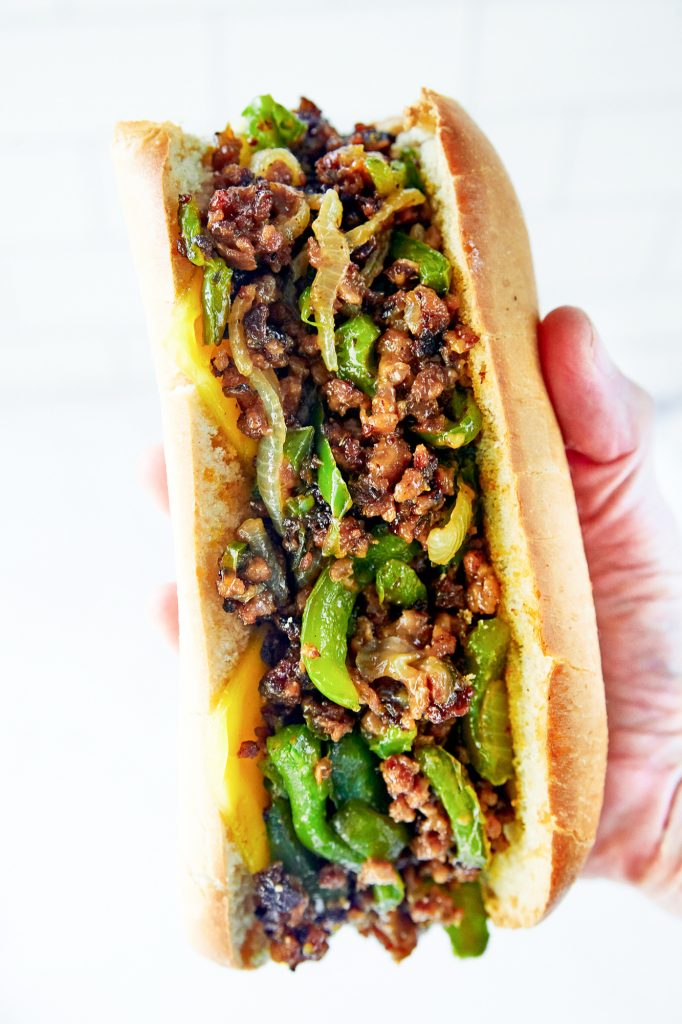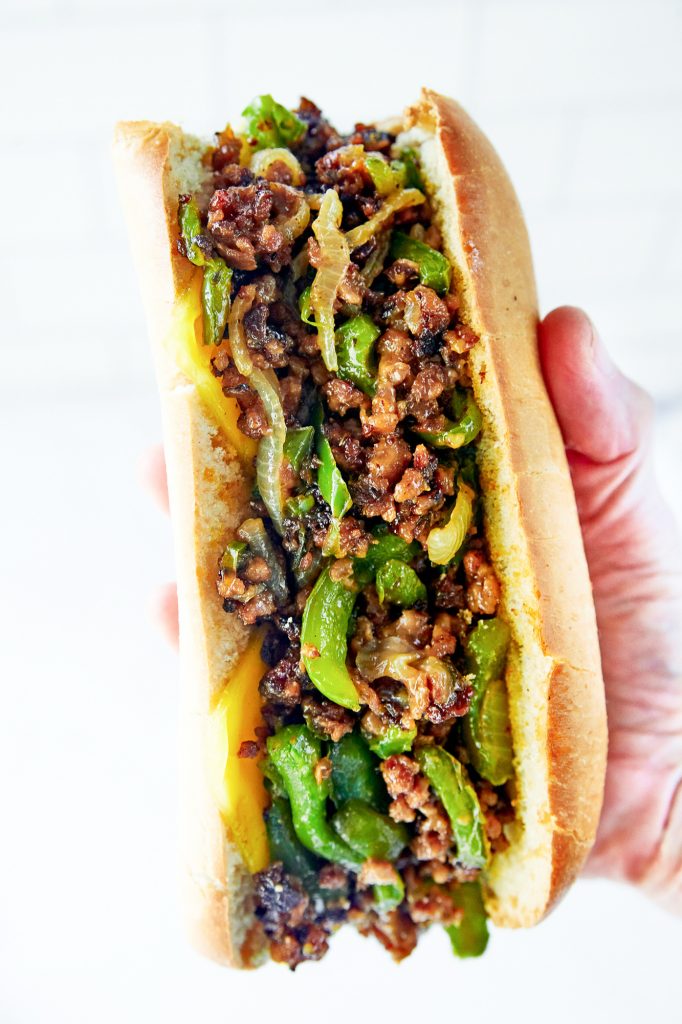 Vegan cheese melts wonderfully when covered on the stove and is easily workable!
Now it is time to combine your filling and hoagie roll into the ultimate vegan Philly cheesesteak sandwich!
Take your hoagie rolls out of the oven and carefully put them on a plate. They will be very hot and may even be "toasted" into place meaning they are stuck in place and you can't open or close them. This is okay!
Next, divide your vegan cheesesteak filling among your hoagie rolls and fill each with a heaping pile.
It may look like there is a ton of meat and veggies for each vegan Philly cheesesteak, but I promise this is what you want!
Once you close up the sandwich, it will fit perfectly fine and will squish together in cripsy and cheesy perfection.
Serve with the side of your choice or just eat it alone as a yummy lunch!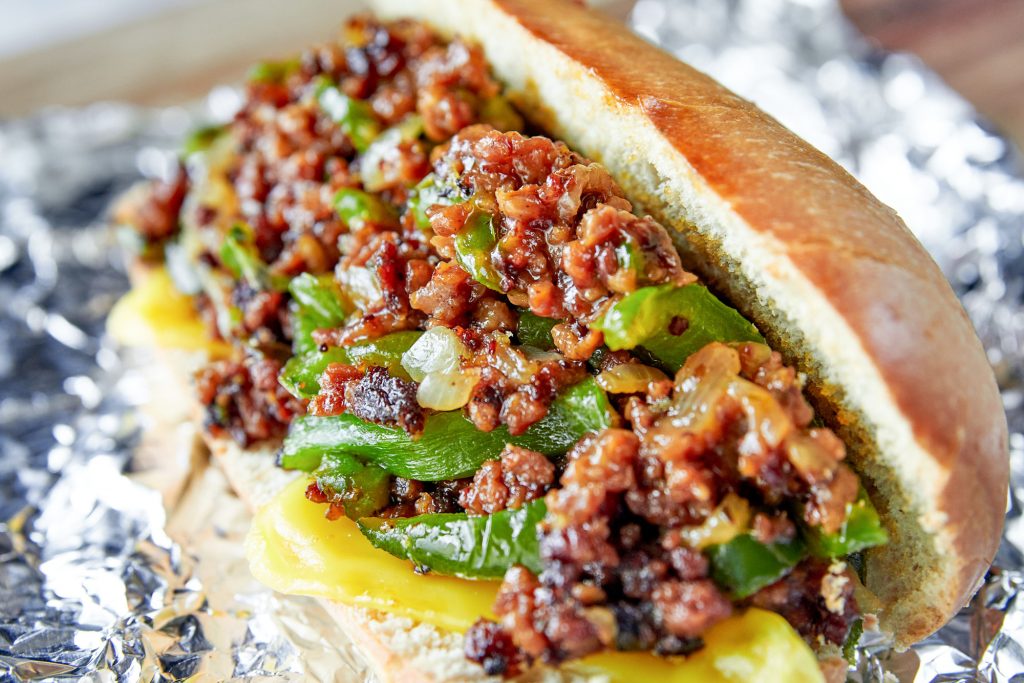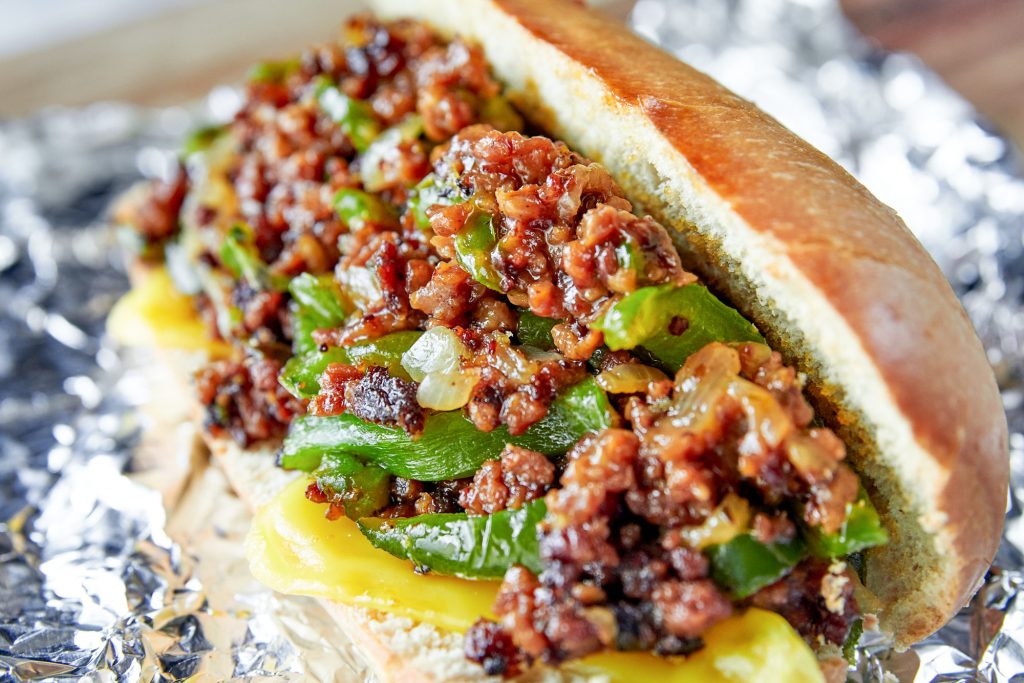 How To Store The Vegan Cheesesteak
I do not recommend storing the vegan Philly cheesesteak sandwich in the fridge. It will get all gross and nasty and I just wouldn't suggest it.
That being said, you can 100% make the filling for the vegan cheesesteak in advance and then toast the hoagie rolls in the oven and reheat the filling in a pan when you are ready to eat it!
This is an incredibly easy way to meal prep with this recipe! Just make a big batch of the filling and then store it in an air-tight container in the fridge.
To reheat, fill a pan with a little oil and reheat until warmed throughout. You will want to toast the hoagie rolls as explained above!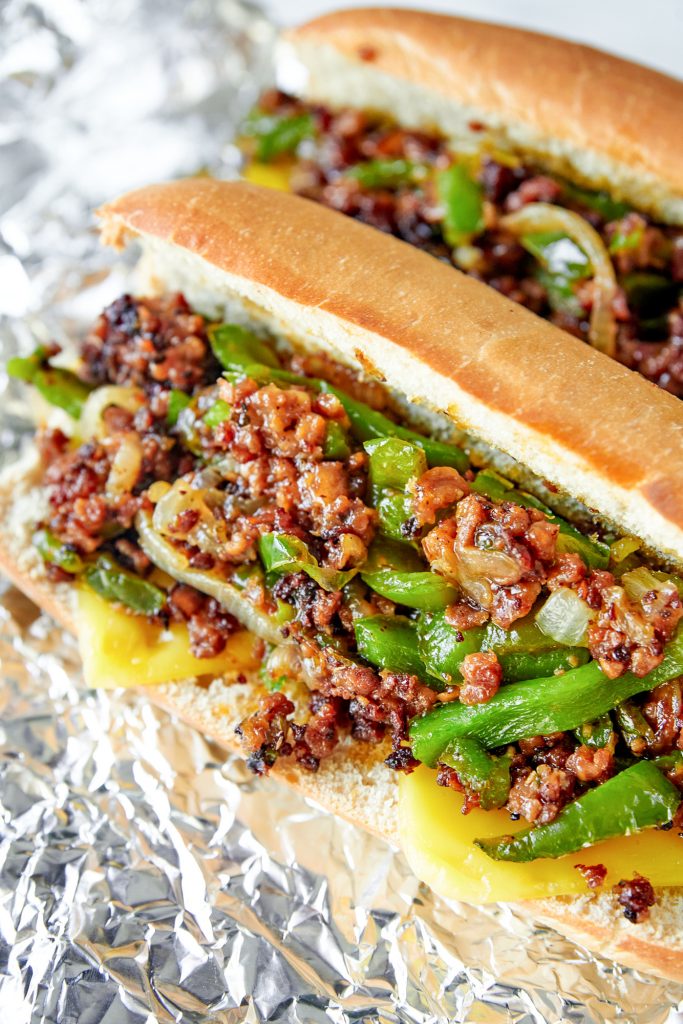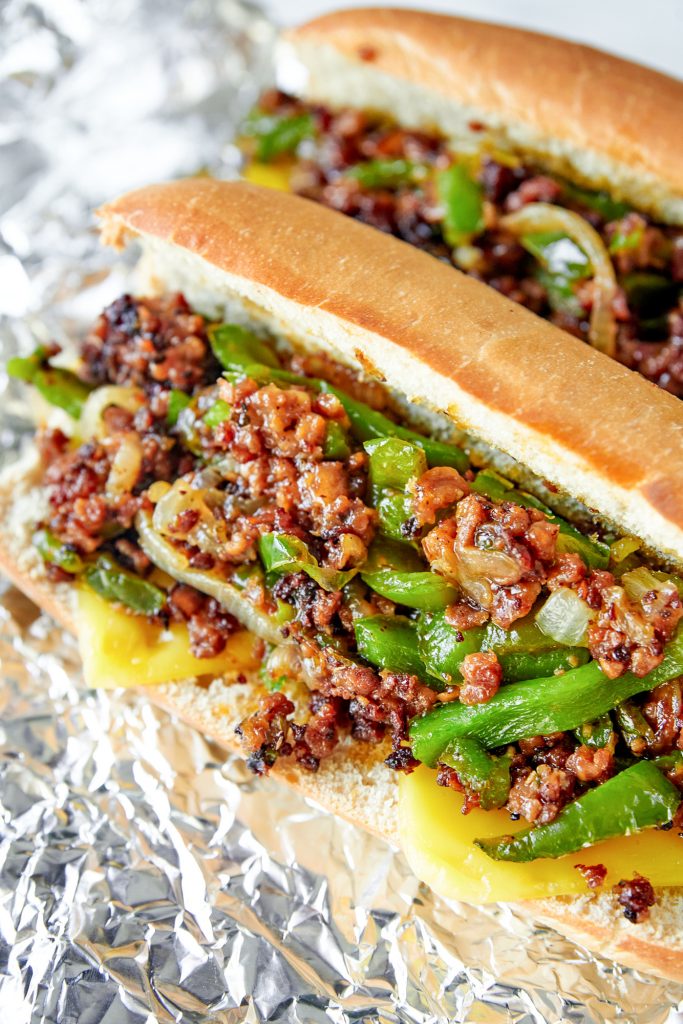 Did You Try This Recipe?
If so, I would love to keep in touch! I enjoy seeing photos and comments about the recipes that you make! You can follow me on Instagram and I will repost your goodies in my stories and comment on it too! Just tag me at @wowitsveggie and hashtag #wowitsveggie. I can't wait to see what you make!
Yield: 2 Sandwiches
Easy Vegan Philly Cheesesteak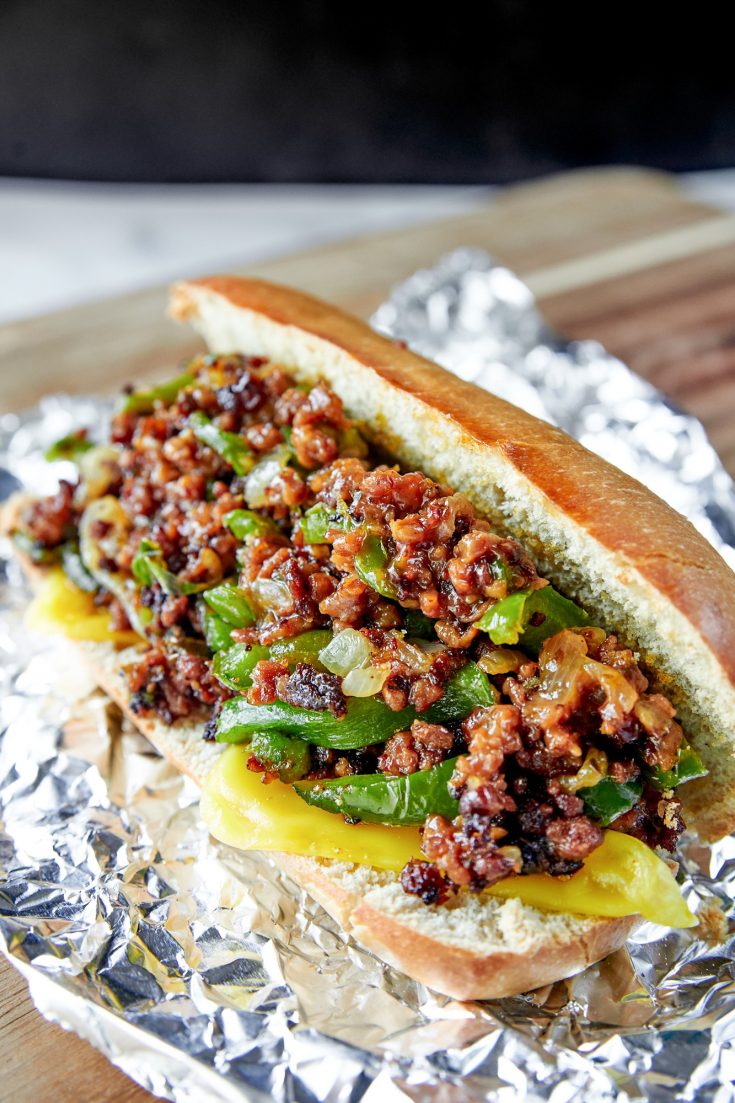 This vegan Philly cheesesteak is so easy to make and the result is a hearty and delicious sandwich! The blend of vegan meat, caramelized onions, green peppers, and vegan cheese blend together for the perfect vegan cheesesteak!
Ingredients
1 large onion, cut into strips
1.5 green bell peppers, cut into strips
1.5 cups vegan ground beef [I like Gardein] Sub with mushrooms if you want
5 slices vegan cheese [I like Field Roast Chao brand]
1 tsp oregano
2 tsp Lawrys Seasoning Salt [or 1 TSP regular salt]
1/2 tsp pepper
2 hoagie rolls, cut in half
Instructions
Preheat oven to 375
In a little bit of oil on medium-high heat, saute strips of onion until translucent and brown, about 5-10 minutes. Once the onions start to cook, add in your green peppers and cook for a little until green peppers start to become soft.
Add in your vegan beef and all of the spices and mix until well combined. Saute until the vegan beef is browned and cooked.
Place your sliced hoagie rolls and one slice of vegan cheese each in the oven and cook until the inside of the bread is crispy to the touch.
Meanwhile, place 3-4 slices of vegan cheese on top of the meat and veggie mixture in the pan. Cover the pan and let cook for 2-4 minutes or until the vegan cheese is melted. Once the vegan cheese is melted, take your spatula and mix until the cheese is combined throughout the Philly cheesesteak filling.
Remove the hoagie rolls from the oven once they are crispy. Carefully spoon half of the filling onto the two hoagie rolls. The filling will spill out but that is okay!
Serve immediately with chips, french fries, or a side salad!
Notes
If you don't want to use vegan beef crumbles you can use mushrooms instead. Just sub an even amount of mushrooms for the vegan beef crumbles.
I have also made this recipe with no onions and have subbed two green onions cut into slices instead. It still tasted fantastic!
This recipe does not store well so don't try and put the whole sandwich in the fridge. You can make the vegan Philly cheesesteak filling in advance and store it in the fridge and then just reheat and toast your buns when you are ready to make this sandwich!
Nutrition Information
Yield
2
Serving Size
1
Amount Per Serving
Calories

450
Total Fat

19g
Trans Fat

0g
Sodium

1120mg
Carbohydrates

45g
Fiber

5g
Sugar

2g
Protein

33g