This vegan pumpkin cheesecake is so full of spices and flavor, it will surely become a holiday favorite in your home!
If you are afraid to make pumpkin cheesecake vegan at home, I am going to walk you through it step by step.
I like to call this my pumpkin pie cheesecake because it has the flavor of pumpkin pie with the texture of cheesecake! This is truly one of my favorite Cozy Vegan Fall Recipes and I know you are going to love it!
This is NOT one of those "no bake" vegan cheesecakes, you do have to bake this one in the oven, but that is okay because it really helps the flavors and spices come together!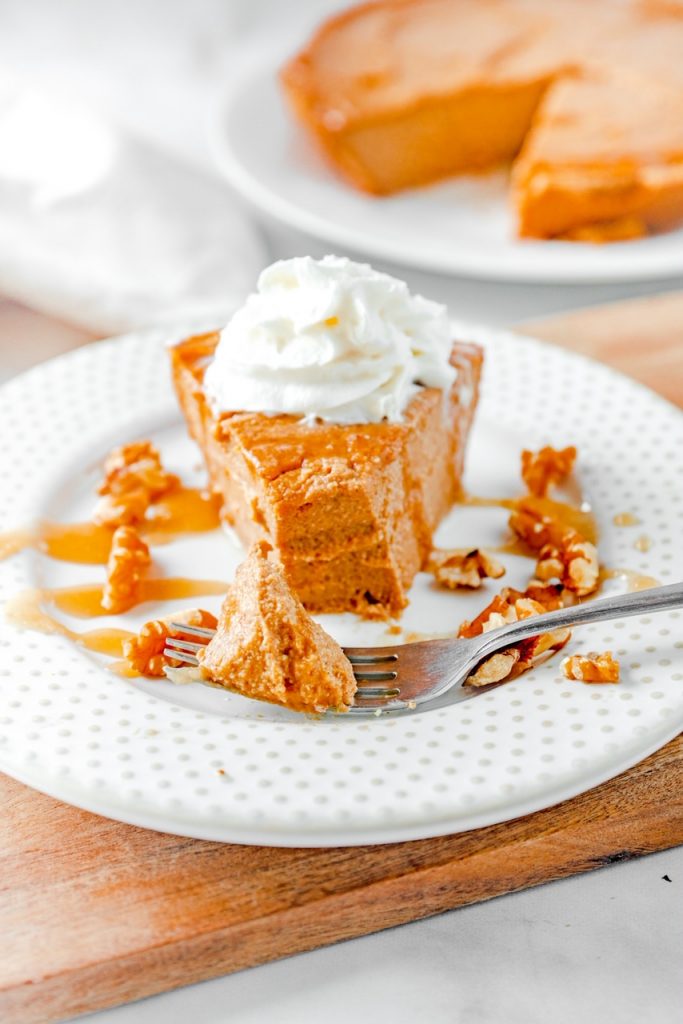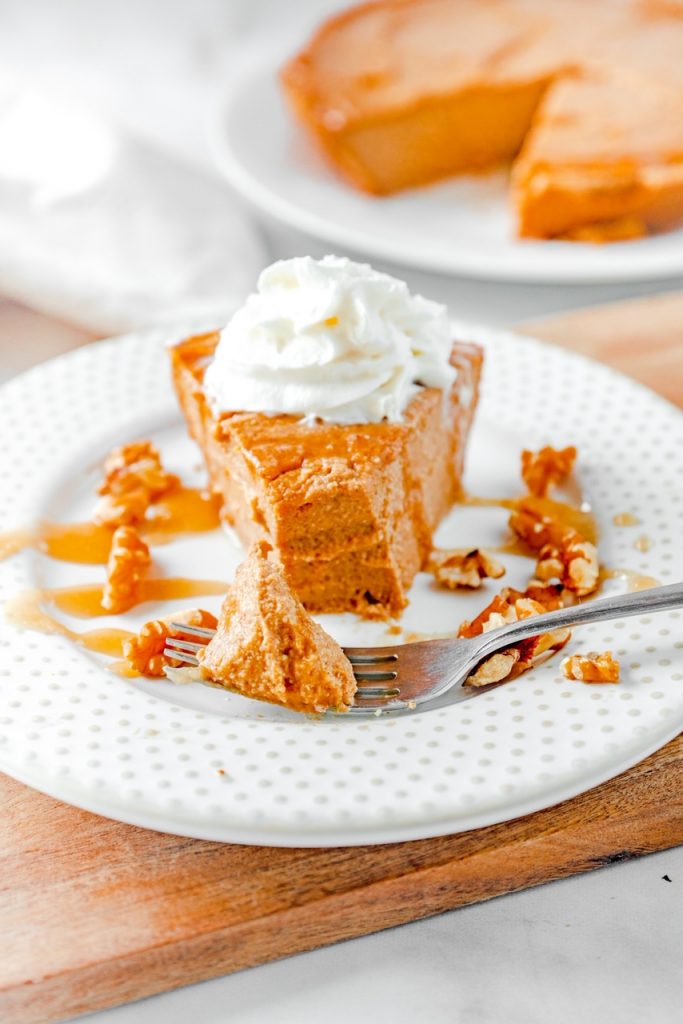 This recipe doesn't use nuts! It actually uses tofu as the base! Tofu actually offers the perfect cheesecake texture that looks and tastes very realistic for the best egg-free pumpkin cheesecake.
Believe it or not, you can't taste or even tell that tofu is in this recipe! The blend of spices and pumpkin puree means the tofu isn't even noticeable.
Even non-vegans will love this tofu pumpkin cheesecake. I actually gave the leftovers from this recipe to my dad the first time I made it.
He asked me if it was vegan and I said yes. Dad is the LEAST vegan person out there!
Then, later that day, he texted me saying that it tasted amazing and he really loved it. He couldn't tell the difference or that it was vegan at all.
I truly think this is pretty much one of the easiest vegan pumpkin cheesecakes you could ever make.
Just blend it up and pop it in the oven and let it set in the fridge and you are done! It is the perfect dessert for your Vegan Thanksgiving Feast!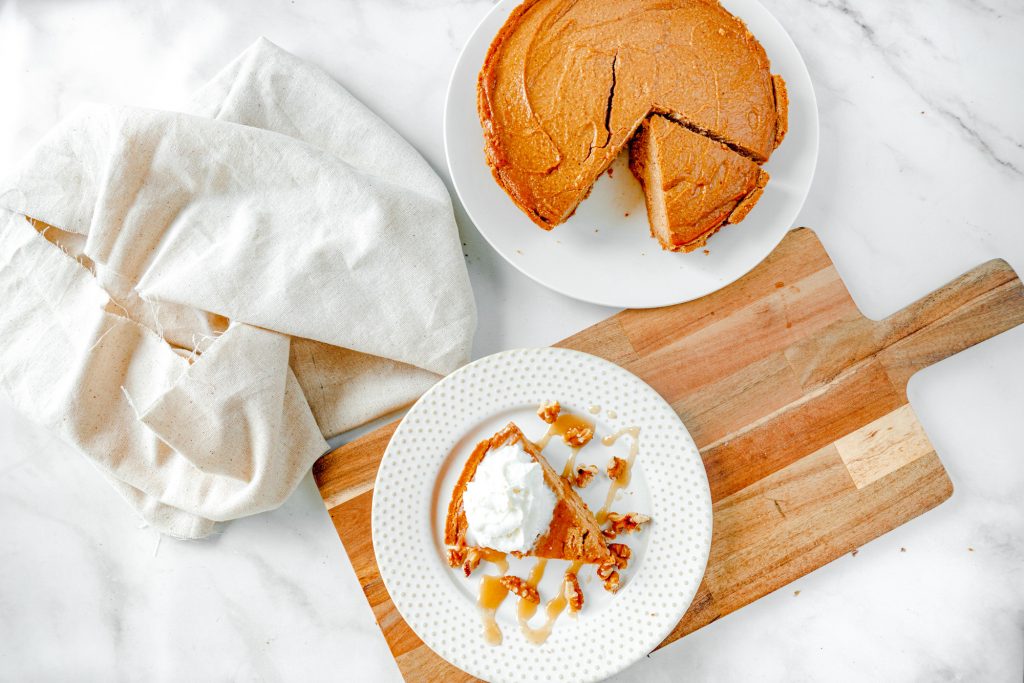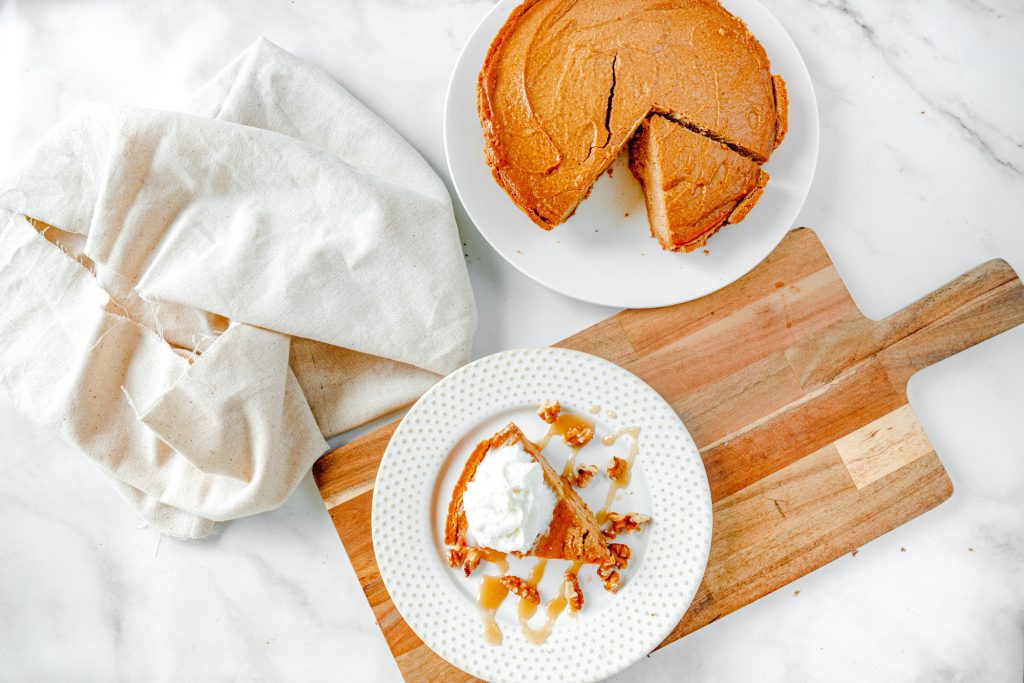 Why You Will Love This Vegan Pumpkin Cheesecake Recipe
It whips up super quickly. This vegan pumpkin cheesecake literally takes only 10 minutes of prep time. I can't explain how simple and easy this is to make. Sure it has to bake for a while, but the amount of active time you have to devote? Very minimal.
Perfect for new cooks. If you are new to cooking and want something that sounds fancy but is super easy, this is the recipe for you! It is truly hard to fail when making pumpkin cheesecake vegan at home. I truly feel like anyone can dump a bunch of ingredients in the food processor and bake it. I have faith in you.
Kids love it. If you are trying to sneak more fruit into your kid's diet, making pumpkin cheesecake vegan is a good way for them to eat more fruit. The best part? Way less additives than the store-bought kind, even the kind from a local vegan bakery.
Perfectly spiced like fall. This vegan pumpkin pie cheesecake tastes just like fall in your mouth. It is the perfect blend of warming spices and the flavor is immaculate, let's not even mention the texture. This is perfect for your Thanksgiving or holiday table.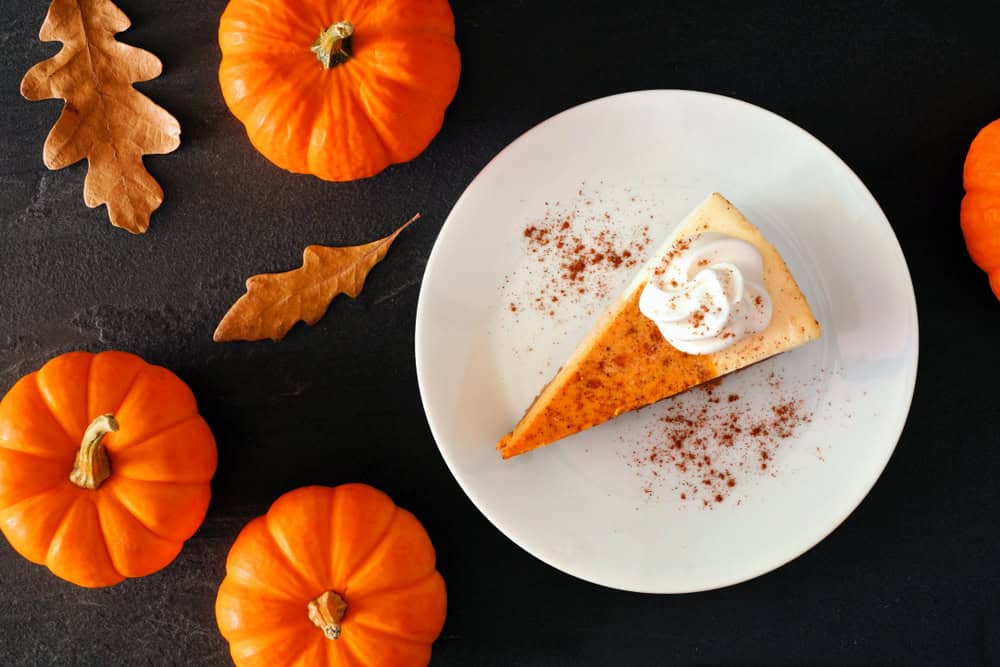 What Pie Crust To Use
Since this is a cheesecake, you aren't going to want to use a regular Vegan Pie Crust like you would with an Apple Pie or a regular pumpkin pie.
I recommend using a graham cracker crust for dairy-free pumpkin cheesecake.
Since I am super easy, I use a prepared graham cracker crust from the store!
Of course, if you want, you can always make your own graham cracker crust, but why make more work for yourself?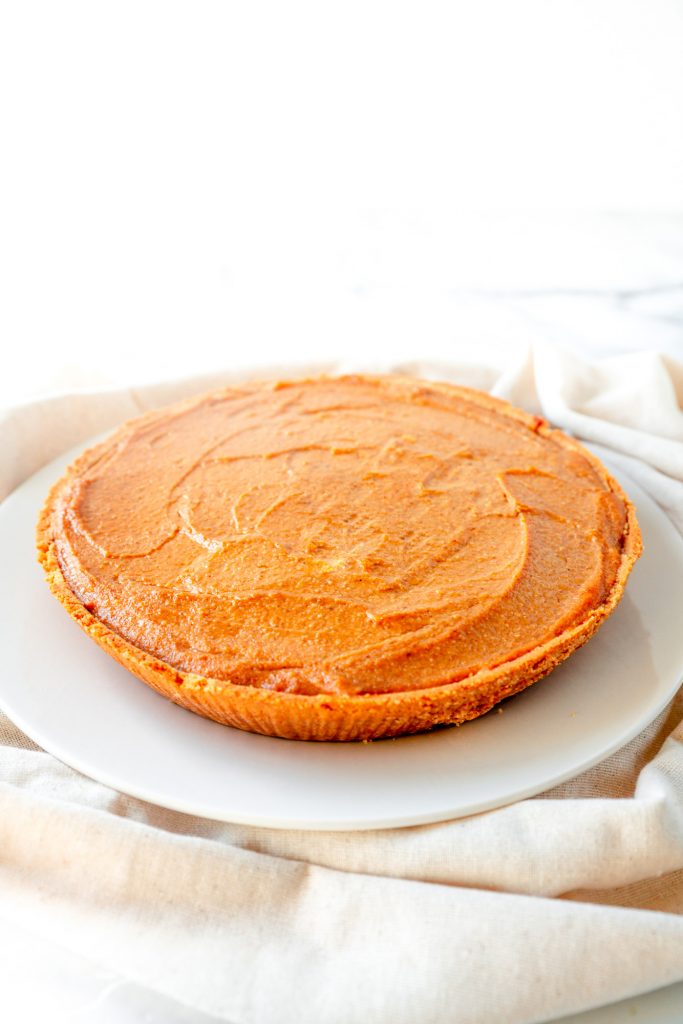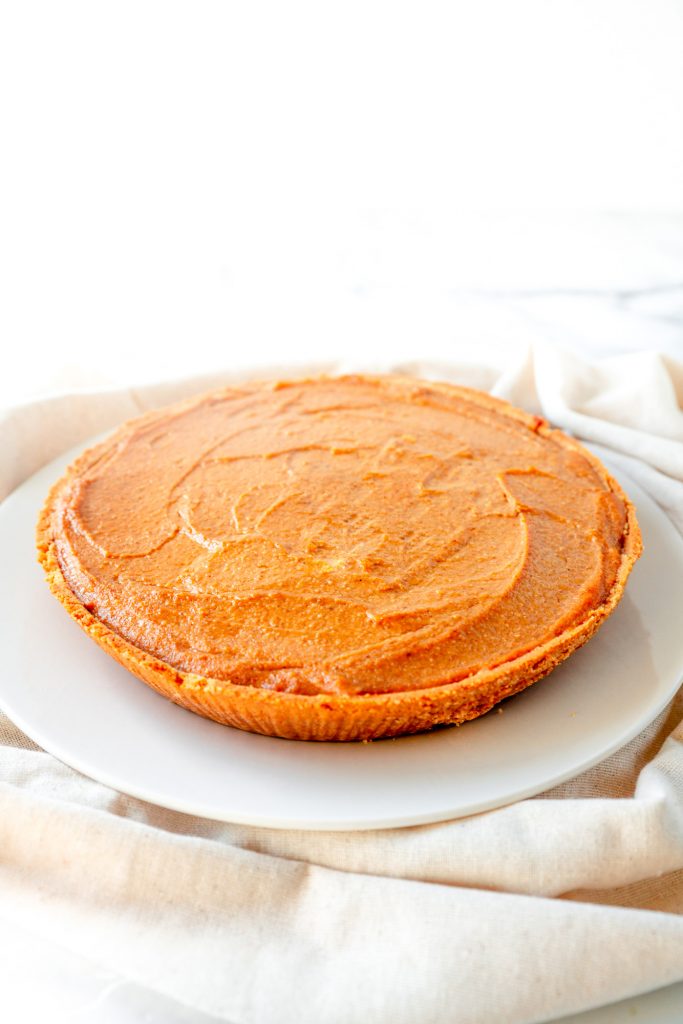 If you want to make your own, combine graham crackers and melted vegan butter.
The graham cracker crust is the best part of this vegan pumpkin cheesecake and just makes this recipe even faster to make!
I based this recipe around a 9-inch graham cracker crust and the cheesecake mixture really fills up the pie crust so it is jam packed with flavor.
Just make sure that your store-bought pie crust is vegan. Simply look at the ingredients or head to your local natural foods store where it most probably will be! When making pumpkin cheesecake vegan, you want to go with an authentic taste, and this crust is it.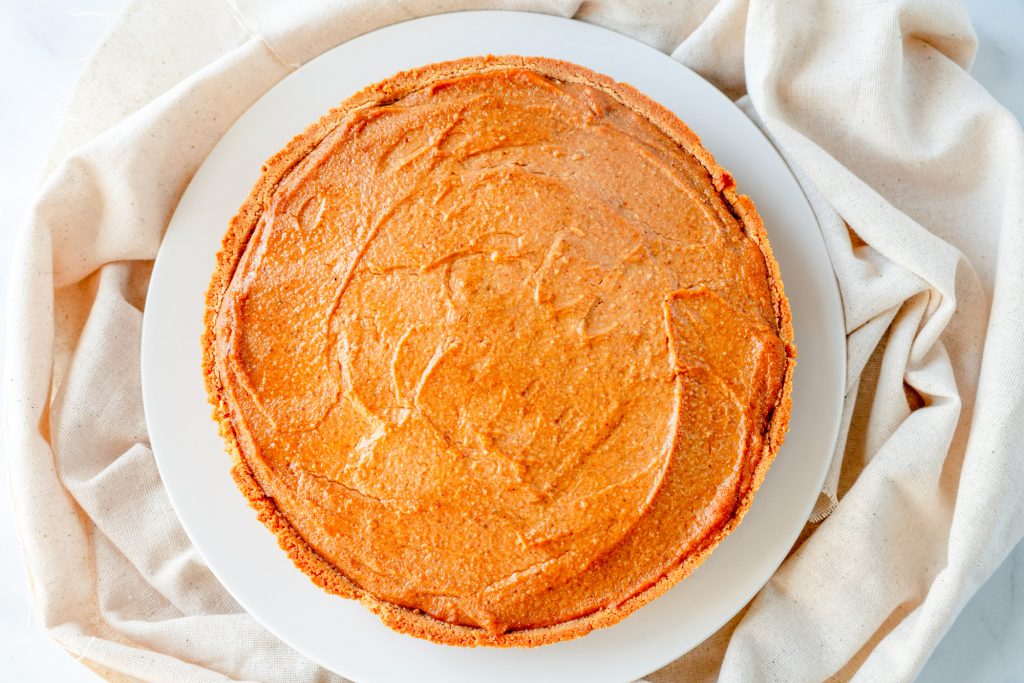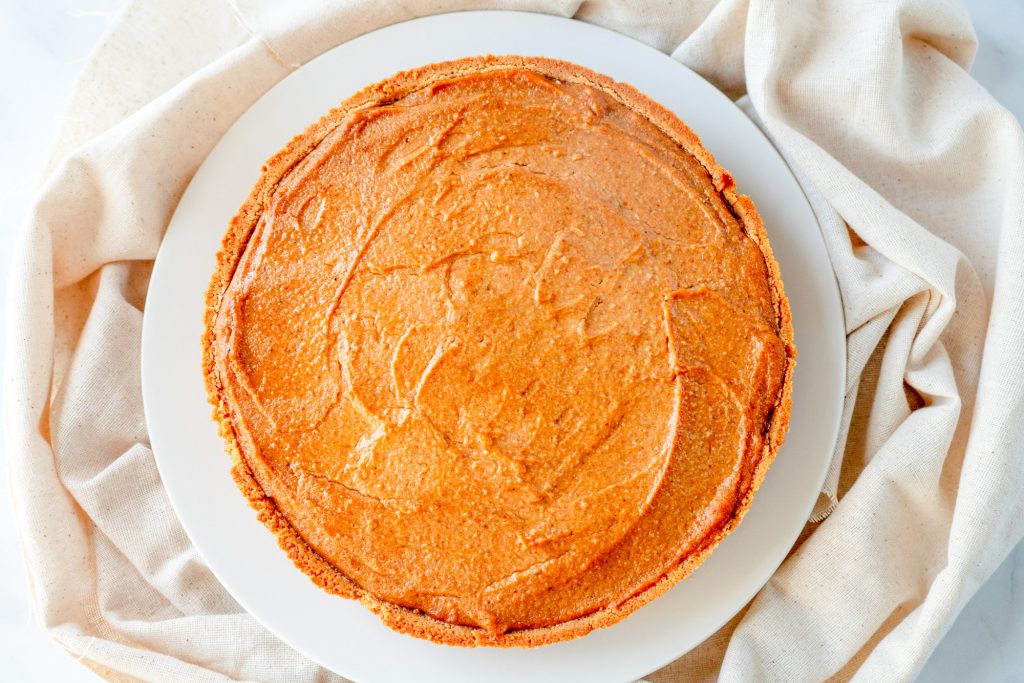 How To Make Pumpkin Cheesecake Vegan
Making the vegan pumpkin cheesecake is as easy as dumping all the ingredients in a food processor or blender and whirring them all together!
If you read my blog, you know that I don't like things that take a lot of time!
This vegan pumpkin pie cheesecake is designed to take just minutes to prepare and you can pop it in the oven and put it in the fridge and forget about it until the next day!
First, you are going to need firm tofu. Not extra firm, just firm! You want to make sure that it crumbles well and will blend into your mixture while still holding its shape! This is key when making a tofu pumpkin cheesecake.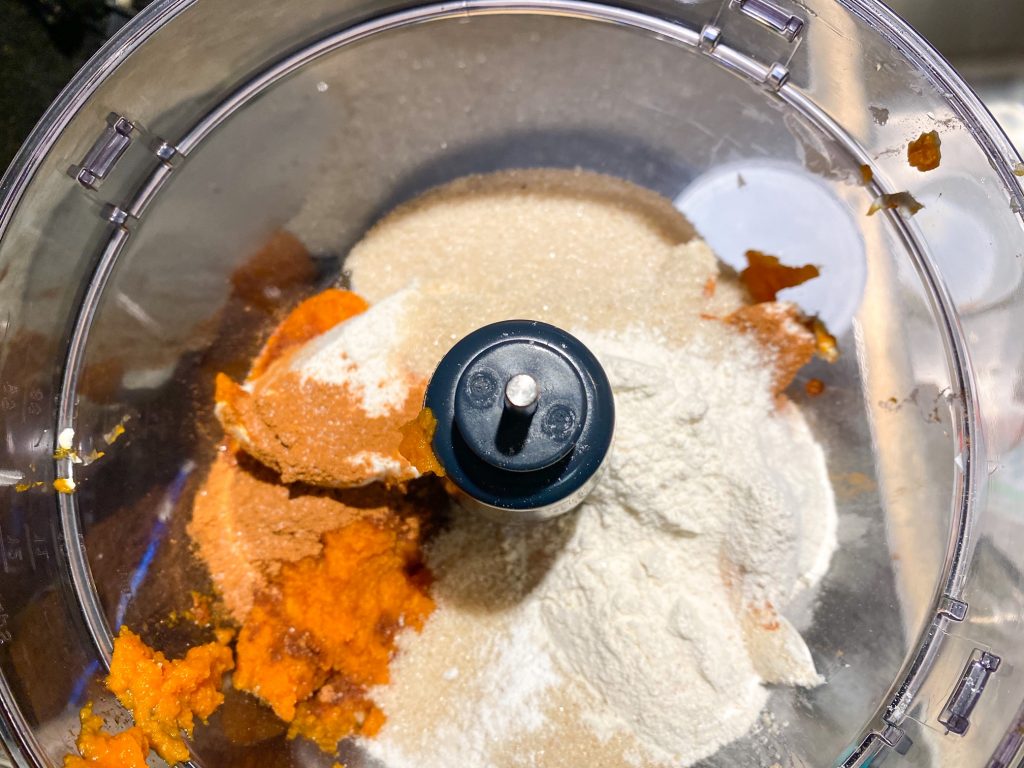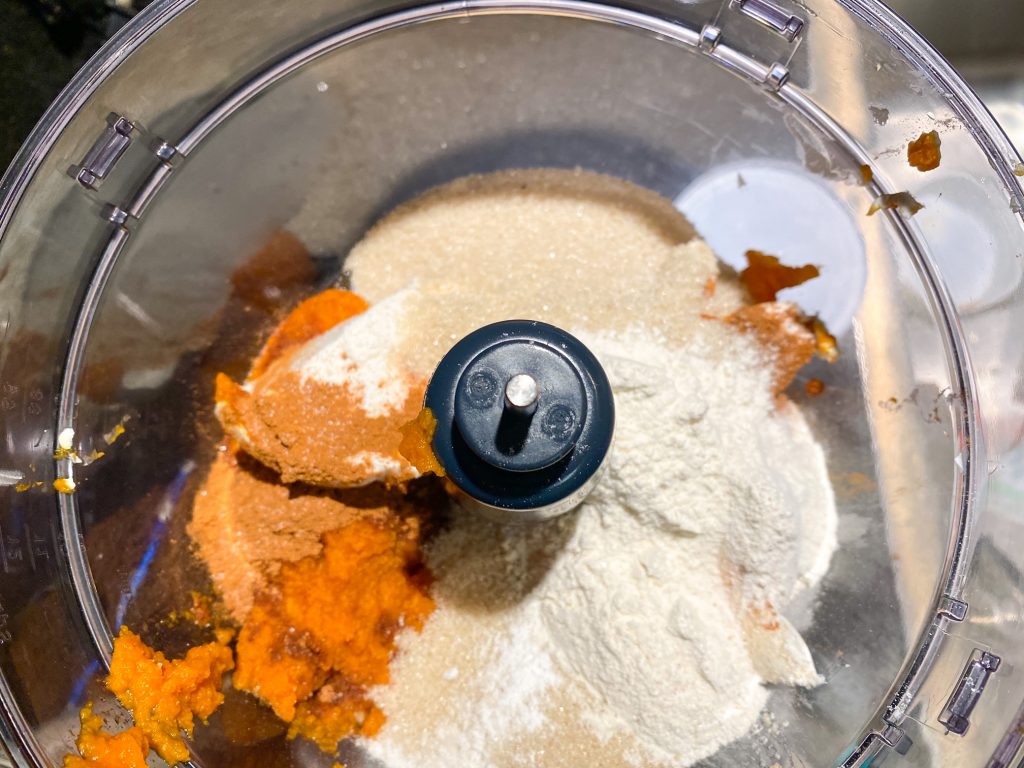 Then you literally blend the tofu, pumpkin puree, flour, baking powder, and spices into the blender or food processor.
You will also need vegan cream cheese. I use Tofutti brand cream cheese but whatever vegan cream cheese you have on hand will work.
The key to making a flavorful and authentic vegan pumpkin cheesecake is to use the veganized version of regular ingredients such as the cream cheese!
This is also a vegan pumpkin cheesecake with no cashews. I know a lot of recipes use it, but I don't cook with nuts all that often. Tofu and cream cheese for this one.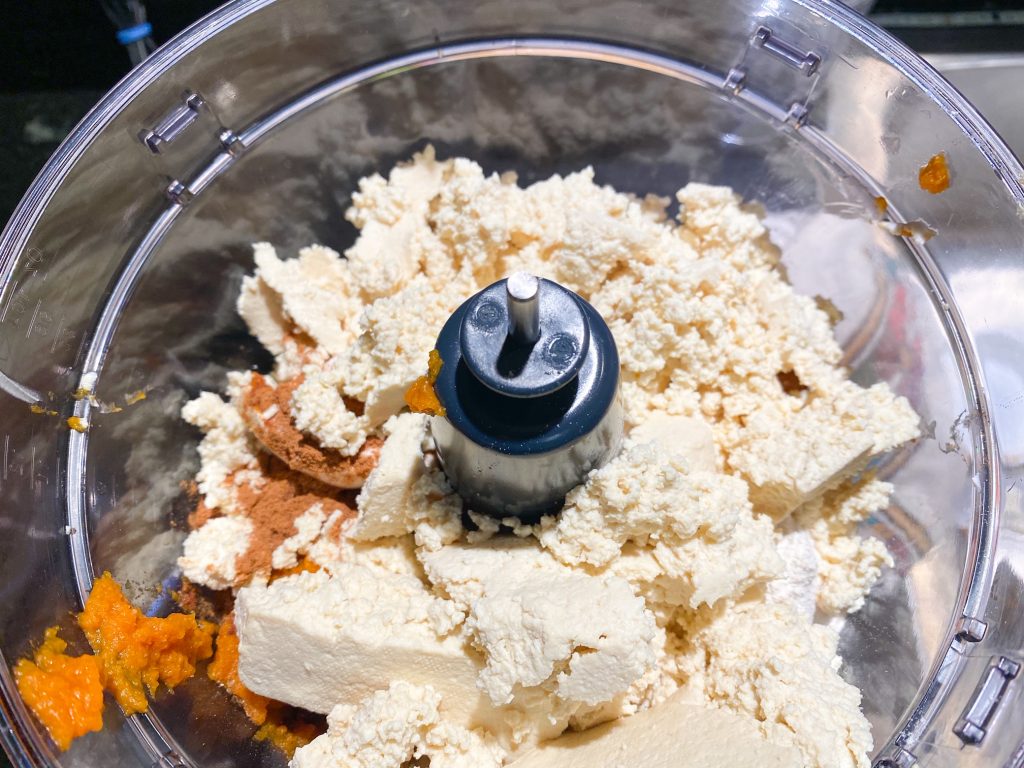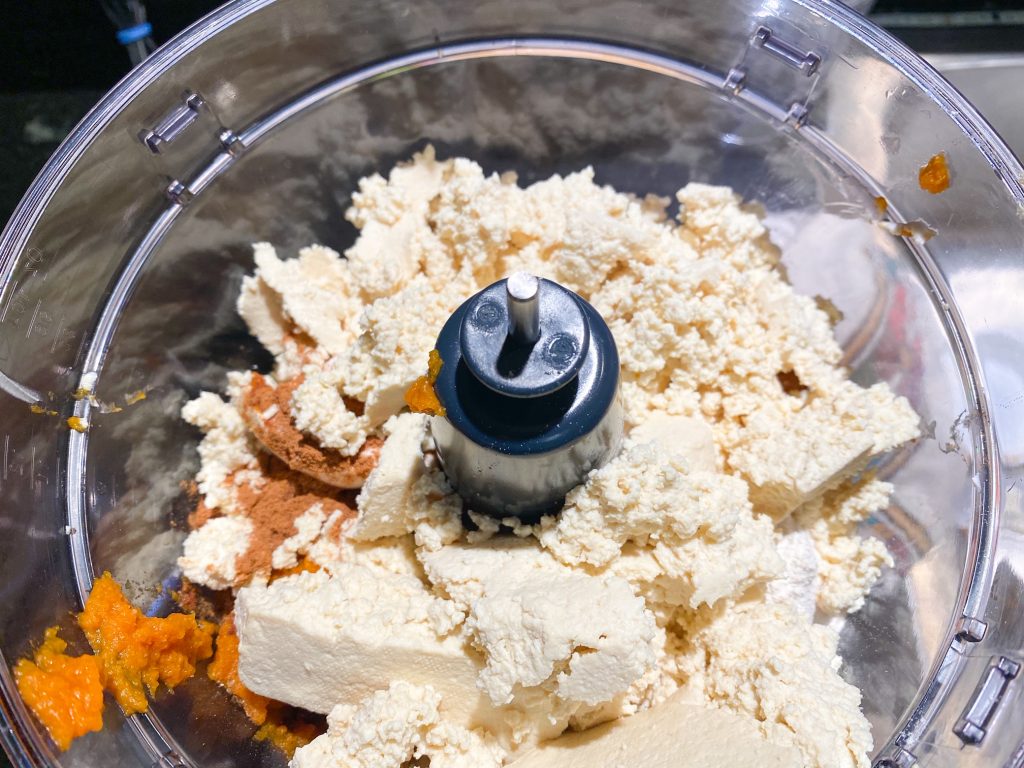 Nobody said this was a healthy pumpkin cheesecake, just a vegan one!
As you blend everything up in the food processor, you want to scrape the sides down a few times to ensure the pumpkin puree has been combined well!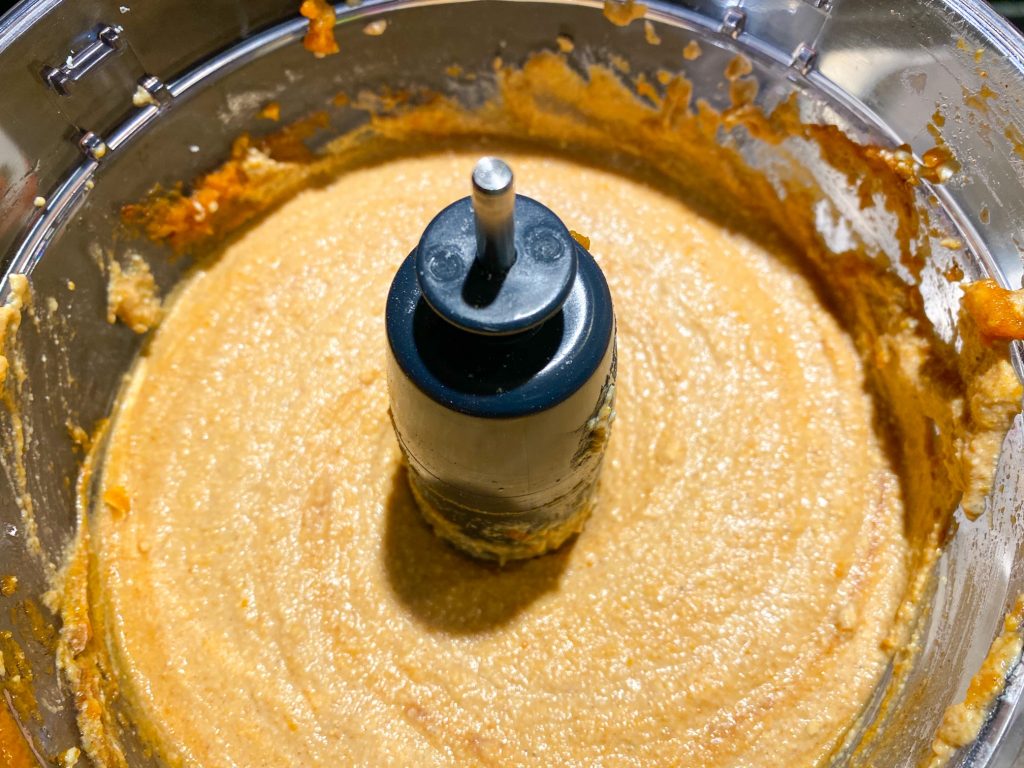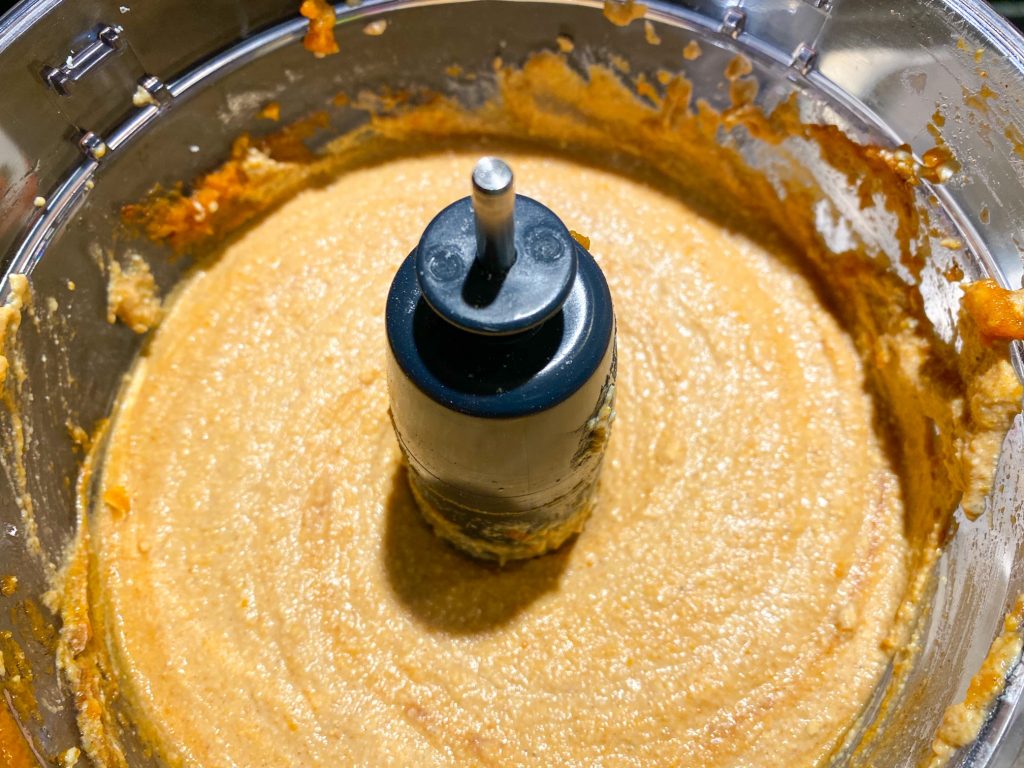 Then, pour the vegan pumpkin cheesecake mixture into the store-bought graham cracker crust and bake it in the oven on 350 F for about 30-40 minutes until the edges are firm and the center is wobbly!
Then, let it cool for 20-30 minutes and pop it in the fridge to set for 4-6 hours or overnight!
I recommend making this non-dairy pumpkin cheesecake the night before so it has plenty of time to set!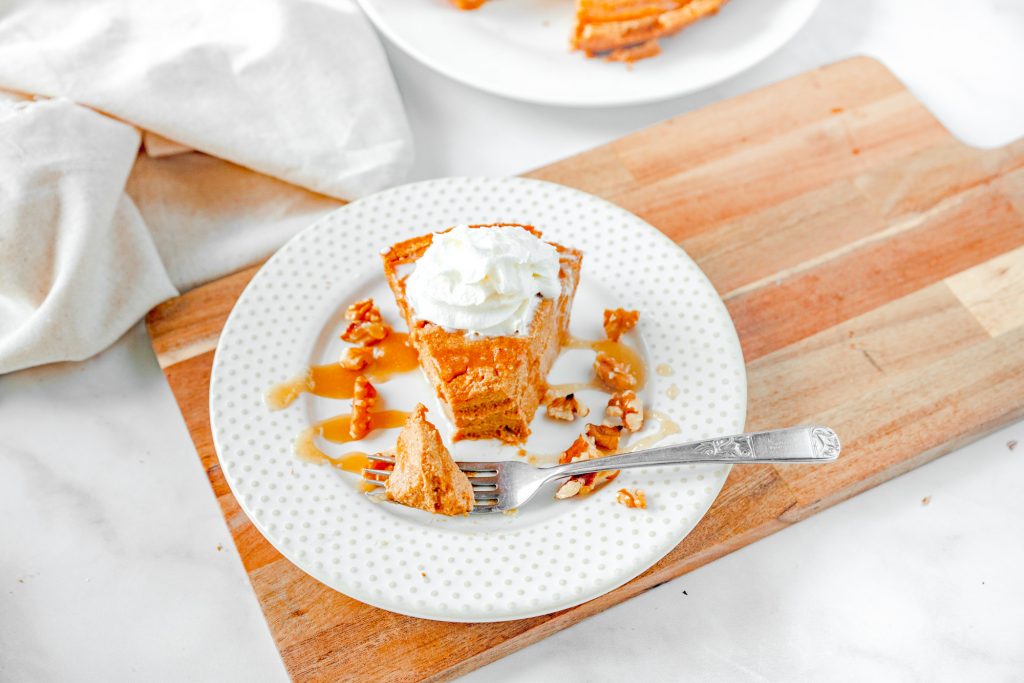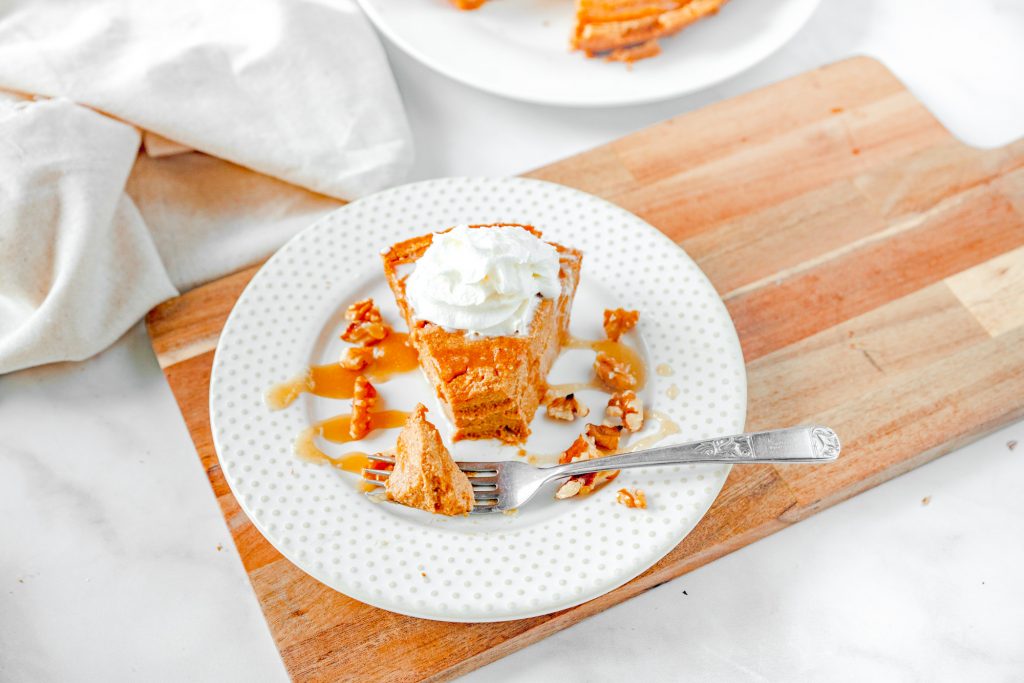 Toppings For Your Vegan Pumpkin Cheesecake
Oh my goodness, topping the vegan pumpkin pie cheesecake is the best part!
First, you can make your own Vegan Caramel and drizzle that over the individual slices or even the whole pie before serving.
I like decorating each slice individually so that each person can customize their taste!
Then, go ahead and add in some chopped nuts! This really adds to the fall flavor.
Finally, top with your favorite vegan whipped topping or vegan ice cream!
I love both as toppings! When you make pumpkin cheesecake vegan at home, make sure to offer something to top it with too for an authentic feel.
Don't skimp on the caramel as I think it is such a fun touch that adds flavor and makes you look like a fancy chef!
Of course, the vegan pumpkin cheesecake tastes amazing as-is, but I always like a whipped topping or ice cream topping on my pumpkin desserts!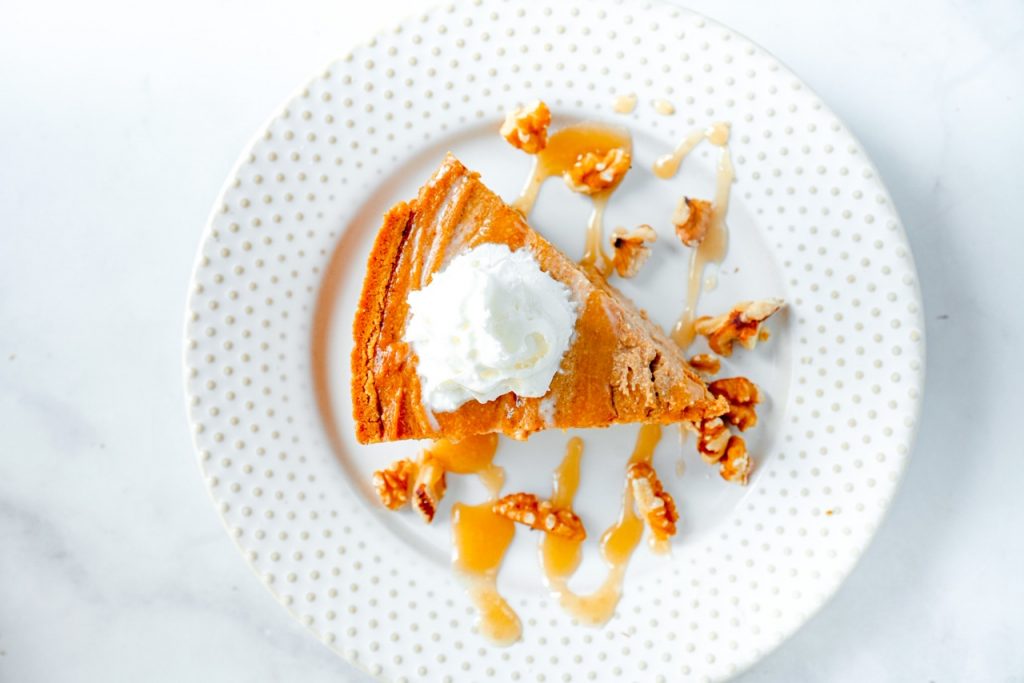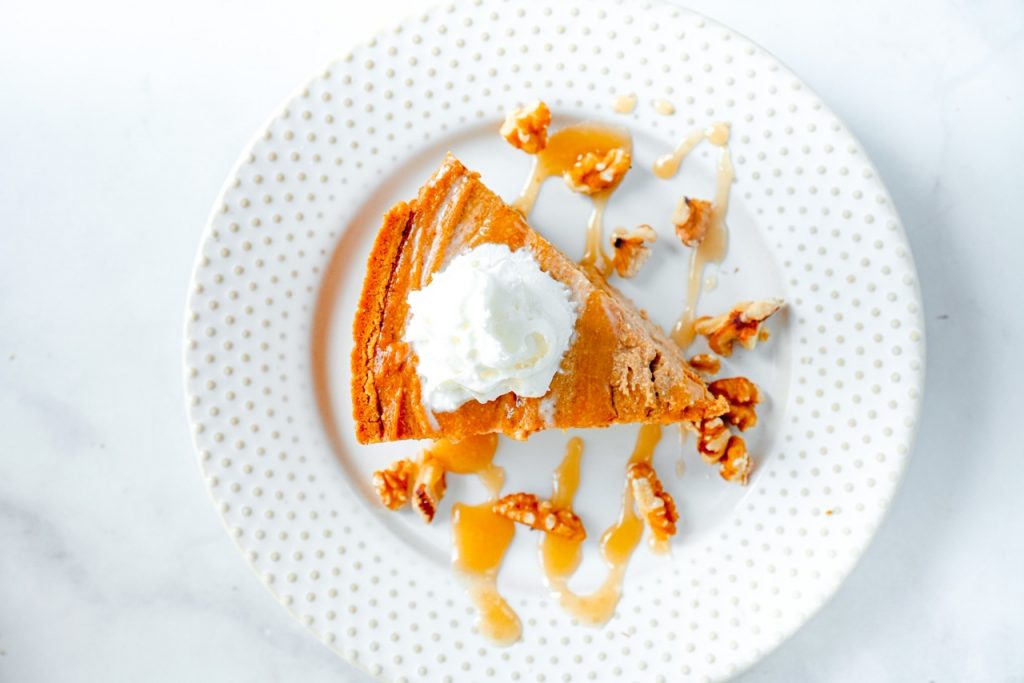 Storing The Vegan Pumpkin Cheesecake
The vegan pumpkin cheesecake actually stores so well!
You can store it in the fridge covered in a plastic baggie for 3-5 days. Then, you will want to cut it up and transfer it to an air-tight container.
It tastes pretty good for up to a week in the fridge.
I have not tried freezing it yet, so I can't speak to how that will change the texture of the dessert!
If you love this recipe, you may also love my Vegan Pumpkin Spice Latte!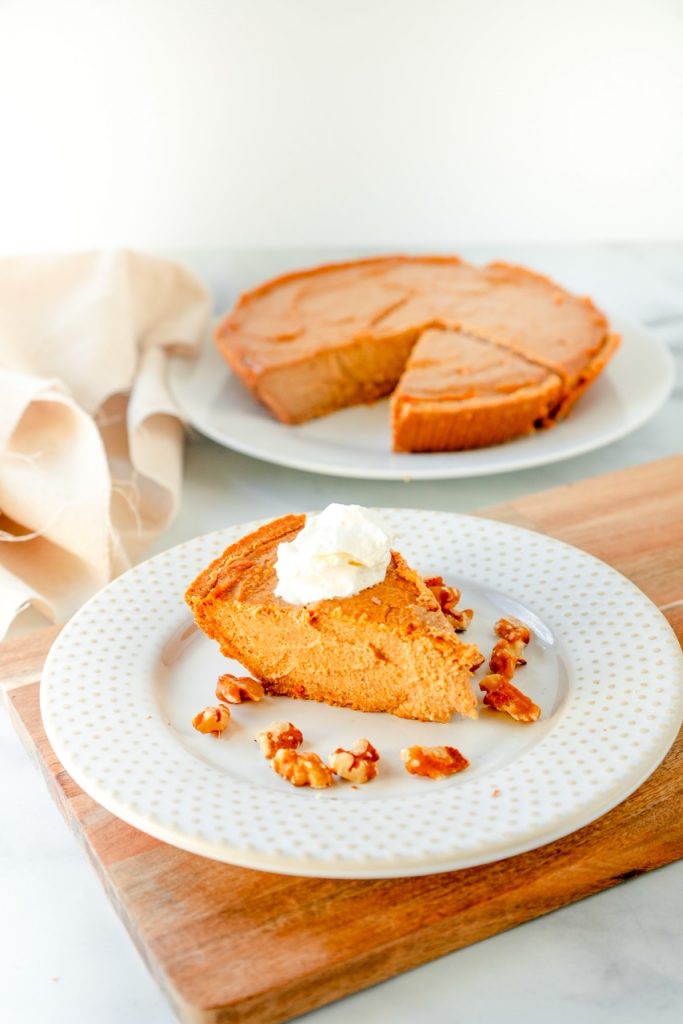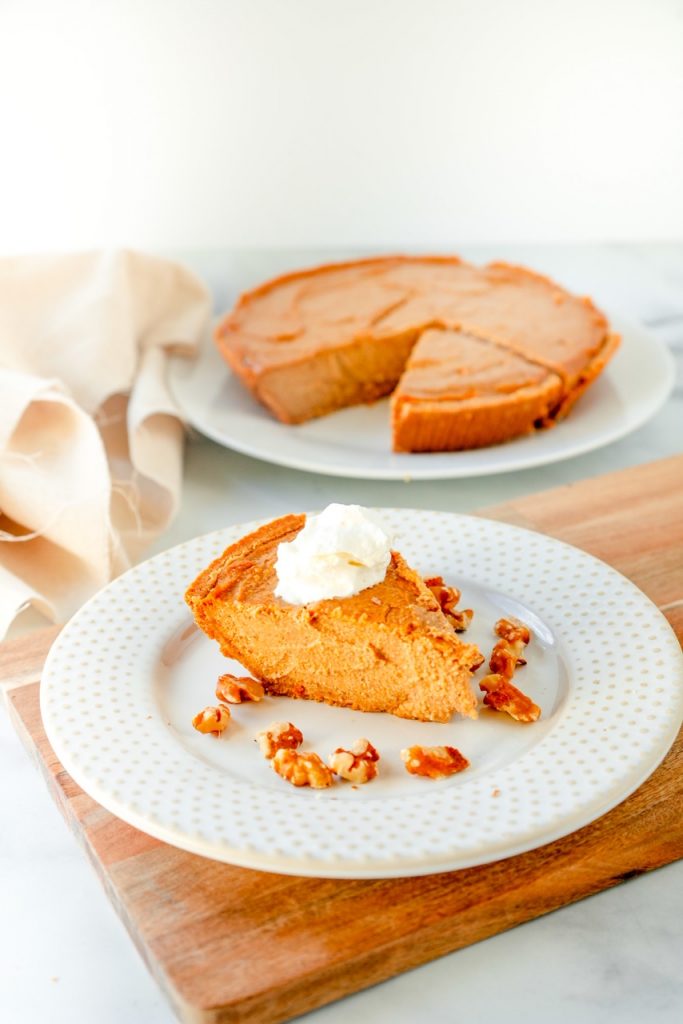 Did You Try This Recipe?
If so, I would love to keep in touch! I enjoy seeing photos and comments about the recipes that you make! You can follow me on Instagram and I will repost your goodies in my stories and comment on it too! Just tag me at @wowitsveggie and hashtag #wowitsveggie. I can't wait to see what you make!
Yield: 8 Servings
Vegan Pumpkin Cheesecake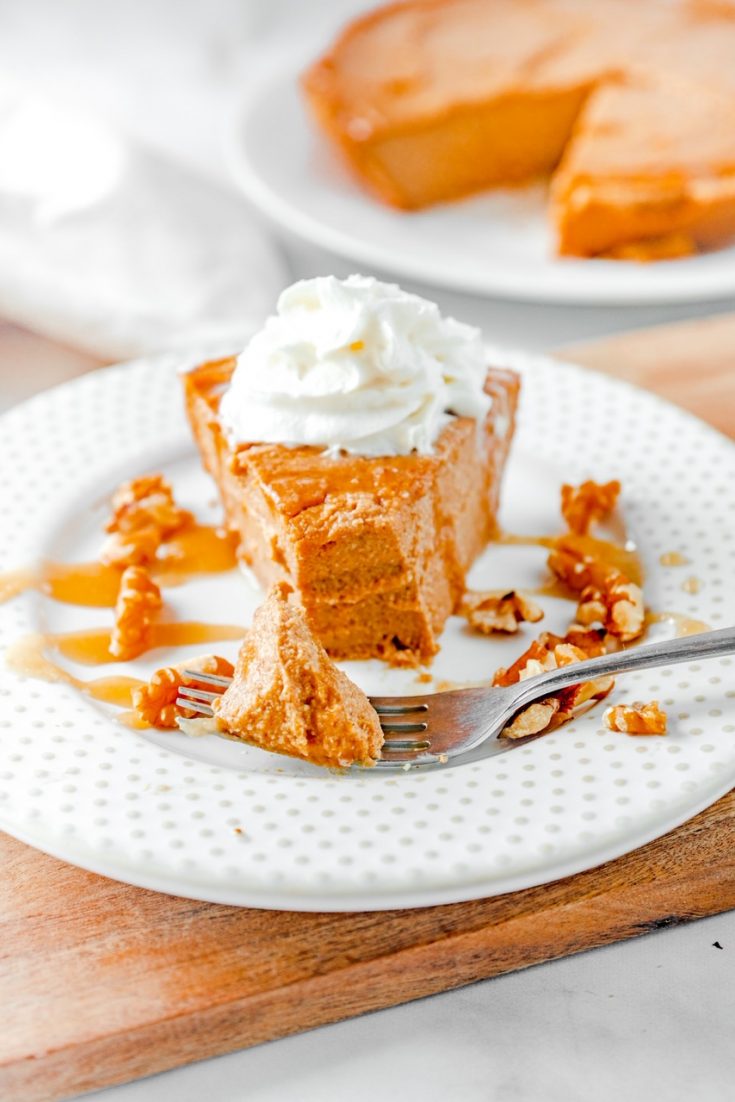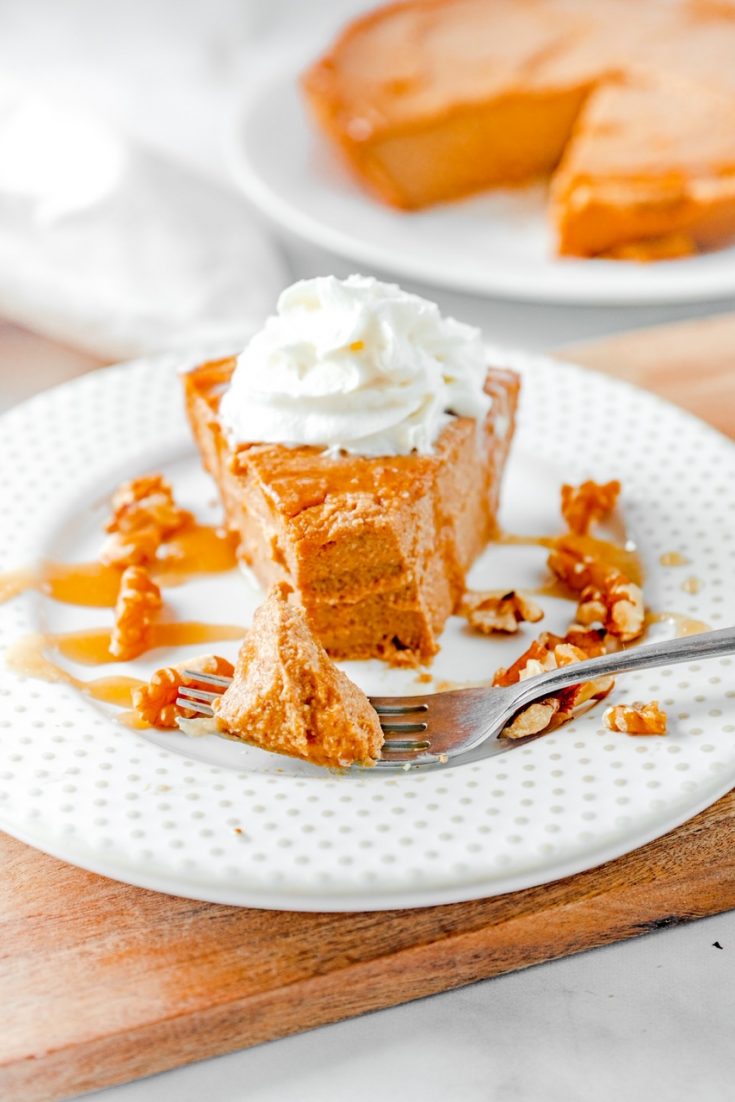 This vegan pumpkin cheesecake blends the flavor of pumpkin pie with the texture of cheesecake! The warm fall spices add to the tasty nature of this vegan dessert. It is so easy to make and keeps well in the fridge. Vegans and non-vegans alike love this fall-flavored dessert.
Additional Time
4 minutes
Ingredients
1 9-inch store-bought graham cracker crust
1 cup canned pumpkin puree
1 8-ounce container of vegan cream cheese
1 block firm tofu
1 cup sugar
3 1/2 tablespoons flour
1/4 teaspoon baking powder
2 1/2 teaspoons "pumpkin pie" spice blend *see note*
pinch of salt
Instructions
Preheat your oven to 350F and take the store-bought pie crust out of the package. If you are making your own pie crust, make it now and set it aside.
In a food processor or blender, add your pumpkin puree, vegan cream cheese, spices, and tofu. Give it a whir until it is combined then scrape down the sides and whir again. Do this 2-3 times until all of the pumpkin puree is mixed in.
Pour the mixture into the pie crust and bake uncovered in the oven for 30-40 minutes, or until the center is wobbly but the outside is firm. This depends on your oven so keep a close eye after the 30-minute mark.
Remove from oven and let the vegan pumpkin cheesecake cool for 20 minutes. It will continue to set after it is taken out of the oven.
Let the cheesecake fully set in the fridge for 4-6 hours or overnight. I like making this cheesecake in advance so it has plenty of time to set overnight.
Top with vegan caramel, ice cream, or whipped topping with fresh nuts!
Notes
If you do not have pumpkin pie spice blend on hand you can sub:
1 1/2 teaspoons cinnamon
1/2 teaspoon ground ginger
1/4 teaspoon ground nutmeg
1/4 teaspoon allspice
Nutrition Information
Yield
8
Serving Size
1
Amount Per Serving
Calories

366
Total Fat

17g
Saturated Fat

6g
Trans Fat

0g
Unsaturated Fat

11g
Cholesterol

0mg
Sodium

166mg
Carbohydrates

46g
Fiber

2g
Sugar

31g
Protein

9g