These Oreo stuffed cookies are so delicious and just so happen to be vegan too!
Is there really anything more decadent than a cookie stuffed inside of another cookie? I would say no!
The outside is crisp and the inside is ooey-gooey and soft and then, THEN! You bite into an Oreo cookie. Oh. My. Goodness! The dessert to end all desserts.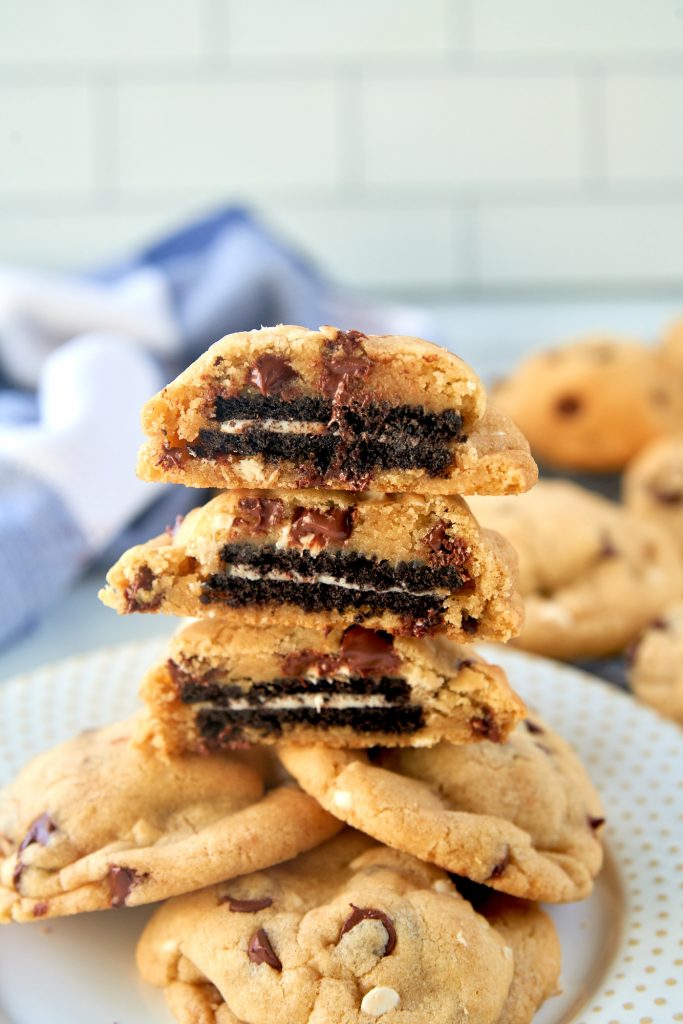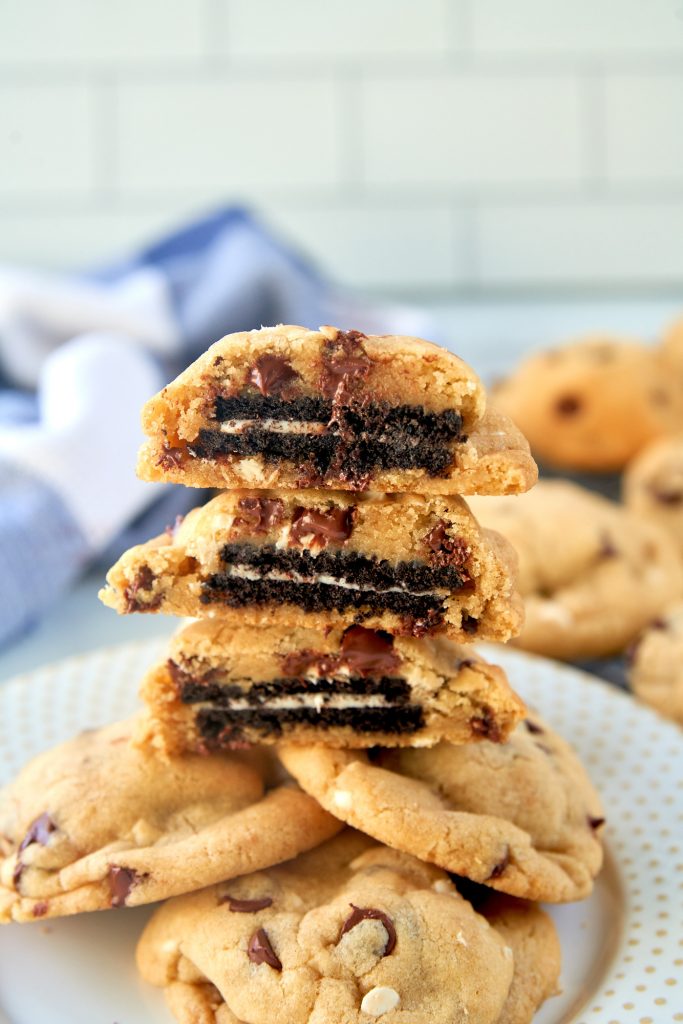 I first made this recipe about 8 years ago and it was just as insanely delicious and decadent as you can imagine and oreo stuffed cookie to be.
Apparently this is a now famous Pinterest concept, who knew I was ahead of my time!
My recipe does use vegan chocolate chip cookie dough as the base but the taste is so darn good! Why not give vegan cooking a try if you haven't before?
This cookie dough is incredibly easy and requires no chilling or resting period so it will only take about 5 minutes or less to whip up!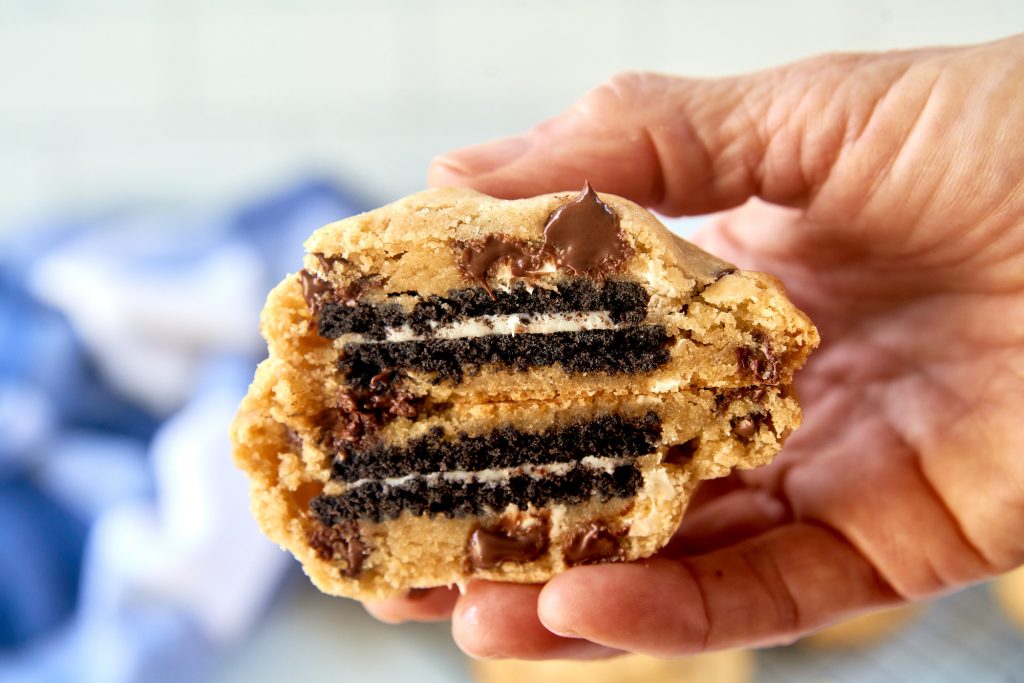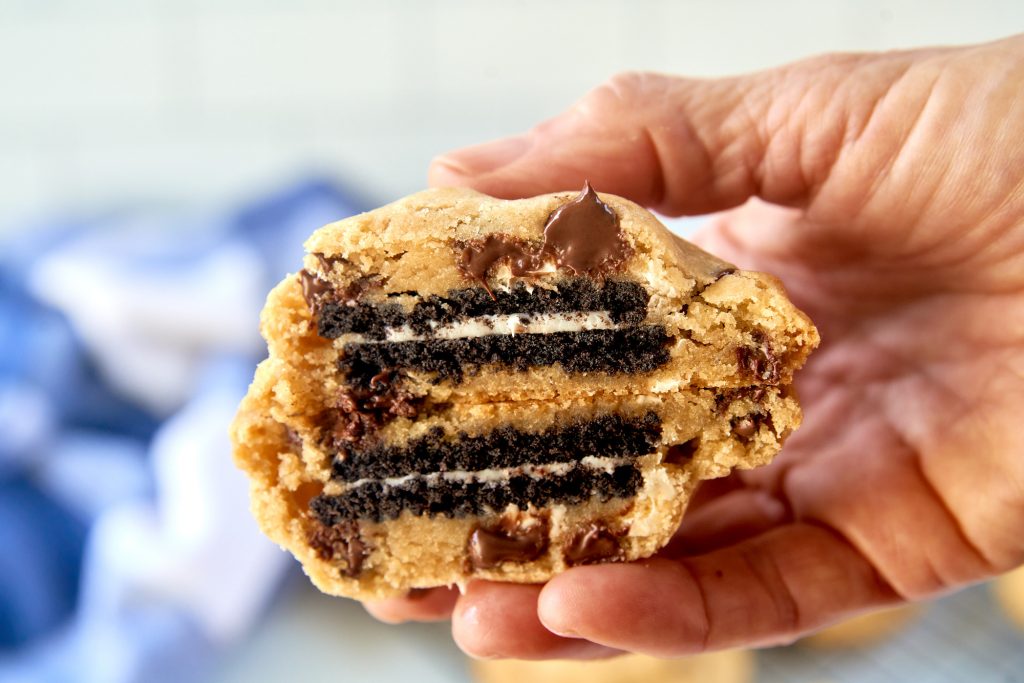 If you are short on time, you can also use pre-made slice and bake cookie dough which is an option, but making them from scratch takes literal seconds!
Oreo cookies are also naturally vegan so you don't have to worry there with any swaps. If you really want a super Oreo stuffed cookie, you can get double stuff Oreos for best results!
Finally, to really take these Oreo stuffed cookies to the next level, I use both dark chocolate and white chocolate chips. Because the only thing better than cookies with chocolate chips is cookies with both dark and white chocolate chips.
I hope you enjoy making [and eating!] these Oreo stuffed cookies as much as I do! They are one of the best vegan recipes for kids and are fun for the whole family!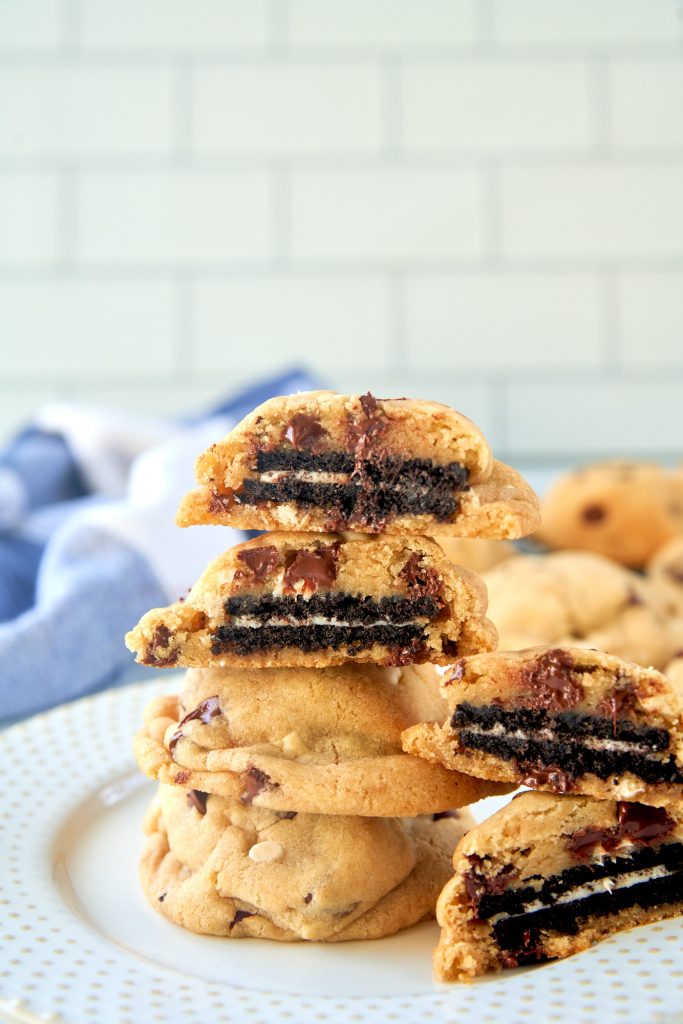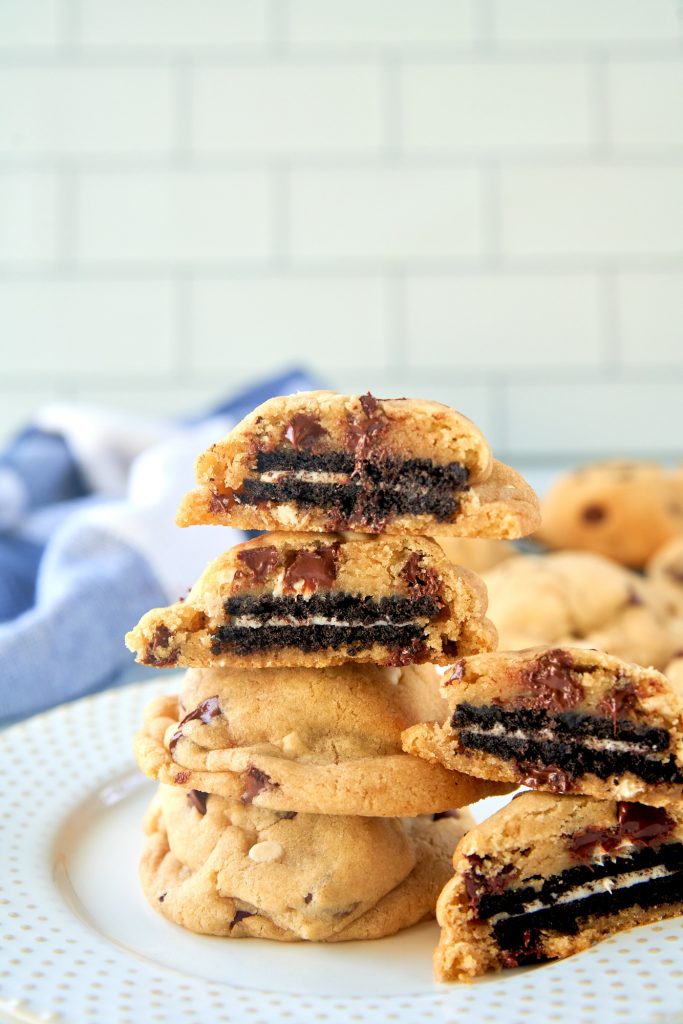 Where To Find Vegan White Chocolate Chips
These are Oreo stuffed cookies, but to elevate it even further, I ALWAYS use vegan white chocolate chips.
I am not even kidding when I say that you 100% CANNOT go wrong with using both chocolate and white chocolate chips.
But where do you find vegan white chocolate chips?
You can easily find plenty of Vegan White Chocolate Chips On Amazon!
But did you know that WALMART and your regular grocery store has vegan white chocolate chips too?!
Nestle makes a brand called "Simply Delicious" and they are a vegan line of White Chocolate Chips!
These are your two best bets! To try and order some vegan white chocolate chips from Amazon or Walmart!
Sometimes Whole Foods or your local grocery store will also carry vegan white chocolate chips as well so you just have to ask or look at the ingredients!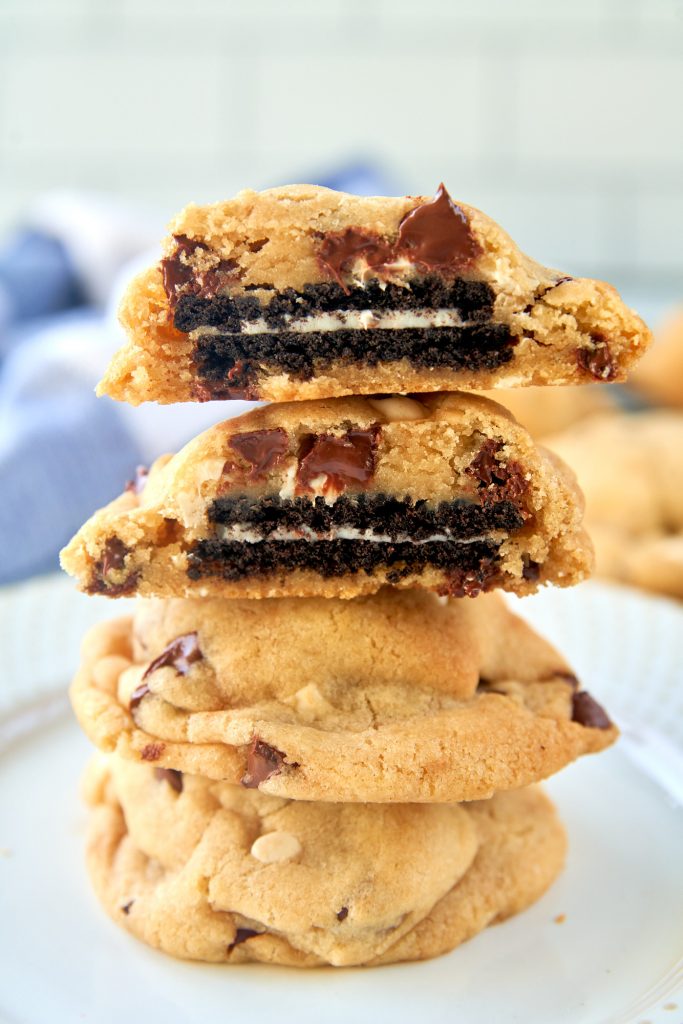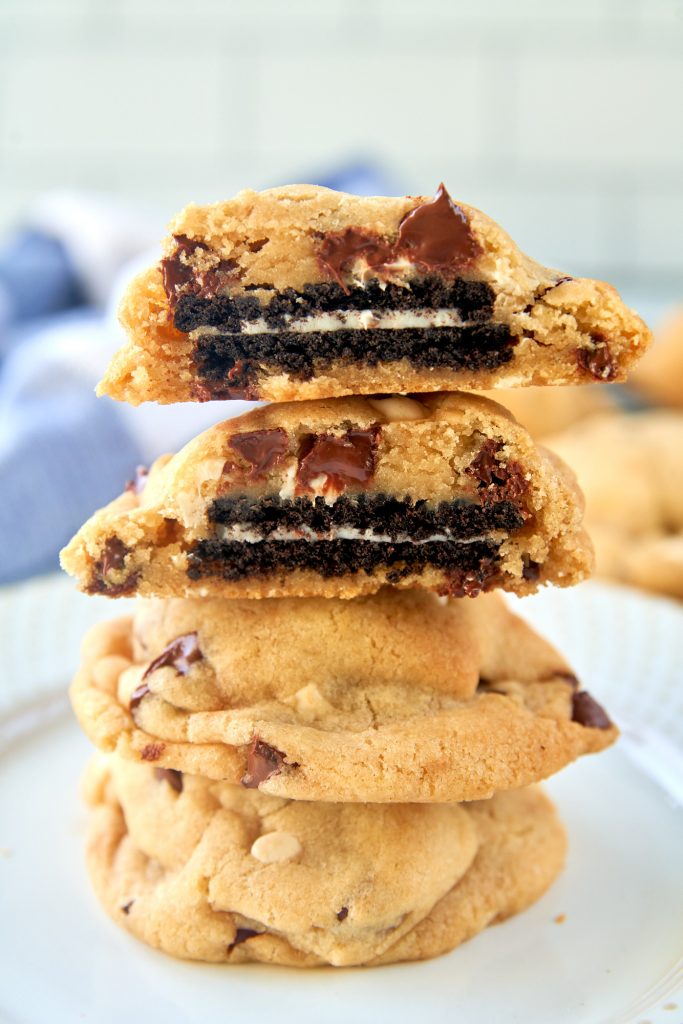 Can You Use Store-Bought Cookie Dough For The Oreo Stuffed Cookies?
Yes, you totally can use store-bought slice and bake cookie dough when making these Oreo stuffed cookies!
Simply skip the part of this recipe where I show you how to make the cookie dough and then head to the section where I explain how to make the Oreo stuffed chocolate chip cookies!
You will be lacking on the white chocolate chips and the pre-made cookie dough is actually more expensive than making it yourself, but it is a quick hack!
There are many vegan cookie dough options at Whole Foods or your local health food store. Some grocery stores even have vegan cookie dough options, depending on your region and location!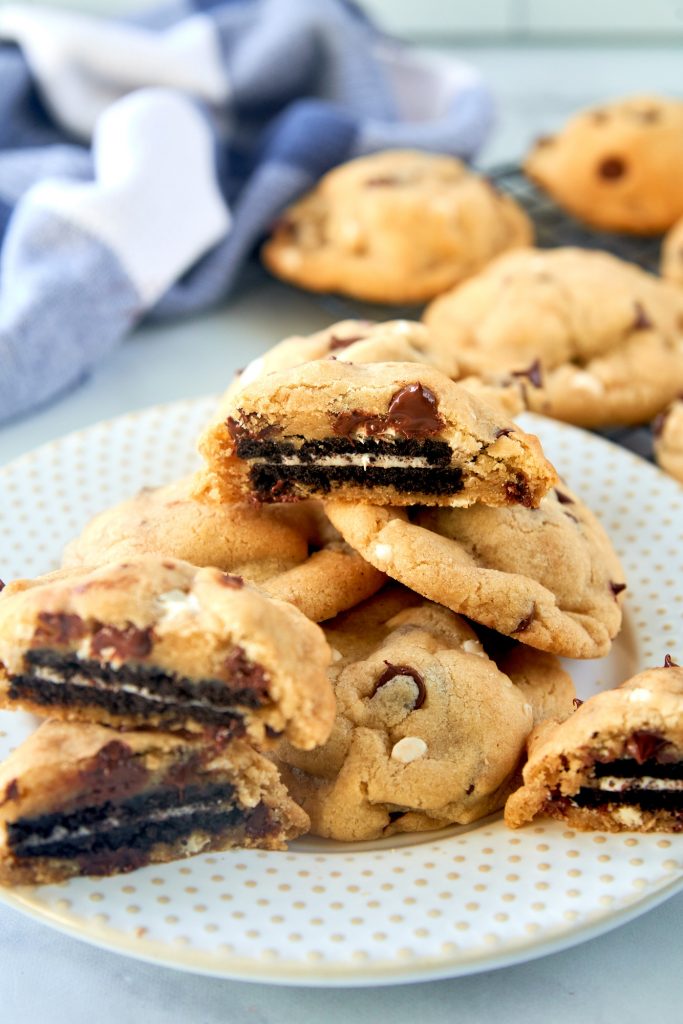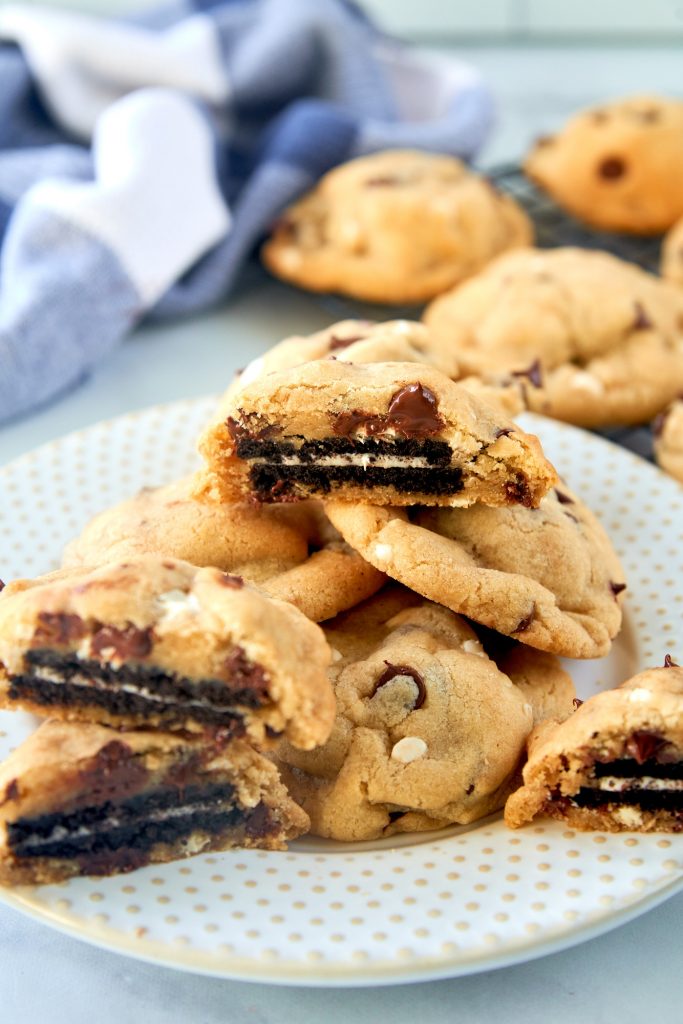 How To Make Oreo Stuffed Cookies
Making vegan Oreo stuffed cookies is beyond easy! This is the perfect vegan cookie recipe for beginners and the end result is so tasty and delicious!
First, you need to mix all of your dry ingredients in a large bowl.
Then, in a small bowl, you will mix your wet ingredients and whisk to combine.
Now, you will combine your wet and dry ingredients and mix them together until they are just barely combined.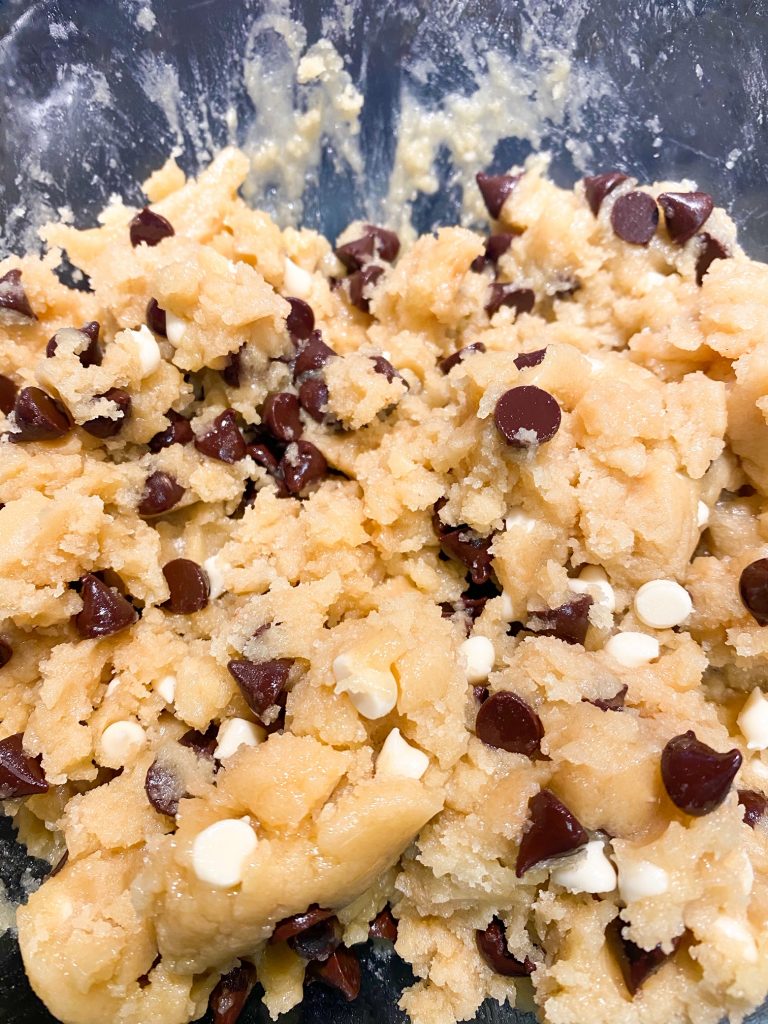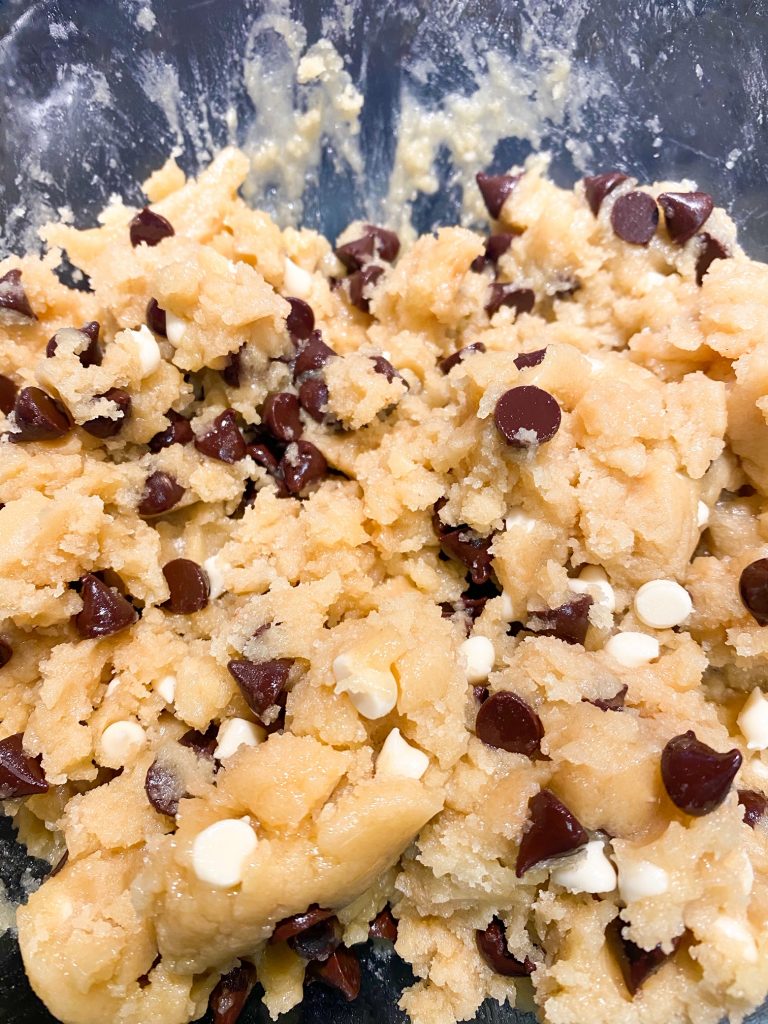 When the cookie dough is just barely combined, now is when you add in your white and dark chocolate chips.
Use a wooden spoon to "fold" the mixture together until the chocolate and white chocolate chips are evenly combined throughout all of the cookie dough.
Now it is time to make some Oreo stuffed cookies!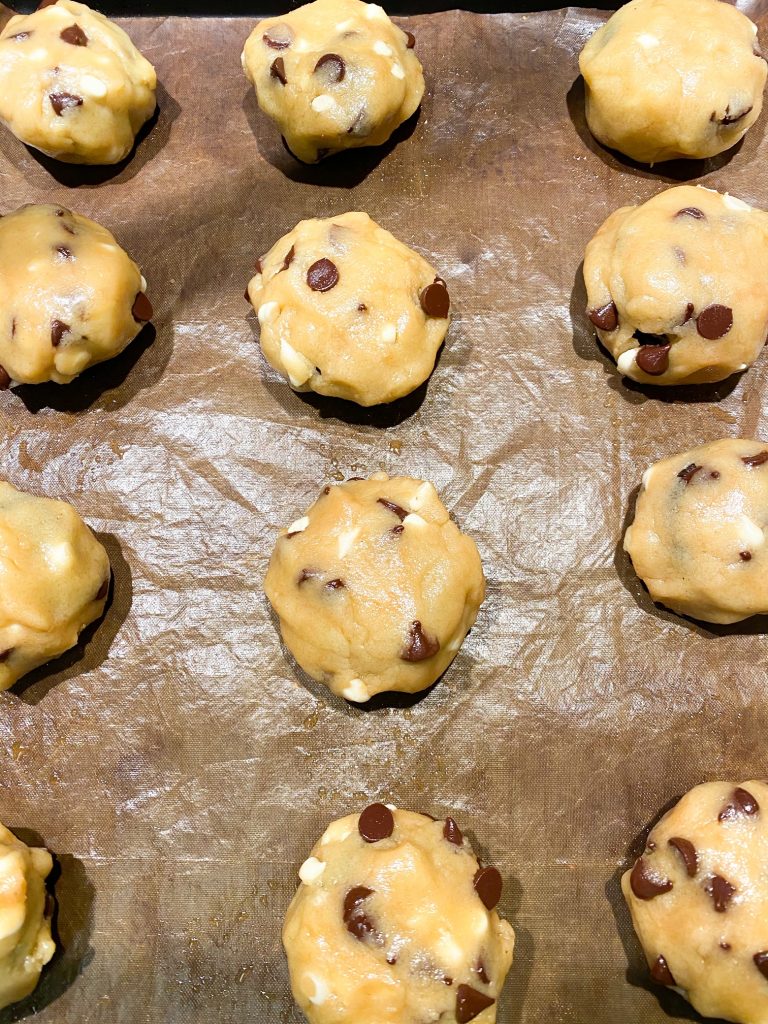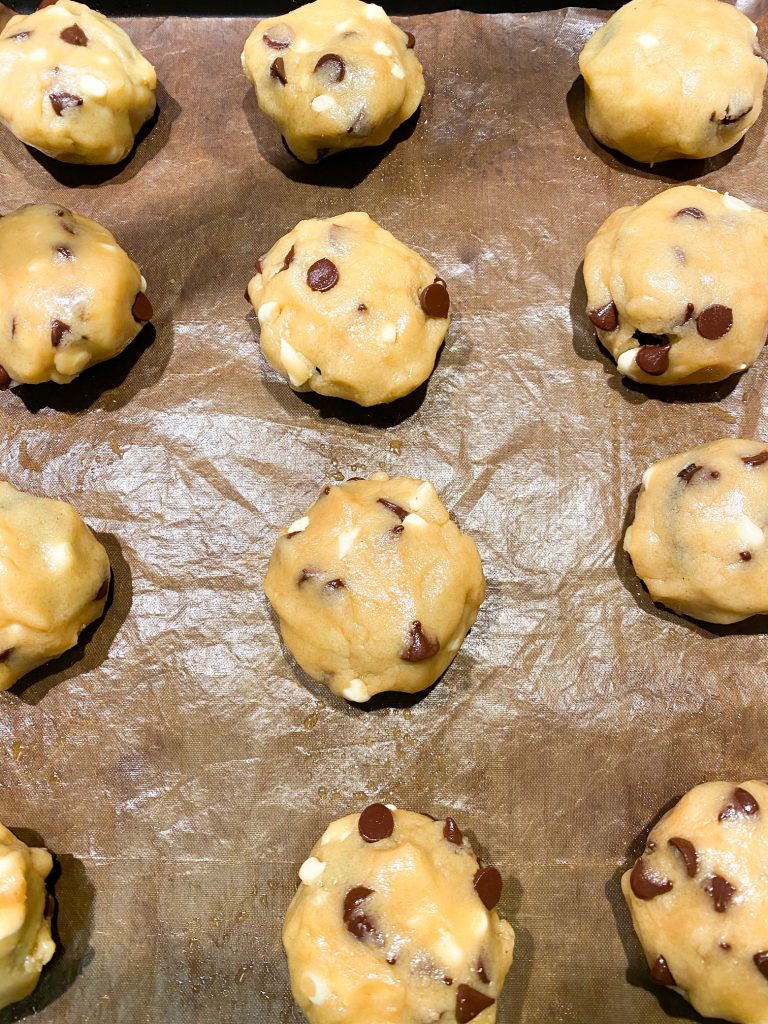 If you have kids, this is a great part for them to help with!
Using your clean hands, pick up an Oreo cookie and then grab a medium-sized ball of dough.
Use your hands to squish the dough around the Oreo cookie until the entire Oreo cookie is covered on all sides.
You want to make sure that you don't use too much chocolate chip cookie dough because you want equal proportions between the Oreo cookie and the chocolate chip cookie, not too much chocolate chip cookie!
Make sure to press around all sides to "squish" out the chocolate chip dough around the Oreo. You don't want to be able to see the Oreo underneath of the dough, you just want it to be completely covered and not too thick.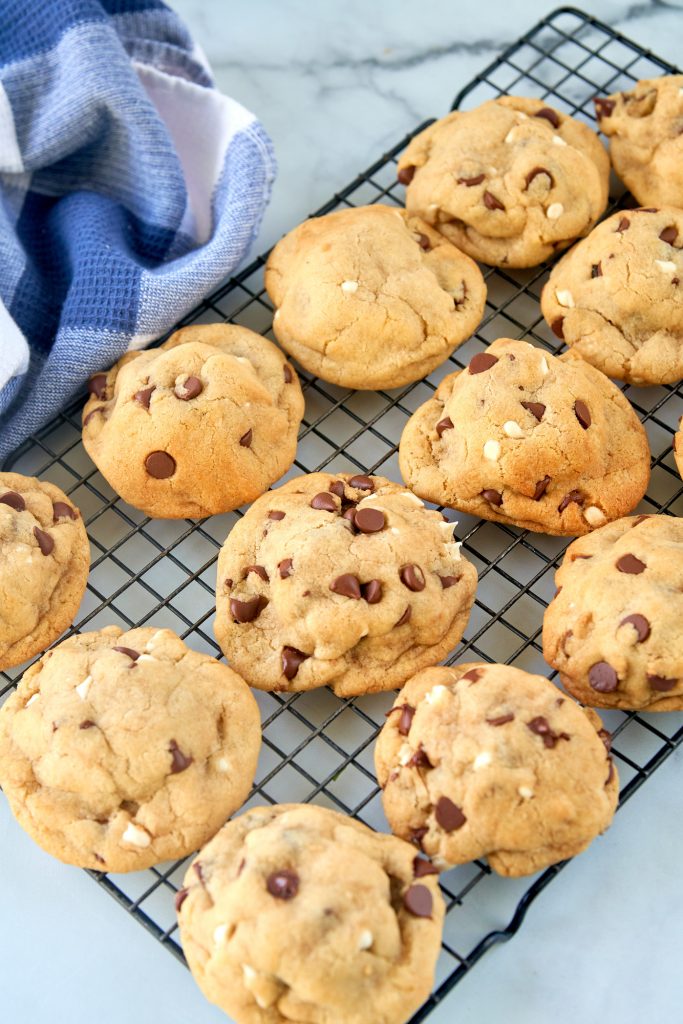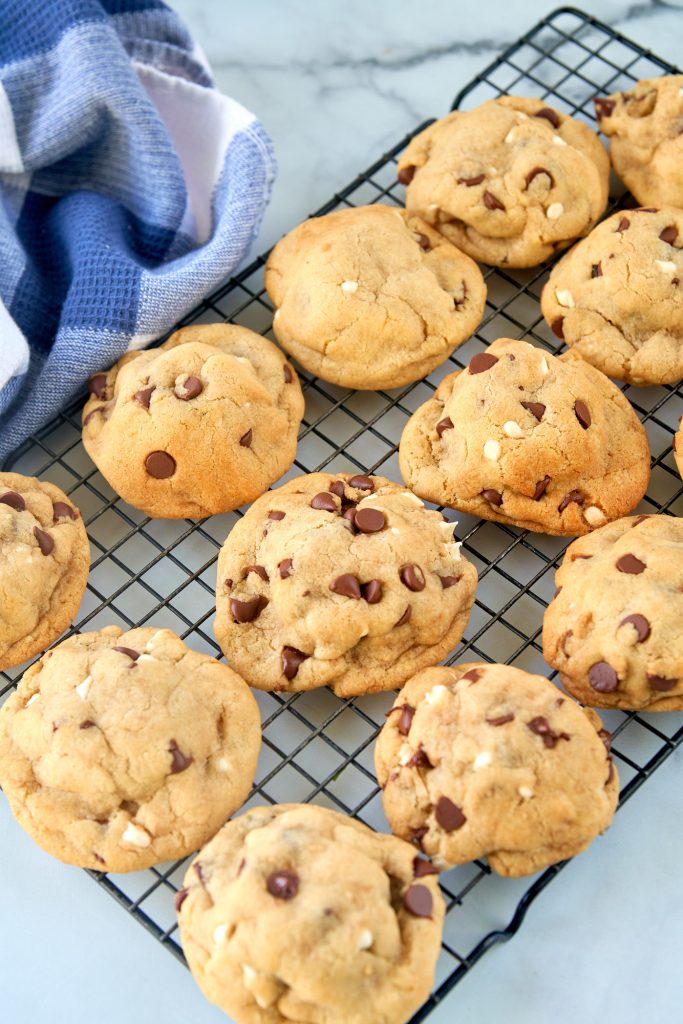 Now, line up the Oreo stuffed cookies on a baking sheet.
You will still bake these cookies for the 11-12 minutes that I would bake regular vegan chocolate chip cookies!
You don't want to over bake or else the vegan Oreo stuffed cookies will be tough and not soft and gooey!
You will want them to be just done as they will continue to bake a little bit during cooling.
You can cool the vegan Oreo stuffed cookies on the baking sheet outside of the oven for 10 minutes and then transfer them to a cooling rack to continue cooling.
You really can't go wrong with these tasty and delicious cookies stuffed with an Oreo cookie!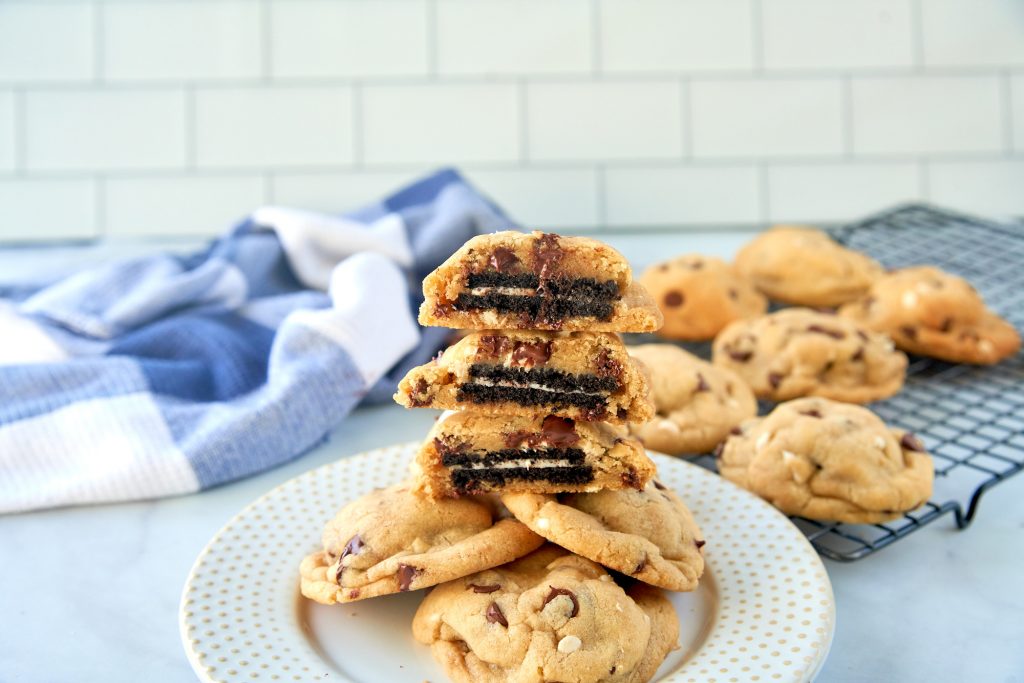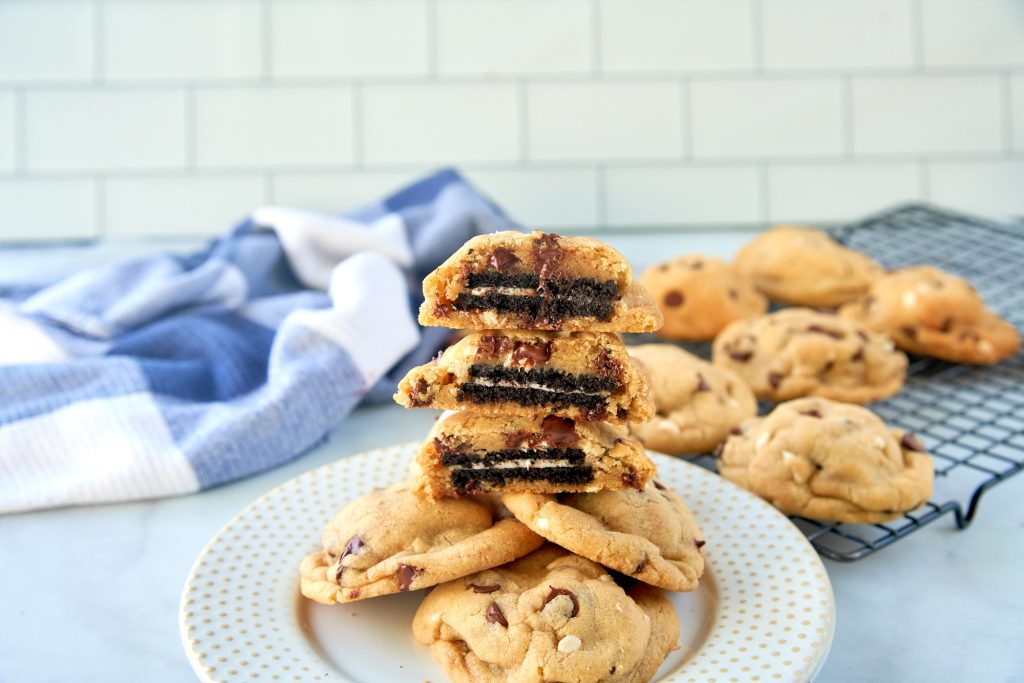 How To Store The Vegan Oreo Stuffed Cookies
The Oreo stuffed cookies actually store incredibly well!
They will keep on the counter for 3-5 days. By the 5th day, they will start to get a little hard, but they probably won't even last for 5 days because you will eat them all!
After about 4-5 days, I recommend transferring them to the freezer where they can keep for up to 3 months in a freezer-safe container!
I love freezing these Oreo stuffed cookies because they make for a tasty treat every time you find the container in your freezer!
To thaw, simply set them on the counter for 15-20 minutes and then eat or reheat in the microwave if you want to eat them hot!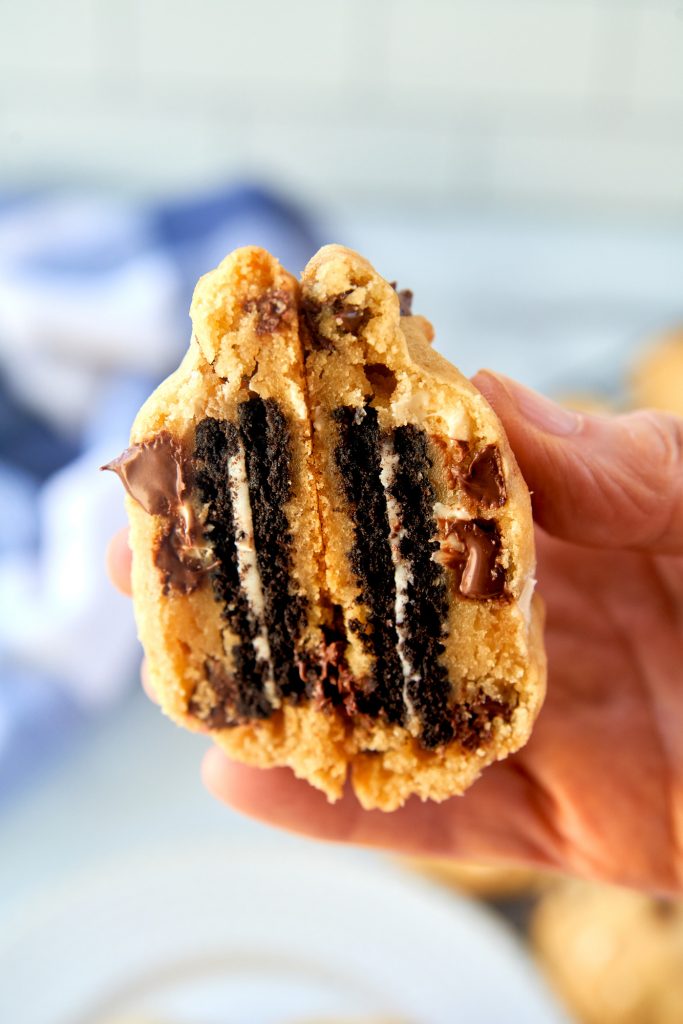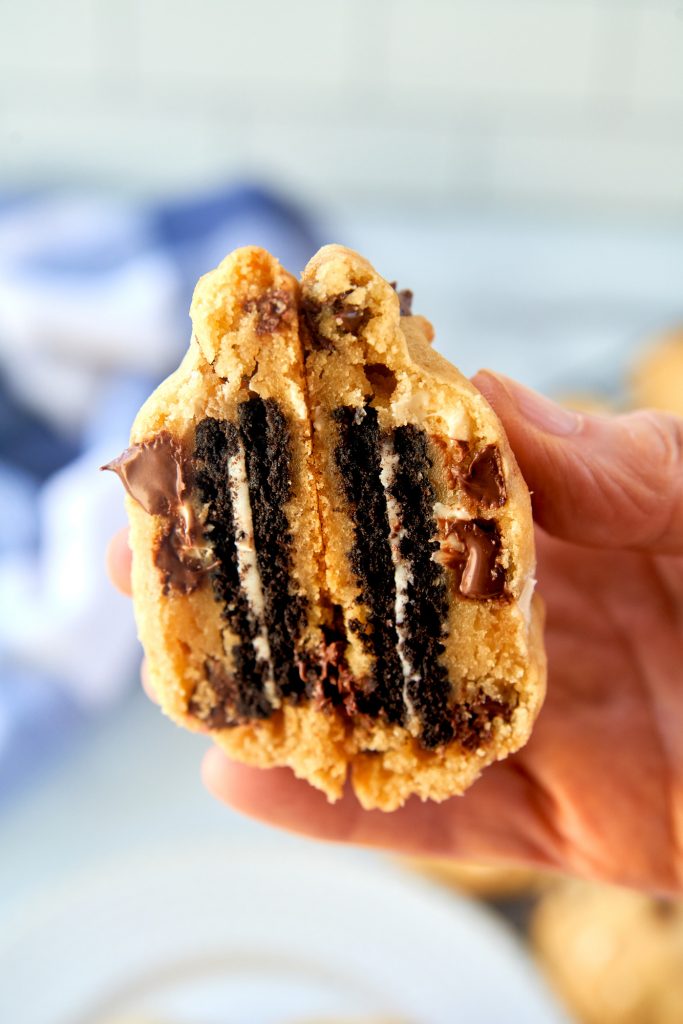 Did You Try This Recipe?
If so, I would love to keep in touch! I enjoy seeing photos and comments about the recipes that you make! You can follow me on Instagram and I will repost your goodies in my stories and comment on it too! Just tag me at @wowitsveggie and hashtag #wowitsveggie. I can't wait to see what you make!
Yield: 15 Large Cookies
Easy Vegan Oreo Stuffed Cookies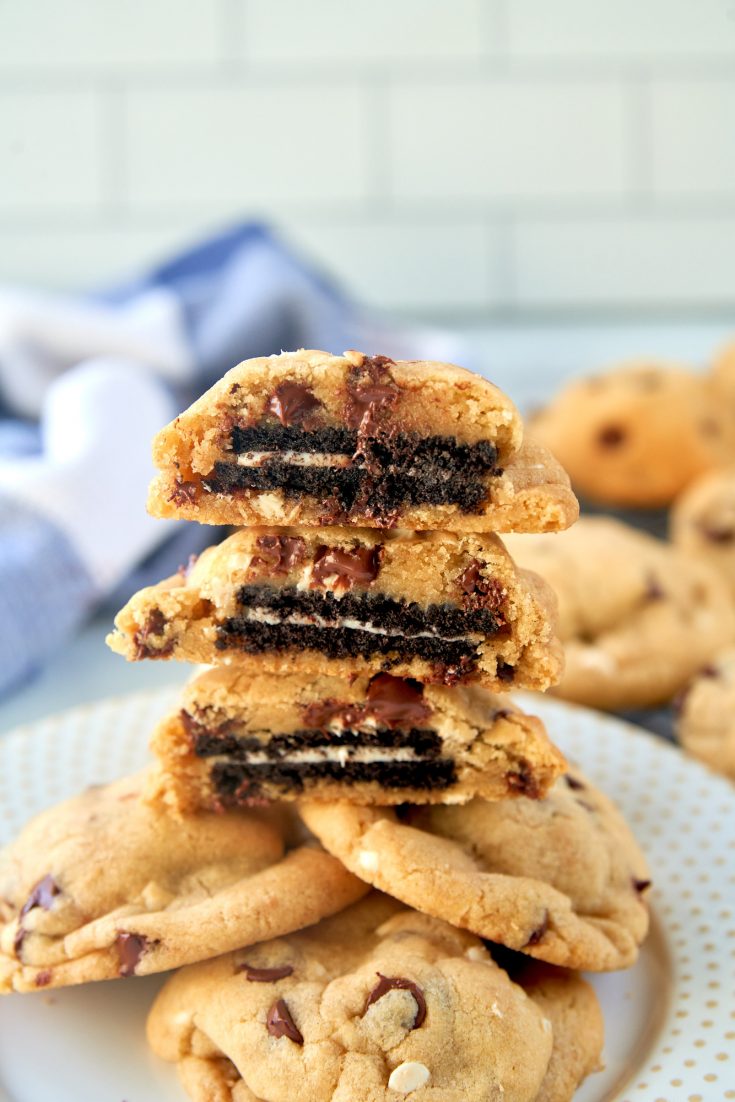 These Oreo stuffed cookies are the ultimate dessert! They are also 100% vegan and so delicious! Not only do they use chocolate chips, they also use white chocolate chips for the most decadent vegan Oreo stuffed cookies you will ever taste!
Ingredients
2 cups flour
2 tsp baking powder
1 tsp baking soda
1/2 cup sugar
1 teaspoon salt
2/3 cup maple syrup
2 tsp vanilla extract
1/2 cup oil
1/3 cup chocolate chips
1/4 cup vegan white chocolate chips
15 Oreo Cookies
Instructions
Preheat oven to 350 F
In a medium bowl, add flour, baking powder, baking soda, sugar and salt. Use a fork to combine.
In another bowl, combine maple syrup with vanilla and oil and stir until well combined.
Add wet mixture to dry mixture and stir using a wooden spoon once or twice only!
Then, add in the vegan white chocolate chips and the dark chocolate chips. You want to make sure to add in the chips and fruit at the beginning of mixing the wet and dry ingredients or else the mixture will get tough. Use a wooden spoon to fold until chips are combined but don't overmix.
Using your clean hands, take out an Oreo cookie and grab a medium amount of the cookie dough. Press the cookie dough all around the Oreo cookie until the Oreo cookie is covered. You do not want to have too much dough, but you don't want any parts of the Oreo cookie to show through either. Make sure the Oreo cookie is completely covered, but that the cookie dough isn't insanely thick.
Line a baking sheet and lay your Oreo stuffed cookies on the sheet, a few inches apart. They will spread slightly during cooking, but nothing too crazy. You should have about 14-15 cookies when done correctly.
Bake for 11-12 minutes until just golden. Do not overcook!
Let the Oreo stuffed cookies cool on a cookie sheet for 1-2 minutes and then transfer them to cool on a cooling rack.
Enjoy!
Nutrition Information
Yield
15
Serving Size
1
Amount Per Serving
Calories

279
Total Fat

12g
Saturated Fat

2g
Trans Fat

0g
Unsaturated Fat

7g
Cholesterol

1mg
Sodium

340mg
Carbohydrates

42g
Fiber

1g
Sugar

24g
Protein

2g