This vegan cookie dough recipe is so darn delicious and easy to make! It takes just 5 minutes and it is well worth it.
If you are new to vegan cooking, I am here to tell you that ALL vegan cookie dough is edible if you want it to be!
You can take any of the vegan cookies on my website, from Vegan Double Chocolate Chunk to Vegan Italian Butterballs and make the dough and eat it straight out of the container.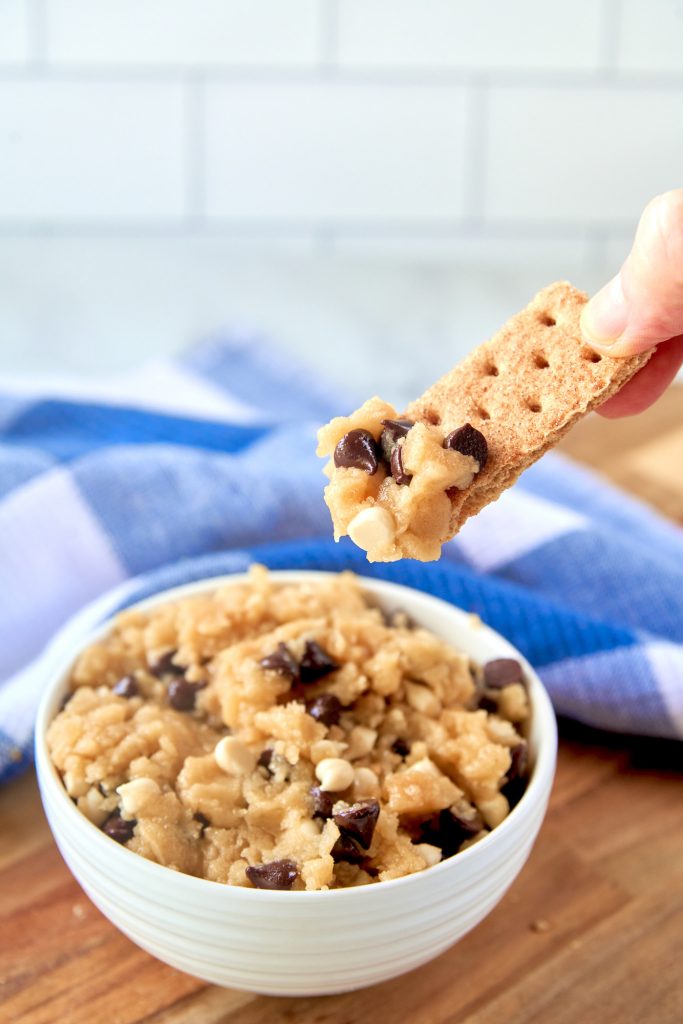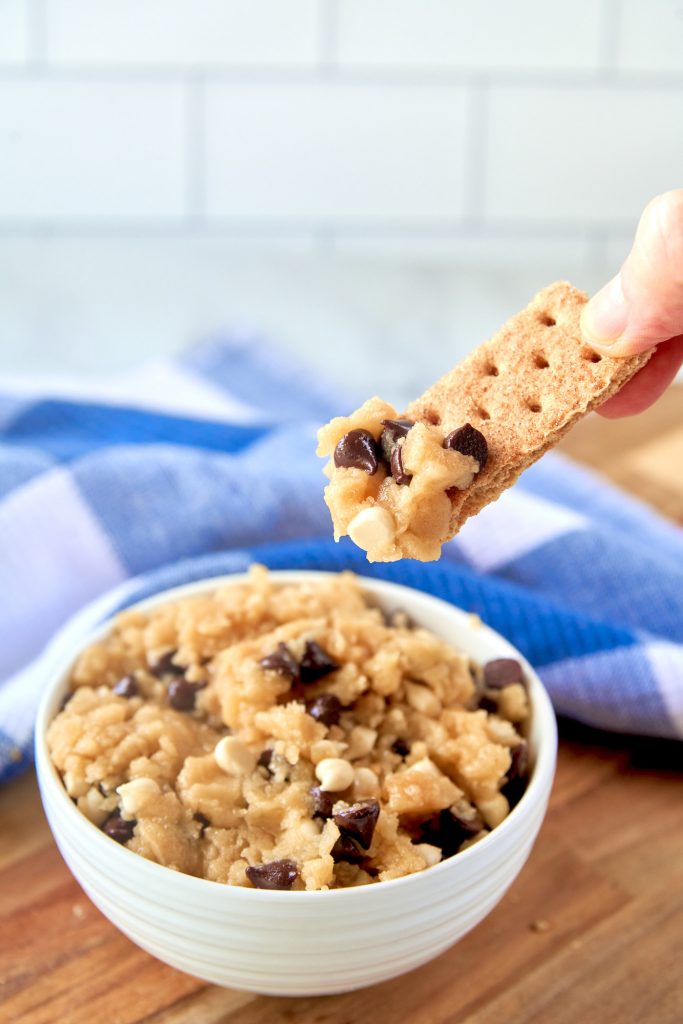 However, if you aren't going to be baking the cookies, there is not need for baking powder and baking soda in the recipe so that is what makes vegan edible cookie dough slightly different than its counterparts.
I love making this recipe and simply keeping it in the fridge and eating it with a spoon whenever I have a hankering for vegan edible cookie dough.
But my favorite thing to do is bring this vegan cookie dough recipe as a dish to a party or serve it when I am having a gathering!
People are OBSESSED with cookie dough and rarely have the chance to eat it because regular cookie dough is unsafe OR they just don't think to make it all that often.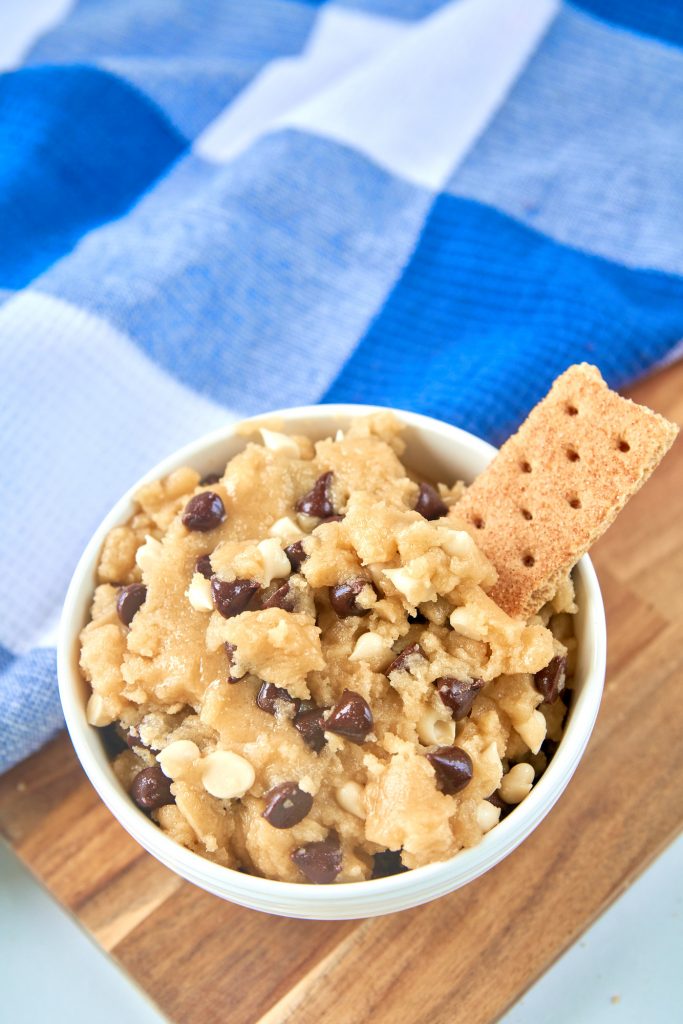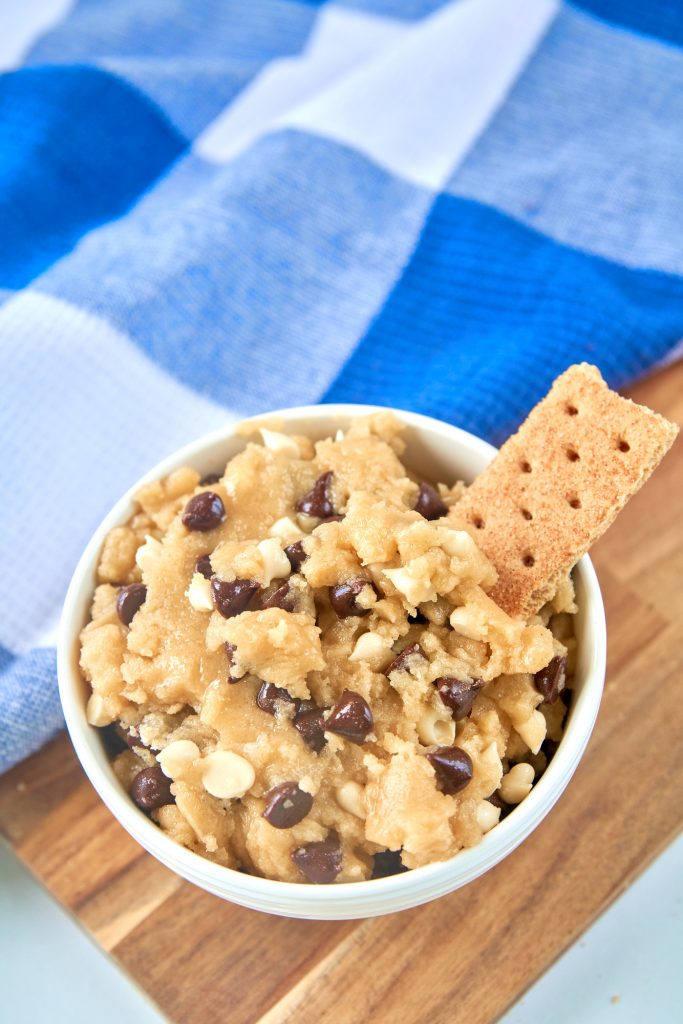 When I tell you this flies off the serving platter at parties, I am not kidding!
I love serving it with vegan graham crackers because the sweet flavor of the crackers is the perfect way to eat the vegan cookie dough!
You can also choose to serve it on disposable spoons where each person picks up a spoon and then eats the cookie dough in just one bite!
You really can't go wrong when you bring edible vegan cookie dough to a party or for any time of day or year whenever you feel like eating your feelings!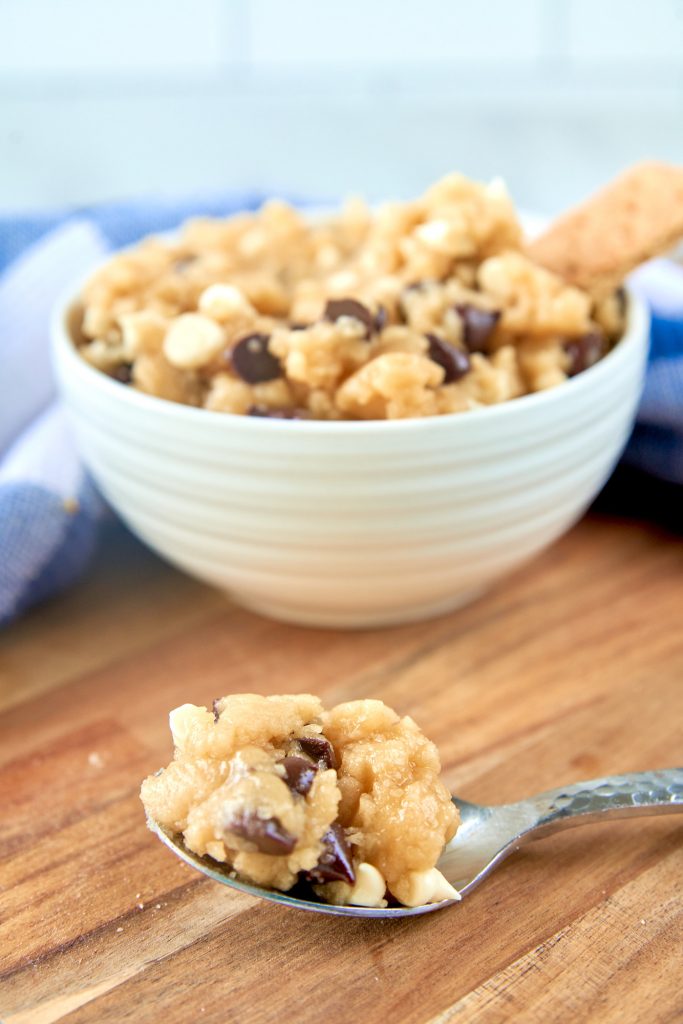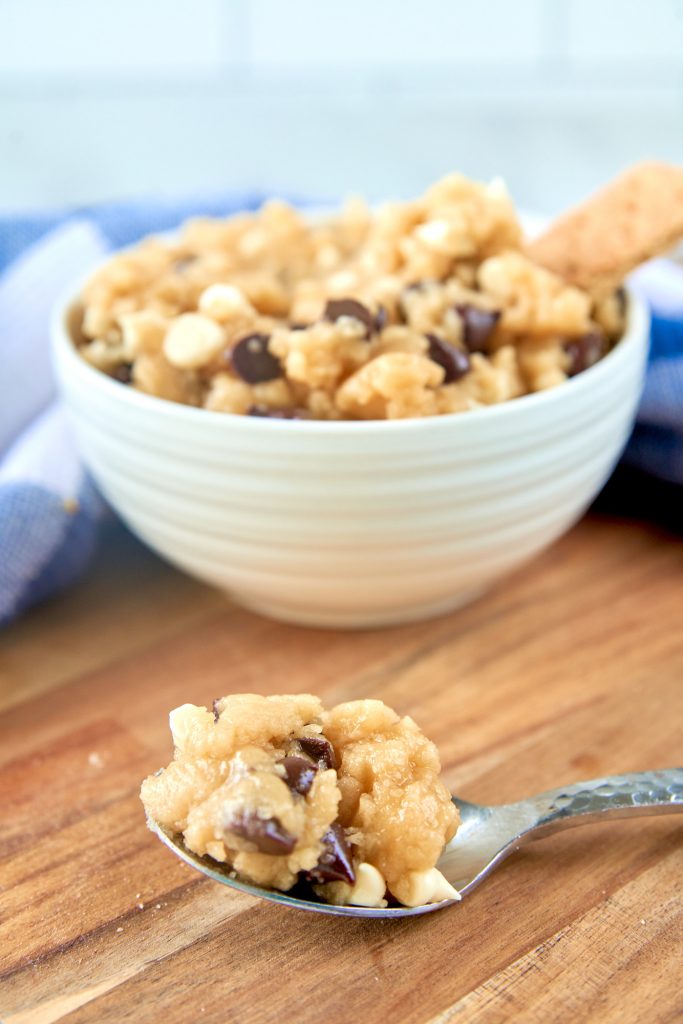 Is Vegan Cookie Dough Safe To Eat?
YES! Vegan cookie dough is 100% safe to eat!
Why?
Because vegan cookie dough doesn't have any eggs in it! So technically all vegan cookie dough is edible if you really want to think about it as I said above!
However, it has recently been discovered that raw flour can carry bacteria too!
If you want to be 100% safe, toast your flour on the stove for a few moments before making this recipe.
I personally do not toast my flour in advance and I have never had any issues with using it.
But I wanted to mention the safety issue in the event you wanted to take extra added precautions to make your edible cookie dough 110% safe.
No eggs and toasted flour mean you can eat as much as you want guilt-free!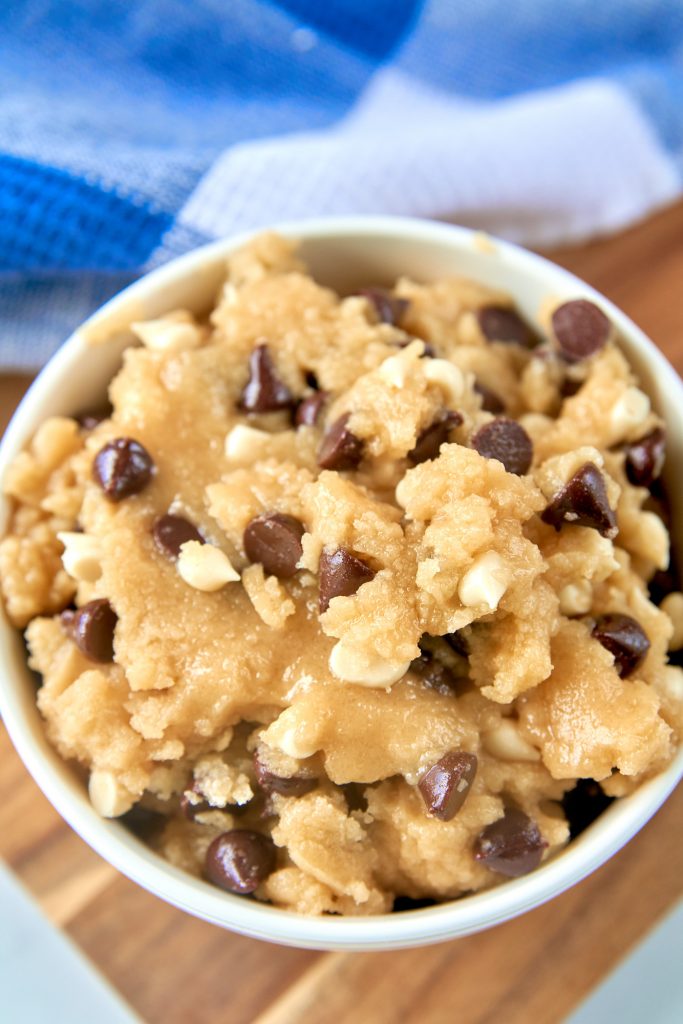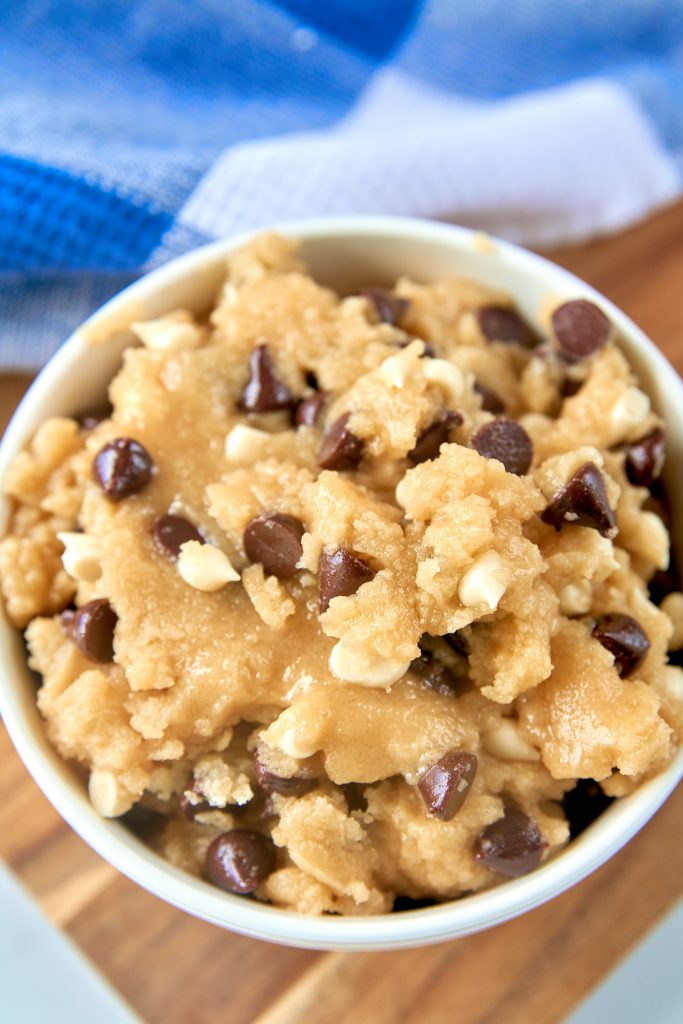 Where To Buy Vegan White Chocolate Chips
This is edible chocolate chip cookie dough, but to elevate it, I ALWAYS use vegan white chocolate chips.
I am not even kidding when I say that you 100% CANNOT go wrong with using both chocolate and white chocolate chips.
But where do you find vegan white chocolate chips?
You can easily find plenty of Vegan White Chocolate Chips On Amazon!
But did you know that WALMART and your regular grocery store has vegan white chocolate chips too?!
Nestle makes a brand called "Simply Delicious" and they are a vegan line of White Chocolate Chips!
These are your two best bets! To try and order some vegan white chocolate chips from Amazon or Walmart!
Sometimes Whole Foods or your local grocery store will also carry vegan white chocolate chips as well so you just have to ask or look at the ingredients!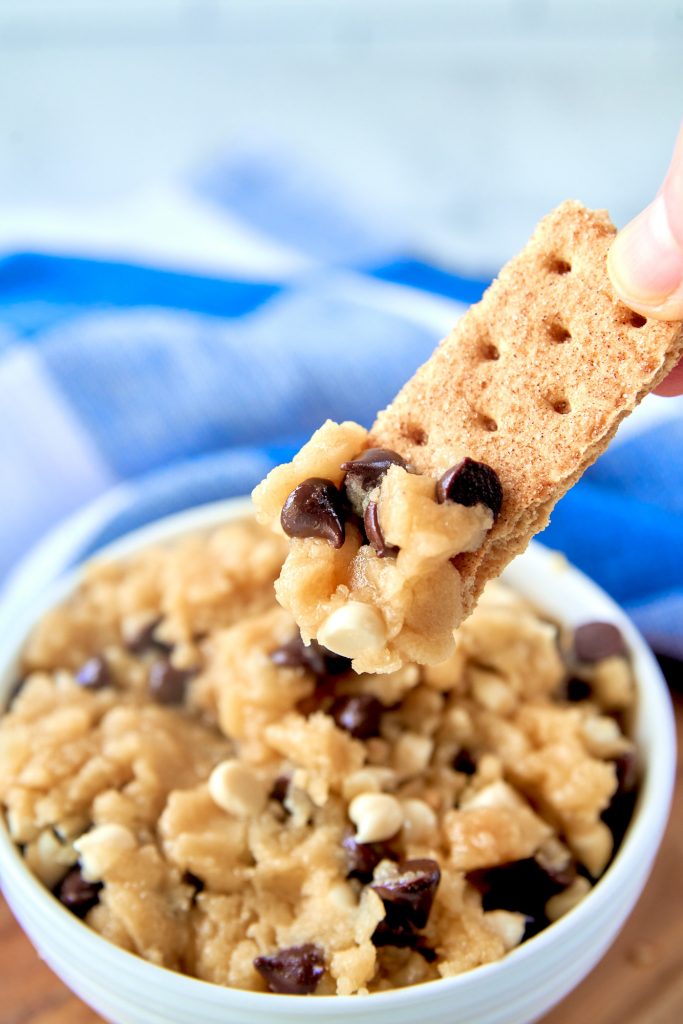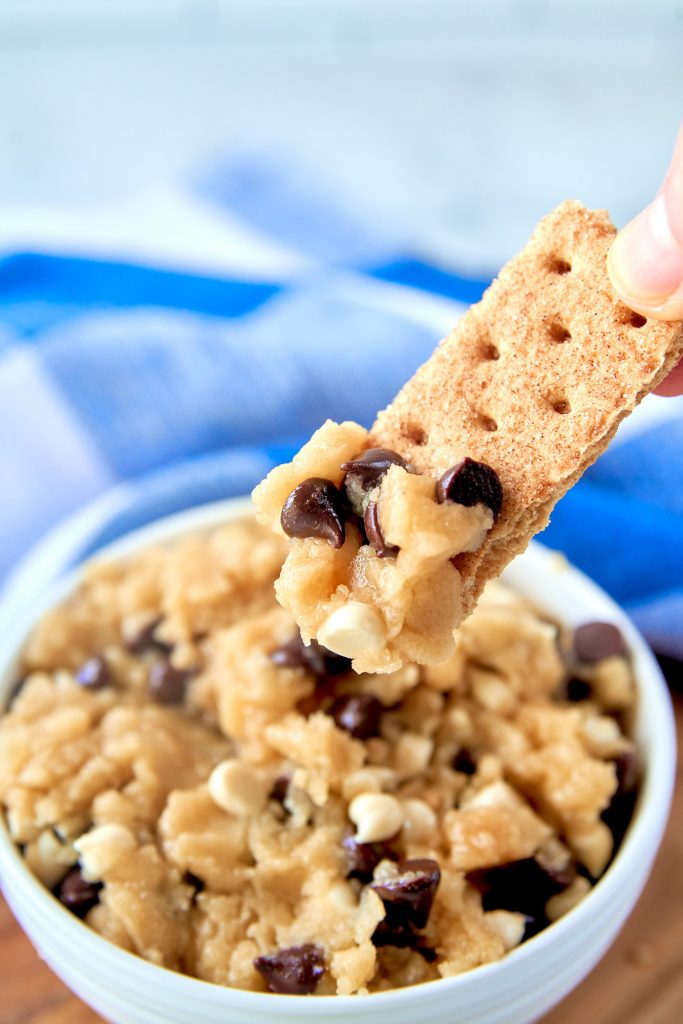 How To Make Edible Vegan Cookie Dough
Making edible vegan cookie dough is literally so easy!
You can choose to use coconut oil or whatever type of oil you want.
For me personally, I love using avocado oil in cooking as it is healthier and has a lot of good benefits and it tastes fantastic.
But again, you can make this vegan edible cookie dough with whatever oil you want!
My secret weapon for this cookie dough dip is graham cracker crumbs. If you do not have them on hand, you can skip this step and it will still taste good.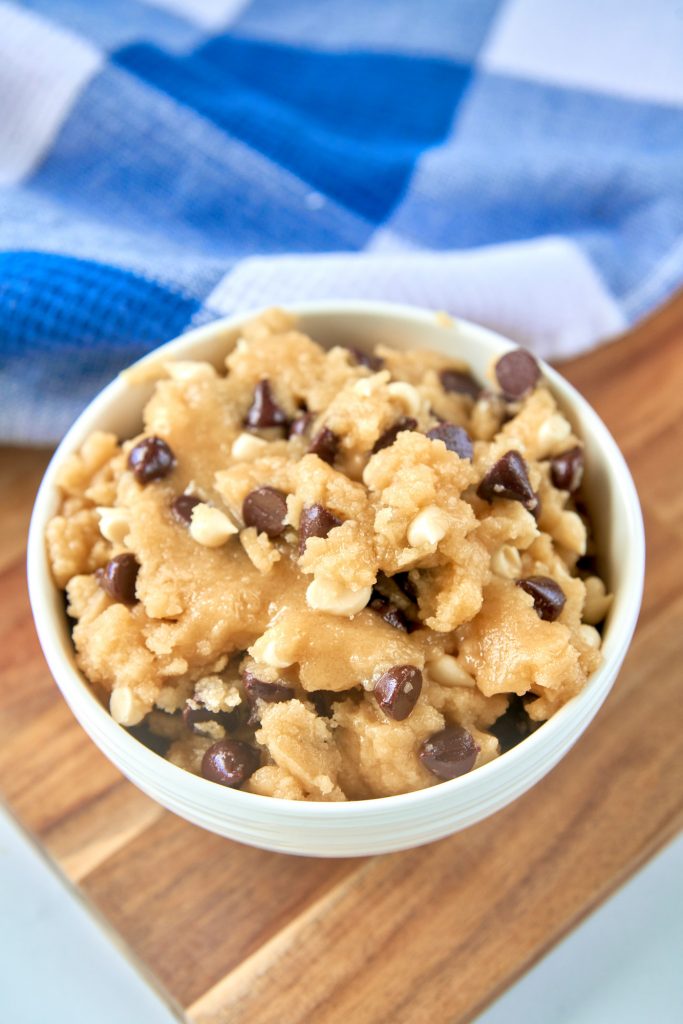 But the graham cracker crumbs really do elevate the flavor and set it apart from other recipes!
All you have to do is put flour, graham cracker crumbs, sugar, and salt in a bowl and use a fork to combine.
In another bowl, combine maple syrup with vanilla and the oil of your choice and stir until combined.
Now add your wet mixture to your dry mixture and stir until barely combined.
This is when you are going to want to add in your chocolate and white chocolate chips.
Be careful to fold them in so that they are well combined, but don't overmix.
Of course, you can add in any mix-ins that you want to the vegan cookie dough such as nuts or dried fruit to make it your own!
Once it is mixed up, you can serve immediately!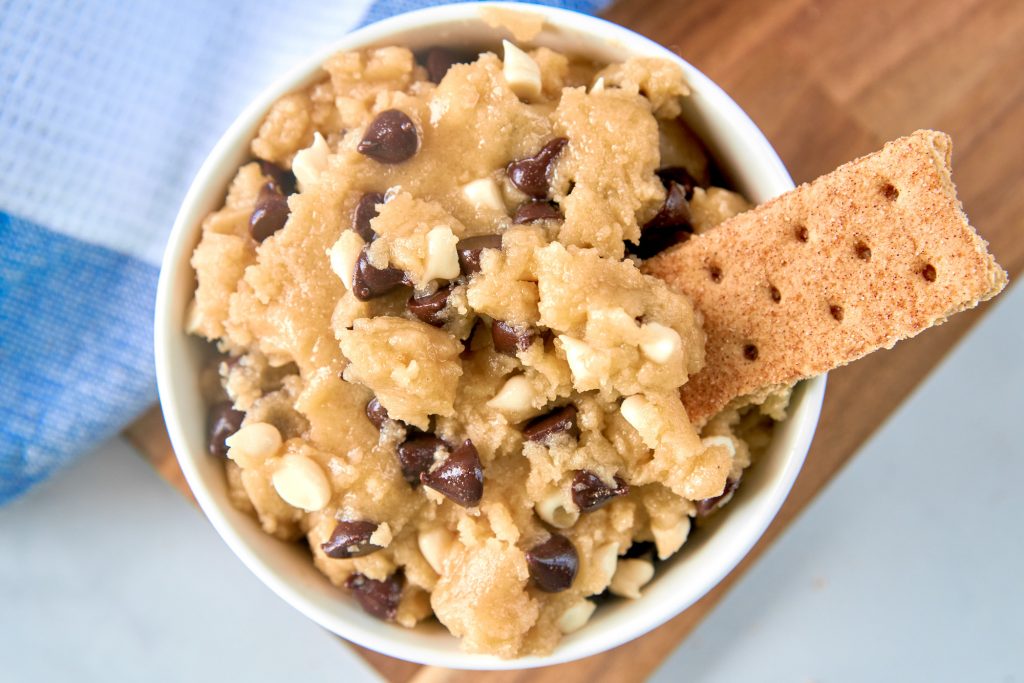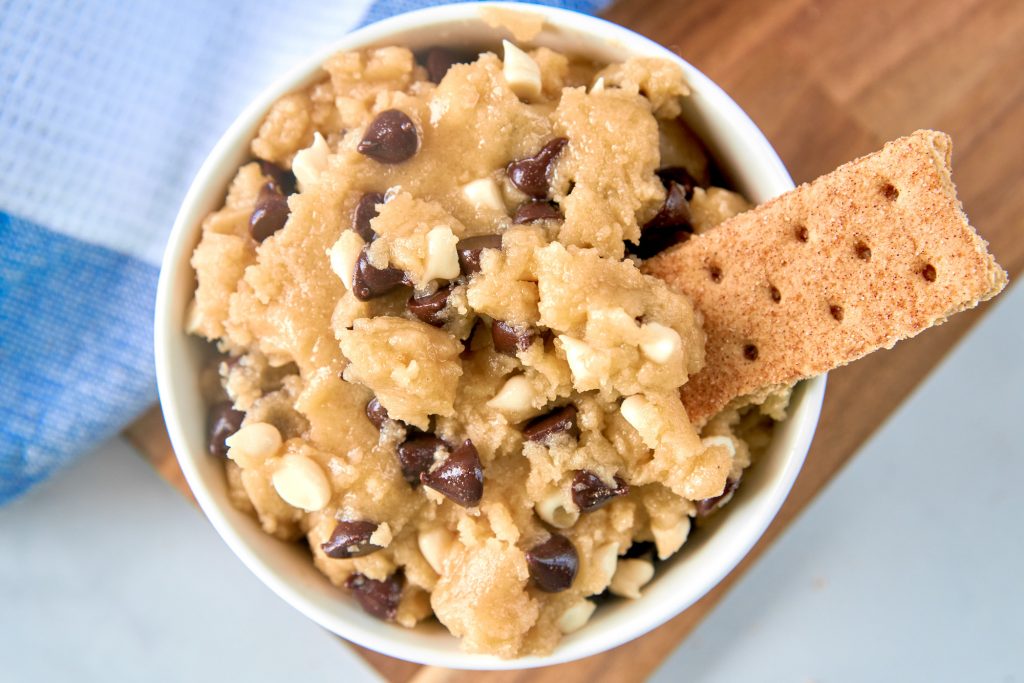 Can This Vegan Cookie Dough Actually Make Cookies?
No it cannot because we have left off the baking powder and baking soda!
If you want to make actual cookies using this recipe, you will want to remove the graham crackers, add in 1 tsp baking powder and 1/2 tsp baking soda and bake for 12 minutes at 350F!
That is all you have to do to transfer this edible cookie dough recipe so that you can bake it and enjoy some delicious cookies!
How To Store The Vegan Edible Cookie Dough
Technically, this recipe is "shelf stable" at least for a little bit.
I wouldn't recommend storing it on the counter, it just tastes better in the fridge so that it is chilly!
I recommend eating it in between 3-5 days as it starts to go funky around the 3rd or 4th day. It can last longer but it is better when it is fresh!
But, if you are leaving it out for a party or something like that, it won't spoil since it uses shelf stable ingredients in the recipe!
You can also freeze the vegan edible cookie dough but make sure to remove it 24 hours in advance so that it can thaw in the fridge or else you will have a huge cookie dough brick to contend with!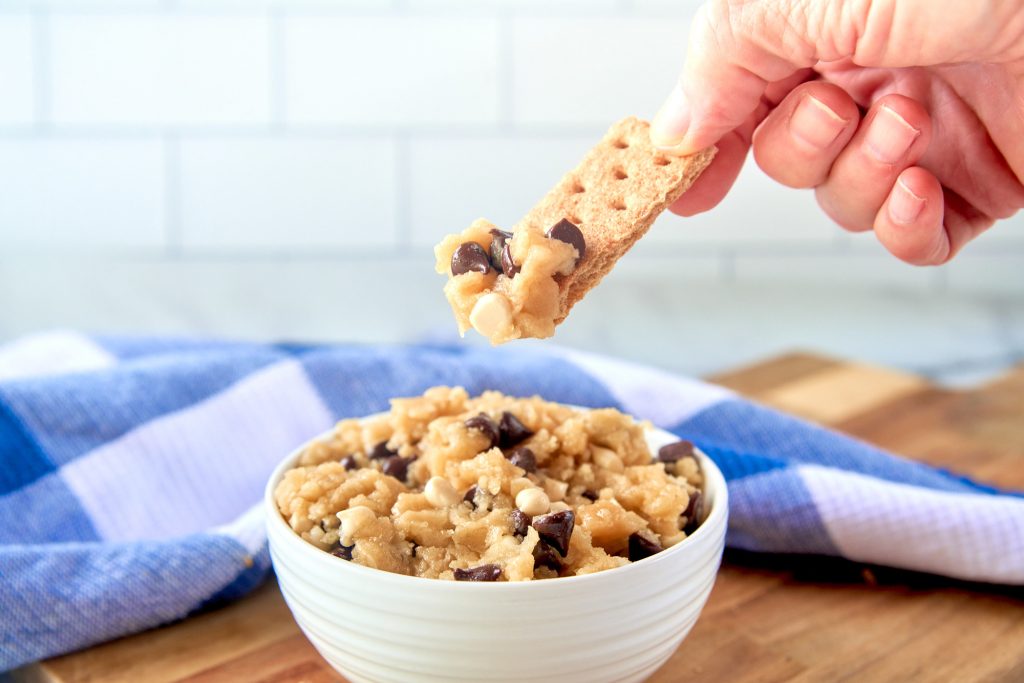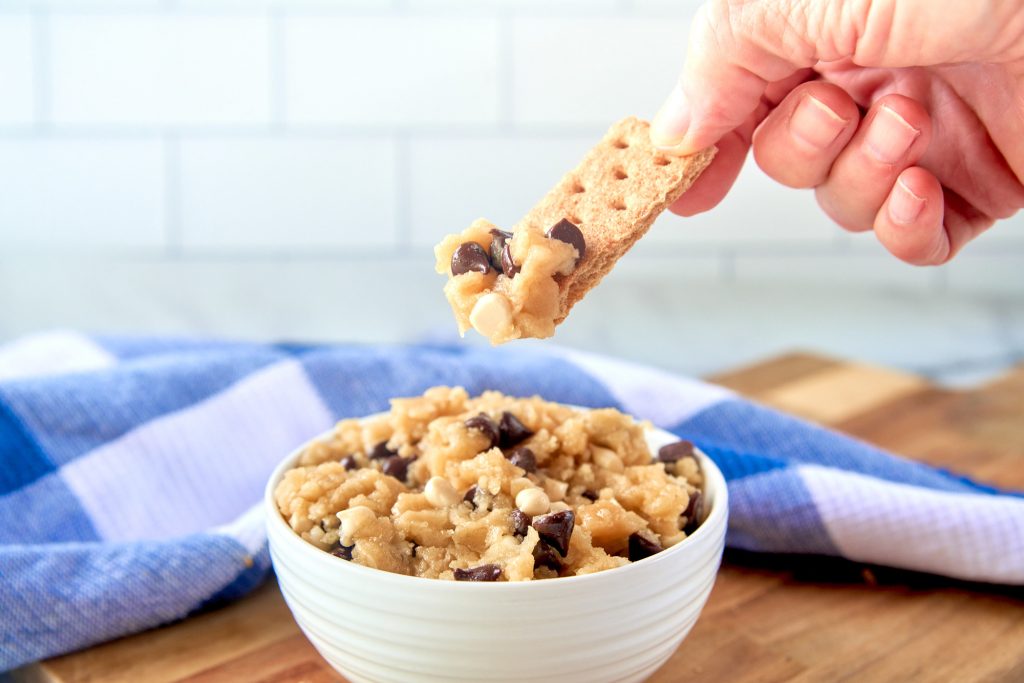 Did You Try This Recipe?
If so, I would love to keep in touch! I enjoy seeing photos and comments about the recipes that you make! You can follow me on Instagram and I will repost your goodies in my stories and comment on it too! Just tag me at @wowitsveggie and hashtag #wowitsveggie. I can't wait to see what you make!
Yield: 4
Easy Edible Vegan Cookie Dough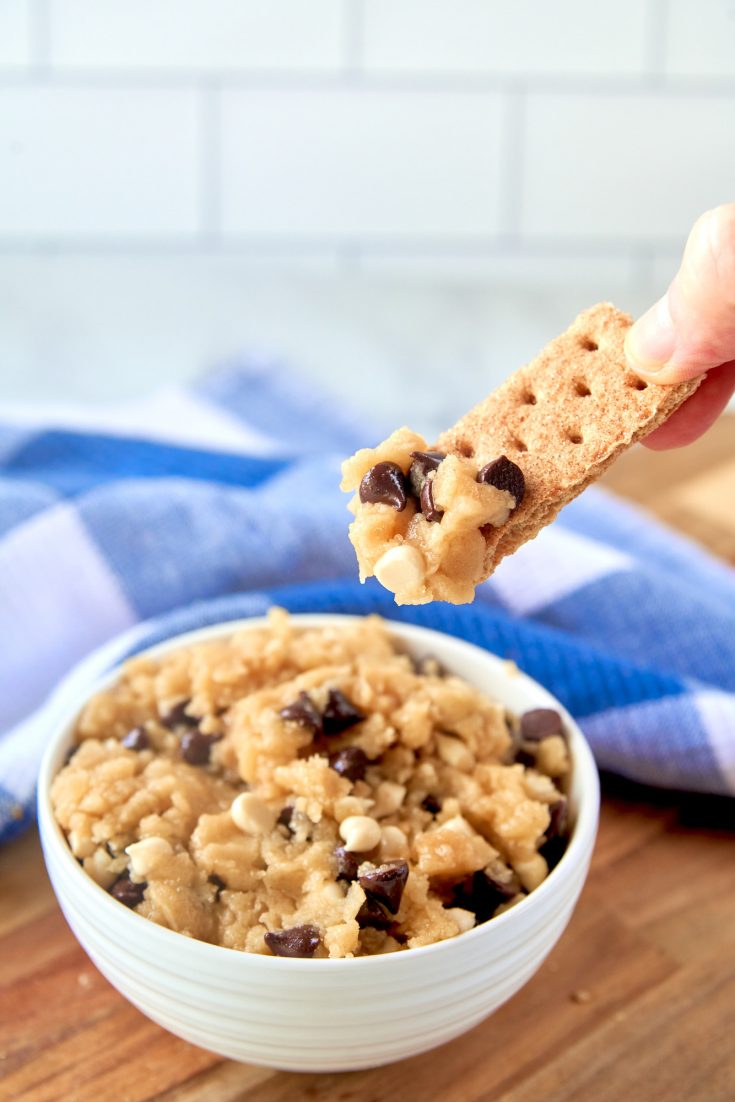 This vegan cookie dough is so delicious and easy to make! It is safe to eat and the flavor means it won't last long. I love bringing this vegan edible cookie dough to parties as a snack or dessert. Bring graham crackers for dipping and it never lasts long because it is that good!
Ingredients
1 cup flour
1/4 cup sugar
1/2 teaspoon salt
1/3 cup maple syrup
1 tsp vanilla extract
1/4 cup oil
1/4 cup vegan white chocolate chips
1/4 cup chocolate chips
1/4 cup graham cracker crumbs (Optional yet super yummy)
Instructions
In a medium bowl, combine flour, sugar, salt, and graham cracker crumbs. Use a fork to combine.
In another bowl, combine maple syrup with vanilla and oil and whisk until combined.
Add the wet mixture to the dry mixture and stir using a wooden spoon once or twice.
Add in the vegan white chocolate chips and the chocolate chips. You want to make sure to add in the chips at the beginning of mixing the wet and dry ingredients or else the mixture will get tough. Use a wooden spoon to fold until the chips are combined but don't overmix.
Serve with graham crackers for dipping or just eat with a spoon if you are at home!