This vegan lentil soup recipe is hearty and delicious! The best part is that you can customize it with whatever spices you have on hand. I have included my recommended spices, but feel free to omit anything you don't have!
I want you to be able to make vegan lentil soup quickly and easily, and hunting down a pinch of this spice and a dash of that really isn't doable sometimes! That is why I created this recipe!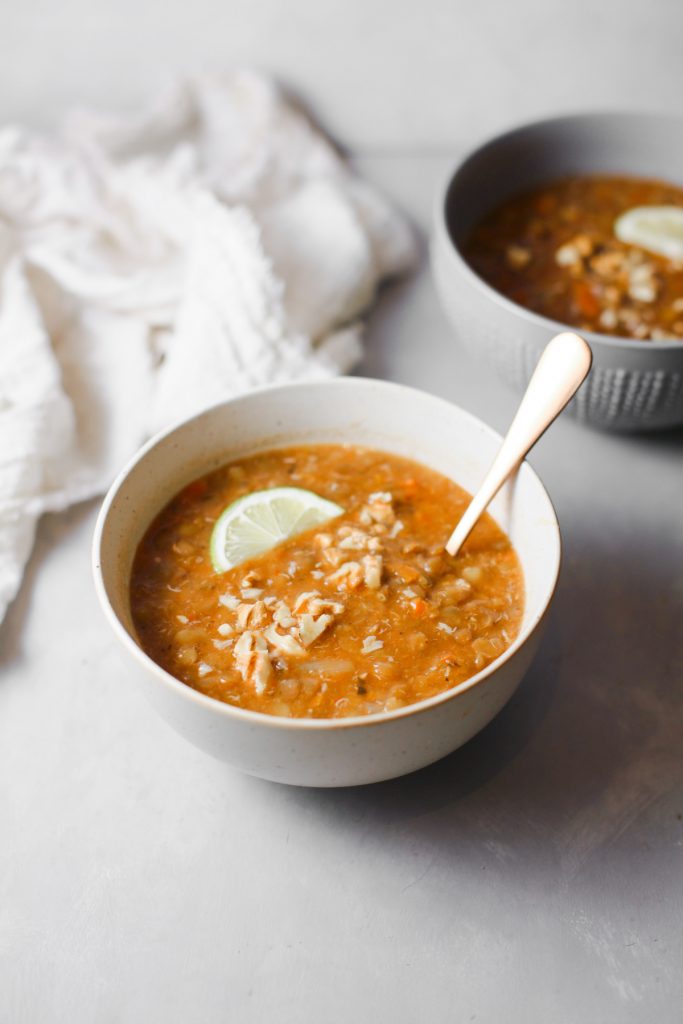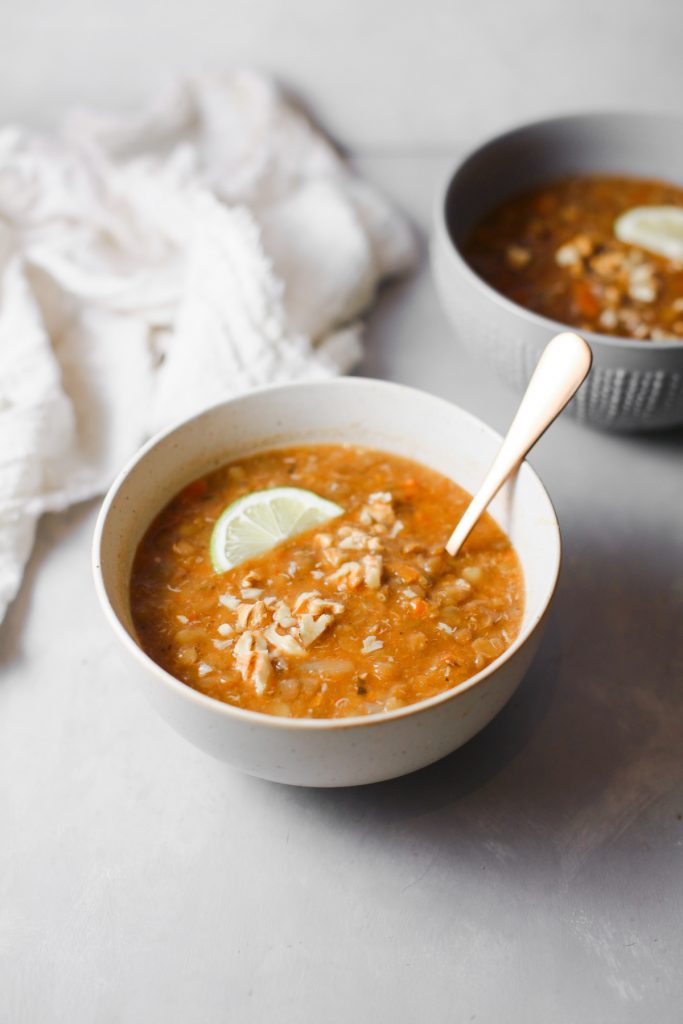 This lentil soup recipe is vegan and hearty. Perfect for a day when you want to nourish your soul and served with a side of hearty bread!
This is also a kid-friendly recipe! How do I know? I loved eating my mom's vegan lentil soup recipe as a kid too! It was one of the soups that I totally loved, despite being picky about other types!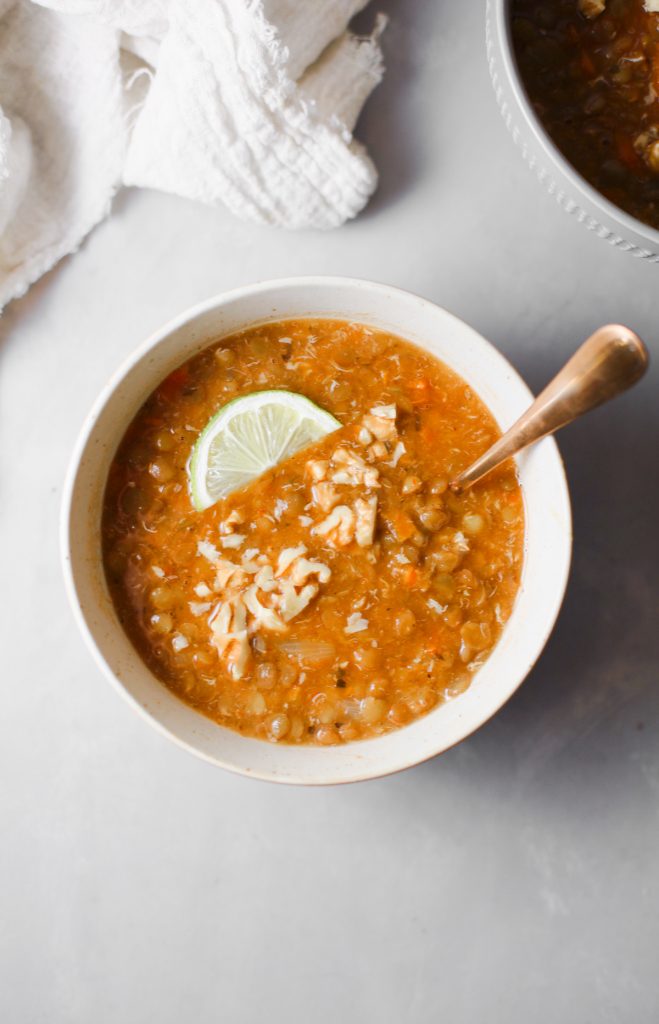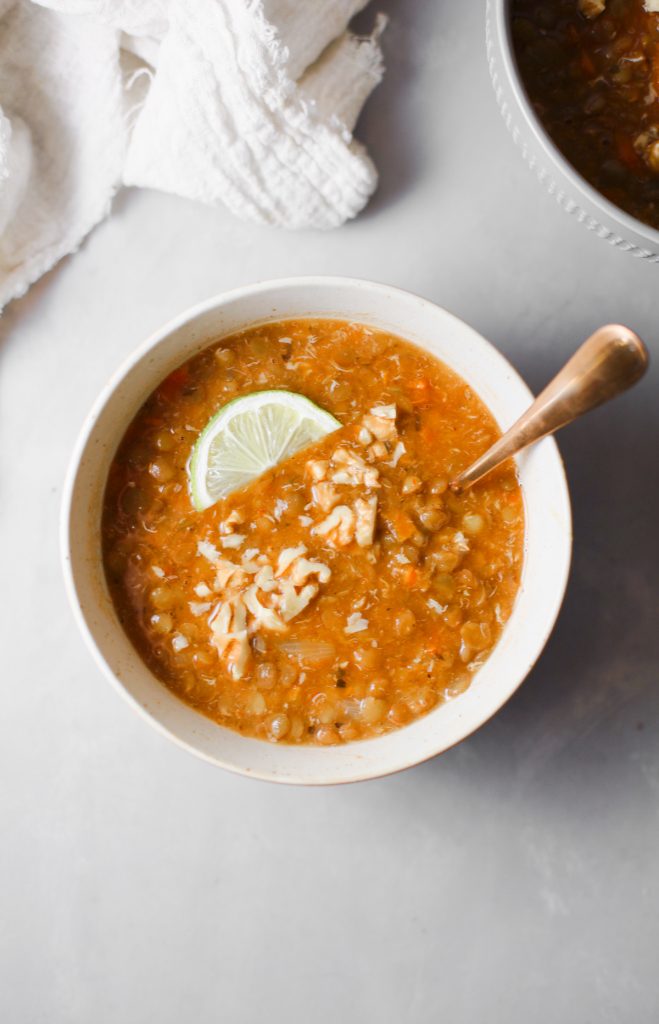 Type Of Lentils For Vegan Lentil Soup
There are three types of lentils that are most popular. Red, brown, and green lentils. Many recipes for lentil soup call for red lentils, and this is okay if you are going to want a mushy soup.
Some people don't like chunky soups so they give their soup a blend in a food processor or blender to get rid of the chunks. If this is you, go ahead and use red lentils.
For the rest of us that want the traditional vegan lentil soup recipe, you are going to want to use green or brown lentils. These lentils hold their shape when they cook and they don't fall apart of become mushy.
Use whatever kind of lentils you have on hand, but understand that green and brown do work best for keeping up their shape!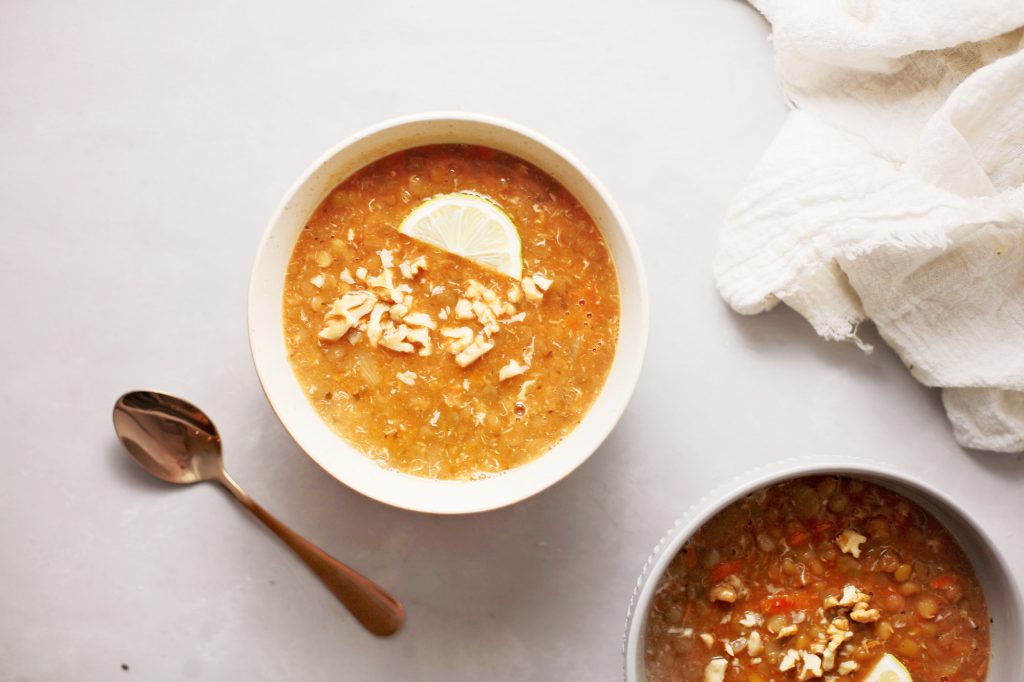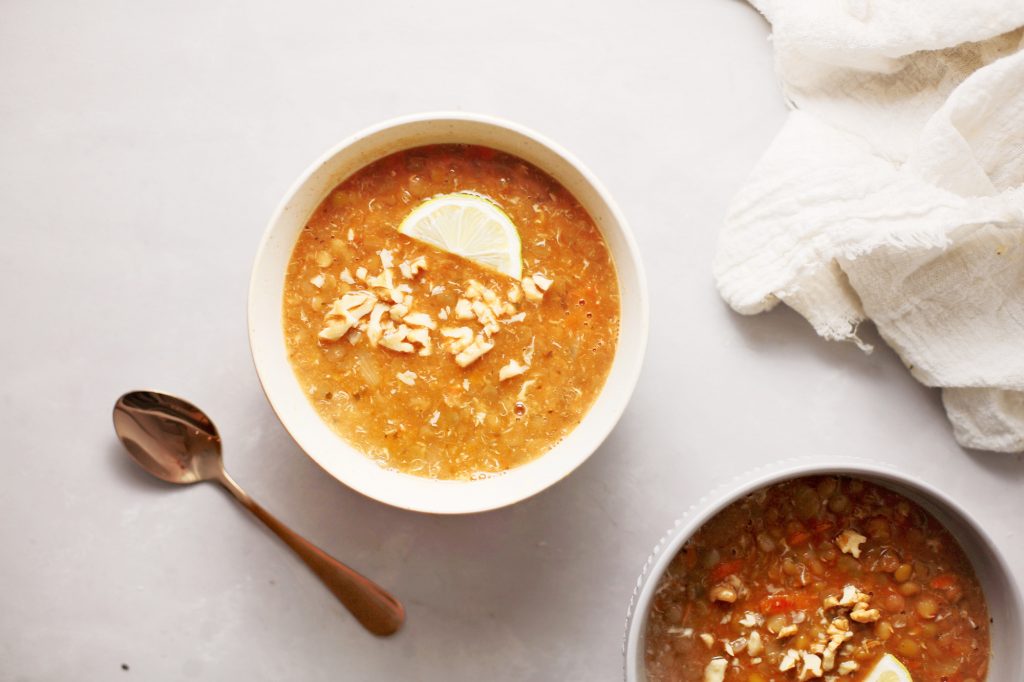 Storing Vegan Lentil Soup
This vegan lentil soup recipe stores very well in the fridge or freezer. You can keep the leftover lentil soup in a fridge-safe container for between 3-5 days.
To reahead, simply put the soup in a pan on the stove and heat until warm. Heating on the stove works much better than microwaving because the soup retains the heat!
Finally, you can also freeze this vegan lentil soup recipe if you are meal planning or looking to save some for a literal rainy day when you want some warm and nourishing food!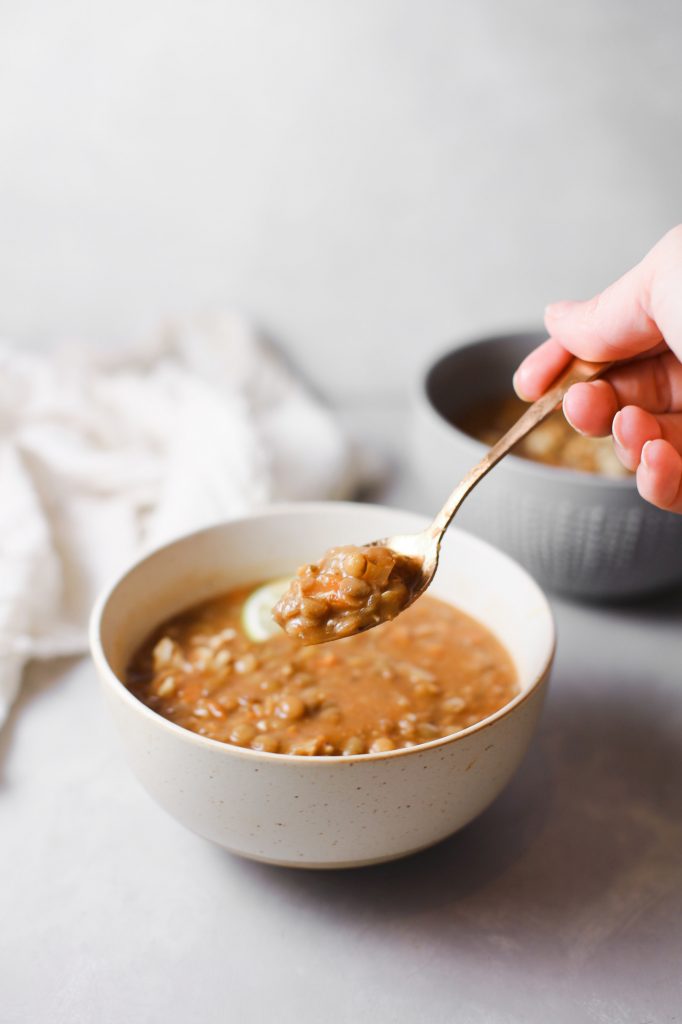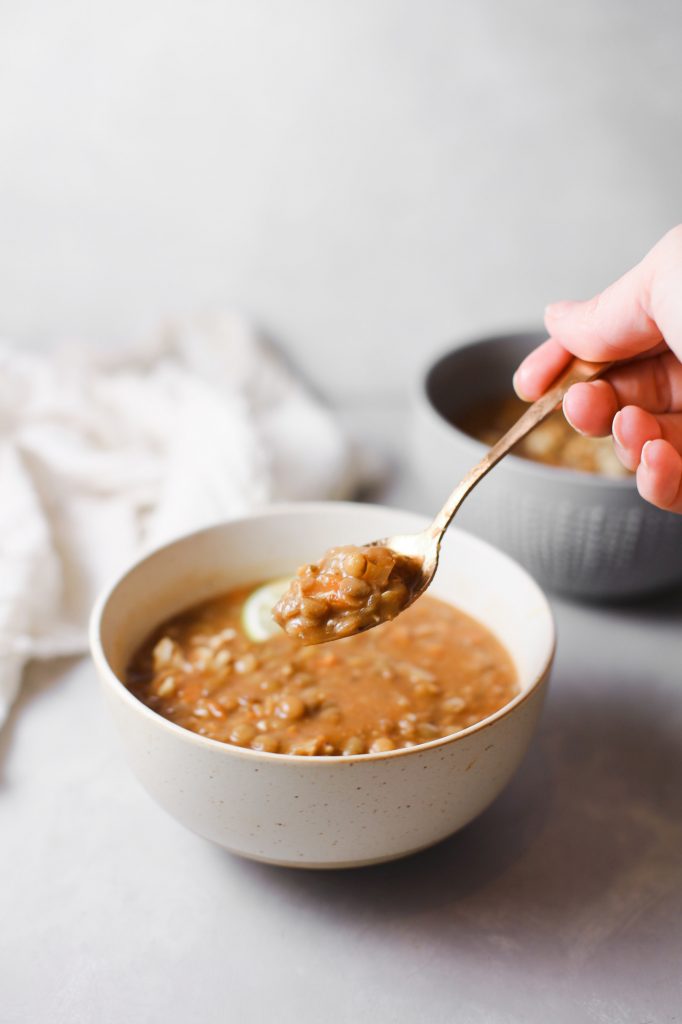 How To Make Vegan Lentil Soup
Making vegan lentil soup is so very easy! You use only one pot and can customize the spices based on what you have on hand.
I do NOT want you to feel pressured to use spices that I have here! You can also choose between broth or water, depending on what you have on hand as well.
Anyway! You are going to want to take the large pot that you are going to cook the lentil soup in and saute your onion, carrot, and garlic until fragrant!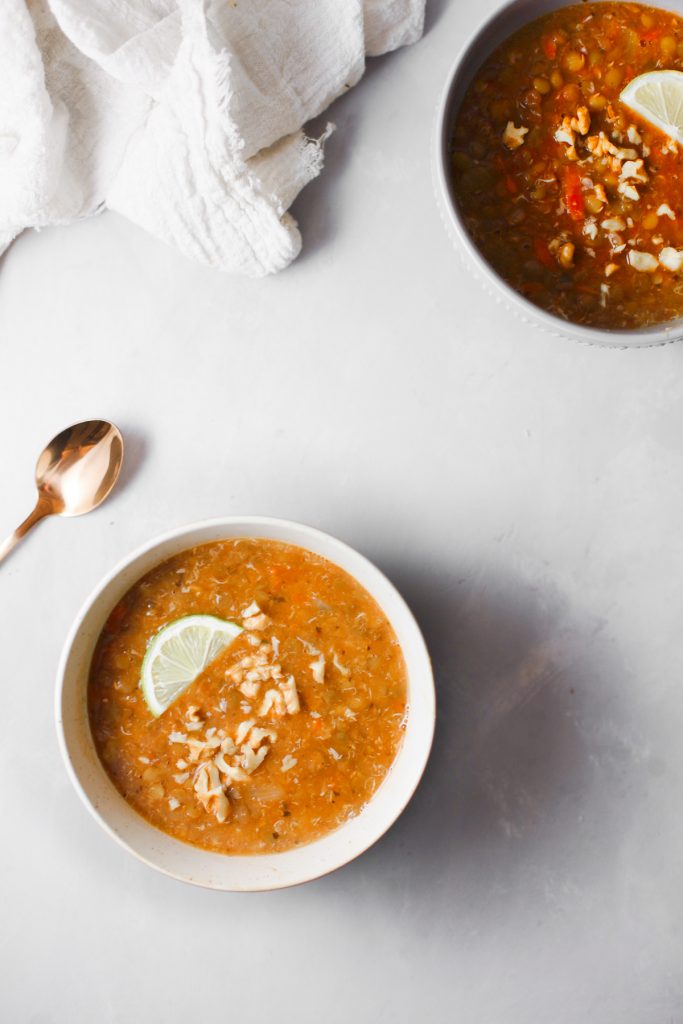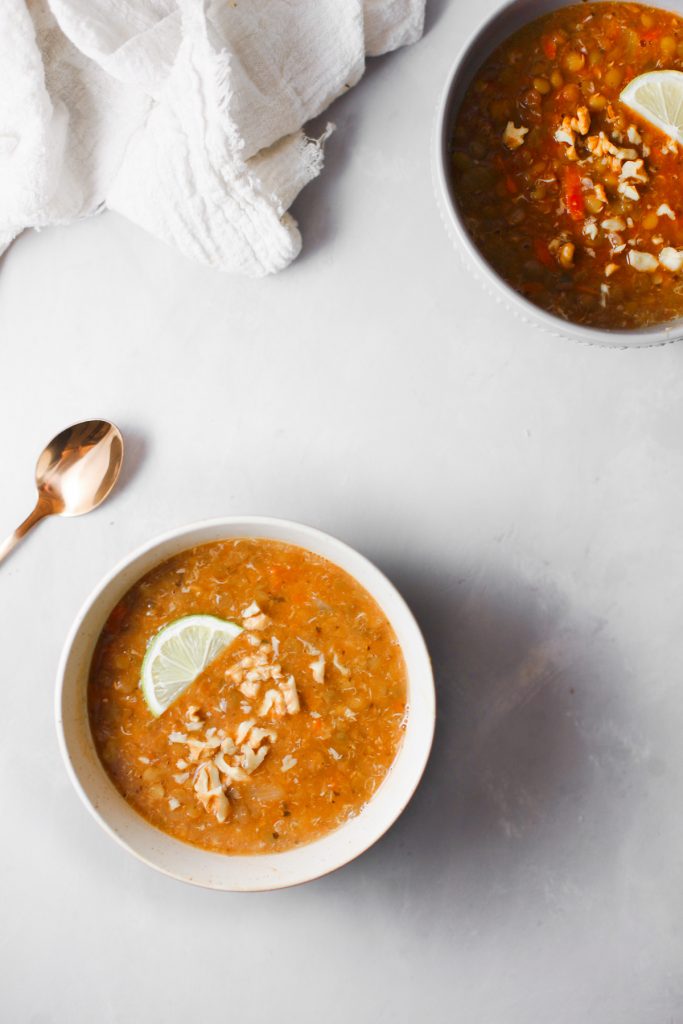 Using the same pot you will cook in cuts down on one pan you have to wash!
Then you will add the spices to the veggies and combine. Next, add lentils and broth and let the mixture simmer for 15 minutes.
Finally, you will add the remainder of the broth and simmer until the lentils are soft and the broth has reduced and thickened.
For serving, you can add topped with chopped walnuts and a squeeze of lemon juice. The crunchy walnuts add an amazing texture when contrasted with the soft lentils. Believe it or not, the nuts even add a "cheesy" or, well "nutty" flavor that you may love!
If you want to make this an Indian-inspired vegan lentil soup recipe, toss in a little curry powder when you are adding the spices at the beginning stages of this recipe!
If you want other hearty soup options, check out our vegan clam chowder recipe!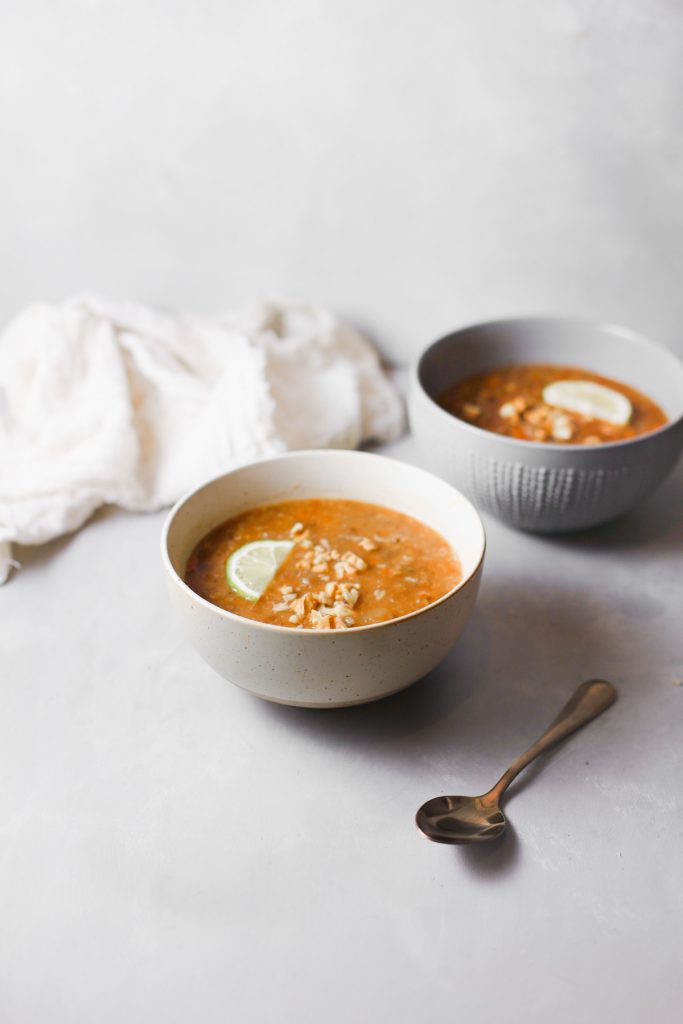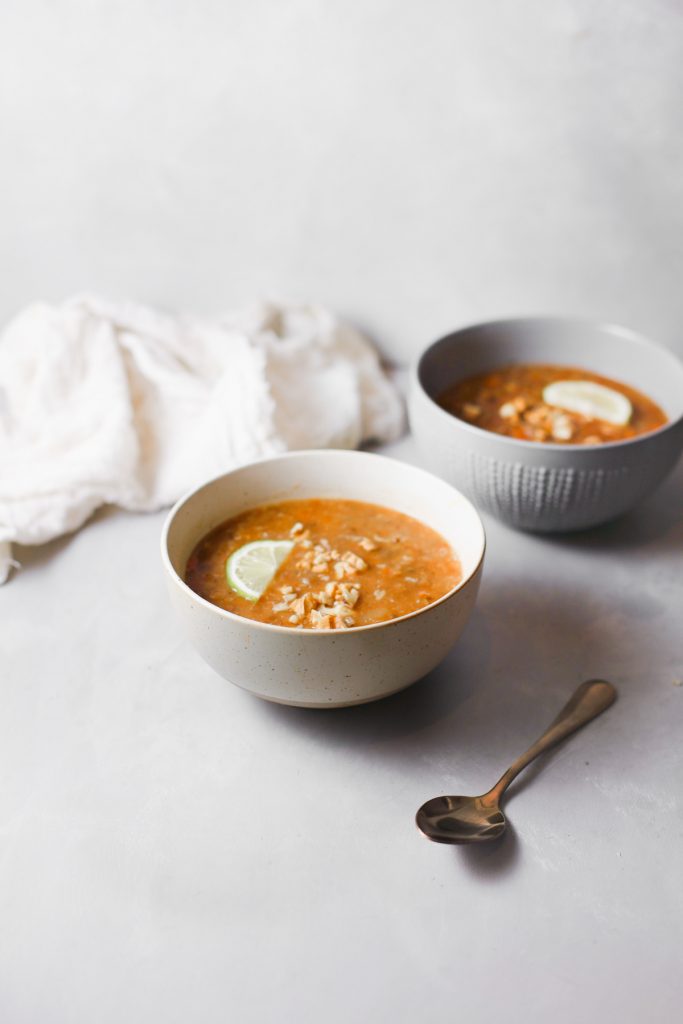 Yield: 2
Easy Vegan Lentil Soup Recipe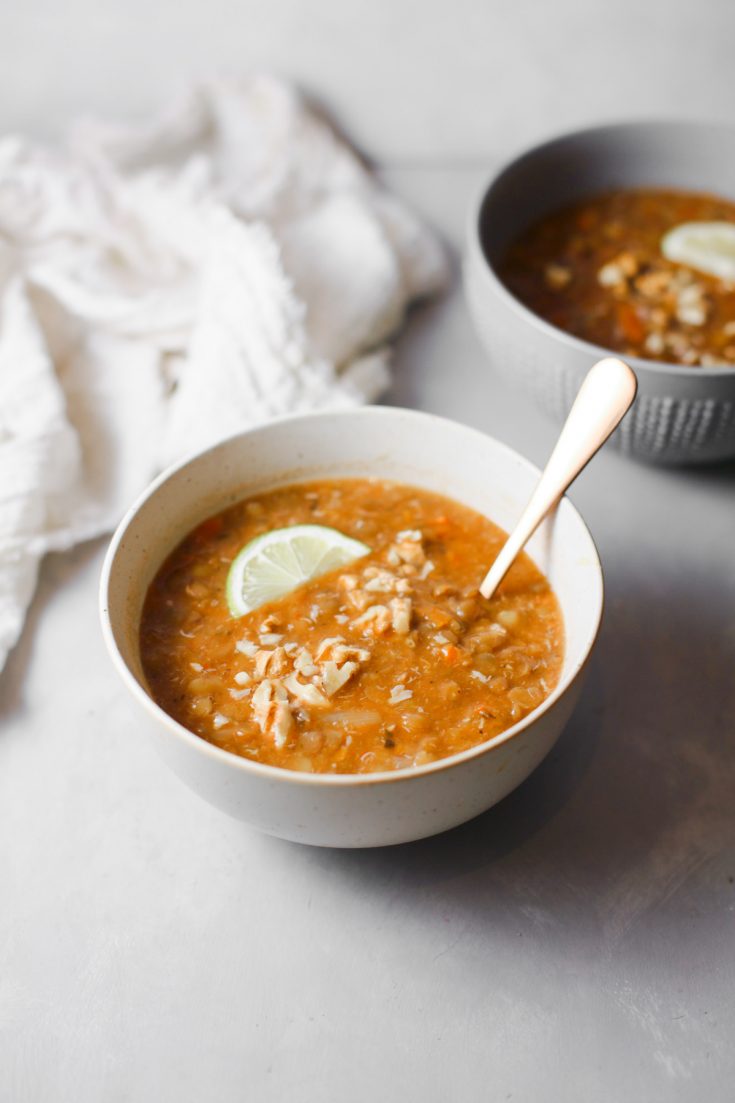 This vegan lentil soup recipe is incredibly comforting and delicious! It's honestly really easy to make too and you can play with the spices as much as you want to give it different twists.
You can also add some curry powder to make it Indian inspired, for example!
I like to top the vegan lentil soup with roasted chopped nuts because they have a little bit of cheesy flavor and a crunch that goes really well with the lentils.
Ingredients
1 Onion, chopped
1 Carrot, shredded
2 Tbsp olive oil
1 Garlic clove, minced
3 Cups vegetable broth or water
1 Tsp paprika
1 tsp cumin
1/2 Tsp each: oregano, dried rosemary, dried thyme
1 Cup dried lentils
1/2 Lemon, sliced (squeezed as topping, highly recommended!)
1/4 Cup roasted walnuts, chopped (optional)
Salt and pepper to taste
Instructions
Heat the olive oil in a large saucepan over medium heat. Add onion and sauté until transparent. Add carrot and cook for 3 more minutes.

Incorporate garlic and sauté for 1 additional minute or until fragrant. Add the spices and cook them, stirring for around 30 seconds.

Add the lentils, salt and pepper and half the broth and bring heat down. Let it simmer for around 15 minutes.

Add the remaining broth and simmer until the lentils are soft and the broth has reduced and thickened (around 20 more minutes).

Serve topped with chopped walnuts and with a squeeze of lemon juice.
Notes
This recipe stores well in the fridge for 3-5 days in the freezer for 1-2 months!
Feel free to use whatever spices you have on hand to customize to your taste!
Nutrition Information
Yield
3
Serving Size
1
Amount Per Serving
Calories

216
Total Fat

11g
Saturated Fat

2g
Trans Fat

0g
Unsaturated Fat

9g
Cholesterol

0mg
Sodium

781mg
Carbohydrates

23g
Fiber

7g
Sugar

5g
Protein

8g