If you are looking for a vegan fried rice recipe that is easy and doesn't use a ton of ingredients, this is it! I've seen vegan fried rice recipes with 10-15 ingredients and I just don't have that kind of time to procure and prepare with that many ingredients!
Anyway! This easy vegan fried rice only uses 5 ingredients, most of which you should have around your house! It cooks up in just 10 minutes and the taste is surprisingly amazing!
I just want to point out that my boyfriend LOVES rice of any kind, he is Haitian/Jamaican and rice is a staple. He also loves getting fried rice when we go out to dinner.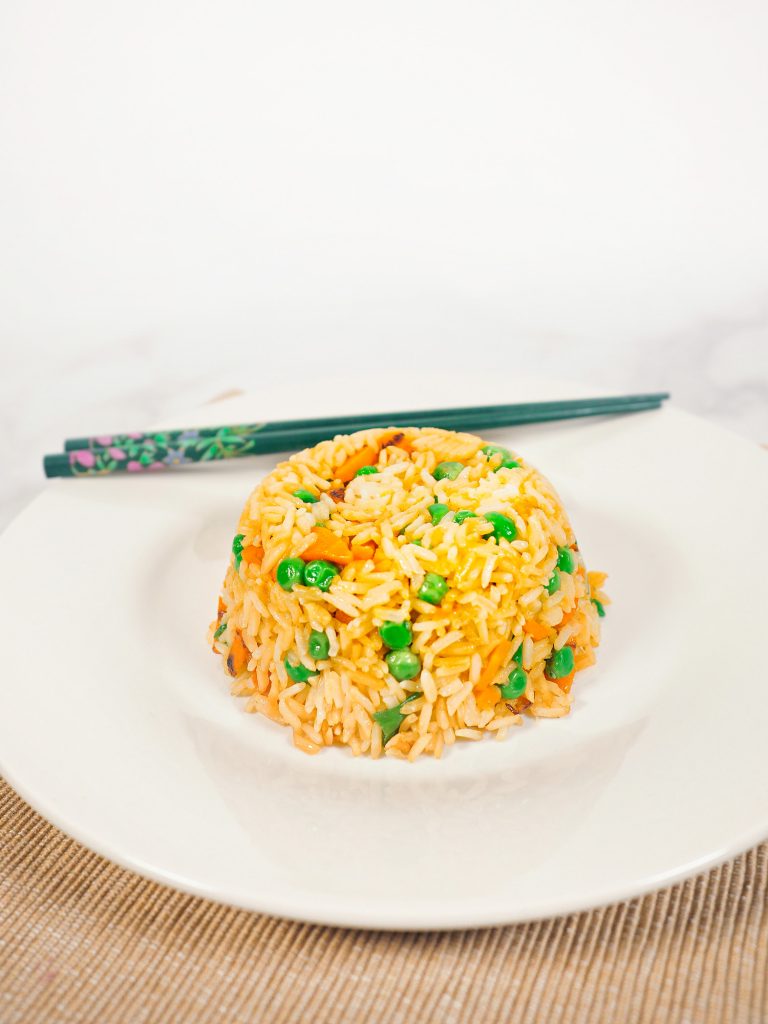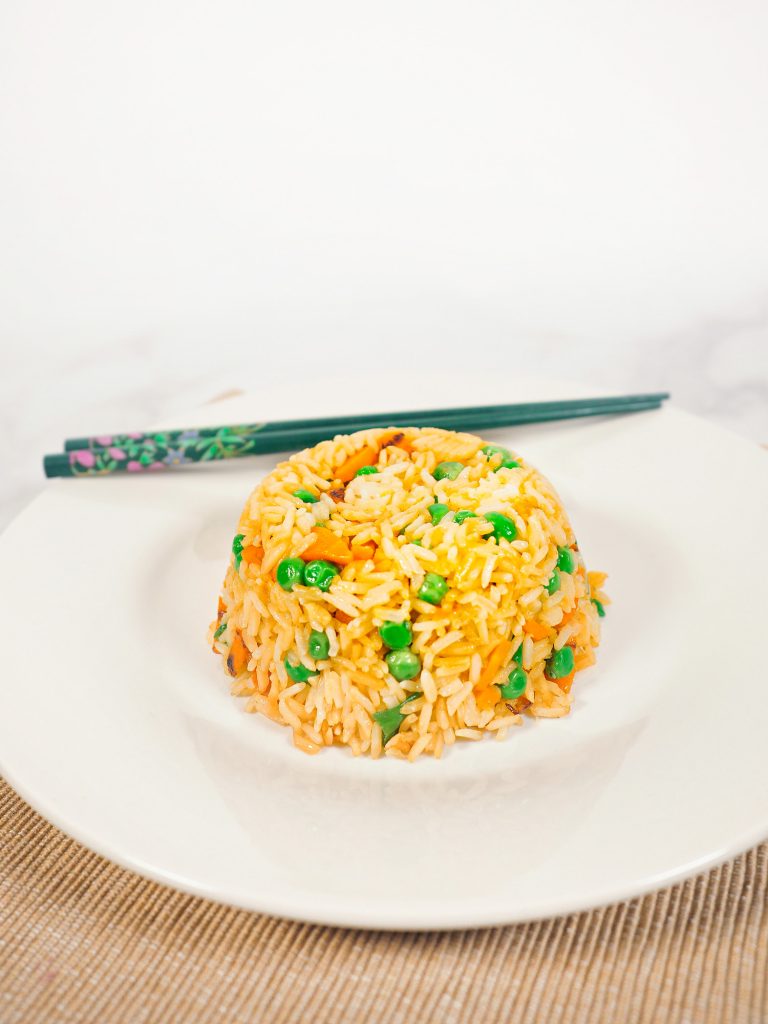 He said and I quote "this is one of the best recipes I have ever eaten" an that is after the vegan fried rice got cold because I had to take photos of it! So it got the official stamp of approval and you will love it too!
The key to making good vegetable fried rice is to cook and prepare the rice correctly, which I will explain below, and to let the rice shine.
This is a RICE dish. Not a vegetable dish. The point is not to overseason the rice and not to add too many vegetables to take a way from the taste of the rice.
After it is cooked, you can go wild adding whichever topping or seasoning you want to your vegan fried rice, but while you are making it, you want to ensure you go about it properly to ensure the flavor shines in this recipe!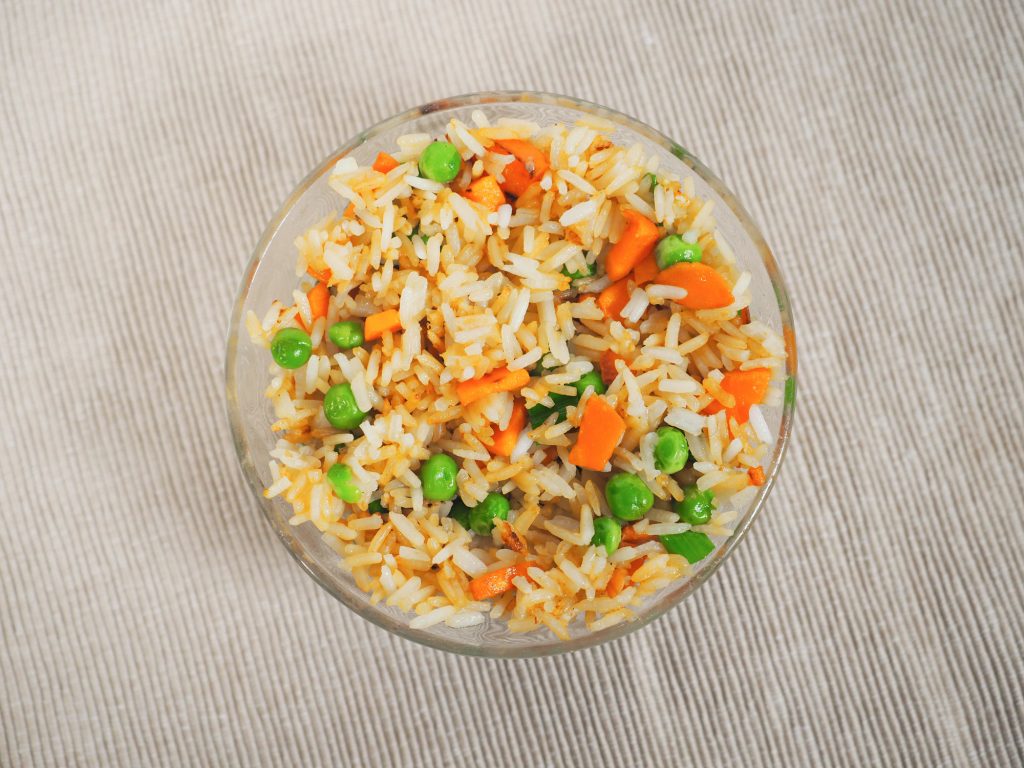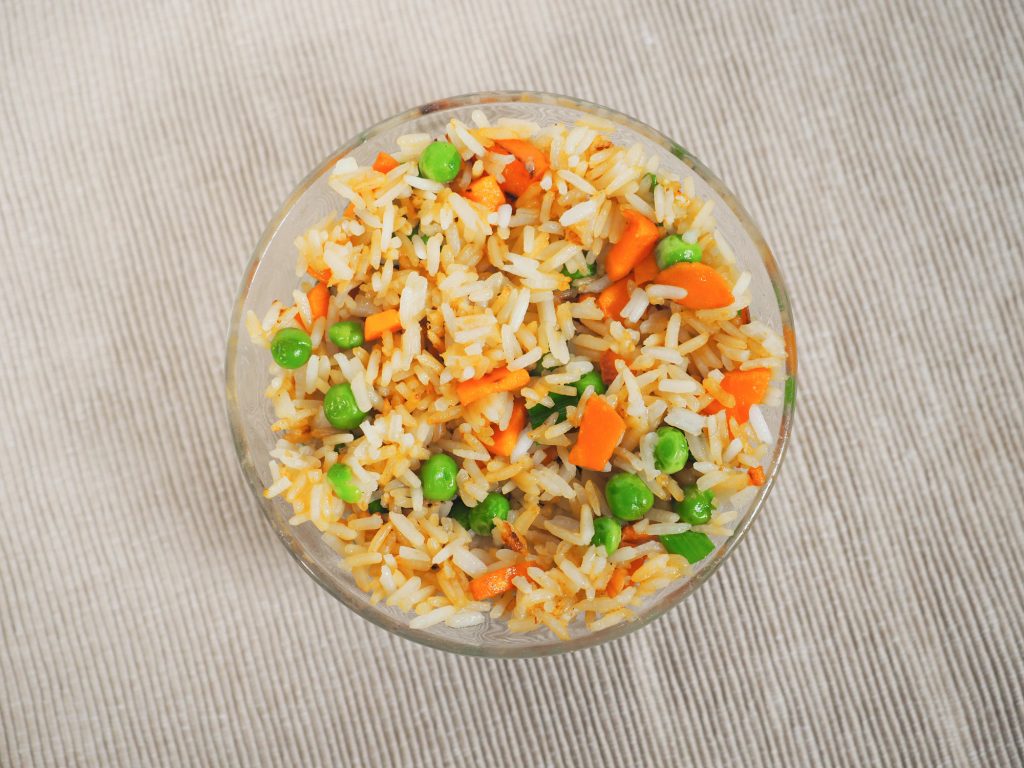 The Secret To Perfectly Cooked Vegan Fried Rice
The secret to making perfectly cooked vegan fried rice is the same secret I use to make crispy hash browns. It works the same exact way with rice.
You MUST wash the rice. Yes, you read that right. After you are done cooking the rice, you must wash the rice in cold water. I do it while the rice is in a strainer.
Washing the rice gets rid of additional starch and the starch is what keeps the rice from crisping up and becoming cooked to perfection. Trust me, one time I didn't wash it thoroughly and it ruined the recipe!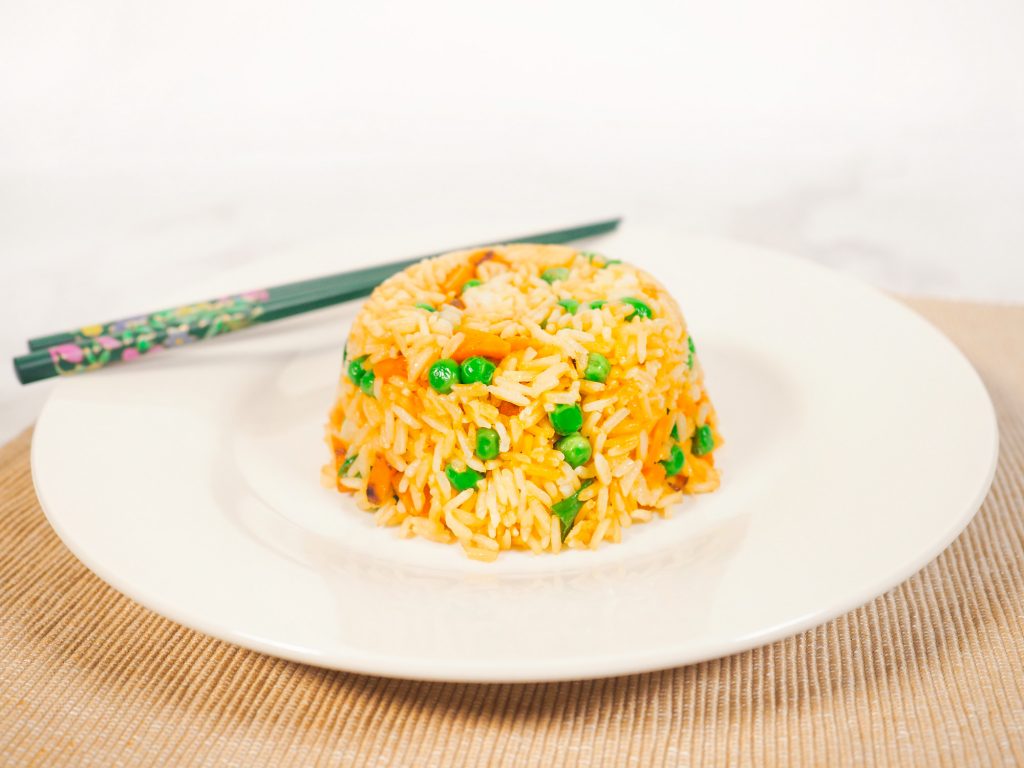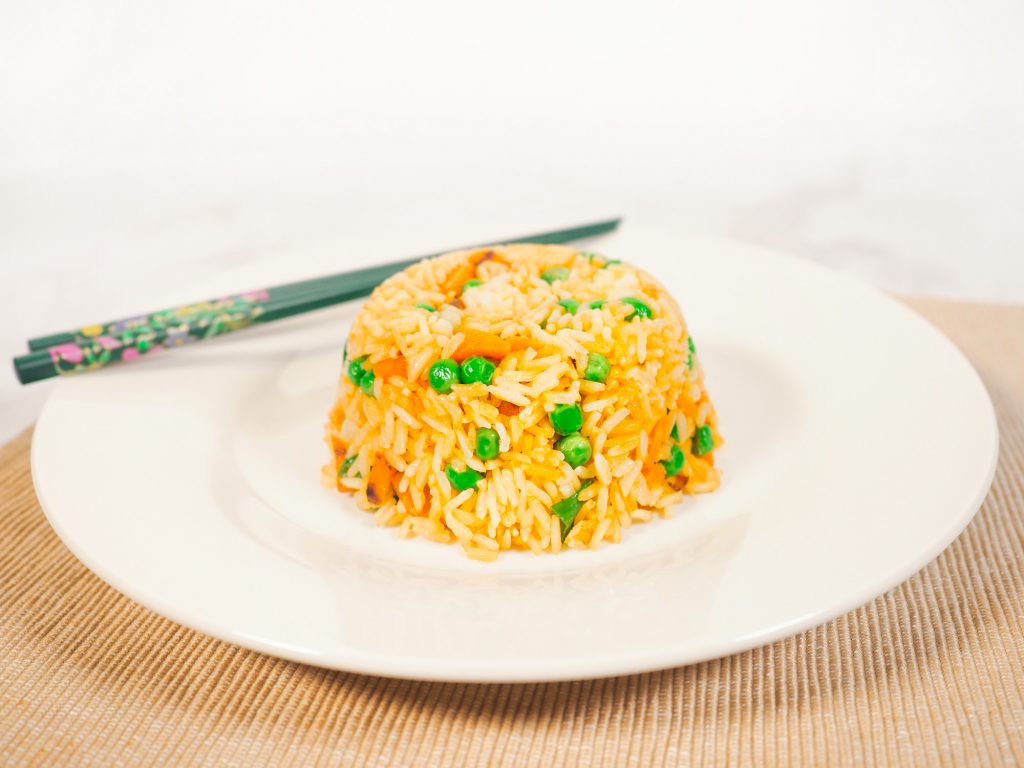 Most vegan fried rice recipes call for day-old rice, and day-old rice works well, but I never think ahead to get the rice ready that far in advance.
This recipe works the same exact way as day-old rice if you simply boil and cook your rice and then rinse it in a strainer in your sink.
You can visually see the "before" with all of the starch and the rice grains looking puffy and the "after" when the rice grains look thinner and harder.
It is essential to wash your rice when making this vegan fried rice recipe for the rice to crisp up perfectly!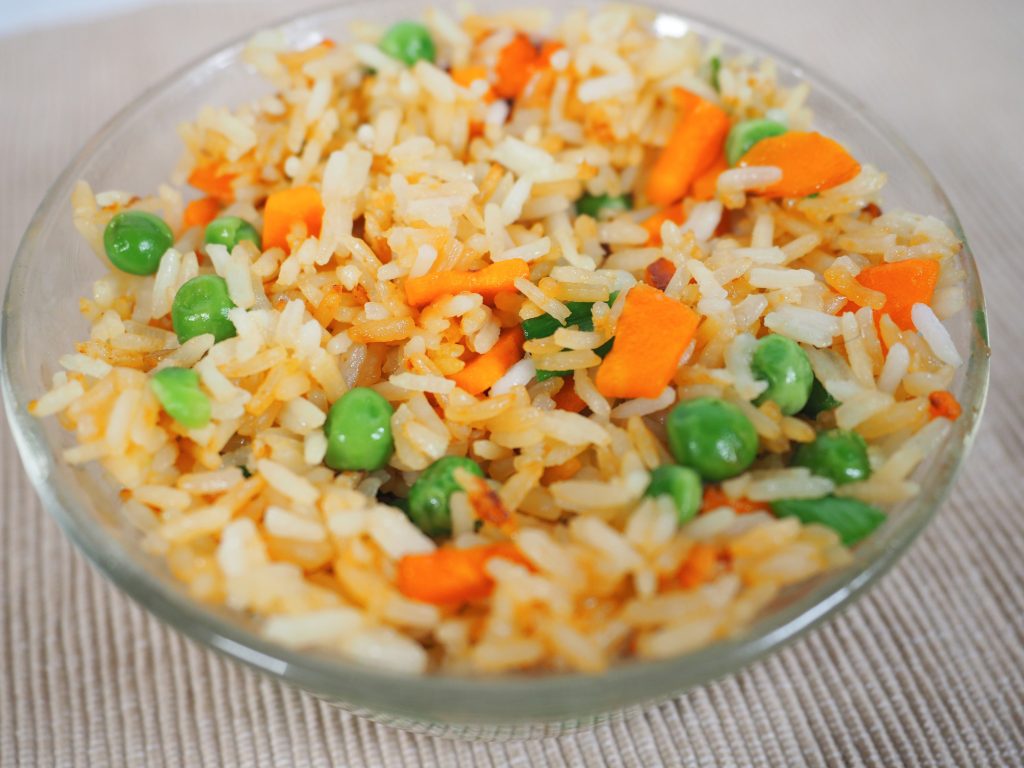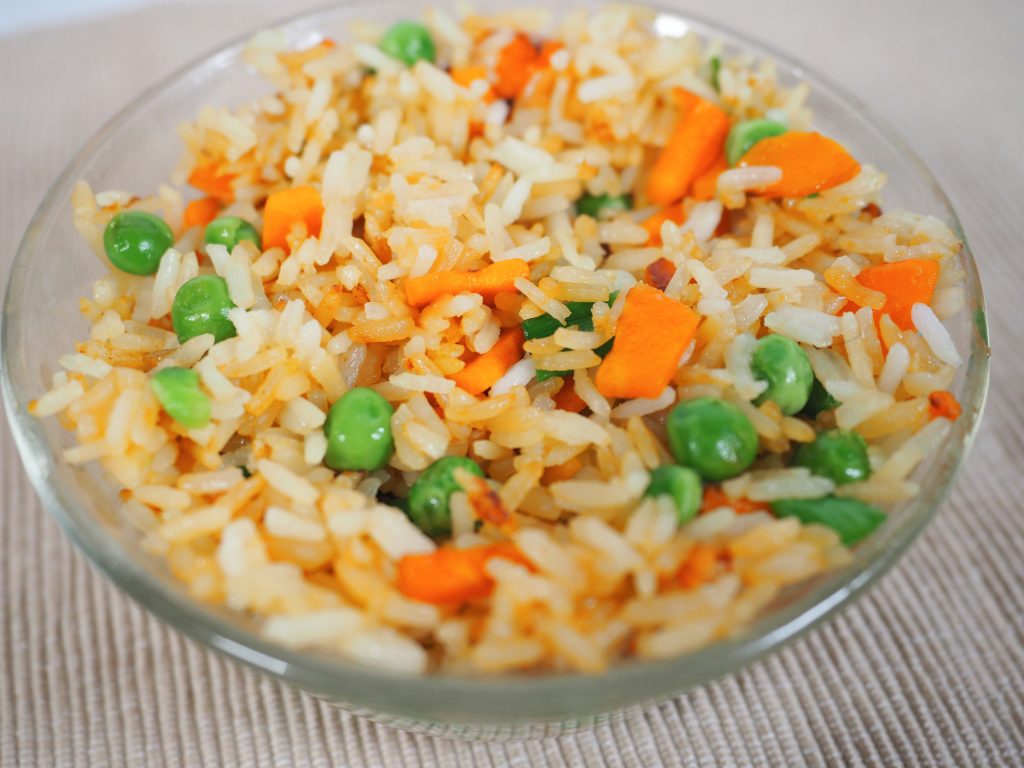 How To Make Vegan Fried Rice
First, you are going to want to cook and then wash your rice. You can let the rice "rest" for a few minutes while you prepare your pan.
I created this vegan fried rice recipe to be EASY so that anyone can make it with minimal difficulty. As a result, if you don't have a wok that is totally fine.
Any non-stick or cast iron pan works fine. I personally use a pancake griddle because it is nonstick and wide kind of like a mini hibachi grill!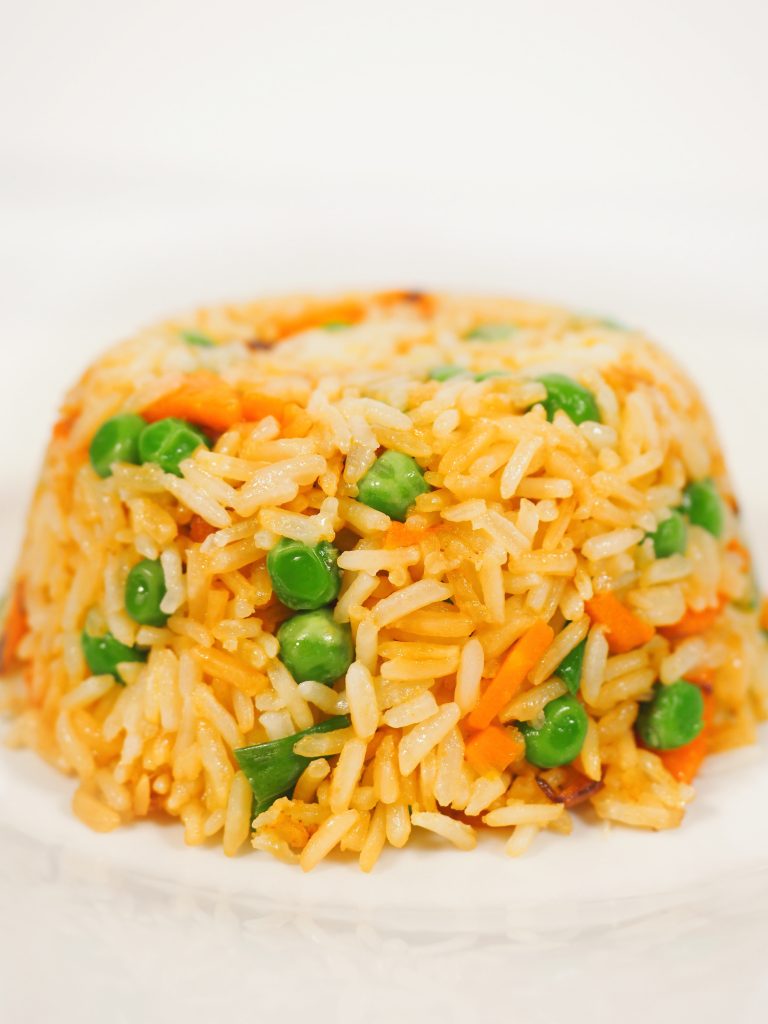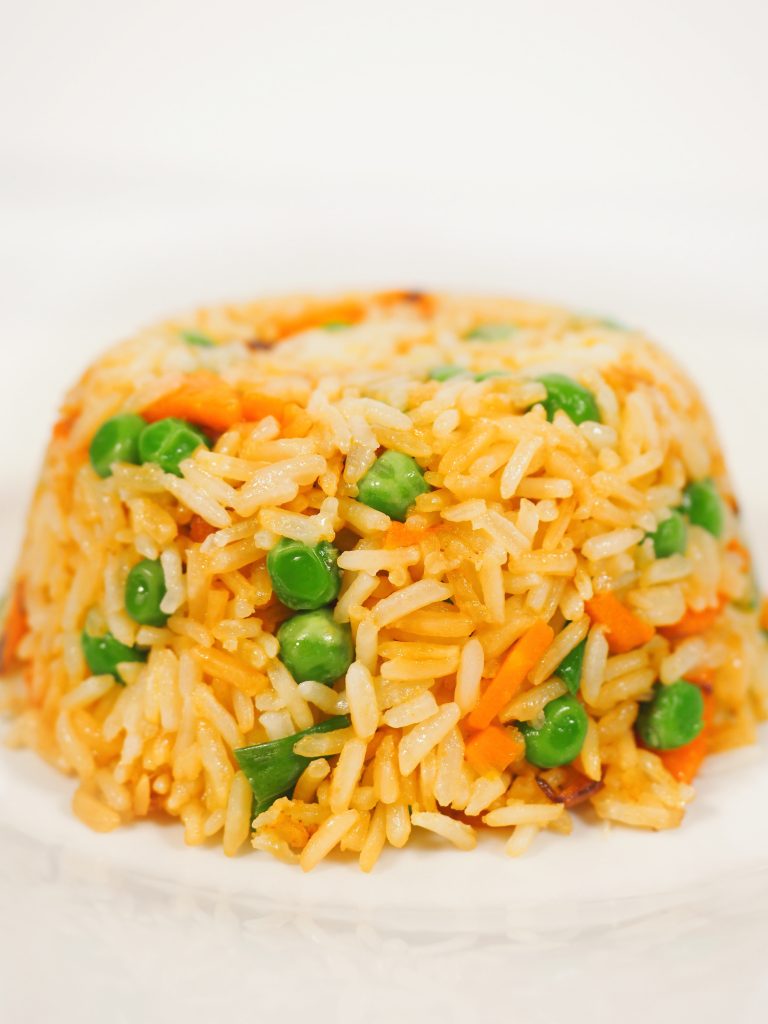 Next, you want you pan to be HOT HOT HOT! In China, stoves go much higher in heat than in western kitchens, so you are going to have to do the best you can.
You want to toast the rice nice and toasty! So having high heat is essential.
First, you want to cook your carrots if you are using fresh carrots. They will take the longest to cook. You can also add in onions, but I prefer to use Green onions/scallions at the end.
Next, add your rice. You want to ensure your rice isn't in a huge clump and is spread all around the pan. Mix to incorporate with the carrots. Once incorproated, add a small opening in the middle of the rice and pour in your frozen peas.
Mix to incoroproate again. At this point, your rice should be nice and toasty and a light brown color. Now you are going to add just 3 tablespoons of soy sauce.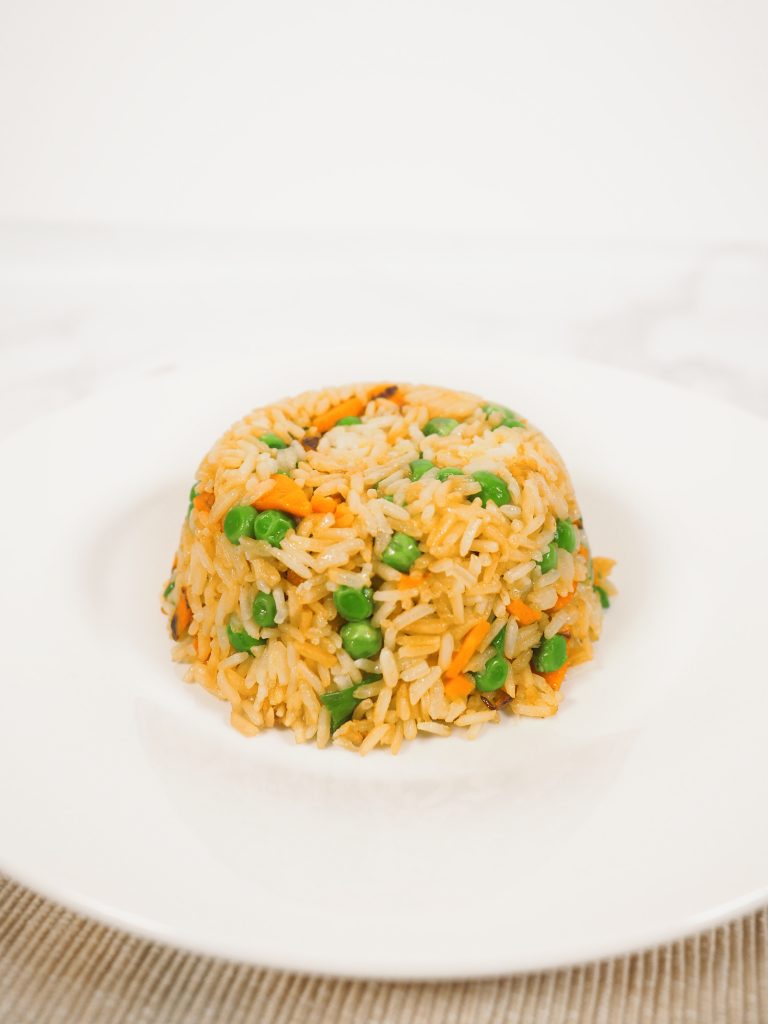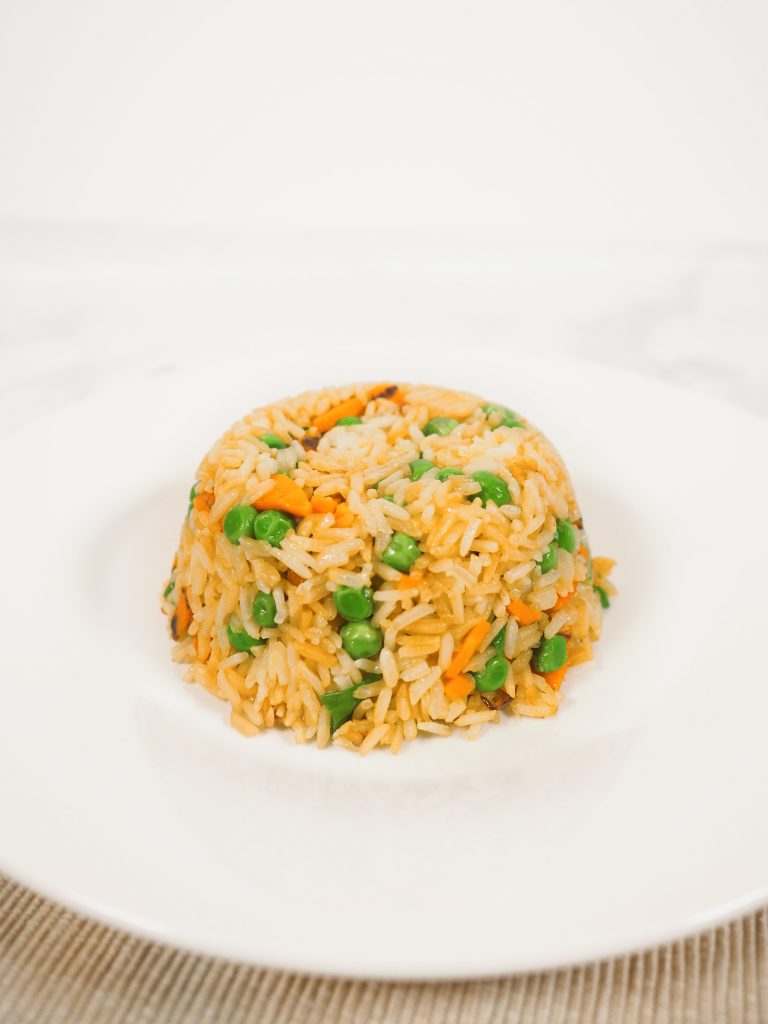 The key to this vegan fried rice recipe is letting the rice shine. We just went through all that work to wash the rice just to get it all soggy again with the soy sauce!
Once you stir in the soy sauce, you can top your veggie fried rice with green onions. You don't wan the green onions to be too cooked so add them at the very end. Green onions add a light and aromatic onion flavor without taking a toll on your digestion.
Serve this vegan fried rice recipe as a side with moo shu vegetables or let it shine as the main dish which is what I usually choose to do!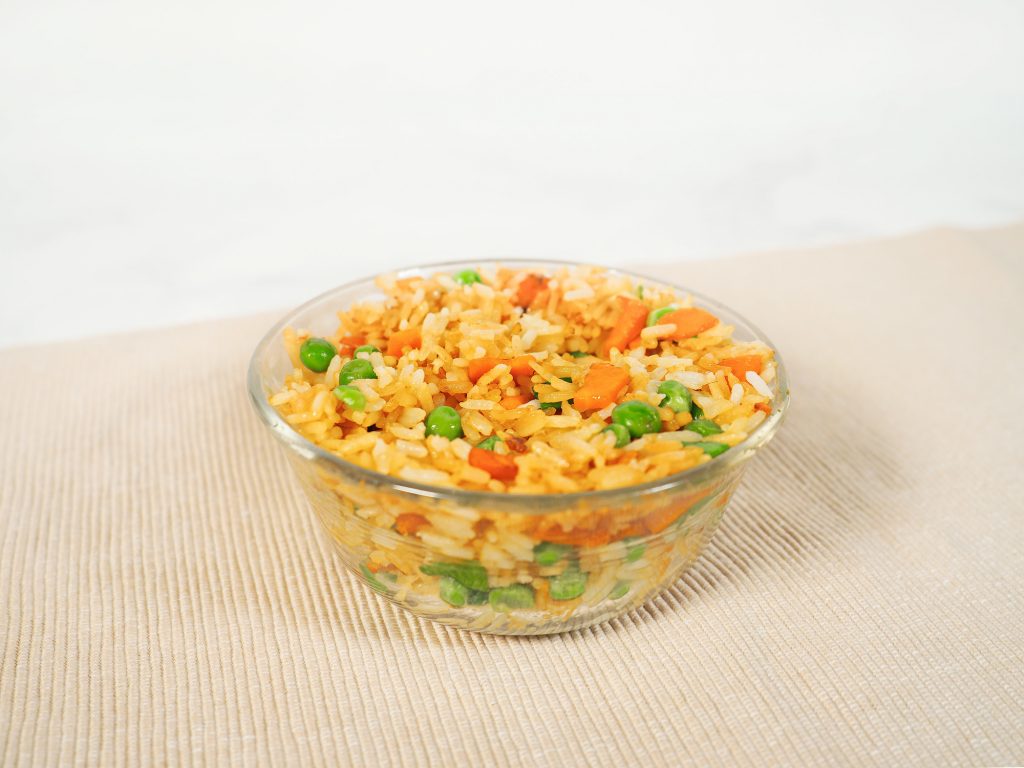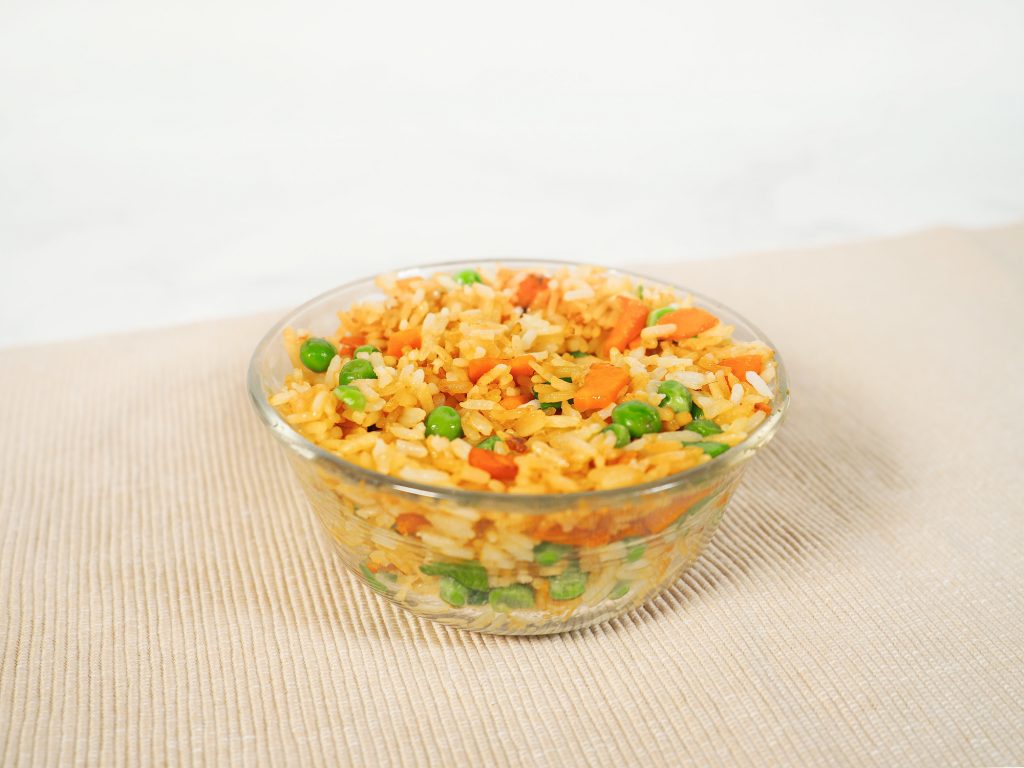 Yield: 3 Servings
5-Ingredient Vegan Fried Rice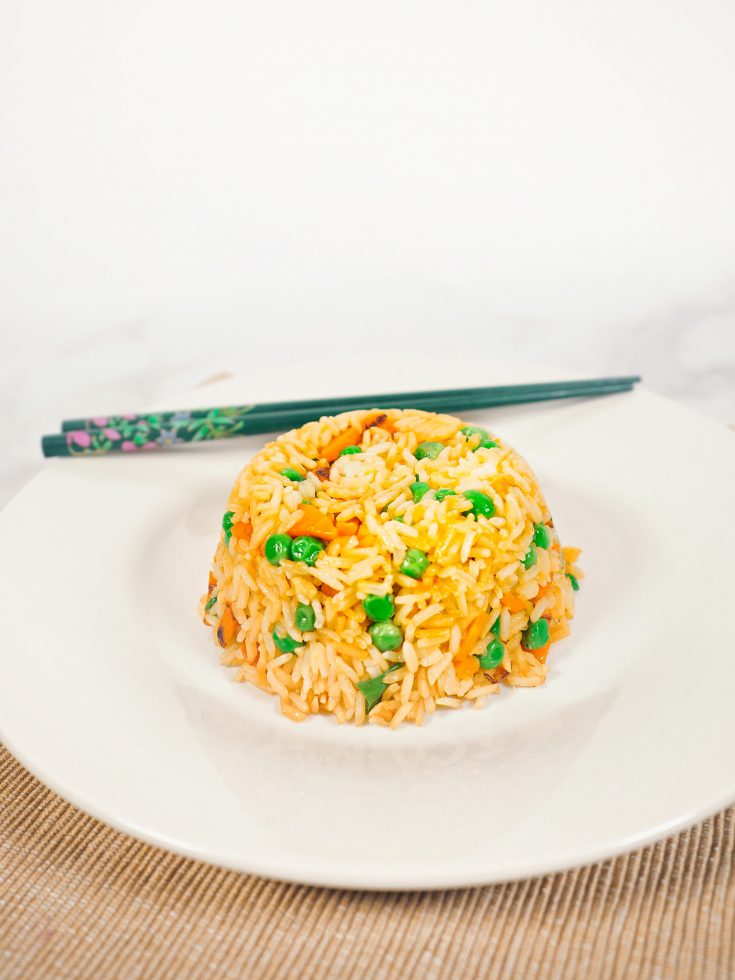 This easy vegan fried rice recipe uses just 5 ingredients! The key is to wash your rice and keep add-ins minimal so you can enjoy the aromatic flavor of this dish. Vegan fried rice makes the perfect side or main dish!
Ingredients
3 Cups Cooked Rice [or 1/5 Cup Uncooked rice]
1 Cup Of Frozen Peas
1 Large Carrot, Chopped Into Small Pieces
2 Scallions [top part only]
3 Tablespoons Soy Sauce
Salt to taste
Instructions
Wash your cooked rice in a strainer in the sink to reduce the starch. This allows your rice to get crispy. Let rice drain fully.
Heat a non-stick pan. griddle, or wok on very high. Cook the chopped carrot for 2 minutes or until aromatic.
Add in the rice, ensuring that it isn't in a mound and is evenly spread on the pan. Stir to combine the carrot and rice. Let cook while stirring until rice is light brown in color.
Make a well in the middle of the rice and add in the frozen peas. Stir to combine. Add in 1-2 teaspoons of salt.
Once peas are defrosted and rice is toasty, about 3-5 minutes, add soy sauce. Be careful not to add too much soy sauce.
At the very end of cooking, add in chopped green onion tops for added flavor.
Serve as a main dish or side dish. Add more salt and soy sauce to taste!
Notes
Vegan fried rice keeps well in the refrigerator in a sealed container for 3-5 days.
Nutrition Information
Yield
3
Serving Size
1
Amount Per Serving
Calories

72
Total Fat

0g
Saturated Fat

0g
Trans Fat

0g
Unsaturated Fat

0g
Cholesterol

0mg
Sodium

1119mg
Carbohydrates

13g
Fiber

3g
Sugar

3g
Protein

5g