Looking for the best under cabinet toaster oven that works but will also function well in your kitchen space? You are right where you need to be!
Toaster ovens are perfect for when you have a dorm, a small kitchen without an oven, or you'd just like to be able to conserve time and electricity – especially when cooking side dishes or single serving meals!
However, counter space – and kitchen space in general – are often limited. Regardless, you are probably going to want all countertop appliances you need to fit seamlessly into your kitchen and not awkwardly stand out or take up too much space on your countertop. Here's where under cabinet toaster ovens come in!
Under counter toaster ovens are specifically designed to fit inconspicuously into your kitchen. They maximize your counter space and won't look obtrusive since they are made to fit under or inside your cabinet.
So if you need an appliance that can take your cooking to the next level but is also space and energy efficient, welcome! I'm going to break down the best options for under cabinet toaster ovens so you can find exactly what you're looking for.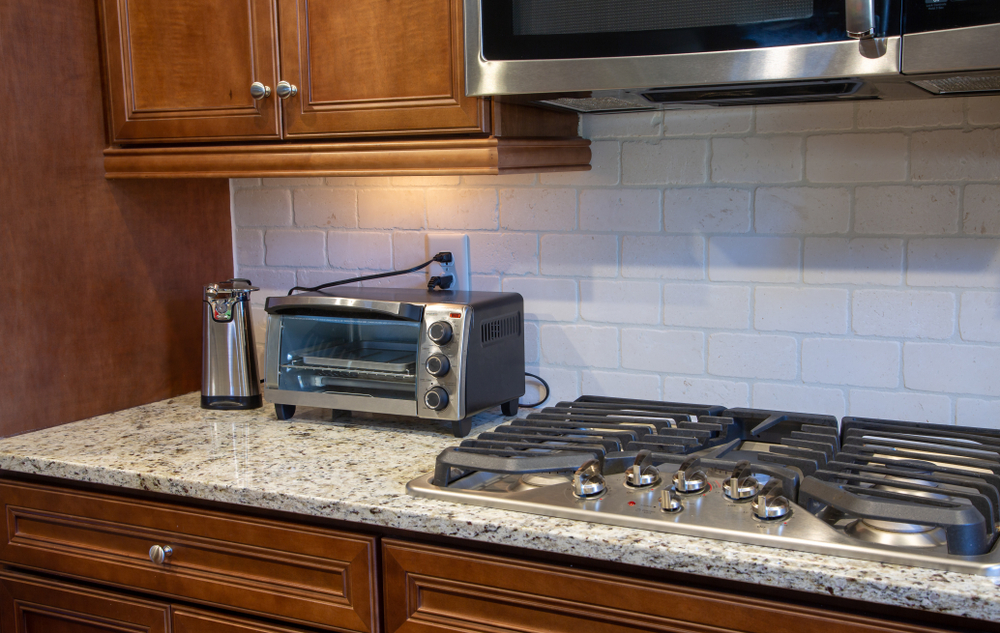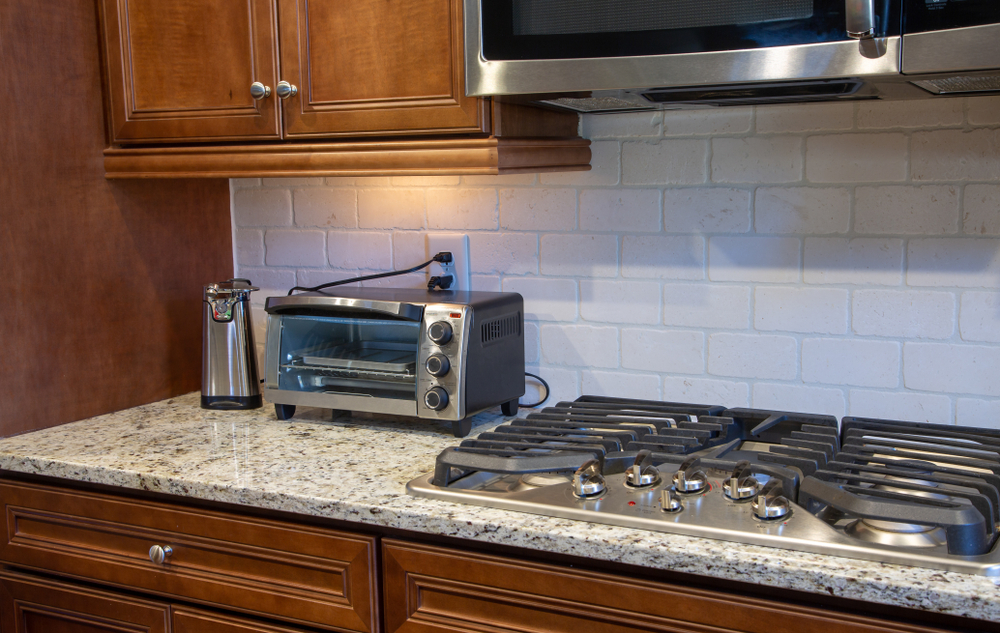 Benefits For Using An Under Counter Toaster Oven
There are so many benefits to having a toaster oven!
Under cabinet toaster ovens can help you free up counter space in your kitchen in more ways than one. They're not only designed to fit unobtrusively under your cabinet, they can also reduce the need for other countertop appliances, such as toasters, because of their multi-functionality!
They are also the perfect solution for you if you live in a small apartment or dorm without an oven. With an under counter toaster oven, you can still cook healthy meals at home. No need to dine out, eat at a cafeteria, or settle for subpar microwave meals.
Or maybe you do have a full size oven, but if you're a big foodie like me and you love to cook, you may find yourself wishing you could afford a gourmet kitchen with double ovens. Adding an under counter toaster oven will give you almost all the benefits of having a second oven, but at a fraction of the cost. And, it will feel like it's barely there since it's tucked away neatly under or inside the cabinet!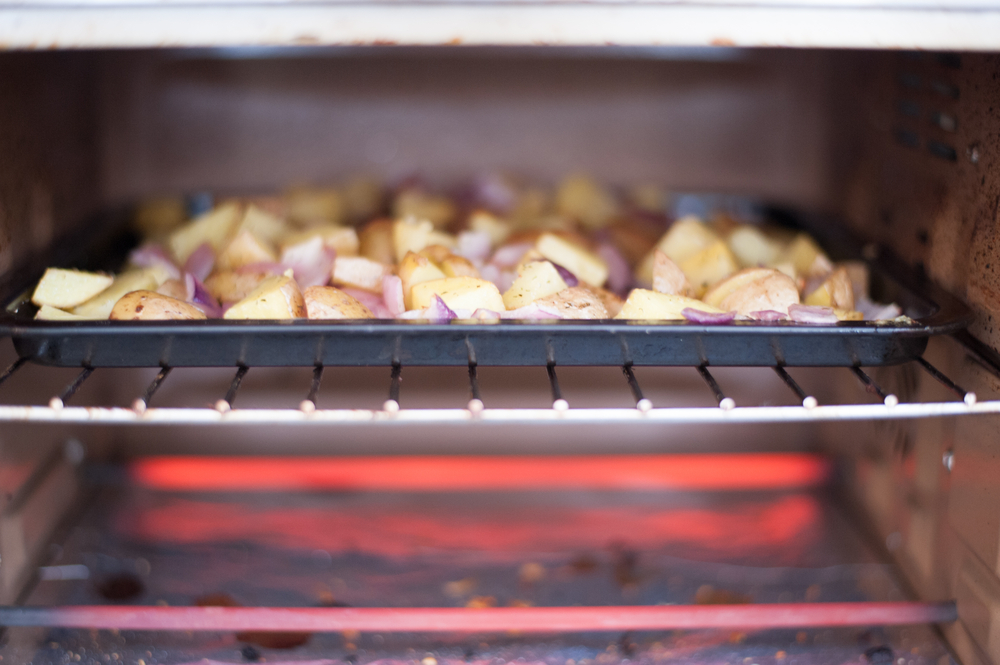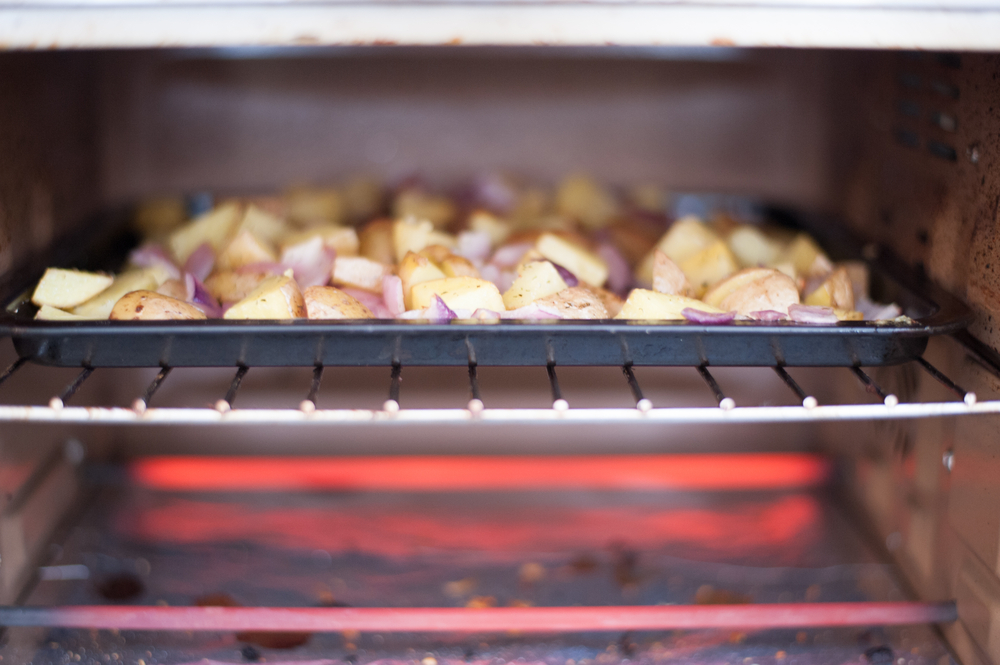 If you live in a warm climate, you're most likely also familiar with the unwanted added heat turning on a big oven will bring to your kitchen. Due to the convenient compact size of an under cabinet toaster oven, sweating profusely from the heat in your kitchen will be a thing of the past.
And of course, toaster ovens are simply more energy efficient than full size ovens, with the ability to cook your food faster and more evenly since the heat is distributed throughout a smaller area.
Things To Consider When Choosing The Best Under Counter Toaster Oven
When deciding which under cabinet toaster oven to buy, you will need to ask yourself which specific benefits you are really looking to get out of your new appliance. Here are what I found to be the most important factors:
First, check the size. You will need to ask yourself what kind of foods you're looking to use your toaster oven to cook, and how much you usually cook. Are you cooking for yourself? Or would you like to be able to throw in a casserole dish for dinner to feed the family?
Although all under counter toaster ovens are already designed to be a certain size to fit in your kitchen, some are still big enough for you to cook a pizza, or even a cake!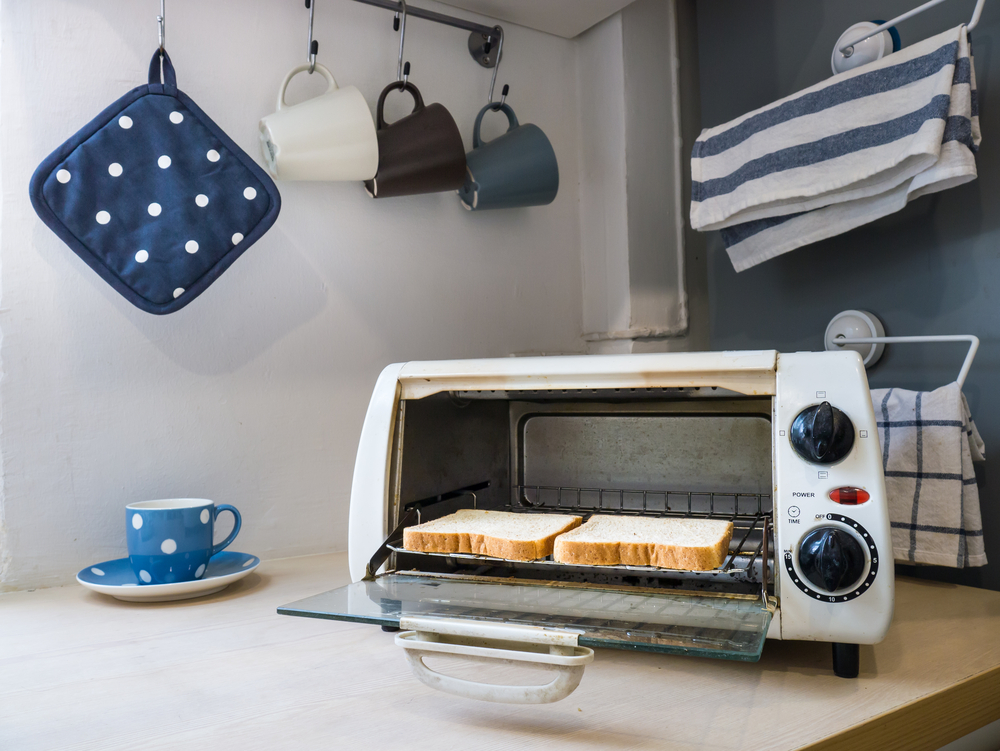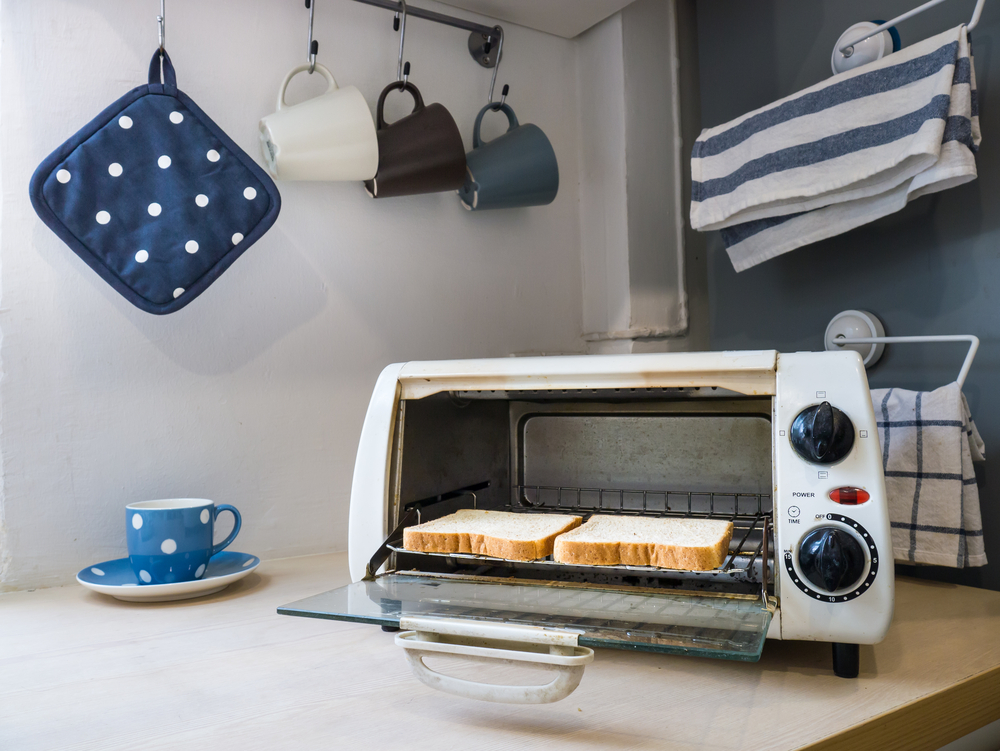 Which functions would you like your under cabinet toaster oven to have? Do you want to cook meals, or will you just be heating up leftovers? Are you going to use it to bake cookies more often? Toast bread? All of the above? Make sure it has the functions you will need (bake, broil, toast), as well as a sufficient temperature range.
Another important thing to consider is ease of use, especially if you plan to use it often. Many models have preset buttons for cooking specific foods, but some people may prefer to control the exact times and temps themselves. Most also have convenient auto shutoff features, which is great for peace of mind and safety.
And if you want one that's super easy to clean, check to see if there are nooks and crannies that would be hard to get into. Paying attention to how user-friendly and easy to clean the toaster oven is are especially important if you intend to use it daily, so you should consider how often you will be using it.
Just as you would want with a regular oven, you also want to be sure that your under cabinet toaster oven has effective heating capacity. It should do a good job of heating your food evenly, so that part of your food isn't overcooked while some is still cold!
And of course, you will also have to determine your budget. You will have to decide which features and functions are most important to you to decide which under counter toaster oven is right for you and your family.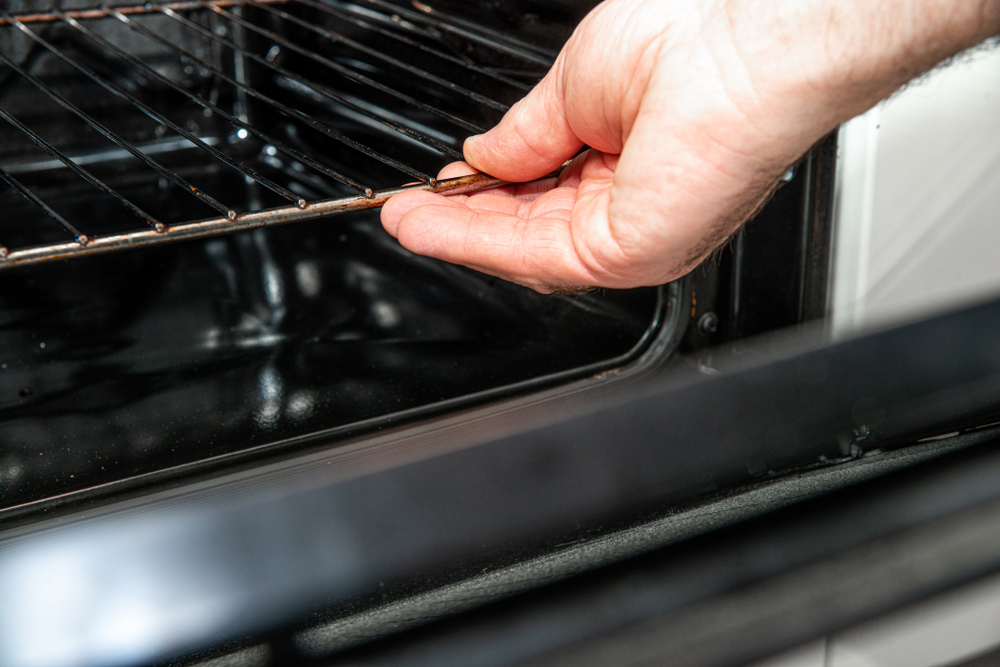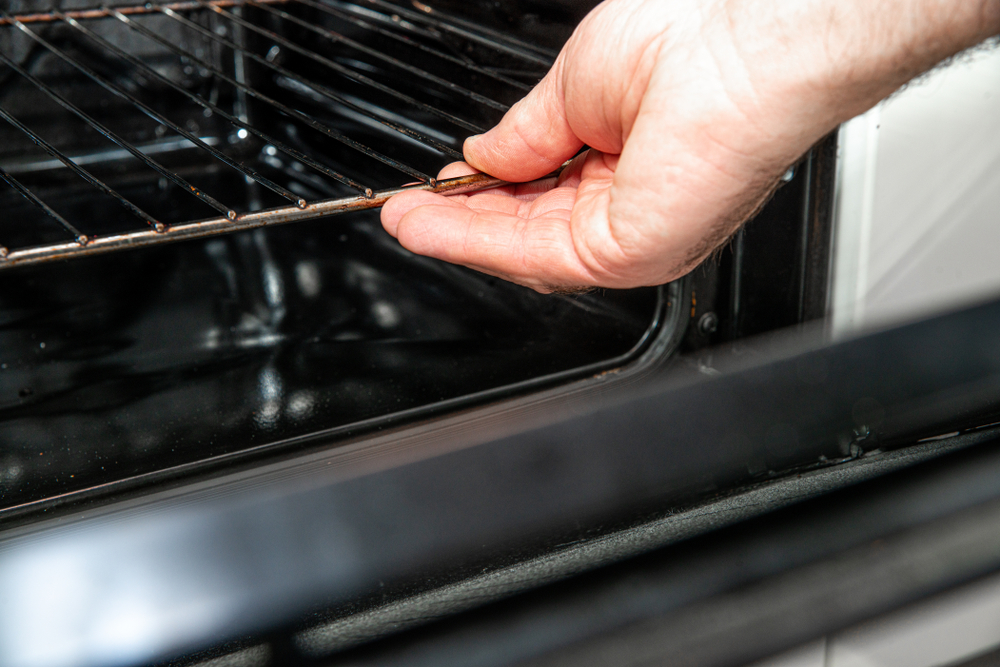 7 Best Under Cabinet Toaster Ovens
Breville Smart Oven Pro Convection Toaster Oven
There are so many good things to say about the Breville Smart Oven Pro 1800 W Convection Toaster Oven! Amazon has almost three and a half thousand reviews on it and what's more, over 80% of them give it 5 stars!
This model has just about every benefit you could want. It's big enough to cook 13″ pizzas and toast 6 slices of bread. With ten different presets for cooking as well as separate temperature and time controls, it's extremely straightforward and easy to use.
Other really convenient features include an interior light, an easy to see LED screen, a hook on the oven door that pulls the rack out for you when you open it, a removable tray underneath the oven for easy cleaning, and even a rack placement guide on the door for different uses!
One issue mentioned in reviews was the difficulty of replacing the thermal fuse, although it was cheap to buy a new one. I did see someone mention there are actually many tutorials for how to do it on YouTube, and that they believe it's not actually as hard as it seems.
As expected, this under cabinet toaster oven is one of the most expensive ones. However, it seems to be well worth the money, so if your budget allows and you plan to use it often, it would be a great investment!
Black+Decker 4-Slice Toaster Oven
If you're looking for something on a smaller, more affordable scale, the Black + Decker 4-Slice Toaster Oven that's a #1 bestseller on Amazon may be just what you're looking for! At only $39.99, I had to find out if it was a good buy. It had just under 4 stars for its average, not too shabby for such a cheap price!
This model is perfect if you're cooking for yourself or on a tight budget! The interior fits a 9″ pizza or cake pan, and as the name implies, it can toast four standard size slices of bread at once. It is not very tall though, so you would be limited on what you can bake without the food being too close to the heating element on top! And with both a drip pan and a removable bottom, this toaster oven would be easy to maintain!
It has three dials: timer, temperature, and function, and there are four simple functions for cooking – bake, broil, toast, and keep warm – but no presets, which makes it hard to get consistent outcomes since time and temp have to be set manually each time.
Overall heating capacity seemed to be good! This under counter toaster oven has two heating elements, and is 1200 watts, and most users reported that it did a good job of cooking food evenly.
In short, if you're looking for something that is super affordable and you just want an under cabinet toaster oven that can dependably cover the basics for you, I think this is a great option!
Cuisinart Chef's Convection Toaster Oven
From a well-trusted kitchen brand, this Cuisinart Chef's Convection Toaster Oven is an excellent model that competes with the Breville but is easier on the wallet!
With 15 different functions, you can cook pretty much whatever you want! And not only can you cook whatever you want, you can also cook as much of it as you want! This toaster oven is super spacious as it can fit a 13″ pizza, a 9″ by 13″ baking sheet, and can actually toast 9 slices of bread at once! It's the ultimate family size that will make cooking so much easier.
And while you might think that having so many functions would make it rather complicated and difficult to use, it's actually quite simple and very user friendly! An LED screen clearly displays all the functions, and there is only one dial: for choosing which function you want.
There are additional features that enhance its ease of use in other ways as well. There's a button you can press to add 30 seconds to the cooking time if you need something cooked just a little bit more, as well as a button for the light so you don't have to open the oven door to be able to see the food. This model also has a rack-ejecting door and a removable tray underneath to make cleanup easy.
This model has over one thousand reviews, and almost everyone had positive things to say about it. One complaint I saw come up multiple times was the quality of the exterior however, as the labels on the buttons wore off really fast.
So in summary, while this under counter toaster oven may have cut corners in some areas of production such as the buttons and the labels on them, it gets the job done quite well for an extremely reasonable price. You even get a 13″ pizza stone with it!
Hamilton Beach Countertop Toaster Oven
The next under counter toaster oven I believe is worth mentioning is a Hamilton Beach Countertop Toaster Oven that goes back on the smaller spectrum of ovens! It's also very affordable, but still has excellent ratings with a 4.5 star average out of a thousand reviews!
The standout feature on this model is the innovative door. Instead of opening downwards the same as a regular oven, it rolls back and over the appliance, conveniently allowing for easier access to the food inside the hot oven and reducing the chances of burning yourself on the door.
Looks are rather deceiving for this oven; it seems small but can still fit a 12″ pizza, a 9″ by 11″ baking pan, and toast 6 slices of bread. This under cabinet toaster oven is also extremely simple and easy to use. It has four simple functions – bake, broil, toast, and convection – and has three contoured knobs to easily choose function, temperature, and set the timer.
The design makes cleaning a breeze as well. Since the door rolls up and away from the oven, the door will stay cleaner than a conventional toaster where you'd be pulling the food out of the oven over the open door. I love that the removable crumb tray at the bottom also makes keeping the interior clean easy as well!
All of these features make this a great small oven for someone who just wants something simple but effective to fix small meals with. It's an excellent buy for the price!
Cuisinart Convection Toaster Air Fryer
An Amazon's Choice appliance, the Cuisnart Convection Toaster Air Fryer is well established with over four thousand reviews, almost 75% of which were 5 stars!
Although I already have an under cabinet toaster oven model from Cuisnart on this list, this one was just too good not to add to include. It's specially designed to be an air fryer, taking this a step above other toaster ovens. Spacious enough on the inside to cook just about anything you want, it can fit everything from a 12″ pizza to 3 lbs of wings to a 4 lb chicken!
The oven has 7 functions, and it is pretty easy to control. Four dials allow you to set the function, temperature, and timer, and the extra is specifically for toast so you can select how dark you would like your toast to be. It has a power light and an interior oven light you can turn on and off with a button so you don't have to open the oven to check on your food!
Size is something to consider though as this model is somewhat larger than other under counter toaster ovens. The good news is that this one is more insulated and only gets warm to the touch, so it's less of a fire hazard than other typical toaster ovens!
Although bigger and bulkier, I think this model is perfect for people looking to free up some counter space because it combines an air fryer, toaster, and convection oven into one, dependable appliance!
Oster Toaster Oven & Digital Convection Oven
The Oster Toaster Oven & Digital Convection Oven is a moderately priced, yet well-sized and highly reviewed toaster oven! It actually has the most reviews of all the ovens on this list coming in at just under five thousand!
What I noticed first about this oven is that it is the most stylish looking of all the under cabinet toaster ovens I saw, with a sleek, black exterior. It has a nice, compact shape that makes it appear smaller than it is, as it can actually fit a 12″ pizza like other bigger models, and toast 6 slices of bread.
It has a little digital screen/clock accompanied by clearly labeled buttons that make it resemble a microwave. This design is super user friendly and it would be a really easy transition for someone who is used to using a microwave often!
There are 7 functions, you can control the temperature with plus and minus buttons, and you can even stop and start the cooking if you need to check on the food. There's also a button to reset the clock and turn on the interior light. Cleaning is also very easy as the removable crumb tray and rack are dishwasher safe!
This toaster oven is perfect if you are on a budget, but still want a moderately sized oven and plan to get a lot of use out of it!
Panasonic FlashXpress Compact Toaster Oven with Double Infrared Heating
This futuristic-looking under counter toaster oven just had to make it on the list! The unique shape and style of the Panasonic FlashXpress Compact Toaster Oven with Double Infrared Heating grabbed my attention and its performance kept it!
The Panasonic is 1300 watts and so isn't as strong as some of the other models we've looked at, but it's heating capacity was excellent and it preheated very quickly. The double infrared heating does a great job of ensuring even cooking, and the oven can fit a 9″ inch pizza and four slices of toast.
The layout of the front is quite different from other toaster ovens as well. The digital timer is controlled by arrows, same as the temperature, and there are also 6 cooking presets including toast, waffles, and frozen pizza so that all you have to do is press a single button and have your food cooked perfectly every time.
User friendliness is also enhanced by the removable crumb tray and easy to clean interior. The only real issue I found could come up with maintenance is if a heating light needs to be replaced. The parts can be ordered but it takes some dismantling to put the new one in.
This under cabinet toaster oven would be a great fit for someone who is looking for a midsized oven that is efficient and will simplify their daily cooking tasks!
Toaster ovens are such a fantastic addition to any kitchen! I hope this guide was helpful to you in determining which under cabinet toaster oven will be the perfect fit for your kitchen space and lifestyle!