If you are looking for a fresh spin on whipped coffee, dalgona matcha is the place for you! In case you didn't know, Dalgona Whipped Coffee is all the rage! You can make it using just 4-ingredients and it is satisfying to watch the transformation.
If you already tried Dalgona coffee, you may love a Greek Frappe next which I personally love even more than whipped coffee! Either way, you are coming here to learn how to make Dalgona Matcha.
The process for dalgona matcha coffee is easy, but VERY DIFFERENT than from normal whipped coffee. If you made dalgona whipped coffee using the recipe above or one similar, get rid of everything you know. Of course, you have to still whip the coffee, but that is about it!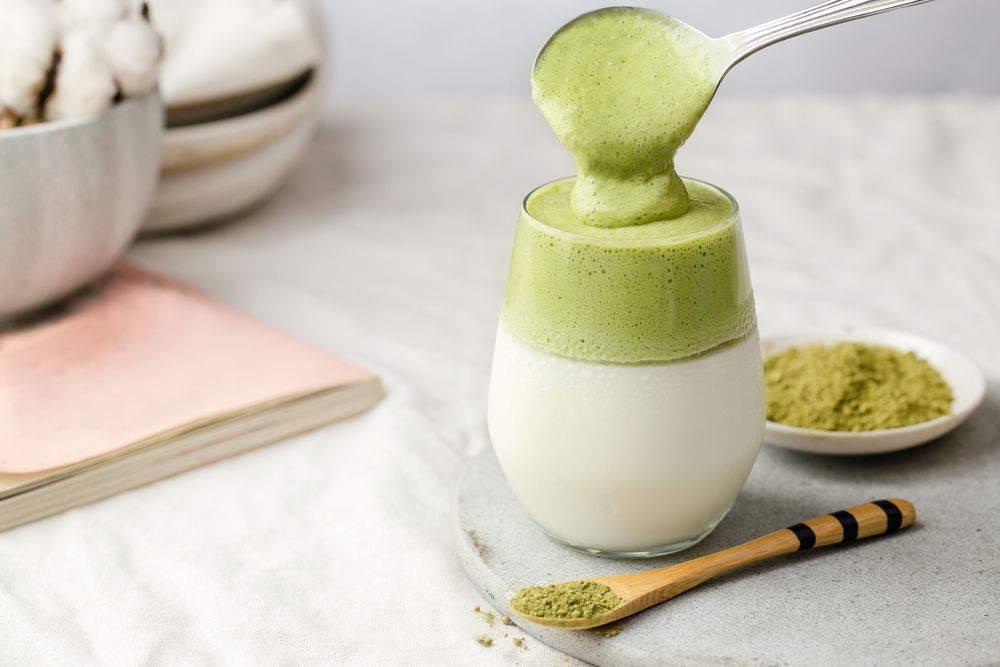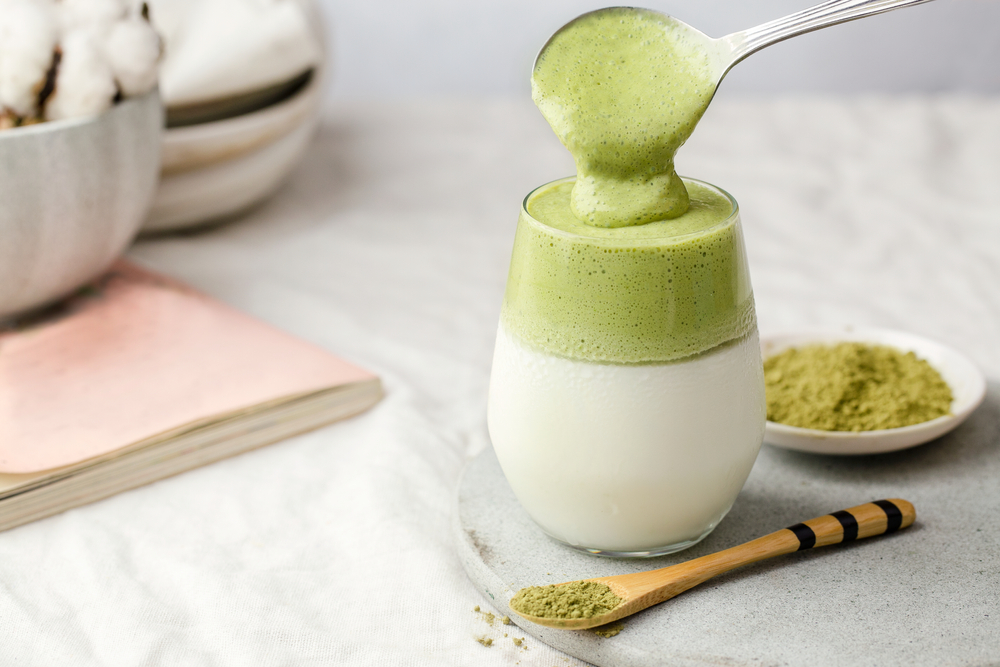 What To Use When Making Dalgona Matcha
When making this dalgona matcha coffee recipe, I 100% recommend having a hand mixer. It makes your life so much easier and is so much faster! You can buy a hand mixer for about $30 on Amazon so please save your arms and go this route!
If you do not have a hand mixer and you don't want to buy one, you CAN use a good old-fashioned whisk. My friend in London did this and said it took her about 20 minutes of hard mixing. She went out the next day and bought a hand mixer from the local store.
I also heard that it takes anywhere from 450-500 whisks in order to make the dalgona matcha coffee recipe successful! If you are looking to up your arm strength, then maybe you want to go this route. As for me, I used my mom's hand mixer that is older than I am and it was well worth it!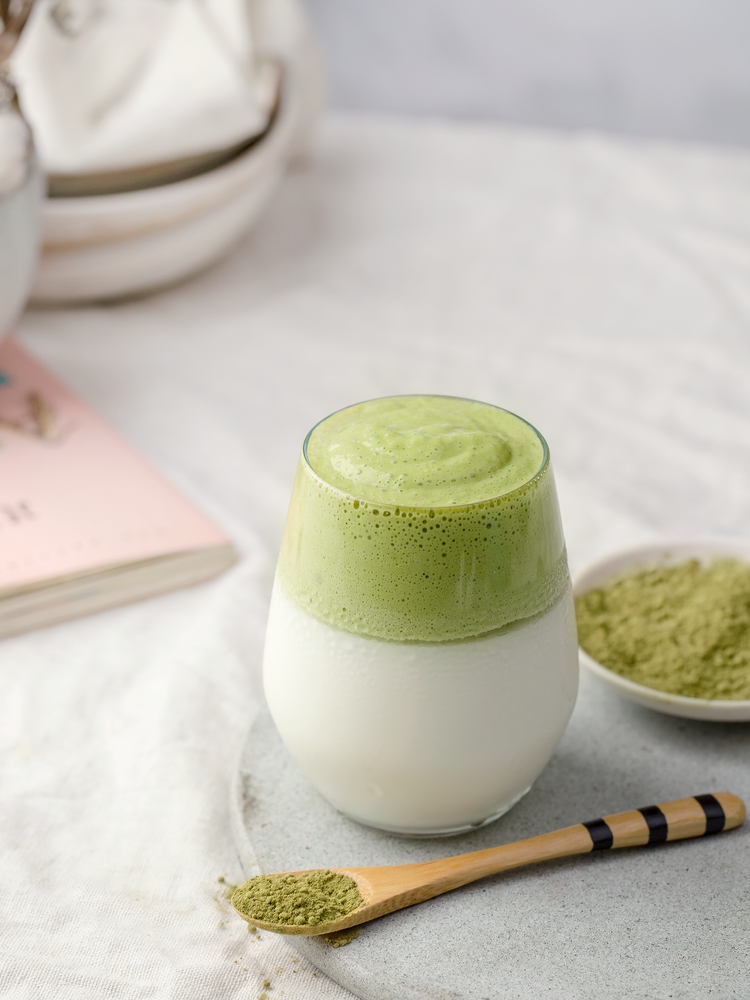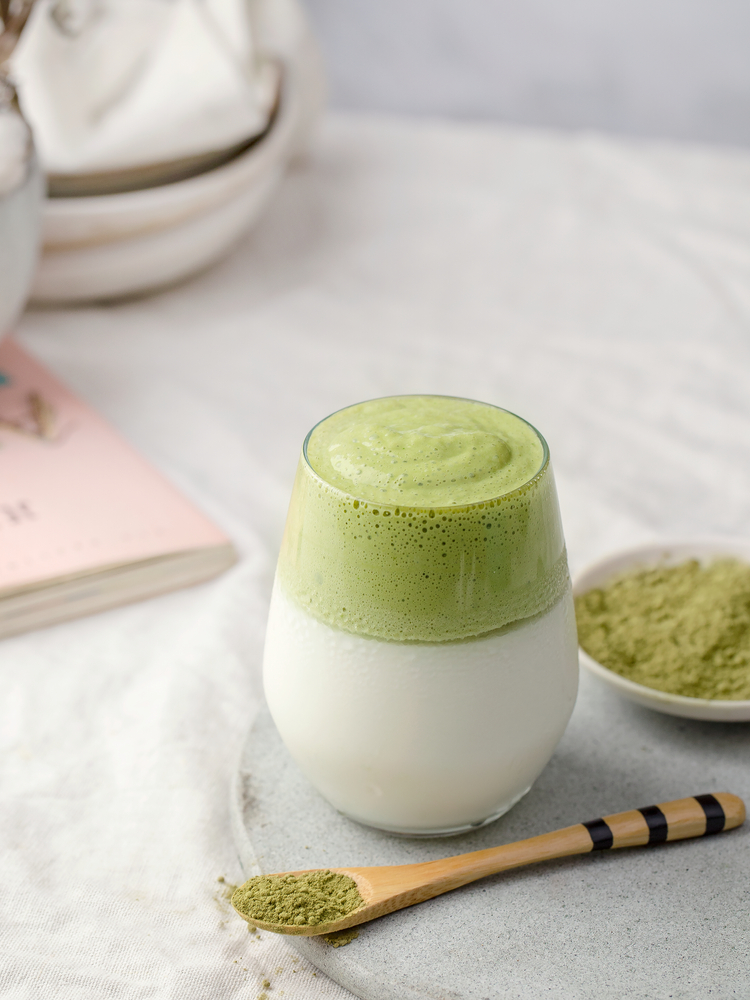 Ingredients For Dalgona Matcha
What makes dalgona matcha different from regular whipped coffee is the ingredients.
First, you will need matcha powder of course. You can by this online or from your local grocery store. Even stores like Walmart or chains usually have matcha powder. It is on the more expensive side, unlike the instant coffee.
Next, matcha poweder will NOT whip up like icing on its own like the instant coffee will. I have no idea why and after many failed attempts with cocoa poweder, I decided to go the route of making the matcha like icing.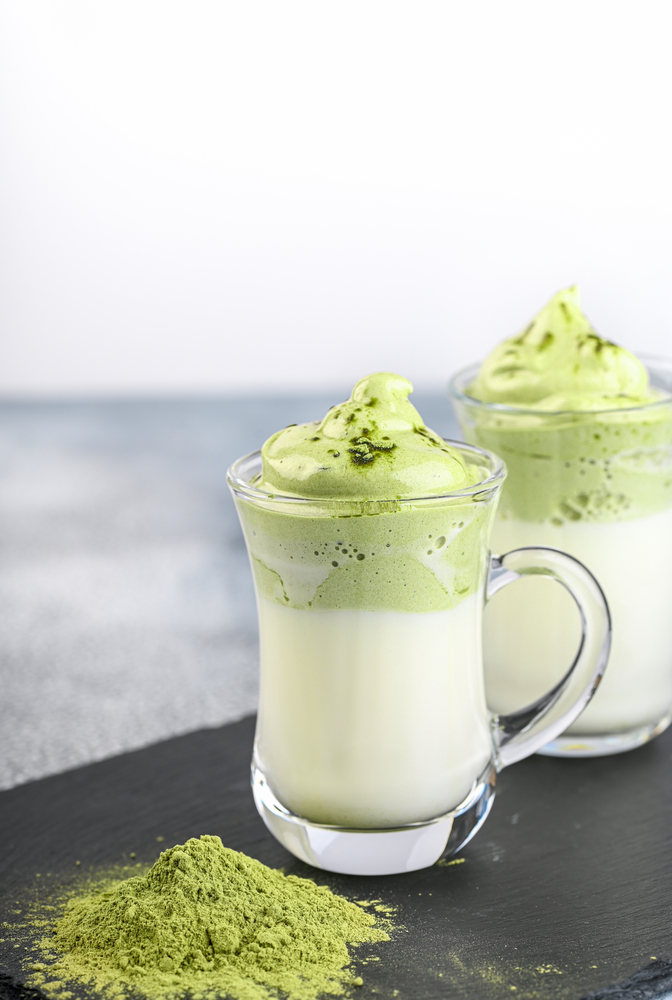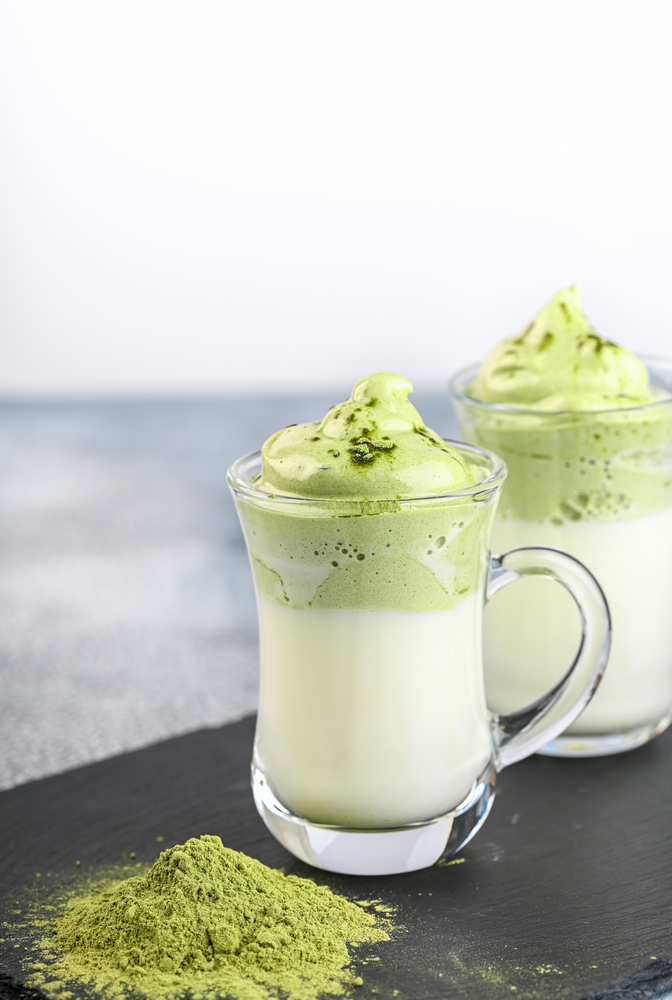 Enter coconut cream! This is what is going to make your mixture "whip up" to get the dalgona matcha look you are looking for. Coconut cream is a vegan staple to use when whipping up foods that I have used for years.
You can also use an egg white if you don't care about a vegan dalgona matcha drink, but coconut cream lends for a lovely flavor and I do recommend it. It also whips up very well! Raw eggs do present possible food safety issues, so know that before choosing an egg white to make your dalgona matcha.
If you cannot find a can of coconut cream, you can make it yourself. To make coconut cream, just get a can of coconut milk in the fridge and use the hardned mixture in order to ensure you get a good whip.
You can ALSO use aquafaba which is the liquid left over from draining a can of chickpeas. Weird, I know, but it works and is the key ingredient in recipes such as my Vegan Chocolate Mousse or when making Vegan Biscotti! It whips up quite well too and doesn't have a coconut flavor.
Of course, you will need the sugar of your choice! This can be anything, I usually just use plain white sugar!
Finally, you will need milk and ice cubes if you want your dalgona matcha to be cold!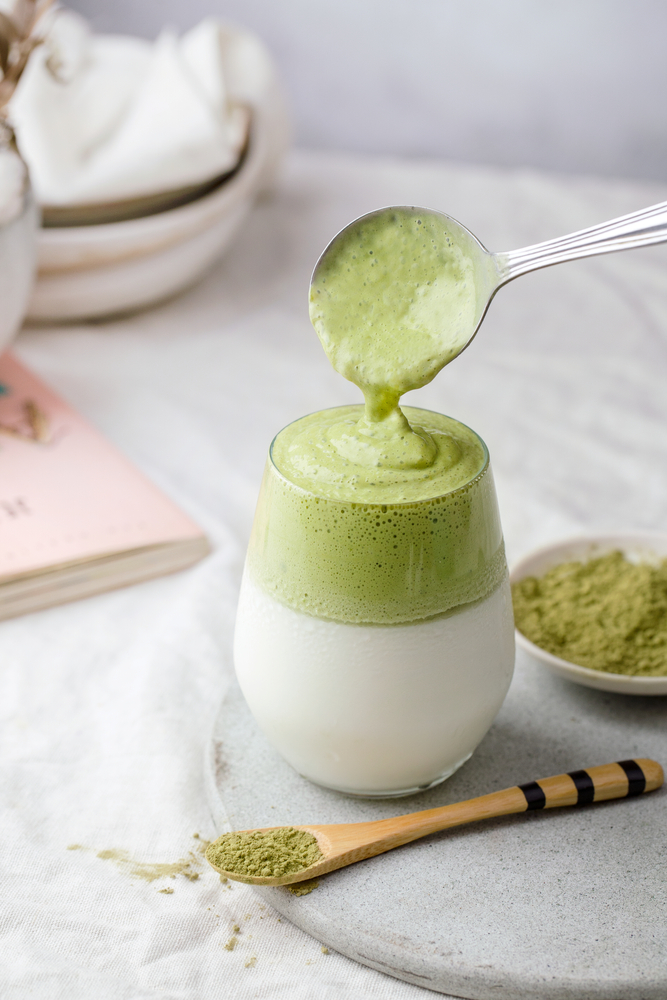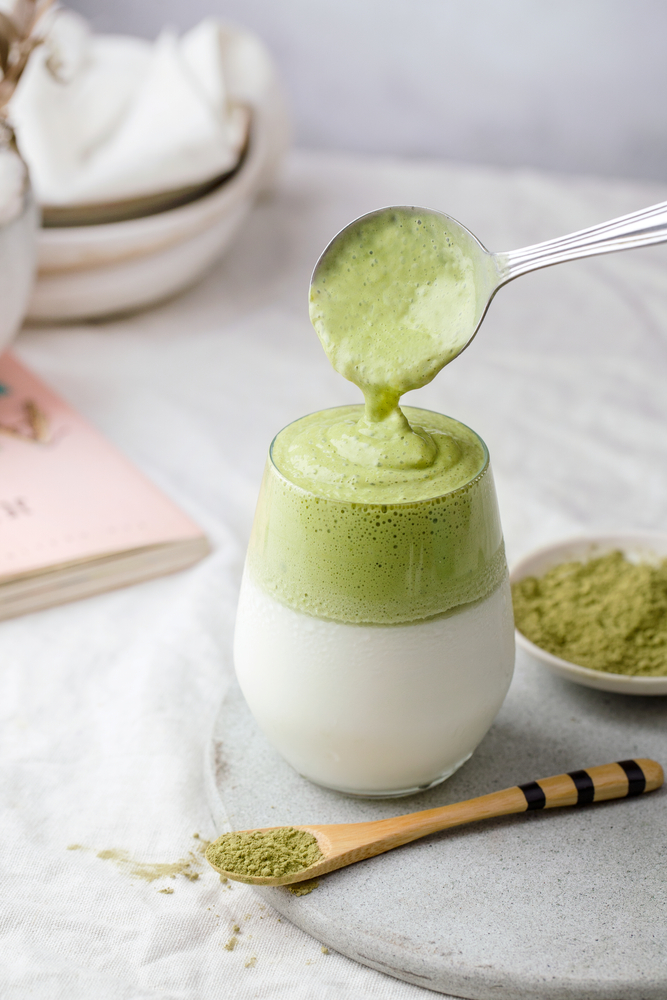 How To Choose The Milk For Your Dalgona Matcha
Your choice of milk 100% does not matter for the base of your dalgona matcha recipe. That being said, I do recommend a plant-milk instead of regular cow's milk for a thick and creamy texture!
I used a combination of almond milk and cashew milk, and I also used flax milk. If you want an added kick of flavor to your dalgona matcha recipe, I recommend trying vanilla almond milk or the vanilla non-dairy milk of your choice.
Once again, vegan milks are the popular choice for dalgona matcha due to the fact that they are a bit thicker than regular cow's milk so they hold up better and mix with the whipped coffee better!
You can also choose to make your milk hot or cold! If you prefer a warm drink, simply warm your milk up on the stove beforehand! It is the perfect cozy drink, but I prefer the iced version because I will drink iced matcha no matter how cold it is!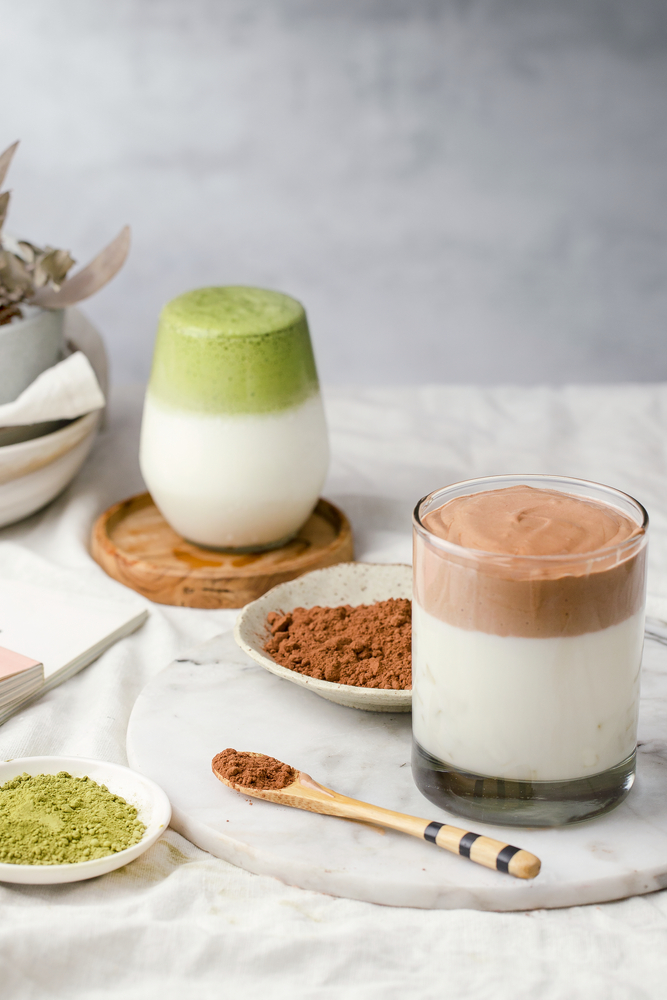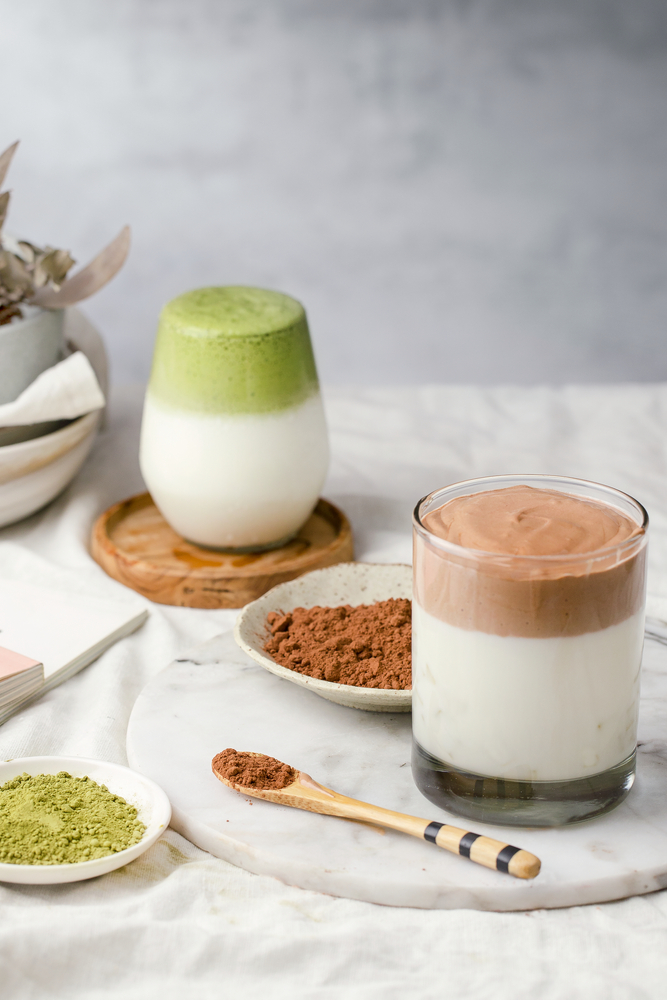 How To Make Dalgona Matcha
The key to making dalgona matcha is to add ingredients in layers, unlike how you make regular whipped coffee. I learned this the hard way after spending 2 hours in the kitchen trying to work on chocolate whipped coffee.
First, you are going to want to use a whisk or an electric mixer and whip the egg white/aquafaba/coconut cream until it starts looking like whipped cream.
This usually takes between 2-5 minutes of constant whipping with a hand mixer, but it will take even longer if you are working with a hand whisk. Keep this in mind!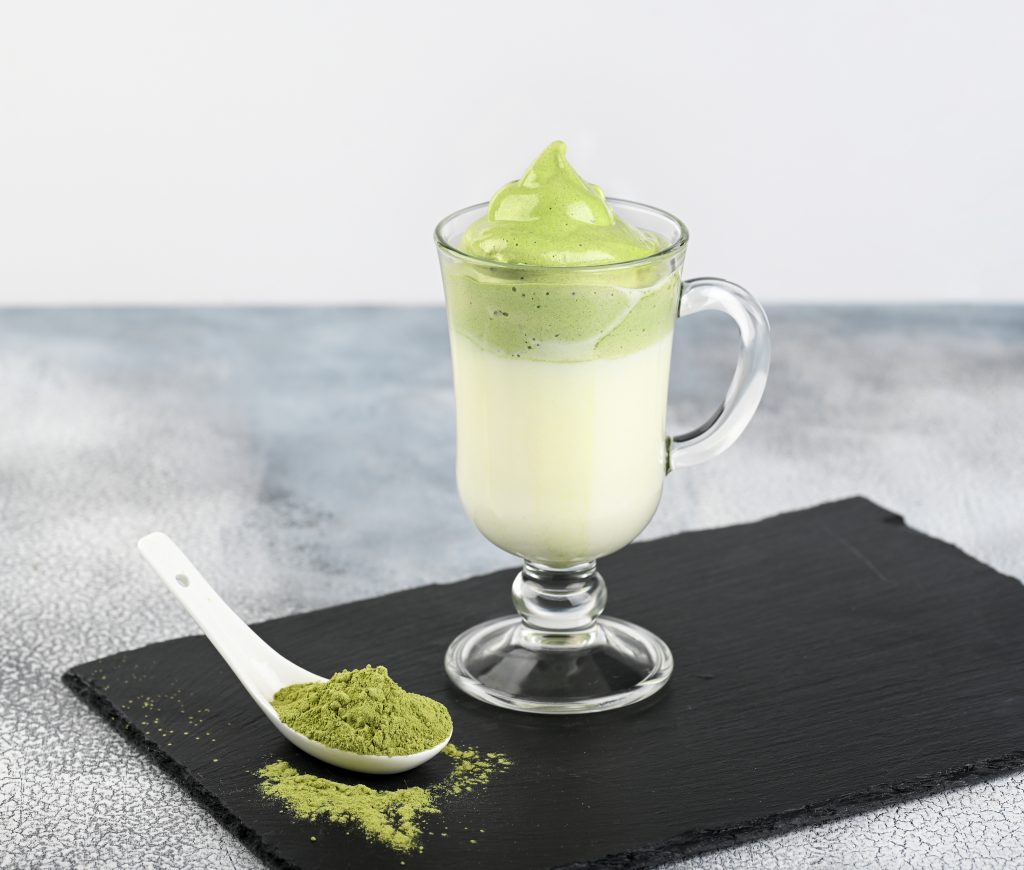 Once your base acheives the consistency that you want, go ahead and sprinkle your sugar over the creamy texture while you keep whipping. If you add the sugar and matcha at the beginning with the aquafaba/egg/coconut cream, this will not come out coffectly.
It must be added in steps!
Whip the sugar a little longer and then sprinkle the matcha poweder over the whipped base to combine. You want to add the matcha poweder last. If you add it first, the recipe won't whip up and you won't acheive the dalgona matcha texture you are looking for.
Once you add the matcha, whip a little bit longer and then pour over a glass of iced or hot milk. That is it! You just made dalgona matcha!
Making dalgona matcha is just as easy as making dalgona coffee, you just need to do it slightly differently by using a different base.
As I said above, you can choose between egg whites, aquafaba, or coconut cream. Whichever one you have on had is fine as all three work well. Then whip it up and add the sugar and then finally sift the matcha in! Enjoy!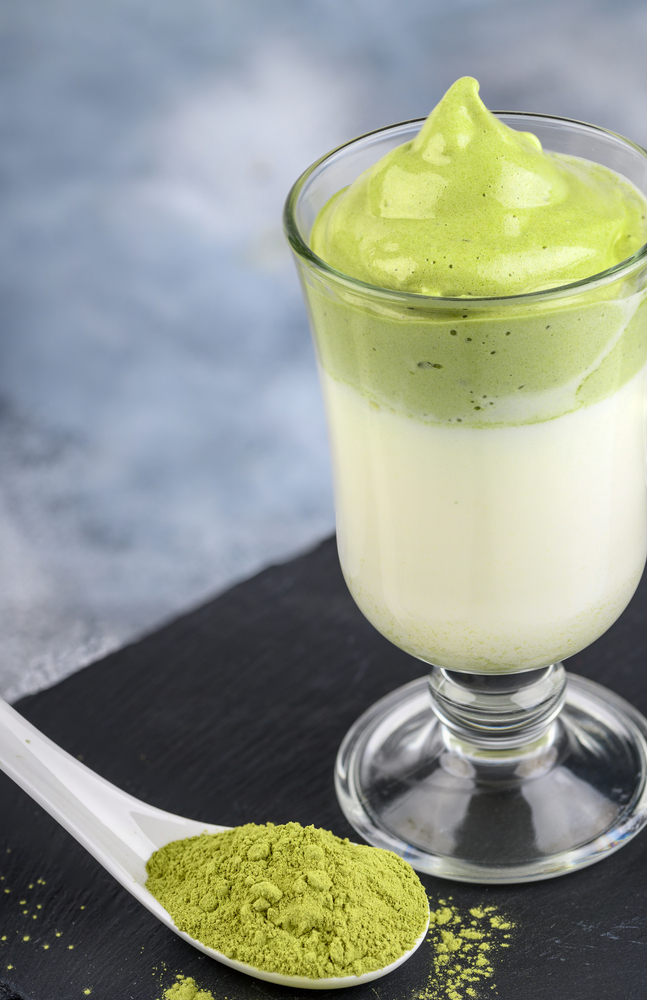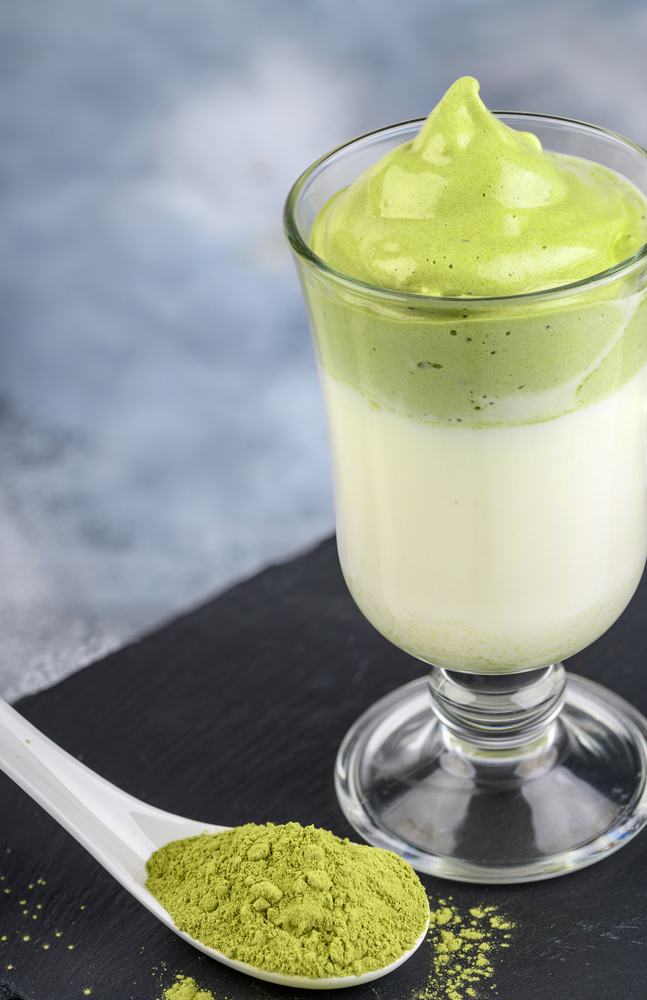 Yield: 1
Easy Dalgona Matcha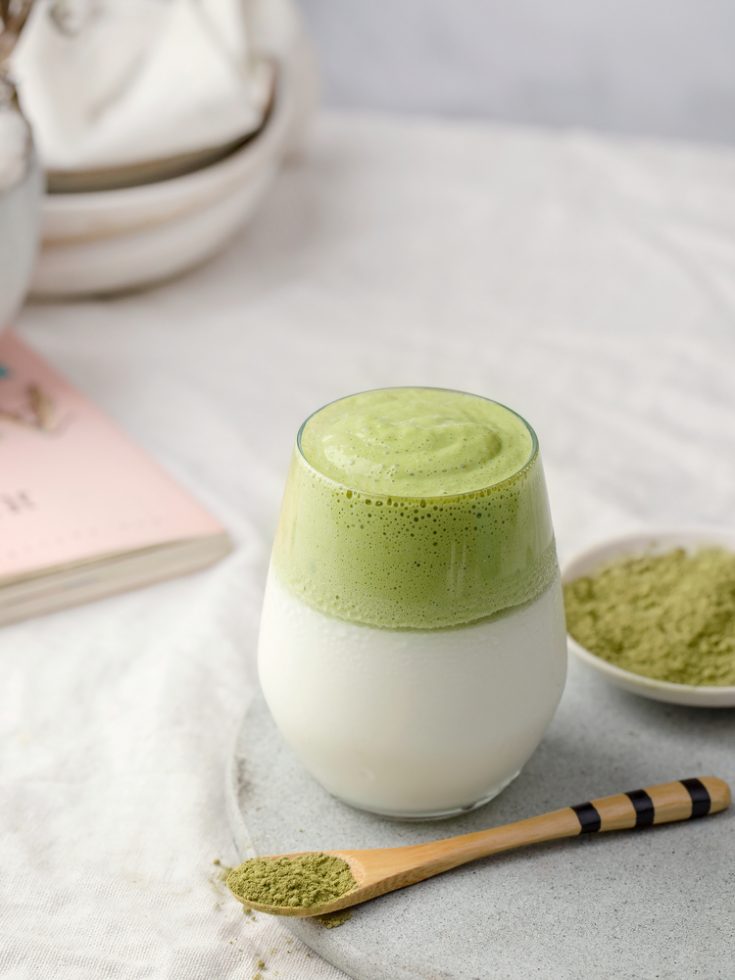 This whipped dalgona matcha recipe is a tasty take on the popular dalgona coffee trend. You can customize the base using dairy or non-dairy choices and it is very easy and simple to make. Dalgona matcha will take your afternoon drink break to the next level! Plus, it looks pretty too!
Ingredients
Choose one: 1/3 Cup Coconut Cream OR 1 Egg White OR 3 Tablespoons aquafaba [liquid from chickpeas]
1 Tbsp Sugar OR 1 scoop of stevia
1 tsp matcha powder
Milk of your choice
Instructions
Whip your "base" of either aquafaba, coconut cream, or egg whites in a bowl and whip on high until it begins to look like whipped cream. About 2-5 minutes. If you use a whisk, it may take up to 10 minutes.
When peaks begin to form, sift in sugar and whip to combine.
Once sugar is combined, sift matcha powder over the whipped mixture and whip to combine.
Add milk or creamer to a cup and taste your milk "base" and add sugar to taste. Top with whipped dalgona matcha. If you want to serve this hot, warm your milk ahead of time!