This confetti grilled cheese with tomato is so tasty and easy to make! It literally takes 5 minutes to cook up.
My boyfriend also thinks that this is the best Tomato grilled cheese recipe ever and has asked me to make it every day for lunch until the end of time!
I call this recipe confetti griled cheese because when you cut the finished sandwich, the inside looks like confetti because of all of the fun colors!
There are a few things that make the flavors shine in this recipe and that set it apart from other tomato grilled cheese recipes you may have made in the past.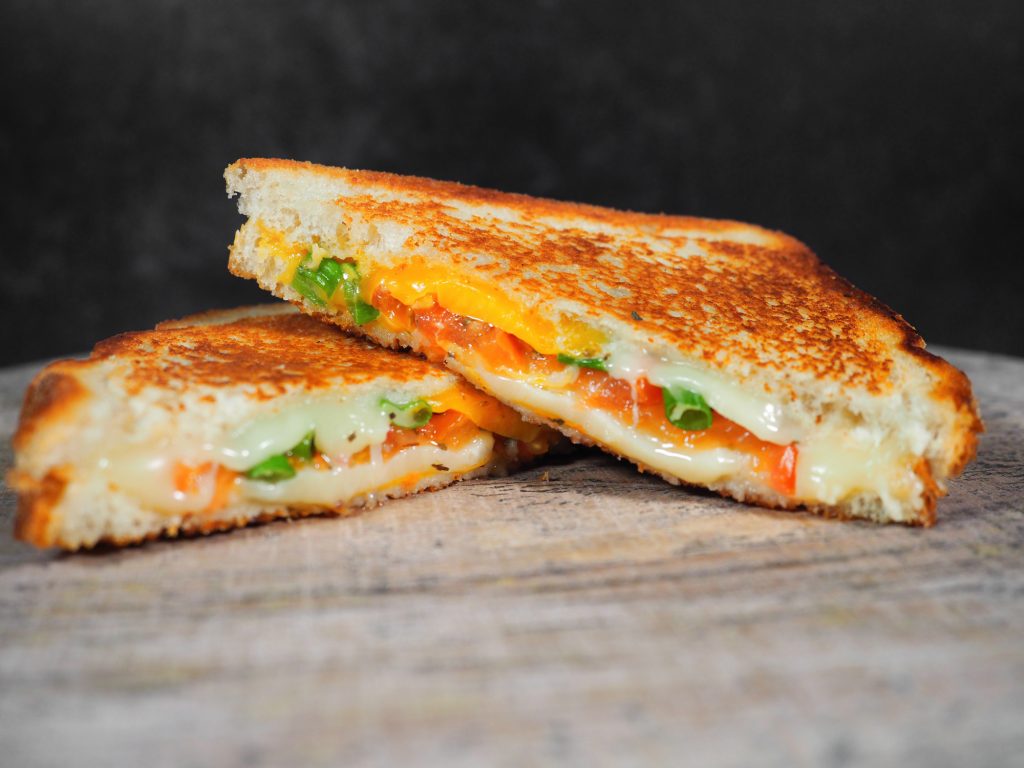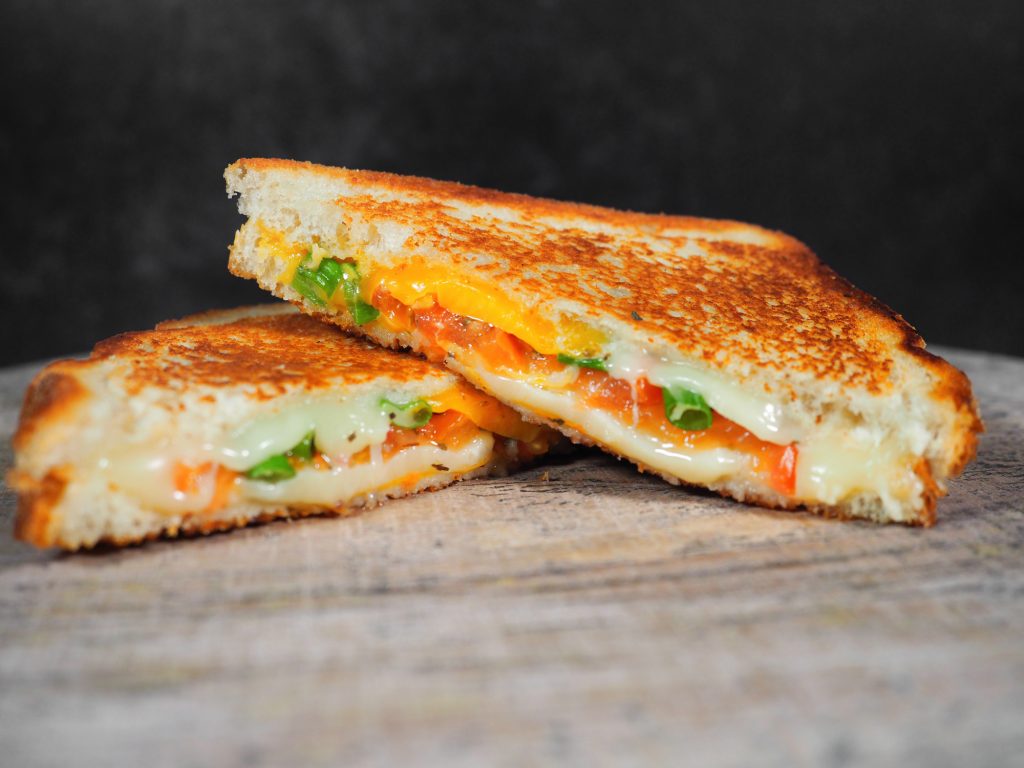 First, it is the addition of green onion tops. Green onions are my all-time favorite thing to add to burgers and sandwiches and work perfectly when making grilled cheese.
They are cheap to buy from the grocery store and keep for a long time in your fridge. Just cut them with scissors and add them to your grilled cheese with tomato.
Second, is the addition of dried basil. If you have fresh basil this recipe tastes even better, but if not, use a shake or two of dried basil from your spice cabinet. That is what I do and it is easier and more accessible than fresh basil.
Finally, it is the use of oil for greasing the bread, NOT butter. Although I am not personally vegan, I HATE using butter for grilled cheese. It gives it a weird taste.
Oil gives the tomato grilled cheese a fantastic golden-brown crust. If you have never tried oil for making grilled cheese, now is your chance!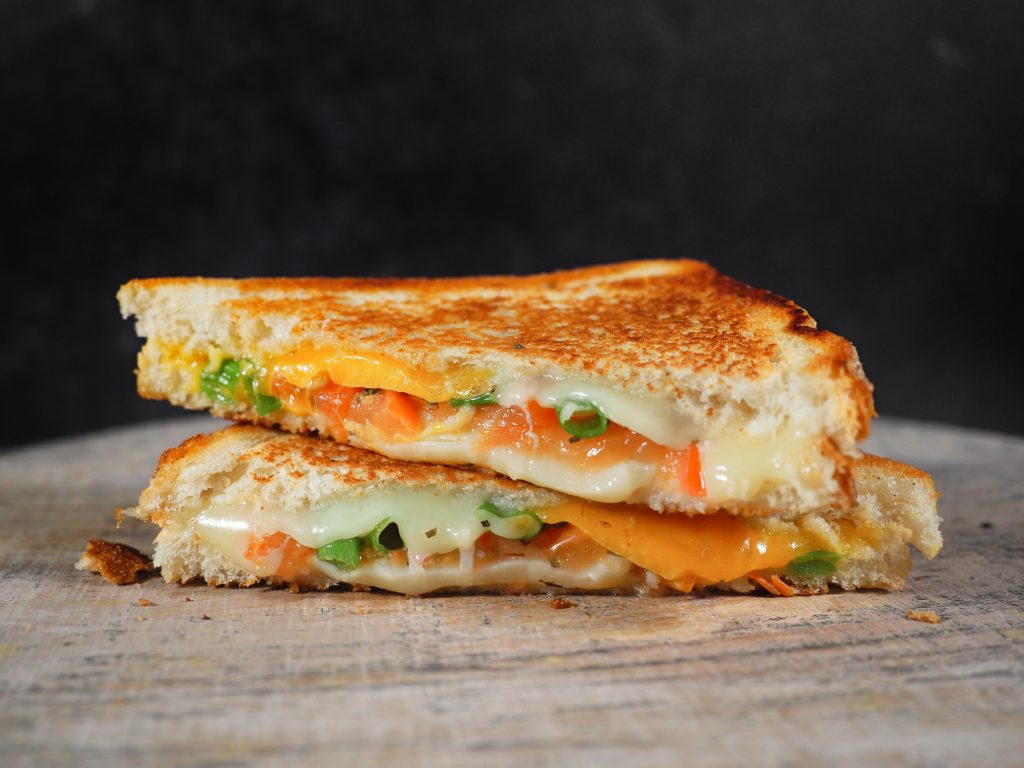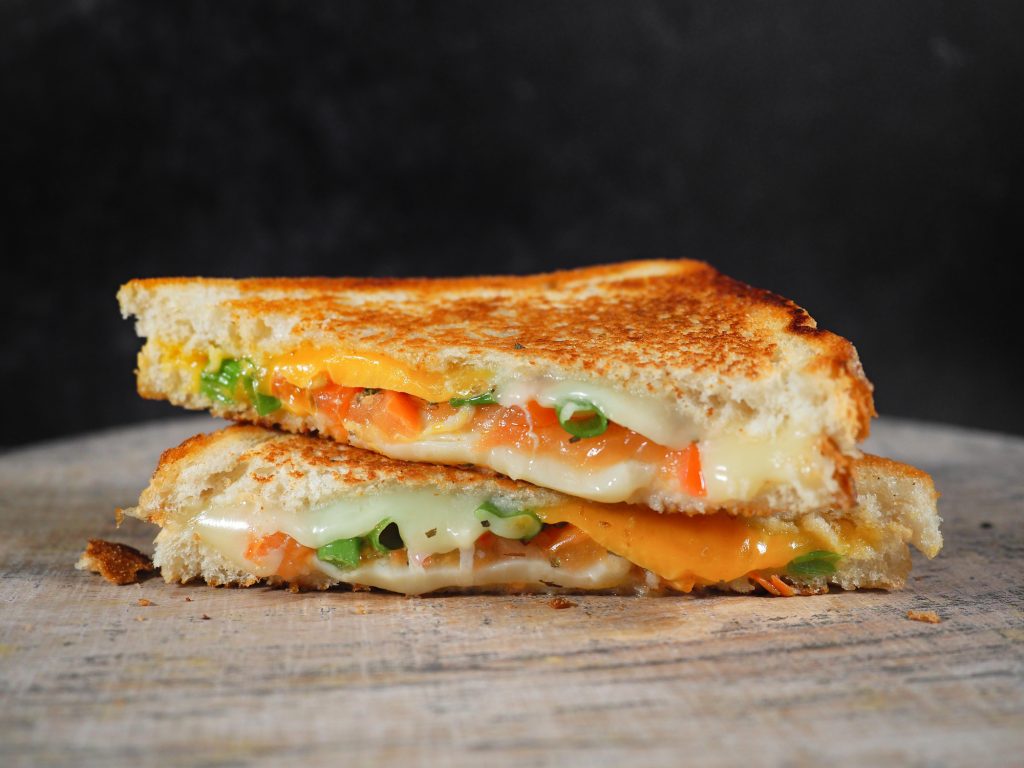 Choosing Your Cheese For The Tomato Grilled Cheese
Honestly? Any cheese you have on hand works. When I make grilled cheese with tomato, I always use a white cheese and a yellow cheese, because I usually always have both of these on hand.
I have been blending cheeses since I was a kid and it really elevates the taste of grilled cheese.
I usually use a blend of half swiss and half cheddar, or half Monterey jack and half sharp cheddar as those are what I have on hand.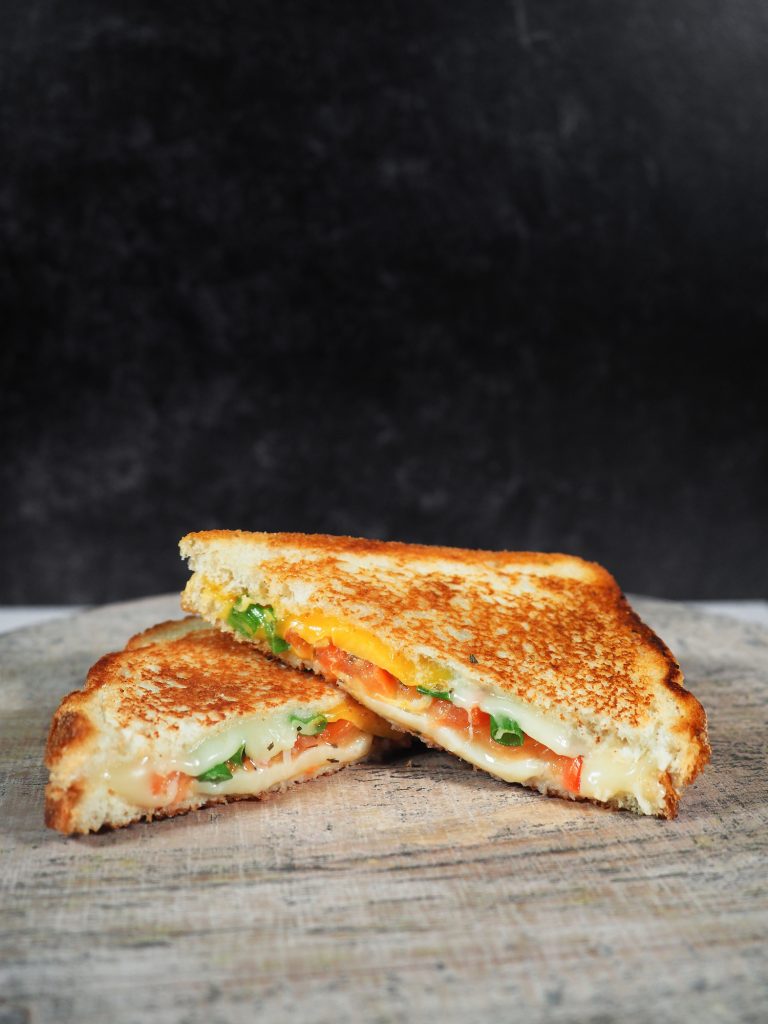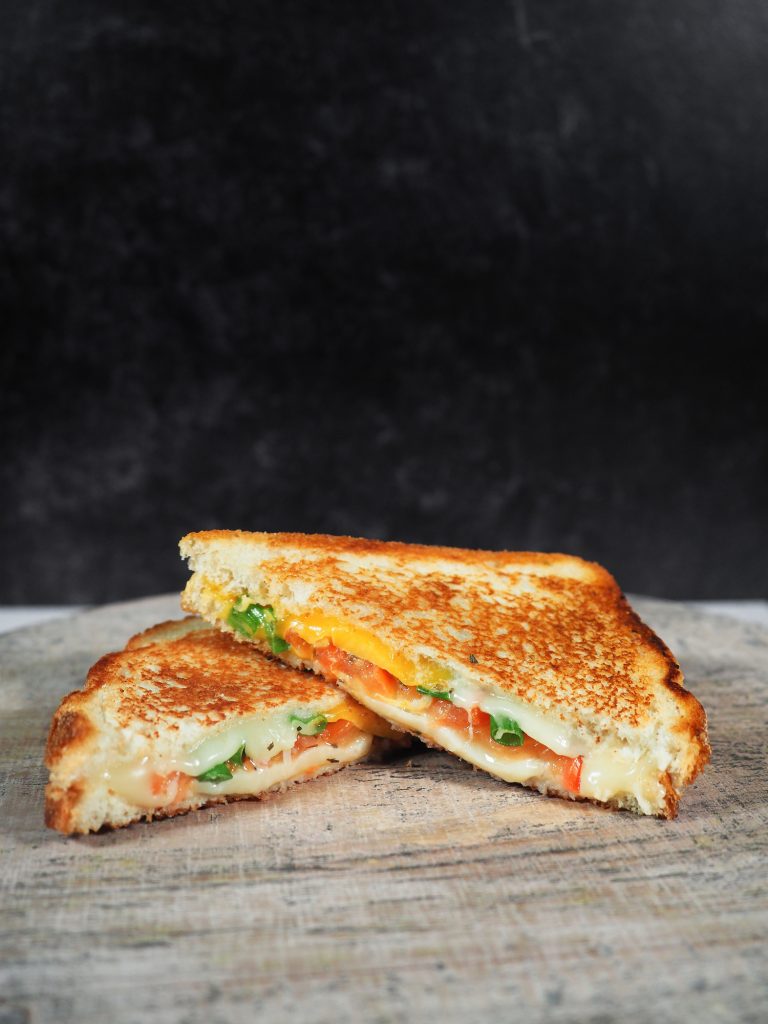 In order to make good grilled cheese, I do NOT recommend shredded cheese from a bag. It NEVER tastes right. I recommend cutting slices from a block of cheese or shredding a block of cheese.
You want the cheese flavor to shine through and you do NOT want a fake "bagged" cheese taste to ruin your flavor.
Buy a block or two of cheese and cut it in thin slices yourself. You will thank me later when the grilled cheese with tomato tastes better than you expected!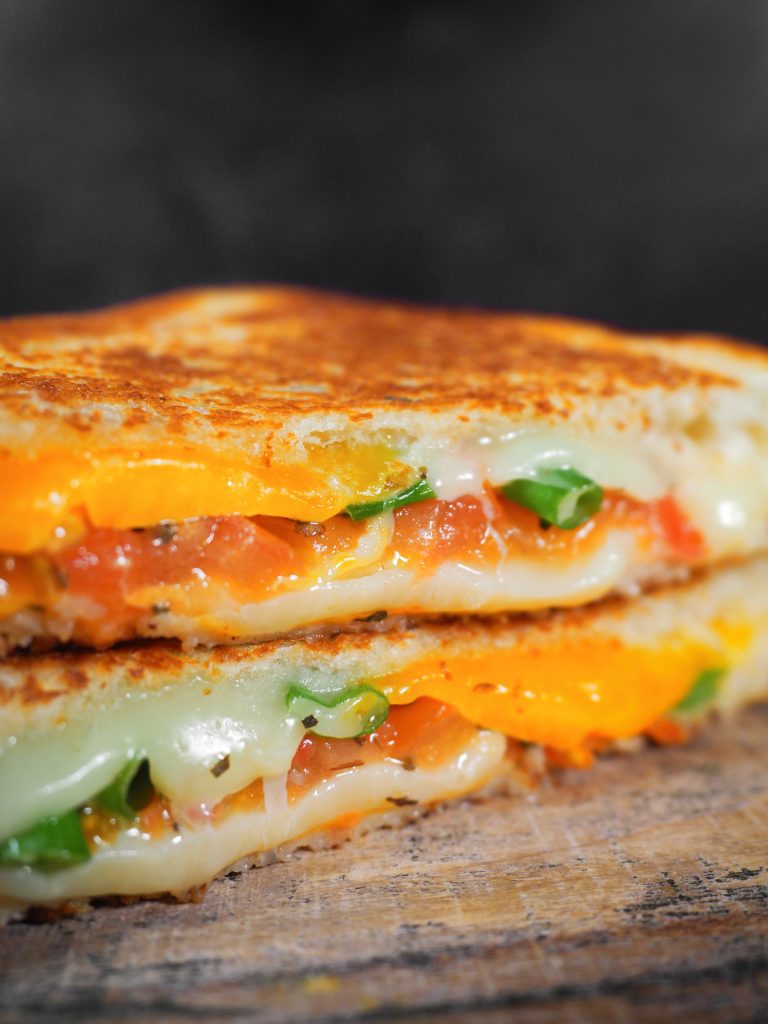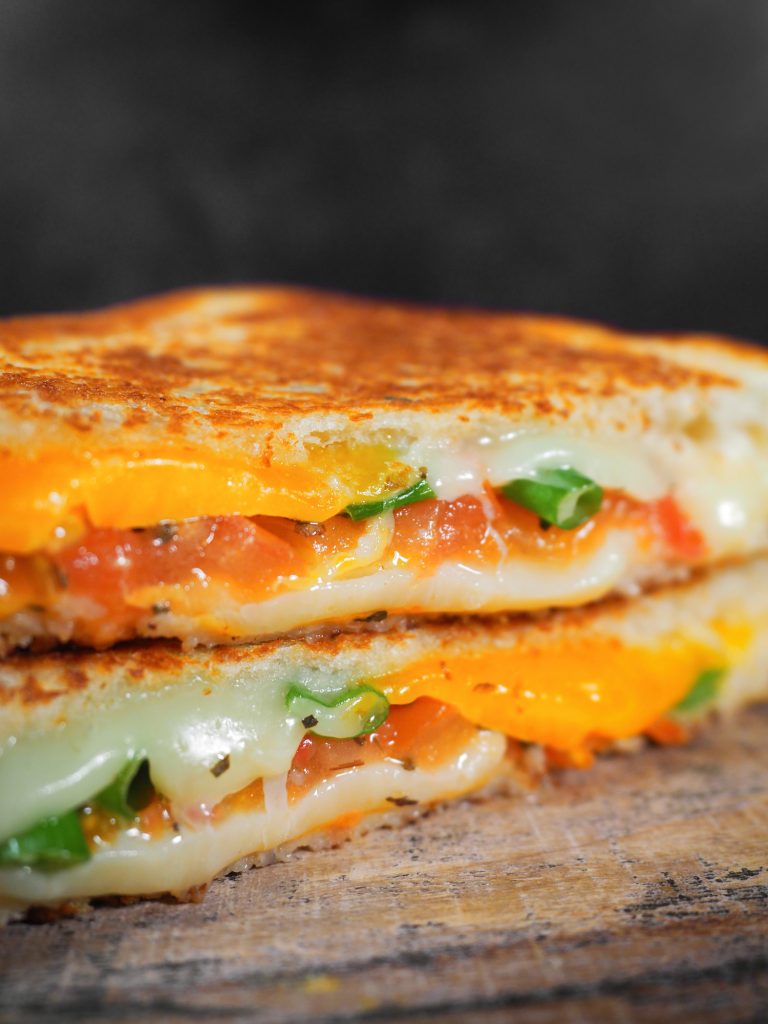 How To Make Grilled Cheese With Tomato
Making grilled cheese with tomato is quite easy!
First, you are going to want to grease your pan with oil. I use avocado oil but olive oil or whatever you have on hand works. Then, while the pan is still cool, take the "top" slice of bread and dredge it through the oil in the pan.
Set that slice oil-side up on a plate or your counter, and go ahead and place the next slice of bread on the oil and pan which is now heating up.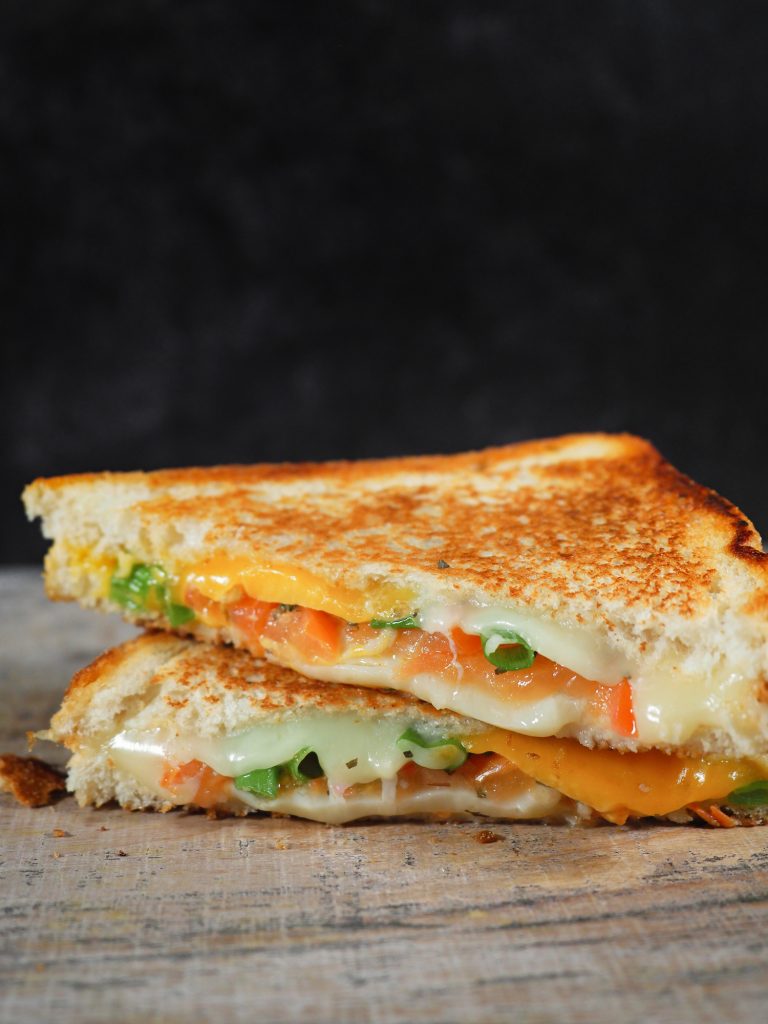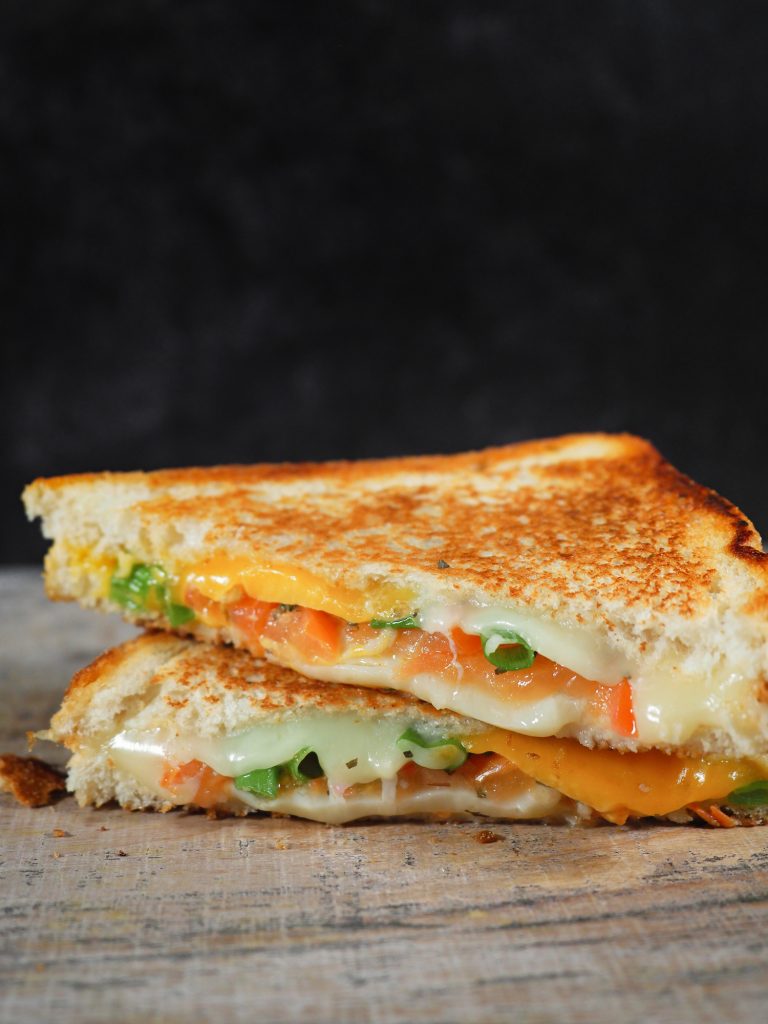 Now, thinly slice your cheese from your block using a knife. You can also shred the cheese using a shredder with large holes. Put down a layer of cheese, alternating between white and yellow cheese.
Then, thinly slice your tomato and lay your tomato down in a single layer over the cheese. Sprinkle on your green onion tops which should be cut into small pieces with a knife. Shake some dried basil on top.
Now this last step is very important. Top the tomato and green onions with another layer of cheese. You want to top BOTH the bottom AND the top with cheese so that the cheese can fuse together and stick to the bread.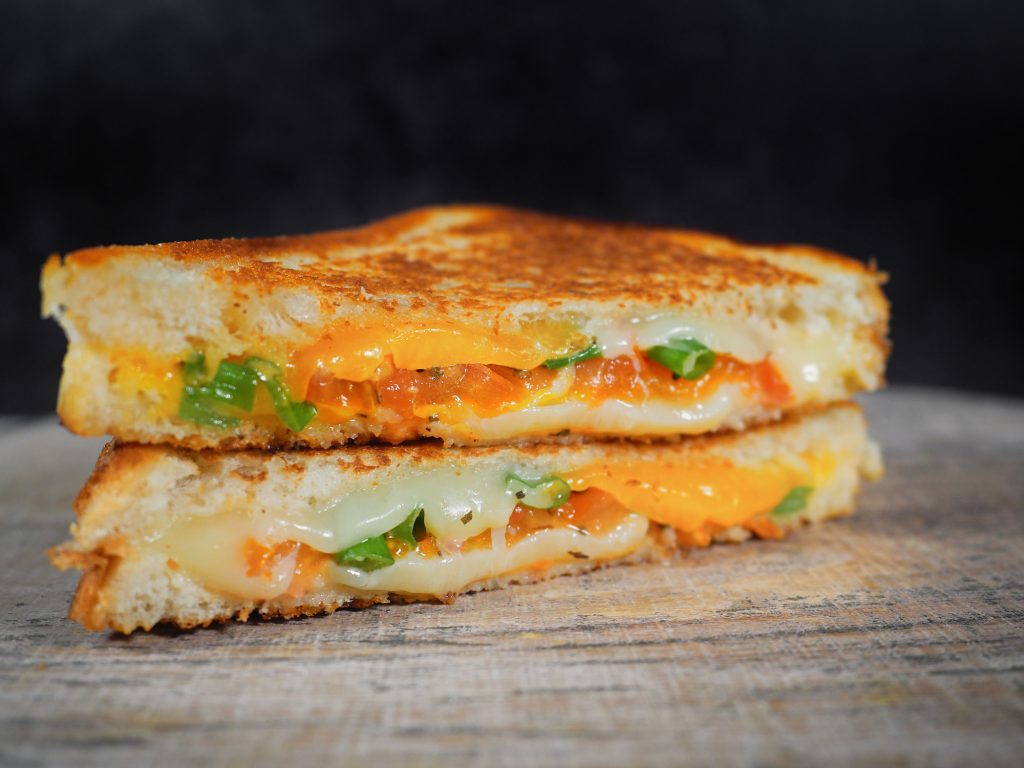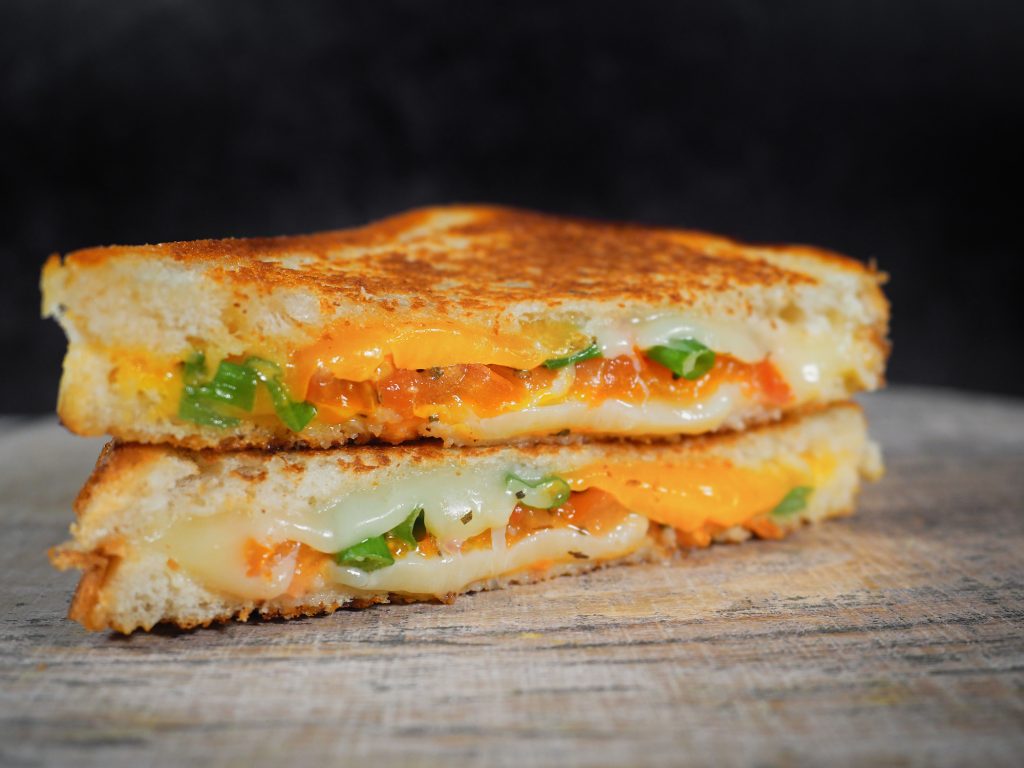 If you do not do this, your tomato grilled cheese may not stick together and ingredients will fall out when you flip. Simply add a few more cheese slices to the top of the tomato and green onions. Top with the bread you set aside that is already pre-oiled.
Then, flip immediatly, before the pan is too hot. The bottom slice should be a light golden-brown and the bottom layer of cheese should already be melted.
Then, you will use your spatula to "smash" down the tomato grilled cheese a little bit so that the flavors meld together.
Flip 1-2 more times until the crust is golden-brown, which should only be a few minutes!
Then, slice in half and serve immediately! You can customize this grilled cheese with tomato to your liking and sub in any cheese or toppings! It makes a great dinner with a side of Paprika Roast Potatoes!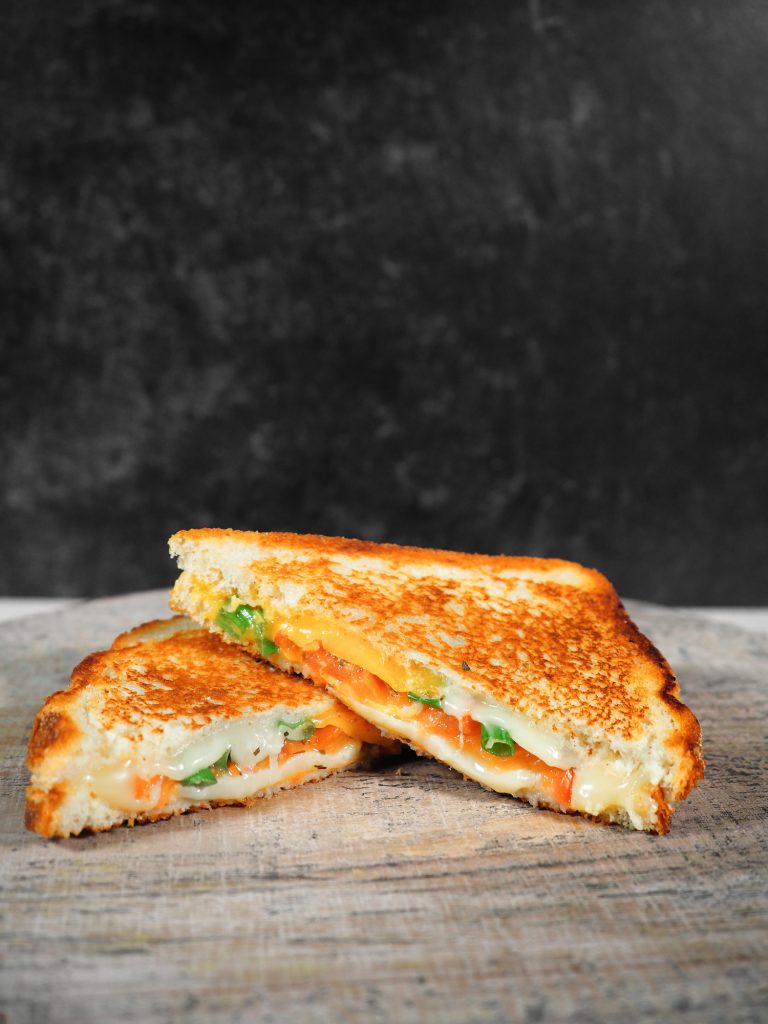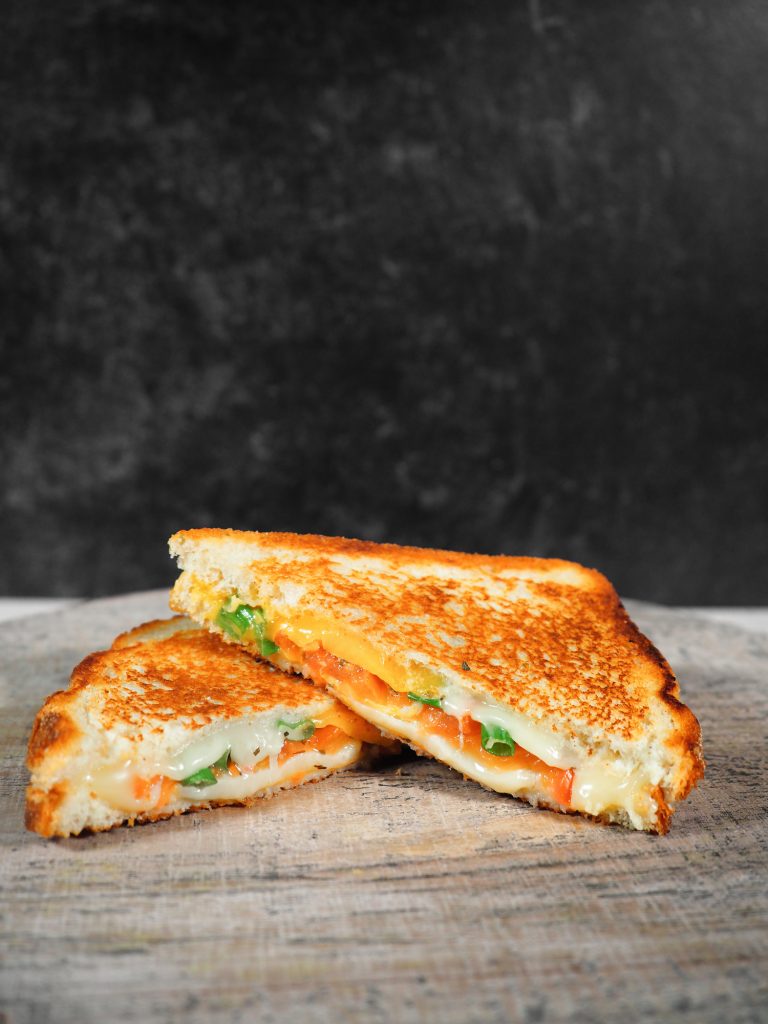 Yield: 1 Sandwich
Confetti Grilled Cheese With Tomato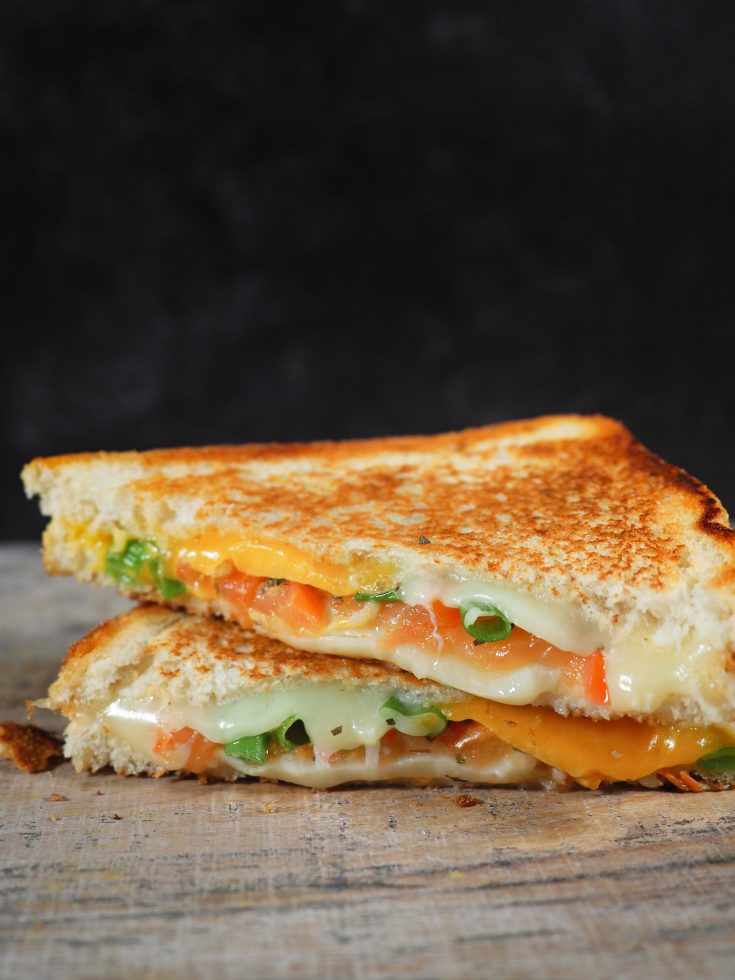 This confetti grilled cheese with tomato is so easy to make and tasty! The oil, green onions, and dried basil elevate this tomato grilled cheese to a fancy flavor and all the colors inspired the confetti name!
Ingredients
2 Slices Of Bread
Oil For Greasing The Pan
1 Green Onion Chopped [Green Part]
1 Teaspoon Dried Basil
1/2 Fresh Tomato or 4 Cherry Tomatoes
Yellow And White Cheese, sliced from block [To Taste Depending On The Size Of Your Bread]
Instructions
Grease medium frying pan with oil and turn heat on medium-high. Immediately dredge one side of the first slice of bread in the oil and set aside, oil-side up on a plate. Place second slice of bread on oiled pan.
Place a thin layer of cheese, cut in thin strips from a block of cheese, or shredded from a block, alternating between white and yellow cheese, on the piece of bread on the pan.
Next, add the thin tomato slices, chopped green onion tops, and dried basil on top of the cheese.
Add a little more cheese on top of the tomato and green onions. Your layer should look like this: cheese, alternating between colors, tomato and green onion, a little more cheese.
Top your grilled cheese sandwich with the slice of oiled bread you set aside at the beginning and immediately flip. The bottom slice of bread should be lightly golden brown.
Continue to flip the grilled cheese until both sides are golden brown, about 3-5 minutes. Be careful not to overlook and burn the bread.
Cut in half and serve immediately!
Notes
I do NOT recommend using shredded cheese from the store. Use whatever cheese you have on hand that is in a block and cut thin slices yourself. Feel free to use cheese of only one color, but I love using both white and yellow cheese, usually monterey jack and sharp cheeder, or swiss and cheddar.
You can use vegan cheese for this recipe, but it will take longer to cook as vegan cheese takes longer to melt.