If you are looking for the best and easiest vegan hot chocolate recipe, this is it!
It is so creamy and delicious and you can top it with anything you want and I promise that I won't judge you. It only uses 5 ingredients which you will most likely have around the house to make it easier!
Hot chocolate is a winter staple, but you may be used to the kind that you make from a hot chocolate mix.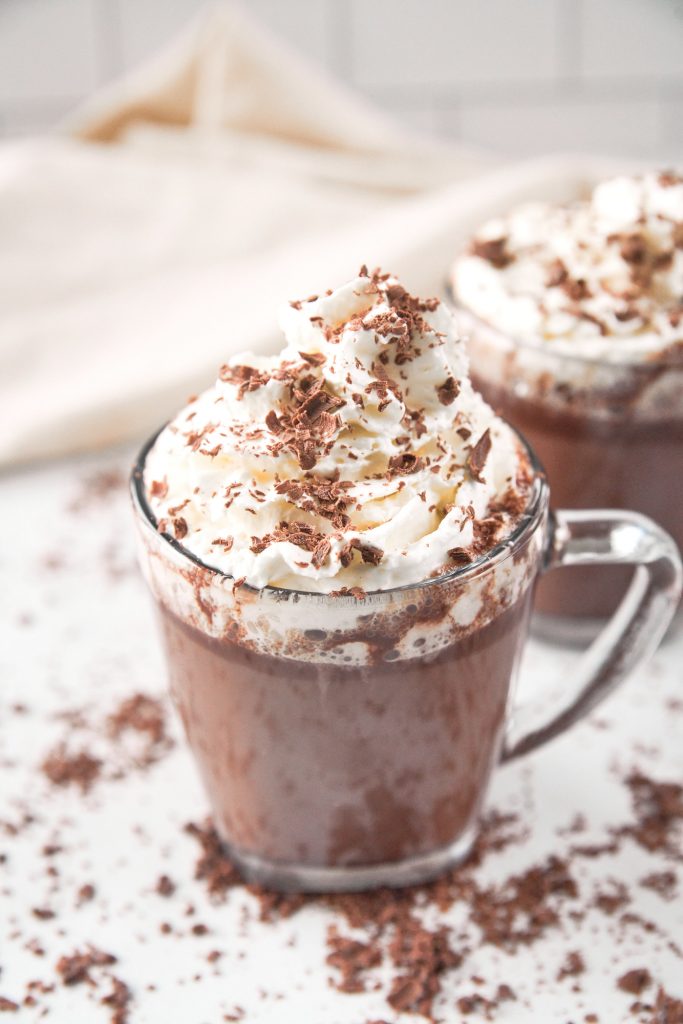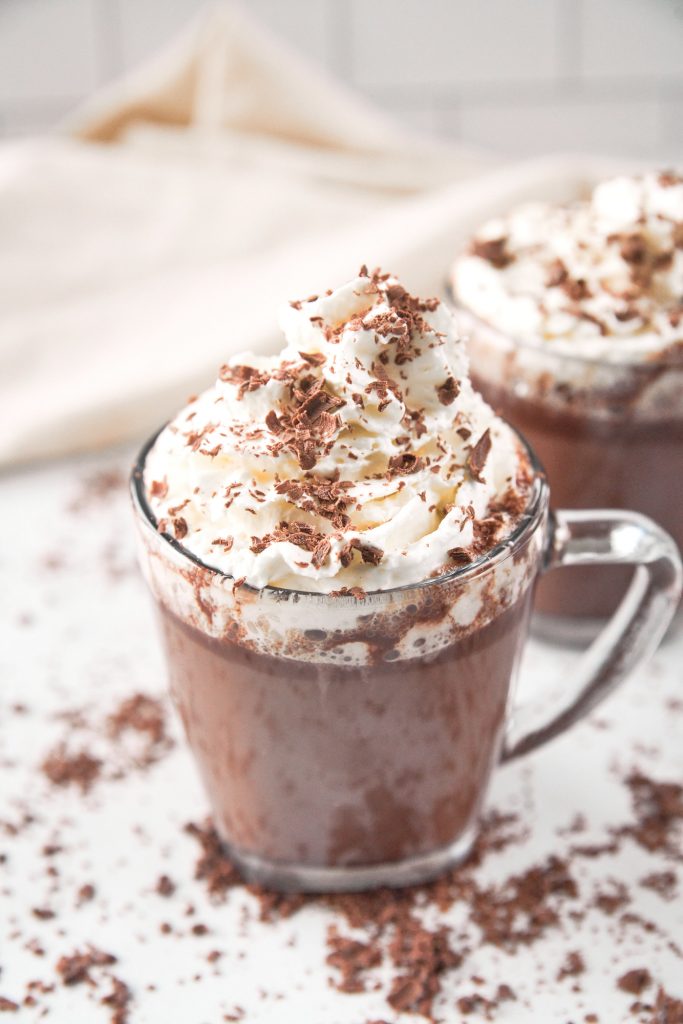 This is no mix hot chocolate! This vegan hot cocoa is way better and way more delicious!
Did you know that hot chocolate mixes don't even really use much fresh chocolate? It is all that powdered stuff and making it yourself makes ALL the difference in flavors!
This recipe for vegan hot chocolate uses real chocolate chips and none of the gross powdered stuff!
This is the kind of hot cocoa your Grandma would have made you growing up, if you had a Grandma into that sort of thing.
You can adjust the sweetness to taste by adding or removing sugar depending on what you are interested in!
I hope you love this creamy vegan hot cocoa as much as I do and I hope that it brings joy to your winter!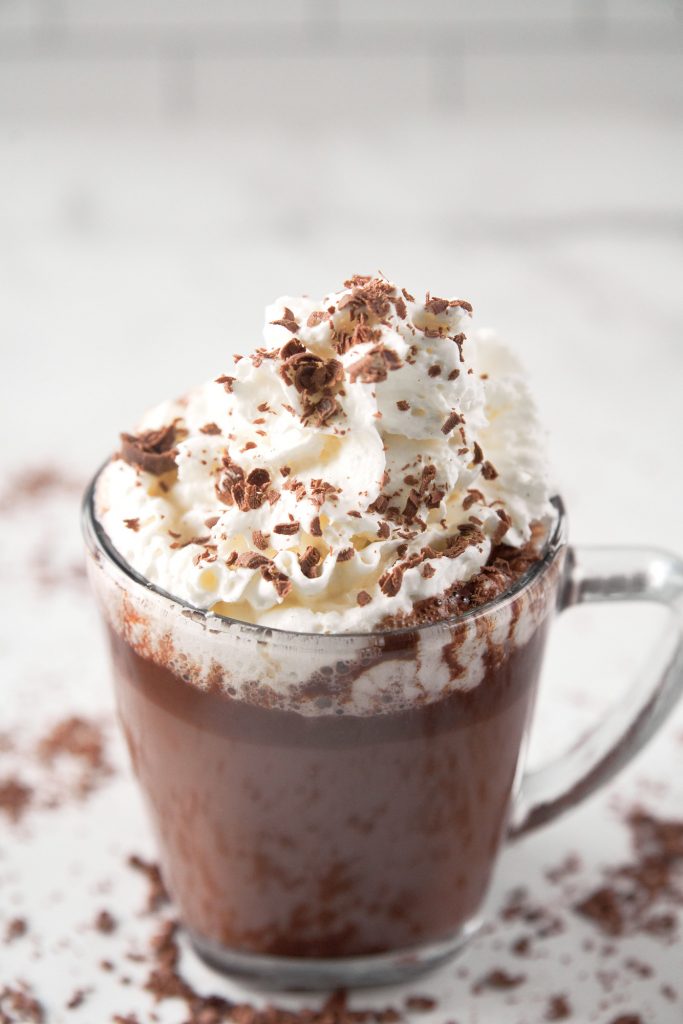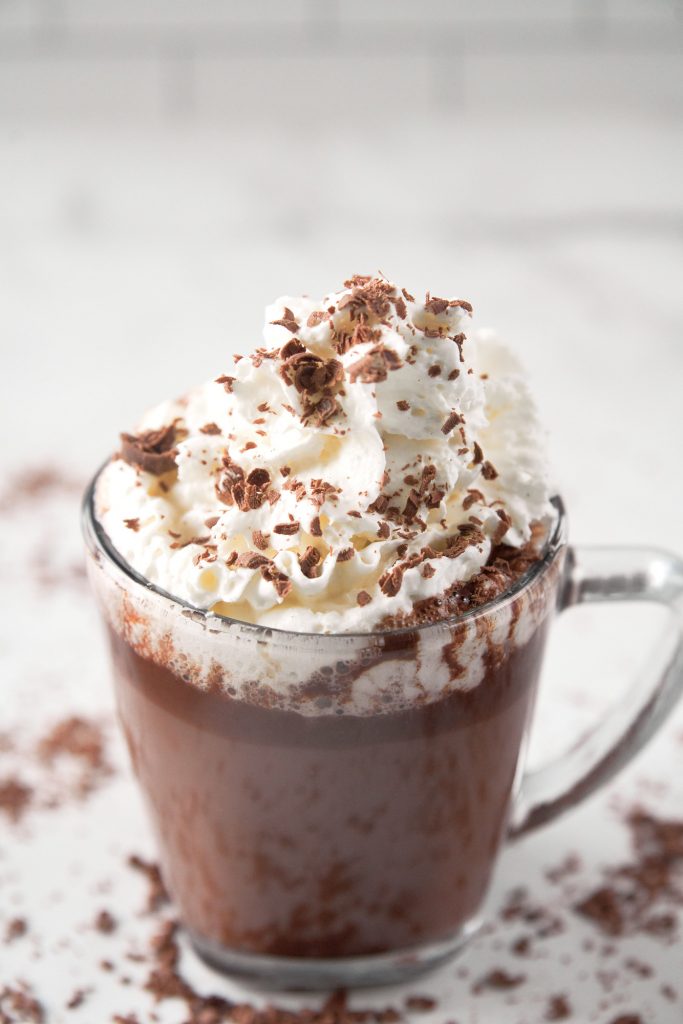 Is Hot Chocolate Vegan?
Hot chocolate may or may not be vegan, depending on where you are!
Many hot cocoa mixes such as Swiss Miss, one of the most popular kinds, has milk in the packet so it is not vegan. In fact, the fourth ingredient is cocoa powder and before that there is milk.
If you are getting your hot cocoa from a restauraunt or store, there is a good chance it has been made with milk or other forms of dairy to make it creamy.
Some locations like the Starbucks hot chocolate are vegan when you request non-dairy milk.
Either way, the hot chocolate mixes, and even the Starbucks vegan hot chocolate recipe all have weird additives and extra ingredients and preservatives so you are way better off making it yourself!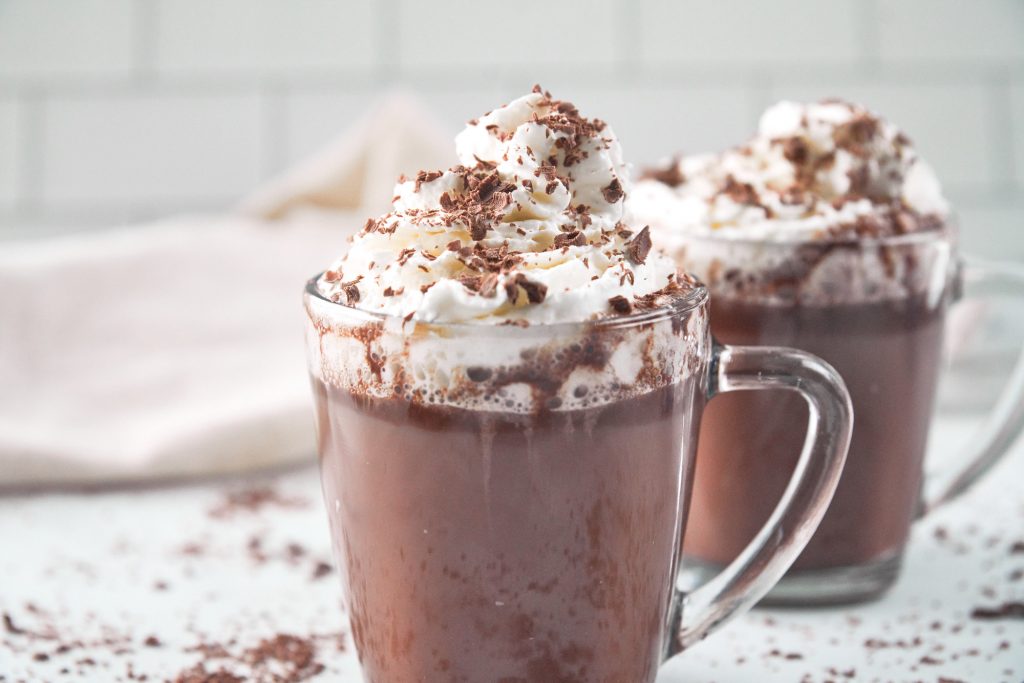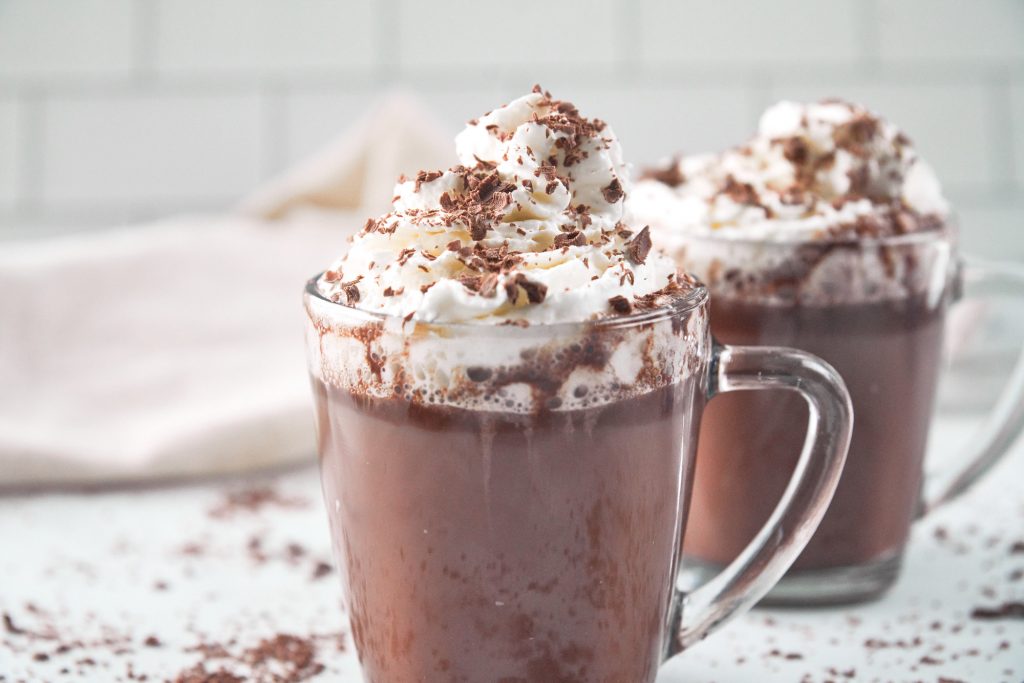 What Kind Of Milk To Use For Vegan Hot Cocoa
You can easily make this vegan hot cocoa recipe nut-free by using a plant milk that doesn't contain any nuts such as flax milk or oat milk.
I highly recommend using a thick non-dairy milk and suggest staying away from thinner milks such as rice milk. Although rice milk is nut-free, it is very thin, almost like water, so if you are nut-free I would suggest flax or oat milk instead.
Of course, if you can only find rice milk, this will taste just as good, it will just be a little thin.
Some thick non-dairy milk I like making vegan hot chocolate with are: cashew milk, almond milk, flax milk, oat milk and more!
I also highly recommend getting vanilla flavored non-dairy milk as it adds a little extra touch of sweetener and lends a really nice flavor to this recipe.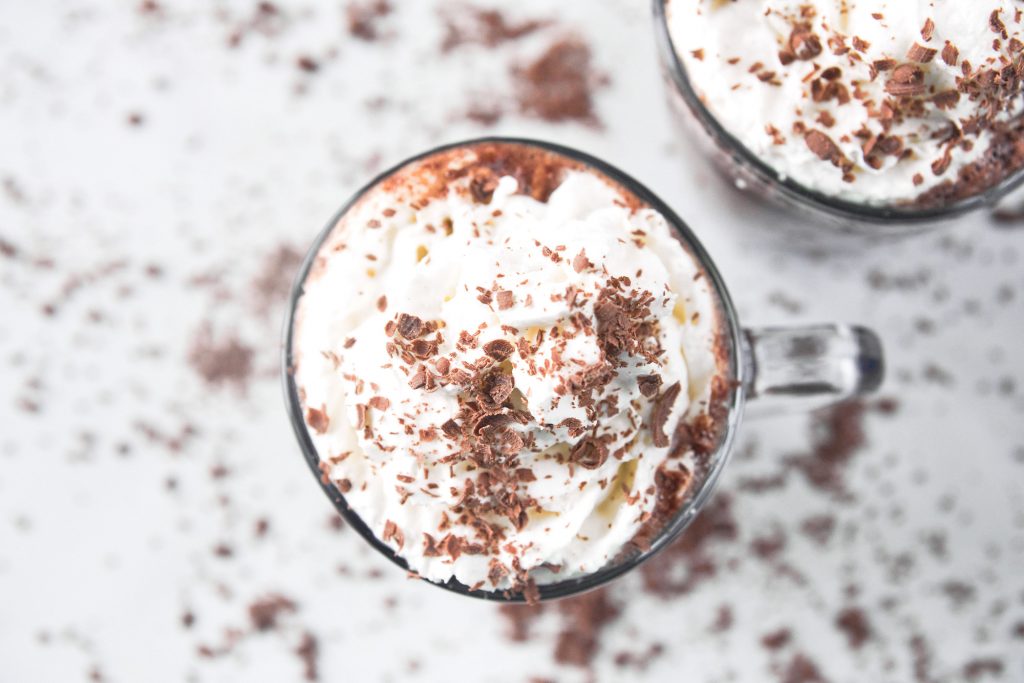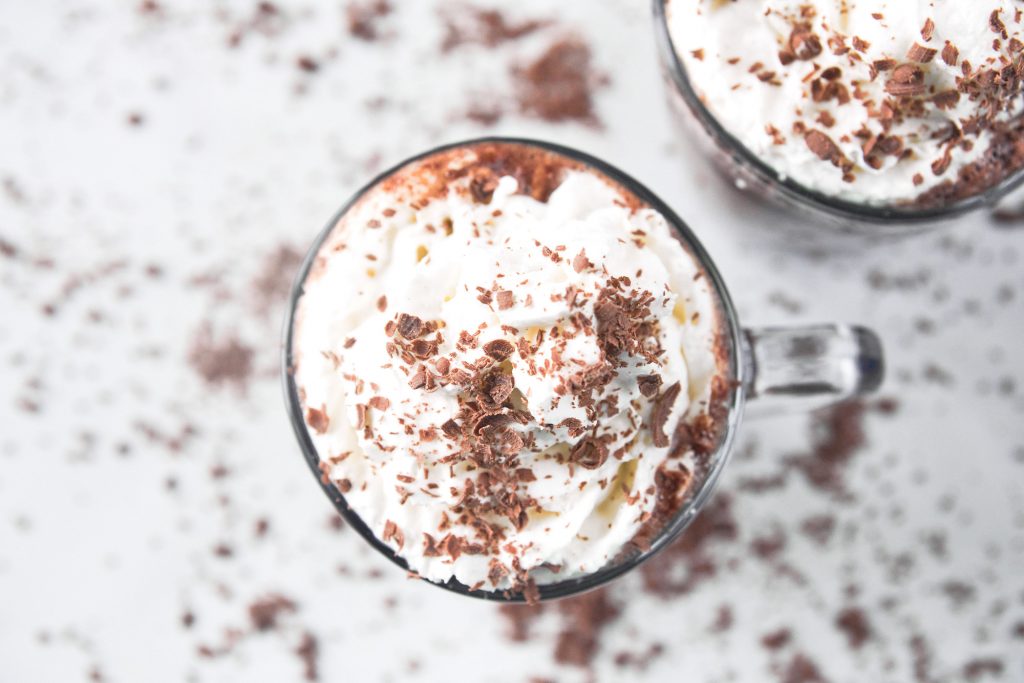 How To Make Vegan Hot Chocolate
I love my hot chocolate creamy and very chocolaty!
In order to achieve this flavor, I use straight-up vegan chocolate chips instead of cocoa powder.
In fact, this recipe for vegan hot chocolate doesn't use any cocoa powder at all, which may come as a surprise to some!
I promise that once you try it, you will love this recipe even more!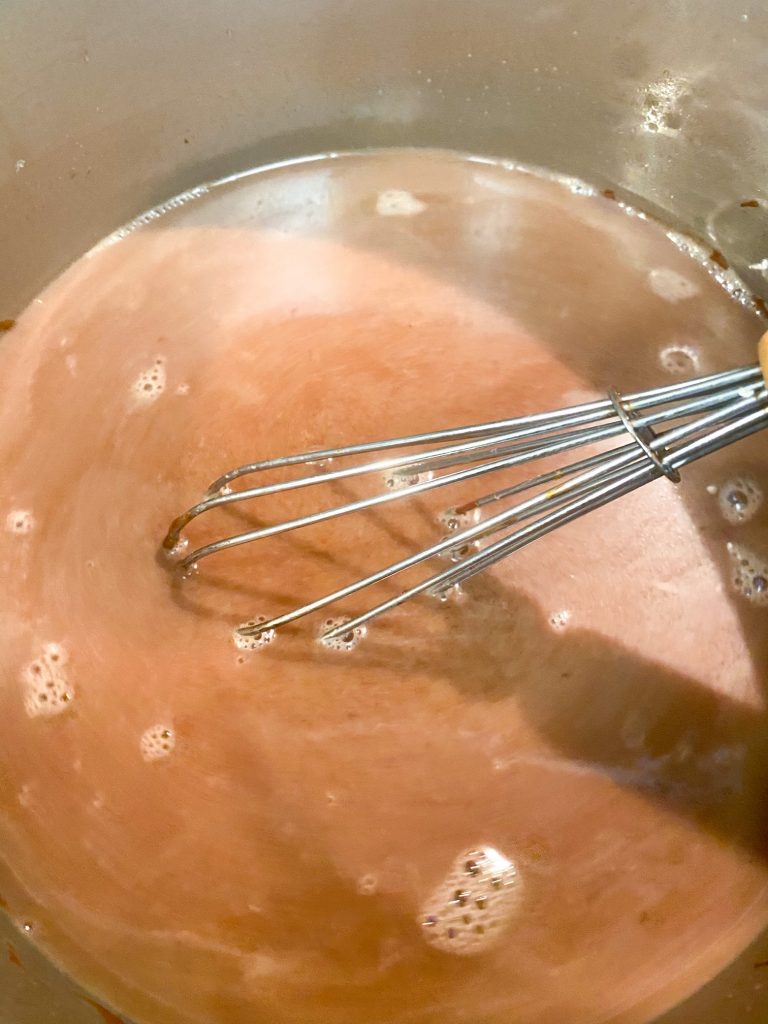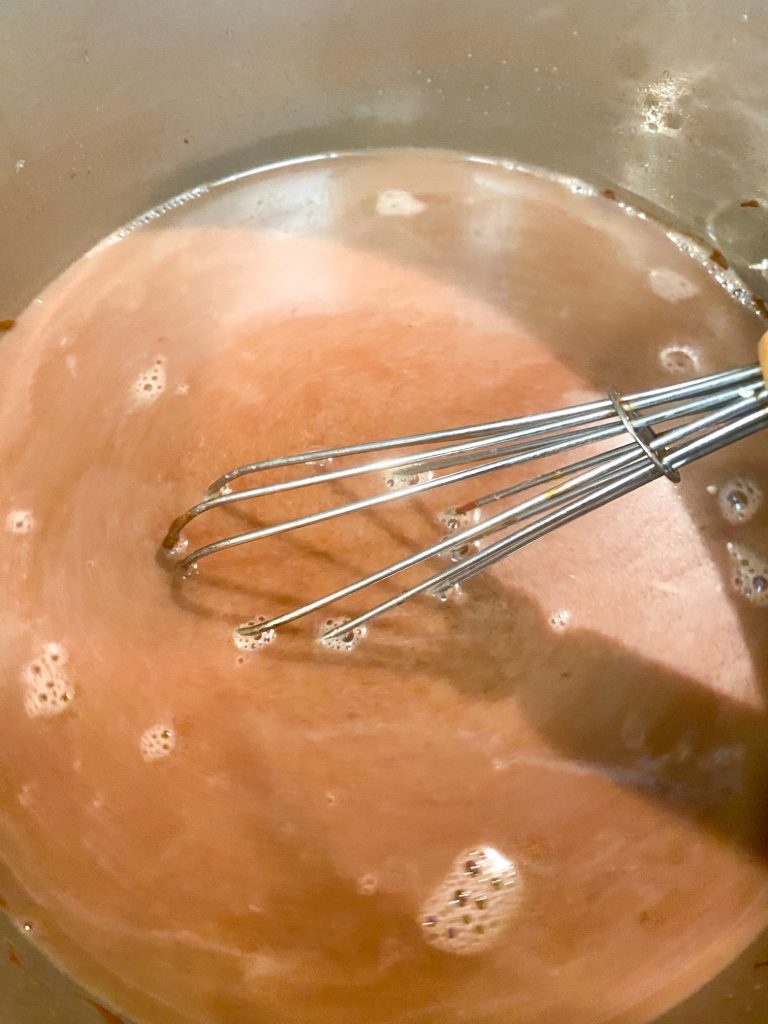 First, you are going to want to get a large saucepan on put it over medium heat.
When melting chocolate chips, you want to ensure that the heat isn't too high so that the chocolate doesn't burn.
Combine all of the ingredients in the saucepan and whisk constantly until the vegan hot cocoa mixture is bubbly.
Once it is bubbly, you want to reduce the heat even more and continue to whisk the mixture constantly while it is simmering.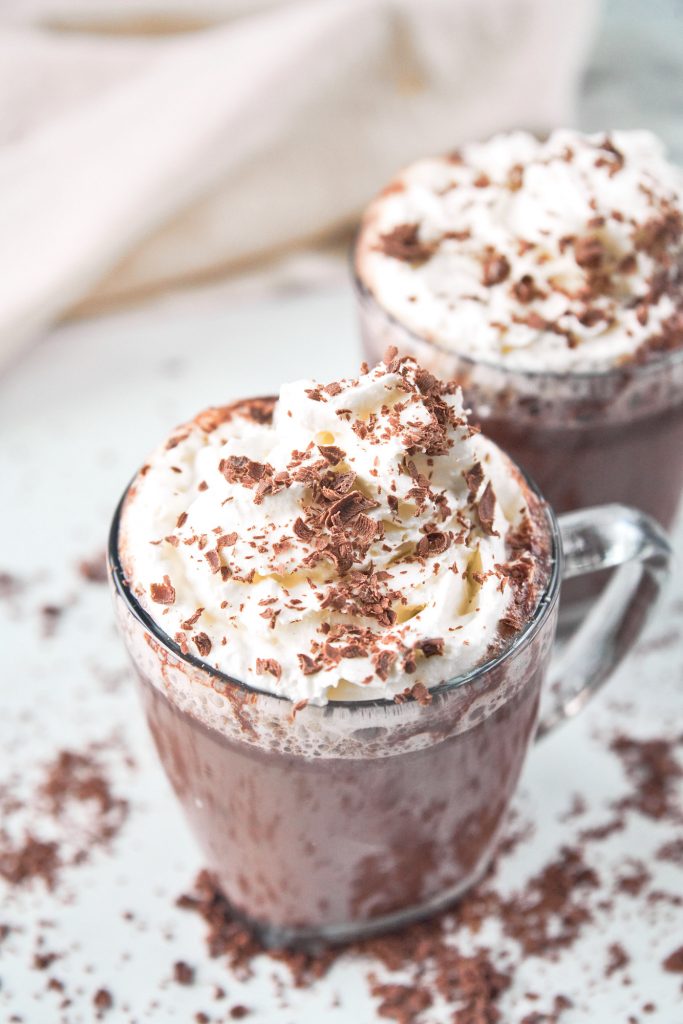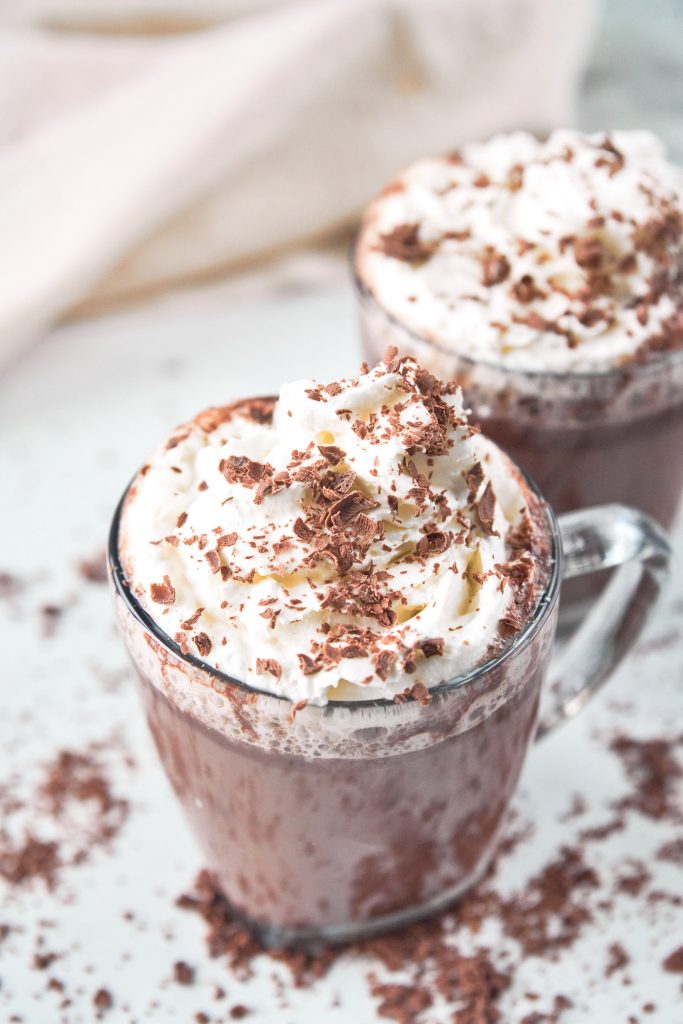 You want to whisk until the chocolate chips and sugar [if you choose to use extra] and melted and fully combined into the liquid.
Once combined, remove the vegan hot chocolate from the stove and carefully pour it into your mugs.
Be careful as the hot chocolate is, well, hot!
Then, you can top it with the works!
Chocolate shavings, vegan whipped cream, vegan marshmallows and more. Feel free to add as few or as many toppings as you like.
Vegan whipped cream and dark chocolate shavings are two of my favorites. You can even melt chocolate and drizzle it over the top as well.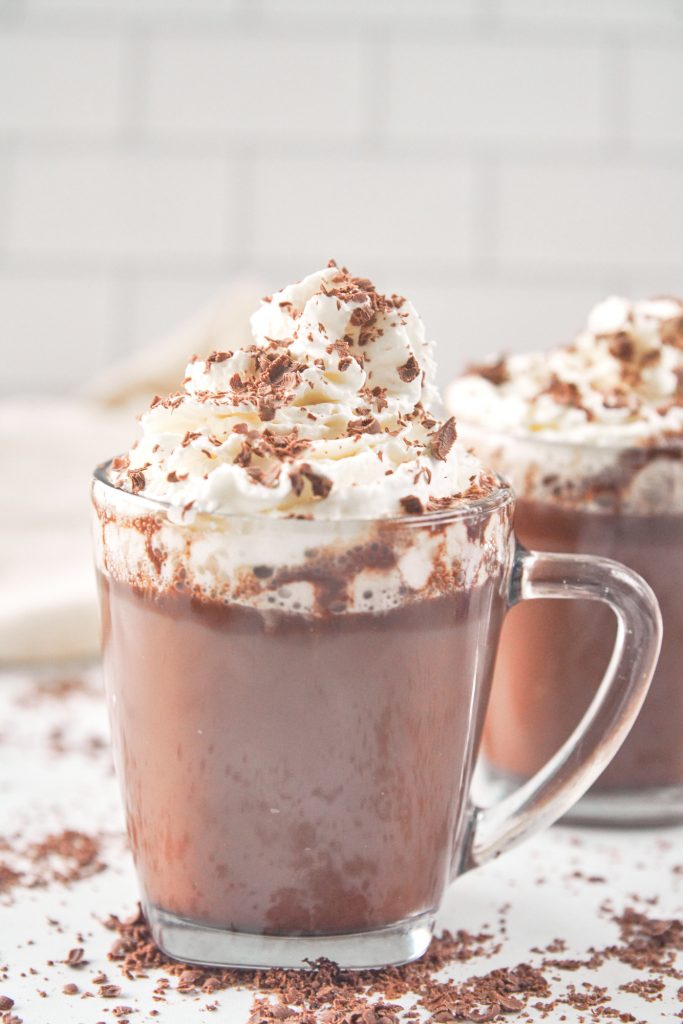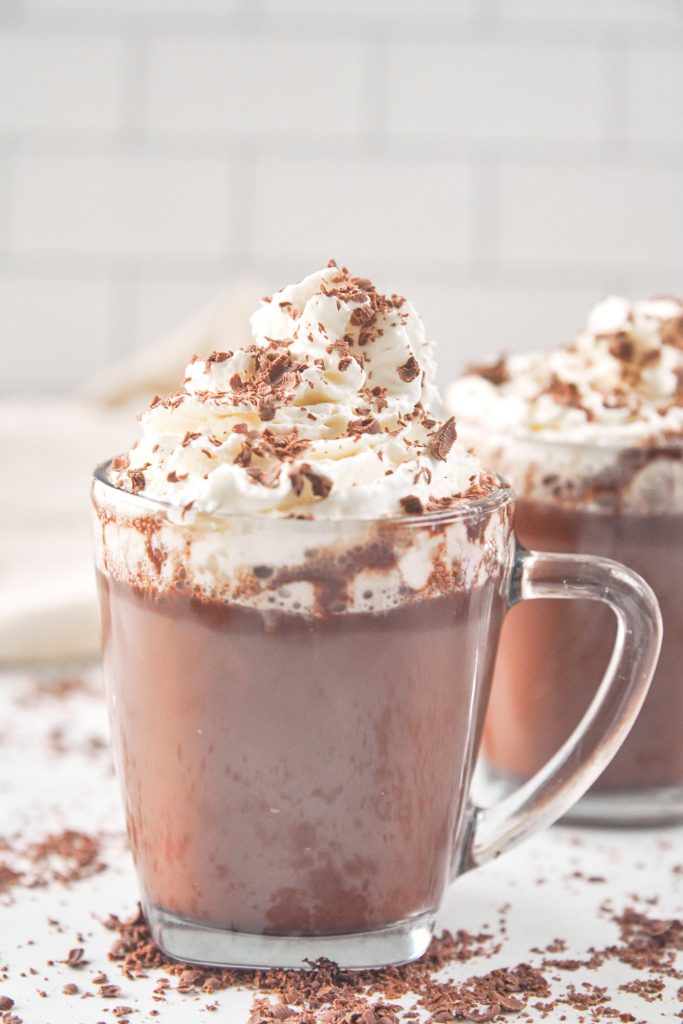 Can You Use This Recipe For A Vegan Hot Chocolate Mix?
You may wonder if you can package this recipe to make a vegan hot chocolate mix to give out as presents during the holidays.
The answer is…yes and no?
I know that isn't really an easy answer!
This recipe for vegan hot chocolate uses both wet and dry ingredients and since there are only 5 main ingredients, that isn't too much for a mix as a present.
That being said, if you wanted, you could add the chocolate chips, sugar, salt, and then toppings such as mini vegan marshmallows in a cellophane bag or jar.
Then, you would want to attach a little recipe card directing your guest to add vanilla extract and vanilla non-dairy milk and mix it all together.
Since this vegan hot chocolate recipe doesn't use cocoa powder, it won't look like a traditional baggie filled with a mix, but the end result will still be the same amazing taste!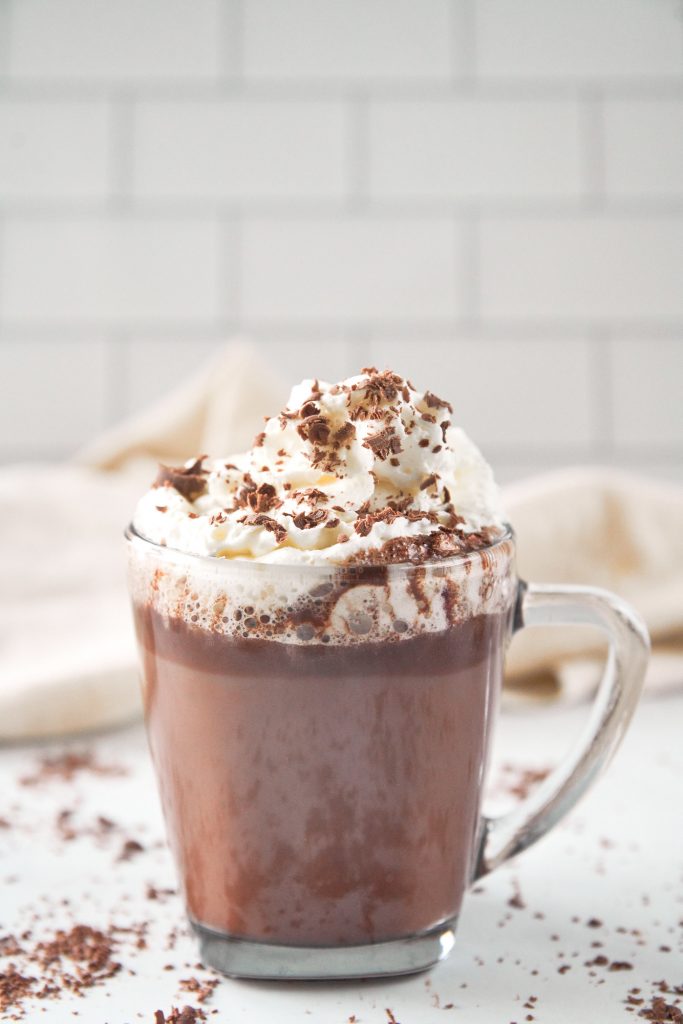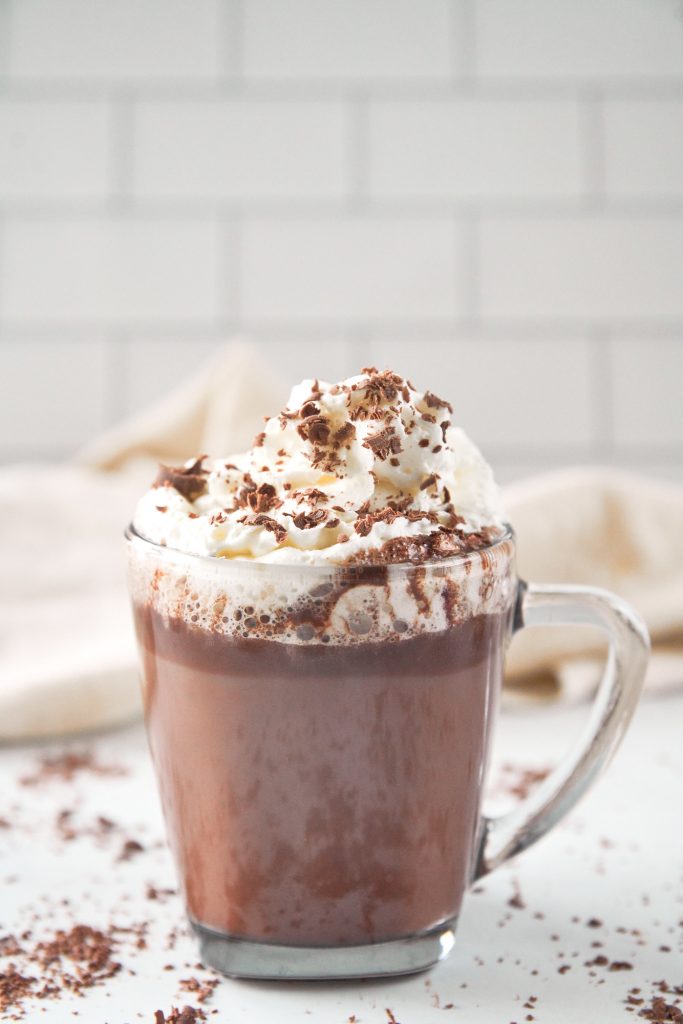 Did You Try This Recipe?
If so, I would love to keep in touch! I enjoy seeing photos and comments about the recipes that you make! You can follow me on Instagram and I will repost your goodies in my stories and comment on it too! Just tag me at @wowitsveggie and hashtag #wowitsveggie. I can't wait to see what you make!
Yield: 2 large cups or 4 small cups
5-Ingredient Vegan Hot Chocolate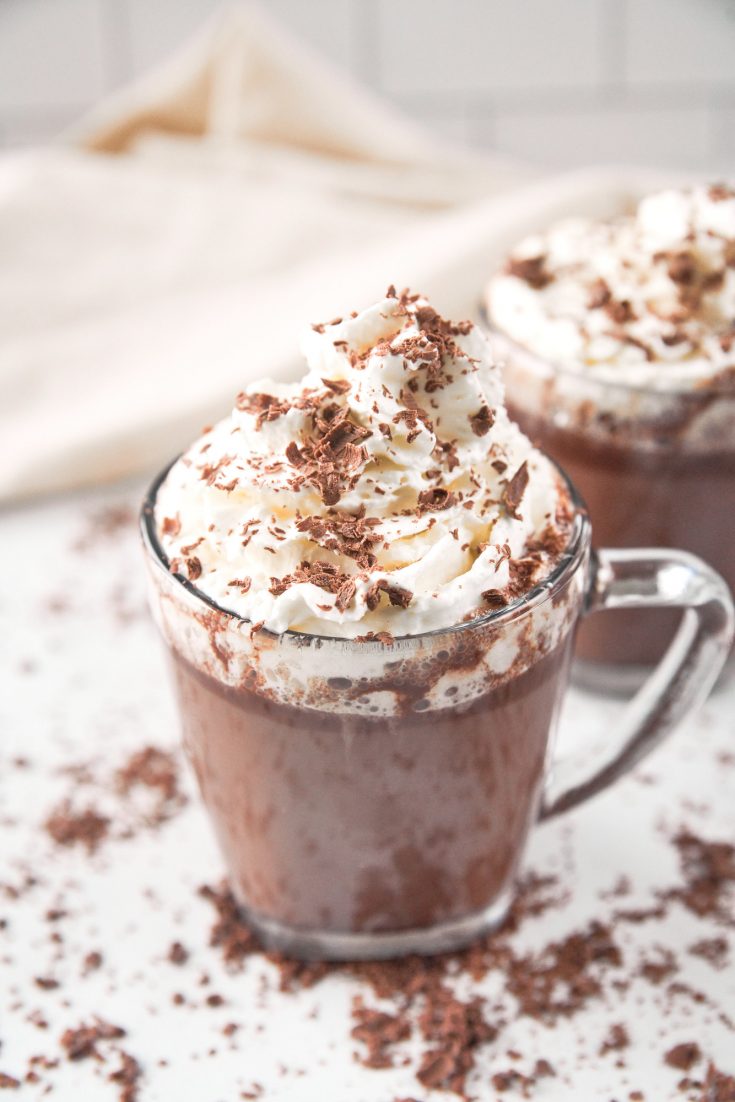 You are going to love this creamy vegan hot chocolate! It uses just 5 main ingredients, the rest are optional, and the taste is so creamy and delicious! Make sure to go wild with the toppings as that is the best part of making your own vegan hot cocoa.
Ingredients
4 cups thick non-dairy milk [vanilla flavor preferred]
1 cup vegan chocolate chips
1/2 teaspoon vanilla extract
2 tablespoons sugar (more or less to taste)
1/8 teaspoon salt
Optional: vegan whipped cream for topping, shaved chocolate shards for topping, vegan marshmallows for topping
Instructions
In a large saucepan over medium-low heat, pour in all of your ingredients. You want to ensure that the heat isn't too high when melting chocolate chips or else they may burn.
Whisk constantly until the vegan hot chocolate mixture starts to bubble.
Once bubbling, reduce the heat to low heat and continue to whisk while the vegan hot cocoa mixture simmers. Whisk until the chocolate chips and granulated sugar are melted and well incorporated.
Remove the hot chocolate from the heat and pour carefully into your 2 large mugs or 4 small mugs. Top with whatever you desire such as vegan whipped cream, vegan marshmallows, chocolate shavings, chocolate drizzle and more!