If you are looked for chocolate dipped pretzels that are more of an elegant Halloween theme than festive, these are for you!
These Hocus Pocus Halloween Pretzels are dipped in dark chocolate and rolled in silver and purple icing sugar to make for the prettiest Halloween pretzels you ever did see.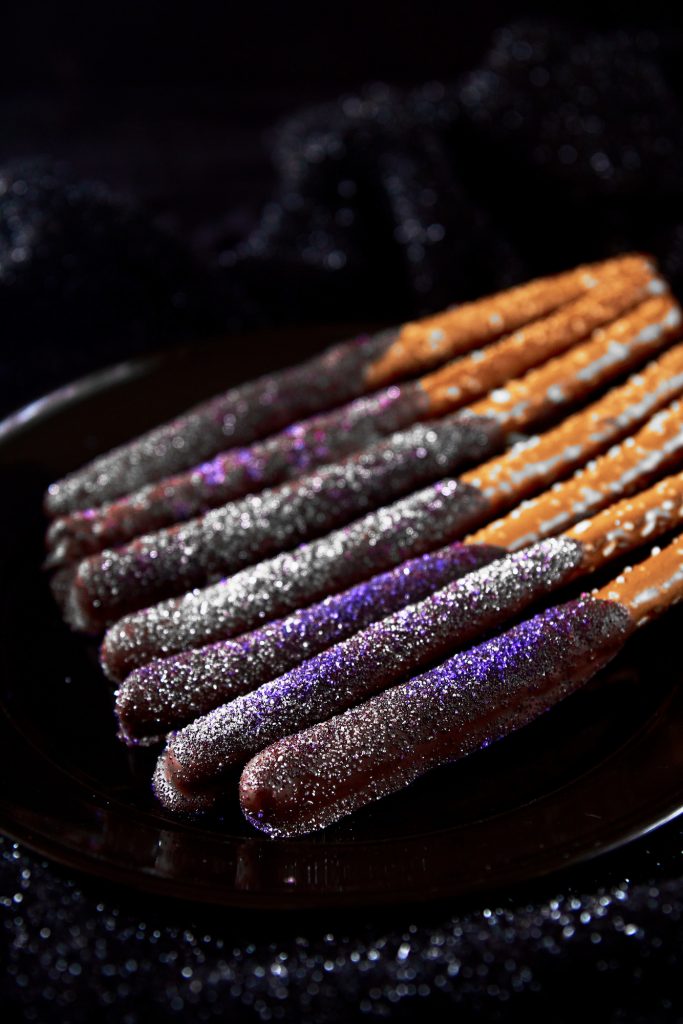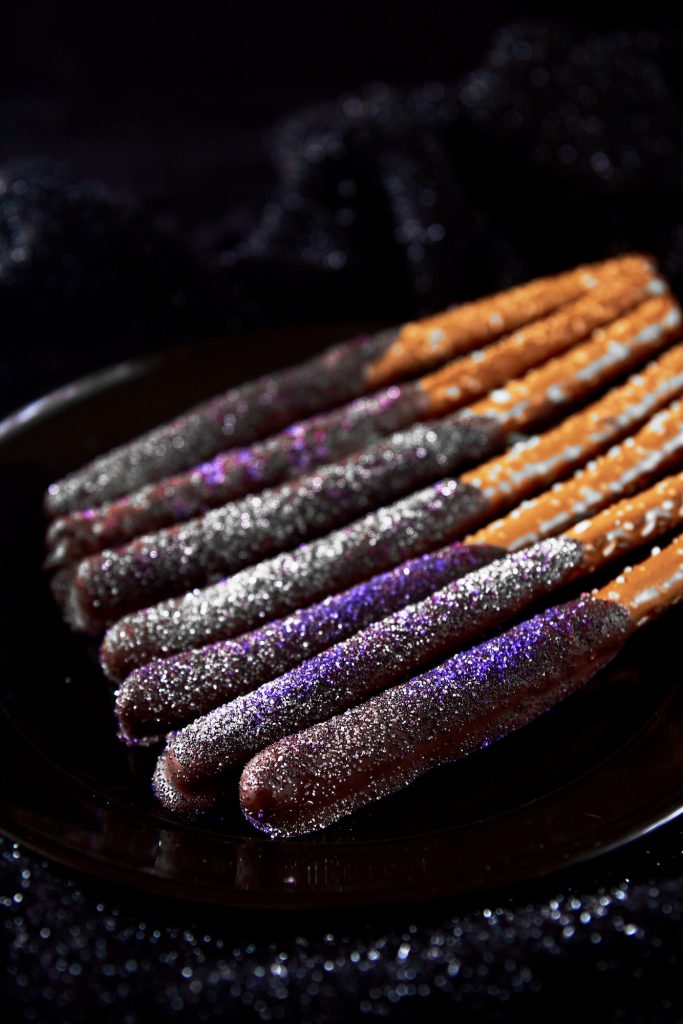 These Halloween pretzels are vegan when you use vegan dark chocolate so everyone can enjoy the tasty flavor.
Unlike my Spooky Ghost Pretzel Rods, I like to think of these sparkly Halloween pretzels as my elevated and more "adult" Halloween version.
They are festive yet understated for those who love Halloween without going over the top.
I absolutely love serving the Hocus Pocus pretzels with my Purple People Eater Halloween Cocktail!
They both use the purple icing sugar in their own way and they pair really well together for a more adult snack and beverage combo. It is a great way to celebrate the Halloween holiday!
The dark chocolate pairs incredibly well with the pretzel rods and it is the perfect blend of salty and sweet for a really tasty finished product!
These Hocus Pocus pretzels are loved by both adults and kids alike and are sure to fly off the plate at your Halloween party!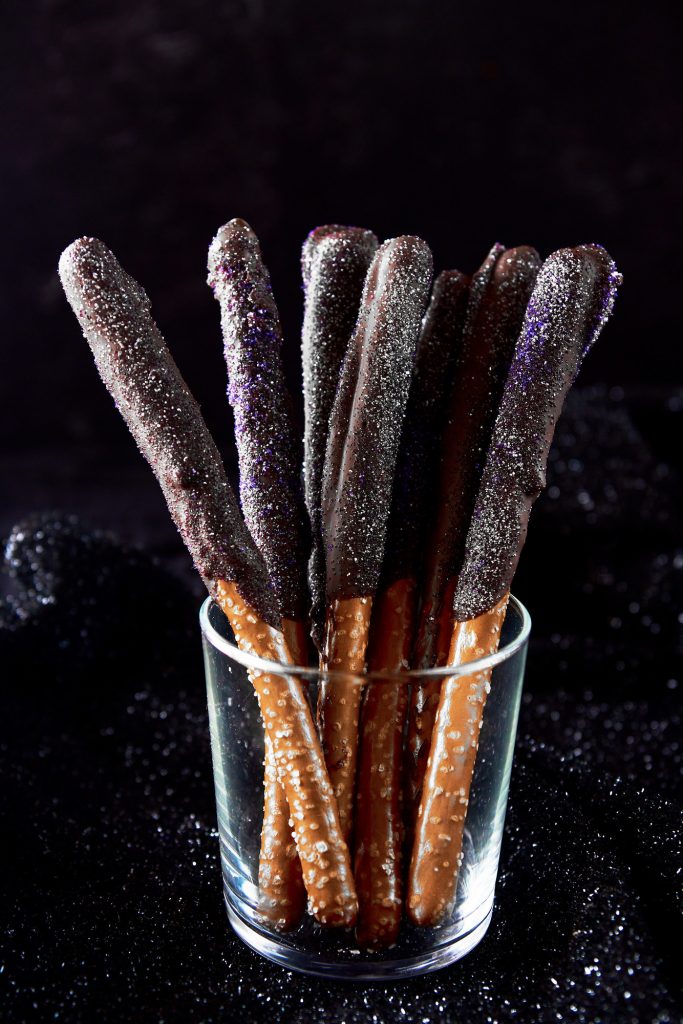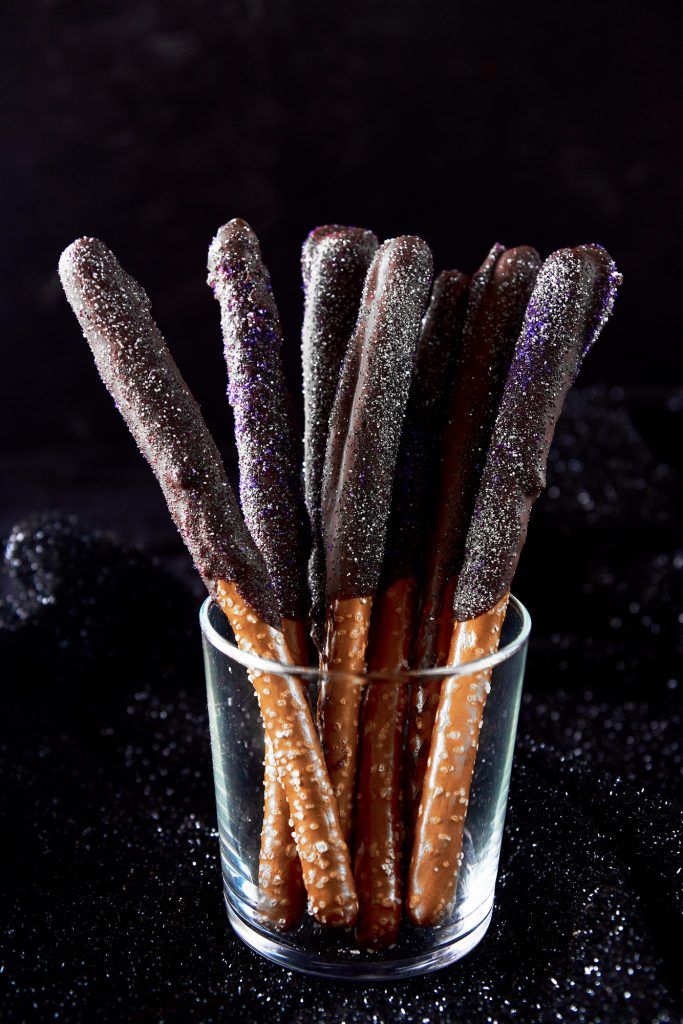 How To Make The Hocus Pocus Halloween Pretzels
If you have never dipped pretzels in chocolate, there is actually a trick to it, believe it not!
First, you are going to want put the melted chocolate in a tall and thin container of some sort, most likely a tall glass.
Next, you are going to melt the dark chocolate either over the stove or in the microwave.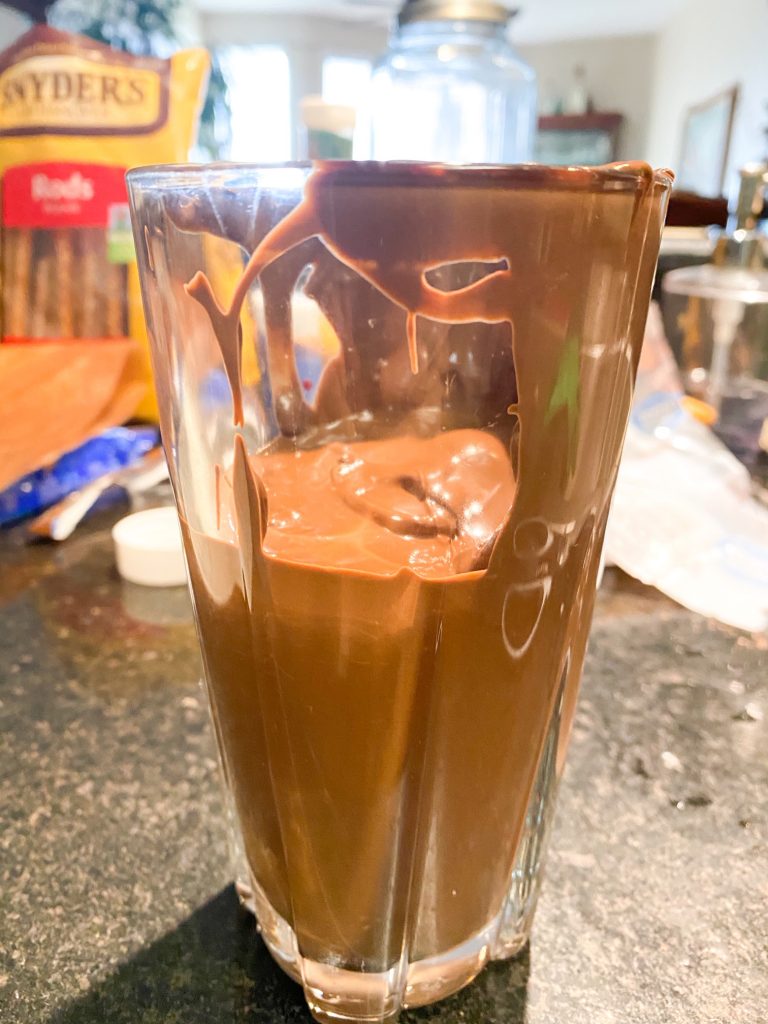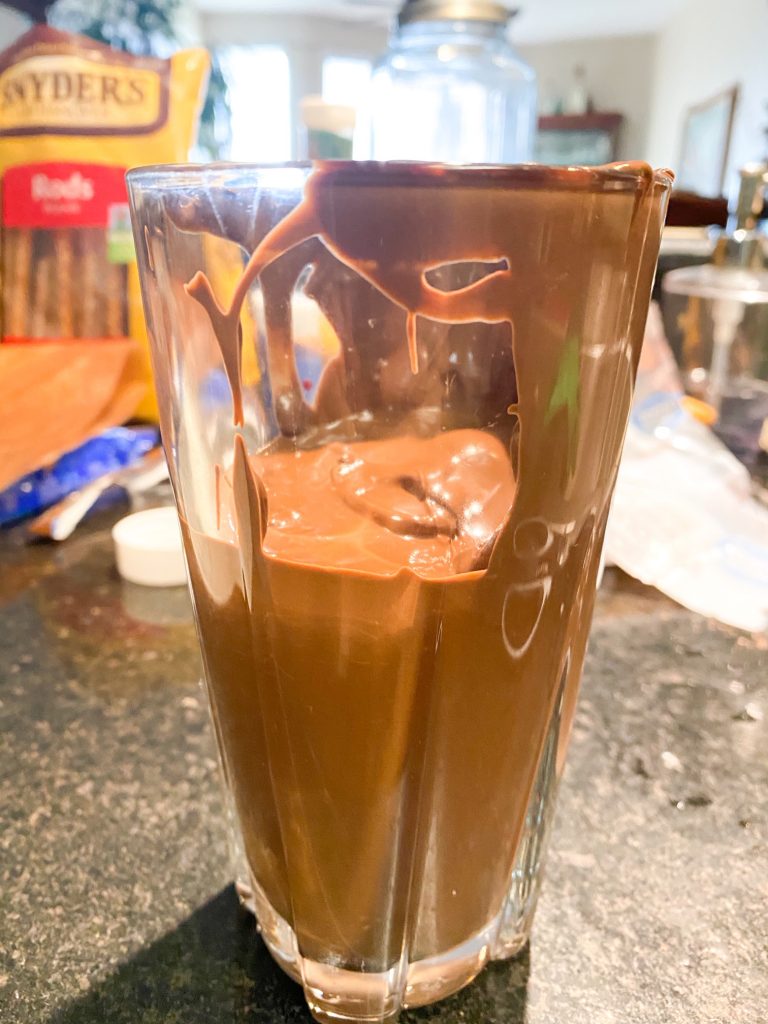 I prefer to melt my dark chocolate over the stove as I like to be in control, but you can use the microwave and continue to microwave until all of the chocolate is completely melted!
For this recipe, I use vegan dark chocolate chips, but you can use any dark chocolate you choose if you aren't vegan.
Once your dark chocolate is melted, pour it into the tall container like a glass and line a baking sheet with parchment paper.
Take a pretzel rod and dip it into the chocolate and then place it on the baking sheet.
You want the pretzel to be covered in chocolate, but you don't want it to be pooling around it or dripping all over.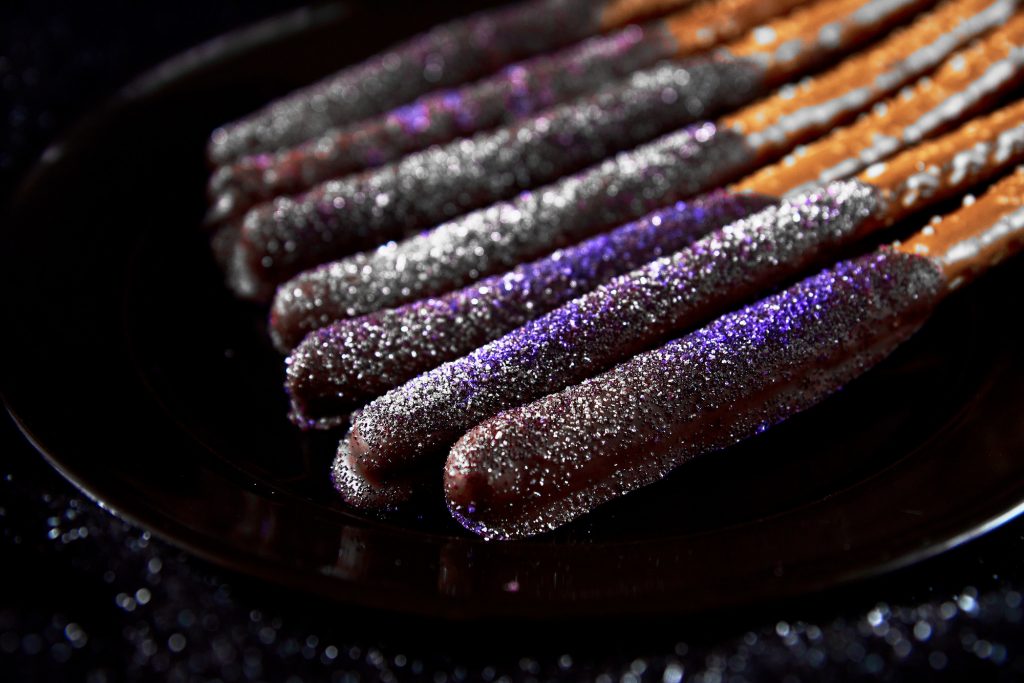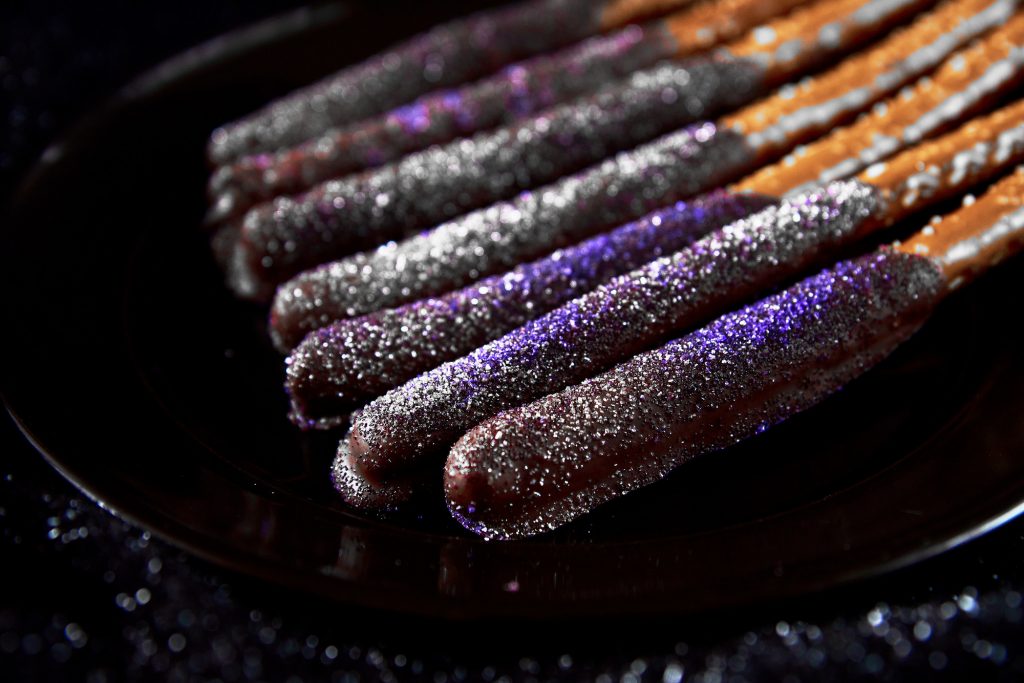 If your dark chocolate is too thick, you can thin it out by using a little bit of vegetable shortening or non-dairy milk, but be careful not to make it too runny.
Once all of your pretzels are dipped in the dark chocolate, sprinkle your purple icing sugar and then your silver icing sugar over the whole sheet of pretzels.
You may think that you will roll your pretzel in the icing sugar and I can tell you from experience that this is a HUGE mistake and a horrible idea!
Simply sprinkle the sugar all over the dipped pretzels as they lay on the cookie sheet.
Once you sprinkle them with the icing sugar, place the baking sheet in the fridge until the dark chocolate is hardened!
Take them out and enjoy!
The Hocus Pocus pretzels are so cute when served next to my Ghost Halloween Pretzel Rods if you want to blend festive and fancy at your party.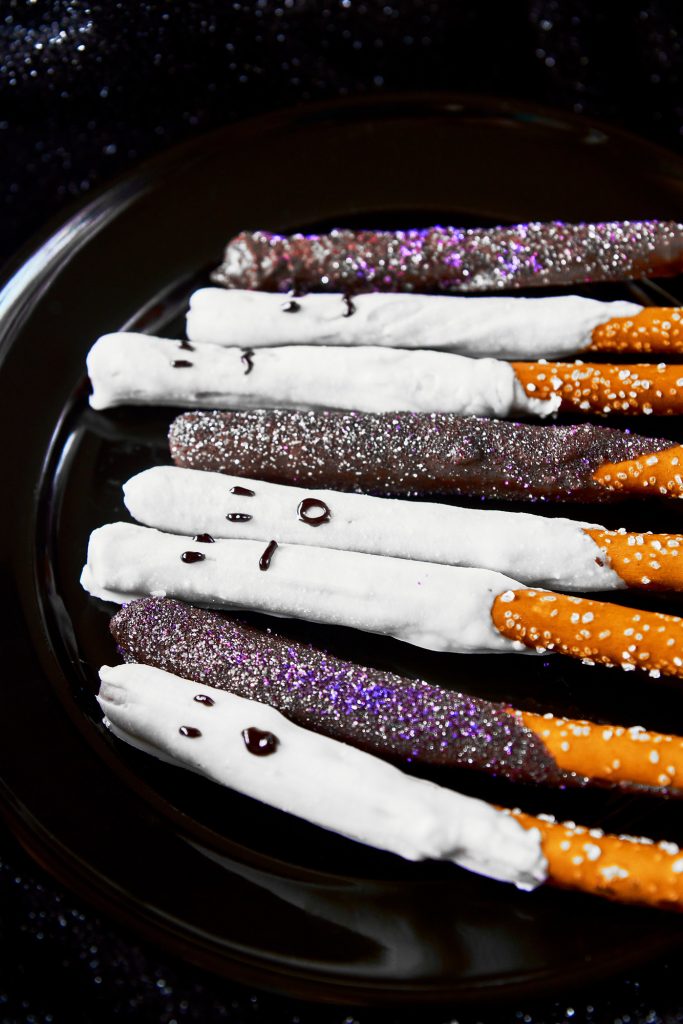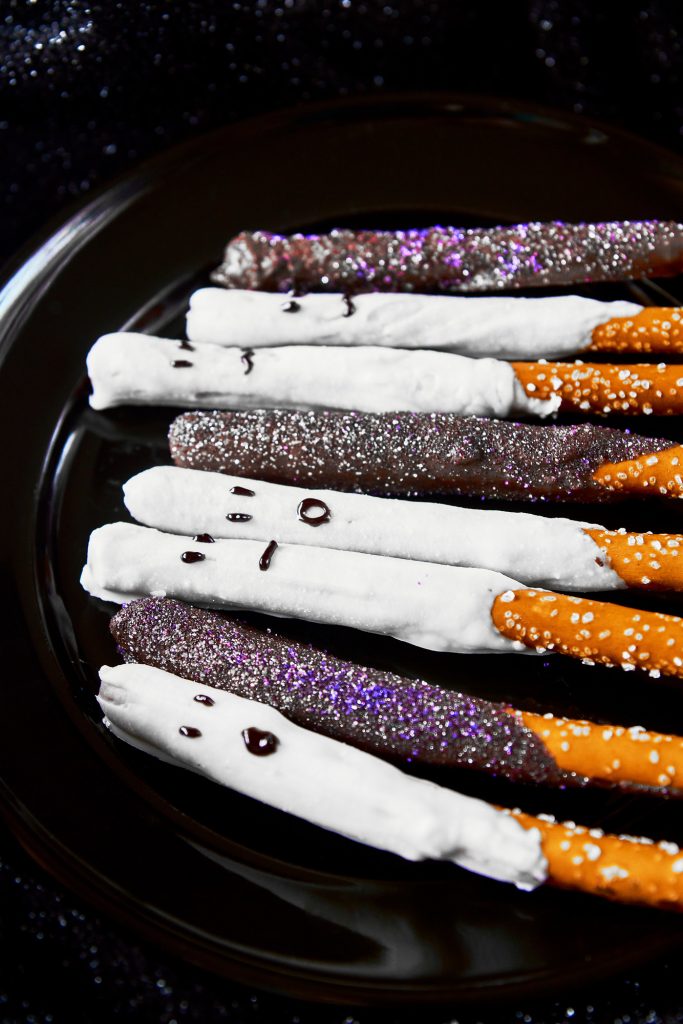 How To Store The Halloween Pretzels
You can easily make these Hocus Pocus pretzels in advance as they store really well!
Although we do make them and place them in the fridge to harden, we actually do NOT want to store the Halloween pretzels in the fridge at all!
You will store them in an air-tight container on the counter for best results!
When stored at room temperature in a sealed container, the Hocus Pocus Halloween Pretzels can stay fresh for 2-3 weeks, or as long as a bag of pretzels usually lasts!
This means that these Halloween pretzels are a great snack to make in advance of your party or big day.
You can easily make a big batch all at one time to eat over the course of the month or have ready in advance of a party!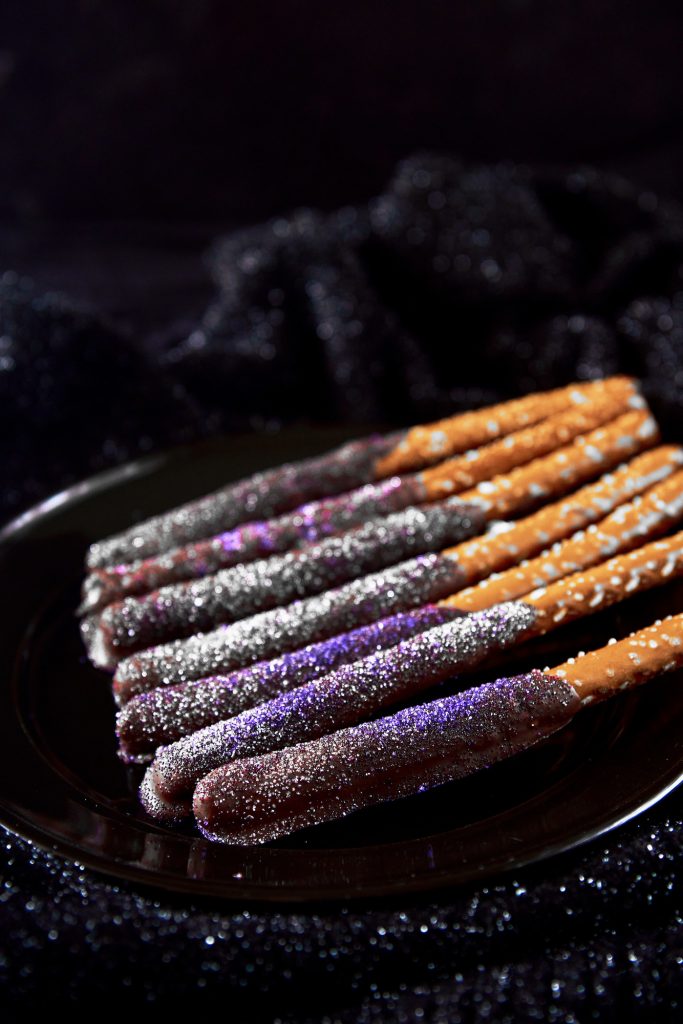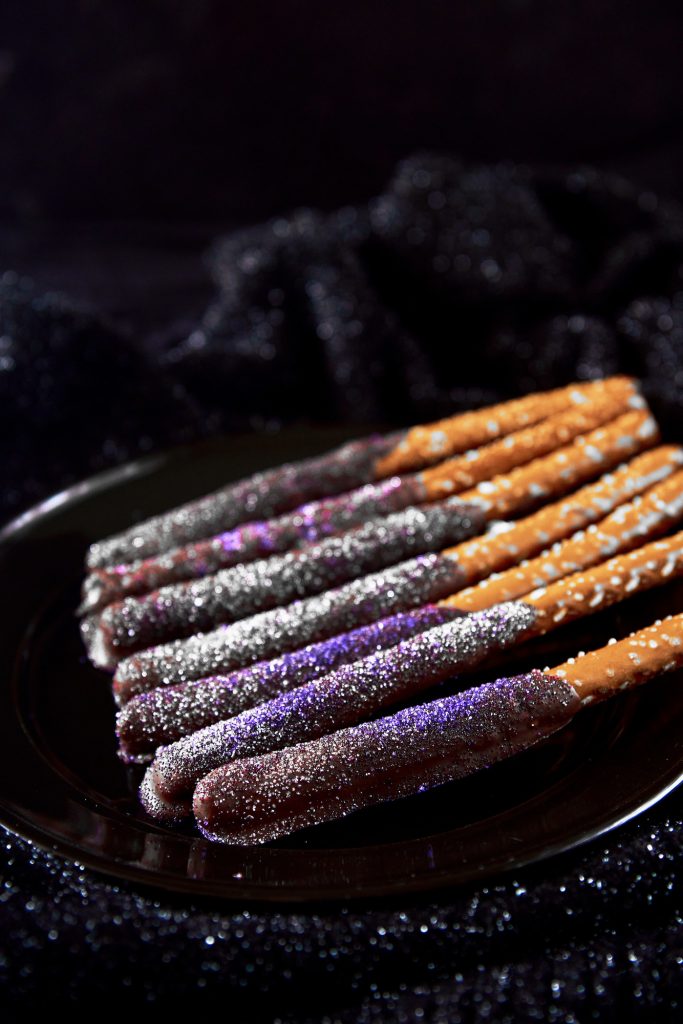 Did You Try This Recipe?
If so, I would love to keep in touch! I enjoy seeing photos and comments about the recipes that you make! You can follow me on Instagram and I will repost your goodies in my stories and comment on it too! Just tag me at @wowitsveggie and hashtag #wowitsveggie. I can't wait to see what you make!
Yield: 20 Pretzels
Hocus Pocus Halloween Pretzels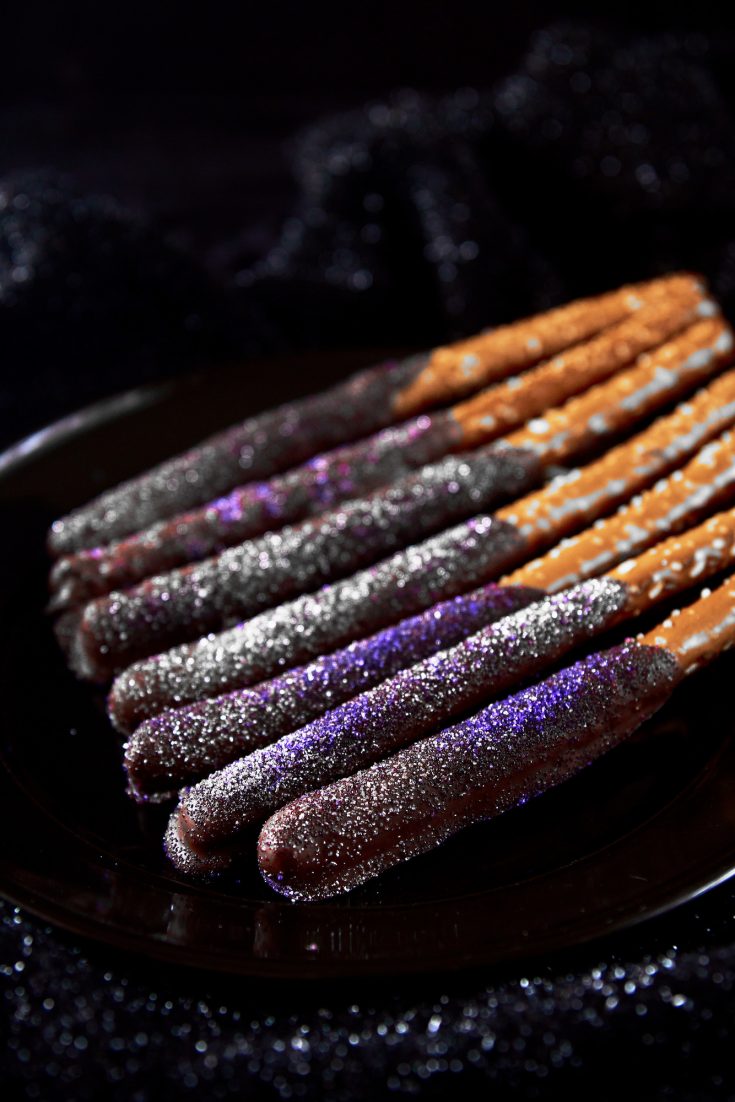 These sparkly Hocus Pocus Halloween pretzels are the perfect blend between sweet and salty. They are dipped in dark chocolate and covered in purple and silver icing sugar. They make a great Halloween snack when you want an elevated and elegant bite instead of something overly festive. They are vegan when you use vegan dark chocolate.
Ingredients
2 cups vegan dark chocolate + more if needed [can be chips or bars]
1 bag pretzel rods
Purple icing sugar
Silver icing sugar
Instructions
Line a cookie sheet with parchment paper and set aside
Melt your vegan dark chocolate chips either on the stove or using the microwave.
Once melted, pour dark chocolate into a tall and thin container such as a tall drinking glass. If you are using the microwave, you can melt the dark chocolate chipos in a tall glass to cut down on one step.
Dip your pretzel rods into the melted dark chocolate and place on a cookie sheet.
Once all of the pretzels have been dipped, sprinkle purple and silver icing sugar over the whole cookie sheet. DO NOT ROLL the pretzels in the icing sugar or else you will have a huge mess on your hands! Leave the pretzels on the cookie sheet and simply sprinkle the icing sugar over them!
Place the baking sheet in the fridge until the chocolate is hardened.
Remove from the fridge and store in an air-tight container for 2-3 weeks!