These are definitely the most delicious vegan garlic knots you will have the pleasure of making. The best part? They are EASY!!!
If you are making a quick work-night pasta, you can quickly throw together this garlic knot recipe in a flash. This recipe is similar to my Savory Vegan Garlic Breadsticks, but with a few exciting twists!
I have designed this recipe to be a little different than your average vegan garlic knots by using a cheesy filled center.
If you don't want to include the cheese, you can simply omit it and make regular vegan garlic knots. You can modify this recipe whichever way you like it better or even do half and half.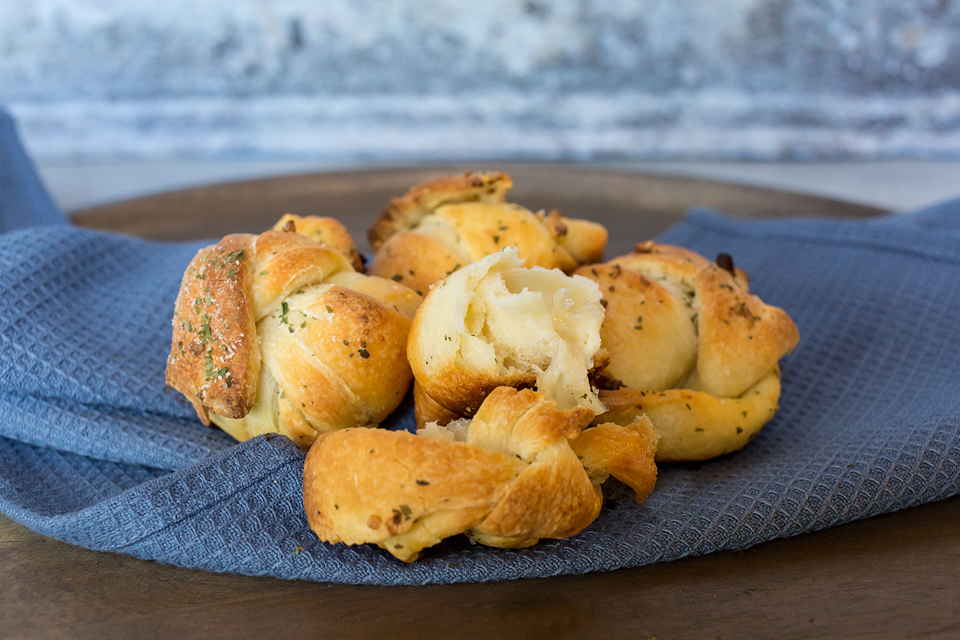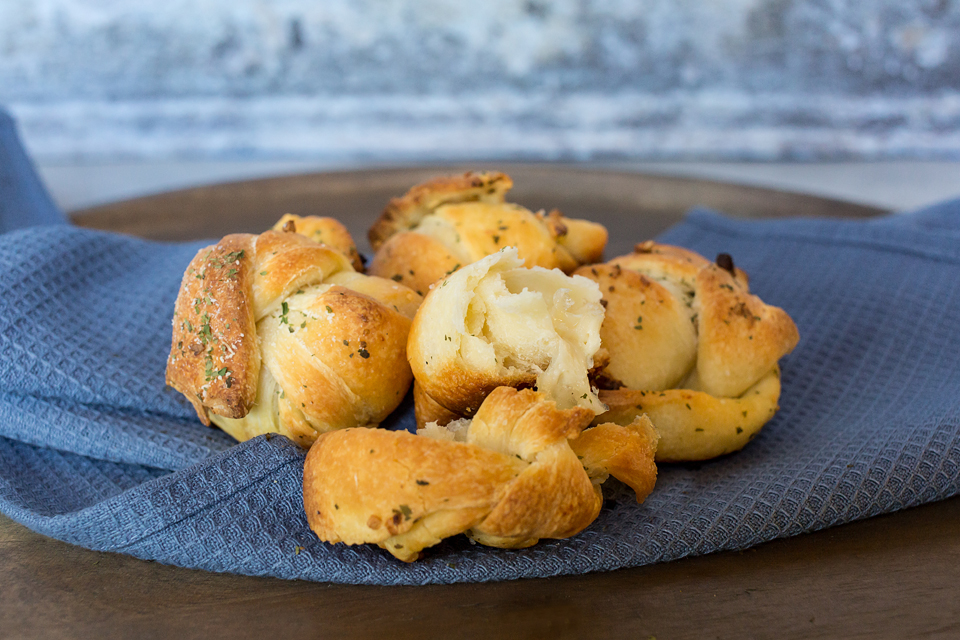 Why Vegan Garlic Knots?
Honestly? Because most garlic knots are made with butter and the dough may or may not be made with eggs. Even though I eat vegetarian [my mom is vegan and I often eat vegan] I do not like the taste of butter on food.
Whether you are like me and are averse to the taste of butter on things or you are a vegan and don't eat any animal products, this vegan garlic knot recipe is for you!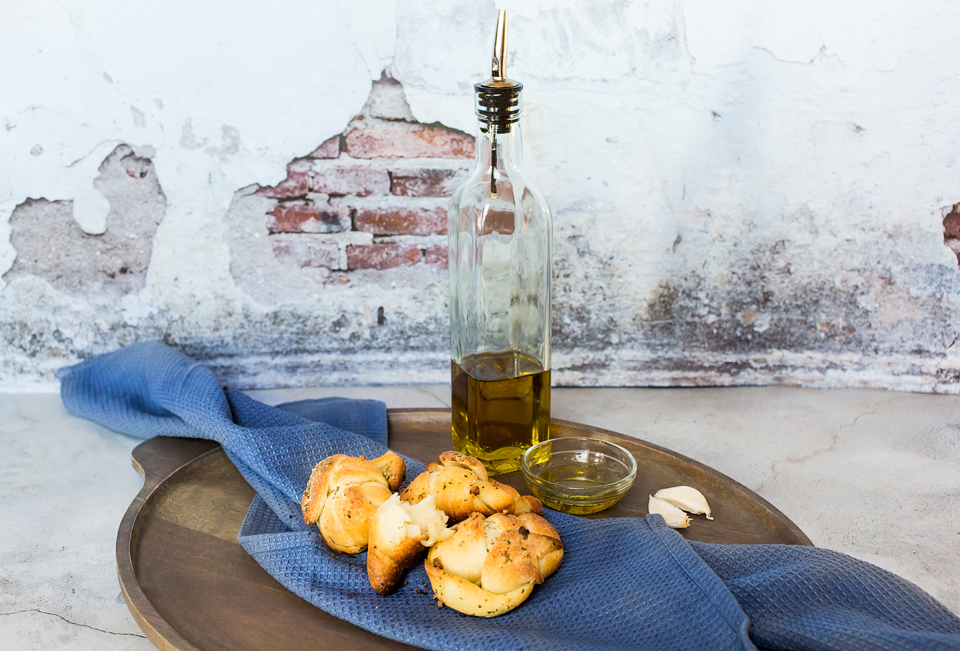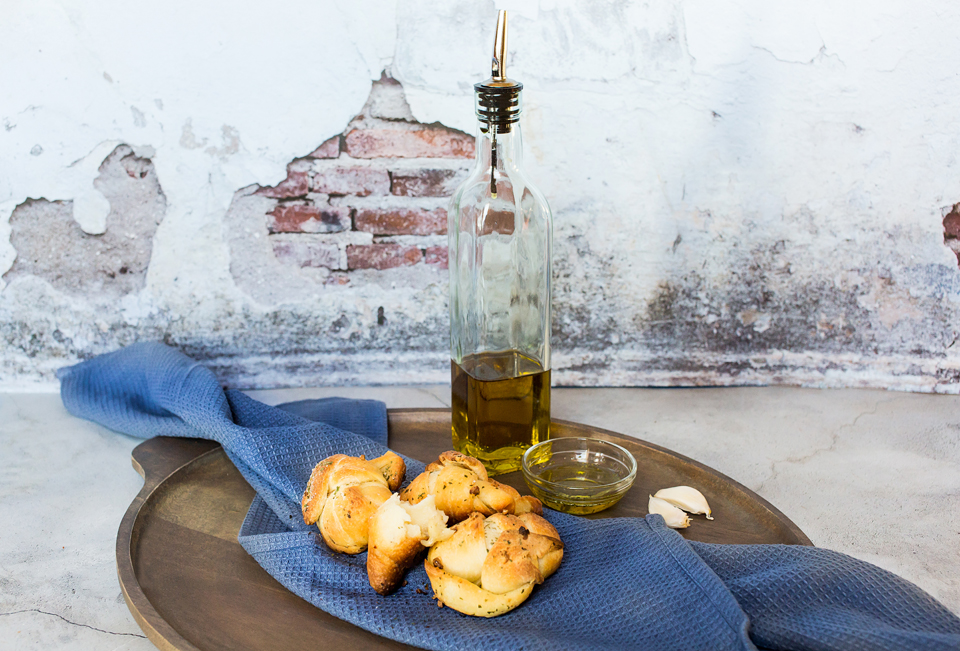 Is The Dough For The Garlic Knots Hard To Make?
NO!! These are supposed to be easy week-night vegan garlic knots! I can't have you out here spending hours creating the perfect dough. If you have your favorite go-to dough recipe, then, by all means, use it for these tasty garlic knots.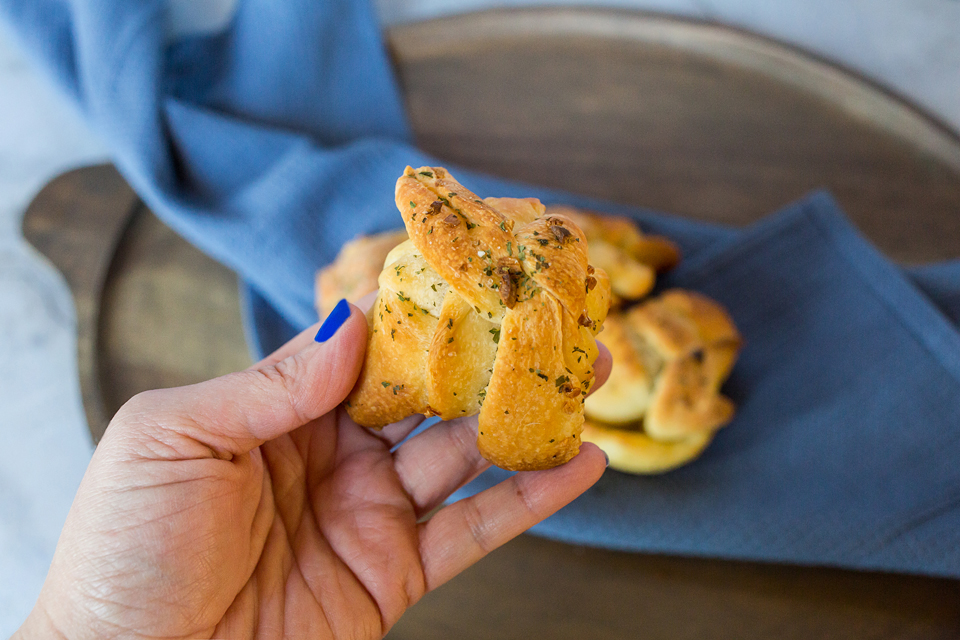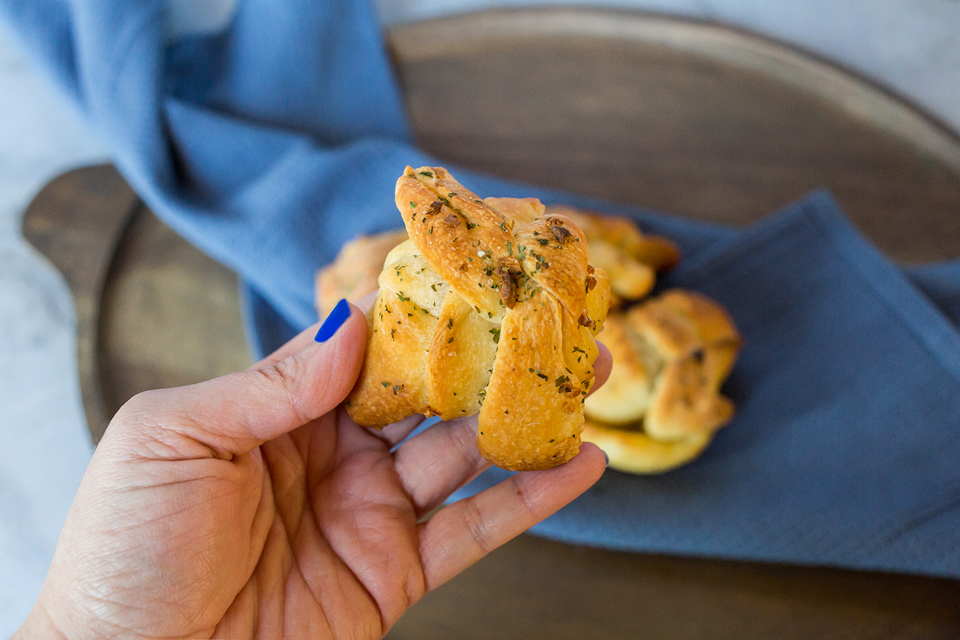 Otherwise, I suggest running to the store and buying refrigerated and pre-made pizza dough. Many grocery stores and supermarkets have pre-made pizza dough in the bakery section and you can use that as the base for these garlic knots.
As a result, you now have two options! One which is for "on the go" vegan garlic knots where you use pre-made pizza dough, and the other if you want to try your hand at making the dough from scratch, which is entirely unnecessary to be able to enjoy these garlic knots.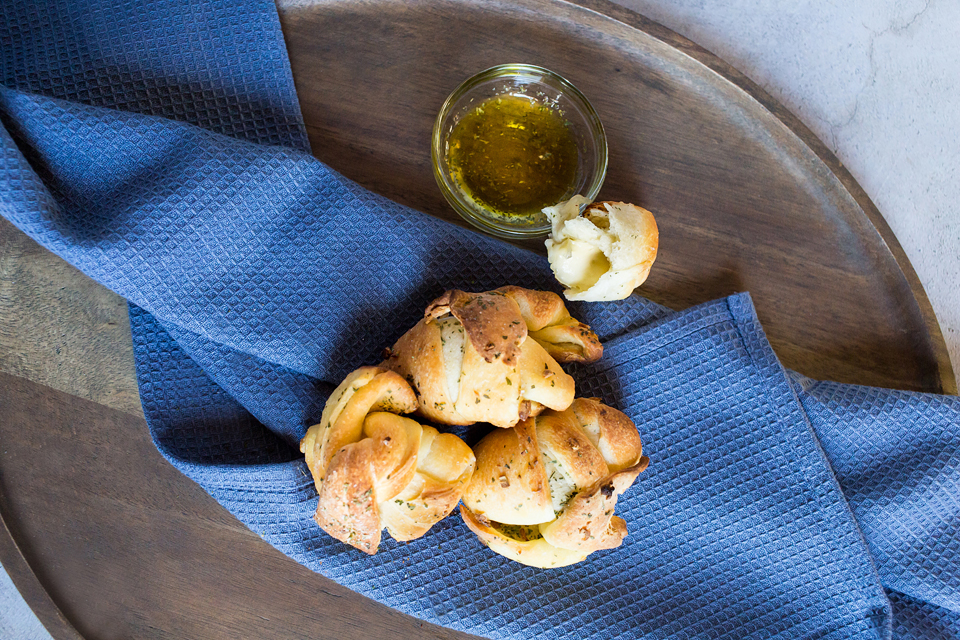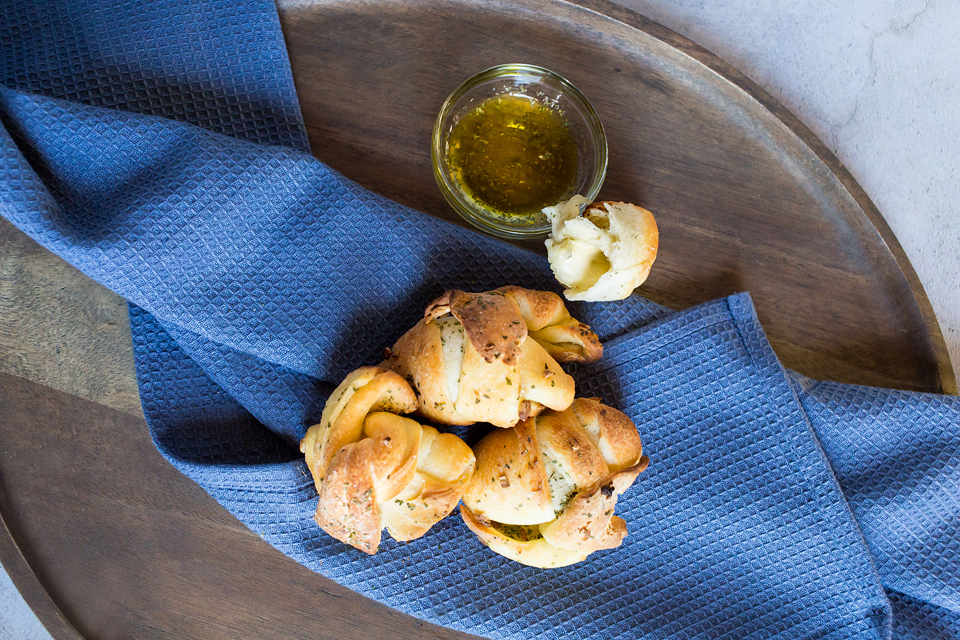 Shaping The Garlic Knots
To enjoy the crispy exterior and soft interior of these garlic knots, you need to shape them correctly!
To do this, place your dough on a floured surface and then roll it out flat like a pizza. Make sure that it isn't too thin where it will fall apart or too thick that it is difficult to work with.
Then, you will cut the dough into strips that are about 1 inch wide and 6-8 inches long. You will then "tie" the dough into a knot.
If you want these vegan garlic knots to be true balls, you are going to want the strip to be 1 inch long but shorter than 8 inches. This will reduce the "tails' on the garlic knot and ensure that it is in a tight ball.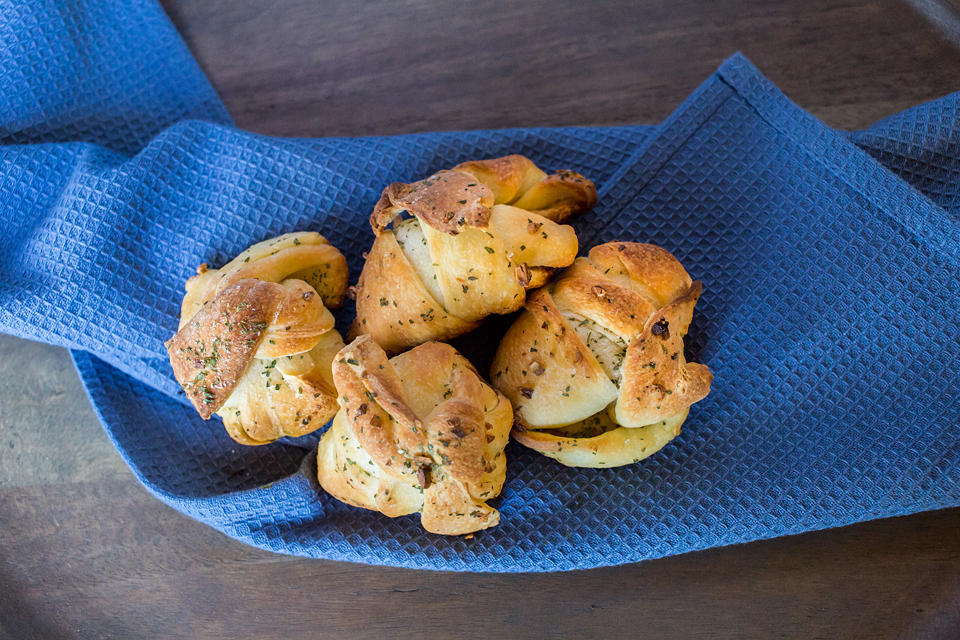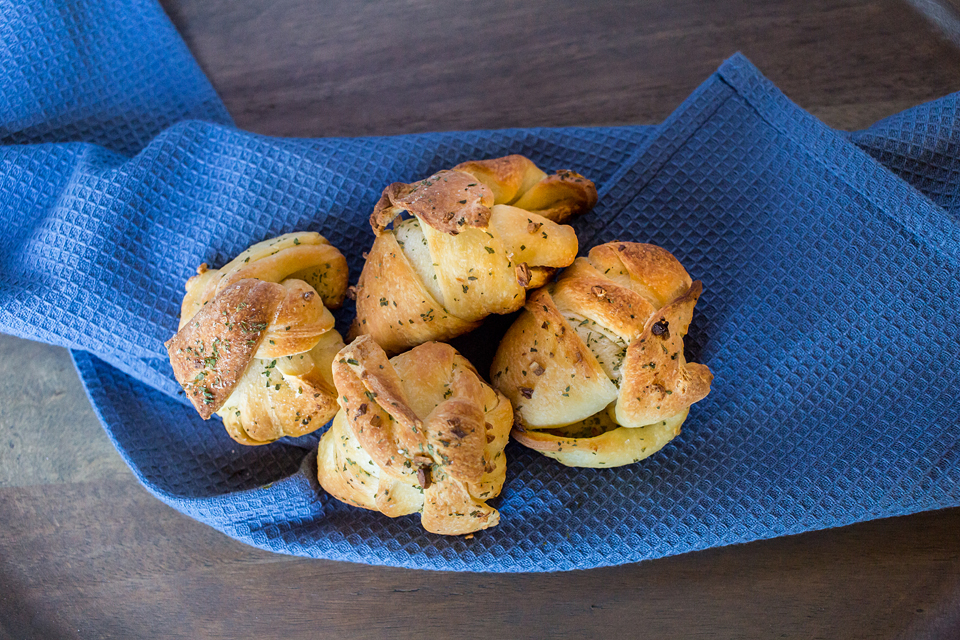 If you want the knot to be "longer" then go ahead and cut the dough into the 6-8 inch strips as notated above.
When you are forming the knots, ensure that they are sprinkled with flour so that they don't stick together or stick to themselves. You can add additional garlic powder here for extra flavoring, if you are a true garlic lover.
Finally, you are going to want to use a pastry brush or even just your fingers and lightly brush these vegan garlic knots with oil. The oil is what makes them crisp up and taste right when baking!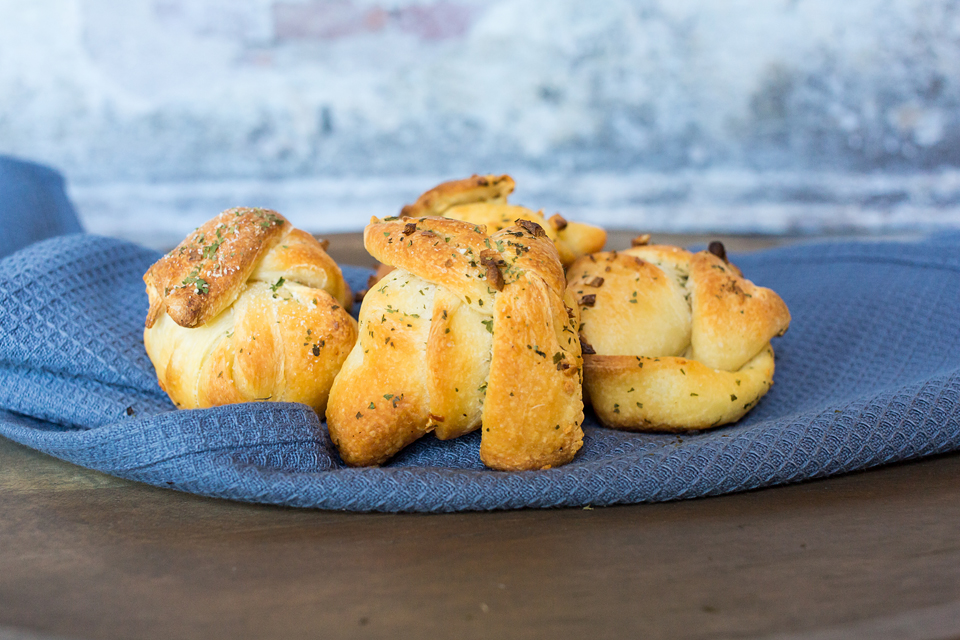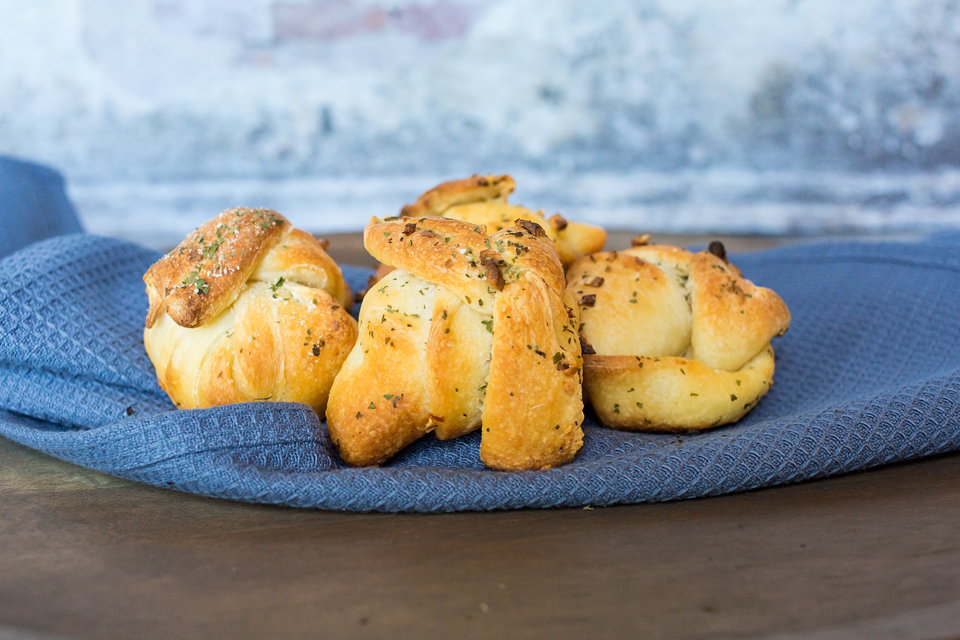 To Add Cheese Or To Not Add Cheese?
If you choose to add vegan cheese to your garlic knots, go ahead and follow the instructions above for cutting the dough into strips. You are going to want to cut smaller strips than the 8 inches and you are going to want the garlic knots to be "tight" balls so that the cheese stays inside.
After you cut the strip and tie it into a loose knot, go ahead and stuff/sprinkle some vegan cheese into the interior. This will allow these to become cheesy vegan garlic "bombs" where the cheese falls out and is all melty when you eat the garlic knots.
If you are cooking for a crowd, make some of these vegan garlic knots with cheese and without cheese so that your guests have options, depending on their tastes!
You can also serve the garlic knots with Creamy Vegan Alfredo Pasta or Vegan Eggplant Parmesan because who doesn't love carbs?!
Did You Try This Recipe?
If so, I would love to keep in touch! I enjoy seeing photos and comments about the recipes that you make! You can follow me on Instagram and I will repost your goodies in my stories and comment on it too! Just tag me at @wowitsveggie and hashtag #wowitsveggie. I can't wait to see what you make!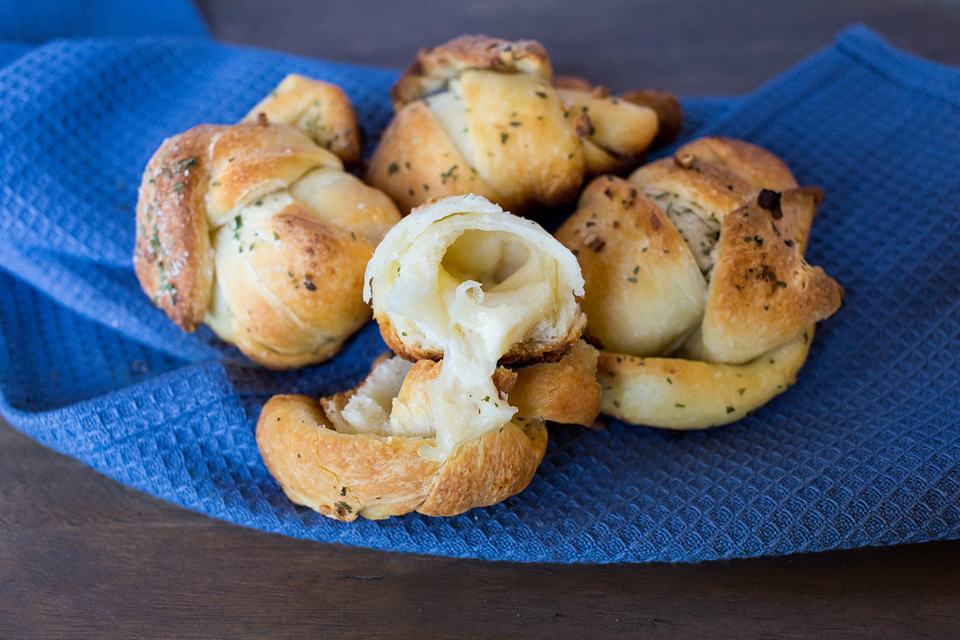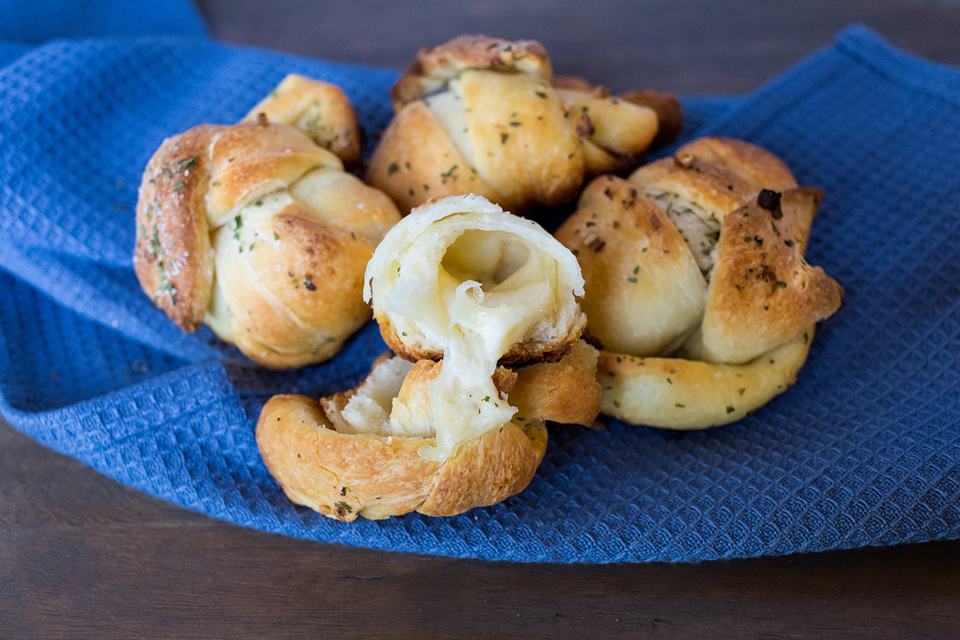 Yield: 40 Knots
Vegan Garlic Knots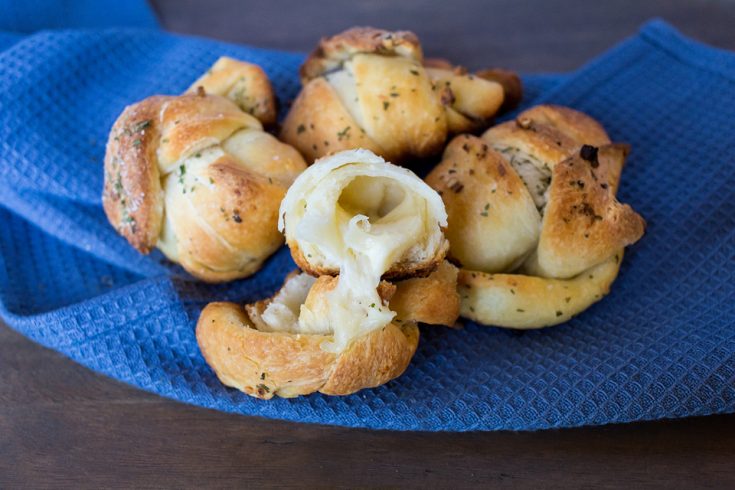 These soft and cheesy vegan garlic knots are easy to whip up and delight a crowd. You can choose to make them with or without cheese. They whip up quickly because you use store-bought pizza dough for ease. Finally, they are melt-in-your-mouth good! What isn't to love?
Ingredients
1 pound store-bought pizza dough [or homemade if you want!]
2 cups vegan cheese of your choice [for stuffing the knots] I used Daiya vegan cheese
5 garlic cloves, minced
2/3 cup of olive oil
1/4 cup dried Italian spices/seasoning blend [substitute for dried parsley if you don't have Italian seasoning on hand]
1/2 teaspoon of salt
Optional: black pepper to taste
Optional: garlic powder for topping
Instructions
Preheat oven to 375 degrees and grease two large baking sheets with oil or use a silpat/parchment paper instead.
Cut your pre-made pizza dough into two balls. This way, you can easily half the recipe and make two 20 garlic knot recipes.
Roll one ball of pizza dough until it is flat and in a rectangular shape [as opposed to a circle for pizza]
Slice the dough into 1-inch thick strips that are between 6-8 inches in length. Eyeballing it is okay. Repeat this step with the other ball of dough until you have 40 knots [or your desired amount depending on the size of your strips]
Loosely tie each strip into a knot and place on your baking sheet.
OPTIONAL: Before you pull the knot "tighter" add a sprinkle of vegan cheese in the middle and then complete the knot. Place on your baking sheet, ensuring you know which contain cheese and which garlic knots don't.
Using a pastry brush, lightly coat the top of the garlic knots with oil. Shake a little garlic powder on top for additional flavor.
Bake for 20 minutes or until golden brown.
Combine minced garlic cloves, olive oil. Italian spice blend, and salt in a large bowl. Bowls with flatter bottoms work well. Add the warm vegan garlic knots to the bowl and toss until each knot is coated in the mixture. Add additional salt/cheese to taste.
Remove knots from oil and for best results, serve warm!
Nutrition Information
Yield
40
Serving Size
1
Amount Per Serving
Calories

80
Total Fat

5g
Saturated Fat

1g
Trans Fat

0g
Unsaturated Fat

4g
Cholesterol

0mg
Sodium

124mg
Carbohydrates

7g
Fiber

0g
Sugar

2g
Protein

2g