If you are looking for the best vegan brownies recipe, you have come to the right place. These chewy gooey vegan brownies please a crowd of kids and adults alike and you won't be able to let them cool before they are flying off the plate!
Believe it or not, this is one of the more healthy vegan brownie recipes out there. All of the ingredients should be of high quality for the best taste. While this recipe does include sugar, it isn't full of unhealthy additives that you may often find in other vegan brownie recipes!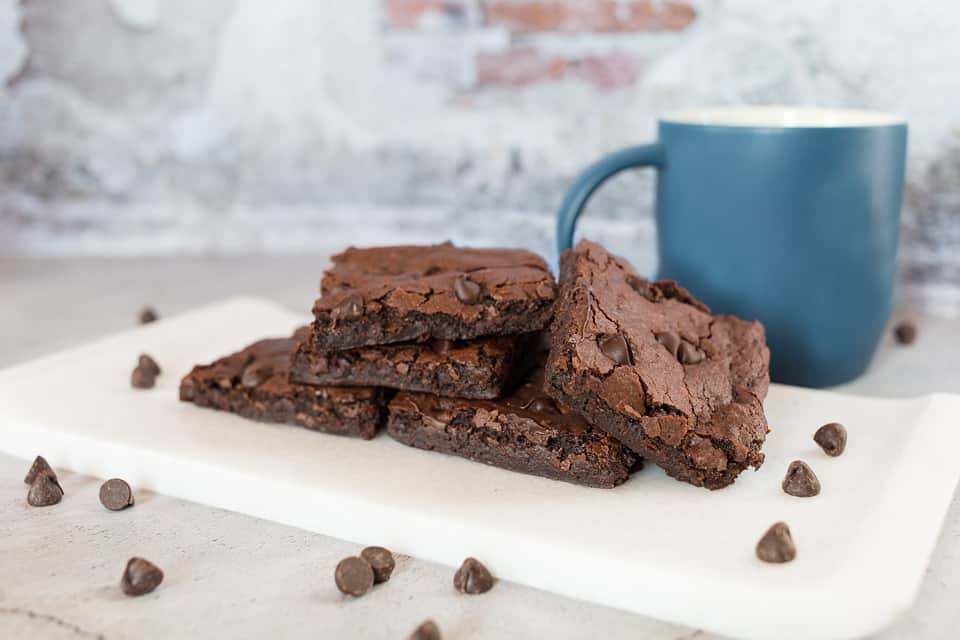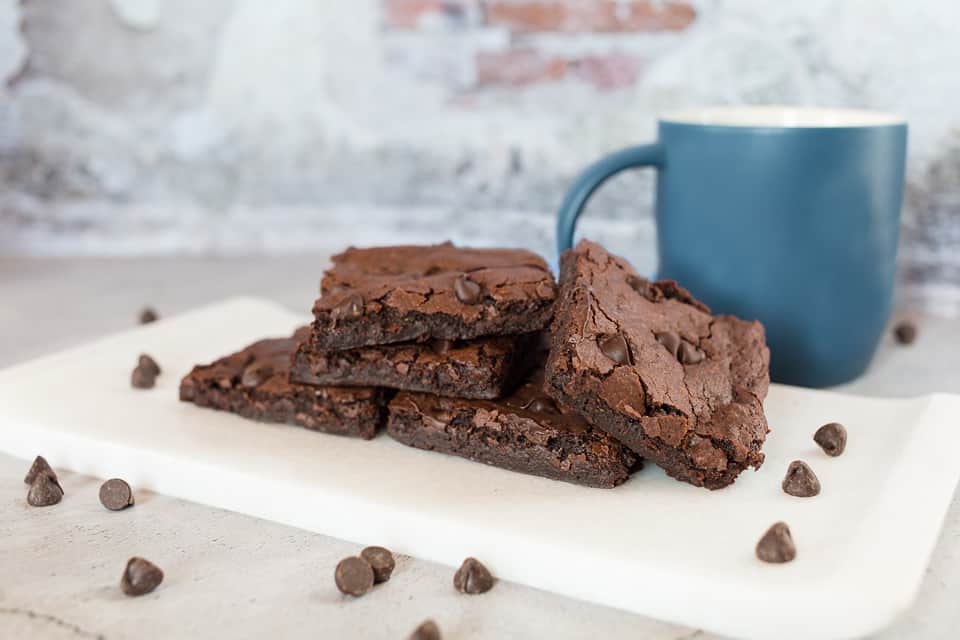 What Kind Of Chocolate Chips Should I Use For These Vegan Brownies?
When choosing your chocolate chips to create the best vegan brownies on the block, you want to go for high quality! For this vegan brownie recipe, you can choose to use either vegan chocolate chips OR roughly chopped chocolate pieces!
I use Ghirardelli dark chocolate chips which are naturally vegan and they add a really nice taste. I also love 85% Dark Chocolate bars from Whole Foods. You can change up the chocolate chips used for these fudgy vegan brownies depending on the type of chocolate taste that you like!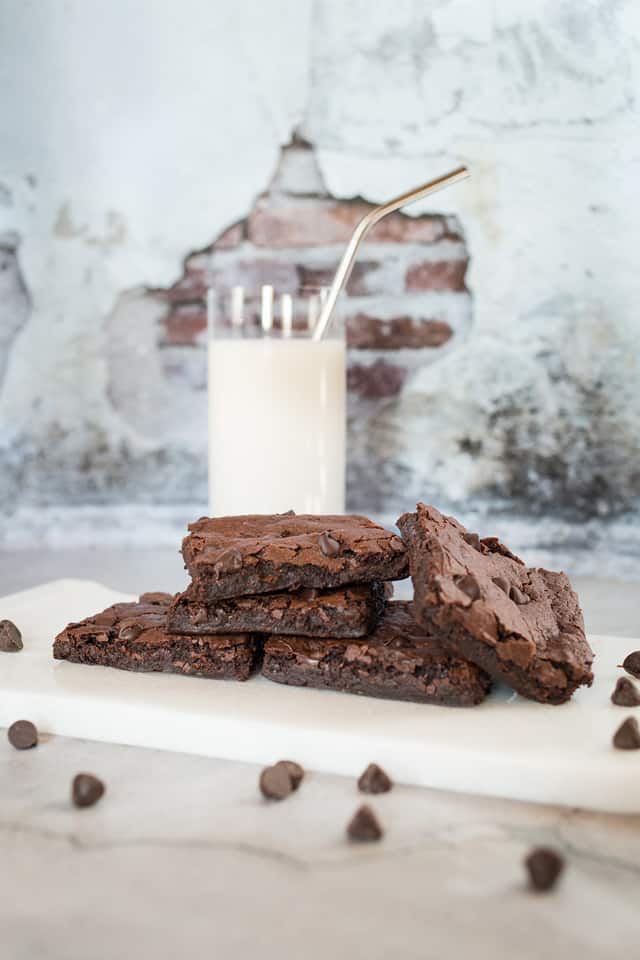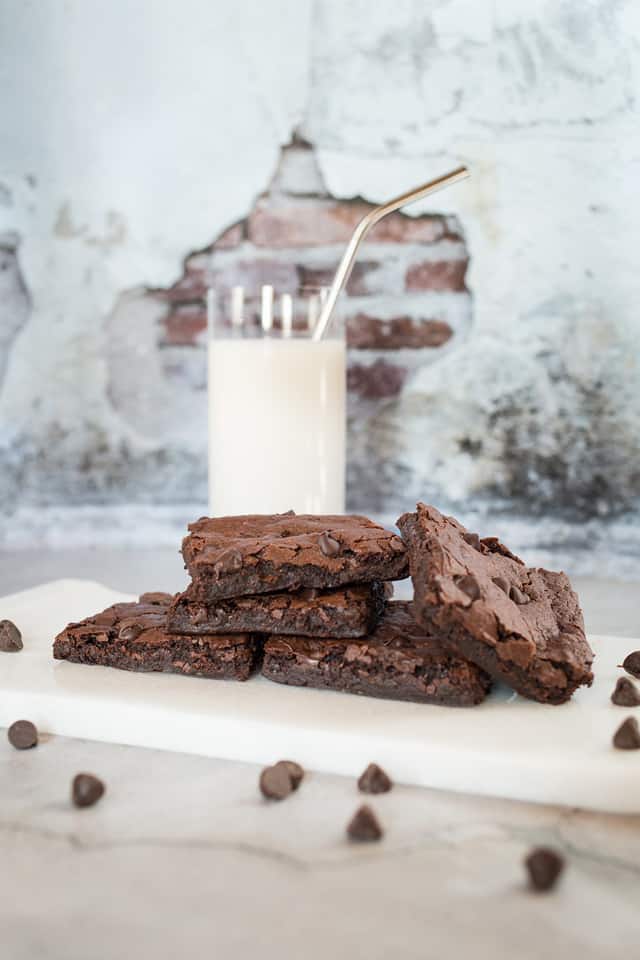 What Kind Of Cocoa Powder Should Be Used For To Get The Best Vegan Brownies?
Once again, we want to go with high-quality ingredients! I personally use organic cacao powder from Costco, but it isn't always there and Costco isn't always accessible for everyone.
Instead, you can use Hershey's Cocoa Powder as it is a high-quality option and lends a great taste when creating the base for your vegan brownie mix. It is essential to choose an unsweetened cocoa powder so that you don't get any of the additives included. The additives will change the taste of the vegan brownie recipe and you don't want that!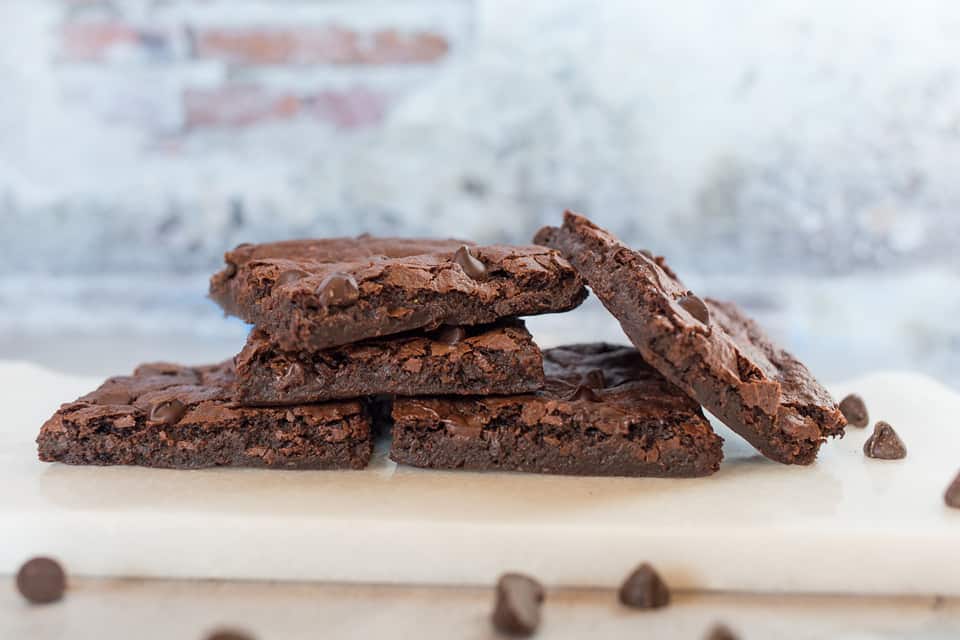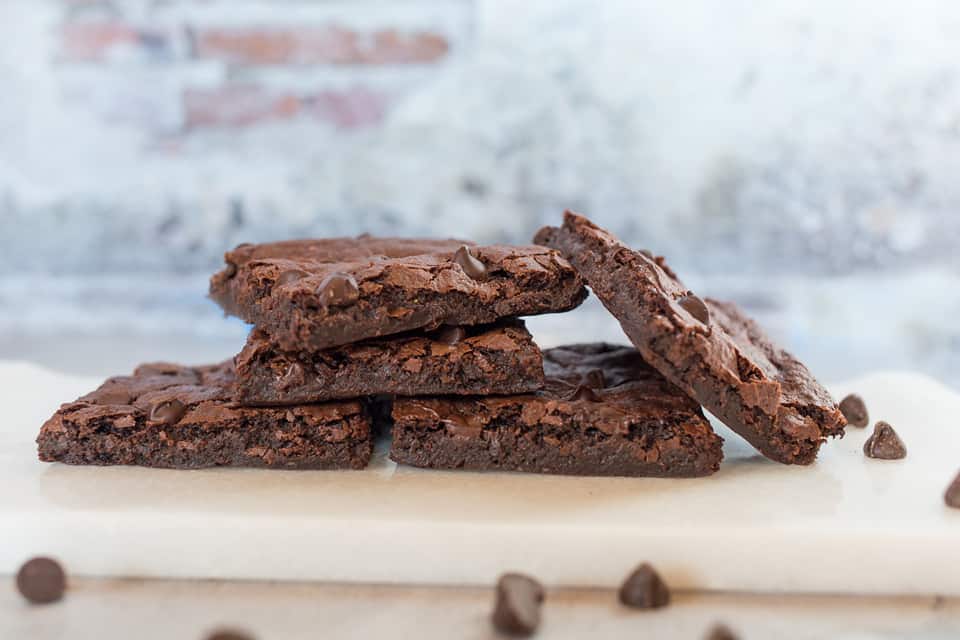 How Do You Store These Vegan Brownies?
You can store these vegan brownies in a sealed container in the freezer for up to 1 month. When you want to reheat them, simply let them thaw out on the counter and then either put them in the microwave for 30 seconds or if you don't want to use the microwave, go ahead and pop them in an oven or toaster oven for 5 minutes to warm them back up!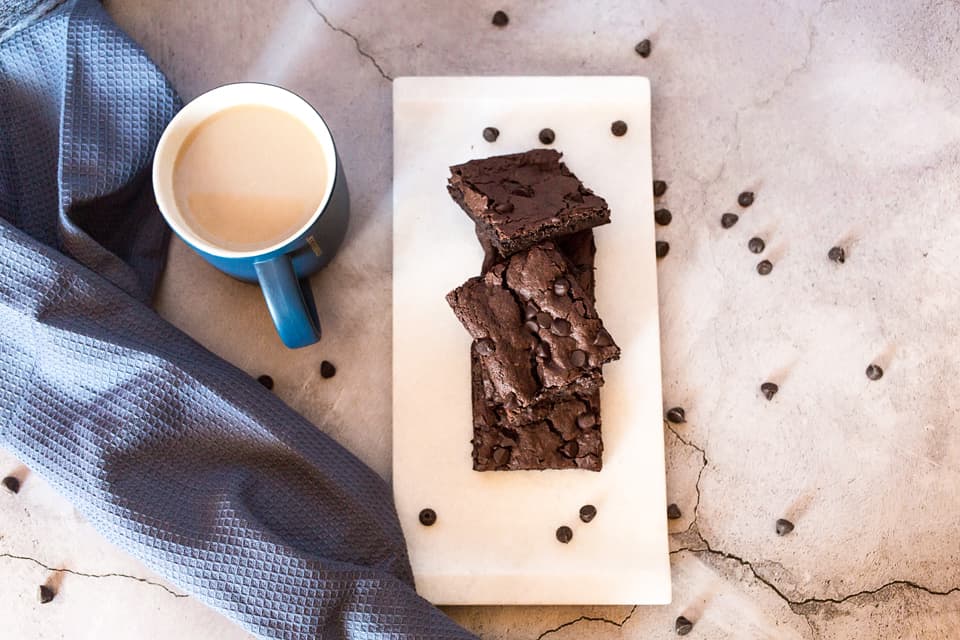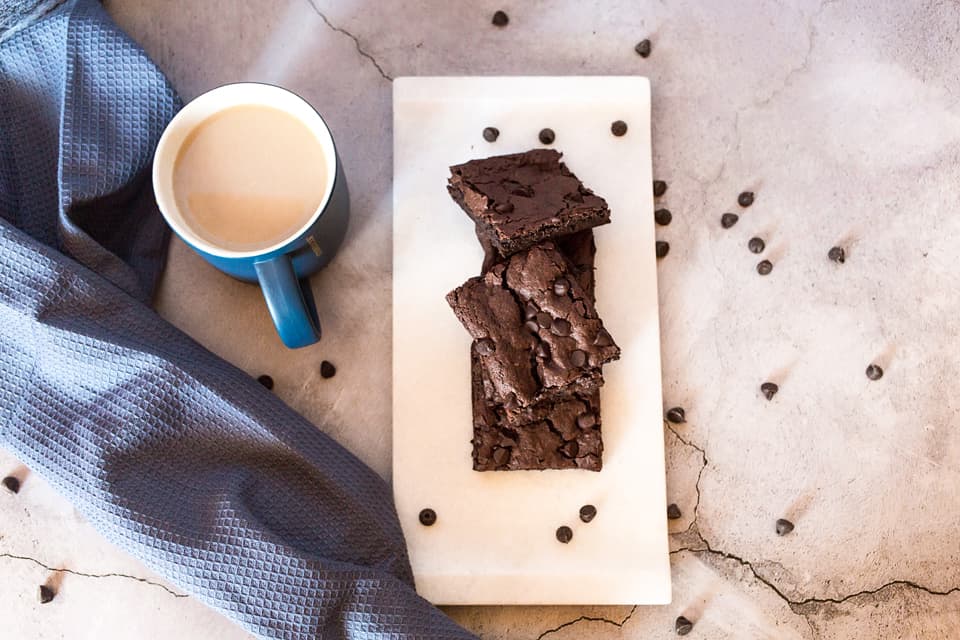 Yield: 16
Chewy Gooey Vegan Brownie Recipe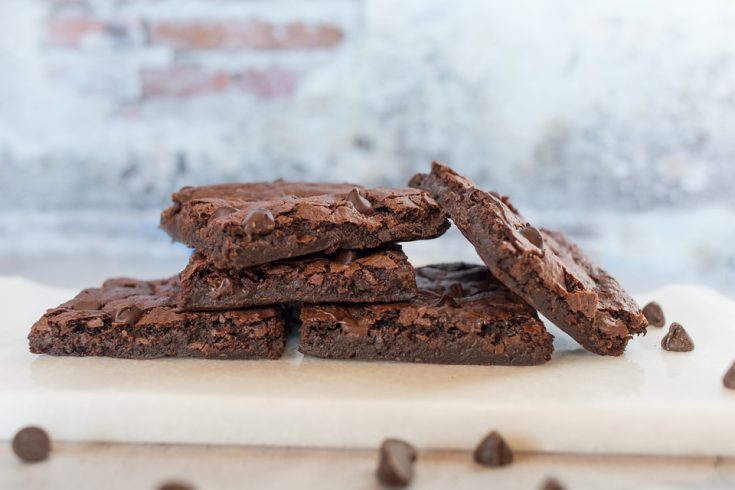 These chewy gooey fudgy vegan brownies are the best that you will ever have! They also keep well in the freezer and you won't be able to let them cool before they fly off your plate because they are just that good!
Ingredients
1 cup white sugar
1 cup brown sugar
1 cup dark chocolate chips (or chocolate chunks)
1 tablespoon vanilla extract
4 tablespoons of ground flaxseed
1/2 cup of water (reserve for "egg" mixture)
1/2 cup margarine
1 cup flour
1 cup unsweetened cocoa powder
1 teaspoon salt
1 teaspoon baking powder
Instructions
Stir flax grounds and 1/2 a cup of water to create an "eggy" mixture. Let stand for 10 minutes to thicken.
Melt the margarine and measure 1/2 a cup [I use sticks of margarine and melt on low heat on the stove or in the microwave if you prefer]
Mix margarine, brown and white sugar, flax mixture, and vanilla together. Combine with cocoa powder, flour, salt, and baking powder and stir until a thick dough is formed. Add chocolate chips or chunks (you can even add more if you prefer) and combine until chocolate chips are evenly distributed throughout
Pour vegan brownie mixture into a greased or lined 9x13 pan. Add more chocolate chips on top to taste. (I like to add a lot!)
Bake in preheated 350-degree oven for 30 minutes. Allow brownies to cool and firm up for at least 10 minutes for best results.
Notes
To store these vegan brownies, let them cool and then store in a freezer tight container for up to 1 month. You can reheat them in a warm toaster oven or using the microwave.