If you are looking for how to make elderberry syrup, you have come to the right place. My mom has been making vegan elderberry syrup for well over a decade and it has helped us prevent cold and flu in my house since I was a child!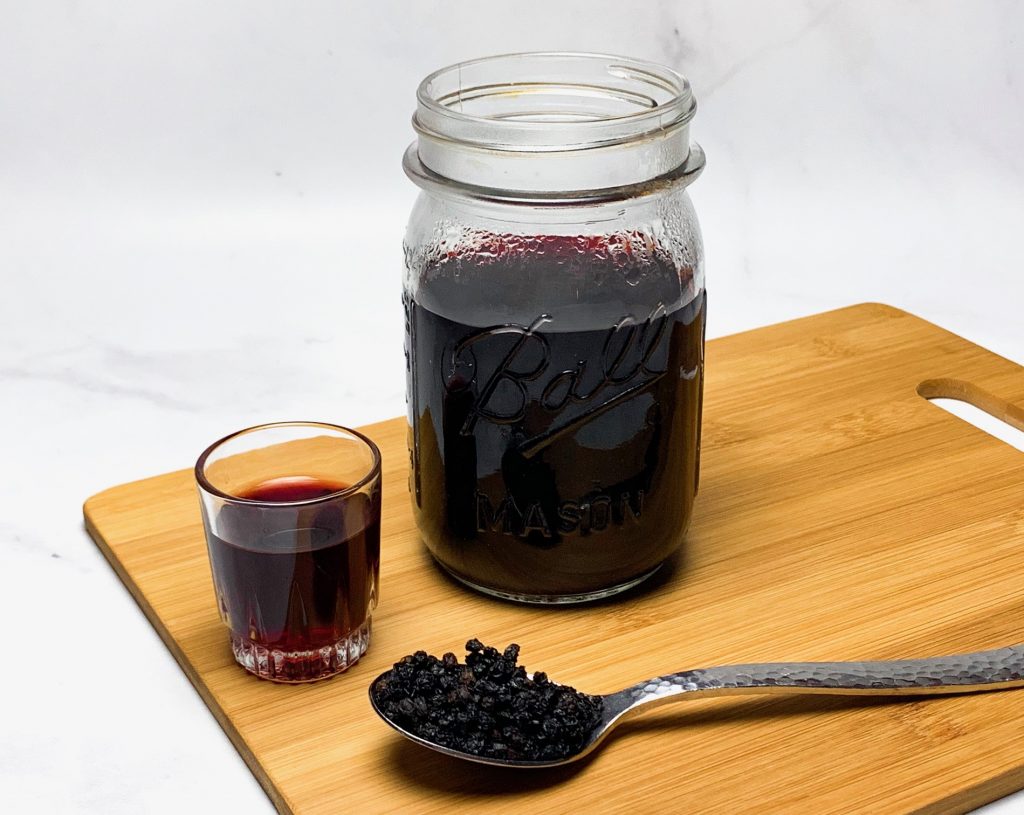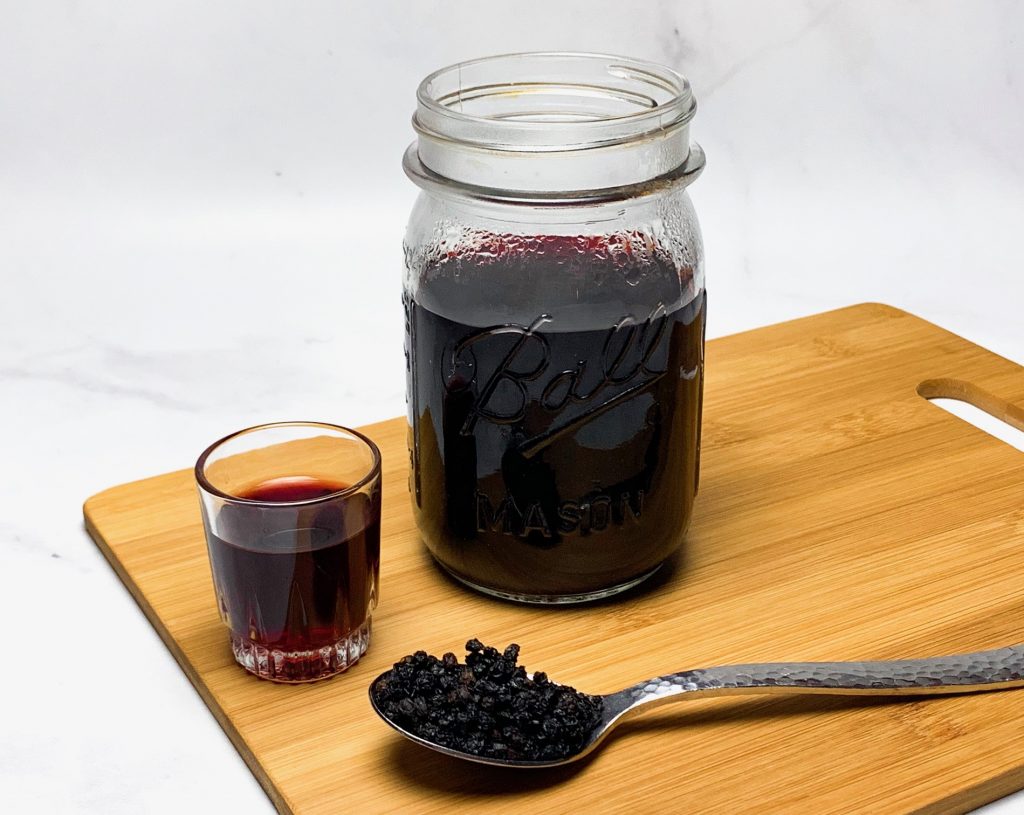 This is the vegan elderberry syrup recipe that we have relied on since I was a child. It is incredibly easy to make and only takes 3 ingredients and a little bit of your time. Elderberry syrup is the perfect way to fight cold and flu at any time of the year, but especially during the winter!
What Is Elderberry Syrup?
People often get confused as to what Elderberry syrup is and think it is hokey and weird. I am here to tell you that it is not. When I was growing up, we were driving down the street one day and actually found an Elderberry tree and picked them ourselves for over 10 years!
Elderberry grow on a tree that is native to Europe but can be found in the United States too. I live in Florida and many veggie friends know where to find local Elderberry trees and pick the berries themselves. If you don't have a tree nearby, never fear! You can always purchase elderberries online!
Elderberry syrup is believed to help boost immune systems and is perfect for every to take, especially during the winter and school season!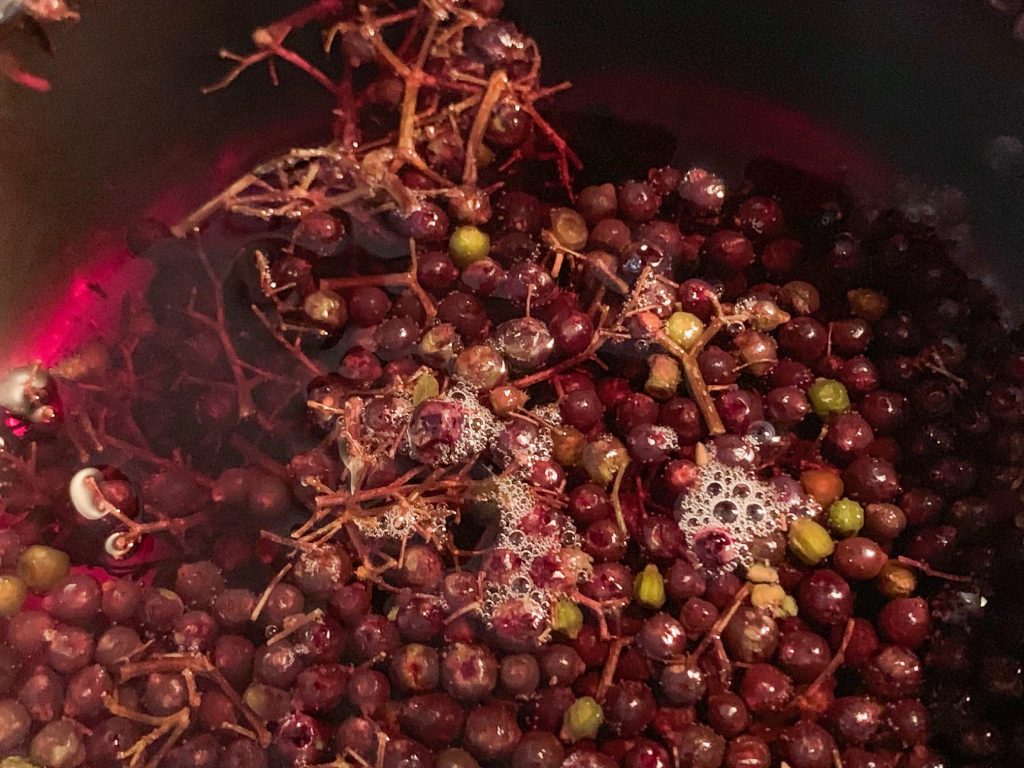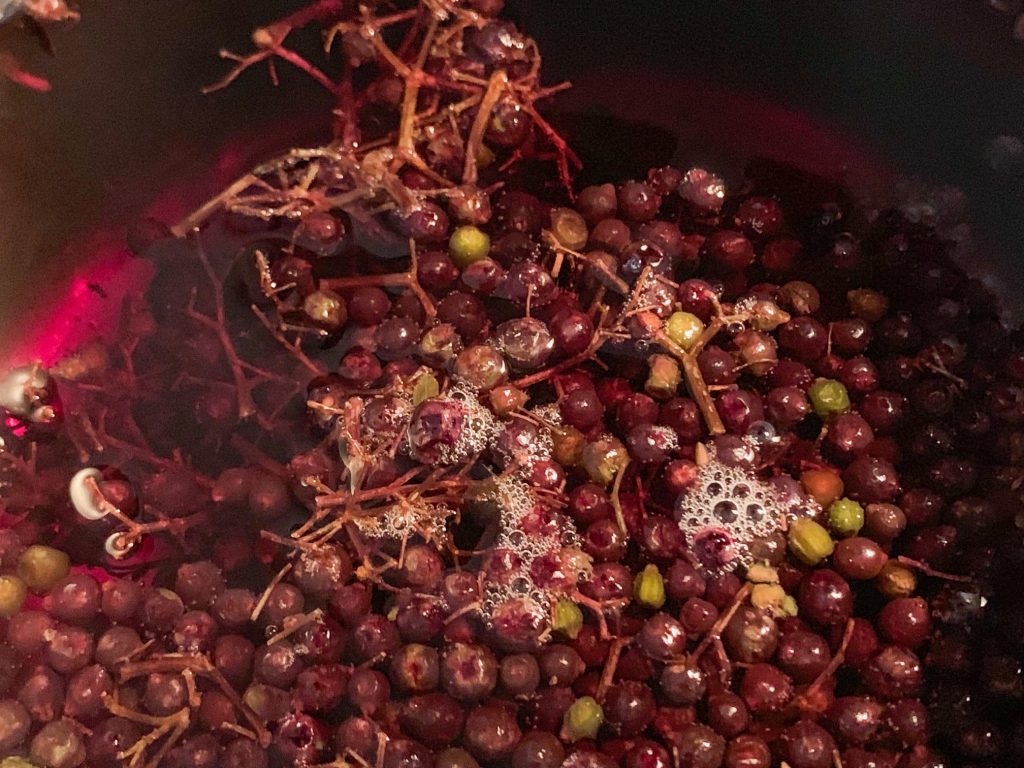 Why Make Your Own Vegan Elderberry Syrup?
For one, buying it already made from a health food store or online is kind of expensive. By making your own Elderberry syrup, you will be saving yourselves a lot of money! If you want to buy premade elderberry gummies from the store, it will cost even more!
In addition, there is nothing healthier than learning how to make elderberry syrup yourself. You know exactly what you are putting into your body and the bodies of those in your family who are drinking this.
There are no additives or preservatives, dye, or weird sugars in this vegan elderberry syrup recipe. It is just 3-ingredients, kid-approved [I should know, I have been taking it since I was a wee babe] and will help fight cold and flu!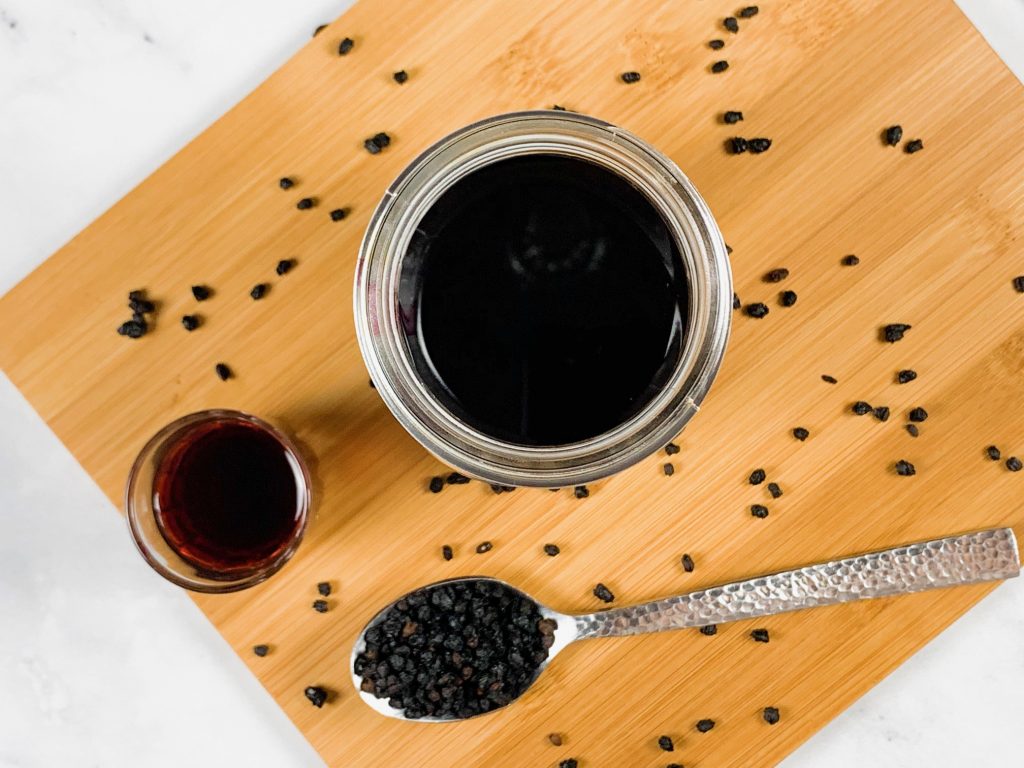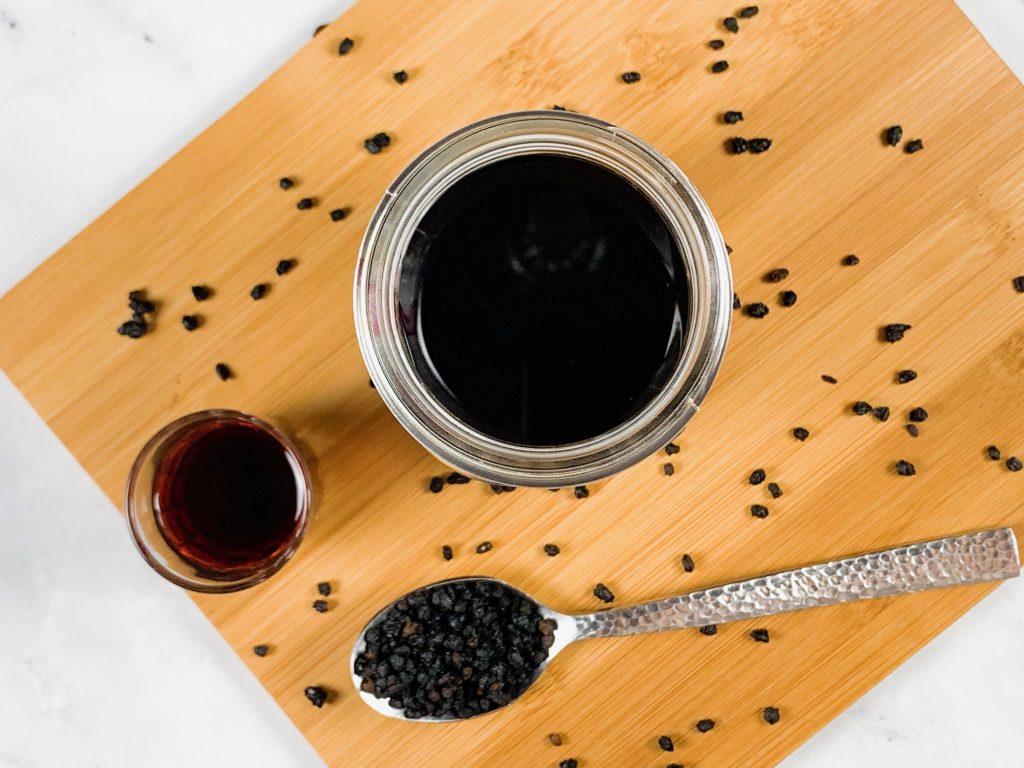 Do You Need To Use Sweetener When Making Elderberry Syrup?
The short answer is no, technically you don't need sweetener when making this vegan Elderberry syrup recipe. The concentration of sugar is around 65-75% which means that the Elderberry syrup can actually sit on the counter and stay preserved if canned correctly.
That being said, when I was making the Elderberry syrup for these photos and this article, I tried a swig of it without any sugar and it was pretty nasty and bland.
Personally, my family has always sweetened with maple syrup. This makes the elderberry syrup recipe vegan and easily accessible to anyone! If you do add a sweetener such as maple syrup, you will have to refrigerate the mixture to preserve it!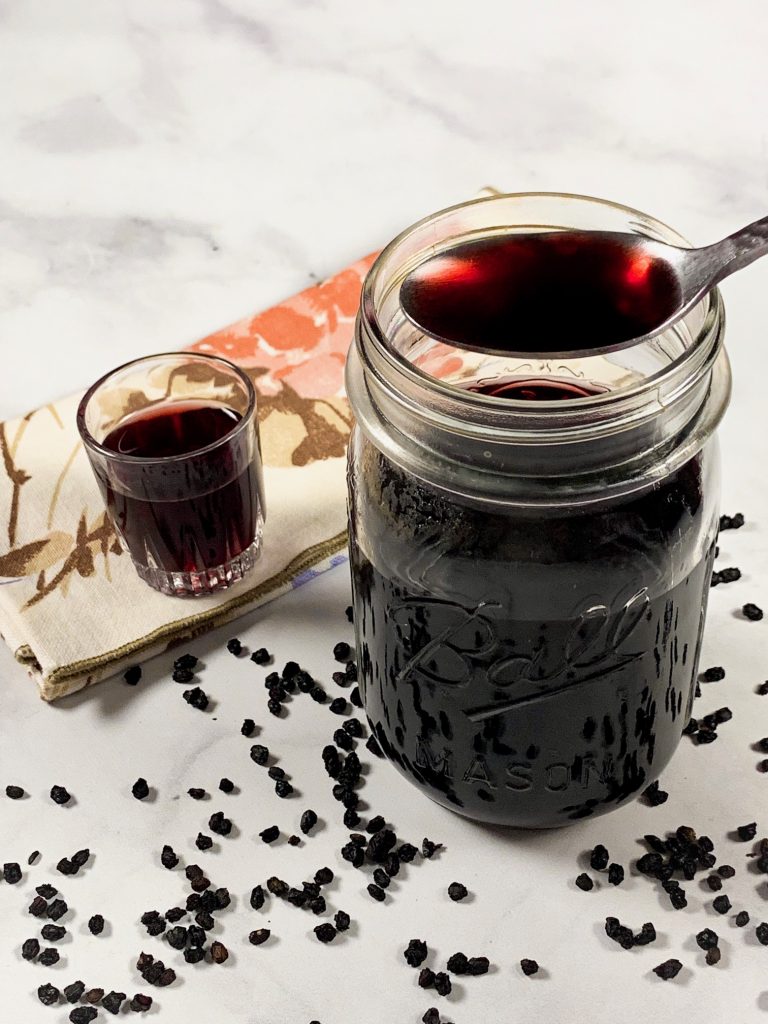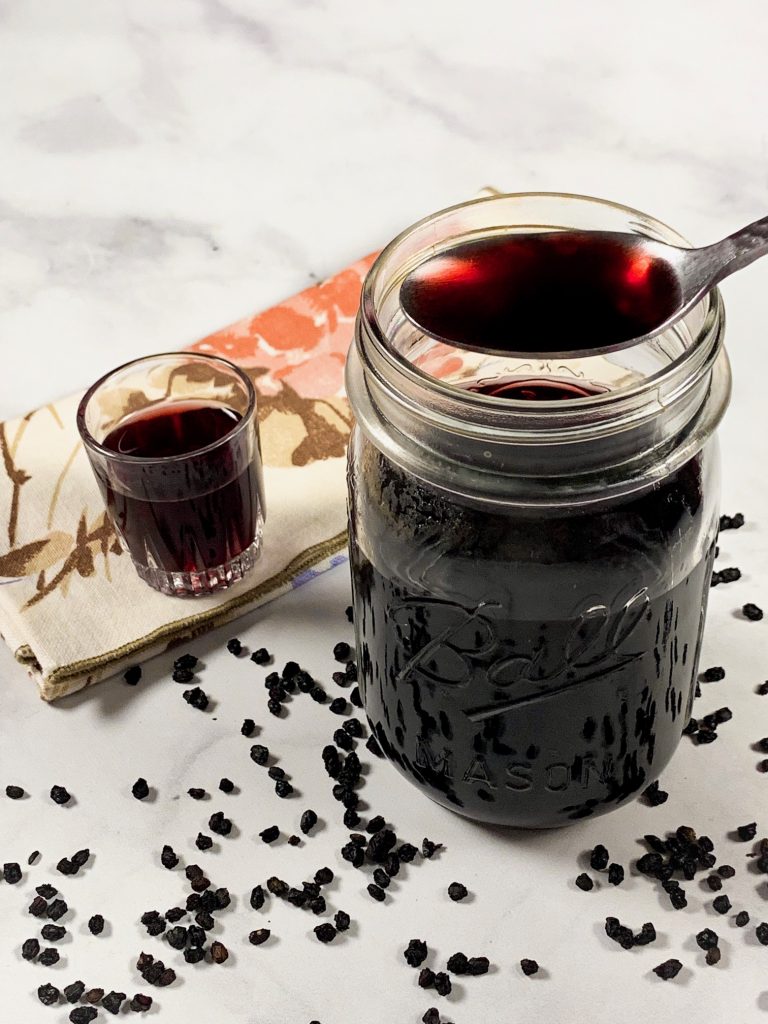 How To Take Vegan Elderberry Syrup
If you are looking for how to make elderberry syrup that is very thick, this isn't the recipe for you. Our vegan elderberry syrup recipe is actually quite thin, with the consistency of water. As a result, you don't take it with a dropper or spoon.
The ideal serving size is actually one shot glass full. We collect shot glasses from our travels and have always taken elderberry syrup this way!
If you have kids, this is a fun and slightly "adult" way to make them drink their elderberry syrup. Simply fill the shot glass and toss it back the way you would do with a regular shot. I always "chase" my shot with a swig of water!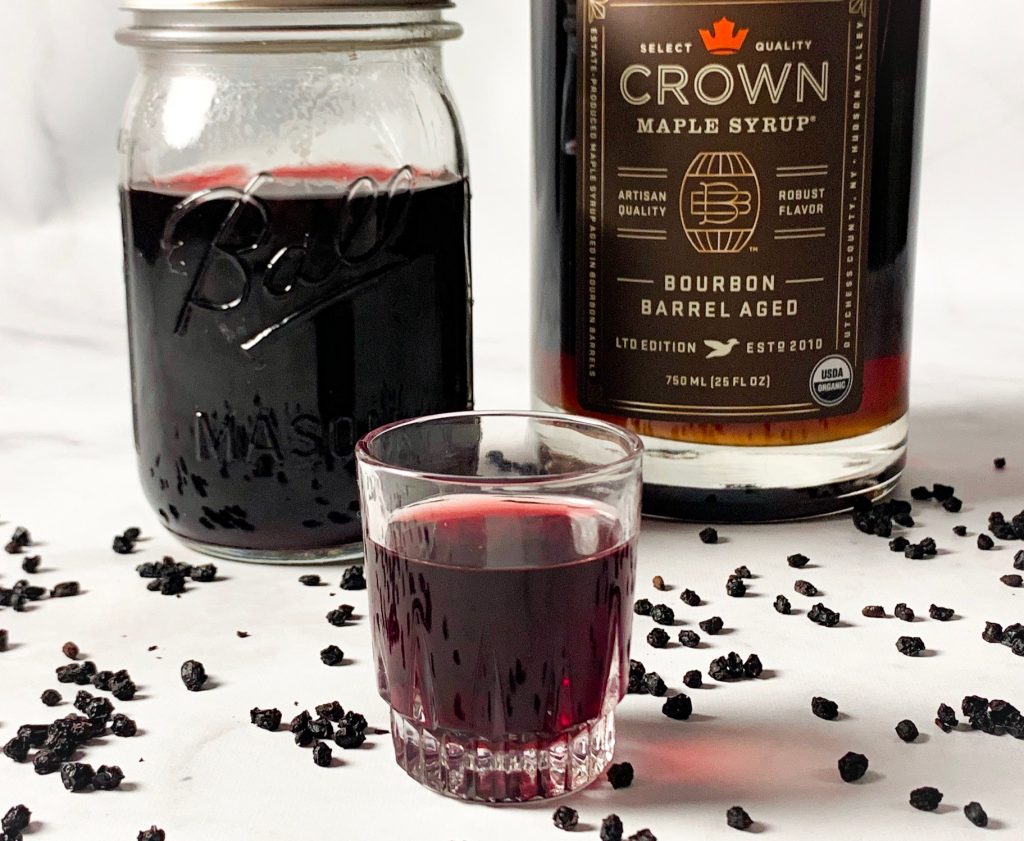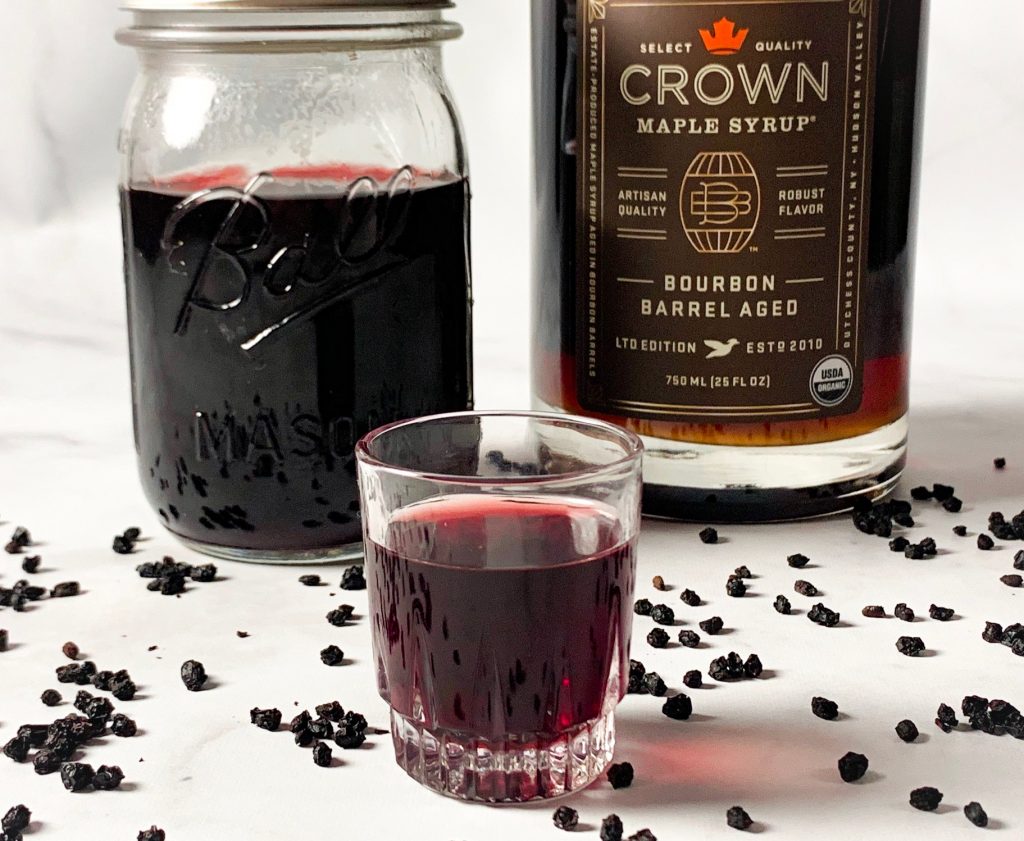 Boiling Process For The Elderberries
Once you have your elderberries in hand, either fresh, dried, or frozen, you are going to have to boil them down to make the mixture rich.
First, in a medium pot, put in 3 cups of water to 1/2 cup of fresh elderberries or 1/4 cup of dried elderberries.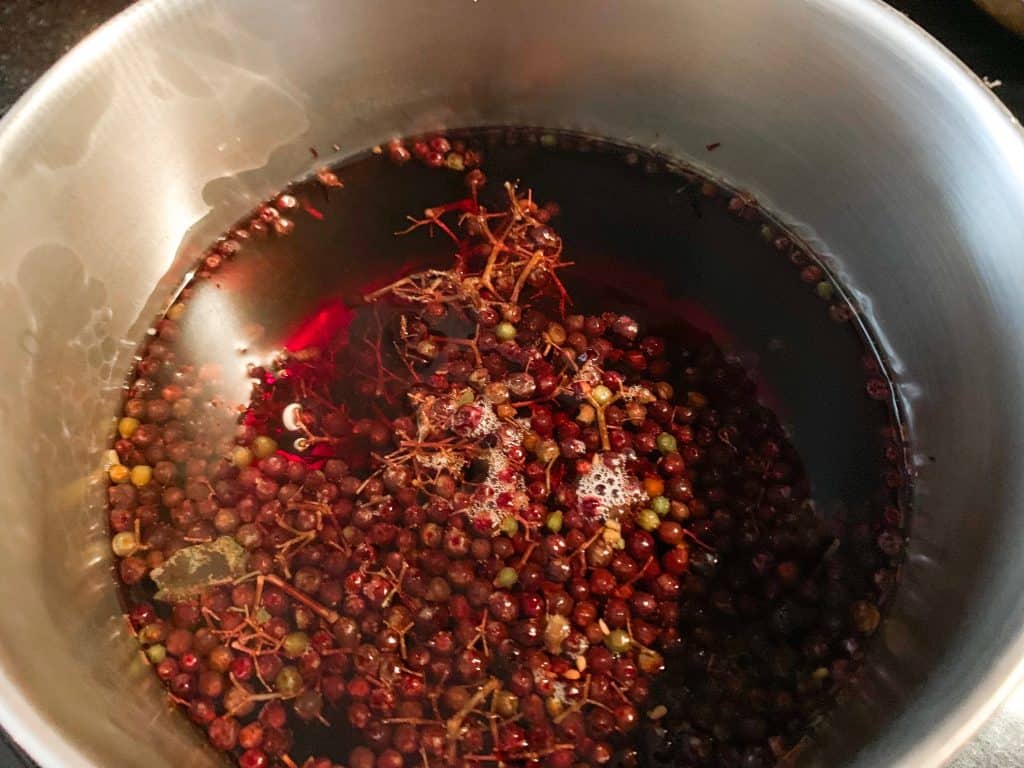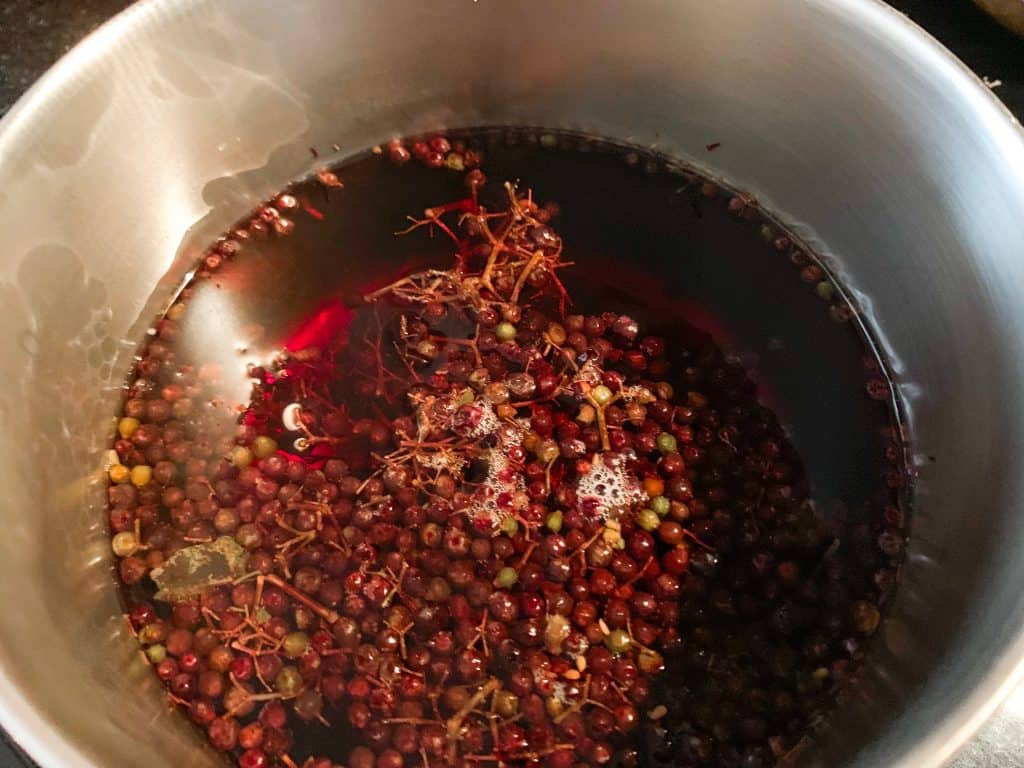 Then, you simmer on low heat until the liquid in the pan is reduced until half. This usually takes around an hour. When learning how to make elderberry syrup, it is important to be patient and allow the liquid to cook down on its own time. You don't have to be constantly stirring but check it occasionally as it isn't supposed to be boiling.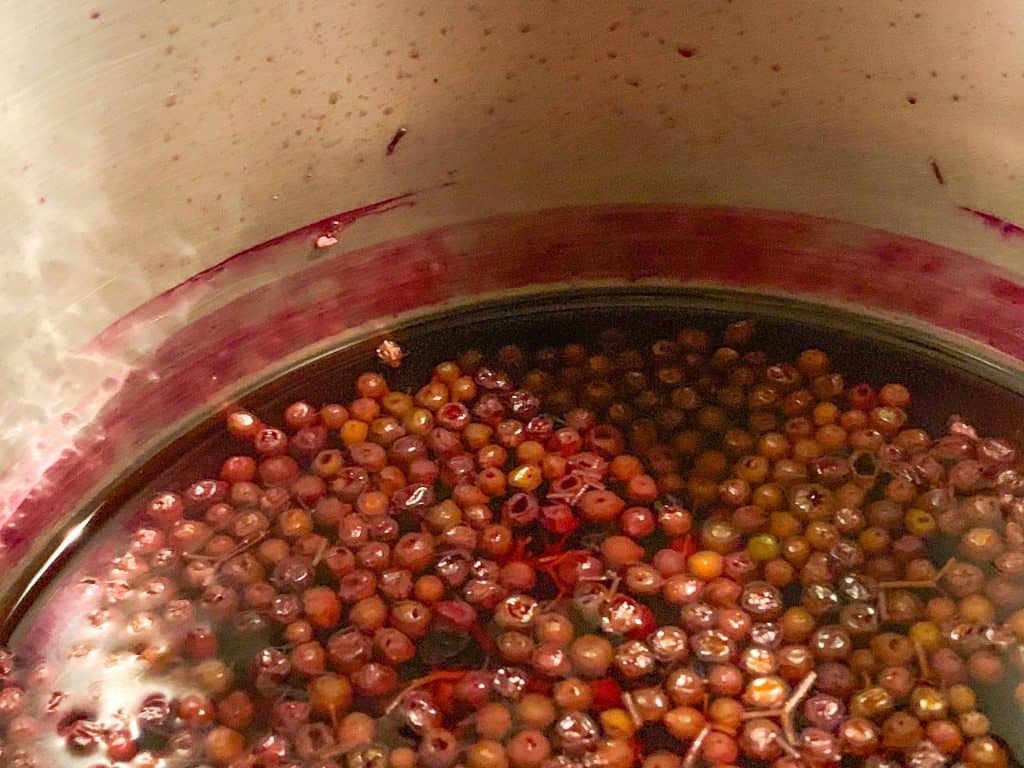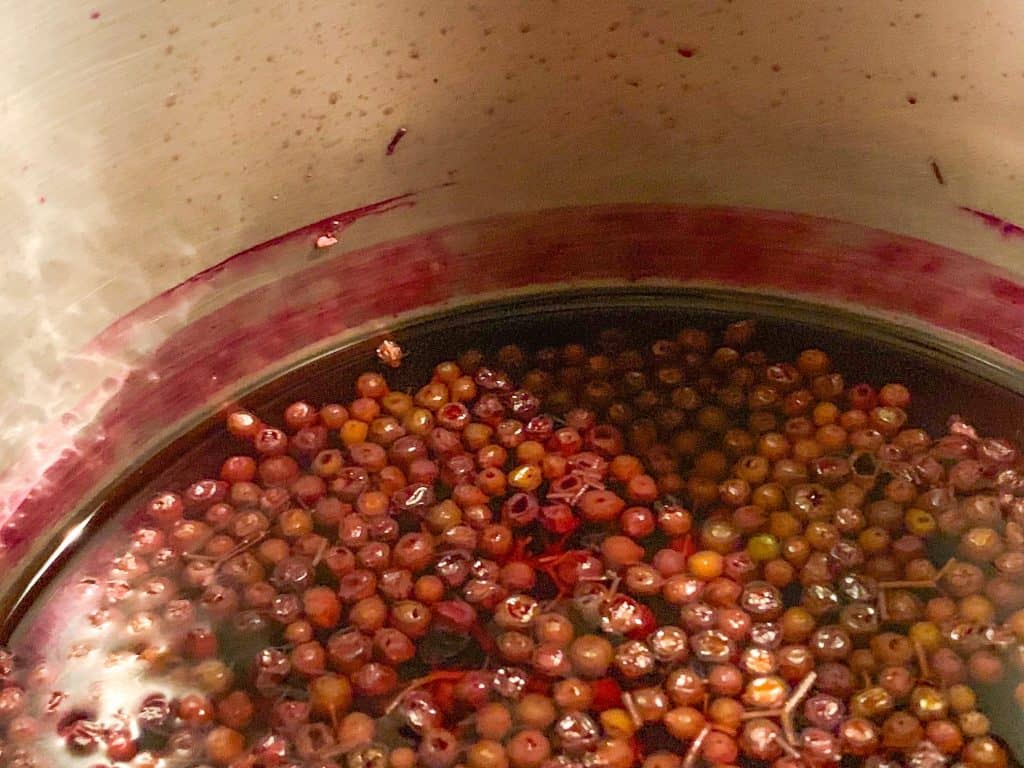 When you have successfully boiled your elderberries down to half, you will want to strain out the berries and the leftover pulp. You can do this with cheesecloth for best results. If you don't have one on hand, you can also use a small strainer which gets the job done as well!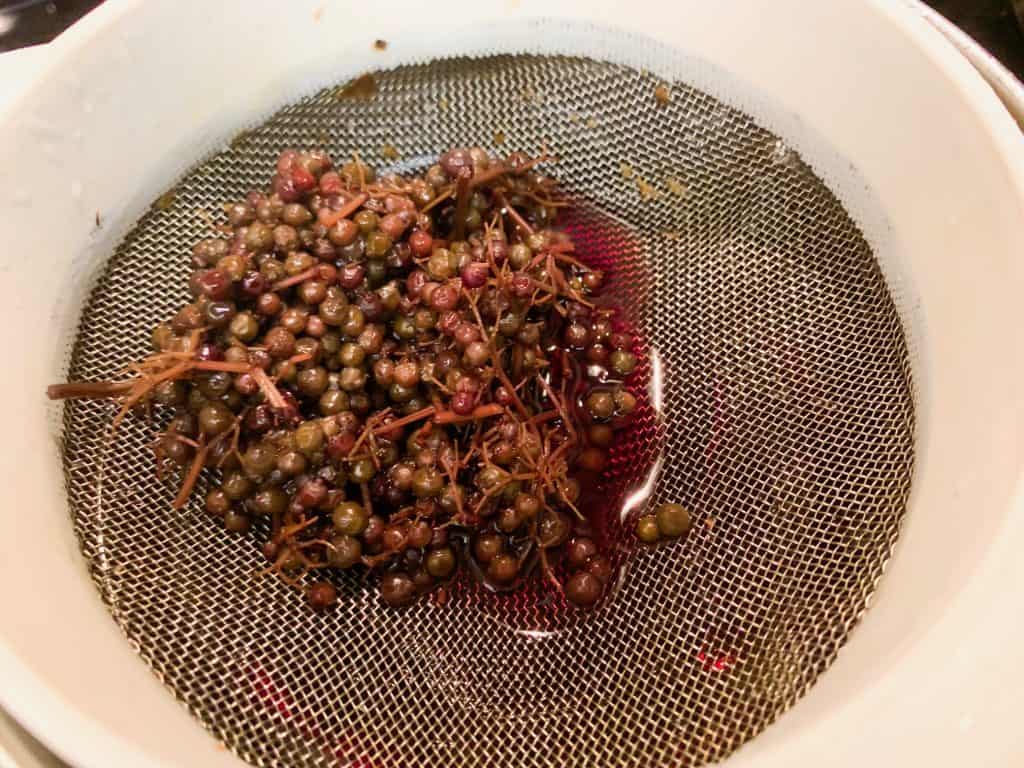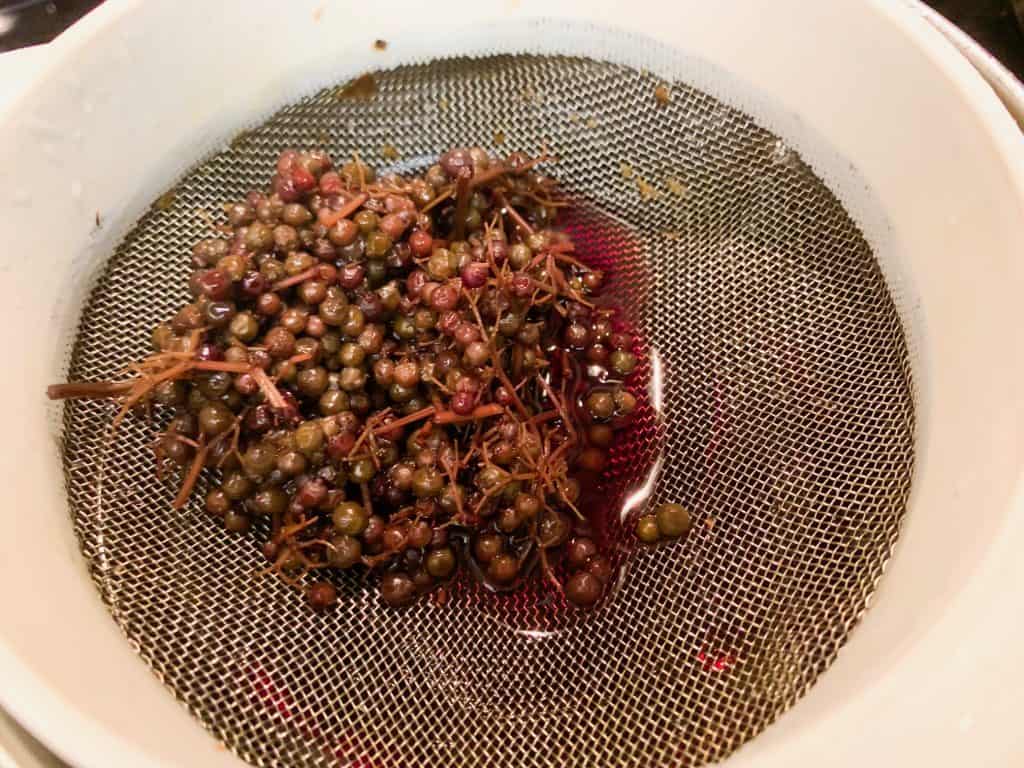 Yield: 1 1/2 cups
3-Ingredient Elderberry Syrup (Potent Cold + Flu Remedy)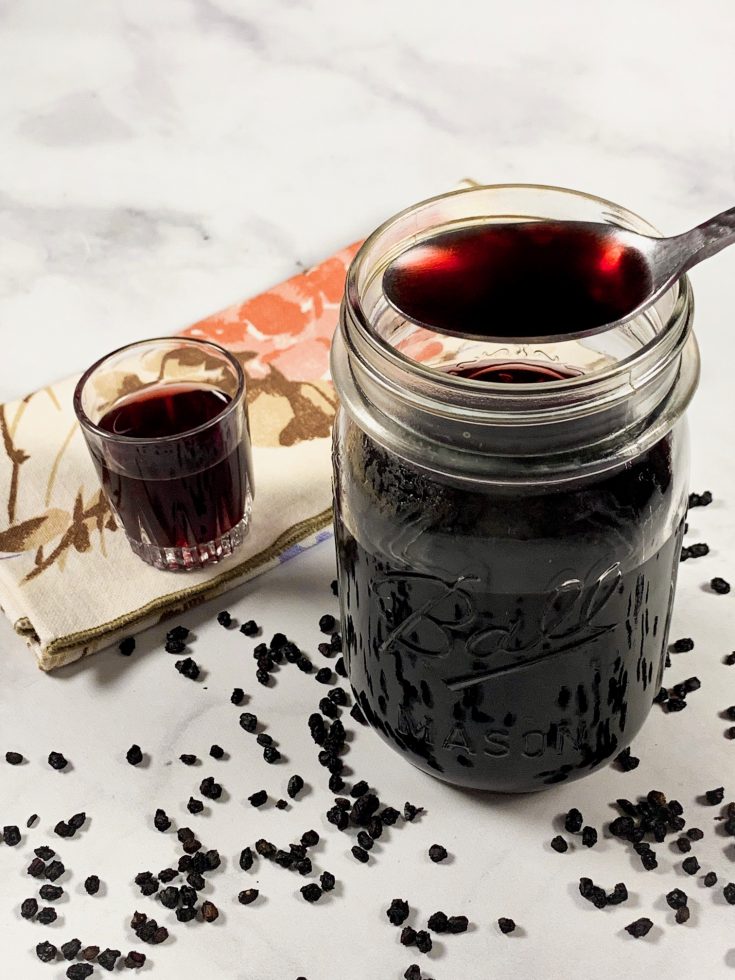 How to make elderberry syrup in just 3 ingredients! This vegan elderberry syrup recipe is a potent cold and flu remedy and can be made in around an hour. It is kid-approved and tastes great!
Ingredients
3 cups of water
1/2 cup fresh elderberries or 1/4 cup dried elderberries
2 teaspoons maple syrup [sweeten to taste]
Instructions
In a medium saucepan, simmer elderberries and water on low until mixture reduces to half. (About 1 hour) Ensure that pot remains simmering at all times and doesn't boil.
Using a strainer or cheesecloth, separate liquid from leftover elderberries and discard the berries.
Sweeten with maple syrup to taste.
Notes
Do not eat the elderberries as they will give you a tummy ache. Discard leftover berries.