If you are looking for some delightful and filling vegan biscuits and gravy, this recipe is for you! They are the ultimate comfort food and there is no requirement to be "southern" in order to make or enjoy this hearty recipe. It is vegan and there are no animal products used which makes it healthier than the traditional version from the south.
This recipe uses a white gravy, but if you prefer brown gravy, check out our recipe for the Best-Ever Vegan Gravy. Either way, you are going to love it!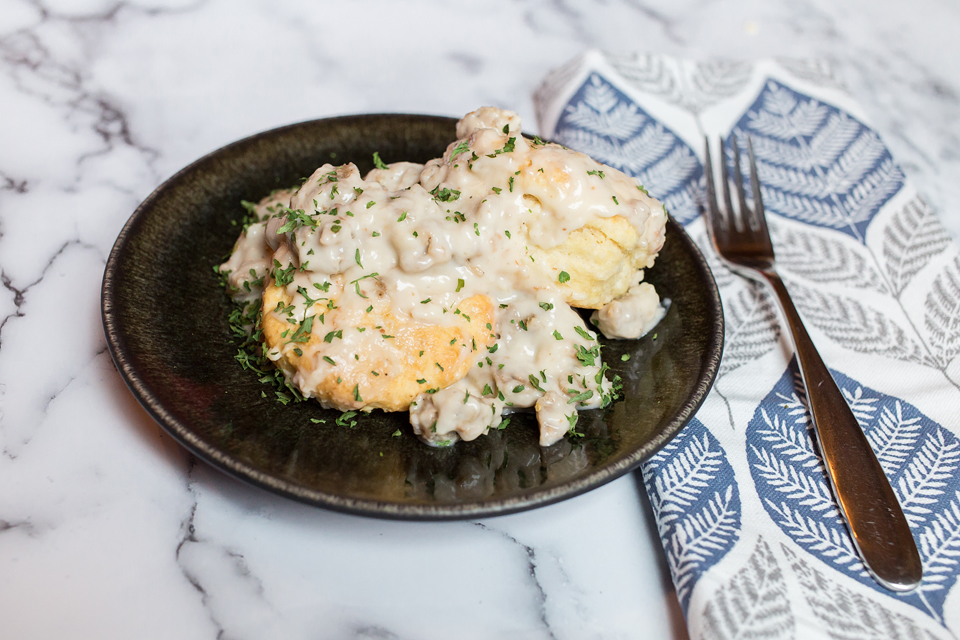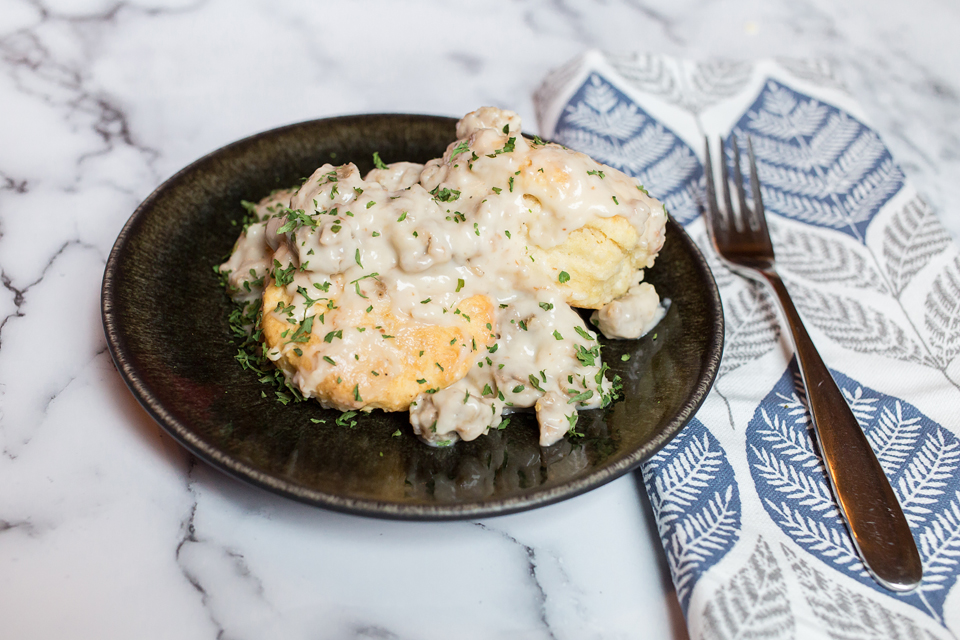 If you are looking for good vegetarian biscuits and gravy recipe, look no further than this one. Although it is vegan and no dairy products are used, vegetarians and "meat eaters" alike will enjoy these melt-in-your-mouth biscuits. Serve it with a side of vegan mashed potatoes and you are set for a memorable comfort meal!
This vegan biscuits and gravy recipe features warm and flaky biscuits smothered in good old-fashioned gravy just like a country grandma from the south would make. In just 30 minutes, you will be chowing down on this memorable recipe.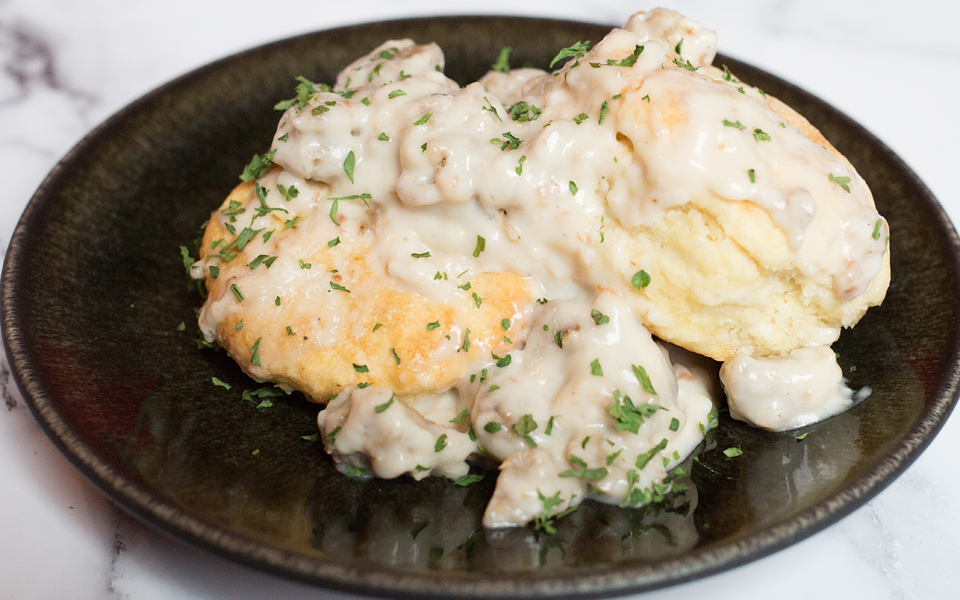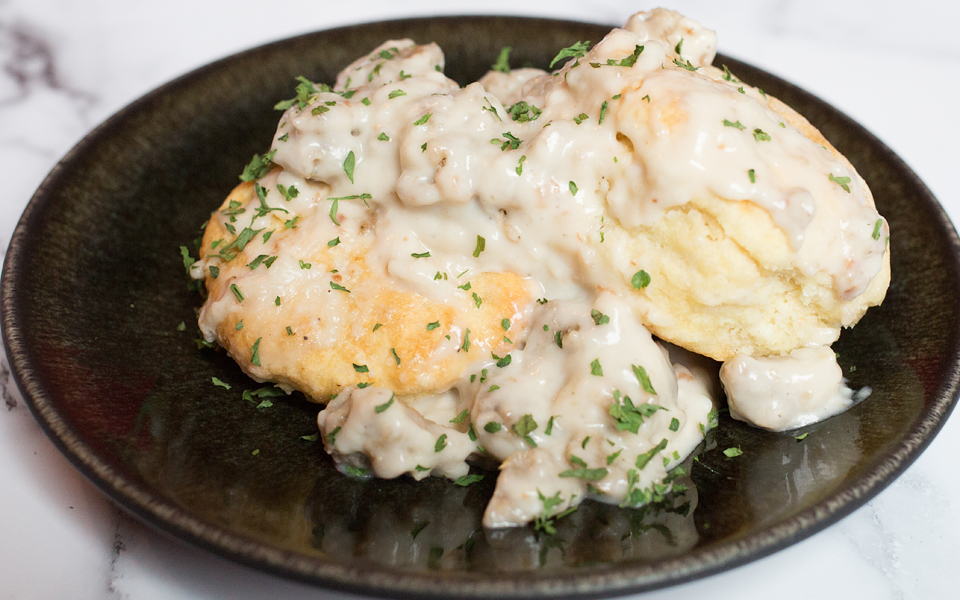 Many people eat biscuits and gravy as a breakfast food. Although that is wonderful and you can feel free to make them whenever you want, I prefer to eat them as a delightful vegan dinner. They are flaky, hearty, and warm the soul. Perfect for those nights when you want something quick-yet-filling and want "breakfast for dinner."
These vegan biscuits and gravy come together quickly. If you are like me and love to drown your food in gravy, I recommend doubling the gravy recipe. Since the gravy includes "fake meat" as I like to call it, I recommend playing around with brands until you find one that "speaks" to you.
For me, that is Gardein. I love their plant-based meats and Gardein brand is just what I like the best! If your favorite plant-based meat brand doesn't have sausage links, feel free to rip up a vegan "breakfast patty" as those as often made from the sausage-tasting "meat" as well!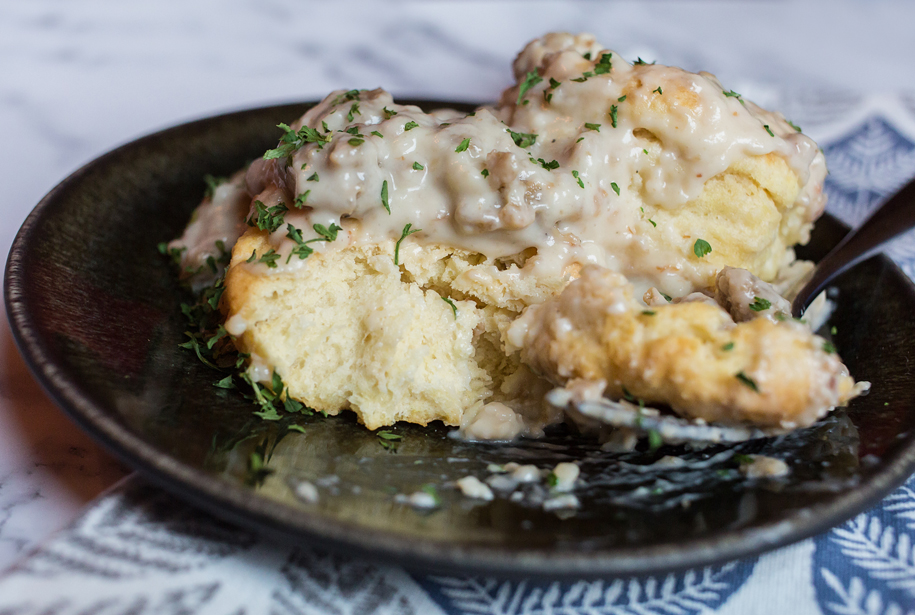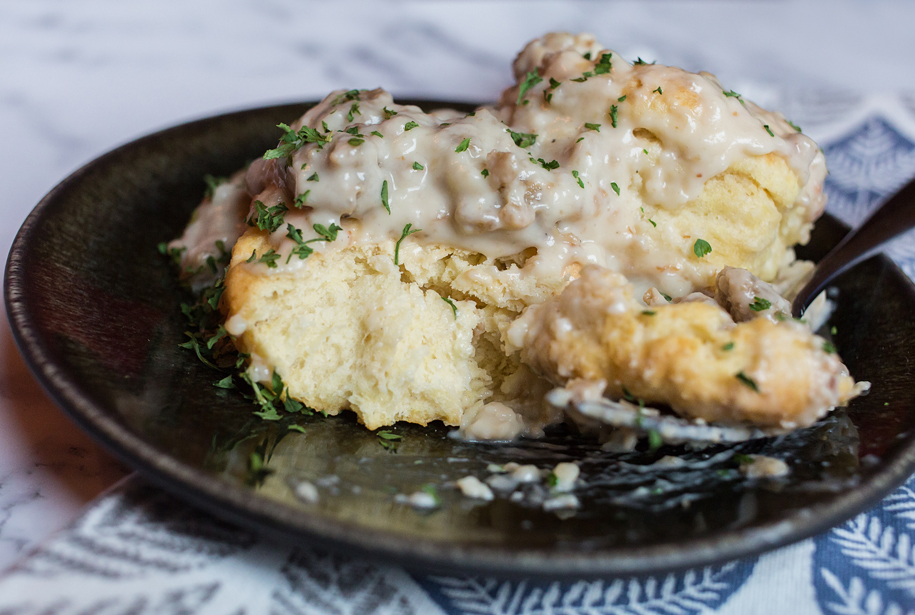 What To Serve With The Vegan Biscuits And Gravy
If you are wondering what to serve with this vegan biscuits and gravy recipe, look no further! If you want to eat them for breakfast, I highly recommend creating a filling vegan breakfast menu including tofu scramble, vegan pancakes, overnight oats and more.
If you choose to eat these vegan and vegetarian biscuits and gravy for dinner, then you can really do it up, southern-style! I would start with a crisp salad to balance out the heavy feeling from the buttermilk biscuits and home-style gravy.
Then, I would choose something else to eat with them! This could include additional "breakfast" plant-based meat such as sausage patties. If you want to keep with the breakfast theme, hashbrowns or potatoes go nicely as well, but they are quite heavy! Finally, you could even go so far as to whip up some vegan mac and cheese to round out the "southern" vegan dinner!
How To Reheat The Vegan Biscuits And Gravy
If you pop these vegan biscuits and gravy in the microwave and hope they will come out the same, you are in for a real wake-up call. The key to enjoying these biscuits and white gravy recipe for a second meal is to reheat them properly!
To reheat the vegan white gravy, warm it on the stove in a small saucepan. Ensure that the heat is on "low" and that you are stirring constantly so that it doesn't burn. If the gravy is too thick, you can thin the mixture with a little water or milk.
For reheating the vegan buttermilk biscuits, turn your oven on 300-350 degrees and place them on an oven-safe dish until they are warmed through, about 5 minutes. In all, the reheating process does take around 10 minutes versus a few minutes in the microwave, but the difference is noticeable!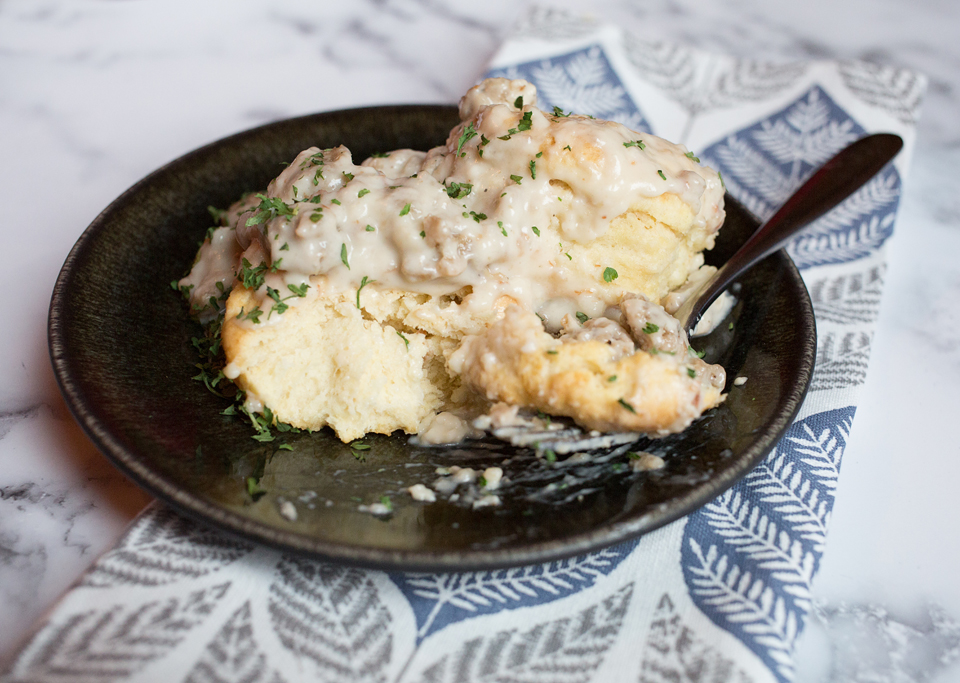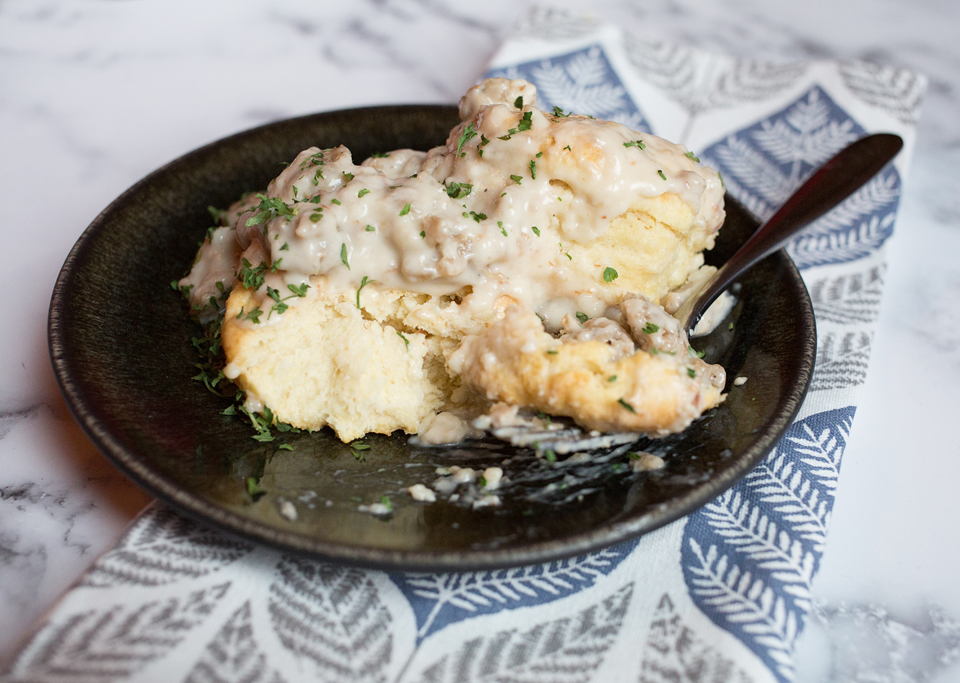 Yield: 6 Large Biscuits
Southern-Style Vegan Biscuits And Gravy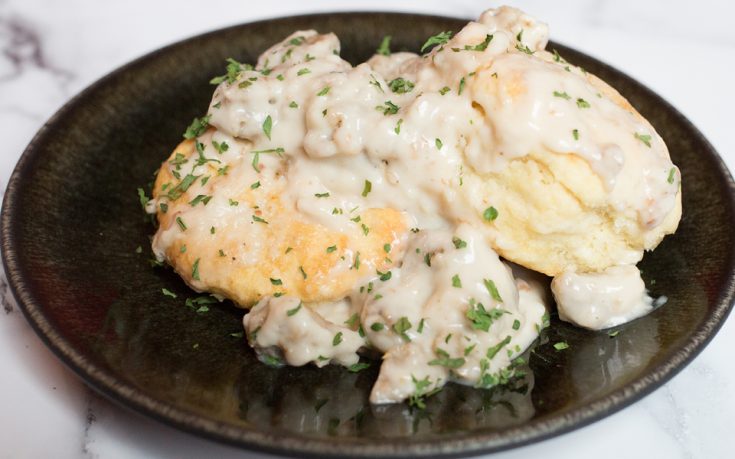 If you are craving warm, flaky biscuits and hearty gravy, this southern-style vegan recipe will not disappoint! It can be whipped up in just 30 minutes and can easily keep and be reheated for another meal.
Ingredients
For The Vegan Biscuits:
2 cups of flour
4 tsp Baking Powder
1/4 tsp Baking Soda
3/4 tsp Salt
2 tbsp Vegan Margarine of your choice (use margarine sticks!)
2 tbsp Vegetable Shortening
1 cup Almond Milk or non-dairy milk of your choice
2 tbsp Apple Cider Vinegar
For The Vegan White Gravy:
1/2 lb Vegan Sausage (brand of your choice)
1/4 cup of flour
2 1/2 cup of non-dairy milk of your choice
Salt & Pepper to taste
Instructions
Preheat oven to 450 degrees
Combine non-dairy milk with apple cider vinegar to create buttermilk mixture. Allow to rest for 10 minutes.
In a large mixing bowl, combine flour, baking powder, baking soda, and salt. Crumble the shortening and vegan margarine and mix into the dry ingredients. The mixture should be clumpy for best results.
Add in vegan buttermilk and stir until the dough comes together. The dough will be very sticky!
Using as little flour as possible, dust your surface, fold the dough on itself, and place it on the floured surface. Shape or cut the dough into a 1-inch thick by 3-inch wide biscuit.
Place biscuits on parchment paper, silpat, or greased baking sheet and bake until they are tall and lightly browned, about 15-20 minutes.
While vegan biscuits are baking, cook the vegan sausage or sausage patties in a lightly greased skillet. Remove sausage from pan when cooked.
Whisk together the flour and non-dairy milk and add to the greased skillet where you cooked the sausage. Cook over low heat for 5 minutes until vegan gravy thickens.
Add the cooked sausage to the flour and milk mixture and season liberally with salt and pepper.
Slice biscuits in half and serve with gravy poured over them!
Nutrition Information
Yield
6
Serving Size
1
Amount Per Serving
Calories

443
Total Fat

22g
Saturated Fat

8g
Trans Fat

1g
Unsaturated Fat

12g
Cholesterol

37mg
Sodium

1100mg
Carbohydrates

45g
Fiber

1g
Sugar

9g
Protein

14g