If you are looking for the most savory vegan breadsticks, you have come to the right place! The recipe for these breadsticks is similar to our recipe for Easy Cheesy Vegan Garlic Knots, with a few slight changes.
If you have always wanted to veganize the breadsticks at Olive Garden, this is how you do it, with a slight twist. I have designed these breadsticks to not only be vegan, but to also be quick and easy to make so that you can whip them up on a weeknight or for a crowd of people!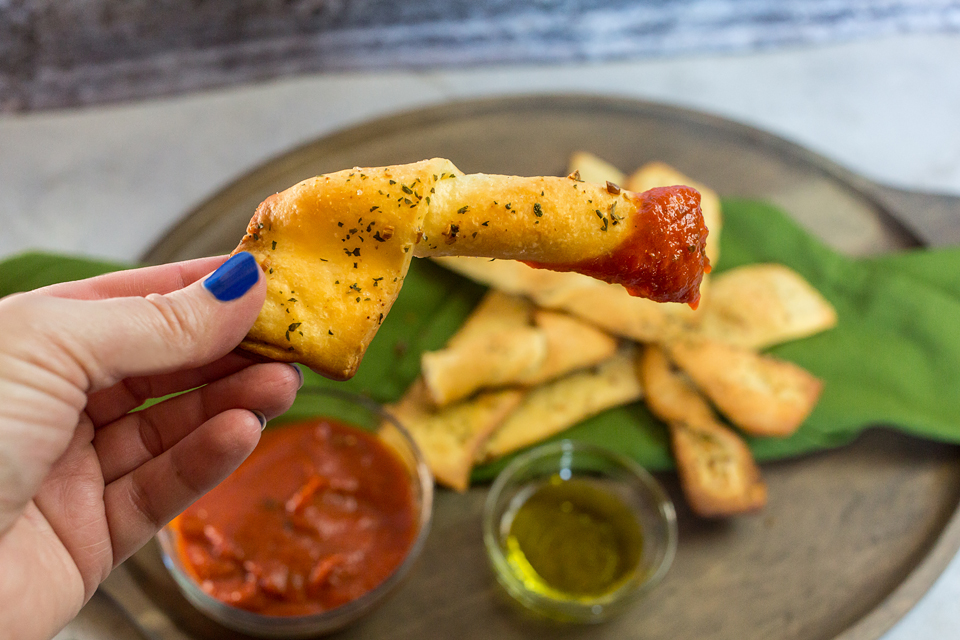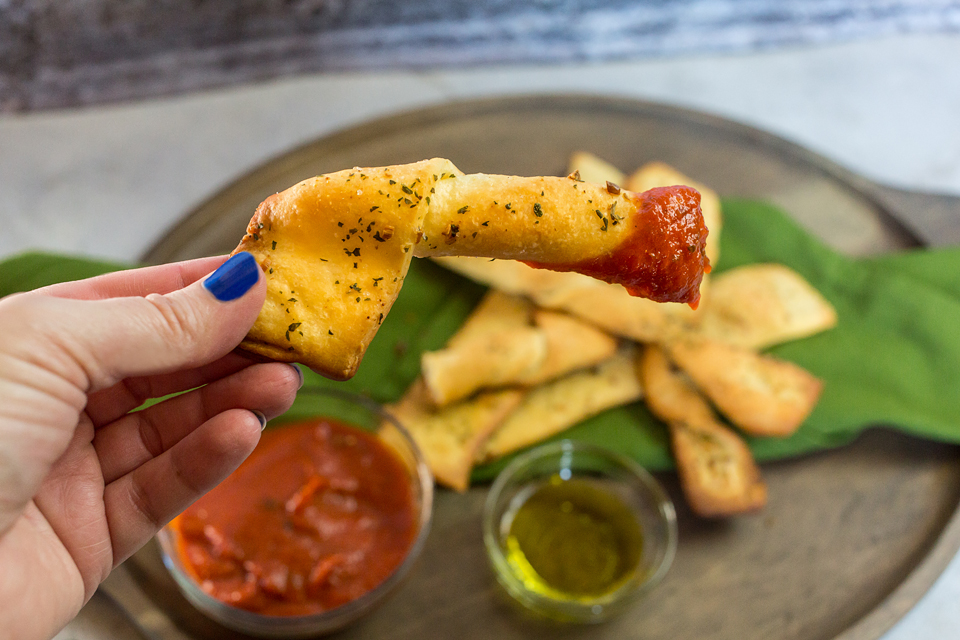 Why Vegan Breadsticks?
Most garlic breadsticks recipes are filled with the B-word. Yep, butter. Sometimes there is an egg-wash included for topping the dough or eggs included in the dough. But most, if not all, breadstick recipes include butter.
Even if you aren't vegan, you may not love the taste of butter on food. I am vegetarian and hate the taste of butter and my mom is vegan so this vegan breadsticks recipe is actually the perfect way for us to make something that we both love!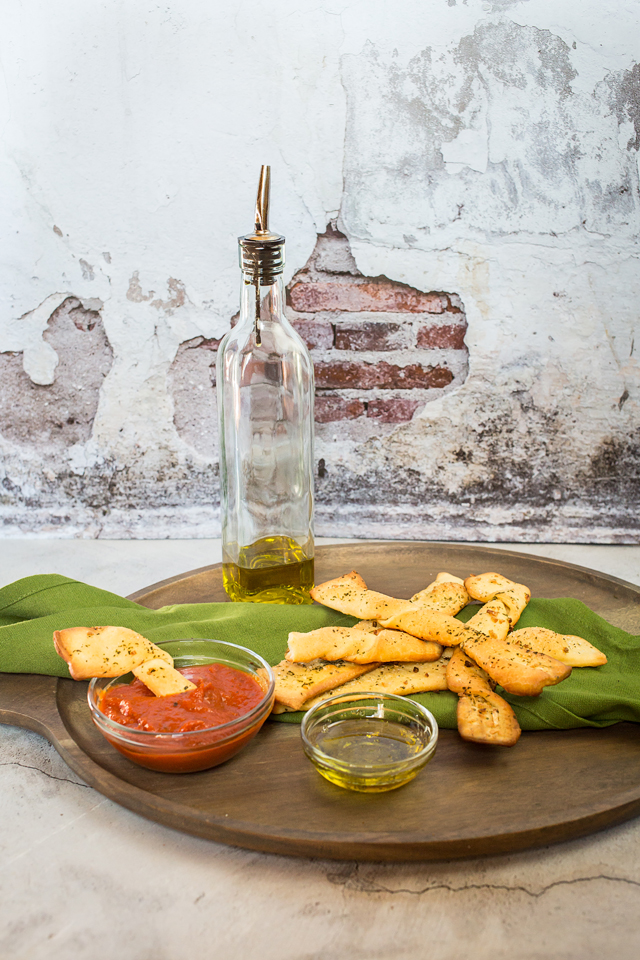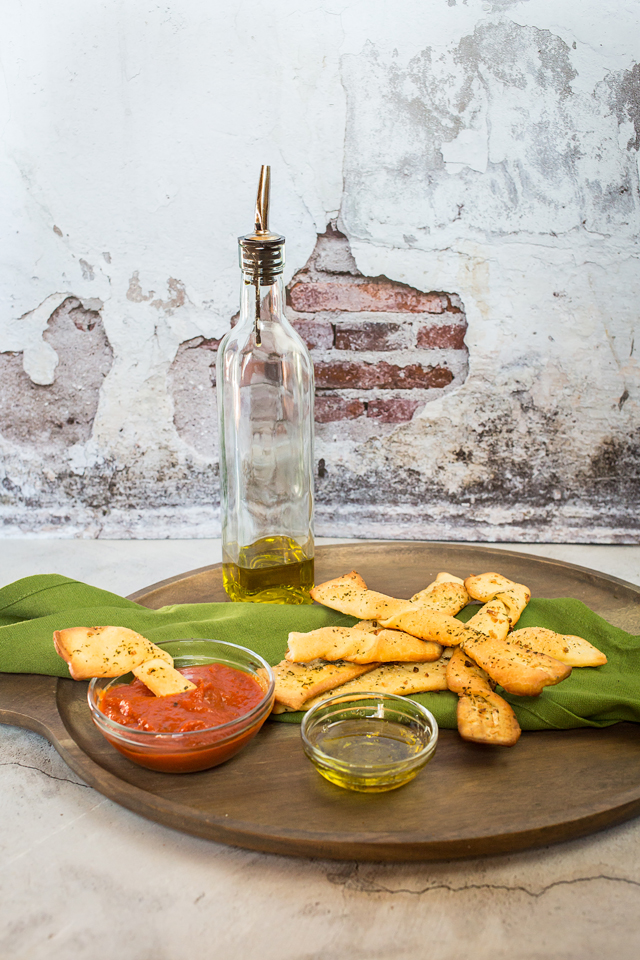 Is The Dough For Vegan Breadsticks Hard To Make?
In one word, NO! I specifically designed this recipe to be EASY to make. As a result, this recipe requires store-bought dough! This is to save you time as I can't have you out here creating fancy dough after work when you are in a rush to eat some carbs.
This vegan breadsticks recipe requires store-bought dough that is premade. Many grocery stores and supermarkets carry pre-made dough that is also on the healthier side in the bakery or deli section.
If your grocery store does not have this section but you still want to try these garlic breadsticks, it is okay to buy from the freezer or refrigerated sections.
As a result, you have two options for making these vegan garlic breadsticks. You can simply use pre-made dough from the store, or you can use the pizza dough recipe of your choice to make the base for these delightful breadsticks.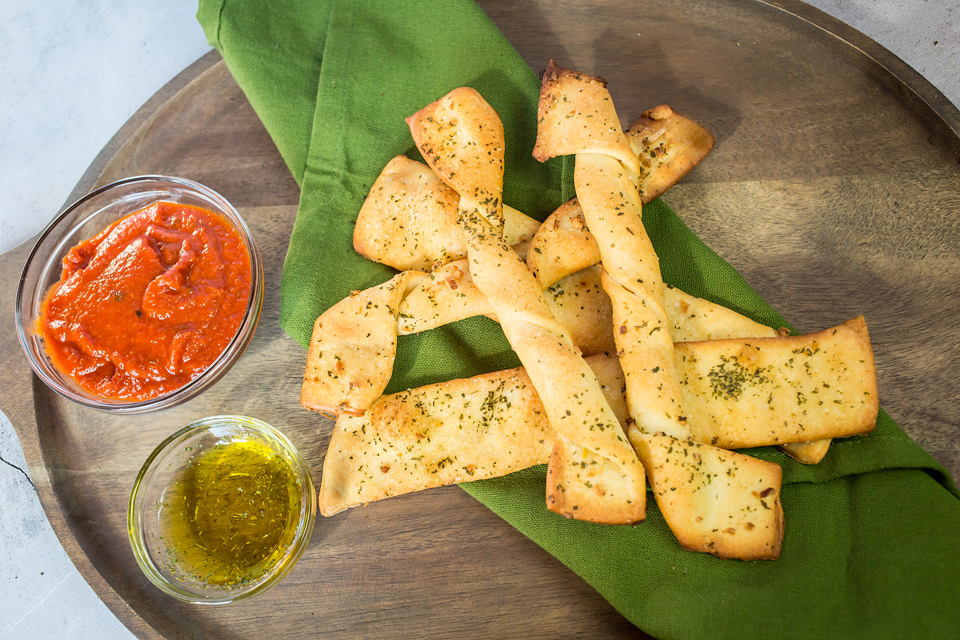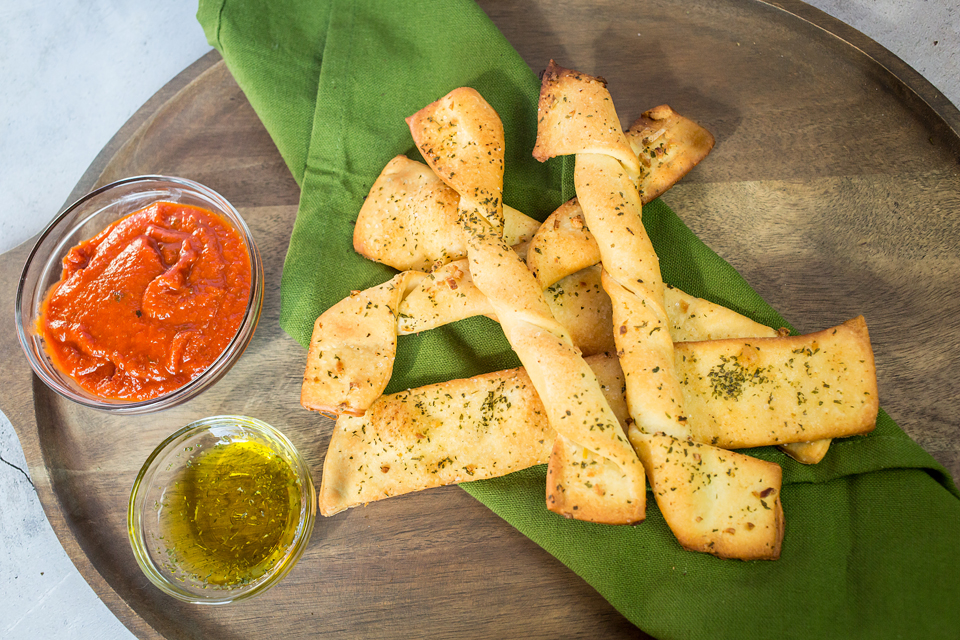 Shaping The Breadsticks
Shaping the breadsticks is entirely up to you! Personally, I recommend giving them a little twist in the middle. This twisted section will crisp up when baking and the outside will be harder while the interior will be soft and perfect.
When making these breadsticks, you want to roll out your dough on a flat floured surface. You will then roll it into a rectangular shape and using a sharp knife, will cut the dough into 8 strips that are about 1 inch wide.
If you want breadsticks that aren't quite as long, you can cut the dough in half and do this process twice for mini "breadstick bites" that are still delightfully vegan.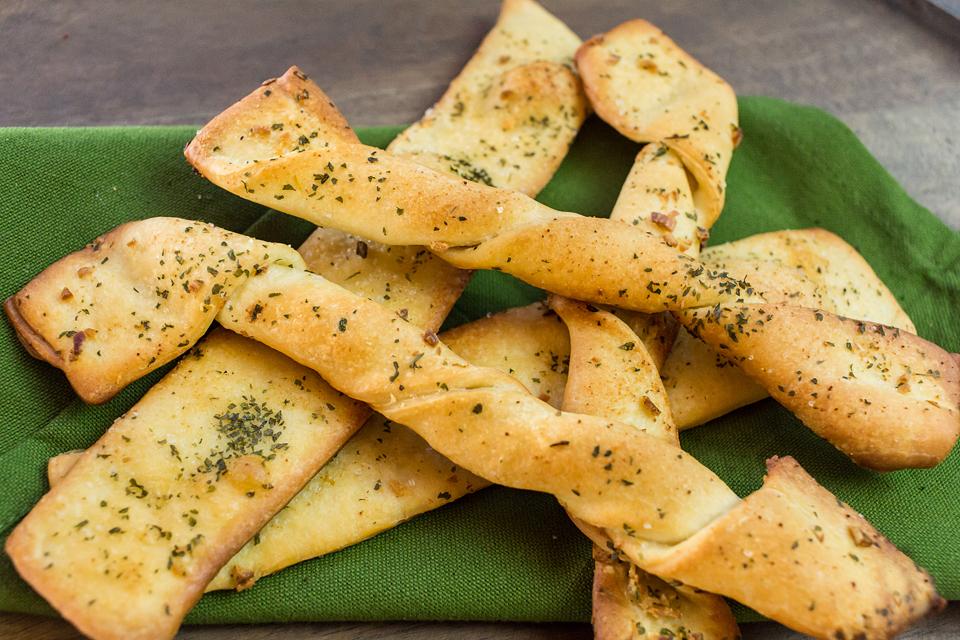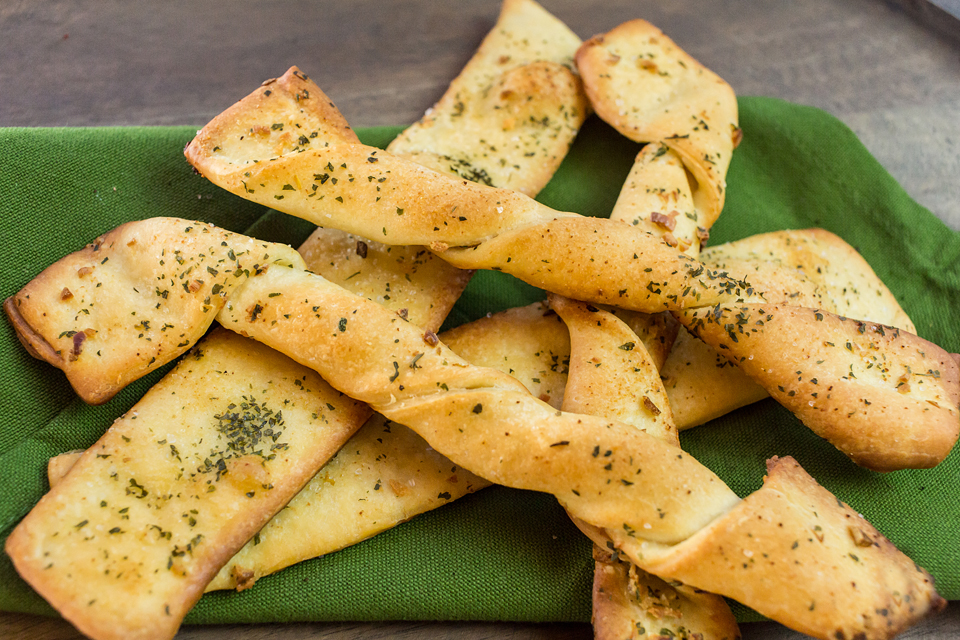 Vegan Breadstick Dipping Sauce
Once again, this vegan breadstick recipe is all about saving you TIME! As a result, I recommend two dipping options for the finished vegan breadsticks. After all, dipping is over half the fun!
The first option would be a marinara sauce. Simply purchase a high-quality vegan marinara sauce from the grocery store or health food store. The higher quality your marinara sauce the better these will taste.
You can also serve the breadsticks with Creamy Vegan Alfredo Pasta or Vegan Eggplant Parmesan!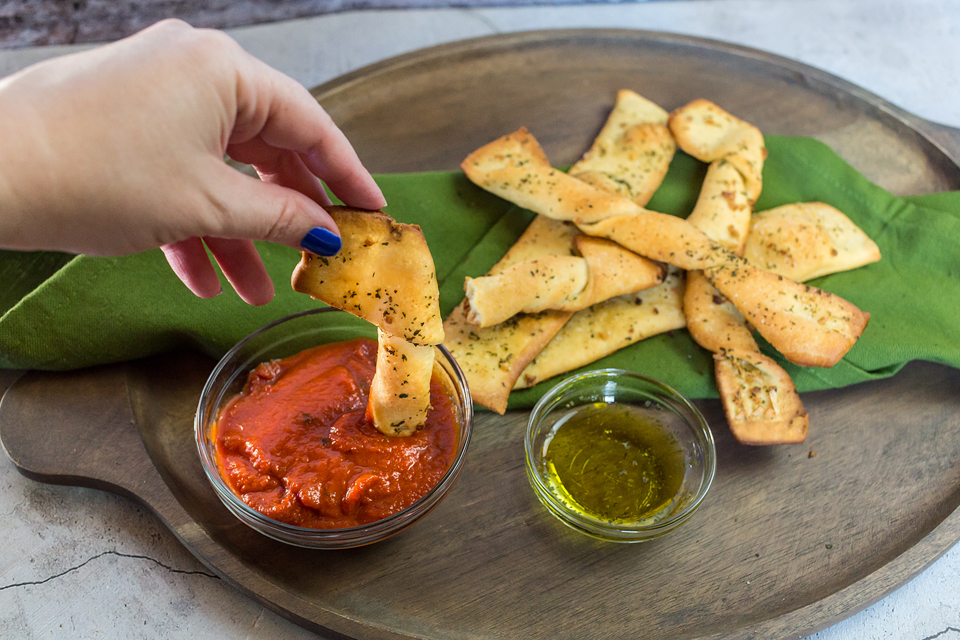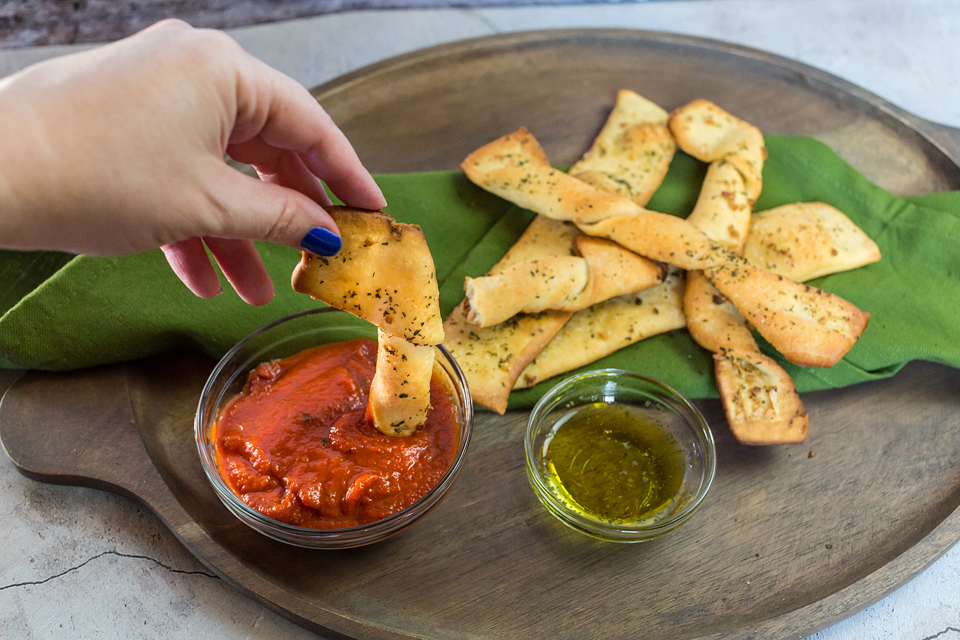 You will then head the sauce on the stove and serve it warm. As you are cooling the breadsticks after they are finished baking, you will want to start heating the marinara sauce.
The second option is a simple oil and garlic blend. You will choose high-quality olive oil and mix in minced garlic 1-2 cloves, a sprinkle of salt, and some parsley or Italian spice blend. These are two very easy and delicious dippers for your vegan breadsticks that won't disappoint and whip up in a flash!
If you end up using this recipe, hashtag #wowitsveggie and share it with us on Instagram!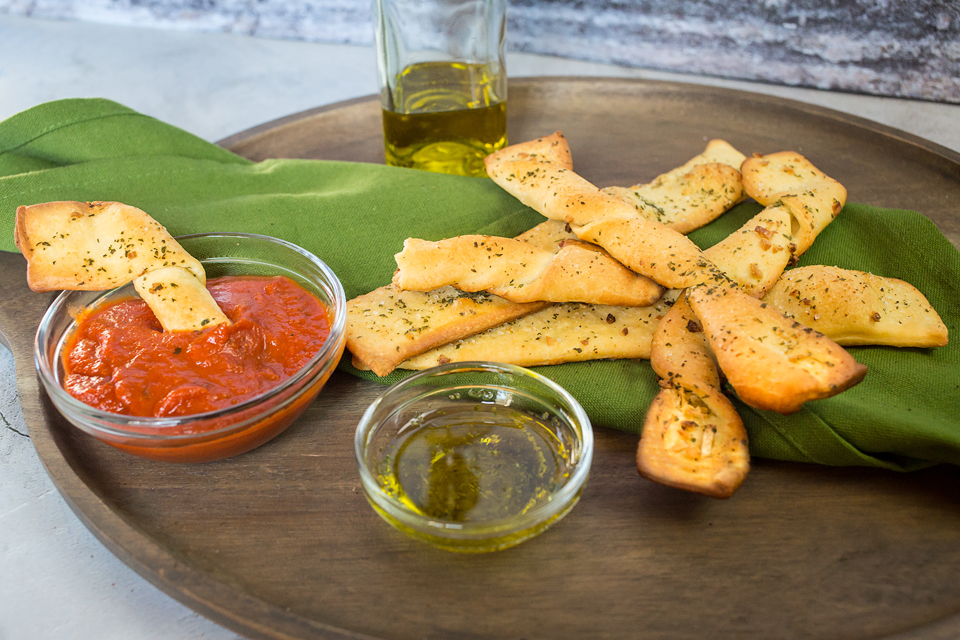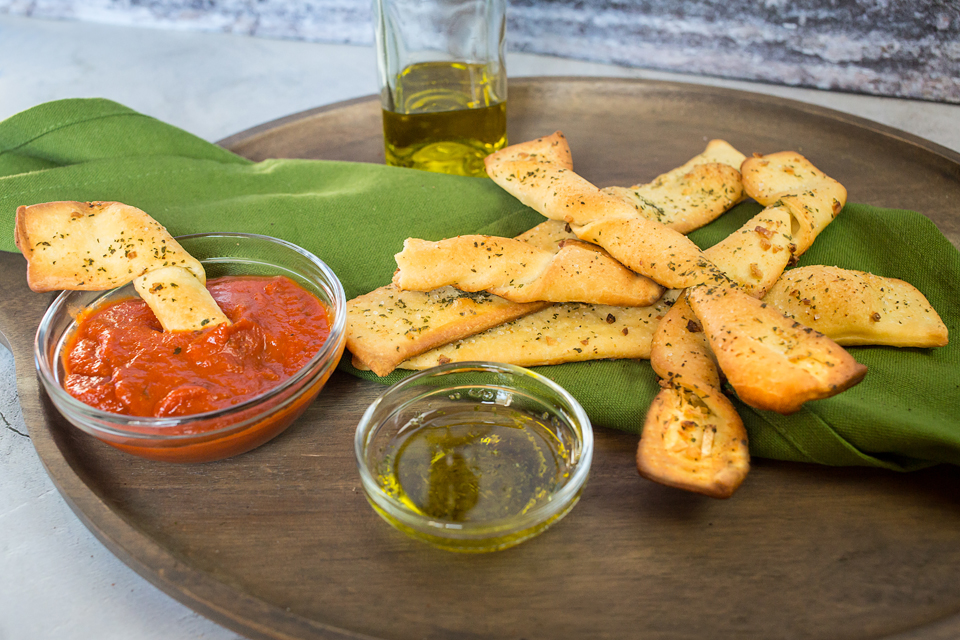 Yield: 8 Large Breadsticks
Vegan Breadsticks With Garlic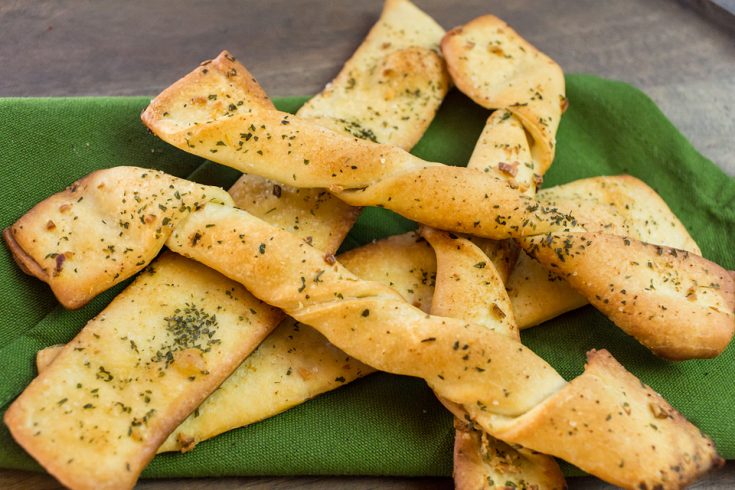 The softest and most aromatic vegan breadsticks you will ever find! The best part? They are EASY to make and you can whip them up quickly. Combining favorites such as garlic, salt, oil, and marinara sauce, this vegan breadsticks recipe uses simple and wholesome ingredients. They please a crowd but they won't last long because they taste just that good!
Ingredients
1 pound store-bought pizza dough [or homemade if you want!]
5 garlic cloves, minced
2/3 cup of olive oil
1/4 cup dried Italian spices/seasoning blend [substitute for dried parsley if you don't have Italian seasoning on hand]
1/2 teaspoon of salt
Optional: black pepper to taste
For Dipping: Olive Oil or high-quality store-bought Marinara sauce
Instructions
Preheat oven to 375 degrees and grease two large baking sheets with oil or line with parchment paper.
Roll your pre-made pizza dough into a rectangle. Cut the dough in half before rolling if you want to make mini vegan breadsticks.
Using a sharp knife, slice the dough into 1-inch thick strips. You should get between 8-10. If the breadsticks are too long for you, cut the dough ball in half and roll out two rectangles.
For shaping, tightly twist the center of the breadsticks 2-3 times to create a spiral look. This helps lock in flavor when cooking.
Using a pastry brush, lightly coat the top of the garlic breadsticks with oil. Shake a little garlic powder on top for additional flavor.
Bake for 20 minutes or until golden brown.
During baking, make your dipping sauce of choice. For Marinara Sauce, heat it on the stove and serve warm. For olive oil dipping sauce, combine oil, minced garlic, and salt in a bowl and reserve for dipping.
For the breadsticks topping, combine minced garlic cloves, olive oil, Italian spice blend, and salt in a large bowl. Add the warm vegan breadsticks to the bowl and toss until each breadstick is coated in the mixture. Add additional salt and pepper to taste.
Remove breadsticks from the oil mixture and serve warm with dipping sauces of your choice.
Nutrition Information
Yield
8
Serving Size
1
Amount Per Serving
Calories

336
Total Fat

23g
Saturated Fat

3g
Trans Fat

0g
Unsaturated Fat

19g
Cholesterol

0mg
Sodium

457mg
Carbohydrates

29g
Fiber

2g
Sugar

2g
Protein

4g