If you are looking for vegan biscotti, chances are you are looking to elevate your teatime and may or may not have already tried it!
Biscotti, let alone vegan biscotti, isn't very popular in the USA, but I think that should change! Some places like Starbucks and coffee shops have it, but it isn't the norm and that is a shame!
These also make wonderful vegan Christmas cookies and are perfect to dip in hot chocolate while you are relaxing with family and friends during the holidays!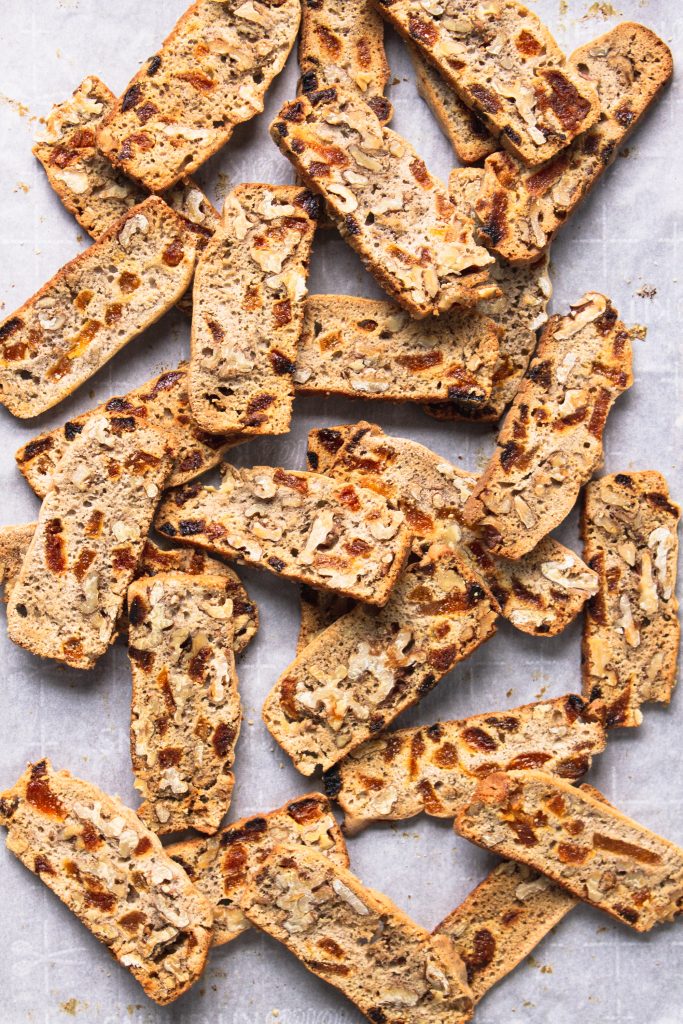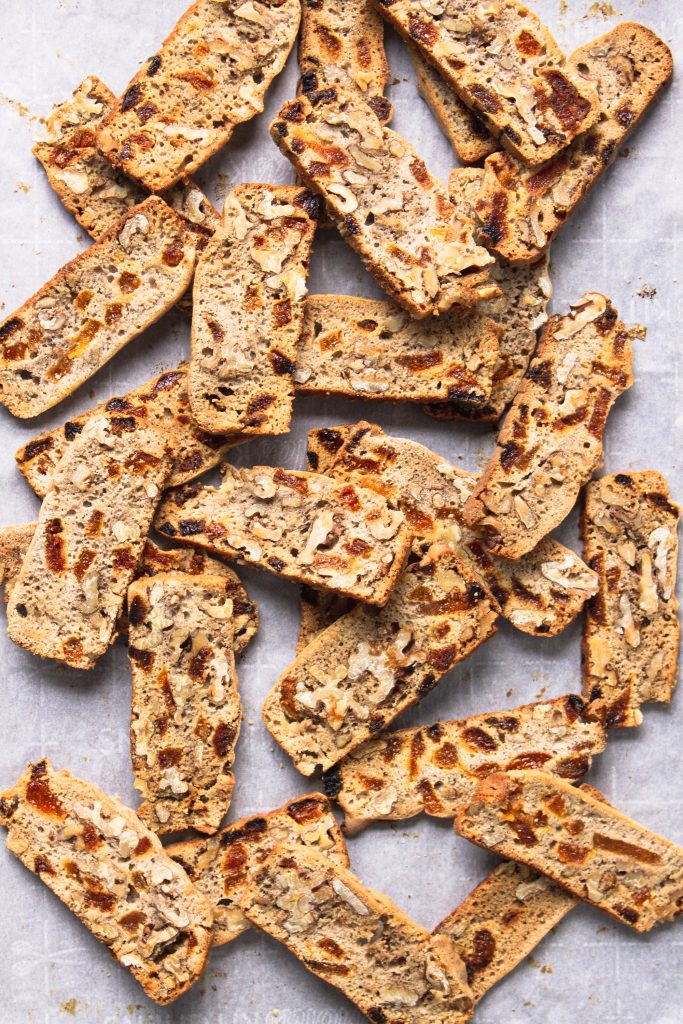 Most biscotti recipes aren't vegan because they usually use butter and eggs, at minimum. Instead of eggs, this recipe uses aquafaba, which is the liquid from the chickpea can.
It is actually the perfect substitute for eggs and you can actually whip it for whipped beverage recipes too!
Now, this recipe is a little involved as you have to bake the biscotti twice. This is more labor intensive than I usually like, but sometimes you just want to try your hand at this type of recipe!
Don't worry, it is quite easy, you just have to bake it twice!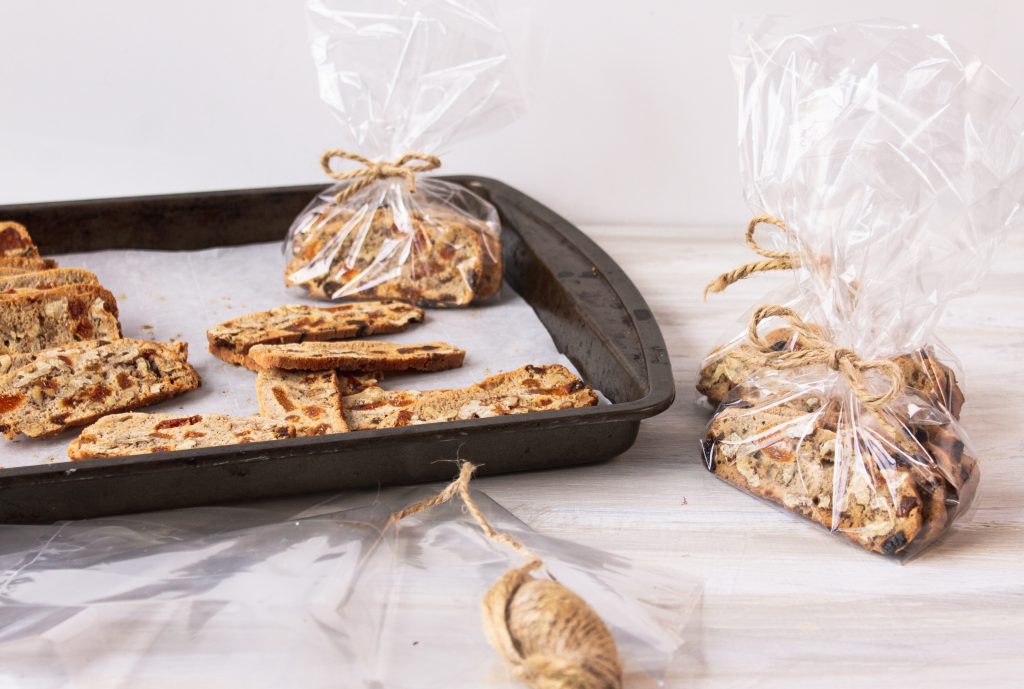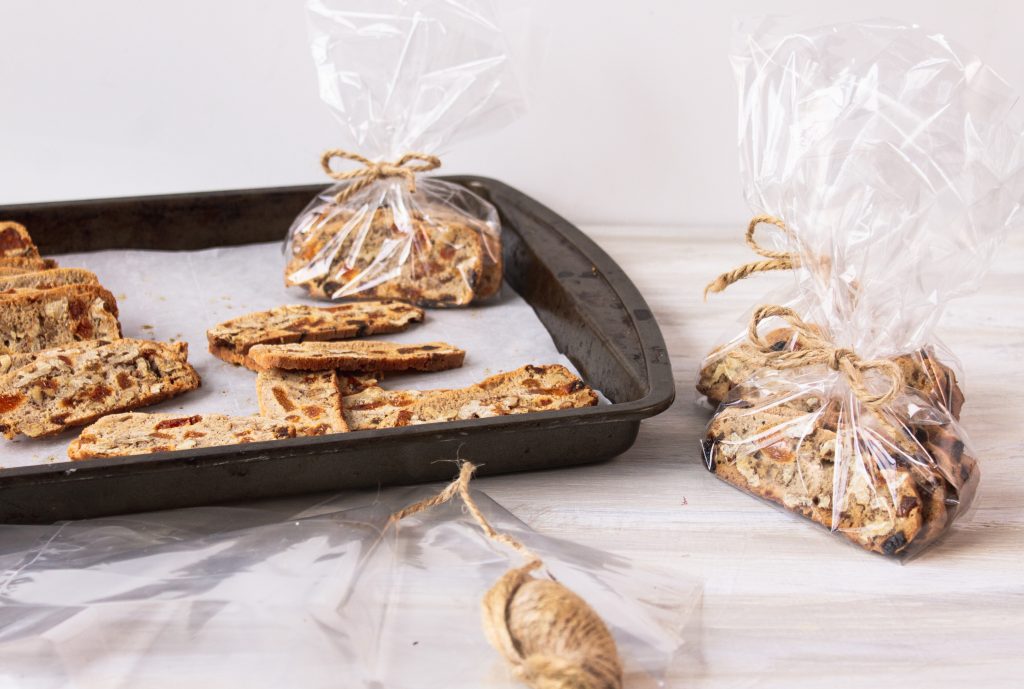 What You Will Need To Make Vegan Biscotti
You will only need a few key ingredients to make this walnut vegan biscotti recipe. Mainly, flour, sugar, gigner, cinnamon, aquafaba, and a nut and fruit.
For the sake of this recipe, I have chosen apricots and walnut halves. This is why I added some ginger as well to blend the flavors. If you don't want to add these flavors, that is completely fine!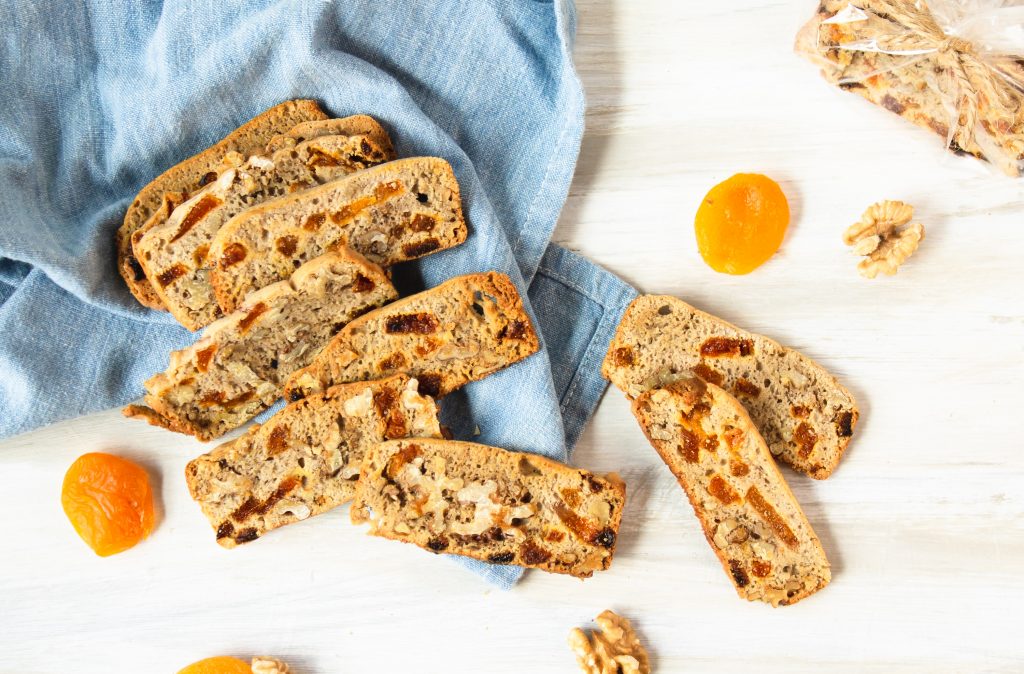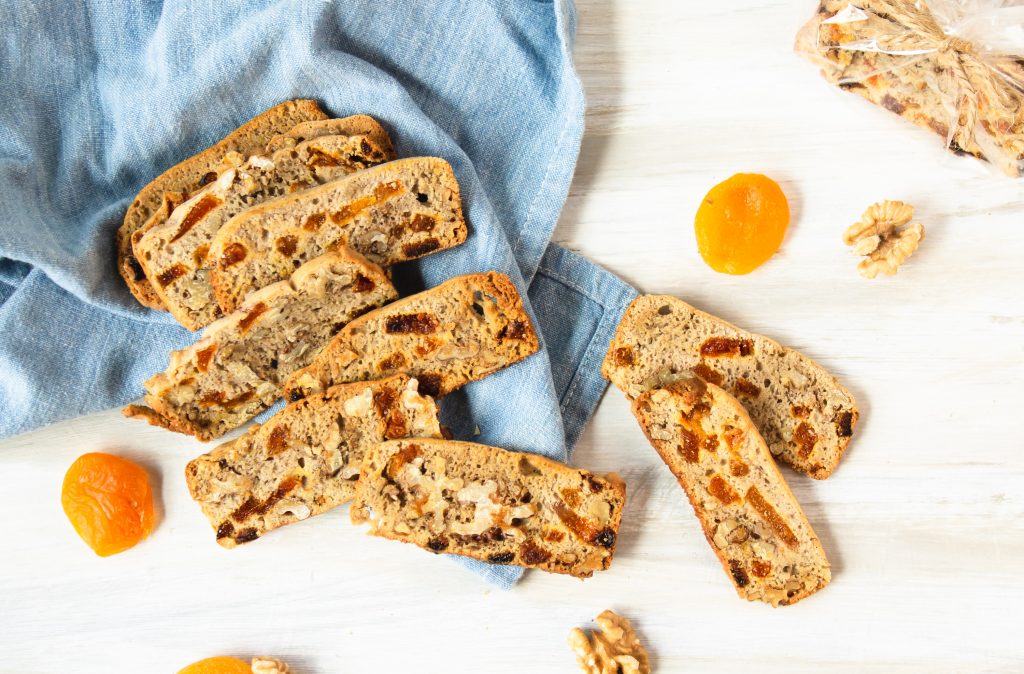 You can substitute the walnuts for some nice vegan almond biscotti and the apricots for dried cherries or another rich fruit. I love that you can easily customize this recipe to your own tastes.
If you want a really indulgent biscotti cookie to wow your friends and family, I recommend dipping them in chocolate and letting the chocolate harden in the fridge on the cookie! It doesn't get better than that.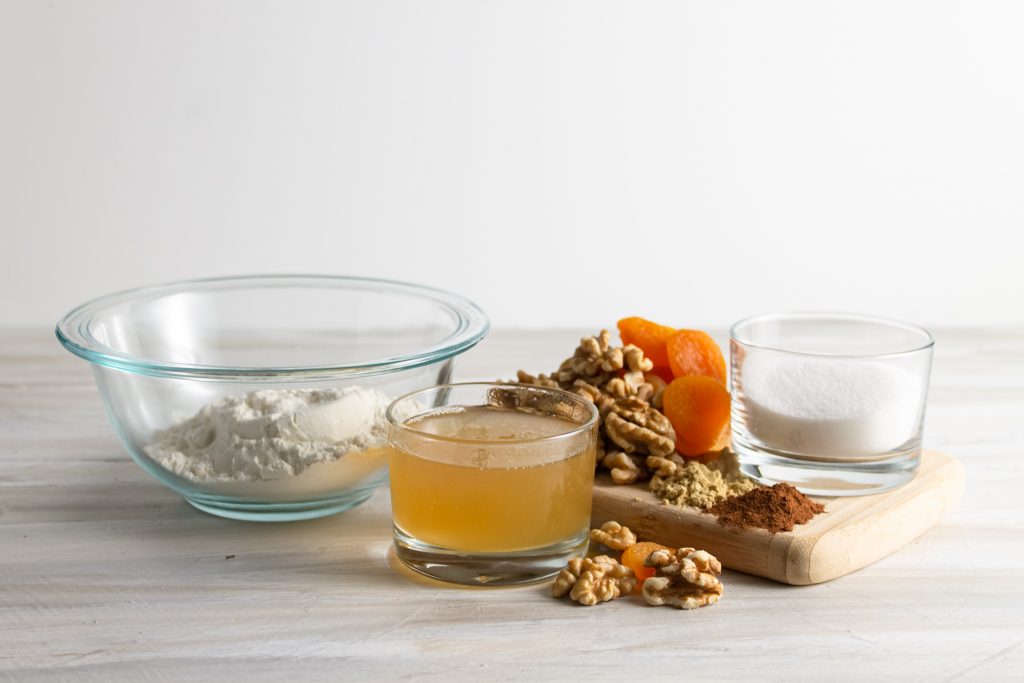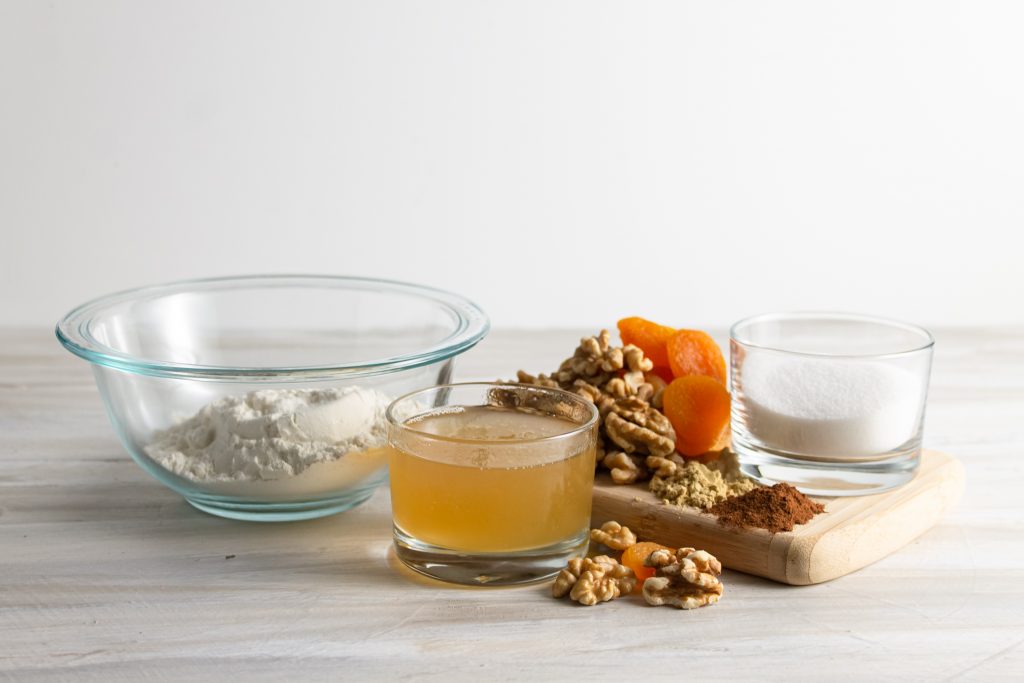 How To Make Vegan Biscotti Cookies
Making vegan biscotti takes a little bit of patience. There are a few steps and you have to bake the cookies twice over in order to get that crispy crunch that you desire.
That is okay! All good things take a little time!
First, you are going to combine flour, ginger, and cinnamon in a bowl and chop your nuts and dried fruit and set aside.
Make sure that you use RAW NUTS or they will get overcooked when you bake the vegan biscotti for the second time.
Then, you will whisk your aquafaba or chickpea liquid util it is foamy and whipped. You will add salt to the aquafaba and whip until the mixture forms soft peaks like icing.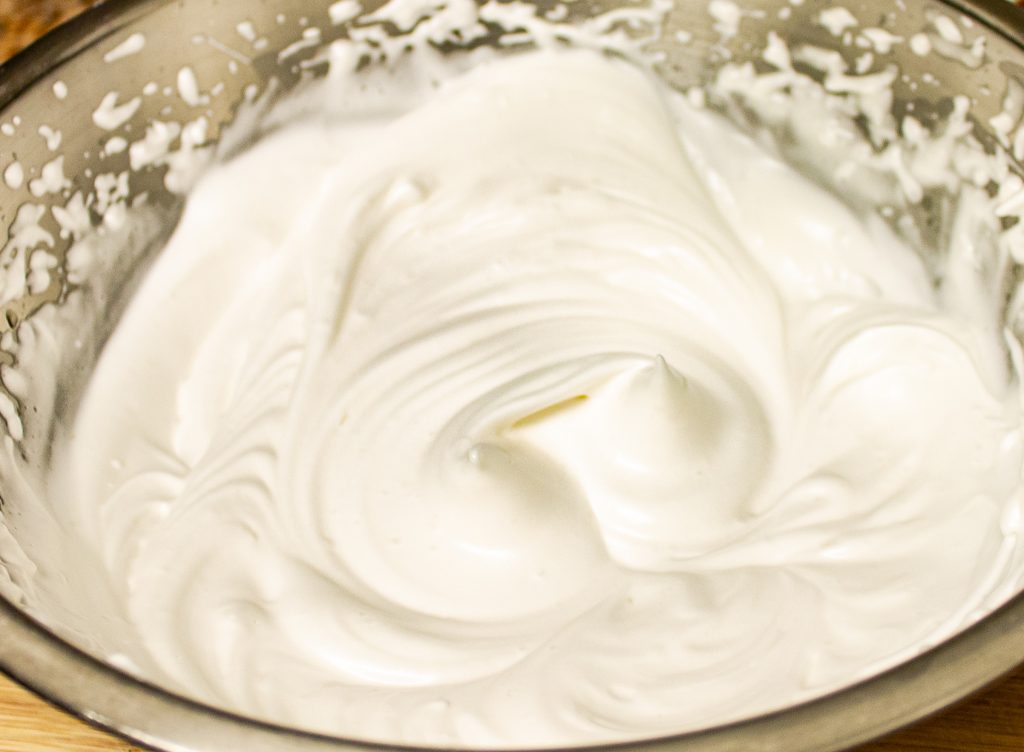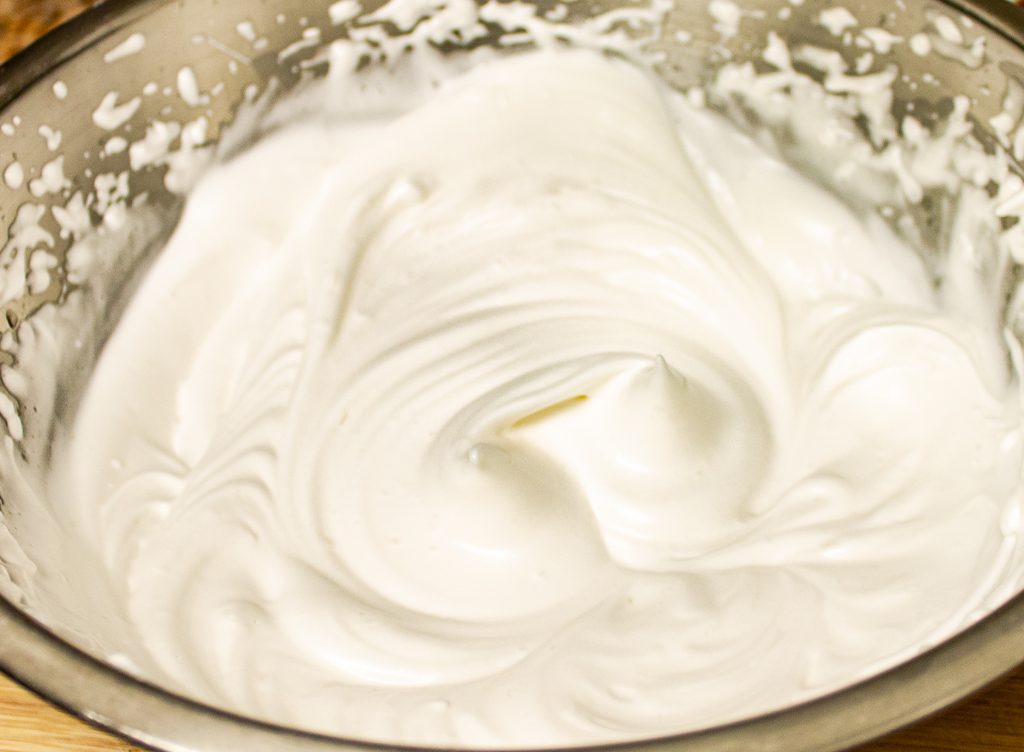 Then, while you are whipping the aquafaba, you will add sugar 1 tablespoon at a time until all of the sugar is incorporated. Now, you will whip using an electric mixer until stiff peaks form.
Now, you will sift your flour and spices into the whipped mixture slowly, taking care to mix after each addition. Simply continue folding and stirring until no flour remainds.
Finally, you will fold chopped nuts and apricot into the batter until evenly spread throughout. Pour this mixture into your baking pan and bake for 35-40 minutes until a knife comes out clean.
Now here is the second part! This is where you are going to get that traditional vegan biscotti texture!
You will allow your loaf to cool completely, which usually takes about 2 hours. You can also let it cool overnight if you want to break this recipe up into two days.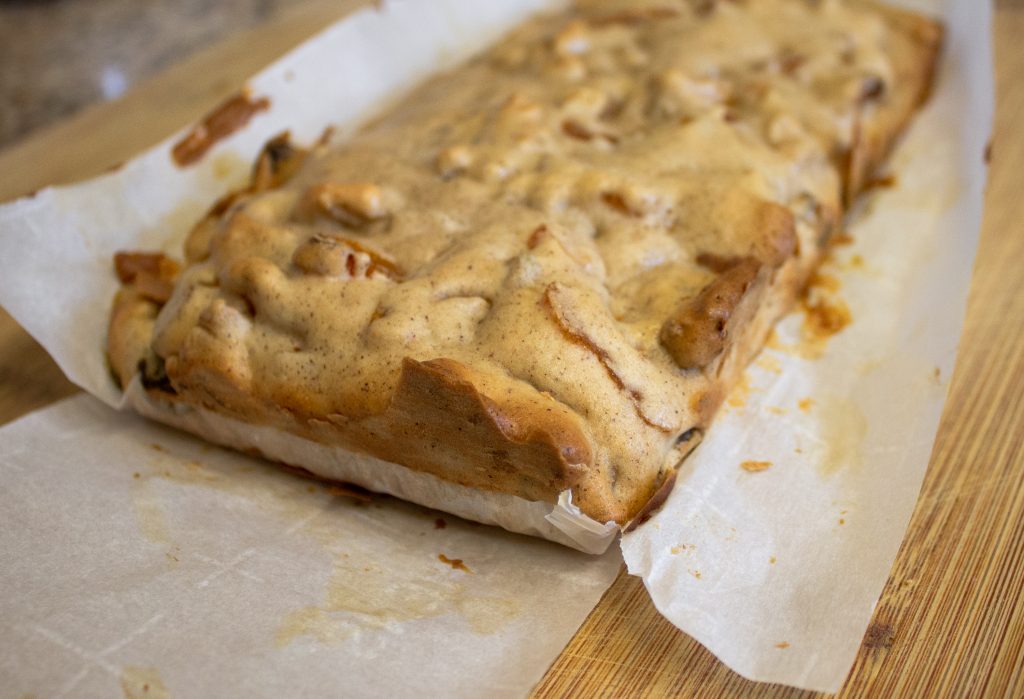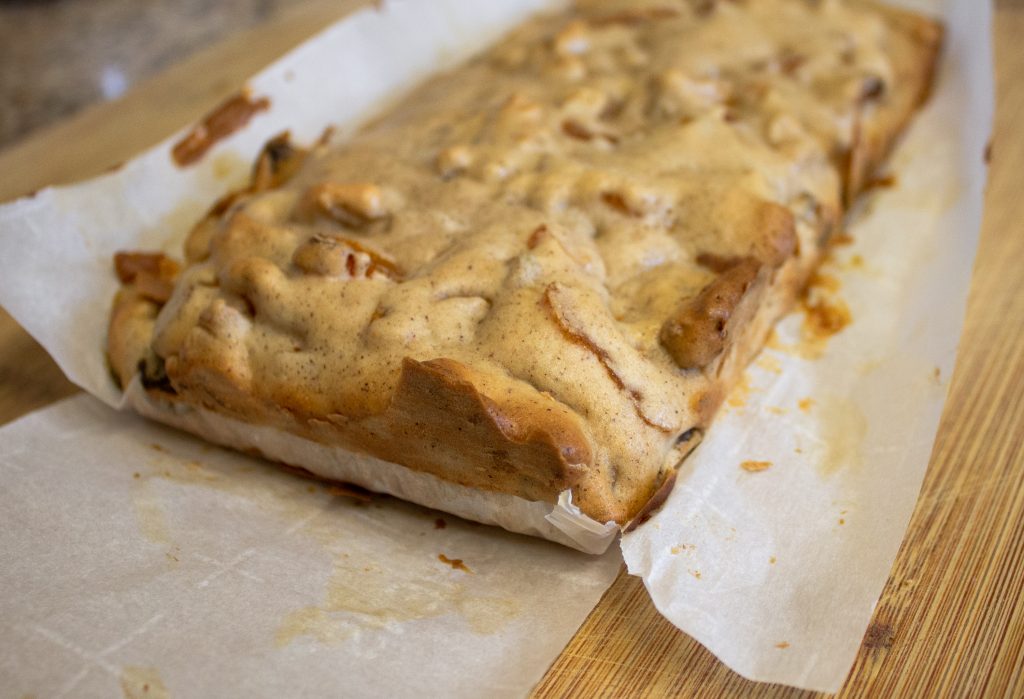 Now, you will carefully cut the loaf into 1/4 inch thick slices. Be careful to cut the slices using a sawing motion so that you actually slice the loaf, not tear it.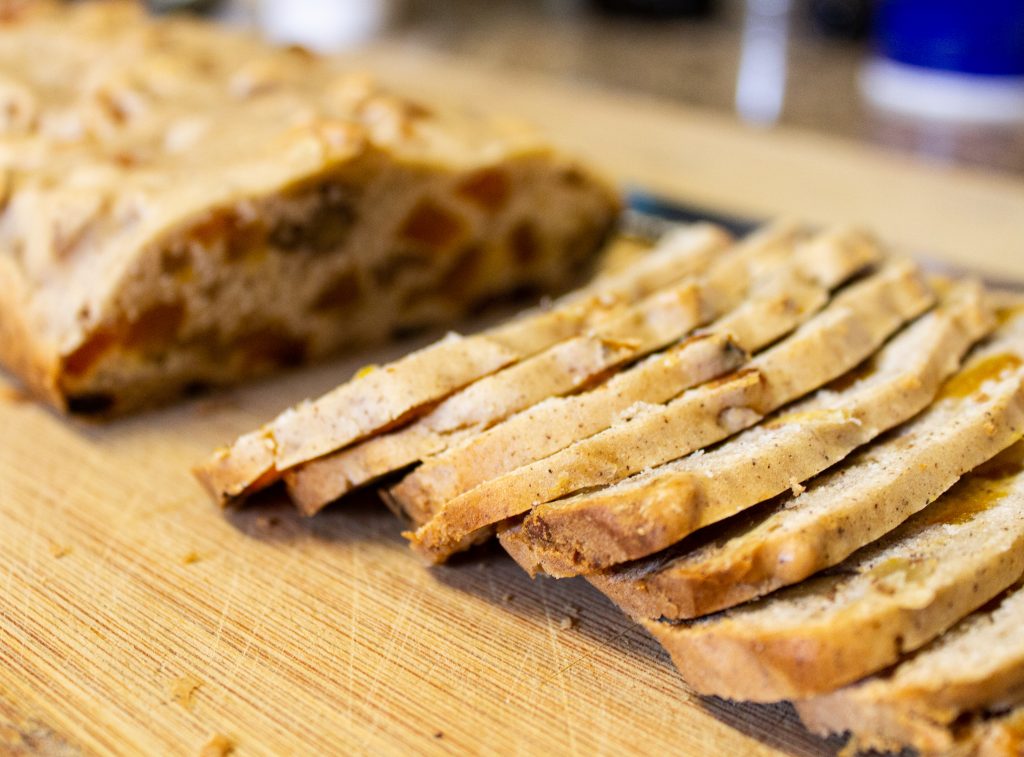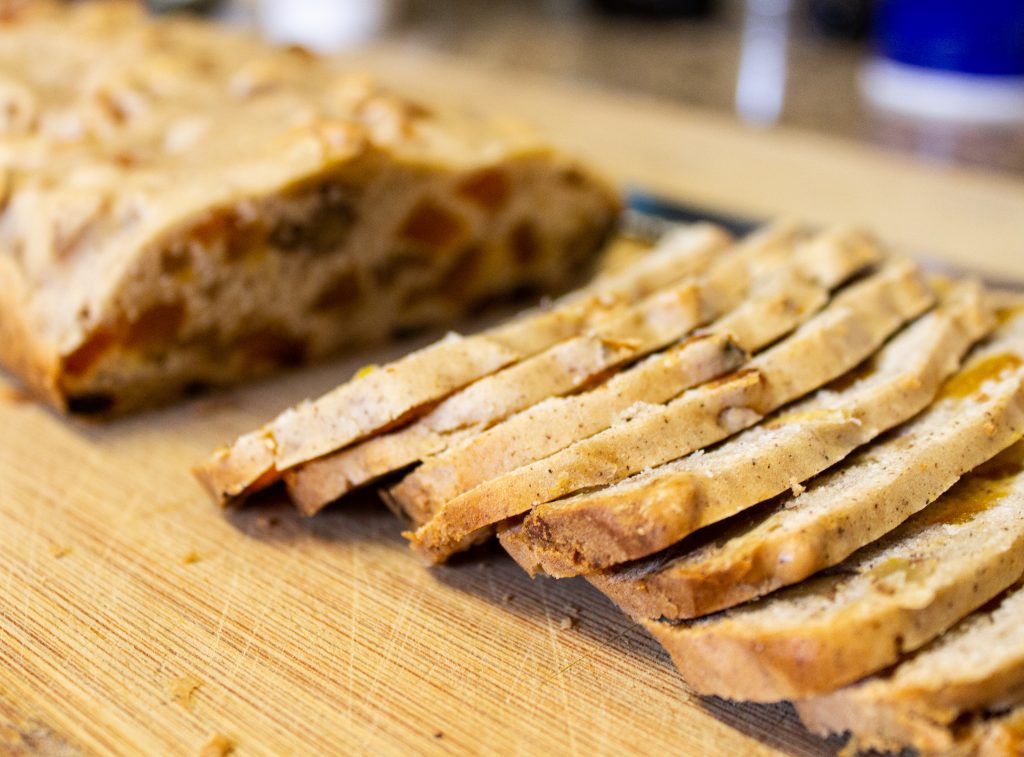 Simply place the slices on a baking pan and allow them to dry in the oven for 25-35 minutes until they are slightly brown and crisp. Flip them halfway through if you want them even darker.
DO NOT allow the top to get golden in color because this means that the bottom will be burnt. I know that it is difficult to take them out when they are just "slightly" brown, but they will continue to cook while cooling.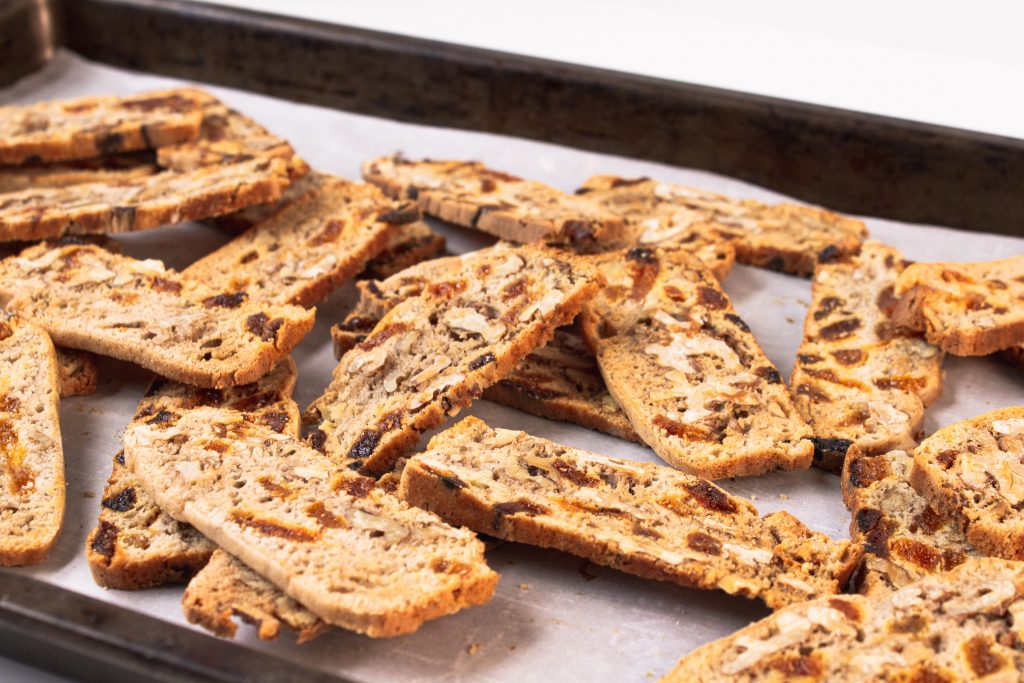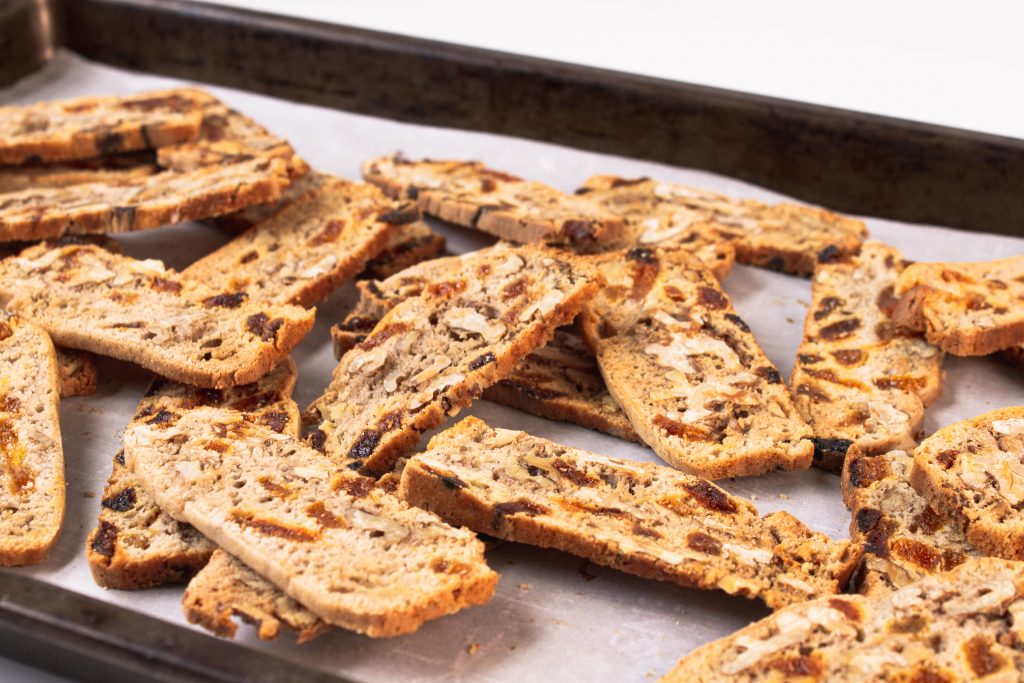 Once the cookies cool, you can dip them in chocolate or serve them as-is! These vegan biscotti cookies are so good and can last for up to a week so you can put in effort to make them but enjoy them for many days to come.
Did You Try This Recipe?
If so, I would love to keep in touch! I enjoy seeing photos and comments about the recipes that you make! You can follow me on Instagram and I will repost your goodies in my stories and comment on it too! Just tag me at @wowitsveggie and hashtag #wowitsveggie. I can't wait to see what you make!
Yield: 32 Cookies
Best-Ever Walnut Vegan Biscotti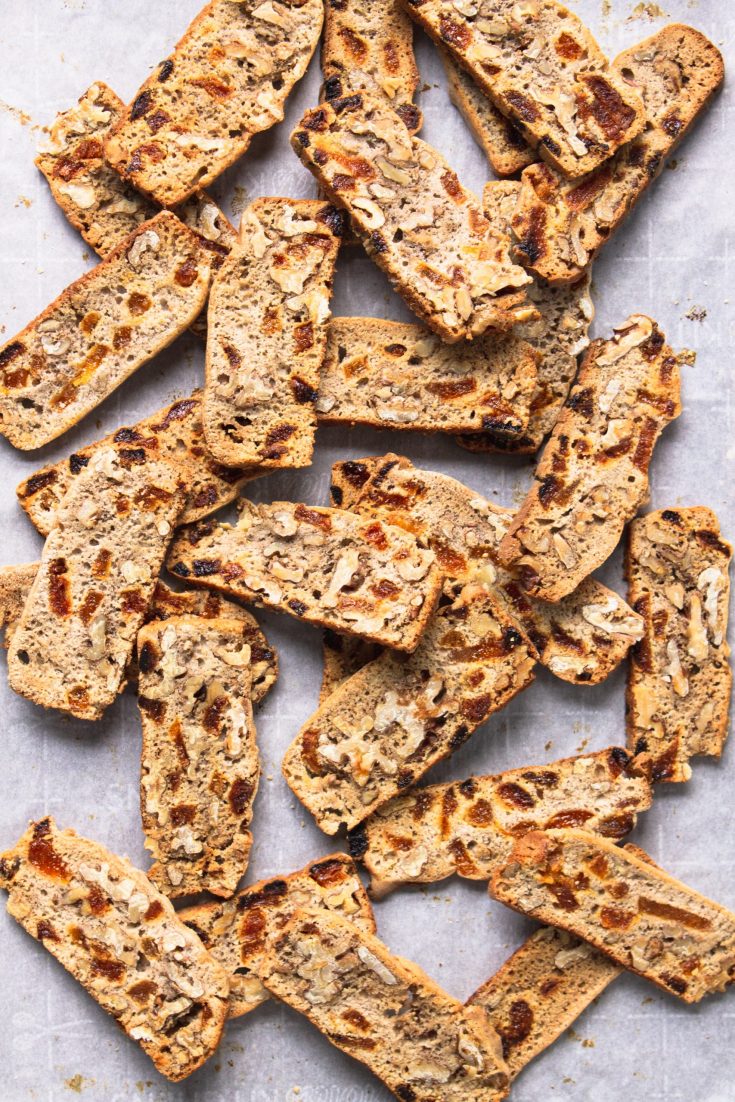 These vegan biscotti cookies are perfect for gifting to family and friends or dunking in coffee or hot chocolate. They are similar to Almondina brand biscotti in texture and shape.
You can customize them to your taste preference using whatever nuts and dried fruit you have on hand or prefer. For this recipe, I used walnuts and dried apricots, but you can modify to your tastes.
Feel free to serve them with cheese [vegan or otherwise] and fruit at the end of the meal as a delicious dessert!
Cook Time
1 hour
10 minutes
Total Time
3 hours
35 minutes
Ingredients
1 cup flour of your choice (Gluten-Free okay)
½ cup granulated sugar
¼ tsp sea salt
½ tsp ground ginger
½ tsp ground cinnamon
½ cup aquafaba
1 cup walnut halves [or nuts of your choice
¾ cup dried apricots [or dried fruit of your choice]
Instructions
Preheat oven to 350° F/180 C. Line an 8" x 4"/20 cm x 20 cm loaf pan with baking parchment.
Combine flour with ginger and cinnamon in a small bowl. Set aside. Do not use ginger if you are using different fruit in this recipe
Coarsely chop nuts of your choice. Slice apricots into ¼" pieces or chop the dried fruit of your choice. Set both aside.
Using a stand mixer with a whisk attachment or handheld beaters in a glass or metal bowl, whip aquafaba until foamy on medium (about 1 minute). Add salt and continue whipping on med-high until soft peaks form (about 5 minutes).
Add sugar 1 tbs at a time to aquafaba, beating well after each addition. Once all sugar is incorporated, switch to high power and beat until stiff peaks form, an additional 30 seconds to 1 minute.
Sift 1/3 of flour and spice mixture into the whipped aquafaba. Gently fold into aquafaba in a circular motion, maintaining as much of the volume as possible.
Add remaining flour mixture in 2 more additions (always sift the flour in), folding after each addition. Fold until no flour pockets remain.
Fold chopped walnuts and apricots into batter until well distributed. Gently scrape into prepared loaf pan and level out with the spatula.
Bake for 35-40 minutes until starting to brown and a cake tester or knife comes out clean.
Remove from oven and allow to cool in pan for at least 10 minutes. Remove from pan and allow to cool completely, at least 2 hours or overnight.
Preheat oven to 250° F/120 C. Line 2 baking sheet with parchment.
With a sharp serrated knife, carefully cut ¼"/6mm thick slices crosswise from loaf. Do not press too hard on the vegan biscotti loaf while you are cutting so you don't squish it down.
Place slices on parchment or silpat lined baking sheets so that they do not touch.
Dry out in oven for 25-35 minutes until a slight hint of color is present on cookies and they are crisp. Flip ½ way through for a more even browning. Do not allow to get to golden brown on top or they will be burnt underneath.
Allow to cool and enjoy. Deep in chocolate, if you desire. Cookies can be stored for up to 1 week in an airtight container at room temperature.
Notes
Use raw walnuts or the nuts of your choice or they will get overcooked during the second bake of these vegan biscotti cookies.
When whipping your aquafaba, use a metal or glass bowl – not plastic. Plastic doesn't achieve the desired whipping texture as well.
Other types or nuts and dried fruit can be substituted. The classic version of Almondina has almonds and raisins (add them both whole to get a nice cross-section when cut). Feel free to modify this vegan biscotti recipe to your taste!
Nutrition Information
Yield
32
Serving Size
1
Amount Per Serving
Calories

61
Total Fat

2g
Saturated Fat

0g
Trans Fat

0g
Unsaturated Fat

2g
Cholesterol

0mg
Sodium

20mg
Carbohydrates

10g
Fiber

1g
Sugar

6g
Protein

1g