If you have never had blueberry bread pudding, you are in for a real treat. Bread pudding is one of my weaknesses and I have it every chance I get.
The best part? You can EASILY make it at home using just 6 ingredients that you will probably already have lying around the house. The bread pudding recipe is easy and it is even fun to prep with your kids on the weekend.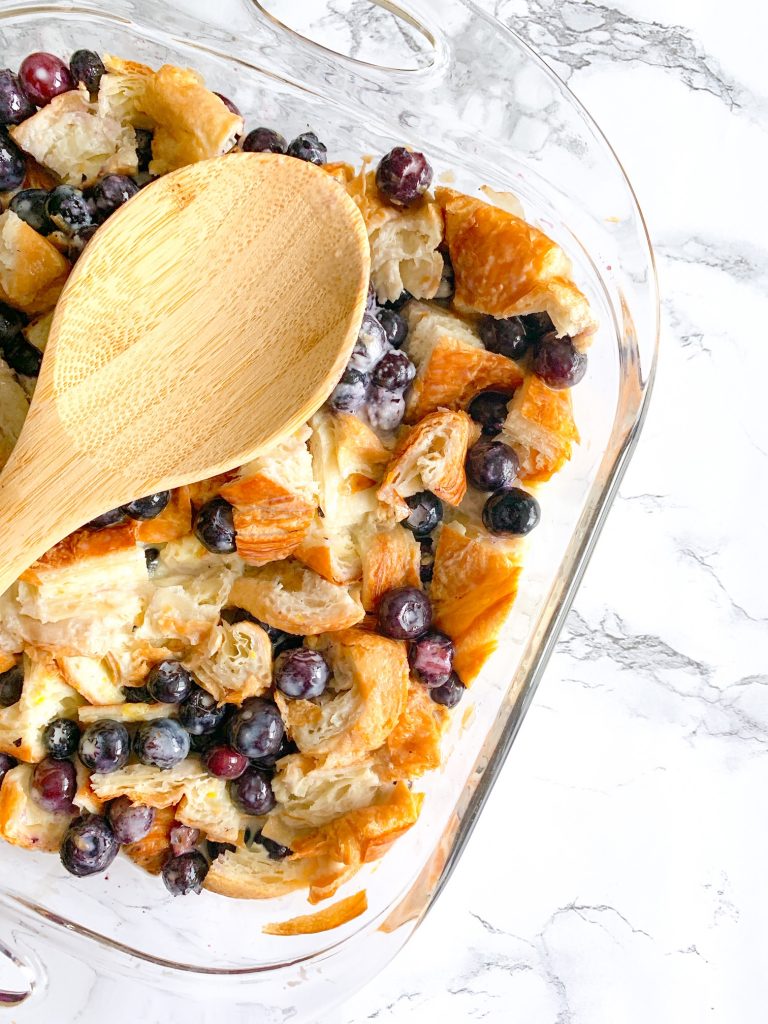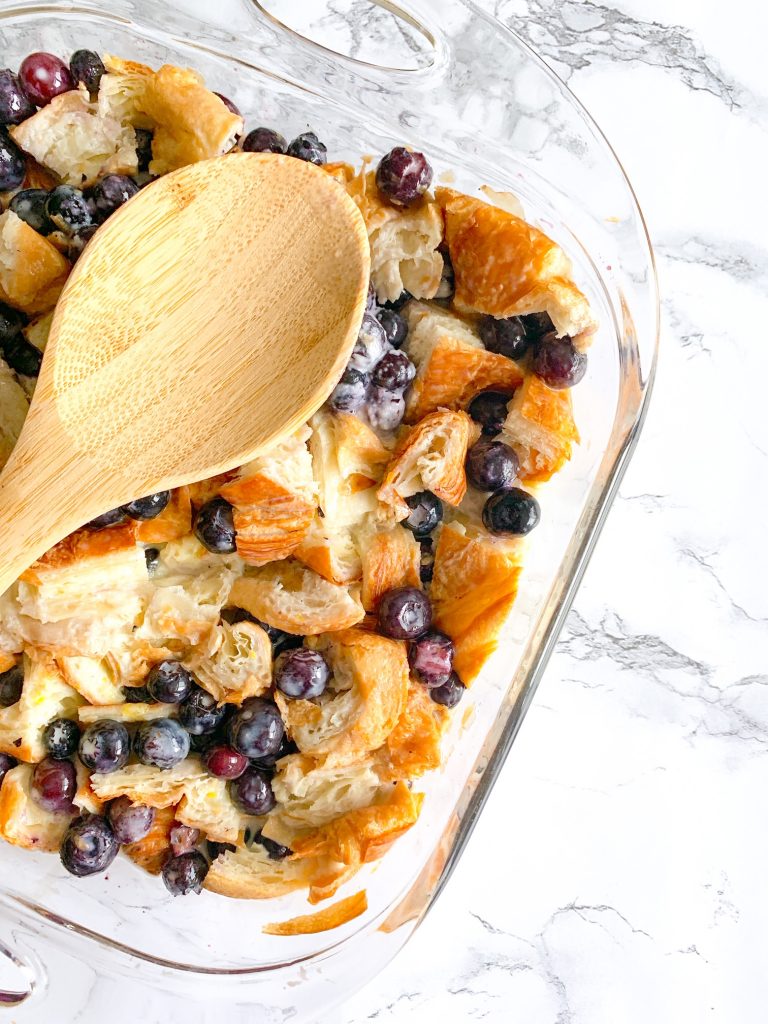 But this is no ordinary bread pudding recipe. This is a croissant bread pudding recipe. Oh oh oh! The flaky melt-in-your-mouth texture of croissants adds another dimension of flavor to this already fantastic blueberry bread pudding recipe.
Once you make this bread pudding with blueberries, it is easy to substitute your own fruit of choice. Perhaps you want to try with strawberries, raspberries, or even blackberries! The options are endless.
Many blueberry bread pudding recipes have a list of ingredients as long as your arm. Personally, that isn't my vibe. I like things that are quick and easy but delicious and seem like you put in hours of time when it took just 10 minutes of prep!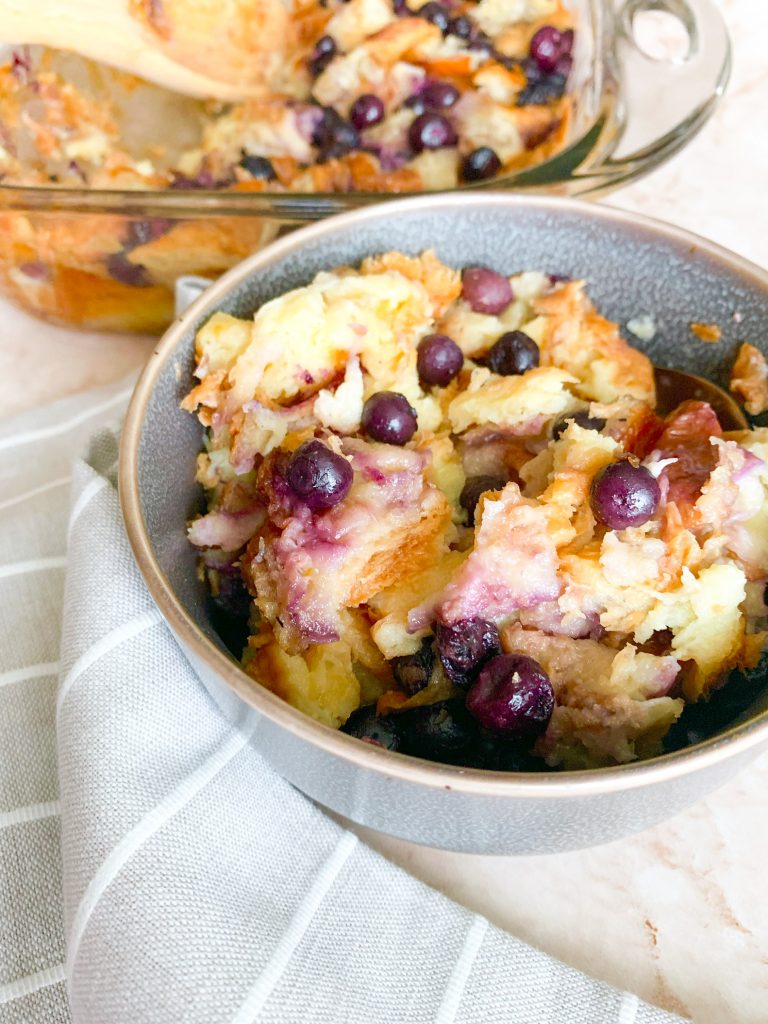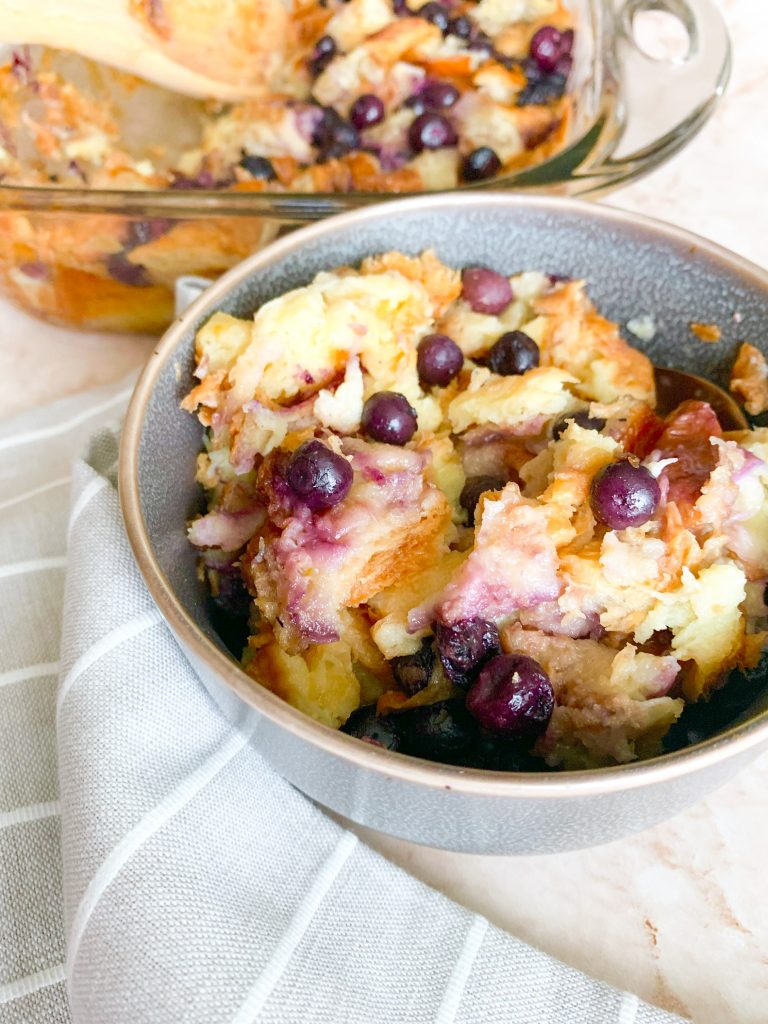 Where To Buy The Croissants For Bread Pudding
Some of the best croissants for croissant bread pudding can be found at Costco. They are cheap but really great quality and come in a huge container.
Since this croissant bread pudding recipe only uses 6 of them, you will have plenty leftover in the event you want to make a round 2!
If you don't have a Costco nearby, that is okay! You can merely head to the fresh baked goods section of your local grocery store and buy from there. You do not have to go to a fancy pastry shop.
Baker's Note: When making croissant bread pudding, it helps if the croissants are day-old and a little dryer. You don't want them to be stale, so you can brown them in your oven, if you want!
The croissant bread pudding recipe works fine with fresh croissants, but drier croissants soak up the topping and creamy pudding even better.
Again, no pressure, this is just if you have the time and want to try something new! The recipe is perfectly delicious as-is!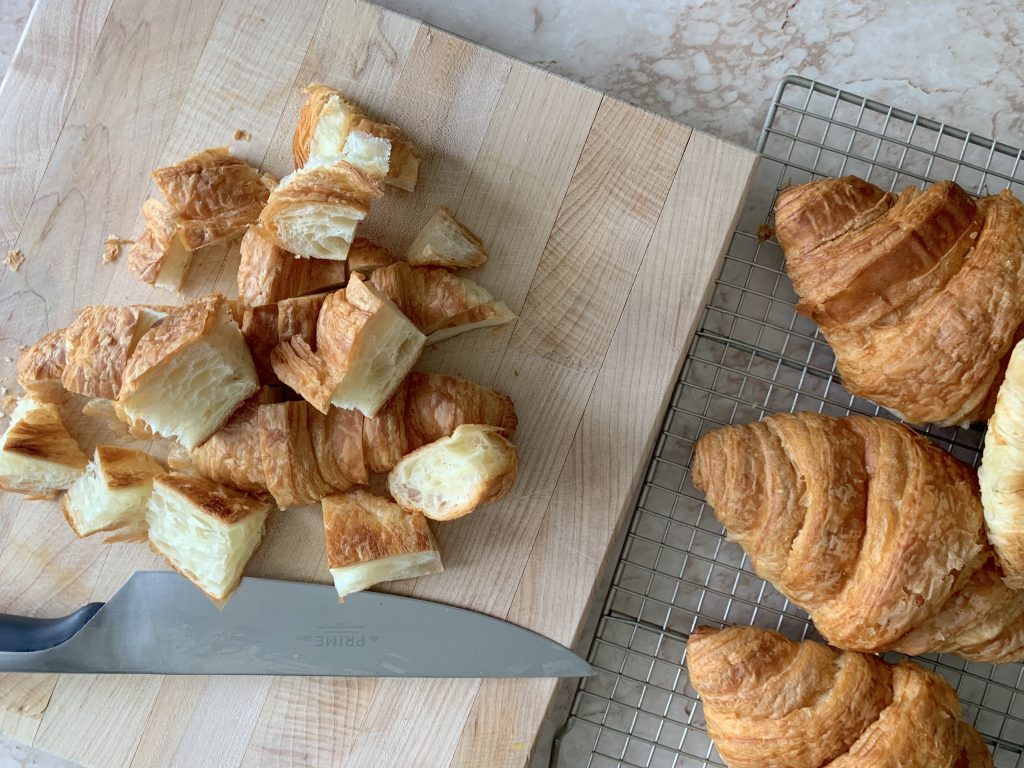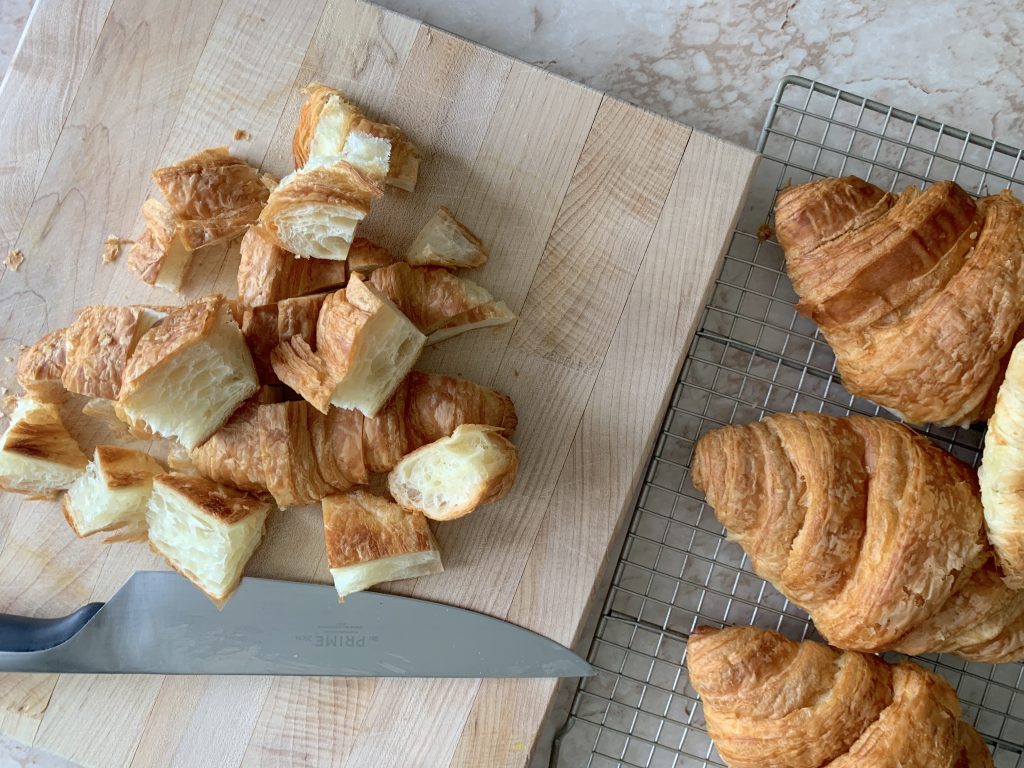 How To Make Croissant Blueberry Bread Pudding
Making blueberry bread pudding is SO EASY. This is a great family-friendly dessert to make together as kids love ripping up the croissants into small pieces! From experience, adults love doing it too!
Anyway, all you have to do in order to make blueberry bread pudding is tear up your croissants into large cubes or pieces and mix them with blueberries in a baking dish.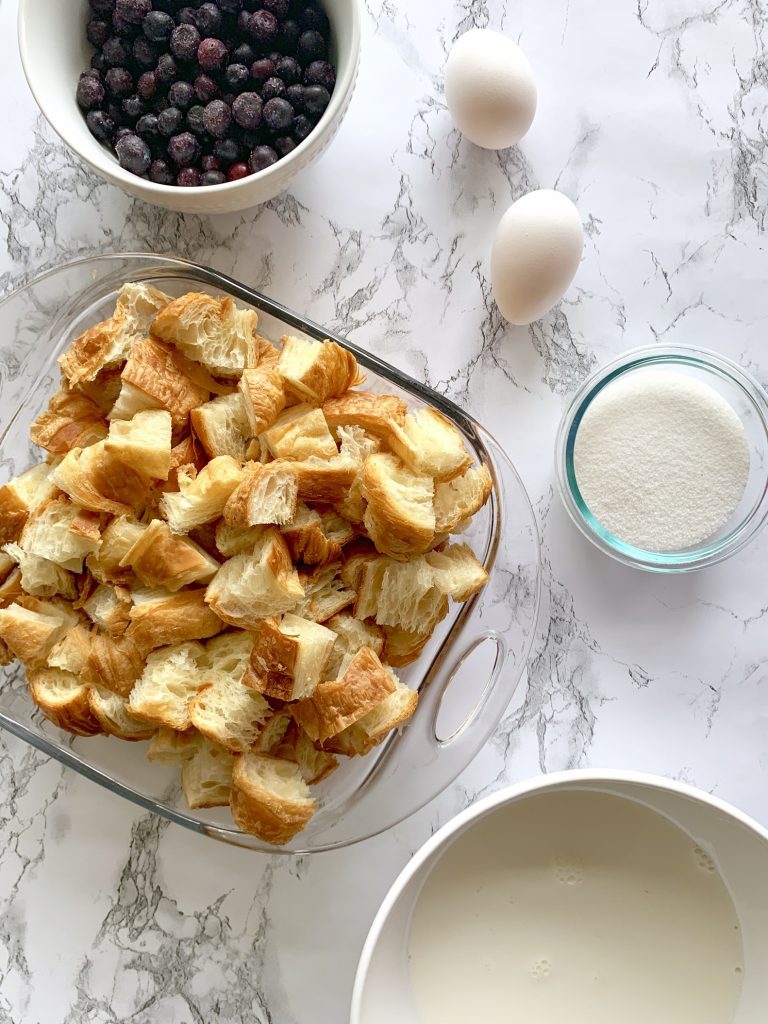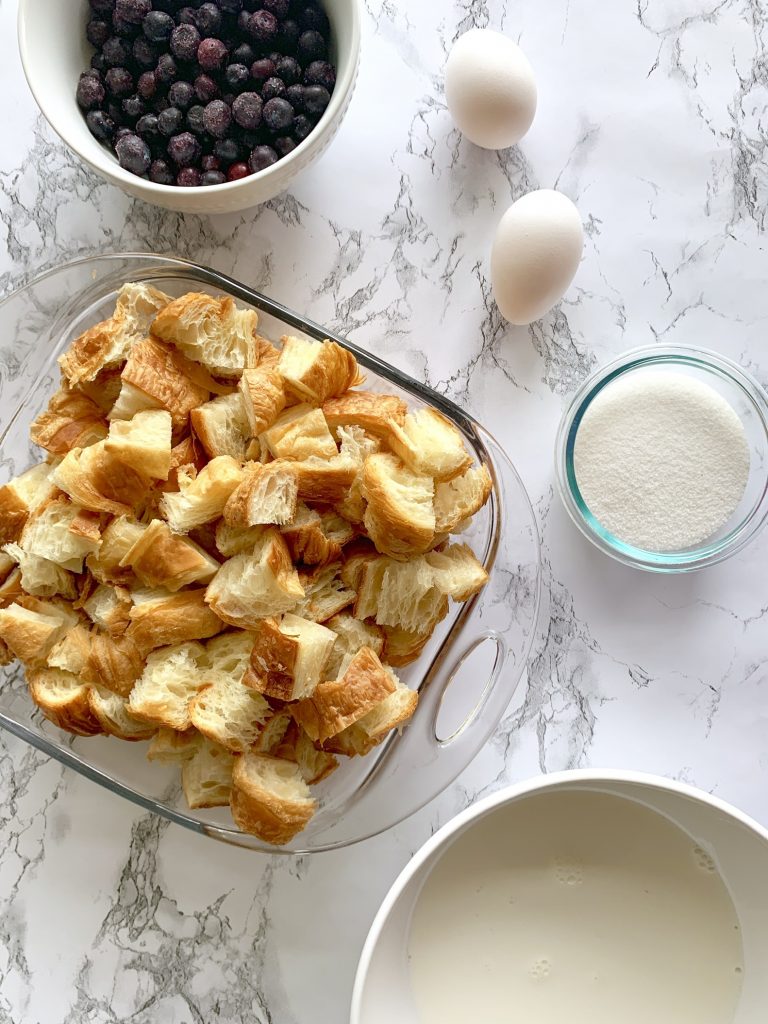 Sounds pretty simple right? That is because it is!
Then, you whisk together all of the remaining ingredients and pour them over the blueberries and croissants.
Then you bake in the oven and you are done!
Now, you have many options for serving! You can make even more bread pudding sauce by doubling the recipe below or you can sprinkle with some powdered sugar or whip cream!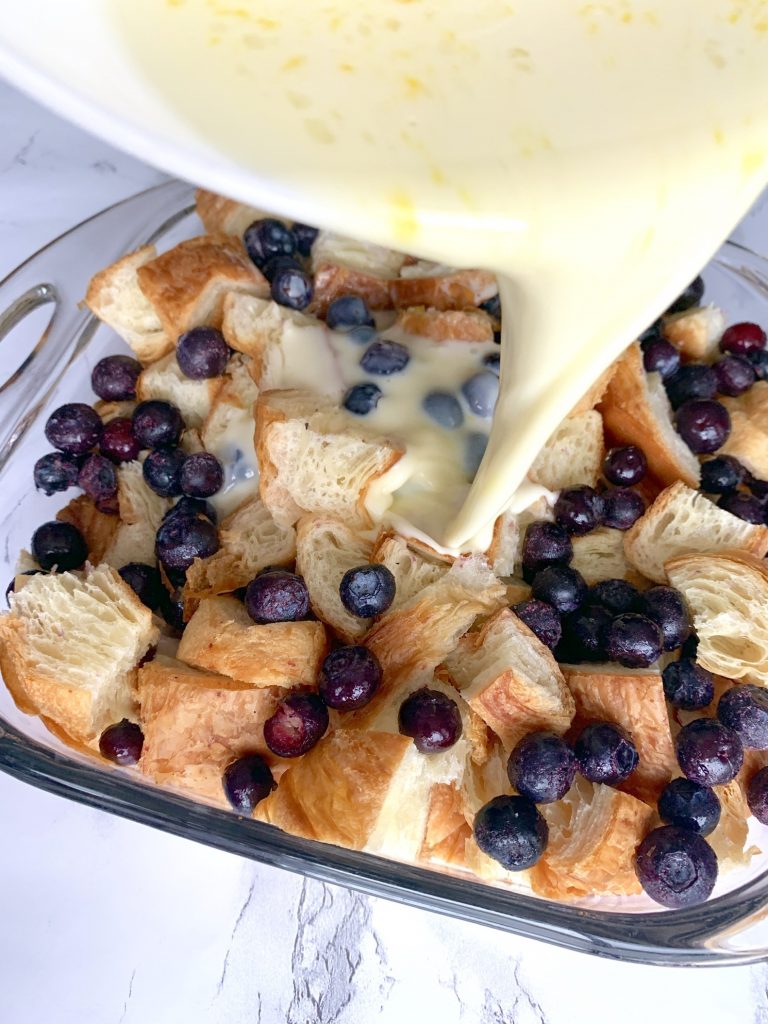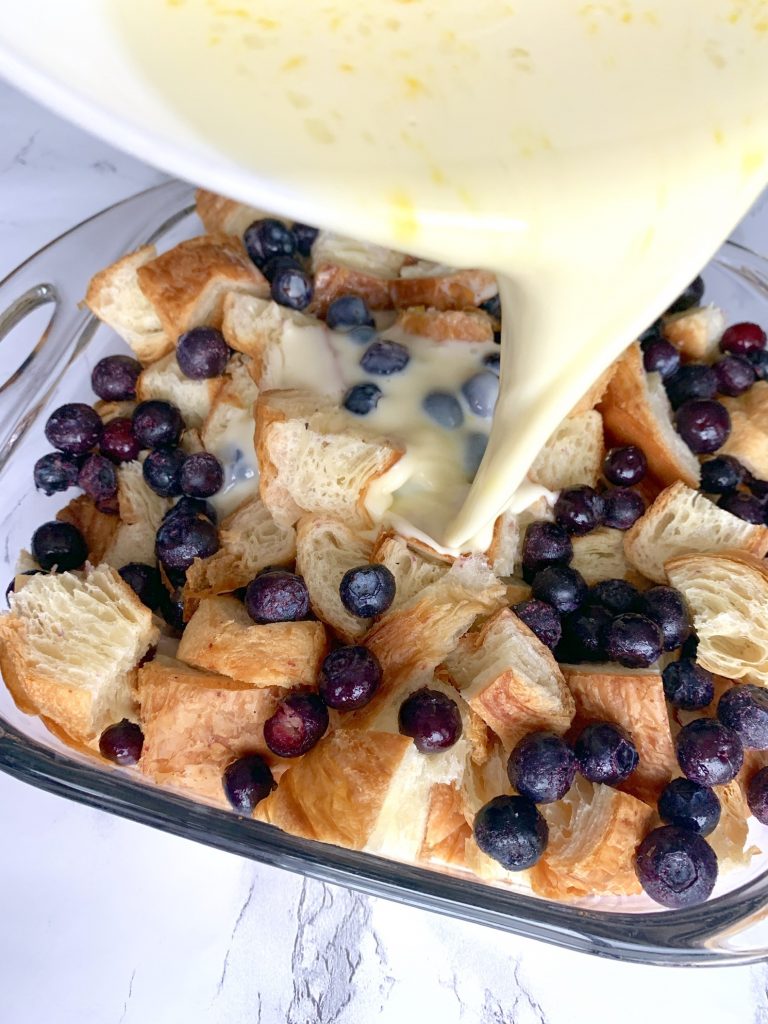 How To Reheat Blueberry Croissant Bread Pudding
Reheating the blueberry croissant bread pudding is so simple and easy! All you have to do is microwave your portion on high for 30-60 seconds, depending on your microwave and how hot you want it to be.
I know a lot of people don't like using microwaves to reheat food, but this is the best and easiest way to reheat the blueberry bread pudding.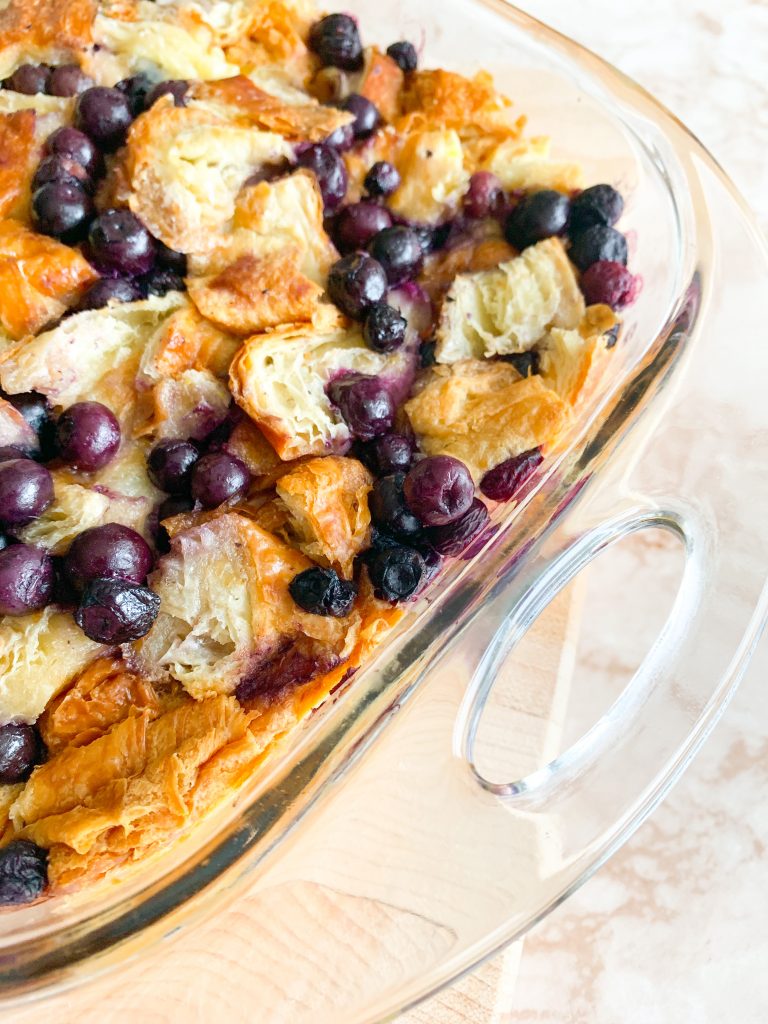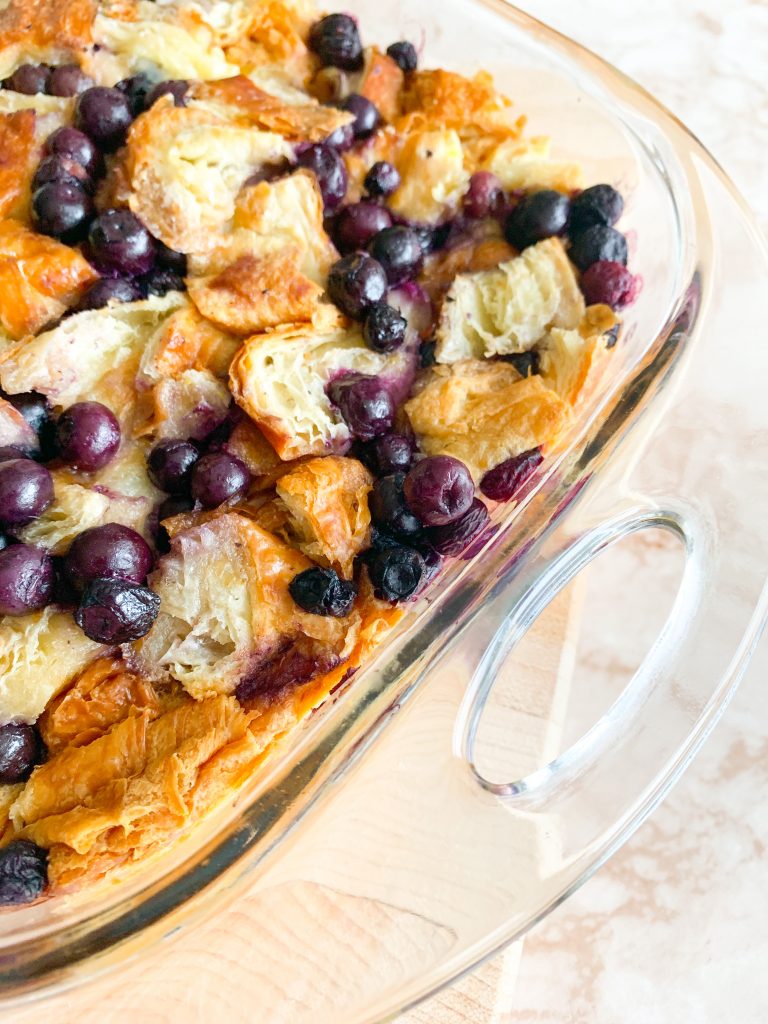 Freezing Blueberry Bread Pudding
Freezing bread pudding is super simple and easy, but there is a trick. Since I suggest heating up individual portions in the microwave, this is how you should freeze it.
First, let your blueberry bread pudding cool down all the way. Then, cut it into individual slices and place on a parchment or silpat lined baking sheet, evenly spaced and not touching each other.
Freeze until solid and then store slices in a ziplock baggy. It is important to freeze the pieces until solid beforehand so that they don't stick together in the freezer which makes them impossible to defrost.
In order to defrost, simply take out the piece of bread pudding that you want and let it thaw on the counter. Once it is thawed part of the way, go ahead and pop it into the microwave until warm!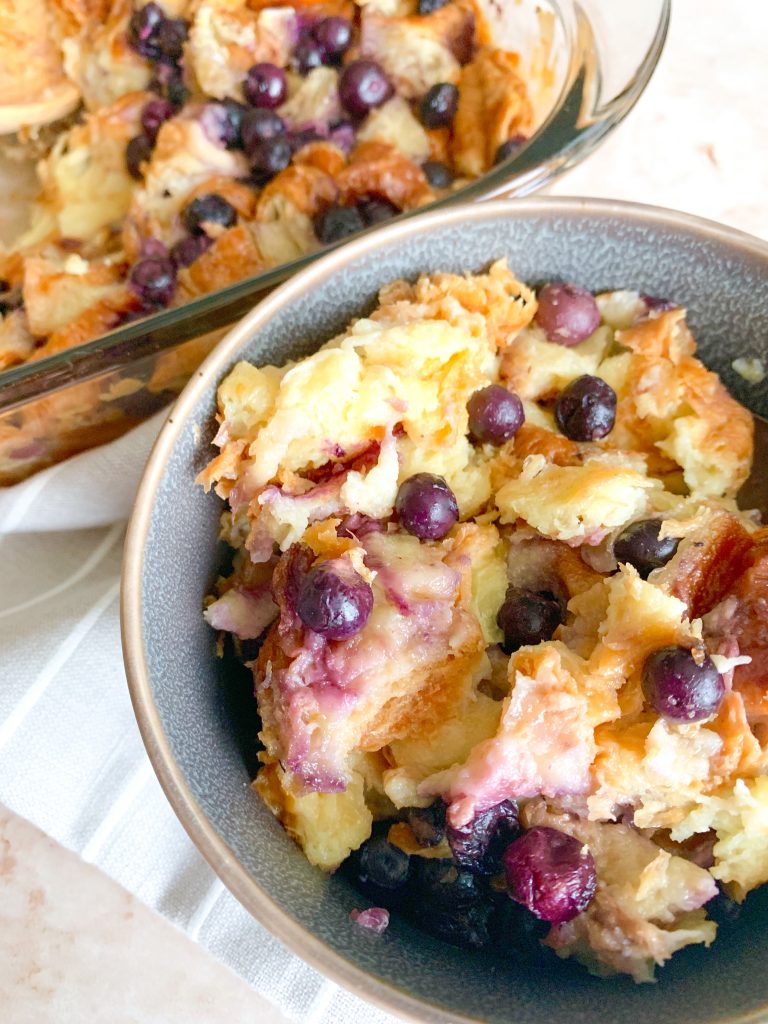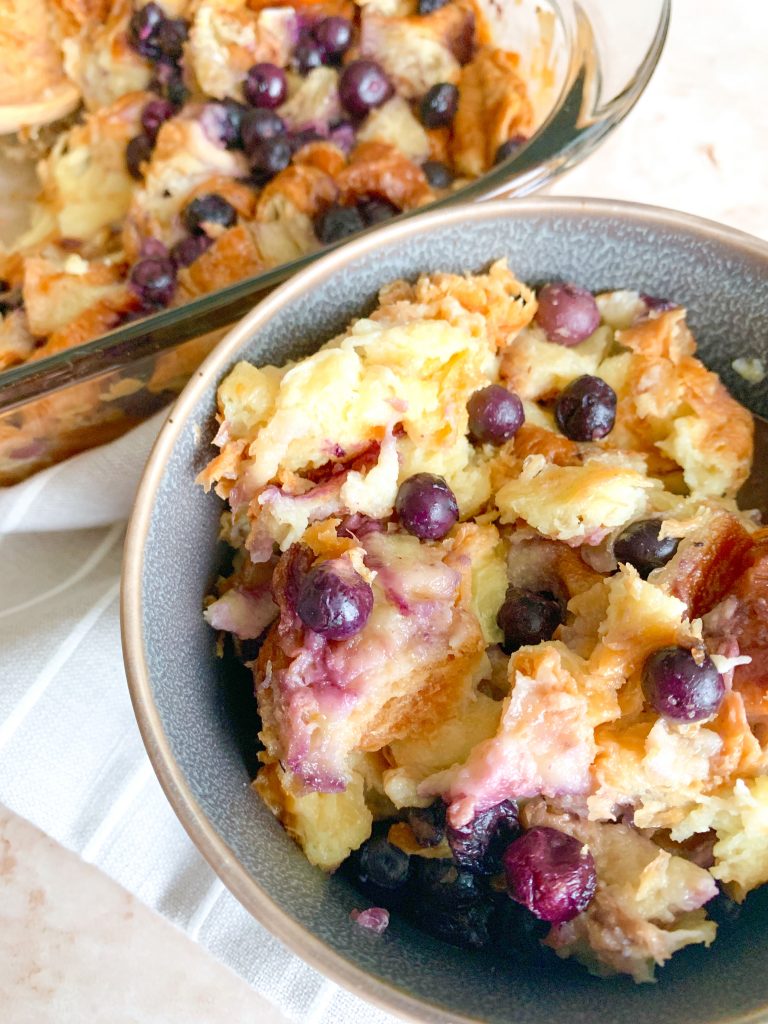 Yield: 1 8x8 inch baking dish
Easy Croissant Blueberry Bread Pudding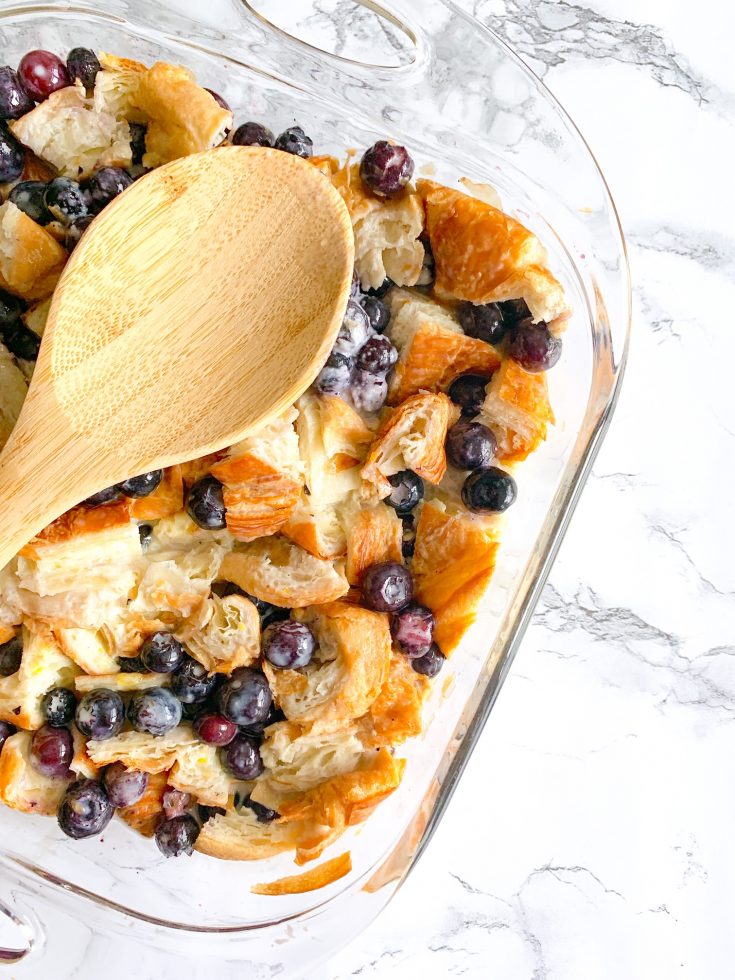 This blueberry bread pudding with croissants is so delicious! It whips up using just 6 ingredients. You can even swap out the blueberries for the fresh fruit of your choice, allowing you to play with flavors! This recipe is so fun to make with kids!
Ingredients
6 croissants
2 eggs
2/3 cup white sugar
2 cups of half and half cream
1/2 teaspoon salt
1 cup frozen or fresh blueberries
Powdered sugar (optional)
Instructions
Preheat oven to 325 degrees.
Roughly tear croissants into large cubes and mix with one cup of frozen or fresh blueberries in an 8x8 baking dish.
In a large bowl whisk together the eggs, sugar, half and half and salt and then pour over the blueberry croissants mixture.
Press the croissants mixture down to make sure it is evenly soaked with the egg mix.
Bake in the oven for 40-50 minutes or until a toothpick comes out clean in the middle.
Let cool and sprinkle with powdered sugar or a dollop of whip cream to serve 🙂