You haven't lived until you have tried a Greek frappe. If you have never heard of it before, you are in for a real treat!
As you may know, Dalgona Whipped Coffee is all the rage, and while I tried that and it was alright, this is a FAR SUPERIOR beverage.
When I shared my Whipped Coffee recipe on social media, my sister's boyfriend told me I am missing out by not trying a Greek frappe.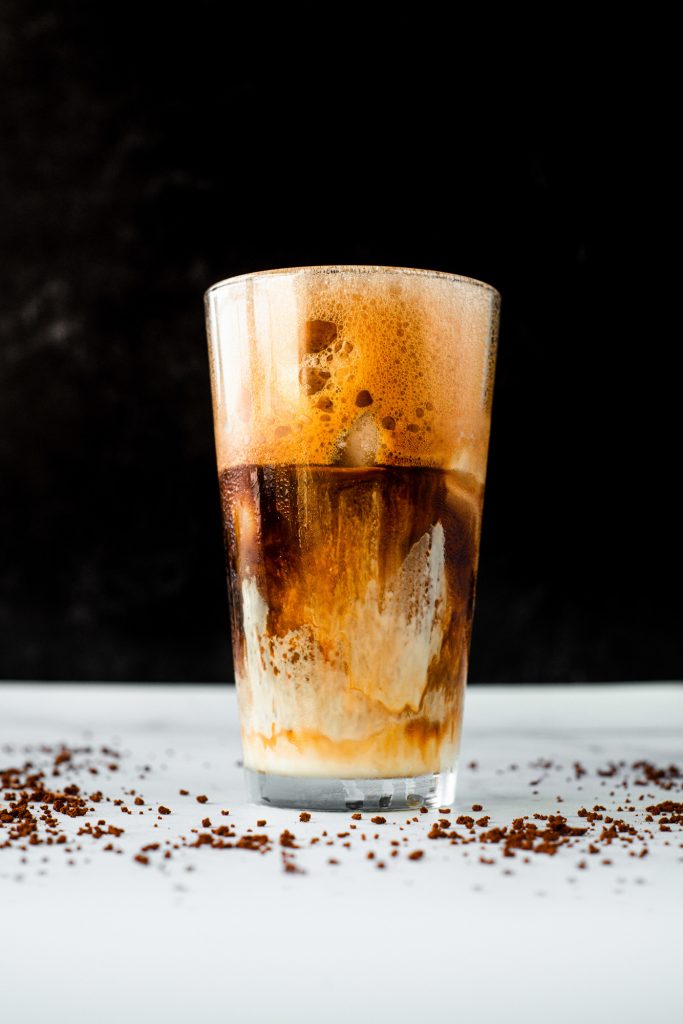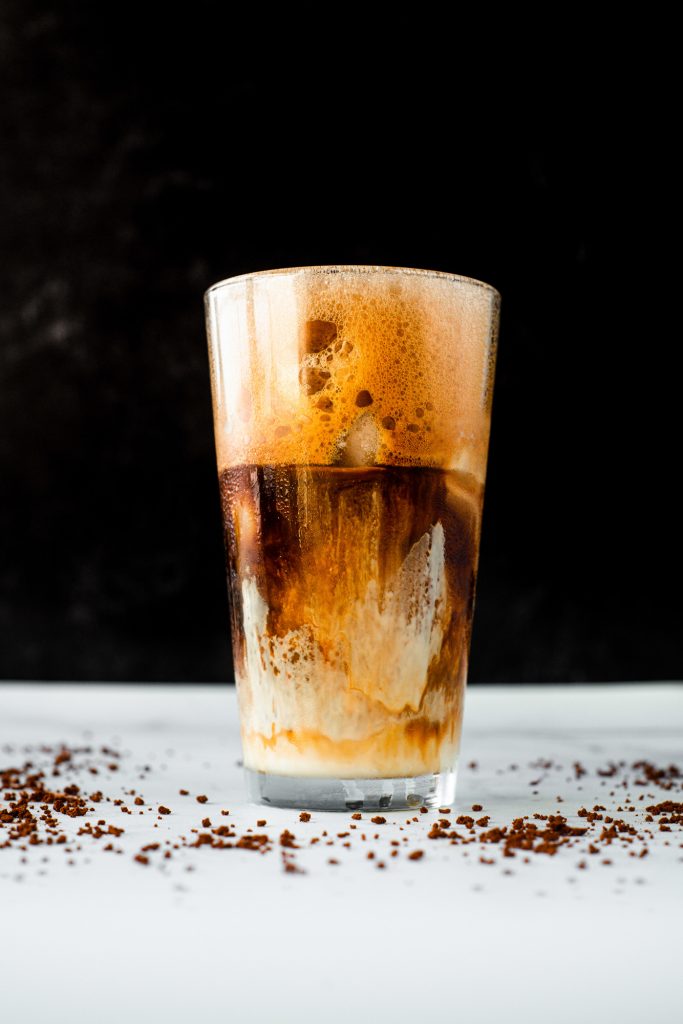 He is Greek and from Santorini. He speaks 7 languages, him and my sister go back to the island every year, the whole bit. He is Greek Greek.
He shared his Greek frappe recipe with me. This is how you know it is the real real when a Santorni native shares the recipe and steps with you over text as he is making it for your sister.
Okay, okay. So I tried it. Modified it a bit, and now I am going to show you how to make a Greek frappe.
I am OBSESSED. I can't say enough about this! It is also known as a Nescafe Frappe but most popularly known as a Greek Frappe.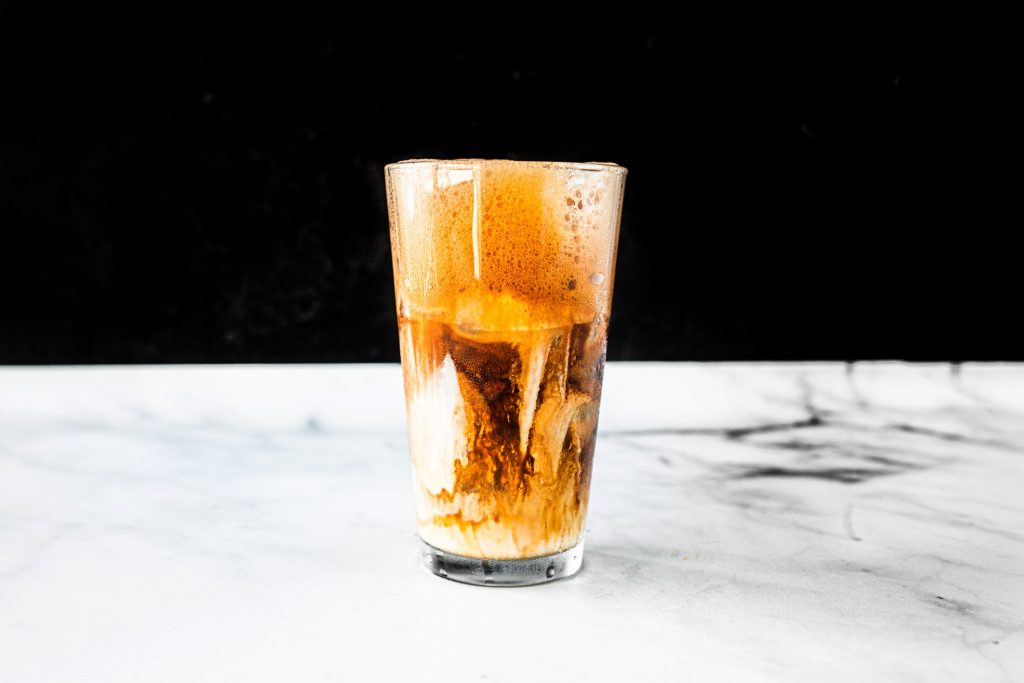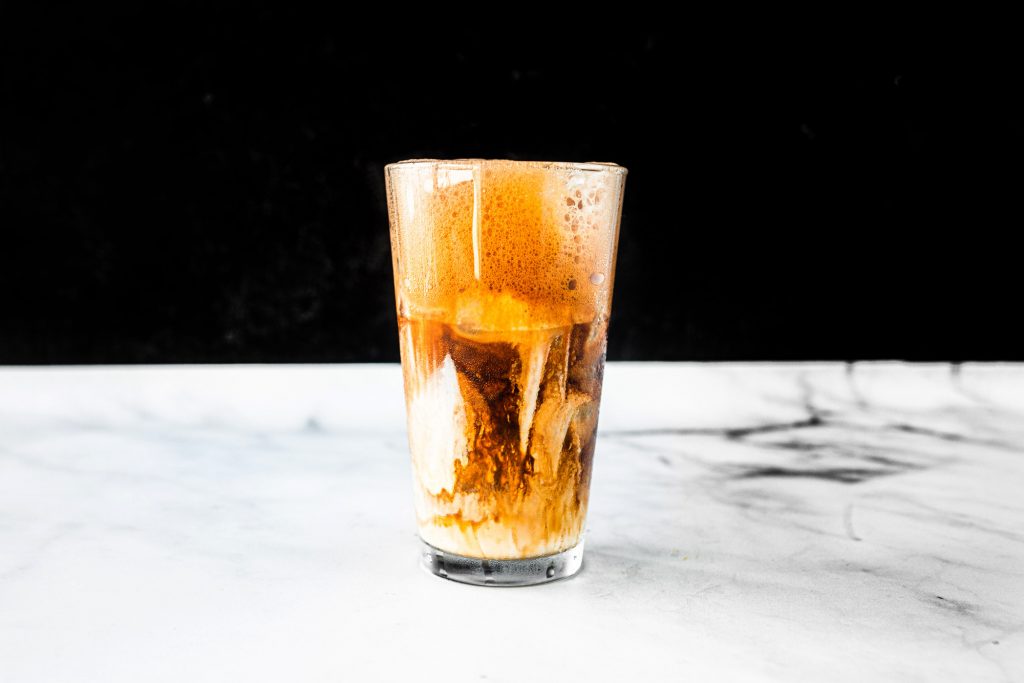 Unlike whipped coffee, a Greek Frappe takes just 30 seconds to make and you don't need any special tools! You don't even need a whisk!
All you need is a jar. If you don't have a jar use a small Tupperware. I will show you how to froth the frappe below.
Finally, I want to tell you that this Greek frappe recipe is 100% vegan as is. The non-dairy creamer is amazing. You can substitute any creamer you want. I am going to give you the format for how to make a Greek frappe and then you can customize to your tastes!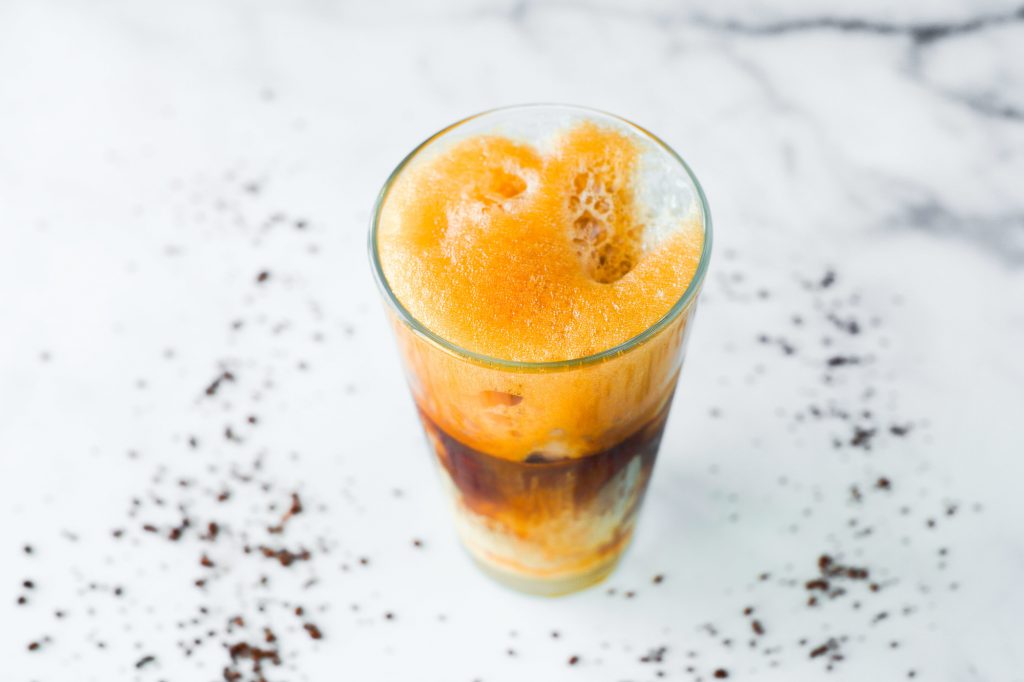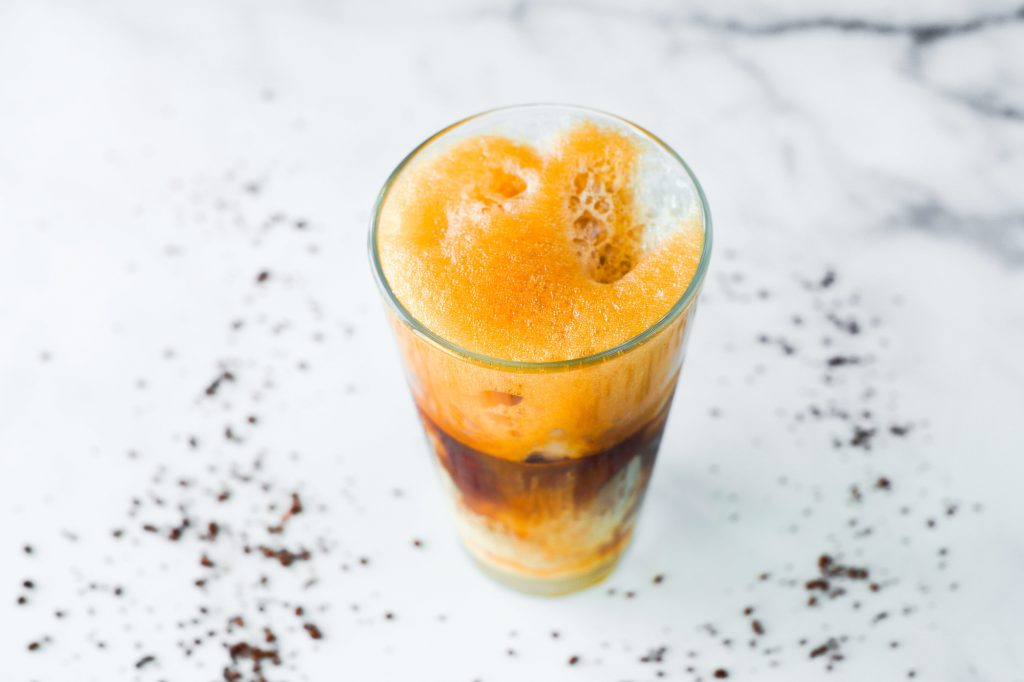 Type Of Coffee To Use For Making A Greek Frappe
In order to make a Greek frappe, you are going to want to use instant coffee. It is quick and easy and there is usually always instant coffee on the shelves of the grocery store, so pick some up the next time you are out!
The classic way that a Greek frappe recipe is made is using "Nescafe Classic" instant coffee. The drink was invented by a Nescafe representative in 1957 so if you want your frappe to be authentically Greek, then choose Nescafe brand.
Honestly? Any brand of instant coffee works perfectly fine. Personally, I use decaf Nescafe Classic, but Nescafe is a more expensive brand. Meaning I spent $6 when I could have spent $3 for the store brand.
Anyway, I wanted to present you with an authentic Greek frappe recipe so I splurged a bit. Feel free to choose Decaf or full caffine for your Greek coffee! It works great with both, but is a tad foamier with full-strength instant coffee.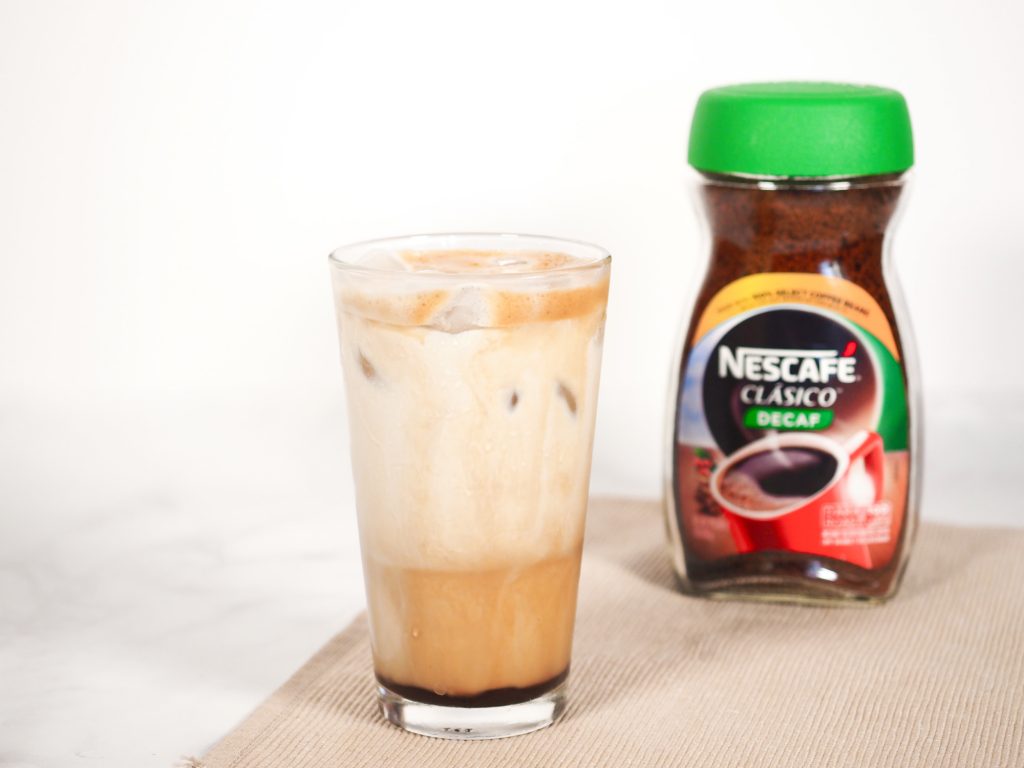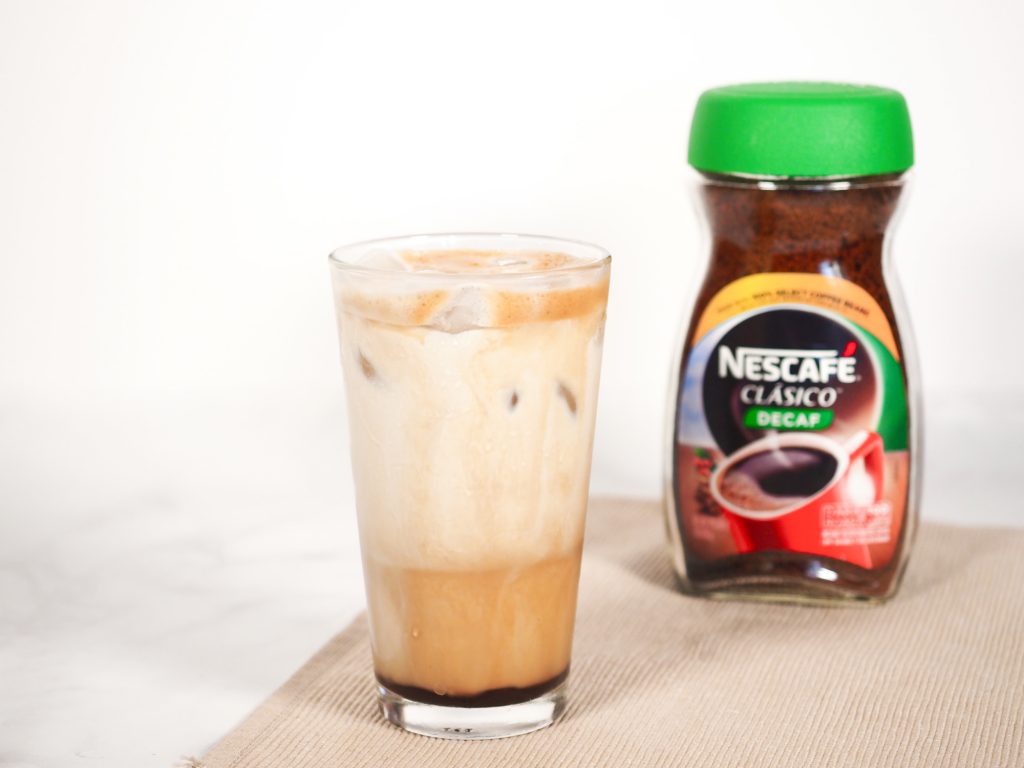 Sweetening Your Greek Frappe
In Greece, a Greek Frappe is ordered by choosing how sweet you want the drink to be. This can easily be translated to when you are making your own Greek frappe at home.
The Greek term and meanings are below:
glykós 'sweet' – 4 spoonfuls sugar
métrios 'medium' – 2 spoonfuls sugar
skétos 'plain' – no sugar
For example, my mom doesn't eat added sugar, so we added a dash of Stevia in her drink and it worked almost too well. She didn't believe that I didn't add extra granulated sugar because the taste was the same!
This recipe is made "medium" with 2 spoonfulls of sugar, but honestly you could get by with it being Sketos/Plain because the creamer is what brings the Greek frappe recipe home!
If you don't have any creamer at home and are using plain milk, which I would advise against, I would go for Glykos/Sweet. This is a sweet iced coffee beverage so it is best with creamer and a little added sugar!
Make this Greek frappe recipe as is for the first try, and then modify according to taste going forward!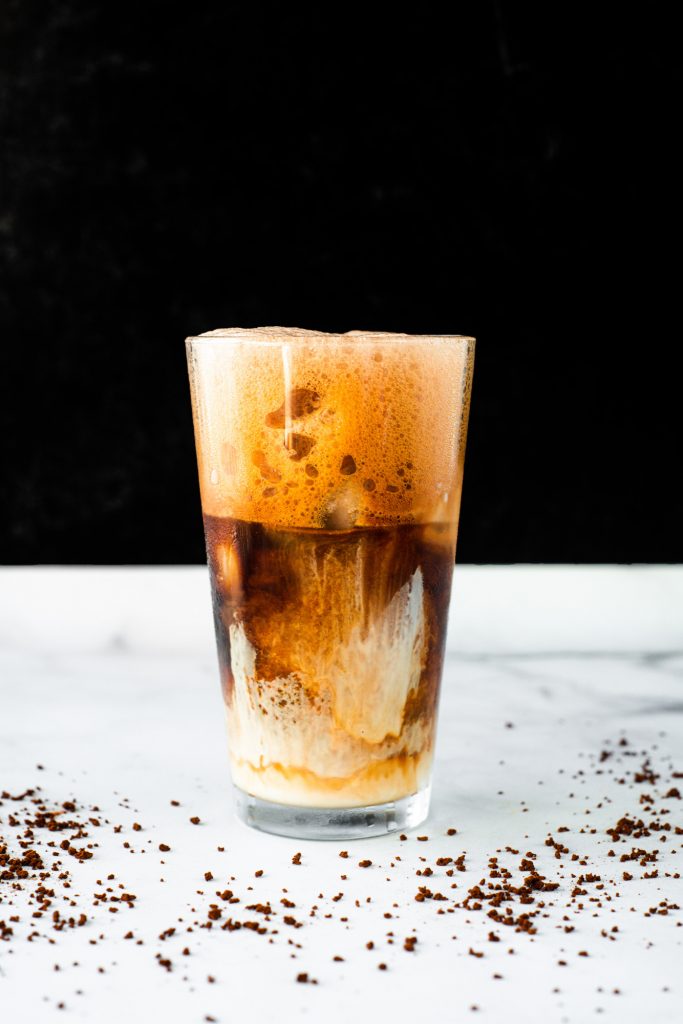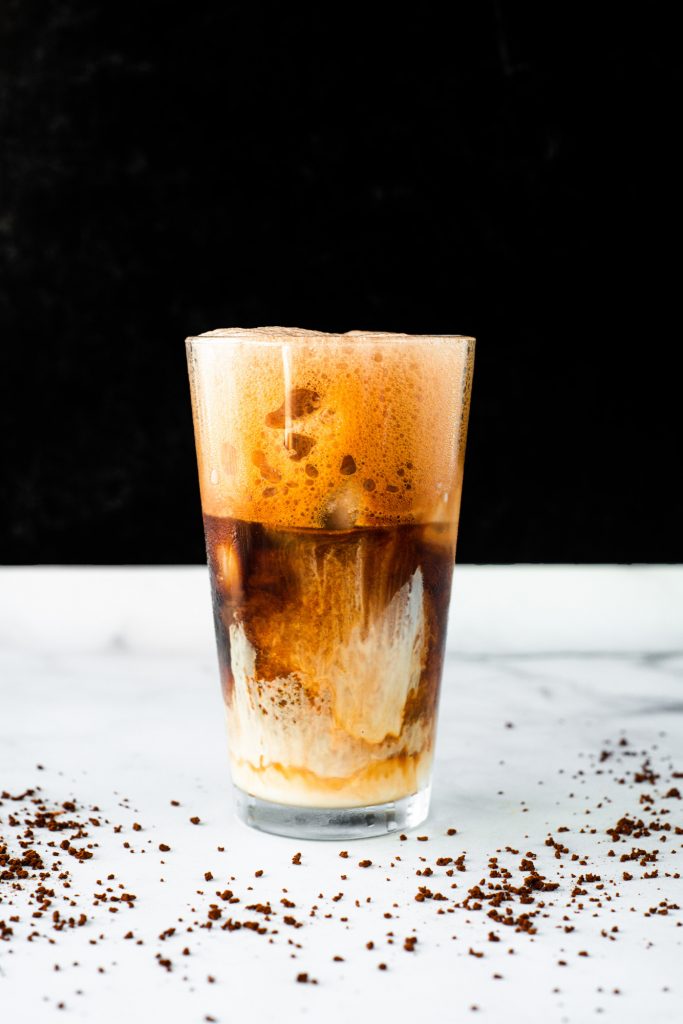 How To Make A Greek Frappe
Making a Greek frappe is literally SO EASY you can teach your kids to do it for you! All you need is a glass jar!
If you don't have a glass jar, you can even do it in a cup with a plate over it or another larger cup making your own "shaker" to froth the recipe.
All you do is add in 2 teaspoons of instant coffee, 1-2 teaspoons [or more] of granulated sugar [or 1 tiny scoop of Stevia], and 1-2 Tablepoons of water in the jar.
Now this is important. Add 2-3 ice cubes to the "shaker" jar before you shake. The ice cubes help add froth!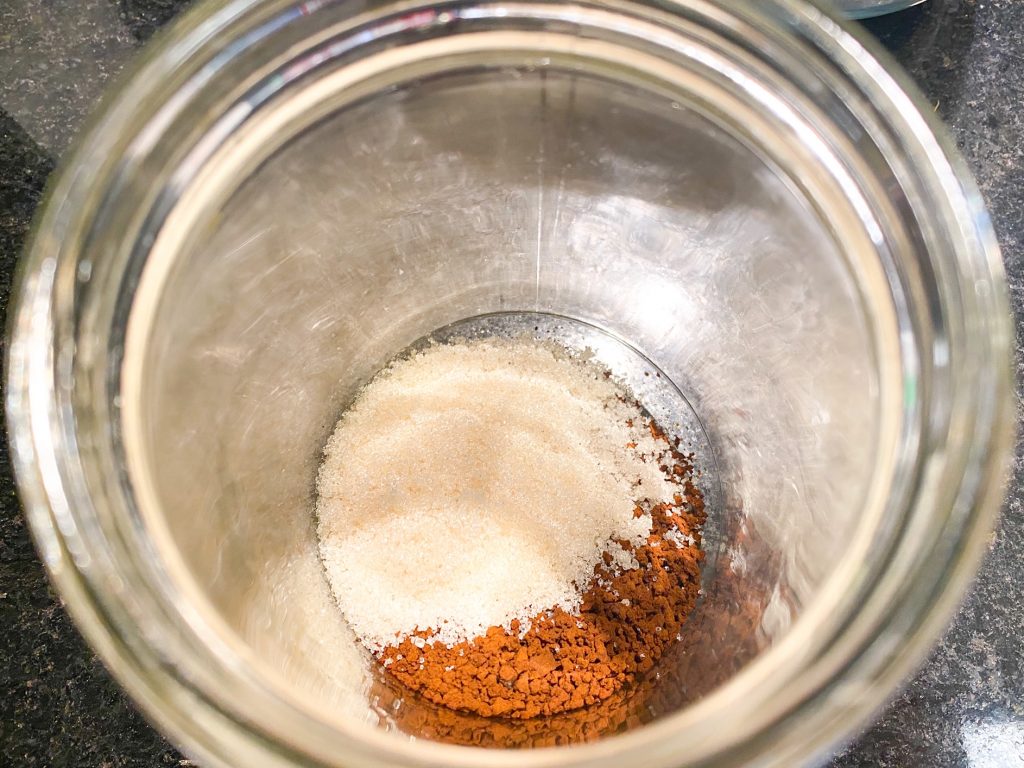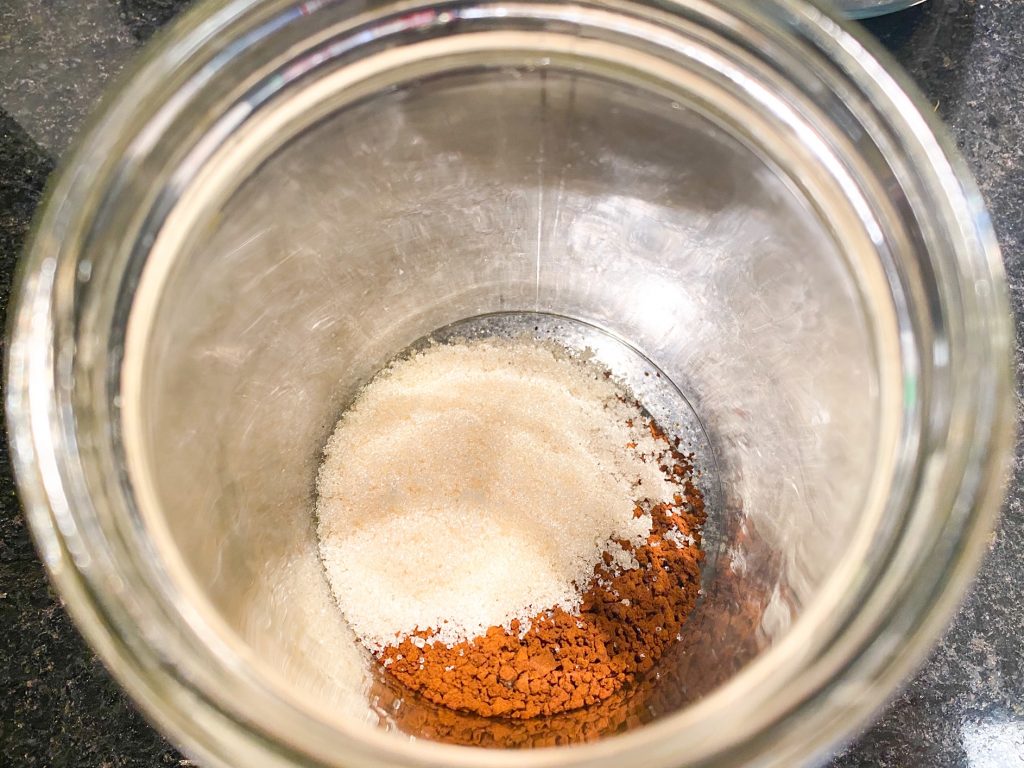 Cover the jar and shake vigourously for 30 seconds. Set a timer or count yourself because you should not skip this step! This is how you get the coffee and sugar to froth up and become foamy.
The ice will help it majorly froth up!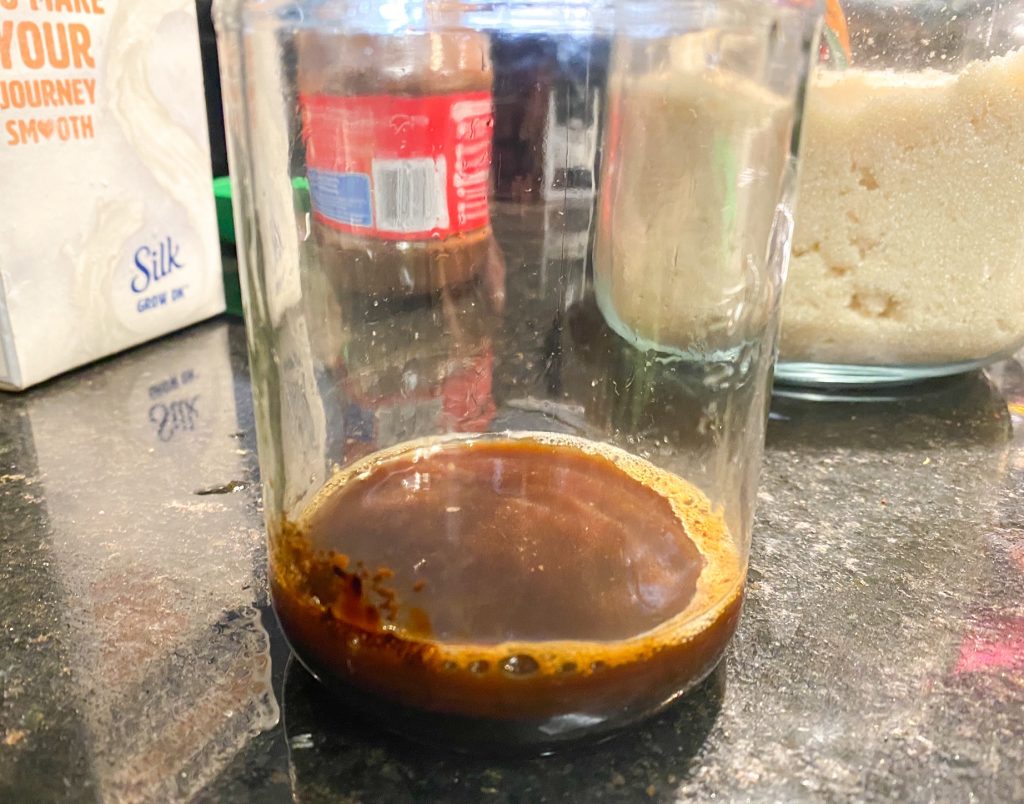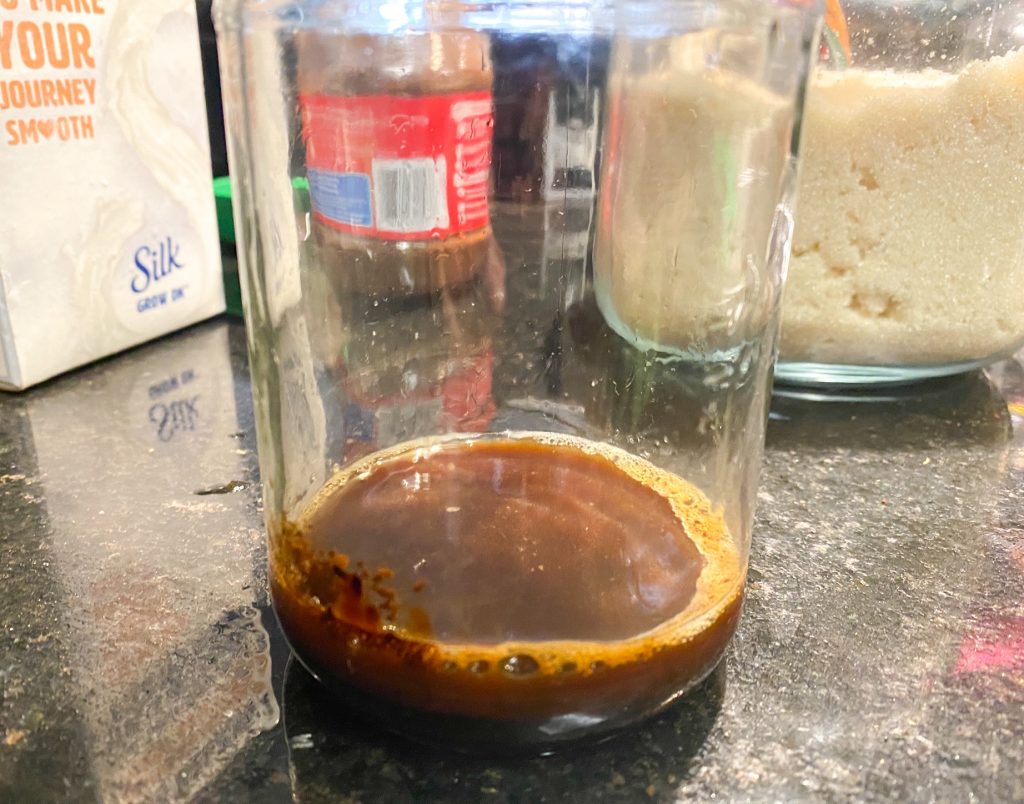 After 30 seconds of vigorous shaking, you should have a good amount of foam! I will be honest and tell you that if you are using Decaf coffee it will not froth up to the degree that regular coffee does.
If you use 2-3 ice cubes, it REALLY helps the decaf froth and I can get it to froth about 3/4 of the cup with vigorous shaking!
This doesn't impact the taste or the pretty nature of the drink at all!
If you want even more froth, you can put 1-2 ice cubes in the jar as you shake it. I have done this one time, but generally shake my jar of sugar/water/coffee without any added ice cubes.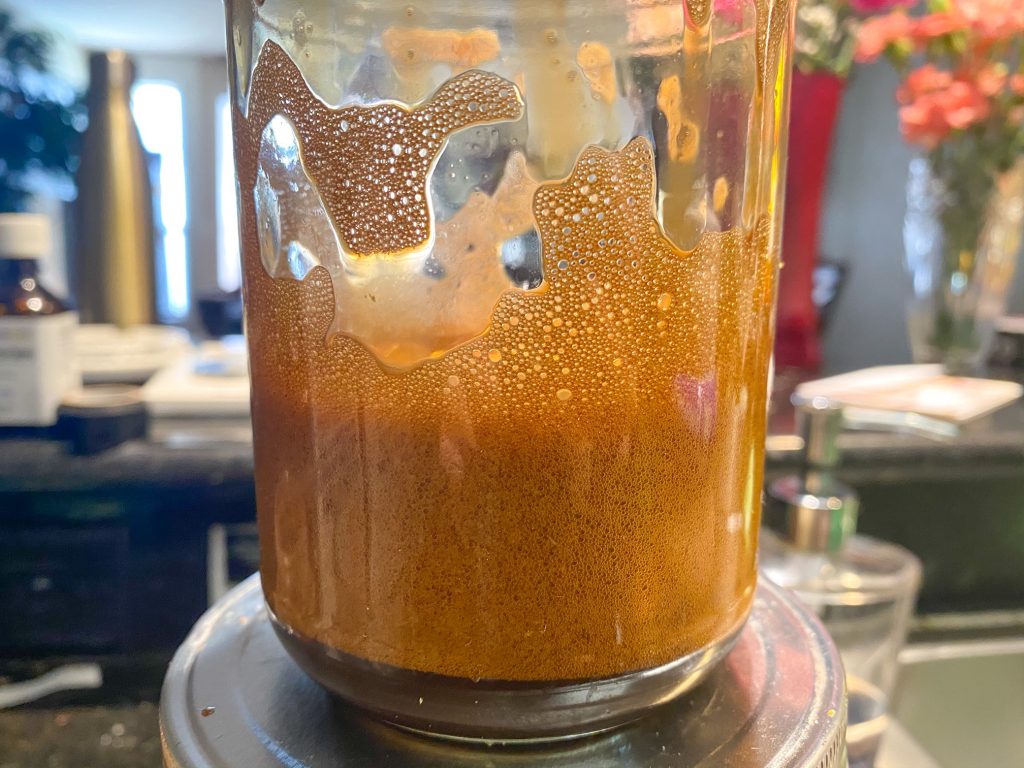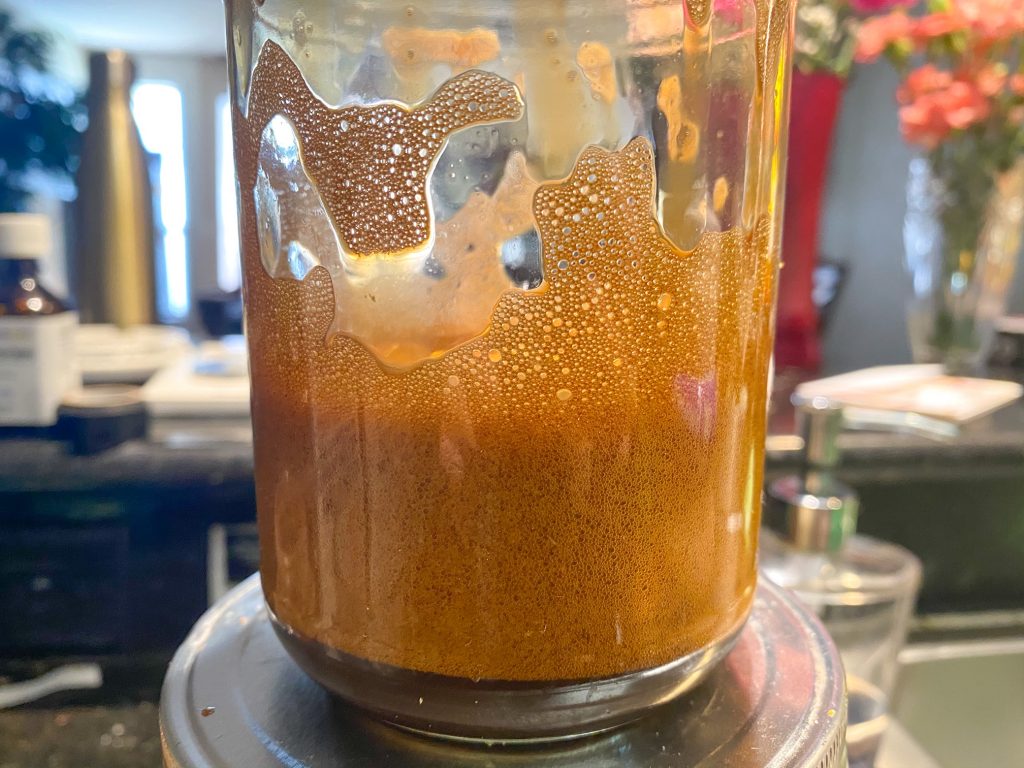 Then, fill a glass with some ice cubes and pour your coffee mixture over the ice first. This is how a Greek Frappe differs from Dalgona Coffee. You put the coffee down first instead of second which I like way better!
Then fill the rest of the glass 1/3 with creamer [I use an almond milk non-dairy creamer and it is 10/10 amazing] and then 2/3 with milk. Put a straw in and stir it around and you are done!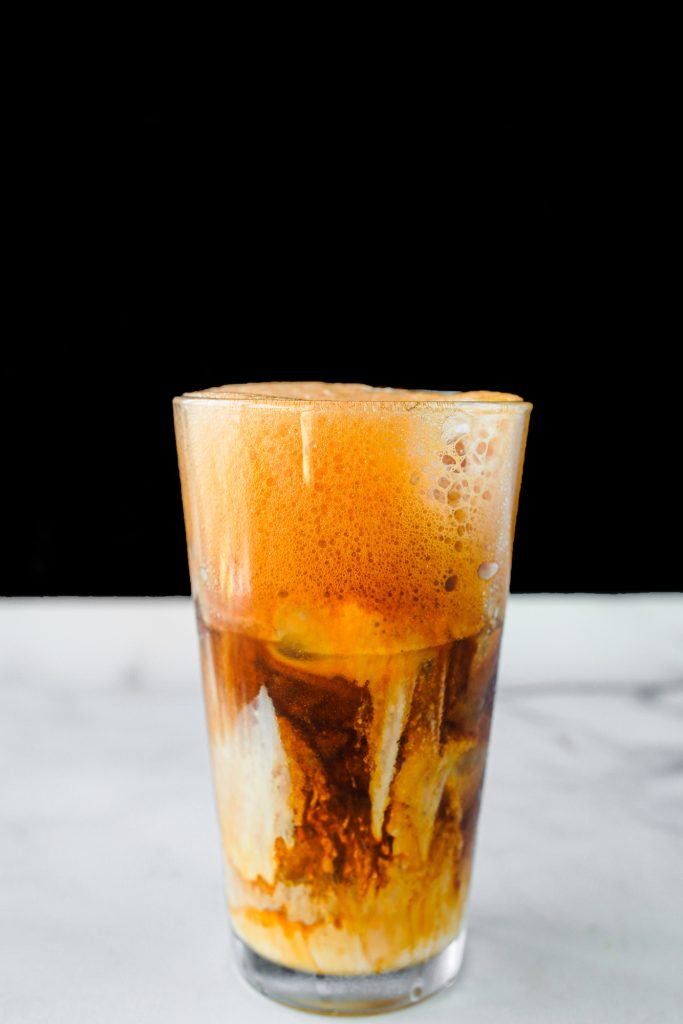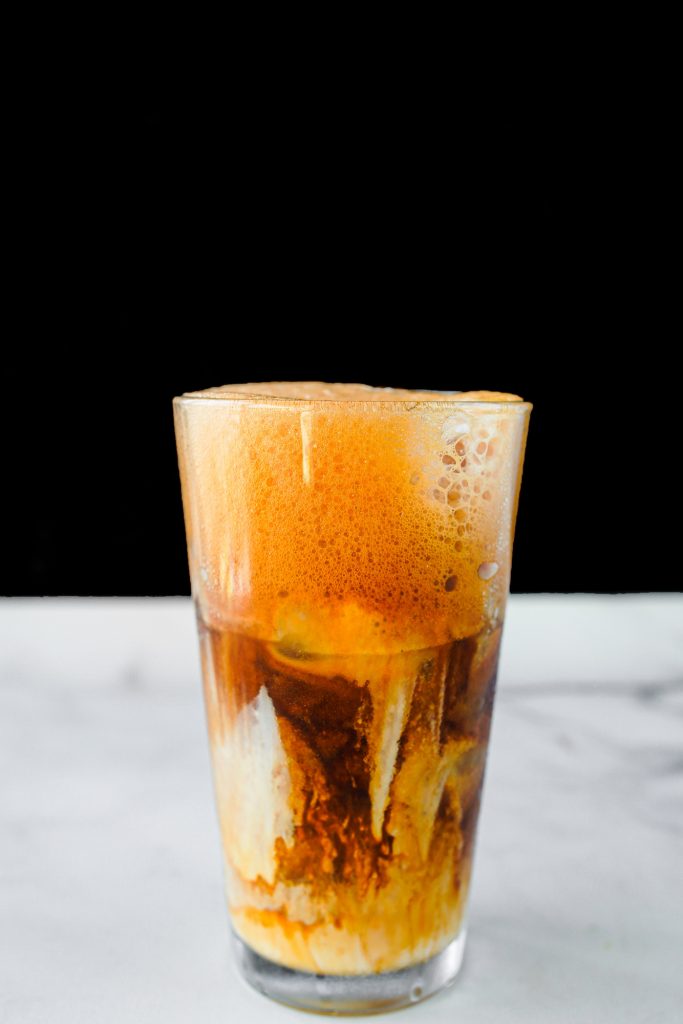 If you don't want to add the milk or creamer, you can also make this recipe with filling the remainder of the cup with water and just adding a splash of creamer, but it doesn't taste as good to me that way!
My sister's boyfriend adds some vanilla extract and cinnamon when he makes a Greek frappe so feel free to play around depending on what flavors you love!
Did You Try This Recipe?
If so, I would love to keep in touch! I enjoy seeing photos and comments about the recipes that you make! You can follow me on Instagram and I will repost your goodies in my stories and comment on it too! Just tag me at @wowitsveggie and hashtag #wowitsveggie. I can't wait to see what you make!
Yield: 1 Drink
Easy Greek Frappe Recipe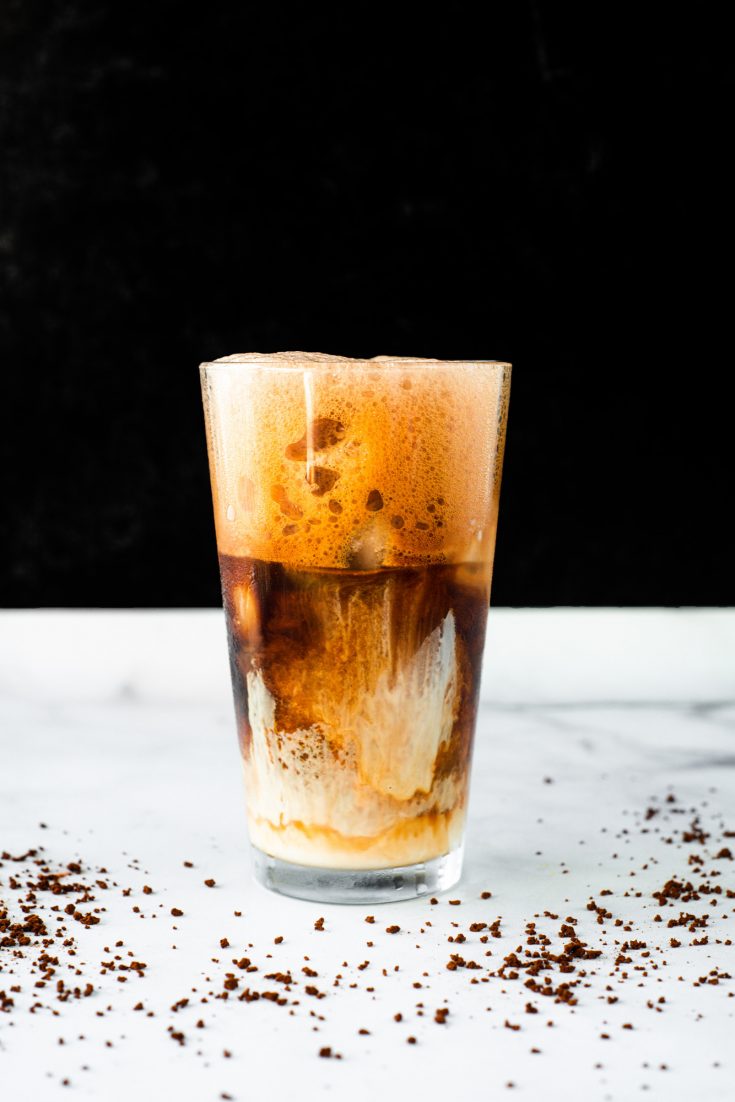 Learn how to make a delicious Greek Frappe using just 4 ingredients! This Greek coffee drink will be one of the best things you ever taste and is vegan as-is!
Don't forget to add ice cubes to your shaker jar to help the coffee froth up.
Feel free to double the recipe if you want to serve two people. Once you try this Greek frappe, you will never go back to regular coffee again.
Ingredients
2 Teaspoons Instant Coffee
1-2 Teaspoons Of Granulated Sugar
2 Tablespoons Of Water
Non-dairy Milk [Any kind works]
Vegan Creamer [I use Silk brand]
Ice, for serving
Instructions
In a jar, add instant coffee, granulated sugar, and water. Add in 2-3 ice cubes to the jar to help with frothing.
Shake vigorously for 30 seconds until a thick foam/froth has formed. If you use decaf coffee, the foam will be smaller than regular coffee but the ice really helps froth it up!
Fill a glass with ice and pour the coffee foam over the ice. Fill the rest of the glass 1/3 of the way with creamer and 2/3 of the way with milk.
Serve immediately and use a straw or spoon to swirl the flavors!
Notes
You can easily make this a boozy beverage by adding one shot of Baileys or Kahlua over the ice and coffee mixture and then topping with creamer.
You can modify with 1 scoop of stevia [using the spoon that comes in the stevia container] instead of the granulated sugar.
You can use decaf coffee which is what I do but the recipe won't froth as much.
You can add vanilla extract or cinnamon for extra flavor.
Nutrition Information
Yield
1
Serving Size
1
Amount Per Serving
Calories

178
Total Fat

6g
Saturated Fat

4g
Trans Fat

0g
Unsaturated Fat

2g
Cholesterol

20mg
Sodium

141mg
Carbohydrates

22g
Fiber

0g
Sugar

8g
Protein

9g