Making your own goat cheese dip is really easy and the end result is really tasty!
This goat cheese olive oil dip is filled with fresh herbs and tasty garlic for one of the tastiest appetizers or starters you could ever want.
Drizzled with some high-quality olive oil and spread on crusty bread with roasted or raw veggies? You are in for a real treat.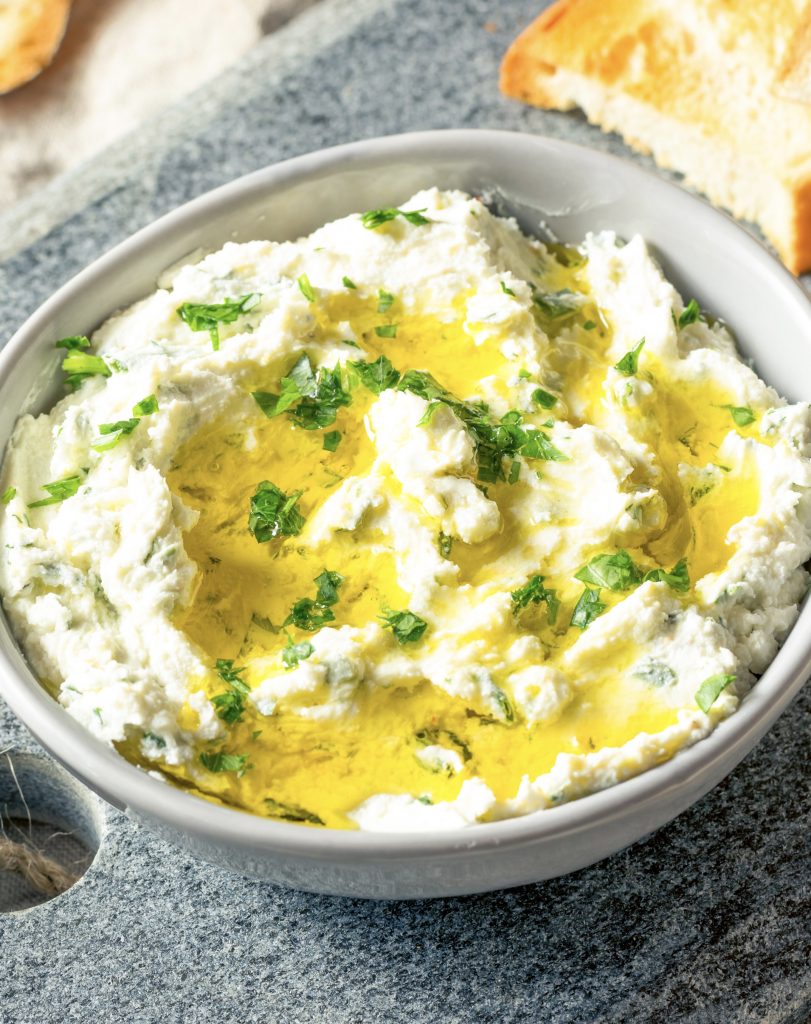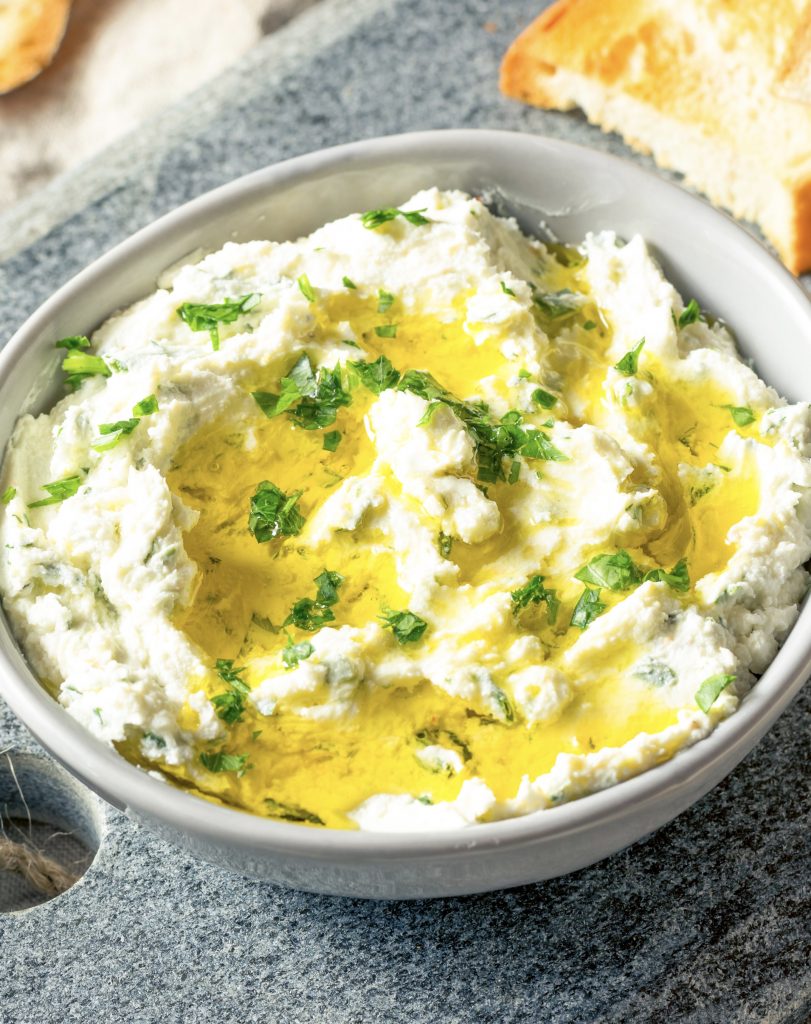 I love making this goat cheese with herbs dip in advance of a party or gathering because of how easy it is to make. It is perfect for whipping up when friends come over and you are in a rush for something tasty for all.
This is not a baked goat cheese dip so there isn't the extra time added for the baking process.
Of course, you could throw it in the oven, but I usually eat it cold and spread it on crusty bread for the best results.
The blend of fresh herbs and flavorful garlic really brings this vegetarian appetizer full circle to ensure it is enjoyed by all.
Of course, I won't judge you if you just skip dinner and go this route and just eat a big bowl of it for supper instead.
Keep reading to learn this delicious herbed goat cheese recipe!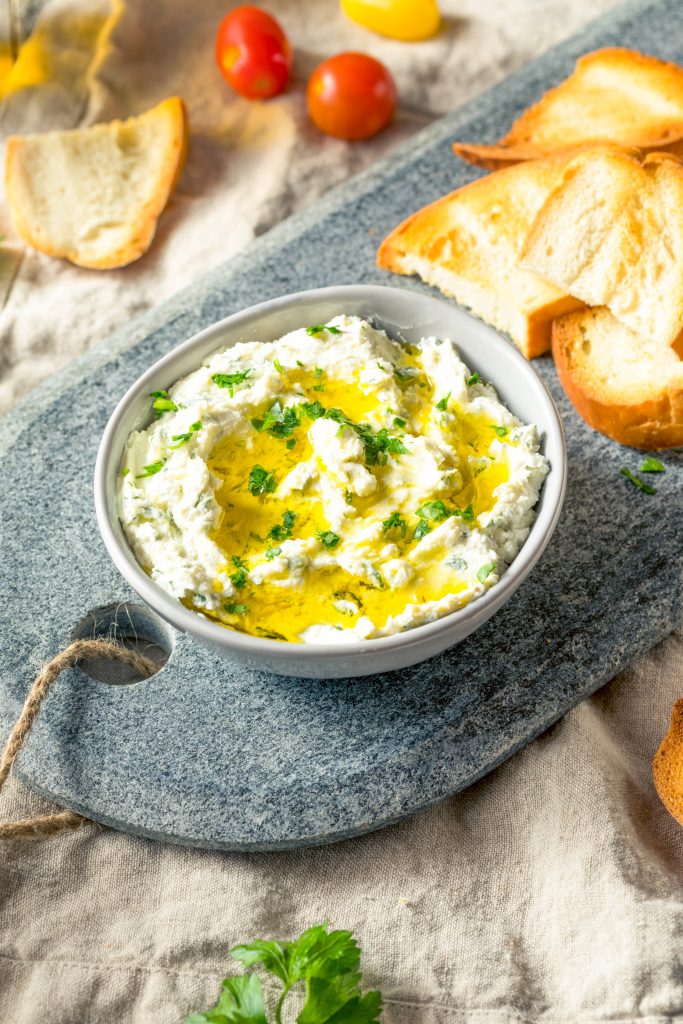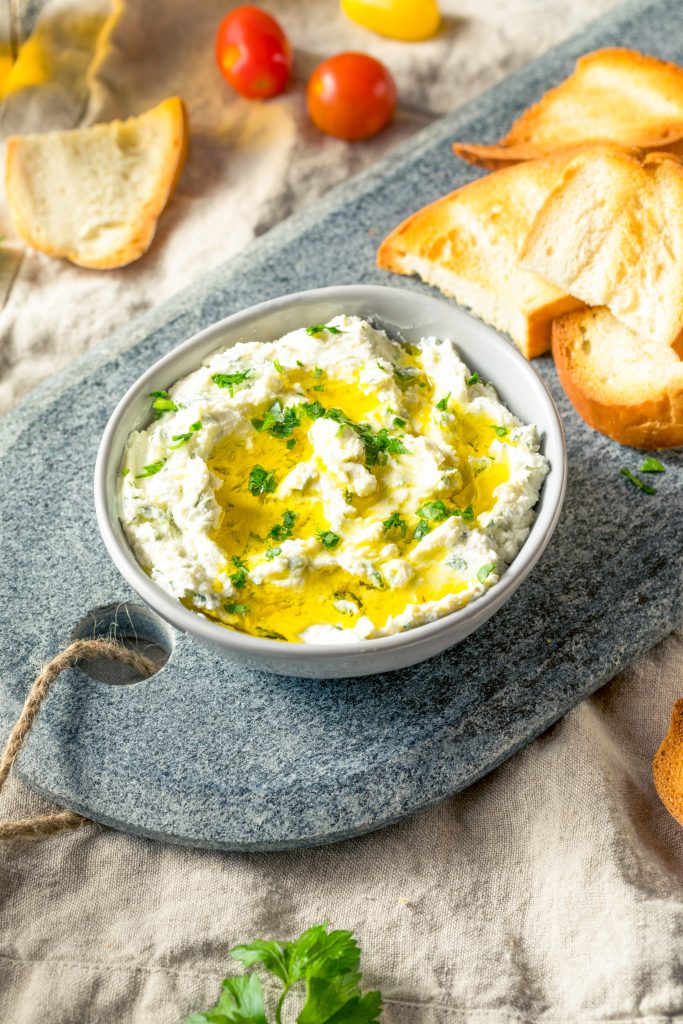 Why You Will Love This Recipe
It is quick and easy. This recipe is super simple and only takes 10 minutes to make. No skill is needed. Most of the ingredients you probably have on hand.
It is perfect for gatherings. This goat cheese dip appetizer is the perfect addition to any type of gathering. Although it is easy to make, it tastes fancy. Everyone will be asking for the recipe!
It is unique. This is not your typical dip. The goat cheese and herbs elevate it for a unique taste. Make it for a special occasion or just because.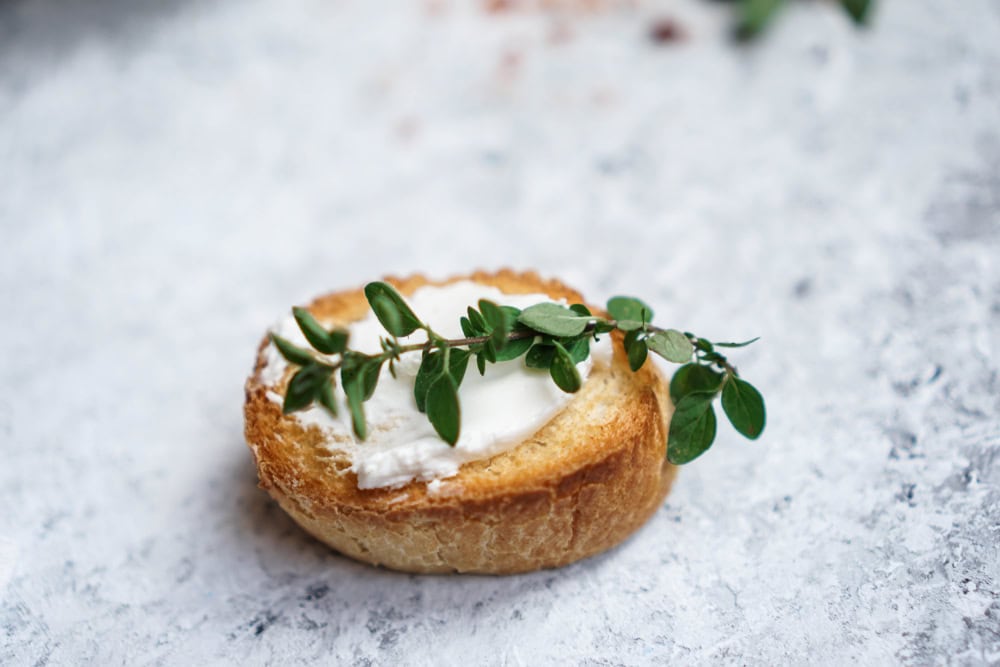 Preparing The Garlic For The Goat Cheese Dip
A lot of people see the amount of garlic this dip requires and freak out!
You can never have too much garlic unless you are allergic to it or on a low FODMAP diet! Then leave it out!
For this recipe, I do use raw garlic, and it works perfectly fine. I do not see the need to use roasted garlic as it adds time to the recipe.
I allow a range, depending on how much garlic you love. About 5-10 cloves is my happy medium. Some people want to go all out!
If you want to roast your garlic, I suggest doing it a day in advance.
Otherwise, simply finely mince the garlic cloves or buy a pre-minced kind from the store.
Chopping garlic is pretty easy and you can even put it in a small food processor to make things easy.
Unless you have to, don't skip out on the lovely flavor the garlic adds to the goat cheese spread recipe!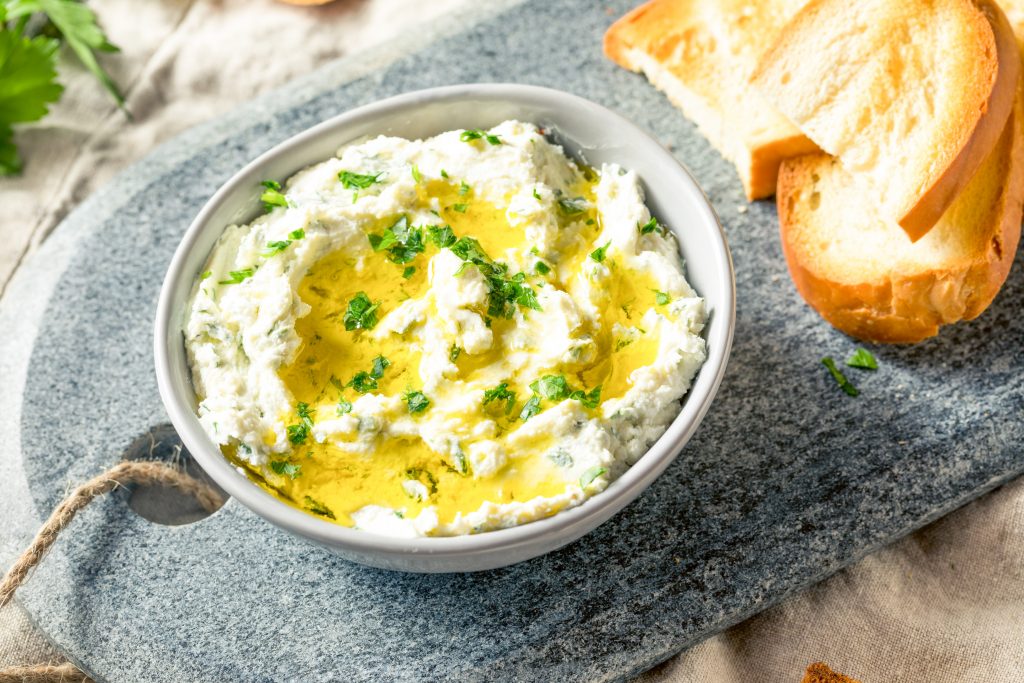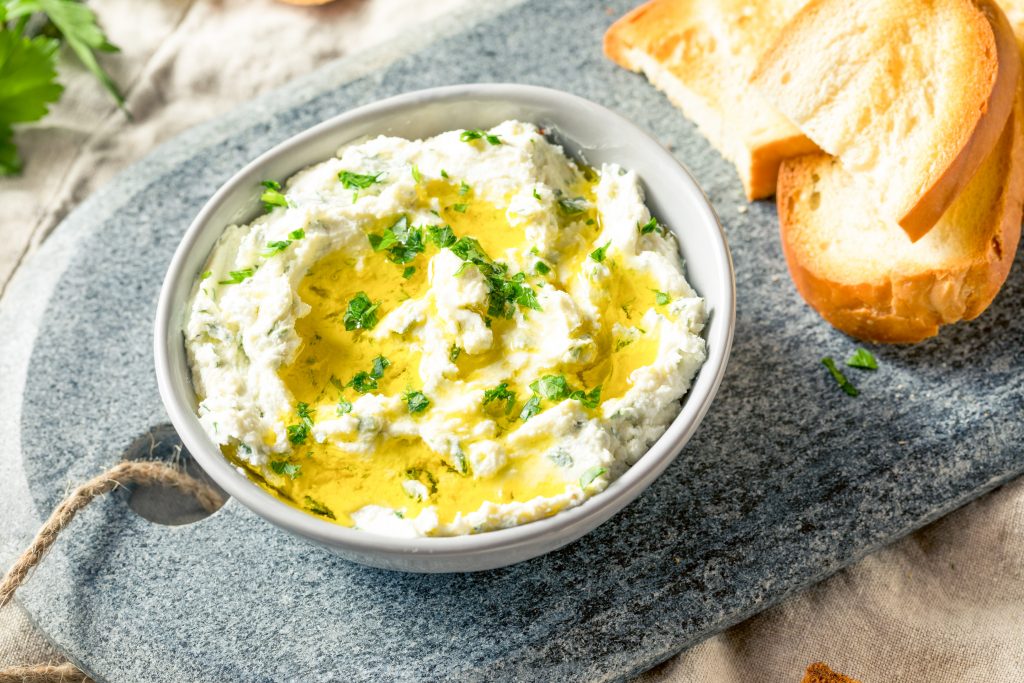 How To Make The Goat Cheese Dip
As I said above, making the creamy goat cheese dip is incredibly simple.
I do suggest that you do NOT shy away from using all the herbs, seasonings, and garlic in the world to make this recipe sing.
I also suggest eating it with tomatoes and crusty bread. Just something about that combination makes for a really tasty treat.
For this goat cheese dip, you should use a LOG of goat cheese, NOT the crumbled kind that you can find at the store.
You can usually find a log of goat cheese in most grocery stores.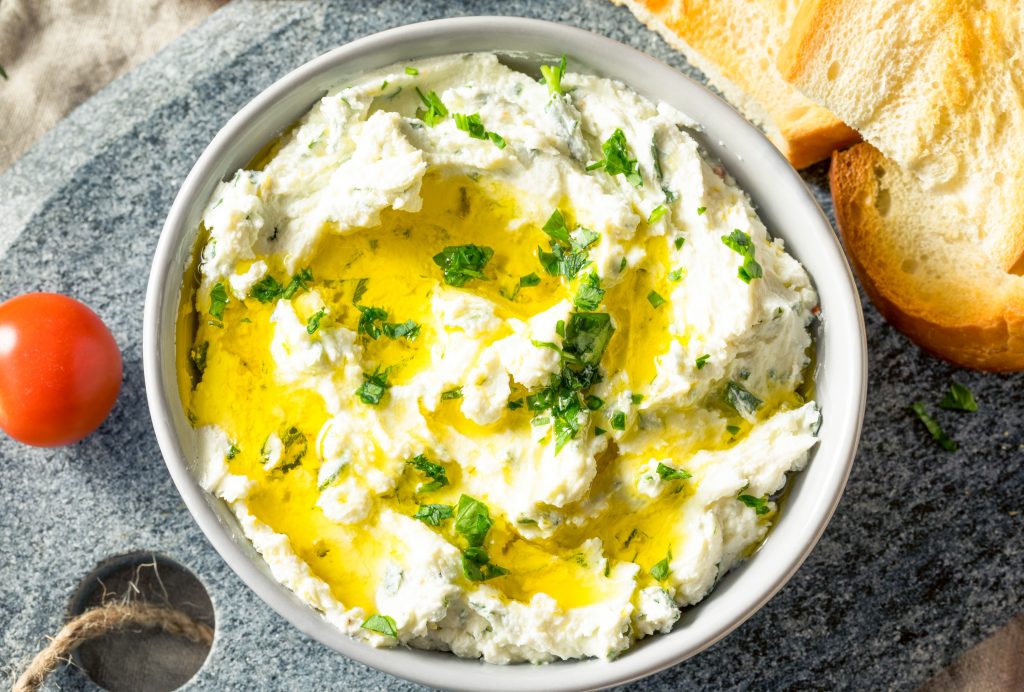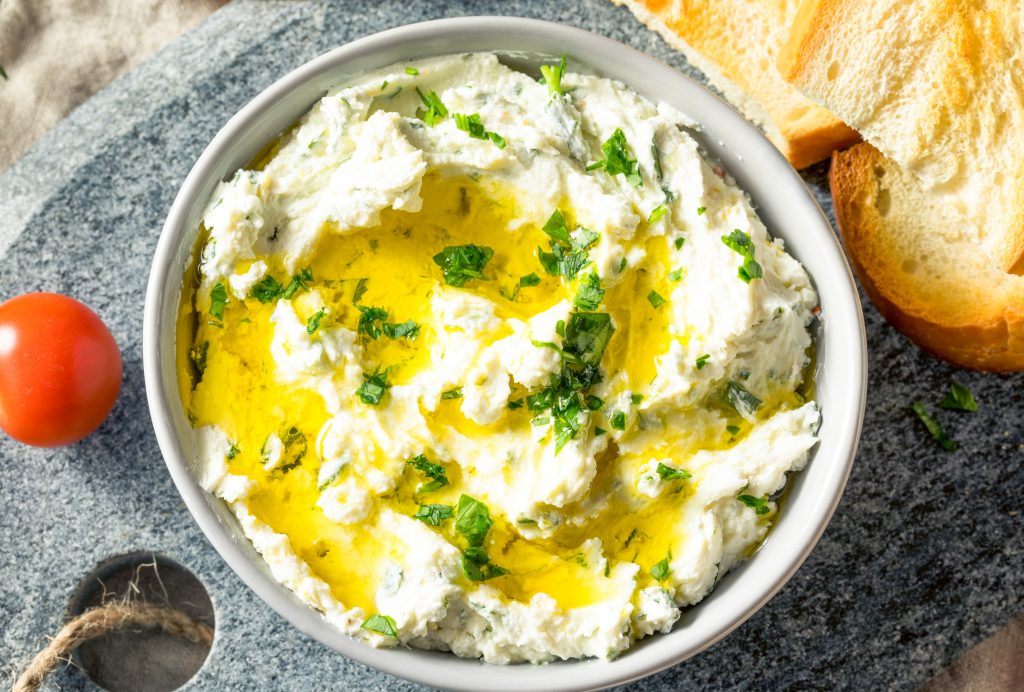 You will want to set your goat cheese on the counter to let it soften at room temperature.
While it is softening, mince your garlic and fresh herbs while you wait. I do recommend using fresh herbs for the best flavor.
This recipe combines both fresh and dried herbs, and I really suggest not skipping out on the fresh!
If you don't want to spend the money or you don't have any on hand, try and ensure that at least one of the herbs used is fresh!
Combine your goat cheese, cream cheese, lemon juice, olive oil, maple syrup, garlic, and dried herbs in a bowl, and use an electric hand mixer or a food processor to whip it.
You could technically do it by hand, but it won't have that same whipped quality.
Once you are done whipping the goat cheese, use a wooden spoon to fold in the freshly cut herbs until they are mixed throughout.
You can season to taste with additional salt and pepper if necessary.
Serve the whipped goat cheese dip with fresh-cut veggie sticks, crusty bread, crackers, and more!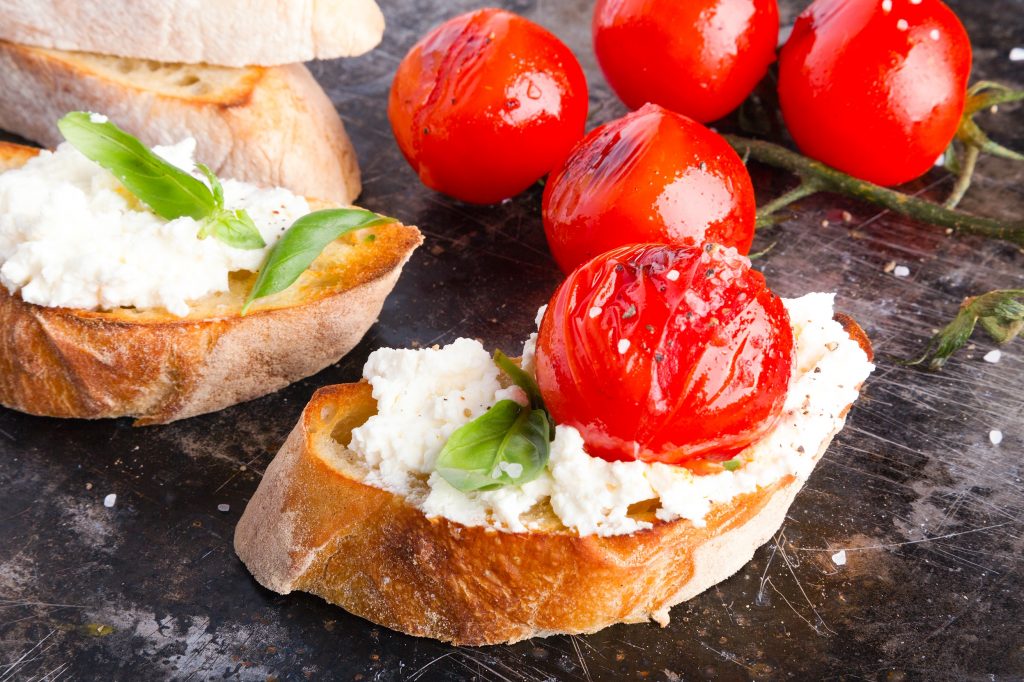 How To Store The Dip
The goat cheese dip can be made up to 3 days in advance and can be stored in an air-tight container in the fridge.
If you make it in advance, I suggest doing everything but the "folding in the fresh herbs" part of the process.
On the day you serve it, cut brand new fresh herbs and then fold them in right before serving.
If you have leftovers, once again, the goat cheese dip can be stored in an air-tight container for up to 3 days after you have made it.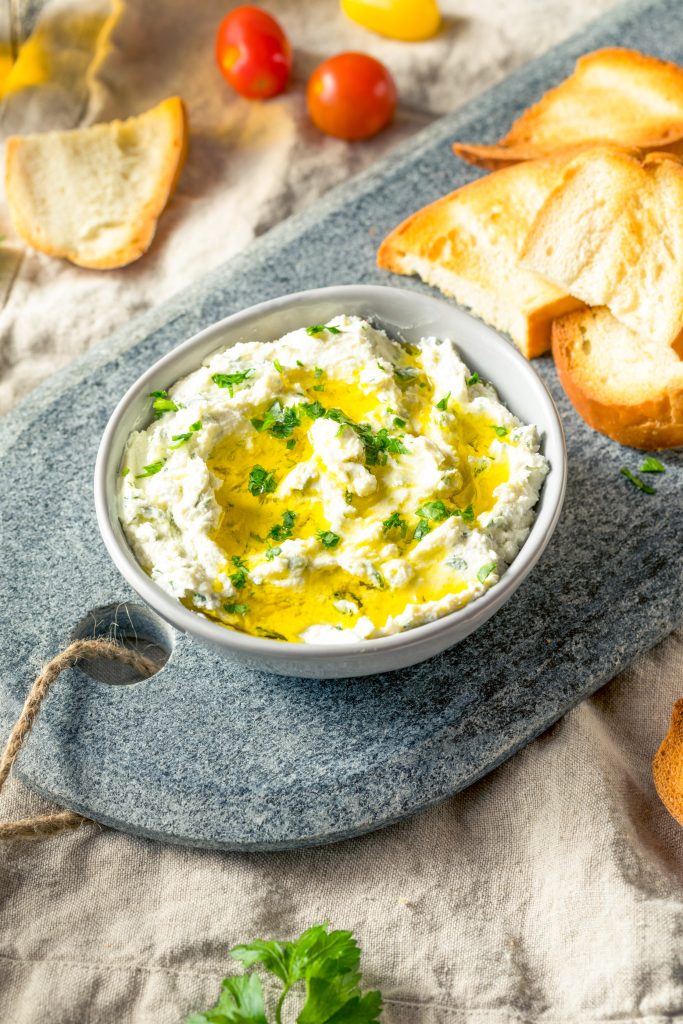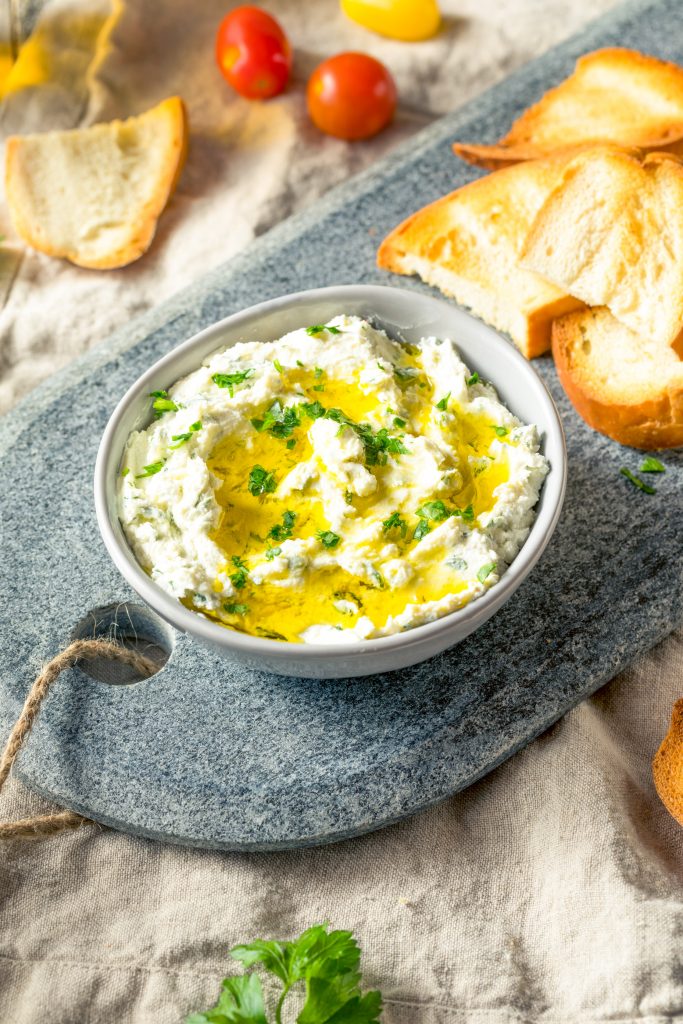 Quick Tips
Don't be afraid to season! This dip is very simple and you want the goat cheese flavor to shine! As a result, seasoning is essential, and using a blend of sweet [maple syrup] and savory [the herbs] really works in unison.
Make sure to use enough garlic. Don't skimp on the garlic just because you are afraid of the taste. I promise that it isn't too much garlic and that it works together with the goat cheese for a lovely flavor. Goat cheese is very strong so there needs to be a balance.
Use a log of goat cheese, not crumbles. For best results, use a log of goat cheese, not the crumbled kind. The log tastes better and fresher and is much better for dipping at the end of the recipe.
Don't skip the olive oil drizzle. When you are ready to serve the goat cheese dip, make sure to drizzle some high-quality olive oil. It makes for a lovely presentation and is really tasty to dip into.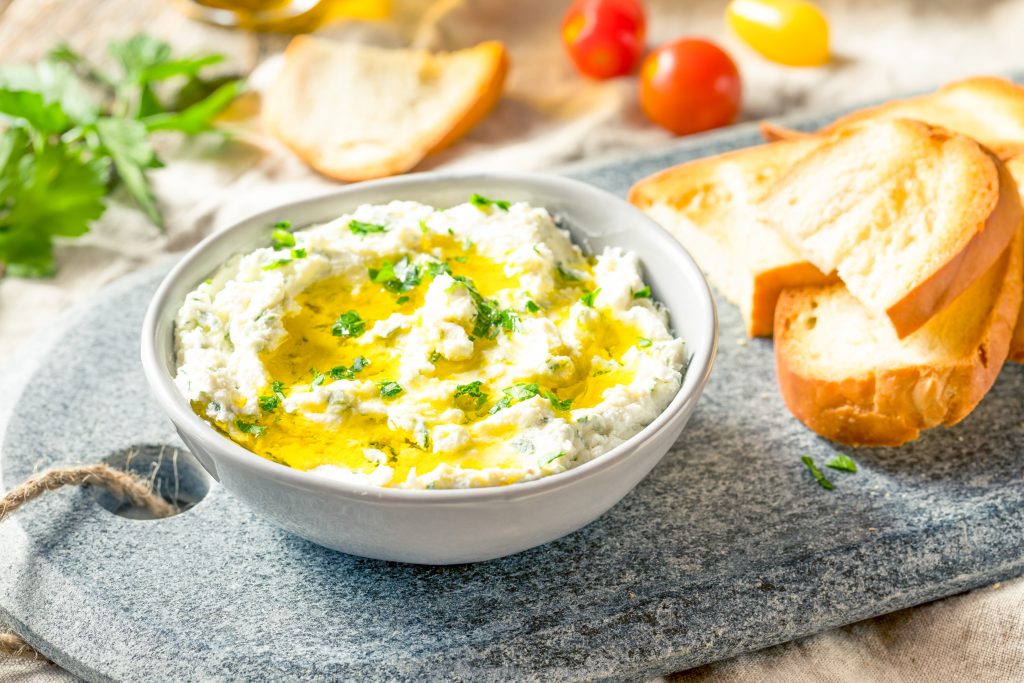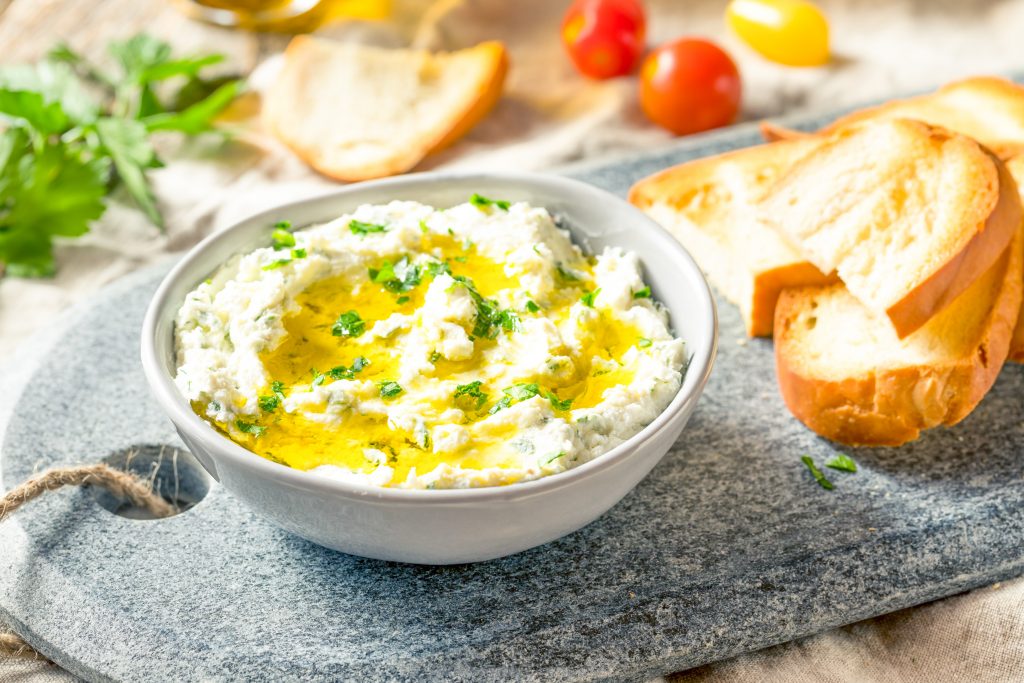 Did You Try This Recipe?
If so, I would love to keep in touch! I enjoy seeing photos and comments about the recipes that you make! You can follow me on Instagram and I will repost your goodies in my stories and comment on it too! Just tag me at @wowitsveggie and hashtag #wowitsveggie. I can't wait to see what you make!
Yield: 8 servings
Whipped Garlic Herb Goat Cheese Dip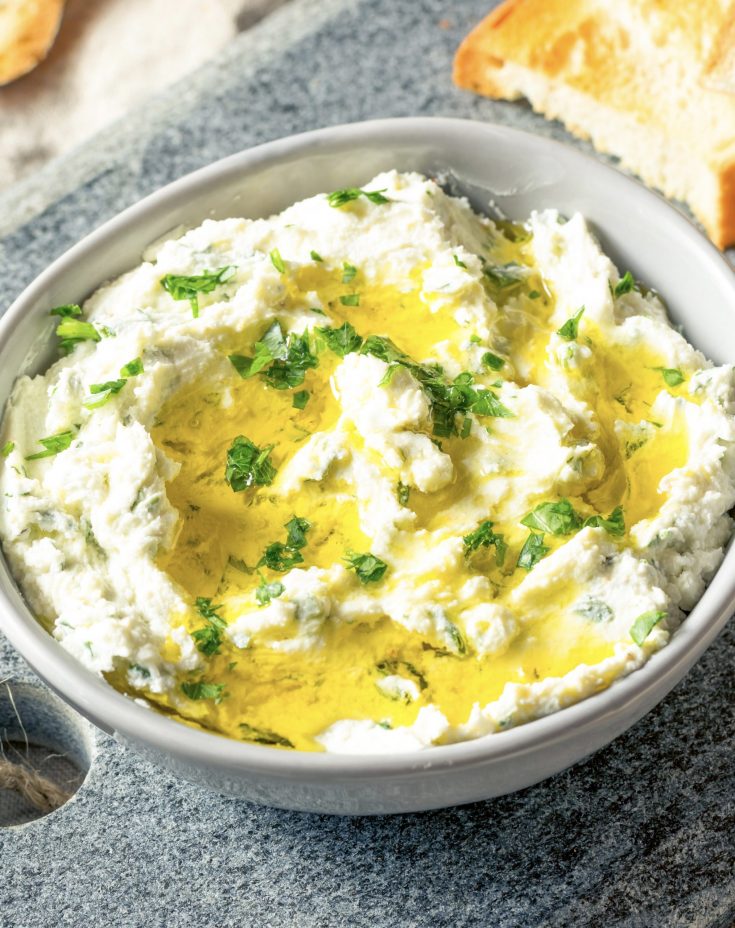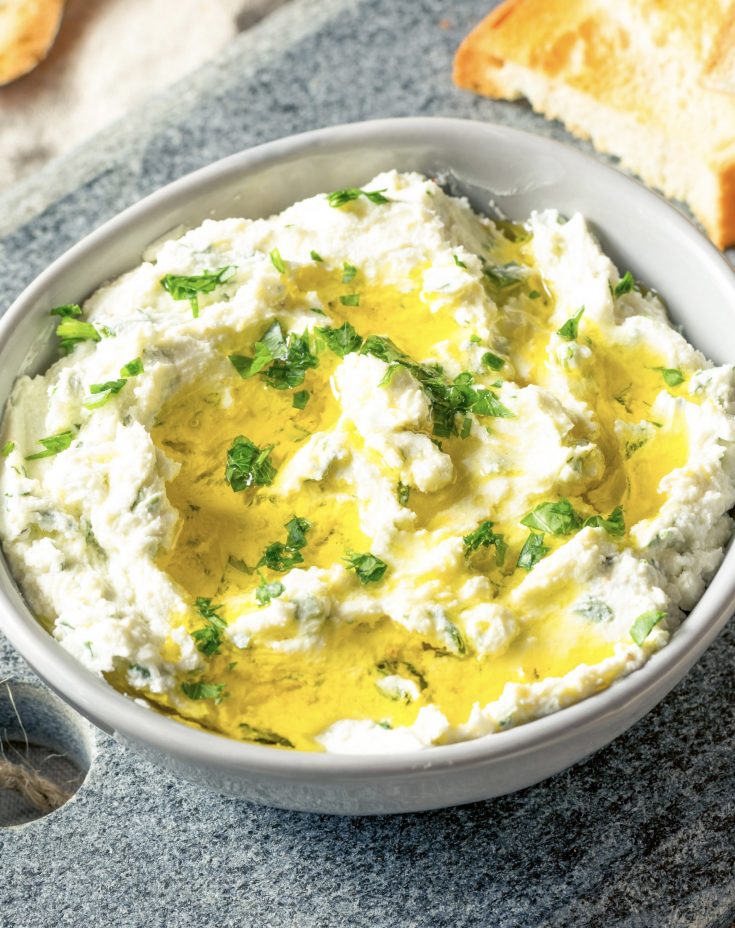 This fresh garlic and herb goat cheese dip is the delight of the party. It whips up quickly and stores well. The flavors of fresh garlic and herb mix wonderfully with the strong flavor of goat cheese for a winning combination.
Ingredients
10 ounces goat cheese (from a log, NOT crumbles)
2 ounces cream cheese
2 teaspoons maple syrup
1 tablespoon lemon juice
1 tablespoon olive oil
5-10 cloves of garlic, minced
1/2 teaspoon dried rosemary
1/2 teaspoon dried thyme
2 tablespoons fresh basil, chopped fine
1 tablespoon fresh parsley, chopped
1 tablespoon fresh chives, minces
Salt and pepper to taste
Olive oil for drizzling
Instructions
Unwrap your goat cheese log and allow it to soften on the counter along with the cream cheese. It doesn't have to be melted, just soft enough to work with. Meanwhile, mine your garlic and fresh herbs.
Using a food processor or electric hand mixer, combine all ingredients other than the fresh herbs in a bowl and whip until the texture is light and spreadable. This should happen fairly quickly and you will see a "dip" form before your eyes.
Once the goat cheese dip is blended, use a wooden spoon to fold in the fresh herbs until mixed throughout.
For serving, drizzle over 1-2 tablespoons of high-quality olive oil and additional chopped herbs. Eat with crusty bread, tomatoes, crackers, or fresh veggie sticks.