If you have never tried a vegan skillet cookie, you are in for a real treat!
It is the perfect combination of moist, fudgy, cakey, chewy, and chocolatey and when topped with vegan ice cream, homemade vegan caramel sauce, or vegan whipped cream you are in for a real winner of a dessert.
I used to eat vegan skillet cookies a lot when growing up! My sister and I loved cookies, but my Mom hated spending the time to make them. Enter the vegan skillet cookie.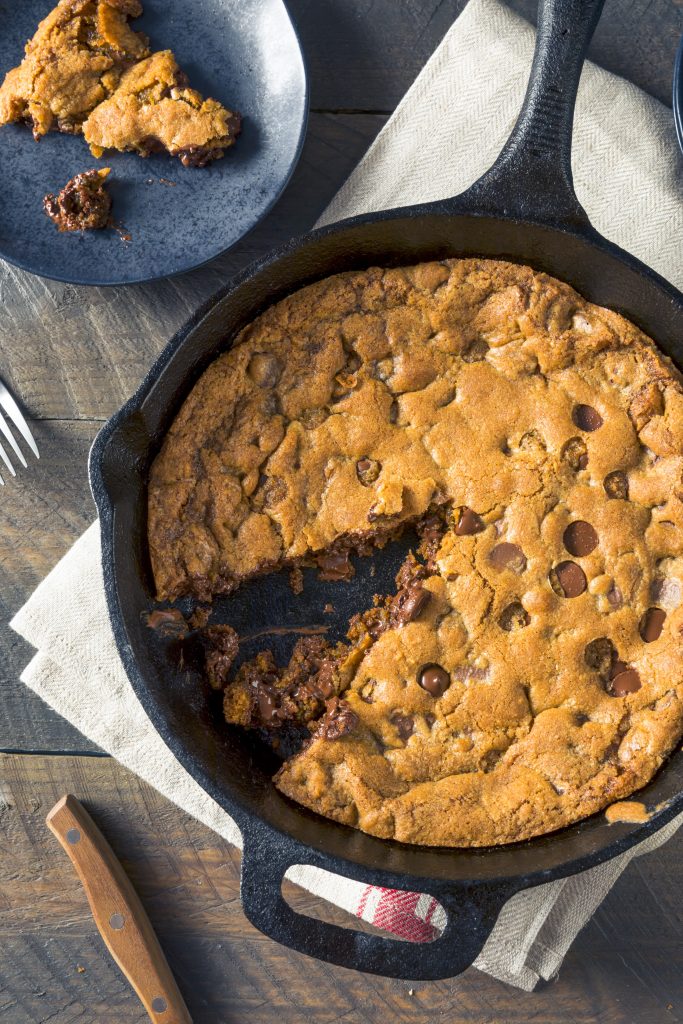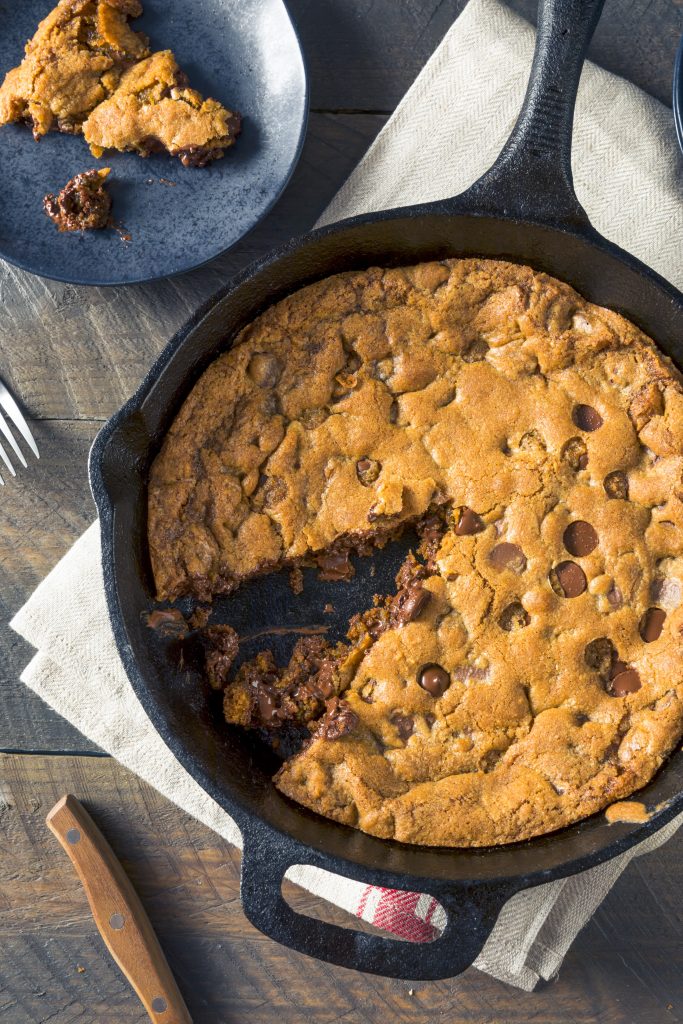 It was the perfect happy medium where it tastes like a cookie and looks like a giant one, but without all the fuss of portioning out 15-30 individual small cookies and maybe even cooking multiple batches!
The best part about making your vegan skillet cookie is that you can customize the flavors however you want.
We have thrown in nuts, dark chocolate chips, vegan white chocolate chips, peanut butter and more.
This is just the start which will show you how to make the giant vegan cookie as a beginner, and then you are free to play around with the flavoring and touches that you may want.
Finally, if you are in a rush, you don't have to make the vegan skillet cookie in a skillet at all. Maybe you don't have a cast iron dish or you don't care about the look, just the taste!
This recipe works fine using any 9-inch cake pan! Sometimes we would do it round, sometimes square, and sometimes in a cast iron, depending on the mood.
It is all up to you, you really can't go wrong when making your vegan cookie in a skillet!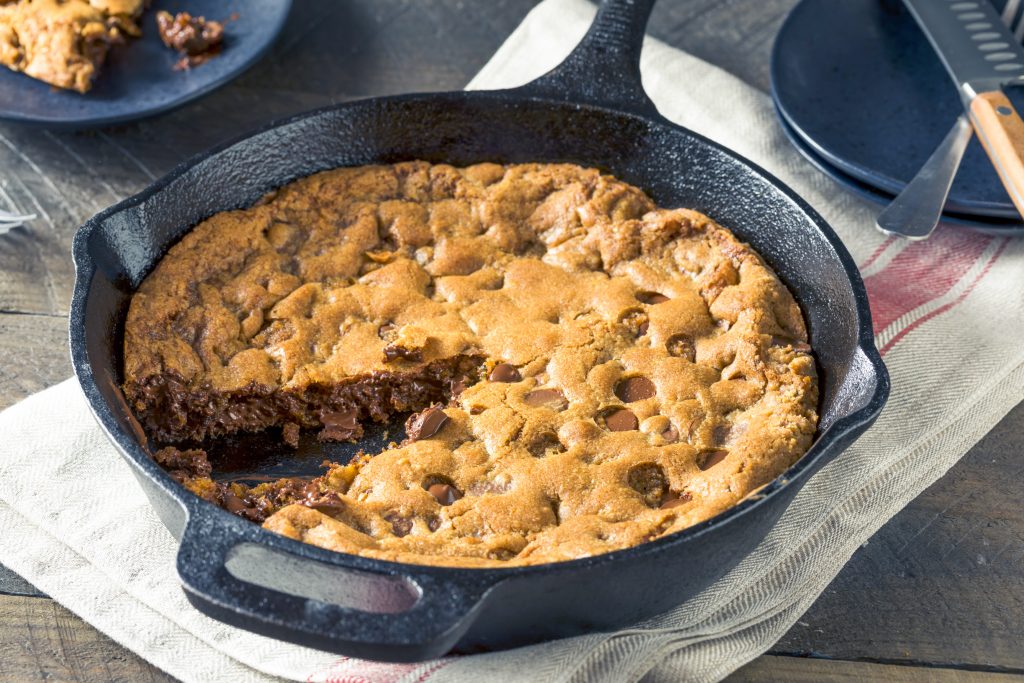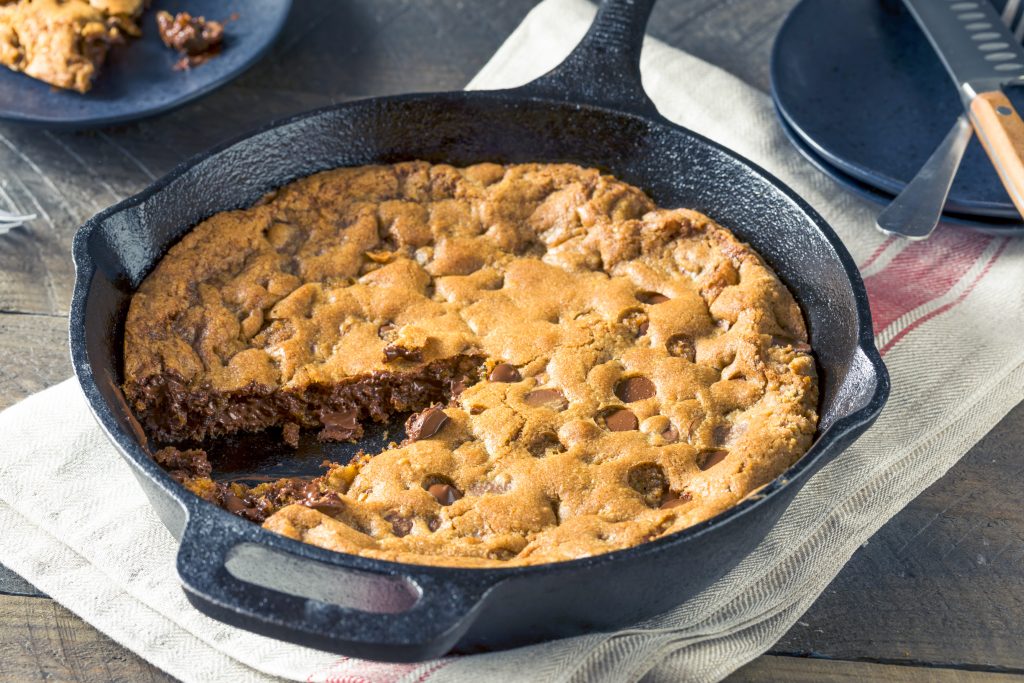 Where To Find Vegan White Chocolate Chips
I love to add both dark and white chocolate chips to my recipes, especially cookie ones! For example, my Oreo-Stuffed Chocolate Chip Cookies have both of them!
You may be wondering how to make your vegan skillet cookie with white chocolate as white chocolate chips that are vegan seem impossible to find.
This isn't true anymore and they are actually quite easy to source!
Did you know that you can easily find plenty of Vegan White Chocolate Chips On Amazon!
But did you know that WALMART and your regular grocery store has vegan white chocolate chips too?!
Nestle makes a brand called "Simply Delicious" and they are a vegan line of White Chocolate Chips!
These are your two best bets! To try and order some vegan white chocolate chips from Amazon or Walmart!
Sometimes Whole Foods or your local grocery store will also carry vegan white chocolate chips as well so you just have to ask or look at the ingredients!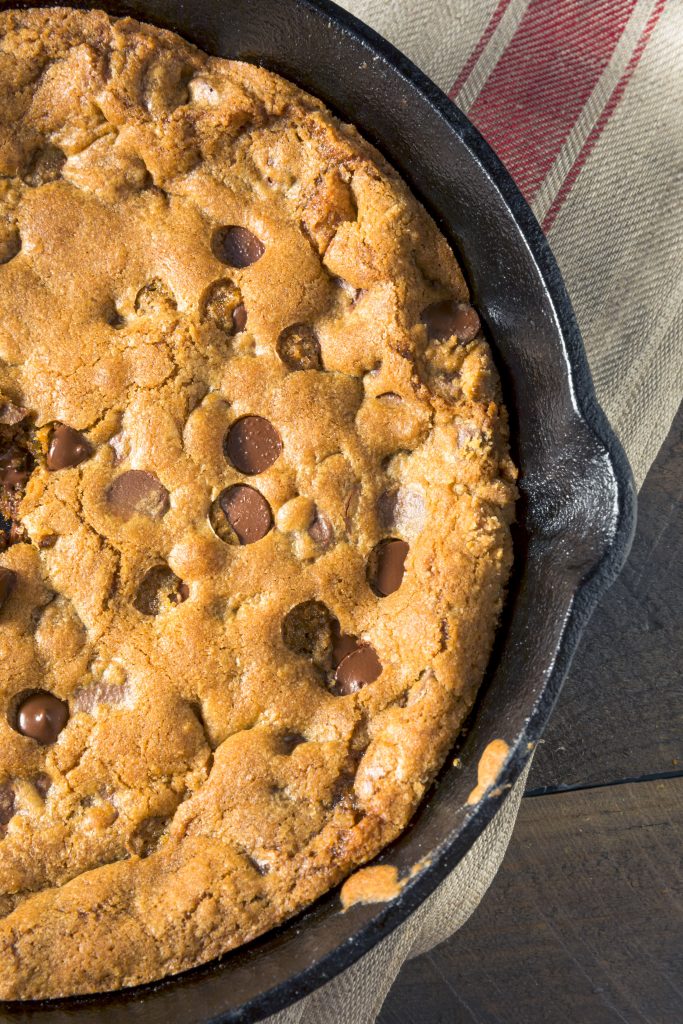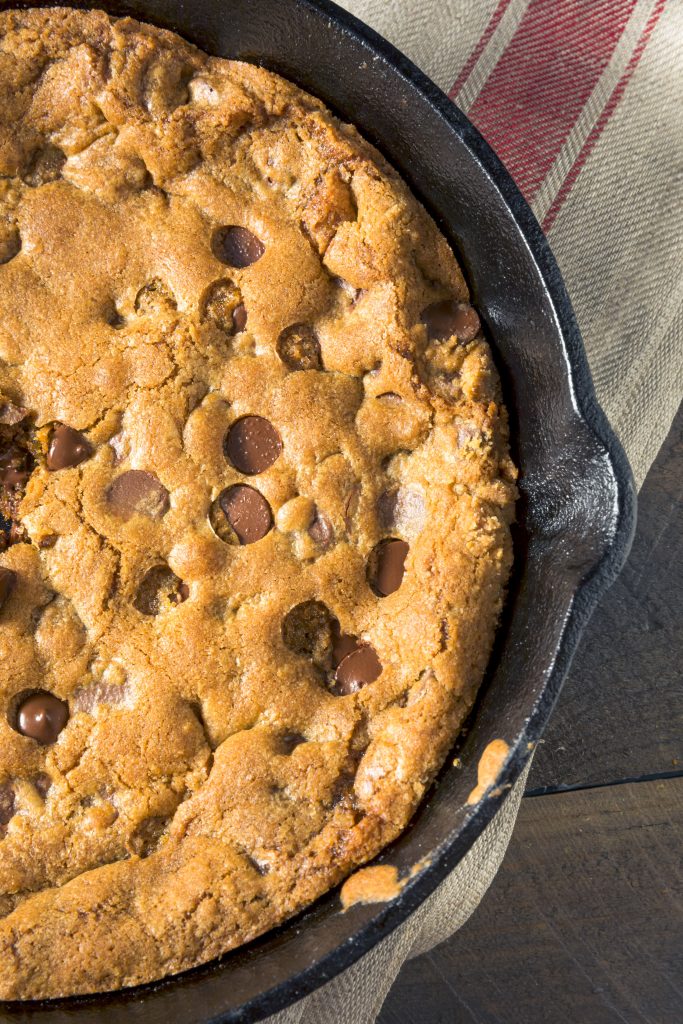 How To Make The Vegan Skillet Cookie
Making your vegan cookie in a cast iron skillet has never been easier! Call it what you will, a cookie cake, skillet cookie, whatever, it is basically assemble the ingredients, dump, cook, and go!
You are going to need a 9-inch cast-iron skillet for this or any other 9 inch pan. As I said above, I have used square, round, and cast iron pans to make this vegan cookie cake.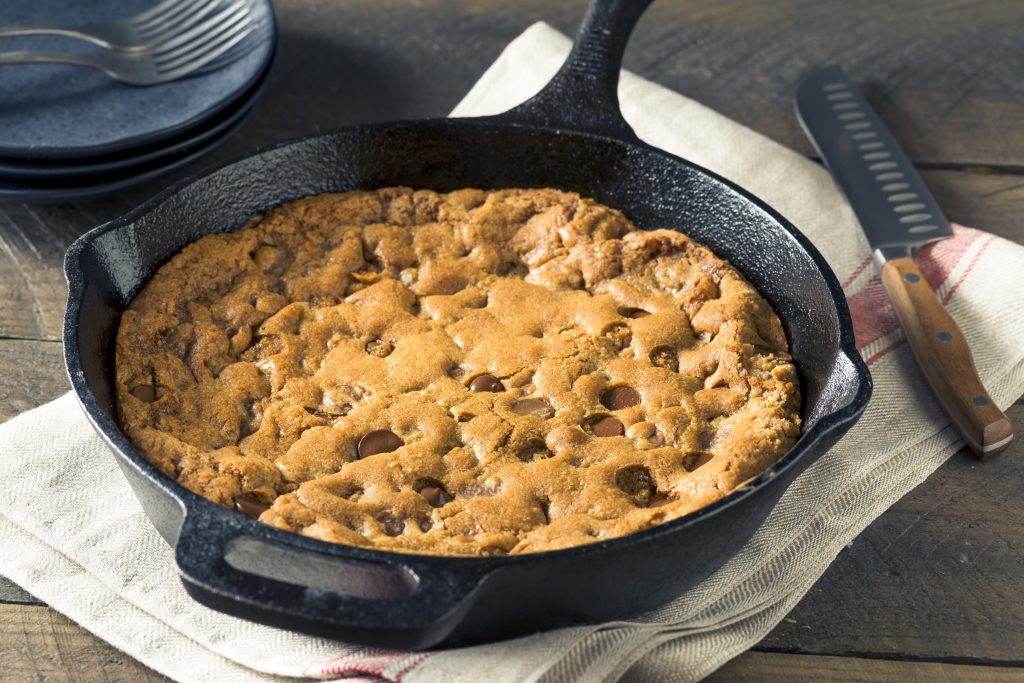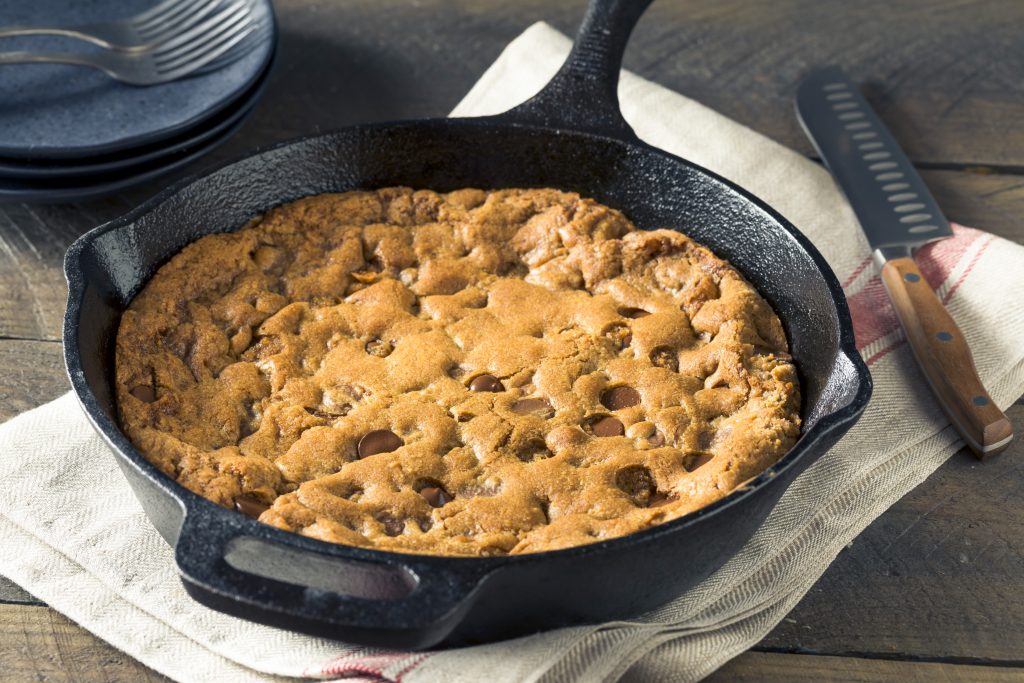 First you are going to make a flax egg by adding 1 tablespoon ground flax with 3 tablespoons of water and then letting it sit for 5 minutes.
Next, you are going to combine flour, baking soda, baking powder, and salt in a large bowl.
We use either applesauce OR vegan mayo. Both work 100% fine so if you have one on hand or the other, no worries you can use whatever you have.
Add in your applesauce/mayo, oil, sugar, and non-dairy milk to the dry ingredients and then add in the flax egg and beat it all together until just combined.
At this point, you will add in your white chocolate chips, dark chocolate chips, nuts, or whatever else you may want to add.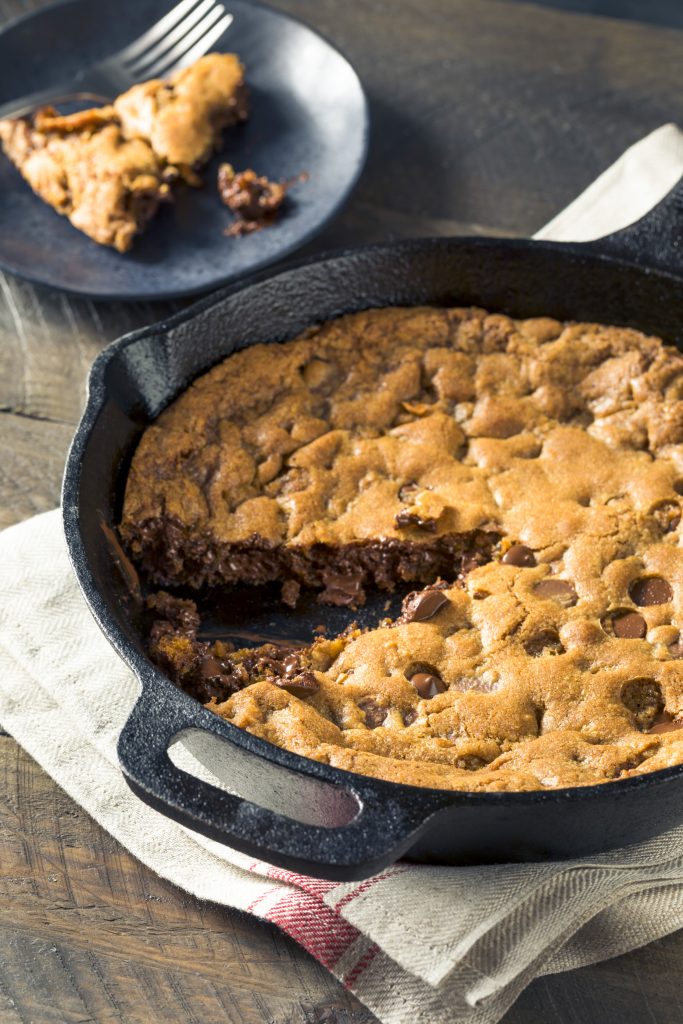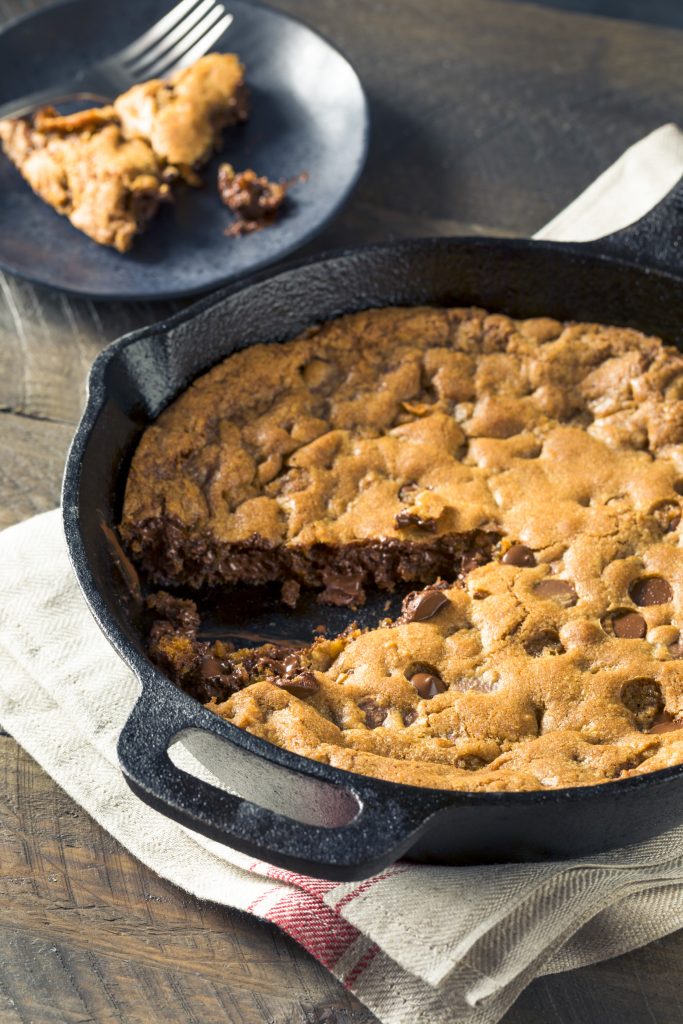 Now, you will fold the baking chips into the batter until they are evenly combined throughout the whole thing.
Spread the cookie dough evenly into the bottom of your cast iron skillet and bake for 25-30 minutes or until the middle is set and the vegan skillet cookie is golden brown.
For best results, you are going to want to let the cookie cake cool for at least 20-30 minutes before you top it with vegan ice cream, vegan caramel, vegan whipped cream and more.
That being said, growing up I never waited! Yes, the skillet cookie fell apart, but I didn't care. The taste was still the same!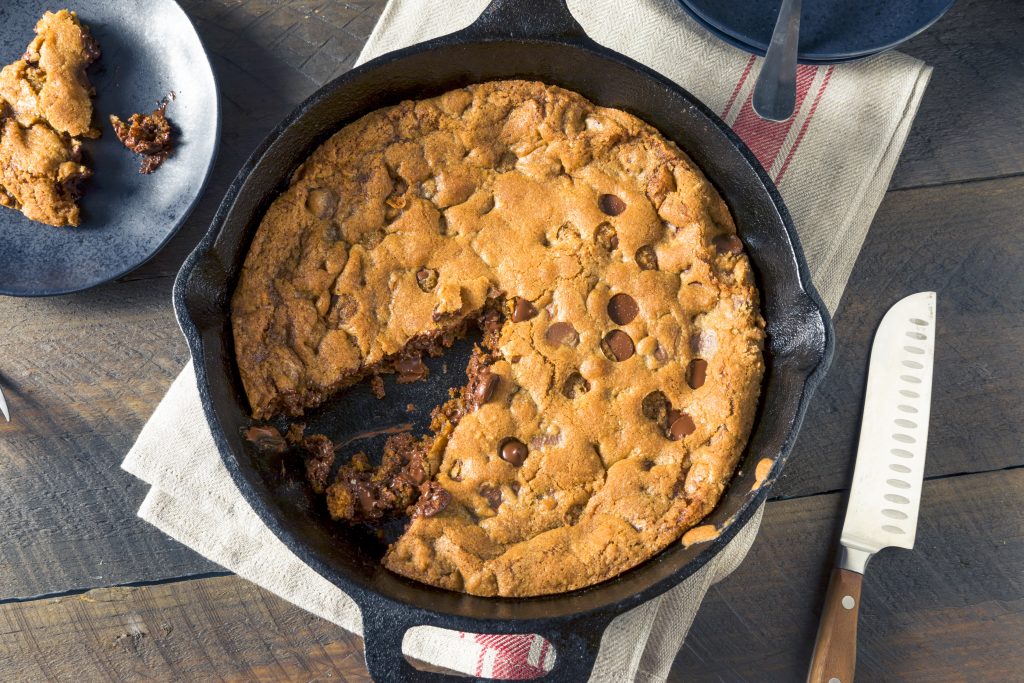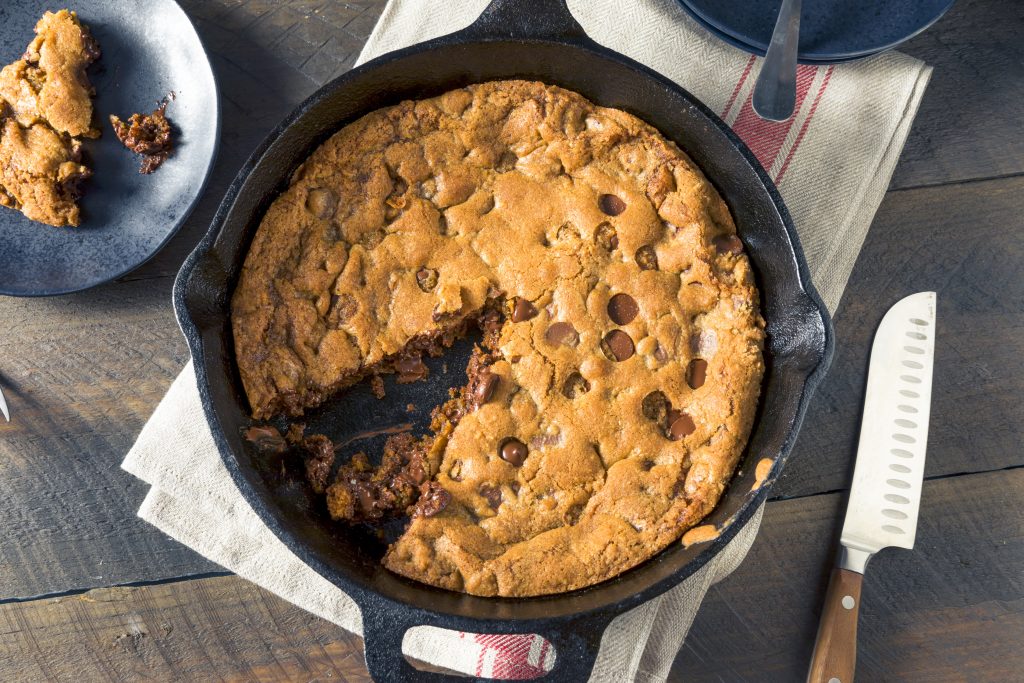 How To Store The Vegan Skillet Cookie
If you don't eat the cookie cake all at one time such as at an event or family dinner, you will probably have some left over!
The best way to store it is to simply wrap the cast iron with the cookie in it up in a plastic bag and put the whole thing in the fridge. It can store this way for 3-5 days.
You can also cut the cooled skillet cookie into wedges or pieces and then store it in air-tight container in the fridge for up to 7 days.
You can also freeze the vegan cookie cake for up to 3 months in a freezer-safe container. You want to ensure that you cut the cookie before hand so that you can take out individual pieces when you are ready to eat.
To serve, just let the cookie cool on the counter until it comes to room temperature!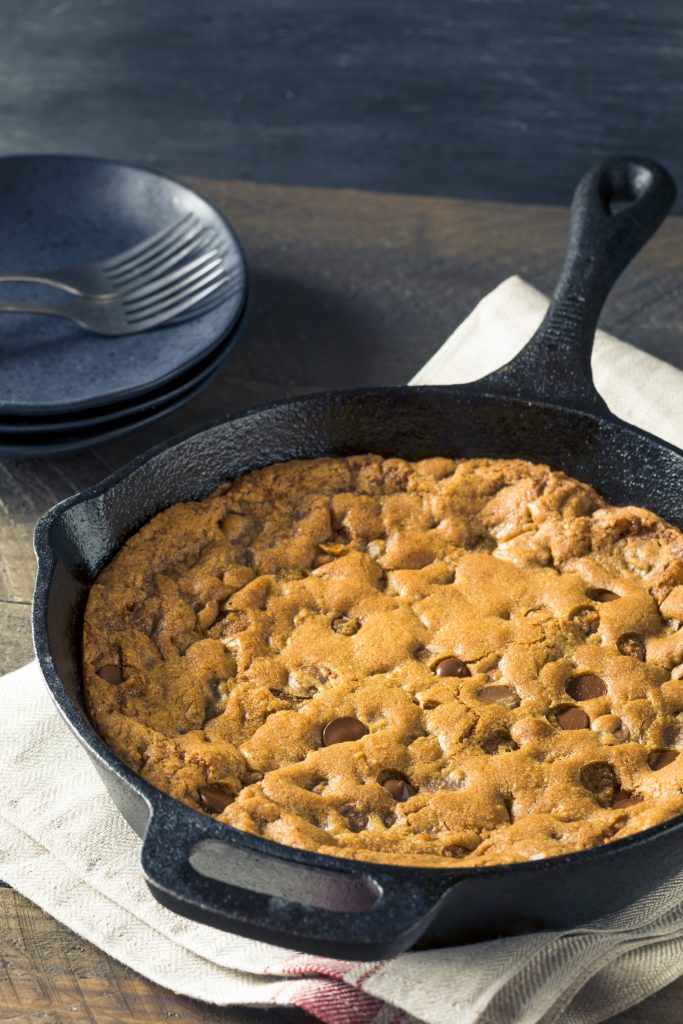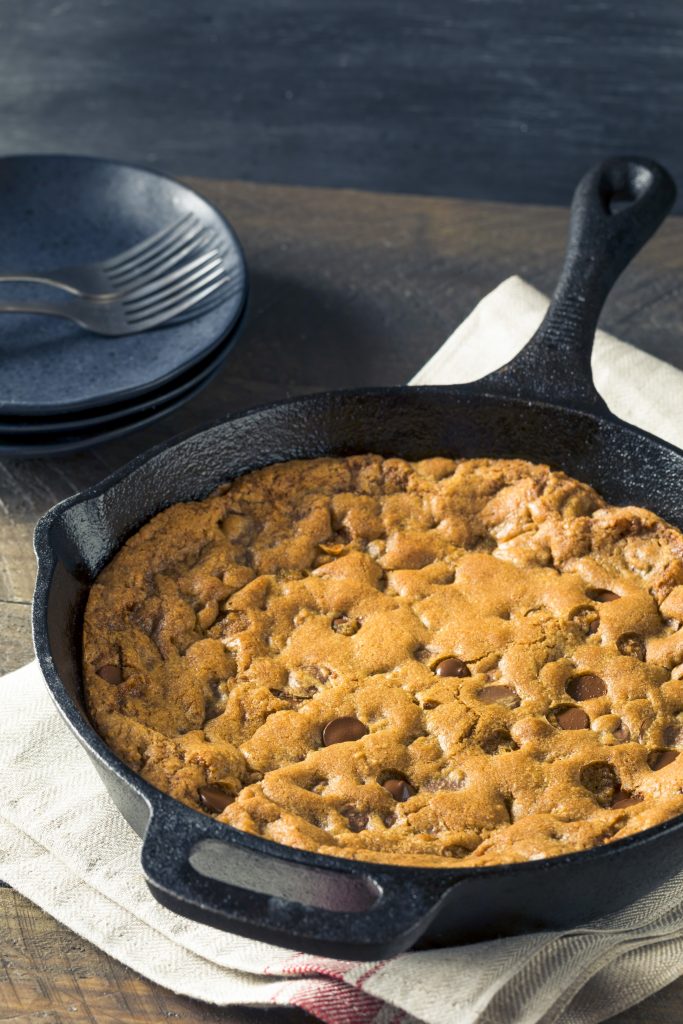 Did You Try This Recipe?
If so, I would love to keep in touch! I enjoy seeing photos and comments about the recipes that you make! You can follow me on Instagram and I will repost your goodies in my stories and comment on it too! Just tag me at @wowitsveggie and hashtag #wowitsveggie. I can't wait to see what you make!
Yield: 1 9-inch skillet cookie
Best-Ever Vegan Skillet Cookie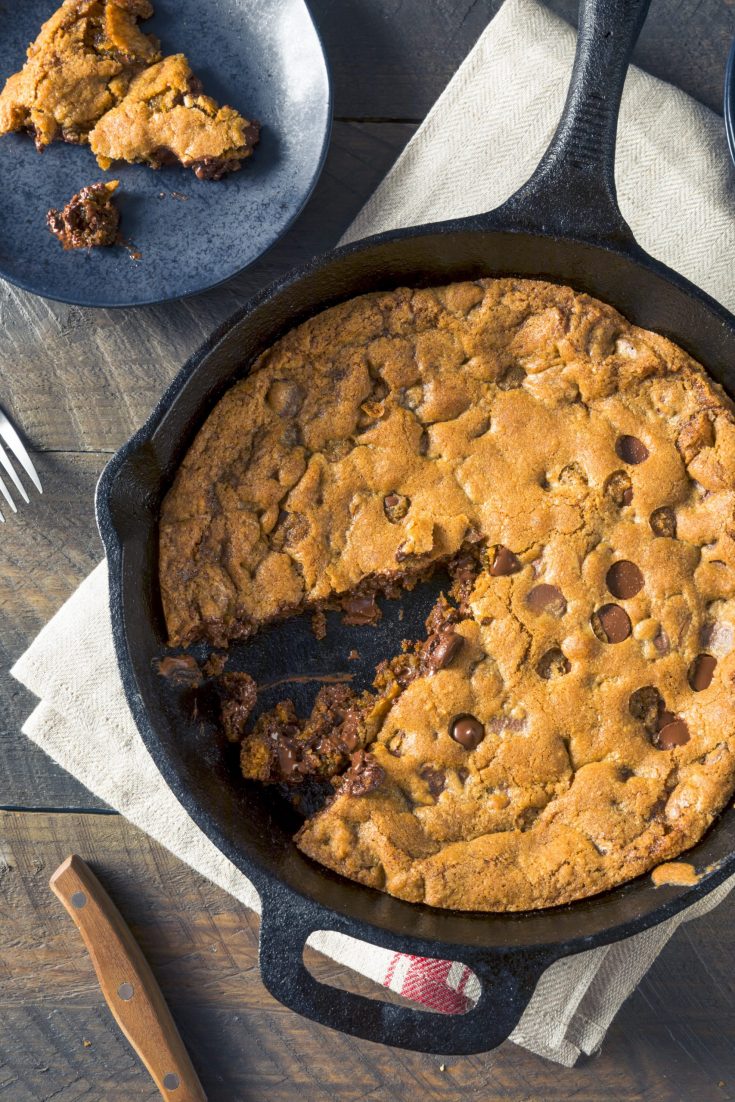 This vegan skillet cookie is the perfect combination between moist, fudgy, cakey, chocolatey, and chewy! It has the flavor of a cookie with the ease of a cake. All you have to do is just whip up the ingredients, dump them in the skillet, and cook to perfection. Feel free to add whatever mix-ins such as nuts, vegan white chocolate and more that you may want!
Ingredients
1 1/2 cups flour
1/2 teaspoon baking soda
1/2 teaspoon baking powder
1/2 teaspoon salt
1/4 cup applesauce OR vegan mayo [both work!]
1/3 cup oil
1/3 cup brown sugar
1/3 cup white sugar
2 tablespoons non-dairy milk
1 tablespoon ground flax
3 tablespoons water
1/4 cup white chocolate chips
1/2 cup dark chocolate chips
Instructions
Preheat your oven to 325 degrees and get out your cast iron skillet. You can also use any 9 inch pan including round or square versions. I have made this recipe in a lot of different pans 🙂
Prepare your "flax egg" by combining your flax meal with the water and set it aside to thicken for 5 minutes.
In a large bowl, combine your flour, baking soda, baking powder, and salt. Whisk together until incorporated.
Next, add applesauce OR vegan mayo, oil, brown sugar, white sugar, and non-dairy milk.
Add in your flax egg and mix until combined and a dough forms.
Fold in your chocolate chips and vegan white chocolate chips as well as whatever mix-ins you want such as chopped nuts or dried fruit until they are combined throughout the cookie dough.
Spread the dough evenly in the bottom of your skillet.
Bake the vegan skillet cookie for 25-30 minutes or until the middle is set and the cookie is golden brown in color.
For best results, allow the vegan cookie cake to cool for at least 20-30 minutes before serving. It will fall apart if you try to cut it before you let it cool. That has never stopped me from digging in as soon as it is done as I don't care about the looks, only the taste 😉
Nutrition Information
Yield
12
Serving Size
1
Amount Per Serving
Calories

222
Total Fat

10g
Saturated Fat

3g
Trans Fat

0g
Unsaturated Fat

7g
Cholesterol

2mg
Sodium

173mg
Carbohydrates

30g
Fiber

1g
Sugar

17g
Protein

2g