This vegan pot pie recipe is so easy and delicious! It is filled with succulent veggies and stuffed inside a deliciously flaky crust!
I am obsessed with vegan chicken pot pie because I grew up eating Annie's brand frozen vegan pot pies, and they were my favorite!
Of course, as you get older, you realize it probably isn't the most healthy and that making your own is actually pretty darned simple. It is so easy and comforting that this is one of my favorite Vegan Fall Recipes!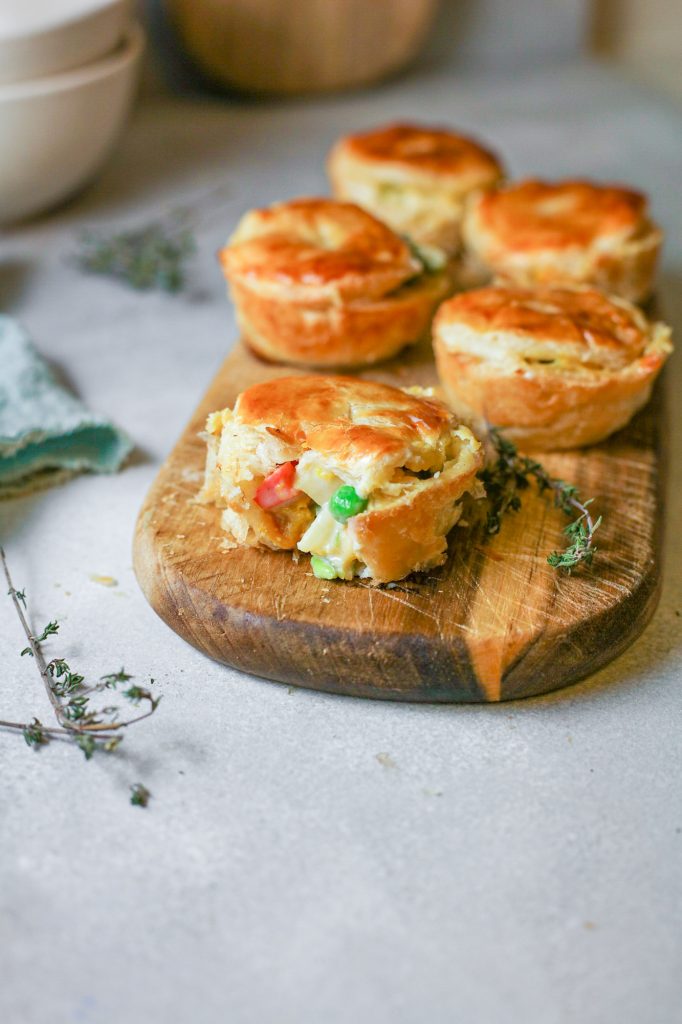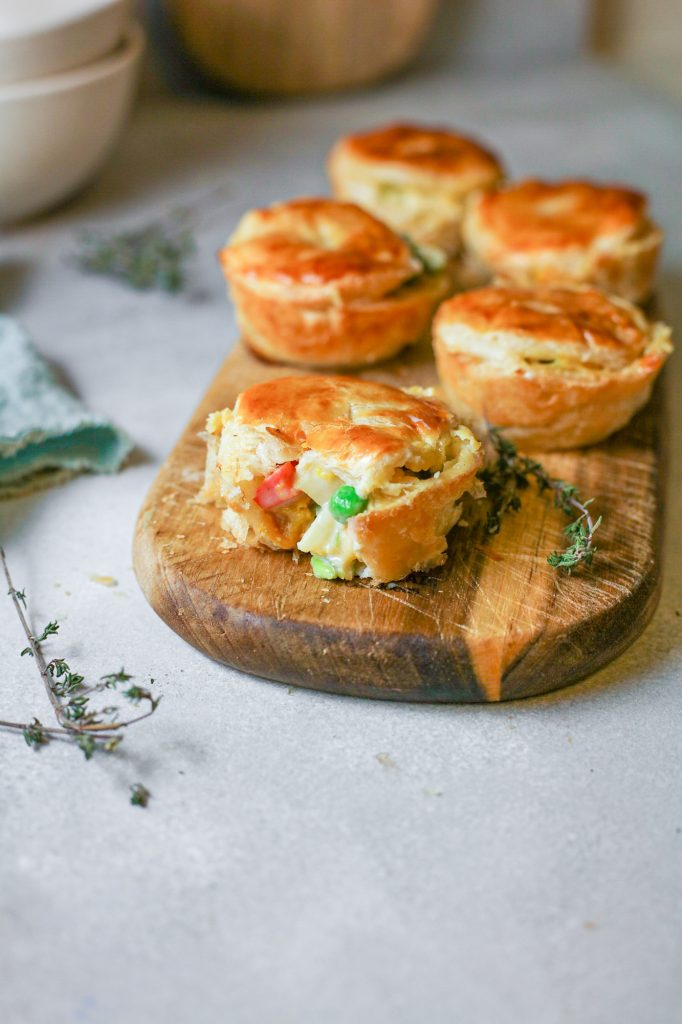 My favorite way to make and eat vegetarian pot pies is to make them into little mini pies using muffin tins!
This way, each person gets their own personal one. After all, the crust is the best part, and using muffin tins allows everyone to maximize their crust potential!
This is also one of the best vegan recipes for kids! How do I know? Because when I was a kid, I loved meatless pot pies!
If you are looking for a filling main or cute side dish, this is also one of my favorite Vegan Thanksgiving Recipes and is a real crowd-pleaser!
You can also make the recipe as a traditional pie or even a vegan pot pie casserole!
I hope you enjoy this vegan pot pie recipe as much as I do!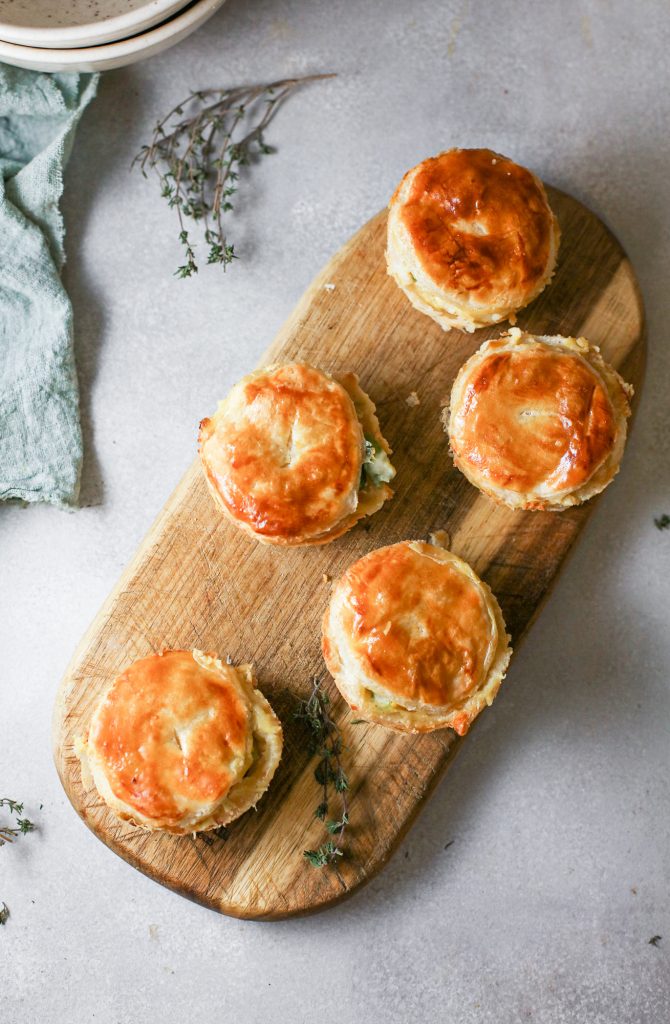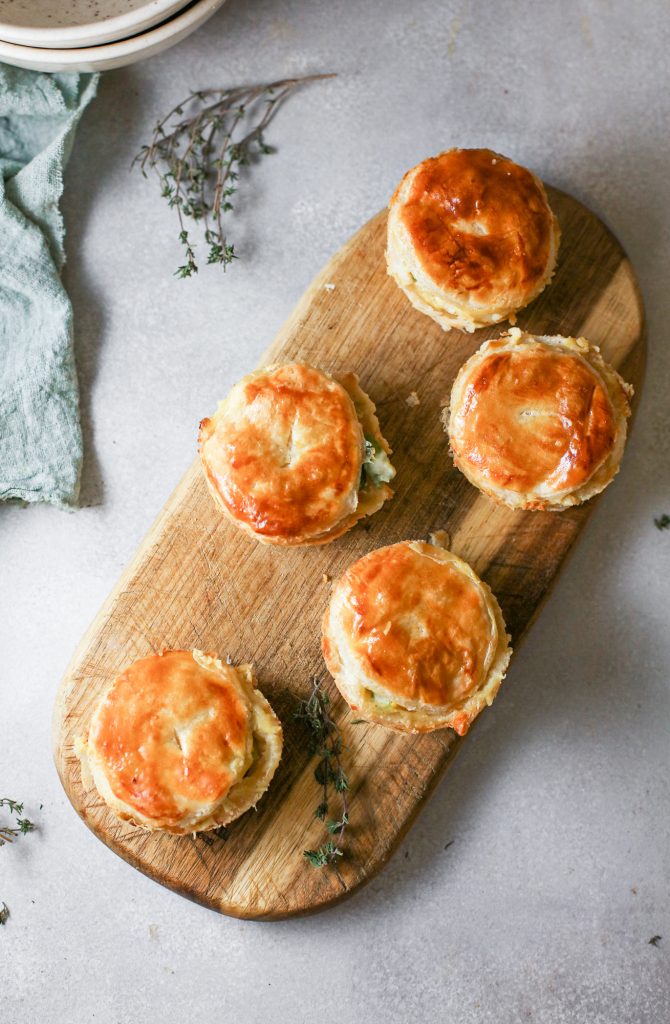 Why You Will Love This Recipe
It is easy for beginners. This recipe is super easy and needs no experience to make. The 15-minute prep time means you can prepare it quickly without stress.
It is great for holidays. If made as mini pot pies, these are perfect for a potluck or holiday gathering. Everyone can have their own, and it is easy to store leftovers.
It looks impressive. These little plant-based pot pies look like they were taken out of a fall recipe magazine. They are cute and make a great addition to a buffet table.
You can use store-bought crust to make it easier. While you can make your own crust, there is no problem using a store-bought crust. This reduces prep time and makes the recipe easier.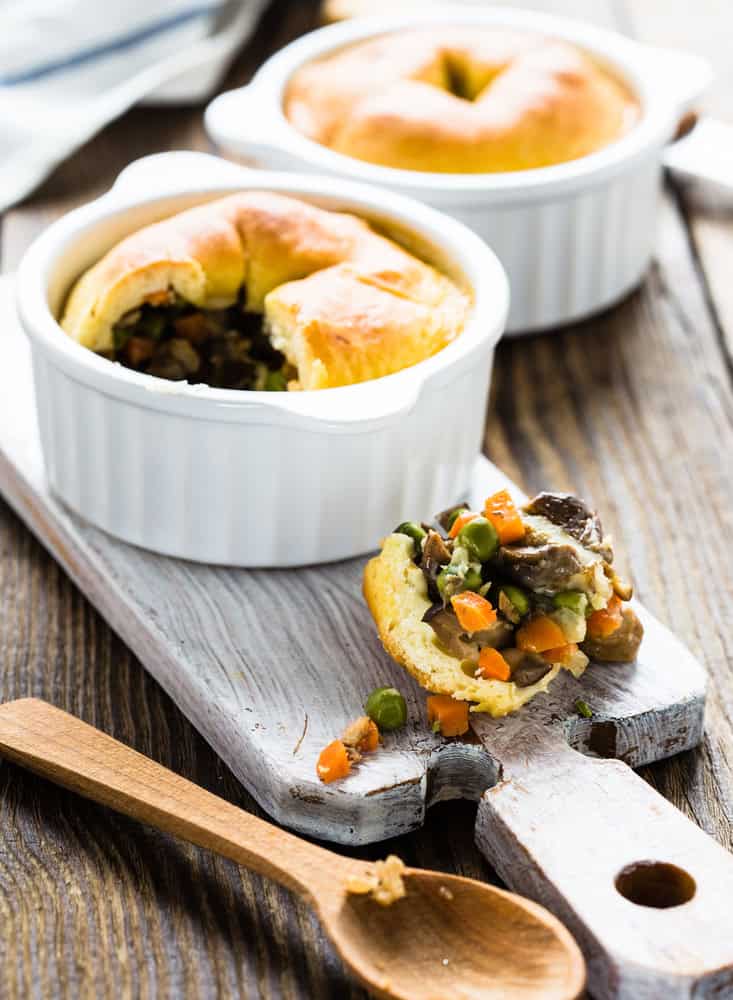 What Pie Crust To Use For The Vegan Pot Pie
You have a few options for this! Of course, I always recommend my Vegan Pie Crust Recipe!
It is super easy and only uses 4 ingredients. It takes only a few minutes to make so it won't add too much time to your recipe process.
My vegan pie crust recipe is also incredibly flaky and so good you will be jealous you didn't try it beforehand!
My pie crust generally makes enough for a top and bottom if you are making a full dairy-free pot pie, but depending on the pie pan you are using, you may have to double the recipe.
I have used it to make many vegan pot pie recipes over the years, so I hope you enjoy it.
That being said, you can always use a vegan pie crust bought from the store if you are short on time.
This is a simple and easy cooking hack if you are looking to spend less time making and more time enjoying this vegetable pot pie!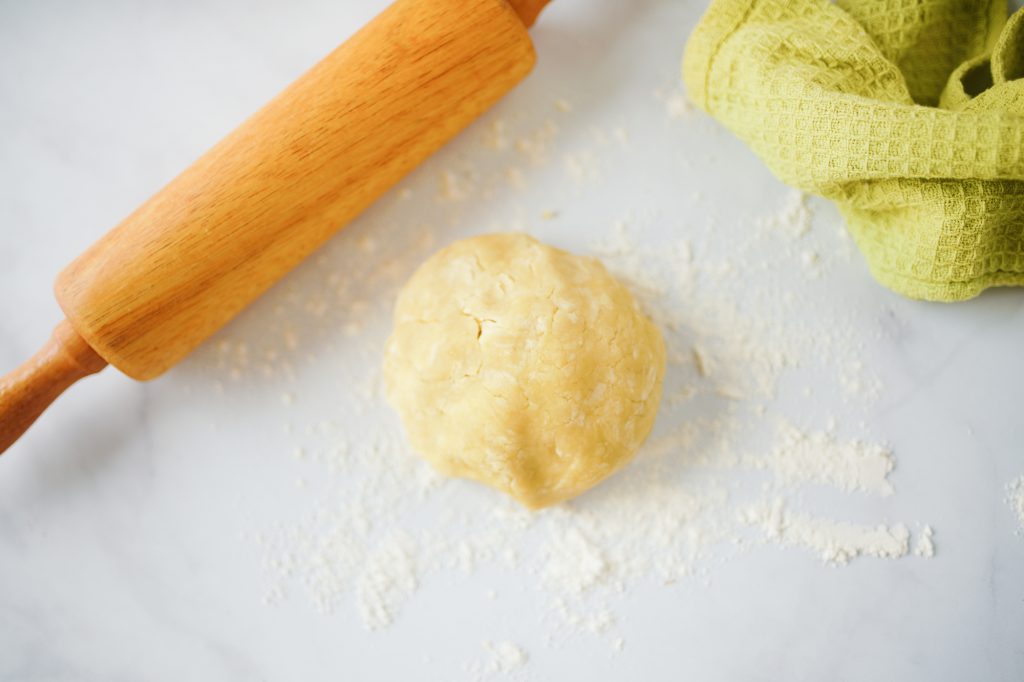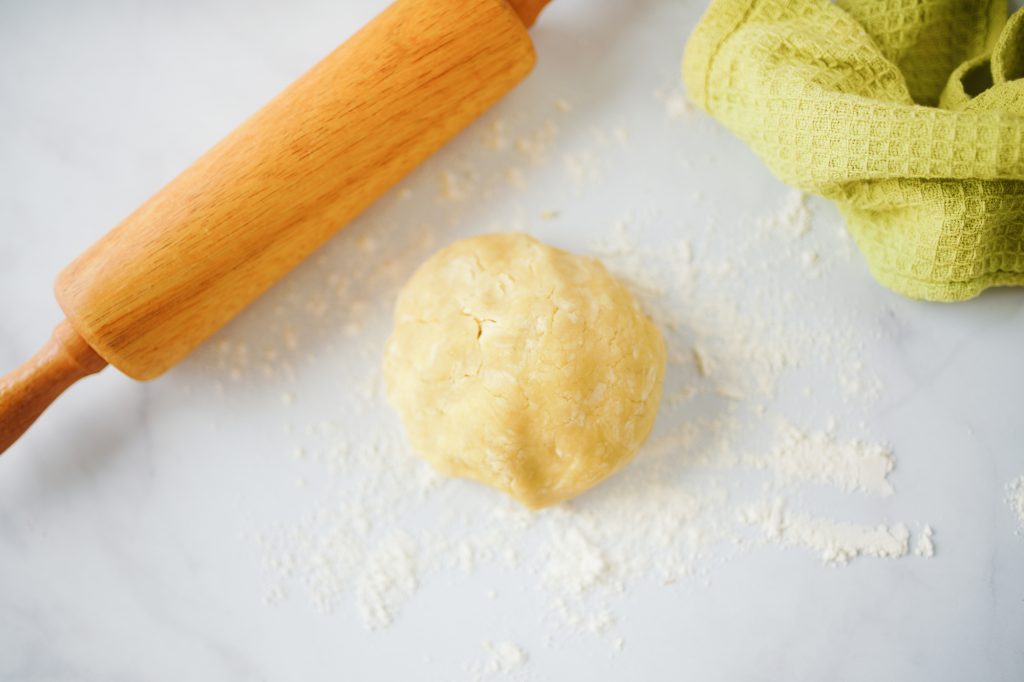 What Vegan Chicken To Use For Chicken Pot Pie
My recipe is a plain old vegan pot pie because I know not everyone likes "fake meat."
Although I love faux meat, I wanted to keep the options open so everyone can enjoy it! At the end of the day, faux meat is highly processed, but I love it!
Personally, I love Gardein brand vegan chicken which can be found in the freezer section.
Even my Walmart has it, so check your local grocery store or health food store if you want to try it. You will want to defrost it enough before chopping.
You can also use Tofurky brand vegan chicken or any other brand that you find that is local to you! It all depends on your tastes!
Whatever you use, you will love your vegan chicken pies!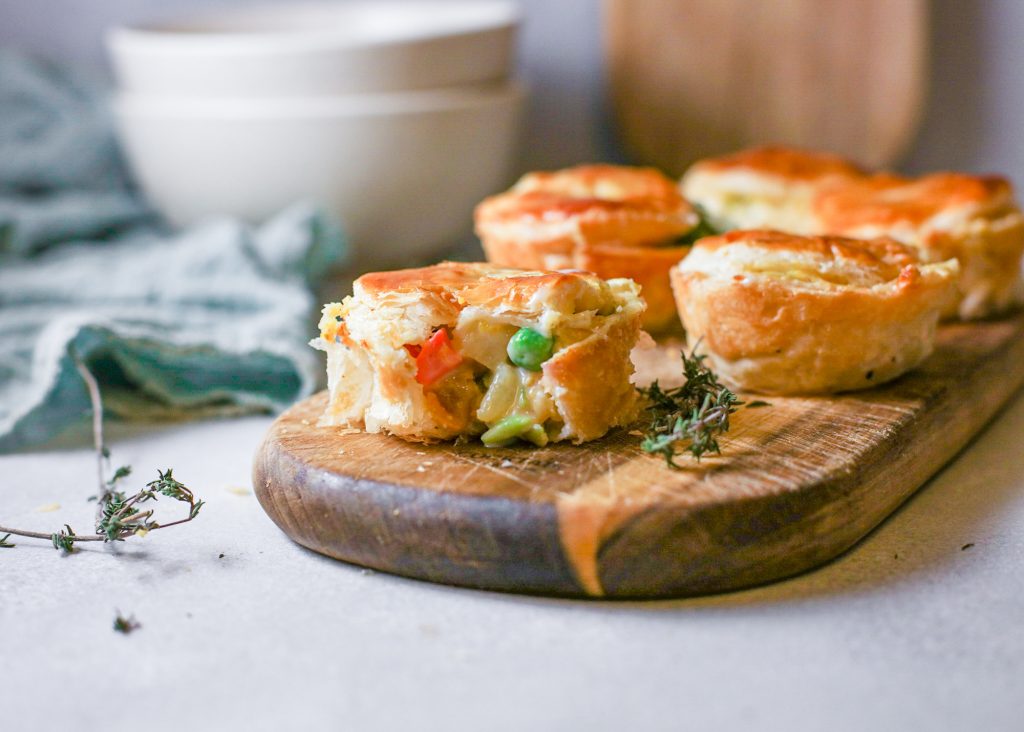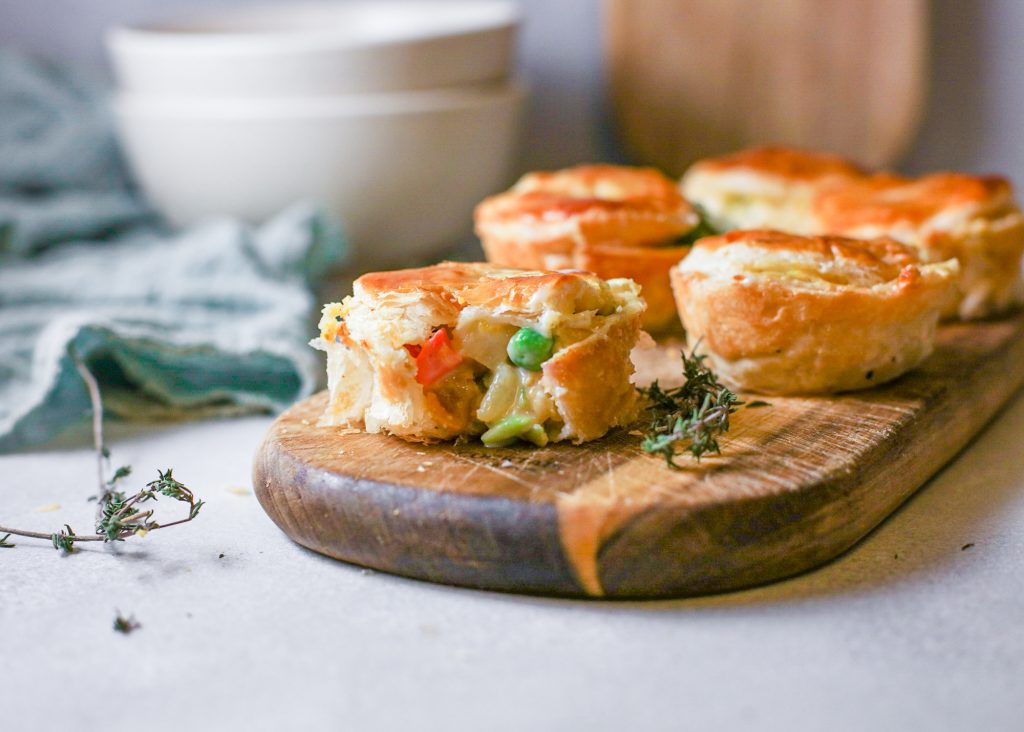 How To Make This Vegan Pot Pie Recipe
Making pot pie vegan is so super simple and easy! This will become your new comfort food staple, and I know you are going to love it!
Again, I usually make my pot pies in muffin tins because they are so super cute and personalized. Plus, you get a lot of crust!
You can make this recipe using a full-size pie plate but you may have to adjust the filling!
First, you are going to want to make my Vegan Pie Crust Recipe or go ahead and open your store-bought pie crust.
Then, you are going to want to grease your muffin tins and line each one with the pie crust. Make sure to press it down with your fingers.
You want to ensure that the pie crust lining the muffin tins isn't too thick. Now, I love me some crust on a homemade vegan pot pie, but I don't ONLY want crust! Just the right amount is what you are looking for.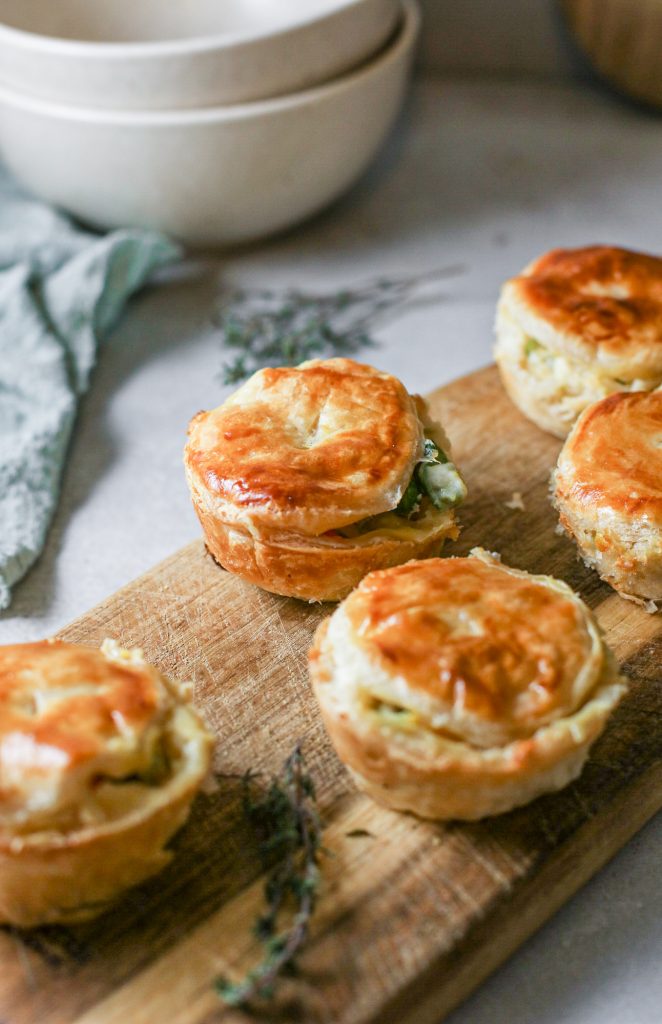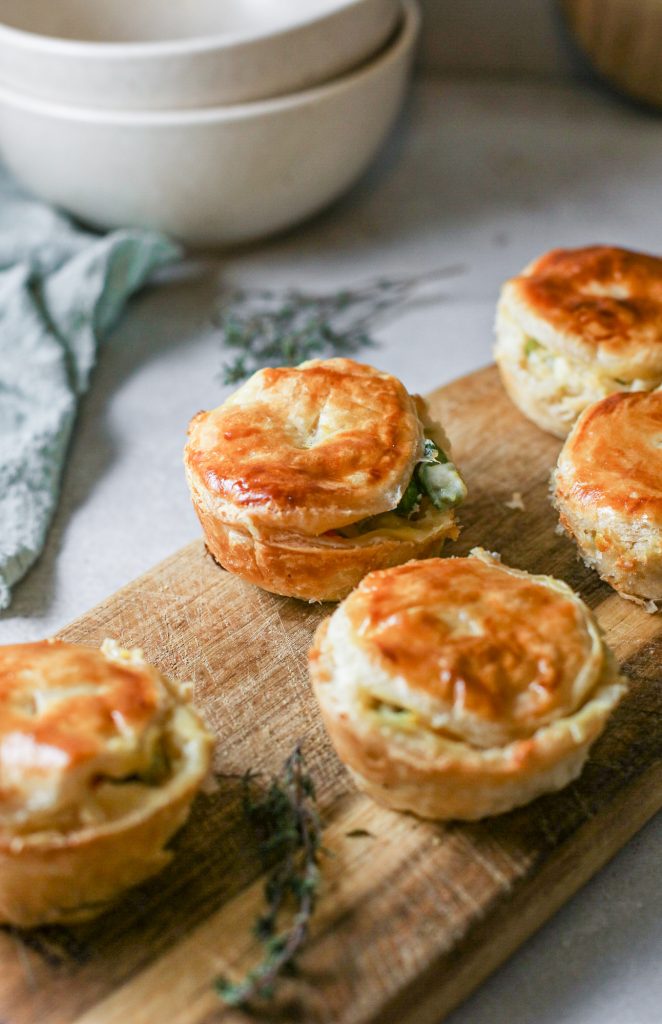 After you prepare the bottom of your muffin tin, it is time to make your filling!
Heat oil in a saucepan over medium heat then add your onion, carrot, and garlic, and cook until translucent and soft.
Then, add your peas, the pre-boiled potatoes, and the spices. You don't want to skimp on the spices! Cook for about 3 more minutes until the flavors are combined!
Now this is the important part and what makes the pot pie filling clump up! Dust the entire veggie mixture with flour and stir until combined.
Add water and milk and stir until mixed. Bring the mixture to a simmer and cook until it has thickened.
If your batter isn't as thick as you want, add more flour, 1 tablespoon at a time. It should be thicker, not soupy like maple syrup!
Once your pot pie filling is thick, divide it between the muffin tins!
Then, roll out your vegan vegetable pie crust and cut circles using the top of a cup, a cookie cutter, or a knife!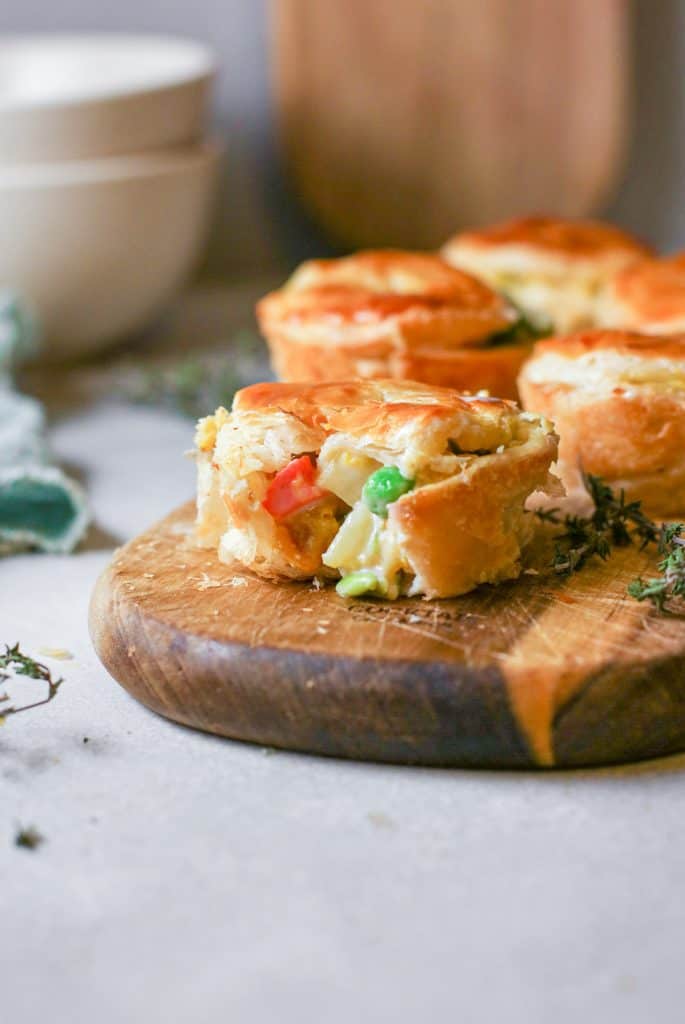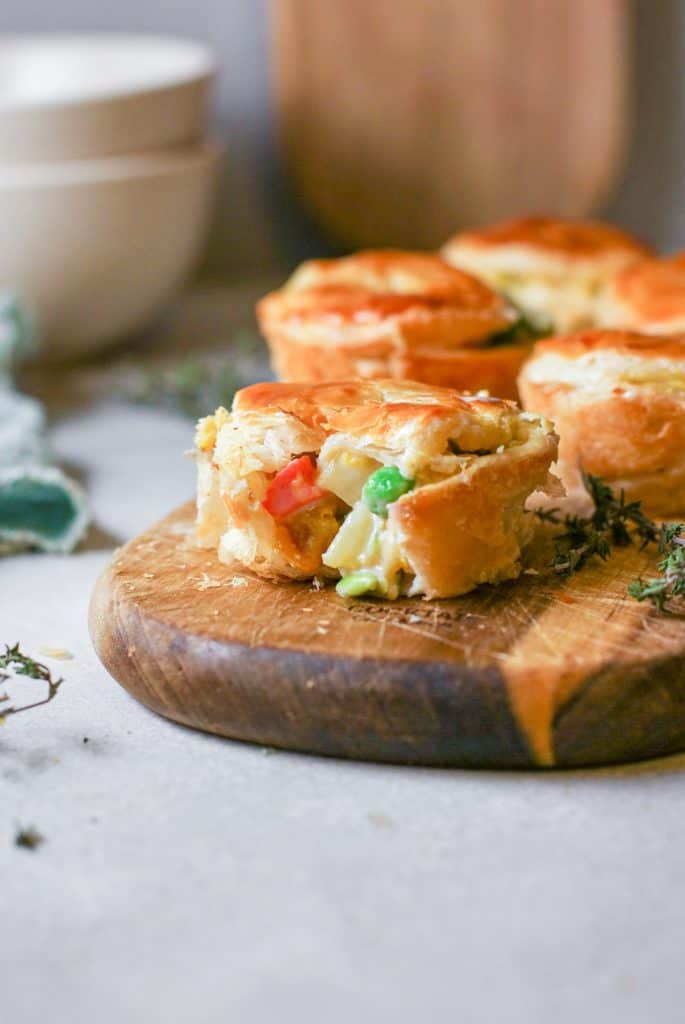 Cover the muffin tins with the pie crust circles and use your fingers to pinch the sides together so that the filling doesn't bubble out of the crust during cooking.
In order to get that delicious browned look during baking, you have a few options! First, you can brush with melted Vegan Butter which is what I do in my Vegan Wellington Recipe.
Or, you can brush with coconut cream, oil, non-dairy milk, or aquafaba which is the liquid from the chickpea can.
Once you brush your vegetarian pot pie with whatever method you choose, it is time to pop it in the oven for 35 minutes or until golden brown!
You will want to make sure this recipe cools for about 10-15 minutes before serving! Enjoy!
I hope you love this vegan potato pot pie recipe as much as I do.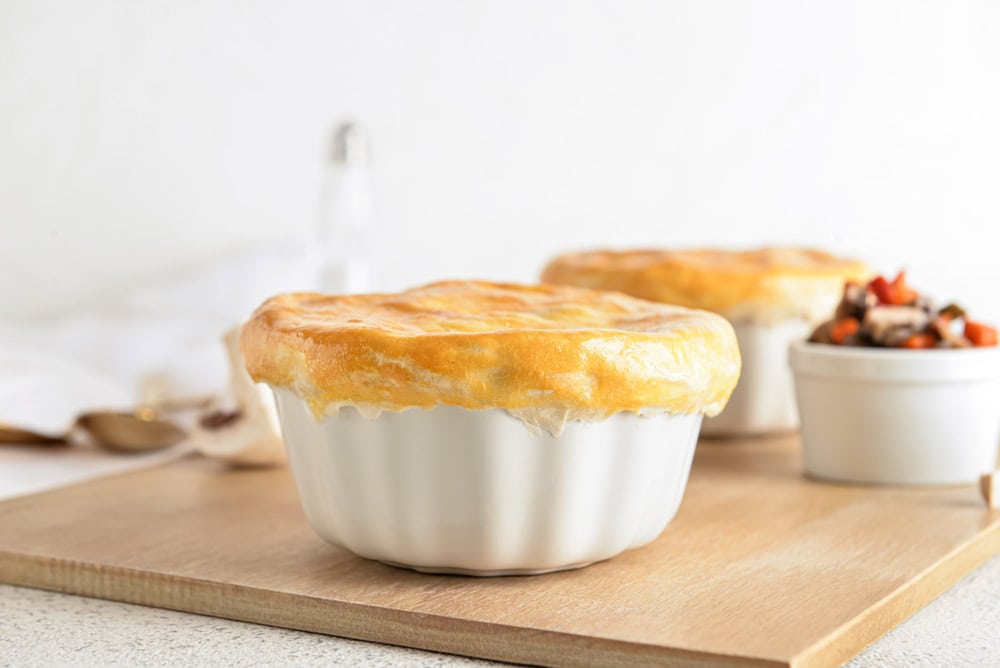 Can You Freeze the Vegan Pot Pie?
Yes, full-size or mini vegetable pot pies can easily be frozen. This is a great way to store your pie for eating later or if you have leftovers.
Wrap the pie tightly in aluminum foil before placing it in the freezer. You can keep your pies in the freezer for up to 3 to 5 months.
If you plan on eating your pie later, freeze it uncooked and without the butter on top. Cook it from frozen for 30 minutes covered and the 35-40 minutes uncovered.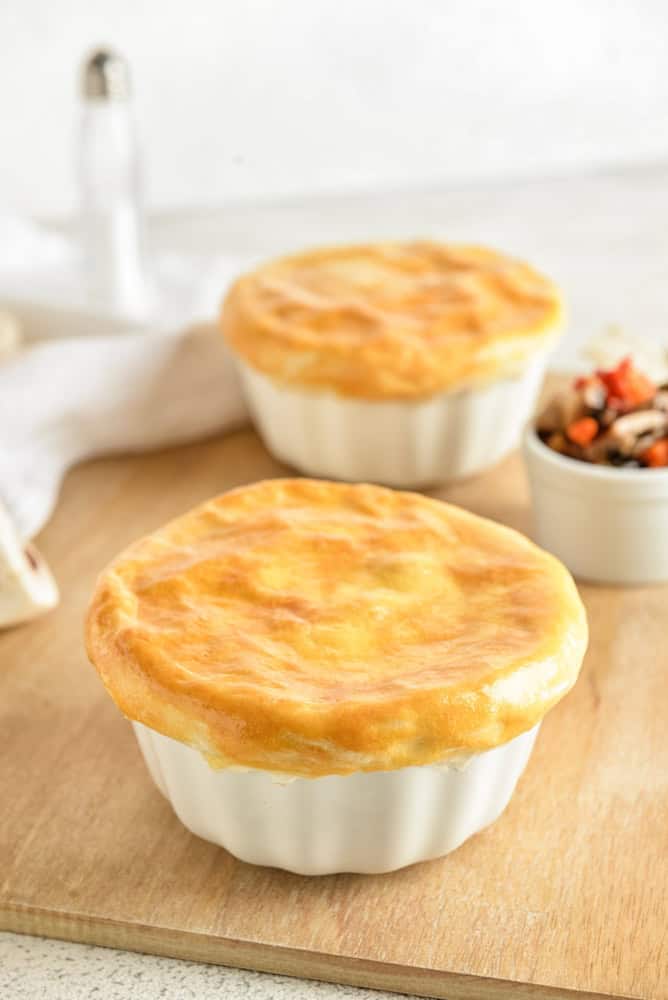 Did You Try This Recipe?
If so, I would love to keep in touch! I enjoy seeing photos and comments about the recipes that you make! You can follow me on Instagram and I will repost your goodies in my stories and comment on it too! Just tag me at @wowitsveggie and hashtag #wowitsveggie. I can't wait to see what you make!
Yield: 6 Servings
Easy Vegan Pot Pie Recipe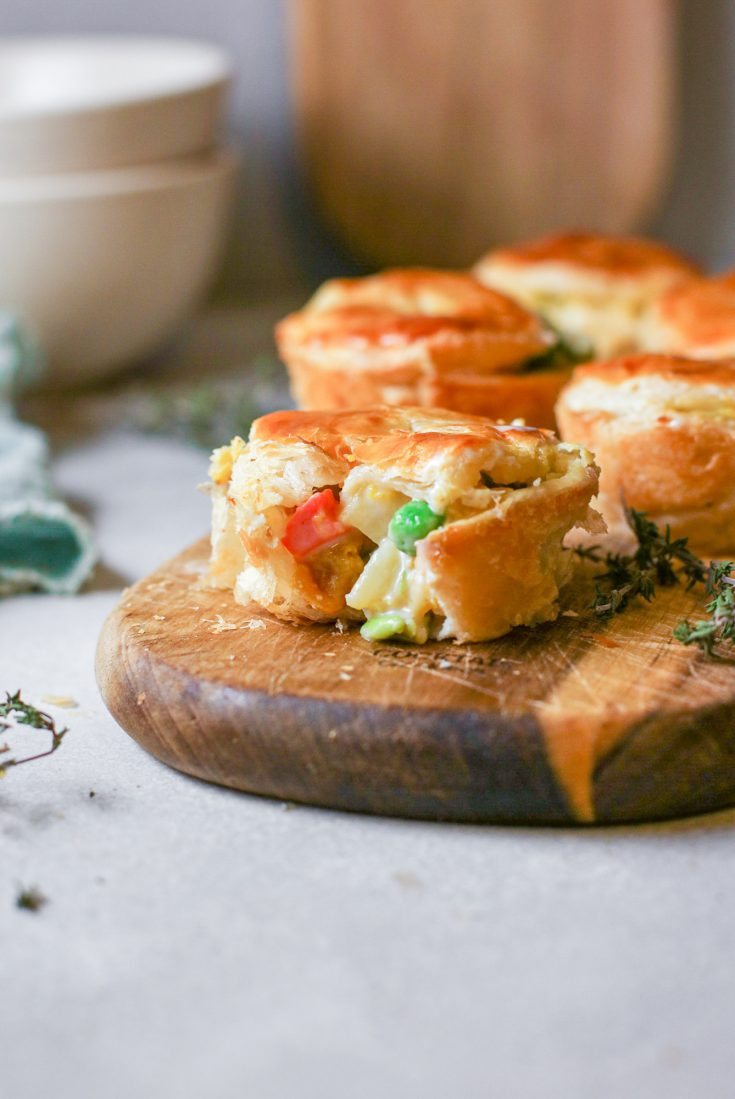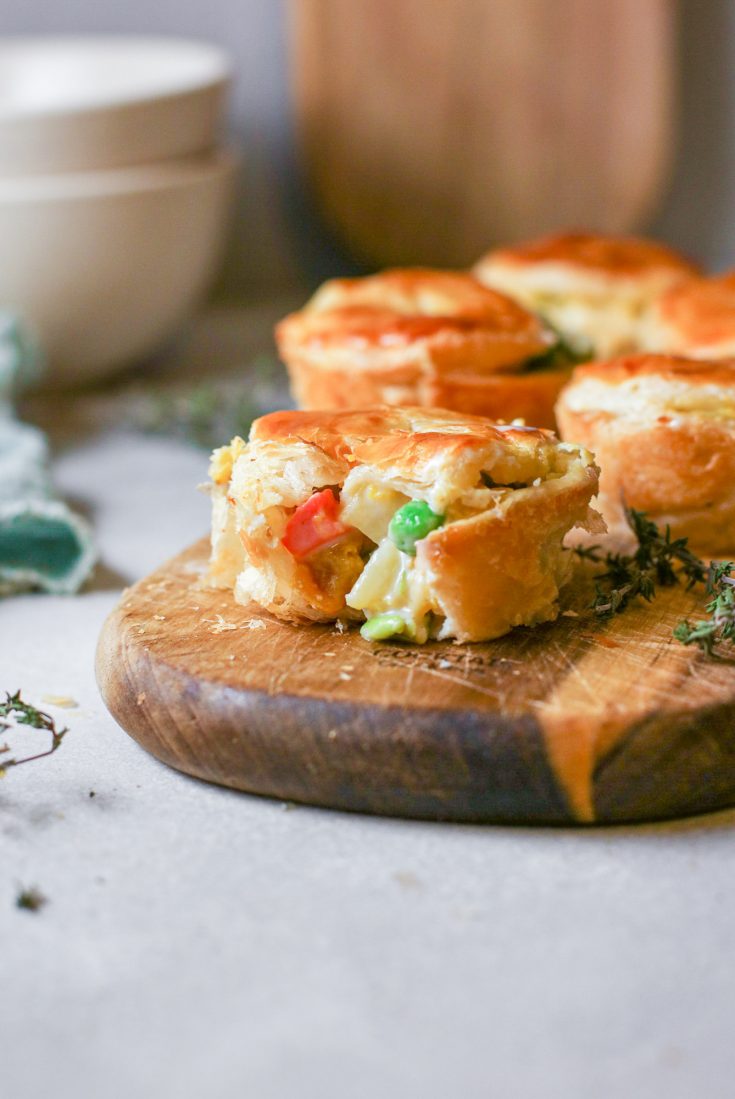 This vegan pot pie recipe is so easy and delicious! The crust is flaky and cooked to perfection and the filling is savory and warming. This vegetable pot pie is truly the perfect comfort food.
Ingredients
2 Cups Flour [Any Flour Works]
1 Pinch Of Salt
1/2 Cup Oil
1/4 Cup Milk [Dairy Or Nondairy, Both Work]
1 Onion, chopped
2 Garlic cloves, minced
1/3 Cup olive oil
2 Potatoes, boiled and diced
2 large carrots, chopped
1 1/2 Cups peas
4 Tbsp flour
2 Cups water
1/2 Cup almond milk
1 Tsp paprika
1 Tsp thyme
1/2 Tsp oregano
1 Tsp Italian seasoning
Salt and pepper to taste
Instructions
Preheat the oven to 350 degrees.
Make 1 recipe of my Vegan Pie Crust. Which is combine 2 cups of flour, salt, 1/2 cup of oil, and 1/4 a cup of milk. Roll out the dough. I highly recommend referencing my blog post! You can also use 1 package of store-bought pie crust.
Grease a muffin pan and line with the pie crust. Make sure to press the pie crust down so that the bottom of the pot pie isn't too thick.Set aside.
Heat the oil in a saucepan over medium heat. Add the onion, garlic, and carrots and cook until transparent and soft.
Add the peas and pre-boiled potatoes and all of the spices. Cook for 3 more minutes stirring.
Sprinkle with the flour and stir to combine so that the flour evenly coats the veggies. Pour the water and milk and stirring constantly bring to a simmer. Cook until it has thickened. If your vegan pot pie filling doesn't thicken as much, add more flour in 1 teaspoon increments until it is thick. It shouldn't be watery like soup!
Divide the batter between the muffins cups.
Roll out the leftover dough and cut circles into it using the top of a glass, a round cookie cutter, or just a knife. Top your muffin tins with the pie crust circles and pinch the edges to close.
Brush the tops with around 1 Tbsp coconut cream, almond milk, melted vegan butter, aquafaba, or oil and take to the oven.
Bake for 35 minutes or until golden brown. Let cool for 10-15 before serving.
Notes
I recommend using my vegan pie crust recipe, but you can use a store-bought recipe too!
If you want to make this a vegan chicken pot pie, you can add little diced pieces of vegan chicken. My favorite brand is Gardein which is frozen. You can also use Tofurky or whatever brand of vegan chicken stores near you stock!
Nutrition Information
Yield
6
Serving Size
1
Amount Per Serving
Calories

270
Total Fat

17g
Saturated Fat

3g
Trans Fat

0g
Unsaturated Fat

14g
Cholesterol

1mg
Sodium

99mg
Fiber

6g
Sugar

2g
Protein

12g