This delicious vegan chopped salad is easy and delicious! It takes just 15 minutes to whip up and makes a hearty lunch or filling but light dinner.
I have to be honest, I am obsessed with chopped salads and will get them as often as I can when I am out and about. Weirdly, they are one of my favorite airport foods at lounges and restaurants because they are light yet filling.
That being said, many chopped salad recipes aren't vegan. This recipe brings you a unique take on the traditional chopped salad you may have seen on a restaurant menu.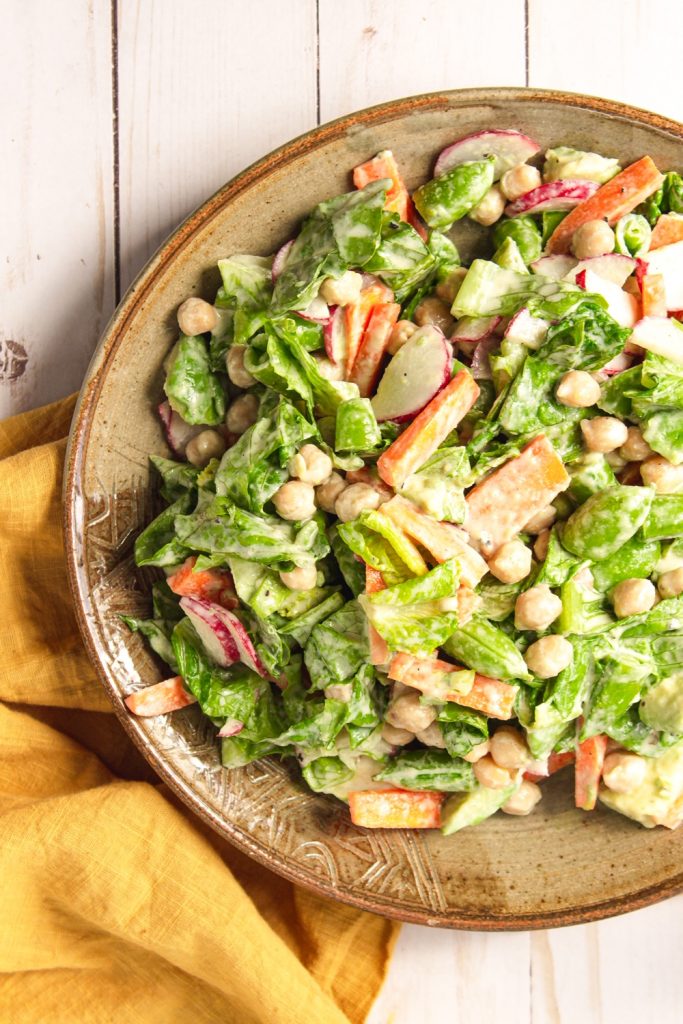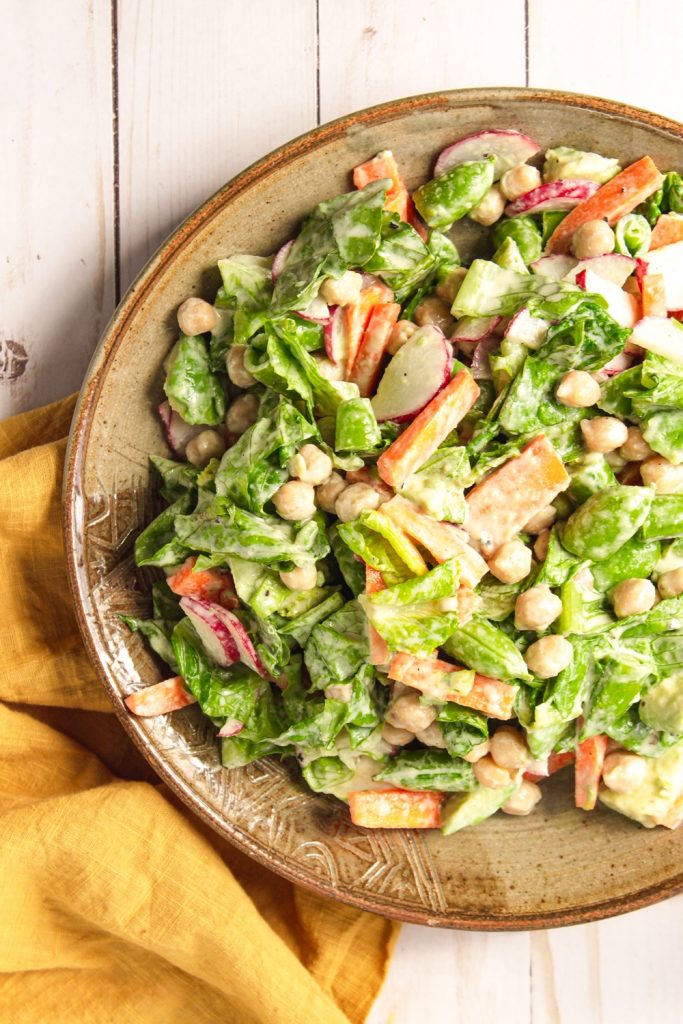 It uses typical ingredients such as romaine lettuce and carrots, and unique additions such as snap peas and chickpeas to add filling flavor.
Toss it with my Creamy Vegan Maple Tahini Dressing and you are in for a winning side or main dish!
If you want, you can go ahead and add in onions or olives, but a lot of people don't like either which is why I left them off my vegan chopped salad recipe.
Feel free to add in more ingredients if you want, you really can't go wrong with this recipe for chopped salad!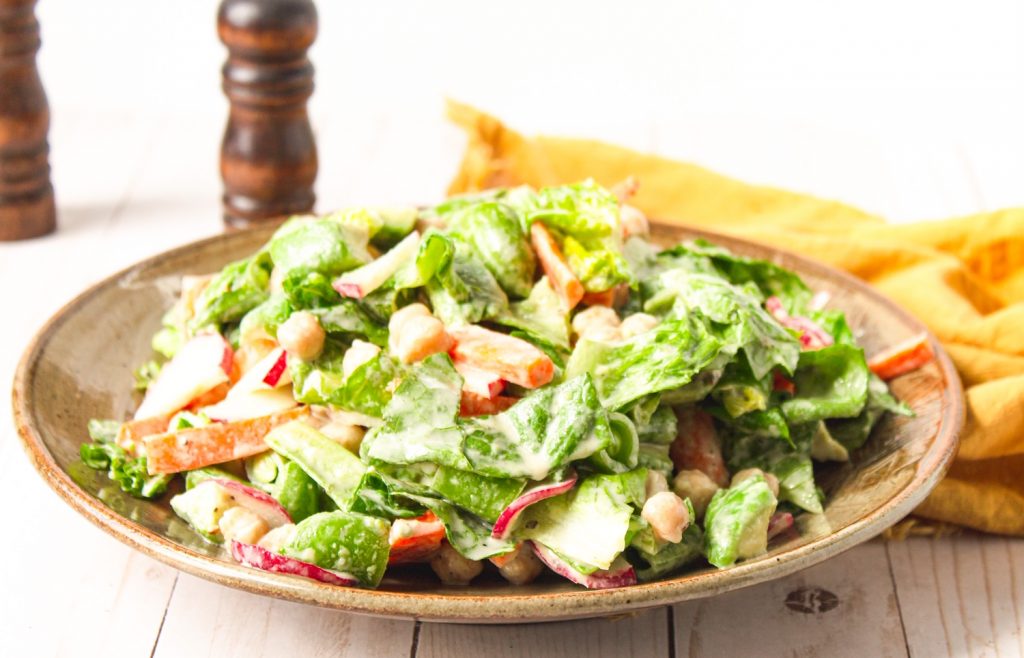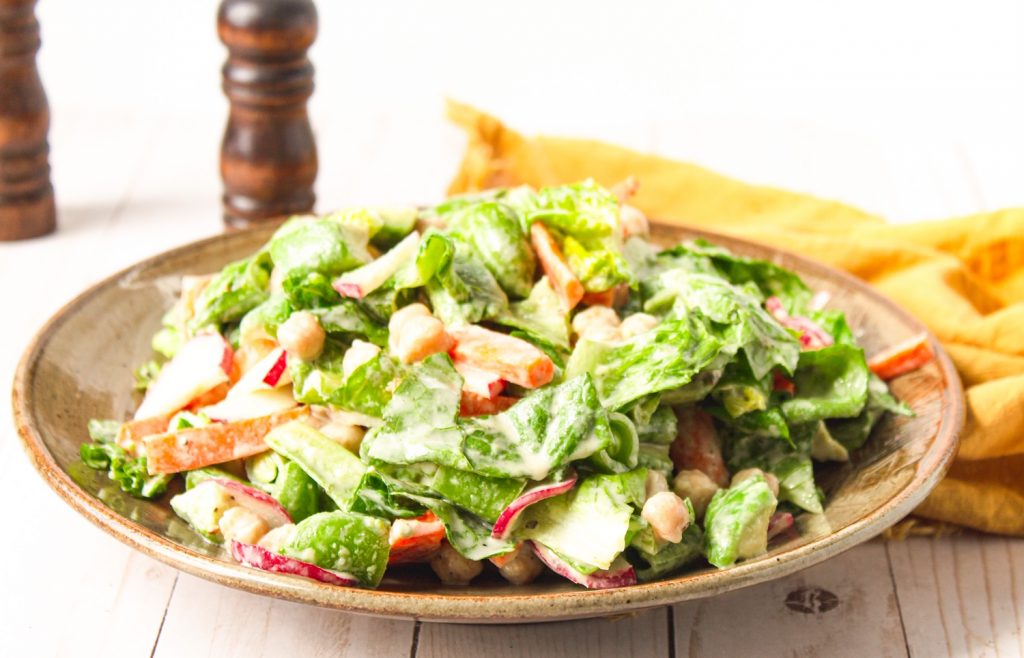 How To Make Vegan Chopped Salad
Making vegan chopped salad is so easy that a little kid could do it! Salads are one of my favorite main or side dishes because they can be made light or hearty by adding in more protein such as the chickpeas.
To make this recipe, first you are going to want to make my Maple Tahini Dressing Recipe. It is super simple to make and really adds flavor to the vegan chopped salad.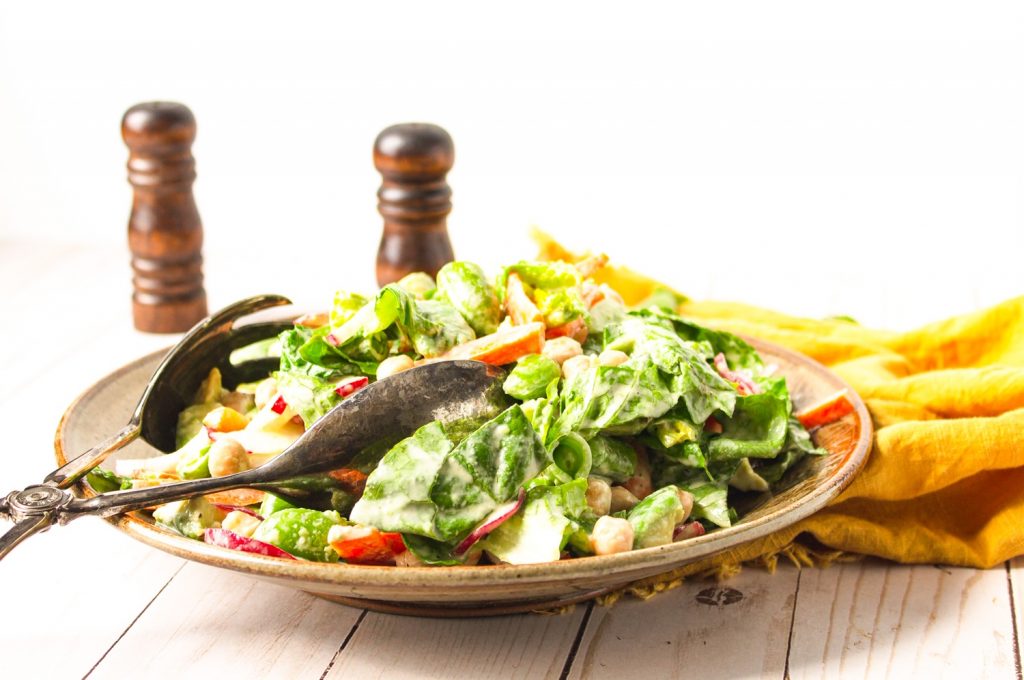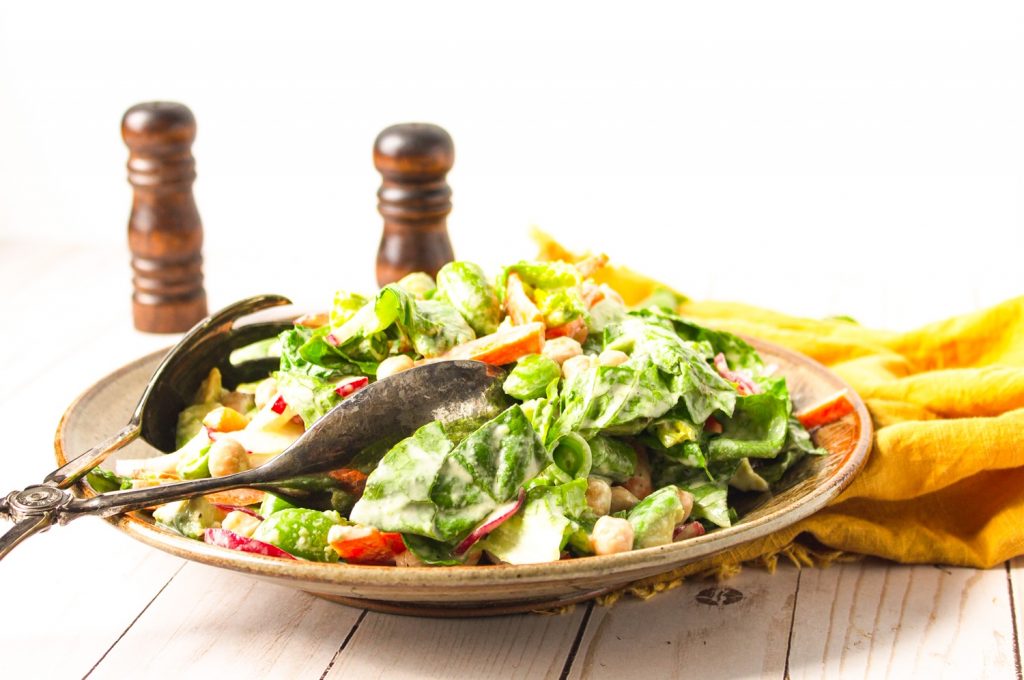 Next, you are going to wash your lettuce and cut it into thin strips. Then wash your radishes and cut them into circles or cubes, your preference.
I personally never peel carrots, so you can skip this step and simply chop them up. Remove the pit and cut your avocado into chunks.
When you wash the snap peas, you are going to want to remove the stem and string by gently breaking the end of the snap pea with the string. Then you will pull along the sides of it and cut the peas into 1 inch segments.
Finally, you will drain chickpeas and combine all ingredients into a large bowl.
Simply toss with dressing to combine. I recommend my Tahini Maple Dressing!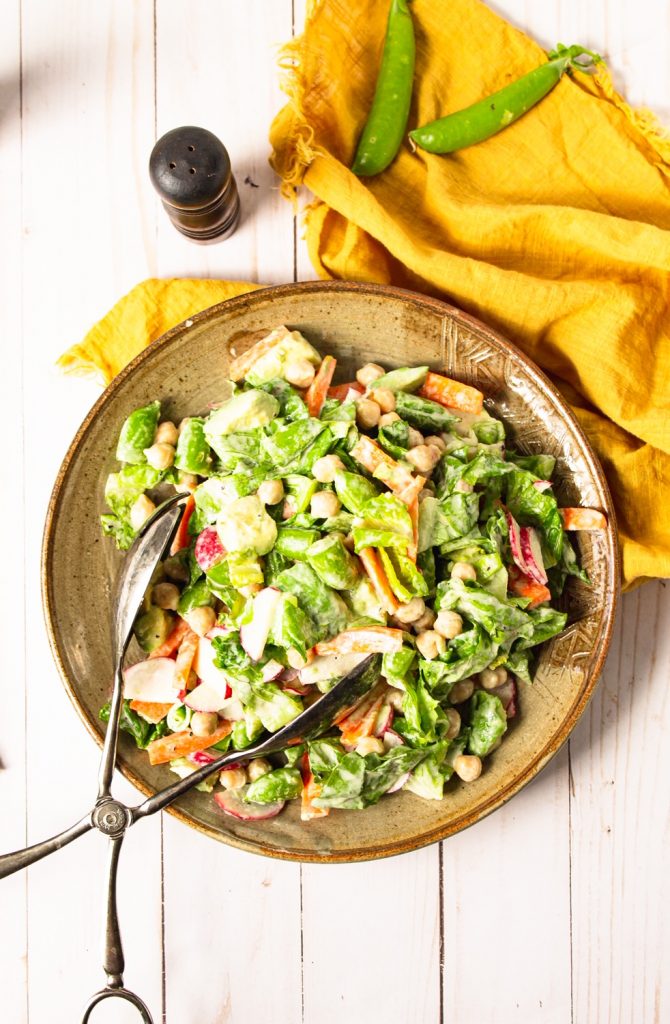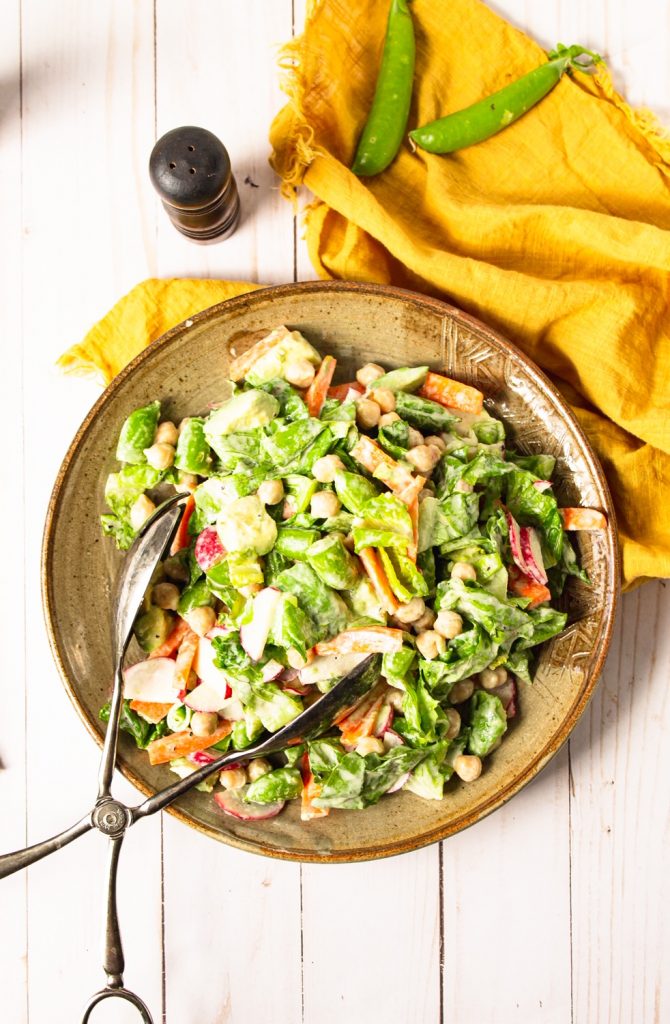 Storing The Vegan Chopped Salad
If you want to store the vegan chopped salad for meal prep or work, you are going to store the ingredients in separate containers. This means that all of the veggies including the lettuce will go in one container.
The salad dressing will go in another container.
Finally, you will want to avoid cutting the avocado until you are ready to eat. Avocados do not store well and if they sit out for any longer than 1-2 hours they will turn brown.
Avoid this by cutting the avocado right before you are ready to eat. When you are ready to eat, simply combine your two containers into one and stir together until dressing is evenly spread. Enjoy!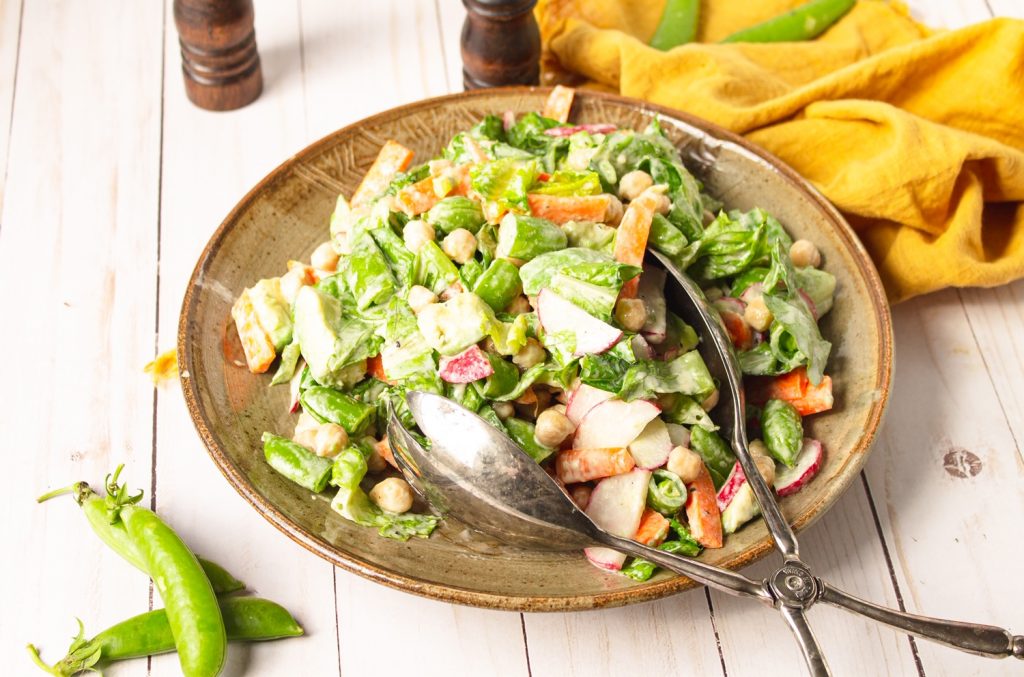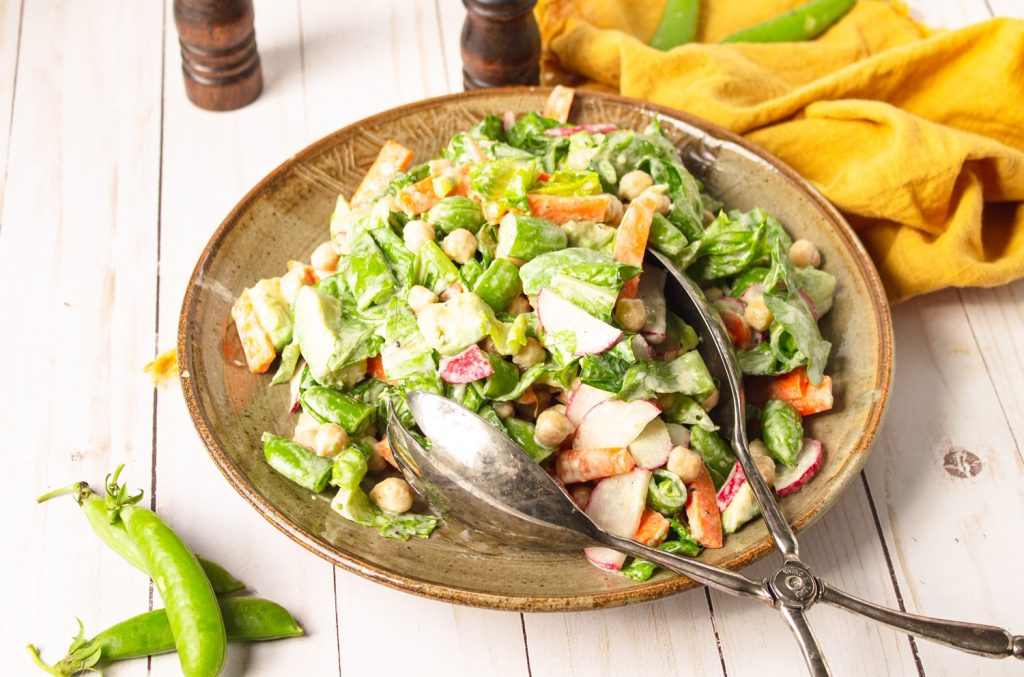 Yield: 2-3 As A Main | 4-5 As A Side
Easy Vegan Chopped Salad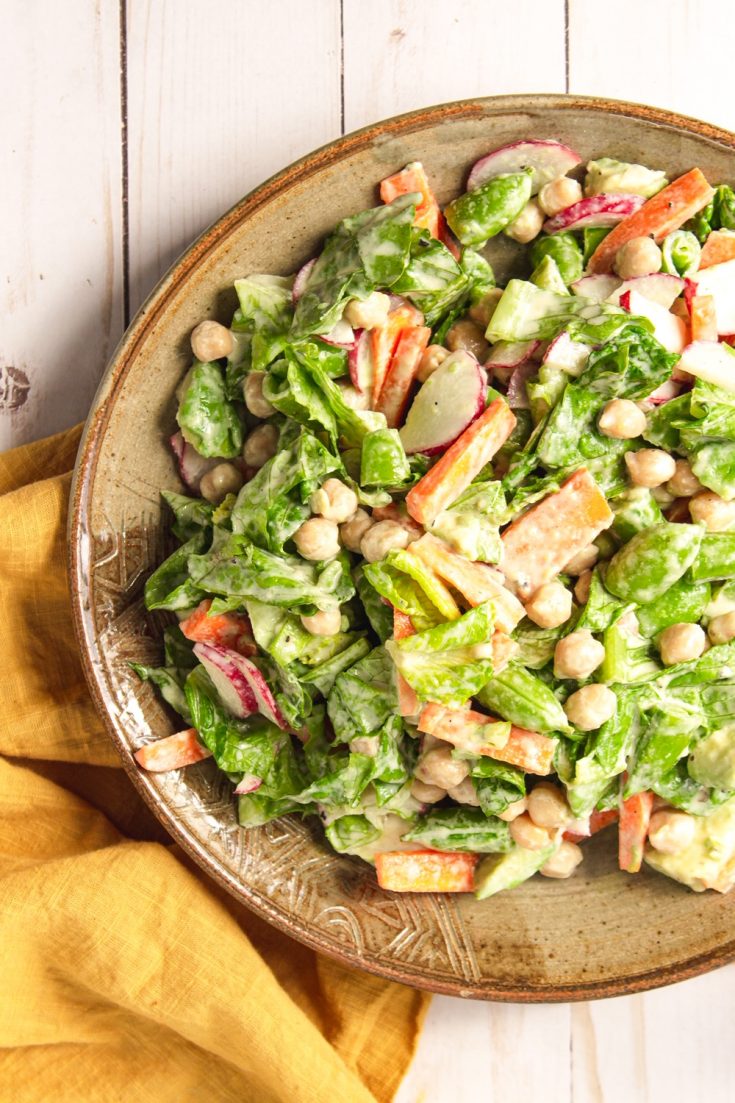 This creamy vegan chopped salad is filled with lots of fresh vegetables! Chickpeas add hearty protein to make this a filling but light side dish or main dish. This vegan chopped salad is also gluten-free and nut-free, yet this doesn't sacrifice flavor!
Ingredients
SALAD:
1 medium avocado
1.5 cup snap peas
1 small head romaine lettuce
3 small radishes
2 medium carrots
1 cup cooked chickpeas
DRESSING:
2 tbsp tahini
½ - 1 tbsp maple syrup
2 tbsp lemon juice
½ tsp salt
½ tsp ground pepper
1 tbsp olive oil
Instructions
Wash lettuce and drain thoroughly. Roughly chop into 1-inch strips across the leaf.
Wash radishes. Cut off stem and root. Cut into thick semi-circles.
Wash or peel carrots. Slice into sticks or slices.
Wash snap peas. Remove stem and strings by gently breaking the stem end about ¼ inch in and pulling along the sides of the snap pea. Cut peas into 1-inch segments.
Remove pits and cut avocado into 1-inch chunks.
If from a can, rinse chickpeas in fresh water. Dry chickpeas gently between paper towels. Set aside.
Combine all dressing ingredients to create my Tahini Maple Dressing Recipe, starting with the smaller amount of maple syrup, until everything is blended. Taste and add maple syrup as needed or desired.
Combine all prepared vegetables and chickpeas in a large bowl. Toss with dressing until combined.
Eat immediately. Avocado does not store well so do not let this vegan chopped salad sit out for long!
Notes
If you want to store this vegan chopped salad or meal prep with it, simply store the salad dressing, avocado, and the rest of the veggies in their own containers in the fridge.
When it is time to eat, chop up the avocado and combine all ingredients until they are coated with dressing.