Is there really anything better than vegan beer cheese dip? I will wait!
This is the perfect recipe to dip my Vegan Soft Pretzels in and I make it every time!
The key to making good vegan knockoffs of popular non vegan food is to use the same seasonings and the same spices and the same process!
But instead of regular cheese, we just use vegan ingredients instead!
So super simple and the perfect dip for any time.
This recipe for vegan beer cheese dip is nut-free so that all can enjoy.
If you are trying to make this a gluten-free beer cheese dip, you can simply substitute in your favorite gluten-free flour instead of regular flour and it works perfectly fine and tastes fantastic and delicious all the same.
Since there are only a few tablespoons of flour, it doesn't really matter what type, that is up to you! It is just being used as a thickening agent.
I hope you enjoy making and dipping everything into this vegan beer cheese dip as much as I do!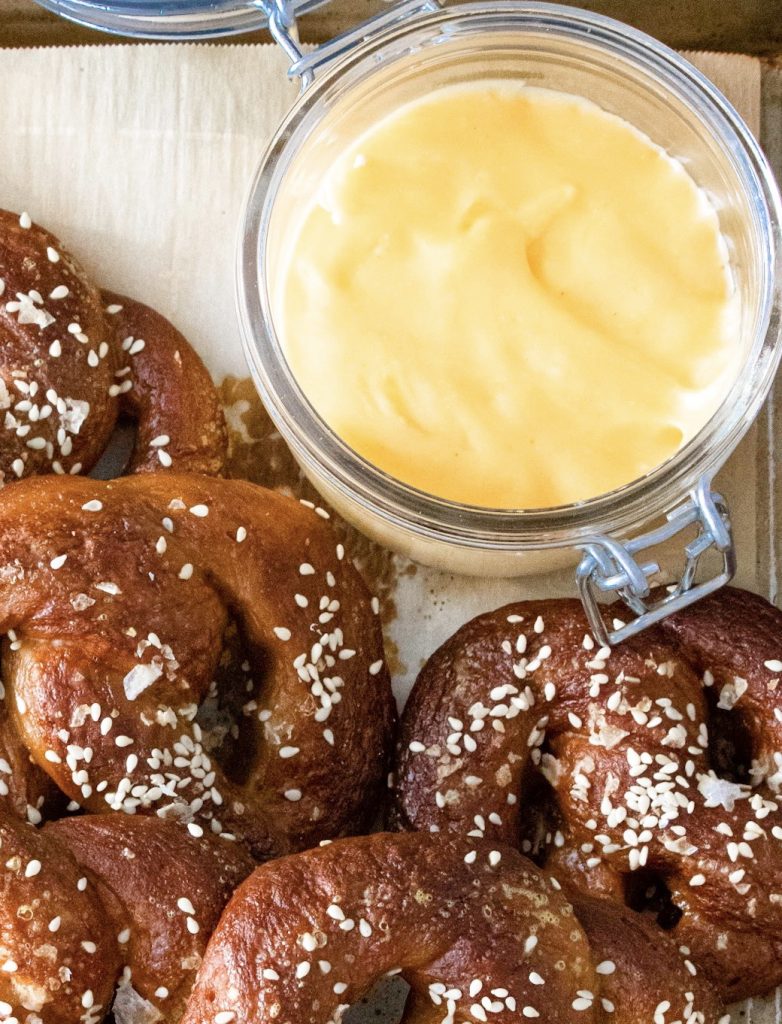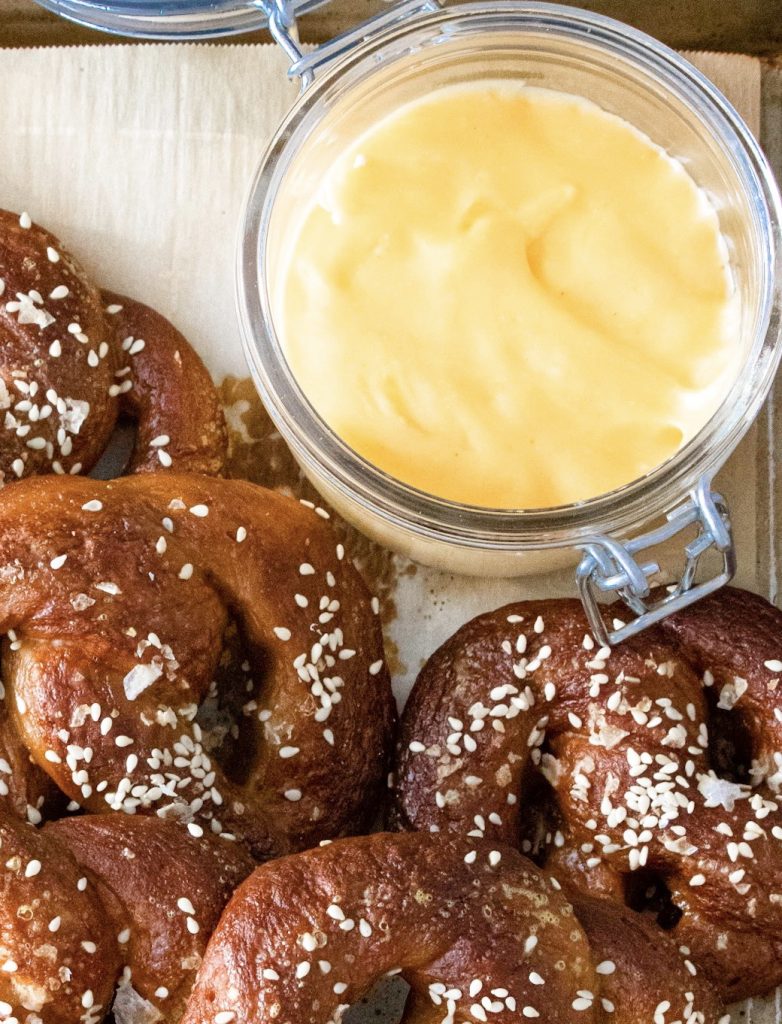 What Type Of Beer Works Best For Vegan Beer Cheese Dip?
Believe it not, vegan beer cheese tastes pretty good with any kind of beer, it all depends on your personal preference!
I would avoid using fruity or flavored beers as it will change the taste of the beer and will make the cheese dip taste strange.
Pale ales or wheat beers provide a more mild flavor. If you want to make this vegan beer cheese dip for someone who wants to try it but isn't a huge beer drinker, then this would be your best bet.
If you want a strong and robust flavor, you will want to choose a lager or German-style beer for a deeper taste.
Whatever you choose, you really can't go wrong, again, unless you choose a flavored beer which I would not suggest!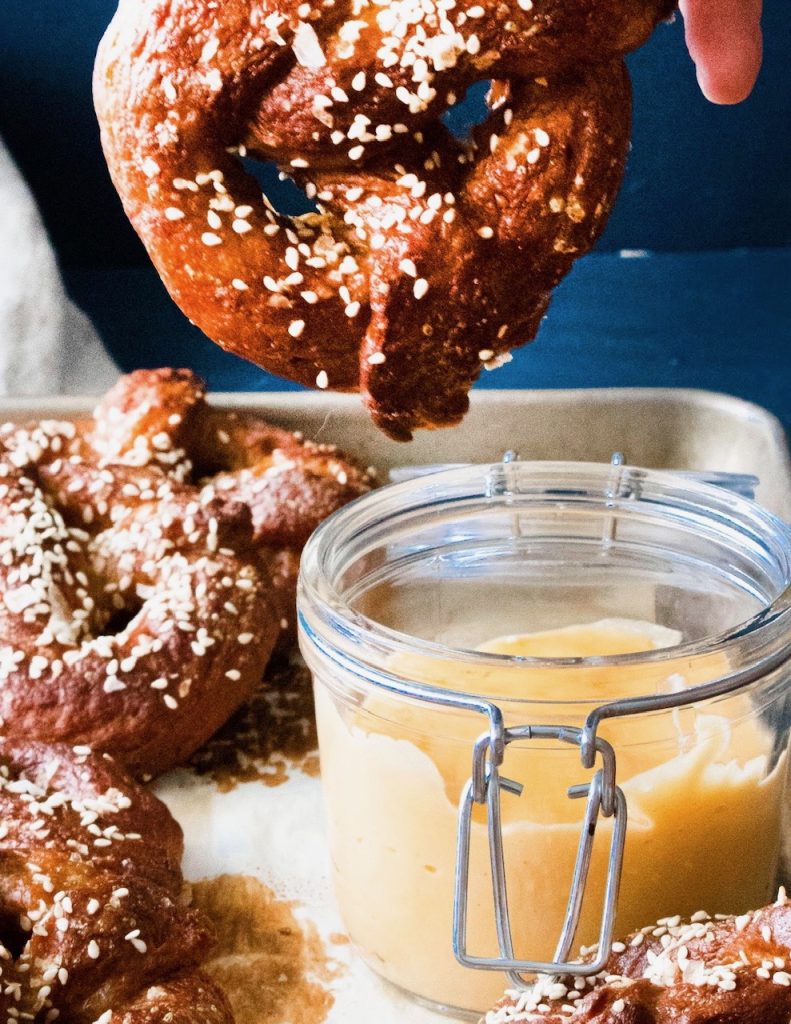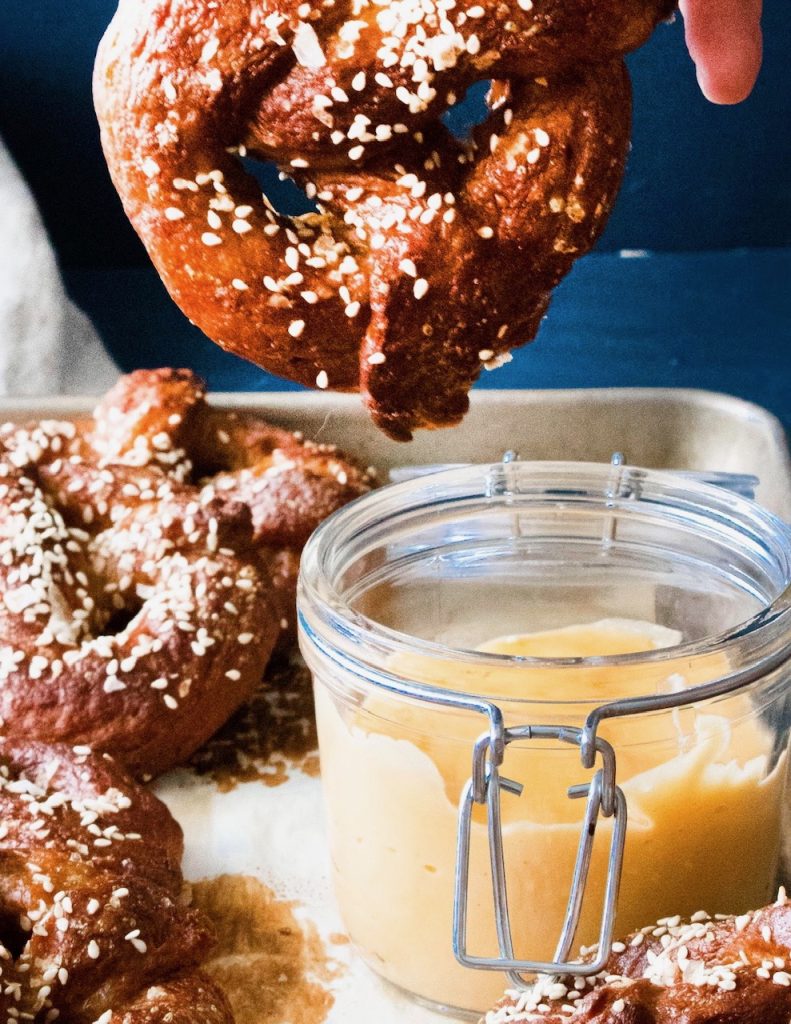 How To Make Vegan Beer Cheese Dip
Making this vegan beer cheese dip is sinfully easy and only takes a few minutes!
The ingredients are so tasty and delicious and render a very nice and smooth finished product.
As for vegan cheese, I prefer Violife as it melts wonderfully, but you can use whatever vegan cheese you have on hand.
Keep in mind that vegan cheese takes a little longer to melt than regular cheese so just be patient.
First, you will melt your vegan butter in a saucepan over medium heat. Then add in your flour [any kind] and whisk together until it forms a white paste. Whisk for about one minute.
Next, add the beer and thick non-dairy milk and whisk until combined and the mixture thickens. This usually takes about another minute.
Add the shredded vegan cheese and stir until melted and incorporated with the milk and beer mixture. This usually takes around 3-5 minutes.
Then, add in the remaining spices and ingredients such as the mustard and Worcestershire sauce.
Remove the vegan beer cheese from the heat and pour into a serving container or eat it straight from the pot if you really want to, I won't judge you.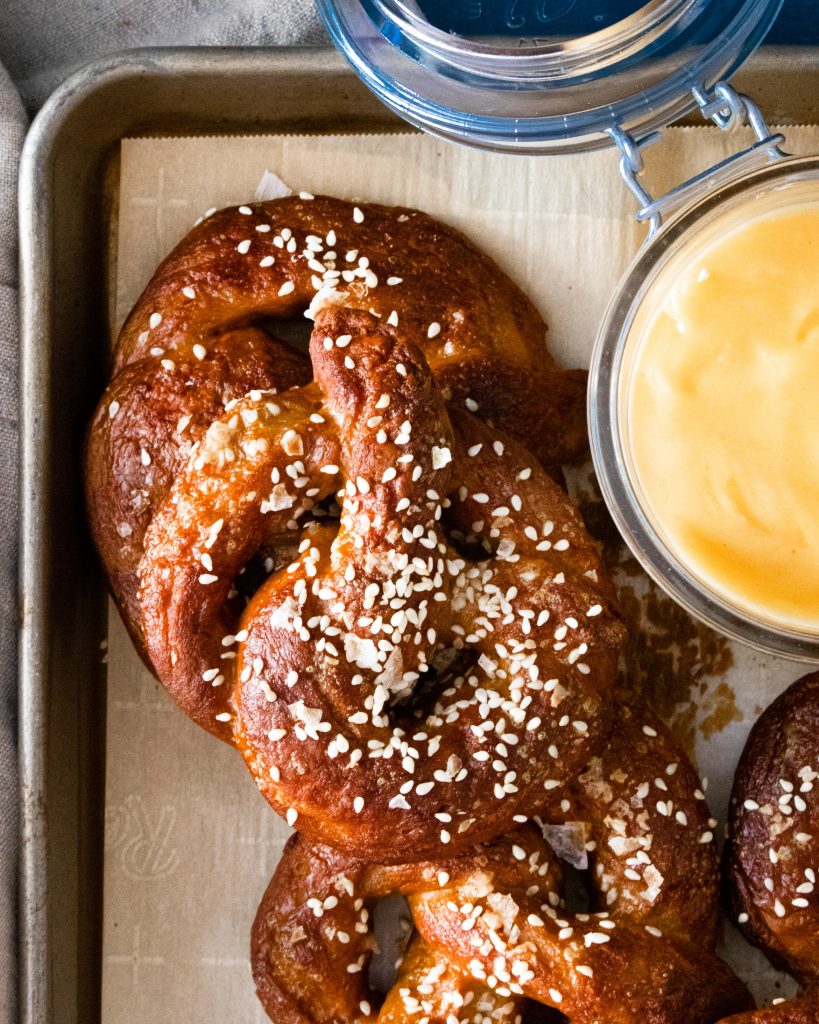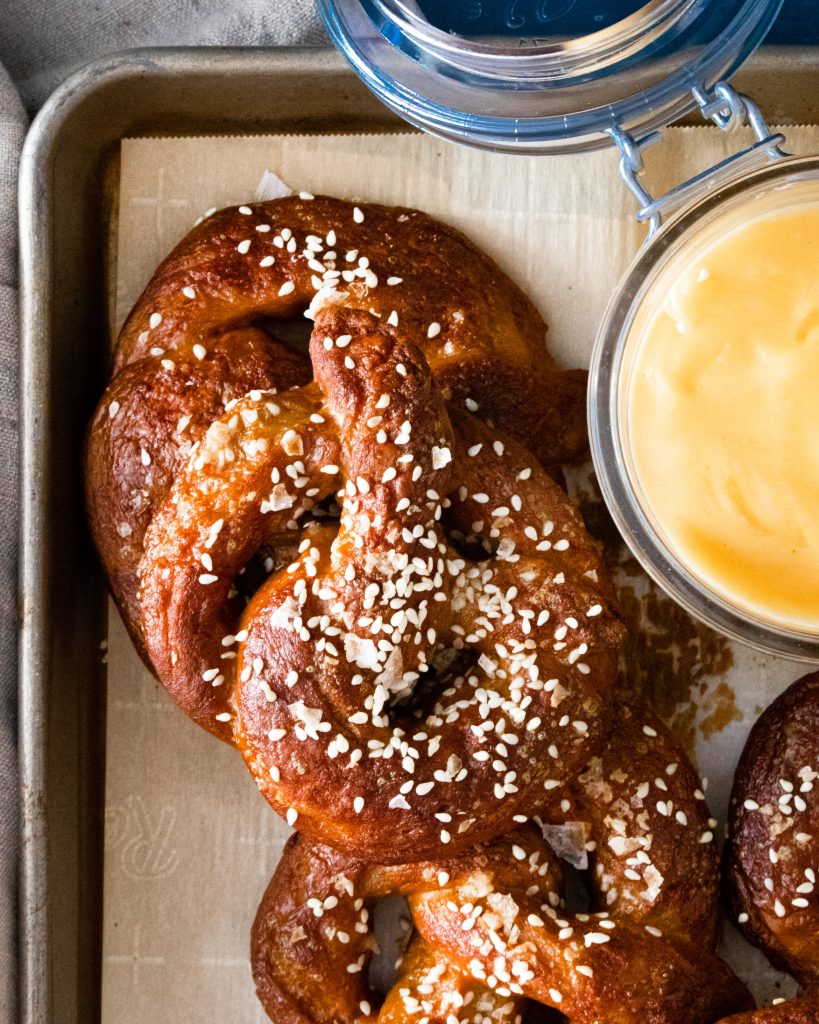 What To Serve With Vegan Beer Cheese
Of course the obvious answer is anything! Because, how can you go wrong?
My favorite thing to serve with this recipe is my Vegan Soft Pretzels! You can do them in pretzel nuggets or large soft pretzels depending on your preference!
You can also serve with:
Celery sticks
Pretzel rods
Pita chips
Crusty bread
Pretzel Bread
Cauliflower
Fresh broccoli
Crackers
The best thing to serve with the vegan beer cheese is anything crusty and crunchy for best results! You really can go all out and eat whatever you want with it!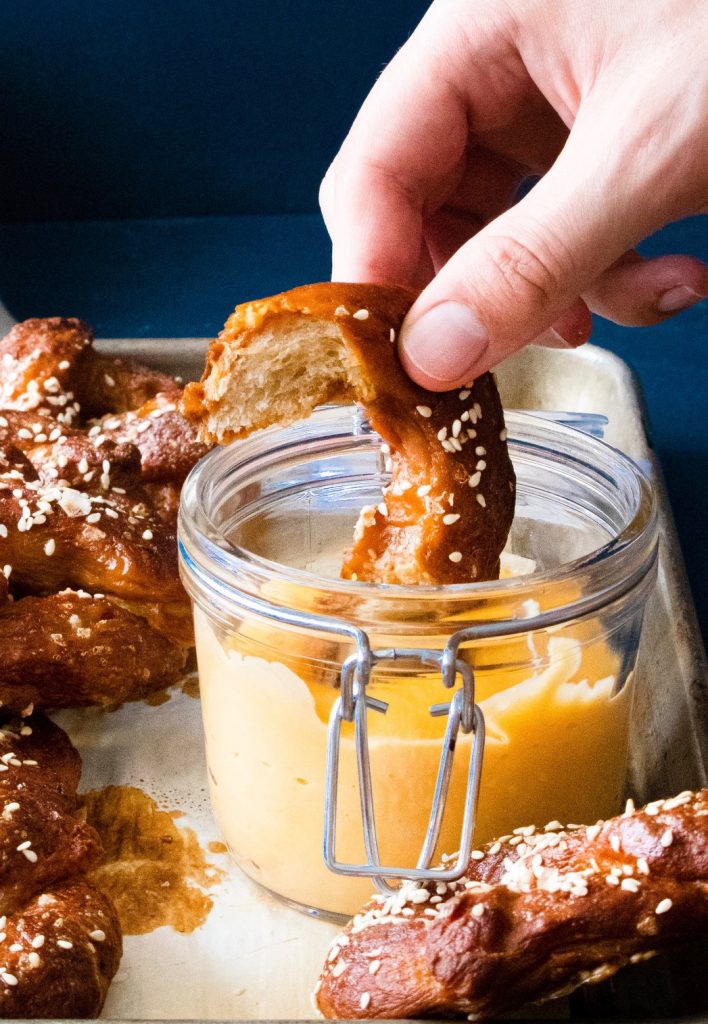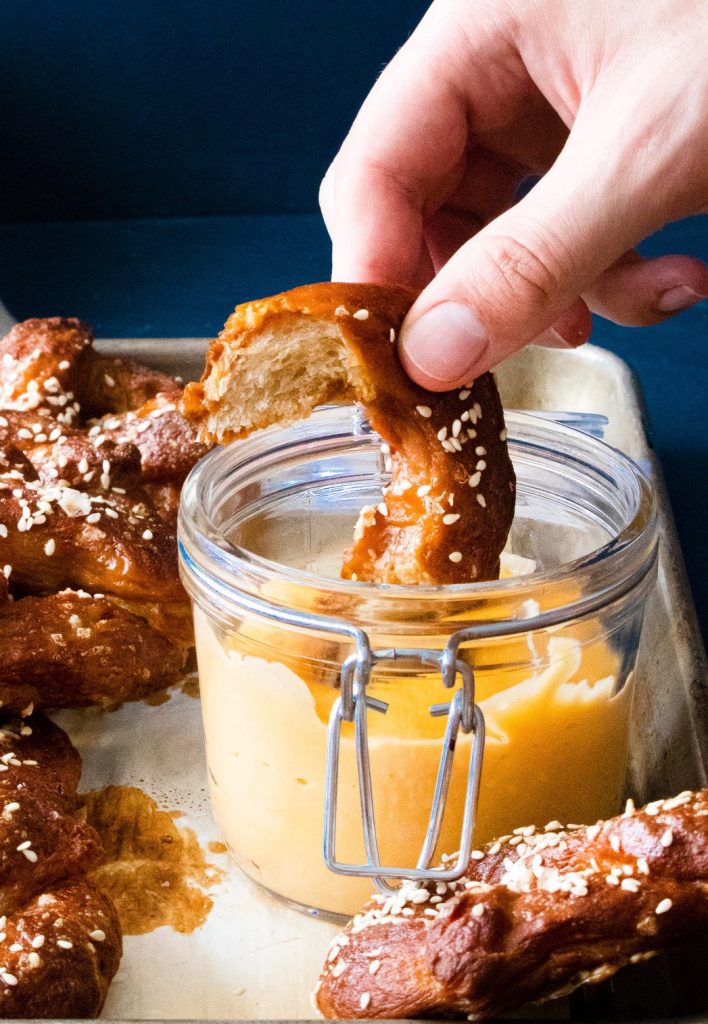 Did You Try This Recipe?
If so, I would love to keep in touch! I enjoy seeing photos and comments about the recipes that you make! You can follow me on Instagram and I will repost your goodies in my stories and comment on it too! Just tag me at @wowitsveggie and hashtag #wowitsveggie. I can't wait to see what you make!
Yield: 1.5 cups
Easy Vegan Beer Cheese Dip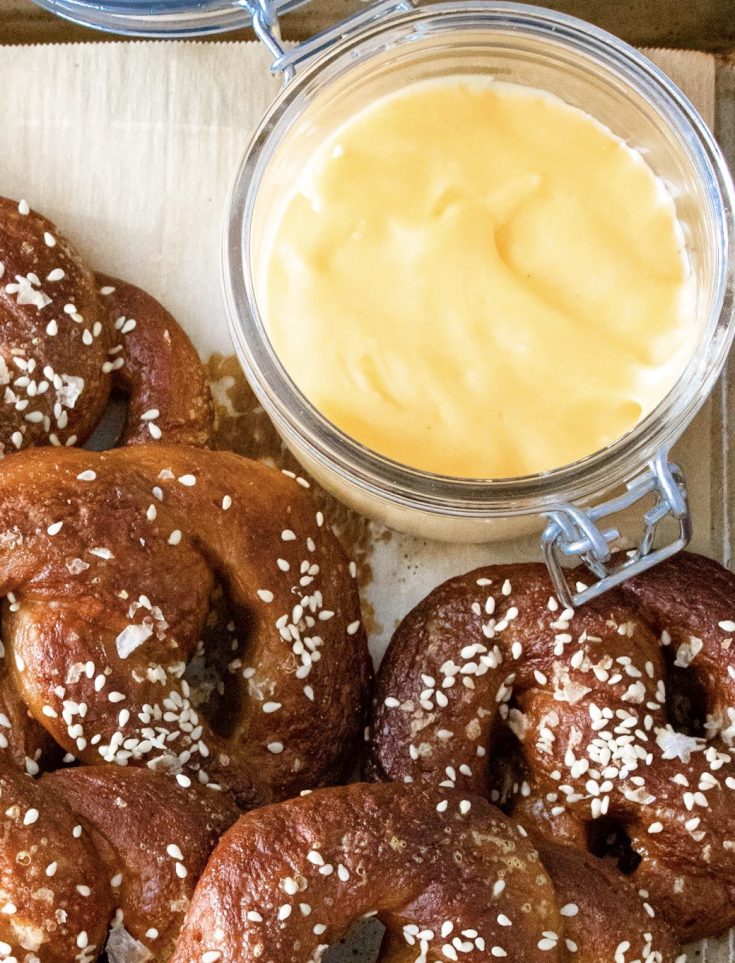 This vegan beer cheese dip is so flavorful and delicious! It is super easy to make and you can dip pretty much anything into it and I promise I won't judge. It is nut-free and can be gluten-free when using gluten-free flour!
Ingredients
2 tablespoons butter
2 tablespoons flour
1/2 cup beer
1/2 cup thick non-dairy milk
8 ounces shredded cheddar vegan cheese
1/2 tsp garlic powder
1/2 tsp dijon mustard
1/2 tsp vegan Worcestershire sauce
1/4 tsp smoked paprika
Instructions
Melt the Vegan Butter in a saucepan over high heat. Add in the flour and whisk for one minute until it is clumpy and like paste.
Next, slowly add the beer and non-dairy milk until it starts to bubble and thicken.
Once the mixture has thickened enough to coat the back of a spoon and not run off, add the vegan cheese and the rest of the ingredients. Stir until the vegan cheese is melted, about 5 minutes. Keep in mind that vegan cheese takes longer to melt than regular cheese so it may take a little longer than 5 minutes depending on your brand of vegan cheese.
Serve warm and dip in your favorite snacks!