This is the best and easiest vegan baked beans recipe that you will ever try!
The smoky-meets-sweet flavor of vegan baked beans is a taste that you simply shouldn't pass up!
Beans are essential to a vegan diet and you should have 2 servings daily, or so they say, so this recipe for vegan baked beans is an easy and tasty way to get in your beans!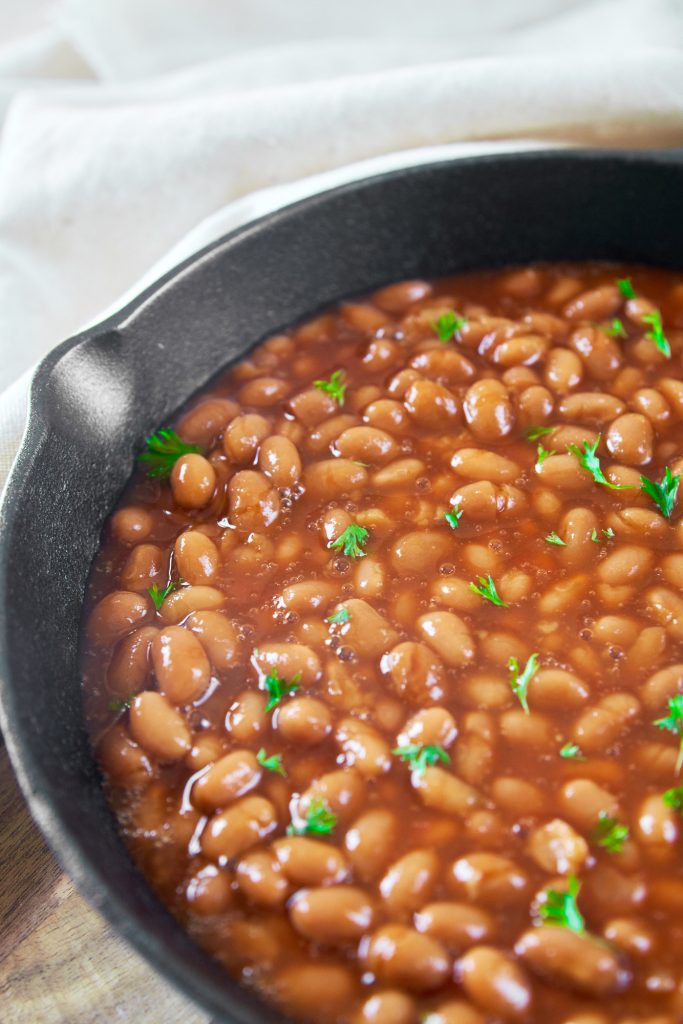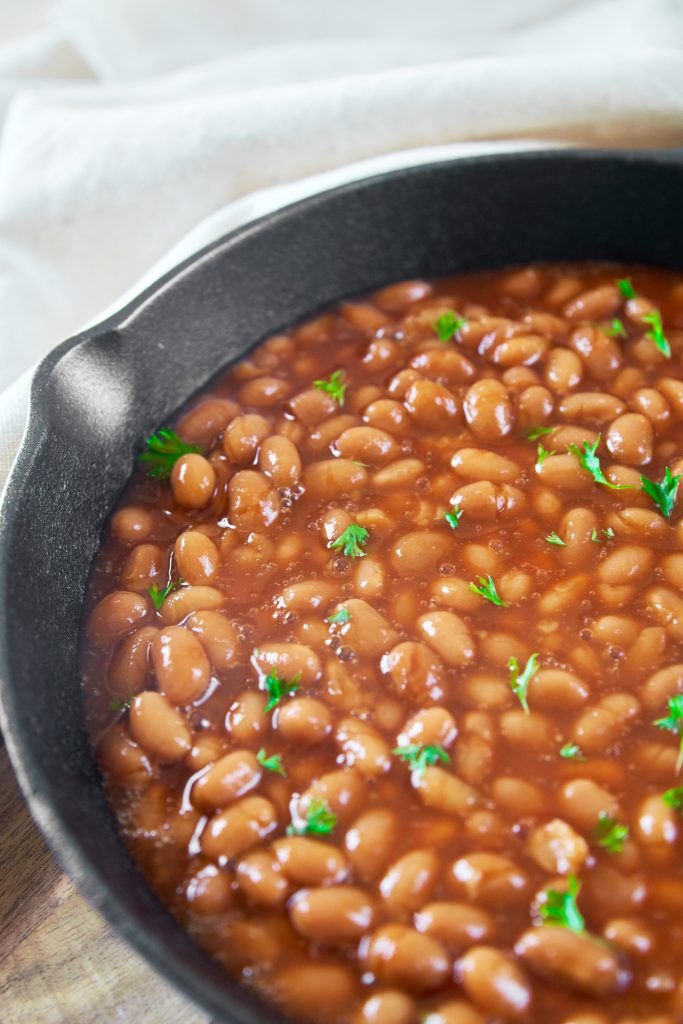 The key to making vegan versions of popular non-vegan food is to use the same spices and seasonings that are traditionally used.
Often, we don't crave the meat, we crave the flavors which are made by blending certain spices together!
As a result, this easy vegan baked beans recipe is spiced to perfection so that you have a really tasty version that uses no animal products at all!
The main thing that I love about this vegan baked beans recipe is that it only uses one pot to cook up!
Better yet, it doesn't even use a pot or a bowl, you can prepare it right in the baking dish that you are going to use which saves on time and washing!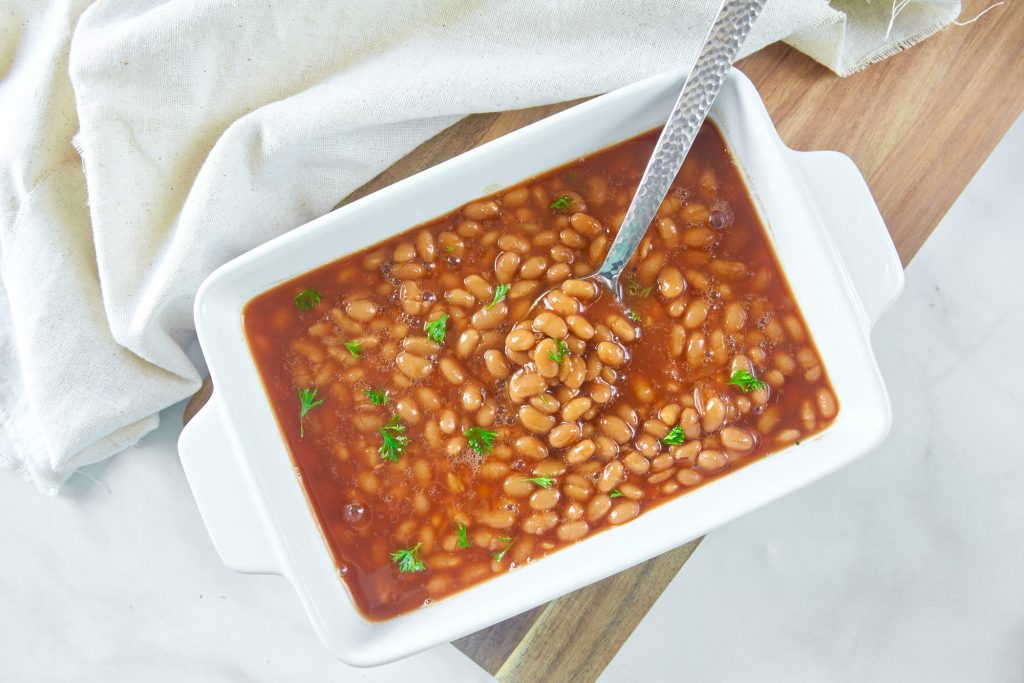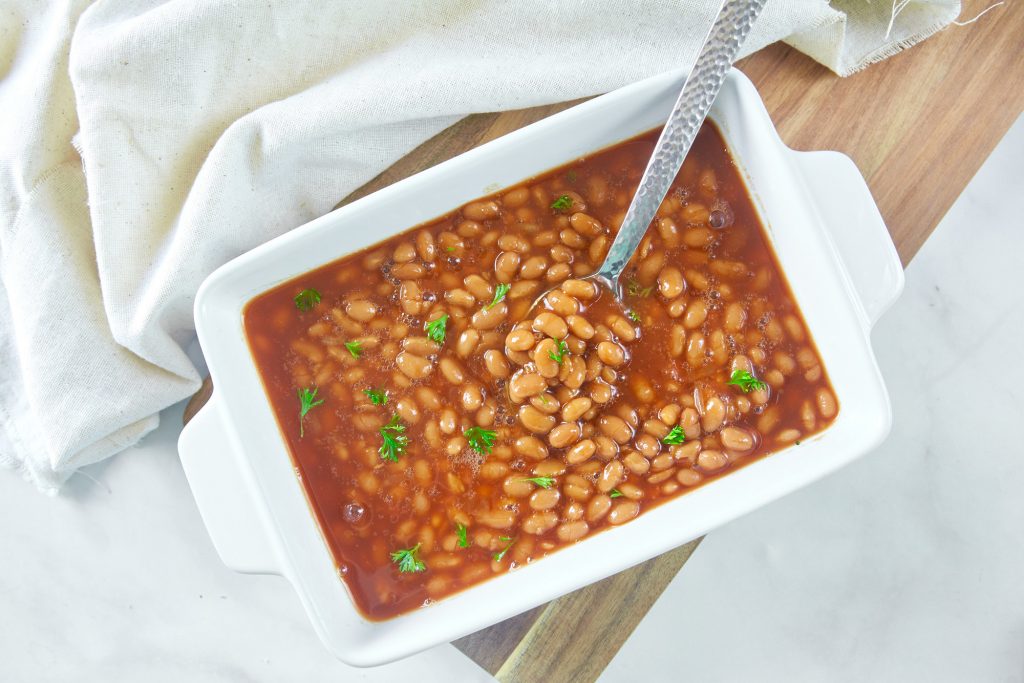 Making your own homemade vegan baked beans is truly easy and this recipe is perfect for beginners.
My Mom has been vegan for decades but grew up in Ohio in the 60's eating lots of meat. Baked beans were her favorite, and she says that these taste just like the kind she remembers growing up!
Don't skimp out on adding sweetener to this recipe as a smoky-yet-sweet flavor is the hallmark of making baked beans and the vegan version should be no different!
I hope you enjoy making this quick and easy vegan baked beans recipe as much as I do! Serve it up as a side at your next BBQ or dinner and watch it fly out of the baking dish!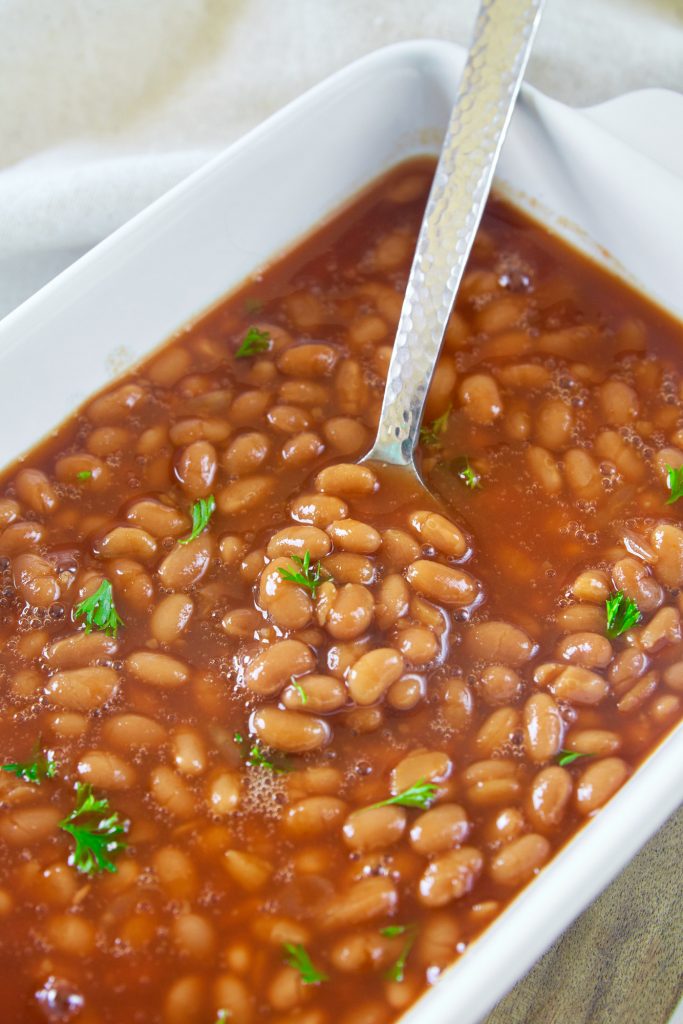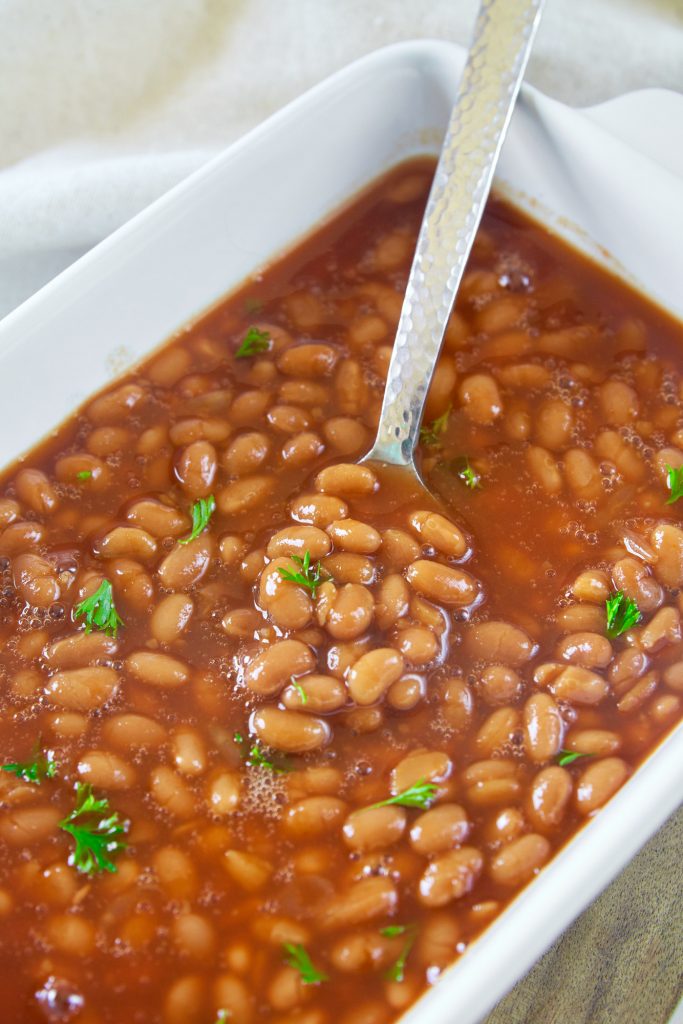 Are Baked Beans Vegan?
As you may have guessed by now, traditional baked beans are not vegan. They aren't even vegetarian.
Traditional baked beans use lots of animal products such as bacon, bacon fat, and pork.
You can buy vegetarian canned baked beans, but sometimes these are not vegan either for various reasons!
In addition, canned vegan baked beans come with a ton of sugar and added preservatives and ingredients that you won't have when making the homemade version.
This recipe allows you to leave off all of the bad stuff and only enjoy the tasty good stuff that baked beans should contain!
It also allows you to adjust the sweet and smoky flavors to your taste depending on what you prefer!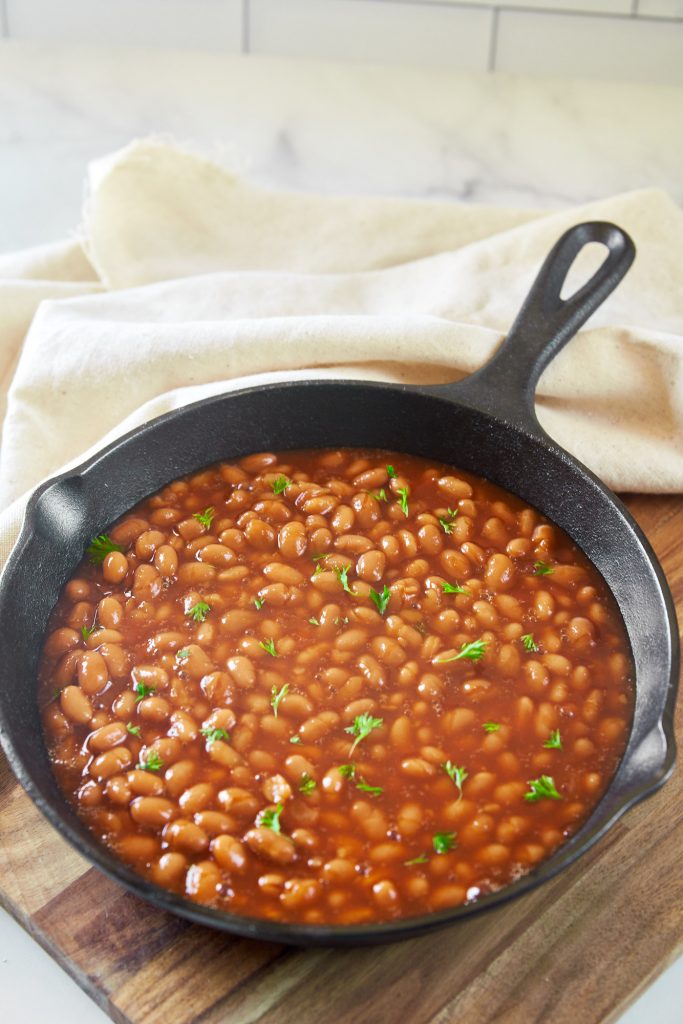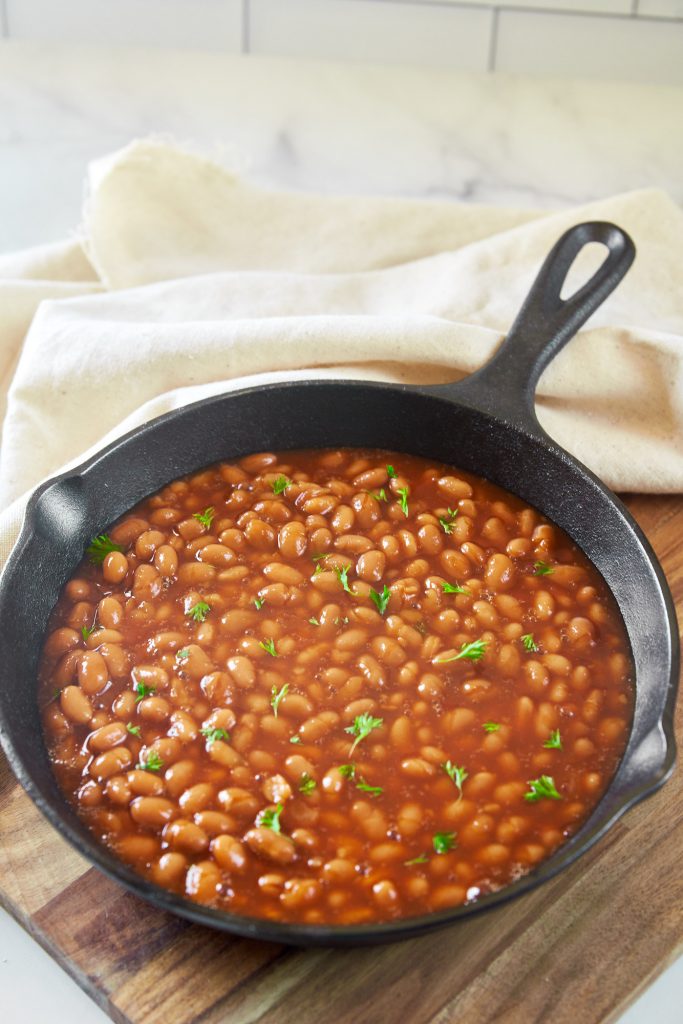 What Kind Of Beans To Use
Again, it is always my goal to create vegan recipes that are super easy for anyone to make with whatever they have on hand!
This vegan baked beans recipe is no different!
First, you can choose to use cooked or canned beans, as long as you use 2 cups of them.
Some people prefer to cook their own beans, and I love doing that when I have the time.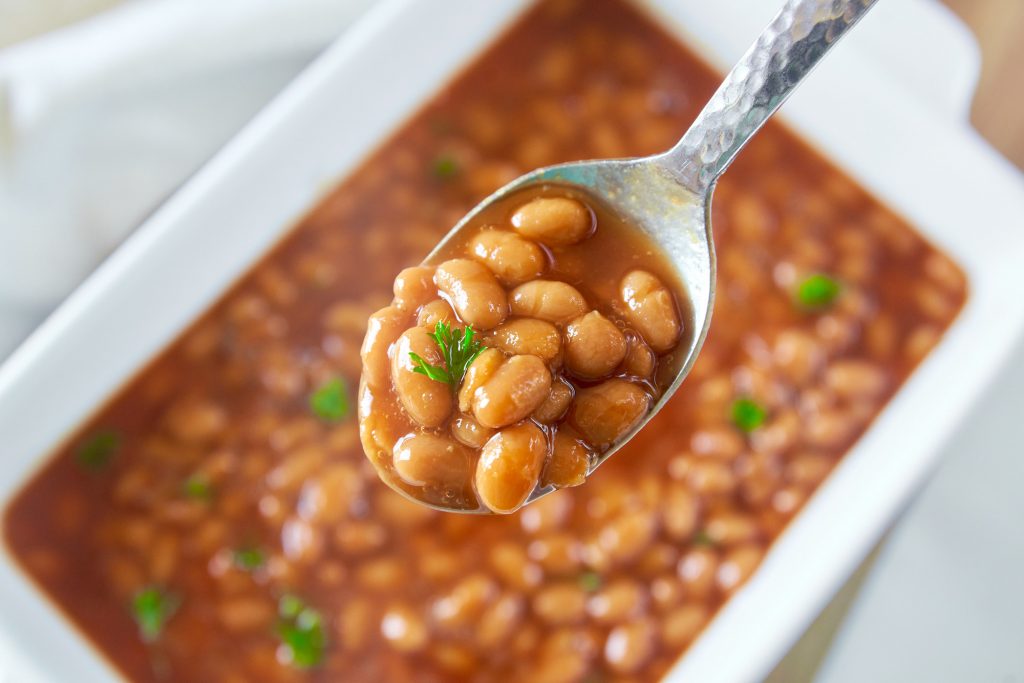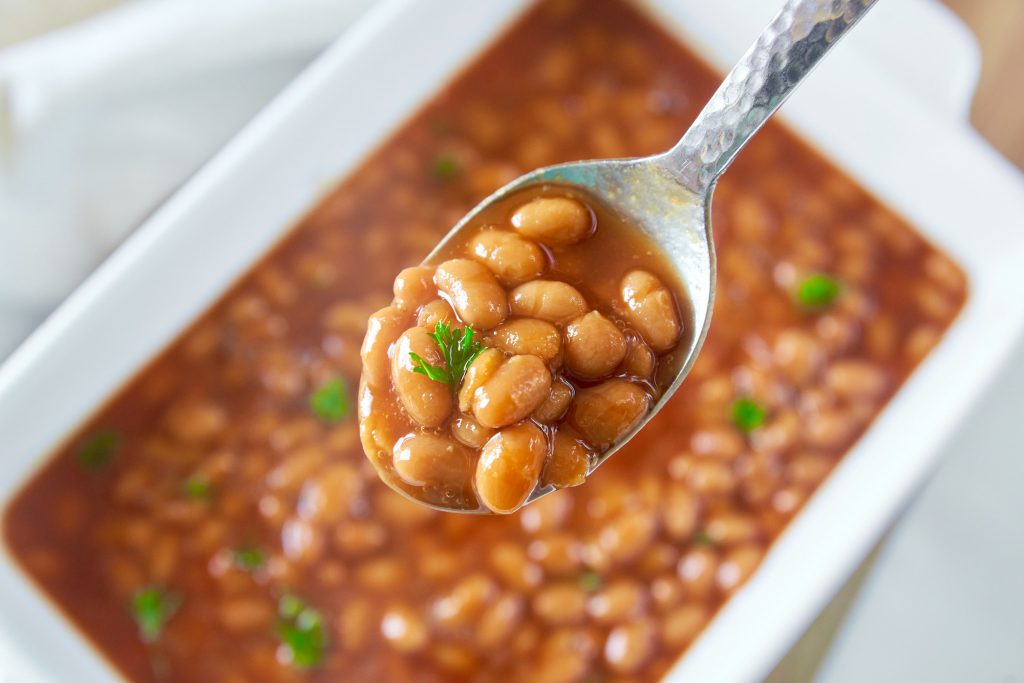 However, you can also use canned beans that are well drained for this recipe too when you are in a pinch and the vegan baked beans come out perfectly fine!
Now for the type of beans. Would you trust me if I said pretty much any kind of bean works?
I love making this recipe with pinto beans, kidney beans, navy beans, cannellini beans or even soy beans!
Play it up! These vegan baked beans still taste amazing whether you choose to use canned or homemade or a variety of types of beans!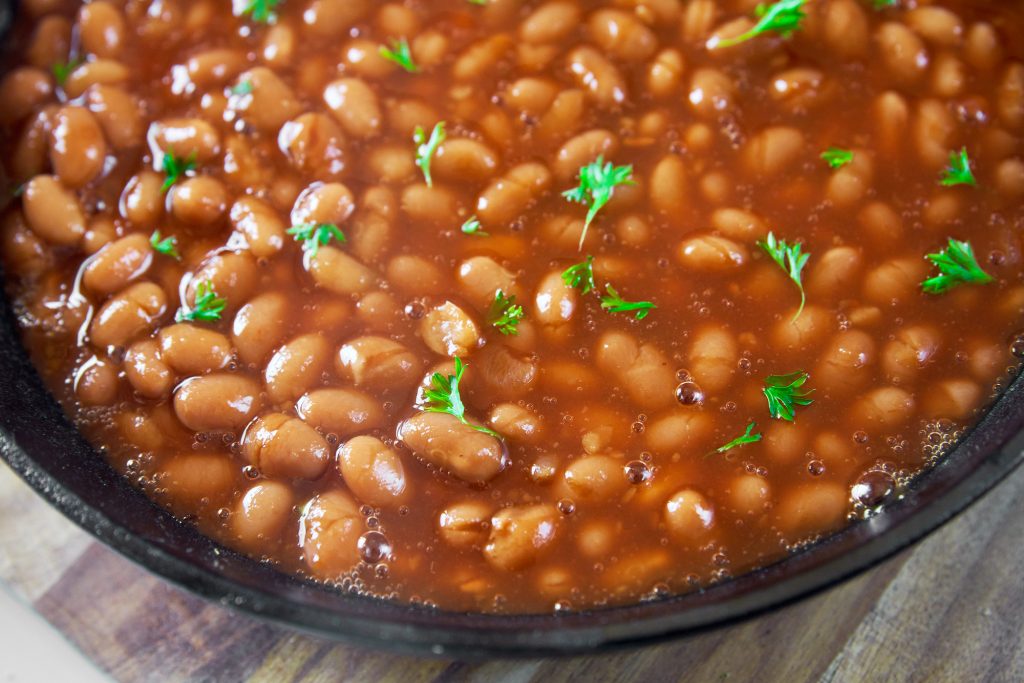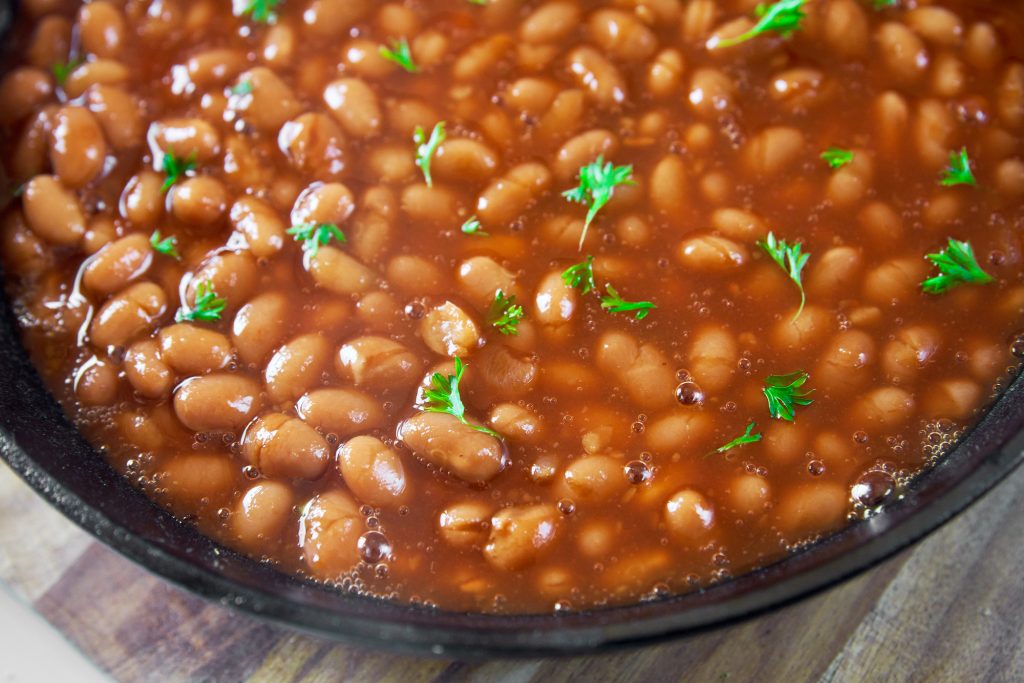 How To Make Vegan Baked Beans
Making homemade vegan baked beans is truly so easy you could do it when you are in a rush or after work and it will still come out good!
Getting this recipe together takes only as long as it takes you to gather the ingredients and then it is smooth sailing from there!
All you have to do is preheat your oven to 350F and dump all of the ingredients in a large baking dish and stir them together.
This is a super easy way to only use one baking dish to make this recipe.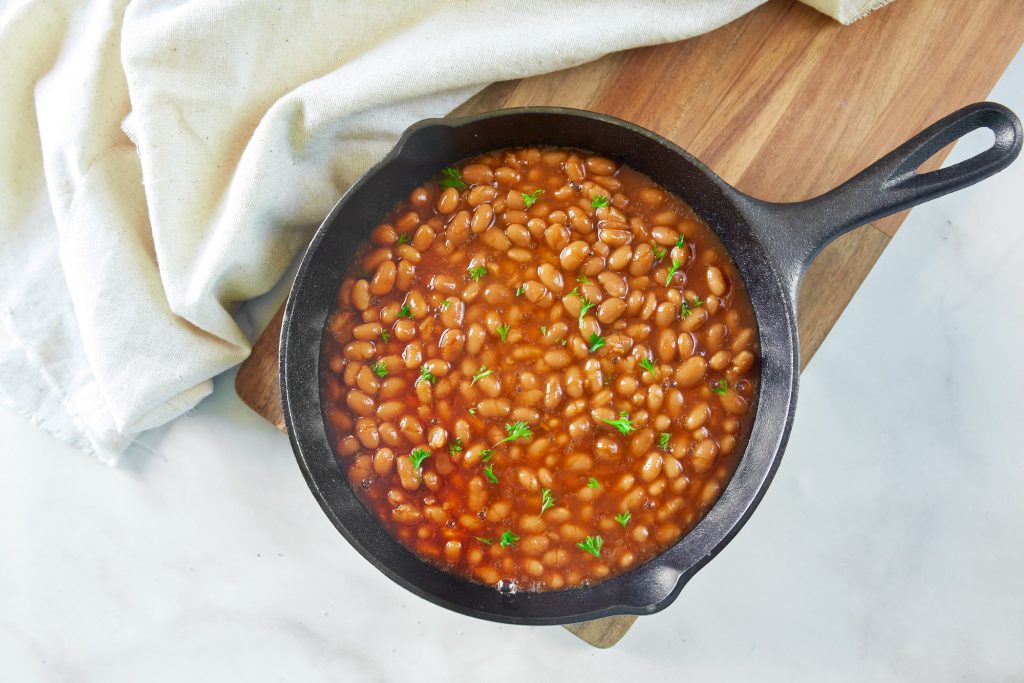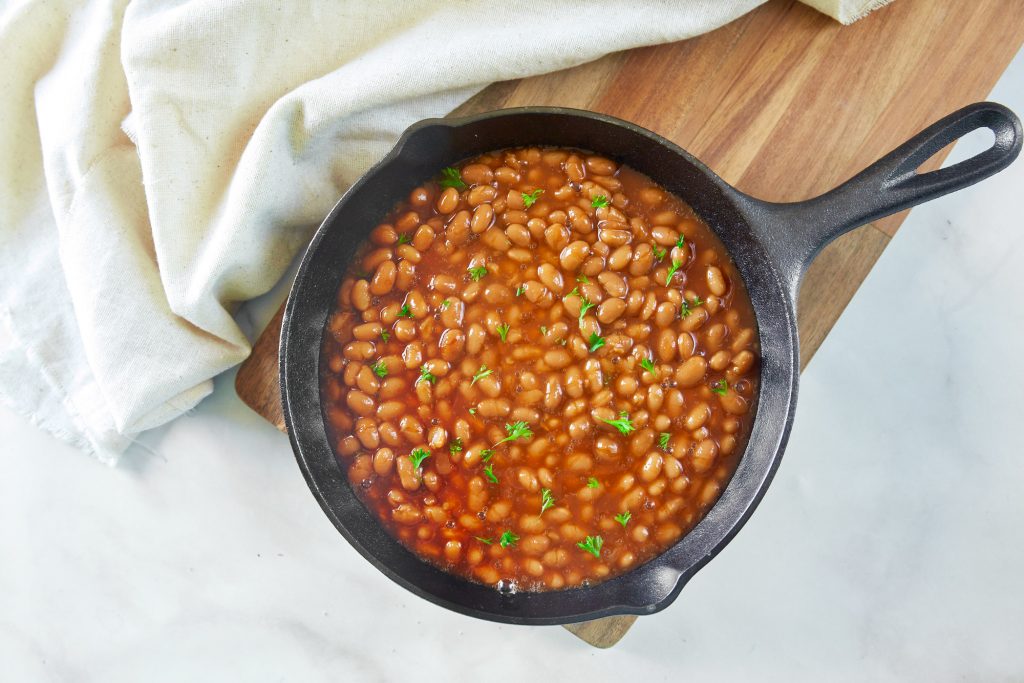 If you prefer, you can stir the ingredients together in a bowl and then transfer it to the baking dish, but that depends on if you want to wash two bowls!
This recipe calls for vegetable broth or water and you can adjust this to your taste depending on how you like your baked beans to come out.
For the photos for this recipe, I used more stock as I prefer a more soupy vegan baked beans recipe, but if you prefer a more dry recipe, use less stock!
You can completely customize this recipe to your personal preference and taste depending on how you like your beans, soupy or drier!
Then, just bake them uncovered in the oven for 40 minutes and you are ready to eat!
This recipe for healthy baked beans serves between 2-4 so it is perfect to make in a small batch when you are feeling hungry.
If you are making it for a large crowd, I suggest doubling or tripling the recipe!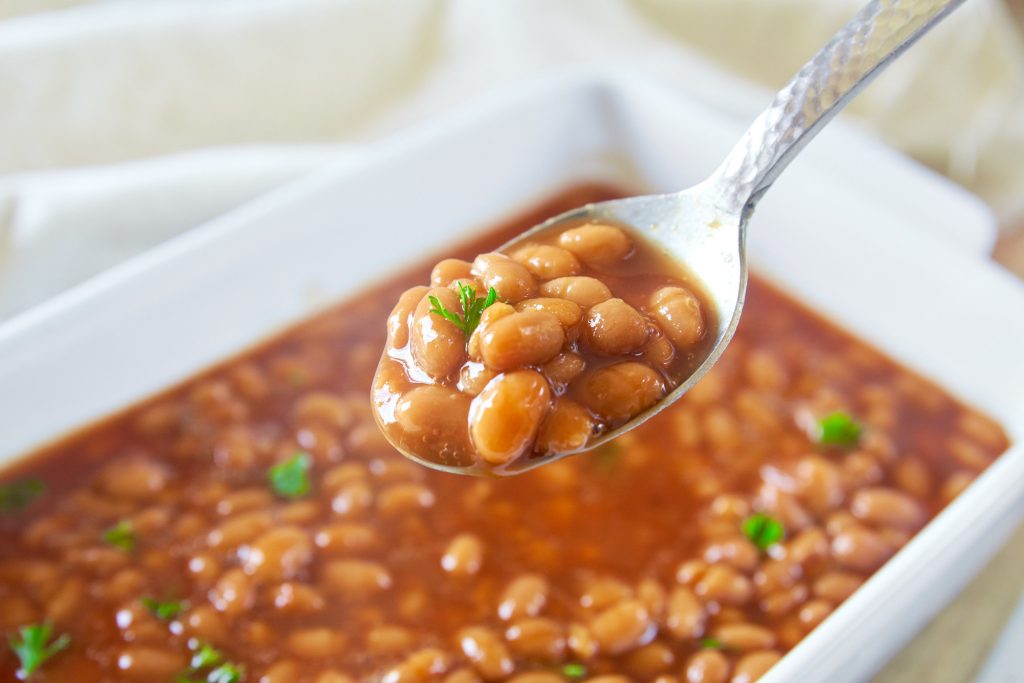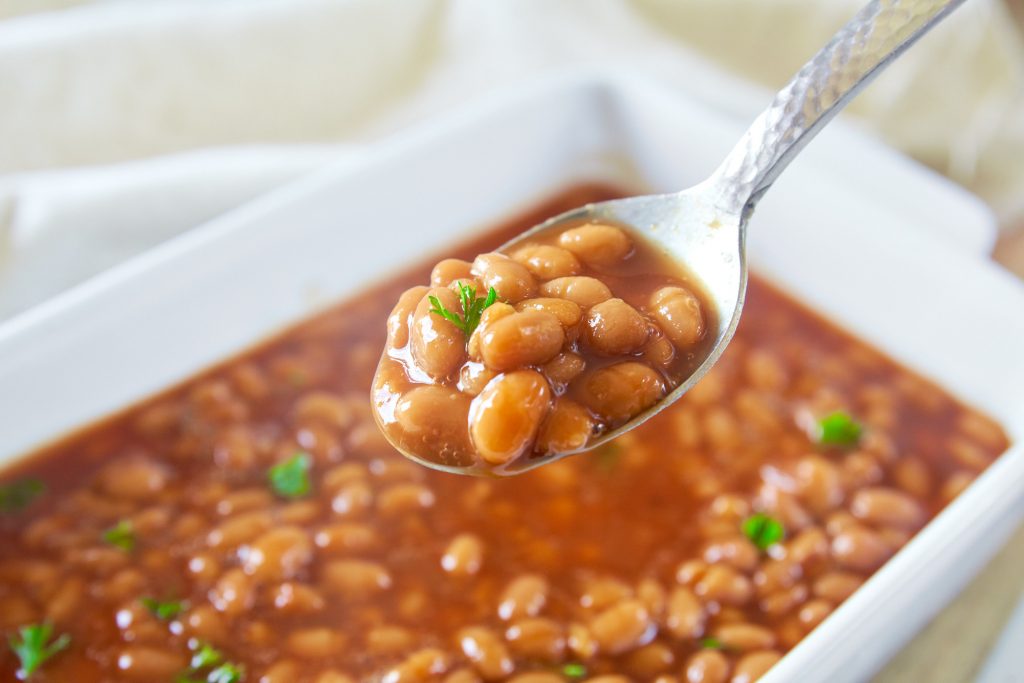 How To Serve Vegan Baked Beans
As vegans, we are not usually eating baked beans as much as non-vegans. That means we may not know many ways to use them other than just a regular side.
Let me show you the ways! There are a huge variety of ways that you can use this vegan baked beans recipe to incorporate them into your vegan kitchen!
Add them to your vegan breakfast scramble
Use them in any soup that calls for beans
Add them to any Mexican dish for a smoky twist
Make baked bean veggie patties with them
Top your vegan pizza with them
Pour them over pasta
Use crusty bread to scoop them up
Mix them with Vegan Mac And Cheese
Pour them over toast
As you can see, there are many ways to use vegan baked beans in your kitchen that you may not have thought of! Feel free to be creative!
If you want to use this recipe over pasta, I suggest making it more soupy by adding more liquid instead of drier so that it spreads nicely!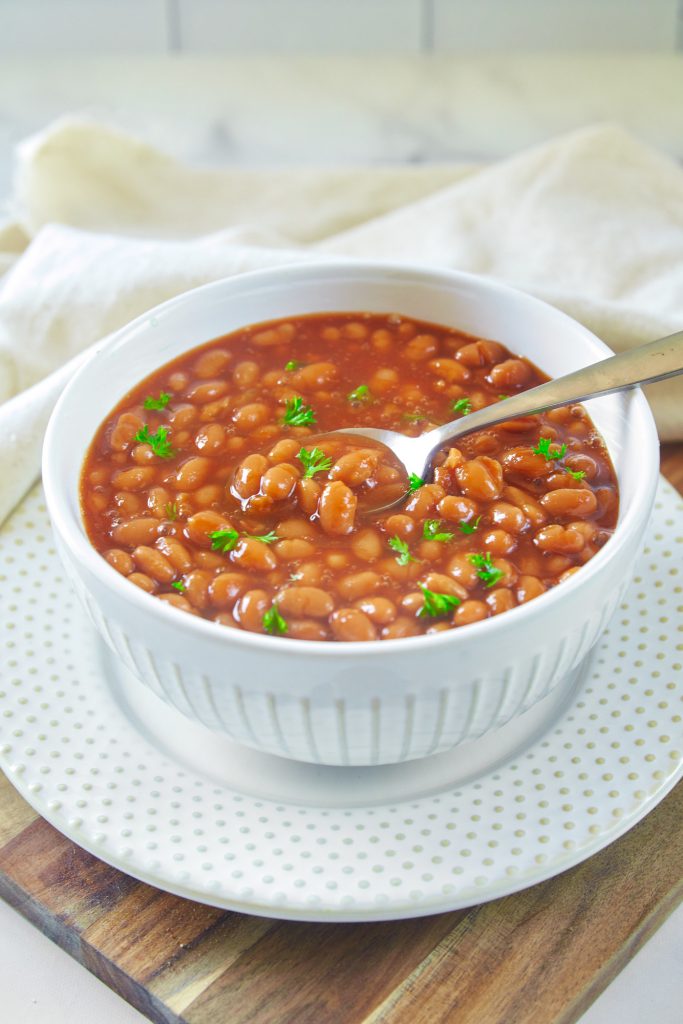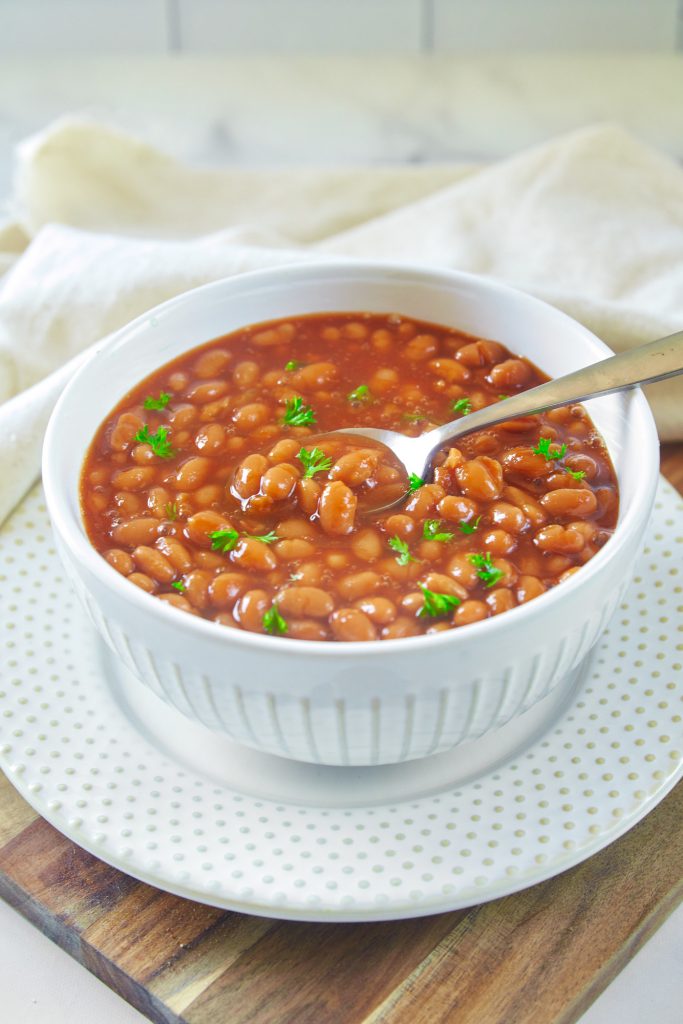 How To Store This Vegan Baked Beans Recipe
The good thing about this vegan baked beans recipe is that it stores so well!
If you have an event coming up, I recommend doubling or tripling this recipe and then saving it for later when you need it.
The baked beans store well in the fridge in an air-tight container for 3-4 days.
They also freeze well in a freezer-safe container. Make sure to let them defrost overnight if you want to use them.
To reheat from the fridge or freezer, you want to make sure to pour the beans into a pot on the stove and warm on medium heat until they are hot throughout.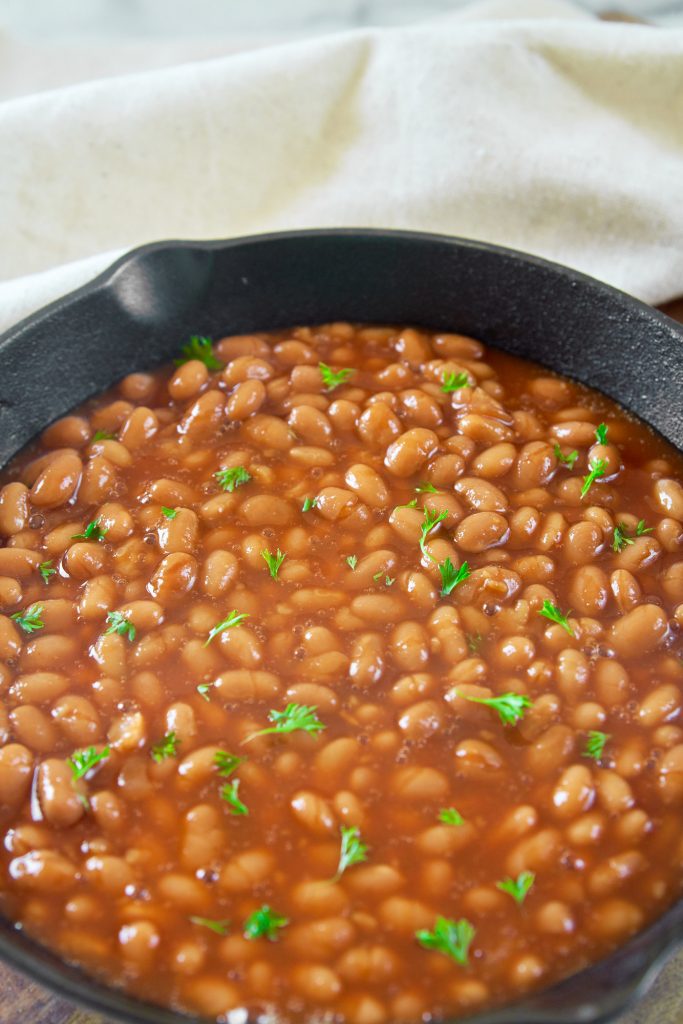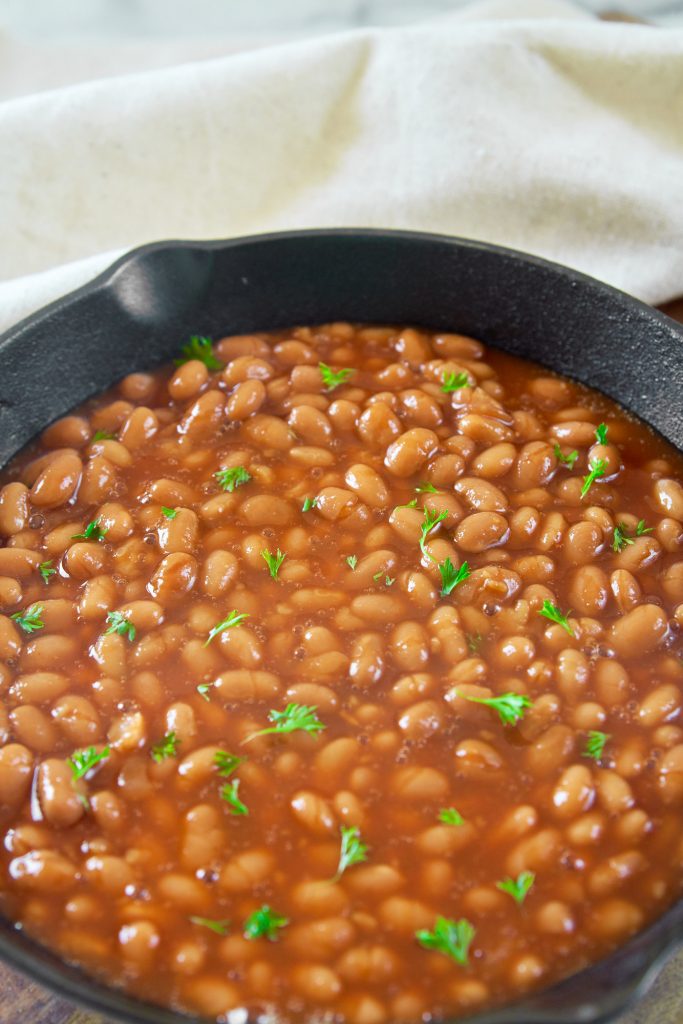 Did You Try This Recipe?
If so, I would love to keep in touch! I enjoy seeing photos and comments about the recipes that you make! You can follow me on Instagram and I will repost your goodies in my stories and comment on it too! Just tag me at @wowitsveggie and hashtag #wowitsveggie. I can't wait to see what you make!
Yield: 2-4 servings
Easy Vegan Baked Beans Recipe (1-Pot!)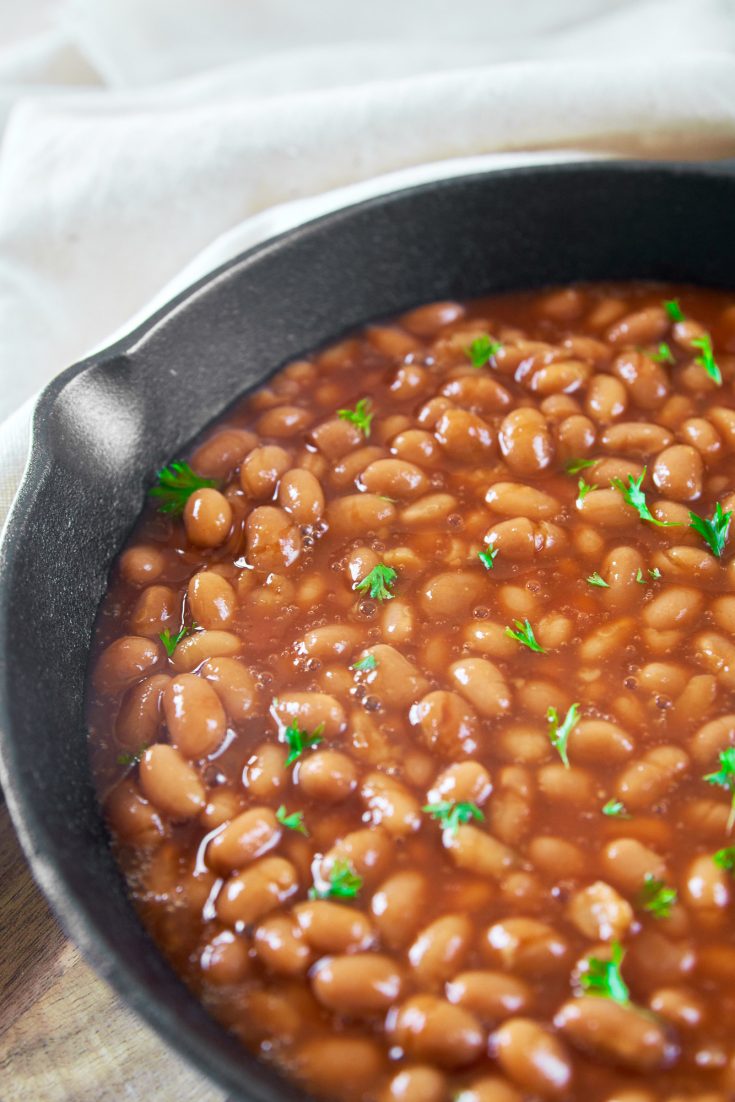 This vegan baked beans recipe is the perfect blend between sweet, savory, and smoky! It is quick and easy to make and only uses 1 pot so it is easy on the cleanup. There are so many ways to use vegan baked beans so make a big batch and freeze them for future uses.
You can customize this recipe to your tastes by playing with the sweetener, smoky flavor, and amount of broth! Try it my way, and then play with it from there!
Ingredients
2 cups cooked or canned beans (pinto, kidney, navy etc, any kind)
1 1/2 to 2 1/2 cups vegetable broth or water (depending on if you prefer a soupy or drier baked bean)
1 tsp molasses
2 tablespoons maple syrup
1 6 oz can of tomato paste
1 small onion, chopped as small as you can
1-2 cloves of garlic, minced
4 tablespoons soy sauce
1 tablespoon Dijon mustard
1 tsp cumin
1 tablespoon smoked paprika
1 tsp chili powder (optional)
1/2 tsp salt
1/2 tsp pepper
Instructions
Preheat oven to 350F
In a large baking dish, stir all of the ingredients together. If you want a more soupy baked bean as you see in the photos, add more vegetable broth. If you want a drier baked bean, use the lower amount of broth. I prefer soupier but you can customize to your taste!
Bake the beans uncovered for 40 minutes and enjoy hot and topped with fresh parsley!
Nutrition Information
Yield
4
Serving Size
1
Amount Per Serving
Calories

228
Total Fat

2g
Saturated Fat

0g
Trans Fat

0g
Unsaturated Fat

1g
Cholesterol

0mg
Sodium

2383mg
Carbohydrates

50g
Fiber

9g
Sugar

25g
Protein

11g