This pink grapefruit cocktail is literally one of the best things you will ever drink!
It is tart with a tinge of sweet, shot of liquor, and hint of rosemary.
If you are hesitant about adding the rosemary, don't be! It adds such a depth of flavor to this grapefruit cocktail!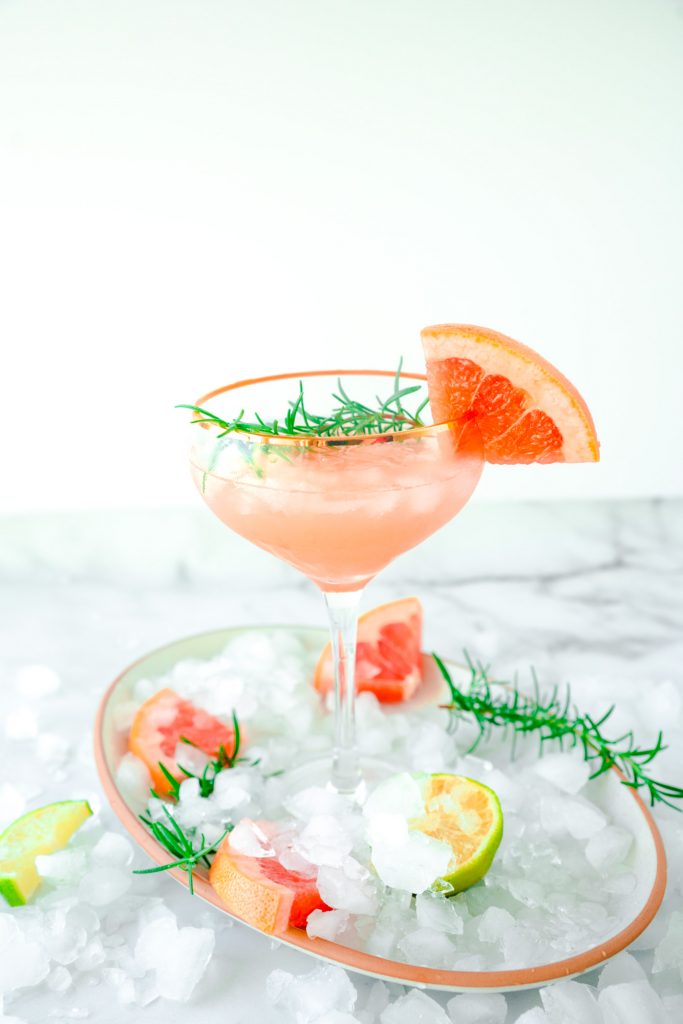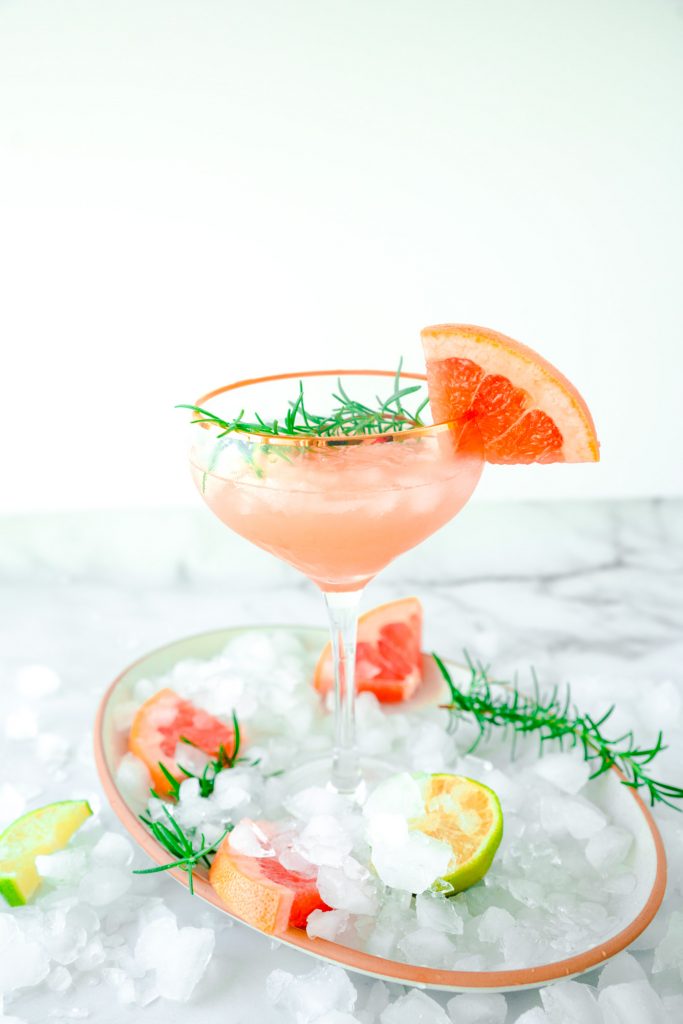 In my family we like vodka, so vodka is the liquor of choice and it goes so well with the grapefruit. It is a crisp and refreshing flavor.
This is not one of your sweeter cocktails. After all, grapefruit juice is naturally bitter and refreshing, and this cocktail is just that! The tart flavor is addicting.
The muddled rosemary is what really adds in the best flavor to this grapefruit cocktail! If you don't have fresh rosemary, it is okay, you can still make the cocktail, but using it really does add!
You can also use basil which makes for a delicious additions as well and you may have it on hand instead of rosemary!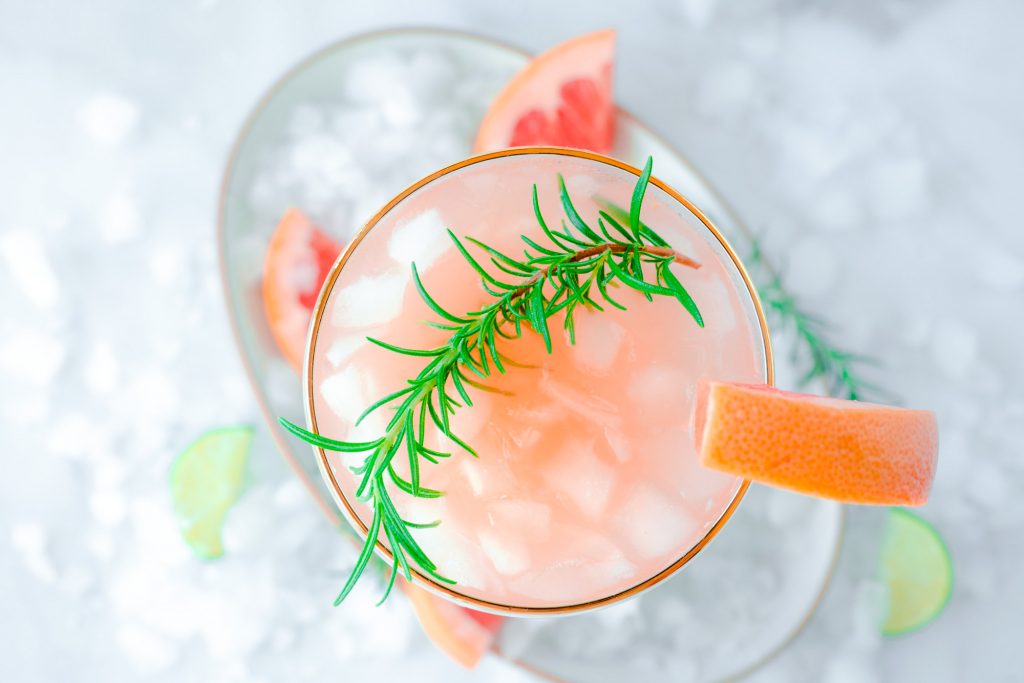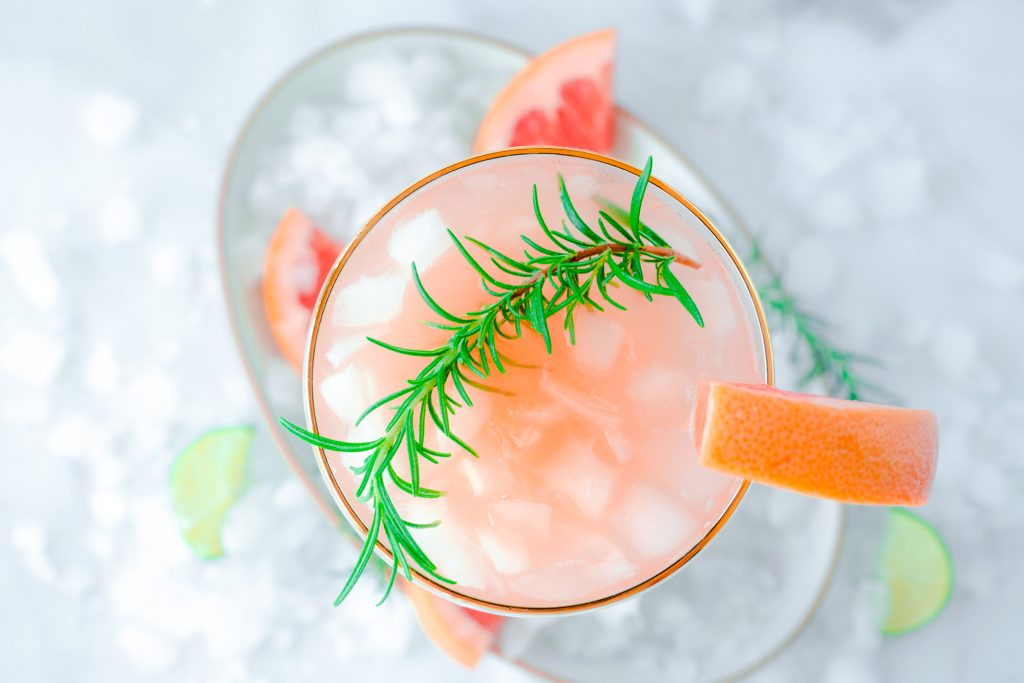 But if you are asking my opinion, vodka and muddled rosemary come together for a really refreshing drink!
This is the perfect cocktail for a party or a just a night when you want to enjoy dinner and drinks at home.
You can easily make this pink grapefruit cocktail into a mocktail by simply leaving out the liquor. It is still just as tasty and quite good for those who don't drink alcohol or kids too!
Make sure you serve this drink over crushed ice. I tried it over large ice cubes and crushed ice just tastes better!
If you don't have crushed ice on hand [like I didn't!] you can put some regular ice cubes in a bag and use a spoon to crush them! It is so delicious and refreshing!
Finally, this is a great cocktail to make for a party as you can whip up a large batch. If you do this, I do recommend using store-bought grapefruit juice instead of squeezing your own!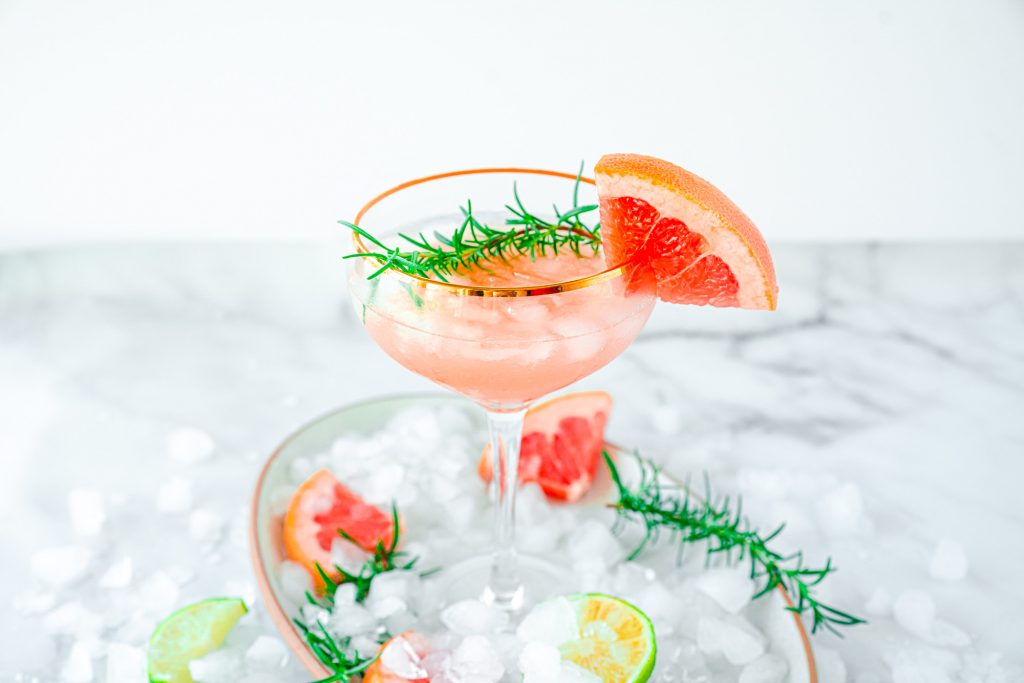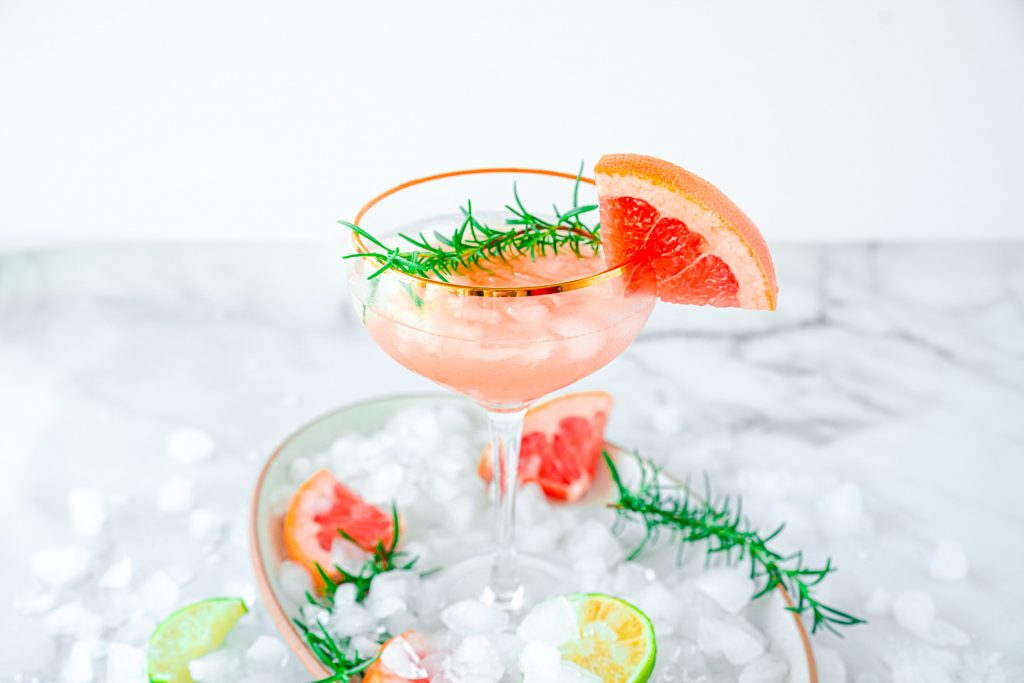 How To Make The Grapefruit Cocktail
Making the grapefruit cocktail is so super easy!
I don't give any measurements that are too strict as it really is on personal preference!
You may want a sweeter grapefruit margarita or something that is more on the tart side.
First, you are going to want to muddle your rosemary. If you do not have any fresh rosemary [or basil] on hand, skip this step as it won't matter to you!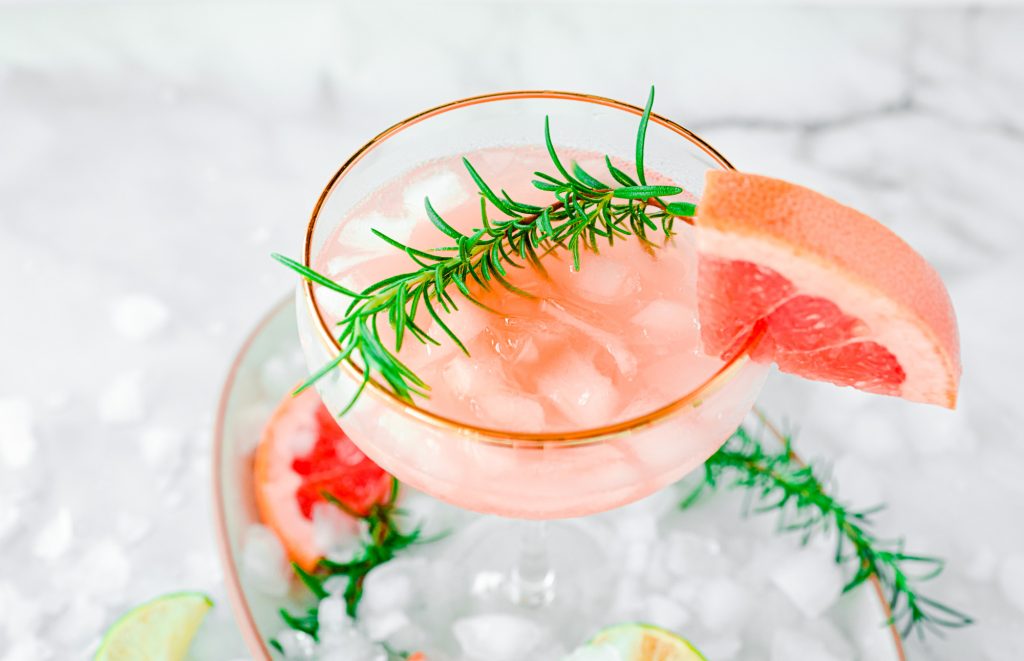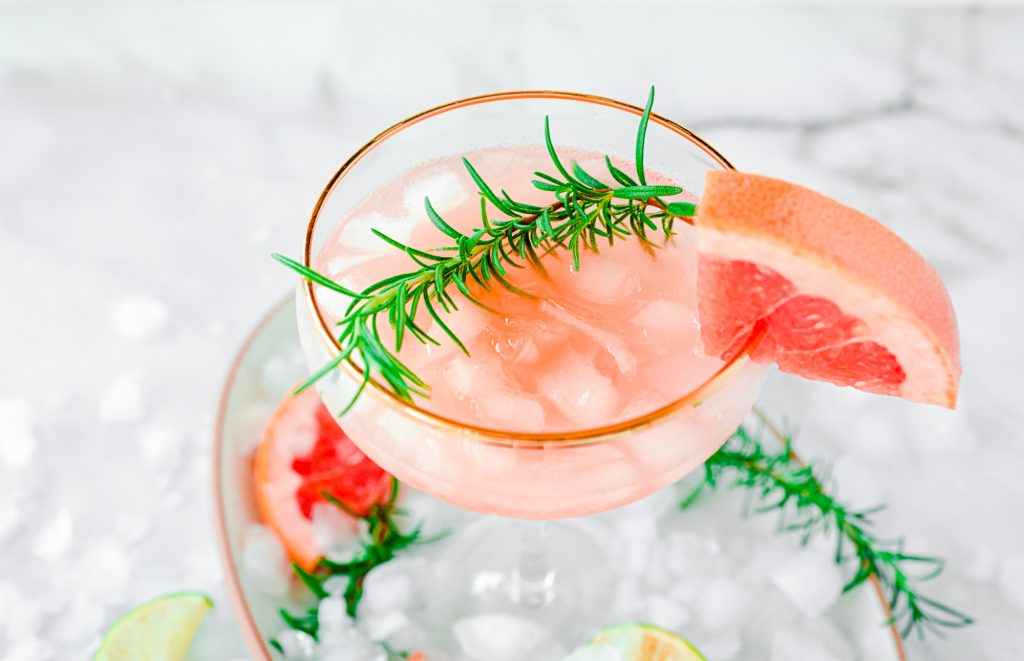 Put the rosemary in the bottom of your shaker or glass that you are going to use as a shaker and use a wooden spoon or any similar device to "mash" the rosemary together to muddle it.
If you have a muddler, go ahead and use it but I know a lot of people don't!
As long as you can "smash" the rosemary down in the bottom of the glass, you will be good to go. Even a little bit of muddling goes a long way!
Then, you are going to squeeze your fresh grapefruit juice. I used pink grapefruit and two large pink grapefruits were enough for two drinks and garnish.
I cut the grapefruit into quarters and just used my hand to squeeze the juice into a glass filled with ice. If you have a shaker you can use a shaker and if you don't, you can use a glass filled with ice.
Squeeze the grapefruit just like you would squeeze a lemon. If you have an orange juicer device, you can go ahead and use that as you can probably squeeze even more juice out of the fruit. I did not have one on hand.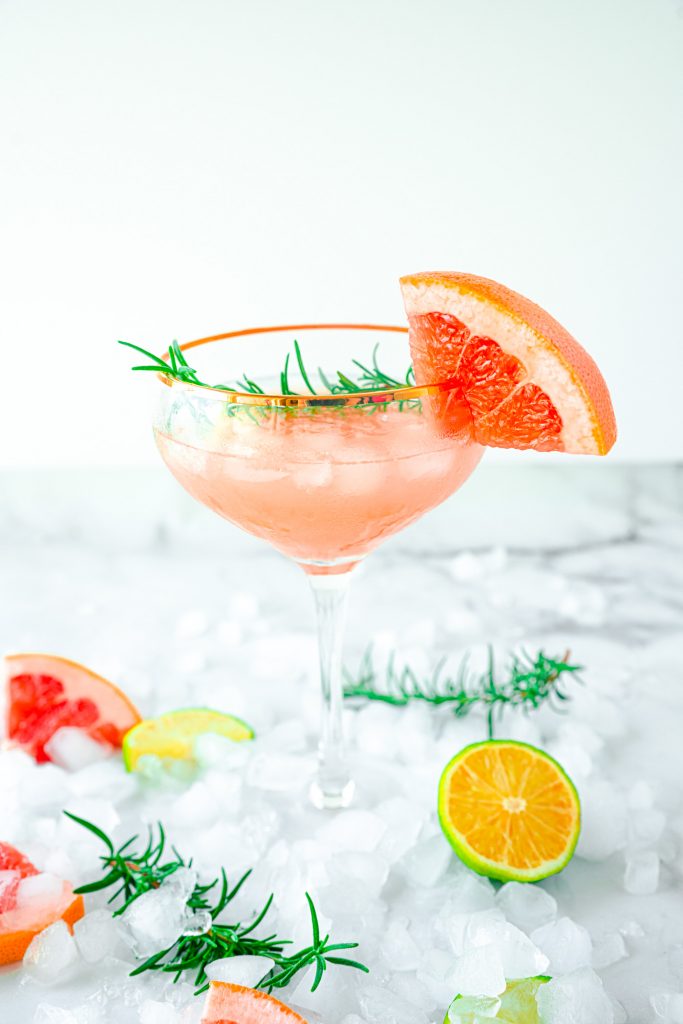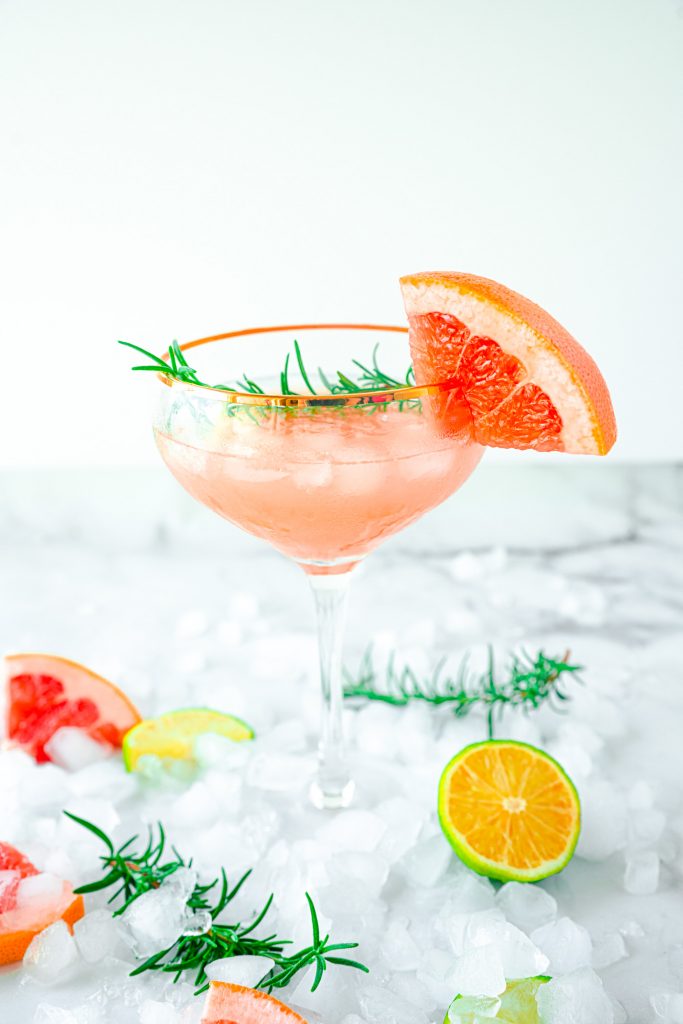 If you are making this in a big batch for a party, you may want to use store bought grapefruit juice as it may take a while to squeeze it out for a large group.
Next, add in your liquor. I do 1 shot of vodka for each person drinking it. Since this grapefruit cocktail recipe is for two people, you will use two shots of Vodka.
For the lime juice, I added two tablespoons of lime juice. The lime juice adds a touch of flavor that you didn't know you needed!
Finally, when it comes to adding sweeter, that is truly personal preference!
I recommend adding 1 teaspoon of sugar for each serving. I do pure white sugar but have also done maple syrup, agave, and stevia. For stevia, you will use just one little "scoop" of stevia.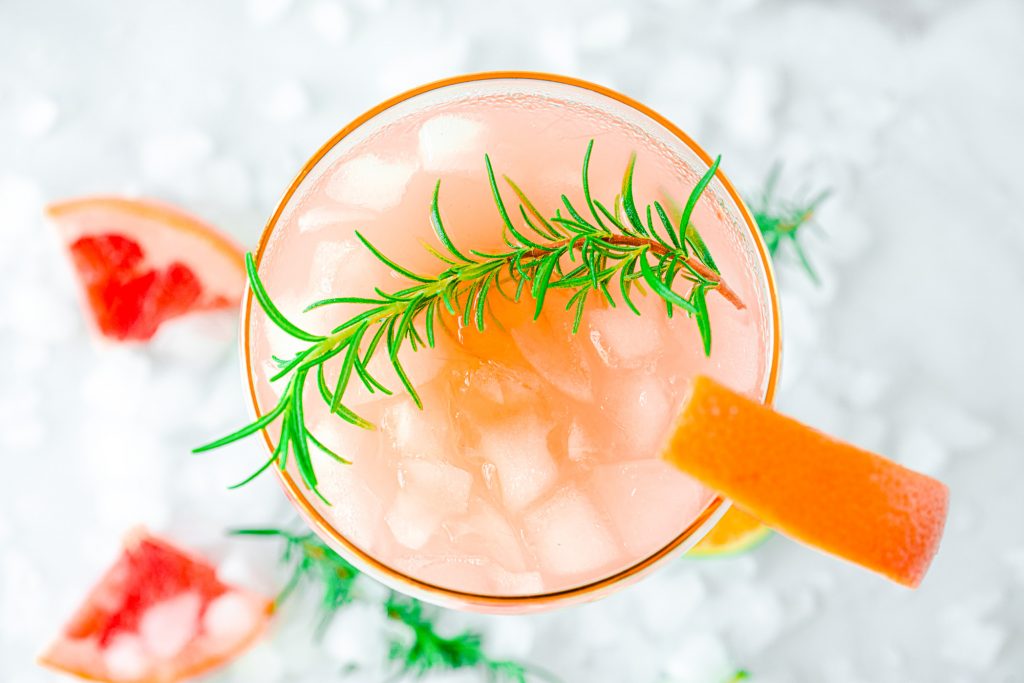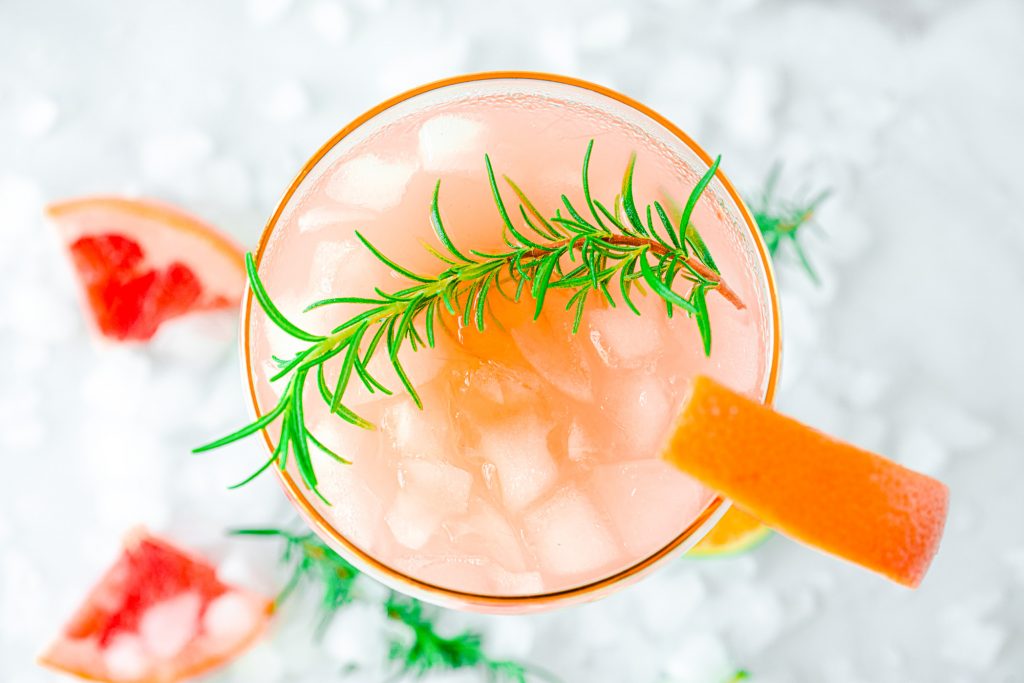 The sweetness depends on what you like and if you want to use pure sugar for your grapefruit cocktail.
Of course, you can always give it a taste and add more sugar in 1/2 teaspoon increments!
Once you have all of your ingredients in your glass or shaker over ice, give it a good shake to combine the grapefruit cocktail!
Then, you are going to want to crush your ice and add it to your serving glasses.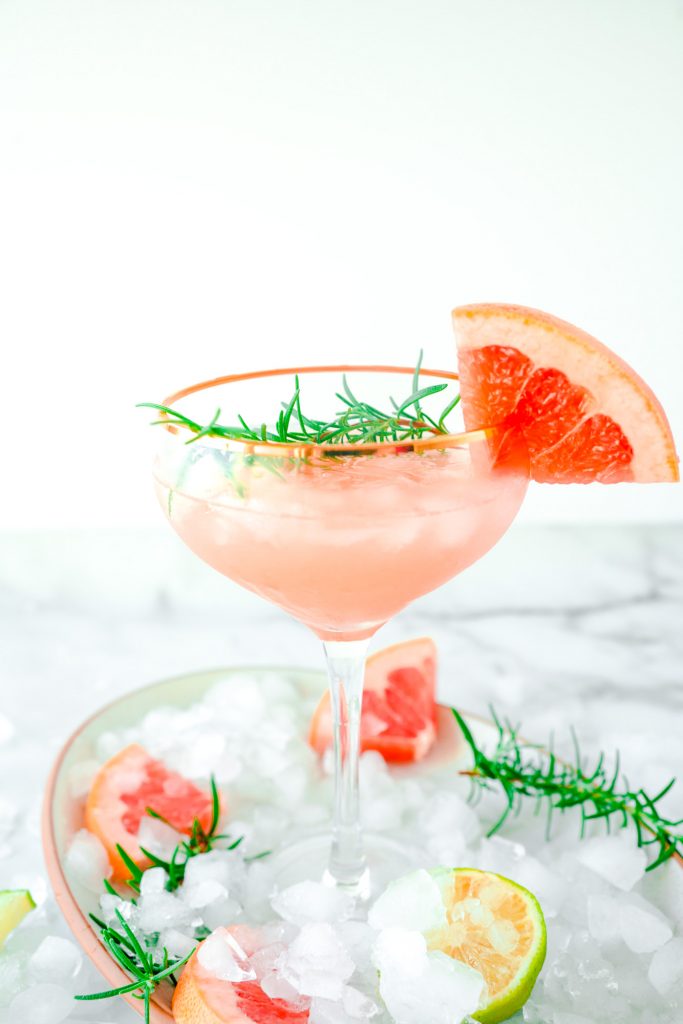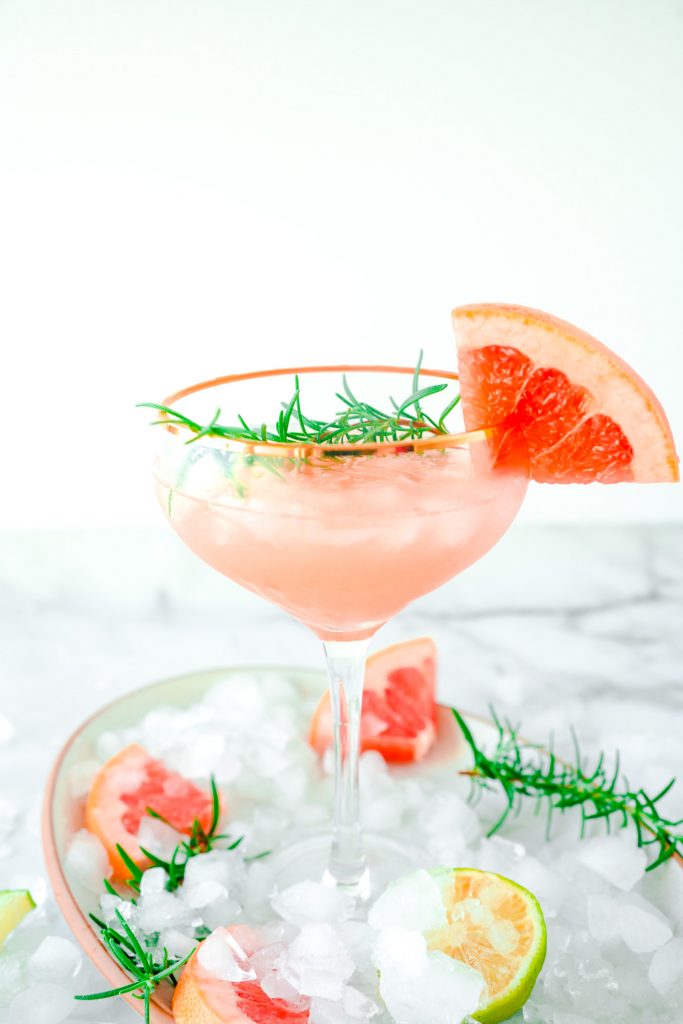 Using the strainer that is built-in to your shaker or a fine mesh strainer, strain the grapefruit cocktail into your serving glass.
During muddling, the rosemary bits and pieces will come off and will float around. You want to make sure they do not get into your cocktail glass for serving.
Finally, you DO want to garnish the grapefruit cocktail with a fresh sprig of rosemary with the leaves on and a wedge of grapefruit.
TIP: Make the cut on the BOTTOM of the grapefruit wedge so that it stands up correctly on your glass for serving!
Feel free to switch out the liquor/sweetener/herb to one that is your personal preference or to what you have on hand!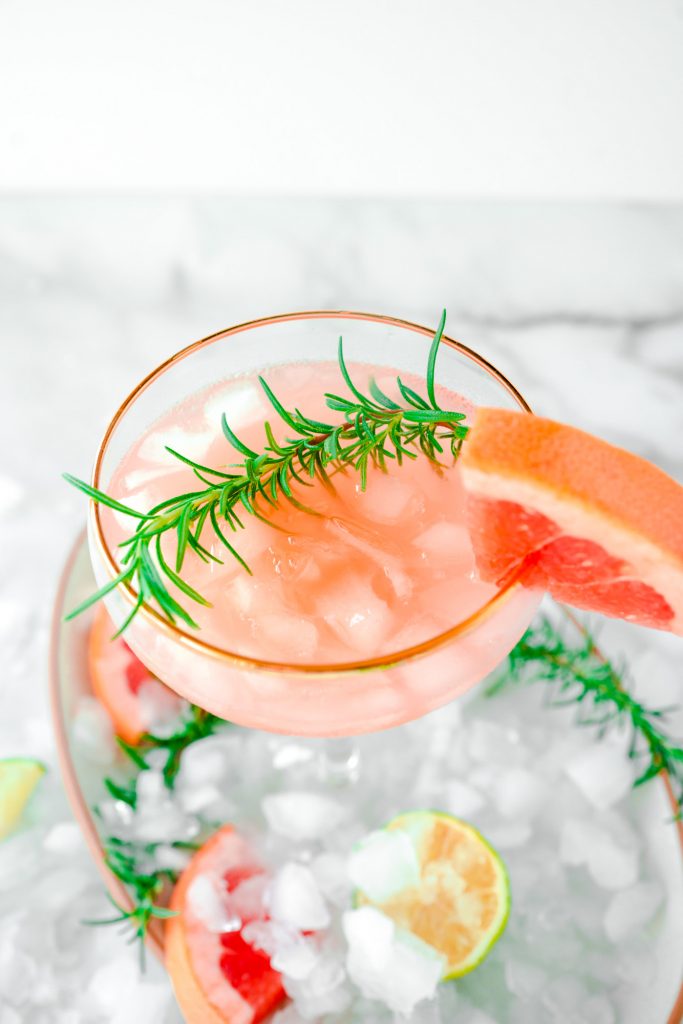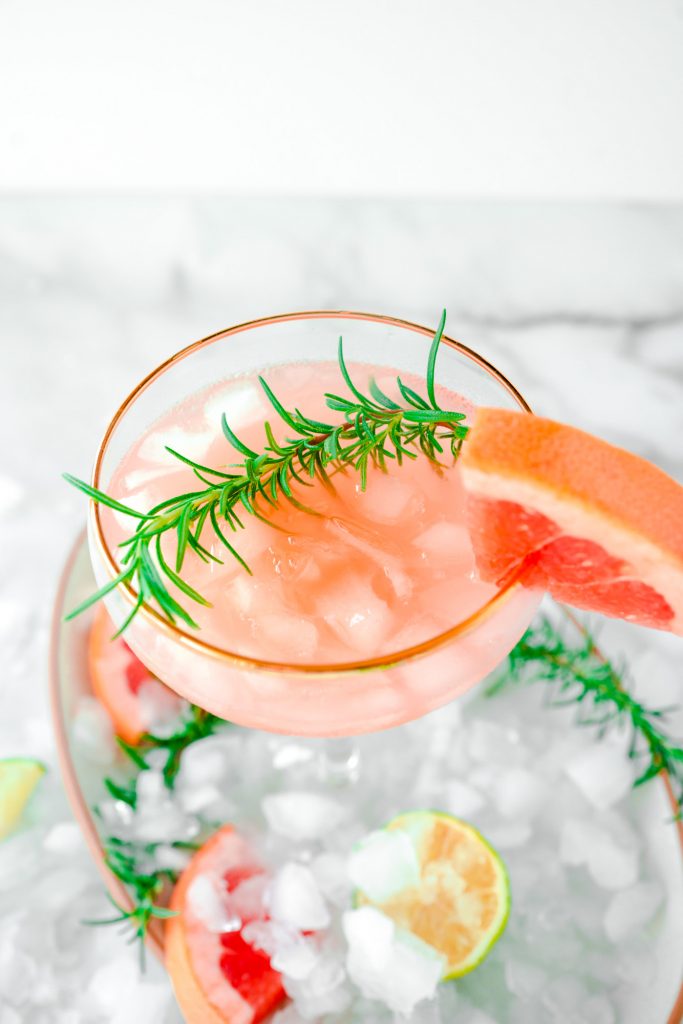 Did You Try This Recipe?
If so, I would love to keep in touch! I enjoy seeing photos and comments about the recipes that you make! You can follow me on Instagram and I will repost your goodies in my stories and comment on it too! Just tag me at @wowitsveggie and hashtag #wowitsveggie. I can't wait to see what you make!
Yield: 2 Cocktails
Pink Grapefruit Cocktail With Rosemary
This pink grapefruit cocktail is the perfect blend between tart, sweet, and refreshing! The rosemary really makes it, but feel free to leave it off or use basil instead! For this recipe, I tried to make it easy so you can double or triple to make a large batch to serve a crowd!
Ingredients
2 cups fresh-squeezed grapefruit juice
2 shots of vodka
2 teaspoons lime juice
2 tablespoons sweetener of choice
4 sprigs of muddled rosemary
Crushed ice, rosemary sprigs, and grapefruit wedges for serving
Instructions
Muddle rosemary in the bottom of your shaker or glass that you will use as a shaker. Use anything you have on hand to muddle such as a wooden spoon. You want to make sure the rosemary is gently crushed.
Pour ice into your glass or shaker and add in grapefruit juice, lime juice, sugar, and vodka. Shake the grapefruit cocktail mixture vigorously until combined.
Strain the mixture over crushed ice in your serving glass. Don't skip this step as straining will allow you to remove the particles of muddled rosemary while the flavor remains.
Garnish with a fresh sprig of rosemary and a grapefruit wedge!
Nutrition Information
Yield
2
Serving Size
1
Amount Per Serving
Calories

135
Total Fat

1g
Saturated Fat

0g
Trans Fat

0g
Unsaturated Fat

0g
Cholesterol

0mg
Sodium

4mg
Carbohydrates

24g
Fiber

2g
Sugar

6g
Protein

2g