If you are looking for the perfect holiday cocktail, this chocolate peppermint martini will fit the bill!
It is the perfect blend of flavors that screams holiday flavor and fun!
I love the blend of peppermint and chocolate! I even have 3-Ingredient Vegan Peppermint Fudge that is so delicious and easy to make!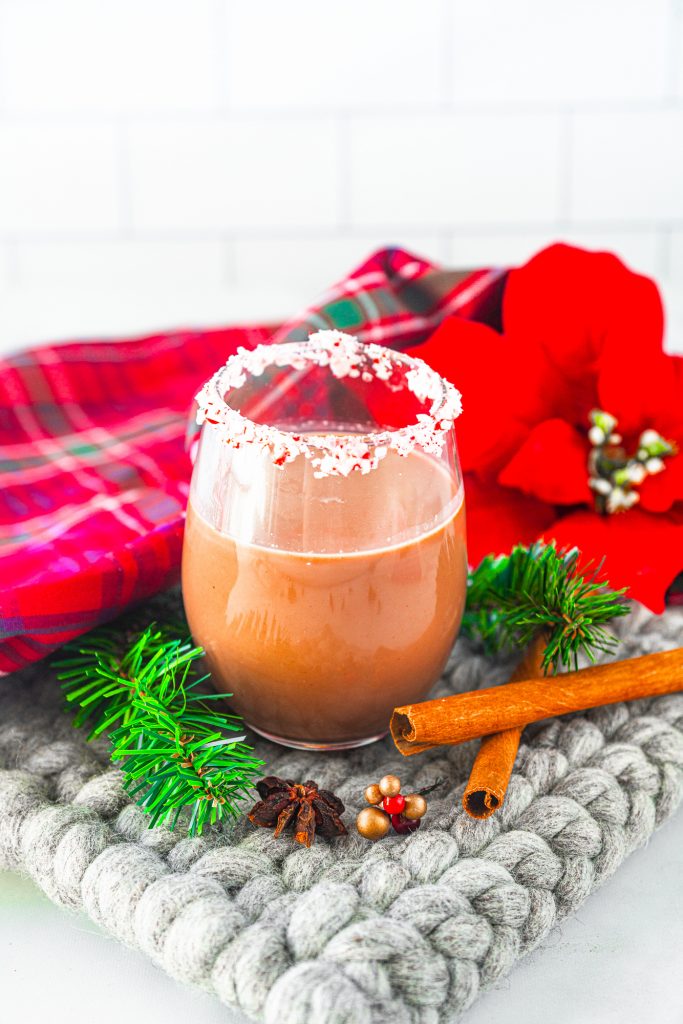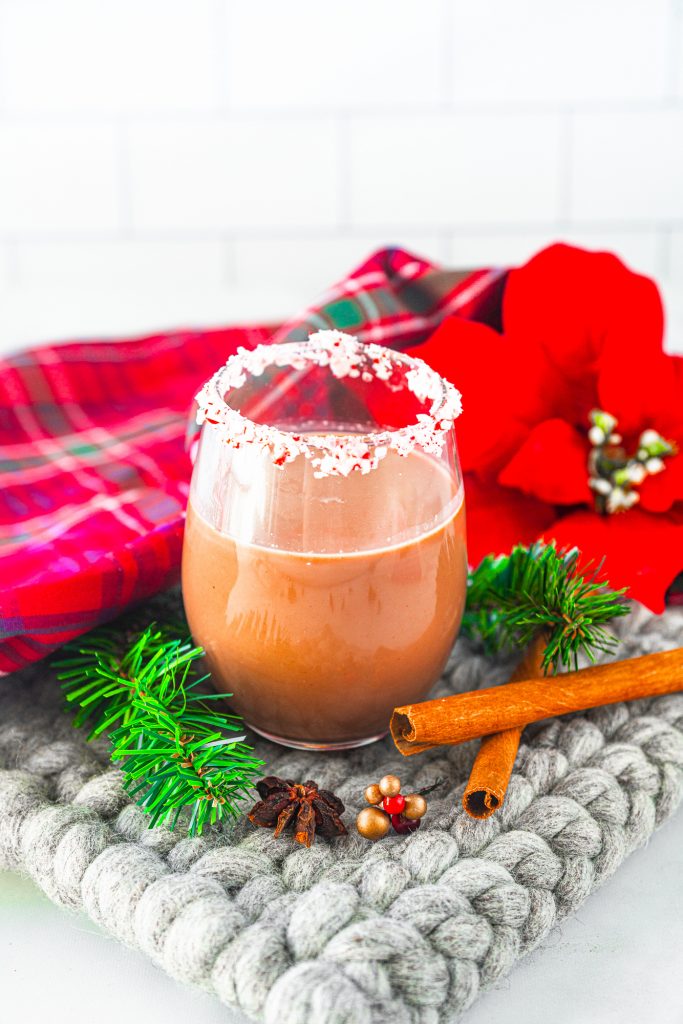 I make this chocolate peppermint martini in a regular stemless glass.
I searched near and far for martini glasses, and unless you order a huge box online, they are nearly impossible to find!
My Aunt Robyne entertains a lot and goes to a lot of parties and told me that drinking out of martini glasses is out and drinking out of stemless glassware is in!
I thought this was really interesting because I truly went to every store I could think of and couldn't find martini glasses!
I recommend pairing this chocolate peppermint martini with some Vegan Christmas Cookies and sitting by a rainy window with a lit Christmas tree in the background for some holiday cheer.
The perfect blend of flavors in this peppermint martini recipe really comes together to make a lovely holiday beverage.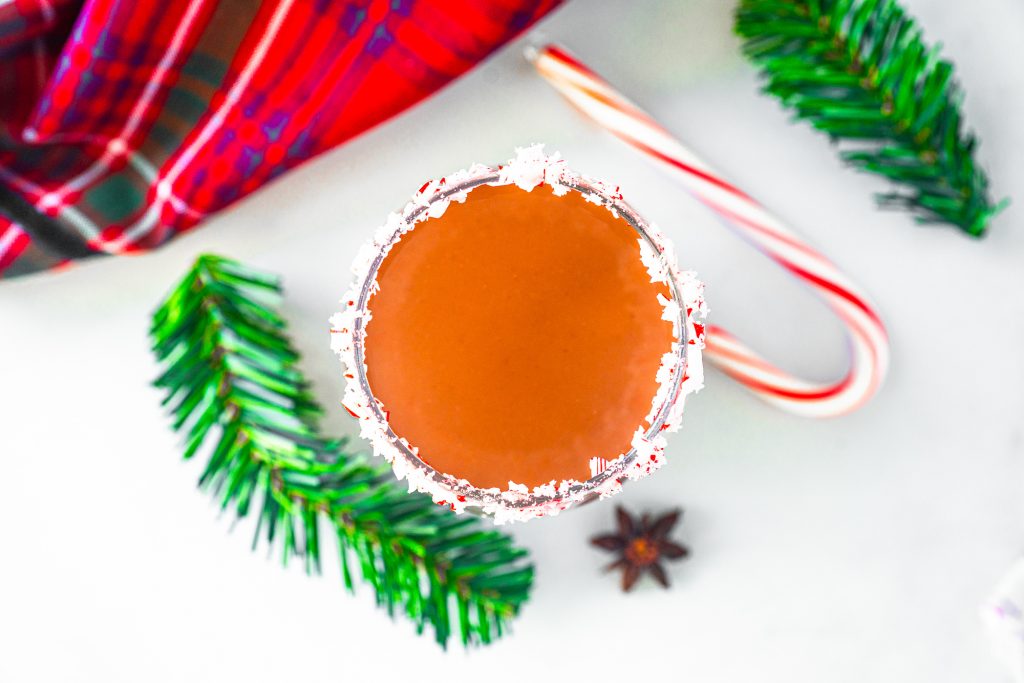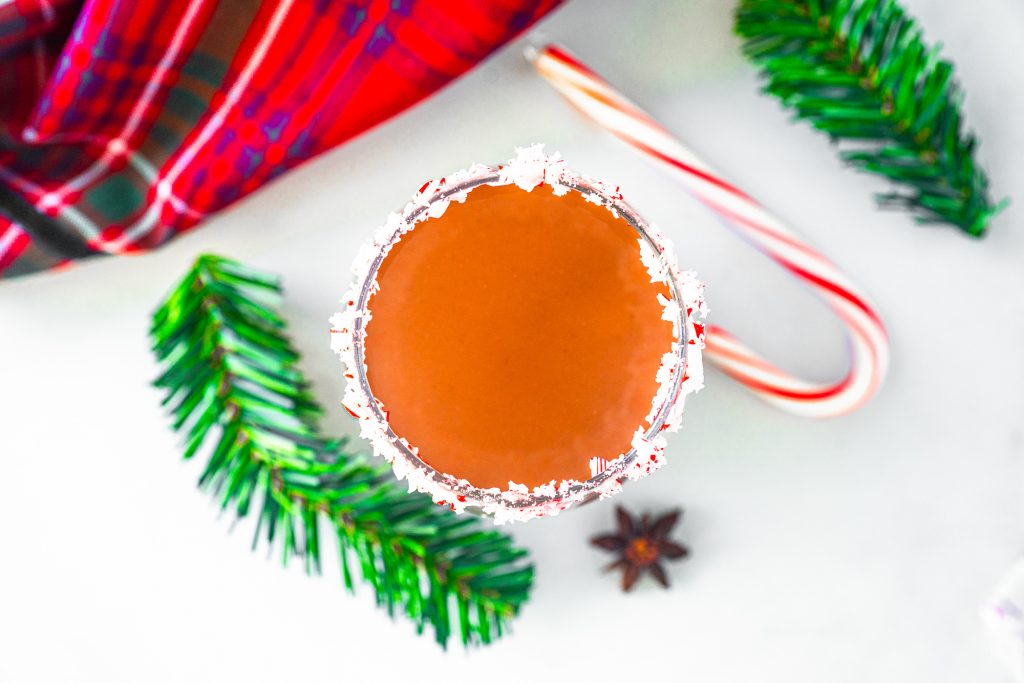 The chocolate liqueur really adds to the flavor, but my secret is adding in a dash of cocoa powder for a rich and thick chocolaty taste.
It isn't full of sugar, but adds a depth of flavor that you don't often see in such a simple and easy cocktail!
Like my Vegan Eggnog Recipe, you can drink this peppermint cocktail both hot or cold. You can warm it over the stove for a warm drink, or shake it in a cocktail shaker with ice for a cool drink.
Of course, this chocolate peppermint martini is 100% vegan so that anyone and everyone can enjoy!
The best part? Rimming your cocktail glass with crushed peppermint or candy canes!
Simply crush the candy canes on a large plate and dip the rim of your cocktail glass in non-dairy milk first and then into crushed peppermint second!
I hope you love this chocolate peppermint martini as much as I do! I really enjoy drinking this cocktail with my Candy Cane Christmas Pretzels as a snack.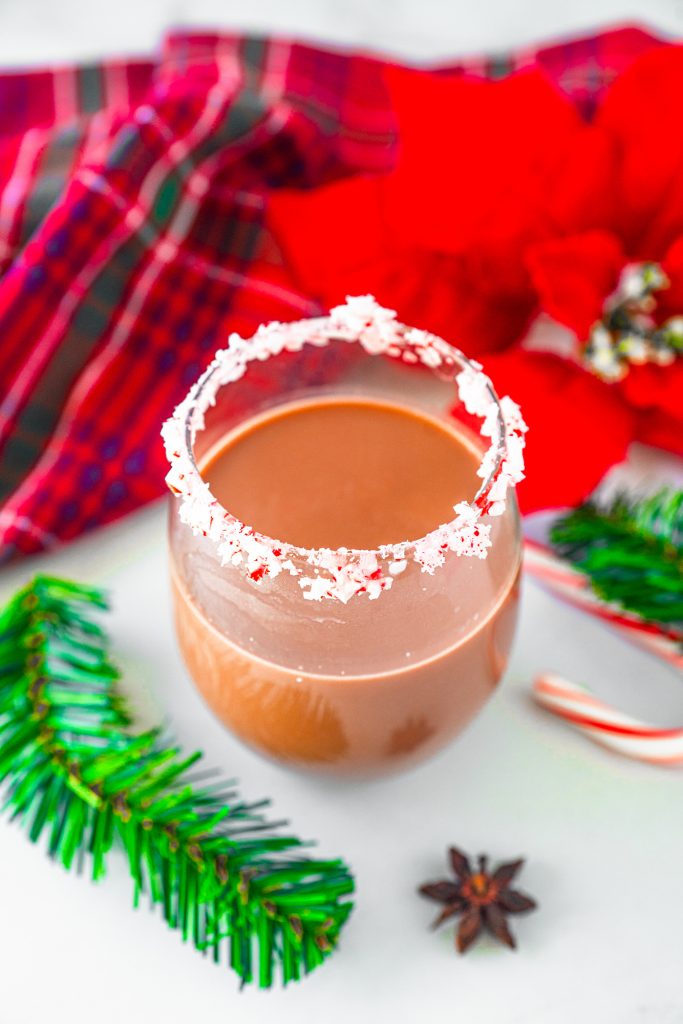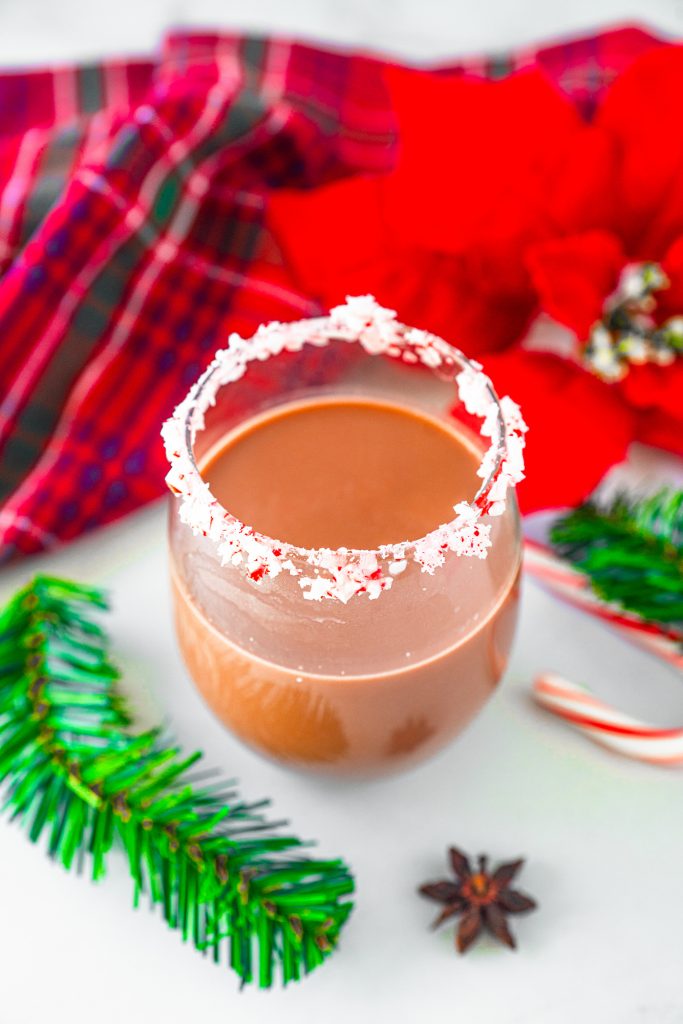 How To Make The Chocolate Peppermint Martini
Making the chocolate peppermint martini is super quick and easy and takes less than 5 minutes!
If you want to rim your glasses, go ahead and use a rolling pin to crush peppermint candy between two pieces of parchment paper.
If you are drinking this peppermint cocktail cold, you may want to freeze your cocktail glass to chill it a little bit!
This is not necessary but can keep your chocolate peppermint martini chilled.
If you want to make it warm, you can serve it in a mug or just not chill the glass.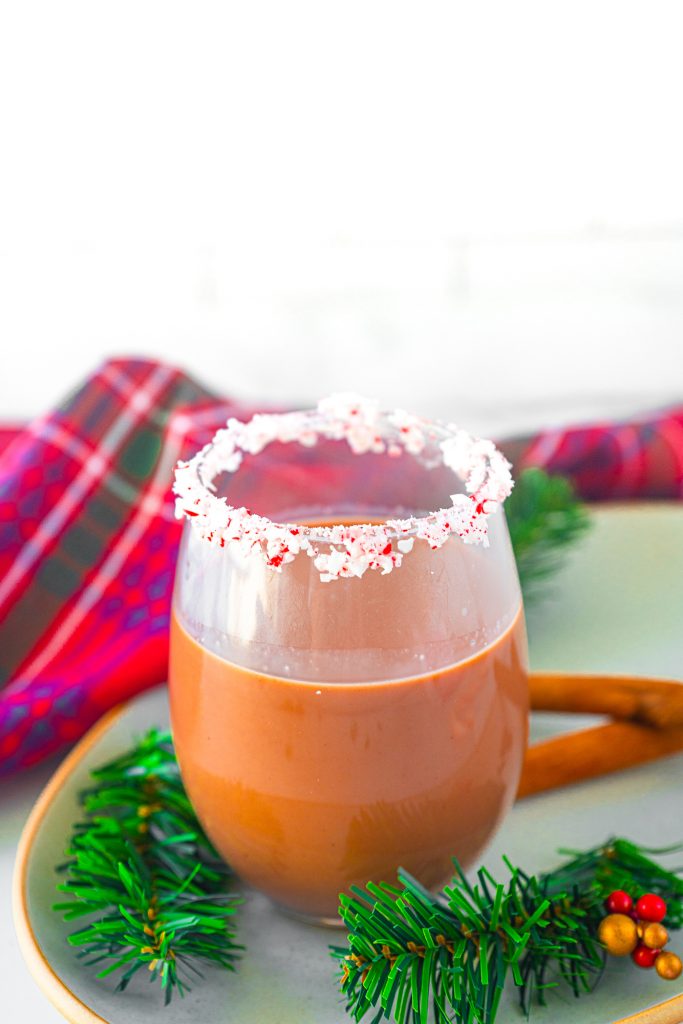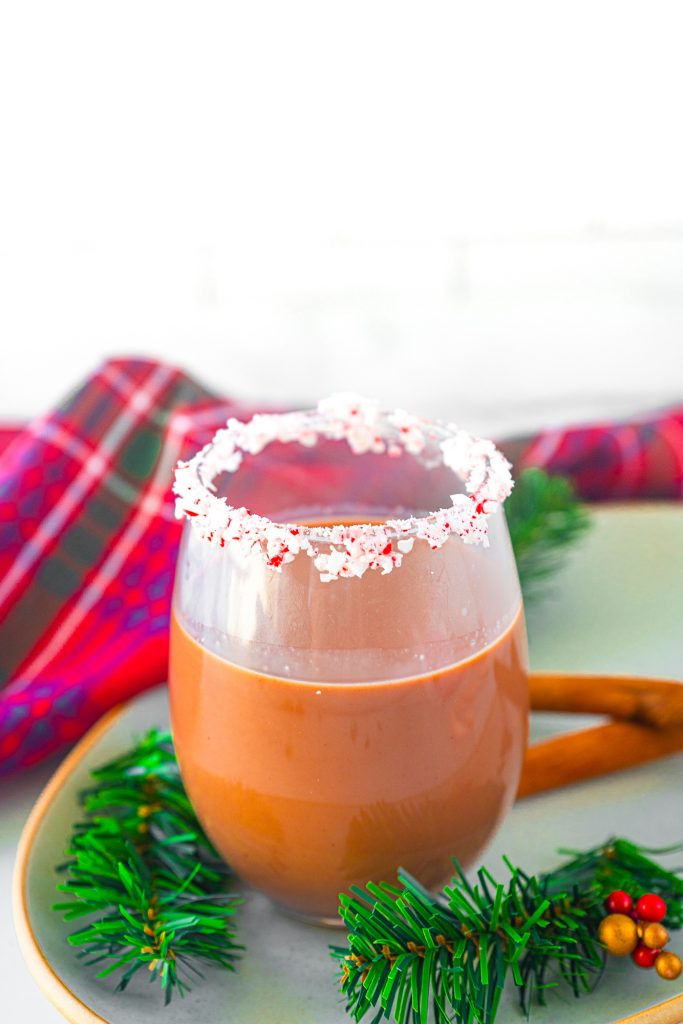 Combine your chocolate liqueur, cocoa powder [optional but I love it], cream de cacao [surprisingly vegan] and peppermint schnapps into a cocktail shaker.
If you do not have a cocktail shaker, you can put ice in a glass and put plastic wrap or a larger glass around the smaller glass and use this to shake your peppermint cocktail instead.
If you are making a warm cocktail, you will want to warm the liquors on the stove for the best flavor.
Warm beverages should not be rimmed with candy canes as the candy canes will melt and get all gross when they are warmed up.
If you want to be a little fancy, you can squirt a drizzle of pure chocolate sauce inside your glass before pouring the chocolate peppermint cocktail for serving.
I highly recommend rimming the cocktail glass first and then putting in the chocolate drizzle for best and easiest results!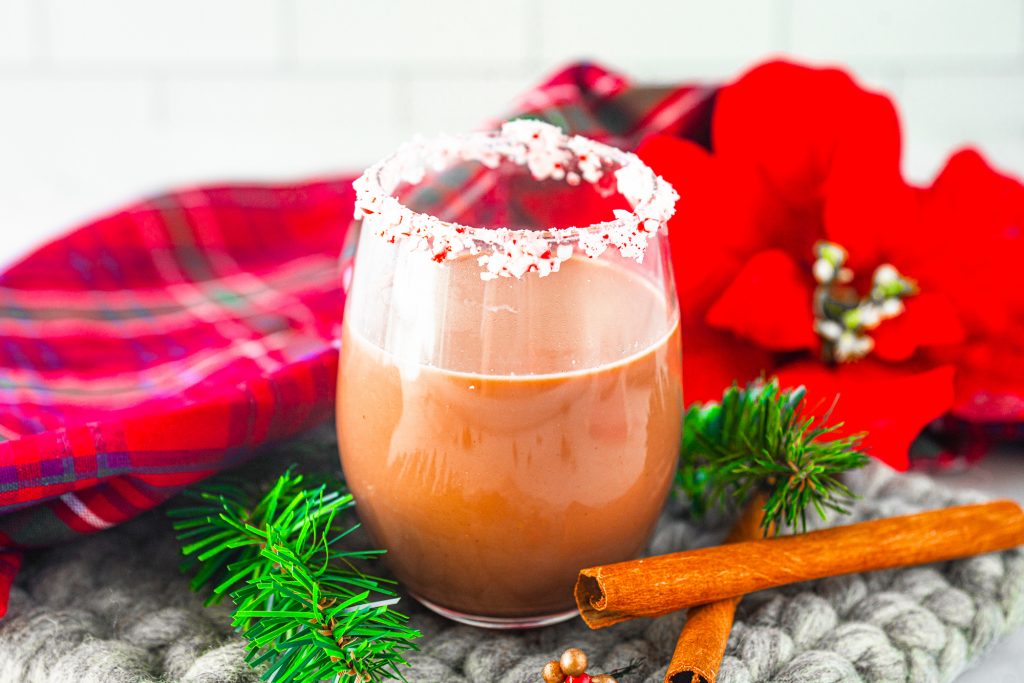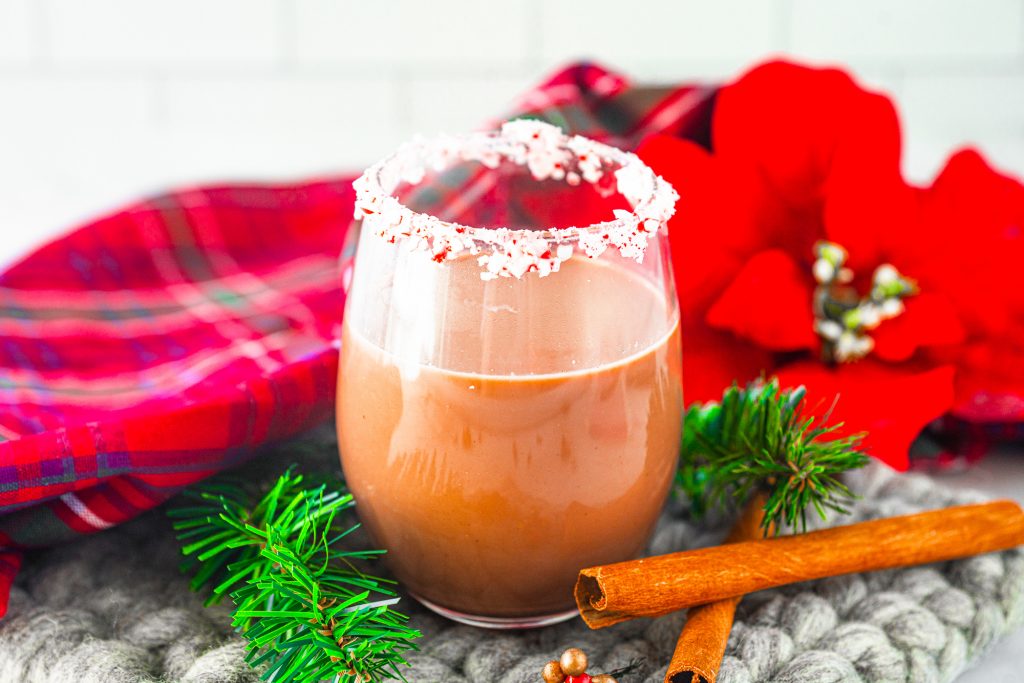 Making The Chocolate Peppermint Cocktail In Advance
If you are hosting a big party during the holidays, you may want to make this chocolate peppermint martini in advance.
You will multiply the ingredients by the amount of people you are serving. This recipe serves two people.
If you are serving 8 people, obviously you will multiply this recipe to fit that amount of people.
Put the peppermint cocktail in a large glass or pitcher and store chilled in your fridge until it is time to serve.
I do love making the chocolate peppermint cocktail individually, but I know that won't work if you are having a get together such as Christmas dinner or some sort of holiday party.
I hope you enjoy this yummy cocktail as much as I do!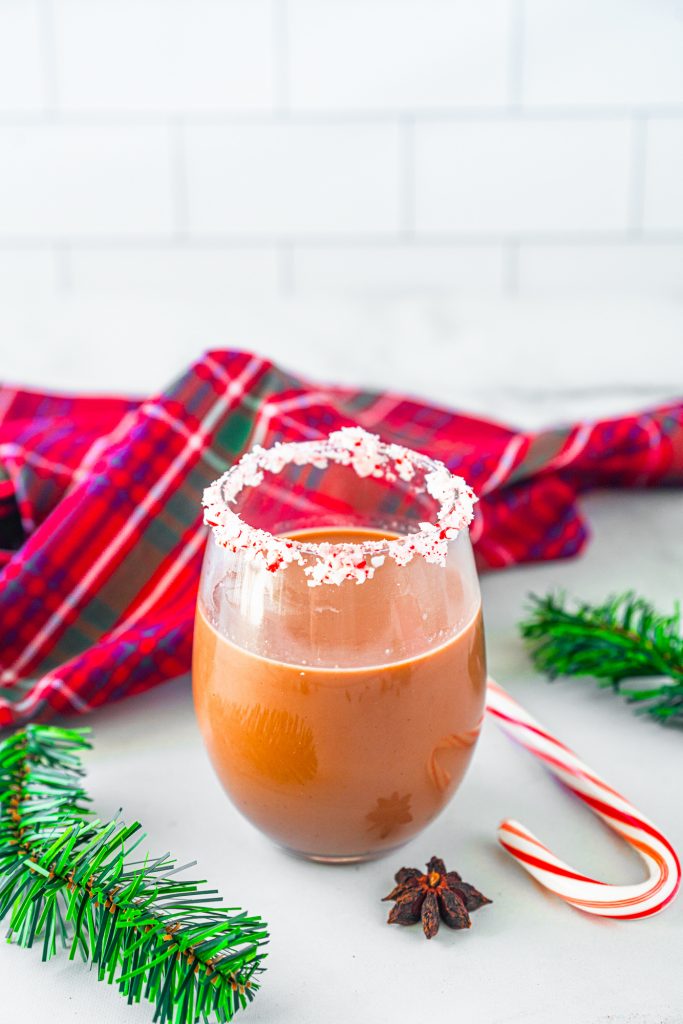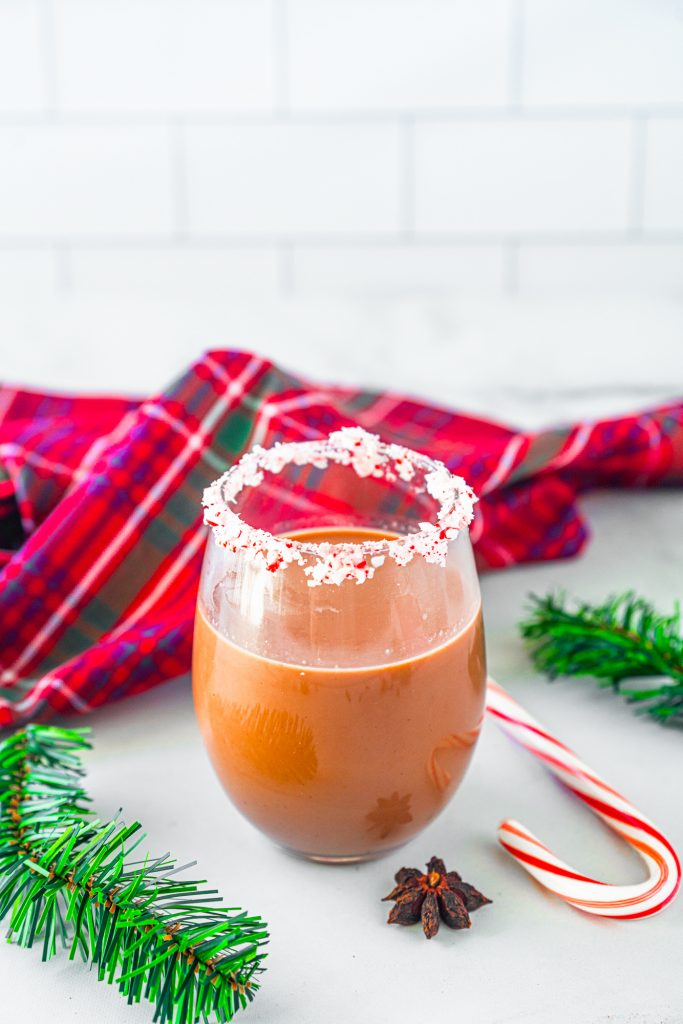 Did You Try This Recipe?
If so, I would love to keep in touch! I enjoy seeing photos and comments about the recipes that you make! You can follow me on Instagram and I will repost your goodies in my stories and comment on it too! Just tag me at @wowitsveggie and hashtag #wowitsveggie. I can't wait to see what you make!
Yield: 2 Cocktails
5-Minute Chocolate Peppermint Martini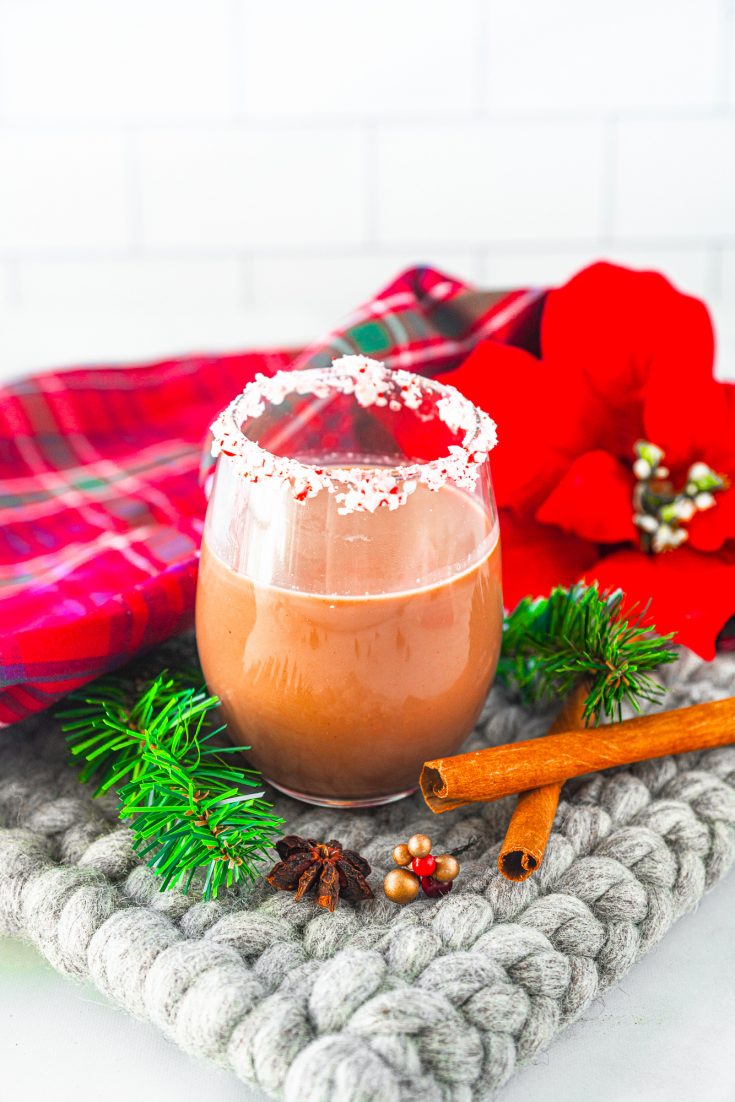 This chocolate peppermint martini screams "holiday cheer" like nothing else! The perfect blend of flavors is so delicious and you can serve it either hot or cold, depending on your preference! Don't skip rimming the glass with crushed candy canes for the cutest way to serve this martini!
Ingredients
4 oz chocolate liqueur [Godiva brand is amazing![
2 oz peppermint schnapps/vodka
1 tsp cocoa powder
2 oz Creme de Cacao
2 oz non-dairy creamer
Chocolate sauce [optional for drizzle]
Crushed peppermint candy [for rimming]
Instructions
Crush candy canes and dip the rim of your cocktail glass in non-dairy milk or water and then immediately in the peppermint. Make sure your glass is not hot or the peppermint will melt and slide off the glass.
Mix all ingredients in a cocktail shaker over ice and shake for 30 seconds. Strain and pour over the glassware of your choice. Martini glasses can be hard to find, so a stemless wine glass works great!
To serve hot, warm over the stove on low heat and serve in mugs.