If you are looking for the best splatter screens you have come to the right place. In this article, we will walk you through all you need to know about a splatter guard and how to choose the right one for you.
We have all had one of those moments in the kitchen where we are frying away, singing to ourselves, and suddenly we pull our hand away to a sharp pain as the oil splatters us or worse still goes on our new shirt. That is why we all need a grease splatter guard in our life. Not only will a splatter screen protect you and your clothing but it will also ensure that the contents of your pan do not splatter on your kitchen surfaces and tiles. A splatter screen can also come in handy when you are draining food to remove excess oil or liquid from the pan.
A simple yet essential kitchen item, finding the best splatter screens for you and your home is simple with our easy-to-understand guide.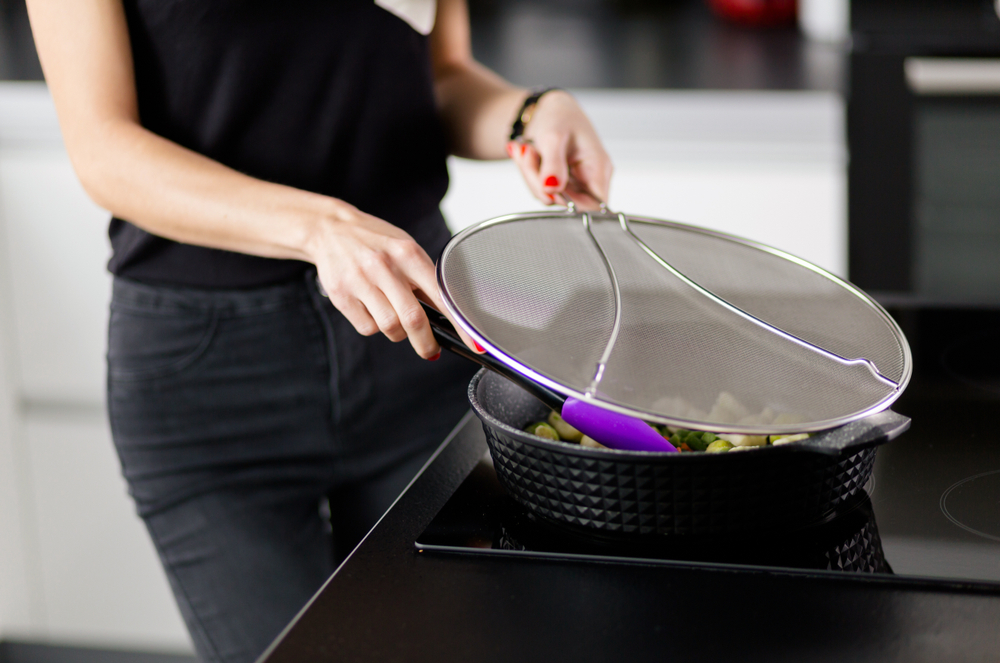 What Is A Splatter Screen?
A splatter screen, sometimes also called a splatter guard, is a round piece of wire mesh designed to go over a pan. Its primary purpose is to protect you and the surrounding area from hot liquid or grease/oil that escapes the pan.
A splatter screen is most often used with pans that commonly don't come with lids, for example, a frying pan or shallow pan and is used when frying or cooking with boiling substances.
A splatter guard can also be used to replace a lid as their mesh-like structure means more steam can escape, while also protecting liquid splashes.
They are essentially a flat lid with small holes in which allow steam to escape and stops grease and hot liquid splashing.
The main advantages of having the best splatter guard it that they will:
Stop hot grease and liquid splashing onto you and your clothes.
Keep your kitchen cleaner as grease and liquids are not splashing on your stove, worktops or kitchen tiles.
Make it easier to drain liquid or grease from a pan and continue cooking.
Now you can see why you need a splatter guard, let's choose the best splatter screens for you.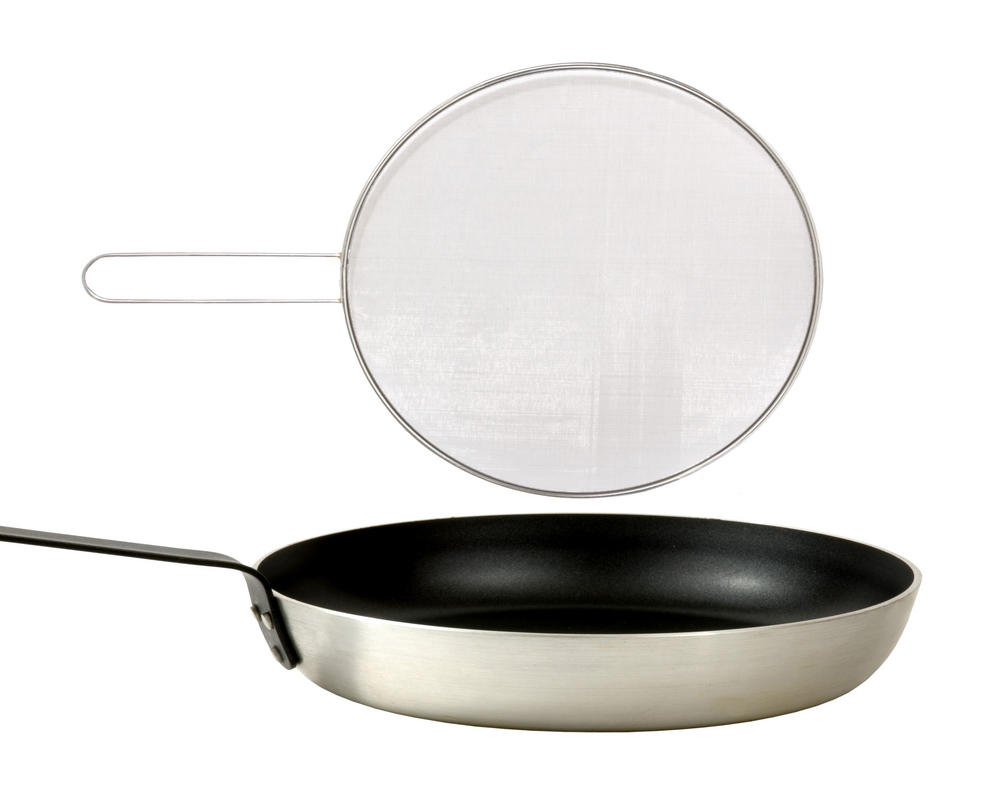 What To Consider When Buying A Splatter Guard
When you are searching for the best splatter screen for you there are several things to consider:
The size of the splatter screen.
Most splatter screens are the same size and will fit any pan up to the size of the screen. Some screens have ridges on to denote various pan sizes. The best thing to do is measure the pans that you want the screen for, then buy one nearest to that. You don't want it to overhang too much, nor do you want it to just fit. Most screens are round to match the shape of pans but if you look carefully you can find square ones, domed ones and some with a collar design that fits inside a pan.
The material the splatter screen is made of
Most splatter screens are made of fine woven stainless steel and can be either plain weave mesh or twill mesh, the latter being more flexible. The smaller the weave the more grease it will collect and the more likely it is it clog. Some screens are also now made of stainless steel or silicone with holes.
Durability of the splatter screen
Not all screens are created equal. The more durable ones tend to have a reinforced frame that stops them from warping and getting damaged during prolonged use.
The handle design on the splatter screen
Most screens have handles at the side just like a panhandle. The first thing to check is that the handle is heat resistant. The longer handles tend to make the screens more stable but can become difficult when storing in kitchen cupboards. Splatter screens sometimes also come with a foldable handle for easy storage. Some screens have a handle in the middle which can be difficult to use due to escaping steam but does make them easier to store. If you want to put your splatter screen in the oven, please make sure it is made of ovenproof material
What you cook most will determine the best splatter screen for you.
I know this might seem like an odd thing to consider but when choosing the best spatter screen you really do need to think about what you cook most and therefore what you will use your splatter screen for most. Some are more designed to hold steam in, some to let it out, some trap grease better than others. The more finely woven the mesh, the more grease it will trap. A perforated stainless steel one will trap grease well but will also let out less steam. Silicon splatter screens won't tolerate such high temperatures as much as stainless steel, so knowing what you cook most and will use the screen for most will really support you in choosing the best splatter screen for you.
So now you have the best splatter screens, how do you clean it?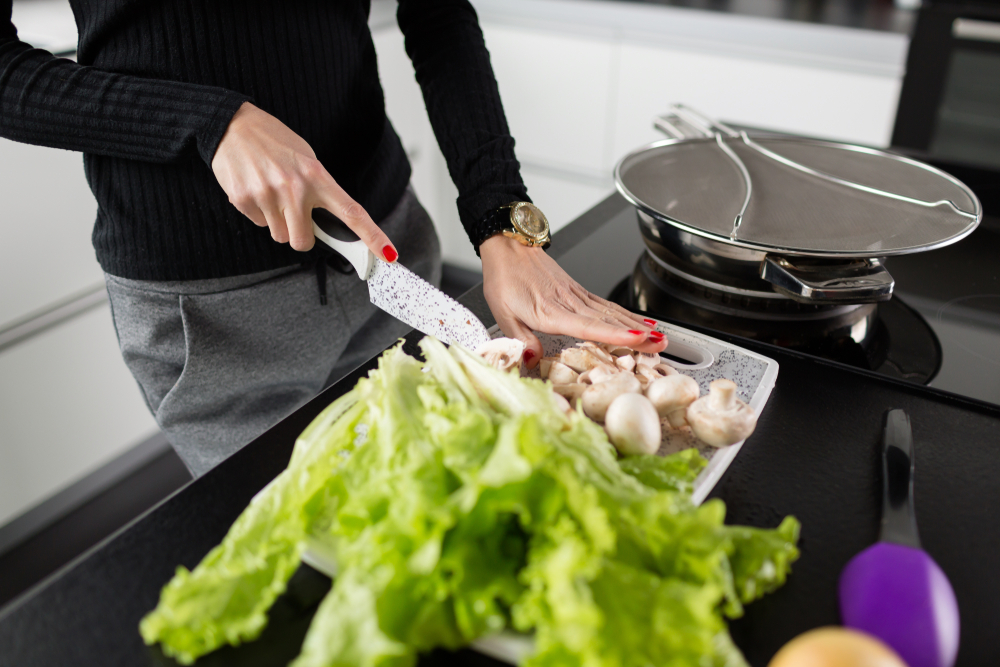 How To Clean Your Splatter Guard
Splatter screens are not the easiest things to keep clean and we recommend that they are cleaned thoroughly after every use to increase their durability.
We don't suggest putting them in a dishwasher as they are more like to rust, unless you have a silicone screen that can go in the dishwasher
Due to the mesh construction of grease splatter guards, they can be hard to get clean and we find that putting baking soda and then detergent on them, mixed with elbow grease, is the way to go.
So to clean, put the baking soda and the liquid soap onto the screen and then scrub with a sponge or a hard bristle brush. You may need to rinse and scrub several times to get it fully clean. When all the dirt is removed rinse the screen well, dry and it is ready for its next use.
So what are the best splatter screens currently on the market? Let us walk you through the ones we found and why we choose them.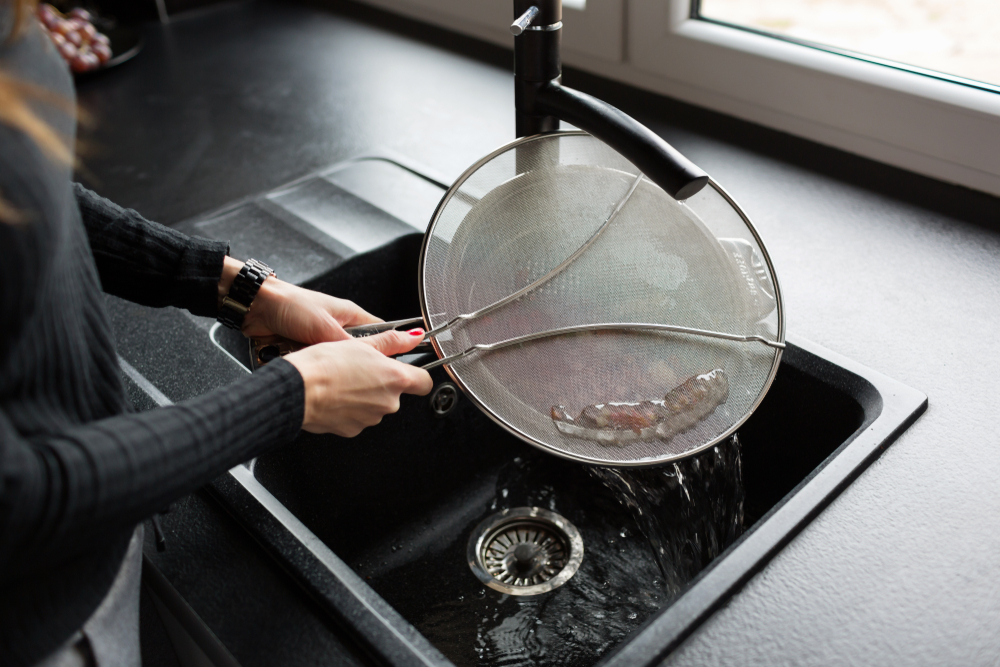 5 Best Splatter Screens For All Budgets
Bergkock Splatter Screen
The Bergkock splatter screen is a 13-inch grease guard, perfect for frying pans. Designed by the leaders of kitchenware safety with cutting edge industry innovations, it has a heat resistant handle and ultra reinforced joints, making it more durable.
This splatter guard also has an increased mesh count, making it more able to catch grease and easier to clean.
It comes with a lifetime guarantee and over 4000 Amazon reviews with 93% giving it a 4 out of 5 or above.
A great all rounder and a definite hit for us.
Oxo Good Grips Stainless Steel Splatter Screen
The Oxo Good Grips Stainless Steel Splatter Screen is made of perforated steel and fits a pan of a maximum of 13 inches. The handle folds down for easy storage. 76% of the Amazon reviewers mark it as a 4 out of 5 or above.
A good screen if you are not a fan of the mesh type and several reviewers have said they have put it through the dishwasher with no problems.
One of the best splatter screens that we found on the market.
Norpro Nonstick 3 Sided Splatter Guard
The Norpro Nonstick 3 Sided Splatter Guard is a three-panel splatter guard that you stand around the pan. The folding panels keep the surrounding area clean. It is made of a durable, non-stick finish and just requires a quick hand wash to clean.
Rather than sitting on the pan, it sits on the stovetop but reviewers have said the edges are rounded, so it shouldn't scratch.
It has over 2500 reviews with 76 % rating it 4 out of 5 or above. It's a great alternative if you don't want a splatter screen that sits on a pan.
Frywall Splatter Guard
The Frywall splatter guard sits inside the pan giving you full access to the contents you are cooking. It fits a pan of 10 inches but check the measurements as it only fits certain pans.
The main advantage of these types of splatter guards is that keep the surfaces around clean but still allow you to stir without having to remove the screen.
It is made of BPA-free silicone and can withstand temperatures of up to 450°F. It rolls up for easy storage and is dishwasher safe.
It has over 100 reviews on Amazon with an average rating of 4.5 stars.
We really like the idea of this splatter screen as it's so easy to store, but we would check our pan sizes carefully to make sure it fits.
This is one of the best splatter screens if you are not looking for one that sits on a pan.
Greenful Products Splatter Screen
The Greenful Products splatter screen is a silicone screen that will fit an 11 or 13-inch pan. This splatter screen is heat resistant up to 500 F and the handle is heat resistant.
It has a folding handle for easy storage and is easily washed or thrown in the dishwasher.
This screen comes with a lifetime guarantee and more than 200 Amazon reviews with an average rating of 4.2 stars.
For those that find washing mesh screens too much of a chore, this might be the right splatter guard for you.
I hope we have convinced you that every home needs a splatter guard and have helped you choose one of the best splatter screens for you and your home.
If you liked this article you might also like 10 Best Salt And Pepper Grinders For All Budgets