If you have never had vegan Yorkshire pudding, you are in for a real treat! This is the perfect comfort food and great for any time of year, but especially during the holidays.
It is a golden and crispy pastry with a little well that is perfect for pouring my Vegan Brown Gravy into!
If you are making these for non-vegans, they won't be able to tell them apart. They are so tasty and delicious that everyone loves them!
I will tell you that there is a knack to making vegan Yorkshire pudding so I highly recommend practicing in advance. Mine turned out crappy the first few times too because it takes practice. So please don't become discouraged with this vegan Yorkshire pudding recipe until you give it some practice!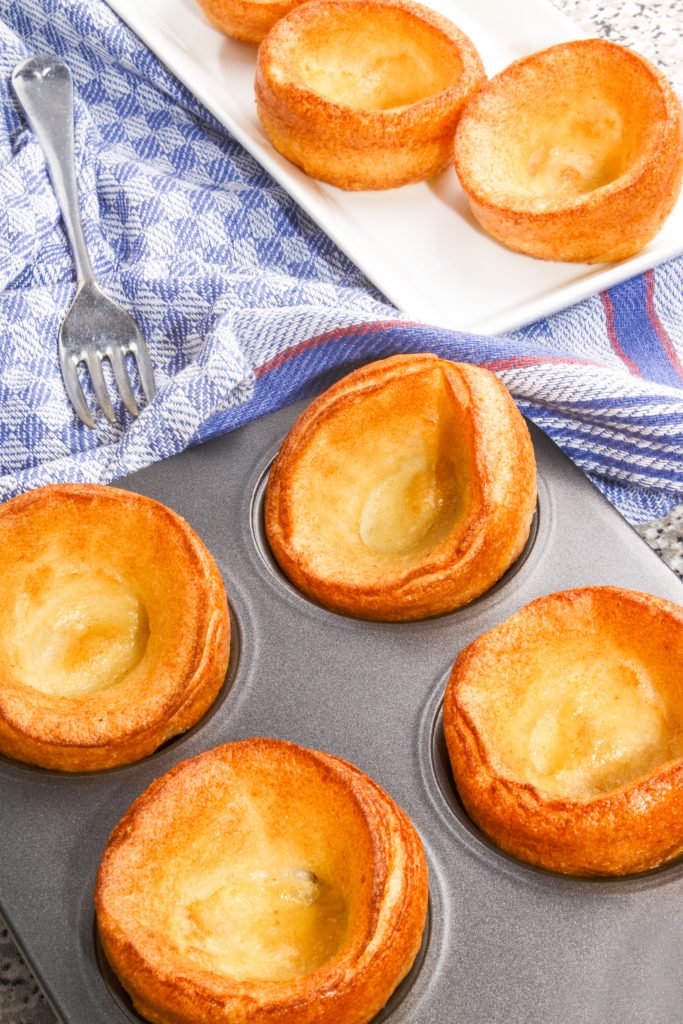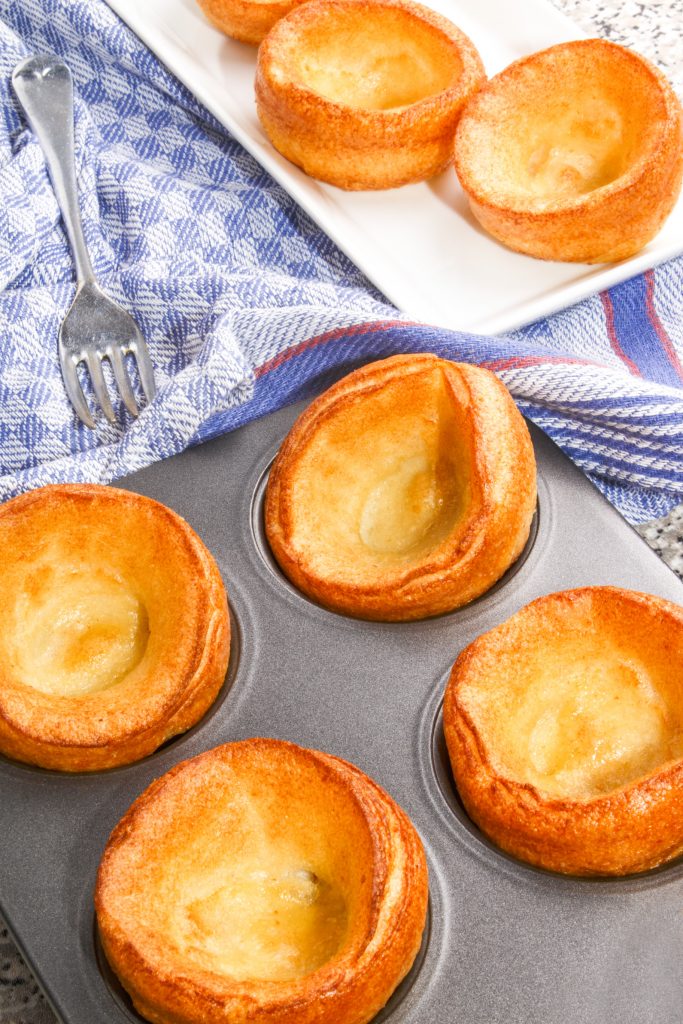 As I mentioned above, there is a trick to making the perfect vegan Yorkshire pudding, so make sure to follow along and read on if you are new to making this.
It is one of the best recipes to eat at your Vegan Christmas Dinner or whenever you are cooking a roast dinner such as a holiday or Sunday supper.
When making eggless Yorkshire pudding, it is essential to follow the ingredients and measurements as exactly as possible and to work as quickly as possible in order for the recipe to turn out correctly.
The end result is a super tasty recipe that is crispy on the outside and fluffy on the inside.
I hope you enjoy making these easy vegan Yorkshire puddings as much as I do. I promise they are easy once you measure everything out and get the knack of it.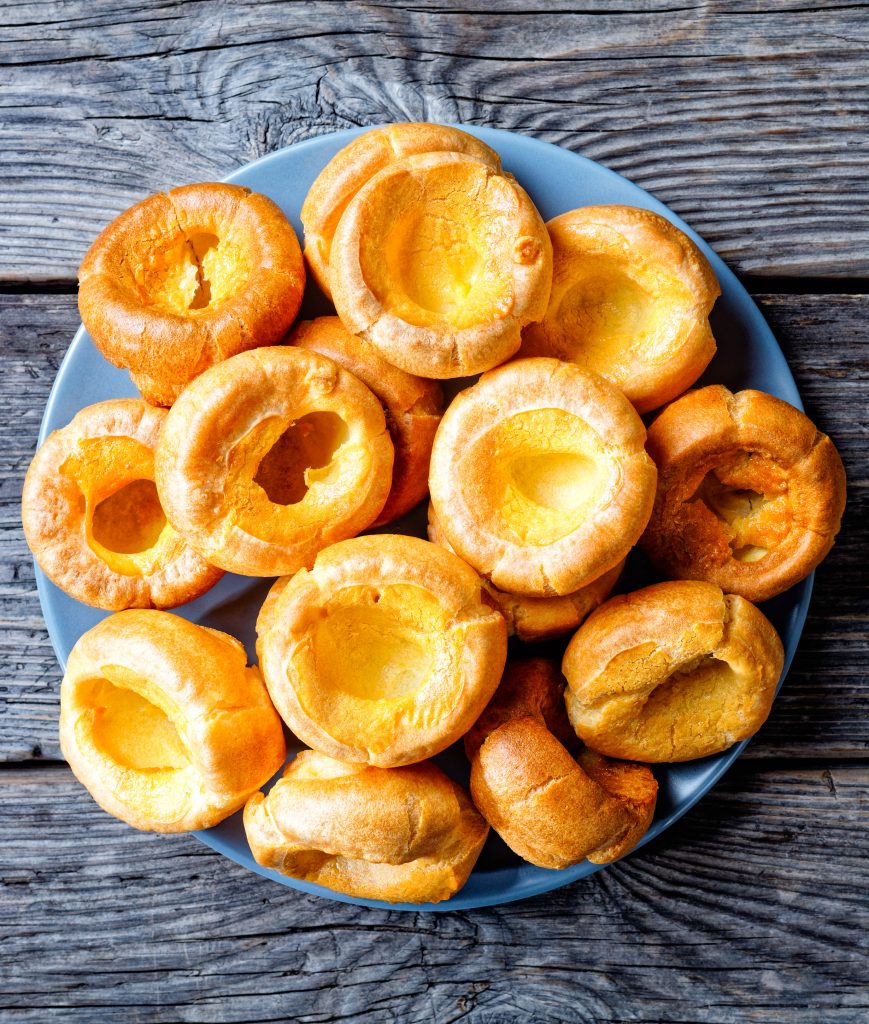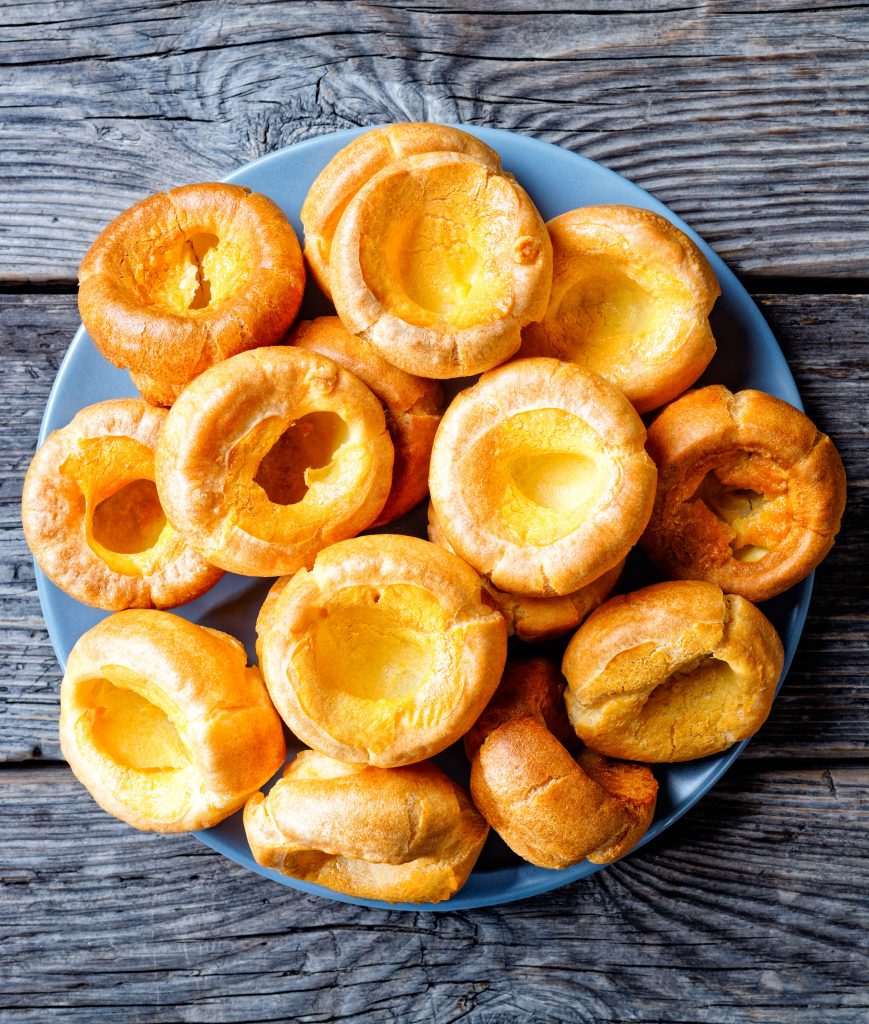 What Are Yorkshire Puddings?
A lot of you reading this are probably from the UK so you probably already know this answer!
But for those of you who aren't familiar, Yorkshire puddings are a traditional British side dish where the batter is cooked in tins similar to a muffin tin with fat.
For our vegan Yorkshire puddings recipe, we use oil as our "fat" so that there are no animal products. I am honestly surprised that this recipe hasn't caught on in the USA as we love all things made with oil and dough here, or so it seems [at least I do!]
Yorkshire puddings originated from….Yorkshire! And they are perfect to be eaten with a roast dinner with gravy. You can also eat them as a dessert with jam or jelly in them too! As I said above, I love them with some delicious vegan gravy.
Are Yorkshire Puddings Vegan?
No, traditional Yorkshire puddings are NOT vegan! Normally, they are made with eggs, and in a lot of cases, drippings from beef, pork fat, prime rib and more.
As you can see, normal Yorkshire puddings are FAR from vegan with all of the animal products and straight-up meat! If you go into any restaurant, they will not be using a vegan Yorkshire pudding recipe, so keep this in mind because they don't appear to visibly have any animal or meat products, but they are part of the process.
That is okay, it is fairly easy to veganize Yorkshire pudding in a super tasty way where you totally won't miss the egg and especially won't miss the beef drippings [yikes!] We tried to make this vegan Yorkshire pudding recipe as easy as possible so that you won't get scared away!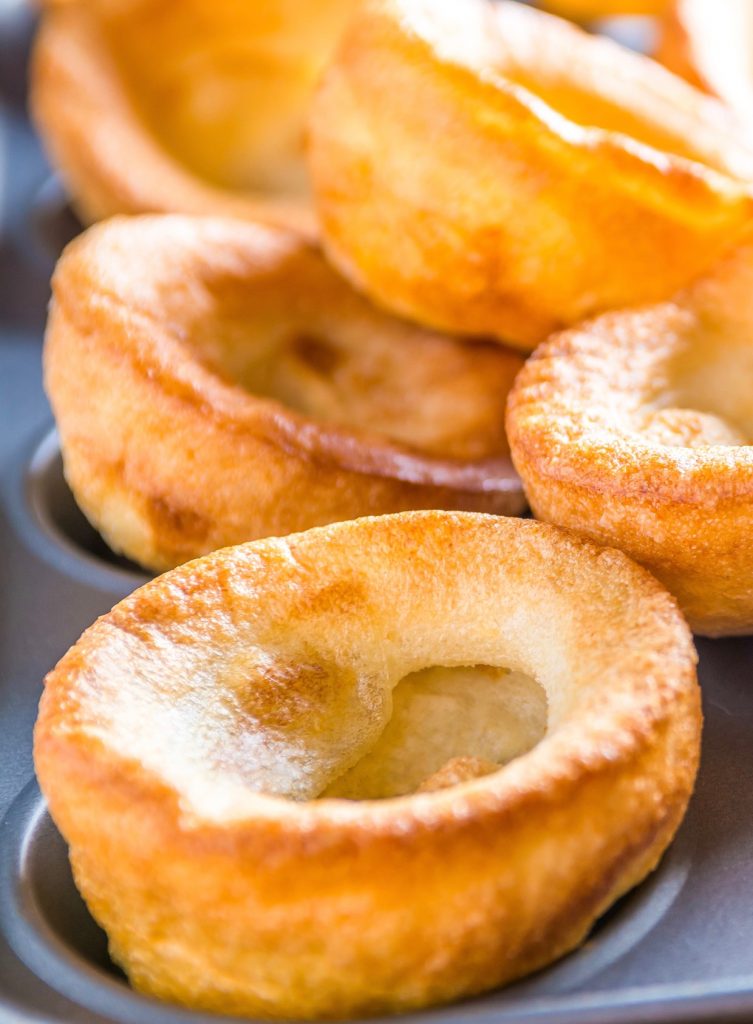 Can You Make Gluten-Free Vegan Yorkshire Puddings?
Yes you sure can! I recommend replacing the regular flour with more chickpea/gram flour. The only thing worth noting is that the gram flour does have a flavor similar to garbanzo beans since there is so much of it.
You can try other gluten-free flours but I have found that this is what works the best. The taste is still good, and when smothered in gravy, it is so tasty!
You can use that substitute in this recipe if you are searching for vegan gluten-free Yorkshire pudding. Just pay attention to the measurements.
How to Make Vegan Yorkshire Puddings
The first thing to know when making vegan Yorkshire puddings is to work quickly and efficiently.
You will be putting smoking hot oil in a muffin tin and then adding in your batter. The faster you work the better your eggless Yorkshire pudding will come out!
For this recipe, we use aquafaba, or the liquid from a can of chickpeas. I use this in a ton of other recipes including my Vegan Wellington which makes a great main dish for this side! This aquafaba vegan Yorkshire pudding recipe allows you to get the light and airy texture you are looking for!
First, you are going to divide your oil between your muffin tins and place the oil-filled muffin tins in the oven.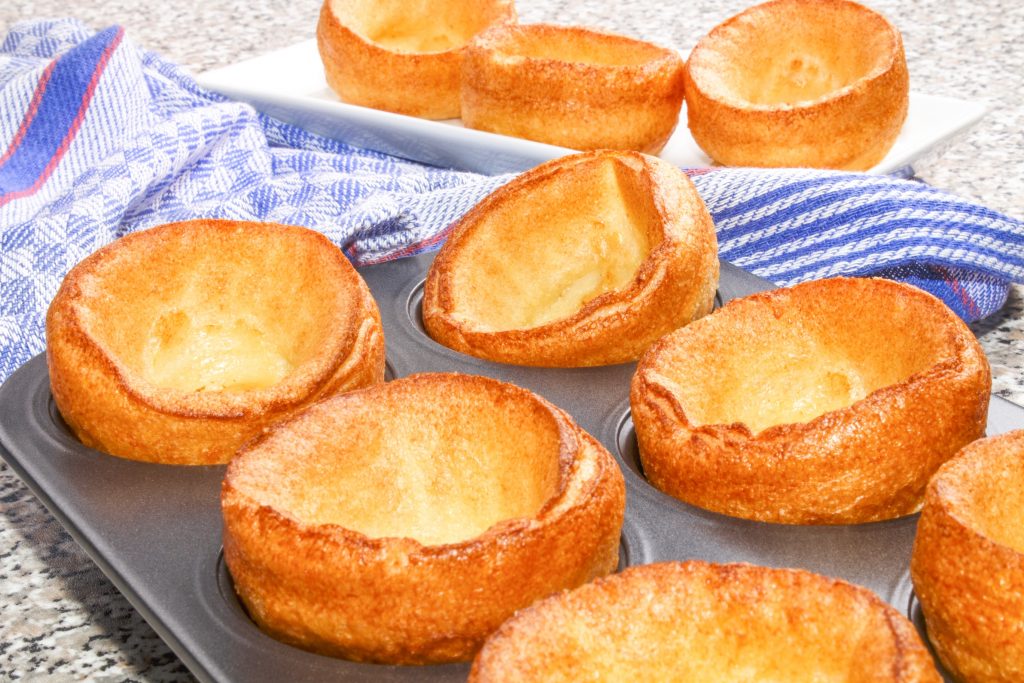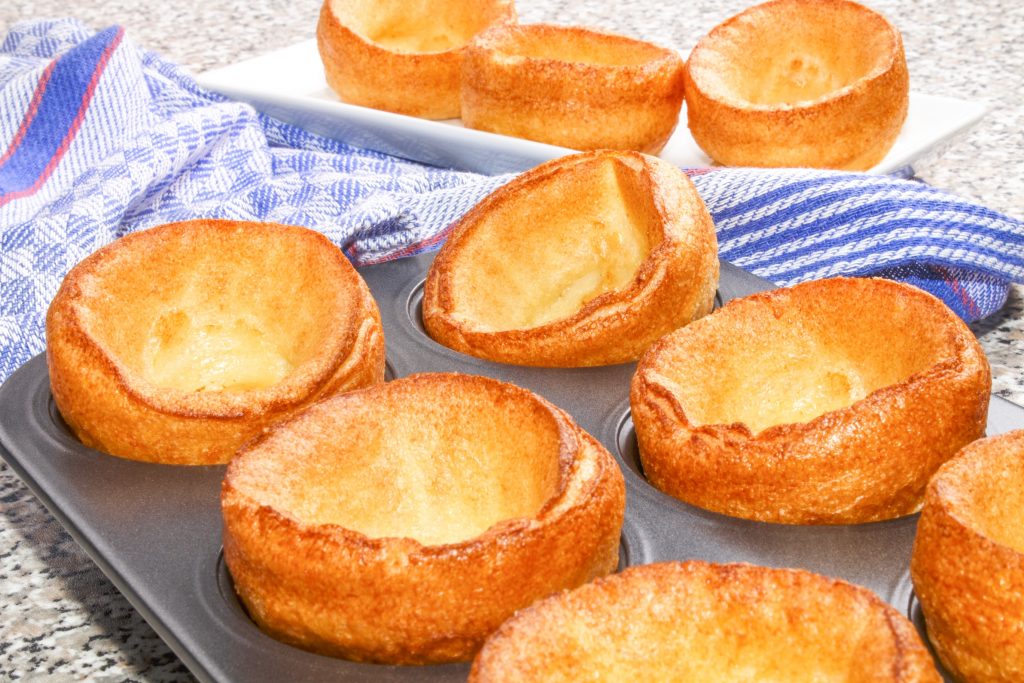 This isn't exactly a healthy dish, it is comfort food, so you cannot skimp on the oil!
Place the oil in the oven while you prepare the rest of the ingredients! You want the oil to be HOT! This usually takes about 10-15 minutes for the oil to get as hot as it should be.
Meanwhile, combine your self-raising flour, baking powder, and your gram flour. Gram flour is flour from chickpeas/garbanzo beans. I also add a bit of turmeric to give the vegan Yorkshire pudding the bit of "golden" color you traditionally see!
Add a generous amount of salt and a little bit of pepper.
In a small bowl, whisk together the aquafaba and the non-dairy milk and then beat it into the dry ingredients until smooth.
When I talked about the "knack" to this recipe, this is exactly what I was talking about. You may need a little practice to get this next part, so don't worry if it seems hard at first.
Now, you are going to want to let the batter rest for about 5-10 minutes before transferring it into a container with a spout. If you want to make the batter in advance, it can rest for up to an hour!
You want this container to pour well and it can even be a large measuring cup with a pour spout.
Now, working as quickly as you can, remove the muffin tins with the boiling hot oil from the oven and pour the vegan Yorkshire pudding mixture evenly into each well in the tin.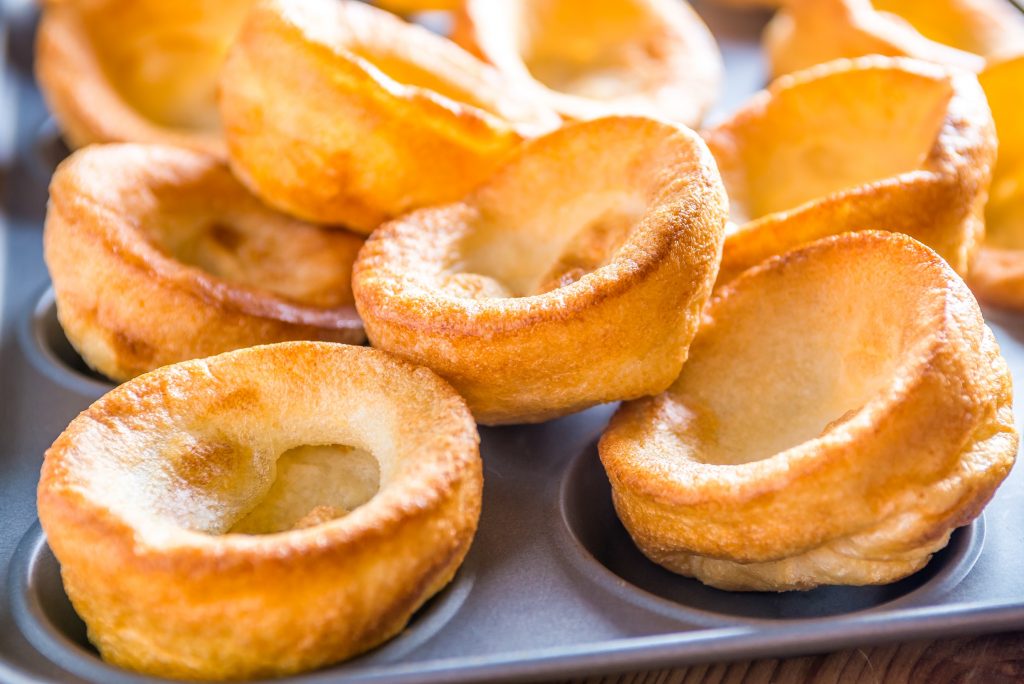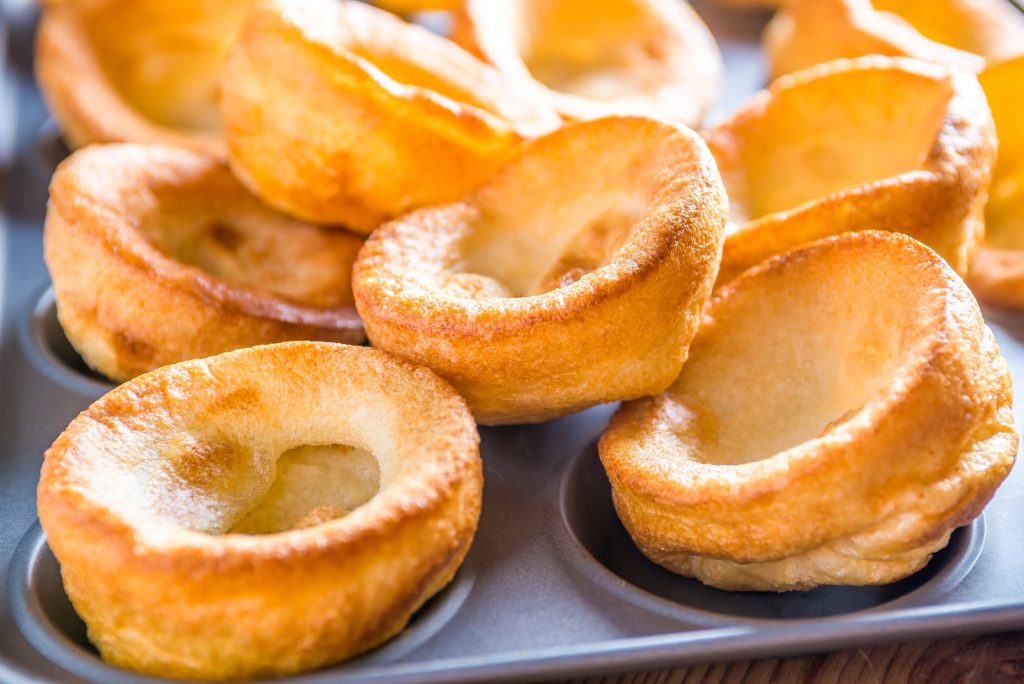 Try not to overfill each, there should be a small gap from the top!
Then, as quickly as you can, put the vegan Yorkshire puddings back in the oven and bake them for about 10 minutes.
After 10 minutes, turn the temperature down [without opening the oven] and cook for an additional 15 minutes.
Take them out of the oven and use a spoon to push down on the middle to allow a well for the gravy. You may or may not have to push down on the center with the spoon!
It depends on how each vegan Yorkshire pudding recipe bakes. The oil naturally pulls down the center in some, but not in others. For any that don't have a well, simply use the back of a spoon to push them down!
If your Yorkshire puddings come out and they don't look like this, I highly recommend doing the spoon method to give them the more "traditional" look with the "well" inside of them!
Once you remove them from the heat, let them cool in the pan for at least 15-20 minutes to allow the centers to firm up and allow them to take shape.
Once they have rested, use a spoon to pop them out to cool completely or eat them warm, straight from the pan!
And that is it! An easy-peasy way to make Yorkshire pudding vegan, right in your own kitchen!
I feel like making your own Yorkshire puddings takes a little knack if you are slower to pour the batter into the oil. If you are making them for a big event, I suggest trying them out in advance so you can practice!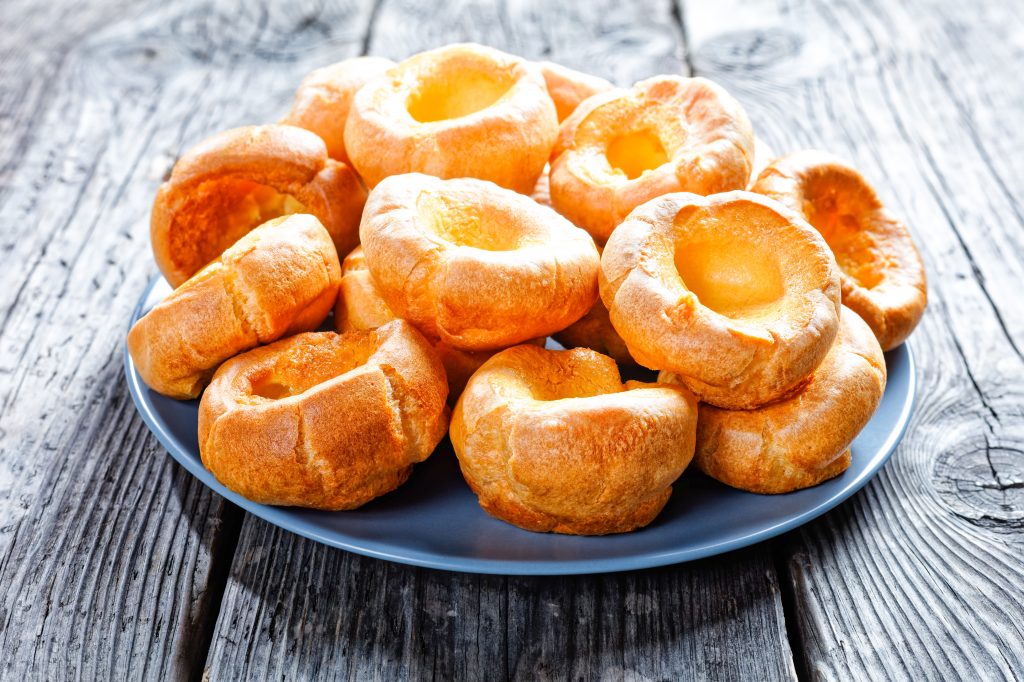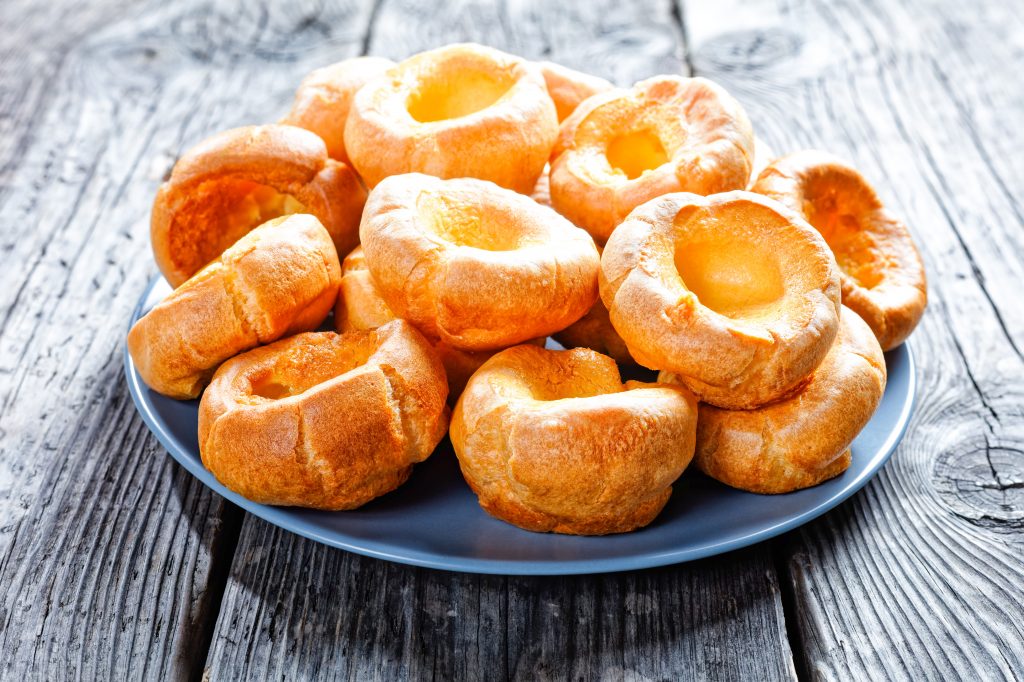 Did You Try This Recipe?
If so, I would love to keep in touch! I enjoy seeing photos and comments about the recipes that you make! You can follow me on Instagram and I will repost your goodies in my stories and comment on it too! Just tag me at @wowitsveggie and hashtag #wowitsveggie. I can't wait to see what you make!
Yield: 12 yorkshire puddings
Easy Vegan Yorkshire Pudding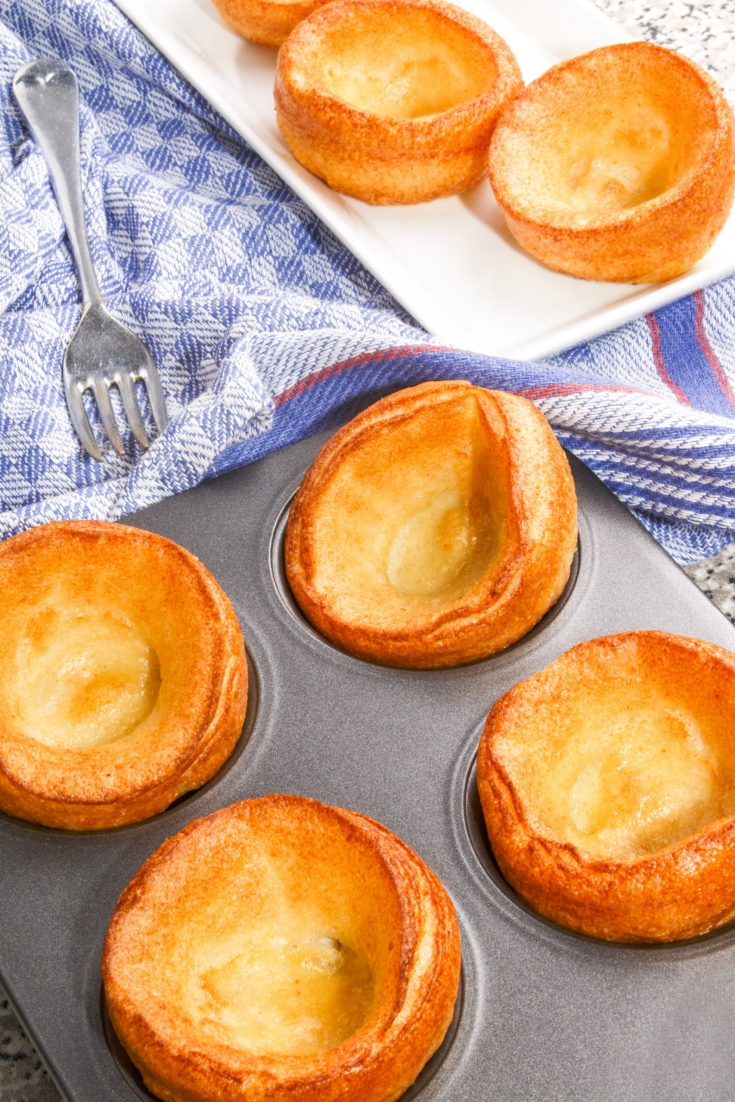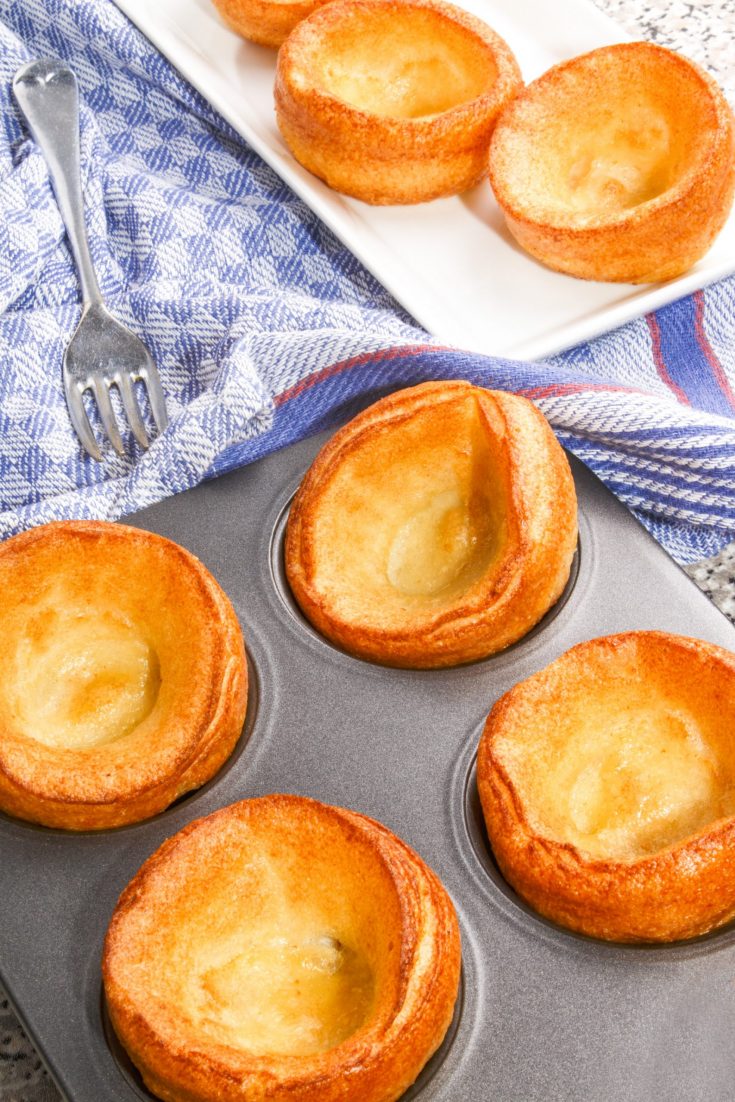 These vegan Yorkshire puddings are crispy on the outside and fluffy on the inside and use no eggs or animal products. They are fairly easy to make once you get the knack and they are ready in under an hour for a quick and tasty side. Serve them with a delicious vegan roast dinner slathered in Brown Mushroom Gravy!
Ingredients
200 grams [1 cup] of self-raising flour
50 grams [1/2 cup] gram flour [also known as chickpea flour]
2 tsp baking powder
200 ml [0.8 cups] aquafaba [liquid from the chickpea can]
500 ml [2 heaping cups] non-dairy milk
1/2 tsp ground turmeric [for color, this is optional!]
Neutral oil such as sunflower oil or avocado oil for cooking [about 1 tablespoon per pudding]
Instructions
Preheat oven to 425F/220C and put about 1 tablespoon of oil in each hole of a 6-hole muffin tin. Since this recipe makes 12 Yorkshire puddings, you will need two 6-hole muffin tins. I do not recommend using a Yorkshire pudding cup for this recipe, a muffin/cupcake tin works much better. If you only want 6, halve the ingredients!
Place the oil-filled muffin tins in the oven and bake until the oil is piping hot, usually around 10-15 minutes. While the oil is heating up, make the batter.
Combine flour, gram flour, baking powder, and turmeric into a large bowl. Add a generous amount of salt and pepper to taste. In a small bowl, whisk together the aquafaba and the non-dairy milk. Beat the wet ingredients into the dry ingredients.
Let the dough mixture rest for 5-10 minutes. You can also make the vegan Yorkshire pudding dough up to 1 hour in advance so it can rest longer.
Pour the batter into something with a spout such as a large carafe or liquid measuring cup.
Working as quickly as you can, take the hot oil-filled muffin tins out of the oven and pour the batter into each hole. Make sure not to overfill and to leave a small space at the top. Return the tins to the oven as fast as you can.
Bake for 10 minutes and then turn down the heat to 375F/190C for an additional 15 minutes until the Yorkshire puddings are golden brown.
Remove from the heat and use the back of a spoon to push down a "well" in the middle of each Yorkshire pudding so you have a place to put your gravy. The oil should naturally weight down the center of the batter but if it does not, use the back of a spoon to make the well yourself.
Let the Yorkshire puddings cool in the tray for 15 minutes and then use a spoon to remove them and let them cool completely on a wire rack.
Nutrition Information
Yield
12
Serving Size
1
Amount Per Serving
Calories

213
Total Fat

6g
Saturated Fat

1g
Trans Fat

0g
Unsaturated Fat

5g
Cholesterol

3mg
Sodium

312mg
Carbohydrates

30g
Fiber

4g
Sugar

5g
Protein

9g