Stop what you are doing and make this vegan Wellington recipe! Yes, I am serious, it is that good!
Make it for your holiday dish, make it for your birthday, or make it for a random dinner!
When you think of beef Wellington, you think of a "luxury" dish that you get at a fancy restaurant. It looks really finicky and difficult to make.
But that couldn't be further from the truth! Making beef Wellington vegan is SO EASY! And the results are SO impressive!
This dish has gotten ooo's and ahh's from literally every single person I have served it to. Just wait and see!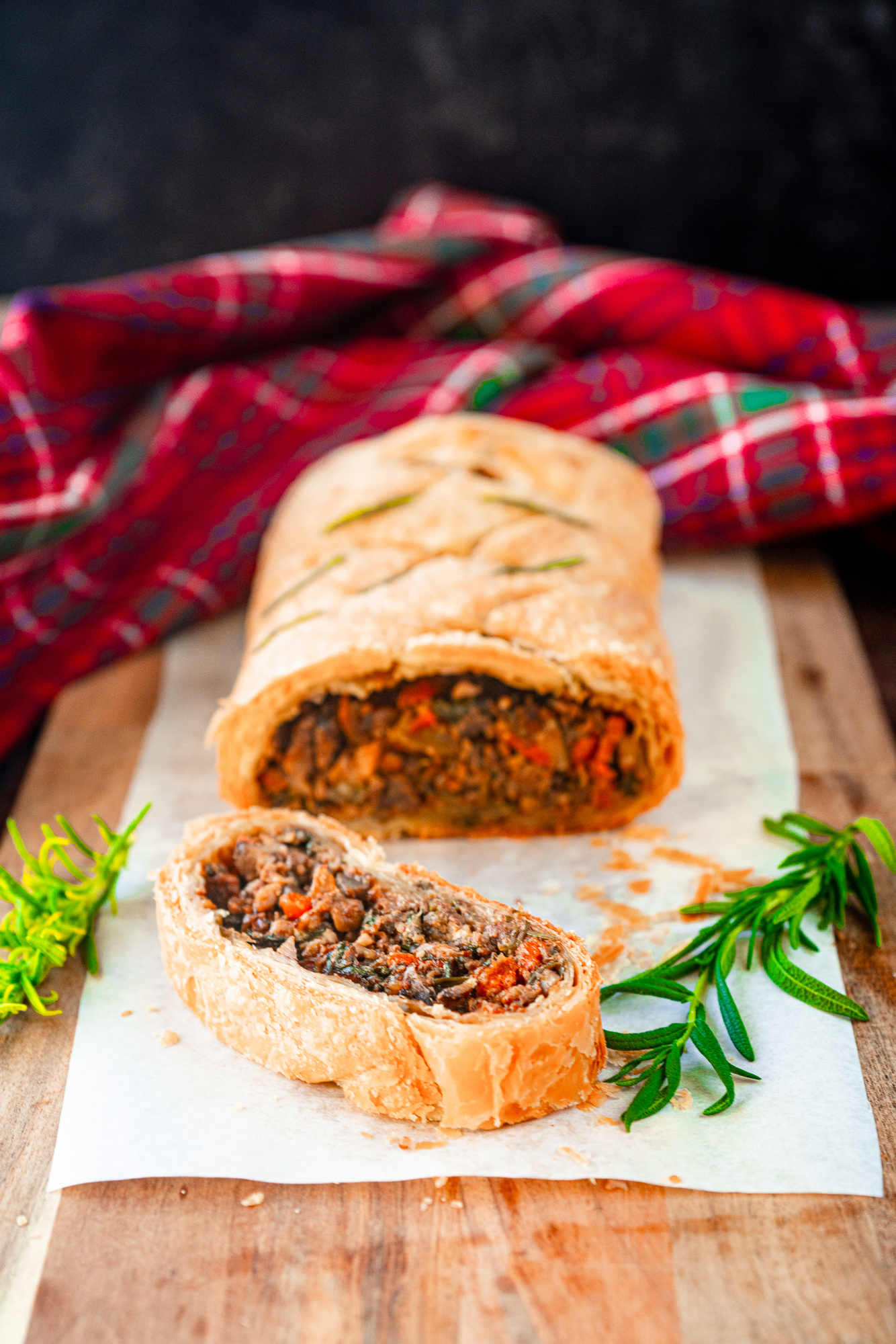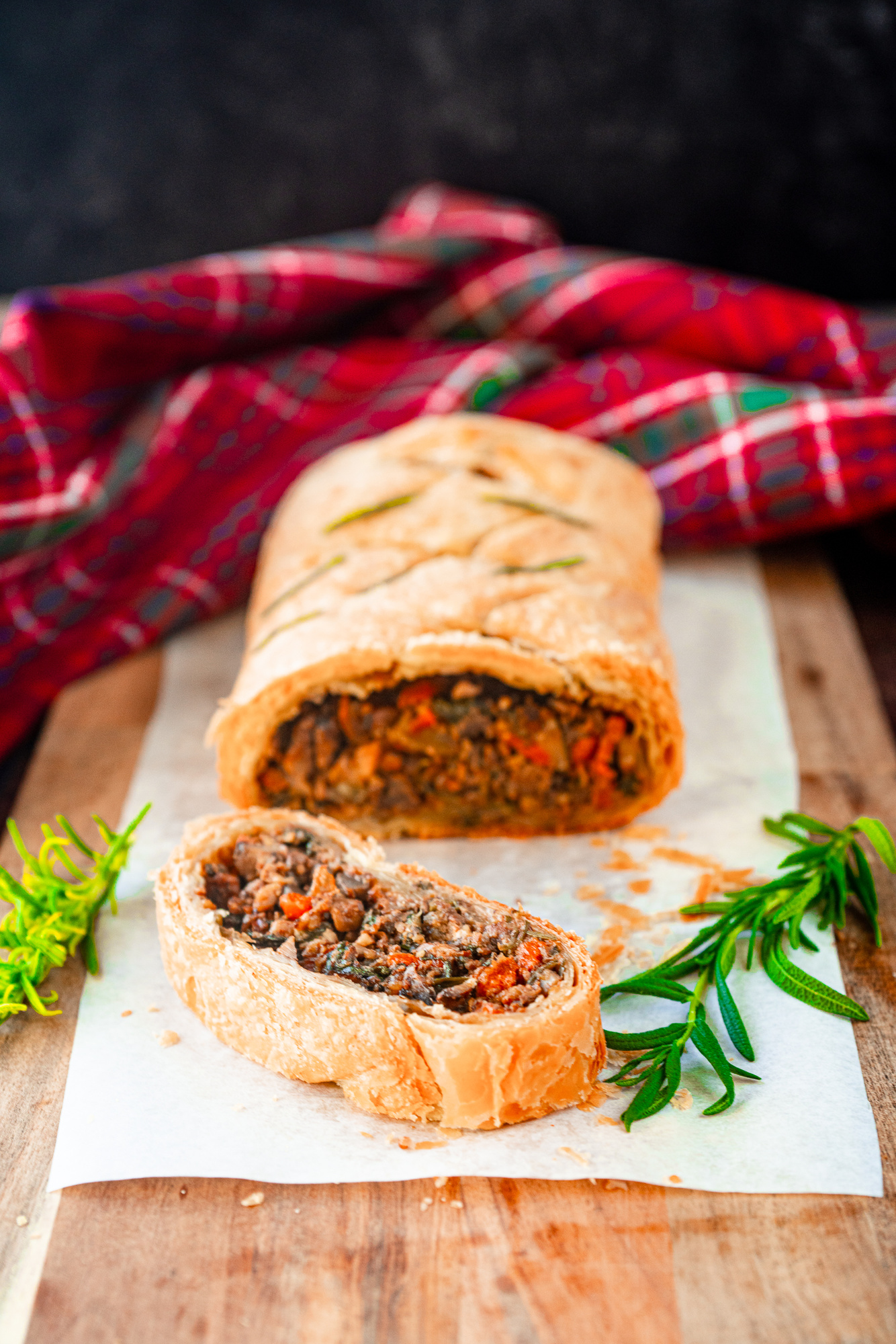 You will be SO proud of your work and vow to make this recipe for every dinner because it was that easy and came out so pretty!
All you have to do is prepare the filling, wrap it in some puff pastry, and cook it for about 40 minutes.
It is so freaking delicious and amazing! Imagine savory vegetables wrapped in pillowy soft puff pastry and baked to perfection.
This vegan mushroom Wellington uses a variety of veggies for the filling. Of course, you can substitute any additional veggies you want. It is so simple to customize!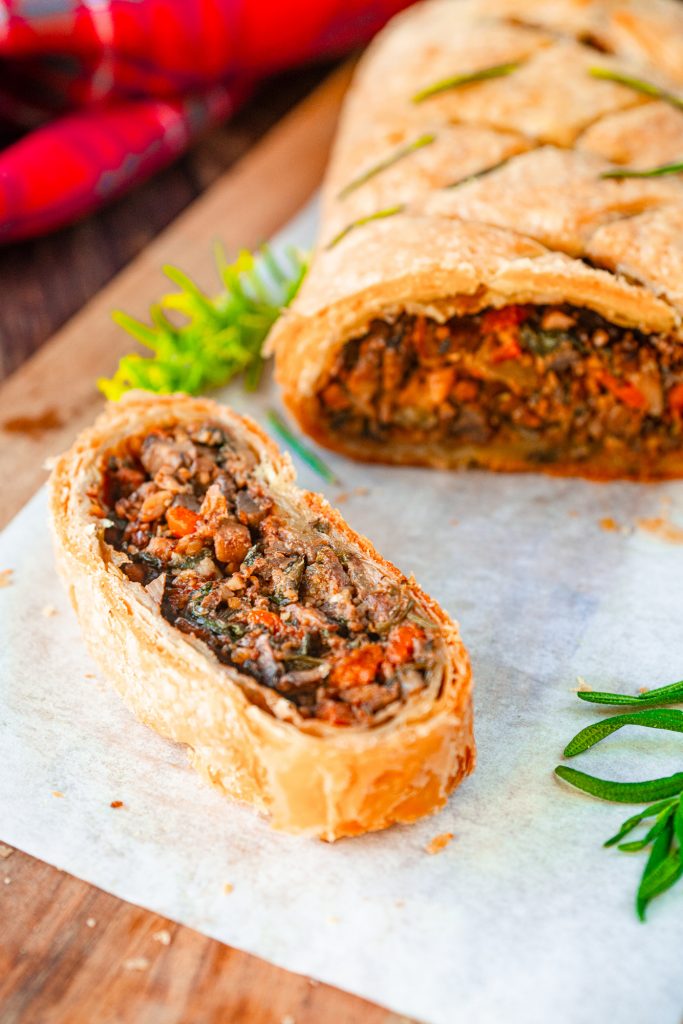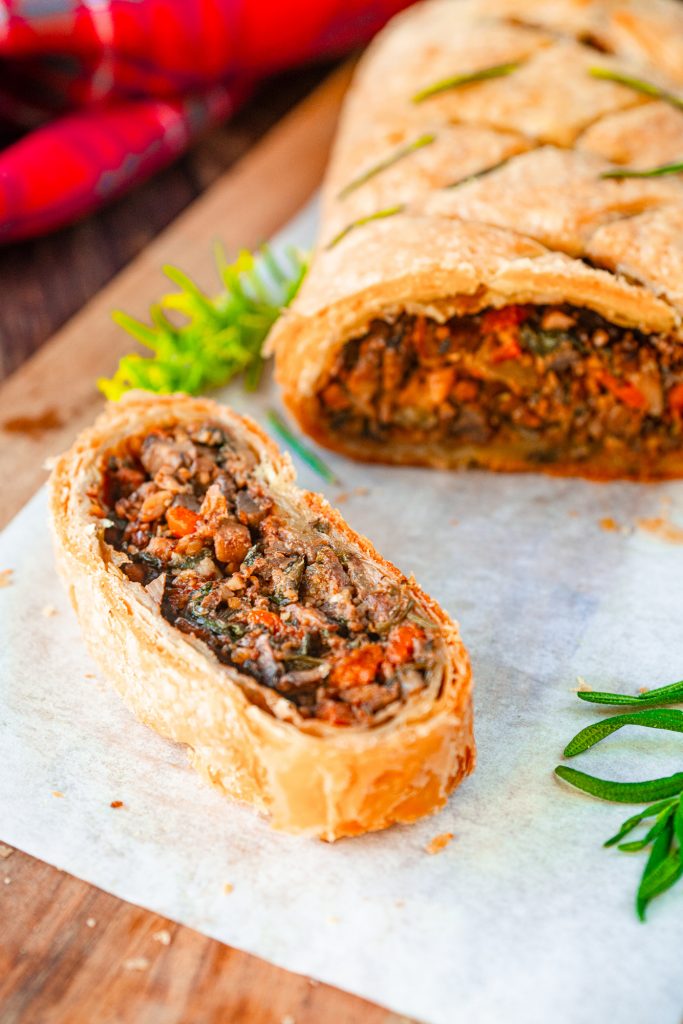 Then, this best veggie Wellington recipe also uses ground walnuts to hold it all together.
If you are looking for a nut-free Wellington, you could probably substitute some other type of flower or ground seeds, but I haven't tried it yet.
The ground walnuts give this vegan mushroom wellington an extra boost of flavor but also help hold the filling together.
The walnuts 100% disappear into the flavor of the filling so you won't taste them when eating. If you hate the flavor of nuts, I promise you won't notice them in this vegan Christmas Wellington!
This is the ultimate EASY main dish for your Vegan Thanksgiving or Vegan Christmas dinner!
It will wow your friends and family and even meat-eaters will be begging to dig in. My boyfriend eats meat with almost every meal and raves about this dish saying it is one of the best things he has ever had!
My favorite way to serve it is with my Vegan Brown Gravy which is rich and delicious and brings the flavors together for the Wellington.
I will show you the easy step-by-step recipe for making your own Wellington vegan so you can wow a crowd at your next gathering.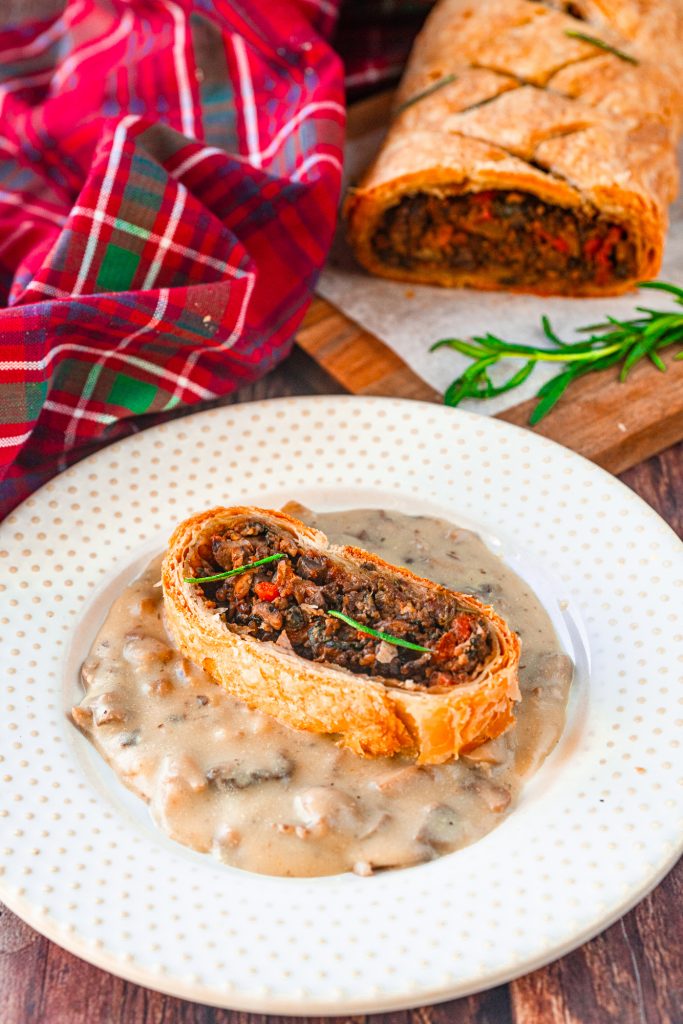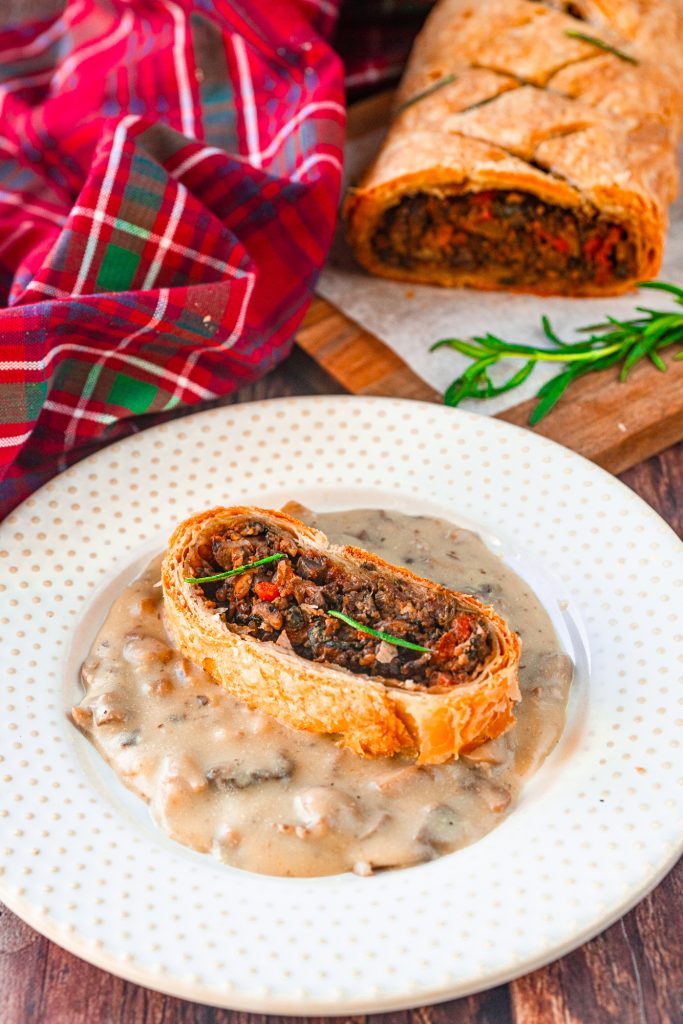 Why You Will Love This Easy Vegan Wellington Recipe
It is an impressive holiday main dish. If you want an easy and showstopping dish, this vegetarian Christmas Wellington is perfect for any holiday gathering.
Puff pastry is easy to use but looks fancy. The puff pastry is easy to work with even for beginners. The look of it elevates the plant-based Wellington!
Kids love it! Wrap anything in yummy dough and kids are sure to eat it up! This is the best recipe to get kids to eat some healthy vegetables.
It can be made ahead of time. This vegan beef Wellington is ideal for meal prepping. Make it a couple of days before a family or holiday gathering for a stress-free experience.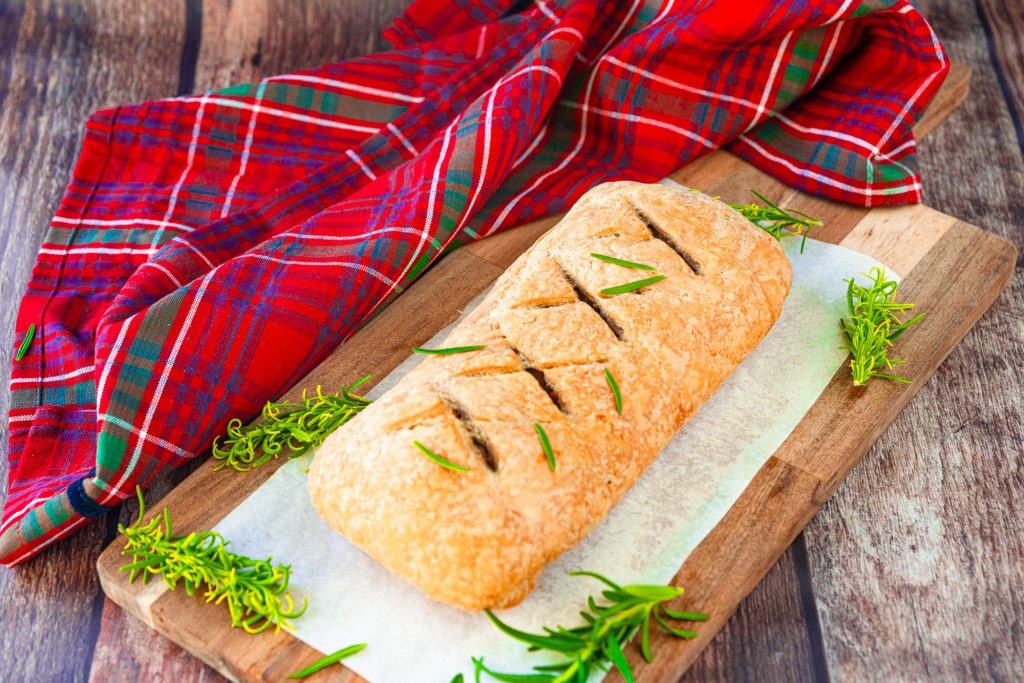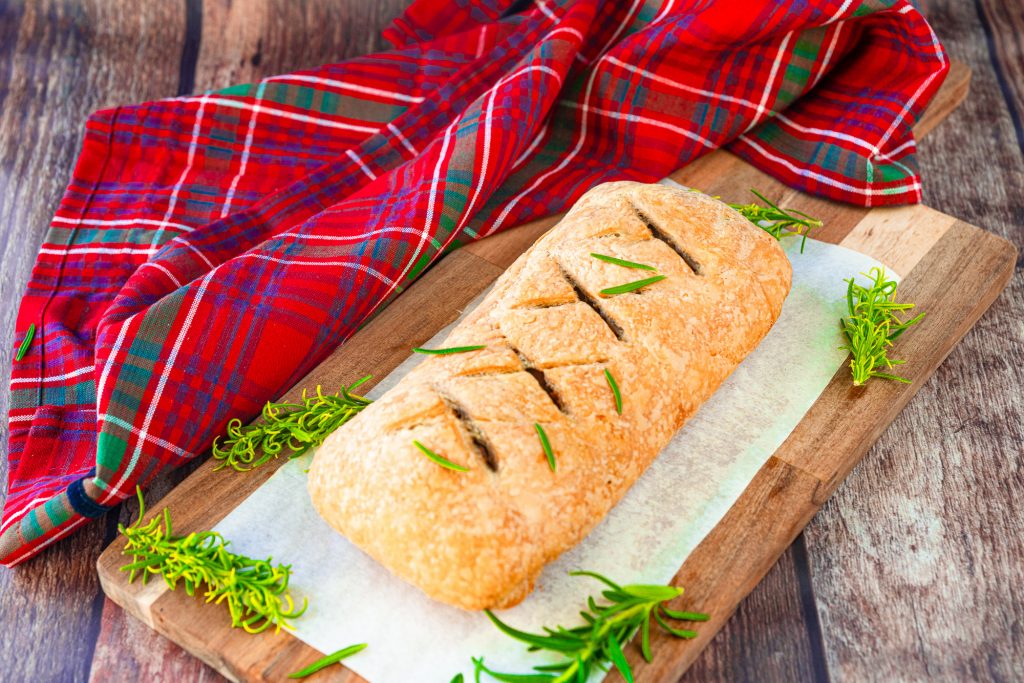 Where To Find Vegan Puff Pastry
When I was making this Wellington vegan, I first sent my mom to Whole Foods to get vegan puff pastry.
Whole Foods had one option and it had butter in it. Needless to say, it wasn't vegan and was pricey!
Then, she headed to Walmart and there it was! Accidentally vegan puff pastry for $4 with two sheets! This recipe only calls for one.
You can find vegan puff pastry at your local grocery store by simply looking at the ingredients.
Pepperidge Farm is the easiest brand to find and is what I used when making this easy Wellington recipe. It is affordable and you get two sheets.
I thought puff pastry would be hard and scary to work with, but it was so forgiving and easy and produced fabulous results!
When you are looking at your local grocery store, just look at the puff pastry ingredients. Most of them are accidentally vegan which is kind of wild!
Don't be afraid of working with puff pastry. It was way easier than I originally thought!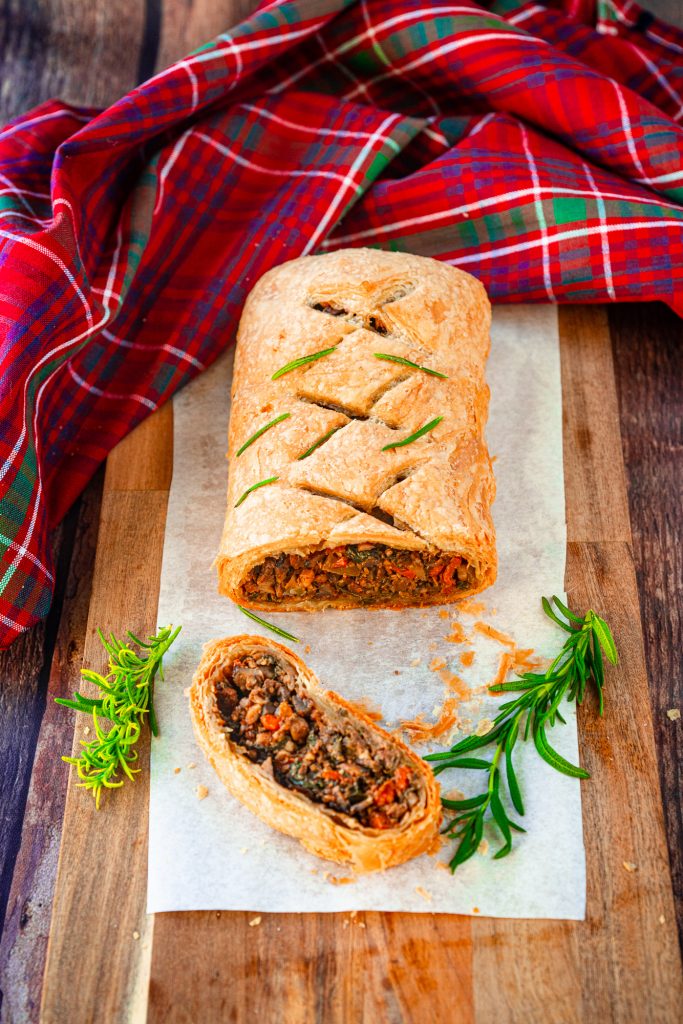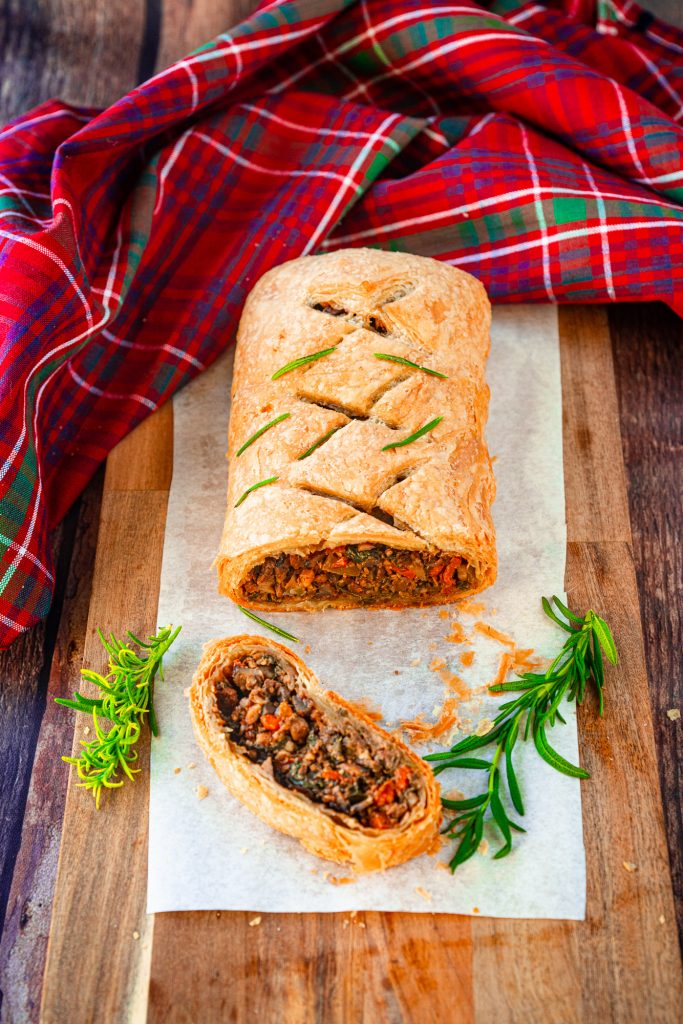 How To Make The Vegan Mushroom Wellington Filling
There are two parts to this recipe. First, you make the filling which takes no more than 10 minutes.
Then you stuff the puff pastry and bake.
In order to make the filling for the vegetarian Wellington recipe, you are going to want to finely chop your mushrooms, carrots, celery, and green onions.
While I do consider this a vegan mushroom Wellington, you do not use a giant portobello mushroom like other recipes do. No shame to other recipes, I just prefer a different texture for my vegan mushroom Wellington, and cutting into a huge chunk of portobello just isn't it.
Start by sauteing your carrots, celery, and onions until fragrant, and then add in the mushrooms.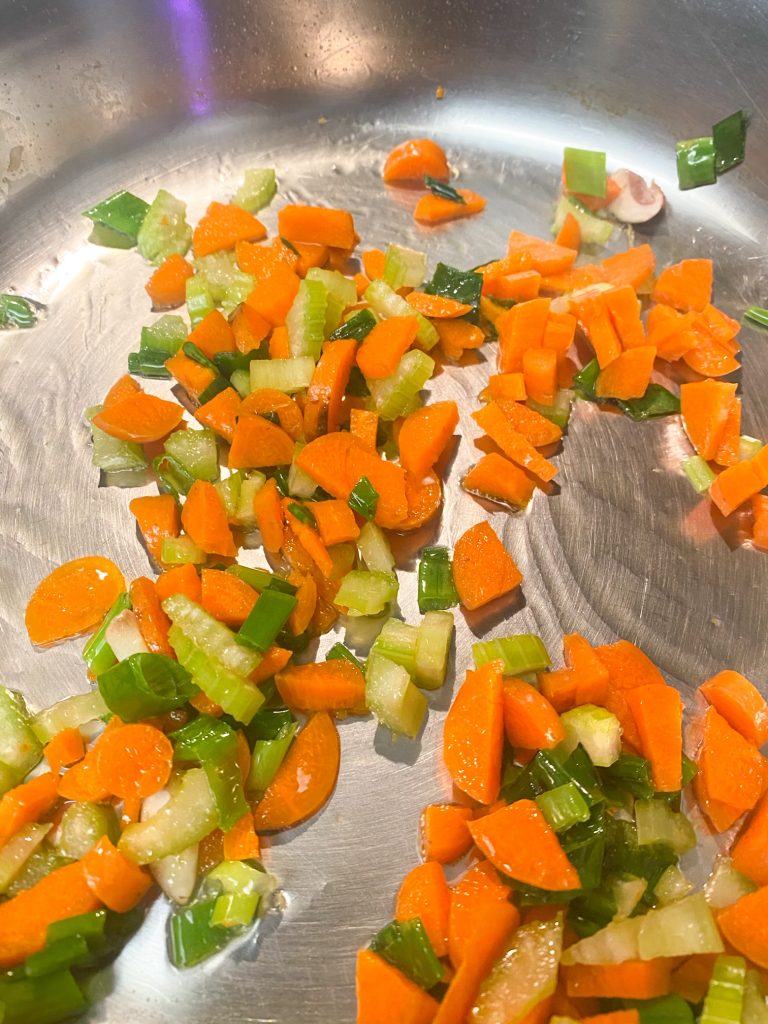 Mushrooms will release a lot of liquid and if you don't cook them correctly, your meat-free Wellington will be soggy and that is just no good.
Here is what you do!
Put the mushrooms in your pan and set a timer for 5 minutes. Constantly stir until the mushrooms are soft and fully release their moisture.
The pan should be dry!
This happens quickly and is like magic, but set a timer so you know you have done it enough. The transition usually occurs for me at the 4-minute mark. At this point, you can shut off the timer and you are finished!
It is going to surprise you, but trust the process as it really does work!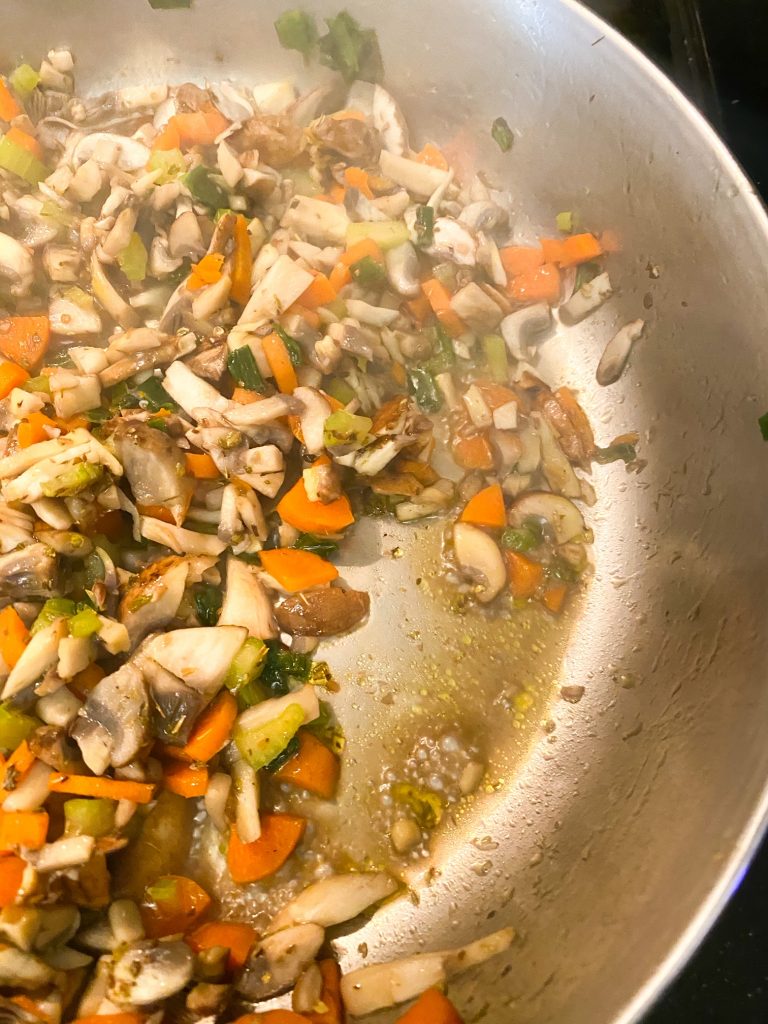 Once the mushrooms are dry, go ahead and add your spinach and cook until the spinach is wilted, which is usually only 1-2 minutes! Spinach will cook down really small.
Finally, once it is all cooked and seasoned, you will stir in your ground walnuts.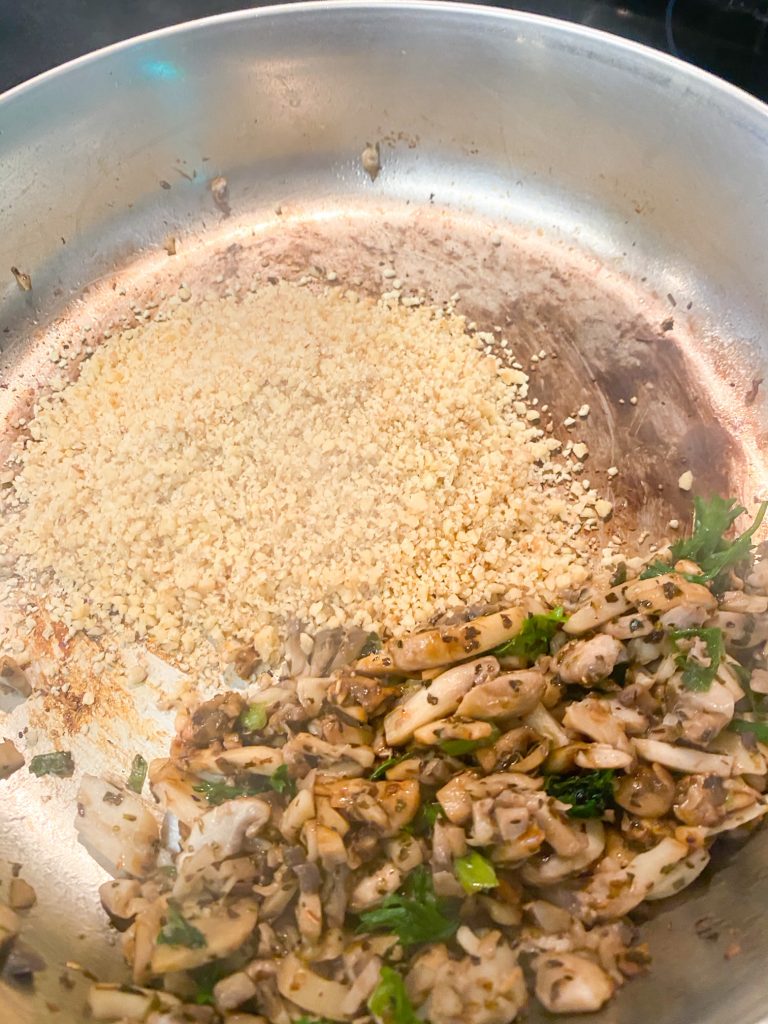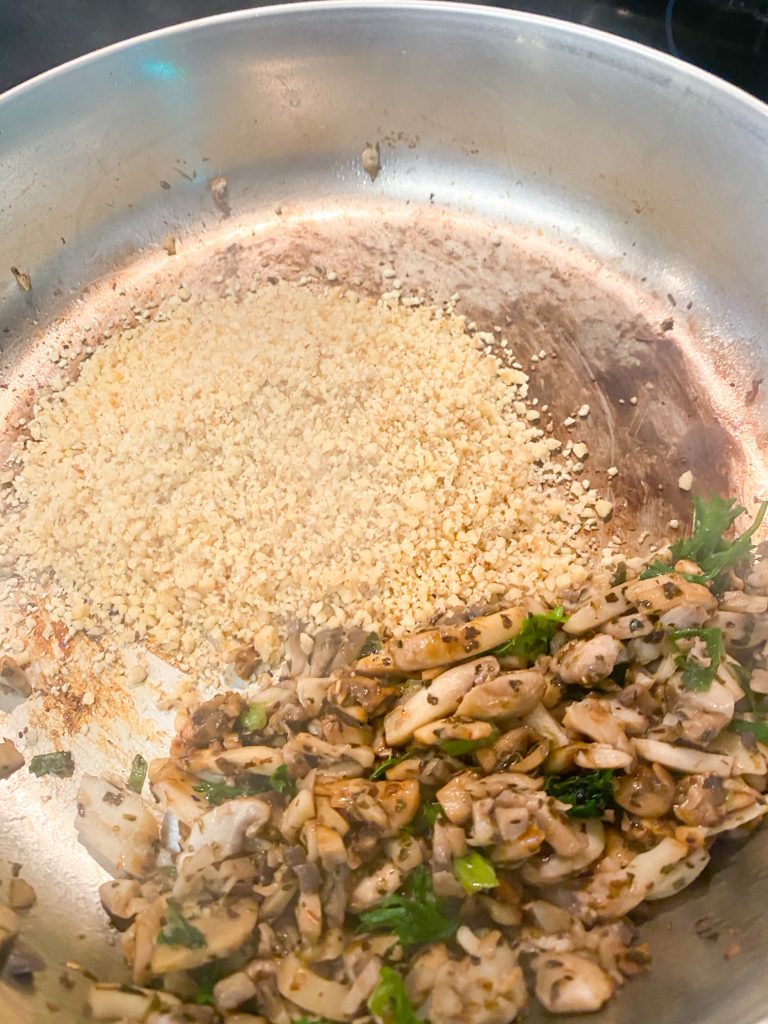 You can grind your walnuts in a food processor or small chopper. You want a fine meal, almost like flour or flax meal, which you can use if you want a nut-free Wellington.
Using a spoon, stir to combine the cooked veggie mixture and the walnuts until combined throughout.
Now, you are going to prepare your puff pastry! See how easy that was?
Just 10 minutes and a magic trick of letting your mushrooms release their moisture and you have the stunning filling for a meat-free Wellington right at your fingertips.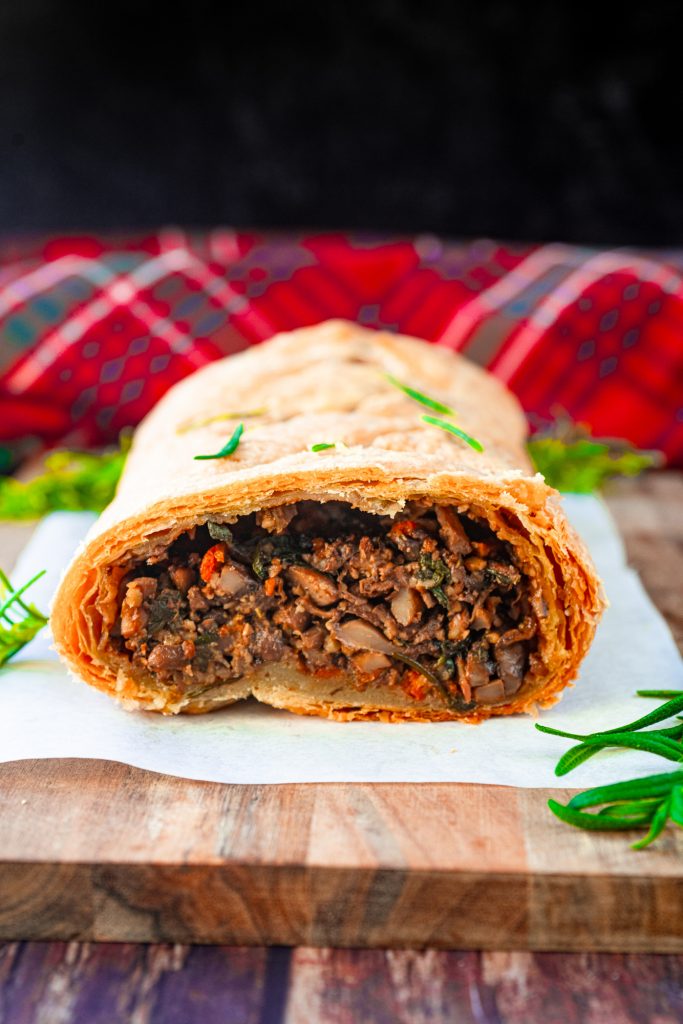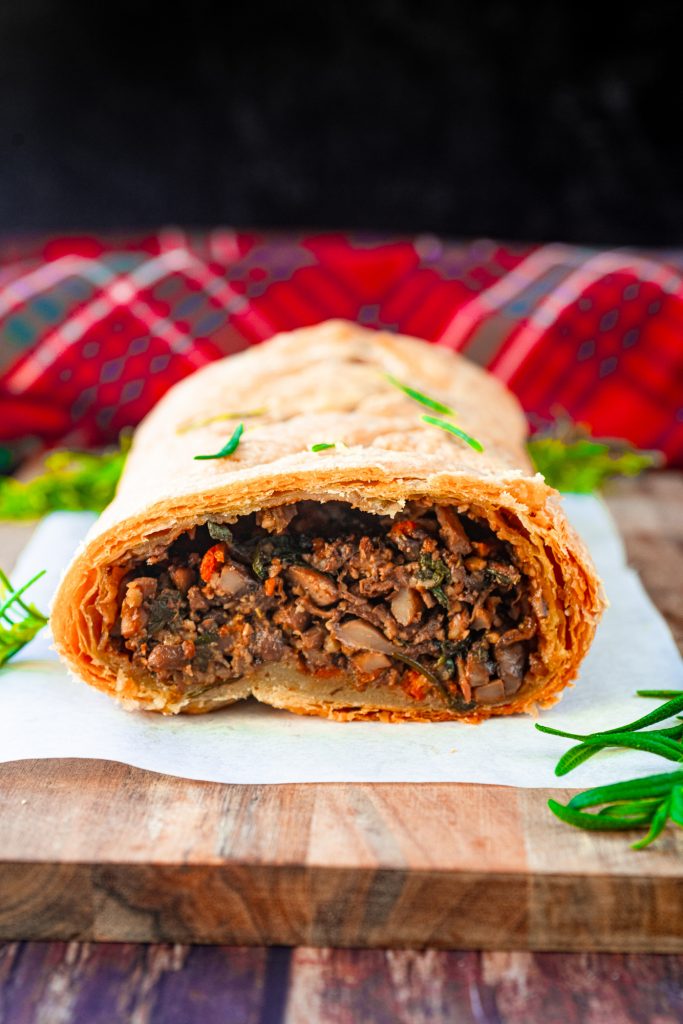 How To Wrap The Vegan Wellington
Preparing the puff pastry is so easy! Don't be scared now!
If you are thinking of difficult-to-work-with pastries, you are probably thinking about phyllo dough. This stuff is quite easy in comparison.
First, you are going to want to lay the thawed sheet of puff pastry down on a floured surface.
I put mine on a piece of parchment paper that I floured and then put another piece of parchment over the top for rolling.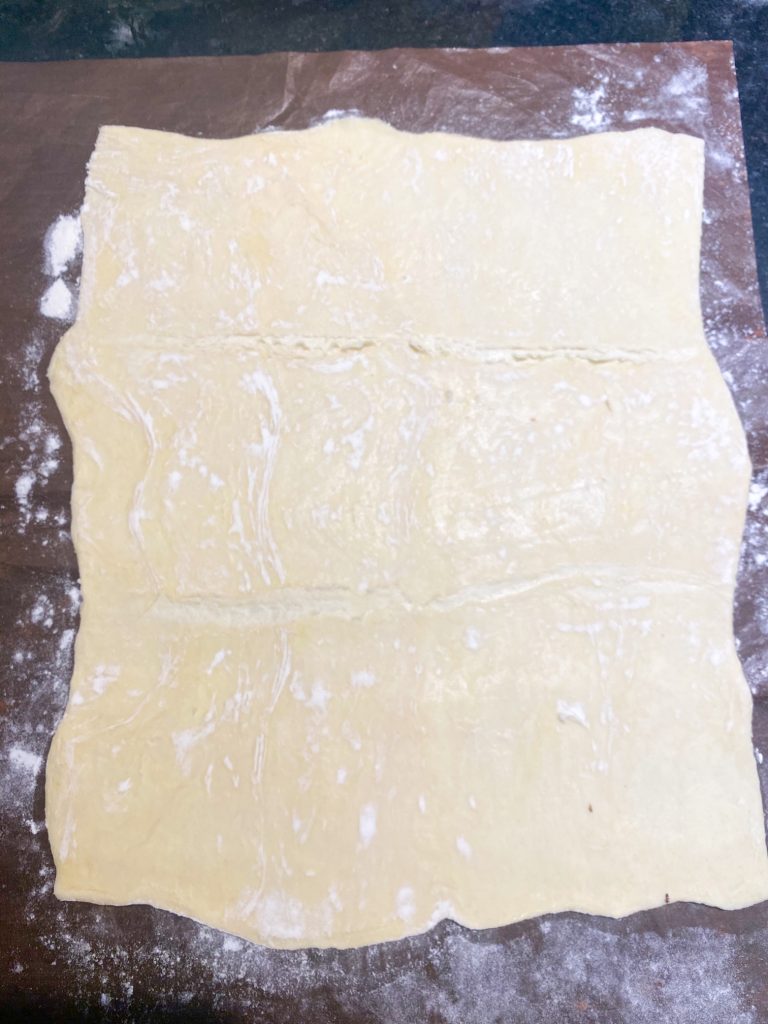 You want your puff pastry to be rolled out to about a 10×13 size. This is considerably larger than the size the sheet comes in.
It is big enough to hold your filling, but not too large for the puff pastry to rip while you are rolling it.
First, get your vegan mushroom Wellington filling and pour it into the center of your puff pastry.
I used my clean hands to help shape it into the log that I wanted.
If for whatever reason your puff pastry is too small or you made too much filling, you can simply use your hands or a spoon to scoop and set the filling aside.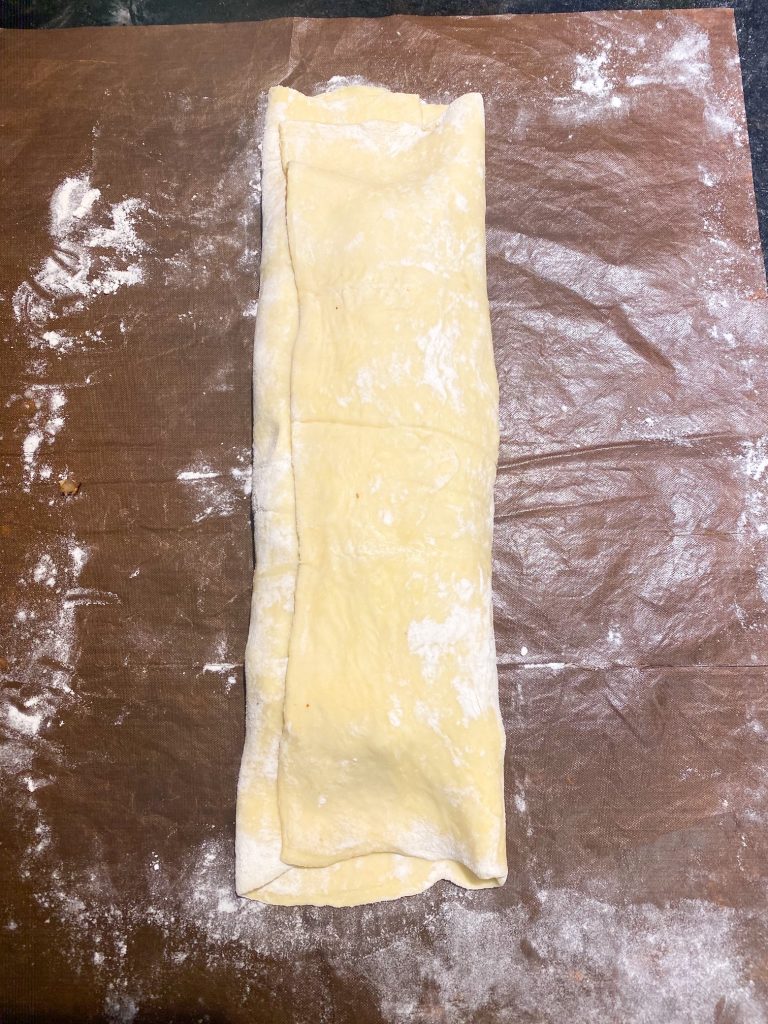 You can always modify and take out the filling or quickly cook up more if you need more, depending on how large you rolled out your puff pastry.
Next, simply tightly fold one side of the puff pastry over and then fold the other side on top of it like you are wrapping a package.
The trick to getting puff pastry to stick is to wet the "seam" in order to seal it.
I use water. Simply wet your fingers and then dab them along the seal of the dairy-free Wellington to seal the puff pastry around it.
Next, simply take the top and bottom ends and fold them up onto the log roll. This is where you are for sure going to want to use liquid to hold it together.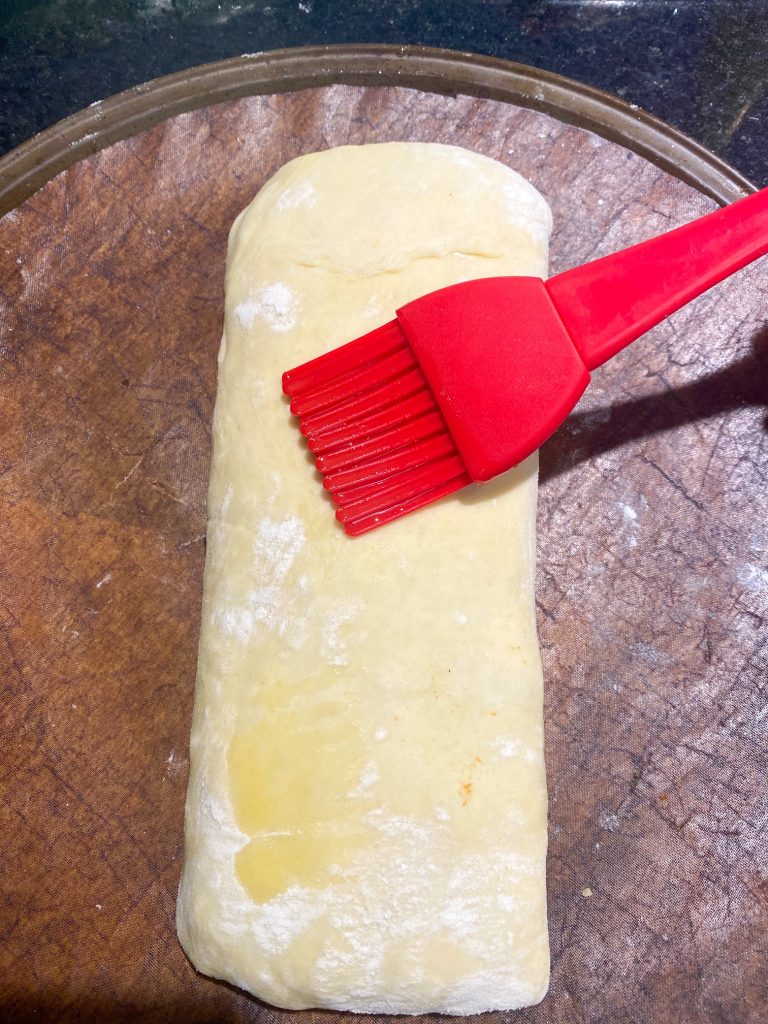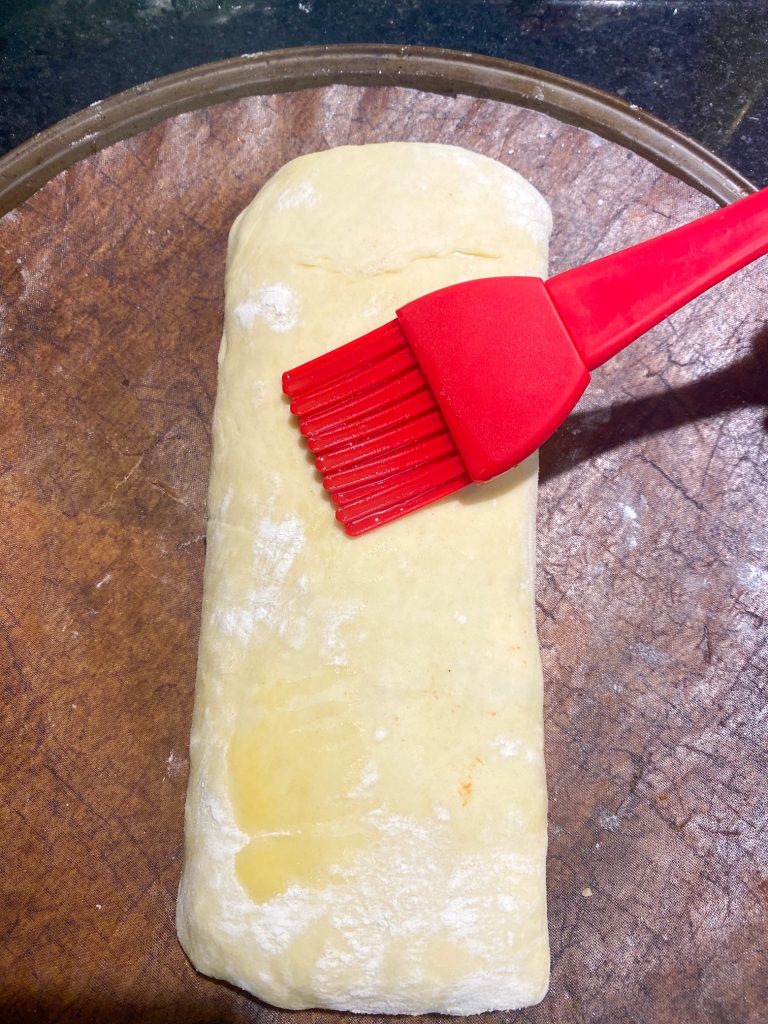 The puff pastry is very springy and will want to unwrap your vegan wellington which is why you can encourage it to stay shut by dabbing a little bit of water on the seams on the top and bottom.
If you find that your ends are too long or thick, you can always cut them to a smaller size and then fold them over.
Now, gently flip your vegan Wellington over, and tada! A beautiful design!
You can use your hands to plump it up and make it super round and log-like if you want.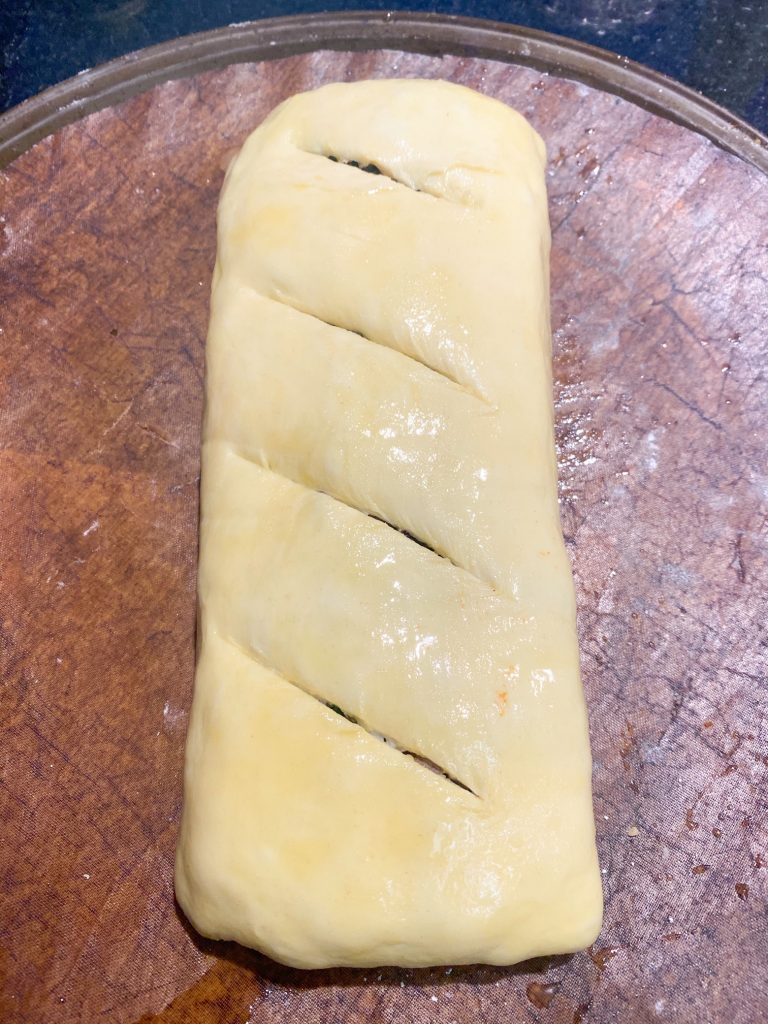 Now, you are going to go ahead and brush your vegan Wellington with "egg wash" which for vegans is melted Vegan Butter or oil. I actually have a whole post on the Best-Ever Vegan Egg Wash!
You can also brush it with aquafaba and milk. Aquafaba is the liquid from a can of chickpeas.
Personally, I love using melted vegan butter as a pastry wash which is exactly what I did for this recipe.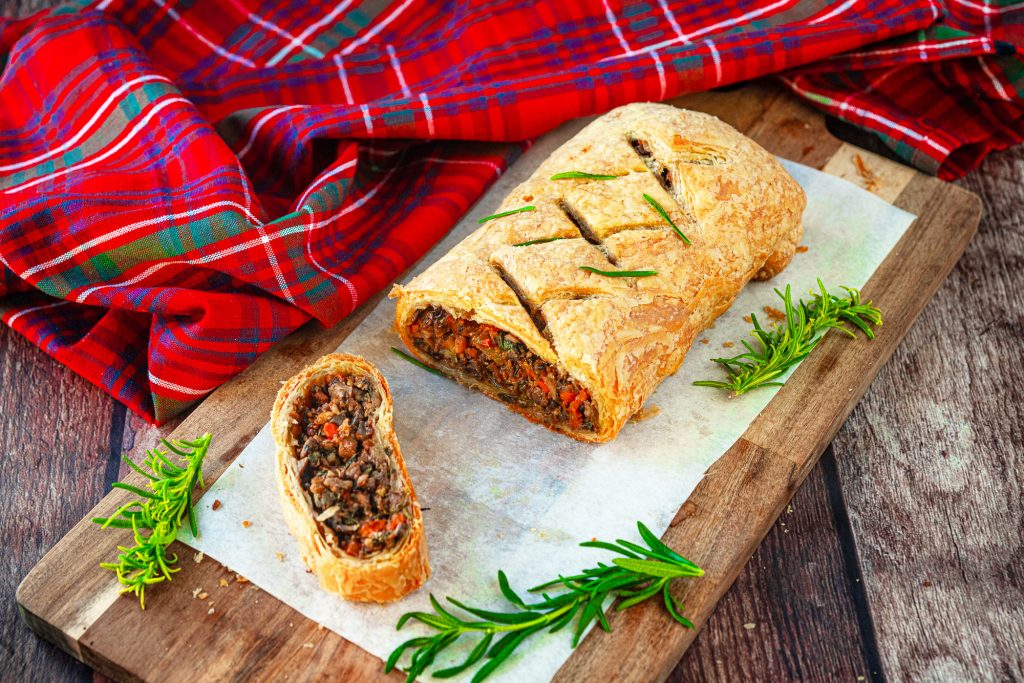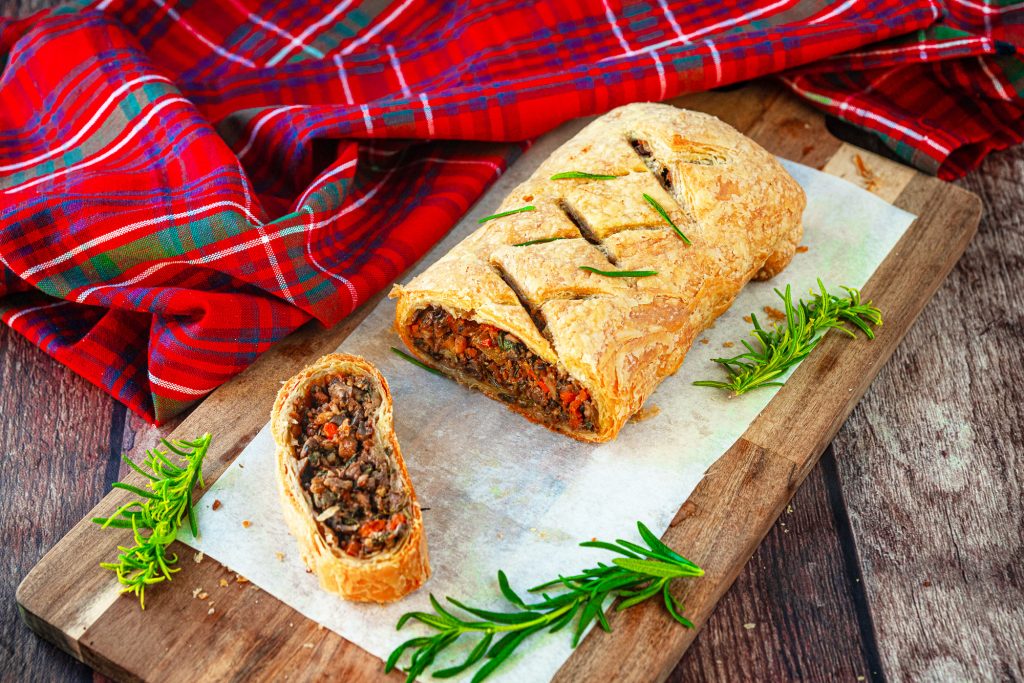 Finally, it is time to make the "vents" in the top of your vegetarian Wellington with mushrooms. You want to do this AFTER you brush on the vegan egg wash, or whatever you decide to use, not before.
Simply take your biggest and sharpest knife and cut a few lines one way and then turn and cut a few lines the opposite way to form an X shape.
That is all you have to do! Pop the easy veggie Wellington in the oven for 35-45 minutes at 400F or until the top is golden brown.
An important thing to keep in mind is that the vegan mushroom Wellington filling was already cooked, so you are just waiting for the puff pastry to cook and brown.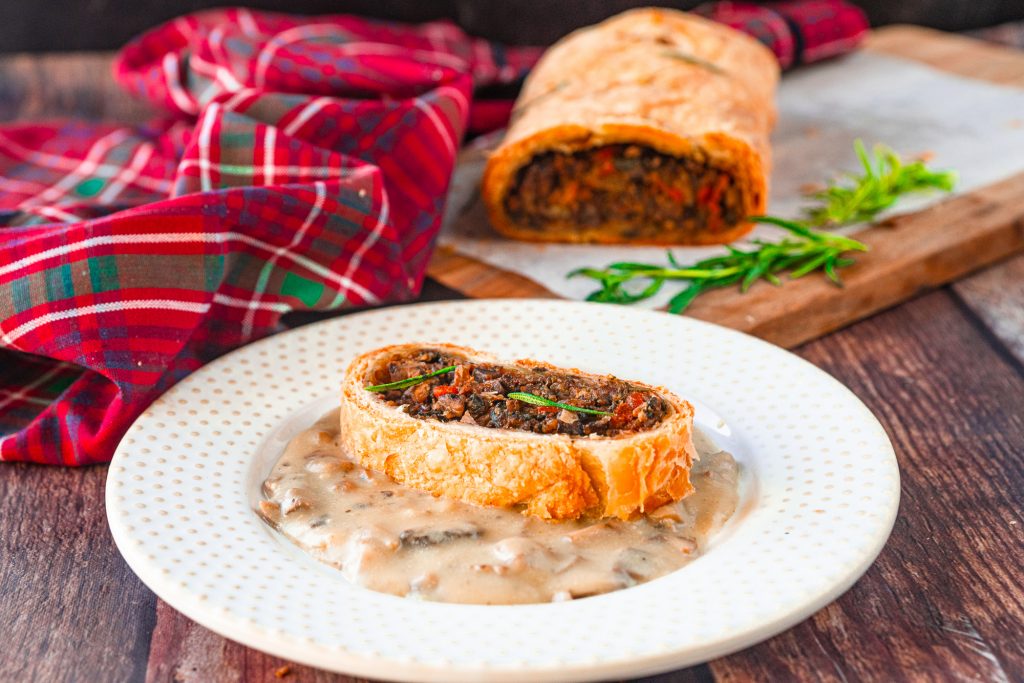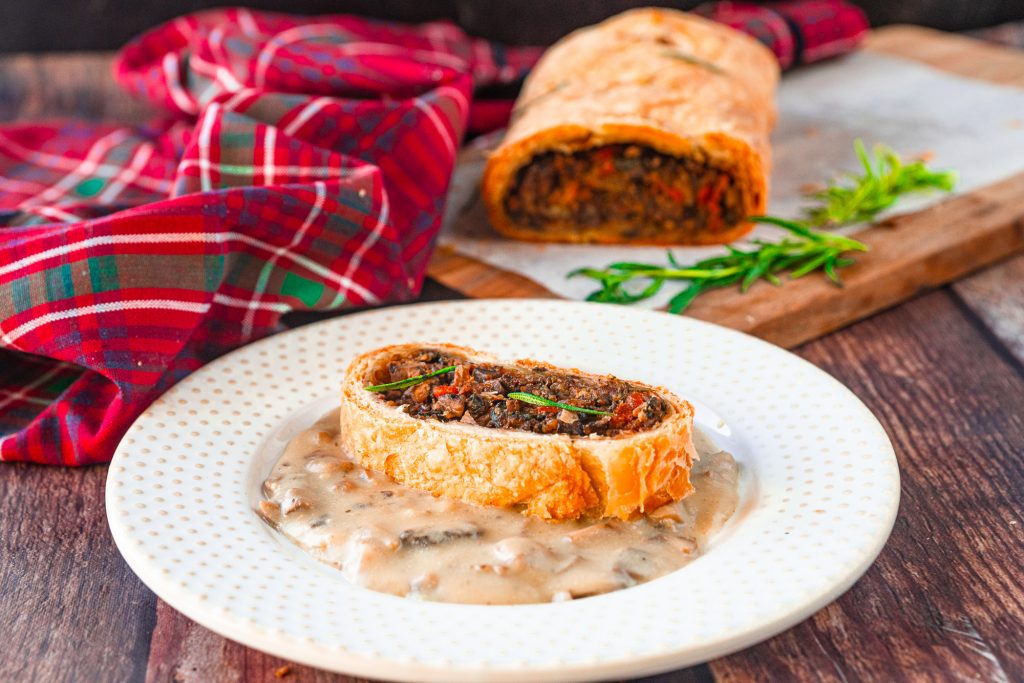 Can This Vegan Wellington Recipe Be Made Ahead?
The answer is a resounding yes!
You will want to prepare the dairy-free Wellington all the way up to the point of popping it in the oven. This means wrapping it in puff pastry etc.
Then, store it covered in the fridge and cook the day of your event!
You can also easily reheat the mushroom Wellington by putting it in the oven on a low setting until it is just heated throughout!
This recipe keeps well and makes the perfect leftovers!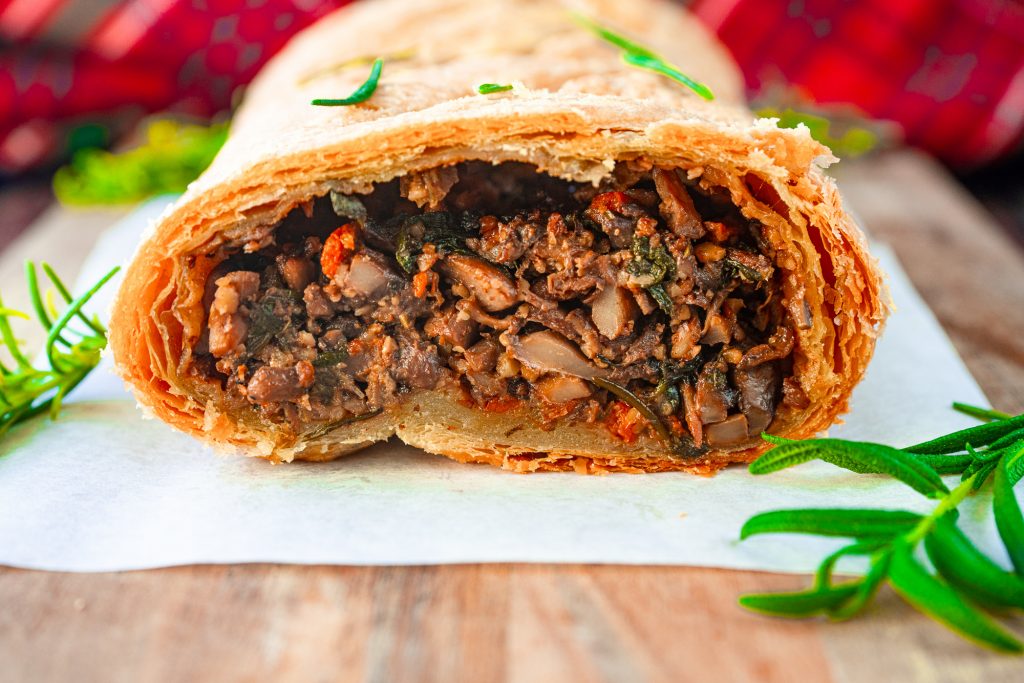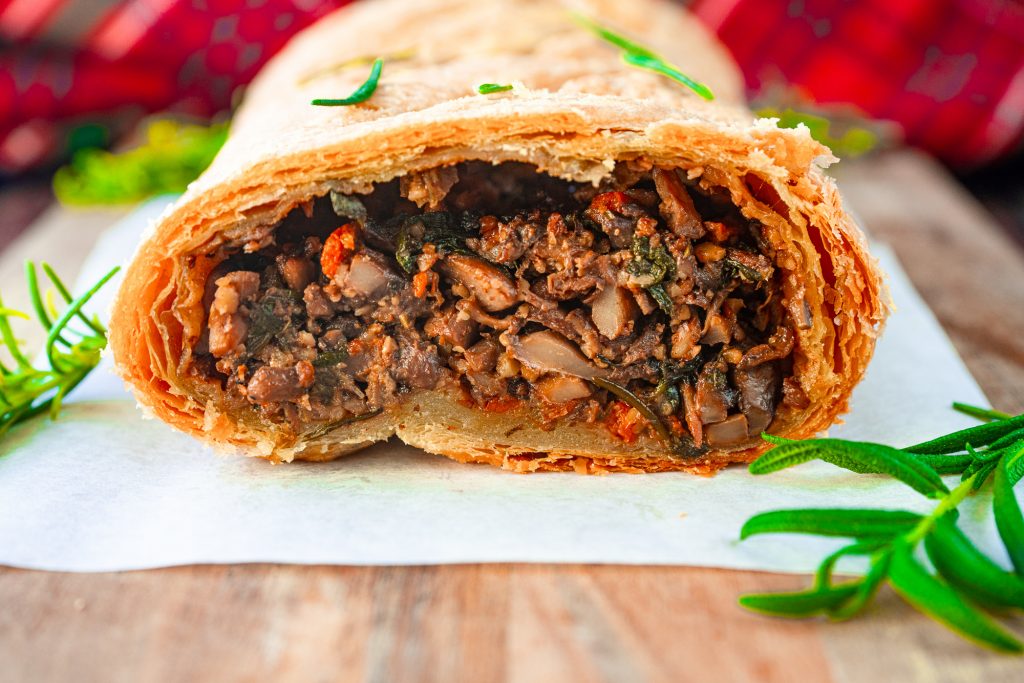 Did You Try This Recipe?
If so, I would love to keep in touch! I enjoy seeing photos and comments about the recipes that you make! You can follow me on Instagram and I will repost your goodies in my stories and comment on it too! Just tag me at @wowitsveggie and hashtag #wowitsveggie. I can't wait to see what you make!
Yield: 4
Easy Vegan Wellington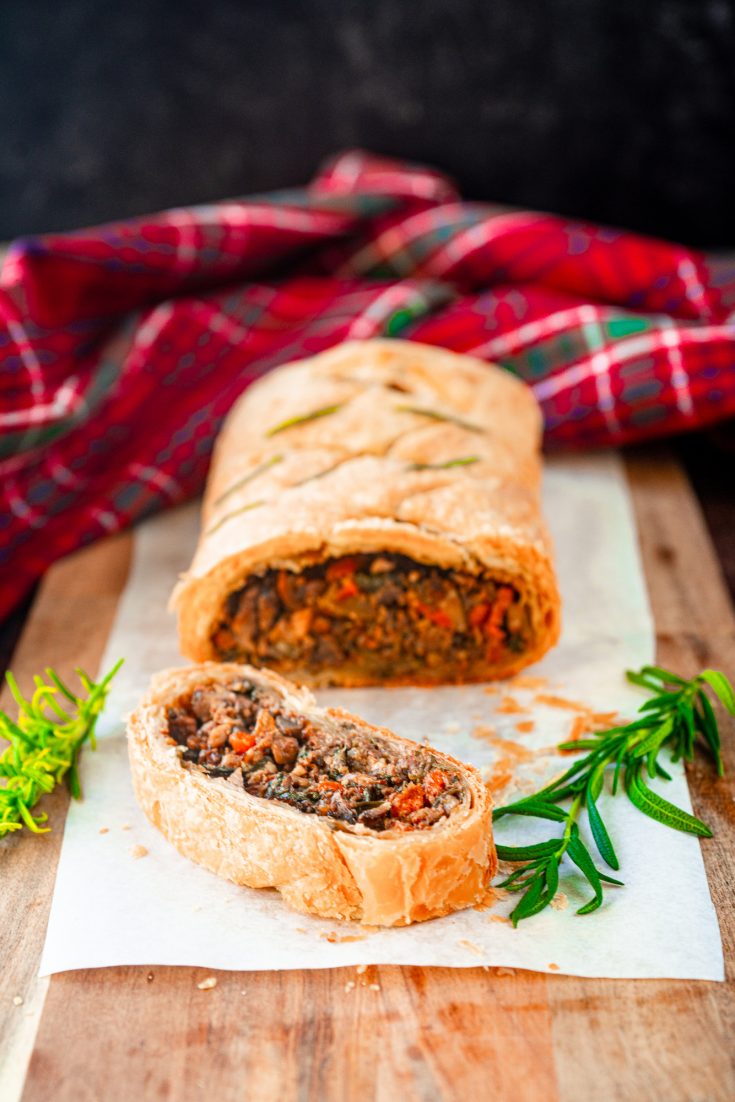 This vegan wellington looks impressive, but it is beyond easy and delicious to make! Savory veggies wrapped in puff pastry and cooked to perfection, what could be better? This vegan mushroom wellington will be the star of your next dinner!
Ingredients
1 sheet vegan puff pastry (Pepperidge Farm is vegan)
12 ounces mushrooms, finely chopped
2 large carrots, finely chopped
1 stalk of celery, finely chopped
2 cups of fresh spinach
3 green onion stalks, finely chopped
1/3 cup of ground walnuts
1 teaspoon rosemary
1 teaspoon salt
1 teaspoon oregano
1/2 teaspoon black pepper
2 tablespoons Worcestershire sauce
Vegan butter, melted for brushing
Instructions
Preheat oven to 400F and unwrap vegan puff pastry to thaw on a floured surface lined with parchment paper.
Heat oil on the stove and add chopped green onions, carrots, and celery. Cook for a few minutes.
Then, add in chopped mushrooms. Set a timer for 5 minutes and saute until they release their moisture. Mushrooms are very wet and will release liquid for a good 4 minutes and then the pan will become dry. Cook mushrooms until the pan becomes dry.
Add in spices, Worcestershire sauce, and spinach. Cook until spinach is wilted.
Remove pan from heat and stir in the walnuts which should be ground into a coarse meal. Stir until combined.
Using a floured surface, roll out your puff pastry between two pieces of parchment paper until it is 10x13 in size. Yes, I've used a ruler to make sure!
Then, pour the vegan wellington filling into the center of the puff pastry. If you have too much filling, you can scoop some out or cook more to fill if you didn't make enough. Use your hand to shape the filling into a lump in the middle.
Wrap the long sides together like a present. Puff pastry is springy and may have a hard time sealing, so use your clean hands and wet your fingers with a little water. Liquid helps puff pastry magically "seal" shut.
Then, flip the top and bottom ends until the vegan wellington is fully closed. You will need to use water to help seal the top and bottom or "short" end of the puff pastry. If you have too much excess on the top and bottom, go ahead and cut some before folding.
Flip the vegan wellington over and use melted vegan butter or oil to brush all over the top of the recipe. This will help the wellington brown during cooking.
Now, using a very sharp knife, cut lines going one way and then lines going the opposite way to form the X shaped vents at the top of the wellington. See my photos in the post for step-by-step details.
Bake the vegan wellington for 35-45 minutes until the top is golden brown and the puff pastry is cooked.
Let the wellington cool for about 10 minutes before serving and slicing. I recommend serving with vegan brown gravy and a bunch of your favorite sides!
Nutrition Information
Yield
4
Serving Size
1
Amount Per Serving
Calories

170
Total Fat

12g
Saturated Fat

3g
Trans Fat

0g
Unsaturated Fat

8g
Cholesterol

8mg
Sodium

691mg
Carbohydrates

15g
Fiber

4g
Sugar

4g
Protein

5g