Yes, vegan cinnamon rolls with puff pastry are a thing and yes they are pretty much the easiest and best thing ever.
They are flaky and cinnamony goodness topped with a creamy glaze. Perfectly delectable to eat warm or cold!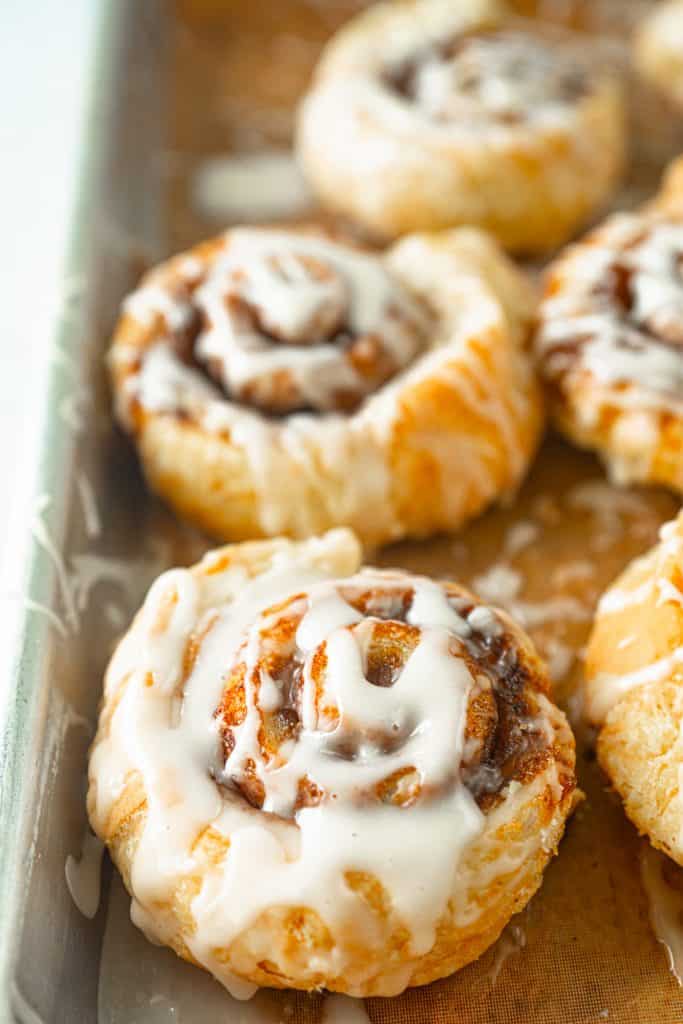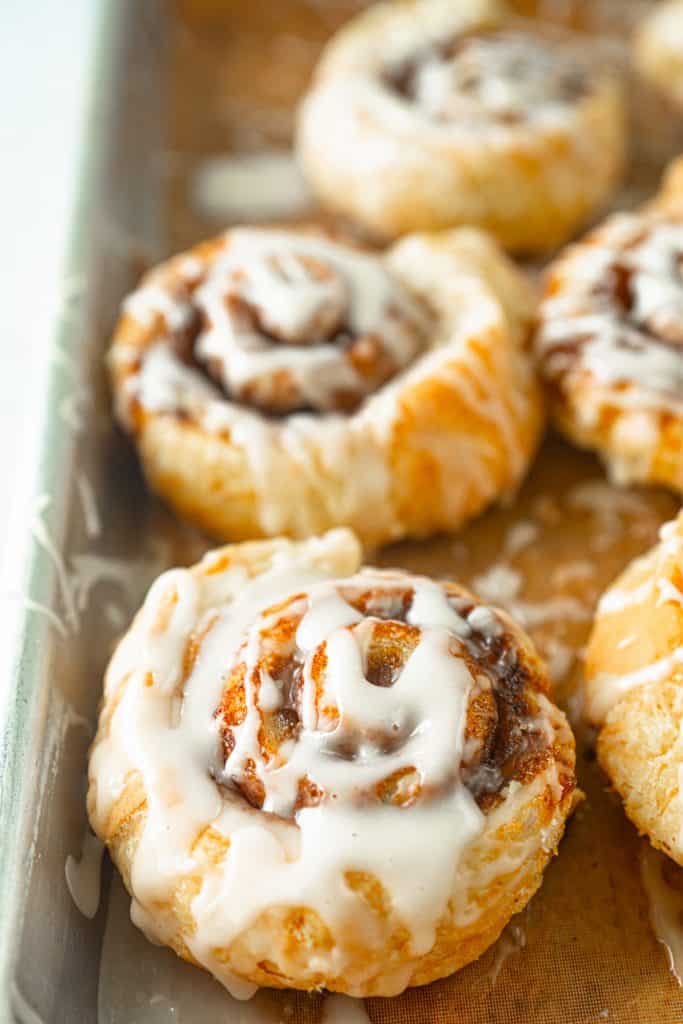 I think what scares me away from making vegan cinnamon buns is the fact that they often take a long time to make and feel like there are many steps.
Enter puff pastry.
Puff pastry will literally make the flakiest cinnamon rolls you will ever taste, and it is sinfully easy to work with. The way puff pastry bakes is perfect and the finished recipe will melt in your mouth.
I love working with puff pastry and think every vegan should try at least once. For example, my Vegan Wellington is so simple and delicious using puff pastry.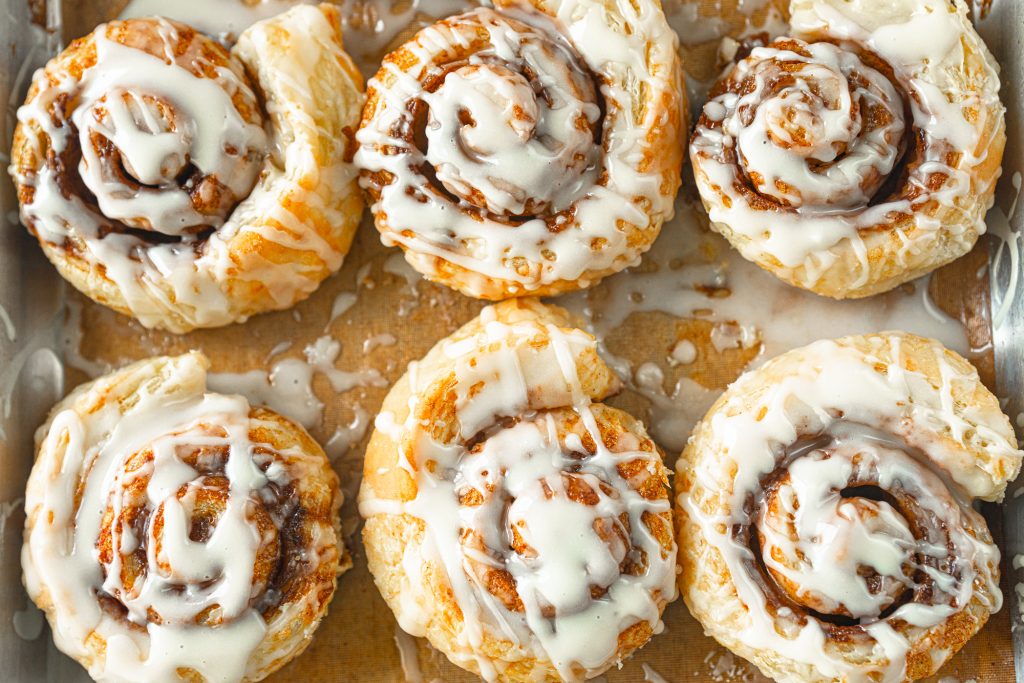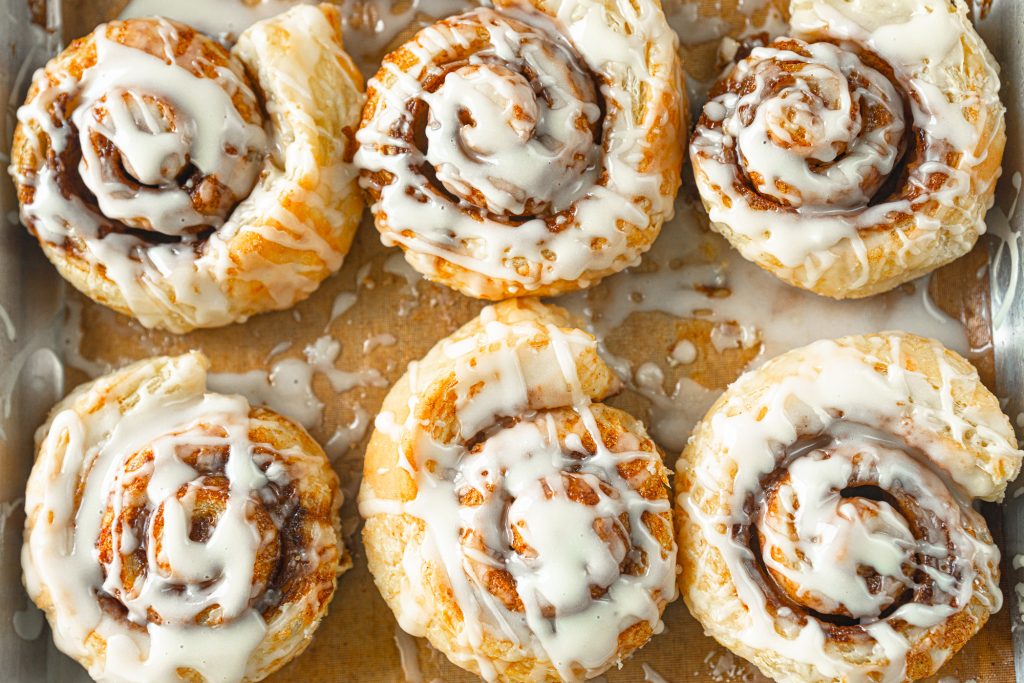 Anyway! Back to these amazing cinnamon rolls!
They take just 30 minutes to make and while they are baking, you can whip up the delicious glaze which really takes the vegan puff pastry cinnamon rolls to the next level.
I find it so incredibly easy to make this recipe and think that is perfect for the weekend, brunch, or any holiday morning such as Christmas or Thanksgiving.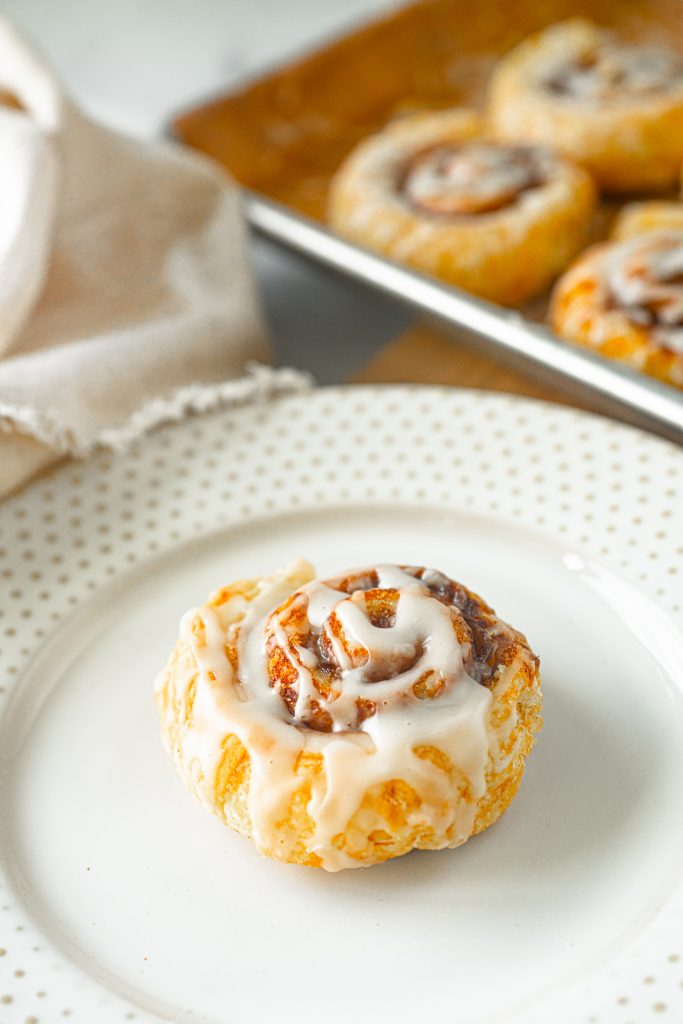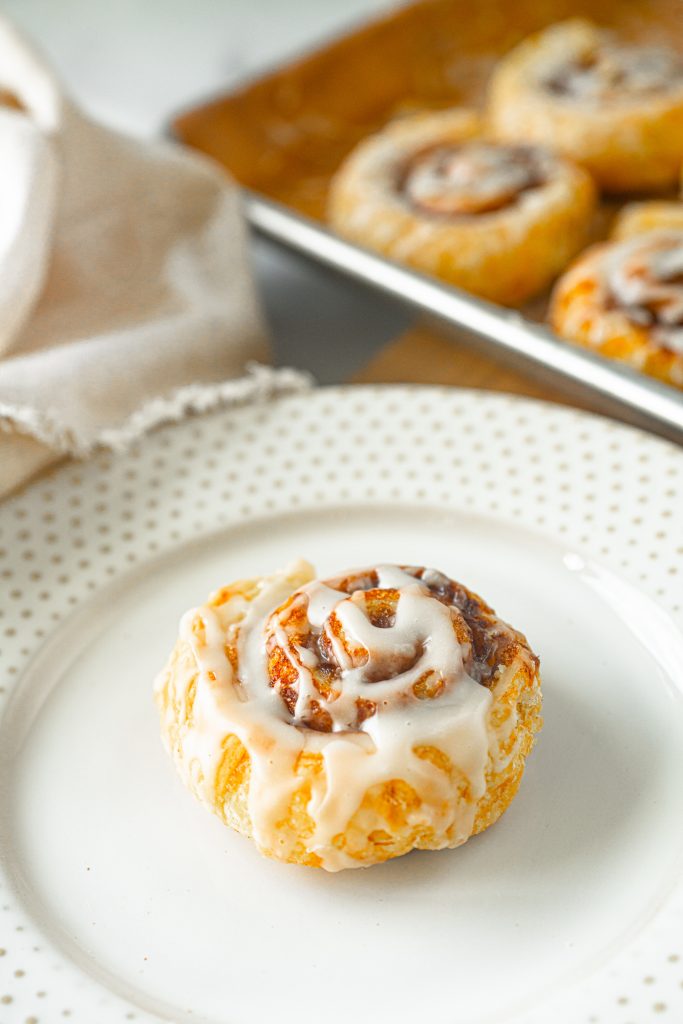 My recipe makes 8 rolls, so if you are feeding a crowd or a larger family, go ahead and double this recipe and use 2 sheets of puff pastry.
I usually eat 2 cinnamon rolls, so I would portion about 2-3 per adult who is eating them and 1-2 per child. But of course, you know your family.
If you are a vegan who has never made puff pastry cinnamon rolls yet, please take my advice and try this recipe. You really can't go wrong!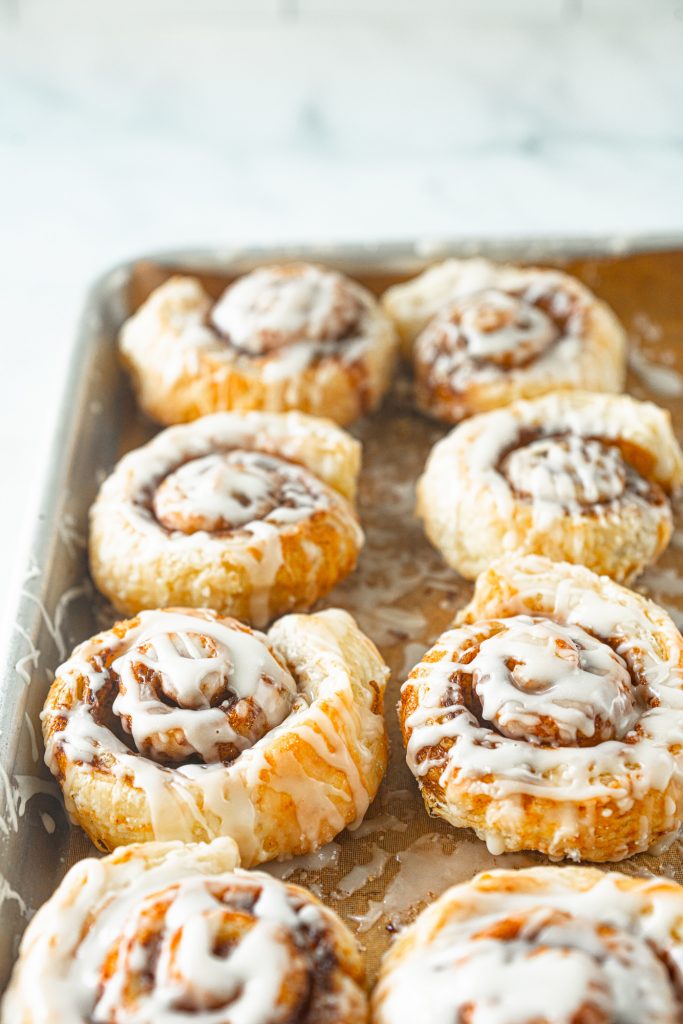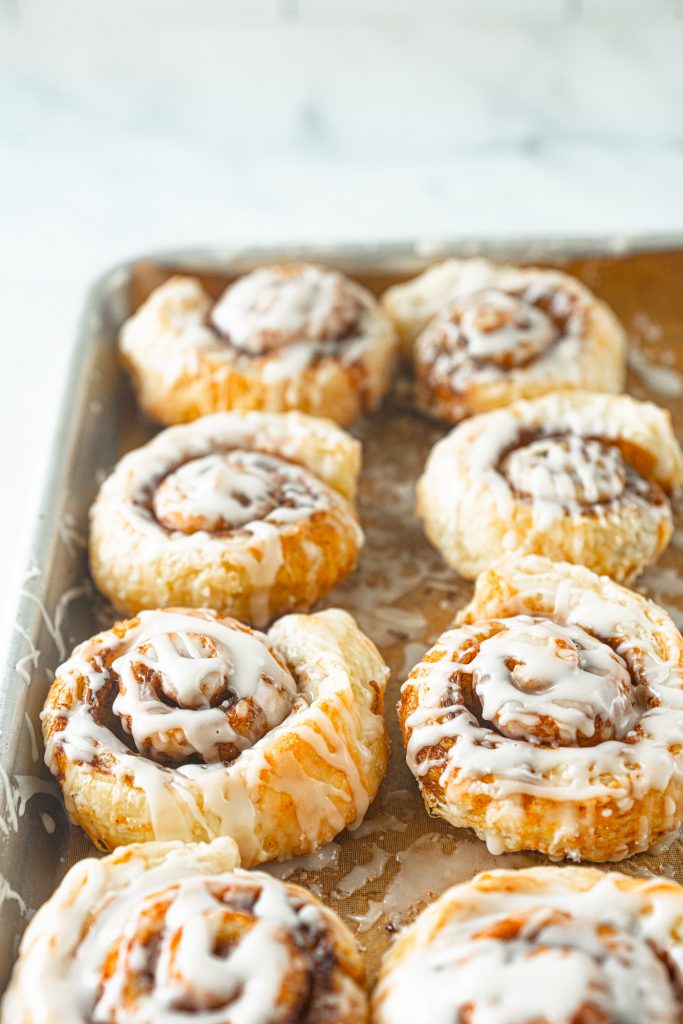 Where To Find Vegan Puff Pastry
When I was making these vegan cinnamon rolls, I first sent my mom to Whole Foods to get vegan puff pastry.
Whole Foods had one option and it was $12 and had butter in it. Needless to say, it wasn't vegan and was $$$!!
Then, she headed to Walmart and there it was! Accidentally vegan puff pastry for $4 and you got two sheets! This recipe only calls for one.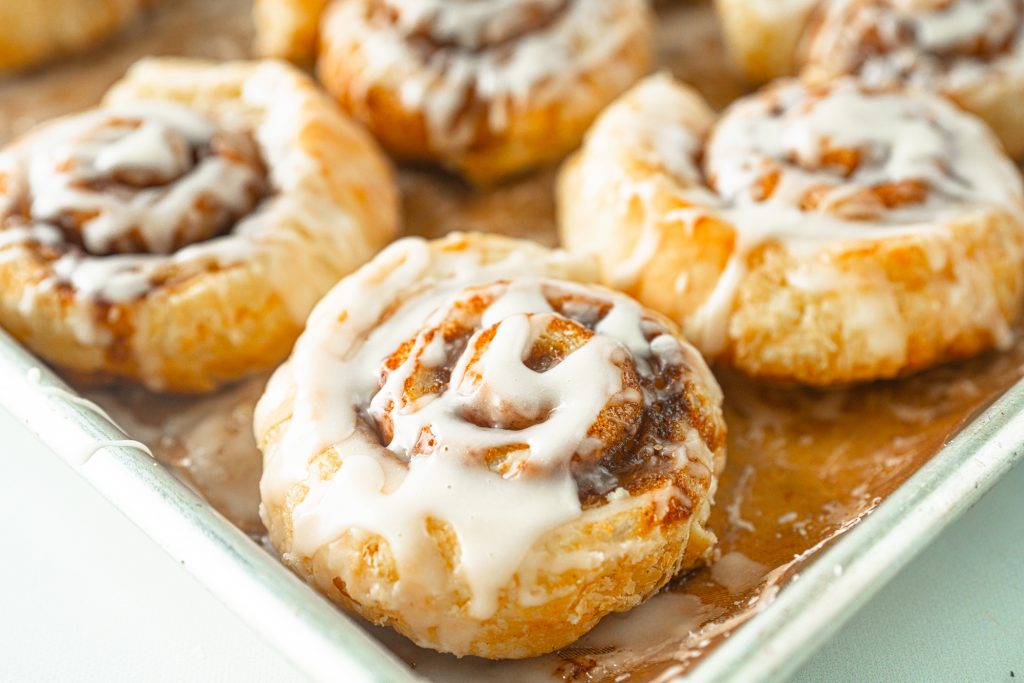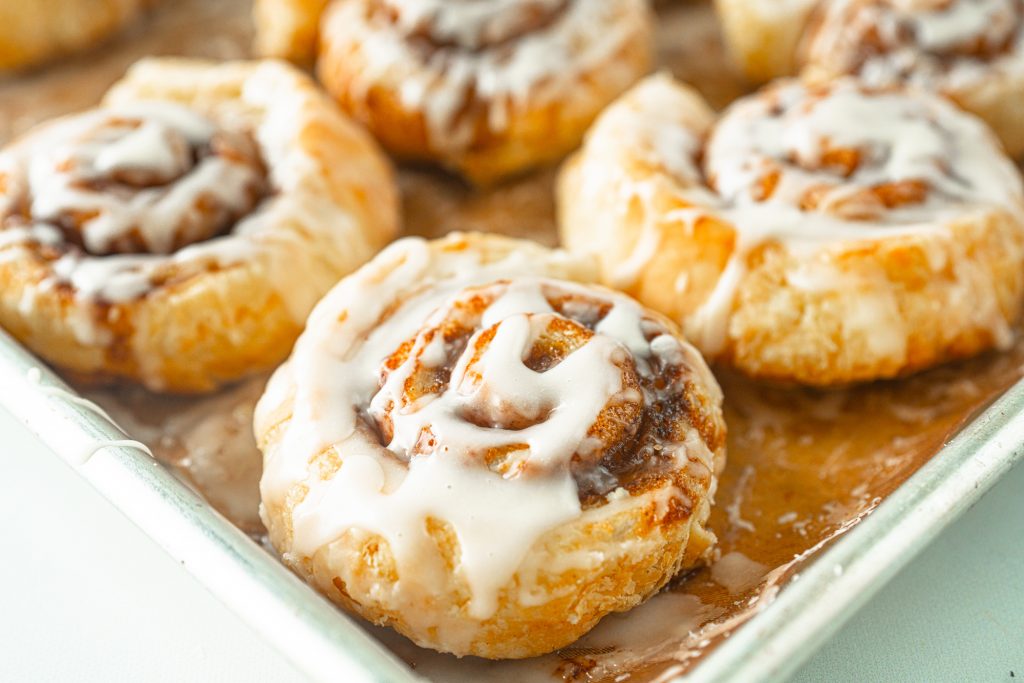 You can find vegan puff pastry at your local grocery store by simply looking at the ingredients.
Pepperidge Farm is the easiest brand to find and is what I used when making these vegan cinnamon rolls. It is pretty affordable and you get two sheets.
I thought puff pastry would be hard and scary to work with, but it was so forgiving and easy and produced fabulous results!
When you are looking at your local grocery store, just look at the puff pastry ingredients. Most of them are accidentally vegan which is kind of wild!
Don't be afraid of working with puff pastry, it was actually way easier than I originally thought!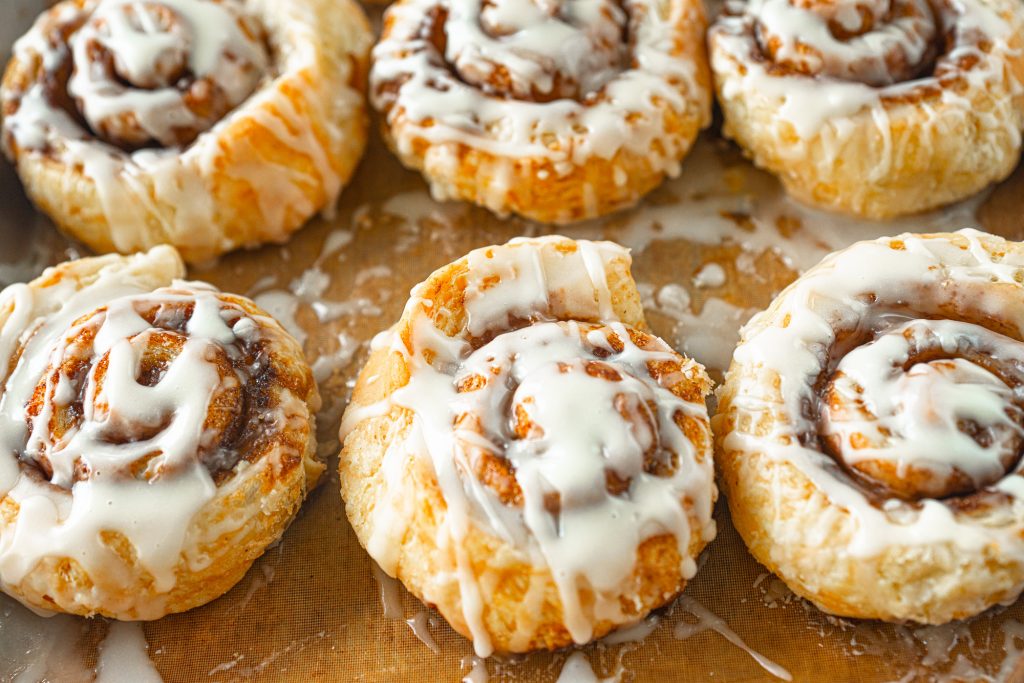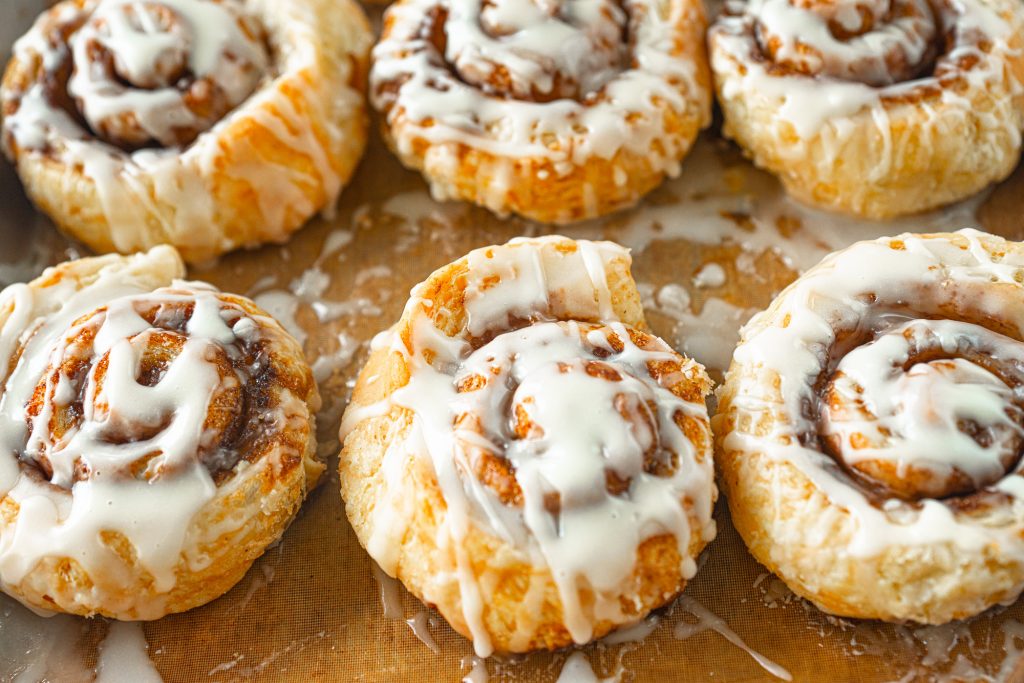 How To Make Vegan Puff Pastry Cinnamon Rolls
Behold! The easiest recipe you will probably ever make. Okay, maybe not ever, but it is pretty darn easy.
You will laugh. You will cry. You will want to dive into the pan of these and sing with joy at how easy vegan puff pastry cinnamon rolls are to make!
The first thing you want to do is fold out your sheet of puff pastry and let it thaw. You can do this in advance.
Personally, I set mine outside in the Florida heat and it thaws in no time!
Then, you are going to want to lay the puff pastry on a floured surface with the seams running vertically. I highly recommend using parchment paper on top and bottom for easy rolling.
Then, roll out the puff pastry until it makes a 10×10 inch square. Yes, I even got out a ruler to measure. Roll away from you and turn the puff pastry so that the square is slightly even.
In a small bowl, mix together your cinnamon, sugar, and salt. For these vegan cinnamon rolls, I considered spicing things up and adding more flavors, but decided to go with the classic and keep it to fewer ingredients!
Once the puff pastry is rolled out, you are going to want to brush it with melted vegan butter. I even have my own Vegan Butter Recipe if you want to get fancy and make your own.
Next, you are going to want to use a spoon or your clean hands to sprinkle the cinnamon and sugar mixture over the puff pastry. Leave about 1 inch of space around the edges because you will cut those off anyway!
Once the sugar and cinnamon are evenly on the puff pastry, now it is time to roll.
Believe it or not, rolling up the vegan cinnamon buns is SO simple. It is practically impossible to fail. Have confidence and let's go!
You want to start at the bottom of the square and roll up like you are rolling up a blanket or sleeping bag. If any filling falls out, that is totally okay, but it probably won't because we left the edges empty!
Once you roll the puff pastry cinnamon rolls up, it is time to cut them!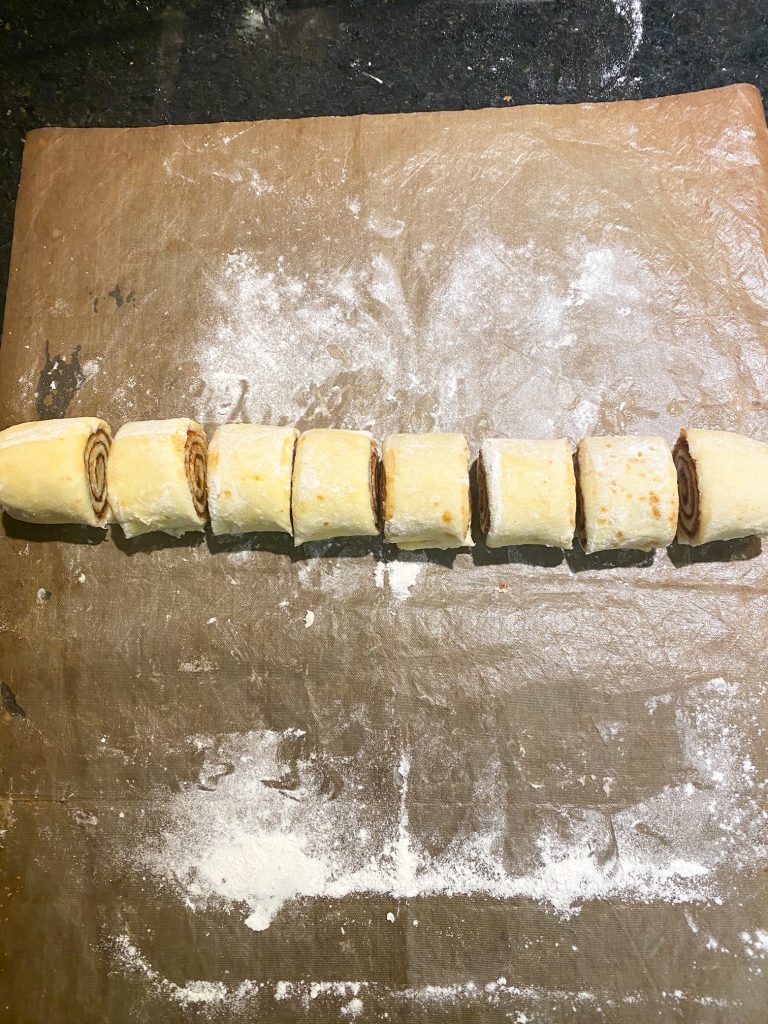 First, put the cinnamon roll "log" seam-side down. Then, you are going to want to cut 8 even pieces.
You will start in the center and cut the log in half. Then you will cut each of the small logs in half so that there are 4 pieces, and each of the 4 pieces in half so there are 8.
This is a simple and easy way to make uniform shaped vegan cinnamon rolls.
Please read this when cutting puff pastry!!!!!!!!!!!
When cutting puff pastry, DO NOT use a "sawing" motion like you are cutting back and forth. This will NOT work well with the puff pastry and will ruin your rolls.
Instead, go with a clean "hack" motion where you just press down. No back and forth motion, just a clean "cut" down onto the log. Make sure to simply cut straight down.
You want to cut the puff pastry like you would cut a cucumber or carrot, in a single "chop" straight down, not like you would cut a loaf of bread, with a sawing motion!
Now that you have cut your vegan puff pastry cinnamon rolls into cute little shapes, it is time to bake!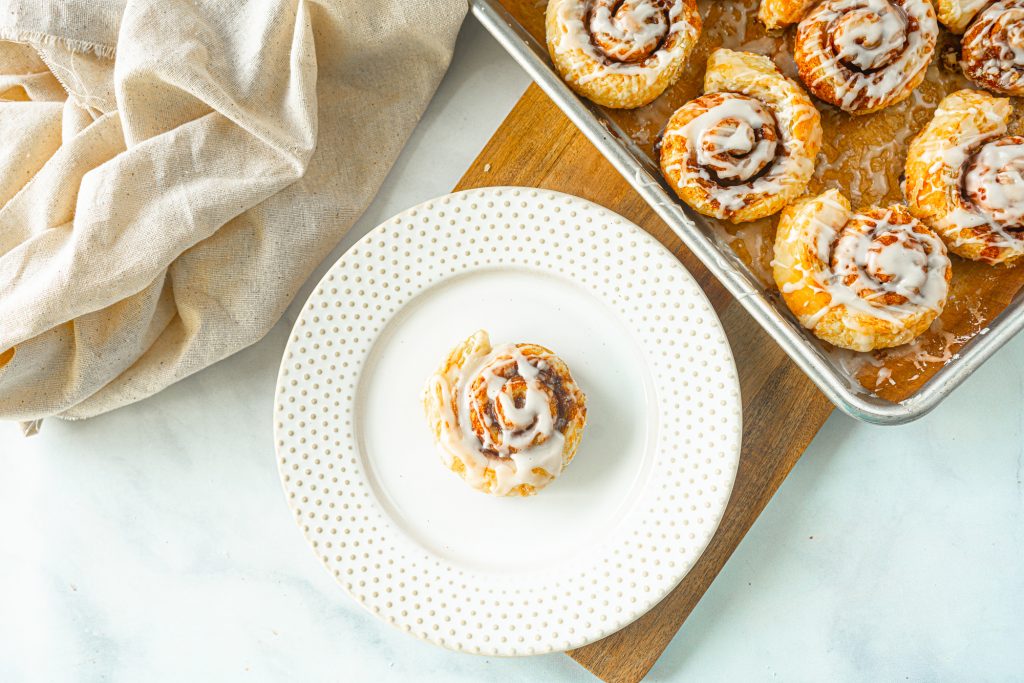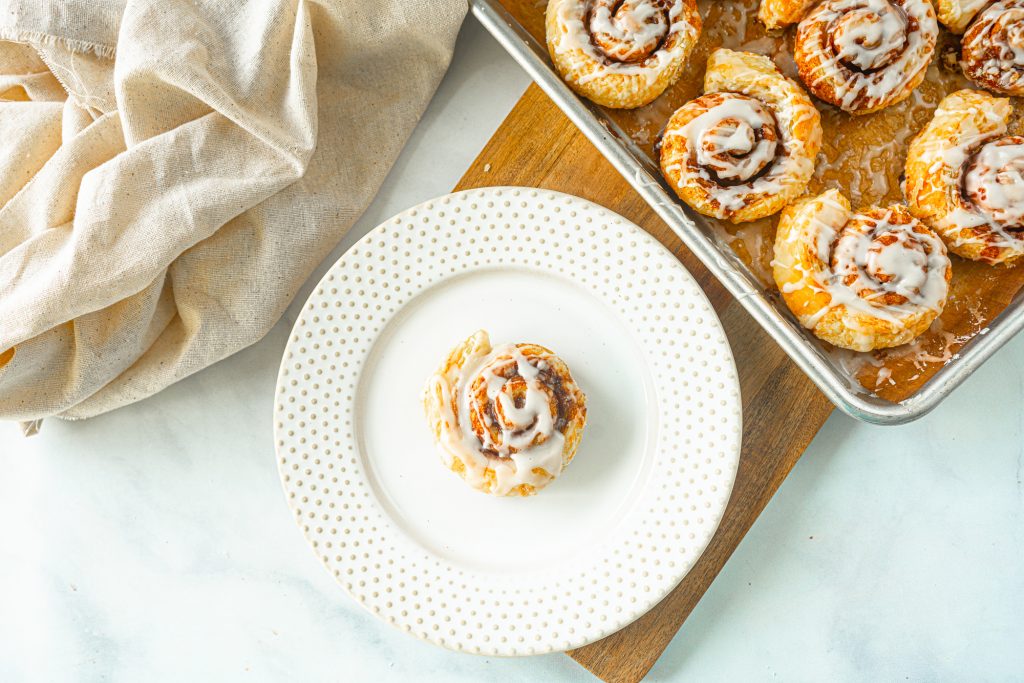 I like to bake my cinnamon rolls on a baking sheet. You can do them in a baking dish if you prefer them to all "melt" together during cooking, but I like mine to form their own little rolls so they are easy to serve!
Simply arrange the uncooked cinnamon buns on a baking sheet, with 1-2 inches between each one.
If you do want them to stick together, put them in a casserole dish about 1/2 inch apart from each other.
Again, I prefer my puff pastry cinnamon rolls to be made individually so they can be served easily!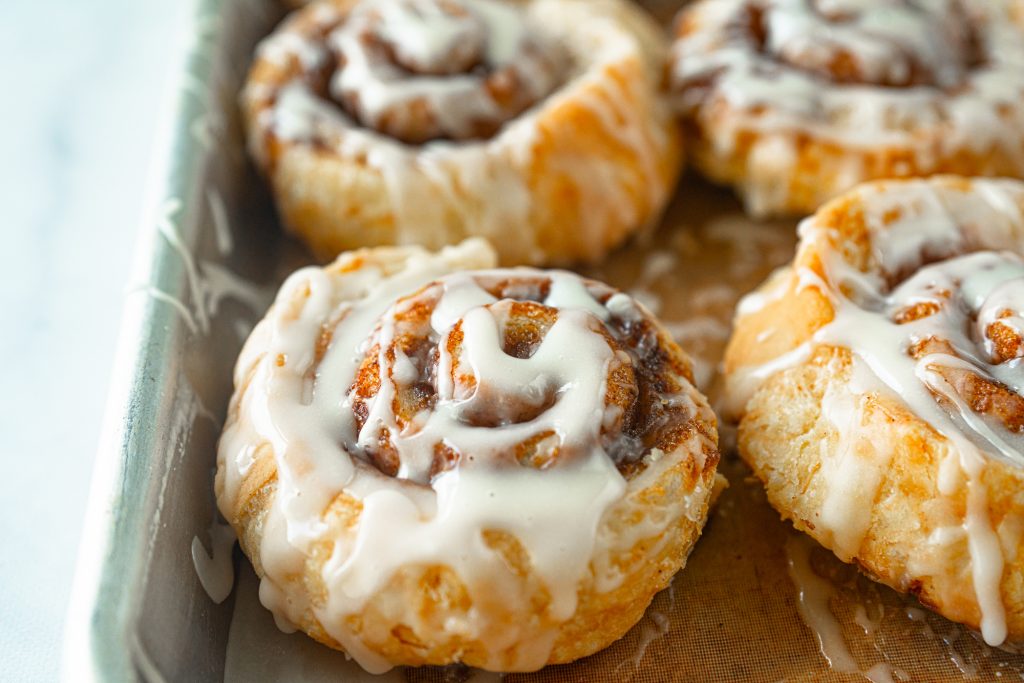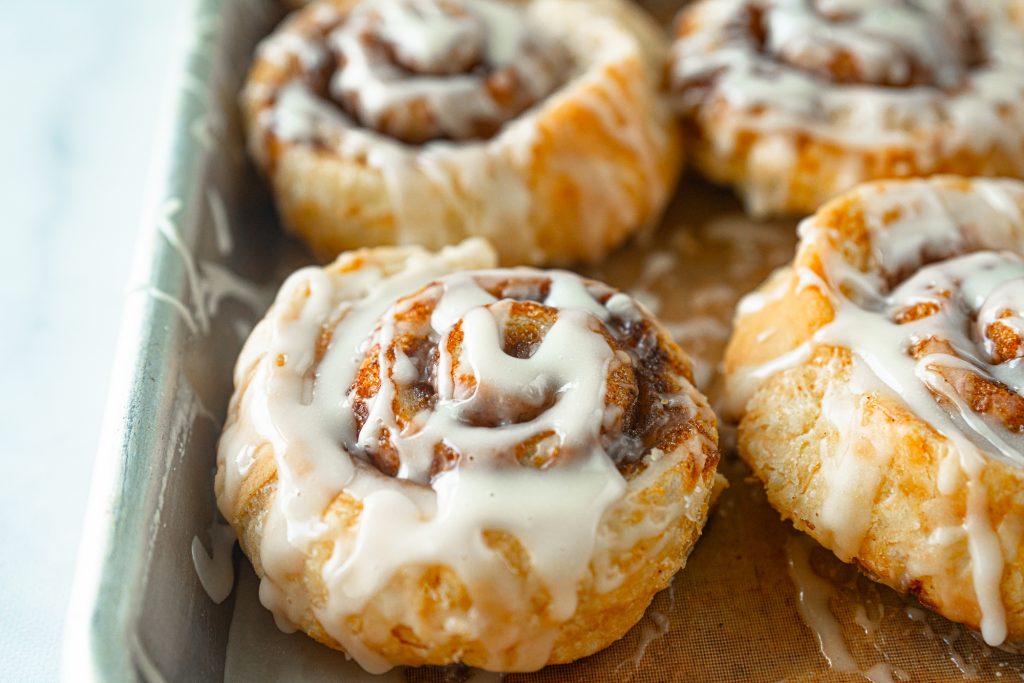 Making The Glaze For Vegan Cinnamon Rolls
While the cinnamon buns cook, it is time to make the glaze.
The glaze couldn't be easier if it tried!
You simply mix vanilla, powdered sugar, and non-dairy milk together and pour it over your rolls!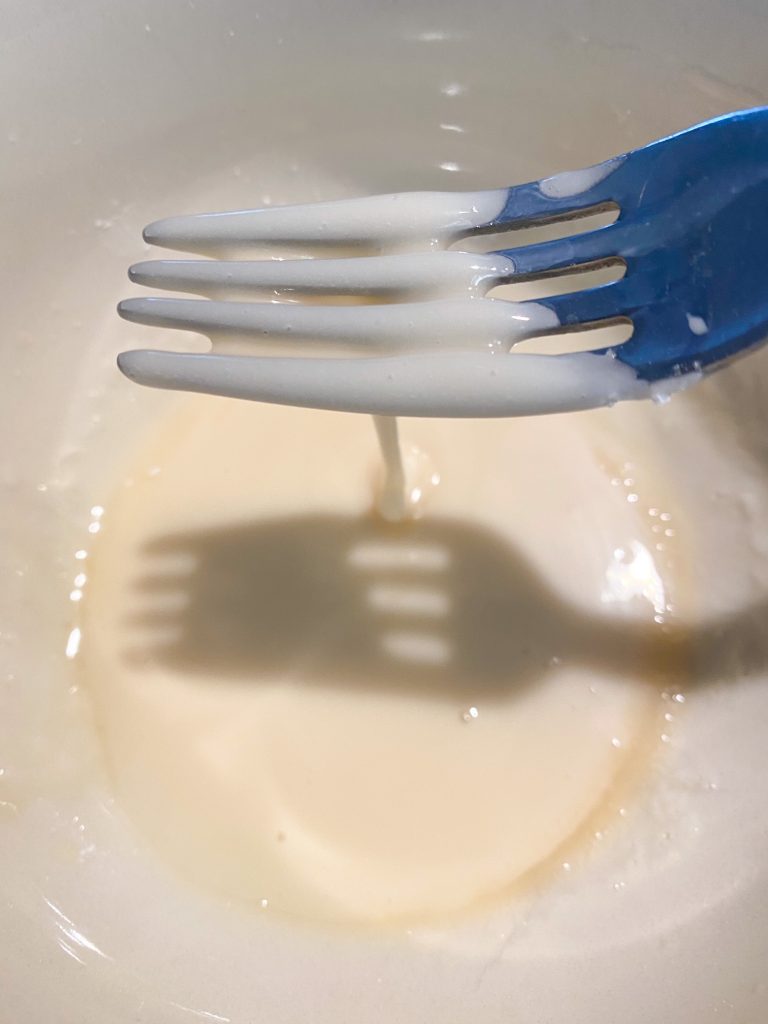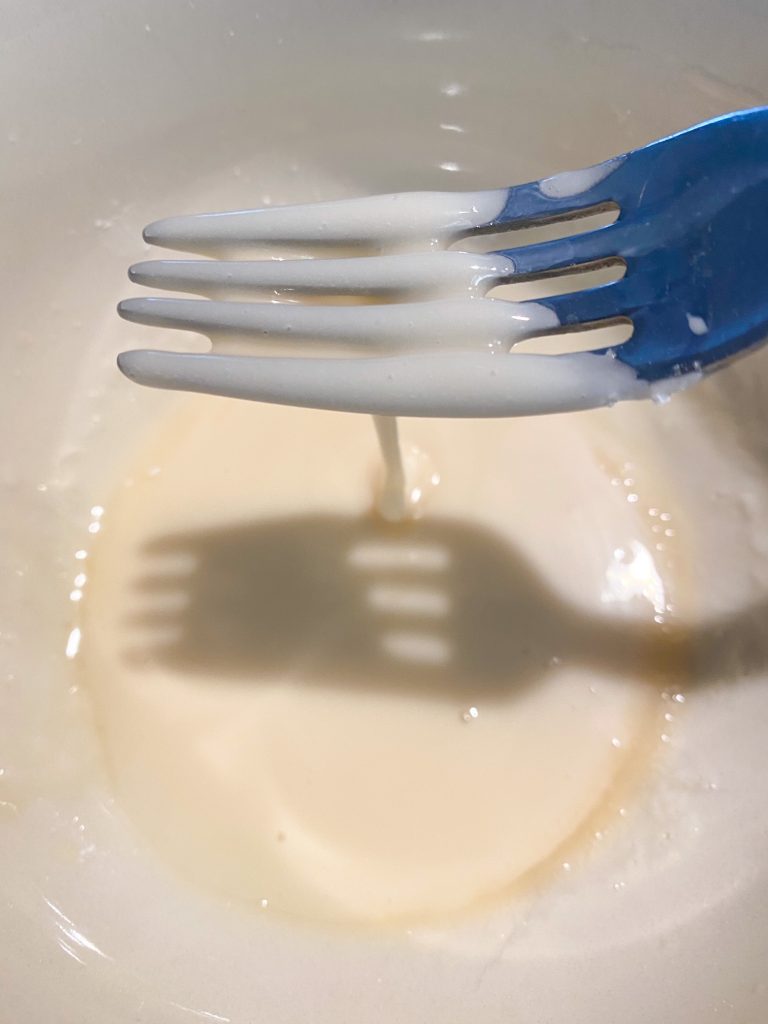 The way the powdered sugar absorbs the milk and vanilla is some sort of magic! You don't think it would work, and then suddenly, it does!
If you want a thinner glaze, add more milk 1 teaspoon at a time. If you want a thicker glaze, add more powdered sugar. I like a thicker glaze that is just runny enough for me to drizzle.
Finally, you will want to let the vegan cinnamon rolls cool for about 10 minutes or else the glaze will just melt into the buns and you won't get that "white" glazed look you want to achieve!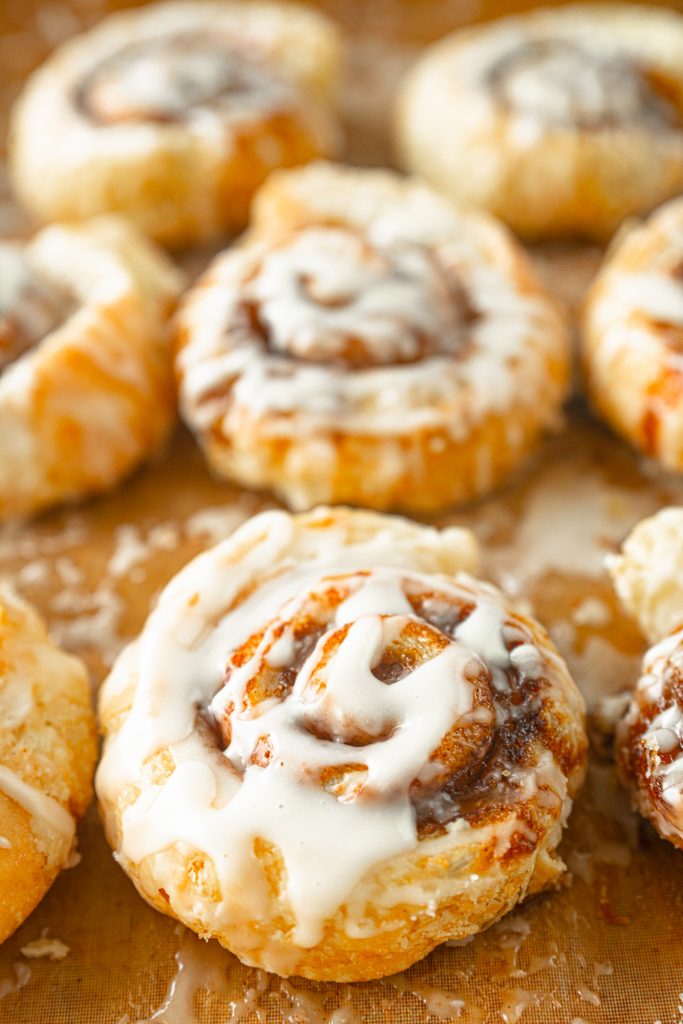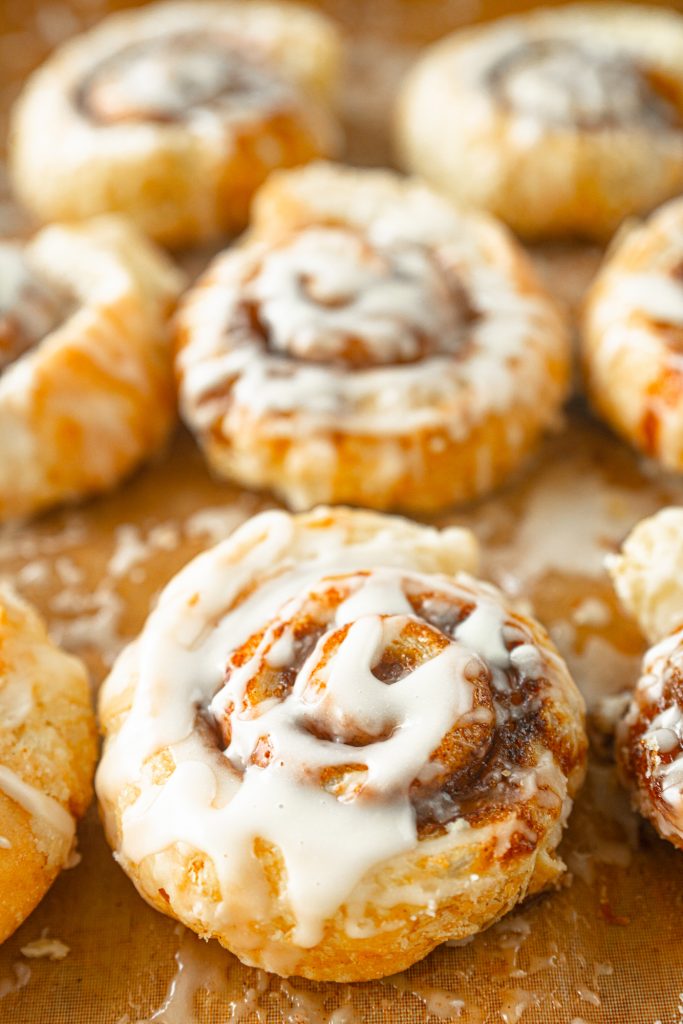 Storing The Vegan Cinnamon Buns
Storing the vegan cinnamon rolls couldn't be easier! They can keep on the counter for 2-3 days. They still taste just as good the next day!
The key is to keep them in an air-tight container, not just with a cloth over them or in a baggie.
If there are any that last longer than 2-3 days [I doubt it because they are so tasty!] you can store them in an air-tight container in the fridge for up to 7 days!
If you want the best results for storing the puff pastry cinnamon rolls, it is to freeze them! You can actually freeze them for 1-2 months and then just take them out to defrost when you are ready to eat.
Vegan cinnamon buns keep like a champ, the only key is to store them in an air-tight container!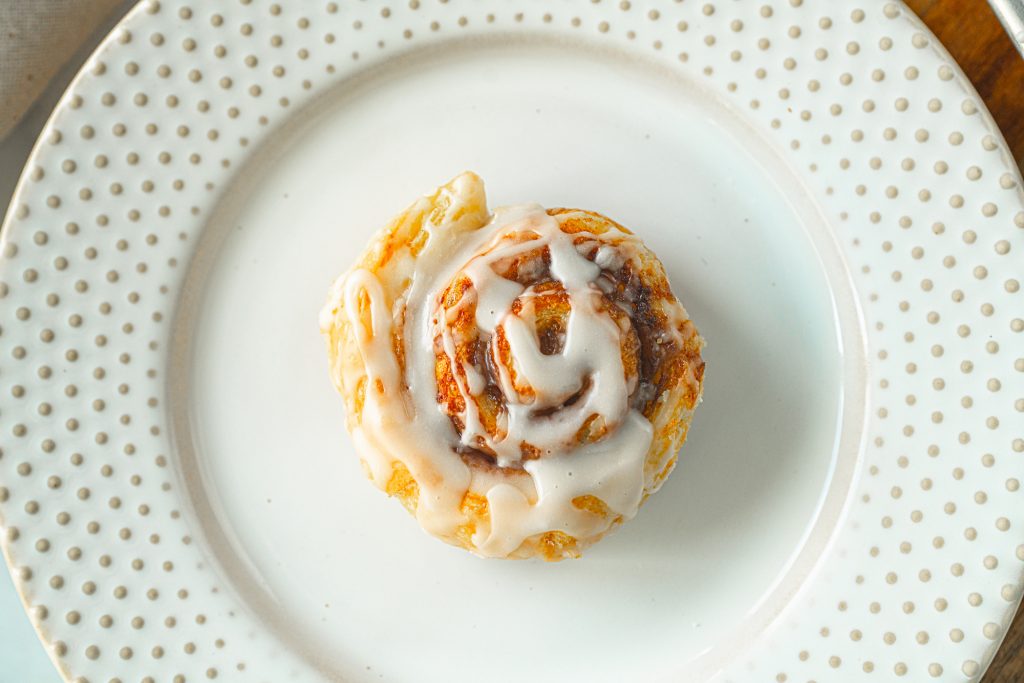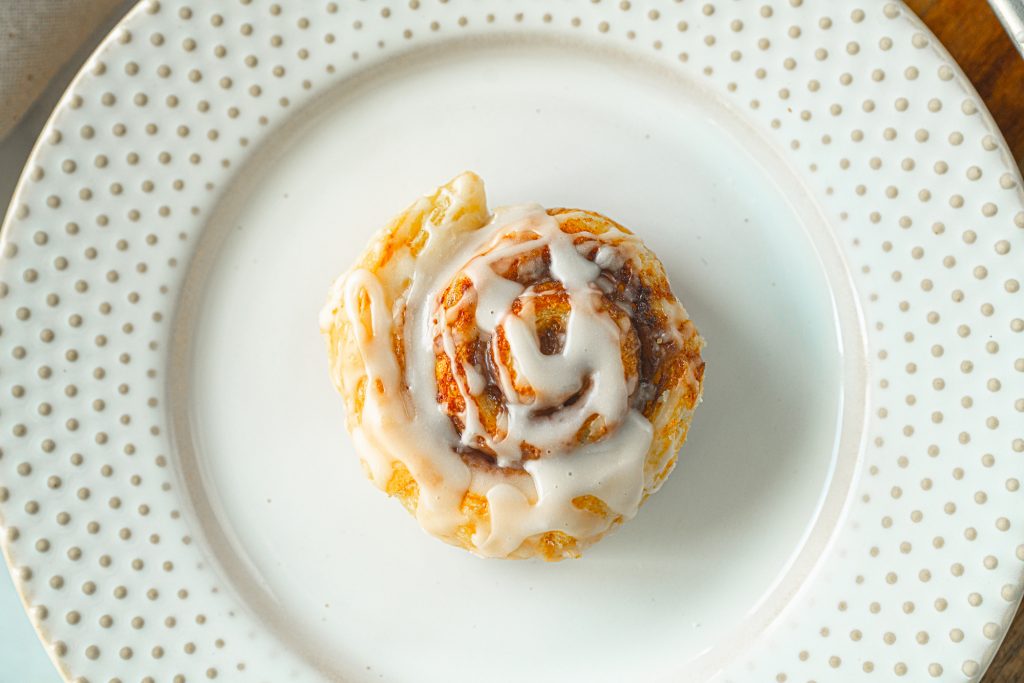 Did You Try This Recipe?
If so, I would love to keep in touch! I enjoy seeing photos and comments about the recipes that you make! You can follow me on Instagram and I will repost your goodies in my stories and comment on it too! Just tag me at @wowitsveggie and hashtag #wowitsveggie. I can't wait to see what you make!
Yield: 8 Rolls
Classic Vegan Puff Pastry Cinnamon Rolls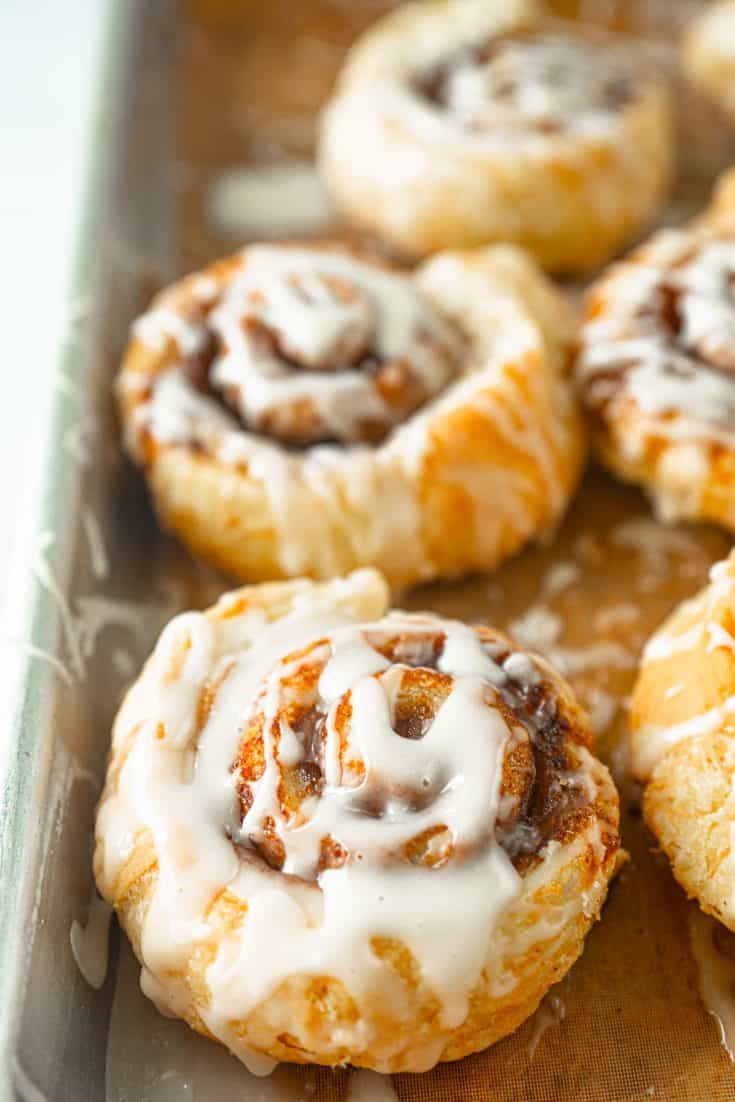 These vegan cinnamon rolls are made out of flaky puff pastry, which is often "accidentally vegan" in many cases! They are delightfully easy to make and whip up quickly. The sugar glaze and cinnamon filling bring the classic breakfast favorite to your kitchen in no time.
Ingredients
1 sheet puff pastry [Pepperidge Farm is Vegan!]
2 tablespoons vegan butter
1/4 cup brown sugar
2 teaspoons ground cinnamon
1/2 teaspoon salt
1/2 cup powdered sugar
1/2 teaspoon vanilla extract
2 teaspoons non-dairy milk
Instructions
Preheat oven to 350F
In a bowl, mix together cinnamon, brown sugar, and salt until combined.
On a lightly floured surface, place thawed sheet of puff pastry with the seams vertical to you. I recommend placing a piece of parchment paper down, then flouring it, putting the puff pastry, and using another sheet on top of that.
Roll out puff pastry until it forms roughly a 10x10 inch square. You can use a ruler if it helps or else you can eyeball it!
Melt Vegan Butter and brush the puff pastry with it.
Now, using a spoon or your clean hands, sprinkle the cinnamon and sugar mixture over the puff pastry. Leave about a 1-inch border to make rolling up the vegan cinnamon rolls easier and to help the puff pastry stick together. I personally like using my hands for this part as I can spread it more evenly!
To roll up the puff pastry, start at the bottom of the square or the part that is closest to you. Roll away from you in a tight roll like you are rolling a blanket or a sleeping bag. Once you have rolled it all the way up, cut off a little bit of dough from either end so you have a clean edge.
When cutting puff pastry, cut up and down in a "chop" motion, DO NOT CUT BACK AND FORTH! Cutting back and forth in a sawing motion will ruin the puff pastry. Cut like you would a carrot, not a piece of bread!
Once the puff pastry is rolled up, it is time to cut it. Place the seam side down. I recommend using a little bit of water to "seal" the seam before cutting as this will help it stick. You will cut this log into 8 even pieces. Start in the middle and cut into two pieces. Then in the middle of each piece and cut 4 pieces. Then in the middle of the 4 pieces to cut 8 pieces. This is a super easy method to cut even pieces for the cinnamon rolls.
Lay the cinnamon buns "roll" side up on a parchment-lined sheet about 1-2 inches from each other. I prefer this method as this gives you individual buns that don't stick together. If you prefer your buns to stick together, you can bake them 1/2 inch apart in a casserole dish.
Bake for 20 minutes or until the puff pastry is golden brown. Once cooked, take out and let cool for 10 minutes before glazing. If you glaze while they are hot, the glaze will melt into the vegan cinnamon rolls and it won't stay on the surface like in the photos.
To make the glaze, simply add powdered sugar, vanilla, and non-dairy milk to a bowl and mix together until a liquid is formed. You can make the glaze thicker by adding a little more powdered sugar or thinner by adding milk in 1 teaspoon increments. Be careful that your glaze isn't too thin that it is runny but also not too thick where it won't spread.
Enjoy while warm or cold! They are fantastic either way!
Nutrition Information
Yield
8
Serving Size
1
Amount Per Serving
Calories

97
Total Fat

4g
Saturated Fat

2g
Trans Fat

0g
Unsaturated Fat

2g
Cholesterol

8mg
Sodium

166mg
Carbohydrates

15g
Fiber

0g
Sugar

12g
Protein

0g