This easy sweet and sour tofu is a staple in my kitchen! It is a food that my mom and I often cook when we are in a rush and can't think about something to make for dinner! It is always there for us and is quick, easy, and delicious!
I love tofu. It's such a neutral food, a blank canvas, that absorbs the flavors of anything it's mixed with. Here is one the easiest, (only a few ingredients, most of which you already may have), quickest (takes only a few minutes to make), and yummiest (look at the pictures!!!!) tofu dishes I make: Sweet and Sour Tofu.
Keep in mind that brown tofu is often difficult to photograph so I can promise that this sweet and sour tofu dish tastes a lot better than it looks!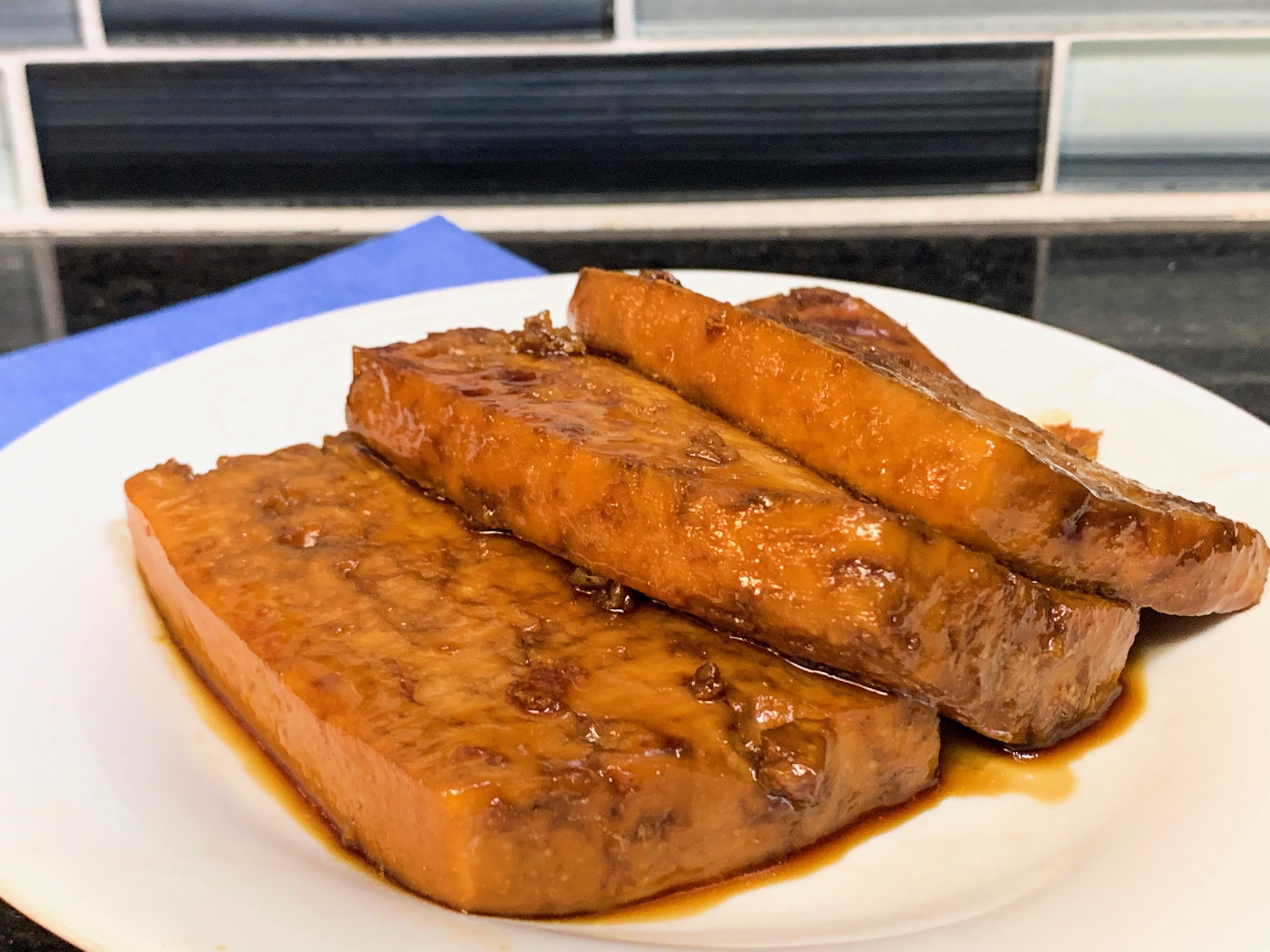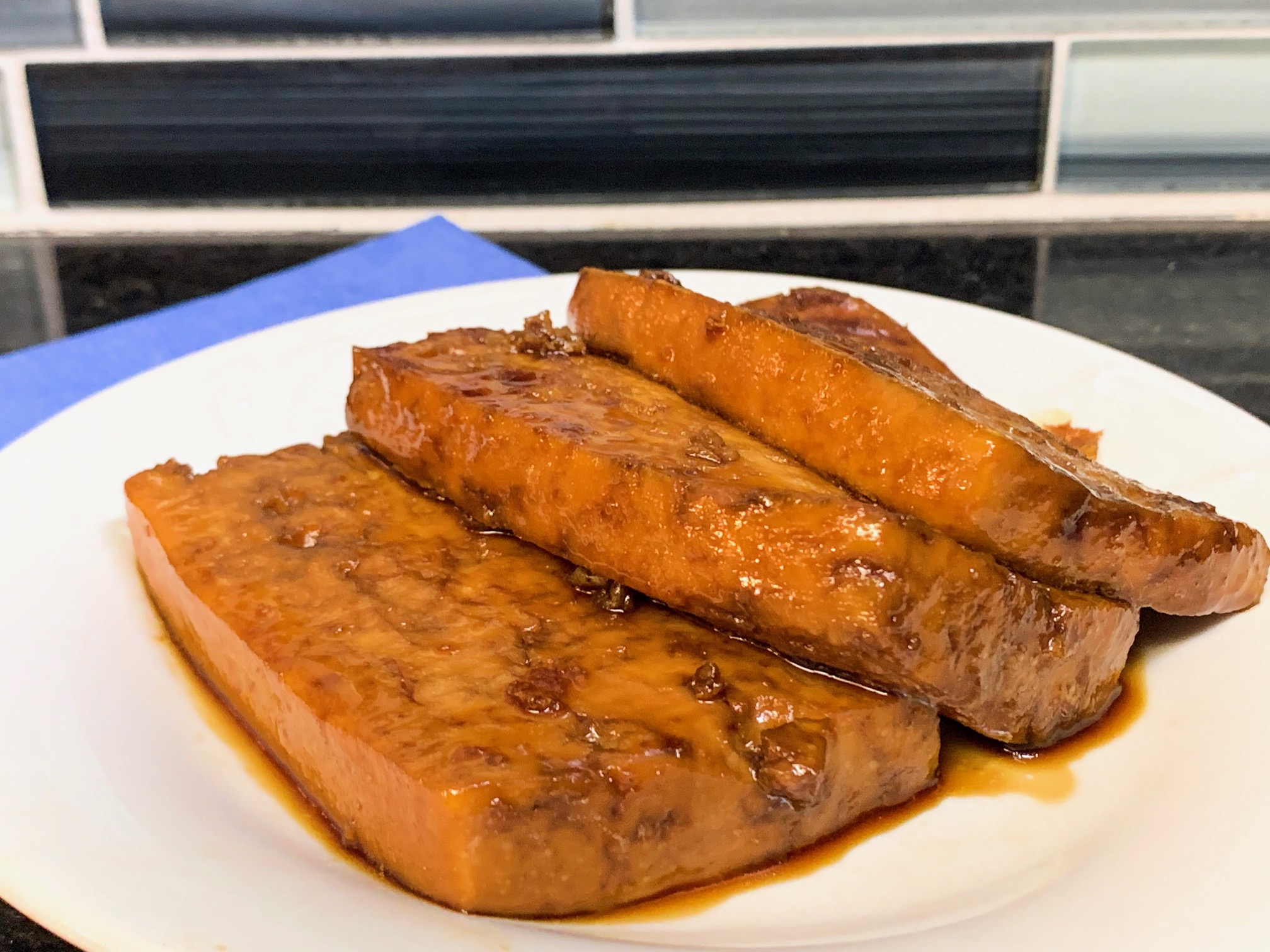 Easy 10-Minute Sweet And Sour Tofu
There are a few keys to cooking tofu to perfection. Tofu is a very bland food so it must be seasoned, marinaded, and cooked properly in order for it to taste good!
The first step in creating this sweet and sour tofu dish is to drain your tofu and squeeze out the water. Tofu is usually packed in water, and must be drained for it to absorb the flavors of the recipe.
I usually wrap my block of tofu in a kitchen towel and give it a good squeeze. Often I put a heavy object on top of it to force the water out of it. You don't have to press it for long, but a minute or two while you prep the pan is always helpful!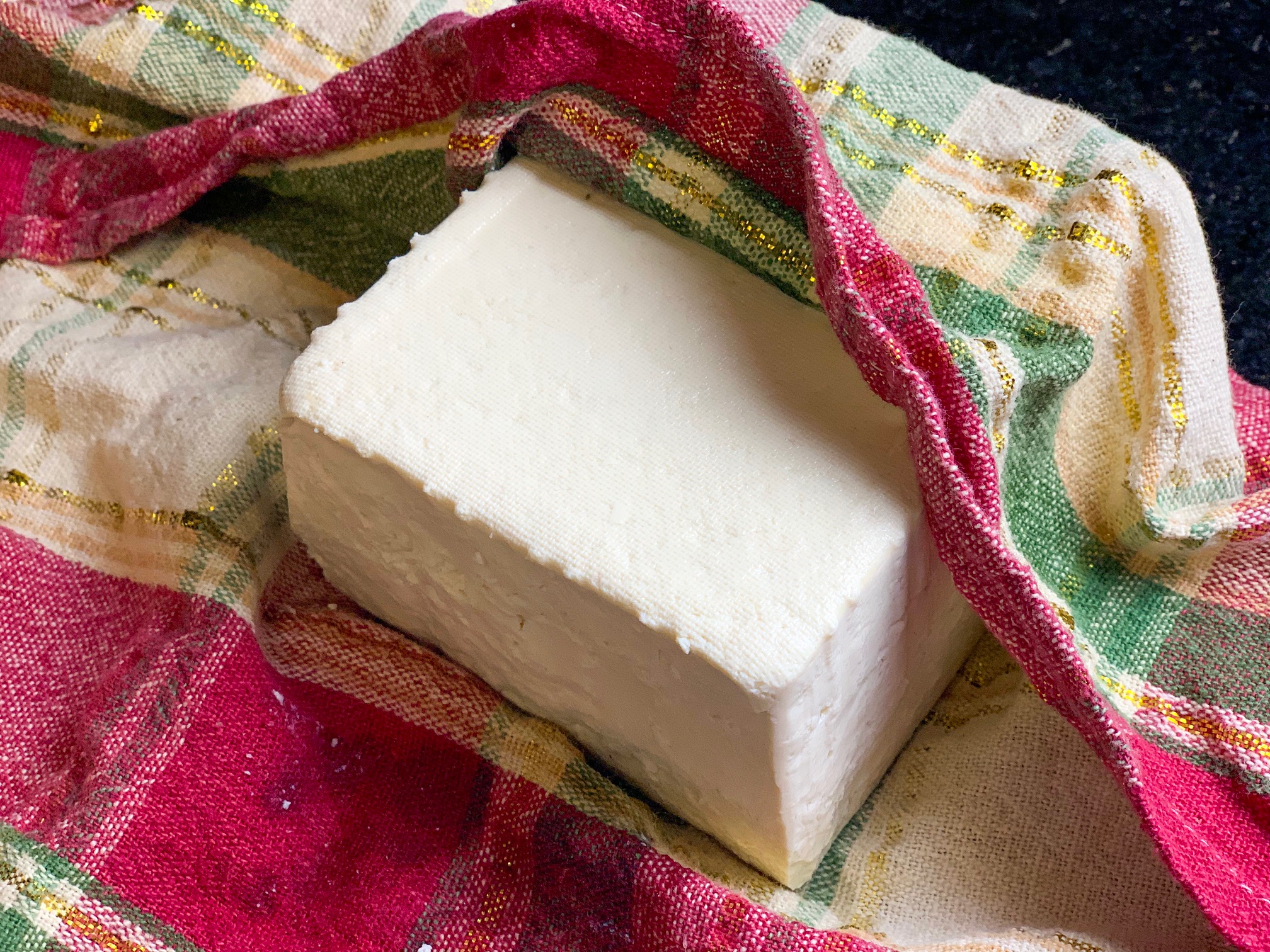 The most important part of this sweet and sour tofu recipe is to ensure that you cook your tofu until it looks "eggy" in texture. As you can see from this photo below the tofu has just been set in the pan. Begin by lightly and quickly pan-frying the tofu for a few moments.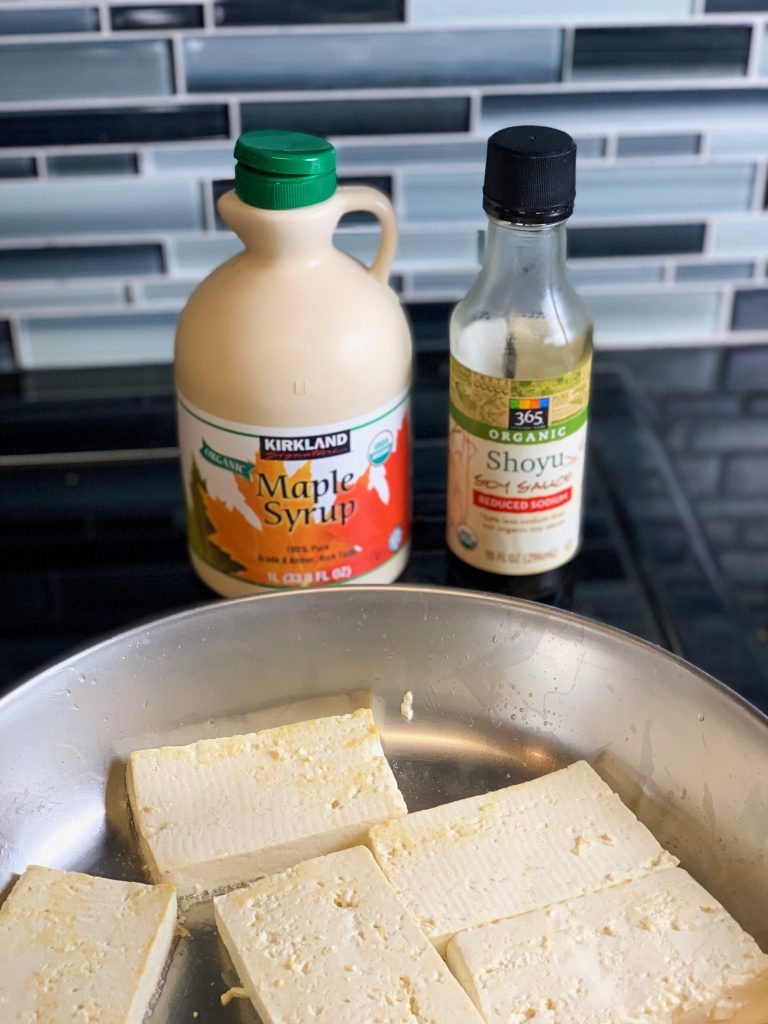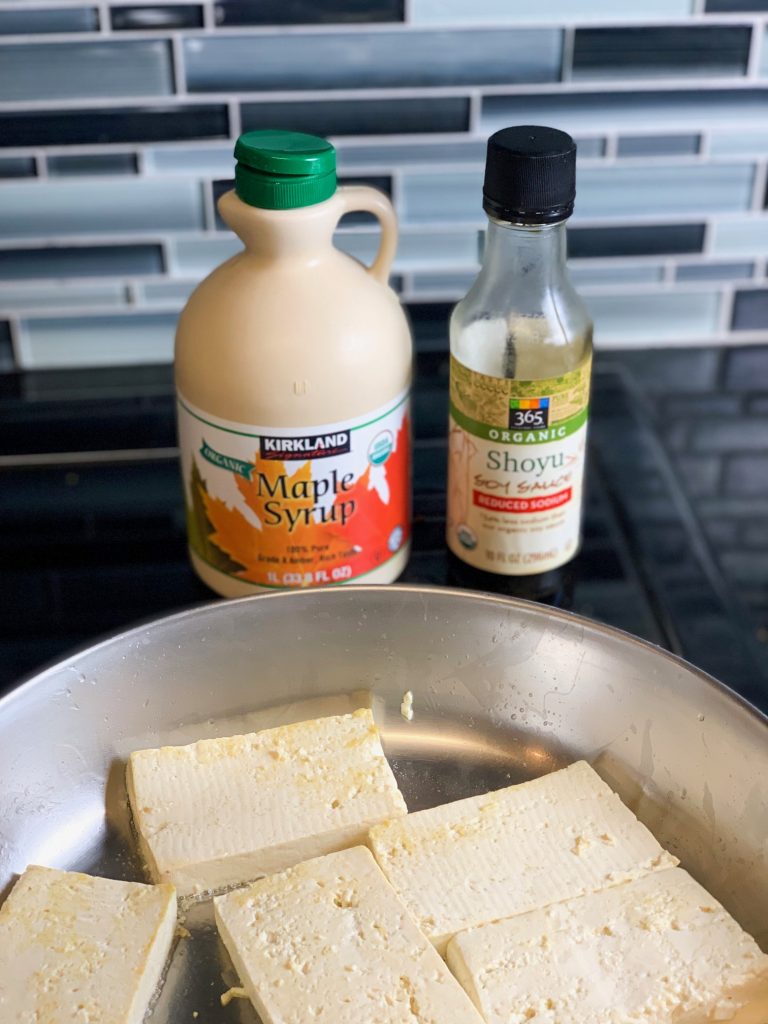 Then, after you put the first round of liquids on top, the tofu will look like this photo below. There is no need to blend or whisk your sweet [maple syrup] and sour [soy sauce] beforehand, just dump it into the pan. If you eat your tofu as it appears in the photo below, a light brown color, you will be disappointed.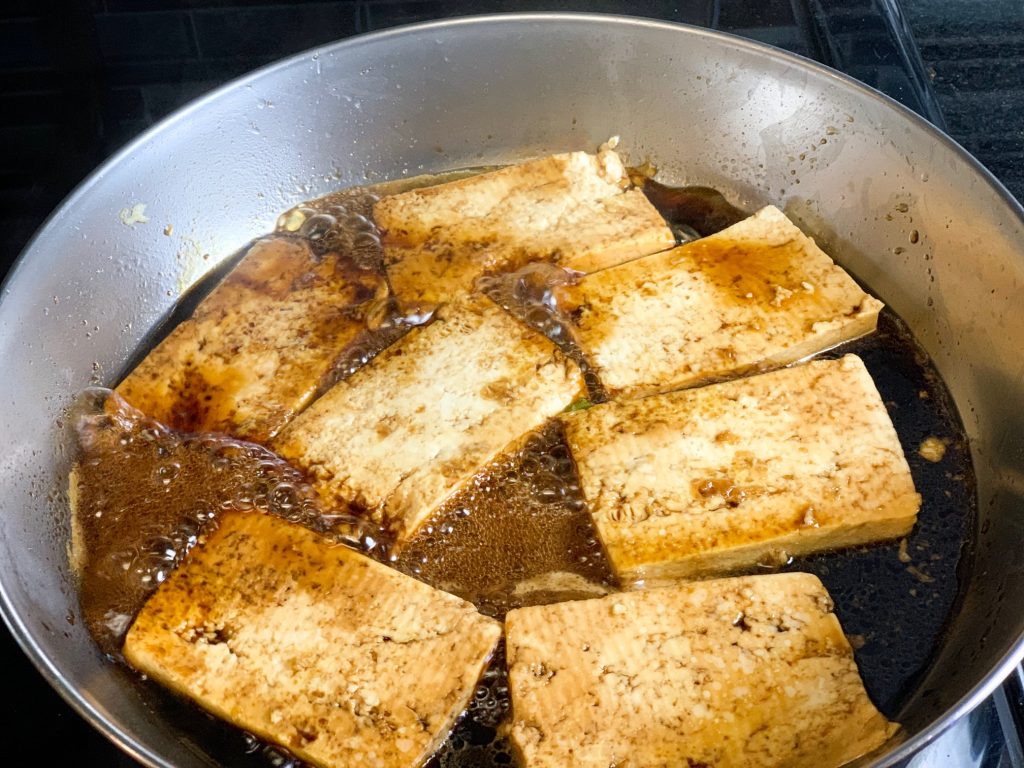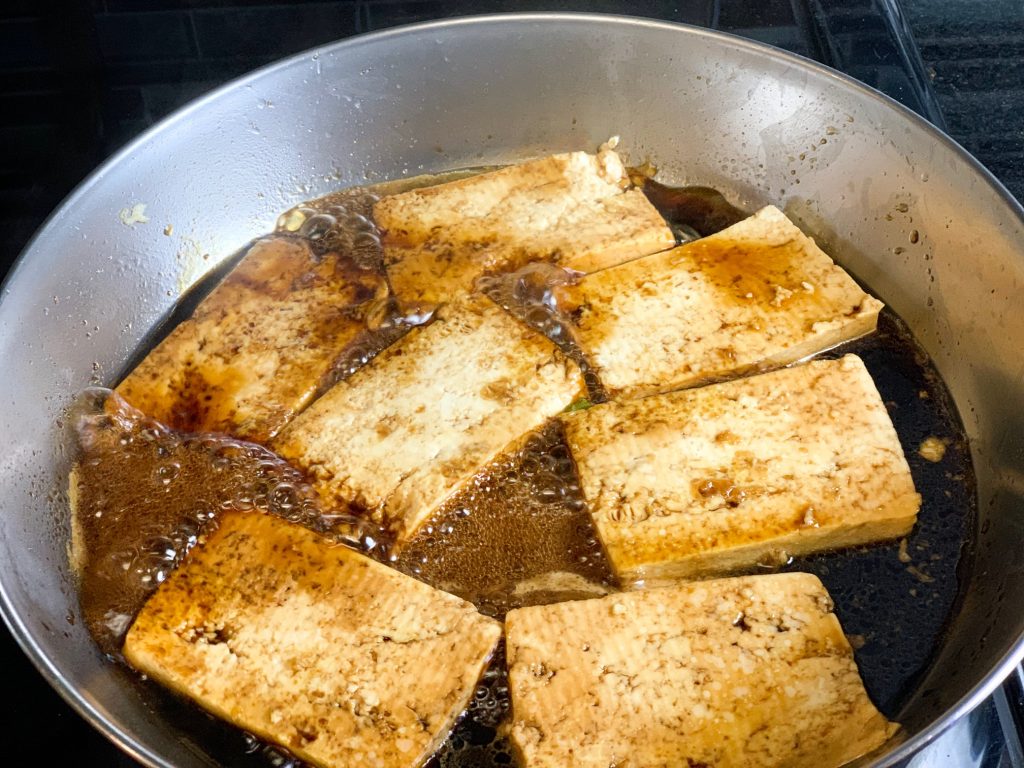 The key is to keep your sweet and sour tofu on for a full 10 minutes and then replenish the sauce after the 7-minute mark. This will allow your tofu to absorb both the sweet and sour liquids. It will turn the tofu brown and the texture will appear to be "eggy" as shown in the photo below.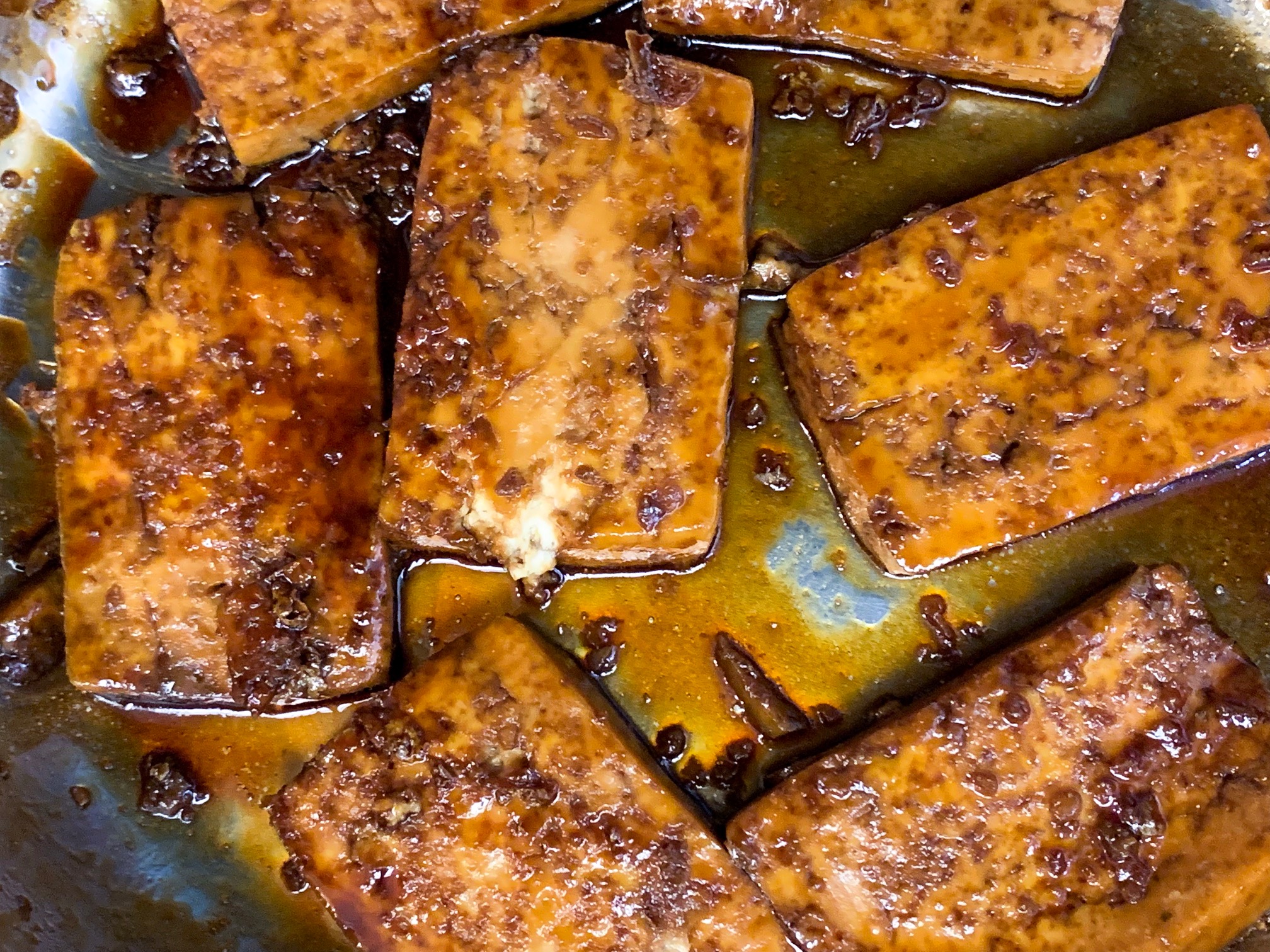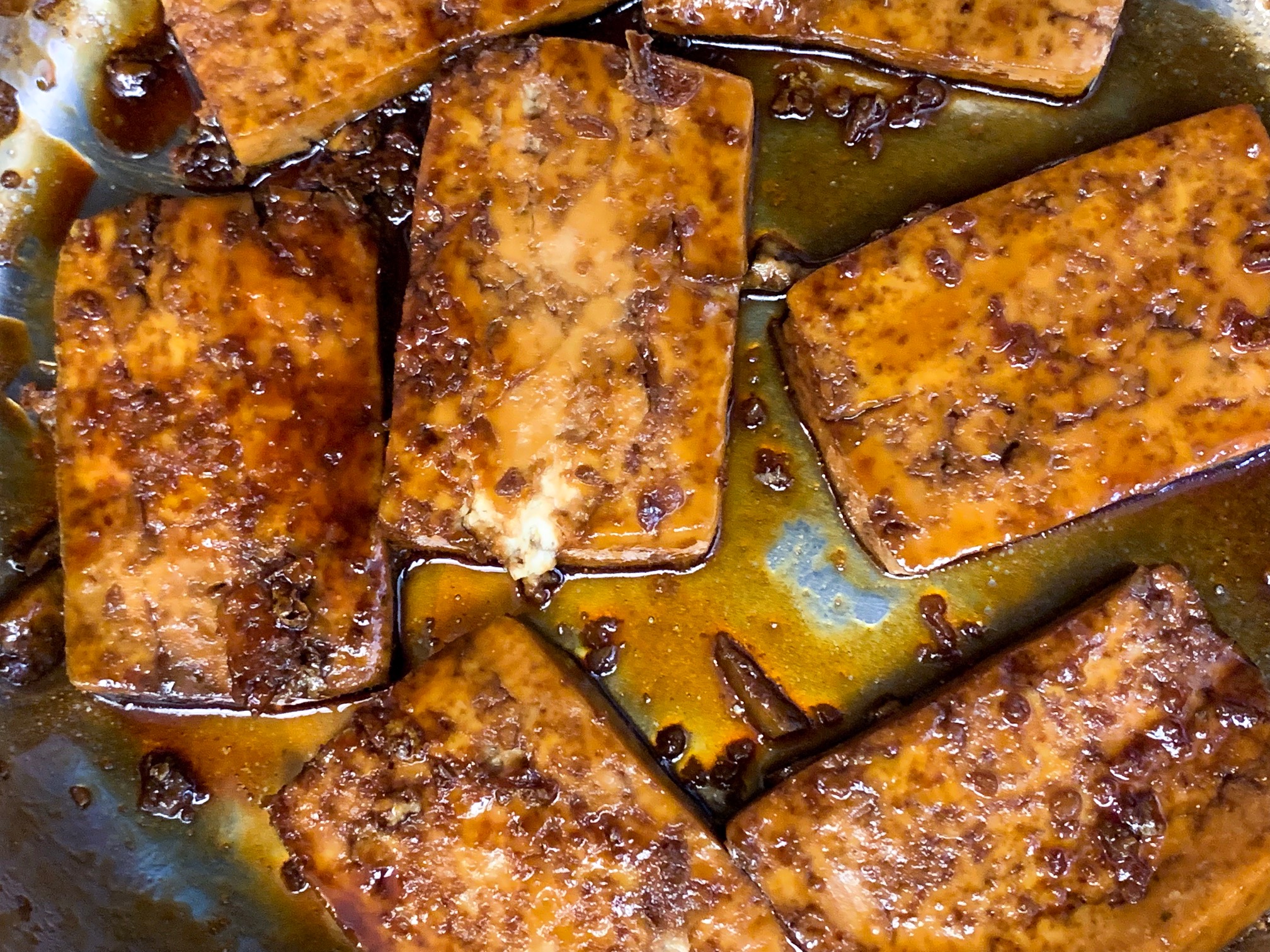 Sweet and sour tofu can be served alongside potatoes or rice. I usually serve it with boiled potatoes that are smothered in margarine or the vegan butter of your choice!
Did you make this recipe? Feel free to leave a comment below, share it, rate it or share your photo with @wowitsveggie on Instagram and hashtag it with #wowitsveggie. I would love to hear your thoughts and see what you cook!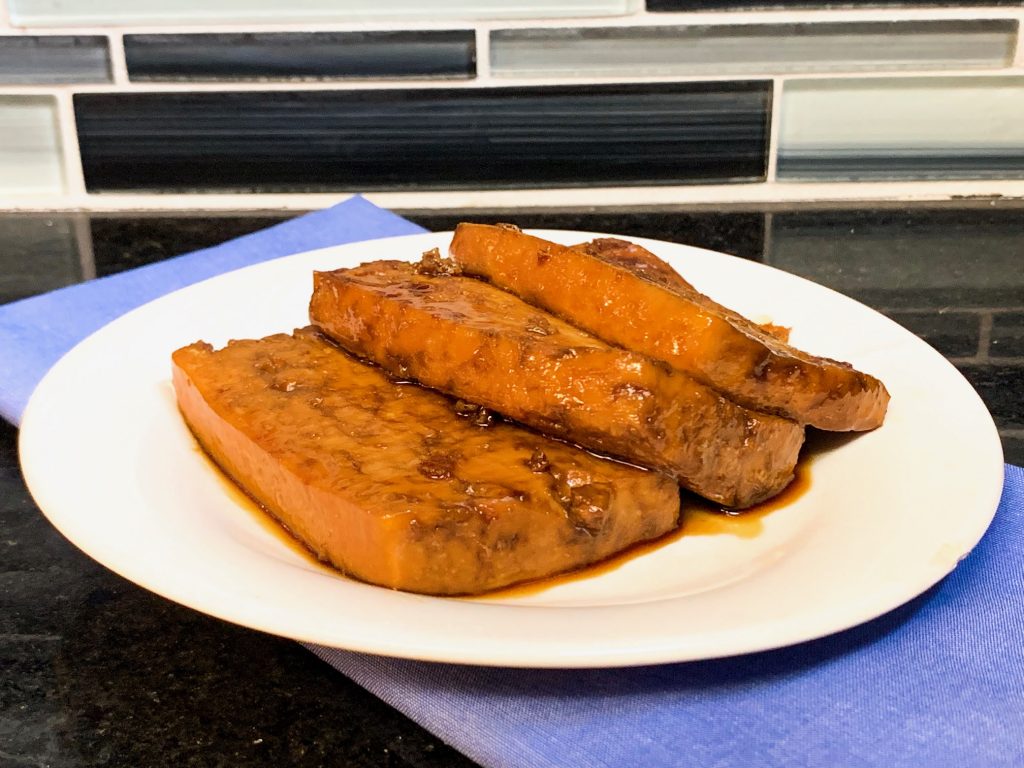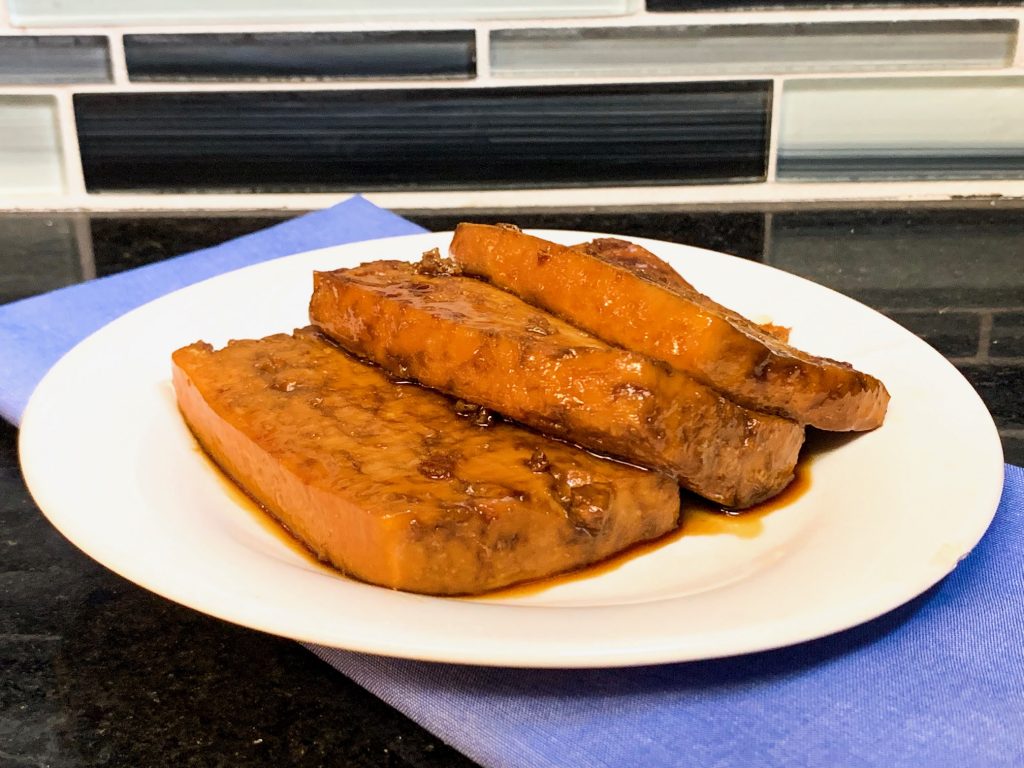 Yield: 4 Servings
Easy 10-Minute Sweet And Sour Tofu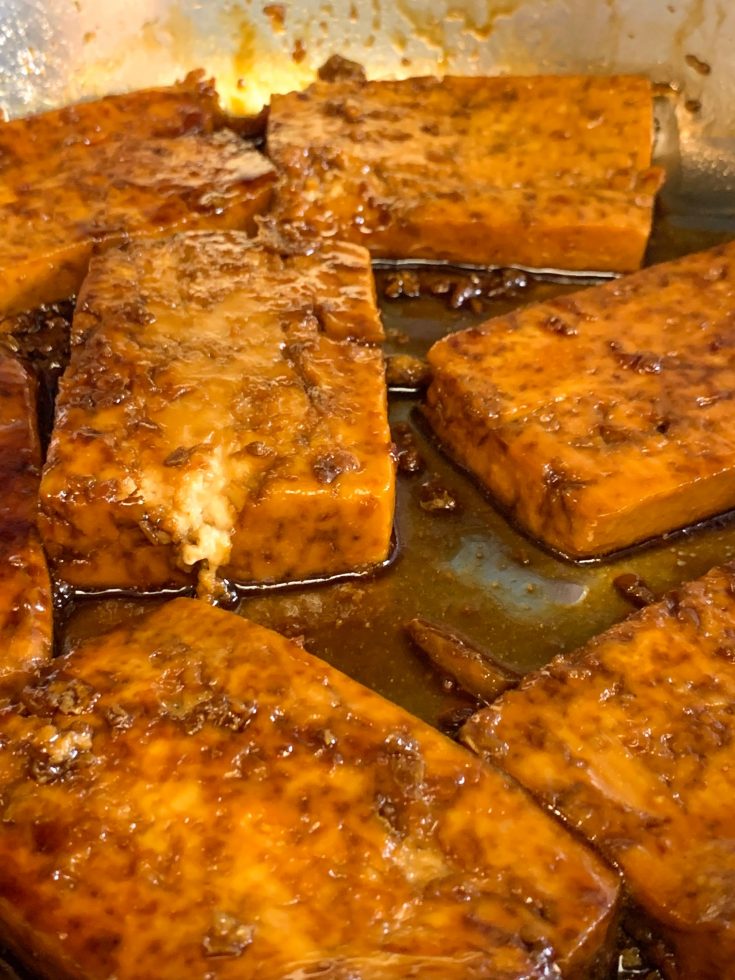 This Sweet And Sour Tofu can be made in just 10 minutes! It is delicious and prep and clean-up are fast and minimal. It tastes great over both potatoes or rice so mix it up depending on how you are feeling!
Ingredients
1/3 cup of soy sauce
1/8 cup of soy sauce [for finishing]
1 block of extra firm tofu
1/3 cup of maple syrup
1/8 cup of maple syrup [for finishing]
1 tablespoon of oil (for pan)
Instructions
Drain liquid from tofu in the sink. Wrap tofu in a dishcloth to expel the liquid. Set aside.
Lightly coat large frying pan with oil (approx 1-2 tablespoons)
Cut the tofu into 1/2 inch slices and lightly fry in oil while you prepare the sauce.
Add 1/3 cup of soy sauce and 1/3 cup of maple syrup directly on top of the tofu in the pan. Let cook on high for 7 minutes until tofu looks "eggy" in texture.
Add 1/8 cup of maple syrup and 1/8 cup of soy sauce and simmer on low for 3 minutes until sauce is absorbed and tofu is dark brown in color.
Serve over rice or boiled potatoes with non-dairy butter.
Notes
Oftentimes, people may not cook the tofu long enough for it to absorb the liquid and turn a dark brown in color. This is essential for the tofu to taste good so do make sure to cook it for the full 10 minutes and add the extra liquid after the 7-minute mark!
If you are really hungry, two people can often eat 2/3 of the tofu in this recipe. If you are splitting it into four servings, make sure to serve with a side such as potatoes!
Nutrition Information
Yield
4
Serving Size
1
Amount Per Serving
Calories

235
Total Fat

10g
Saturated Fat

1g
Trans Fat

0g
Unsaturated Fat

8g
Cholesterol

0mg
Sodium

1585mg
Carbohydrates

27g
Fiber

1g
Sugar

23g
Protein

14g